Sonos is among the market leaders in multi-room and home theater speakers. The American manufacturer is not one to change its product range every year, but takes the time to launch a new product, which then has a long lifespan. But now it's time for a new "era" for Sonos speakers, starting with the Era 100 and Era 300 models.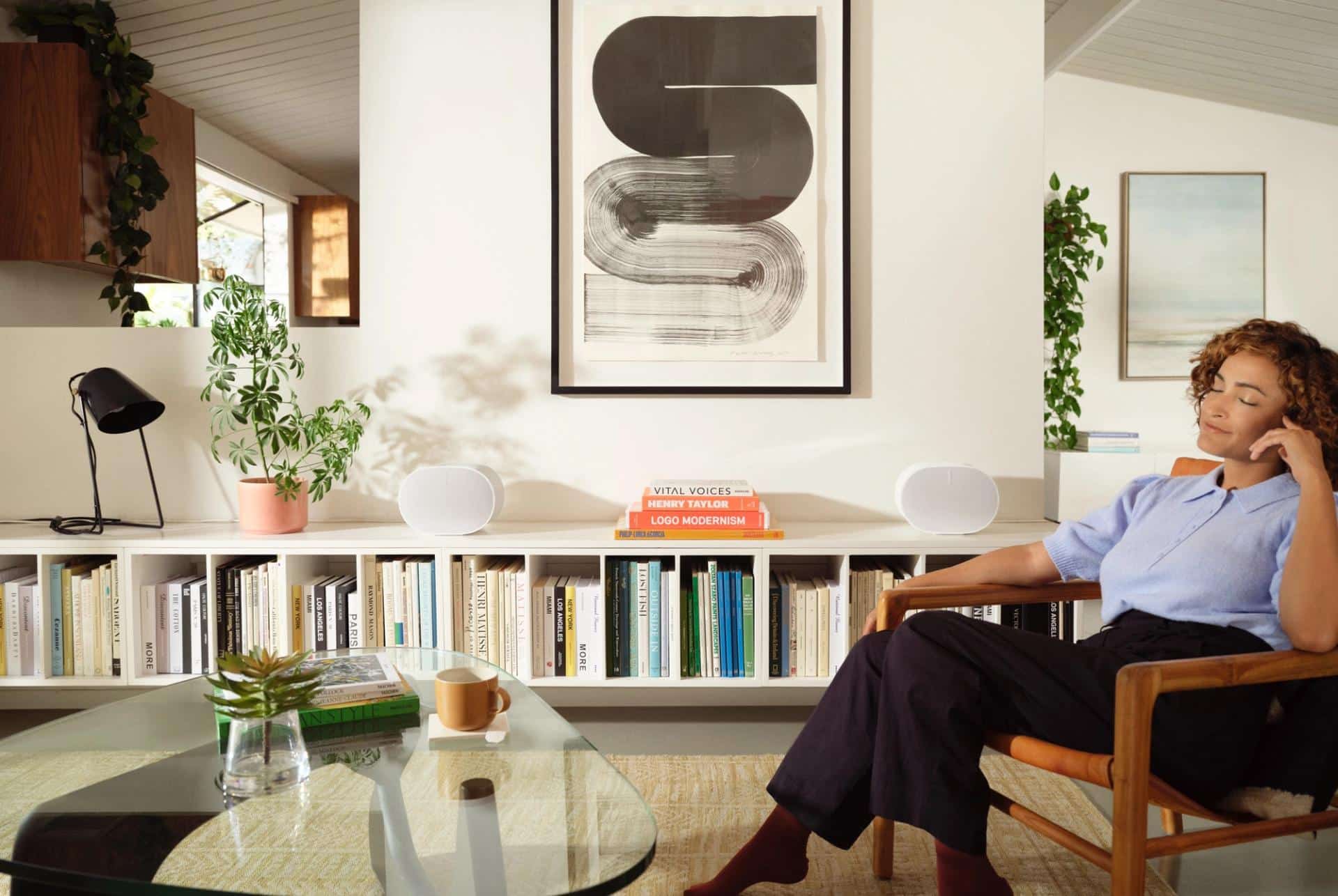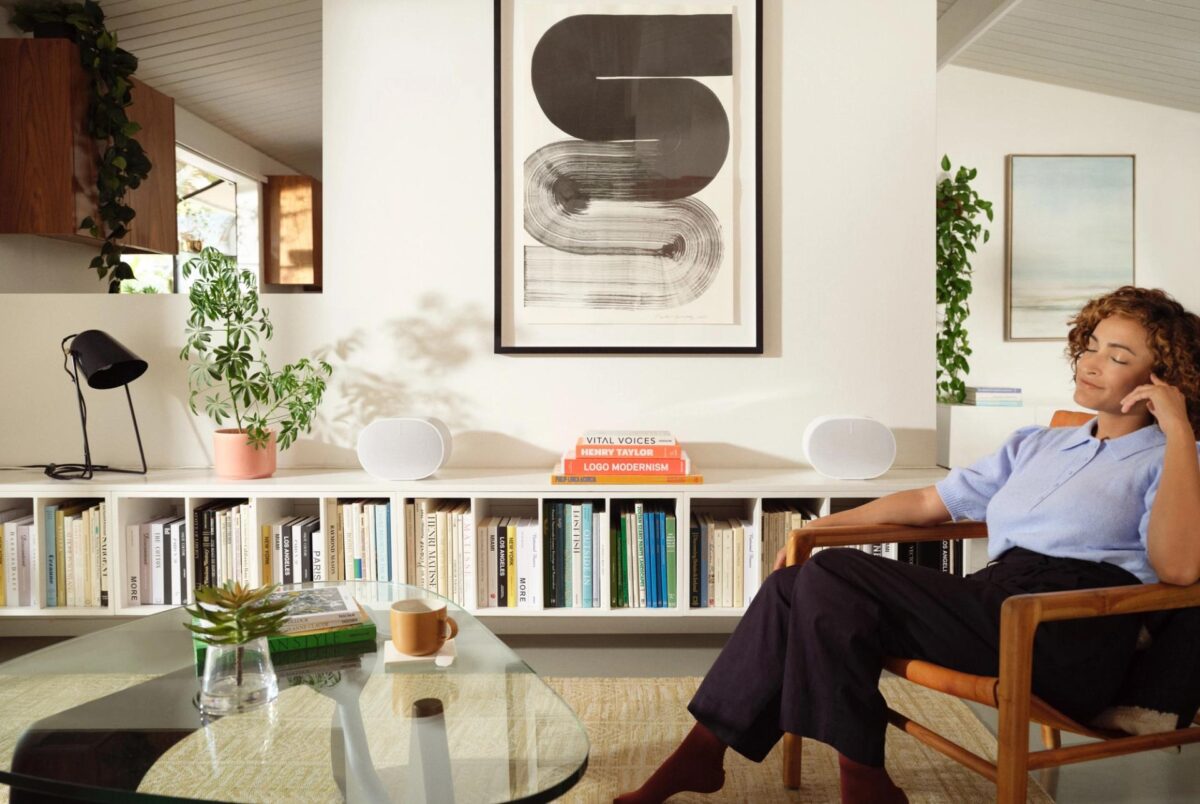 Rumors and speculations have been circulating about the new Sonos speakers, after much had been "leaked" in advance to the website The Verge. And much of the information – including the model sketches – turned out to be correct.
Sonos Era 100 and Era 300
The new Era series represents a new generation of smart speakers from Sonos. The compact Era 100 is a direct successor to the Sonos One, while big brother Era 300 is a completely new model designed to reproduce spatial audio and surround sound from both music and movies. Both models can play individually, be paired in stereo – or be part of a larger surround system with the Arc and Beam (Gen 2) soundbar speakers.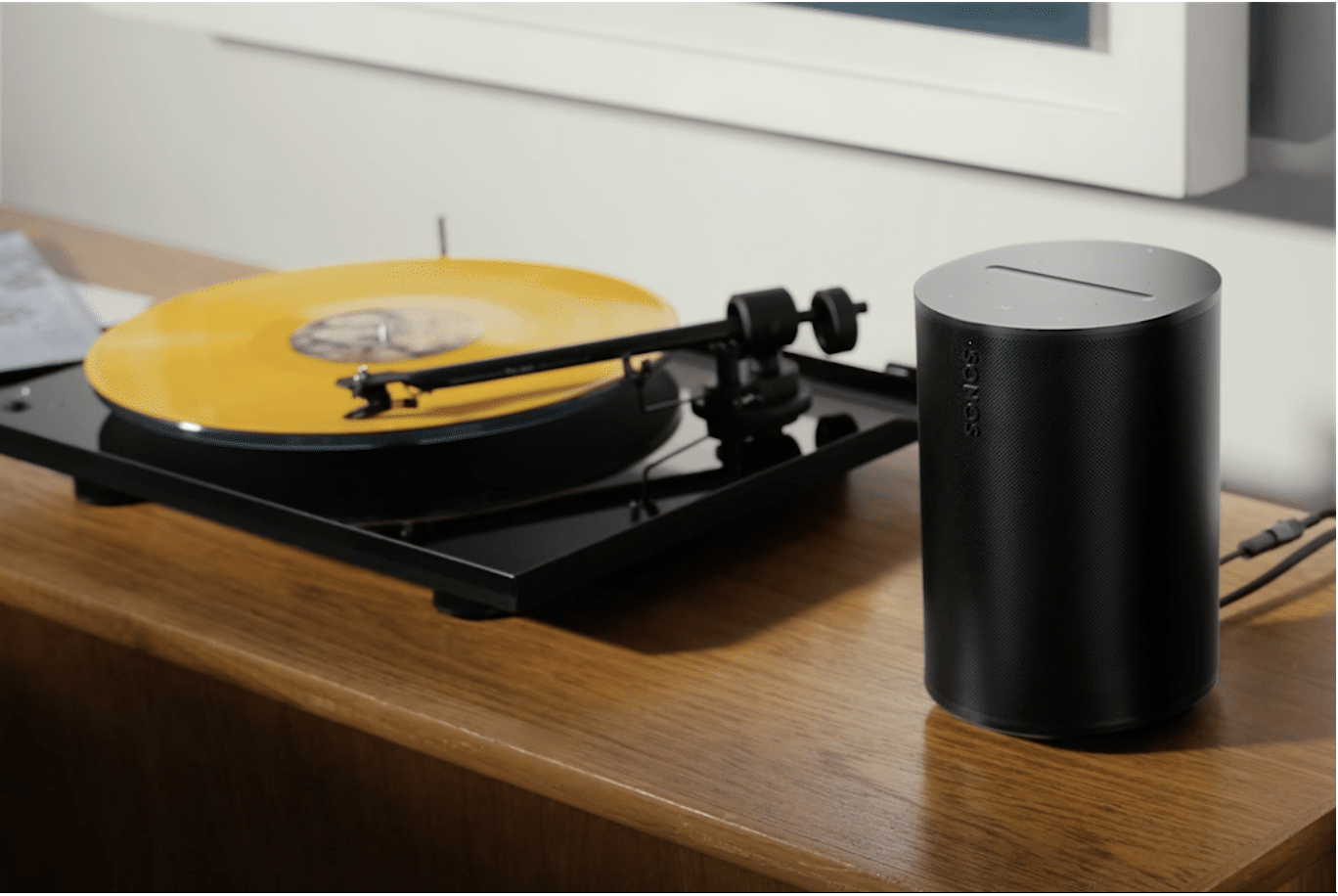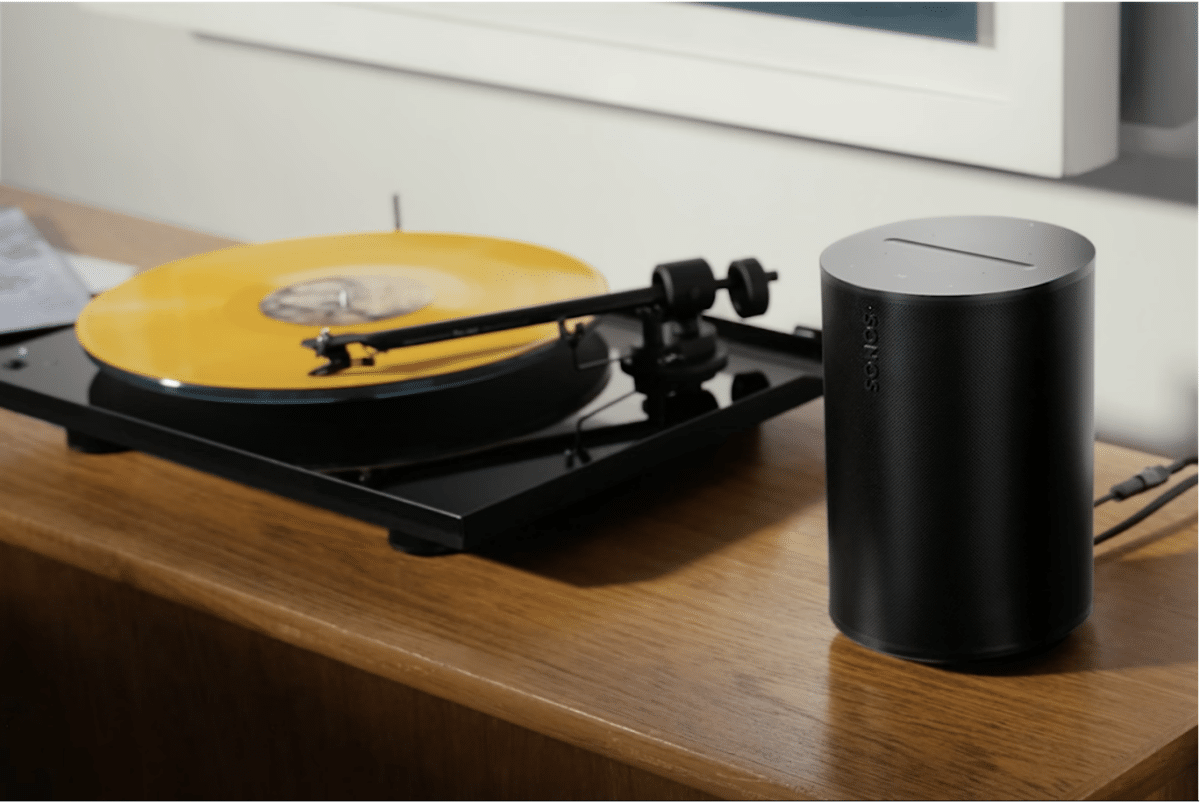 Both new models support Wi-Fi 6e and Bluetooth 5.2, and use USB C input with adapter for Ethernet or mini jack line input. Previously, you needed a Sonos Amp or Sonos Port (alternatively Sonos Five) to connect analog audio sources such as a turntable, etc., but now you can use an adapter.
Sonos Era 300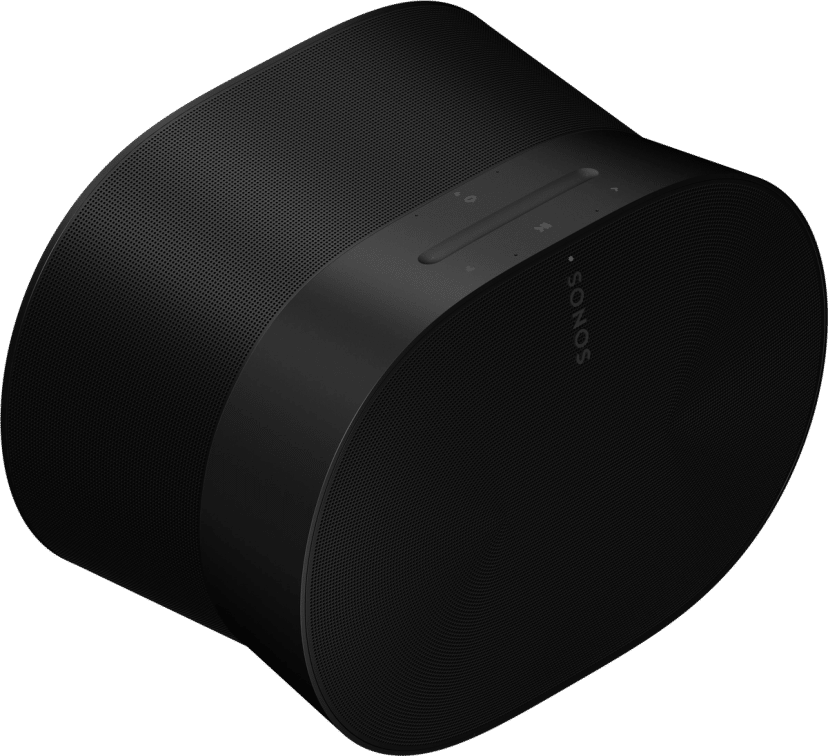 Sonos users have long been asking for a speaker with upward-facing speaker elements to be able to use the height information in Dolby Atmos soundtracks. And Era 300 is in many ways the answer. It can deliver multichannel surround sound when used as a rear speaker in a home theater, and you can pair two speakers with Sonos Arc or Beam (Gen. 2) for an "enhanced Dolby Atmos experience," as they call it. With, for example, Sonos Arc, Sub, and 2 x Era 300, you will achieve a 7.1.4 channel configuration.
Era 300 is packed with speaker elements – a total of six (four tweeters and two mid/bass drivers) that play forward, sideways, and upwards. The speaker has a special "hourglass shape" where the cabinet narrows in the middle, and this is to give the upward-facing speaker element the 10-degree angle that Dolby recommends.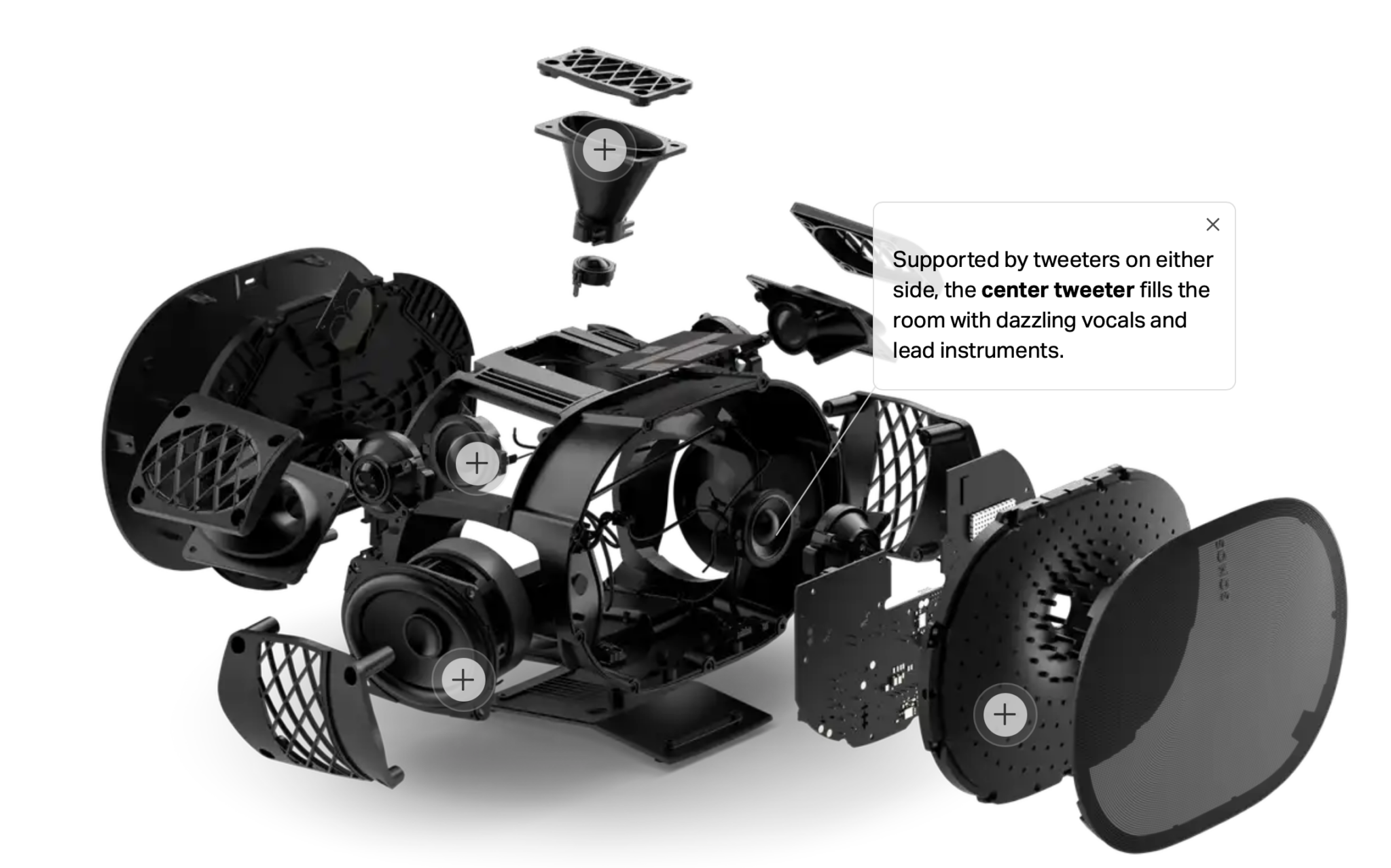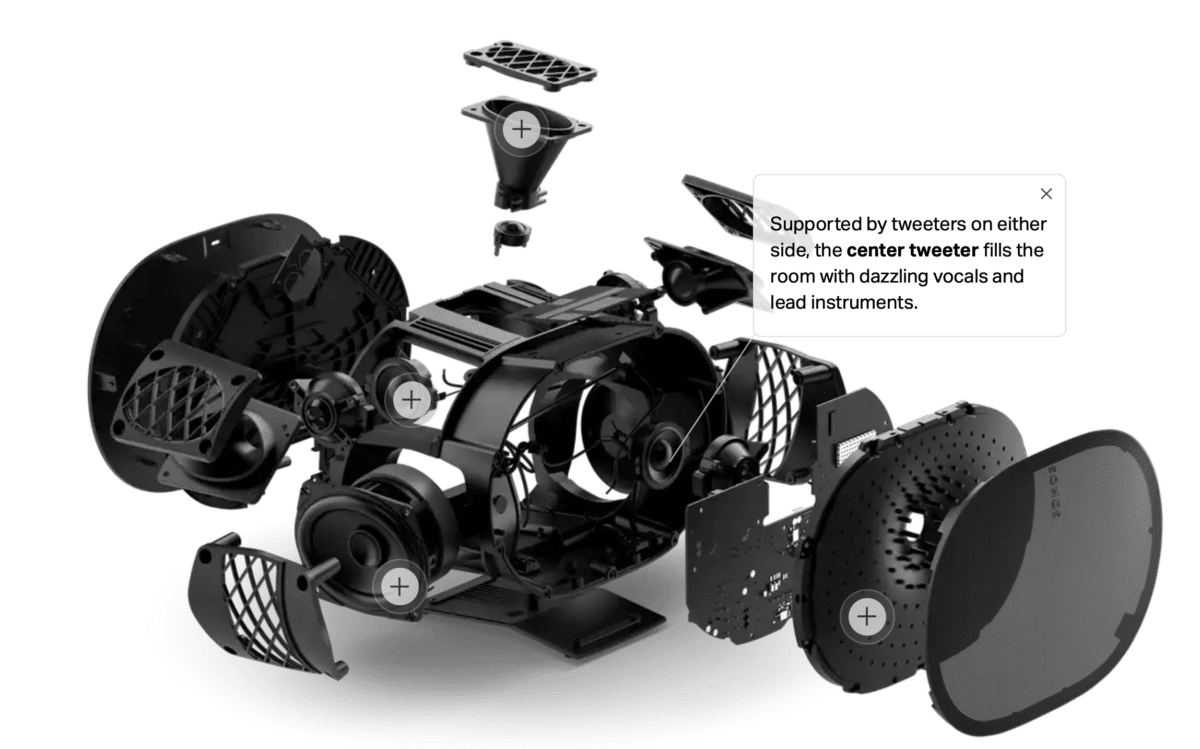 Sonos Era 100
Era 300's little brother is simply called Era 100, and Sonos says it will be an official replacement for today's Sonos One, which is now only sold until stock runs out.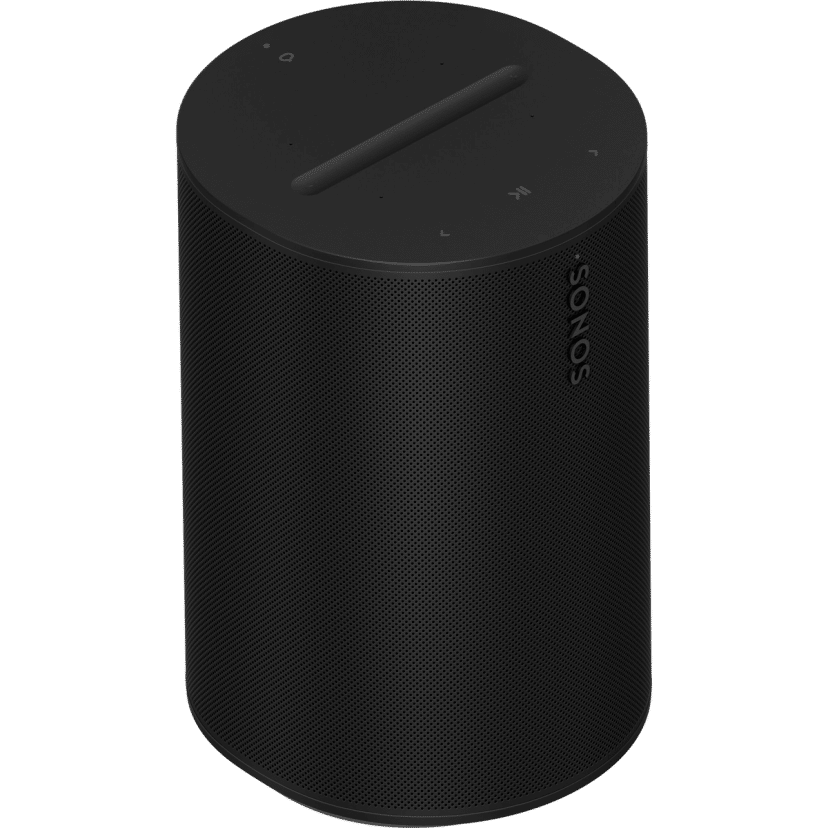 Era 100 is only slightly larger than its predecessor but is new from the ground up in terms of acoustic design, hardware, and software. The biggest difference is that Era 100 now comes with two angled tweeters (only one in Sonos One) and a larger mid/bass driver (4.4 inches, up from 3.5 inches).
Era 100 is intended as an elegant speaker for bookshelves, kitchen countertops, desks, or nightstands, but can also be used in pairs in an extended stereo or surround system. With, for example, Sonos Beam (Gen 2), Sub Mini, and 2 x Era 300, a 5.1.4 channel configuration is achieved.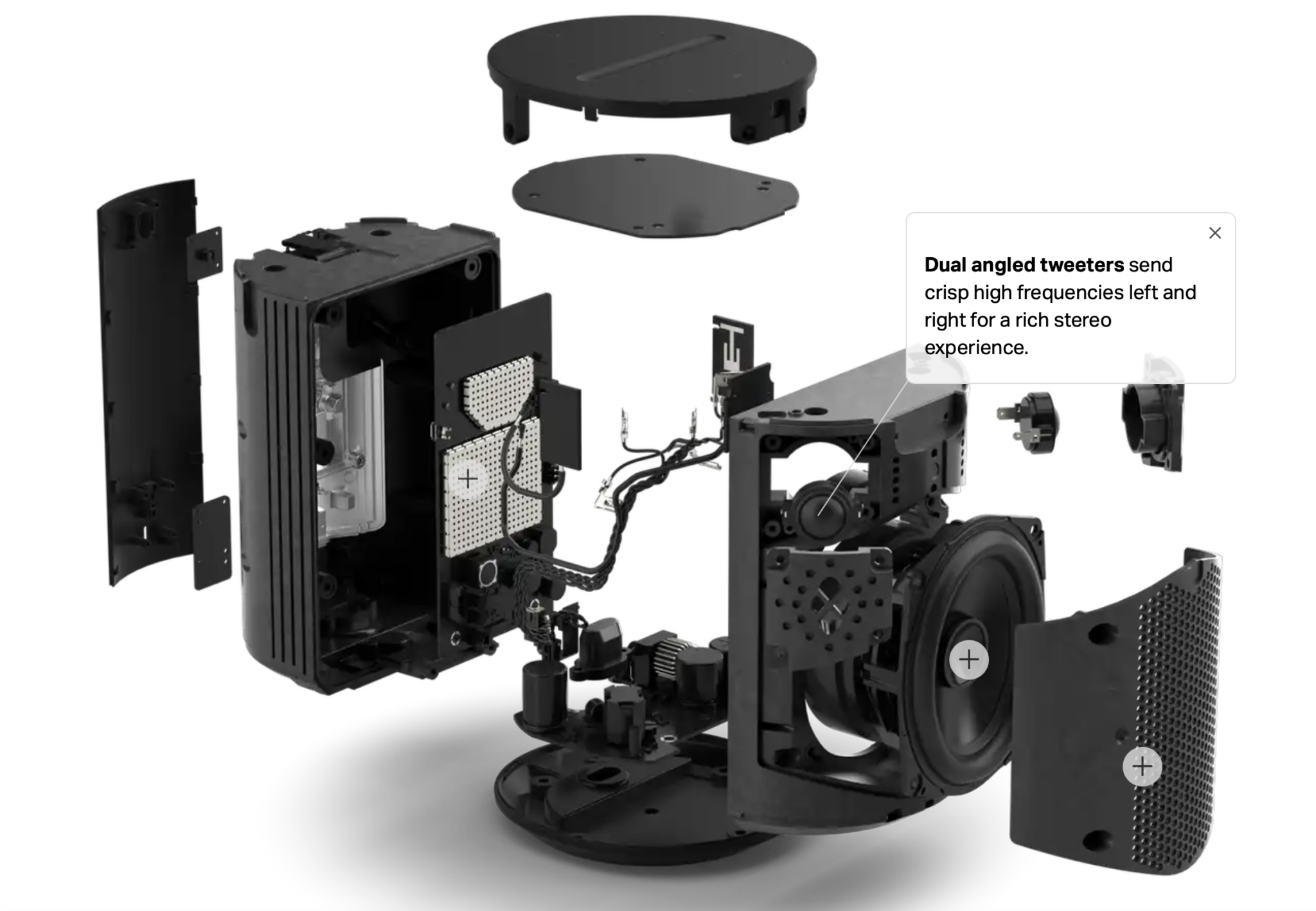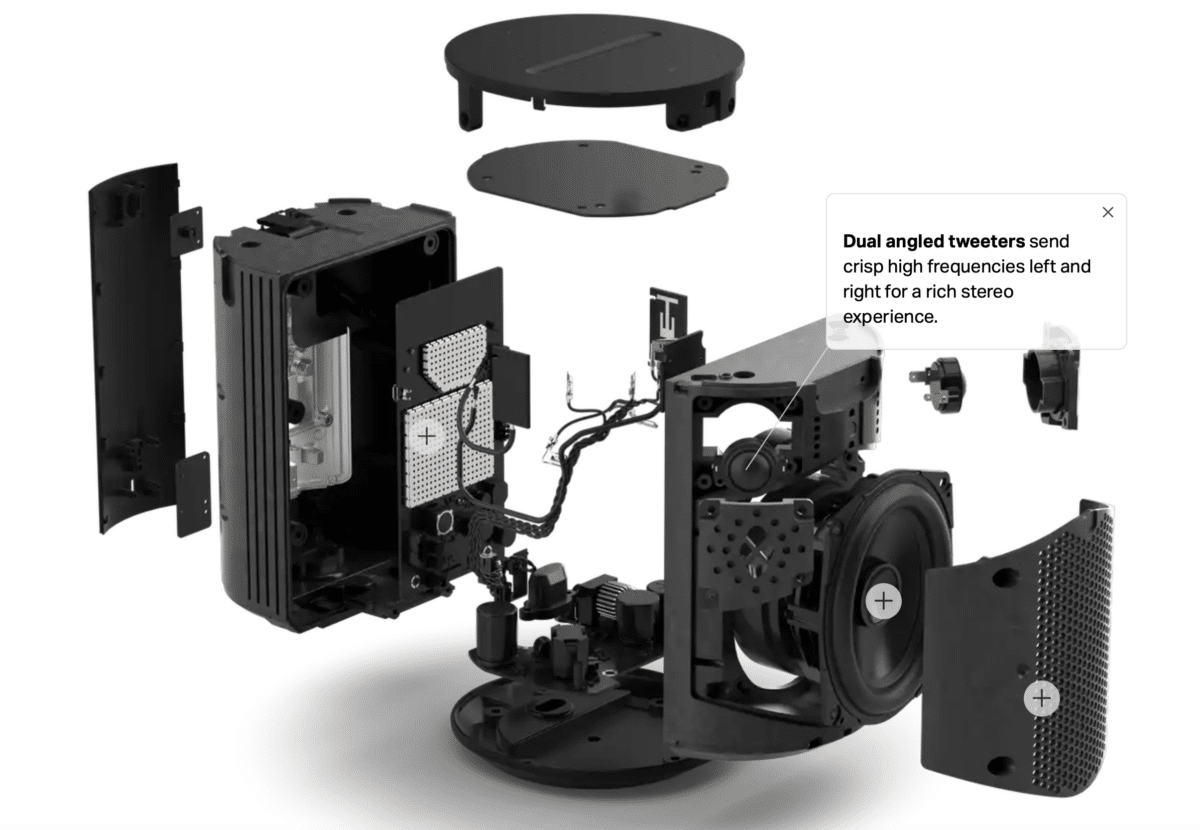 Trueplay tuning – now also for Android
Both Era 100 and Era 300 have "built-in" Trueplay, meaning they use the built-in microphones to measure and correct the sound reproduction in the room. Therefore, you don't have to perform the "Sonos dance" as with older Sonos speakers – although Advanced Trueplay is still the best, so it is still recommended to use an iPhone if you have one.
Also supports Apple Music "Spatial Audio"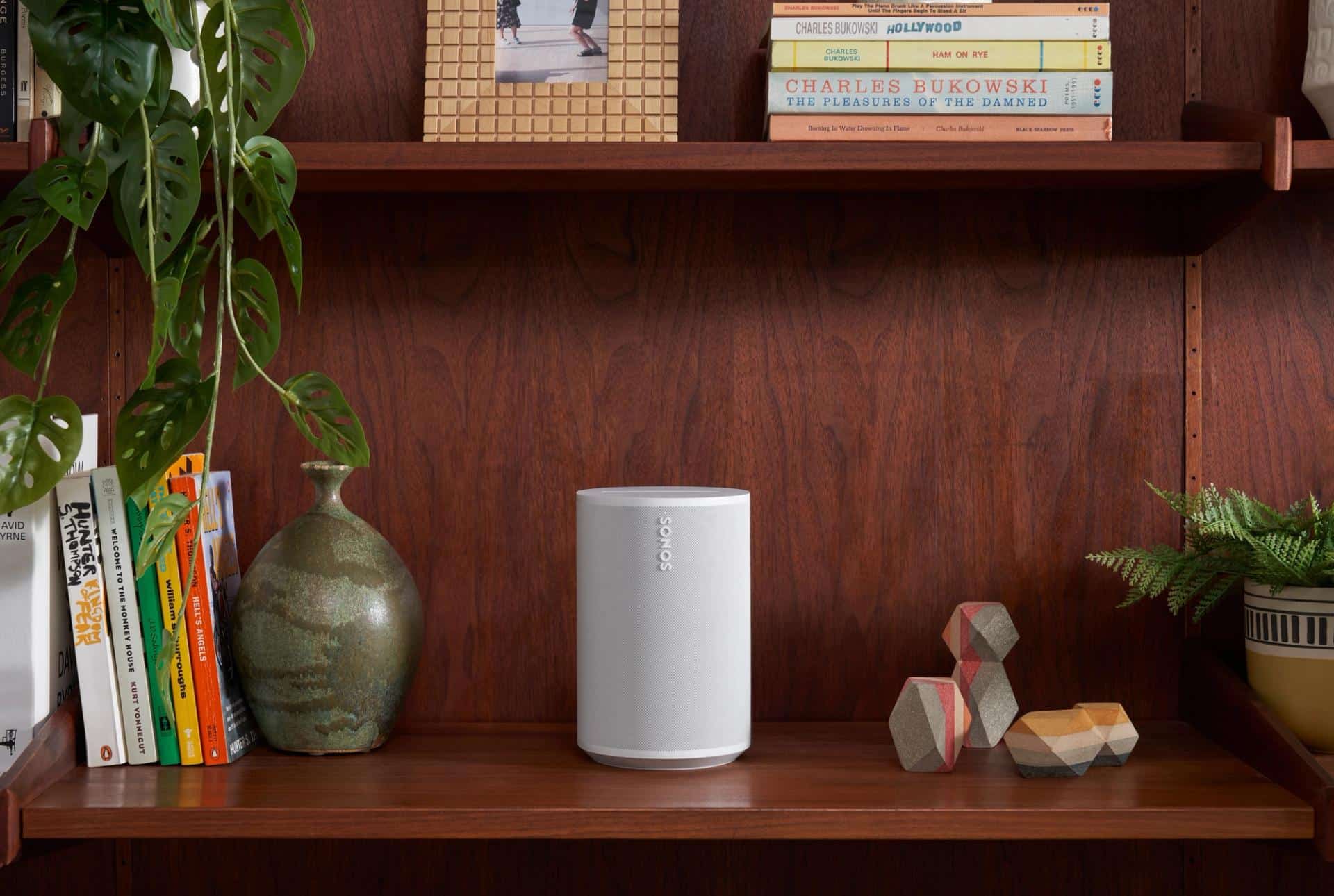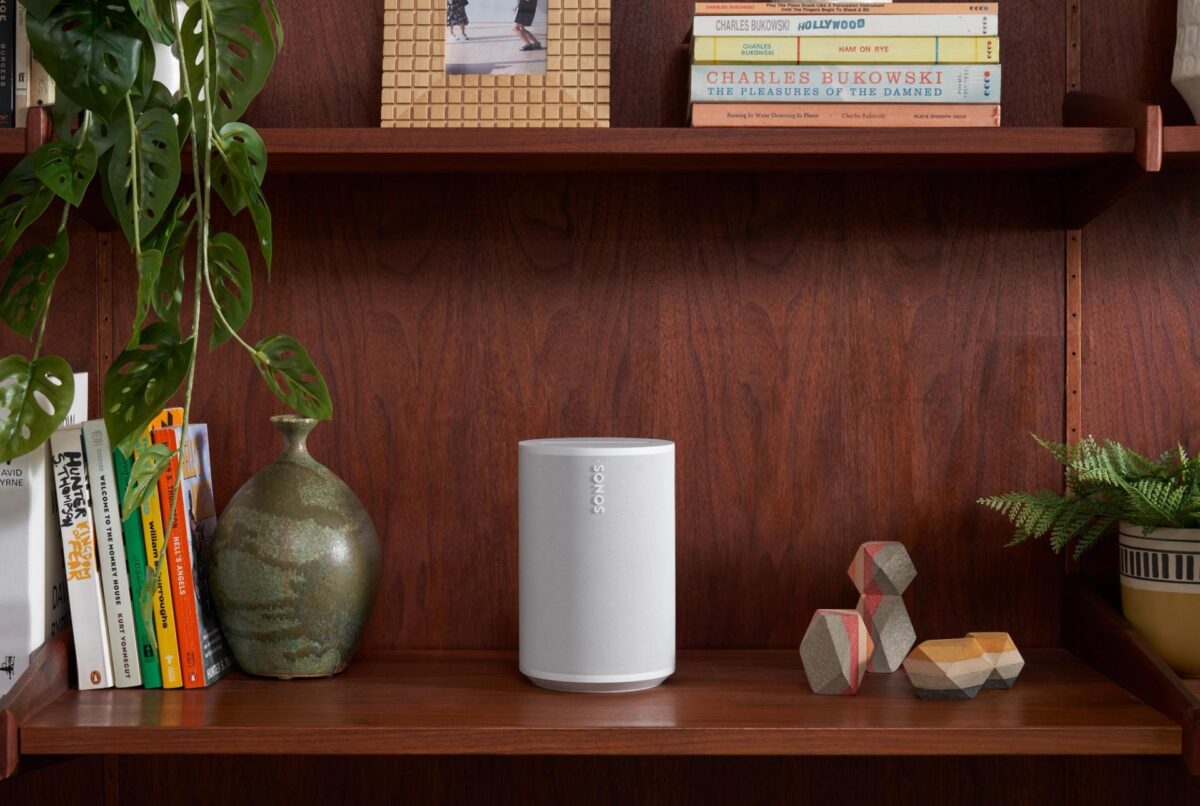 In connection with the launch of Era 100 and Era 300, Sonos also announces an official partnership with Apple on the music front. The Sonos speakers will support Spatial Audio through the Apple Music streaming service. It will also be available via Sonos Arc and Beam (Gen 2).
Does not support Google Assistant
A potential disappointment for many is that the new smart speakers do not have built-in support for Google Assistant voice control. However, there is support for Sonos Voice Control and Amazon Alexa. Sonos hopes to introduce the Google version sometime in the future. Whether this is due to Sonos' ongoing feud with Google is not known.
Price and availability
Sonos Era 100 and Era 300 will be available at authorized retailers and on Sonos.com from March 28, 2023. Era 100 costs $249 each, while Era 300 will be priced at $449 each. At the same time, we learn that the current Sonos One model will be discontinued, while the large Sonos Five model will still be sold.