You may be here because you have decided that it is a Google Assistant that you want, over Alexa. That decision was a big one but now you need to make another big decision and that is exactly which Google Assistant speaker you want to purchase for your home.
The Google Assistant world continues to grow larger and larger with the years and if you have an Android phone you've probably been using google assistant already without even realising. Having a compatible smart speaker will just take that assistant experience to a whole new level and you'll be able to use that assistance not only in your phone but even throughout your home. So to help you choose one here are the top 7 that you should consider getting.
Google Nest Audio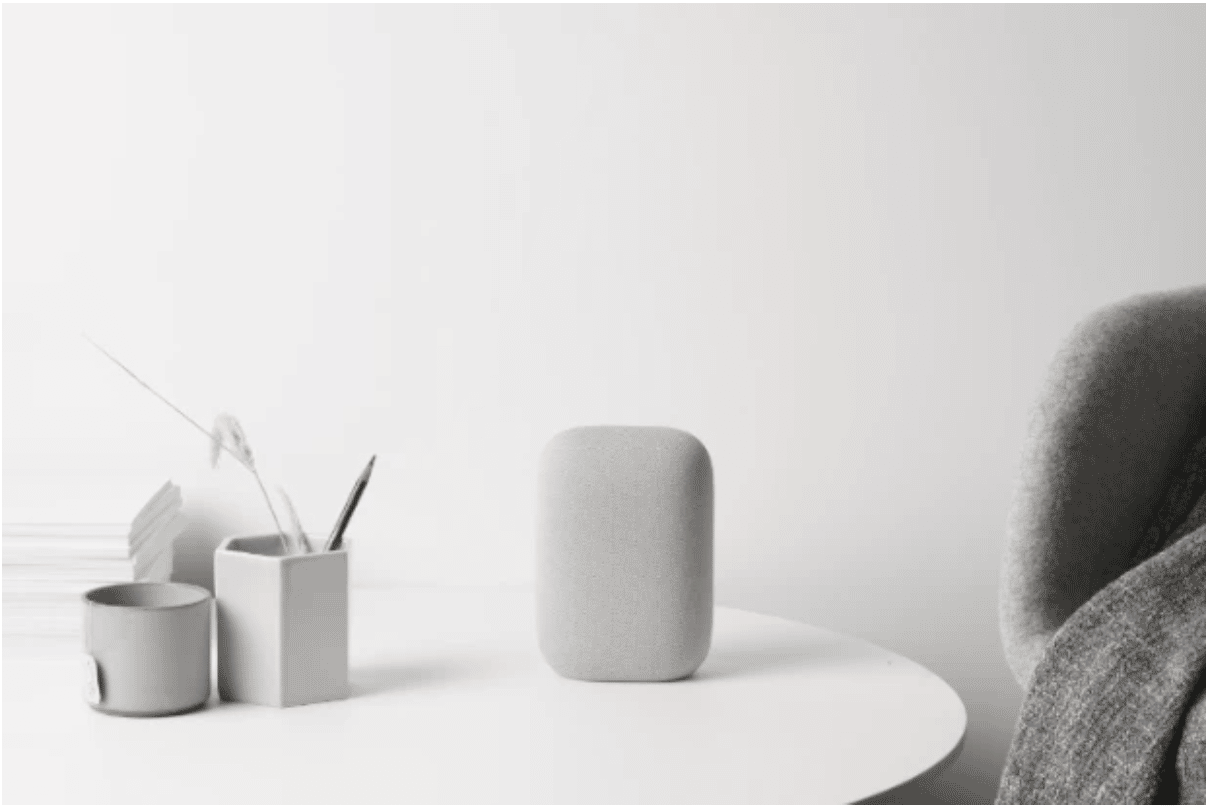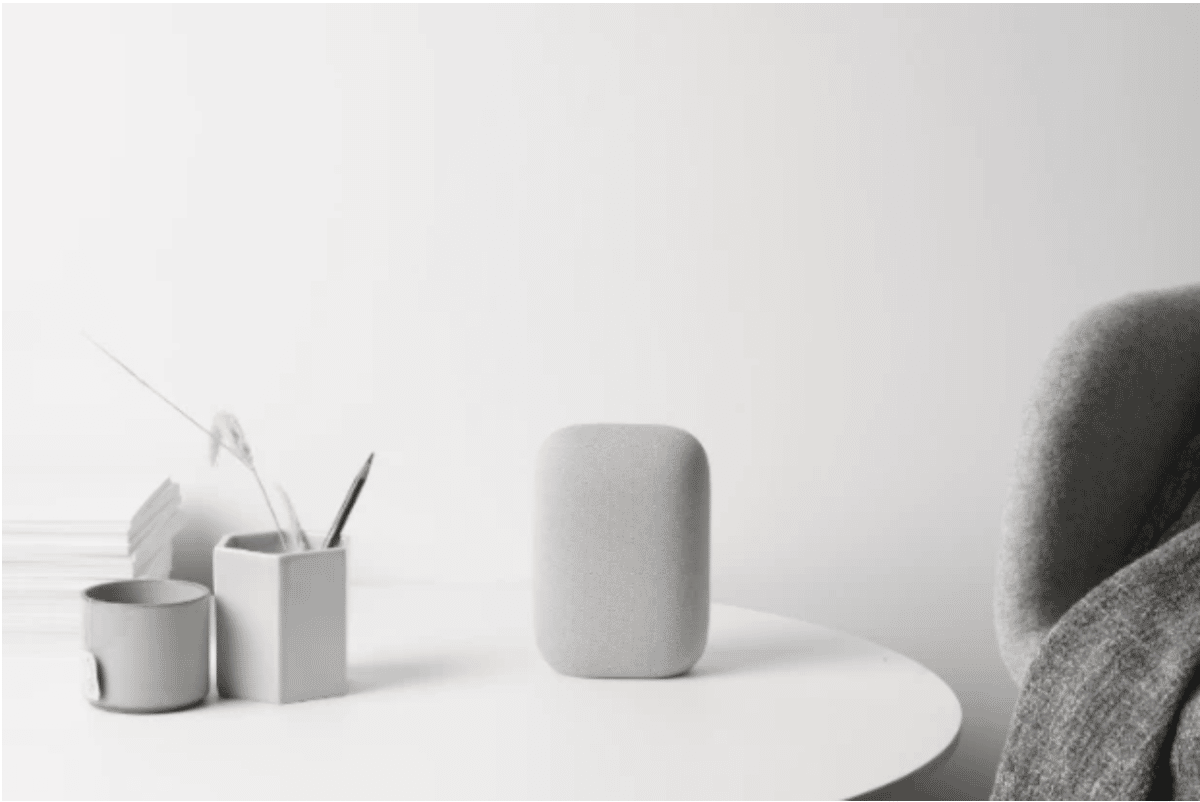 If you're looking for a Google smart speaker that has been regarded as probably the best all-round smart speaker then the Google Nest Audio is definitely one that deserves your attention. This is an amazing alternative to those who were thinking of purchasing the Amazon Echo as they're the same price and are quite affordable. Ever since the Google smart speakers came out, it became known that they looked very good and had a strong aesthetic. The Nest Audio is no exception to this and has a simple, fabric-fronted design which adds a very cool minimalistic look to the environment you put it in. You'll also be able to place this speaker anywhere pretty easily because it has a small compact design which can be helpful if you are a person that doesn't have a lot of space to begin with.
Then from the name you probably would have gathered that the Google Nest Audio has an amazing sounding wireless audio. You'll be happy to know that this smart speaker supports all your favourite music streaming services, even Apple Music, and once you've successfully set which music streaming service you use as the default you'll be able to ask it to play any song you want just by triggering the speaker and then asking to play that song. Google even takes their audio performance to the next level with the integration of the Chromecast protocol which allows you to send audio from your mobile device to your Nest Audio and what's great about this is that it isn't exclusive for Android.
The amazing, balanced sounds that this speaker produces, across the whole spectrum including vocals, is thanks to its 75mm woofer and 19mm tweeter inside of the Nest Audio. Although the speaker may be small it does an excellent job at filling a whole room with sound no matter the size and this could be thanks to its Ambient IQ, which is a feature that allows the speaker to adapt to the background noises in the room to give you the best sounding audio.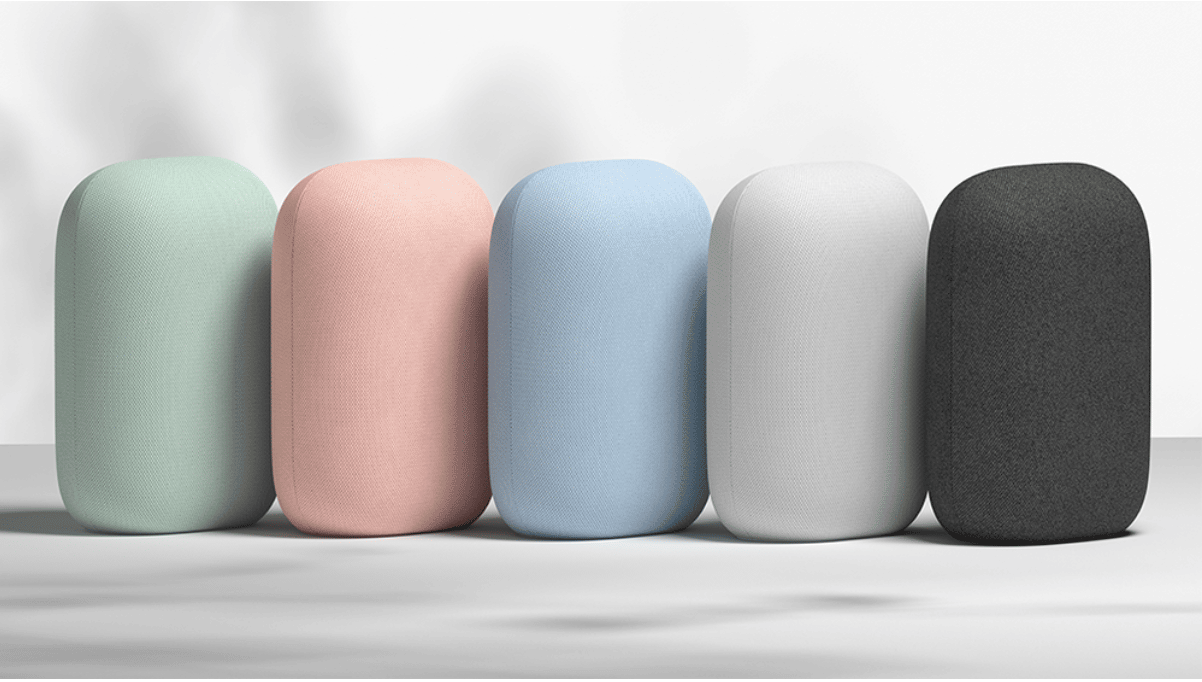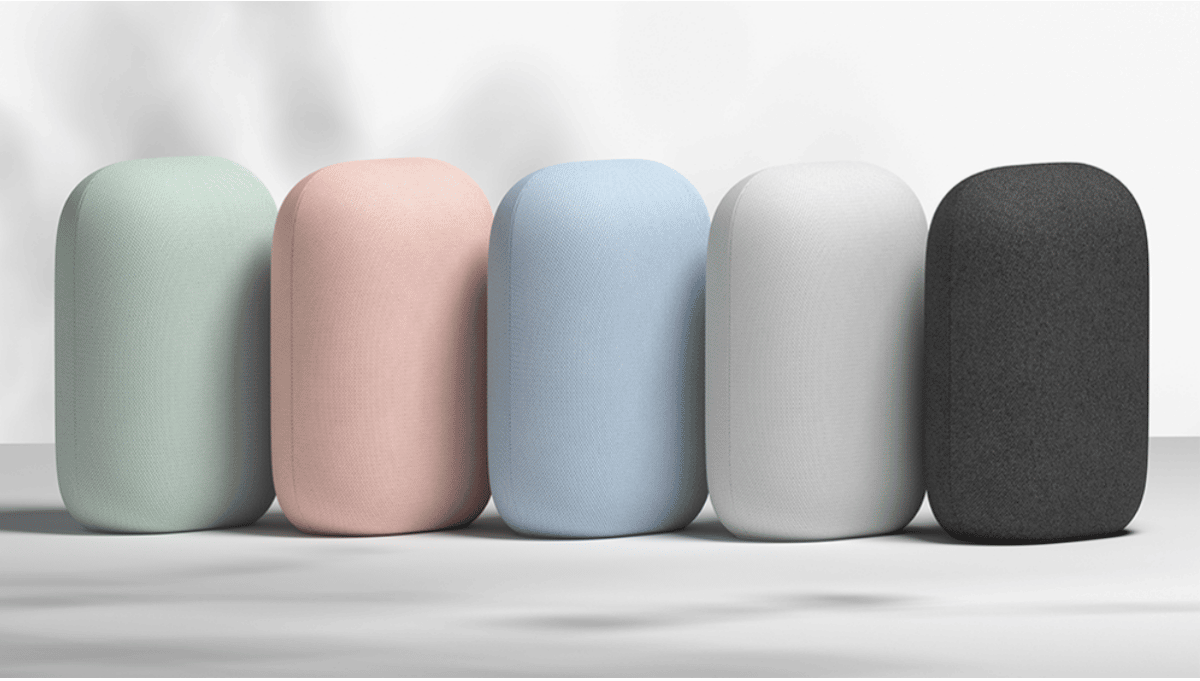 In order to keep the minimal look which the Nest Audio tries to give off there aren't a lot of physical buttons or controls on it, all that you'll have on the outside is a microphone mute switch with touchpoints to turn the volume either up or down. The sounds that this speaker gives off, although already excellent, can be even further enhanced as it can connect to a group of multiple speakers at the same time and really fill the room with sound. One disadvantage to the seamless, minimalistic look that you get with this smart speaker is that it has no ports or anything so you are only able to use wireless audio.
The key thing that you get when you buy the Google Nest Audio is the balance, there are other Google Assistant speakers out there that are cheaper and there are others that sound better. The balance that you get with this speaker is the fact that it is the perfect middle of all the different specialties that the Google Assistant speakers have to offer. So while it sounds great and looks very nice it doesn't cost nearly as much as the other options which may be better. So although the absolute sound quality may be lacking compared to the better smart speakers the price is definitely where this speaker makes up for it.
Google Nest Hub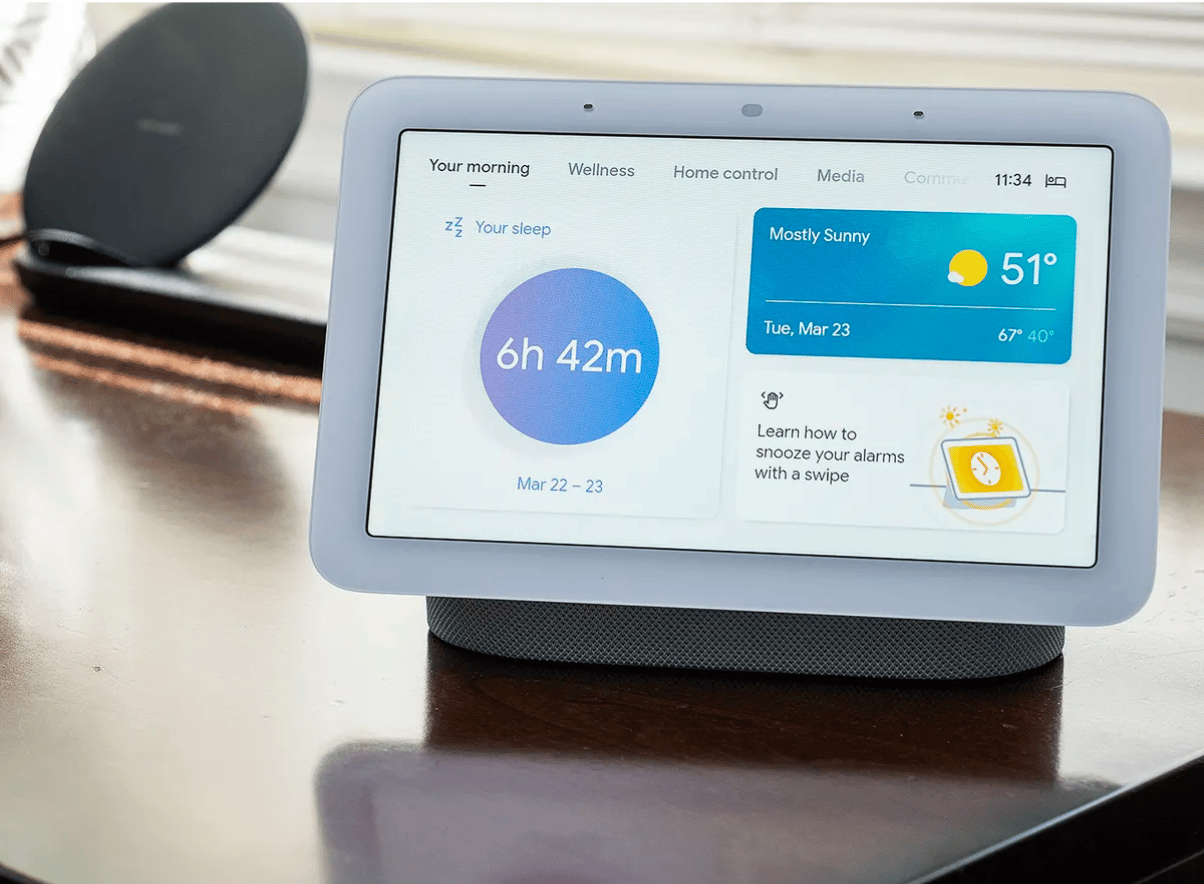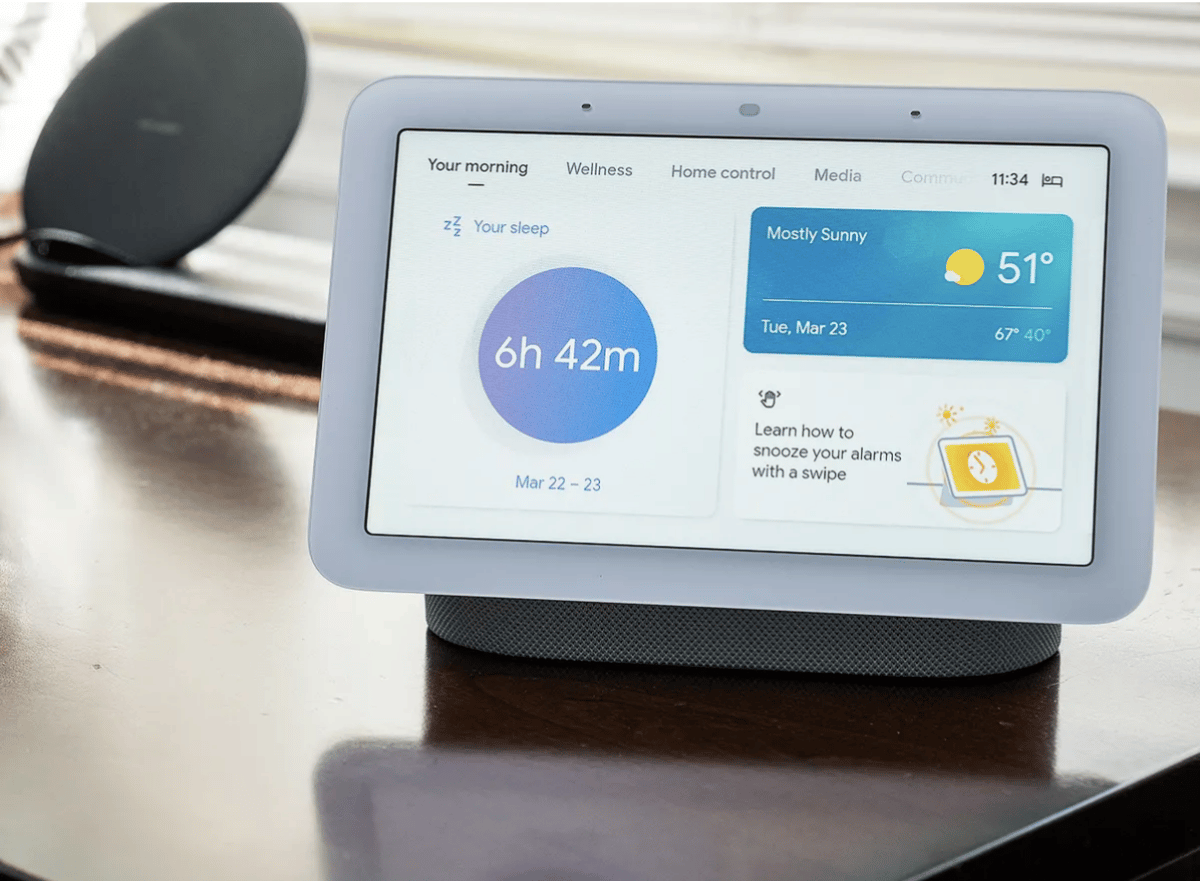 Then on the other hand, if you're in the market in search of a smart speaker that also has a built-in display. This smart speaker with a display is considered one of the best and could be due to the fact that it is fairly affordable whilst still offering an amazing looking display, great quality in its sound and is even able to track your sleep when you put it side by side your bed.
The smaller Nest hub can easily be situated almost anywhere in the house because of its size, however a downside to its side is that they had to remove the camera in order to shrink it down, which means that you won't be able to have video calls on it. If you're wondering how the Nest Hub senses when you're sleeping it actually doesn't even use the video feature it instead uses its motion and sound detection. So with these features that it uses it can learn the times that you normally go to bed and then establish how well you rest based on what it detects. This information is available for you to view of course and you can do so on the Google Fit application on your phone, this app also gives you some other helpful information related to health and fitness in order to give you a complete picture.
The smart speaker that this display houses isn't anything out of the ordinary and acts the same as the other Google Assistant options on the market, all you do is wake it up by saying the wake phrase and then ask it for something. With the smart speaker you're able to listen to all your favourite music streaming platforms, including apple music, you're also able to listen to podcasts, check the weather, get news briefed to you and of course you'll be able to control other smart home devices through this one. The microphone that this speaker houses is of amazing quality and it's able to hear you over quite a far distance which can be extremely helpful if you've placed your speaker quite a long way away and don't want to have to walk up to it every time to say something.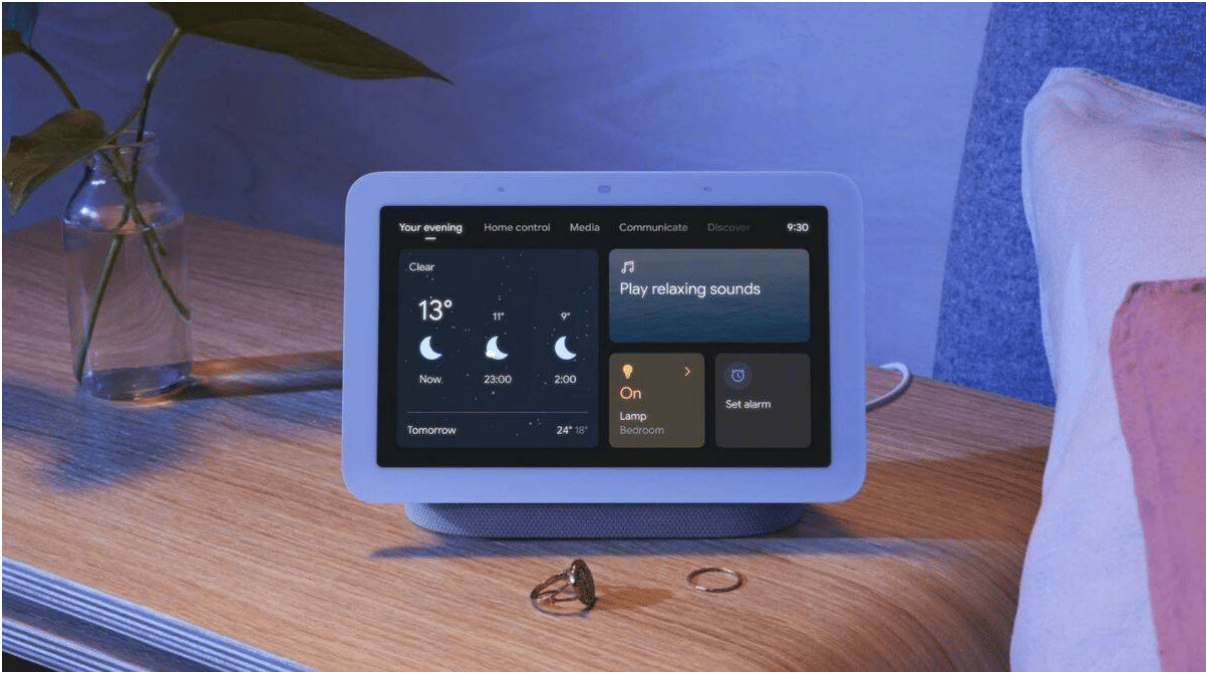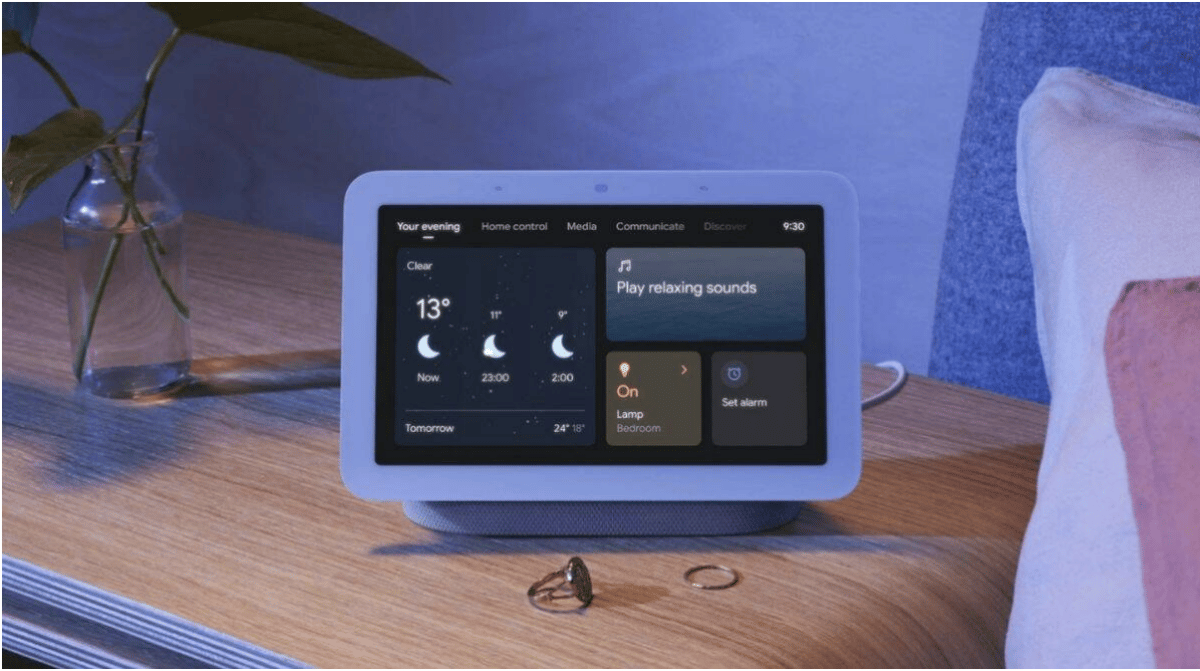 The biggest upgrade that you'll notice the Nest Hub smart speaker has over the Nest Audio speaker is that this one comes with a display so you'll be able to stream and watch video contents as well as play audio. The main streaming platform that they have on this display is YouTube but you'll still be able to get third party platforms as well like Disney+, Netflix and Hulu. if you're looking to just put something on to keep your kids entertained or even if there's something that you are interested in watching while you're busy doing something then it provides a decent experience for you. It will not be able to live up to the standards of watching something on a real TV so you should imagine it more like you'll be watching something on a small tablet.
When it comes to the disadvantages of purchasing this smart speaker and display then the biggest one is actually the same that the Nest Audio smart speaker has and that is the fact that it doesn't have a 3.5mm jack to use as an input or output. Although the sound that the speaker produces is still very good quality it would still be nice to be able to easily integrate it with your existing sound system and connecting without the 3.5mm jack just makes this whole process a lot harder than it needs to be.
The display is not just used for streaming entertainment and can be used as a very helpful dashboard instead where it shows you important daily information like weather and time amongst other things. If you are used to using your mobile device or an iPad or tablet then getting used to using and navigating through the Nest Hub will be no problem at all for you.
Sonos One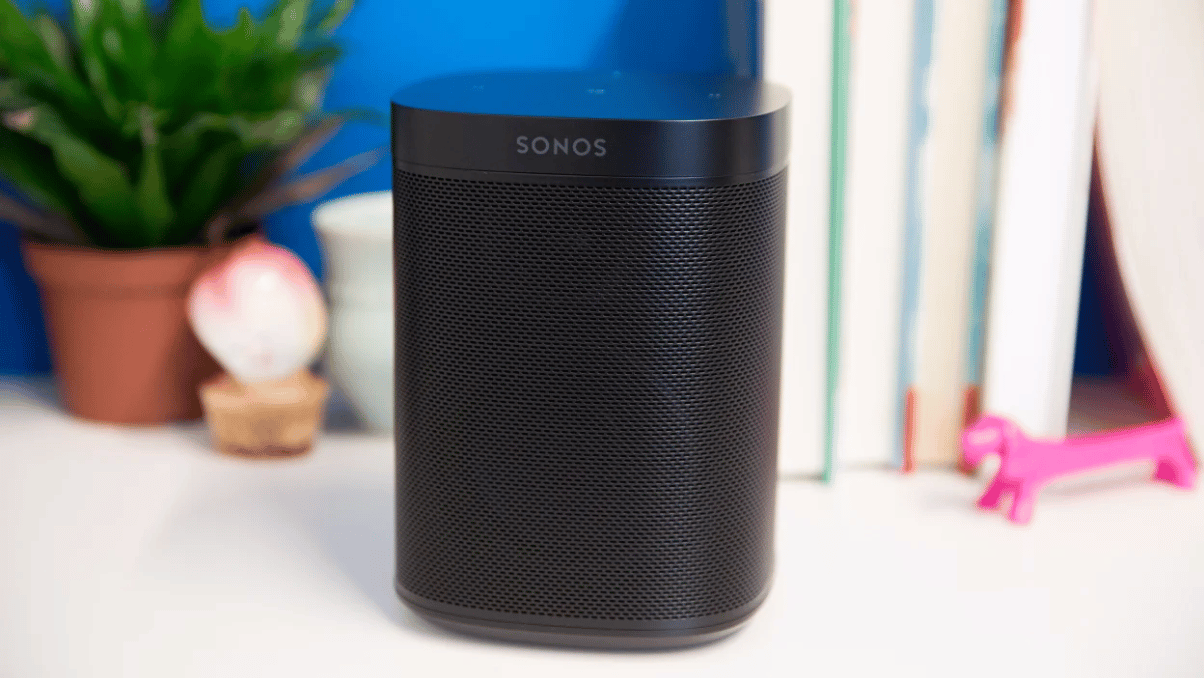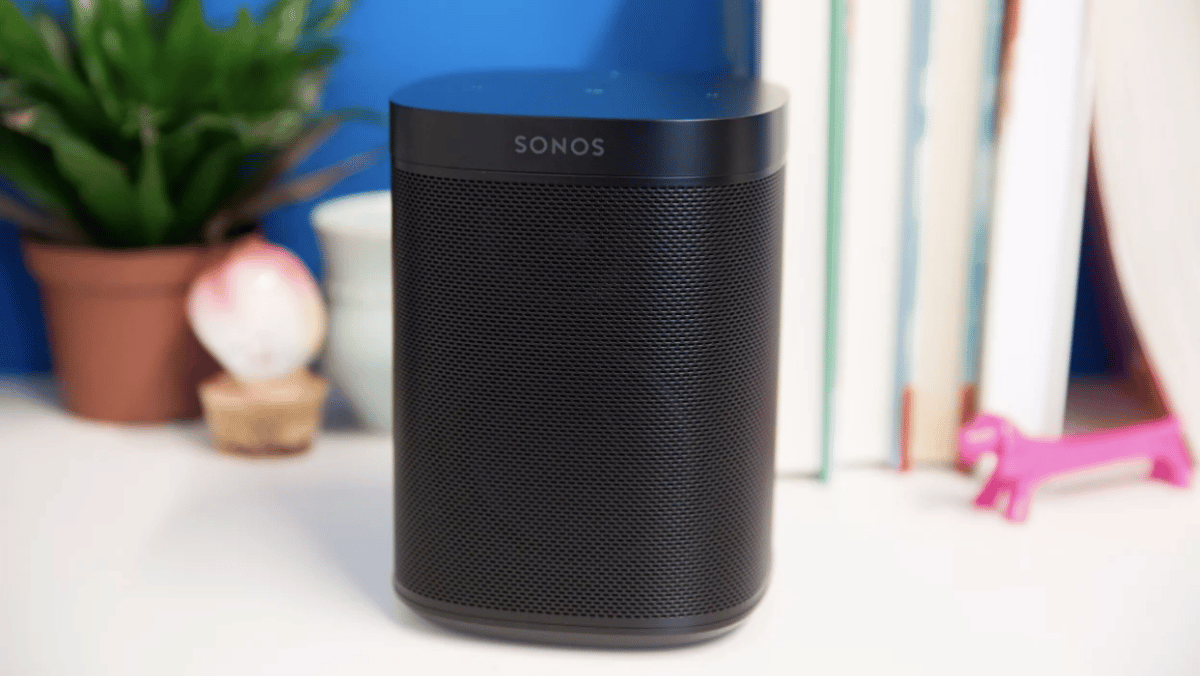 Then we have the Sonos One, probably if not the most popular product when it comes to multiroom audio. You may be wondering why it doesn't have the word Google in its name, this is because it is basically a company working on its own voice assistant platform but they still have full integration with Google Assistant so it works just as smoothly as the Google smart speakers. We have talked about how good the Nest Audio speaker is but the Sonos One takes it to a whole new level because the brand was quite literally built for music and will always work and focus on improving just that.
If you're wondering how the Sonos have improved this speaker to make it better than most others then here are a few examples. Firstly, they want you to be able to play your music or audio anywhere in your house, even the bathroom. So to let you be able to do this they have made their speaker humidity resistant so if you're showering or using hot water you don't need to be worried about the steam and water getting into all nooks and crannies of your speaker.
Then on the internals side, we see some nice components to give you some amazing sound experience. The speakers audio hardware houses digital amplifiers, a tweeter and a mid-woofer which takes the bass to a whole new level while still being able to give you the faithful recreation of mid-range frequencies. Sonos has made it possible for their speaker to be compatible with all of their products, even their older generation hardware. The one thing that the Sonos One speaker has above all other types of Google Assistant smart speakers is that you're able to combine two of these speakers to make a stereo pair and make the ultimate music output source.
If you're reading this article you probably want to know how you can use this smart speaker with Google Assistant, to do so you'll need to use your voice to activate the speaker and ask it to do something but the Sonos also has their own companion app for those who want to interact with the speaker without using your voice you can do so also.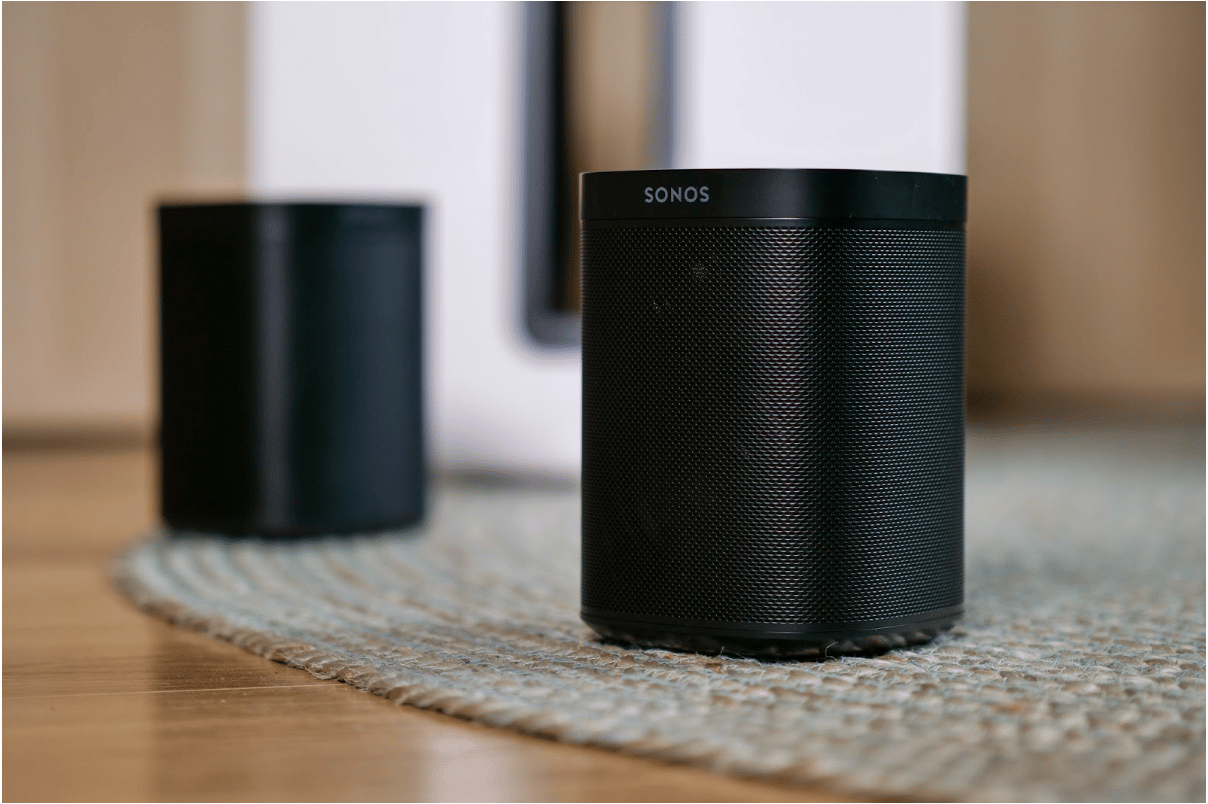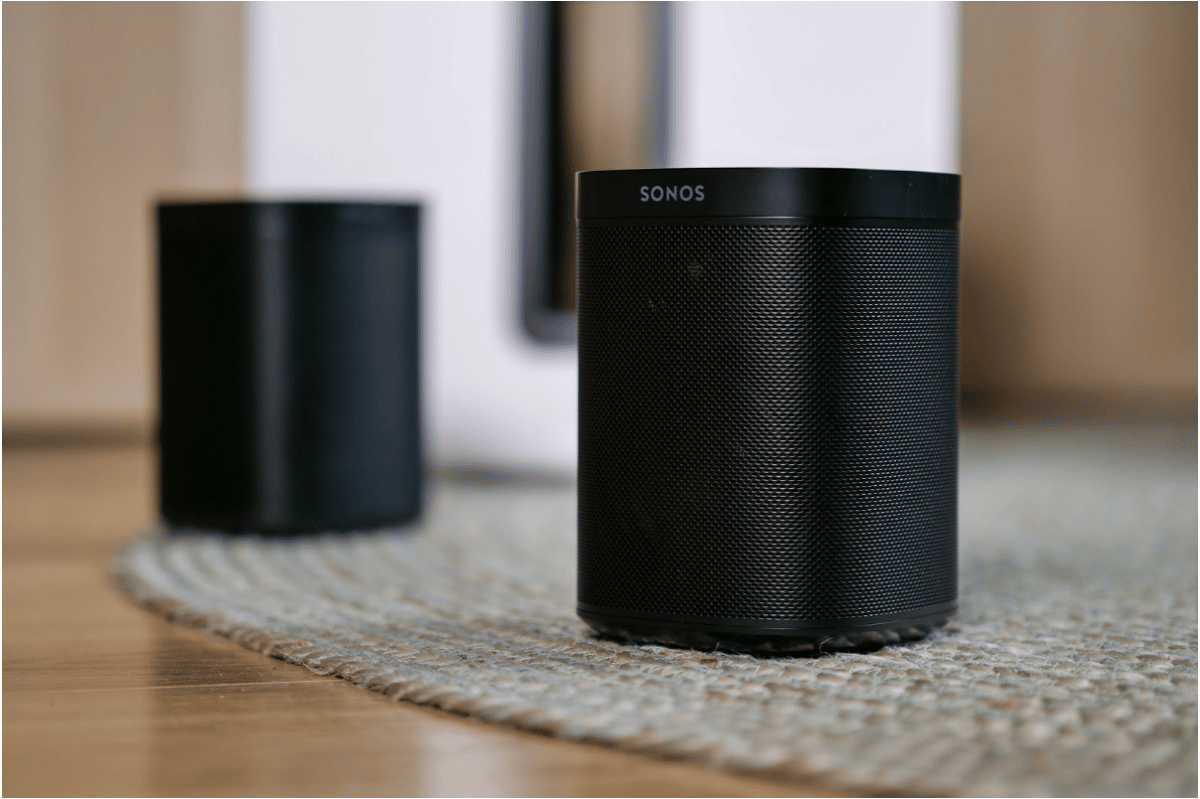 The fact that the Sonos One has Google Assistant integration means that all the music streaming services will be very simple. Another huge benefit to having the Sonos One is that it supports Hi-Res Audio, from the music services that support it like Amazon Music, so that means that you'll be able to enjoy the highest quality of music from your home speaker.
After we've talked about most of the positives that this smart speaker comes with, it is only fair and just to move onto the downsides of this speaker which, like many other speakers on here, is that it doesn;t have a 3.5mm input. So as you've probably learned by now, without this 3.5mm input you'll only be able to use the Sonos One with wireless music. Then the fact that it is so focused on being an amazing smart speaker means that it definitely has a higher price than most other smart speakers, especially if you're looking to build a multiroom system.
But enough of all the negatives, the Sonos One has another huge advantage over most other speakers, besides the amazing audio quality, and that is that it is able to cast a wide net. If you're someone that has a budget that is a bit bigger and is focused on having the best music system then this is definitely the choice for you. Just because it has an amazing audio quality doesn't mean that it isn't a good smart assistant that is able to control your smart home, it still can, and if you have an iPhone or iOS device then you'll be happy to hear that you'll be able to use AirPlay with it as well. Despite the big price tag that this speaker has it still represents a good value.
Google Nest Mini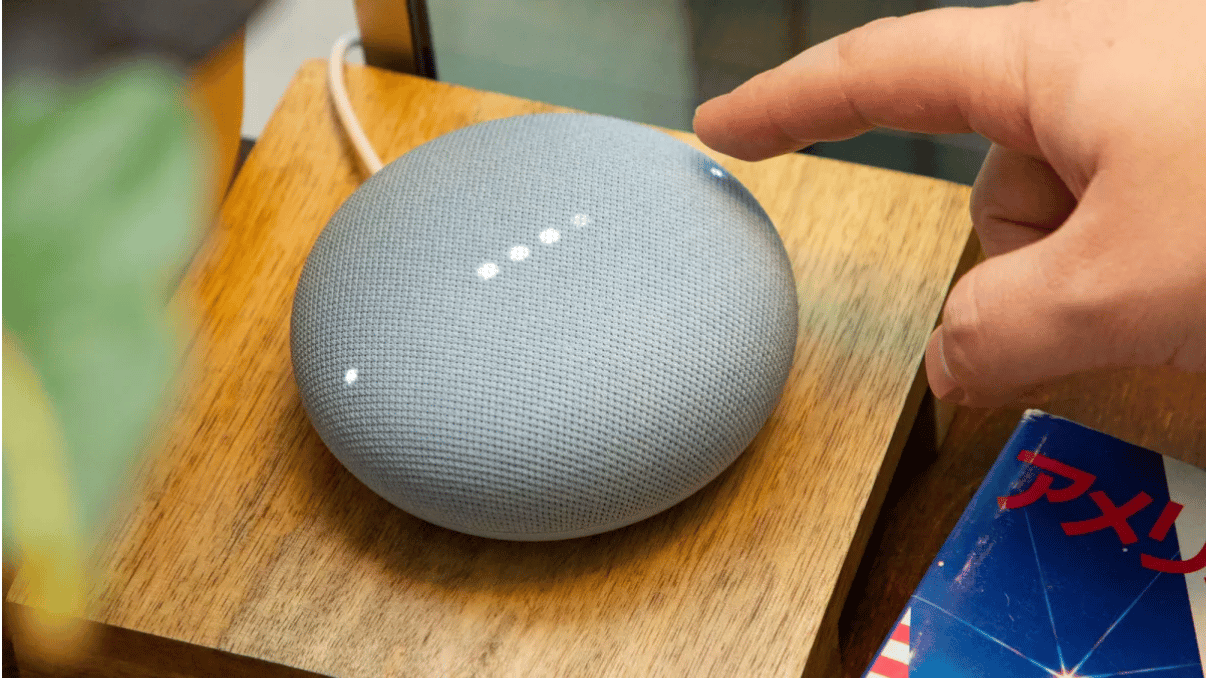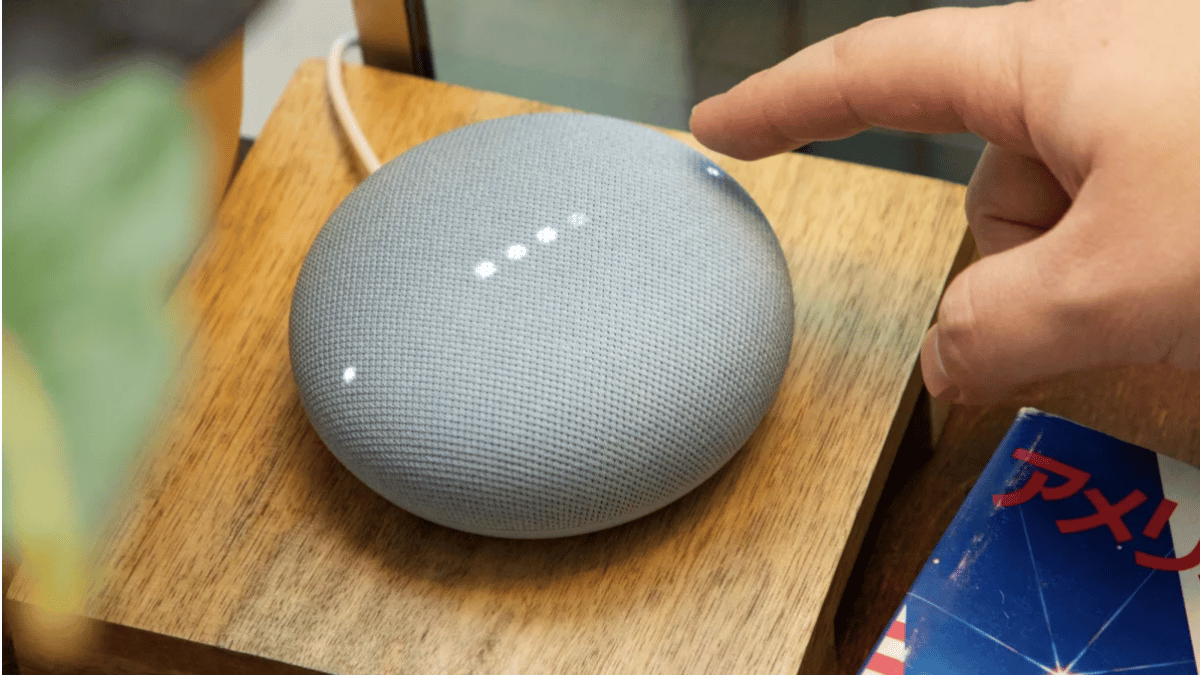 For those who remember the Google Home Mini or owned it then the Google Nest Mini will feel like home because these two speakers are basically exactly the same and they have both been a staple product for the Google Assistants lineup of smart speakers. If you are someone just getting into the world of the Google Assistants and smart speakers then this is definitely a choice for you, especially if you're on a tight budget.
The main rival that this smart speaker goes up against is Amazon's Echo Dot as they basically are in the same bracket of smart speakers in regards to price and how they function. The Google Nest Mini is a compact and small smart speaker that has an overall minimal look to it because of the simple design and almost no physical buttons on it. The only buttons that this smart speaker does have are the two touch points on the top of it so that you are able to decrease and increase the volume, the lack of buttons means that you'll need to use your voice more often.
The biggest thing that Amazon's Echo Dot has over the Nest Mini is that the Nest Mini doesn't have a 3.5mm input/output while the Echo Dot does. The addition of this input/output point would've been amazing and make integrating the Nest Mini with your other home entertainment systems so much easier and faster.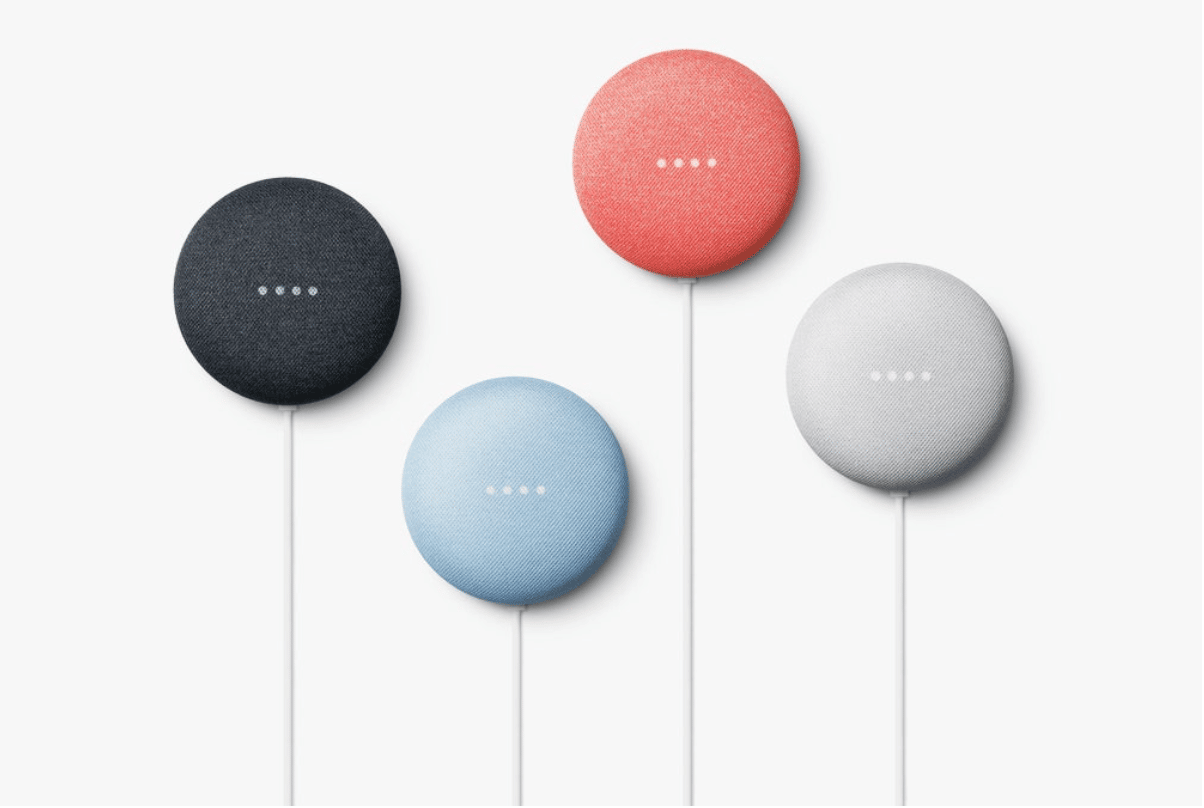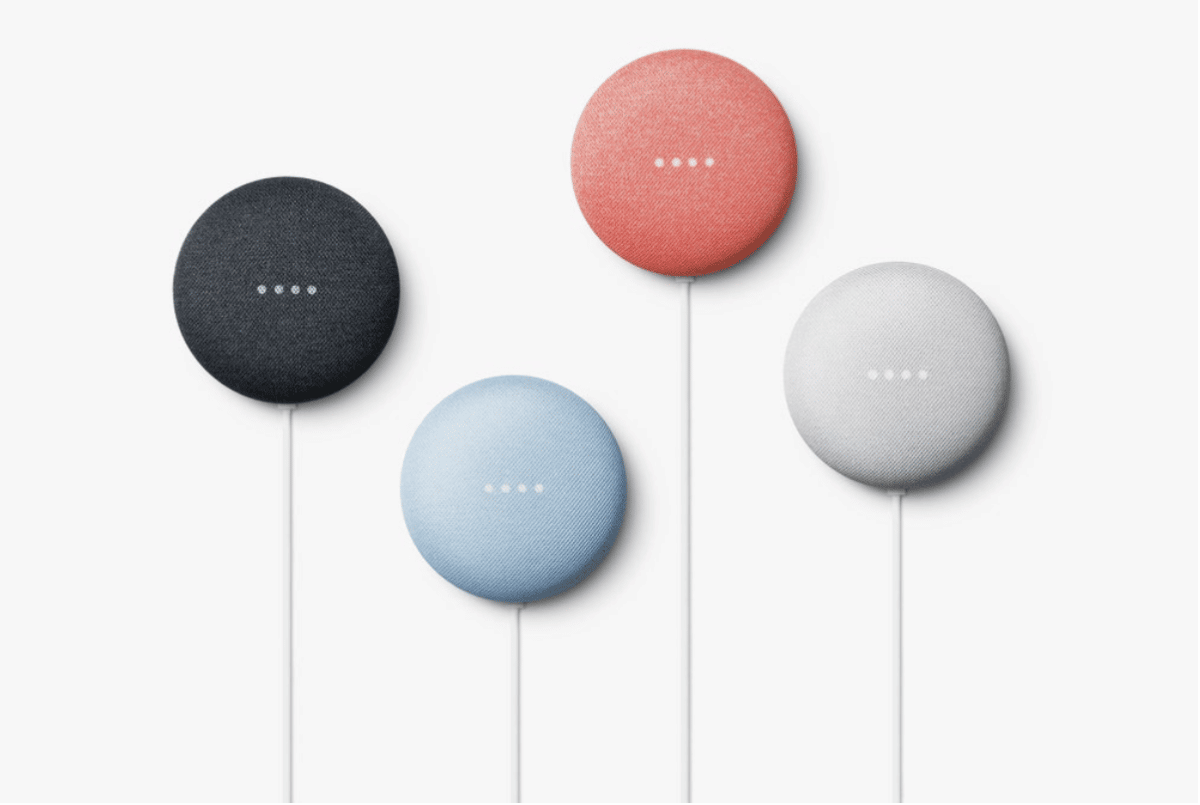 As you've noticed the Nest Mini is extremely minimal and has a fabric-covered top which comes in a variety of colours, the only extra feature this speaker has to break its minimalistic feel are the LED lights that light up when you start talking to it. This is a cool little feature to have as it can help you see if the speaker is listening or not because when it's off then the lights will switch off as well. This smart speaker really is as simple as they come, the minimal look and controls means that anyone will be able to own one of these and use them comfortably.
The fact that this smart speaker is smaller than most can lead some people to believe that the sound may be bad but surprisingly, the sound is still very good. Although it only has one 40mm driver to produce its sound it delivers it in a full 360 degrees, which means that it is able to fill up a room much easier than one that only produces sound in one direction. The microphone is also really good on this speaker and is able to hear your commands from all directions quite comfortably thanks to its trio of far-field microphones. This smart speaker supports a vast variety of music streaming services but if the service you use isn't supported then you can just cast it to your Nest Mini thanks to the fact that the speaker supports Chromecast protocol.
The Nest Mini is the probably the best and most affordable way to get into the smart home powered by Google Assistant era. The Nest Mini saves you a lot of money and space while still being able to do everything that the more expensive speakers can do.
Sonos Roam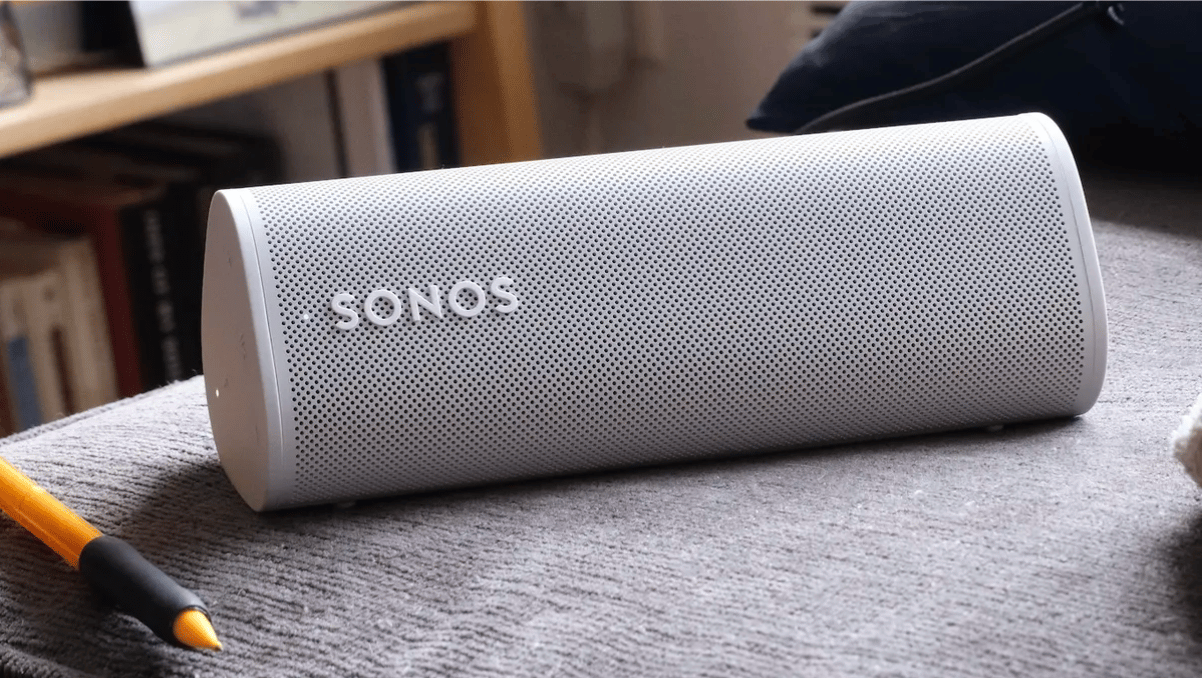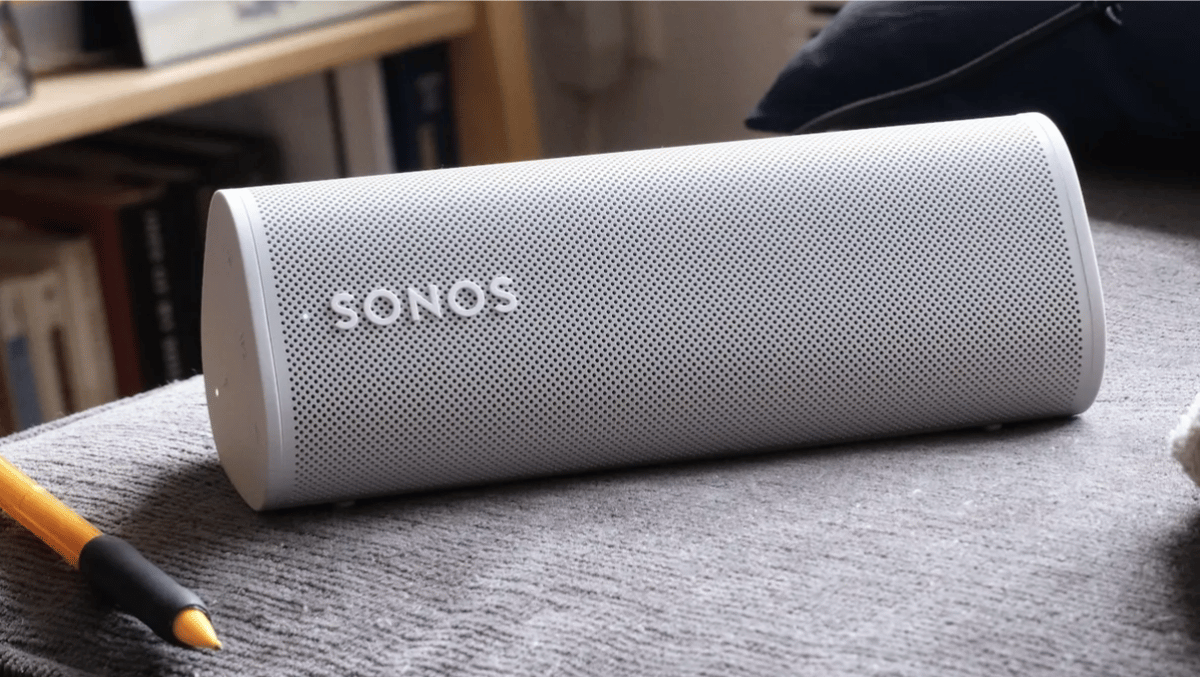 The Sonos Roam is definitely the one smart speaker out of this group that looks exactly like a portable Bluetooth speaker but that is definitely not all there is to this device. It does carry some of the advantages that a bluetooth speaker would have, like the fact that it has a battery so you'll be able to take the music with you wherever you are, as long as it is charged. The one thing that it lacks from the bluetooth speakers is that this smart speaker needs a Wi-Fi connection in order to function which can be hard when outdoors. Just like the Sonos One, this smart speaker has Google Assistant integration while still supporting airPlay as well, which is definitely a plus for those iOS users. Airplay or Bluetooth, for those Android users, is an amazing backup for you if you are outdoors and don't have that Wi-Fi connection available to you.
Despite the Sonos Roam's small, compact size it can manage up to 10 hours on a single charge. What's even more impressive than the batter though is its sound quality which is definitely not like any bluetooth speaker, this is achieved because of the pair of digital amplifiers, a tweeter and a mid-woofer within the speaker. Not only is the Sonos Roam rechargeable, it offers wireless charging as well for those people who prefer to have clean charging setups instead of having cables everywhere.
Another sick feature is that the Sonos Roam has a handoff feature. This means that if you're playing music on the outside or away from your home entertainment then when you get back it's super easy to connect back to it. Once you get back in range to your in-home Sonos speakers you'll simply just have to hand over the audio and then the music will carry on seamlessly on your in-home speakers.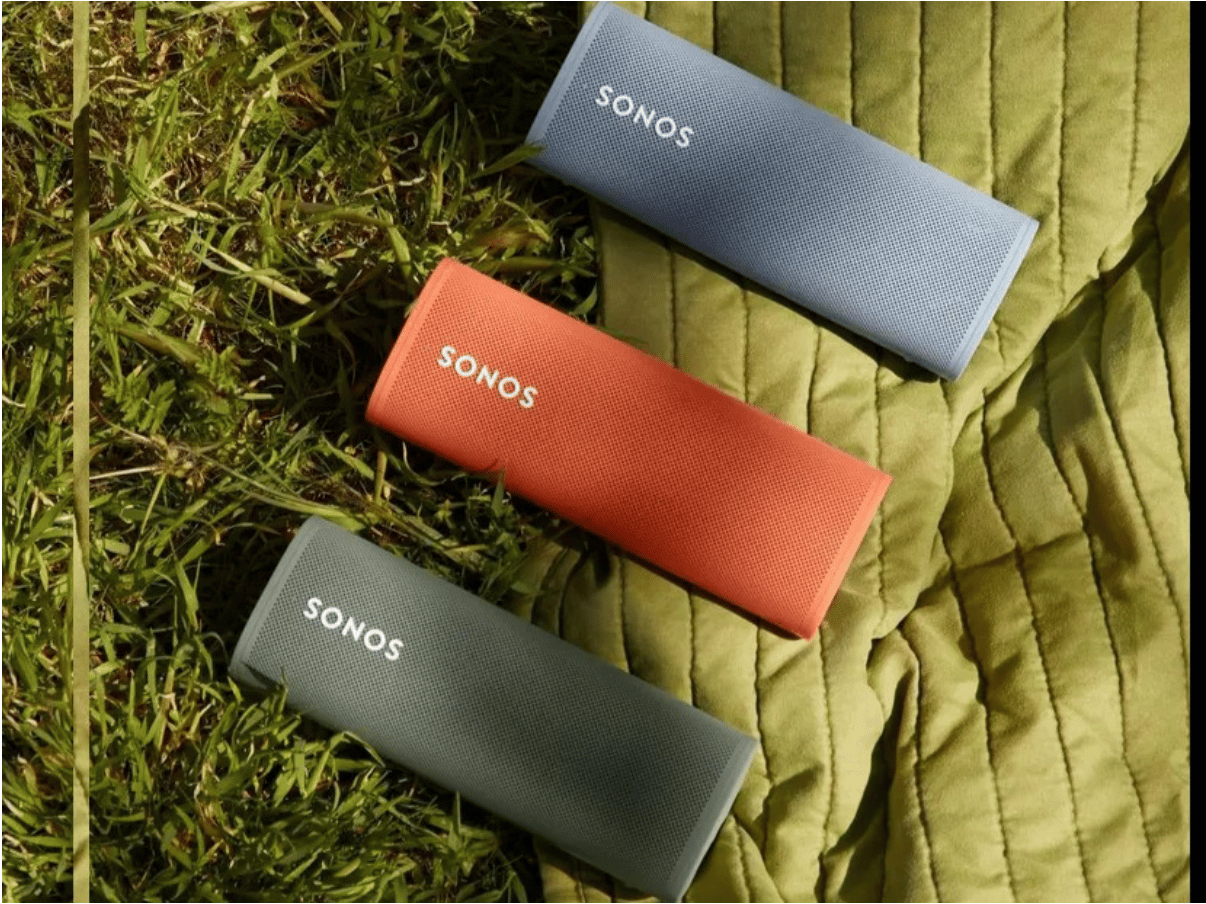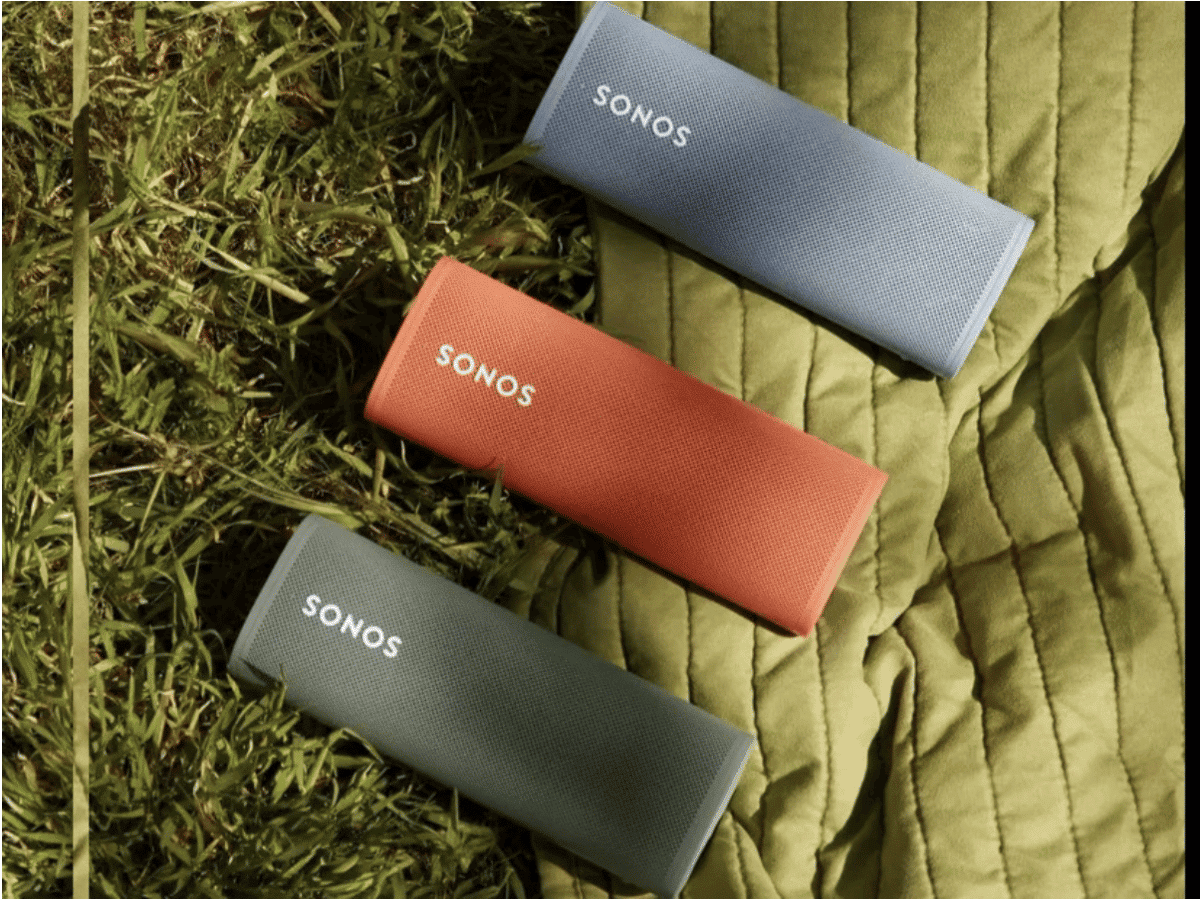 As you can see with all these advantages that the Sonos Roam has, it is definitely not only a portable speaker, it is every bit at Sonos as the other Sonos smart speakers. This is further proved because of its ability to support Trueplay, which is Sonos' own technology that allows the device to monitor the acoustic environment that it is placed in and then adjust the audio accordingly. The android users might be sceptical about this speaker since the Roam only supports an iPhone to set up and calibrate the Trueplay, but you'll be happy to know that this smart speaker supports Android users as well.
It isn't only the Sonos features that this speaker likes to boast about, it's also able to boast about all of its portable capabilities. Some of these amazing portable speaker-like capabilities include its IP67 rating and shock resistance which means that you'll be able to take this smart speakers on many adventures like to the beach or just around in the garden. The Sonos Roam may not look the most adventurous but it can definitely handle one. With all of this speakers outdoor capabilities as well as its increasing garden-based smart tech it is definitely a very good outdoor companion option.
Lenovo Smart Clock Essential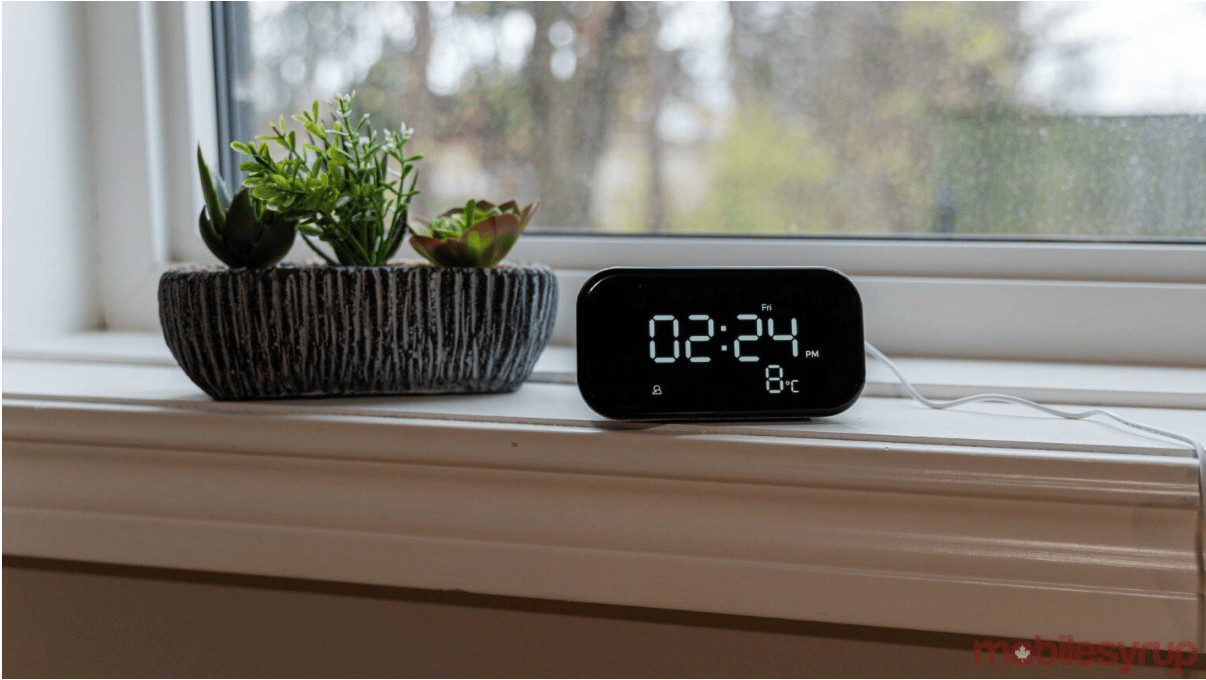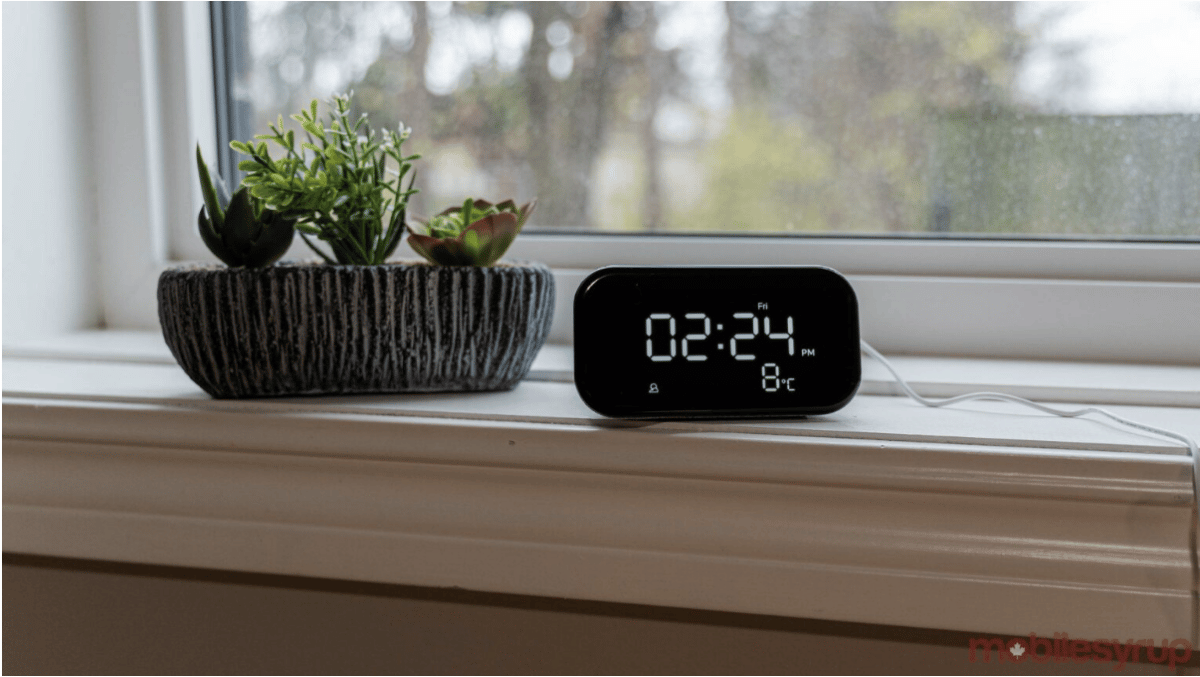 From the name of this device you could've worked out that this is essentially a modern take on the classic nightstand alarm clock radios that were such a huge success back in the day. They have integrated all the features that this smart clock is able to do very subtly so, just by looking at it you wouldn't be able to tell if it was a regular alarm clock or actually the high tech Lenovo Smart Clock Essential. There are actually two different types of Lenovo Smart Clock Essentials that you are able to purchase, one being a Google Assistant and the other Amazon Alexa. You are able to tell the difference between these two different types of products, to be 100 percent certain that you get the Google Assistant version you must remember that it only comes in a grey colour and is a little smaller than the Amazon Alexa version.
One of the biggest reasons that this smart clock has been amongst, if not, the most popular smart clocks to exist is that people feel a little more comfortable having this one beside them when they're asleep because there is no camera. If you're a sleep talker or just don't want it to listen to you anymore while you're sleeping, or whenever, then you can put it on mute so that it won't disturb you. The sad thing about this mute switch is that it is placed on the rear of the base, which can definitely be a pain or awkward sometimes to have to press it but it is also good so you won't accidentally click it and then wonder why it isn't responding to your calls.
Many people still don't understand the love for these bedside clocks, since they don't come with any touch display like other options, such as the Nest Hub or one of Lenovos other smart clocks. The smart clock aims to give you all you need for those times you wake up or go to bed, for a bedside device you definitely don't need much at all. All you need is to see the time and weather when you wake up or go to bed. You definitely don't want a lot of distractions when you're trying to sleep because it may keep you up or lessen your deep sleep performance. The display is very simple but effective, when you wake up and have the worst of morning blurry vision you'll still be able to see what the display shows clearly. Then when it gets dark in the room, the clock automatically dims its light so you won't need to look at the bright display and probably hurt your eyes in the process.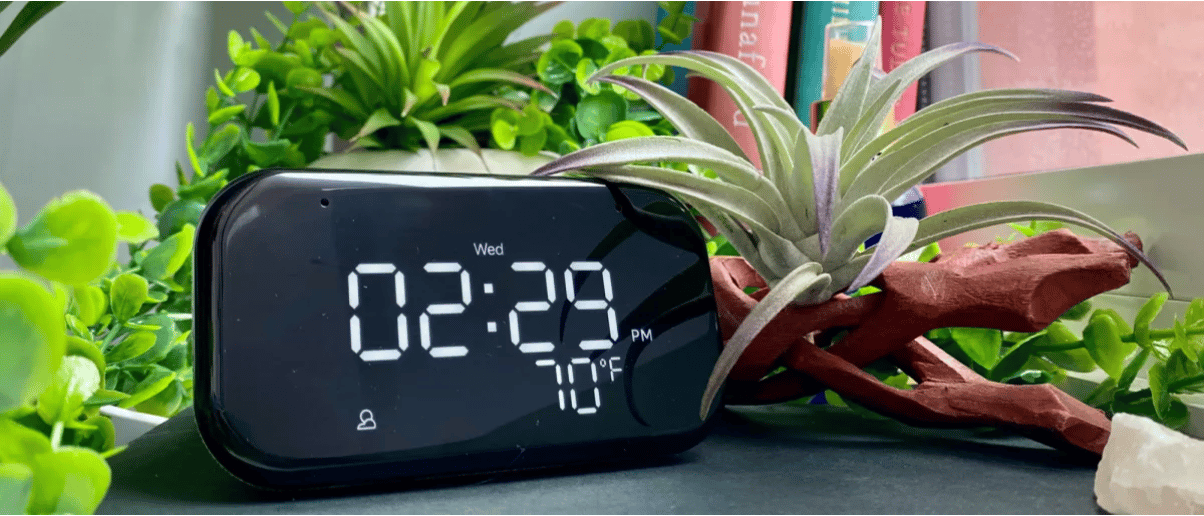 The key controls on top of the device come in extremely helpful as they allow you to set an alarm without needing your phone. So for those looking for a healthy sleep and staying away from their phones before bed this will definitely be a huge positive for you. Once you've gone through the whole setup process in the beginning you will be happy to know that you probably won't need to fiddle with anything again unless you did something wrong and need to change a time or an alarm and once again, you wont need your phone to change anything as the buttons on top allow you to do everything.
This small speaker will definitely not stick out when it comes to the sound quality, all that is important is that it is loud enough to wake you up from your sleep. The fact that it is small, meaning you'll be able to put it almost anywhere, and that it is affordable does definitely make up for the sound quality. However, if it isn't important for you to get a bedside clock speaker then the Nest Mini may be the better purchase for you since it is in the similar budget price range but provides much better sound quality.
Bose Smart Speaker 500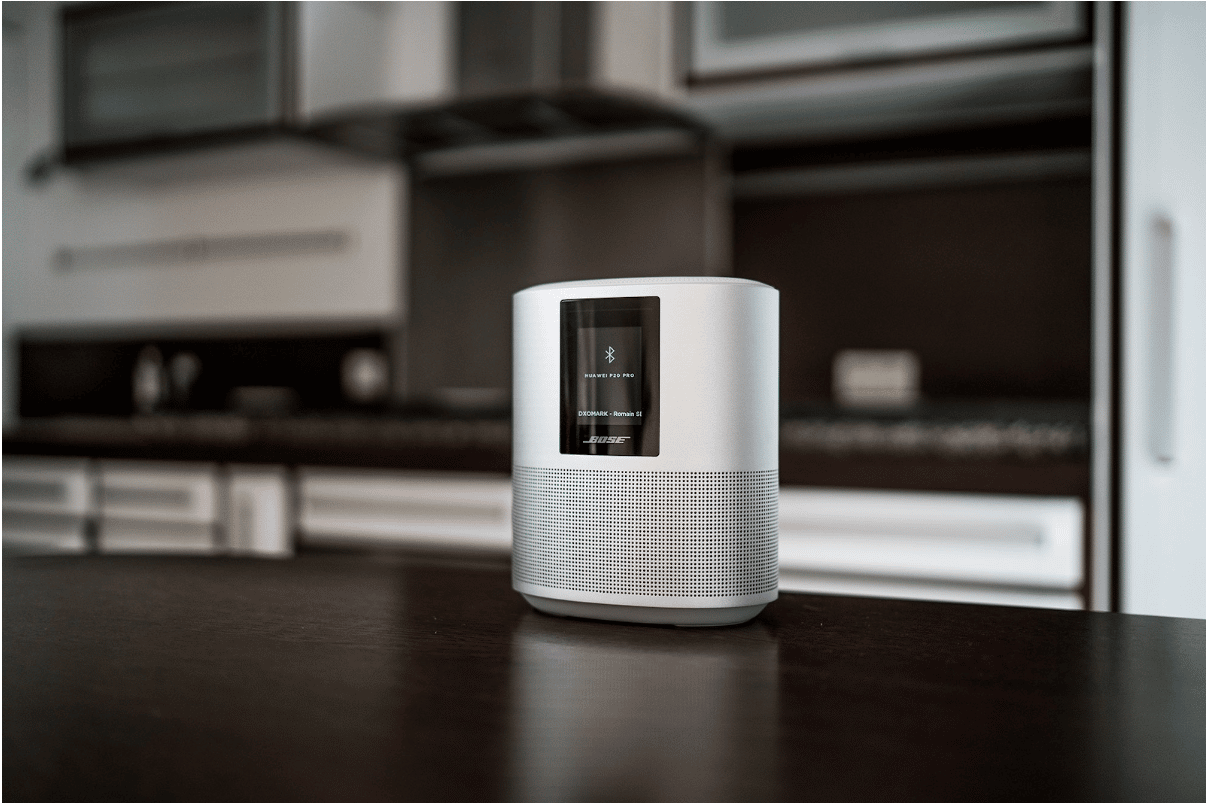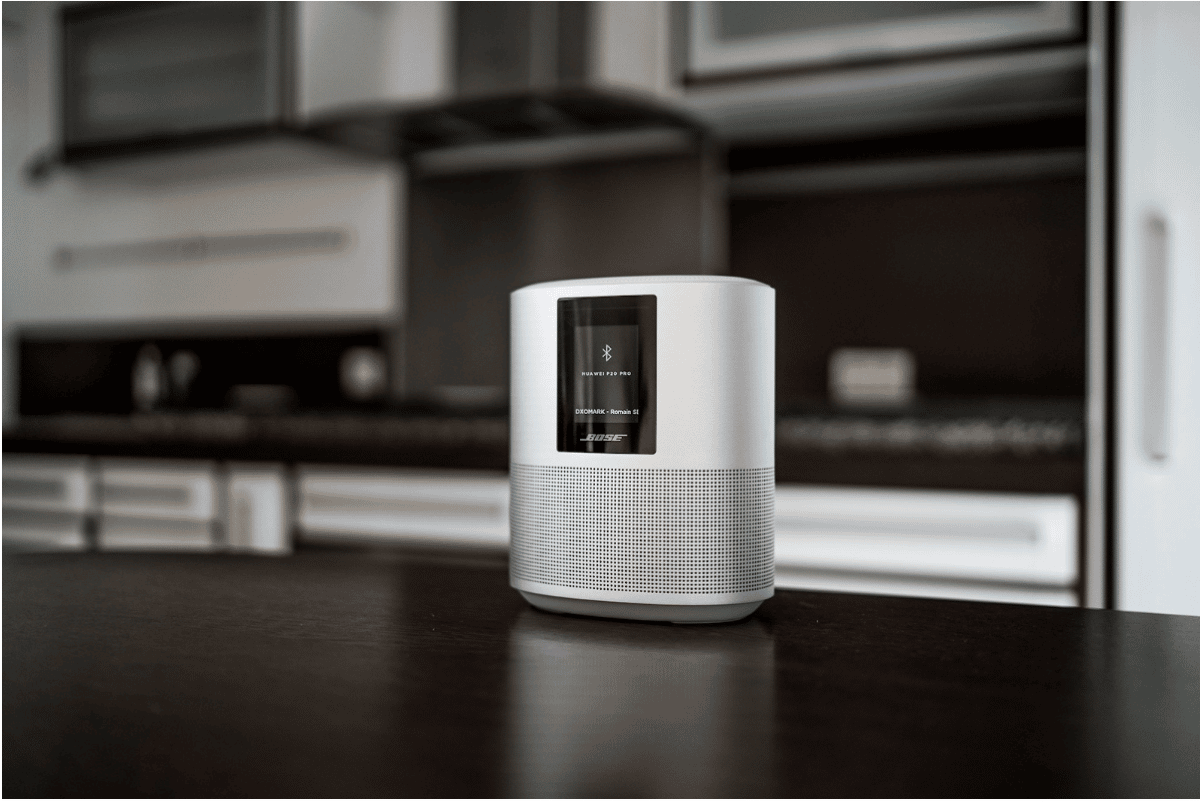 For those of you who have a larger budget and want to be able to experience premium, high-end audio quality in a smart speaker then this is definitely the speaker that you should check out. Just the Bose name is enough to make you believe that this product is an amazing musical device. This speaker is basically a premium Bose speaker that is also connected to the cloud through the use of Google Assistant.
An amazing positive that this Bose speaker offers is that you can not only stream music from popular services like Apple Music and Google's own YouTube Music but you now also have the ability to stream music from Amazon Music. Even though you are connected to the cloud by Google Assistant, you still get the benefits of using Alexa support, which is built into this speaker. The list of features that this speaker is compatible with doesn't stop there, it also supports Chromecast and AirPlay 2. So whatever you want to use this speaker with, you probably can.
To enhance the audio that this app produces it has two custom Bose drivers that are pointing in different directions so that the audio bounces off the walls to basically be able to fill up rooms with sound easier. The microphone gets just as much detail as the speaker and it is able to pick up sound coming from all directions because of its eight inputs housed on top of the speaker. If you aren't interested in giving the speaker instructions then there is an option to mute the microphone by switching off a hardware mute button on the speaker.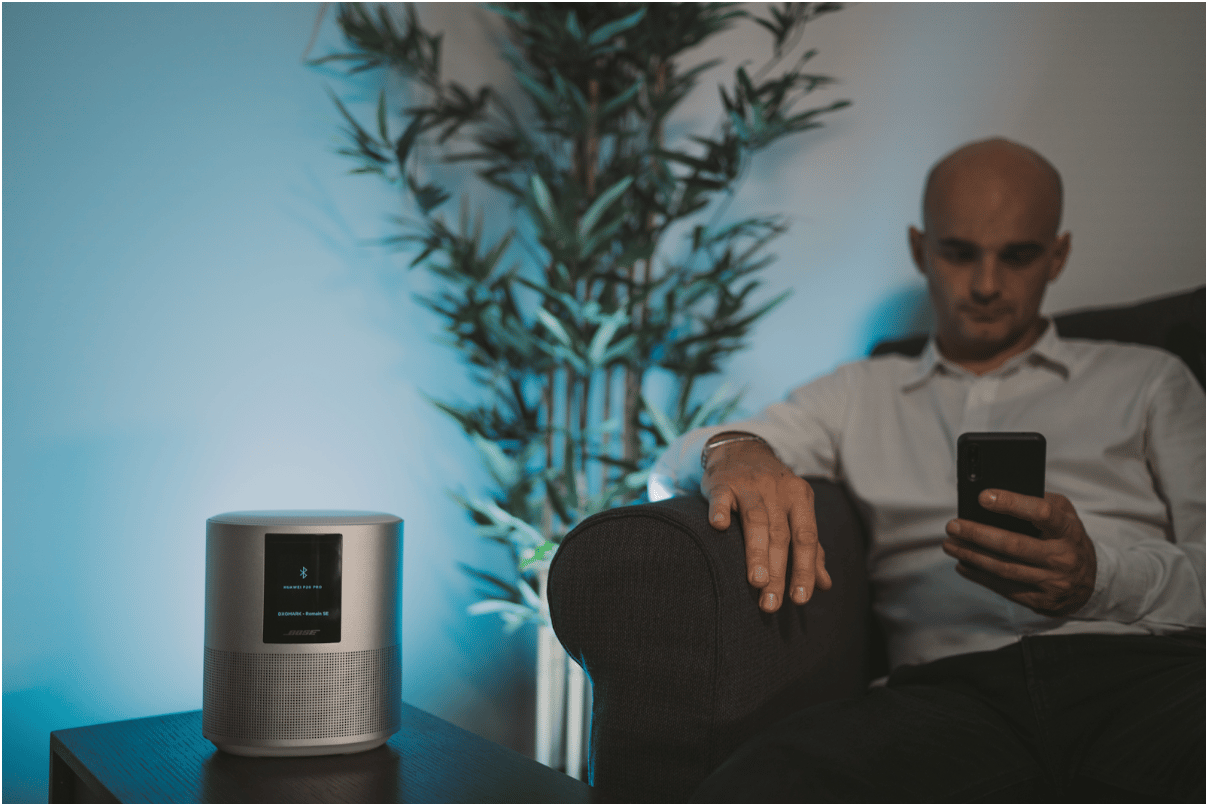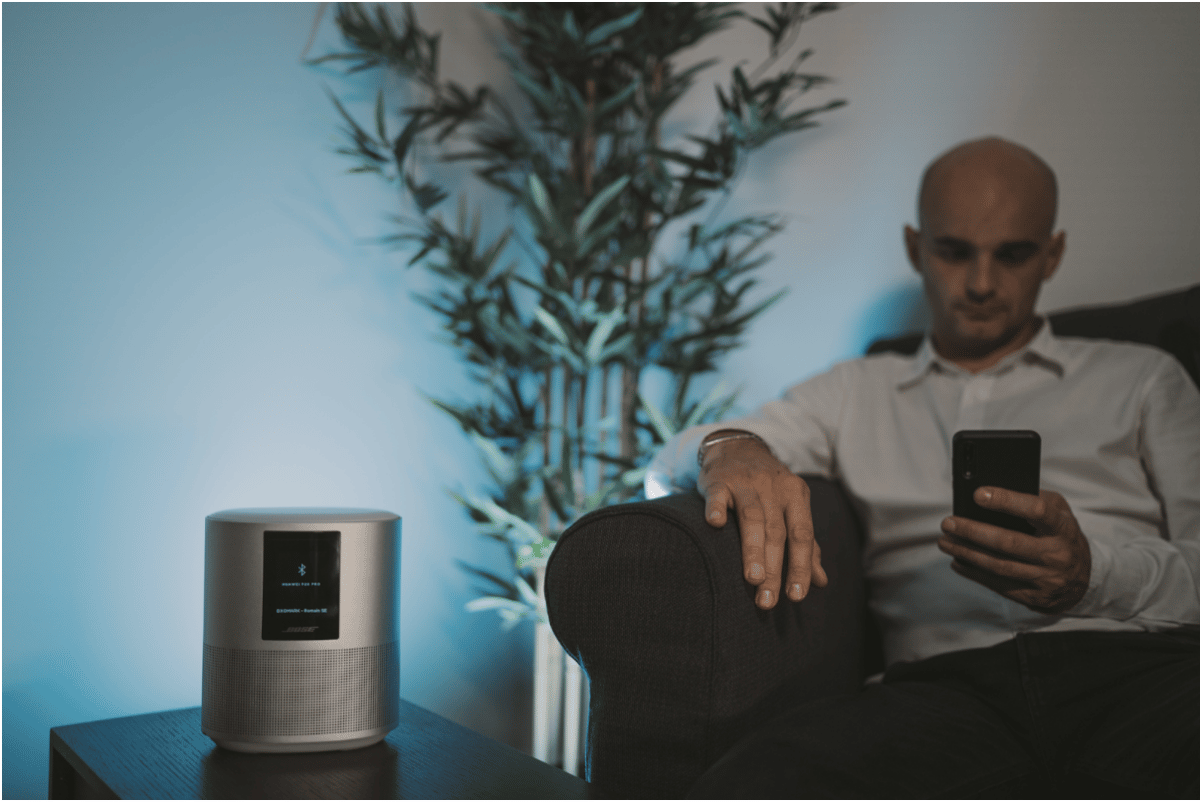 With such a premium speaker it is not only the performance that is premium but the build quality as well. The outer shell of this speaker is made from aluminium and comes in two different colours that you will be able to choose from. The speaker keeps relatively to the minimalistic look that the other speakers also have, the only thing that it has that sticks out is its mini display on the front. This display basically just shows the album artwork of what you're listening to in full colour which is a nice little touch that they've added. The size of the speaker also isn't too bad so it will definitely be able to fit into most rooms in your home.
For those looking to boost their audio performance to even higher levels, Bose actually makes this possible. With the Bose Smart Speaker 500 you're able to very easily group it together with its newer Bluetooth speakers . Although this feature is very effective it really would've been a game changer if this speaker at least had a 3.5mm input to make this integration with home entertainment systems even easier. The quality of this product is definitely amongst the best of the best but all of this top performance does come at a high price that only a few are willing to pay.
Final Thoughts
So there you have it, all the best types of Google Assistant smart speakers that should be able to satisfy your needs. Remember that each one of these are different so make sure to know exactly what you'll be using the smart speaker for so that you don't get one that won't perform up to your standards.