With Sonos, you can easily have wireless music in any room you want. But you deserve at least one place in your home where you can truly enjoy big, wonderful sound that makes all the little hair stand on end. Then the music becomes an experience instead of just background noise. You have two ears to hear things correctly – and that's why you should have a Sonos solution that gives you real Hi-Fi with two speakers!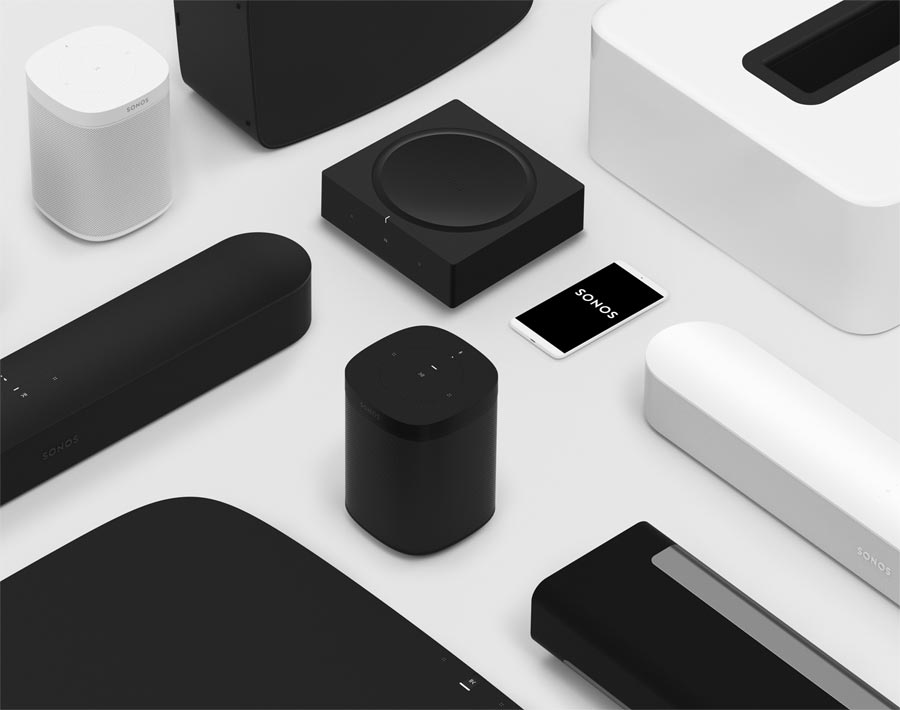 Much better sound with two speakers
A single wireless speaker can sound great, but it can never give you depth and perspective in the music, no matter how good it is. A real stereo sound image always requires two separate speakers with a certain distance between them, so that the small sound differences in the right and left channel can create their magical 3D effect.
If you want a 100% wireless Sonos solution for stereo, you can create a set-up via the app where two Sonos speakers play the right and left channel respectively. This gives you a much more exciting music experience, while you can get more pressure in the sound than with just one speaker. Two Sonos Ones work well in a small room, such as a kitchen or home office, and if you have a larger room or want to play really loud, you can choose two of the larger Sonos Five. Then you have enough power even if you are having a party.
If you want to get the best sound quality for the price, using two wireless Sonos speakers can be relatively expensive and the sound quality is also heavily manipulated through the built-in digital signal processor (DSP). A better solution for true Hi-Fi stereo is to use the compact wireless Sonos Amp in combination with a pair of real Hi-Fi speakers.
The Sonos Amp is packed with power and smart features that take your listening experience to the next level. With 2 x 125 watts of power, it is capable of driving a pair of high-quality hi-fi speakers, and it also features a HDMI input. This means you can connect your TV with automatic on/off, enjoy optimal digital sound quality, and control the volume through your TV's remote control. This allows for both great sound and convenient use. Additionally, the Sonos Amp can be hidden behind the door of a TV cabinet or in a tech cabinet for a sleek and stylish look.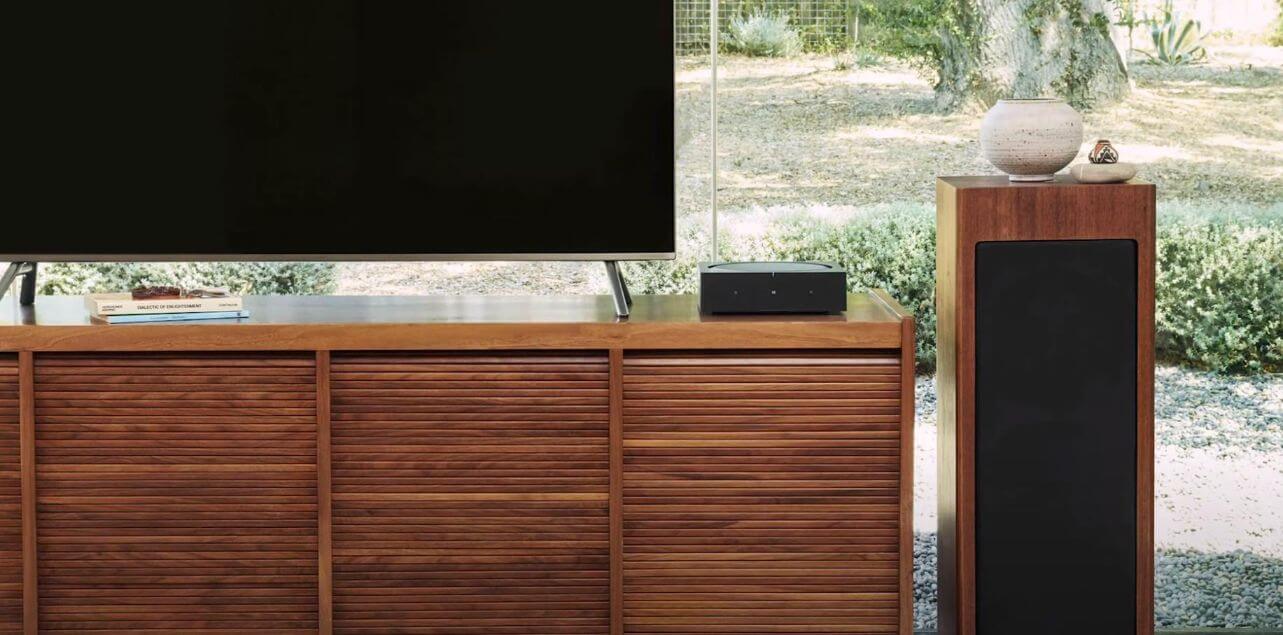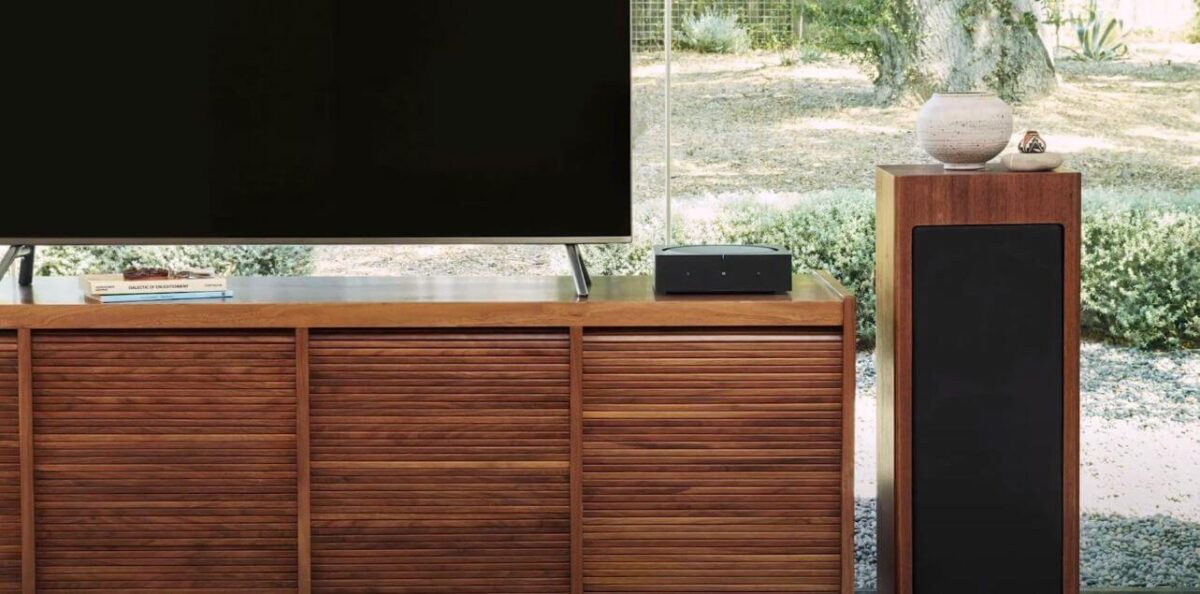 Sonos Amp is the perfect hi-fi solution, providing the same easy smartphone control as Sonos' popular wireless speakers, but also offering the rich and high-quality sound of a traditional stereo system. This simple and brilliant recipe will provide enjoyment for years to come. It is perfect for living rooms and can still be complemented with large and small wireless Sonos speakers in as many rooms as desired.
It is easy to set up Sonos speakers to play in stereo using the Sonos app. You just need to have two Sonos speakers of the same type and both speakers added to the system as separate rooms. Then, in the Sonos app on your phone, follow these steps:
Open the Sonos app.
Under the "Settings" tab, select "System."
Under "Products," select one of the speakers you want to use in your stereo pair.
Tap on "Configure Stereo Pair" (or "Create Stereo Pair" if you're using the Sonos S1 Controller) and follow the instructions in the app.
The Sonos Amp
The Sonos Amp is a powerful wireless music system that offers streaming, voice control, multi-room capabilities, and large TV sound through HDMI.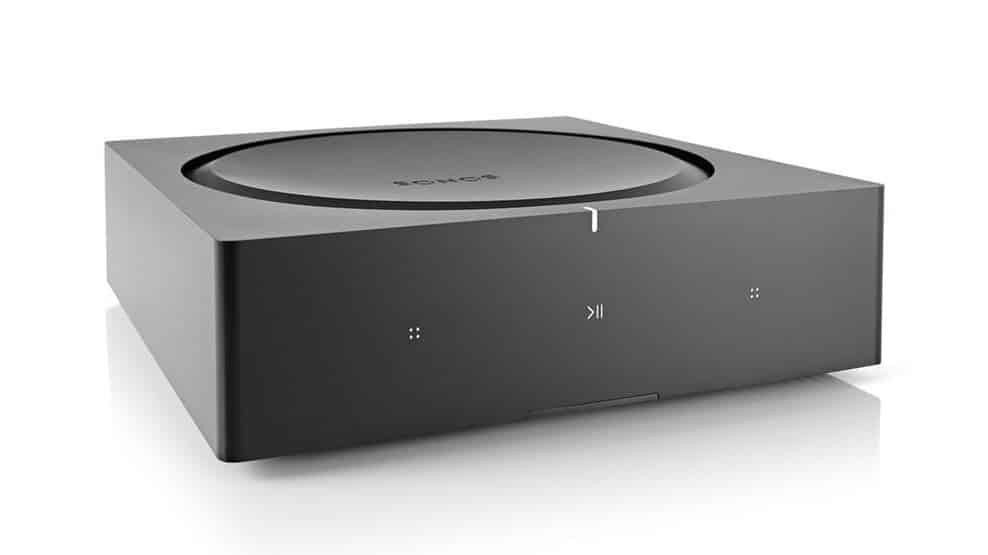 Here are some highlights:
The Sonos Amp is a powerful wireless music system that can drive a pair of high-quality Hi-Fi speakers with its 2 x 125 watts of power. You can choose the speaker model that fits your budget and decor, and enjoy high-quality sound with detailed dynamics and stereo image. It is an ideal solution for your living room, especially since the Amp can also enhance the sound of your TV.
The Amp is also equipped for voice control, allowing you to control both Sonos and a growing number of other smart functions in your home, just by speaking. To use this feature, you only need a smart speaker, such as the Sonos One, the Beam soundbar, or any other smart speaker with voice control. You can also use your smartphone to control the Amp.
The Amp is also compatible with Google Assistant, Alexa, and Siri (requires a smart speaker). Additionally, it has an HDMI port for superior TV sound, allowing you to connect your TV and enjoy optimal digital sound quality while also adjusting the volume using your TV's remote control. The Amp automatically turns on and off with the TV via HDMI Audio Return Channel and HDMI-CEC, and only requires a small configuration the first time.
As an added bonus, you can add Sonos wireless surround speakers to take your TV and movie watching experience to the next level. It's very easy – Sonos Amp automatically activates the surround feature and the rear speakers when it detects a surround signal from your TV. This is a convenient and user-friendly feature that offers you new possibilities without compromising your stereo music listening experience.
Easy to use and perfect multi-room integration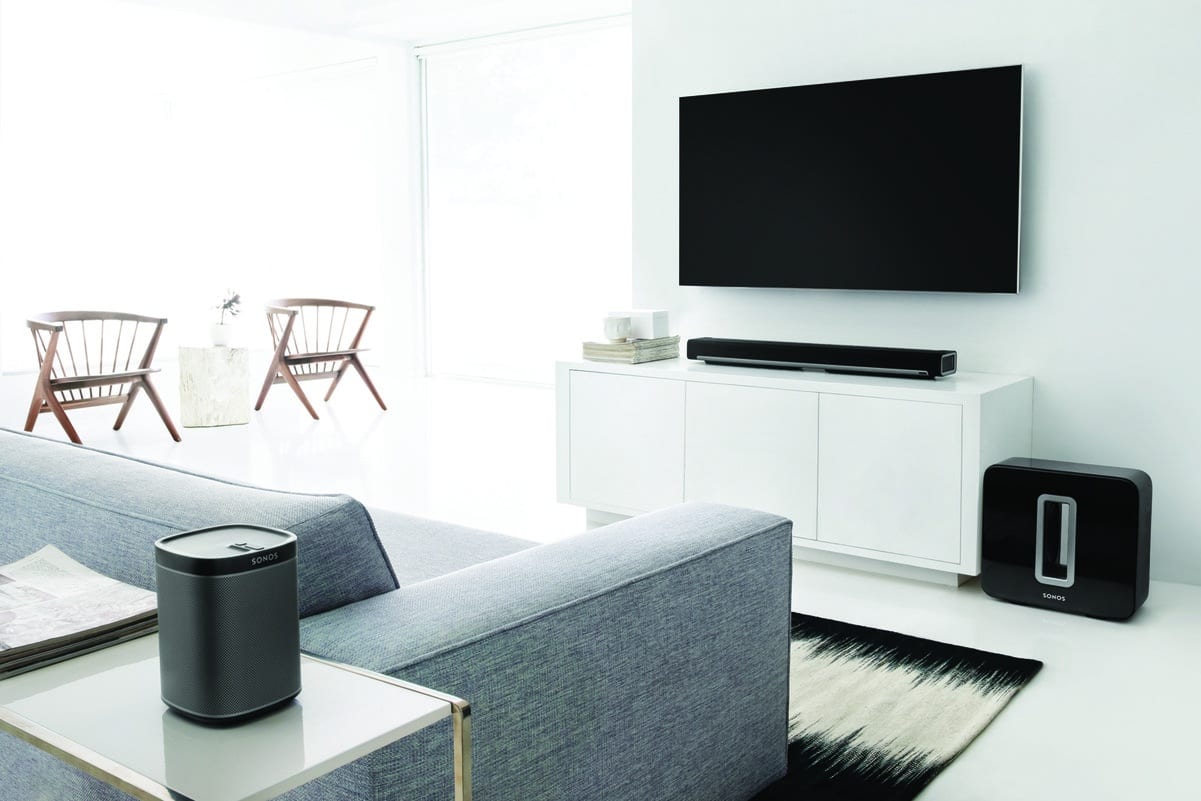 In addition to the Sonos app (or voice control), you can control the most common playback functions (volume, play/pause, etc.) via the front of the Amp. You get the full range of cool Sonos options, including full integration of a variety of streaming services such as Spotify, Tidal, Apple Music, Deezer, Napster, SoundCloud, etc. This way, you have all the music in the world at your fingertips in one and the same app. Neat.
Amp seamlessly integrates with other Sonos components, making it a user-friendly multi-room music system with wireless music throughout your home. Since it is controlled via WiFi, you can easily place Amp out of sight, such as in a cabinet or hi-fi furniture. If you want to use it in an installation, you can stack Amp or place two side-by-side in a standard 19-inch rack.
Amp comes in black finish. Wall mounts are available as an accessory, and HDMI cable is sold separately.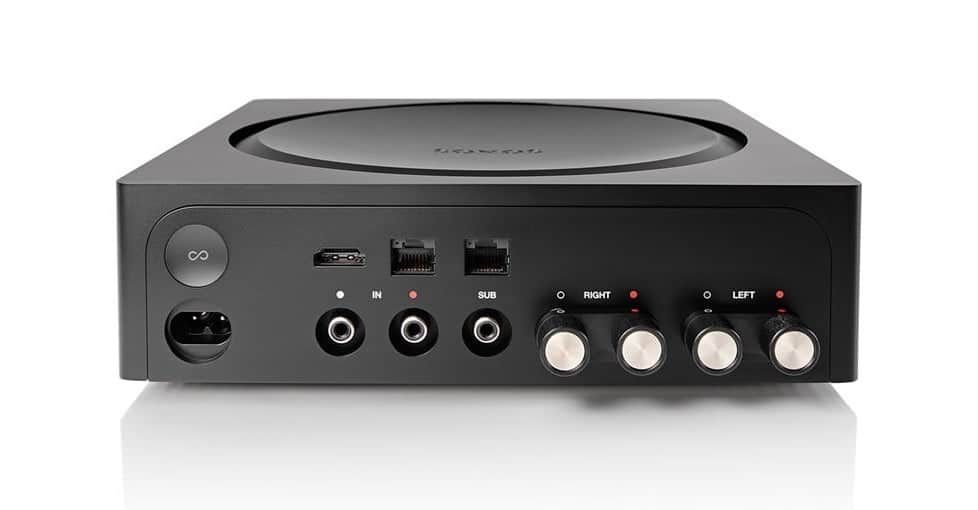 Let's dig deeper.
Sonos Amp – Suitable for integrated installation solutions
The Sonos Amp can be easily and elegantly used for both small and large installation solutions. It is designed so that it can be easily stacked or mounted in pairs of two in a standard 19-inch rack (extra equipment). This allows you to place the Amp units and any other components in a cabinet or a technical room together with your network router and run cables to speakers in your home, which are typically built into walls and ceilings.
The specially designed stereo banana connectors make it incredibly easy to mount speaker cables on the back of the Amp, and if you use a cable network (which is optimal for fixed installations), you can disconnect the wifi function in the Amp via the Sonos app for an even more stable solution.
You have the flexibility to choose if the music signal should be sent out in stereo as right and left channels or two mono channels, depending on whether you want an authentic HiFi sound image or evenly distributed background music, for example in a very elongated room. You can also use the mono function to play background music in two rooms with one speaker each (bathroom, hallway, etc.).
Flexibility to choose your in-wall speakers
If you are re-modeling or building new and considering a complete, smart, and discreet multi-room system with speakers elegantly hidden in walls and ceilings, it is a given first step to look at how you can combine Sonos' own in-wall speakers with the Amp.
There are clear advantages to designing with Sonos speakers for walls, ceilings, or even outdoors. But a system based on the Sonos Amp can easily be paired with speakers from the vast array of in-wall models offered by DALI and B&W."
Multi-room – getting started is easy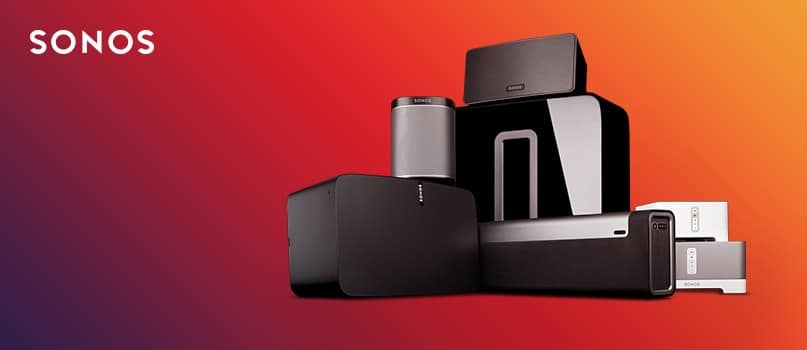 Sonos is a brilliant multi-room music system that can send music from all over the world to every corner of your home. Living room, kitchen, bedroom, office, children's room, bathroom – the Sonos system has a music player or wireless speaker for all needs. The configuration of Sonos is set up in a moment and if you don't build anything into the wall, you can take the whole thing with you if you move one day.
To get started, you only need a "controller" (smartphone/tablet/PC) and a Sonos music player or wireless speaker. If you want wireless music in an additional room, you only need to set up an extra player or wireless speaker from Sonos, press two buttons and wait for a moment, then the system is ready to use.
To use the extra stable wireless network of Sonos, called SonosNet, instead of your regular wifi network, you need to connect one player (or the network adapter BOOST) to your network router via cable. SonosNet can provide significantly better coverage because the individual Sonos components complement each other in a so-called mesh network, which sends the signal throughout your home.
Trueplay is a smart feature that uses your iPhone/iPad and a series of test tones to optimize the sound from several of Sonos's own speakers, whether they're standalone, combined with a SUB subwoofer, in a Sonos home theater, or if you're using Sonos's own in-wall speakers. Simply place the speaker or speakers where you want them and then follow the guide in the app. Once you've made a few measurements with the test tone, Sonos can automatically adjust the sound balance to give you the best possible sound in the largest possible listening area without you having to experiment with tone controls.
It is easy to feel overwhelmed by all options. However, most serious dealers can help you to get an optimized Sonos system for your needs.
Related articles:
Top 7 Google Assistant speakers