In the world of rock and metal music, Marshall's logo is as iconic as the Metallica emblem, the AC/DC insignia, and the Def Leppard font. This is because Marshall's distinctive branding has graced the biggest rock 'n' roll stages for many decades. While their renowned script is most familiar on the front of amplifiers, it's worth noting that Marshall also does really well when it comes to producing some of the market's top-notch speakers for home and more personal use. In this article, you'll find a carefully curated selection of the finest Marshall speakers available today.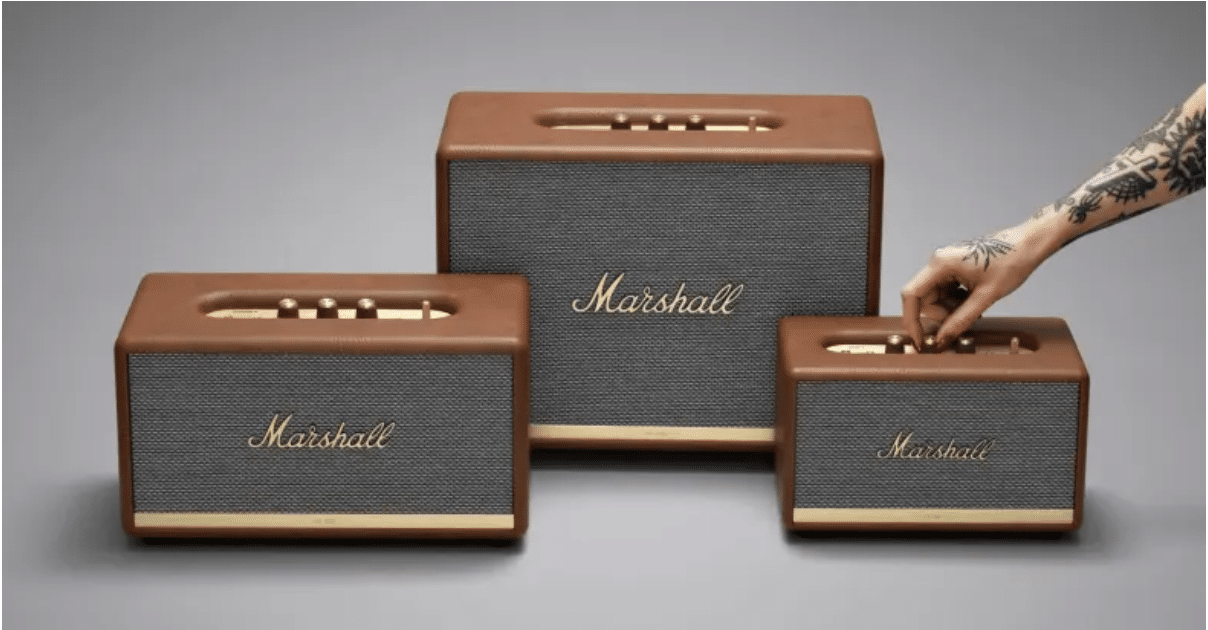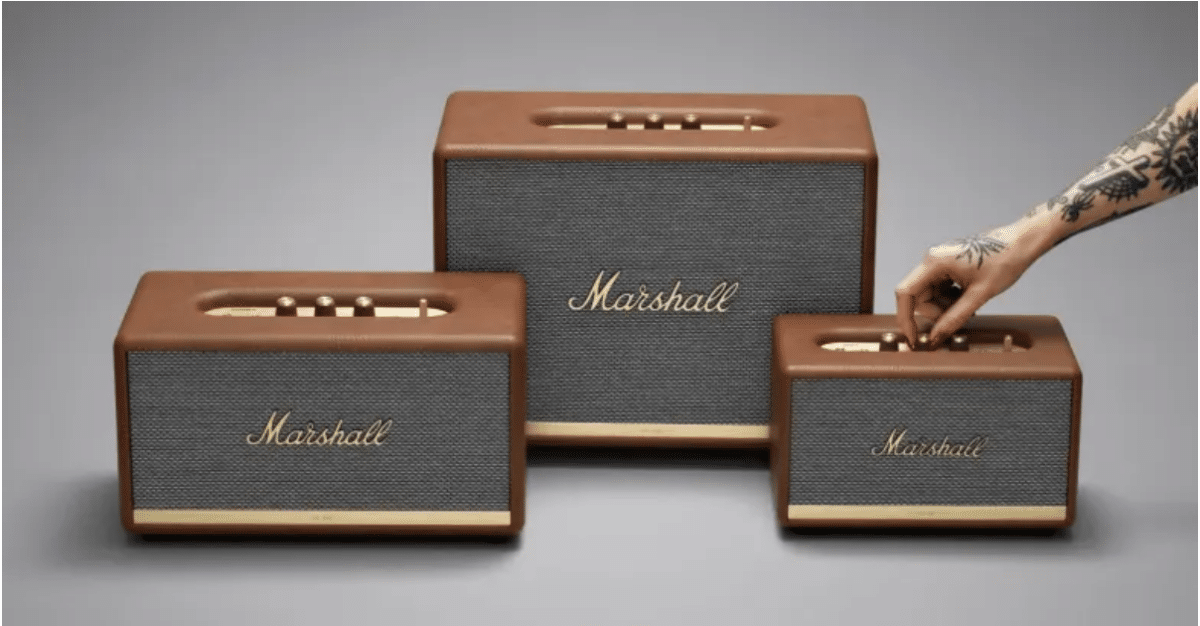 Since Marshall has such a broad range of speakers that ranges anywhere from all-in-one sound systems to portable players, it means that you should be able to find a Marshall speaker that resonates with your audio preferences and will be able to suit your needs very well.
The Best Portable Speaker
Marshall Emberton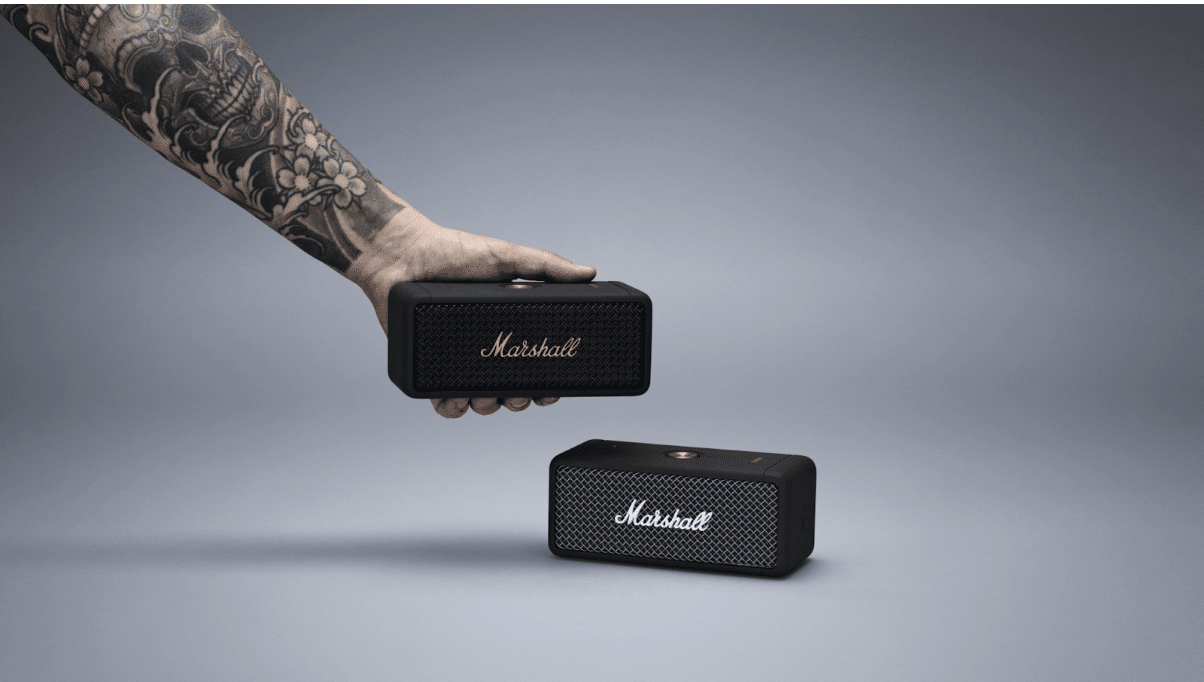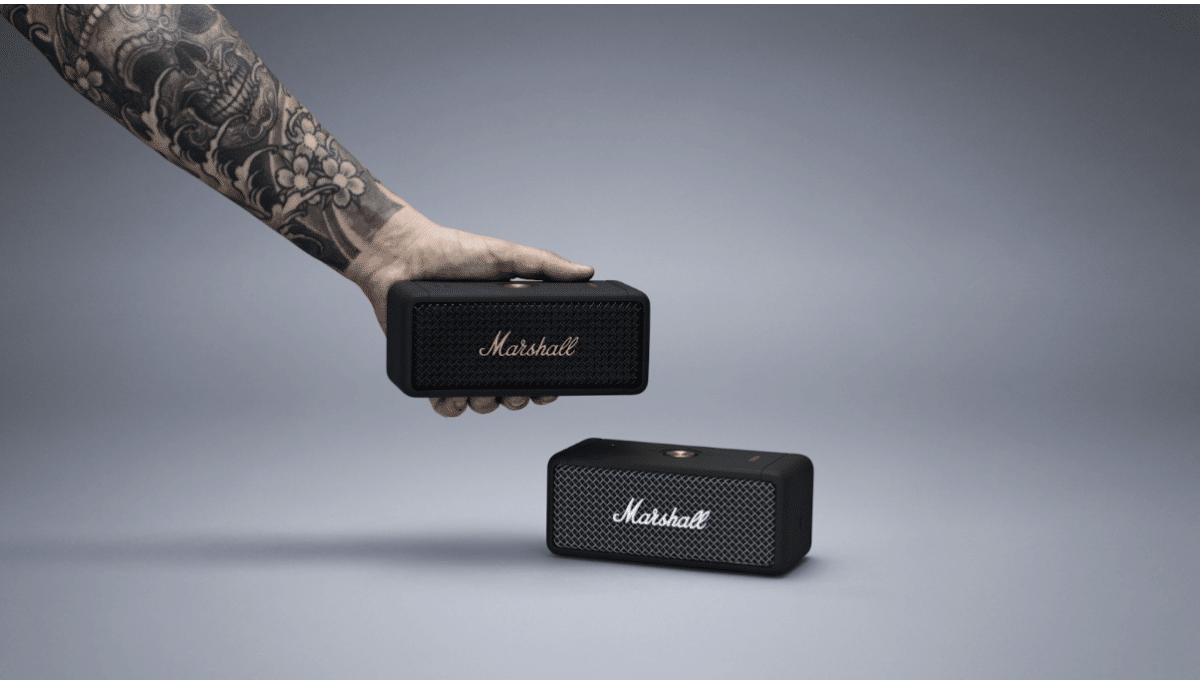 Pros
Really good output considering its size
Compact design
Cons
There are better options out there for indoor use
Price: $169.99. Buy one here.
The Emberton is the perfect embodiment of the spirited spirit of punk rock in the world of portable speakers. It's the harmonious fusion of both Bluetooth technology as well as the rebellious attitude of youth subcultures. Weighing in at a mere 0.7kg, this little speaker unleashes a surge of energy that will undoubtedly leave you smiling as it makes its way through your music playlists.
Despite its compact size, the audio experience it offers is astonishingly expansive, which is all thanks to Marshall's ingenious True Stereophonic multi-directional signal processing. Surprisingly, it plays tunes with more vigour than you might anticipate from its 2x 10W amplification. Then, hidden behind the grille, are two 50mm full-range drivers, complemented by a pair of passive radiators, making it able to produce an ear-popping 87dB SPL at a distance of 1 metre—a feat that's genuinely remarkable.
The Emberton boasts an impressively generous battery life of 20 hours, and even when it's drained, a quick 20-minute recharge will get you back in action for at least five more hours. The Bluetooth connectivity is up-to-date as well, with version 5.0, ensuring a seamless wireless experience.
Its design is nothing short of iconic and it has been impeccably crafted. Plus, with an IPX7 rating, you can rest assured that it can withstand even a torrential downpour without breaking a sweat.
The Best All-Round Speaker
Marshall Stanmore ll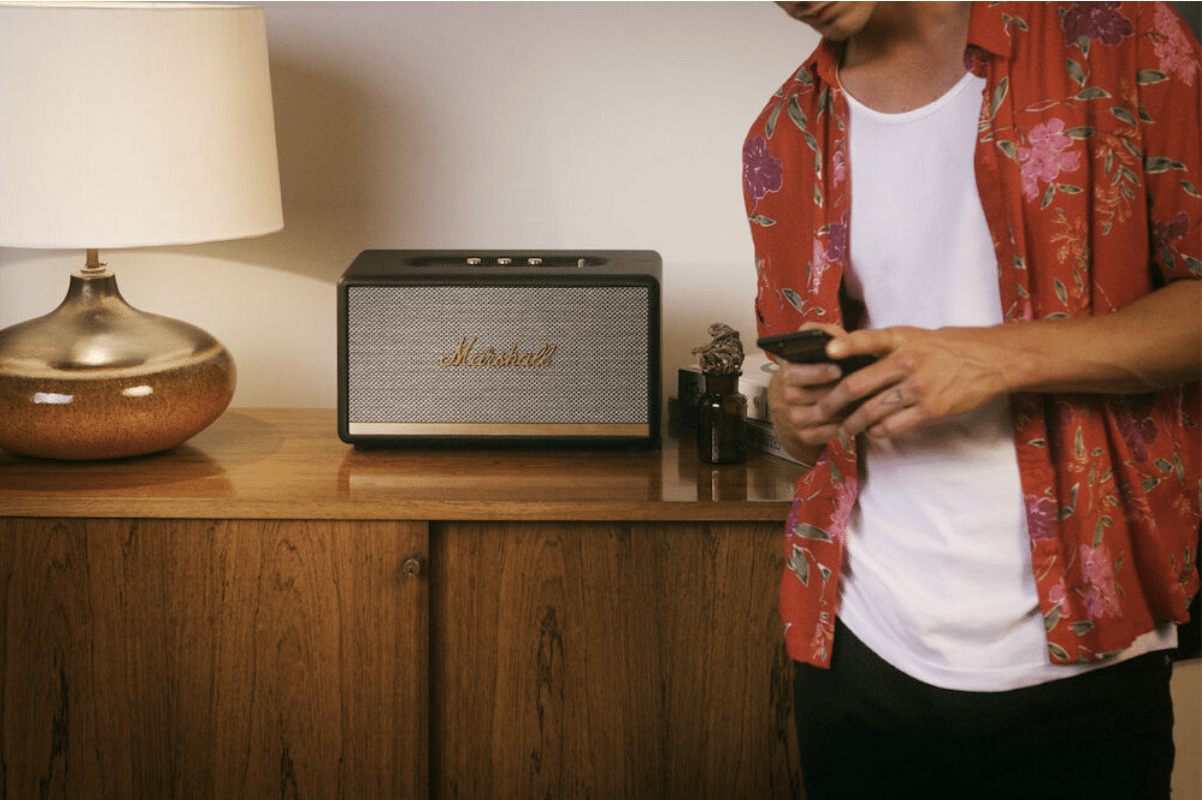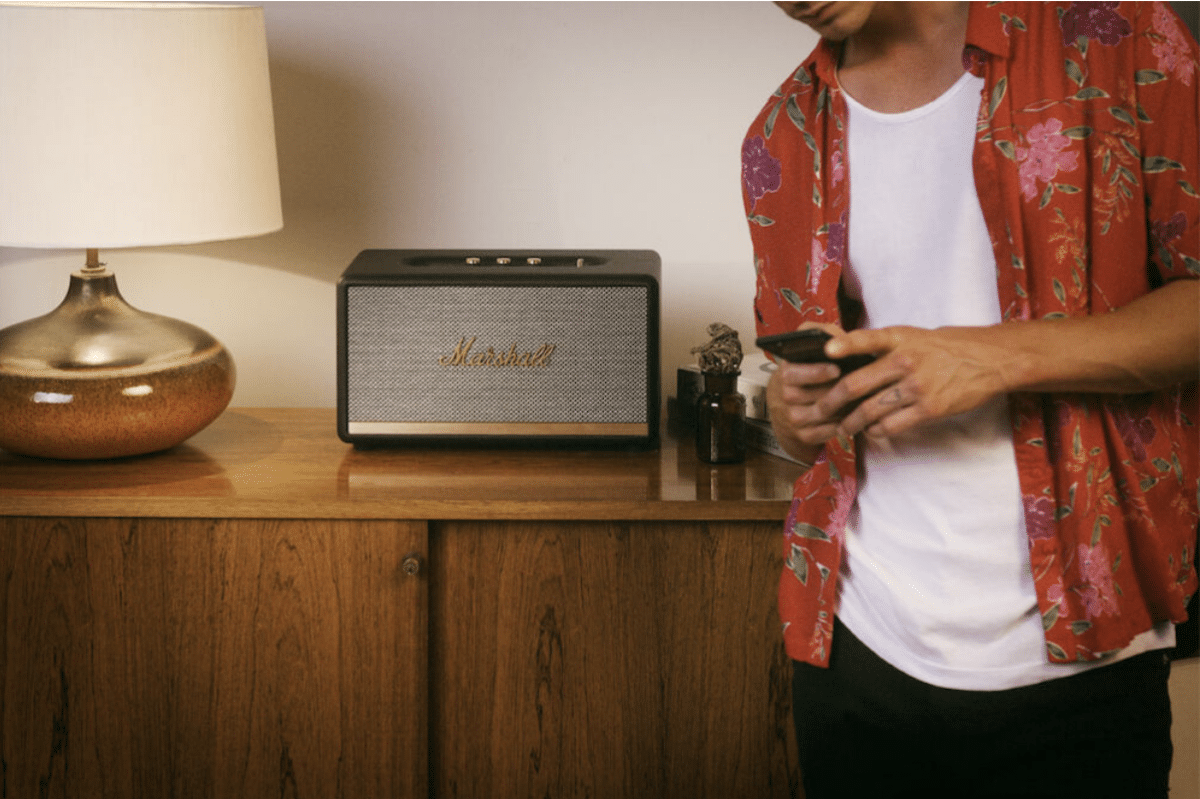 Pros
Bluetooth v5.0 aptX
Has two analogue line inputs
Cons
Doesn't have any smart functionality
Price: $379.99. Buy one here.
Positioned at the heart of Marshall's home speaker collection, the Stanmore II strikes a near-perfect balance between charisma and power.
Physically more substantial compared to the Acton II, tipping the scales at 4.6kg, it proudly embodies all the timeless design elements that define the Marshall aesthetic—textured vinyl wrapping, a prominent grille front, and the iconic logo. At the top, you'll find tactile knobs for adjusting Volume, Bass, and Treble.
What sets the Stanmore II apart is that it marks Marshall's maiden venture into indoor speakers equipped with Bluetooth aptX, enhancing playback quality significantly. Furthermore, it offers analog connectivity for those who prefer a wired connection. On top of that, it features app-based control and the convenience of Multi-Host functionality for dual Bluetooth pairing.
The roomier cabinet of the Stanmore II unlocks a more robust audio performance. An impressive 50W drives the robust woofer, while the twin 15W amplifiers cater to the clarity of the tweeters. The result is a sonorous performance that gracefully fills your living space.
For those seeking to elevate the audio experience to seismic levels, consider acquiring two Stanmore II speakers and configuring them in a stereo setup. While they may not rival the loudest Bluetooth speakers, they certainly deliver a spirited performance worth savouring.
The Best Speaker For The Outdoors
Marshall Kilburn ll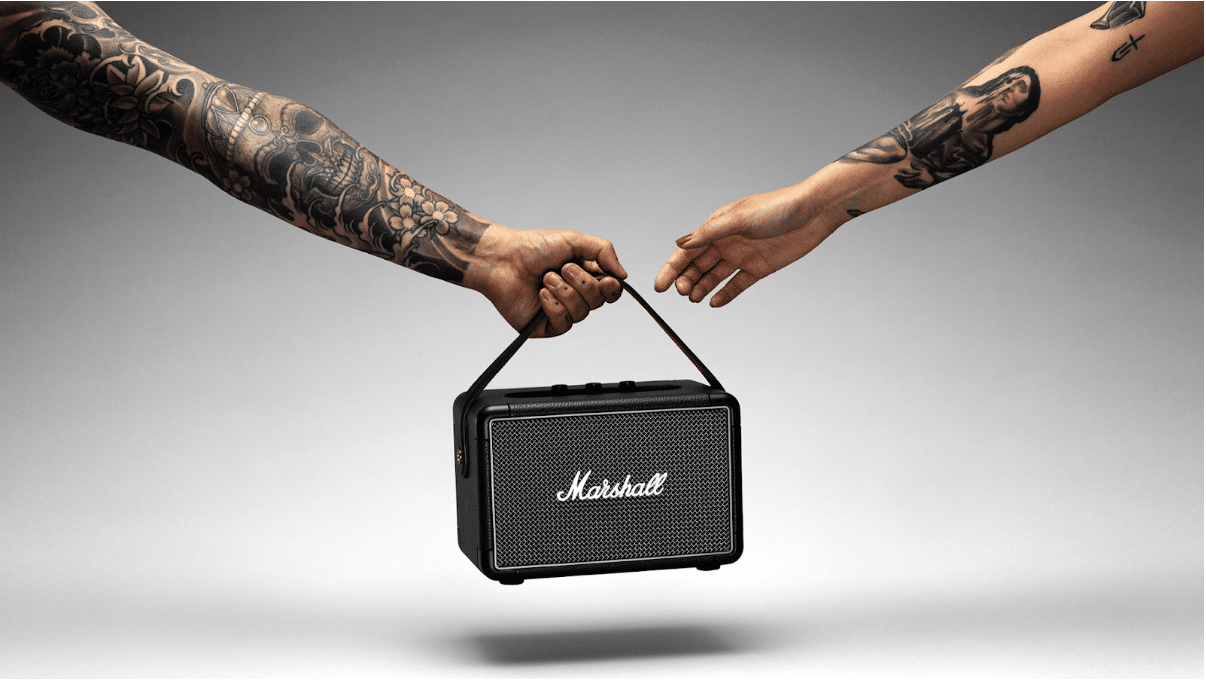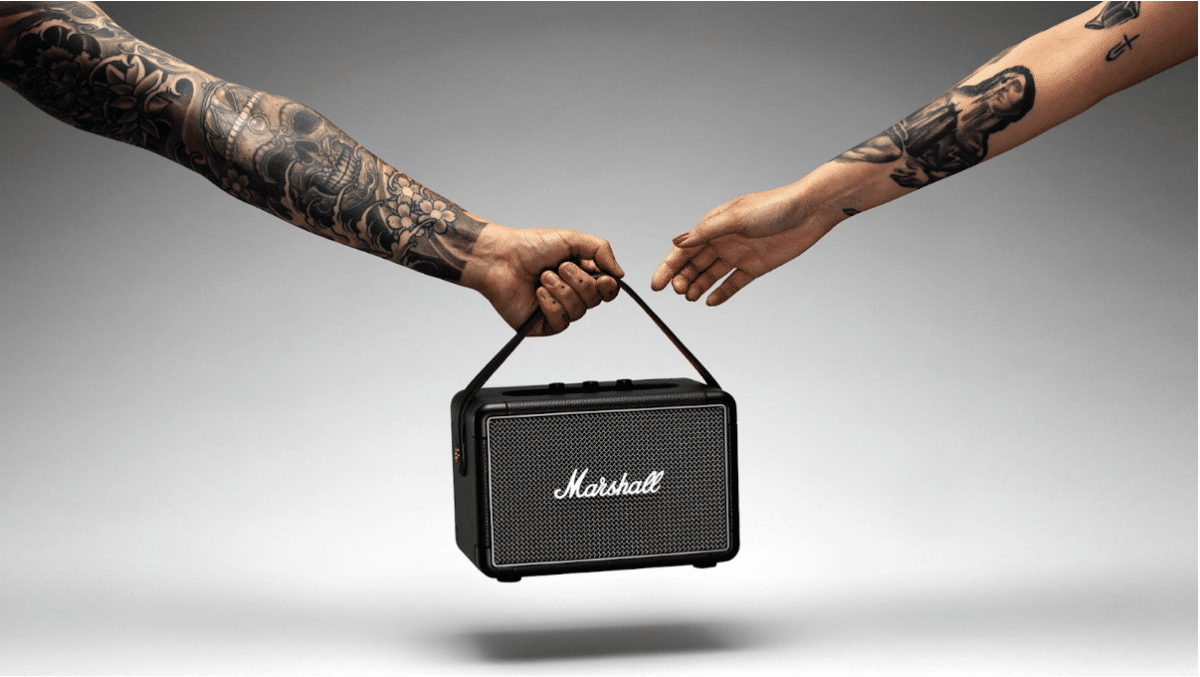 Pros
Really powerful portable option
IPX2 water resistant
Cons
Isn't an ideal speaker for indoor use
Price: $295. Buy one here.
The Marshall Kilburn 2 stands as a robust and potent portable speaker, engineered to set the perfect soundtrack for your patio BBQ. Its rugged exterior, complete with seamlessly integrated shoulder bumpers and a carry handle resembling a guitar strap, exudes a sense of durability and reliability.
On a full charge, you can enjoy over 20 hours of wireless listening, making it an ideal companion for extended outdoor gatherings. Additionally, a quick 20-minute charge provides you with up to three hours of playtime, ensuring uninterrupted entertainment. The Kilburn 2's dimensions (243 x 162 x 140 mm) offer a substantial stereo spread, enhancing the overall audio experience. It harnesses 36W of amplification, with 20W dedicated to the woofer and 2x8W allocated for the tweeters.
Equipped with Bluetooth version 5.0 and aptX support, it delivers top-notch wireless performance. For added versatility, a 3.5mm input allows you to connect portable devices directly. Furthermore, with an IPX2 water-resistant rating, it can withstand light showers without a hitch. Weighing in at a manageable 2.5kg, it combines portability with powerful audio capabilities for your outdoor gatherings.
The Best Desktop Speaker
Marshall Uxbridge Voice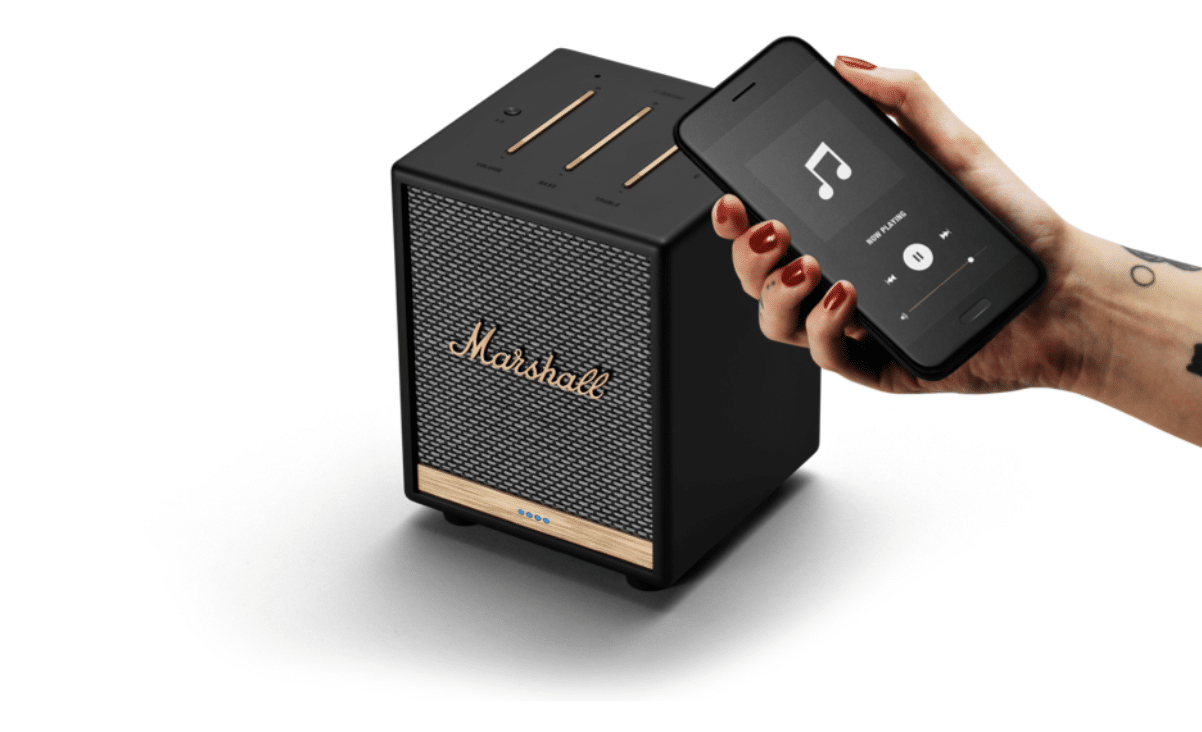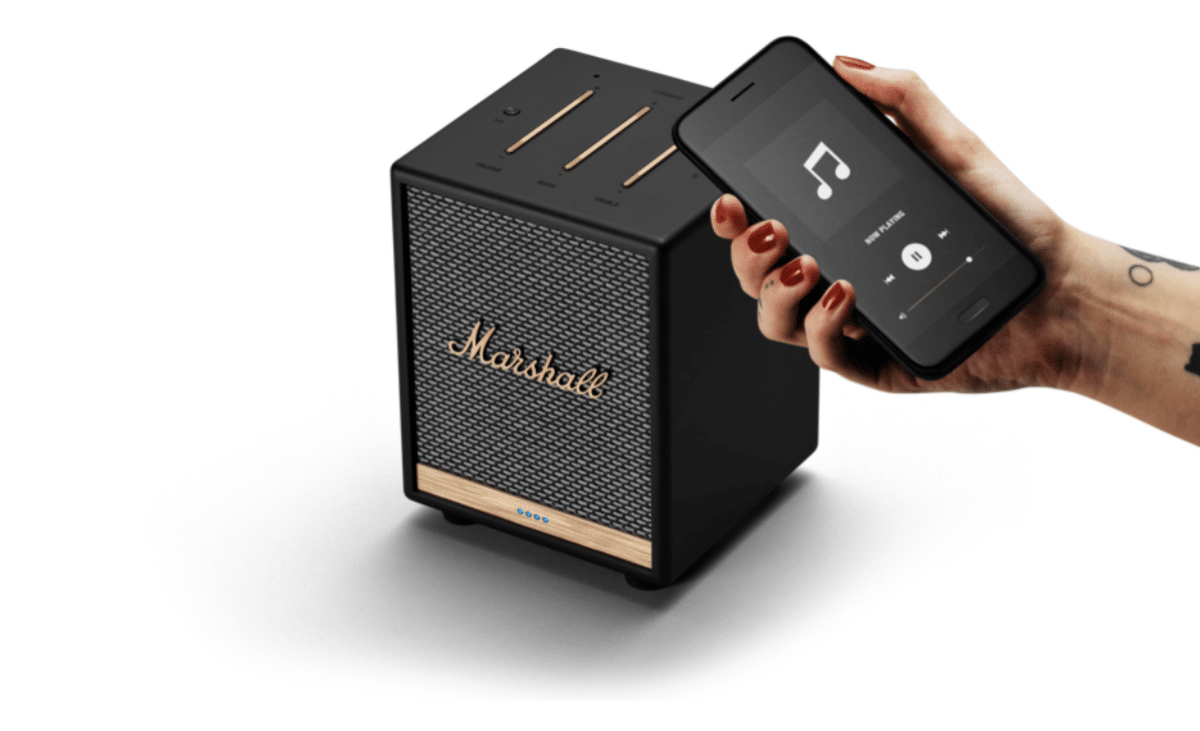 Pros
Has quite a punchy mid-range performance
Smart functionality
Cons
This is the lightest built speaker in the range
Lacks a little bit of bass
Price: $219.99. Buy one here.
The Uxbridge emerges as the quintessential modern Bluetooth speaker from Marshall. It comes with the choice of either Amazon Alexa or Google Assistant integration, making it versatile enough to fit seamlessly into both your workspace and living area, offering robust smart connectivity features.
The speaker employs a potent 30W digital amplifier, although it embraces a mono presentation without any apologies. While it may not boast expansive bass, its midrange performance is notably rich, making it a delightful choice for relaxed listening sessions.
Conveniently positioned controls reside on the top, allowing you to fine-tune bass, treble, and volume settings with ease. However, it's important to note that there's no physical input connection option, meaning wireless is the exclusive mode of connectivity here.
Beyond Bluetooth 4.2 support, the Uxbridge offers the versatility of Wi-Fi streaming, alongside compatibility with Airplay 2 and Spotify Connect. These additional connectivity options expand your listening possibilities, ensuring that you're well-equipped to enjoy your favourite tunes in various ways.
The Best Mini Speaker
Marshall Woburn ll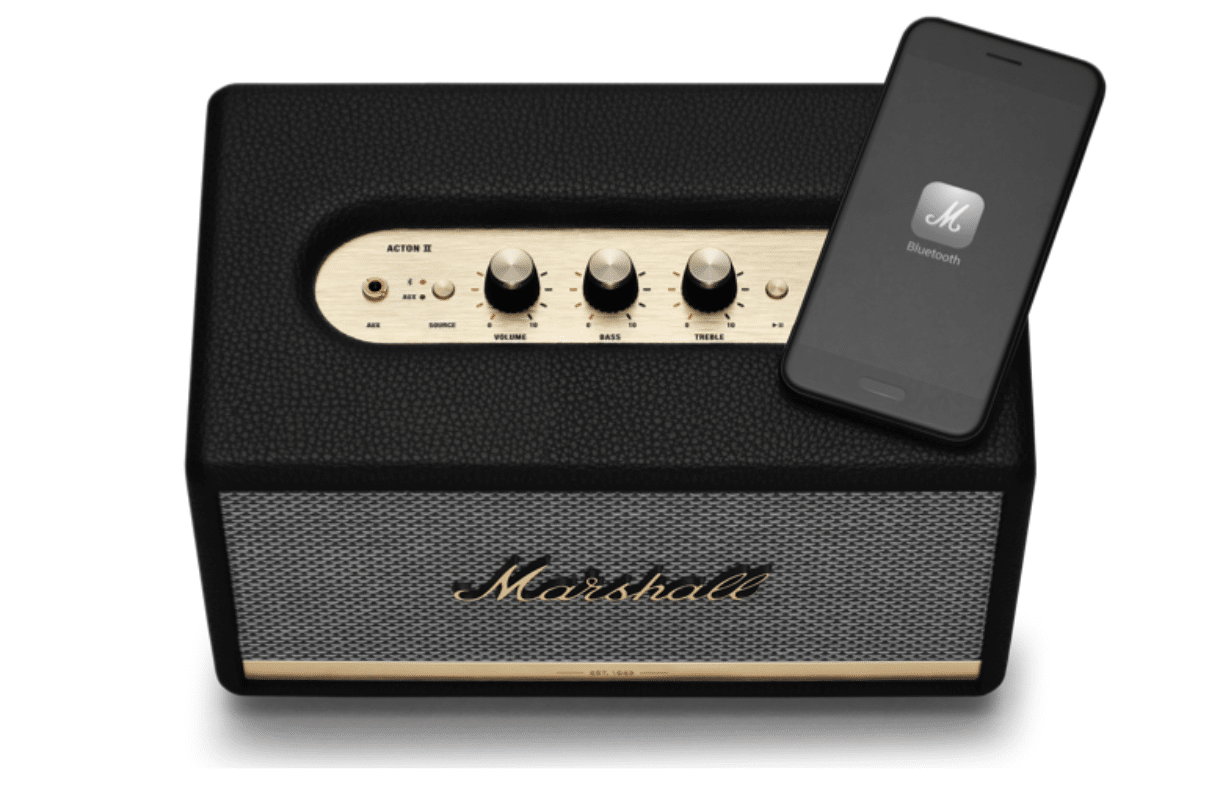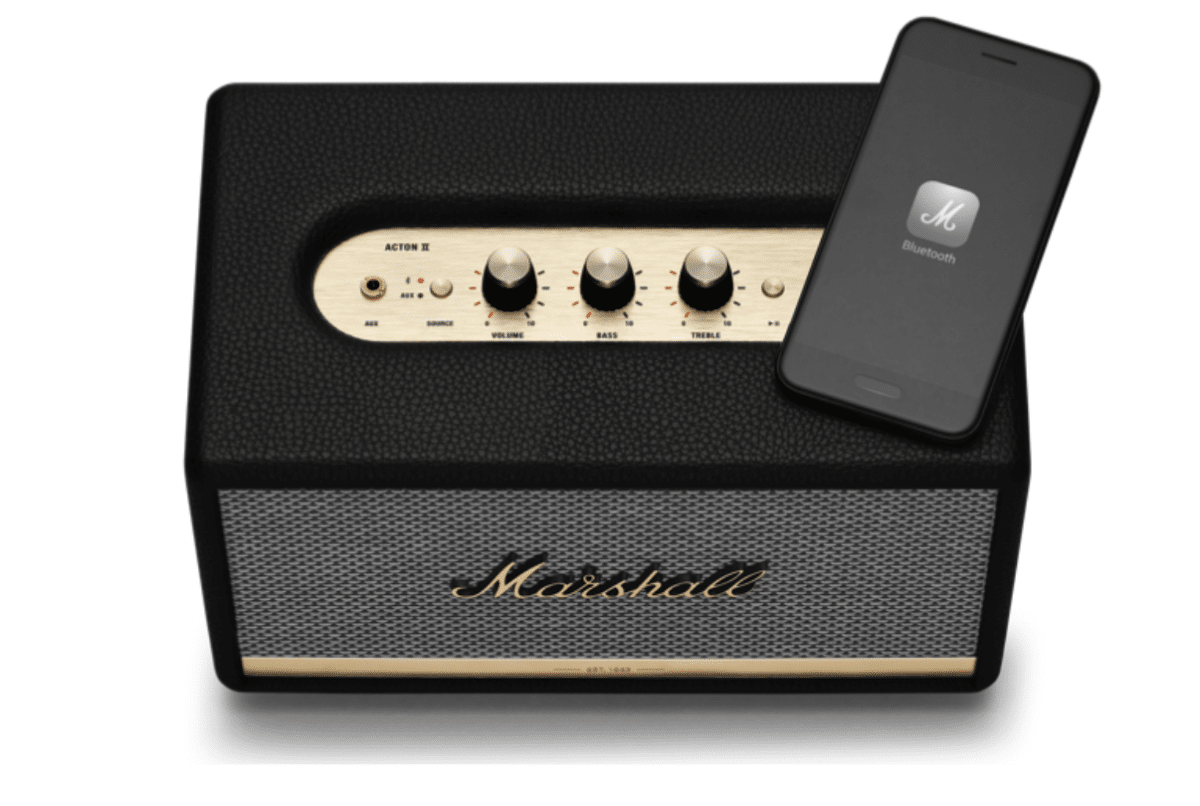 Pros
20 hours of battery life
IPX4 water resistant
Cons
Doesn't work with Marshall's Bluetooth app
Price: $549.99. Buy one here.
You asked for excellence, and Marshall delivers with the Woburn II, standing as the ultimate choice if you seek an all-in-one Marshall speaker. It embodies the essence of big and bold, tipping the scales at a substantial 8.55kg, ensuring that it leaves a lasting impact when cranked to full volume. Hidden within its imposing cabinet reside a commanding woofer and a dual tweeter setup, propelled by 50W and 2x 15W amplifiers, respectively.
Similar to the Stanmore II, it features Bluetooth version 5.0 with aptX support, alongside two analog line inputs for versatility. The Woburn II is available in sleek black, pristine white, or rich brown, and it flawlessly channels the classic Marshall amplifier aesthetic. It goes all out to deliver a stereo performance that fills your space with immersive sound.
On the flip side, it must be acknowledged that it comes with a somewhat premium price tag, but with a bit of savvy shopping, you might uncover some attractive deals.
Final Words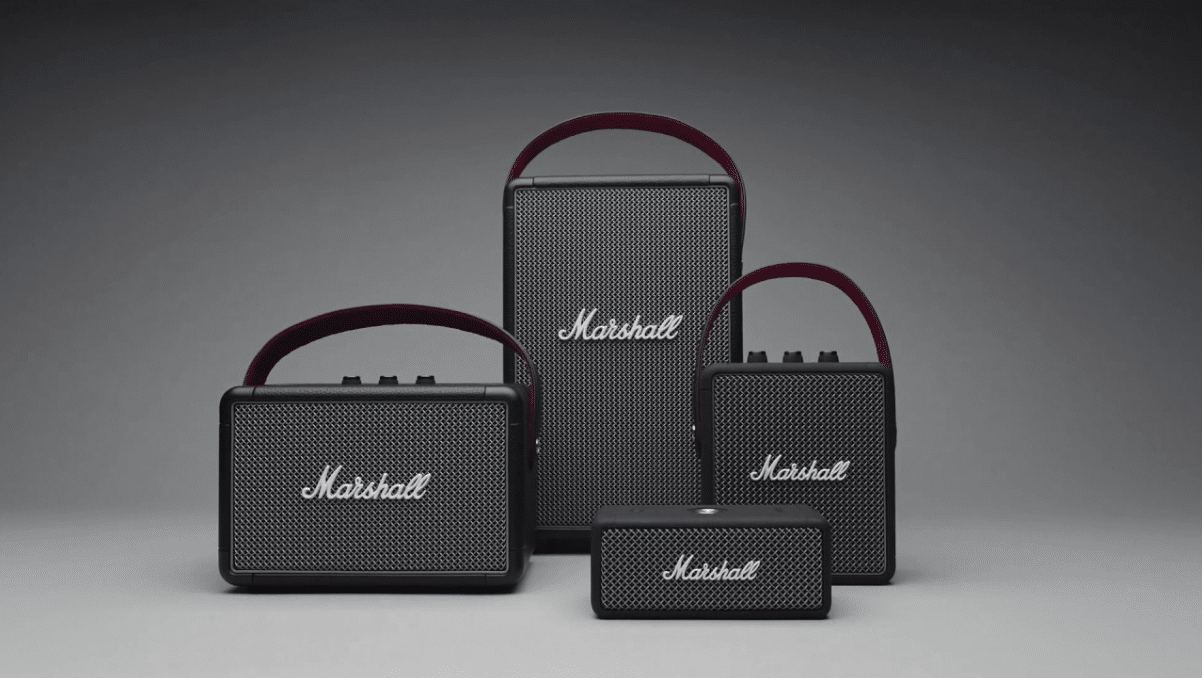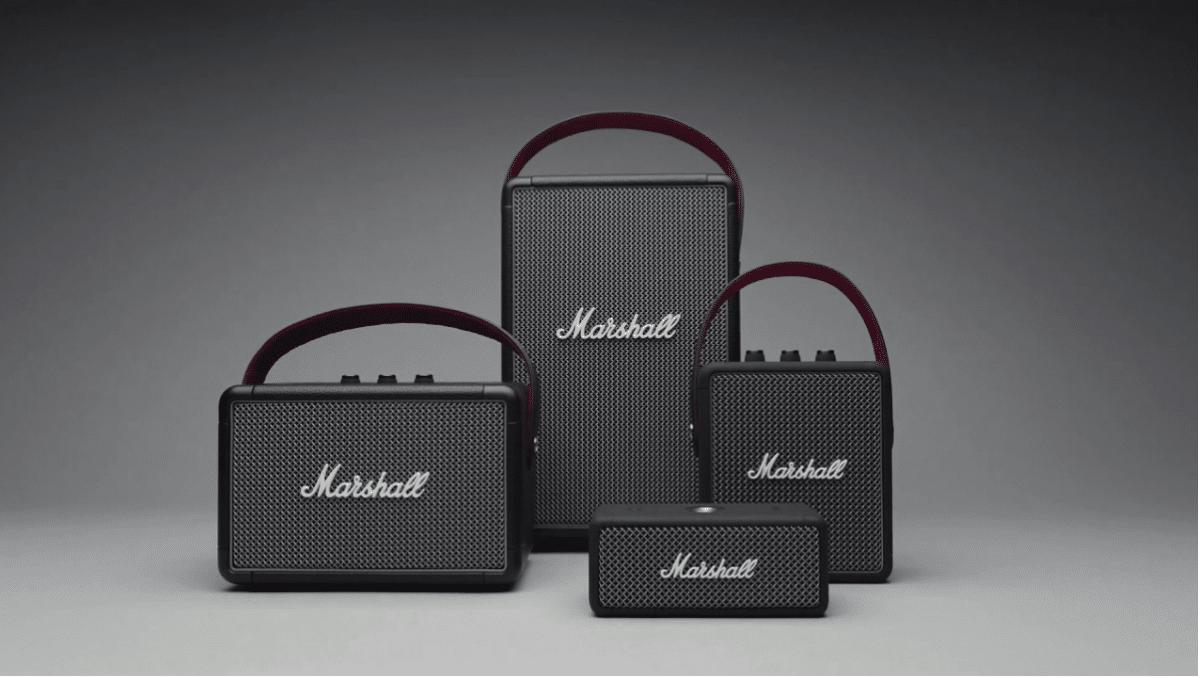 This article has explored a curated selection of the best Marshall speakers of 2023, each catering to distinct needs and preferences. From the rebellious spirit of the Marshall Emberton to the versatile charisma of the Stanmore II, and the rugged reliability of the Kilburn II for outdoor festivities, Marshall has a speaker for every occasion. The Uxbridge Voice bridges the modern world of smart connectivity, while the Woburn II commands attention with its powerful presence.
Marshall's dedication to delivering exceptional audio experiences continues to resonate, and with options ranging from portable dynamism to immersive room-filling sound, they remain a formidable presence in the world of audio. Whether you're seeking portability, power, or a touch of elegance, Marshall's got a speaker for you.