Potentially one of the best smartwatches that you can get your hands on is Samsung's latest smartwatch, the Samsung Galaxy Watch 5 Pro.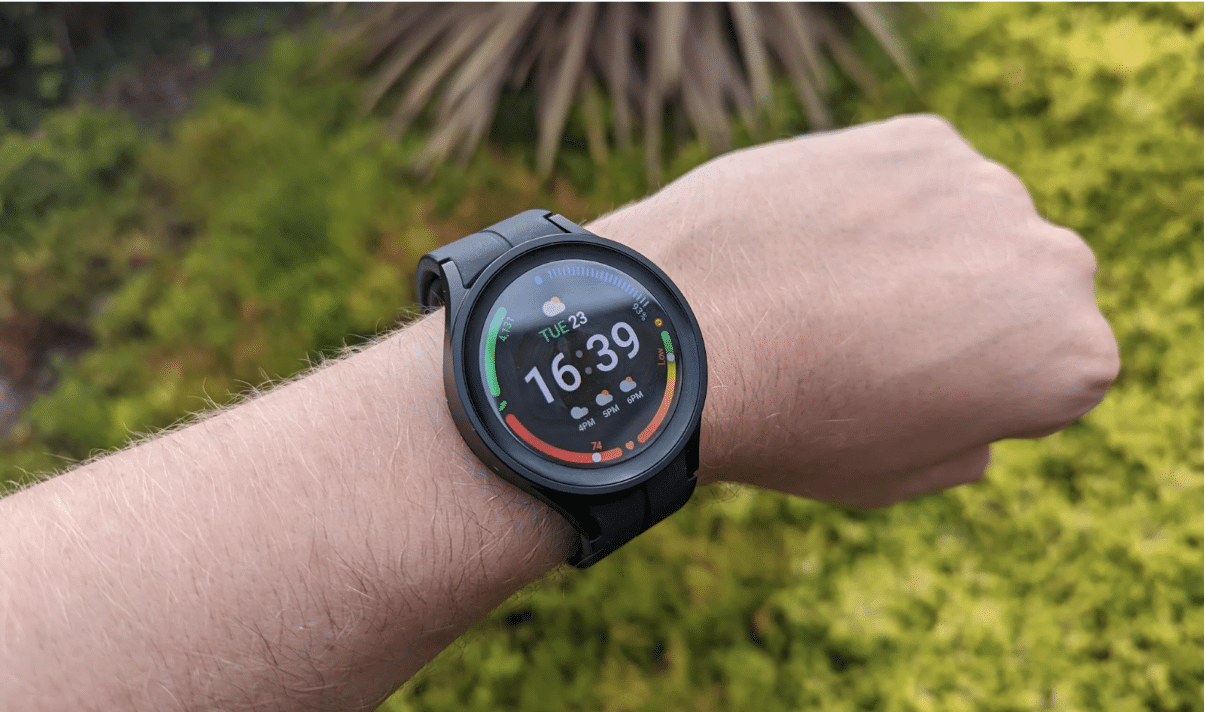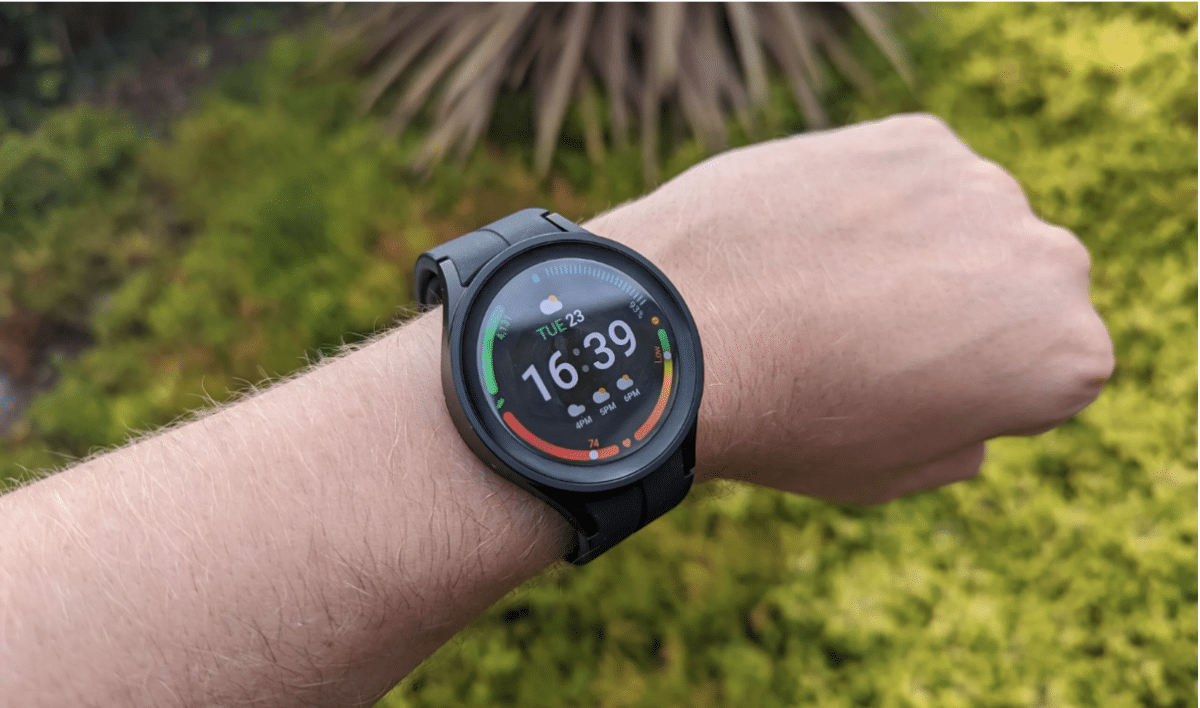 Pros
Tough Exterior and raised bezel
Advanced GPS features
Third-party app access
Larger battery than the Watch 5
Cons
A lot of the features are pretty common
Battery isn't as impressive as dedicated fitness watches
Big and chunky
Although this device is undoubtedly very impressive for a 'regular' smartwatch, Garmin, Coros and Suunto GPS watch users will not likely be swayed as this smartwatch is just that, a smartwatch and won't be able to match the performance stats of the other hardcore adventure watches out there. 
This watch is definitely worthy of the new 'Pro' name as this watch is bigger and even better than the rest of the Watch 5 line, this means it has a bigger battery, more powerful capabilities as well as a few exclusive features. However, even though we may have seen quite an upgrade in regards to battery size and thus battery life, this watch can still not compete with the battery life of dedicated fitness watches with similar price tags.
Take the Forerunner 745, for example, which is in a similar price range but this watch instead lasts around three times longer than the Samsung Galaxy Watch 5 Pro. 
Although it may not be as fitness oriented as some of the dedicated fitness watches out there it definitely works as a great smartwatch and packs a full-colour AMOLED screen, third-party apps, calls, notifications as well as many other true smartwatch connectivity.
The extra power that you get from this Pro model is to add more fitness credentials, with more GPS features, which include new route generators for endurance workouts. The watch also receives a reinforced case to cater for those adventurers and athletes out there that may worry about maybe bumping or knocking the watch. 
Price and Availability
The Samsung Galaxy Watch 5 Pro and Samsung Galaxy Watch 5 were both announced on the 10th of August 2022 and then made available to the public to purchase on the 26th of August 2022. You are able to pick up the Bluetooth version of the Samsung Galaxy Watch 5 Pro for $449.99 and the LTE 4G version for $499.99, which makes it quite a lot cheaper than the Watch 5 thats available for $279.99 and $329.99 for the Bluetooth version and LTE version respectively.
Design and Screen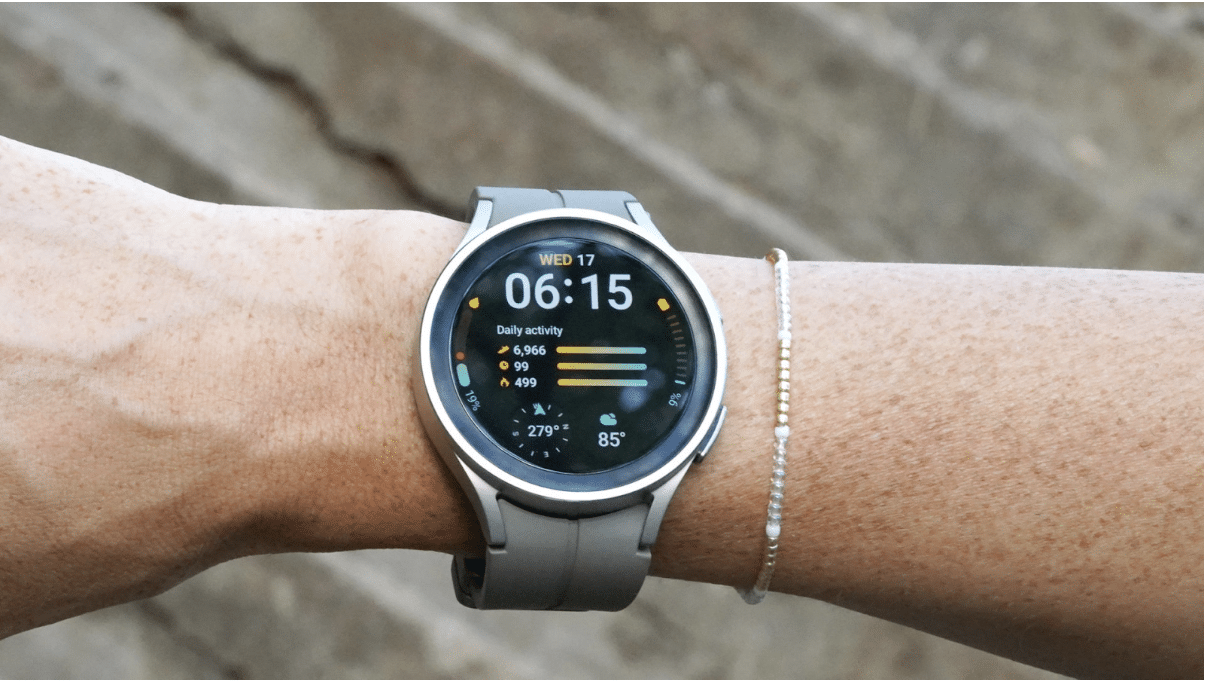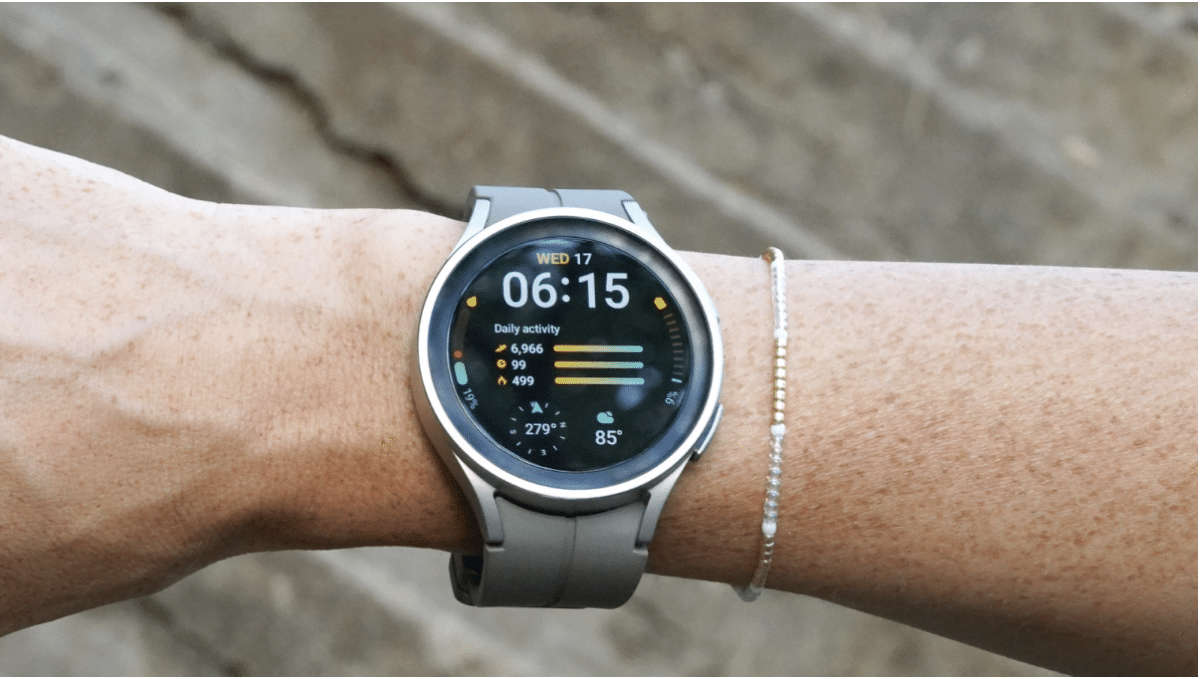 Standouts:
Sturdy construction
Smooth AMOLED screen
Great UX and companion app
Just like the Apple Watch Ultra, the Samsung Galaxy Watch 5 Pro is quite a bulky watch, and will definitely be able to catch your eyes from a distance. One of the first things that you'll notice when you put this watch on is its screen, more specifically how clear and bright it is when you are smoothly swiping through all the different features.
The watch has a 1.36" display that has been enclosed by a raised bezel on its titanium casing, which is there in order to protect your watch from any bumps and knocks you might have. Even though this is definitely a relatively large watch that takes up a lot of space on your wrist, if you are someone who has been accustomed to wearing the large chunky Garmins then this won't be too much of a jump for you. However, if you are someone who has been used to wearing smaller smartwatches before this one then you'll definitely notice how much bigger it is. 
Samsung has equipped this watch with some high grade Sapphire crystal glass as well as titanium for the casing, which actually makes it twice as durable as the Samsung Galaxy Watch 4 was, to make sure that it is as protected as it can be when you are out on adventures with it, no matter how rough. Even though this watch is very durable and strong, it would be a stretch to call it "rugged" as you'd still be pretty scared of scratching this watch on any corners, whereas with other dedicated adventure or fitness watches you'd feel a little more comfortable with taking it through the ringer.
A new feature, that you'll receive over the regular Watch 5, is the sporty silicone strap with a hinged d-buckle band that is exclusive to the Watch 5 Pro. Although this strap isn't really a strap that you could wear to a formal occasion it does still look very sleek when paired with the Black Titanium colourway and other colours.
You'll also be happy to know that the Watch 5 Pro is IP68-rated water resistant, which means that it will be able to be submerged for over 30 minutes in depths that are more than one metre. This is a really useful feature for most people and one that won't be found on most common smartwatches. This watch will even be able to join other fitness dedicated watches such as Garmins, Suuntos, Amazfits and Casio digital watches in the ranks when it comes to doing a triathlon or going for a surf.
The Samsung Health app is also designed extremely well and when you have gone on a run or just want to check your sleep metrics then you'll most likely be surprised as to how deep the data runs and even how simple it is to access. The app covers just as much information as the likes of the Fitbit Premium or Apple Health has and all the information is presented to you in a very accessible way, which a lot of the rivals struggle with.
Features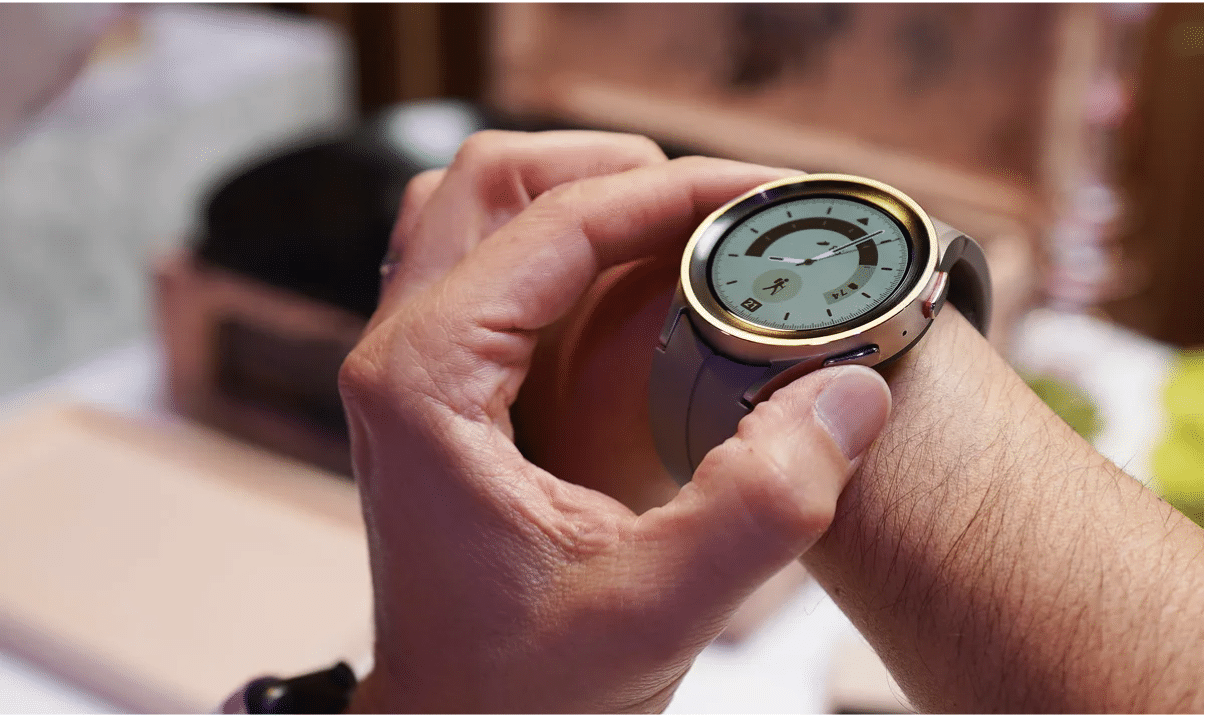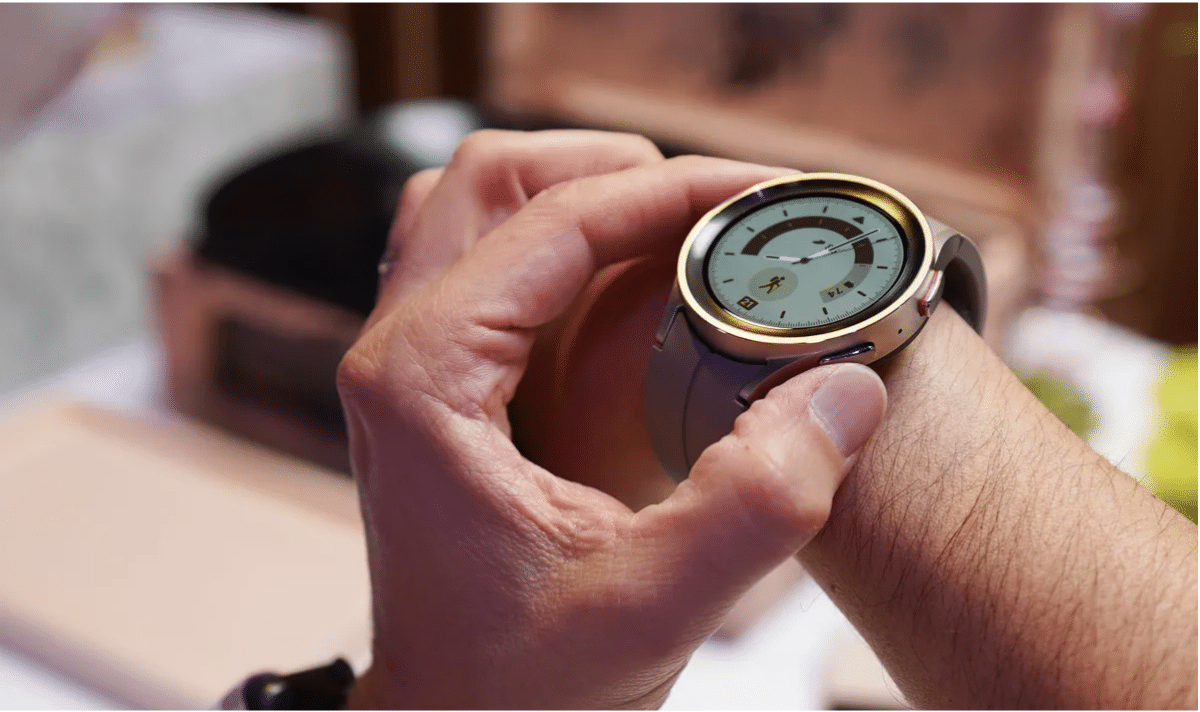 Standouts:
Variety of improved health goodies
Route trackback feature
Actionable sleep tracking advice thanks to sleep profiles
With the Samsung Galaxy Watch 5 Pro you do see a few upgrades and new features over the standard model and it offers a wide variety of health goodies. One feature, that is exclusive the the Watch 5 Pro, is their new "route workout" GPS function, which basically allows you to be able to plan your route, what's more is that once you've done this you'll be able to share it with others and then you can compare times if you all run the same route.
Another thing that you should know before purchasing this watch is that in order to make the most of your Watch 5 PRo you'll need a Samsung device asn Samsung Health and Samsung Wear apps, because everything is served to you through that Health ecosystem. If you are someone that won't be able to get this access to Samsung Health then you'll still be able to record information but sadly it won't be as detailed and some of the features will also be limited.
Next you will also have a great route workout function, which will give you turn-by-turn navigation by sending you haptic vibrational cues so that you won't have to look down at your watch while you are out on runs or cycles. This feature also allows for Track Back, which you can use in order to stop you from getting lost, all you'll have to do is activate the Track Back feature and your watch will give you a guide back to the starting point of your route.
Another feature that is said to have improved from the Samsung Galaxy Watch 4 is the Watch's body composition feature. This feature is essentially an aforementioned bioelectric impedance analysis scan, which is basically the exact same method that smart scales use in order to determine your body composition. In order to start this process all you'll have to do is place your fingers onto the buttons and then start the feature, which you'll find on your phone. From here it will basically send a current of electricity through your body that will move at different speeds through your fat, muscle and bone. Then what the watch does is it will then calculate the speeds that the current travelled and estimate the ratio of fat, muscle and bone in your body.
Thanks to this feature you'll now be able to set yourself body comp targets, which the watch will try and help you to reach through movement reminders as well as activity tracking and regular BIA testing.
From the Watch 4, the Watch 5 Pro as well as the standard Watch 5, we do see an improvement in sleep tracking as well. This watch will monitor how much time you spend awake, in REM, light and then deep sleep, and then from all of the information it gathers it can then give you a total 'sleep score'.
Other than these features you'll get all the usual features such as notifications, call accepting/rejecting and even automatic fall detection. You'll also be able to access a wide range of third-party apps from the Play store and you'll have 16GB of RAM on this watch to store plenty of music.
Battery Life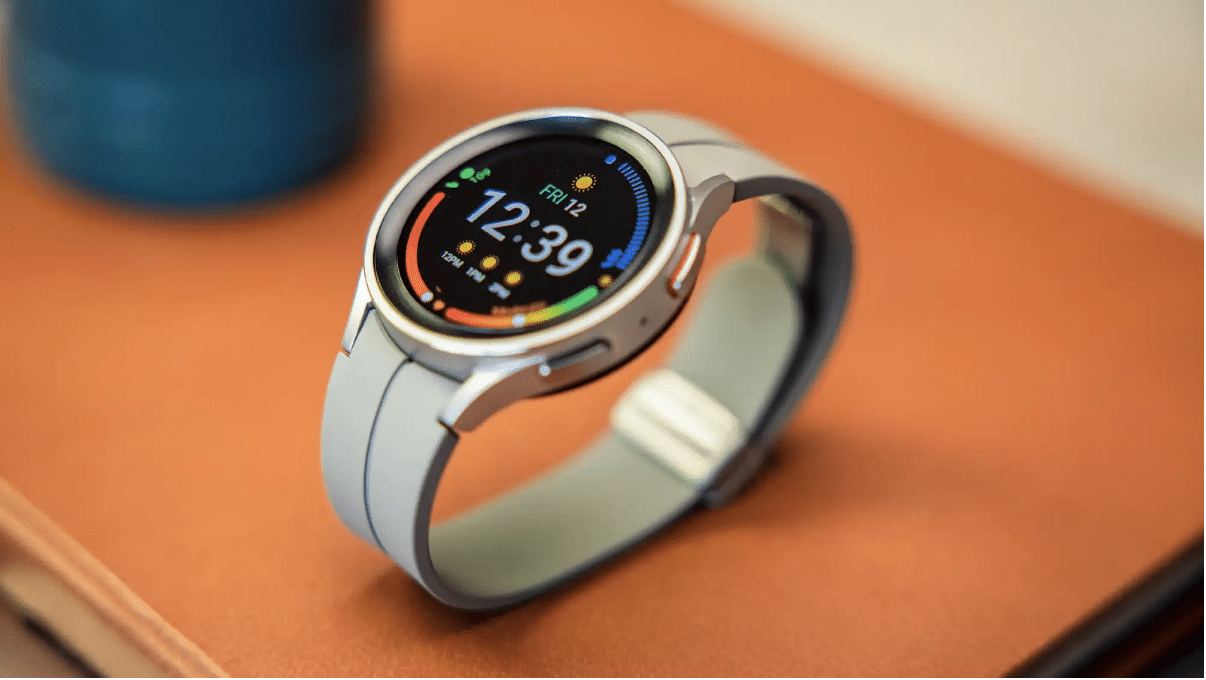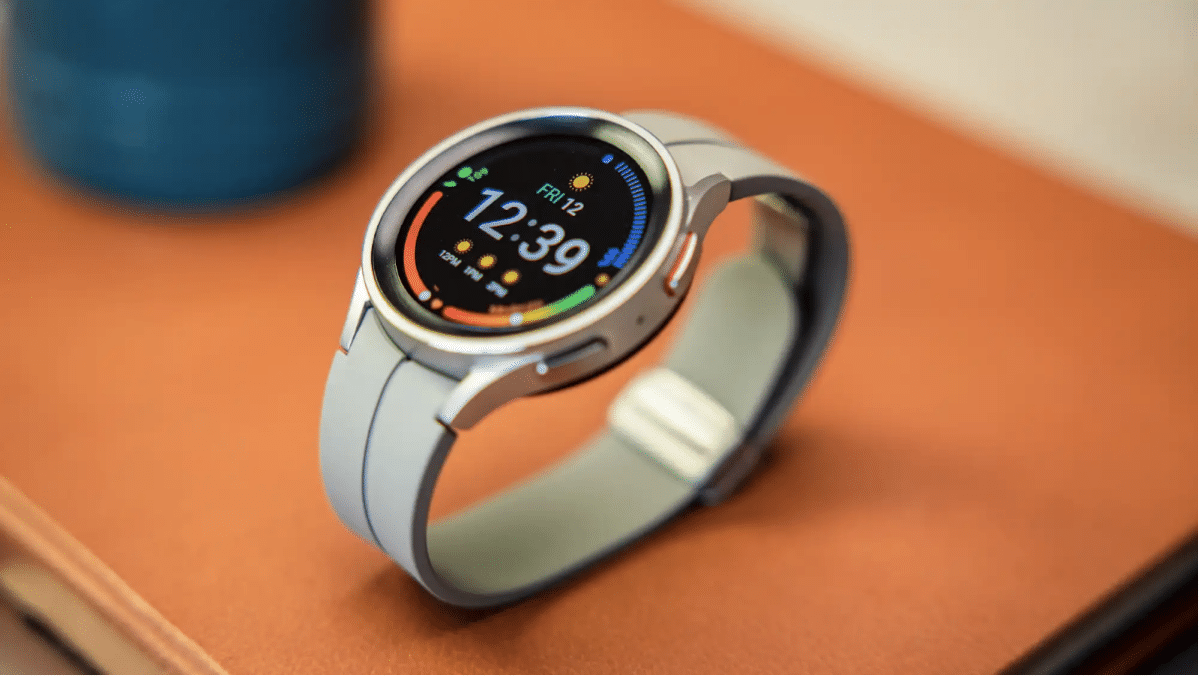 Standouts:
Battery life of up to 80 hours
Behind the dedicated sports watches out there
From the standard Samsung Galaxy Watch 4 we have seen a 60% increase in battery size for the Watch 5 Pro, with its 590mAh battery, compared to the maximum size of 410mAh for standard the Watch 5. You'll get a total usage time of 80 hours, which is essentially double that of what the Watch 5 has. Sadly, if you do decide to make full-use of the always-on-display and increased power of its GPS and activity tracking tool, then this number will drop.
Performance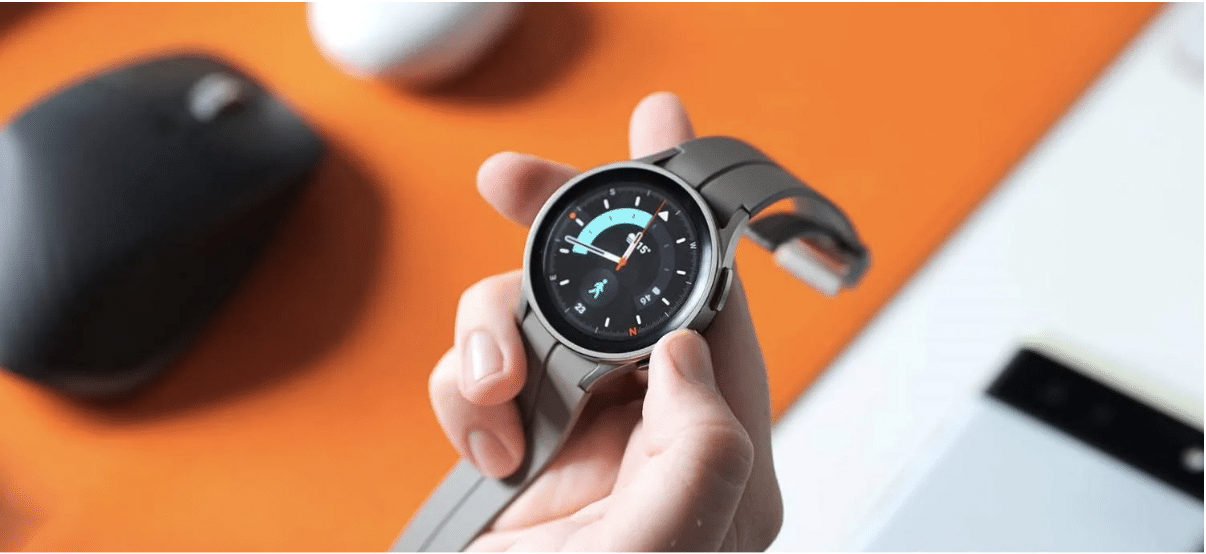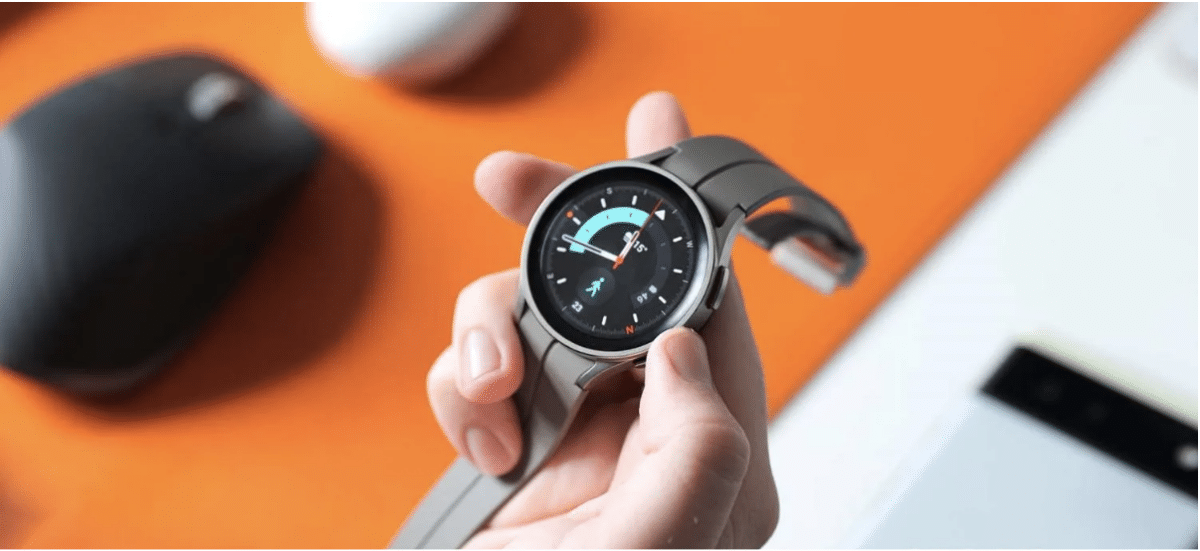 Standouts:
Health and GPS tools are extremely accurate
Comprehensive metrics for the endurance athletes out there
Great and useful sleep tracking
The accuracy of the GPS is great and are now even able to match your phone's GPS while you are out on a run, with a time difference with little to no margin of error. The Watch 5 Pro has some great GPS credentials and has impressive access to Glonass, Beidou and Galileo satellite networks.
This watch also offers a load of some great well-designed fitness metrics that even include measuring your vertical oscillation and upper-body stiffness, which are based on the Watch's internal gyroscopes. So for those endurance athletes or just proper runners you'll find that you will be able to get a lot out of this. The BIA sensors that this watch has is also very easy to use and will be able to give you a reading very quickly.
Unlike a lot of other smartwatches out there that track your sleep, Samsung actually gives you actual guidance and tips on how to improve your sleep and doesn't just overload you with data that you don't know what to do with. The Samsung Galaxy Watch 5 Pro can assign you a sleep profile that will offer you one of eight 28-day sleep coaching programs, which guide you through the processes of improving your sleep by using your sleep analysis report.
Final Words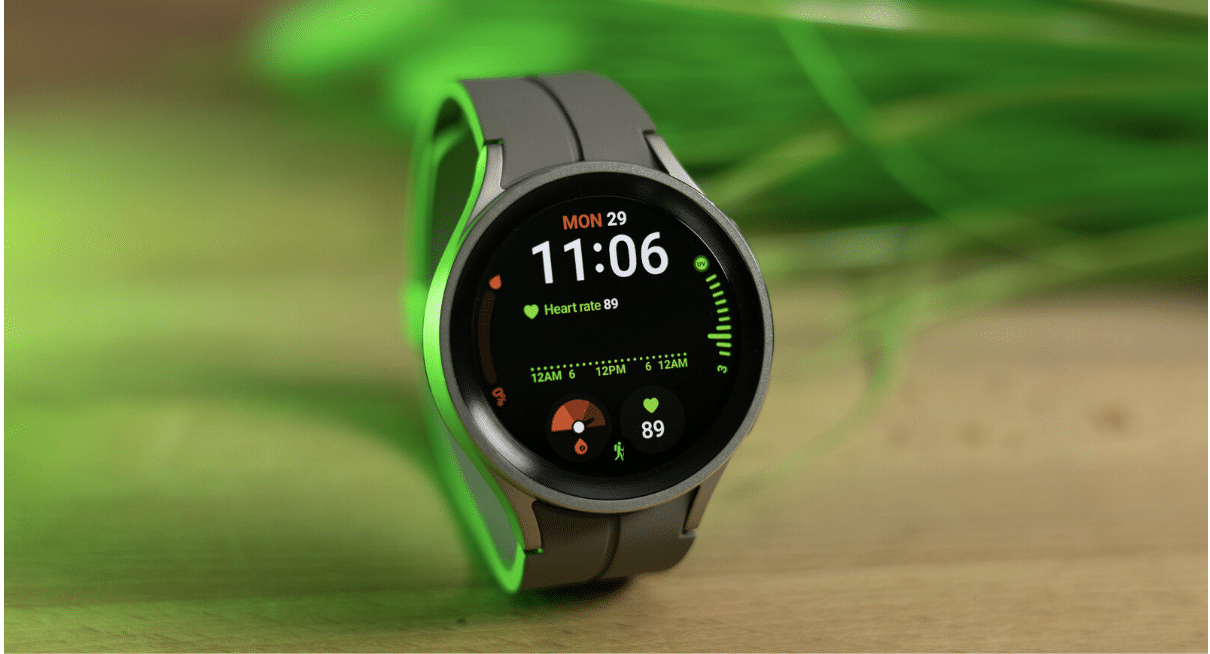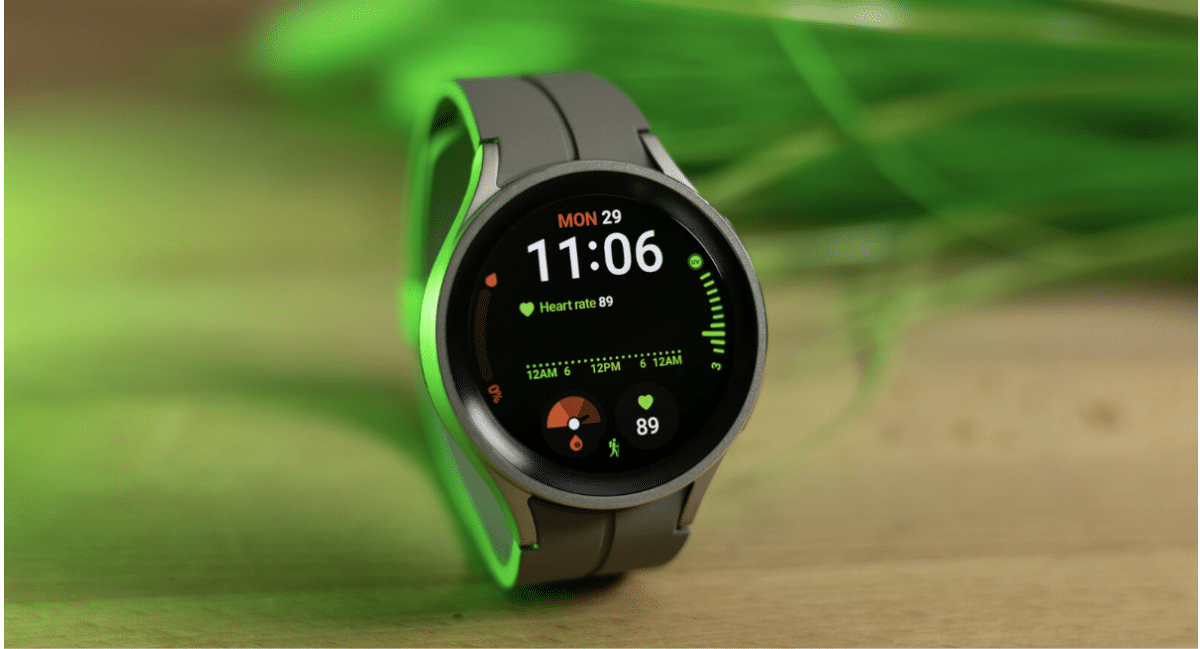 The Samsung Galaxy Watch 5 Pro is definitely one of the best fitness-orientated Wear OS watches that you can purchase on the market to date. Although this watch definitely isn't cheap, all the metrics and fitness tools that this watch has are both excellent as well as very accurate. The battery life is definitely amazing when compared to other smartwatches, however, when you compare it to the battery life of other fitness dedicated watches, this one definitely lacks. The overall look and construction of the screen and the watch is both beautiful as well as sturdy, although the watch may be a little too big for some people.
This watch is overall a great watch and bests a lot of other smartwatches out there and can even go toe-to-toe with some of the best smartwatches out there like the new Apple Watch Ultra.
However, to finish off this article the watch is definitely amazing for people who like doing activities in the outdoors and being active but for those triathletes and polar adventurers looking for a specialist tool this may not be the best option for you personally.