TikTok has a lesser-known sibling app called Lemon8, developed by the same parent company, ByteDance. As the battle for social media dominance rages on, companies like Meta and ByteDance are creating multiple platforms to strengthen their position.
Lemon8 emerged as a response to the potential ban of TikTok in the US and quickly gained fame. In just three years, it has surpassed household names like Walmart, Zillow, and Pinterest. ByteDance's vibrant app now boasts five million monthly active users across several countries, with over 17 million downloads.
This post offers essential information about Lemon8, often referred to as TikTok's sister app. Available for free, it has made its mark on the social media landscape and continues to grow in popularity.
What Is Lemon8?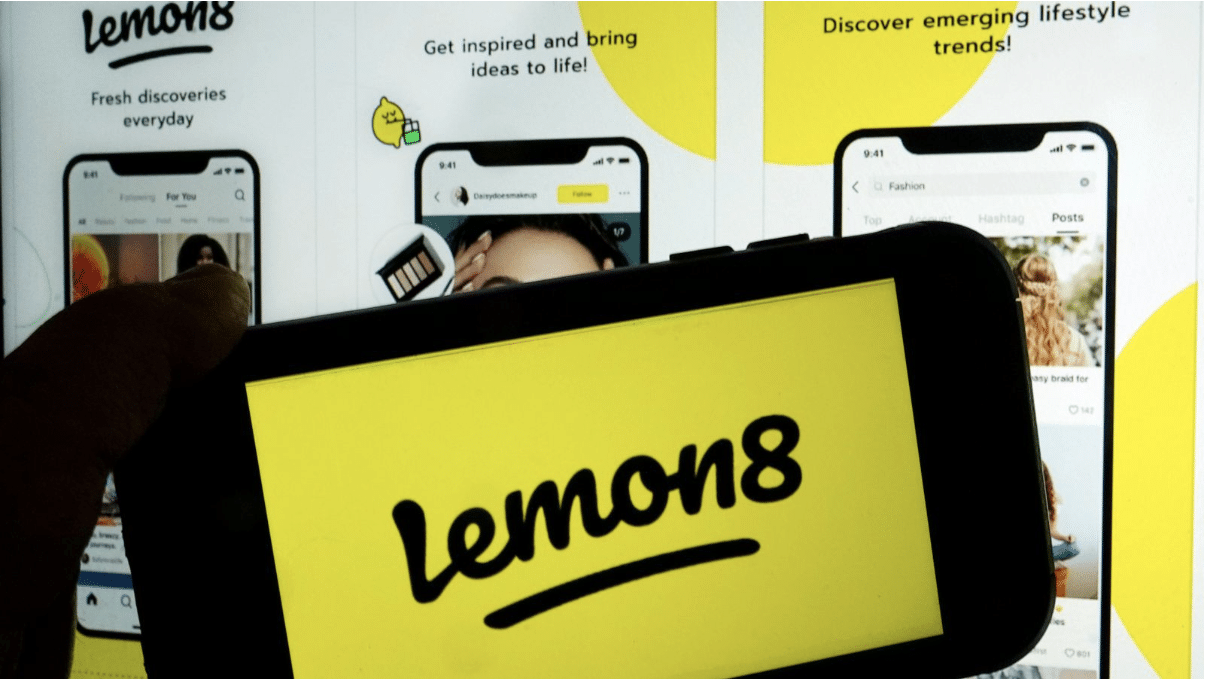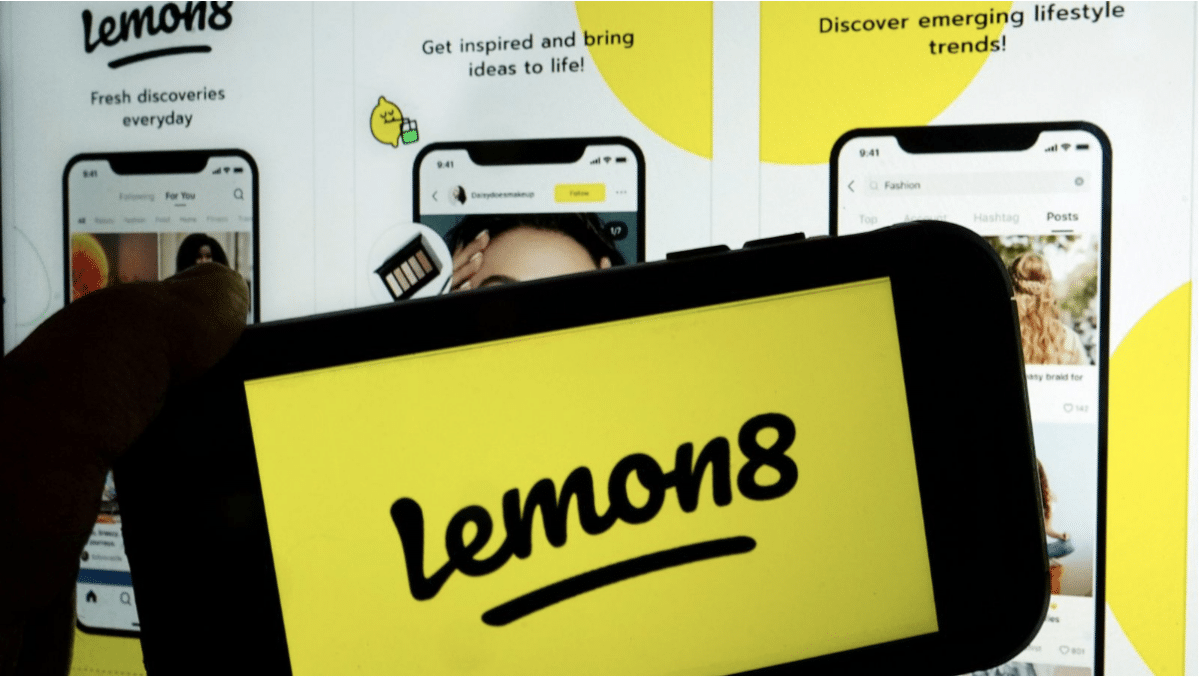 Lemon8 is a social media platform specializing in lifestyle content, combining elements from Instagram, TikTok, and Pinterest. Users can share photos and videos, and create blog-like posts using templates. The app's primary focus is on categories like food, fashion, beauty, wellness, and home.
Initially launched in Japan in 2020, Lemon8 has since expanded to countries such as Indonesia, Malaysia, Singapore, Thailand, and Vietnam. While ByteDance hasn't publicly confirmed its ownership, evidence like the app's Play Store address and reports from the New York Times suggest their involvement.
The platform is currently free, and users looking to earn money on Lemon8 can do so by building a following and becoming an influencer. As the app is relatively new, early adopters have an advantage, with experts predicting global acceptance in the coming years. Influencers can leverage this growth to generate income.
Lemon8 Features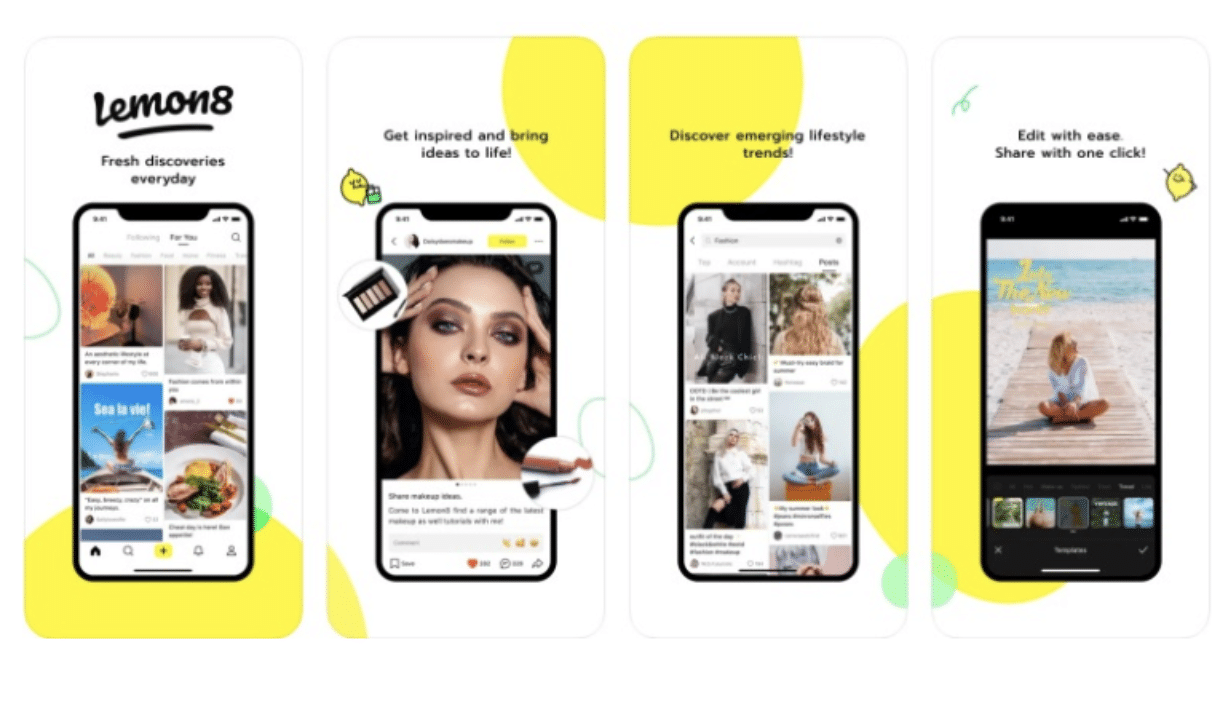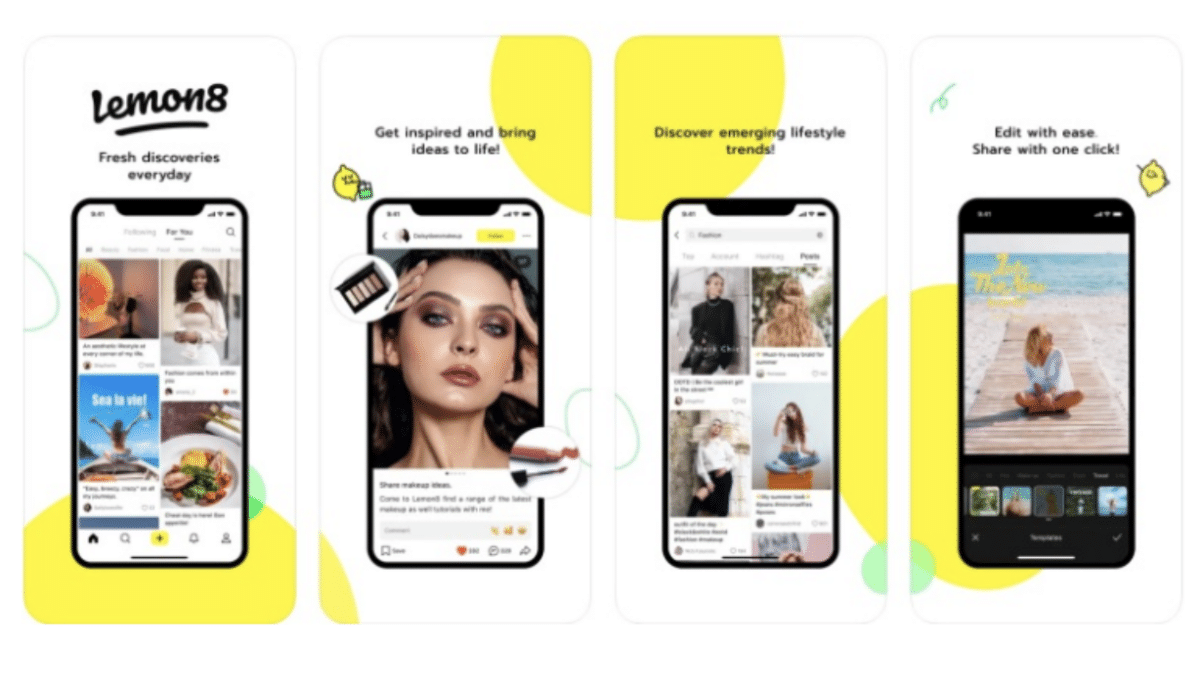 As a new user exploring the Lemon8 app, you might be curious about how its features differ from TikTok, Instagram, and Pinterest. Here are some key features that make Lemon8 stand out:
Dynamic Text Composition: Lemon8 lets you create captivating captions up to 150 words long. You can customize your font size, color, and style from a wide selection, and use caption templates tailored to different categories to simplify content creation.
Powerful Photo Editing: The app offers advanced photo editing tools that rival standalone editors. With Lemon8, you can easily remove backgrounds, create cutouts, crop images to a 3:4 aspect ratio, and enhance your photos with artistic filters and custom borders before sharing.
Ready-to-Use Templates: Lemon8 features user-friendly templates to jump-start your creativity. You can use these templates as a starting point to create customized captions with ease.
Expressive Stickers: Add a personal touch to your posts with Lemon8's fun sticker collection or create your own stickers using images from your phone gallery.
Streamlined Video Editing: While video content isn't Lemon8's primary focus, the app still provides basic video editing tools. You can trim videos to a one-minute length and add stock audio. However, the app doesn't support merging multiple videos
How Lemon8 Works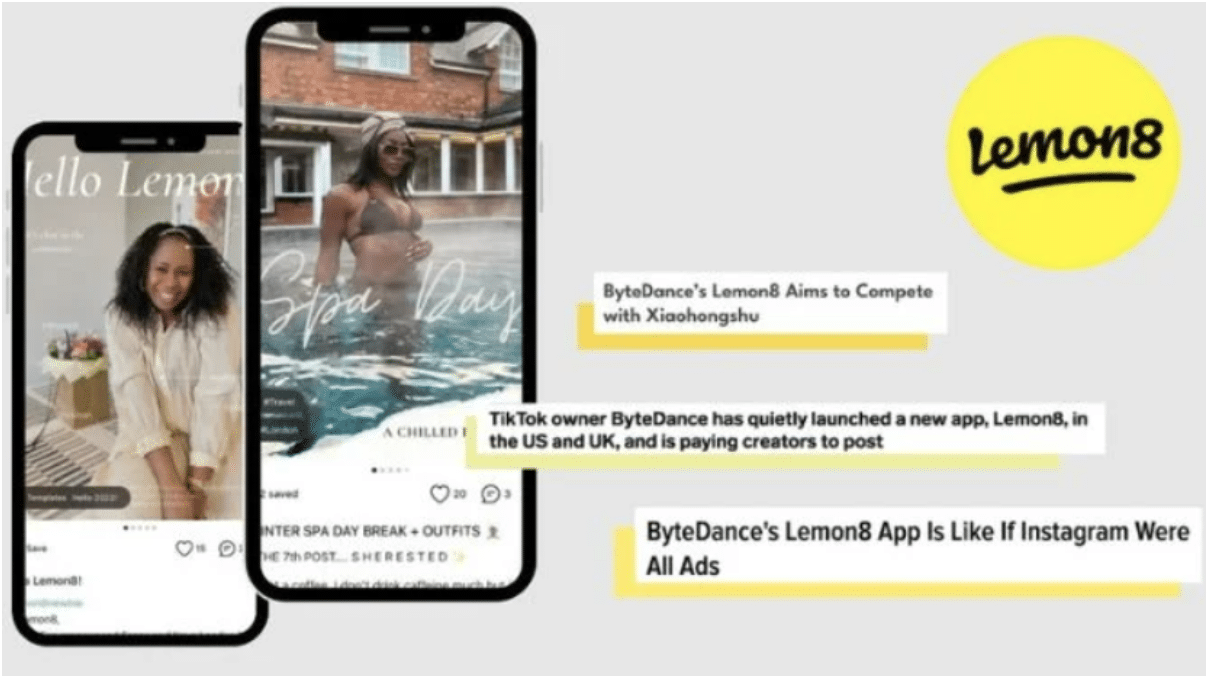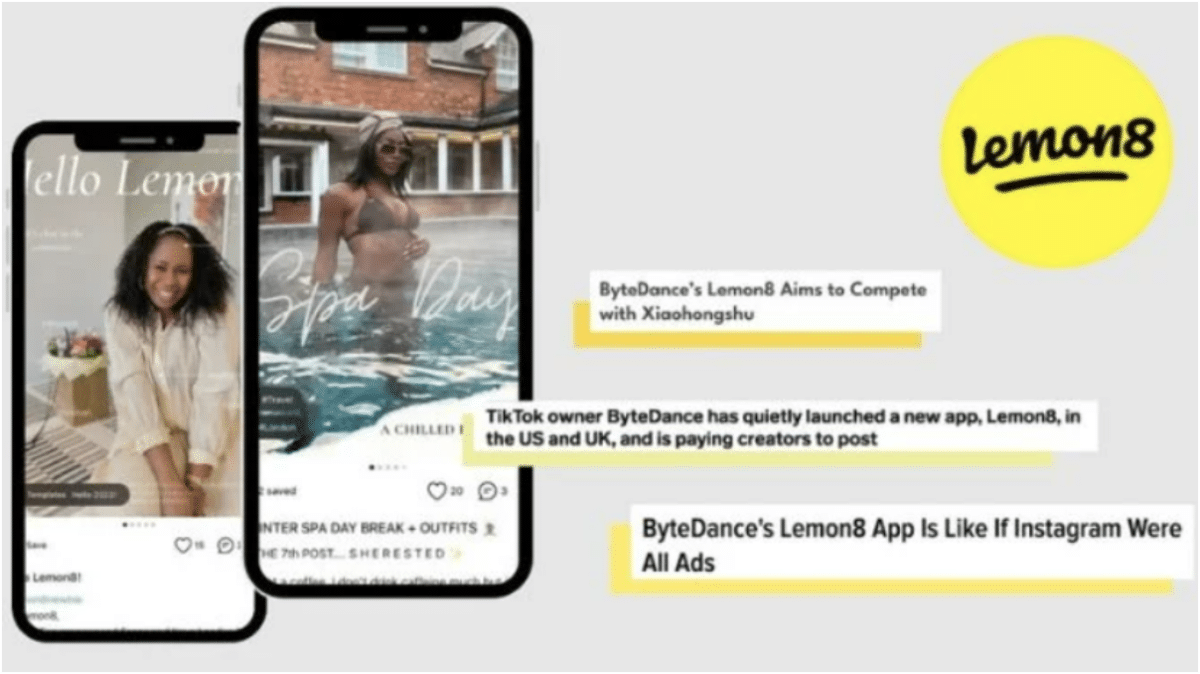 Picture TikTok's powerful algorithm blended with the charm of classic Instagram, and a splash of Pinterest's interface. This delightful concoction serves up Lemon8, an app that emphasizes photos over videos, reminiscent of Instagram's early days.
Unlike TikTok and modern Instagram, Lemon8 doesn't feature vertical scrolling. Instead, the screen splits in two to display distinct feeds: "Following" and "For You". The Following feed showcases content from those you follow, while the For You feed presents app-curated recommendations.
Lemon8's unique angle leans toward e-commerce and influencer marketing, offering a carefully curated experience. Eye-catching images promote a captivating lifestyle that lures viewers in. The app evokes nostalgia with its throwback Instagram vibe, combined with a Pinterest-inspired layout.
Interestingly, multiple reports suggest Lemon8 is a near replica of Xiaohongshu (Little Red Book), a popular Pinterest-like app in China.
How to Use the Lemon8 App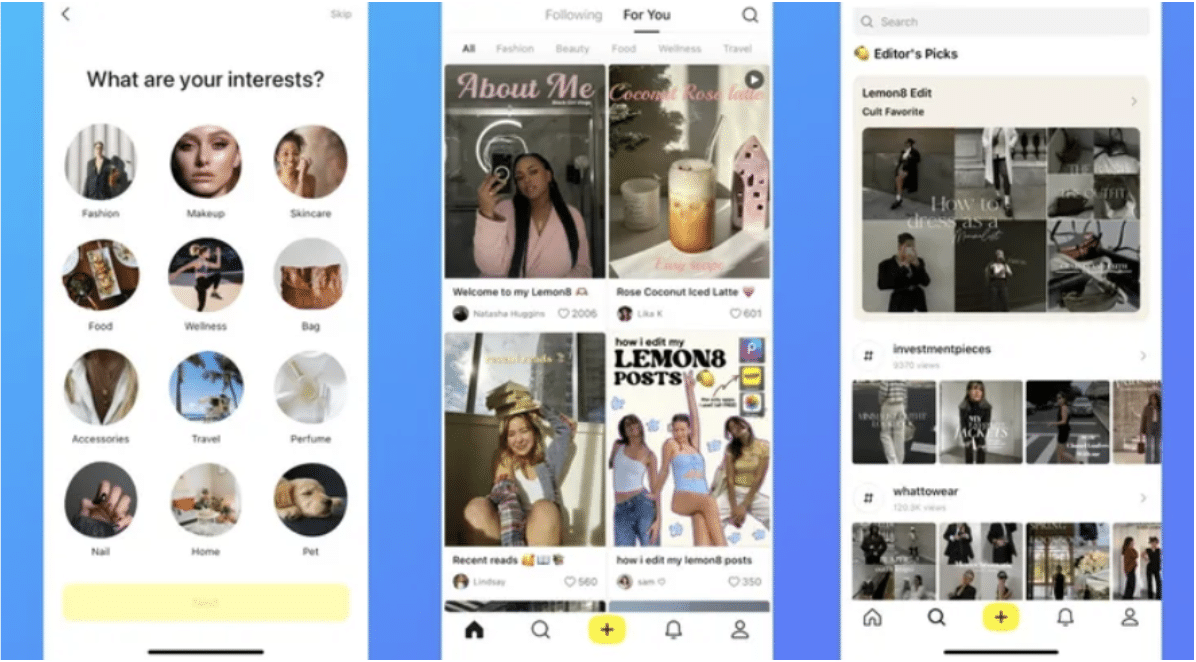 If you're new to Lemon8 and want to get started, here's a beginner's guide to help you:
Creating a Lemon8 Account
Setting up your account is easy. First, download the Lemon8 app from the App Store or Google Play Store, depending on your device. After installing and launching the app, you'll be prompted to enter basic information like your name, birthdate, and a unique username to create your account.
Navigating Lemon8
Once your account is set up and you've chosen a username, log in and select your preferred content categories, such as food, travel, or fashion. Your home feed will then appear, divided into two pages: "For You" and "Following." The For You page shows content based on your interests, while the "Following" page features posts from creators you follow.
Browsing Content
Access different content categories at the top of the screen. Tapping a category displays posts related to that topic, while selecting "All" shows a mix of content from all categories.
Familiar Interface
Lemon8's user-friendly interface is similar to Instagram, with app icons located at the bottom of the screen. These icons include Home, Search, Add, Notification, and Profile. The main difference from Instagram is the placement of the Notification icon, which is at the top of the screen on Instagram.
Creating Your First Lemon8 Post
Here's a step-by-step guide to help you create your first Lemon8 post:
Select Pictures and Videos
Start by tapping the Add icon and choosing the pictures or videos you want to share. Lemon8 requires at least three pictures or one video per post, with a maximum of seven pictures. Choose an eye-catching cover picture to act as a thumbnail and attract viewers to your post.
Add a Title
Craft a concise and engaging title that describes your post. Use keywords to make your content easily discoverable within its category.
Compose and Edit Text
Write an interesting caption with essential details to help viewers understand your post. Include product names, relevant links, and usage instructions if applicable. Use hashtags to increase visibility, and customize your caption with different font colors and sizes.
Preview and Publish
Before sharing your creation, double-check your title, caption, and hashtags for accuracy. Once you're happy with your post, tap the Post button to share it with the world.
Lemon8 App vs Other Apps
| | | | |
| --- | --- | --- | --- |
| Platform | Description | Main Features | Target Audience |
| Lemon8 | A social media app by ByteDance, combining elements of Instagram and Pinterest. | Posting photos/videos, captions, and mood boards. | Gen-Z users and influencers. |
| TikTok | A video-sharing app for creating and sharing short videos with music and special effects. | Short-form videos with music and special effects. | Gen-Z users and influencers. |
| Pinterest | A visual discovery and bookmarking platform for finding and saving ideas across various topics. | Searching topics, saving ideas to boards. | Users seeking inspiration and ideas. |
| Instagram | A photo and video-sharing app for sharing life and interests with followers. | Posting photos/videos, sharing stories, following users. | Users of all ages, popular among millennials and Gen-Z. |
Lemon8 vs TikTok
Lemon8, created by TikTok's parent company ByteDance, combines elements of Instagram and Pinterest, focusing on photo and video sharing with captions and mood boards. While TikTok primarily allows users to create and share short videos with music and special effects, both platforms target Gen-Z users and influencers.
Lemon8 vs Pinterest
Lemon8 features a front page resembling Pinterest but operates more like an older iteration of Instagram. Both Lemon8 and Pinterest serve content based on algorithms through "following" and "for you" pages. While Lemon8 emphasizes photo and video sharing with captions and mood boards, Pinterest is a visual discovery and bookmarking platform allowing users to find and save ideas across various topics.
Lemon8 vs Instagram
Lemon8's main goal is to be a direct competitor to Instagram. Both platforms enable photo and video sharing, but Lemon8 incorporates Pinterest-like elements with captions and mood boards. Instagram is popular among users of all ages, especially millennials and Gen-Z, while Lemon8 specifically targets Gen-Z users and influencers.
Lemon8: Frequently Asked Questions

What is Lemon8 App?
Lemon8 is a social media app focusing on lifestyle content, where users can post, like, and share captivating pictures and videos. It's a platform for influencers and creative individuals.

Where is Lemon8 available?
Lemon8 is currently available in Japan, Thailand, Singapore, Malaysia, Indonesia, Vietnam, the UK, and the US.

Who is Lemon8 for?
Lemon8 targets a "youthful community," which includes Gen-Z and millennials interested in fashion, beauty, food, and wellness. It offers inspiration to elevate their lifestyles.

Is Lemon8 safe?
Lemon8 is created by the same company behind TikTok, and so far, there have been no concerns regarding data privacy. The only potential issue could be the US Congress probing ByteDance, but nothing has arisen from that yet.

Is Lemon8 free?
Yes, Lemon8 is free to download. However, it can be challenging to distinguish between sponsored content and organic posts, as every post appears professionally curated to entice users to purchase the showcased items.

How can I use Lemon8 to grow my business?
If your business aligns with the lifestyle sector, Lemon8 can be an excellent platform for growth. Create DIY guides, style inspiration, engaging tutorials, product reviews, and share affiliate links to maximize your business's exposure.
Takeaway Point
Lemon8 is a social media platform targeting Gen-Z and millennial users, blending elements of TikTok, Instagram, and Pinterest with a focus on lifestyle content and community engagement. ByteDance has paid some creators to promote the app, which offers visually appealing content and opportunities for influencers to connect with their audience. Its lasting relevance hinges on time, external factors like TikTok's congressional case, and user preferences for a platform emphasizing photos and longer text.