On Valentine's Day 2023, Microsoft bid farewell to its legendary web browser, Internet Explorer, marking the end of an era.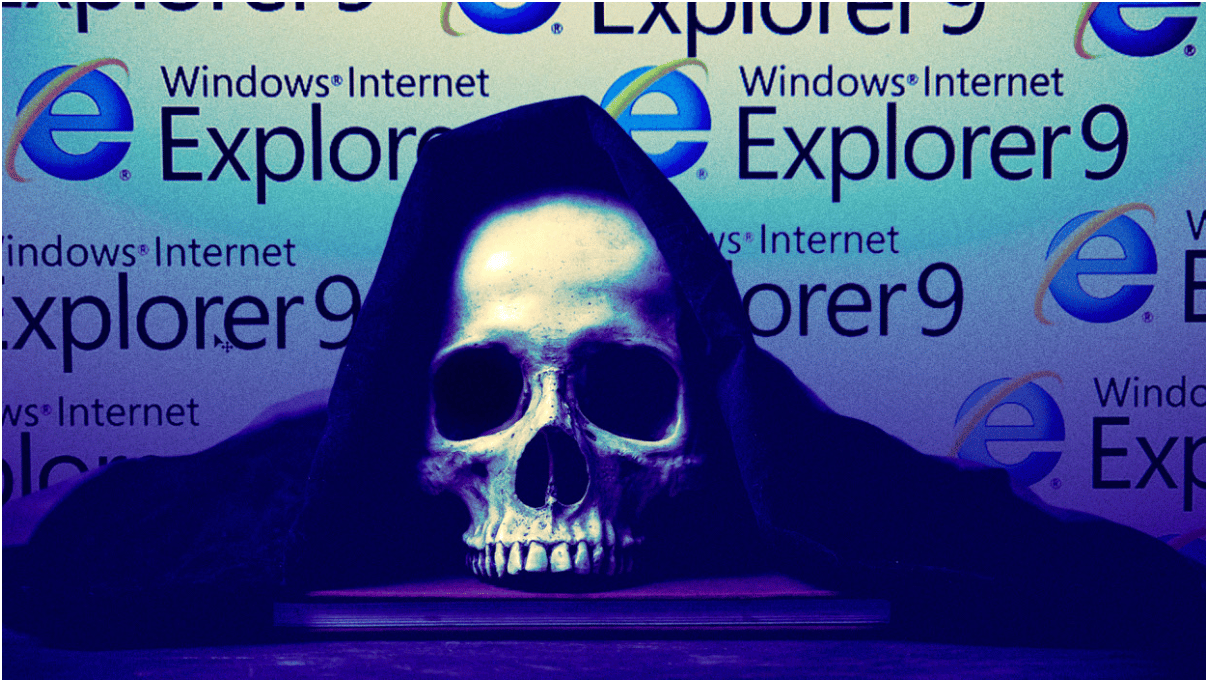 Since its inception in 1995, Internet Explorer took the world by storm, becoming the most widely used browser and shaping the early internet. It was the go-to browser for Windows users for many years, playing an integral role in popularizing the web. Its pioneering technology made it possible for people to access web pages, and it paved the way for modern browsers that we use today.
As we say goodbye to Internet Explorer, it's worth reflecting on its impact on the evolution of the internet. For those of us who remember the early days of the web, Explorer holds a special place in our hearts. Its retirement may feel like the end of an era, but we can look back on it as a time of incredible innovation and transformation. 
The Rise and Fall of Internet Explorer
Microsoft's Internet Explorer (IE) was once the most widely used web browser, attaining a peak of 95% usage share by 2003. This came after Microsoft used bundling to win the first browser war against Netscape. IE had many features within the operating system, including Microsoft Update.
However, in 2004, a new upstart browser called Firefox from Mozilla began to gain traction and IE's market share began to decline. This was compounded by Apple launching its own browser, Safari, and other players entering the market. As a result of this increased competition, IE's market share dropped to below 50% by 2006.
In 1998, the Department of Justice (DOJ) investigated Microsoft to see if they had used any unfair means to stifle competition and create a monopoly with IE. The DOJ found that Microsoft had indeed abused its monopoly power and imposed restrictions on their business practices. This further weakened IE's position in the market as users were introduced to an array of new browsers with more modern features than IE could offer.
By 2015, Microsoft retired the Internet Explorer name and introduced a totally new browser engine called Edge. However, Edge failed to gain traction in the market and was eventually discontinued in 2021. On June 15th 2022, Microsoft officially retired Internet Explorer for good, marking the end of an era for one of the most popular browsers in history.
Has Microsoft Permanently Disabled Internet Explorer?
On February 14, 2023, Microsoft permanently disabled the desktop version of its long-retired browser, Internet Explorer 11 (IE11). This happened on most versions of Windows 10 through an update to Microsoft Edge. It follows the retirement of Internet Explorer on June 15, 2022 for the Windows 10 semi-annual channel (SAC) servicing option.
The update will remove all references to Internet Explorer from Windows 10 machines with the Patch Tuesday updates scheduled for June 13, 2023. This includes icons on the Start Menu and taskbar as well as any entry points that would lead to IE11. Users will be redirected to Microsoft Edge when they try to click any IE11 icons or other entry points.
Microsoft has been gradually transitioning users away from IE11 since August 2020 when it first announced plans to discontinue support for the browser in Windows 10 and Microsoft 365. Support was discontinued in Teams on November 30, 2020 and across Microsoft 365 apps and services on August 17, 2021.
Organizations that still have dependencies on IE11 must take steps now to complete their transition before February 14, 2023 or risk business disruption at scale when users are redirected away from IE11. Businesses can automate IE mode for their users by setting up IE mode in Microsoft Edge before February 14th.
What Is Replacing Internet Explorer?
Microsoft Edge is the replacement for Internet Explorer. Microsoft first revealed its new browser plans in January 2015 under the codename "Project Spartan", and later announced that it would use the Microsoft Edge name for its new browser.
Microsoft Edge is designed to be basic and minimalist for the average user, while still providing a more stable, faster, and modern browsing experience than Internet Explorer. It features a more minimalist design than Internet Explorer, as well as improved security features such as sandboxing and tracking prevention. 
Additionally, it has an "Edge IE Mode". This mode emulates the old Internet Explorer for the purpose of allowing Enterprise customers to access legacy websites that only work with Internet Explorer.
Can Internet Explorer Still Be Installed?
You can still install Internet Explorer on older versions of Windows. However, it is not available on newer versions like Windows 10, making it less accessible for most users.
Even if you're able to install Internet Explorer on an older version of Windows, it may not be the safest option. The browser is no longer being actively supported, which means it could be vulnerable to security risks and other issues, making it a risky choice for browsing.
How to Restore Internet Explorer
To reinstall Internet Explorer 11, even though it has been disabled, follow the steps outlined below:
First, open Internet Explorer and select Tools > Internet Options
Then, select the Advanced tab and click Reset
In the Reset Internet Explorer Settings dialog box, select Reset again
After this is done, restart your PC to apply the changes
If Internet Explorer won't open or pages won't load, try disabling and enabling it. You can also reset the program settings to repair it.
If this doesn't work, you may need to uninstall and reinstall Internet Explorer 11 from either Windows Update or from the Download Internet Explorer 11 website.
Finally, if none of these steps work, try using Microsoft Edge instead of Internet Explorer 11.
How to Switch from Edge to Internet Explorer
Switching from Microsoft Edge to Internet Explorer and vice versa is possible on Windows 10 devices. To switch from Microsoft Edge to Internet Explorer, do the following:
Go to Start > Settings > Apps > Default apps > Web browser
Select the icon for the current default browser
Then select Internet Explorer in the list
To switch from Internet Explorer to Microsoft Edge, go to:
Start > Settings > Apps > Default apps > Web browser
Select the icon for the current default browser
Then select Microsoft Edge in the list
To make switching between browsers as seamless as possible, you can import your favorites, passwords, and other data from Internet Explorer into Microsoft Edge. Do this by going to:
Settings > Profiles
Import Browser Data in Microsoft Edge
Internet Explorer mode is available on certain versions of Windows 10 that have been updated with a Microsoft Edge update. This mode allows you to access sites that need Internet Explorer 11 while also accessing modern sites.
To enable IE mode on Microsoft Edge,
Open Microsoft Edge on Windows 10 and
Click the Settings and More (ellipsis) button on the top-right corner
If you are experiencing issues related to IE disablement or with using Microsoft Edge with IE mode, reach out to Microsoft through contacting customer support.
How to Fix Internet Explorer That Opens Microsoft Edge
To fix Internet Explorer that opens Microsoft Edge, you can follow these steps:
Open Internet Explorer, select Tools > Internet options.
Select the Advanced tab and then select Reset.
When Internet Explorer finishes applying default settings, select Close, and then select OK.
Restart your PC to apply changes
If any site you visit needs Internet Explorer 11, you can reload it with Internet Explorer by doing the following:
Select the Tools button
Select Compatibility View settings
Once you turn on Compatibility View, Internet Explorer will automatically show that site in Compatibility View each time you visit. You can turn it off by removing the site from your compatibility list.
To clear the list of Compatibility View sites, follow these steps:
Open Internet Explorer
Select the Tools button
Select Compatibility View settings
To change your level of privacy in Microsoft Edge, do the following:
Open Microsoft Edge
Select Settings and more > Settings > Privacy, search, and services
To clear individual passwords stored by Microsoft Edge on your device, here is how:
In Microsoft Edge, select Settings and more > Settings > Profiles
Select Passwords
To set a website to be opened in IE mode by configuring IE mode policies:
Open Microsoft Edge on Windows 10
Click the Settings and More (ellipsis) button on the top-right corner
Select Allow sites to be reloaded in Internet Explorer under edge://settings/defaultbrowser to allow Internet Explorer mode
If you still have issues or face difficulties regarding one or more of the steps above, contact the Microsoft customer support.
The Last Rites
Microsoft has retired Internet Explorer, marking the end of an era for the once-dominant browser that struggled to keep up with modern web standards. While some users may miss its familiar interface, the retirement of Internet Explorer is a positive step towards more modern, efficient, and secure web browsers such as Microsoft Edge.
Though some users may still use Internet Explorer for specialized tasks or personal preference, moving forward with technology is essential. The retirement of Internet Explorer signals a new chapter in the history of the web, bringing exciting innovations and advancements that promise to make browsing the web more efficient, convenient, and enjoyable for everyone.