With pages of browsers available for the Android tablet and phones in Android Market, who has time to install and try them? These browsers lead the market, but which one depends on how you like to surf the web and your device. Some browsers work better with some devices more than others do.
These Android browsers have many fans, so you're bound to find the perfect one or come close to it.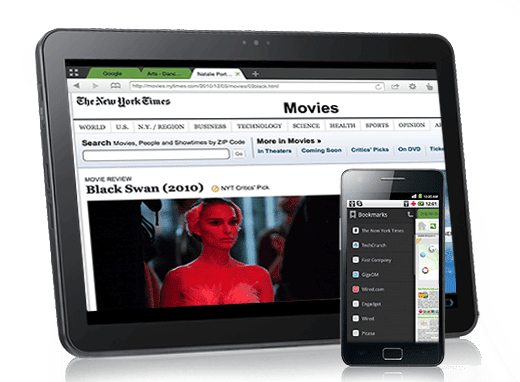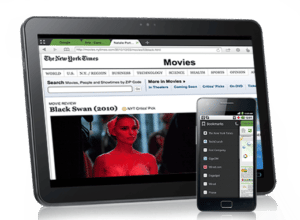 Dolphin features gestures that let you draw your way around the web. You can create your own gestures such as drawing a "G" to open Gmail. Another popular feature is multi-touch-zoom where you pinch your fingers on the screen to change the text size or double-tap a spot to zoom in and out on that spot. Dolphin makes the most of the small screen space by letting you access the toolbar when you need it with a quick swipe.
You won't find Awesome anywhere else except Firefox for Android — Awesome Screen, that is. It learns from your browsing experience to make it faster by giving you instant access to favorite history items, bookmarks and open tabs for all versions of Firefox.
Firefox desktop users can sync bookmarks, history, open tabs, passwords and form data with Firefox for Android. The customizable browser hides the toolbar until you call for it so you have more screen space.
3. Opera Mini Web Browser
Opera has two different browsers for the Android. Both use the same technology and user interface. Opera Mini's engine lives on the server while Opera Mobile installs on your tablet or phone. Because of this, Opera Mini runs faster.
Opera Mini downloads fewer elements than Mobile because Mini's server converts the code to a lighter one before delivering it to the device. However, Opera Mobile has the capability to render more complex websites. Fans of Opera Mini choose the browser for its speed.
Some people like to use more than one browser like using Opera for watching videos and then another for regular browsing. To select one as your default browser, open the one you want and Android pops up a dialog box where you can check "Set as Default." Going forward, it'll open the default browser anytime you click a link.
What mobile browser do you use? Please share your experiences with mobile browsers in the comments section.