The Marshall Middleton Bluetooth speaker has four speaker elements for a more powerful and larger sound.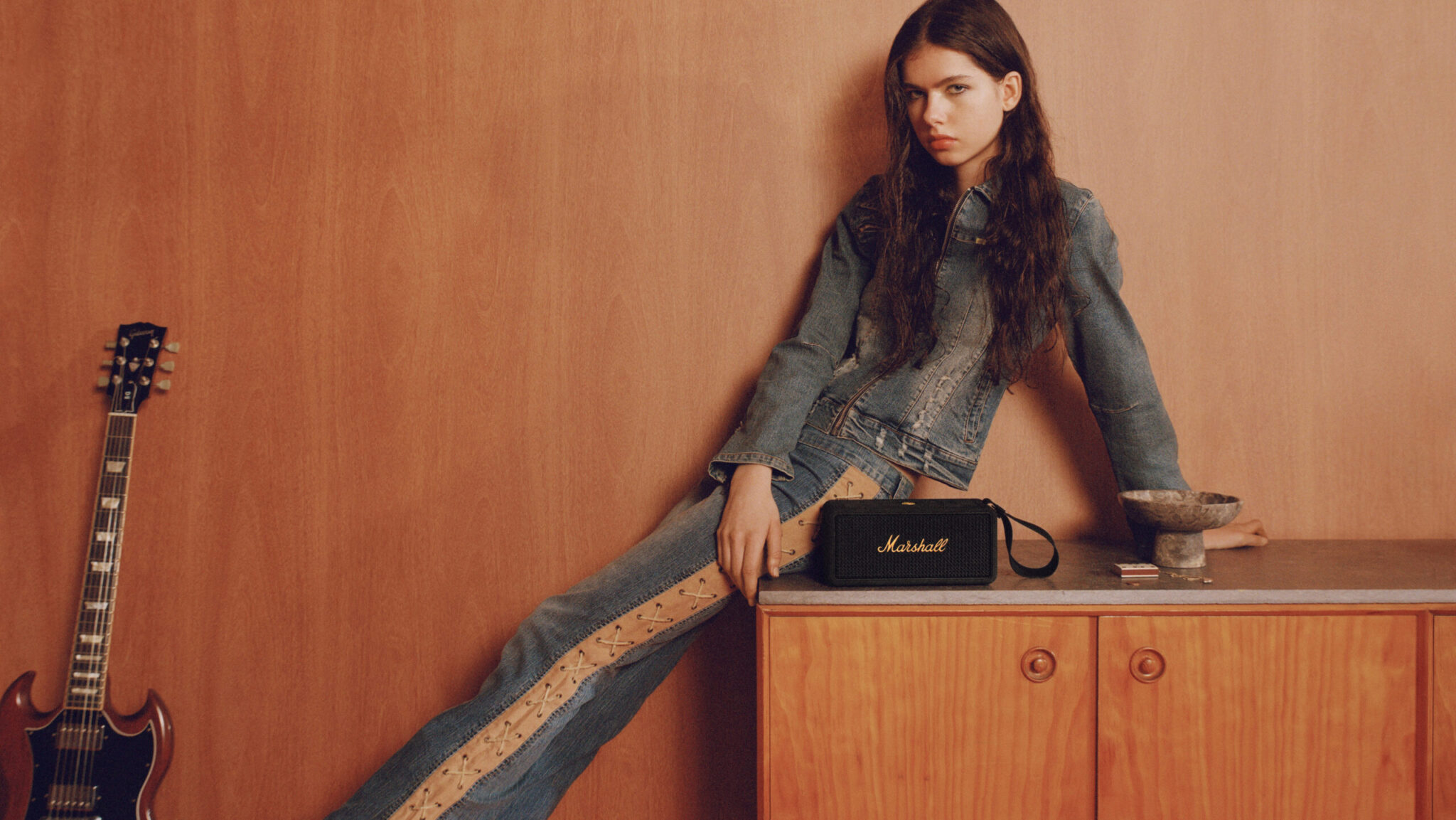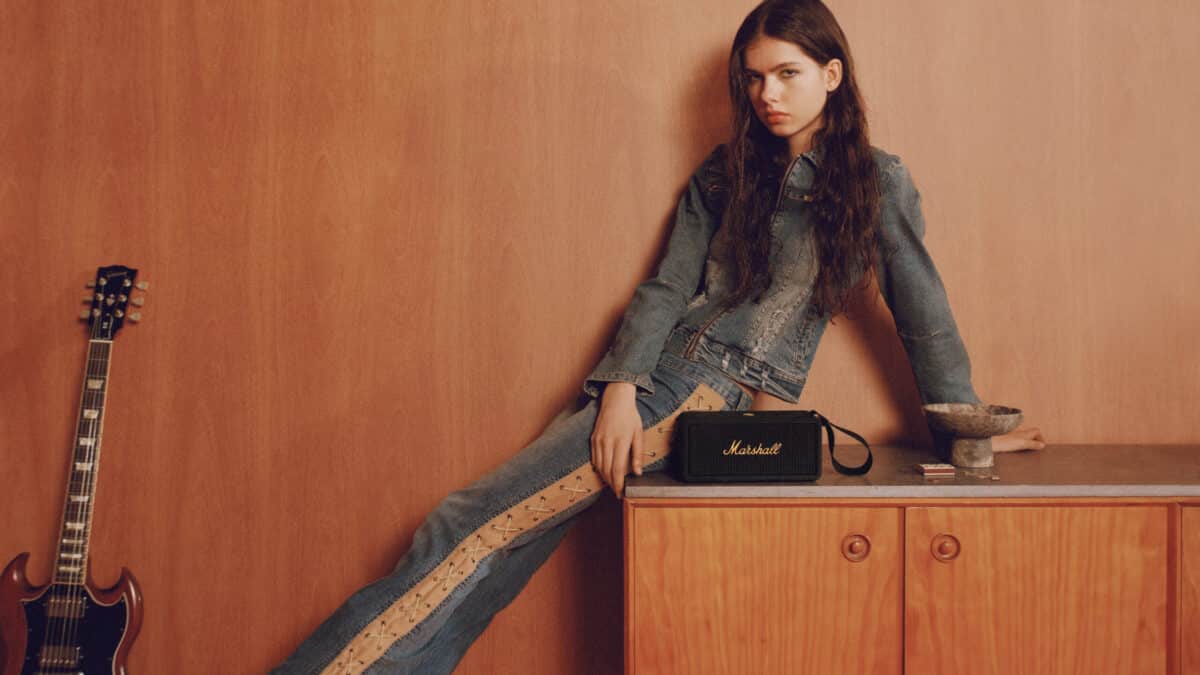 It is the most powerful portable Bluetooth speaker from the company for those who are not satisfied with a small speaker with weak and thin sound. It has all the features of a typical portable speaker, such as a carrying strap and long battery life of over 20 hours. It is just slightly larger.
Still, Middleton is small compared to boom box speakers like the JBL Boombox 2 and Sony SRS-XG300. Instead, Middleton is about the same size as one of Sony's most popular travel speakers, the Sony SRS-XB33.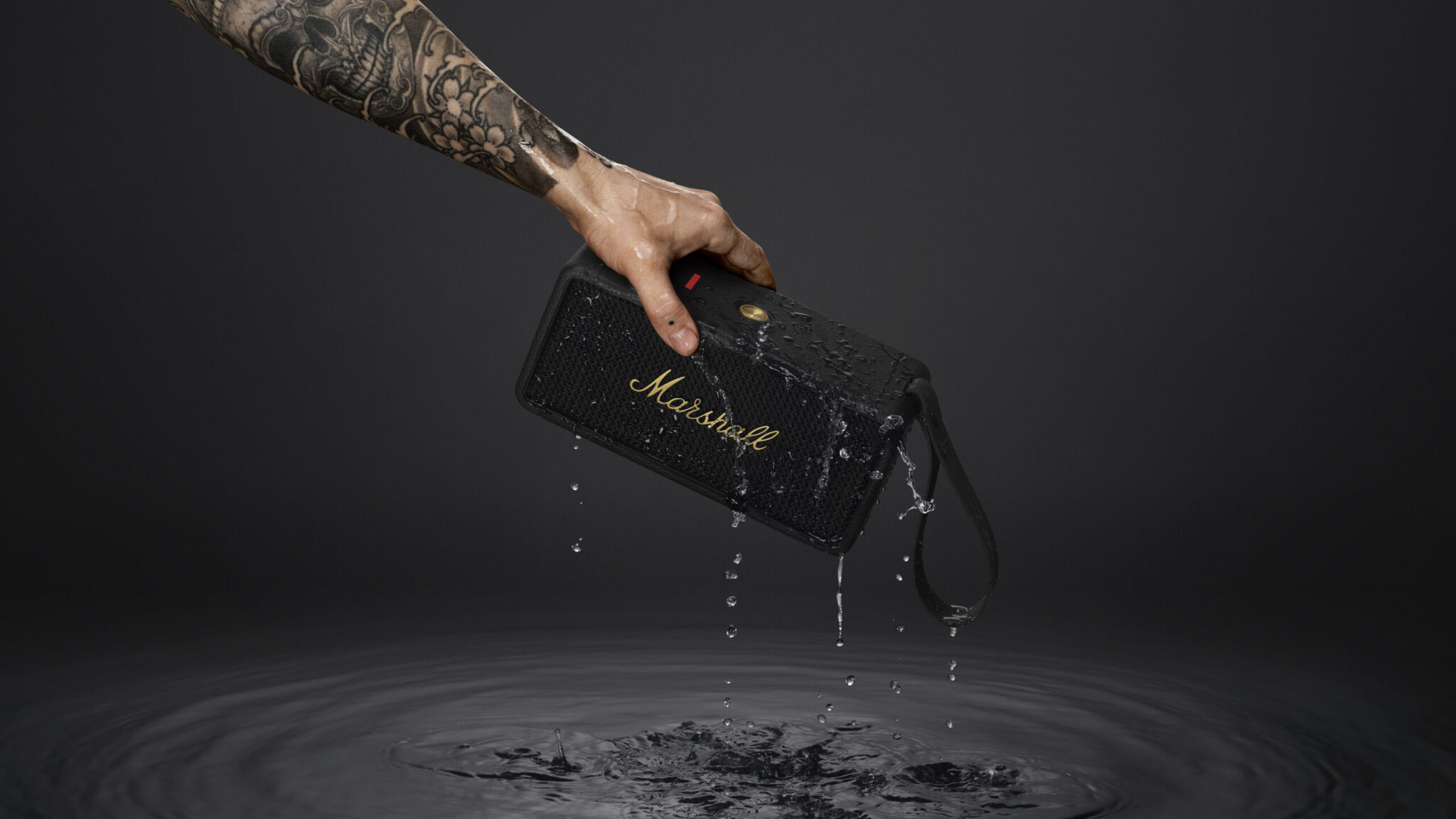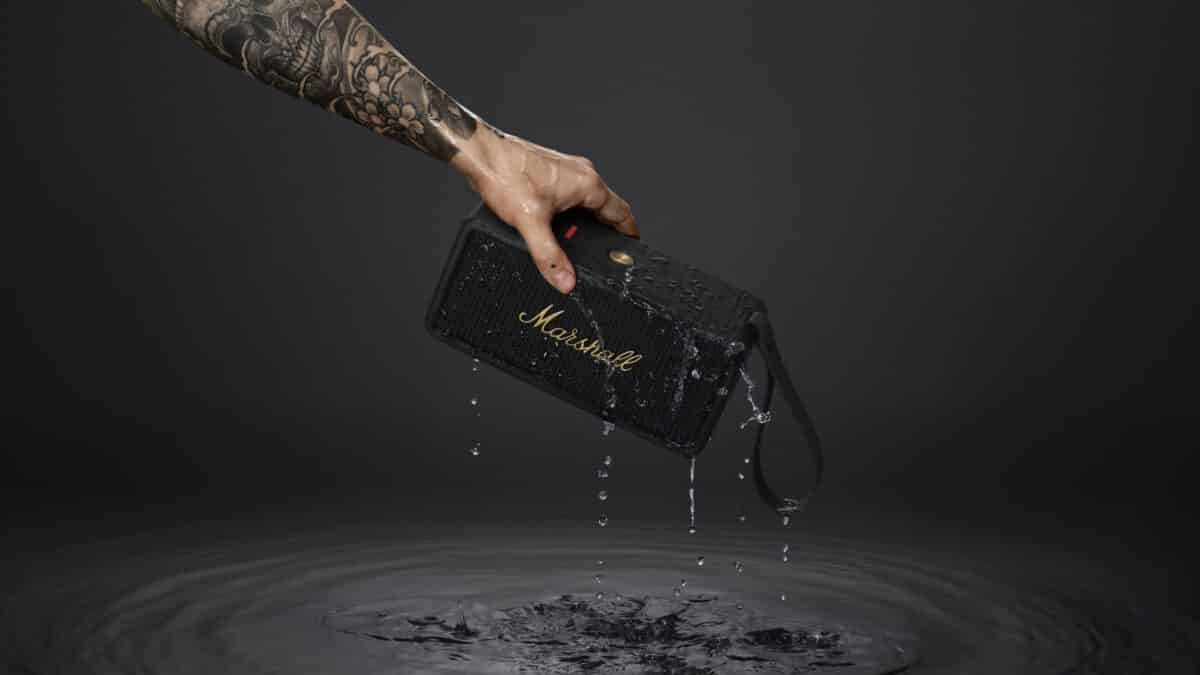 But Middleton weighs almost twice as much. This should mean good build quality and a speaker that can withstand a knock. Indeed, it is rated IP67, making it dust and water-resistant and able to withstand both rain and mud, two phenomena well known to festivalgoers.
More powerful sound with four speakers
The Marshall Middleton has four speaker elements; two tweeters and two woofers. Additionally, there are two slave woofers on the back to equalize the pressure in the cabinet and provide a fuller bass. The tweeters are placed on the short sides and play straight out, so the speaker distributes the sound 360 degrees and therefore sounds the same for those in front of and behind it.
A Dynamic Loudness function adjusts the richness (compression) based on the sound level you're playing, so the sound is perceived to have good bass even at low volume levels. There is also app control.
You can also amplify the sound by connecting several Middletons in a multi-speaker stack mode.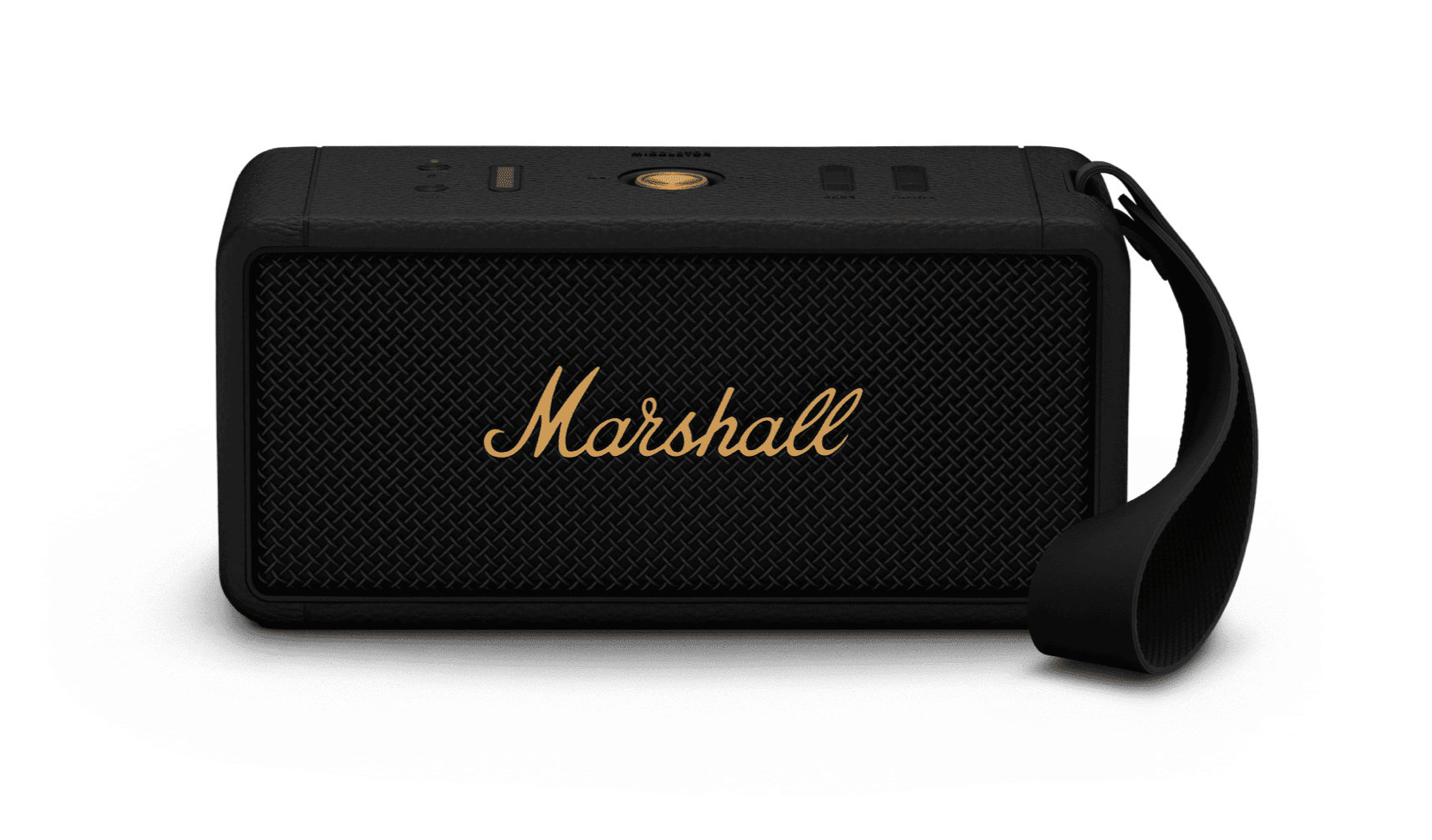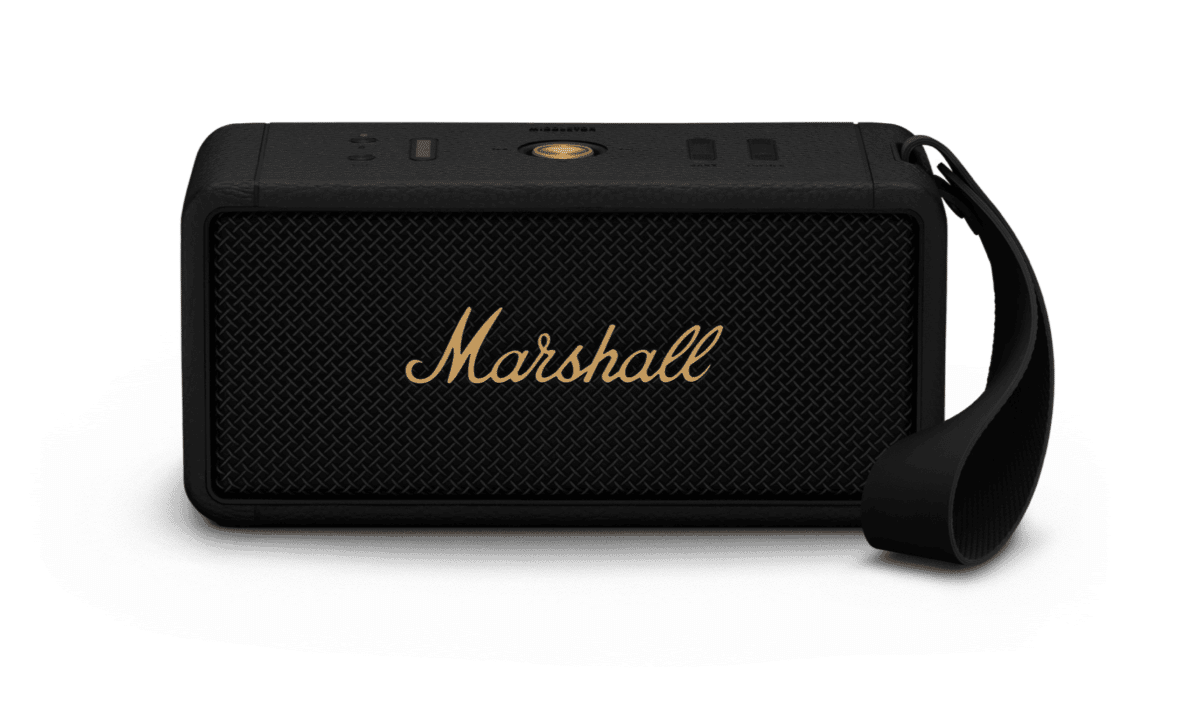 Other features
The speaker is made of 55% recycled plastic and is completely free of environmentally harmful PVC. It has a pretty average 20 hours of playtime and 4.5 hours of charging time to full battery, which should be enough for most people. A charger is included. Nothing is mentioned about fast charging.
Middleton also has a built-in power bank function and can charge your phone from the USB output.
Specs:
Dimensions: 109 x 230 x 95 mm
Weight: 1,8 kg
Frequency Range: 50 Hz-20,000 Hz
Drivers: Two 3″ 15w woofers, Two 3/5″ 10w tweeters, Two passive radiators
Power amplifiers: Two 20 Watt Class D amplifiers for the woofers, Two 10 Watt Class D amplifiers for the tweeters
More info: Marshall