These earbuds from Marshall are the companies first pair of true wireless earbuds and not only do they have some cool features but they are also able to deliver some great sound.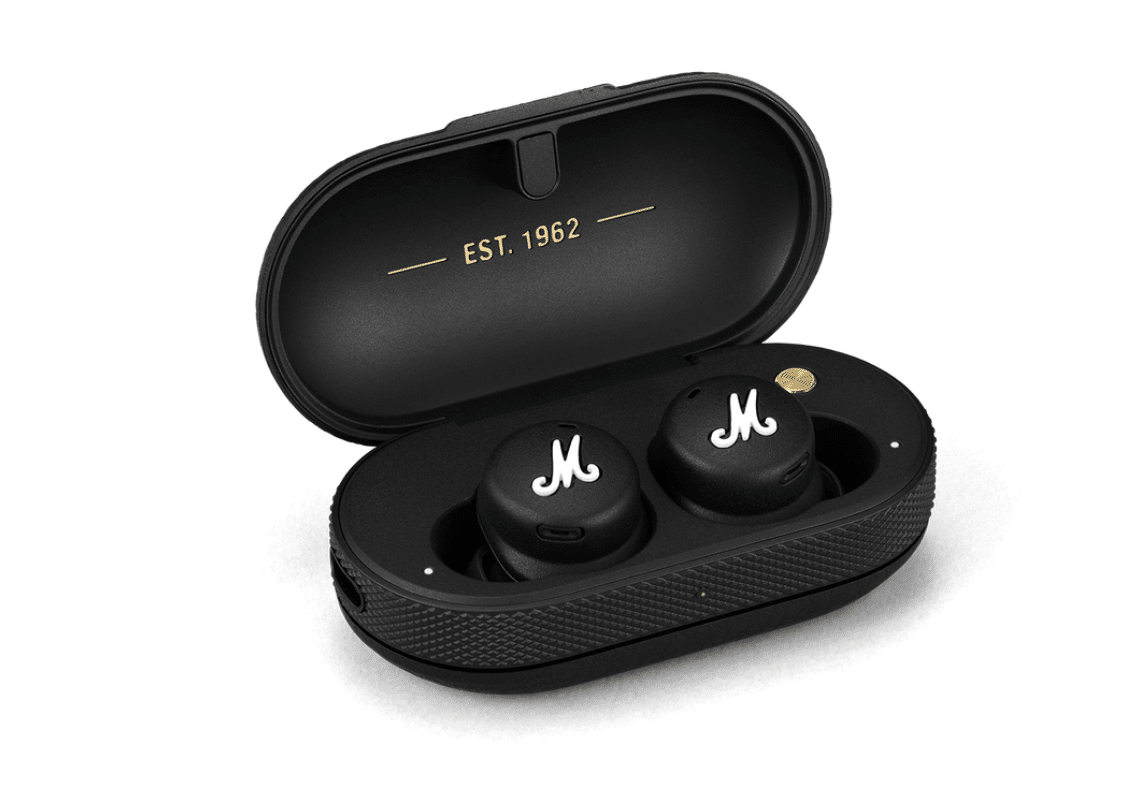 Marshall is a company that has built up quite a strong reputation for solid speakers as well as headphones over many years. The AirPods style wireless buds became quite popular really fast and there were many manufacturers out there that decided to produce their own version straight away but Marshall took their time with it and as a result we got an impressively refined product. 
The Marshall Mode ll come out swinging immediately with their bright and crisp sound, however it does sadly fall a little short when you compare its features to some of the best wireless earbuds out right now. 
Pros
Bright and lively sound
Light and comfortable in-ear
Case supports wireless charging
Cons
Doesn't have ANC
Isn't as rugged as some of its rivals
Price: $219
Design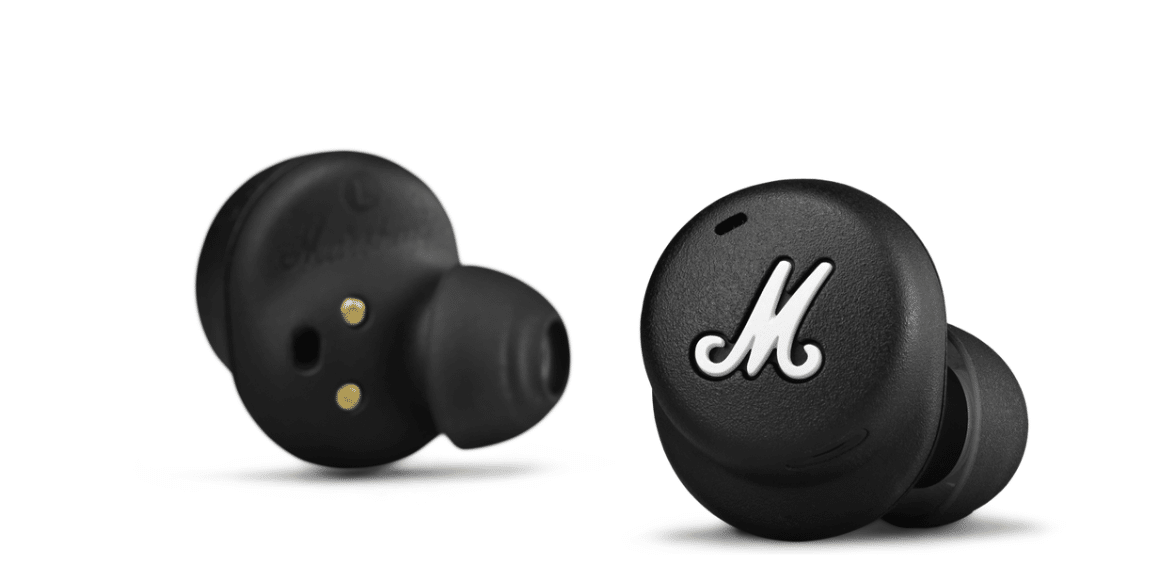 The Marshall Mode ll wireless earbuds look like a set of simple black buttons, except they have a large white M on the centre. They are amongst some of the smallest wireless earbuds on the market right now and feel very light, weighing in at only 0.17 ounces.
There are definitely positives that you get from having your earbuds so light, such as them not putting too much strain on your ears during extended wear, however they do also fit a little more loosely in your ear that what you may want from earbuds. These will definitely be completely fine for those that are going to be walking casually or sitting on public transportation but when you start doing more vigorous activities then you can start to feel them falling out.
Marshall does try to combat this by offering four various sized tips to help you adjust the fit of these earbuds. Apart from these tips, when you purchase these earbuds you'll also get a charging case as well as a USB-C cable to charge them. If you are familiar with the Marshall brand then when you look at the case that the earbuds come in have the same aesthetic as a Marshall amp, with its black tolex pattern. The case is both slim and solid and because of its unique design you won't have to worry about it getting scuffed as easily as the AirPods cases do. Another huge plus that you get with the case is that it even supports wireless charging, which for its price tag is really nice.
Furthermore these earbuds also have IPX5 rated water resistance, which means that you won't have to worry if any water is splashed onto them, however you can't submerge them in water.
Controls and Digital Assistant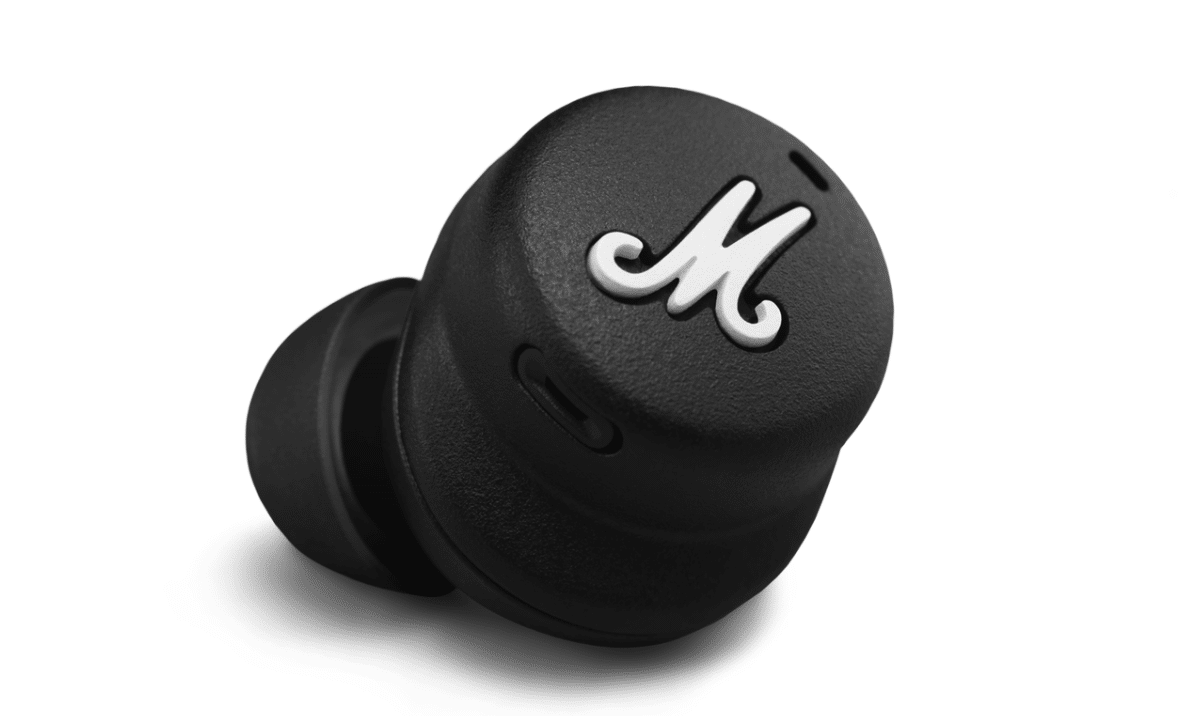 To control different features with the Marshall Mode ll you'll have the ability to use on-earbud controls. These controls are actually really responsive and when you touch the M on them directly it'll produce a satisfying "click" sound.
To pause or play your music and answer phone calls you'll simply need to touch the right earbud once and to skip to the next track you double tap instead. Then the left earbud controls the transparency mode, which you activate and deactivate with a single press. Then to activate your device's digital assistant you'll need to double press instead. Even though these earbuds don't technically have an integrated assistant, accessing features such as Siri on your phone is just as seamless as if you were using AirPods instead.
The Audio Quality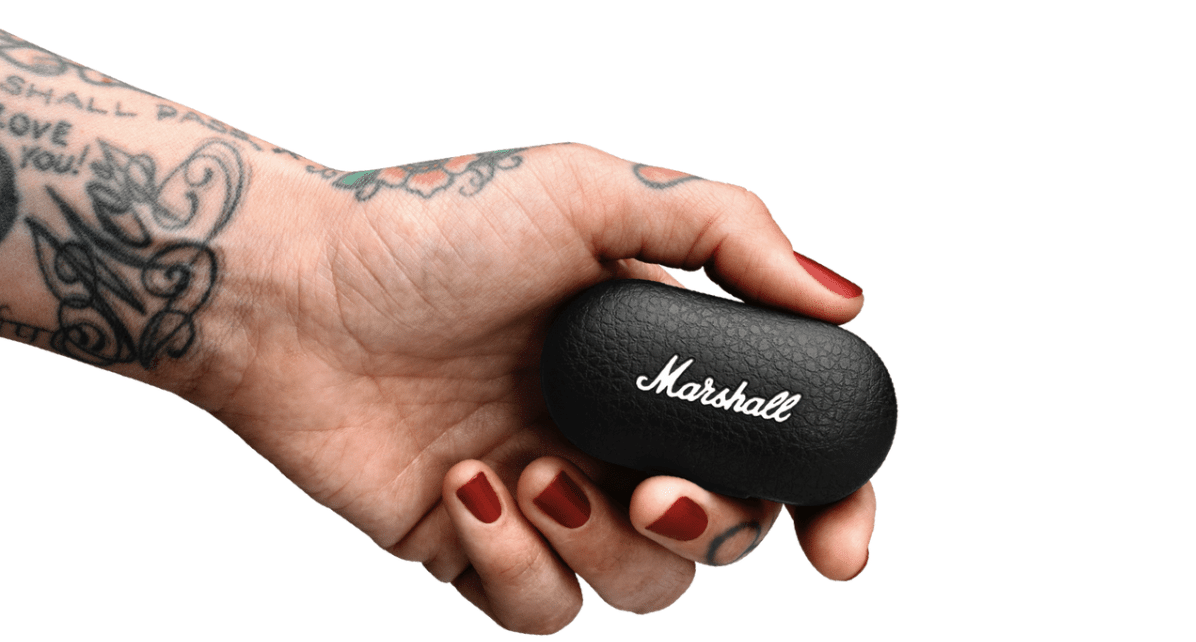 When it comes to the actual sound that the Marshall Mode ll's are able to produce then you'll notice quickly that they rival the best wireless earbuds within their price range. Not only do the vocals sound full but the treble tones are crisp and bright, actually a lot more so than the regular Apple AirPods. The biggest weakness that you'll notice when it comes to the audio quality of these earbuds is that they have limited bass, which is definitely a surprise for those who may be familiar with other Marshall speakers and headphones as they are usually full of low end sound.
All in all, these earbuds deliver the loud quality sound that you'd expect from the Marshall name.
The Marshall App and Special Features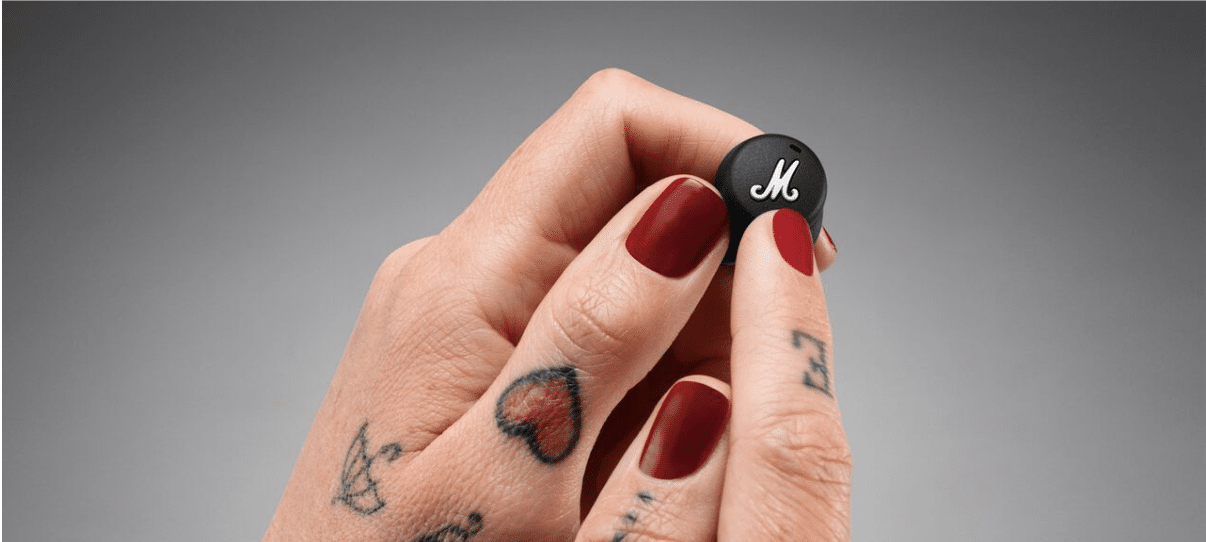 Thanks to the Marshall Bluetooth app that you are able to very easily download onto your smartphone or device, you'll be able to see the battery level of each of the earbuds and you'll also be able to make some tweaks to the sound. You'll also be able to control the transparency level of the earbuds, this is essentially how much sound you want the earbuds to let through, for example if you are talking to someone but still want to play music then you can have a high transparency in order to hear the person you're talking to clearly. Sadly, a big disappointment when it comes to the features of these earbuds is the fact that they lack any ANC (active noise cancellation), which can be really important for a lot of people that may be travelling in public areas or just want to block out unnecessary sounds.
If you compare these earbuds to the famous AirPods then they'll be pretty similar in regards to the lack of ANC, however the AirPods Pro instead do have some pretty decent ANC.
Within the Marshall app you'll be able to choose between 7 sound modes or if they don't perfectly suit your needs you could also create your own EQ mix by using their 5-band equaliser.
Battery Life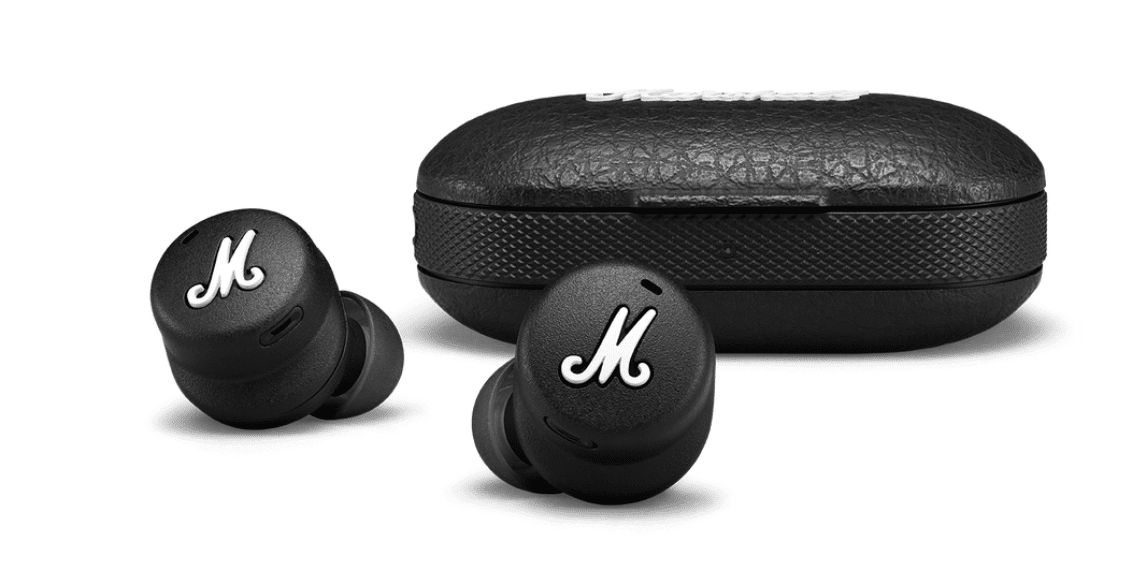 Marshall says that these earbuds will last up to 5 hours on just a single charge, which is actually a little longer than what you'll get from the regular AirPods . Although Marshall says that they should only last 5 hours, they actually do tend to last longer than this, which people who may be travelling far or long will definitely appreciate. 
The battery life of the earbuds themselves are just one side of the card though, as you will also need to consider the charging case, as the case for the Marshall Mode ll can actually fully charge these earbuds four more times. You'll be able to charge up your case via a USB-C or even most Qi wireless charging pads.
Call Quality & Connectivity
If you are going to be using the Marshall Mode ll's for job meetings or just generally going to be making lots of calls with them then it will be very important for you to know how their call quality and connectivity is. These earbuds are clear on both ends of the conversation and voices sound sharp but do lack a little bit of resonance, however they do fit in with the overall sound profile of the earbuds.
Then when it comes to the connectivity of these earbuds you'll be happy to hear that they support Bluetooth 5.1 and are able to reconnect to your device as quickly as you take them out of their case. You should be able to maintain quite a solid connection to these earbuds up to about 35 feet indoors, before you may start to experience some interruptions and then eventually disconnect.
Final Words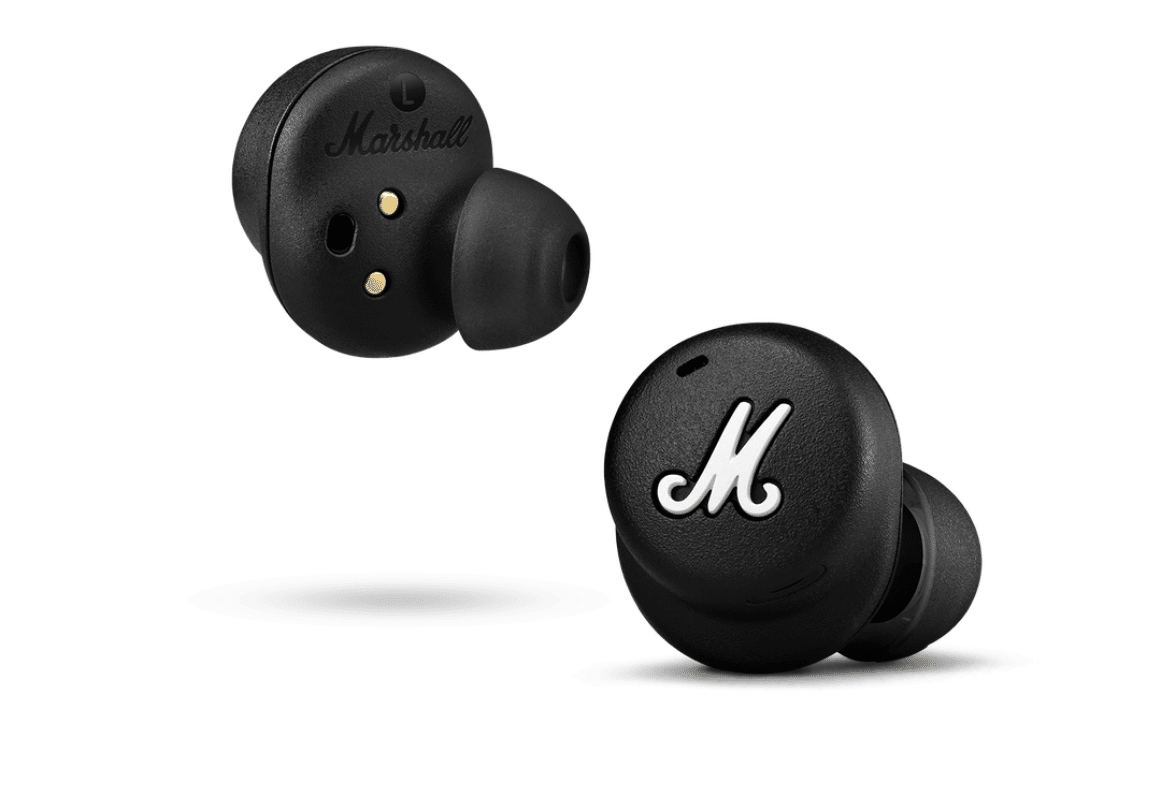 For those people that are in the market for a pair of wireless earbuds around the price of $200 then the Mode ll's by Marshall offer a really compelling choice. Overall, these earbuds have a great sound and they are both light and comfortable in your ear.
The competition within this market is quite tough though as wireless earbuds have become so popular over the years so there are many options out there. These earbuds do have an edge over the regular Apple AirPods when it comes to the sound quality and a lot of its features, however there is another really compelling choice worth checking out that also falls into this same price category, the Jabra elite Active 75t.
All in all, if you are someone who is looking for a pair of earbuds at this price with some great sound and probably the best feel, then the Mode ll's from Marshall may just be your perfect option.