There are a few key features to look for when shopping for the best headphones. Ideally, you want water-resistant earphones that don't get sweaty. It's also nice to have a pair that come with different-sized ear tips or ear hooks so that they won't fall out of your ears mid-exercise, but it's not a necessity—especially if you stick to strength training or walking.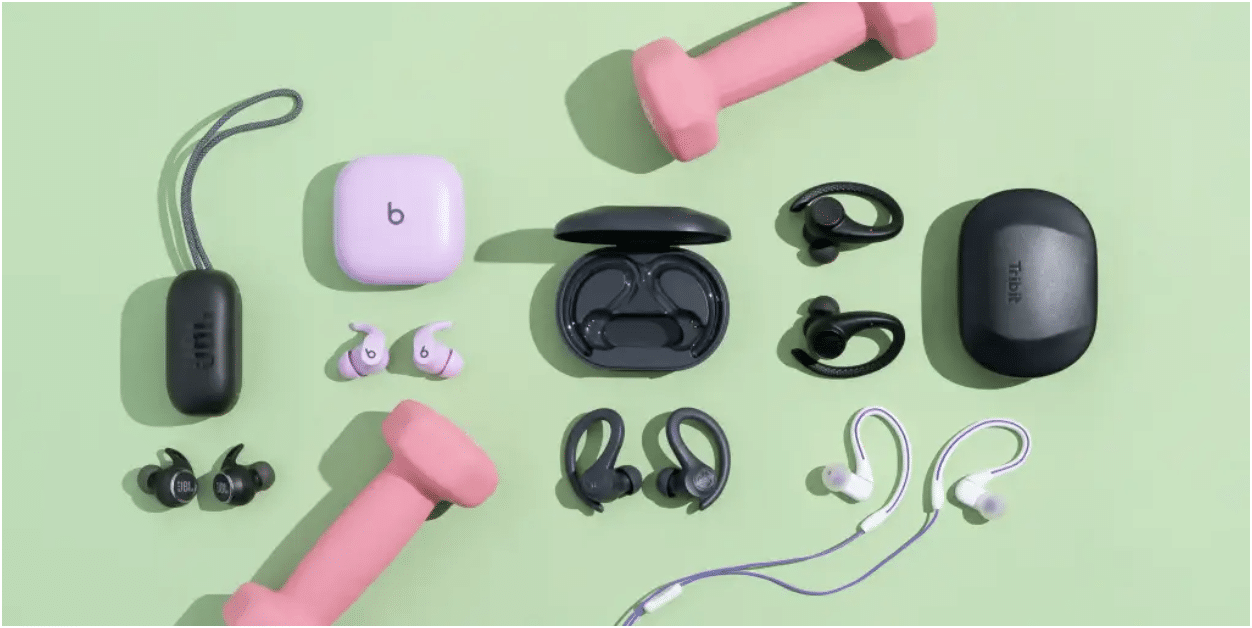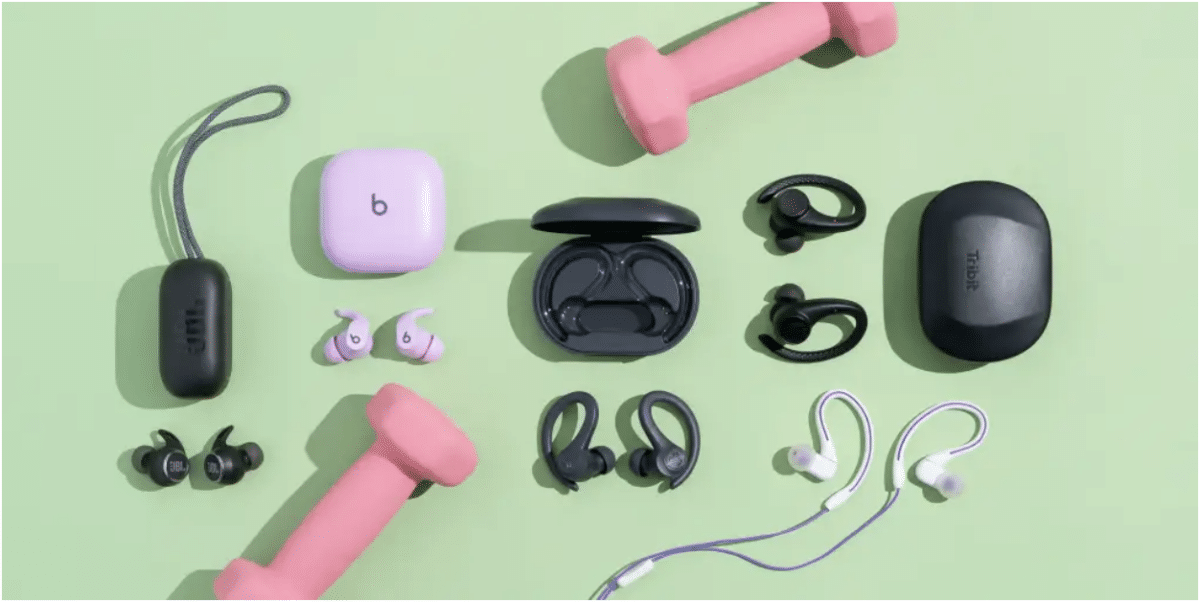 What To Consider When Buying Workout Headphones
A number of factors go into choosing headphones or earbuds which match your day-to-day needs while providing audio accompaniment for your physical activities.
Water And Sweat Resistance
If you plan to be in or around water or expect to sweat while wearing the headphones or earbuds you choose, sweat and water resistance is essential. Otherwise, even a little bit of moisture could damage your equipment. Standard headphones aren't built to withstand the beating that workout headphones can take, so their warranties likely won't cover moisture damage. It's best to look at workout headphones that have an official Ingress Protection (IP) rating—and the higher the last number is (for example, the 8 in IPX8), the better.
Comfort
The overall comfort of the earbuds is also important for people who work out for extended periods of time. You'll want to ensure a secure fit so you can move freely without the earbuds moving around or falling out of your ears.The best workout earbuds are the ones that stay on and out of your way.
Fit
A perfect fit is essential for enjoying an experience with your earbuds. Fit also matters to keep headphones or earbuds in place while you move around. Most earbuds come with multiple ear tips, so you can choose the tips which provide the best fit.
Noise Cancellation
Many earbuds and headphones use active noise cancellation to remove the ambient noise wherever you are. This allows you to focus entirely on the audio you're listening to and create an immersive listening experience. A great feature for those busy days at the gym when you want to drown out the noise without damaging your hearing. However active noise cancellation does use more battery life when used.
Audio Technology
Sound quality should be solid and not distracting. Ideally, you'd have both great fit and great sound, but when in doubt, comfort comes first.
Battery Life
Wireless earbuds rely on internal batteries to function. When evaluating earbuds, you want to know the average battery life using just the earbuds, and how much overall listening time you get when the earbuds can fully recharge within their case. Also the time earbuds last with active noise cancellation enabled.
Beats Fit Pro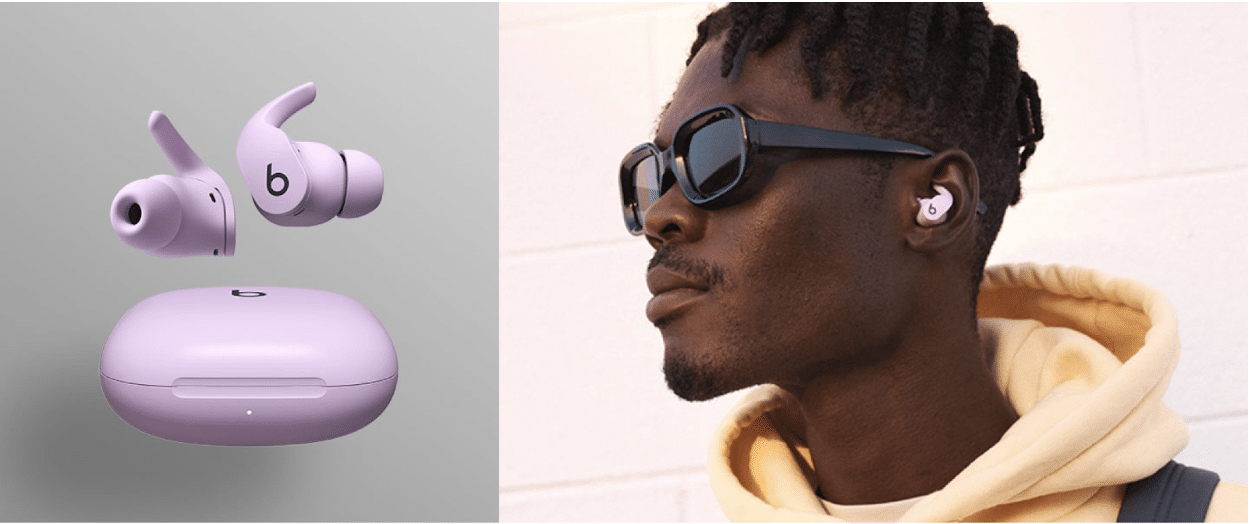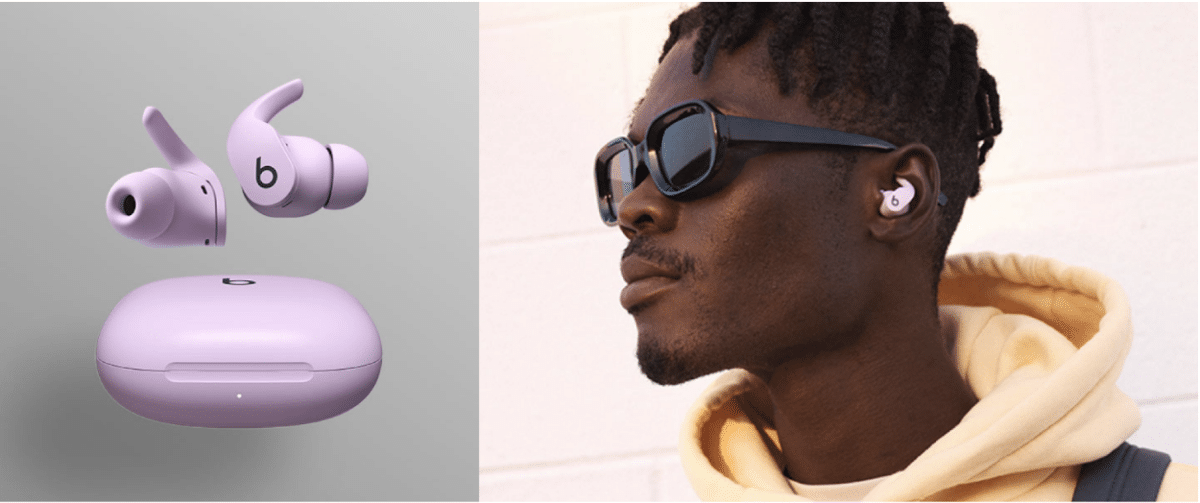 The great noise-cancelling wireless sport earbuds
Battery life: 7 hours (ANC off), up to 30 hours with ANC off and with charging case
Water resistance: IPX4 rating
Noise cancelling: Yes
Pros
Dynamic soundstage
Strong ANC and transparency
Comfy, secure design
Cons
Android app offers few extras
The Fit Pro pair sounds great, with slightly boosted bass. These earbuds offer physical buttons that control track skip, phone calls, and volume on Apple devices, plus some button customization and one-touch pairing on Android devices – if you download the Beats app. Either of the Fit Pro's earbuds can work independently.
The Fit Pro set offers easy pairing and connection swapping to iCloud-connected Apple devices, as well as touch-free "Hey Siri" functionality. The sealed design and active noise cancellation can block out gym noise, while the hear-through mode allows for occasional situational awareness or conversations between workout sets. The microphones provide wind and background-noise reduction, so you can take a quick call even while jogging.
These earbuds have stabilising wings to help keep them in place, and that benefits exercisers, producing a secure fit that won't have the buds falling out when running or performing floor exercises.
JLab Audio Go Air Sport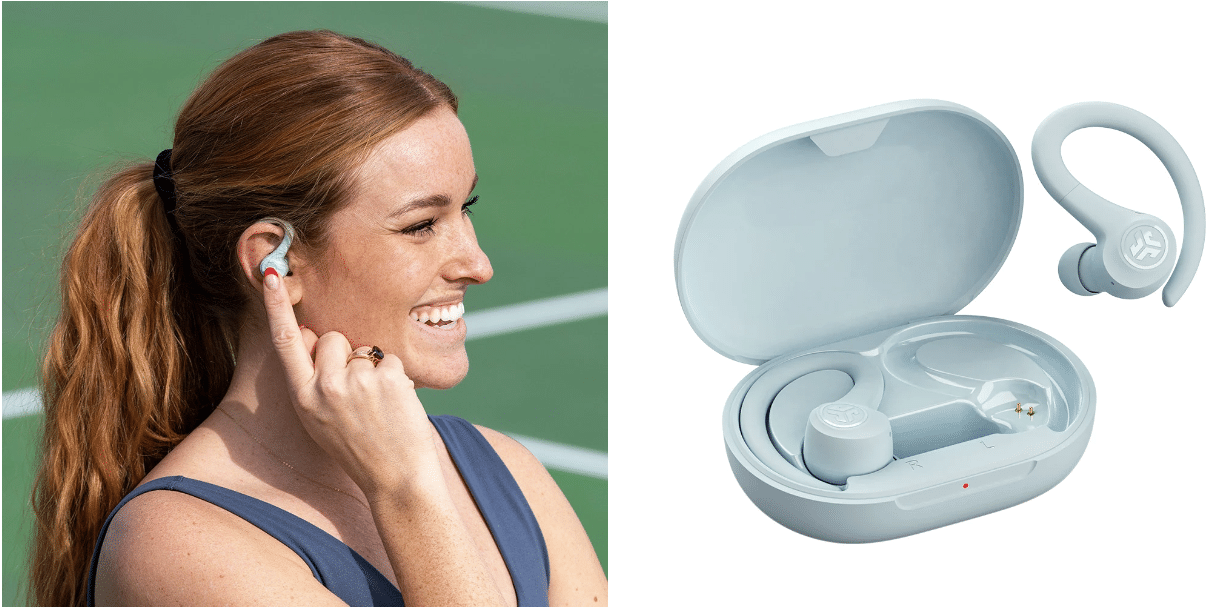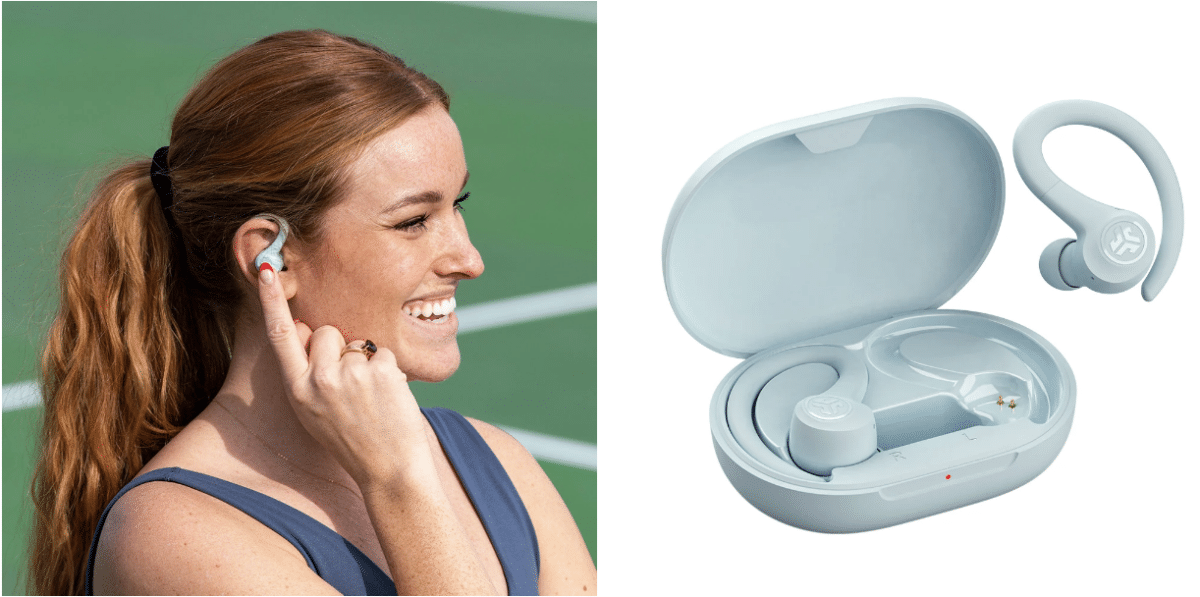 Best Cheap Earbuds 
Battery life: 8 hours, up to 32 with the charging case
Water resistance: IP55
Noise cancelling: No
Pros
Affordable
Sculpted, bass-forward sound signature
Solid battery life
Cons
Case has hardwired and a very short charging cable
Finicky on-ear controls
If you want a pair of wireless earbuds that cover the essentials without the high price tag, consider the JLab Go Air Sport set.Rather than using wings to secure the earbuds in the ear, this true wireless pair has flexible hooks that slip securely over the top of each ear, which is often more comfortable for folks with very small or sensitive ear canals.
The sound quality is surprisingly decent for the price. The touch controls are easy to remember and not too sensitive. This pair has a sealed design but lacks active noise cancellation and a hear-through mode. However, either earbud can work independently, so you can choose to leave one ear open if you need situational awareness.
Jaybird Vista Earbuds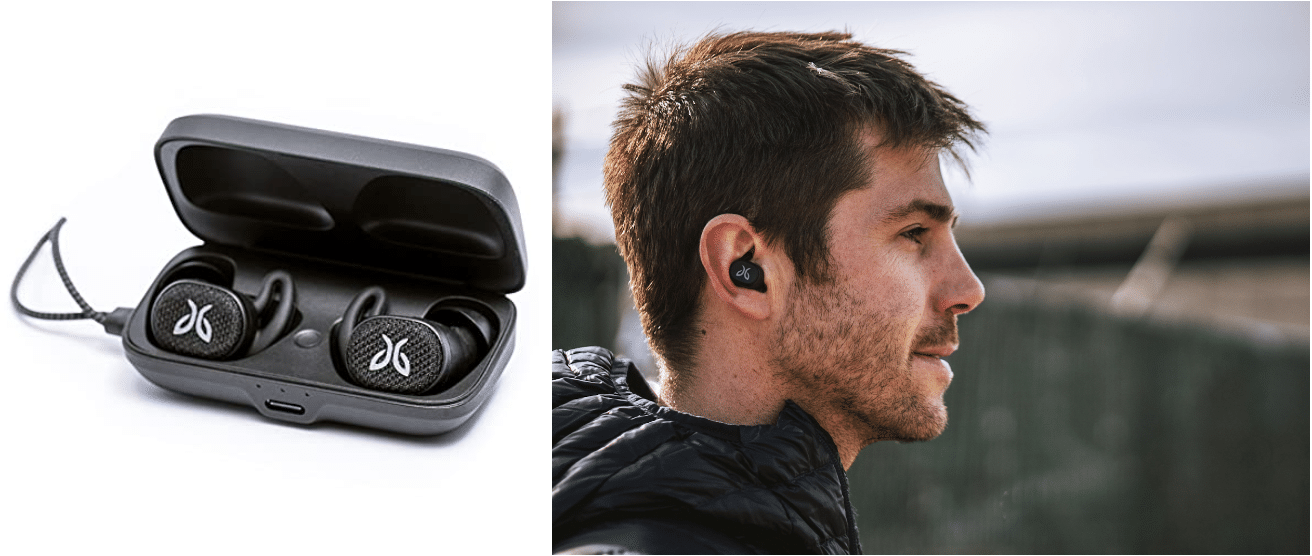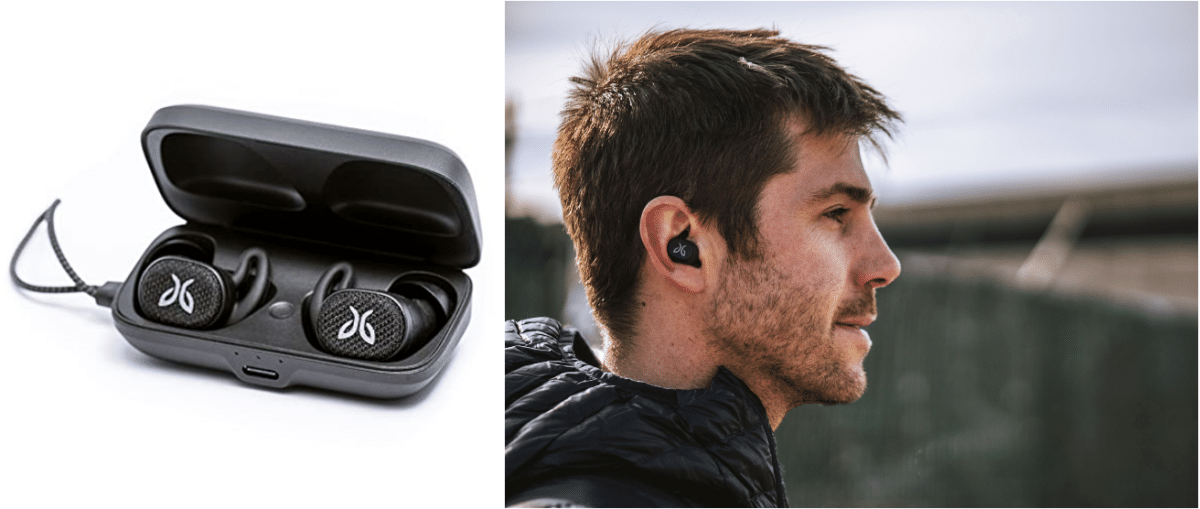 Solid all-rounder earbuds
Battery life: 8 hours, up to 24 hours with charging case
Water resistance: IP68 rating
Noise cancelling: Yes
Pros
Great sound
Secure and comfortable fit
Useful companion app
Cons
ANC not the best
Not cheap
Need to EQ tinker to get best sound
Jaybird's update to the Vista retains the long battery life and The build quality has dramatically improved, with more comfortable ear fins and a textured button that's softer and easier to push. For steady paced jogs, fast runs, and home HIIT workouts, these buds simply don't budge.
The added app can also find your buds when you lose them or switch from noise-cancelling mode to let in ambient sound. Good level of clarity for calls. Includes various options when you toggle with the EQ levels.
Sennheiser Sport True Wireless


Excellent sounding wireless sports earbuds
Battery life: 9 hours, up to 27 hours with the charging case
Water resistance: IP54 rated
Noise cancelling: Transparent, No ANC
Pros
Vibrant sound
Long battery life
Useful EQ customization
Cons
Transparency mode ineffective
No multipoint technology or wireless charging 
The Sport True Wireless earbuds aren't noise-cancelling but they do have an awareness mode that allows ambient sound to leak into the buds so you can hear what's going on around you for safety reasons. Featuring clean and well-balanced sound with punchy bass.
They are mid-range sports earbuds that pack a punch when it comes to pure sound quality. With durable aesthetics, long battery life, personalised fit, and versatile sound, they stand out as a smart pick for those looking for sport earbuds.
Soundcore Sport X10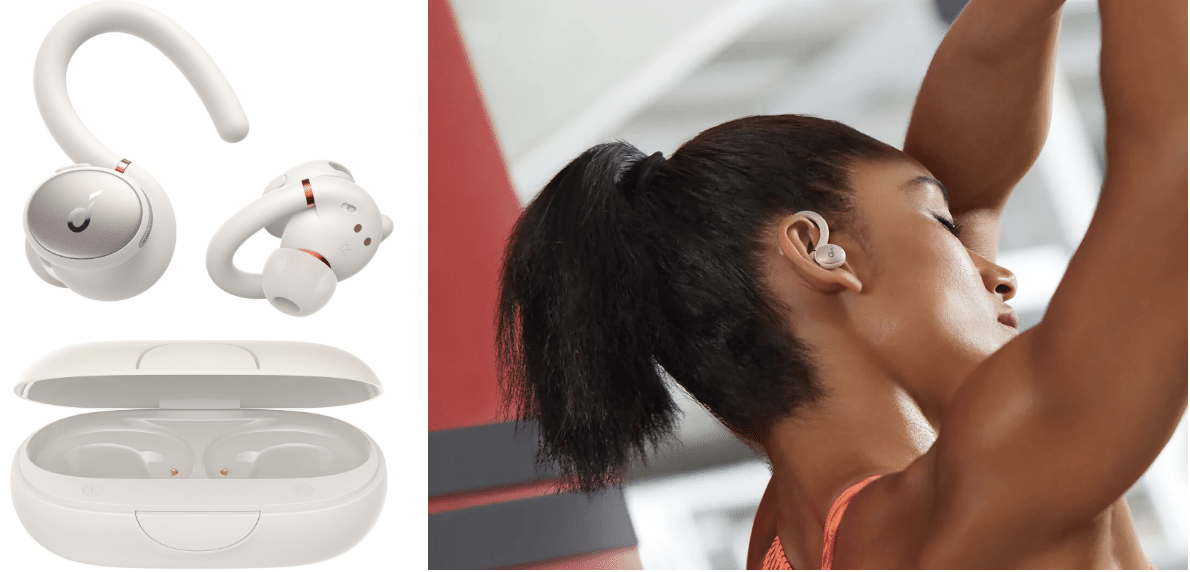 Affordable sports earbuds with ear hooks
Battery life: 8 hours, up to 32 hours with the charging case
Water resistance: IPX7-rated
ANC: Yes
Pros
Powerful and bass-forward audio
Impressive ANC for the price
App features adjustable EQ and customizable controls
Cons
Ear hook design makes docking process annoying
On-ear control array could be more intuitive
The new Soundcore Sport X10 have an interesting design with rotating swivelling ear hooks that flip up when you're using them and flip down when you want to set them in their charging case, which has a smaller footprint than a lot of buds with ear hooks. If you have small ears, the ear clip spins around the base. This both makes the case more compact and allows the bud to sit closer to your head.
They also have active noise cancelling, which is effective. The sound is rich and layered, if a little bass-heavy. The accompanying Soundcore app is startlingly extensive. Not only can you turn on noise cancellation or ambient listening, but you can also pick between 20 EQ presets, pump up the bass, customise controls yourself, or do breathing exercises in warm-up or relaxation mode. 
Samsung Galaxy Buds 2 Pro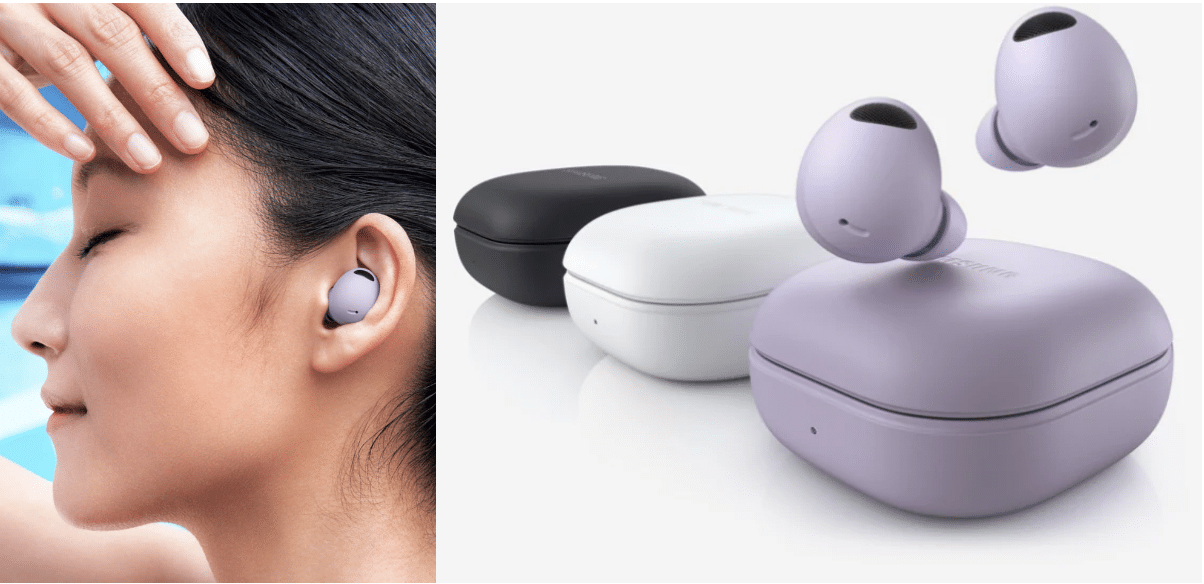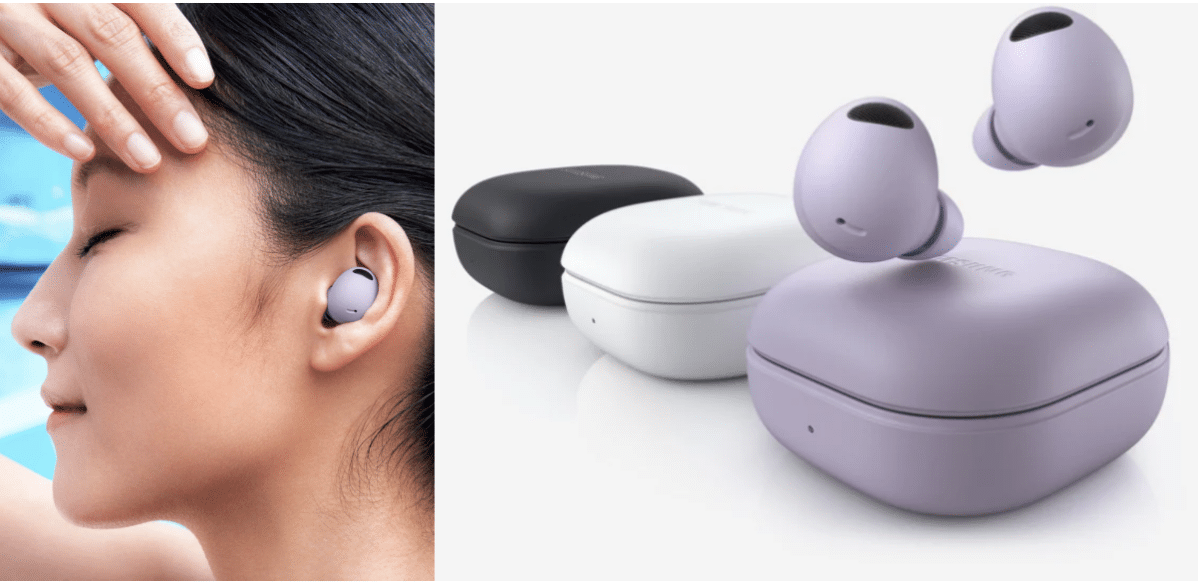 The best Samsung headphones for working out
Battery life: 8 hours, up to 29 hours with charging case
Water resistant: IPX7 rated
ANC: Yes
Pros
Wide soundstage
Effective ANC
Compact and practical design
Cons
Disappointing battery life
Bixby needs some work
Sound alone makes the Galaxy Buds 2 Pro worth the investment, giving you a high quality audio experience and compelling 3D sound with precise head tracking. Samsung's ANC blocks out close to 90% of ambient noise. With a new design and smaller size, which make them a better fit for more ears. 
These buds operate well across all Bluetooth-enabled devices, Galaxy smartphone owners get to enjoy cool features like Easy Pairing and compatibility with Samsung's Scalable Codec. 
Beats Powerbeats Pro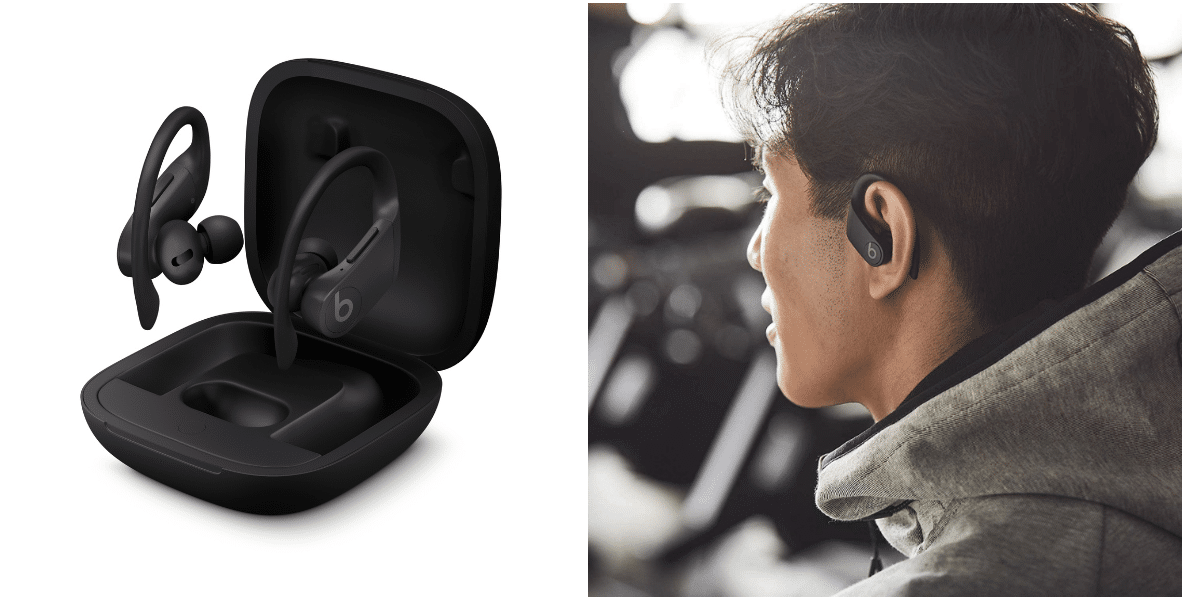 The best workout headphones for iOS users
Battery life : 9 hours; 24 hours with charging case
Water resistant: Yes, IPX4 rated
ANC: No
Pros
Seamless integration with Apple devices
Lengthy battery life
Well-balanced sound
Comfortable, stable fit for running
The Beats Powerbeats Pro include secure ear-hook design, energetic sound and the signature B logo that doubles as a multifunctional button. If you're going to be doing a lot of jumping around, whether it be on boxes or doing burpees, these wireless headphones from Beats are ideal. The wing tips keep them locked in place, and even if they come loose, they won't totally fall out of your ear. With the combination of incorporating all the features that make it great while delivering richer sound quality and better battery life is ultimately an all around win. 
Shokz OpenRun Pro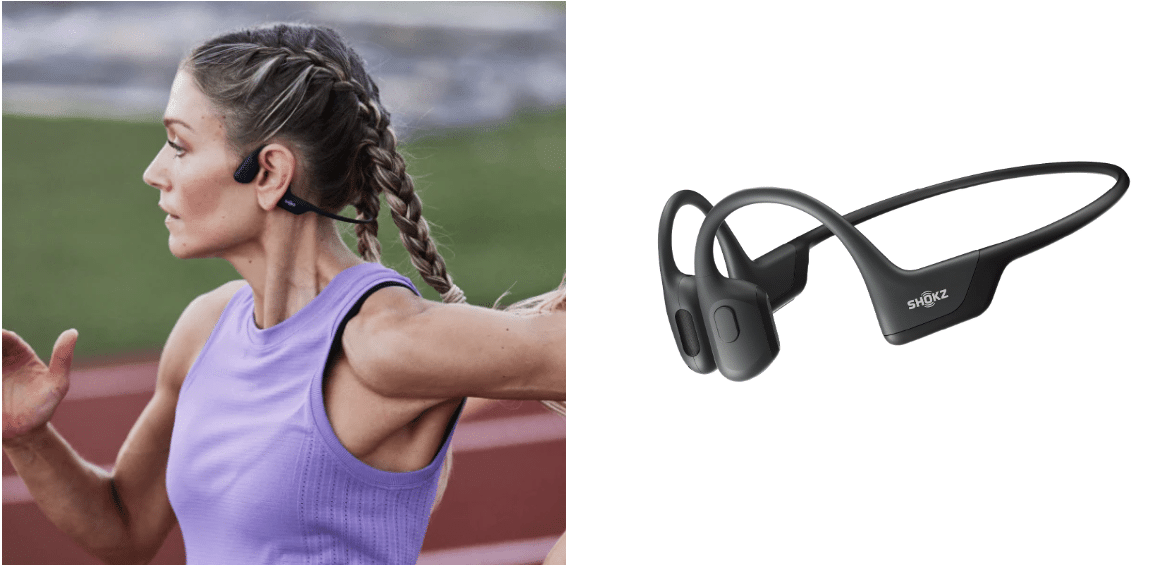 Best for Outdoor Workouts
Battery life: Up to 10 hours
Water resistance: IP55 rating
Noise cancellation: For hands-free calls only
Pros
Unique and comfortable design
Offers superior sound without covering your ears
Long battery life
Cons
Noise cancellation only works during phone calls
These aren't your average earbuds or over-ear headphones, but a combination of both. The Shokz open-ear style headphones don't cover your ears at all: The headband wraps around the back of the head while the headphones sit in front of the ear, resting on the cheekbone. The OpenRun Pro is the best bone-conduction headphones you can get right now. Bone conduction wireless headphones don't go on your ears — they actually deliver sound to your ear through your cheekbones. The big benefit of this technology as a safety feature for running is that, thanks to its open design, you can hear what's going on around you, traffic noise for example.
They're comfortable and fantastic for all outdoor workouts. You're able to wear them running or hiking, while biking, skateboarding, or roller-skating under a helmet, and still hear everything around you. However, they don't have a charging case, and a 10-hour battery life before recharging is significantly shorter than most other earbuds. 
Jabra Elite 7 Active


Best Overall 
Battery life: 8 hours, up to 30 hours with the charging case
Water resistance: IP57 rating
Noise cancellation: Yes, active
Pros
Has a microphone ANC with built in wind protection
Great battery life
Secure fit
Cons
Bass-range audio suffers with active noise cancellation enabled
Call clarity slightly behind
What sets these Jabra Elite 7 Active earbuds apart is their very intentional design for active lifestyles. They're small and light. The Elite 7 Active have a new, soft silicone rubber ear tip that holds the buds securely in your ears. Whether you're running, biking or bouncing around, these earbuds will stay firmly in your ears.
That same secure fit enhances the active noise cancellation (ANC), which uses six microphones and has wind protection—useful if your workout activities are outdoors. The ANC turns on and off with the tap of a finger. And if you want to hear the ambient noise around you, Jabra's adjustable HearThrough transparency mode can let that noise in as needed. In addition, you can customise the ANC using the Jabra Sound+ mobile app. The Sound+ app lets you customise the level of hear-through, meaning you can choose to let in more ambient noise if you're running outside or washing dishes, or less if you're in a gym. You can customise the hearing profile for listening to podcasts versus hip hop. 
Bose Sport Earbuds


Secure-fitting Bose sport earbuds
Battery life: 5 hours, 10 extra hours with charging case
Water resistance : IPX4 rating
Noise cancellation: Yes, active
Pros
Bass-forward, balanced sound signature
Secure fit ideal for exercise
Cons
Bulky charging case doesn't provide much extra battery life
Clumsy control layout
No EQ in app
The Bose Sports Earbuds are among the lightest earbuds around, and make a great companion for the active lifestyle—whether running, cycling or working up a sweat indoors. Silicone wing tips help these sweat and water resistance. These earbuds stay in place regardless of your movements. They produce clear and crisp audio, with a volume-optimised active equaliser to optimise sound on-the-fly. Beam-forming microphones hone in on your voice during calls, and help mitigate the effects of wind.
Touch controls on the surface let you handle calls, music playback and volume, without needing your phone. And they work with both Apple Siri and Google Assistant for hands-free controls. You can pair these wireless earbuds with up to seven Bluetooth-compatible devices, including any smartphone or smartwatch.
Final Words
So, there you have the top ten different workout earbuds that you are able to buy on the market right now, for different uses as well. It is important to not just buy a pair of earbuds just because they are popular or look good but try and take into consideration what you are going to be using them for and what things or features will be most important to you.