Google Maps and Apple Maps are two of the most popular navigation apps. Both offer directions for different forms of transit, but their features vary. With significant improvements in both, which one is better in 2023?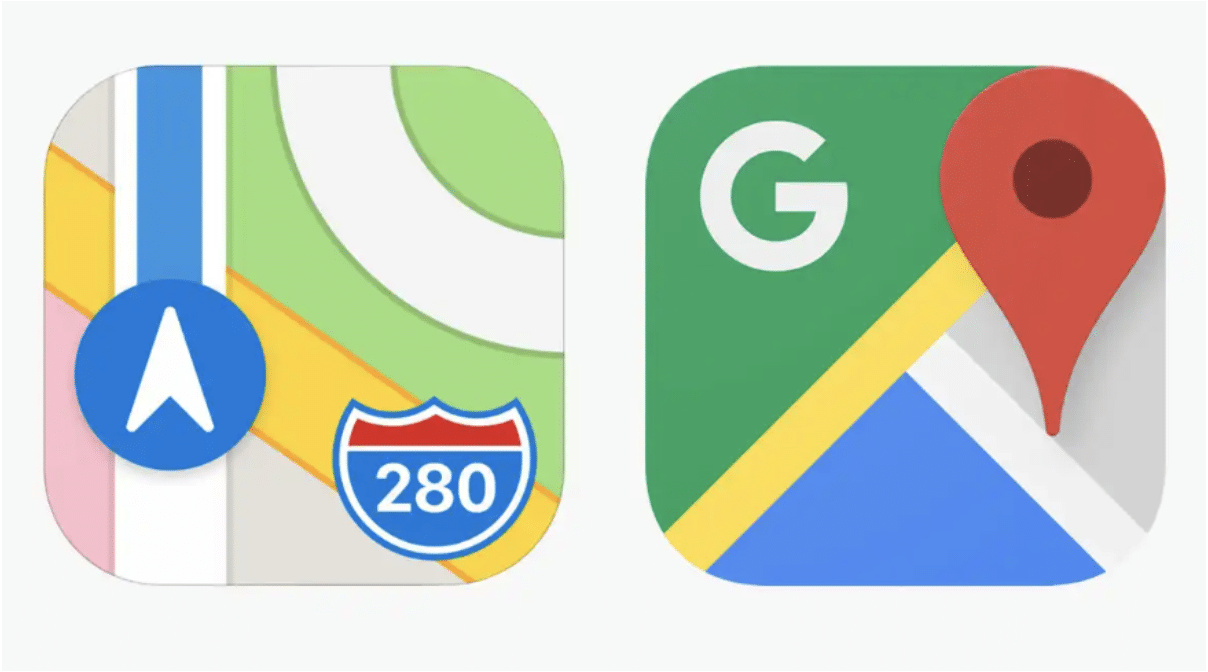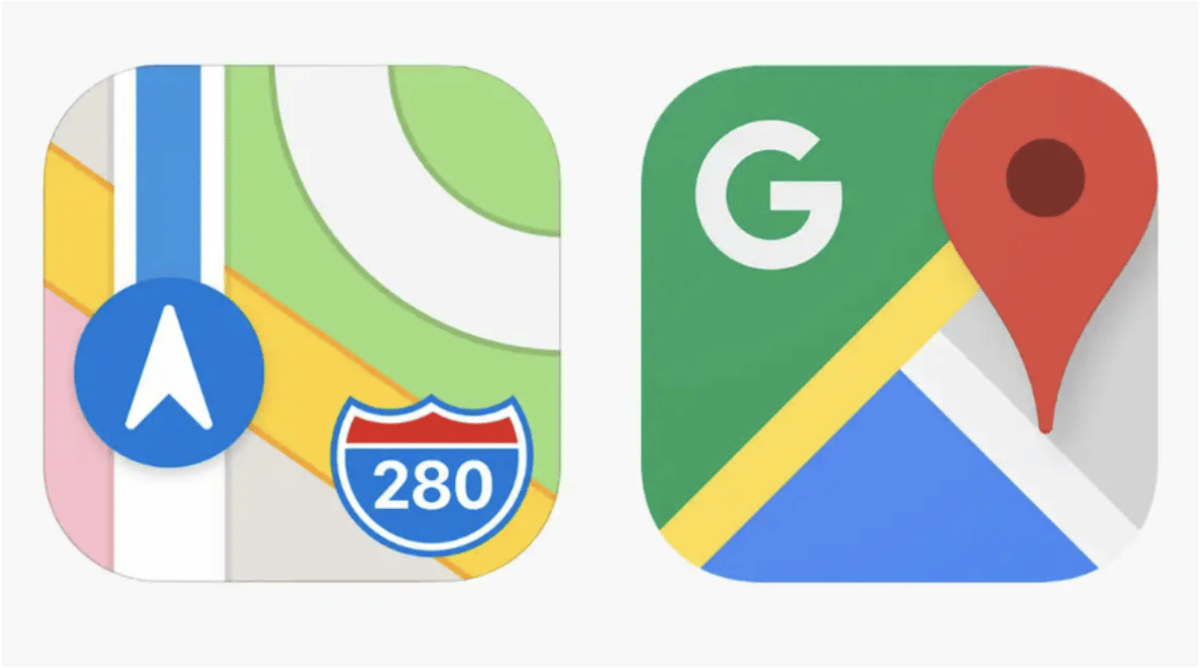 Talk about maps, and you'll have most people sing Google's eulogies. Why? Google Maps has an outsize impact on people's perception of the world, with an 80% market share in mobile maps and over a billion users. At the same time, Apple Maps is ideal for iPhone users due to its accuracy and privacy features.
As two flagship maps in the market, Google and Apple Maps are constantly updating to keep up with the latest trends. In this article, we will compare the two apps across several categories, such as user interface, accuracy and reliability, points of interest, mobile integration, privacy and security, accessibility, and development.
Google Maps vs. Apple Maps: User Interface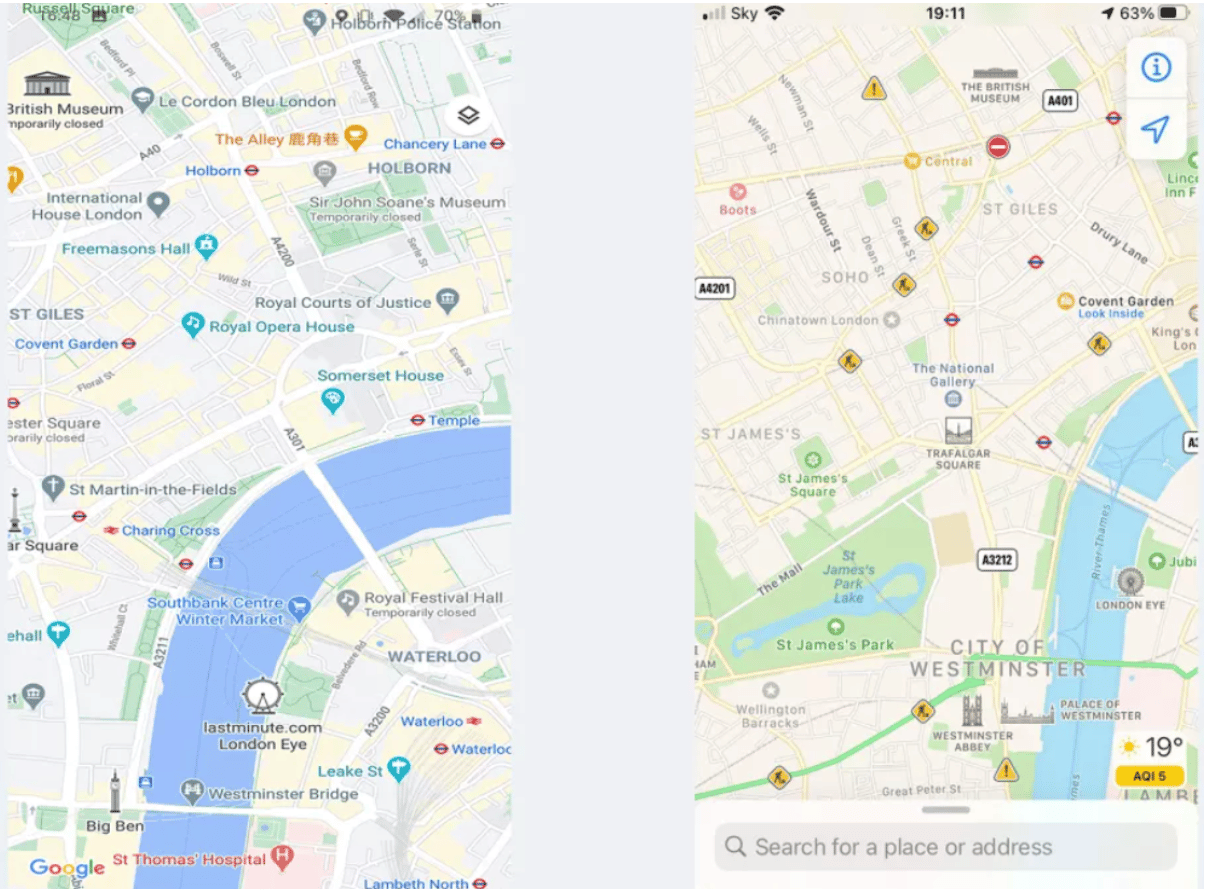 Google Maps has a sleek and easy-to-use interface, featuring different map types and responsive design elements like pinch-to-zoom. The app also provides predictive traffic times, route planning, and real-time directions to avoid closed roads. Nonetheless, some users have had trouble planning routes and finding addresses.
On the other hand, Apple Maps offers a more intuitive and straightforward user experience, with a familiar interface and ultra-targeted search filters. The app's personalized features include locating parked cars, and it integrates seamlessly with iOS, iPadOS, and macOS apps. The UI is glanceable and easy to read, with vivid colors, clear text, and widgets that display timely information at a glance.
Winner: Apple Maps – for its simple, minimalist user interface.
Google Maps vs. Apple Maps: Accuracy and Reliability
Google Maps invests heavily in technology to ensure its maps are up-to-date and accurate. By using precise location data and live real-time information, Google Maps provides accurate journey times. It also relies on contributions from its community of users to provide up-to-date business information, which it verifies for accuracy and reliability.
Apple Maps, on the other hand, prioritizes user privacy and converts precise locations to less-exact locations within 24 hours. It uses data from the user's device to create personalized features but does not source transit directions from as many locations as Google Maps. While it provides delay estimates for red road sections, Google Maps is preferred 4-8 times more than Apple Maps in terms of usage.
Winner: Google Maps – due to its data-driven, collaborative nature.
Google Maps vs. Apple Maps: Points of Interest
With Google Maps, you'll find content from a variety of sources, ensuring you get reliable and relevant recommendations based on your personal interests, distance, and prominence. You can use the "near" search feature to find places in a specific area and access detailed information about each location, including the exact address, phone number, and even a link to a Wikipedia article.
Apple Maps offers a comprehensive view of points of interest with its 3D maps and augmented reality walking directions. Its rich city details, immersive walking directions, and curated Guides help you find new places to visit easily. Apple Maps also features a visually stunning 3D globe, making it easier to view the world. Further, users can open any location or address on the web and share addresses with others, thanks to deep links into the native Maps app on Apple devices.
Winner: Apple Maps – for its unique features, such as the augmented reality walking directions and curated Guides.
Google Maps vs. Apple Maps: Mobile Integration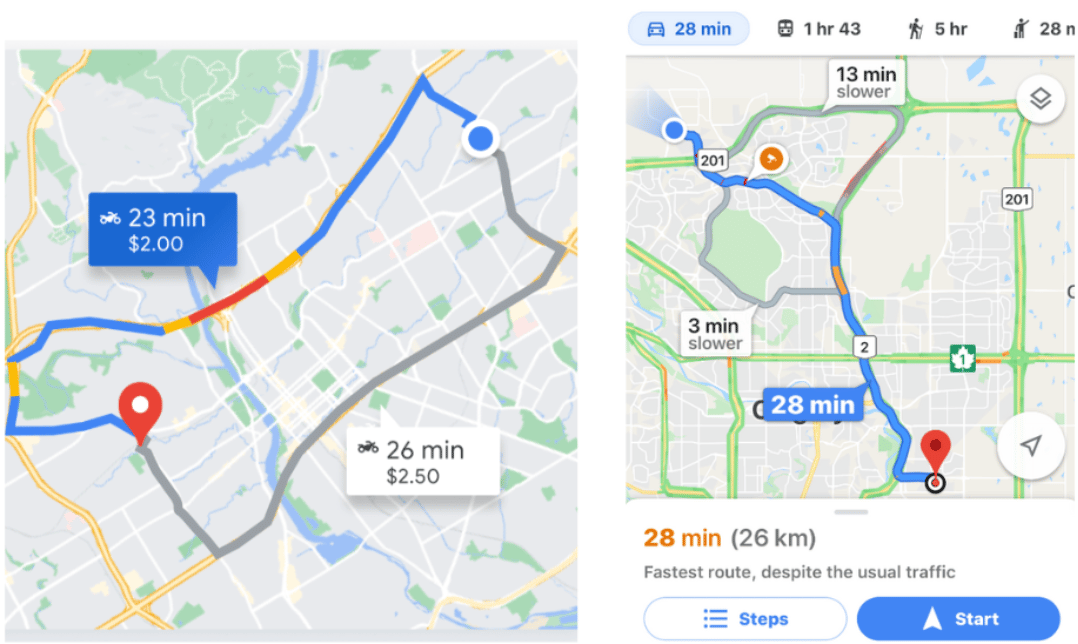 Google Maps offers an extensive range of services that include driving directions, route planning, and embedding maps into websites or blogs without programming. It also has several Google tools integrated within the app, such as Google Now features, Google Drive, and Google Calendar. Plus, with Google Maps Go, a lightweight version of the app, you can take advantage of Live View and download maps for offline access.
Apple Maps has likewise significantly improved since its launch in 2012. It now offers a range of features such as route planning, navigation, cycling directions, EV routing, and more. In 2023, Apple Maps is set to integrate with vehicles, including multi-display support, in-car instrument clusters, radio, climate control systems, and other features. However, Apple Maps still lacks one crucial feature: the ability to download maps for offline access.
Winner: Google Maps – for its broad features and offline access.
Google Maps vs. Apple Maps: Privacy and Security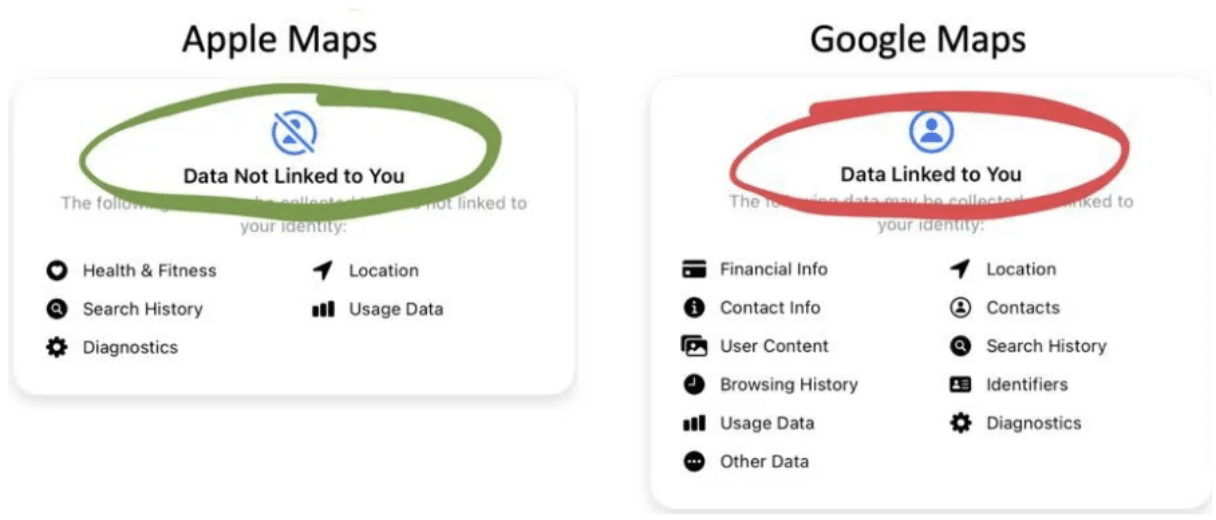 Google Maps has an Incognito mode that lets you search for locations without saving your data. It also offers tools like Dashboard and My Activity, making it easy for you to view and manage your information. However, the app can still track your movements and save your data if you allow it. Additionally, if you don't share your search history with Google Maps or turn on Location History, you may be limited in terms of app features.
Apple Maps is designed with privacy and security in mind. The app does not collect personal information, except for when you submit Ratings. Certain data is sent to Apple when you use Maps, but it's processed and stored by trusted third-party service providers. Apple has also teamed up with DuckDuckGo Maps, offering an alternative navigation experience prioritizing anonymity over tracking.
Winner: Apple Maps – for its cutting-edge privacy and security.
Google Maps vs. Apple Maps: Accessibility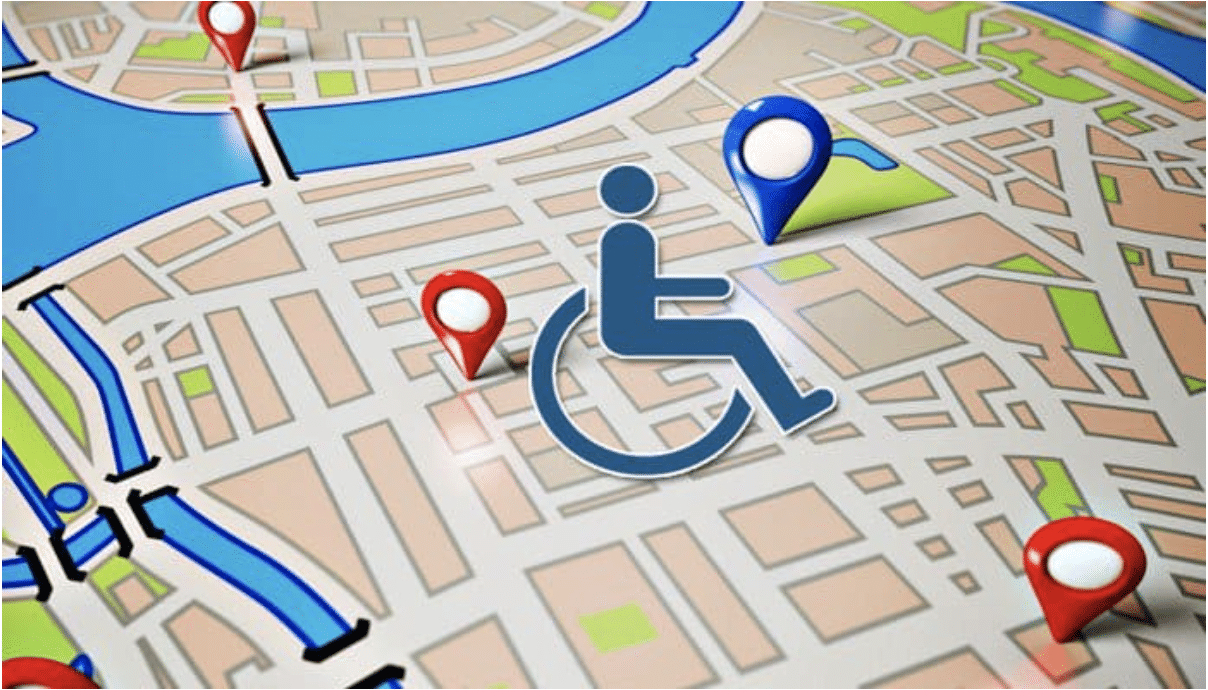 Google Maps has come a long way in improving accessibility for people with disabilities. It offers screen reader, keyboard navigation, and shortcut features. One of its standout features is finding wheelchair-accessible transit routes, crucial for people with mobility challenges. Additionally, users can contribute data on accessible facilities, such as ramps or automatic doors.
Apple Maps offers a variety of features that cater to users with disabilities. For instance, it provides VoiceOver for iPhone SE (3rd generation), Motion, Spoken content, AssistiveTouch for iOS and iPadOS, Touch ID for iPhone SE (3rd generation), Siri voice commands, and Apple Watch mirroring using AirPlay. Developers can also personalize how users interact with their devices using assistive technologies.
Winner: Apple Maps – for its inclusive features and personalized experience.
Google Maps vs. Apple Maps: Future Development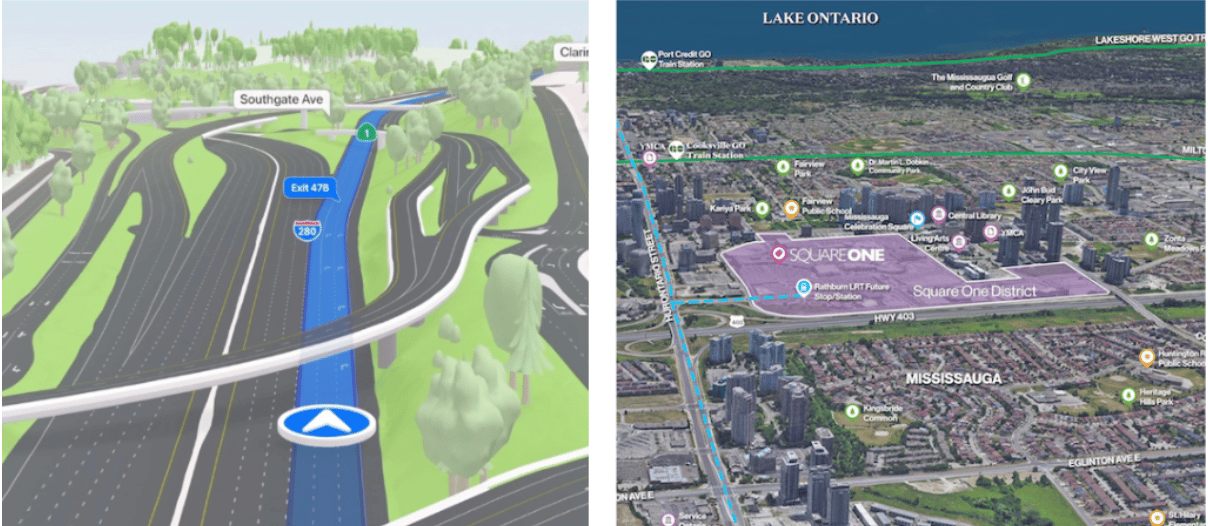 Google Maps is introducing new features such as Immersive View, Neighborhood Vibe, and Search with Live View. Plus, the company is working on eco-friendly routing to promote sustainability efforts. Meanwhile, Apple Maps will offer interactive globe views, 3D experiences for cities like San Francisco and New York City, and a voice-command search experience.
Looking to the future, Google Maps plans to introduce personalized maps for different needs and crowd-sourced content from connected devices. On the other hand, Apple Maps is set to continue its growth trajectory by investing in frontier technologies such as artificial intelligence, robotics, and biotechnology.
Winner: Both maps are taking the lead in 2023 with major updates
Google Maps vs. Apple Maps: Which Is Better?
| | | |
| --- | --- | --- |
| Criteria | Google Maps | Apple Maps |
| User Interface | | ✅ |
| Accuracy and Reliability | ✅ | |
| Points of Interest | | ✅ |
| Mobile Integration | ✅ | |
| Privacy and Security | | ✅ |
| Accessibility | | ✅ |
| Future Development | ✅ | ✅ |
| Total Score | 2 | 4 |
Based on the comparison, Apple Maps wins in four categories, namely user interface, points of interest, privacy, security, and accessibility. In contrast, Google Maps wins in accuracy, reliability, and mobile integration.
Both maps are tied in the development category. Overall, Apple Maps provides a more user-friendly and secure experience, while Google Maps is more data-driven and feature-rich. However, the choice between the two ultimately depends on the user's needs and preferences.