As electric vehicles (EVs) become more mainstream, consumer choices are increasing. However, several experts have weighed in on the best EVs of 2023.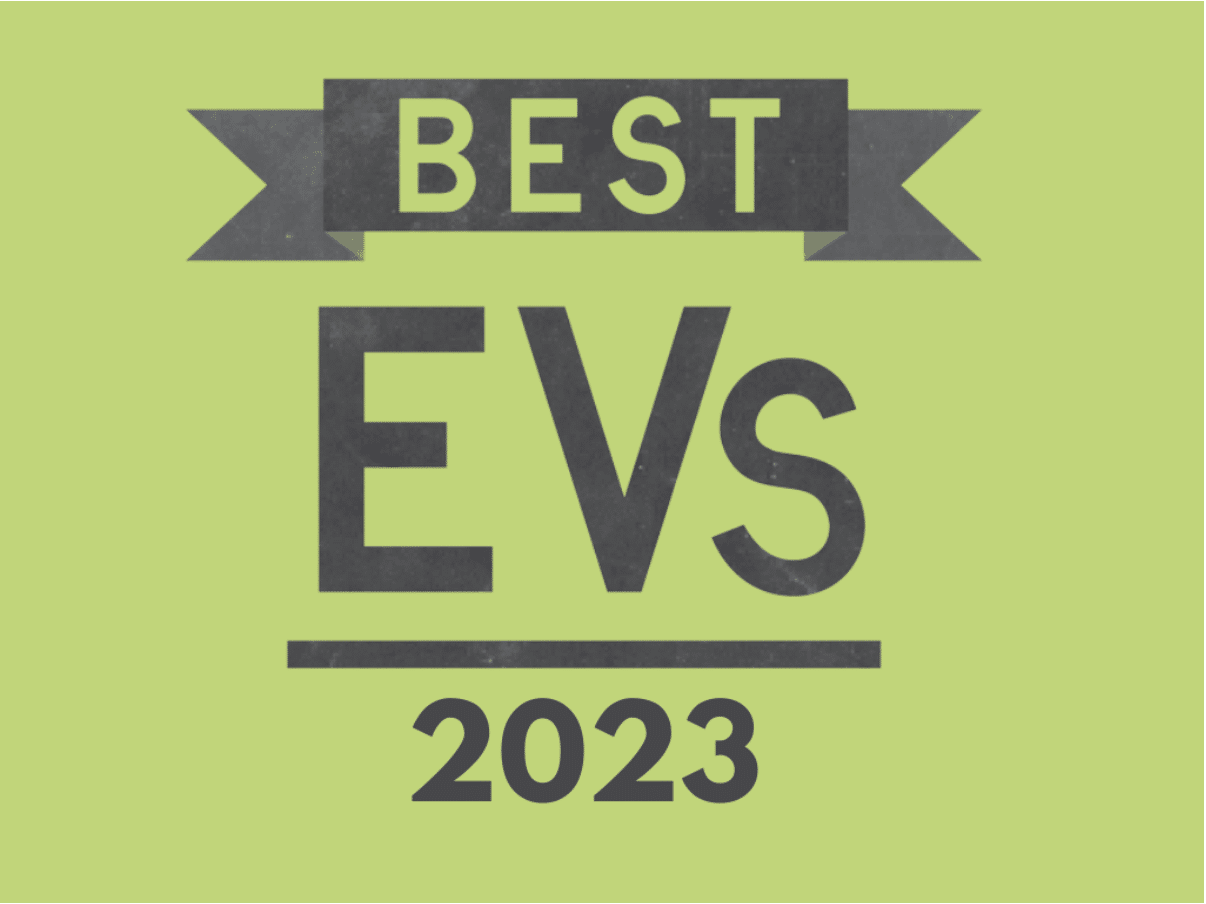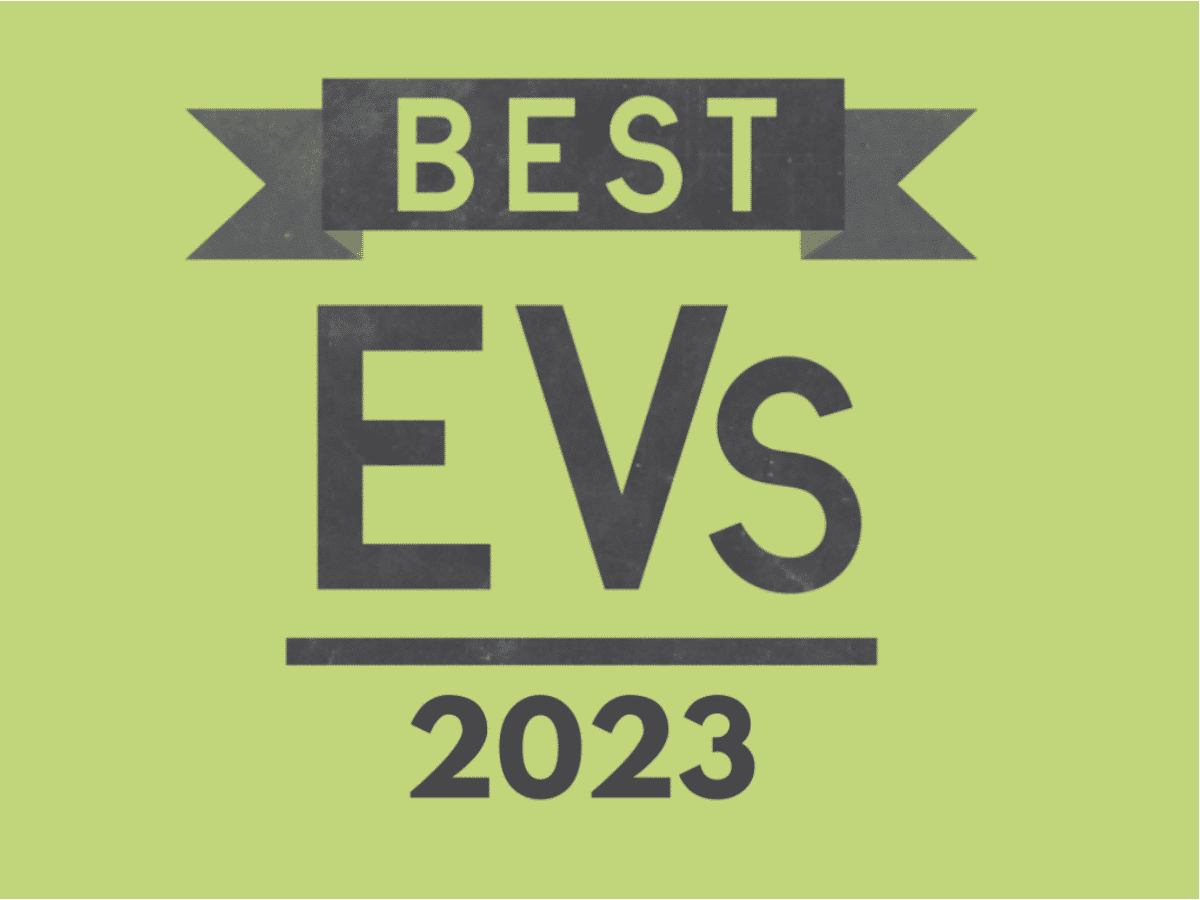 According to Deloitte's 2023 Global Automotive Consumer Study, consumers' interest in electric vehicles keeps increasing. This trend is likely due to the desire to reduce the impact of rising global gas prices, which is a top priority for many countries.
When it comes to choosing an EV, there are several options available. In this article, we examine the top picks for the best EVs of 2023 from Edmunds, Kelley Blue Book, Consumer Reports, Bloomberg Green, and U.S. News. We'll be looking at the rankings and providing insights and opinions.
The Electric Car Market in 2023
The electric vehicle market will grow significantly in 2023. We expect global sales of commercial electric vehicles to reach $116.95 billion at a compound annual growth rate (CAGR) of 32.2%.
Sales of electric vehicles in the United States rose by two-thirds in 2022, comprising 5.8 percent of all new cars sold. The list of body styles coming in 2023 and beyond varies, and the number of brands introducing their first EV model is also growing.
Governments' increasing push for electric cars is a big reason for this growth. Besides, more people know how traditional vehicle emissions hurt the environment.
In January this year, the Department of Energy (DOE) announced a long-term plan to decarbonize transportation in the U.S., finding that converting light-duty vehicles to electric power is the most significant long-term opportunity to achieve this net-zero economy in 2050.
Analysts at BloombergNEF are calling for higher EV adoption in 2023. Still, they anticipate a slightly slower pace than was seen in the last two years. In all, 2023 seems the perfect year to get your first EV if you haven't.
Edmunds Ranking: Best EV of 2023-2024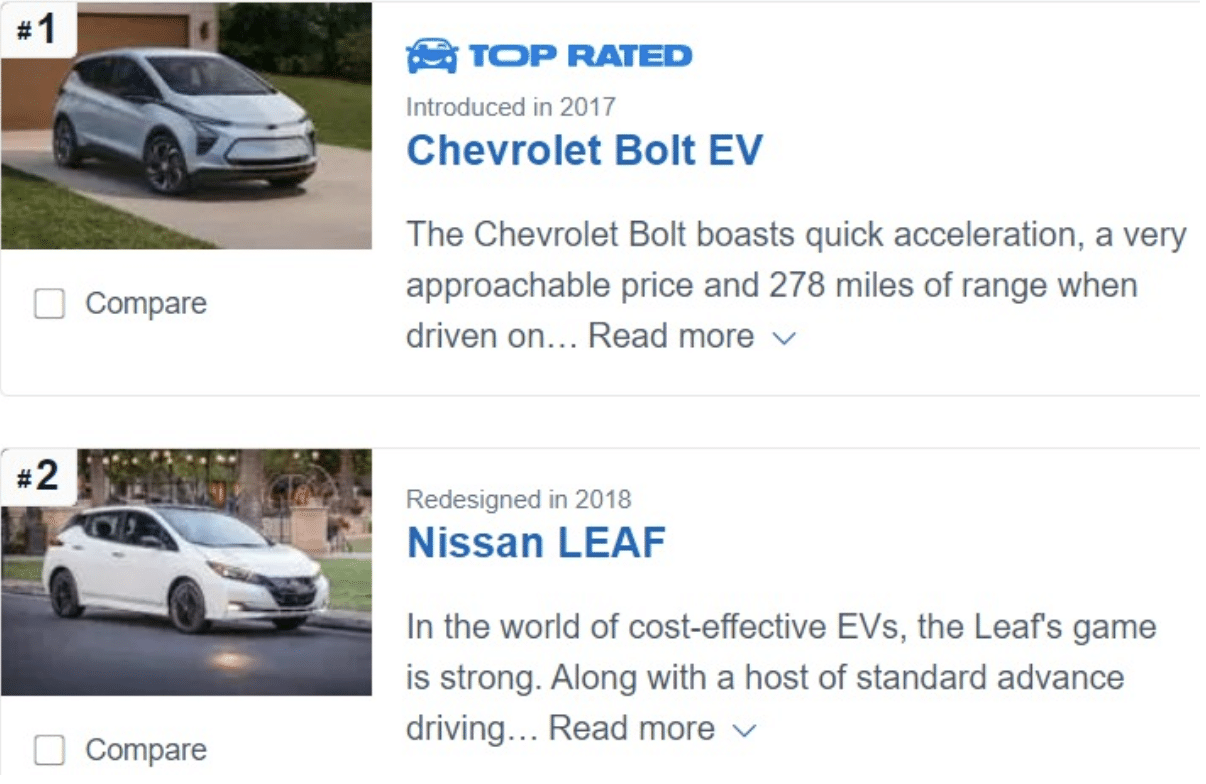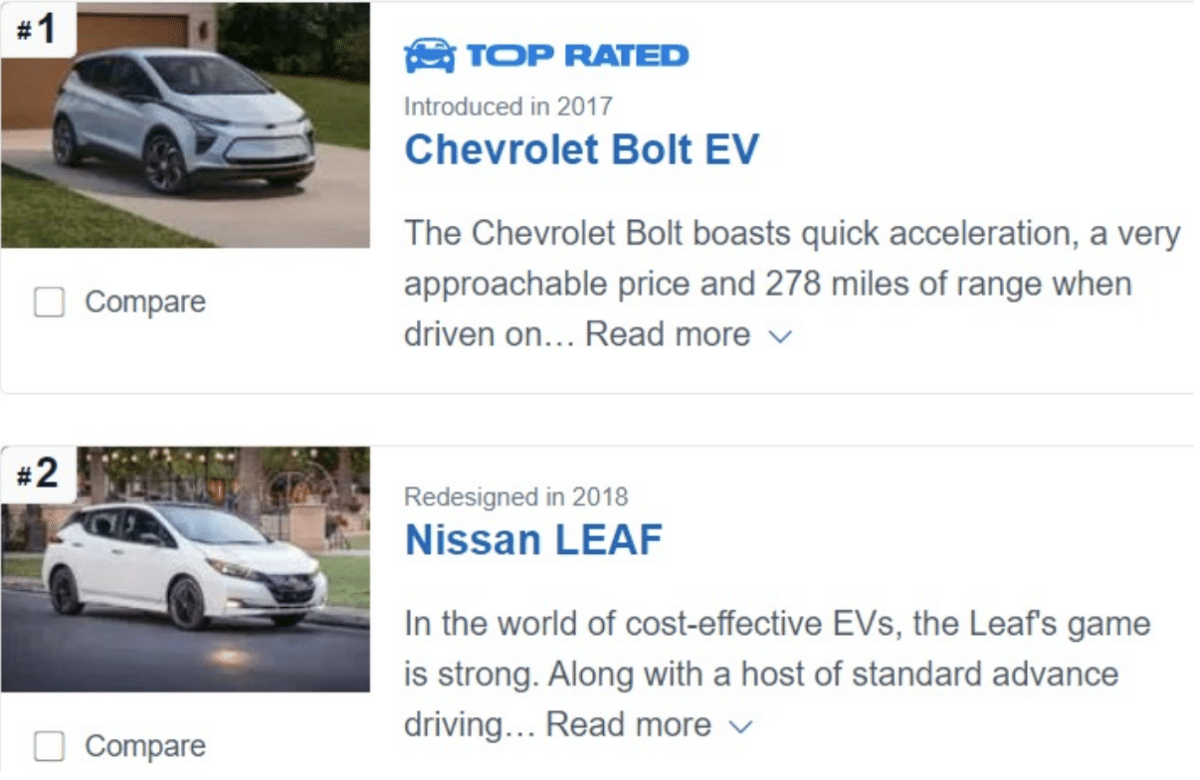 According to Edmunds, the top-ranked electric vehicle for 2023-2024 is the 2023 Chevrolet Bolt EV, closely followed by the 2023 Nissan Leaf. The experts used a set of criteria to rank the vehicles, including range, technology and features, price, and interior space.
The Chevrolet Bolt EV is one of the coolest EVs, with an impressive range of 259 miles. This mileage is significantly higher than the Mini SE's. Besides, the starting price of the Bolt EV is lower than the Leaf S and considerably less than the SV Plus model.
Chevy Bolt and Nissan Leaf feature an 8-inch touchscreen and support smartphone integration with Apple CarPlay and Android Auto. However, the Bolt EV offers more front and rear seat legroom.
In addition to these factors, Edmunds also considered global EV sales, which have surpassed one million since 2010. The Chevrolet Volt is the top-selling plug-in hybrid EV, while the Nissan Leaf has been the top-selling battery EV since 2010.
Kelley Blue Book's Best 2023 EVs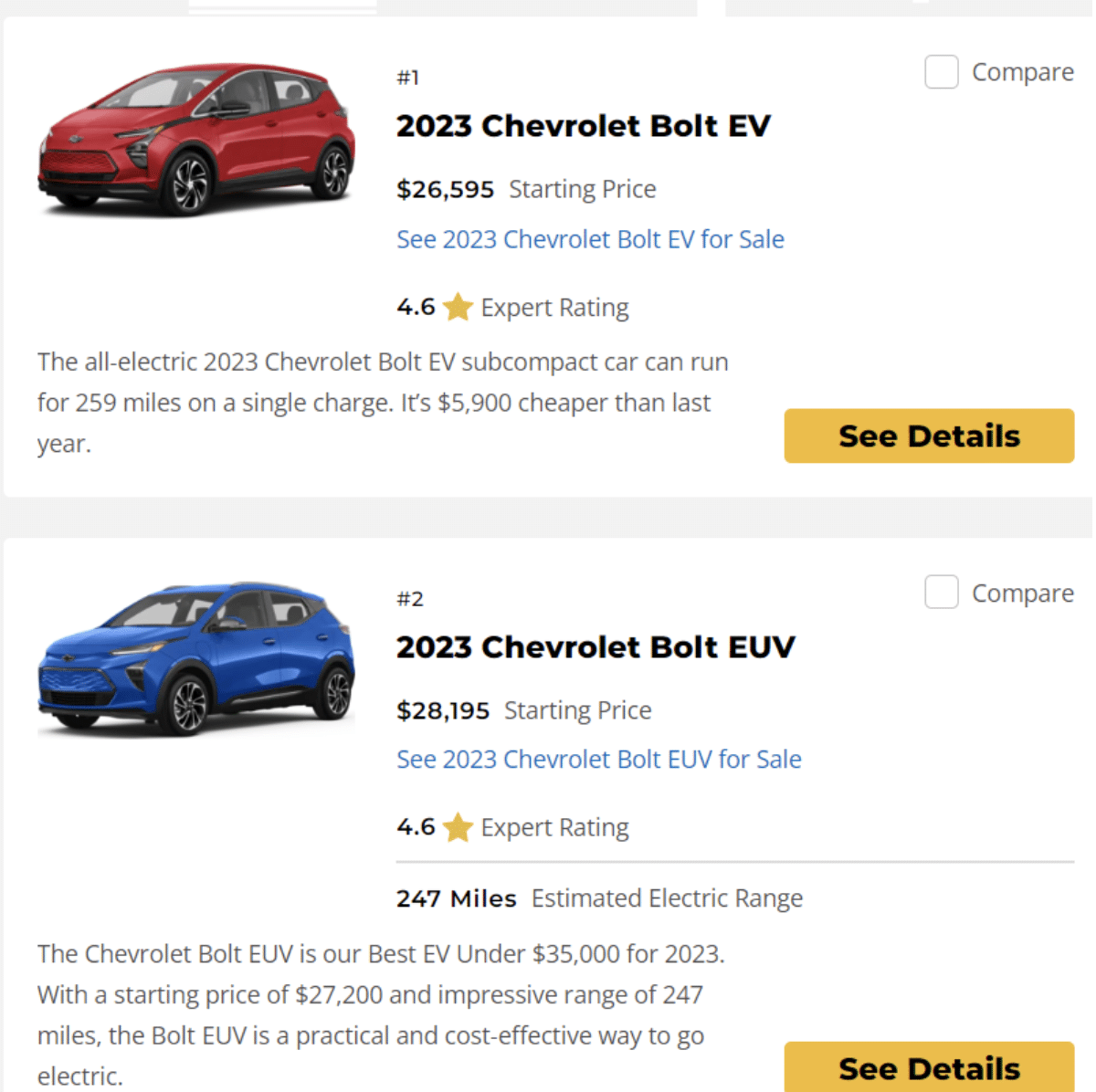 At the top of KBB's list is the 2023 Chevrolet Bolt EV. Not far behind is its cousin, the 2023 Chevrolet Bolt EUV, which takes second place. These affordable options offer impressive ranges of 259 and 247 miles, respectively, on a single charge. And with prices under $35,000, they're both excellent choices for anyone considering going electric.
But while the Bolt EV and EUV may share many features, there are some key differences between the two. For example, the Bolt EUV boasts slightly more legroom and can comfortably seat up to five passengers. And with its cutting-edge Super Cruise driving system, hands-free driving is easier than ever.
Both the Bolt EV and EUV are also packed with tech features, from the 8-inch driver information display to the 10.2-inch infotainment touchscreen. With so much to offer, it's easy to see why these two vehicles are among the top-rated EVs of 2023.
Consumer Reports' Top EVs for 2023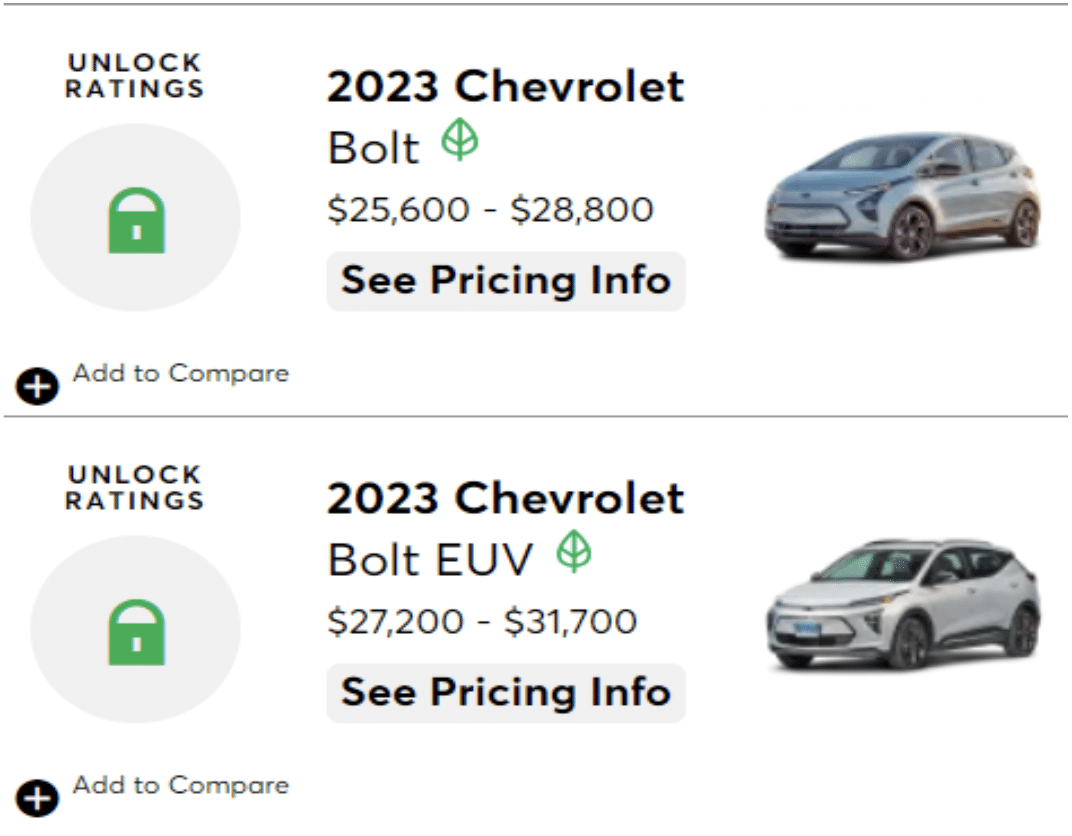 Consumer Reports uses a comprehensive scoring system to rank EVs. It bases them on road-test performance, owner satisfaction, and reliability. While EVs have more frequent problems than other vehicles, some models have better-predicted reliability.
Looking at the reports, the 2023 Chevrolet Bolt and the 2023 Chevrolet Bolt EUV are the top picks. Like other automotive experts, the report trusts these models due to their reliability and efficiency.
But if you're seeking even more range, there are options to consider. The 2023 Genesis GV60, Hyundai Ioniq 5, Kia EV6, Chevrolet Blazer and Equinox, Audi, and BMW all have excellent ranges. In fact, Lexus plans to launch a next-generation battery EV in 2026 with more coverage and efficiency.
BloomBerg's Best Green Electric Car Rating 2023
Bloomberg Green's Electric Car Ratings are invaluable for comparing sustainable EV models. Using a weighted range score divided by curb weight plus battery size on a scale from 0-100, the ratings offer a comprehensive overview of the best green electric cars for 2023.
Based on the January 2023 updated green ranking, the Tesla Model S tops the green list, followed by Lucid Air in second. The Tesla Model S has a green rating of 65.0.
The rating depends on several factors, including battery size, charge speed, range, curb weight, and seats. The Model S has a battery size of 103 kWh and a charging rate of 405 miles per minute. The Model S is also assembled in North America and qualifies for a purchase rebate as part of the Inflation Reduction Act.
U.S News' Best Electric Vehicle 2023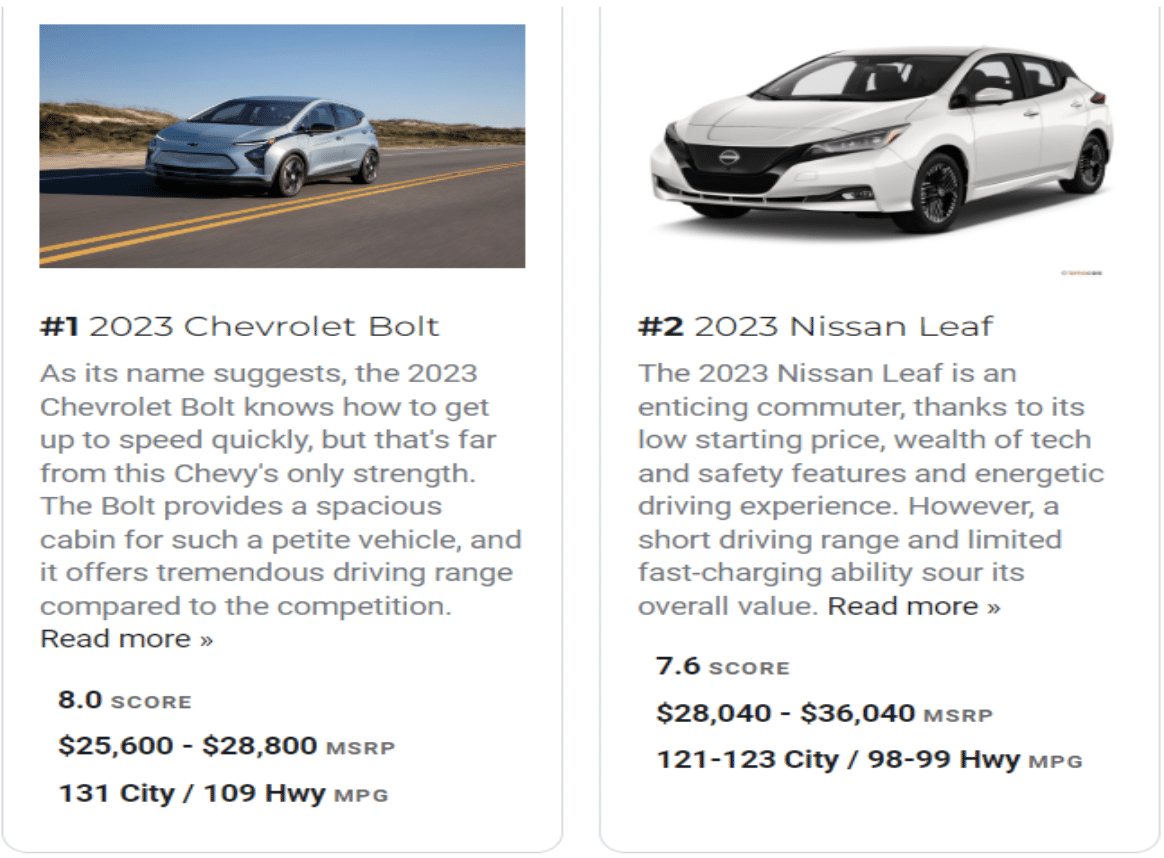 In the US News' best EV, the 2023 Chevrolet Bolt claims the top spot with an impressive overall score of 8.0 out of 10. Its quick acceleration, affordable price, and range of 278 miles make it a fan favorite.
Following closely is the Nissan Leaf, a pioneer in the EV market for people seeking a low-cost, zero-emission ride. It ranks #2, with a starting price of $28,895, including destination fees. The Leaf Plus model offers a longer driving range and has a starting price of $36,895.
These vehicles are proving that electric cars are not only environmentally friendly but they can also be practical and cost-effective. As the market grows, it's exciting to see what new and innovative electric vehicles will emerge.
So, What Will Be the Best Electric Cars in 2023?
1. Chevrolet Bolt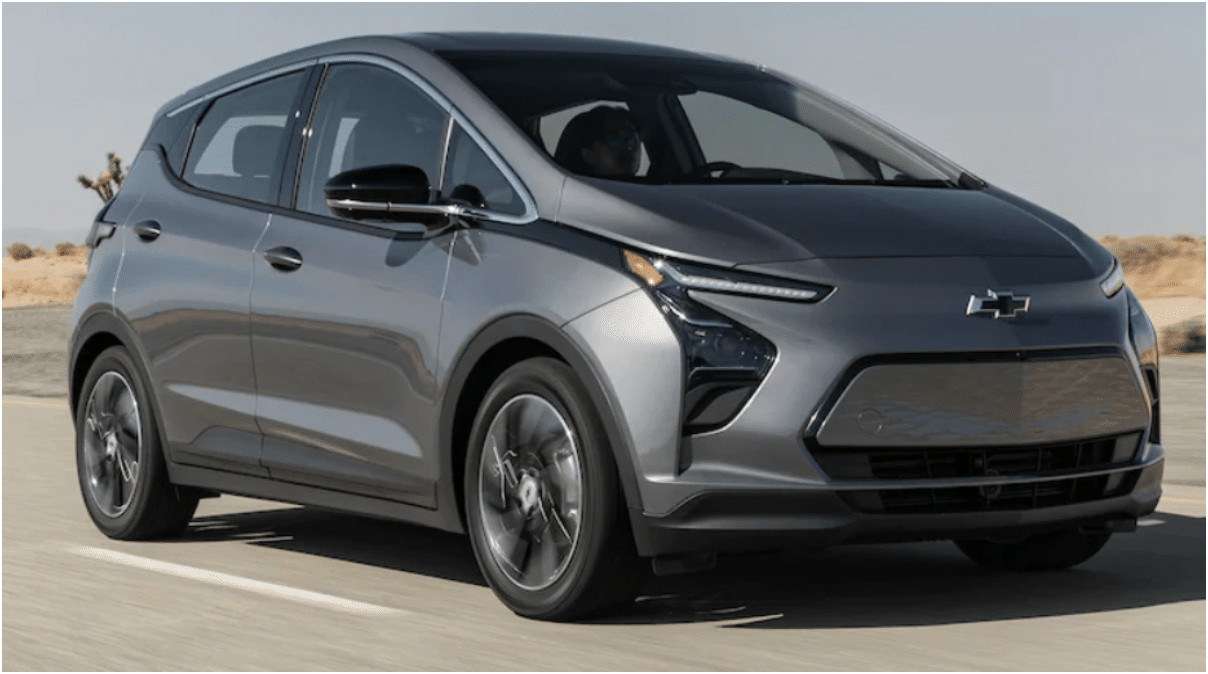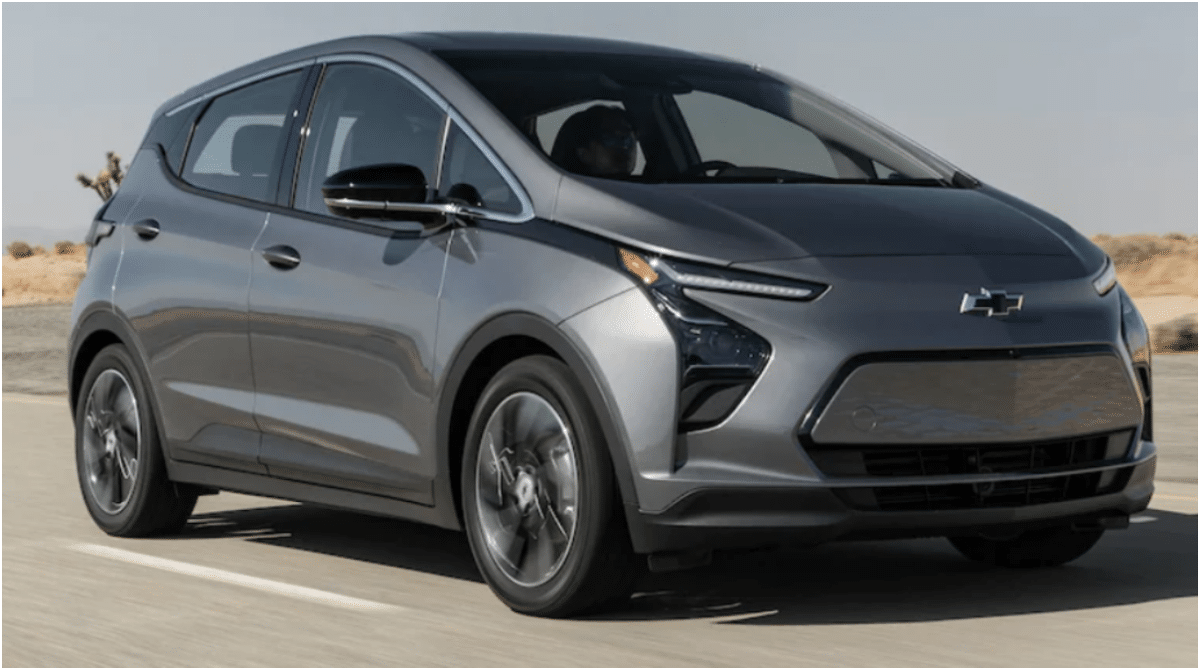 The Chevrolet Bolt 2023 is the real deal for EV buyers looking for a bargain. The Bolt is more affordable than the competing Hyundai Ioniq 5 and Kia EV6. The biggest reason to buy the Chevy Bolt is the huge price drop on the 2023 model; it's about $6,000 less expensive than the nearly identical 2022 version we tested. The Bolt has an electric driving range of up to 259 miles on a single charge, making it great for city driving.
2. Chevrolet Bolt EUV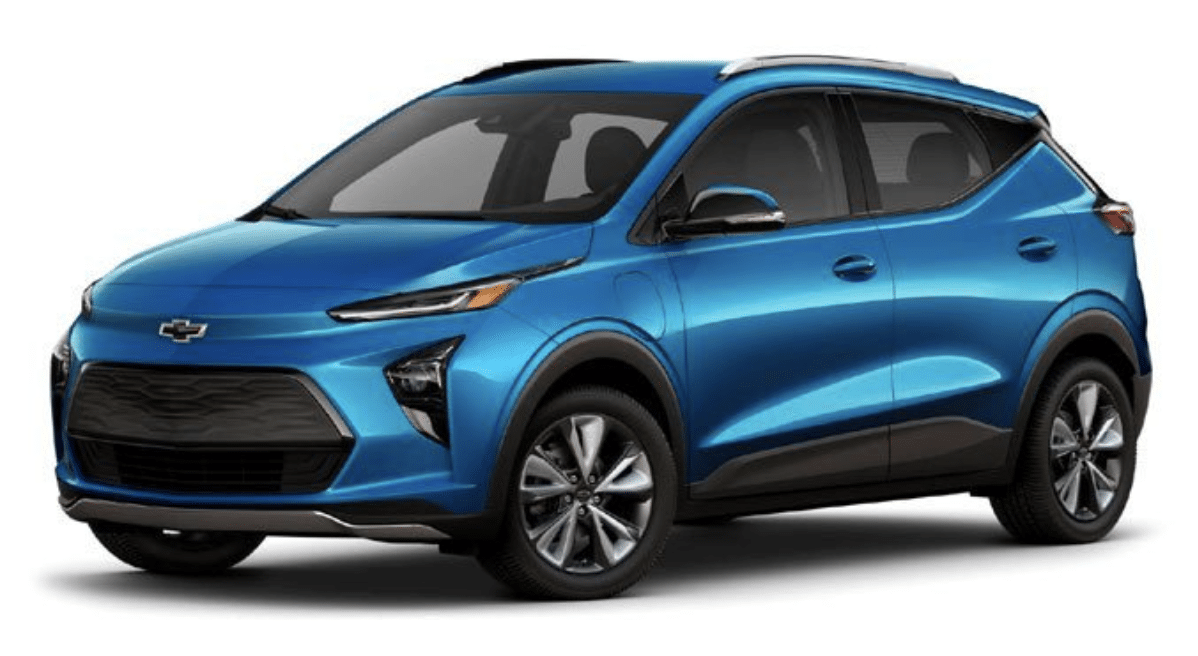 The 2023 Chevrolet Bolt EUV provides ample space, zippy acceleration, and a respectable driving range. It also has more rear legroom than the Bolt hatchback and SUV-like looks. Despite its low price, every Bolt EUV is rated at a competitive 247 miles of range. However, if you need even longer drive ranges, you may want to consider the Tesla Model Y or Ford Mustang Mach-E instead.
3. Nissan Leaf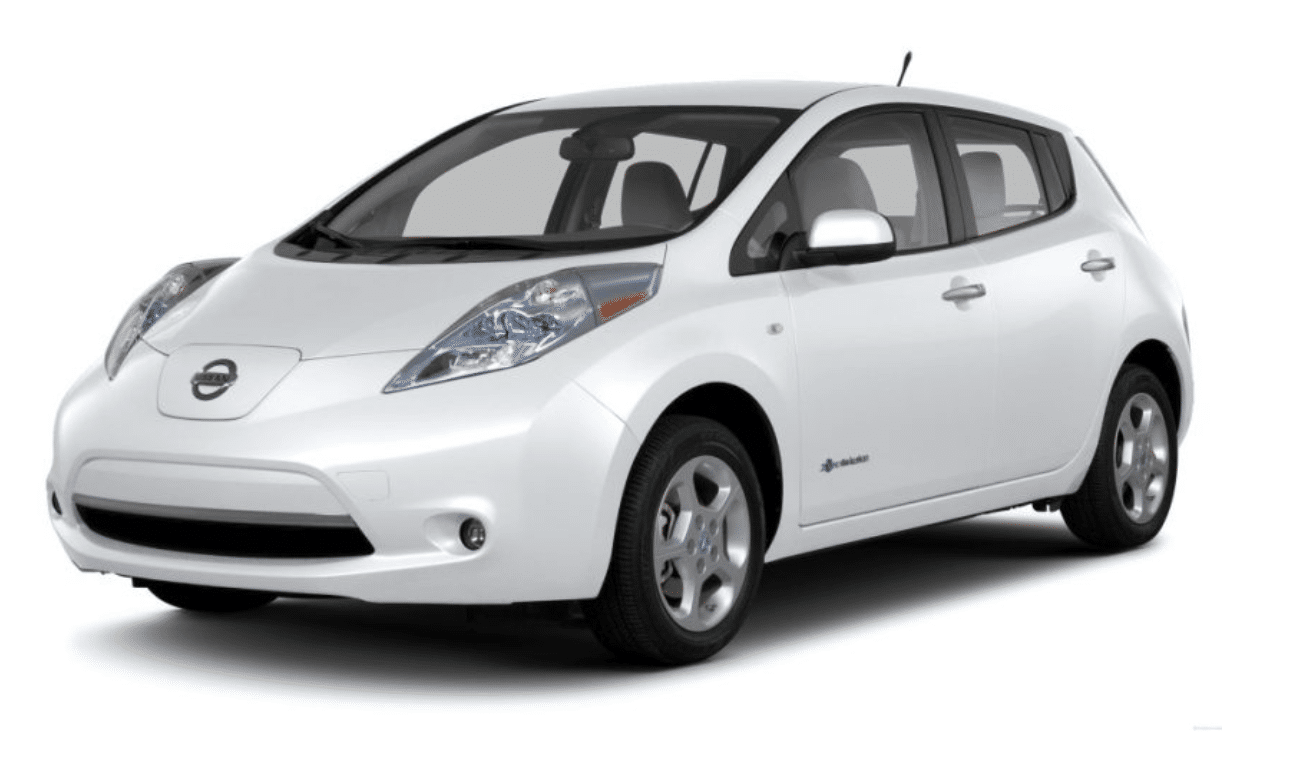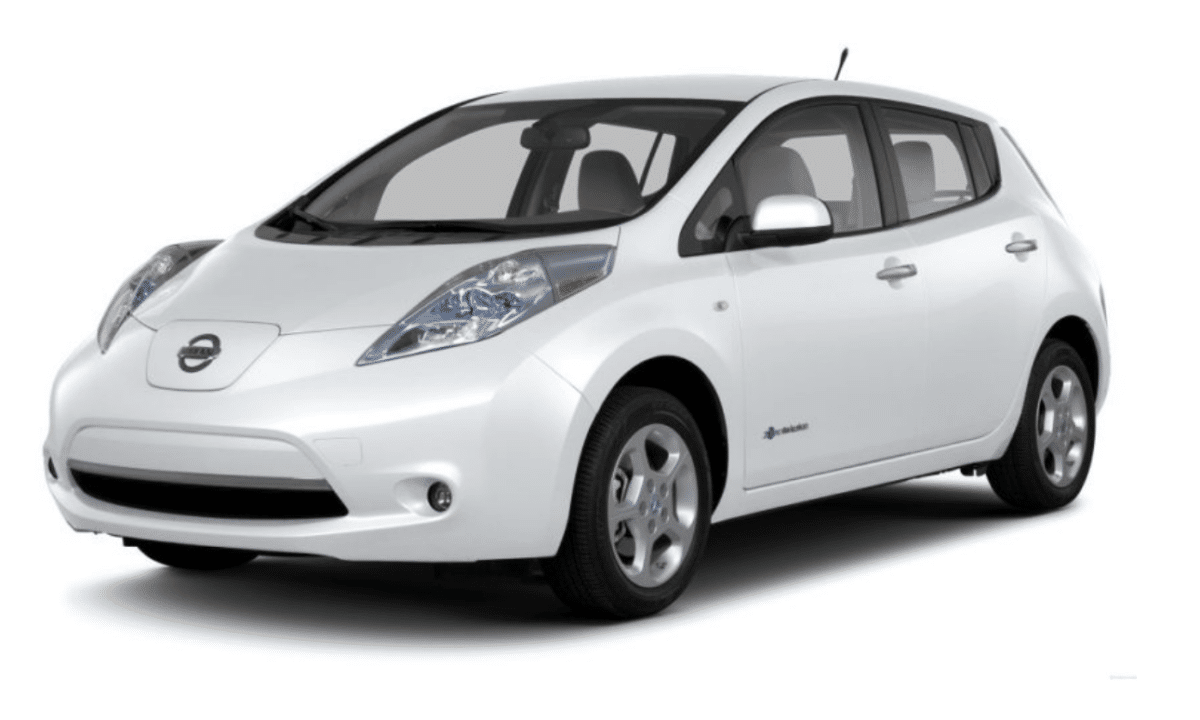 The 2023 Nissan Leaf can run on a range of 149 miles or 215 miles, depending on the model. It has some helpful technology features that can make driving in heavy traffic easier and less tiring. The Leaf SV Plus trim delivers 214 horsepower and 250 pound-feet of torque, making for quick acceleration. It is also low maintenance since it is electric. However, it may not be as competitive as other EVs.
4. Tesla Model S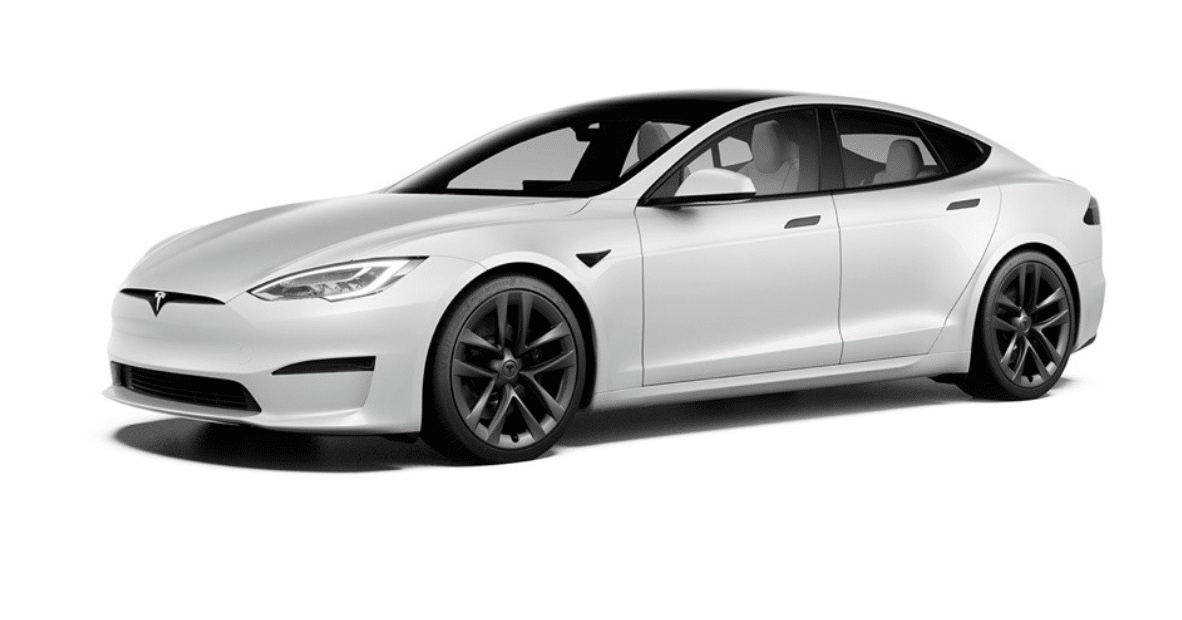 The Tesla Model S offers mind-blowing acceleration, excellent driving range, confident handling, and smooth ride quality. The Model S is also reasonably practical thanks to the front trunk and a hatchback that opens up to a large cargo area. According to whatcar.com, there are seven reasons to buy a Tesla Model S: no emissions, immense power, autopilot, space inside, infotainment, free charging, and plenty of storage. The 2023 Tesla Model S is still competitive and desirable among electric luxury cars.
5. Lucid Air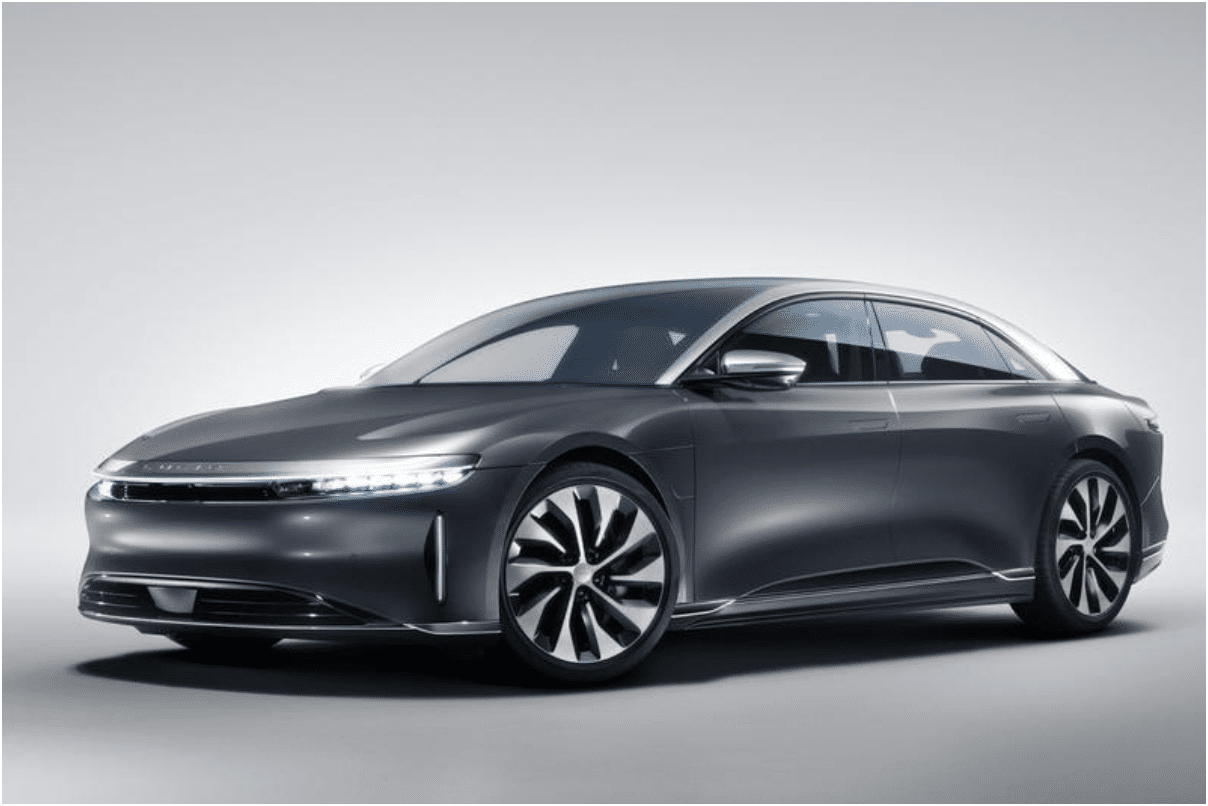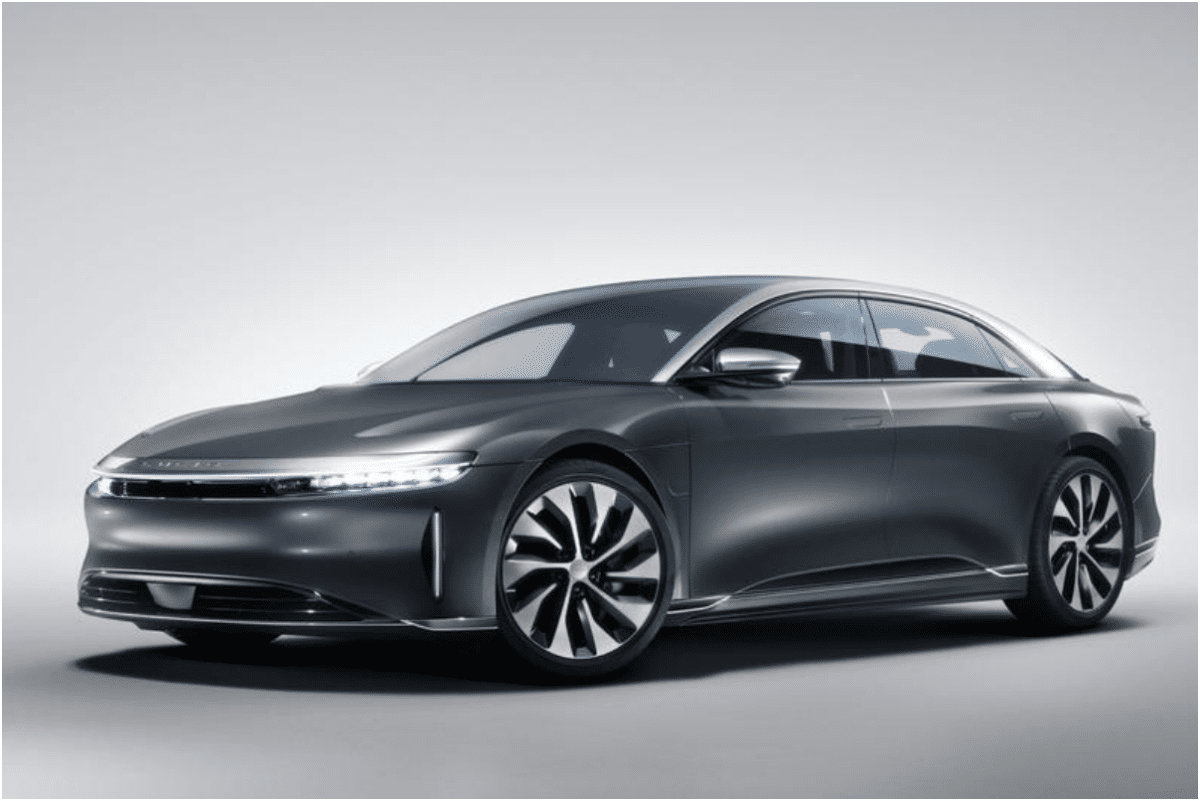 The Lucid Air is a formidable electric luxury sedan, a vehicle made all the more impressive because it's Lucid's first-ever product. The car was designed with aerodynamics in mind, as every curve is placed to direct air over the vehicle with ease. The interior of the Lucid Air Grand Touring Performance adds soft-touch materials throughout the cabin for a luxurious and modern feel.
The Final Electric Race
In summary, Edmunds, Kelley Blue Book, and Consumer Reports have all released their top electric vehicle picks for 2023. While there are some variations in their choices, Chevrolet Bolt, the Chevrolet Bolt EUV, Nissan Leaf, Tesla S, and Lucid Air are among the highly-ranked EVs.
Aside from these EVs, many new ones will be released, providing more range and incentives. So, it's essential to consider factors like performance, reliability, and affordability when choosing an electric vehicle. Despite some issues with Tesla's EVs, they continue to be popular among EV enthusiasts.