Bang & Olufsen is a brand that has been extremely established when it comes to delivering excellent audio technology for those people out there that care more about the quality of their products than the price. The Beocom Portal has not strayed from this business's goal to mesh together performance and quality flawlessly, and is a hybrid headset for gamers as well as those working in an office or from home.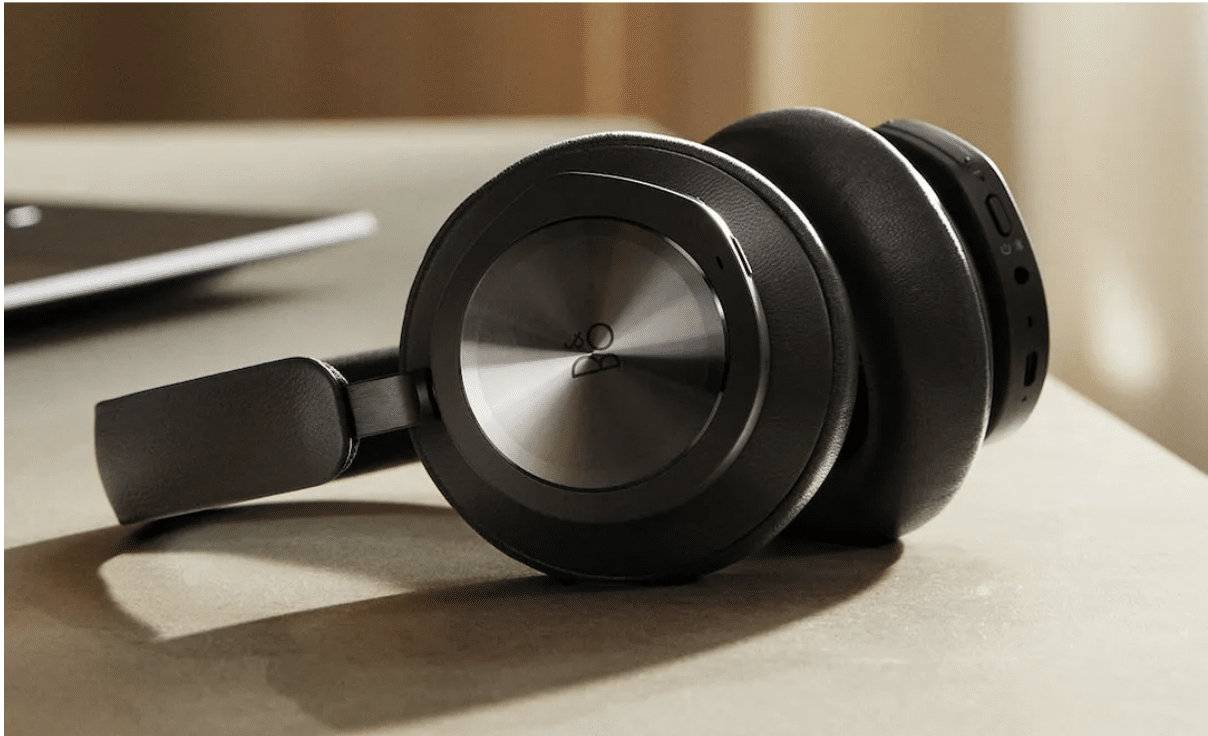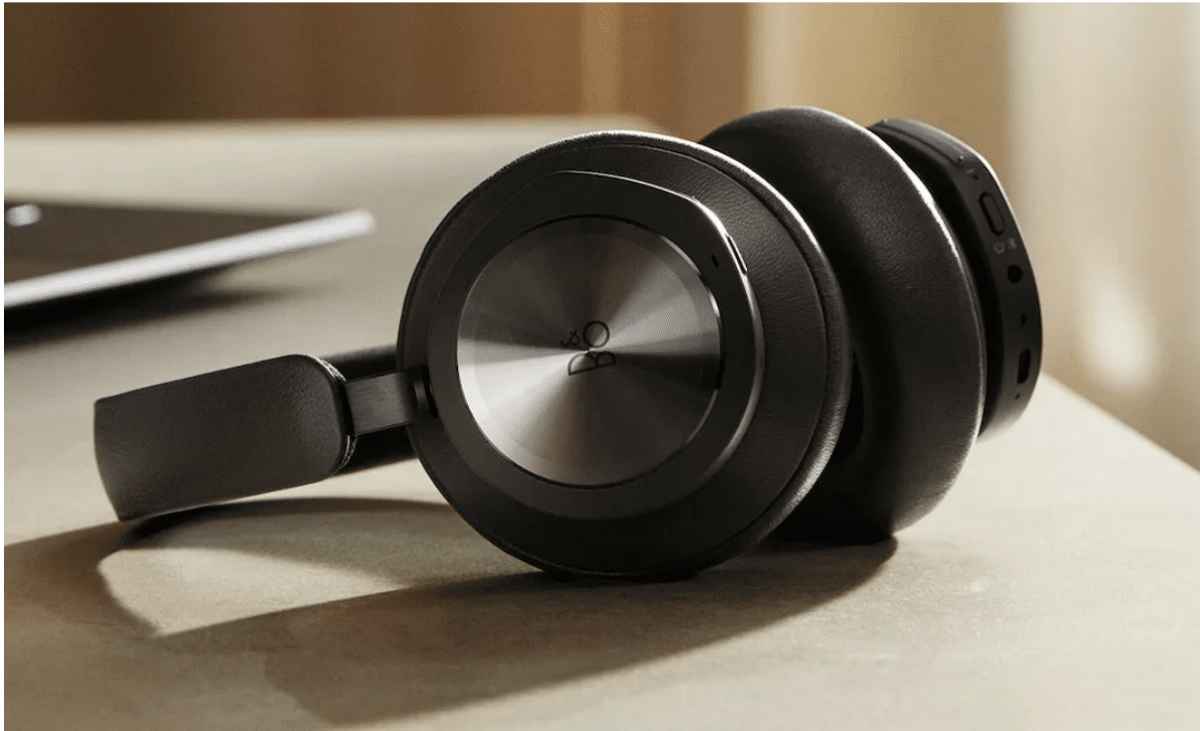 When you compare the Beocom Portal Headset to other gaming headsets then you will notice that these have been designed with more of a hybrid style with workers in mind as well. An example of this is the fact that these headphones are Zoom-certified out of the box and even come with support for all the commonly used communication platforms that businesses may be using.
Pros
Has Zoom certification
Pre-paired dongles
Slick and attractive design
Cons
Expensive
Doesn't have a charging stand
Track controls aren't the best for when you're listening to music
Price: $549. Buy it here.
The Design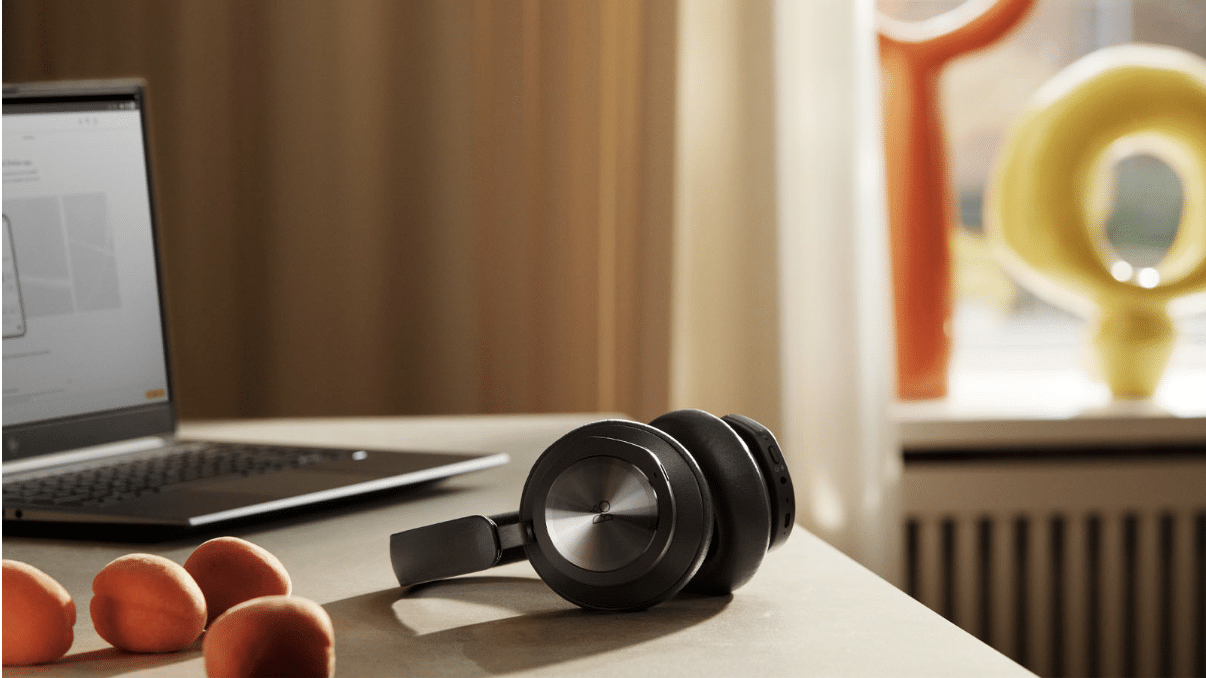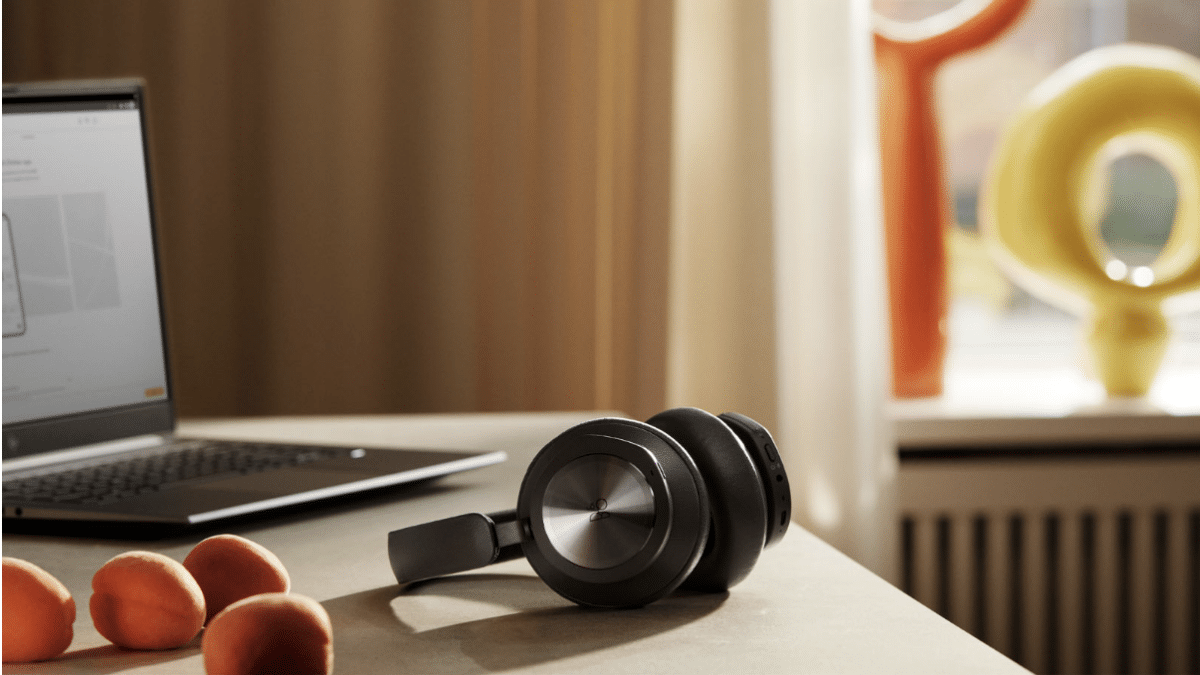 Jacob Wenger, the founder of Jacob Wenger Design, which is an American design firm specialising in high-end custom furniture and product design, actually has a direct connection to the Beocom Portal headphones as his design team has helped quite a lot with the design of this headset.
These headphones are distinguished by their sleek and ergonomic design, marked by the absence of sharp edges and the incorporation of smooth curves. What sets them apart from other headsets on the market is their user-friendly design, where headband adjustments are seamless and comfortable, thanks to the elimination of notched connections. The headband is also crafted from breathable fabric, ensuring comfort even when you're using it for longer periods of time, which makes them very suitable for a full day of work.
The Beocom Portal headphones incorporate intuitive touch-sensitive controls on the ear cups, and their functionality varies based on the mode of operation. For example, during a call, tapping the left cup will end the call, while in Bluetooth playback mode, it will pause the track. Although these controls may take a bit of time to get used to in the beginning you'll quickly catch on as you'll notice that they follow a logical pattern. One interesting design choice is the exclusion of touch controls for volume adjustments, which are instead managed through separate sliders on the ear cups. Each ear cup also features a single pressable button, with one side serving as the power and Bluetooth pairing control and the other side functioning as a mute button.
To enhance the user experience further, it's recommended to install the Bang & Olufsen Beocom app on your smartphone. This app allows easy mode switching and noise cancellation level adjustments. Moreover, it facilitates firmware updates should the manufacturer release any enhancements. The headphones feature a USB-C connection and a 3.5mm audio jack on the right side, assuming that most users have their computers on that side for wired connections.
Unlike many headphones, the Beocom Portal headphones employ a beamforming microphone array rather than a traditional boom microphone. This technology focuses on the wearer's voice and rejects ambient noise, ensuring call clarity. While the microphone quality is suitable for regular calls, it may not meet the requirements for professional broadcasting, such as podcasting.
In summary, the Beocom Portal headphones are a blend of style and functionality, making them a suitable choice for business settings. However, some audiophiles may find their track navigation options limited, which could be a minor drawback for those who require precise audio control during playback.
The Features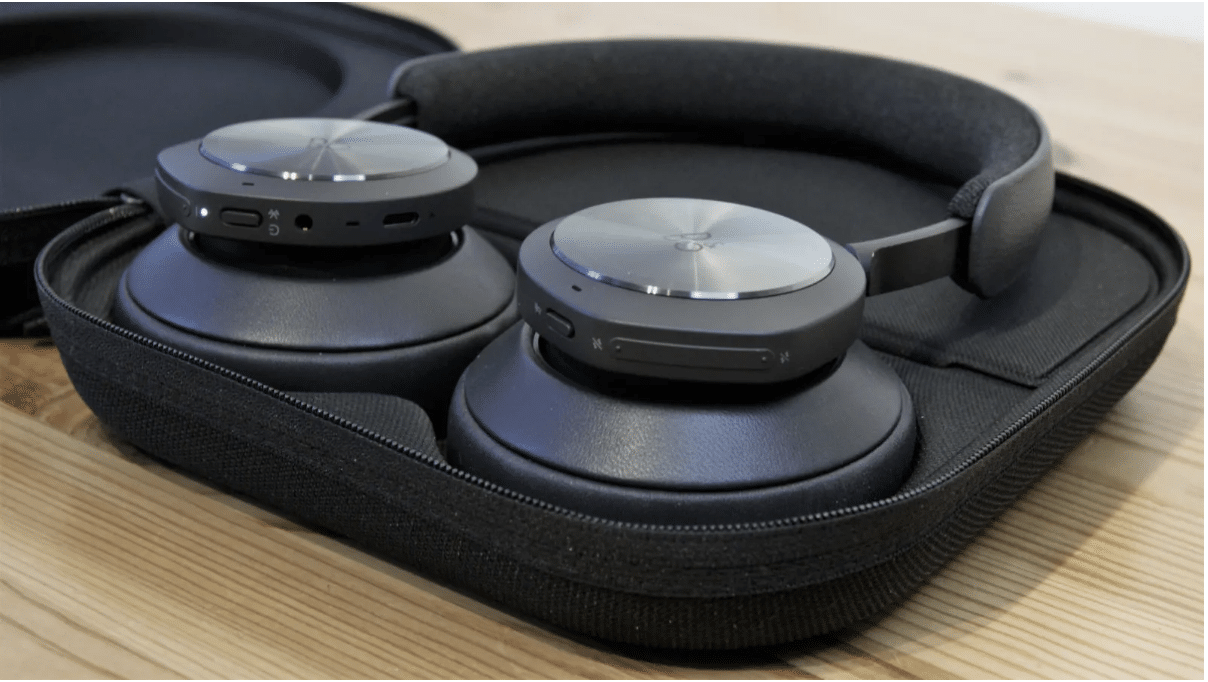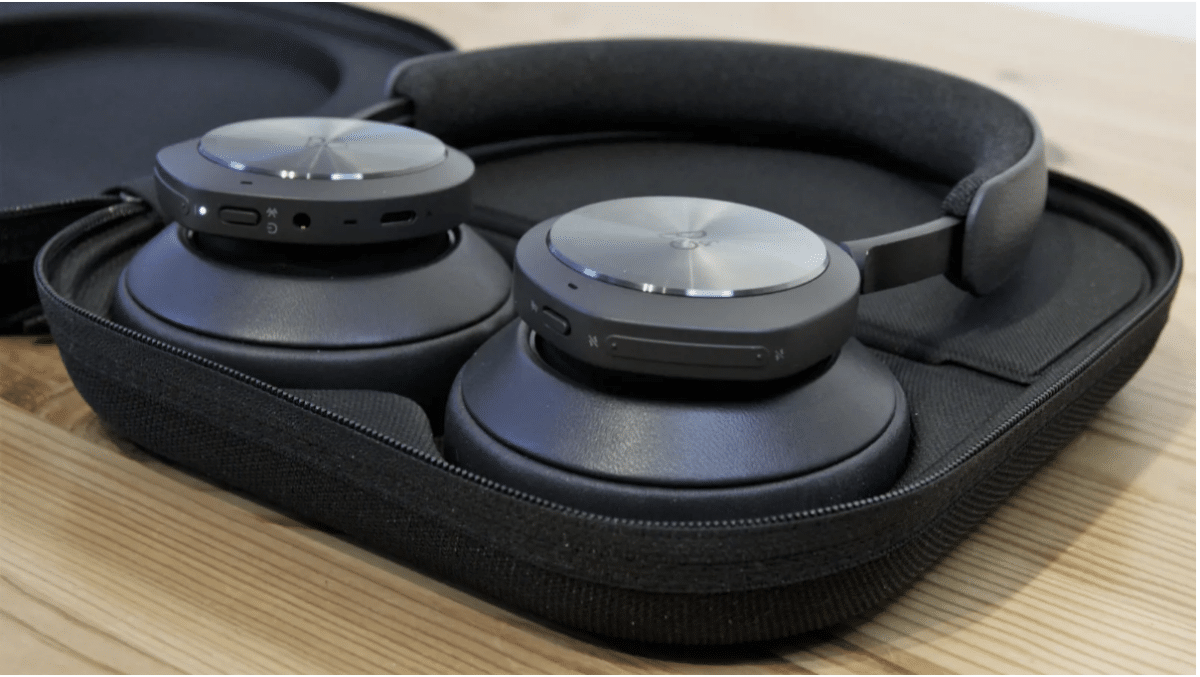 Connectivity
The Beocom Portal headset uses Bluetooth technology with version 5.1, and then further goes above and beyond what the standard ABC code is by incorporating both AAC as well as aptX Adaptive. To make sure that your headset maintains optimal audio fidelity at all times, it prefers using aptX Adaptive due to its adaptable audio compression, which ranges from 5:1 to 10:1, and offers up to 420 kBits of data at a 48 kHz sample rate.
As soon as the device is switched on it will try to connect to the device that it had most recently had a connection with in the past. Furthermore, it supports Google Fast Pair as well as Microsoft Swift Pair technologies. Remarkably, the highest audio quality is achieved when connected via USB. A huge advantage to having the bang & Olufsen Beocom Portal headset is that when you connect the headset to your PC with the provided cable, it'll actually recognise the Beocom Portal as compatible with Dolby Atmos playback.
Another high-quality audio option is the use of the audio jack, though it has some limitations. It necessitates power either from the battery or USB for operation. However, with power supplied, noise cancellation and certain controls function as expected.
ANC
While the noise cancellation on the Beocom Portal is effective, it may not match the performance of more expensive options, such as those from Sony. It excels at eliminating low-frequency rumbles but tends to muffle higher-frequency sounds. This configuration allows you to hear nearby conversations clearly while reducing most unwanted background noise, making it suitable for office environments. The Beocom Portal provides five levels of ANC adjustment, allowing users to tailor their noise-cancellation experience.
Additionally, you have the option to adjust the level of your own voice feedback in the headphones, which can be valuable in noisy surroundings.
Battery
The Bang & Olufsen Beocom Portal bears a resemblance to the Beoplay 500 series headphones but features some notable differences, particularly concerning the battery. While the Beoplay 500 offers 19 hours of talk time with Active Noise Cancellation, the Beocom Portal extends that to 23 hours. When listening to music at moderate volume levels with Active Noise Cancellation (connected to the Beocom Link A or C dongle), it provides an impressive 47 hours of battery life.
This extended battery life should easily last through at least three working days, as the Beocom Portal automatically powers off after 15 minutes of inactivity without an active audio stream. It's worth noting that the quoted battery life may vary depending on the type of audio being played, with high-impact audio like rock music consuming more power compared to a solo flute performance.
Final Words – Should You Buy One?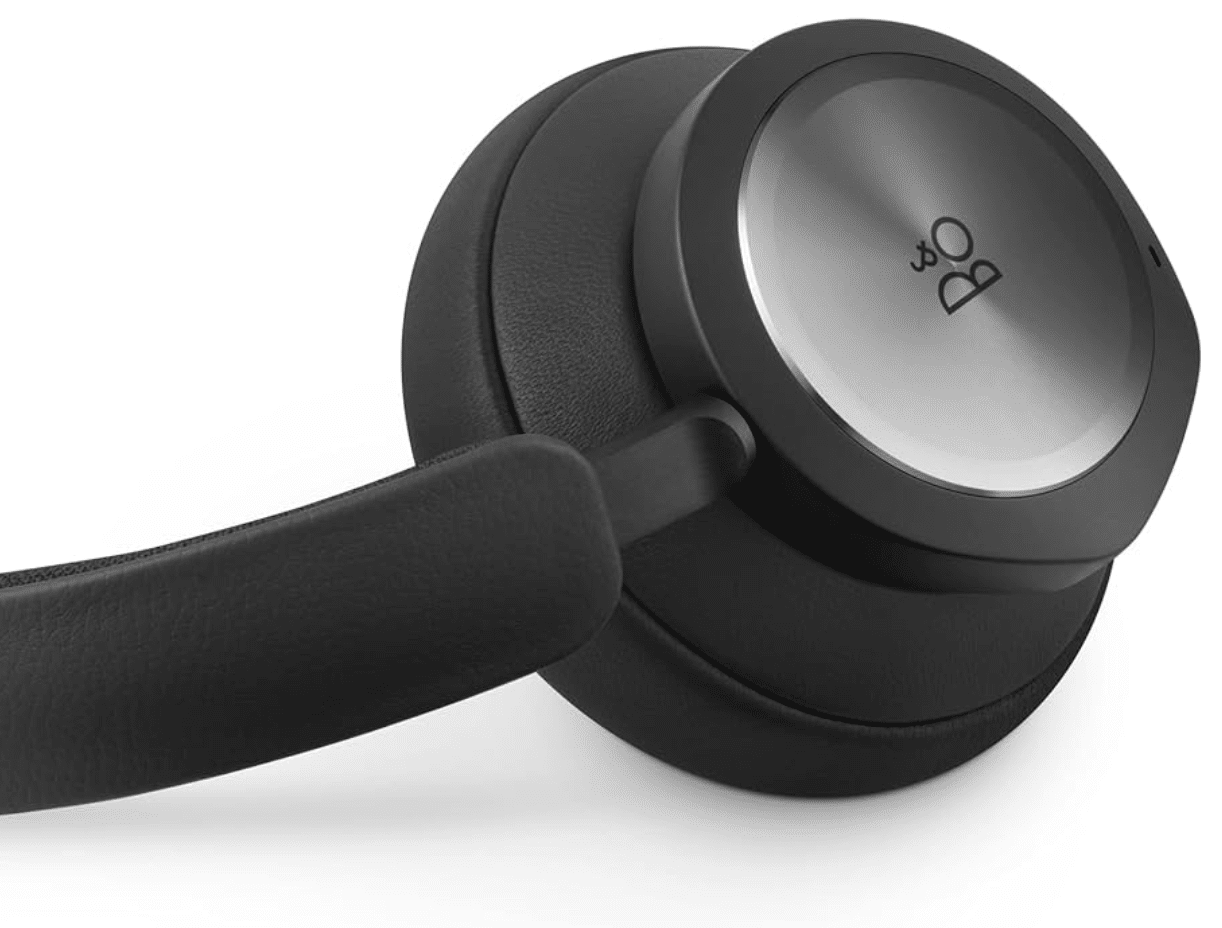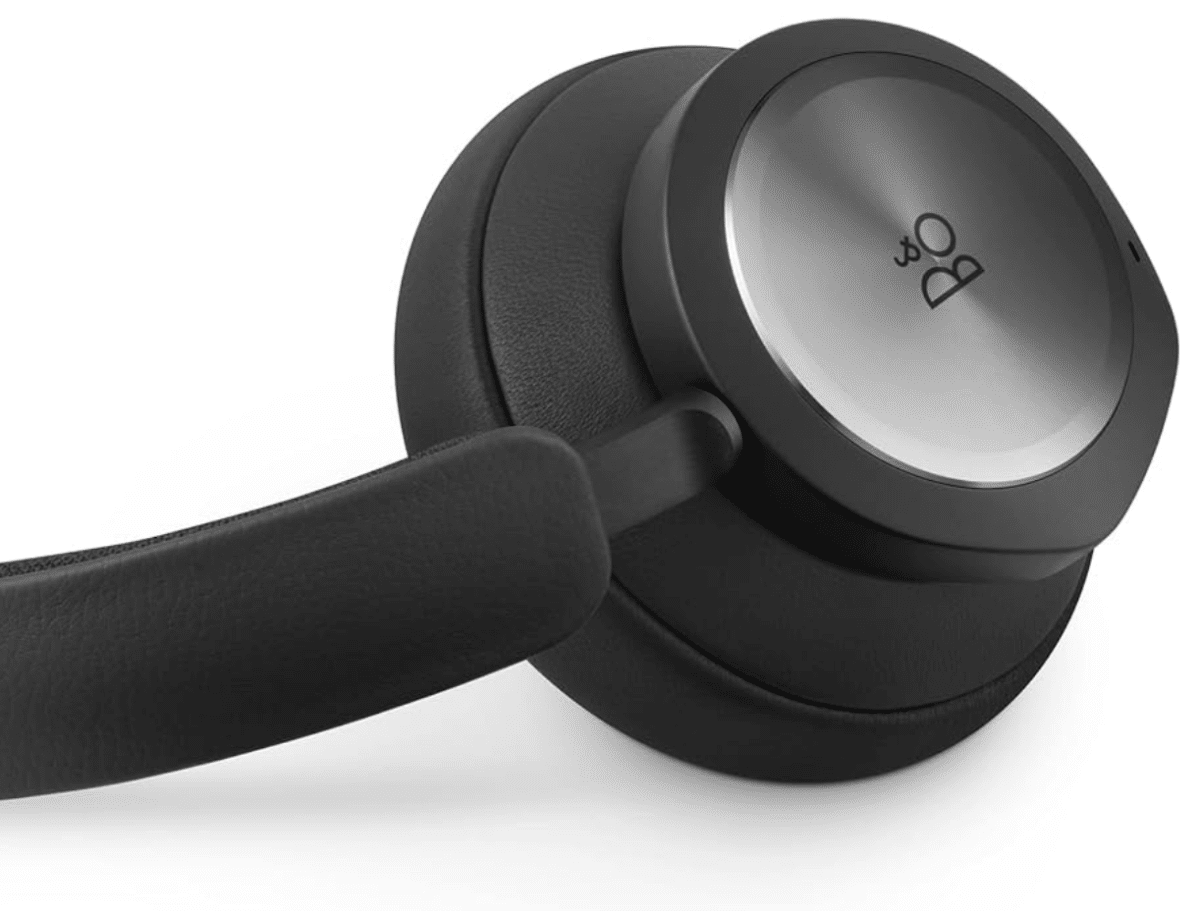 You should consider purchasing one of these devices if you have an unused budget, since the high price of these is off-putting for most people, however if you can afford them then you'll definitely appreciate the experience from them. Two more reasons as to why you should consider purchasing these headphones is that they are both for work and playing video games and the Bang & Olufsen brand is one that you can trust as they've been making premium audio equipment for over 40 years.
You probably shouldn't make the purchase of one of these headphones if you are a clumsy person as they are not indestructible and will probably not survive you dropping, throwing or sitting on it often, and they'll definitely be pretty pricey to have to replace.
So, do you think that you'll end up pulling the trigger and purchasing one of these extremely premium headphones to use during your work hours as well as your at home gaming time as well.