Wearable technology devices are incredibly useful. They offer features from fitness tracking to messaging, phone calls, and more, making them a convenient and versatile accessory. Dominant brands like Apple, Samsung, and Google lead the smartwatch market with their advanced features and continuous innovations.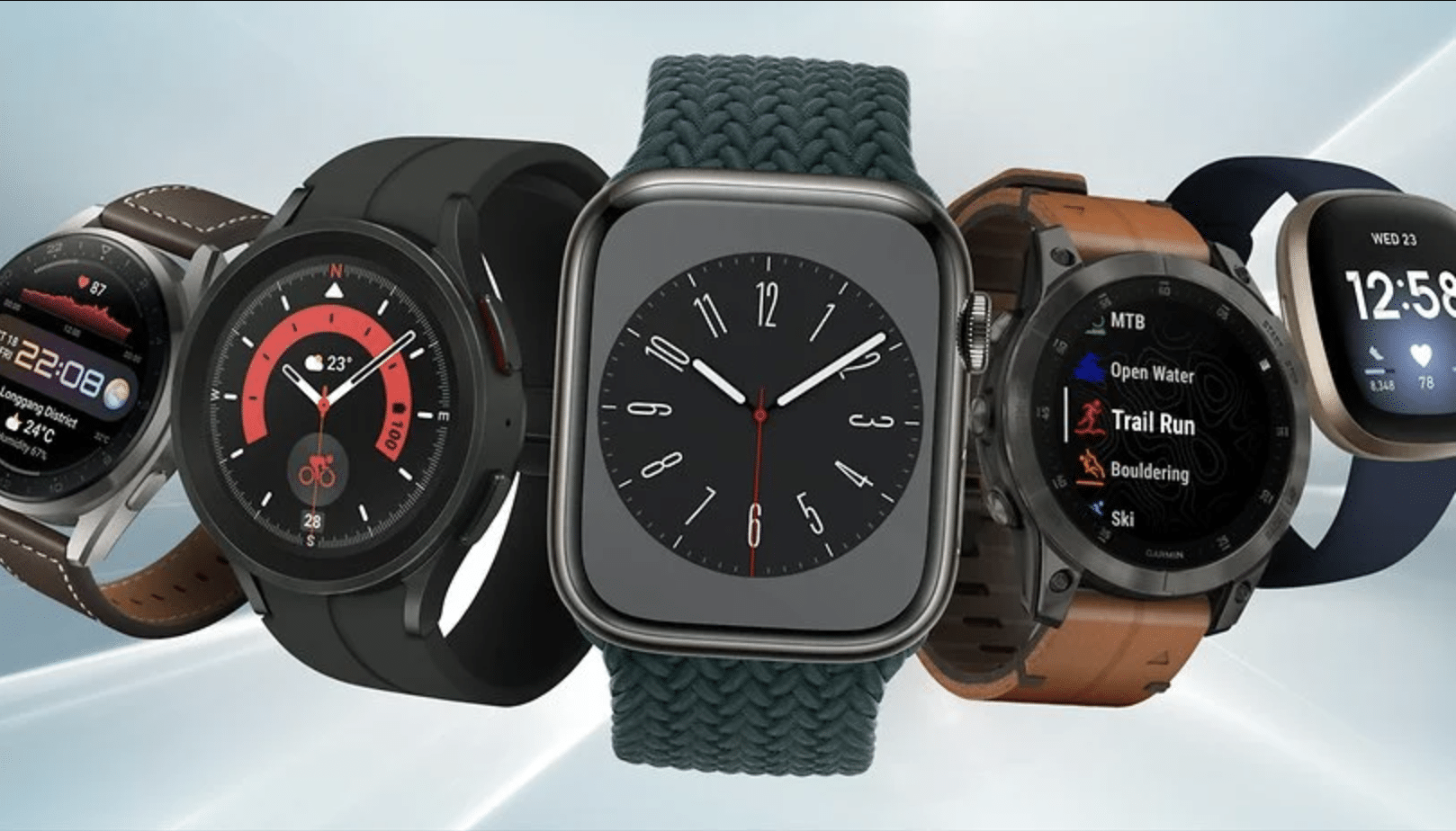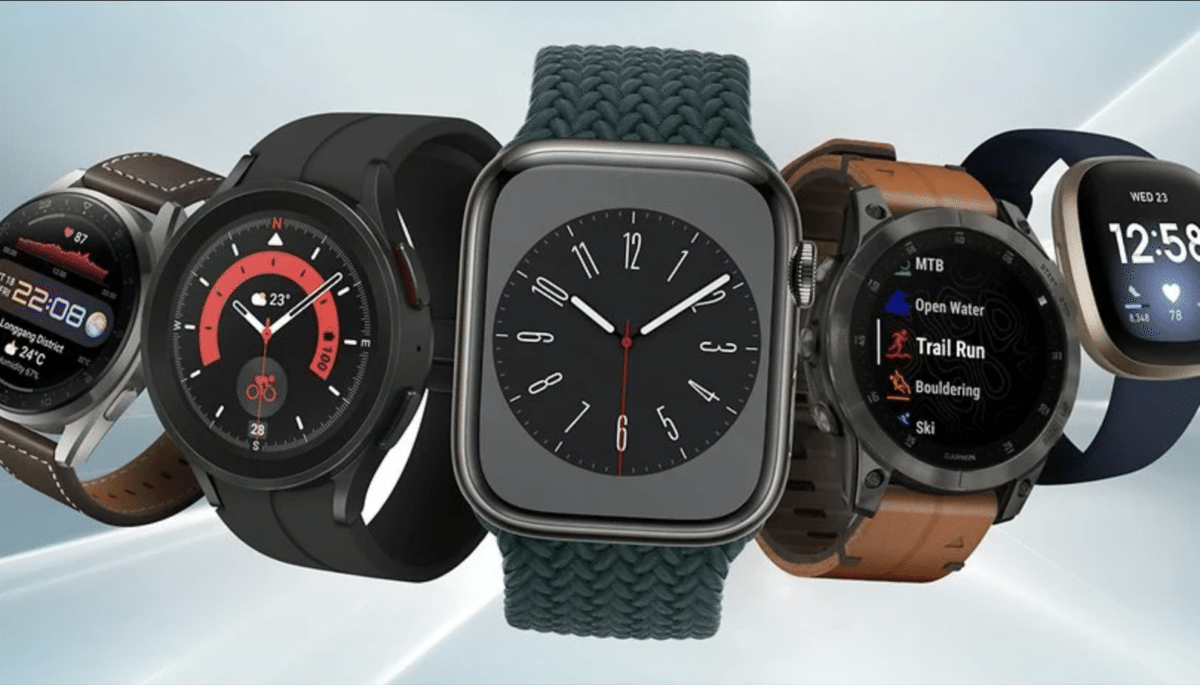 This report provides an in-depth analysis of global sales, top brands, and market dominance. It reveals the dominant brands, identifies emerging ones, and predicts the industry's future. We will also explore the latest data and trends to offer a comprehensive overview of the smartwatch market share.
Smartwatch Market Key Statistics
Experts estimate the smartwatch market size will reach $77.22 billion by 2030, with a CAGR of 14.84% starting from 2023
In the first quarter of 2023, Apple led the global smartwatch market in shipments, making up 26% of global shipments
In the same quarter, Apple dominated the global smartwatch market, holding more than 43% of the market share
Samsung came next with 8%, followed by Huawei at 7%, Noise at 5%, and imoo at 3%
Apple Watch's market share for Q1 2023 was 43%, showing a 7% increase from Q1 2022
2022 saw high demand for the Apple Watch Series 8, Ultra, and SE as their shipments rose by 17% YoY
In 2022, the global smartwatch market was worth USD 33.21 Billion
The global smartwatch market's revenue in 2022 amounted to 38.6bn USD
In the first quarter of 2023, India led the smartwatch market with a 27% share, while North America and China followed closely with 26% and 18% market shares, respectively
Key players in the smartwatch market include Apple, Samsung, Huawei, Garmin, Fossil, Fitbit, and Xiaom
Global Smartwatch Sales
The global smartwatch market is expected to grow because of the rising demand for advanced, aesthetically appealing products. The increasing adoption of smartwatches by millennials also fuels this growth. Also, ongoing developments in automotive functionalities compatible with the latest smartwatch products will further drive the market.
Global Revenue for Smartwatch Sales
The worldwide smartwatch market generated a revenue of US$38.6 billion in 20221. Experts project the revenue to reach US$44.91 billion in 20232.
Smartwatch sales have generated decent revenues over the past five years. The table below illustrates its performance.
Table One: Smartwatch Revenue from 2018-2022
| | |
| --- | --- |
| Years3 | Revenues ($bn)3 |
| 2018 | 18.46 |
| 2019 | 23.74 |
| 2020 | 32.05 |
| 2021 | 38.05 |
| 2022 | 38.6 |
Graphical Illustration
The graphical illustration shows a steady rise in revenues from 2018 to 2021, with the most significant jump occurring between 2019 and 2020. However, there's a noticeable plateau in 2022, where the growth almost stagnates. In simple terms: Revenues grew robustly from 2018 to 2020, slowed in 2021, and nearly flattened in 2022.
Global Market Shipment for Smartwatch
In Q1 20234, global smartwatch shipments decreased by 1.5% YoY, compared to a 13% YoY increase in Q1 20225.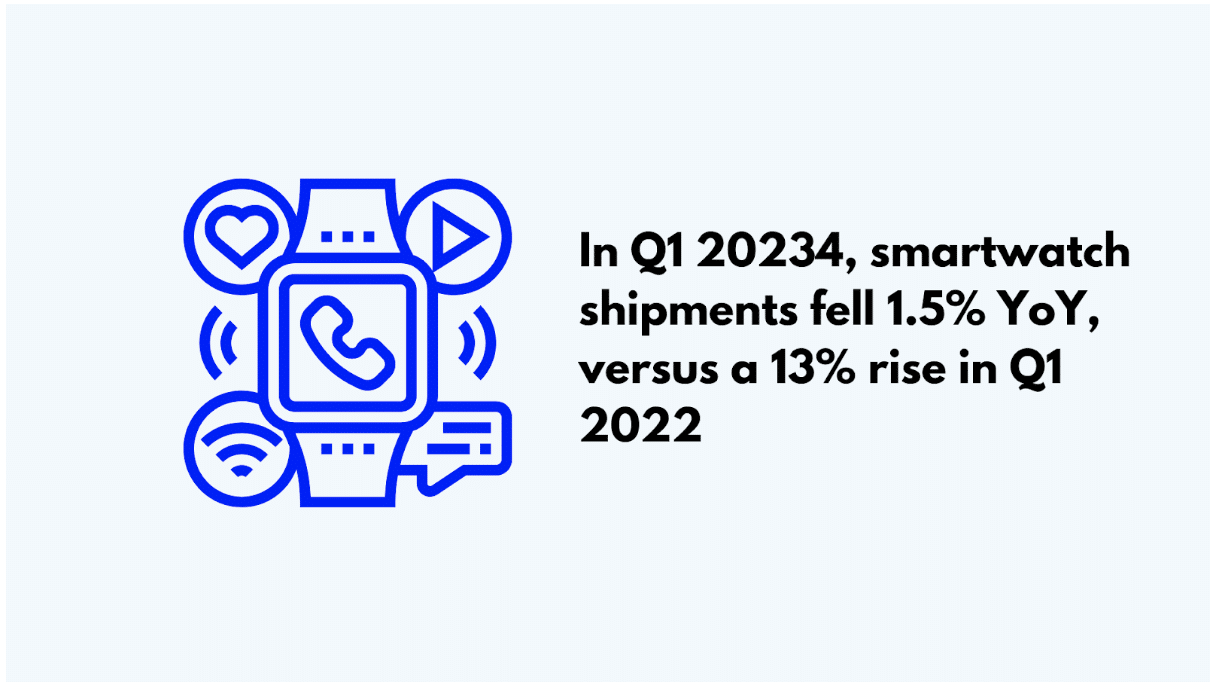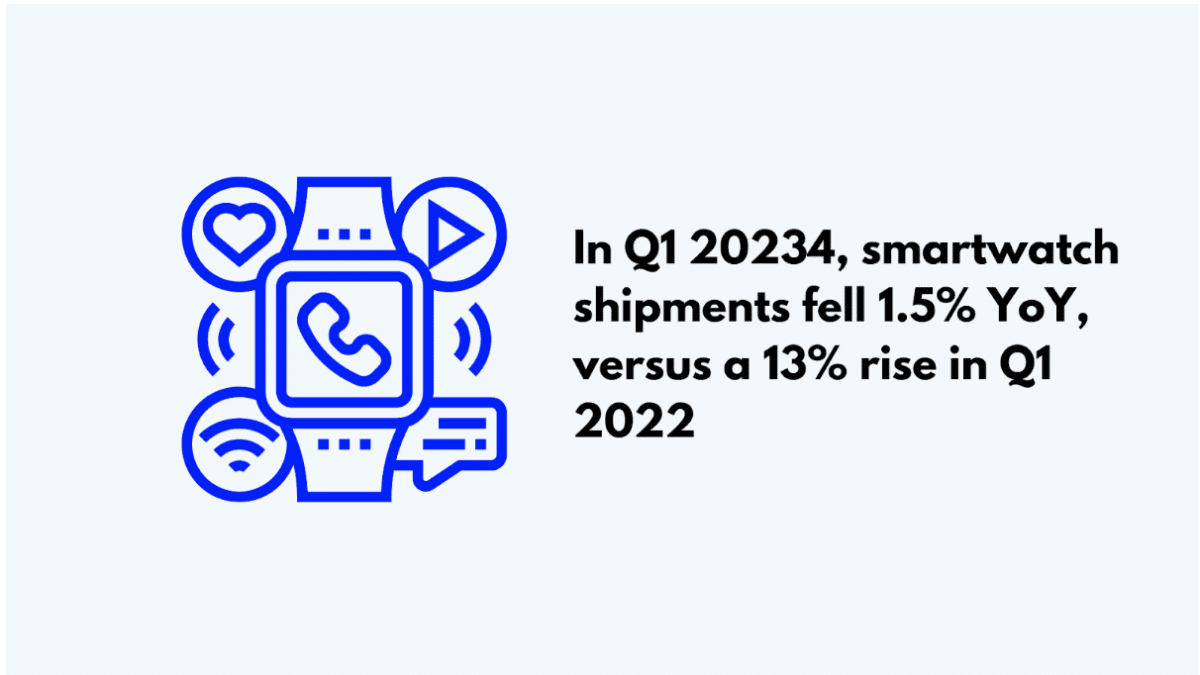 For analysis and comparison, let's analyze the smartwatch's year-over-year performance for the first quarter over the last six years. The table below displays the statistics over time.
Table Two: Smartwatch Q1 YoY Performances from 2019-2023
| | |
| --- | --- |
| Years | Year-over-Year |
| 20198 | +18% |
| 20207 | +12% |
| 20216 | +35% |
| 20225 | +13% |
| 20234 | -1.5% |
Graphical Illustration
The smartphone shipment market experienced varied growth from 2019 to 2023. After a strong start in 2019, there was a slight dip in 2020, followed by a significant surge in 2021. However, growth slowed in 2022 and turned negative in 2023, indicating potential market challenges or shifts in consumer preferences.
Sources: Statista1, Statista2, Statista3, Fone Arena4, The National News5, HT Tech6, GSM Arena7, Alertify8, 
Top Smartwatch Brands in 2023
When we examine the market share of each smartwatch brand, Apple, Samsung, Huawei, imoo, and Noise emerge as the top brands. The quarterly market shares of these companies in 2022 serve as proof. The table below shows each company's shares for the four quarters of 2022.
Table Three: Top Smartwatch Brands Based on Market Shares
| | | | | | |
| --- | --- | --- | --- | --- | --- |
| Quarters | Apple | Samsung | Huawei | Noise | imoo |
| Q1, 20221 | 36% | 10% | 7% | 3% | 3% |
| Q2, 20221 | 29% | 9% | 7% | 6% | 4% |
| Q3, 20221 | 26% | 12% | 6% | 9% | 4% |
| Q4, 20221 | 43% | 8% | 7% | 5% | 3% |
| Total Avg. | 33.5% | 9.8% | 6.8% | 5.8% | 3.5% |
Graphical Illustration
Apple dominates the market with a significant lead over its competitors. Samsung, while being second, is still considerably behind Apple. The other three companies, Huawei, Noise, and imoo, have relatively smaller shares, with Huawei slightly ahead of Noise and imoo trailing at the end.
Graphical Analytics for Each Brand's Quarters
In 2022, Apple's market share fluctuated, starting strong in Q1, dipping in Q2 and Q3, and rebounding impressively in Q4. The trends, especially in the fourth quarter, suggest that Apple will continue to gain a larger share in the overall smartwatch industry.
Samsung's smartwatch market share fluctuated in 2022. It began at 10% in Q1, declined slightly in Q2, surged in Q3, and then dropped significantly in Q4. The data indicates that Samsung's smartwatches faced a volatile market environment throughout the year. Although the company experienced both highs and lows, its performance remains positive compared to other market shares.
In 2022, Huawei maintained a stable smartwatch market share, consistently hovering around 7%, although it experienced a slight dip in Q3. This stability shows that Huawei has consistently held its presence in the smartwatch market throughout the year, indicating why the smartwatch still remains a top brand in 2023.
Noise's market share underwent a fluctuation in 2022. It started with a modest share in Q1, rose steadily, peaked in Q3, and then declined in Q4. Various factors could have caused these fluctuations. However, Noise will continue to thrive as one of the top smartwatch brands in the coming years.
In 2022, imoo's smartwatch market share fluctuated slightly between 3% and 4%. The brand saw a brief growth period in the middle of the year but finished the year at the same position it started. This data highlights that imoo will remain a significant player in the smartwatch market.
Sources: Statista1 
Brand-wise Sales and Market Share Breakdown
Brands record their market share for smartwatches, and they also keep track of their revenues. Let's explore the revenues these smartwatch brands have earned over the last five years.
Apple Watch
In the first quarter of 2023, the Apple Watch accounted for 26% of the total global market share for smartwatches, down from 32% in the previous quarter.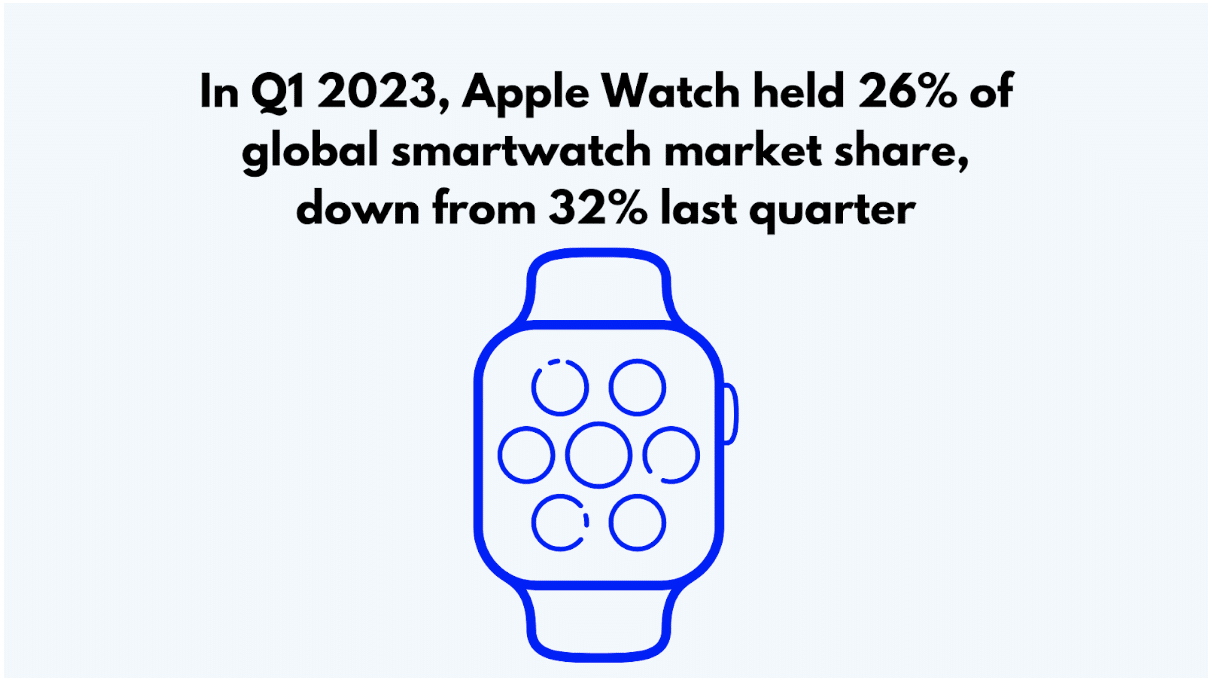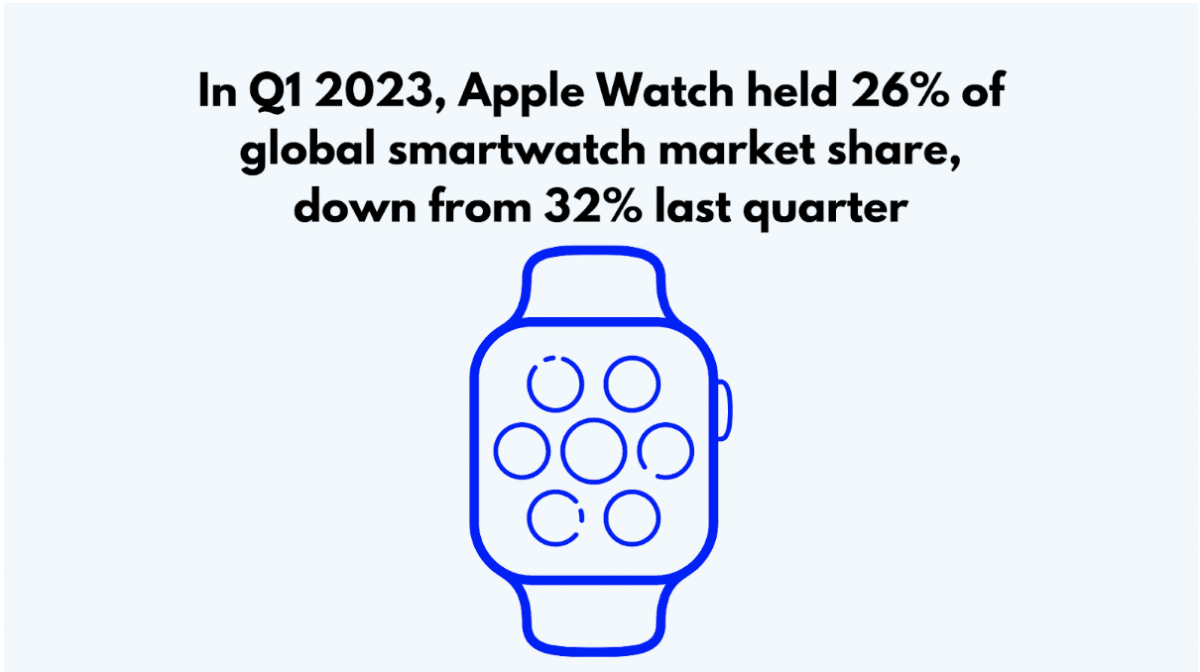 Table Four: Apple Watch Sales from 2018-2022
| | |
| --- | --- |
| Years | Sales ($million) |
| 20182 | 22 |
| 20192 | 26 |
| 20202 | 31 |
| 20213 | 46.1 |
| 20224 | 53.9 |
Graphical Illustration
The data shows consistent and impressive growth over the five-year period. 2021 saw the most notable surge, suggesting that the strategies or market conditions that year were especially favorable. The company or product effectively expanded its market presence, nearly tripling its sales from 2018 to 2022.
Samsung Galaxy Watch
In the first quarter of 20235, Samsung's market share rose by 1% from the previous quarter to 9%.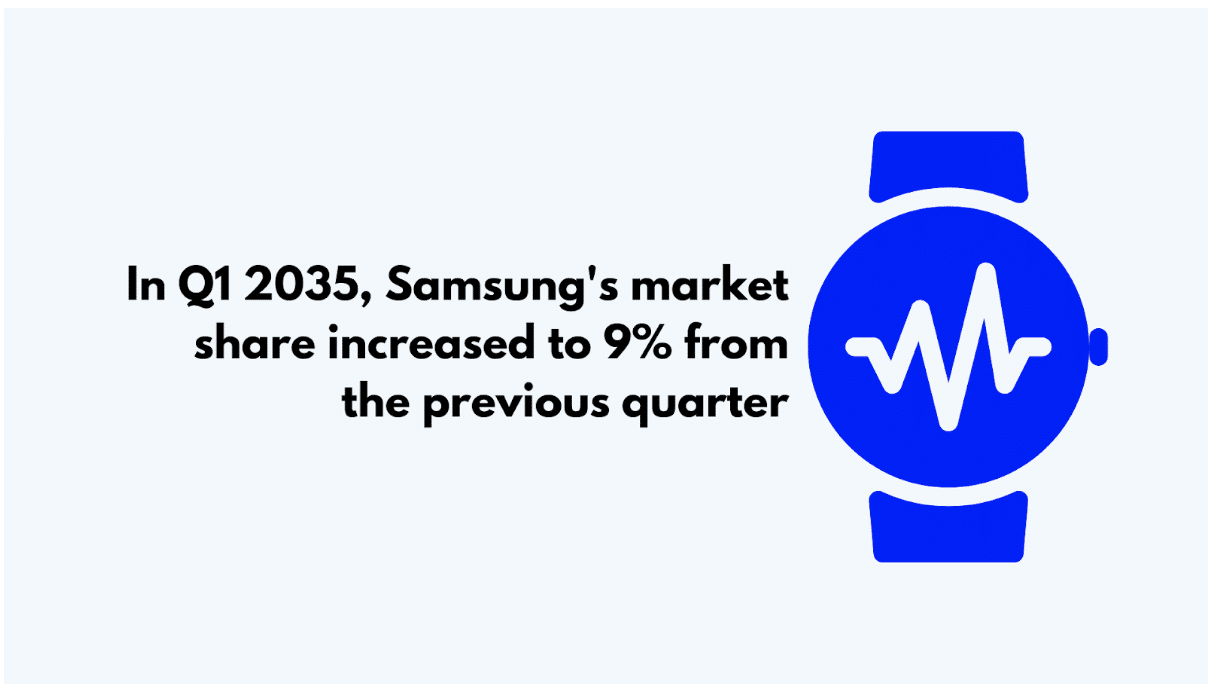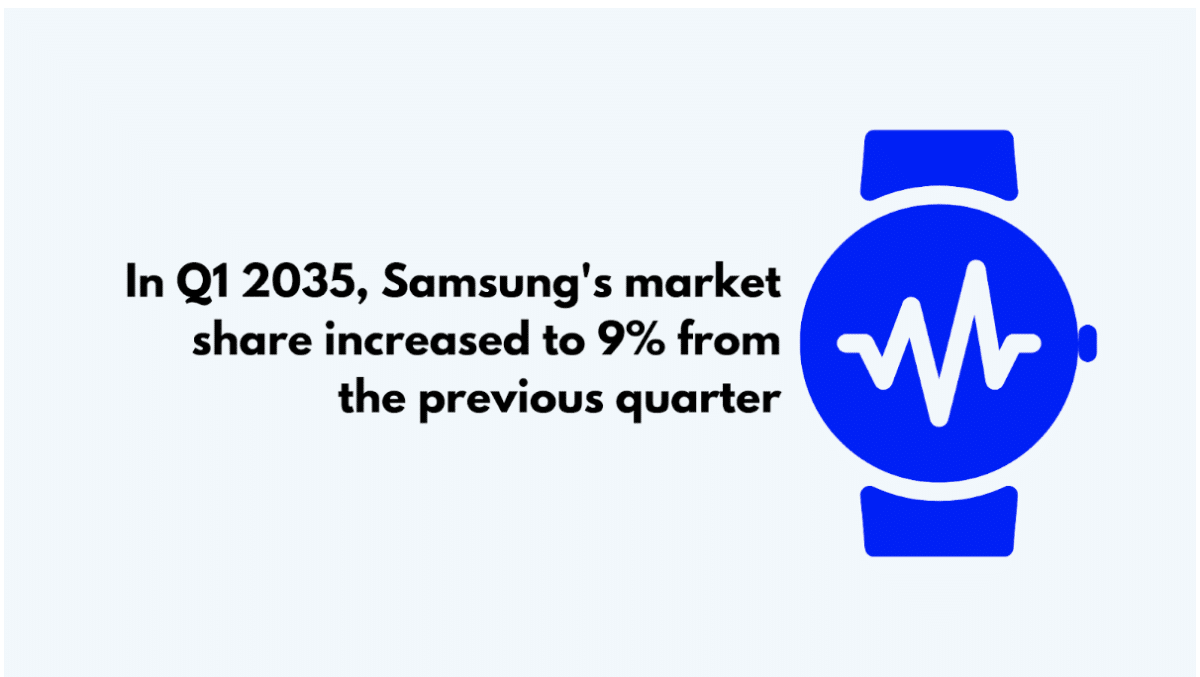 Factors such as the launch of a new series of Galaxy watches, marketing strategies, pricing, and consumer preferences may have influenced this growth.
Table Five: Samsung Galaxy Watch Market Share from 2018-2022
| | |
| --- | --- |
| Years | Market Share (%) |
| 20186 | 8% |
| 20196 | 9% |
| 20206 | 10% |
| 20216 | 10% |
| 20227 | 9.8% |
| 20236* | 9% |
Graphical Illustration
From 2018 to 2021, market share grew steadily, plateauing in 2020 and 2021. However, 2022 saw a mild decline, and 2023 is still in progress. This trend from 2022 highlights the market's dynamic nature and the need for brands to continuously adapt to maintain their market position. A 1% increase in the first quarter of 2023 shows a great sign of the brand's awareness to grow.
Huawei Watch
In Q4 20227, Huawei's smartwatch market share increased to 7% from 6% in Q3 of the same year.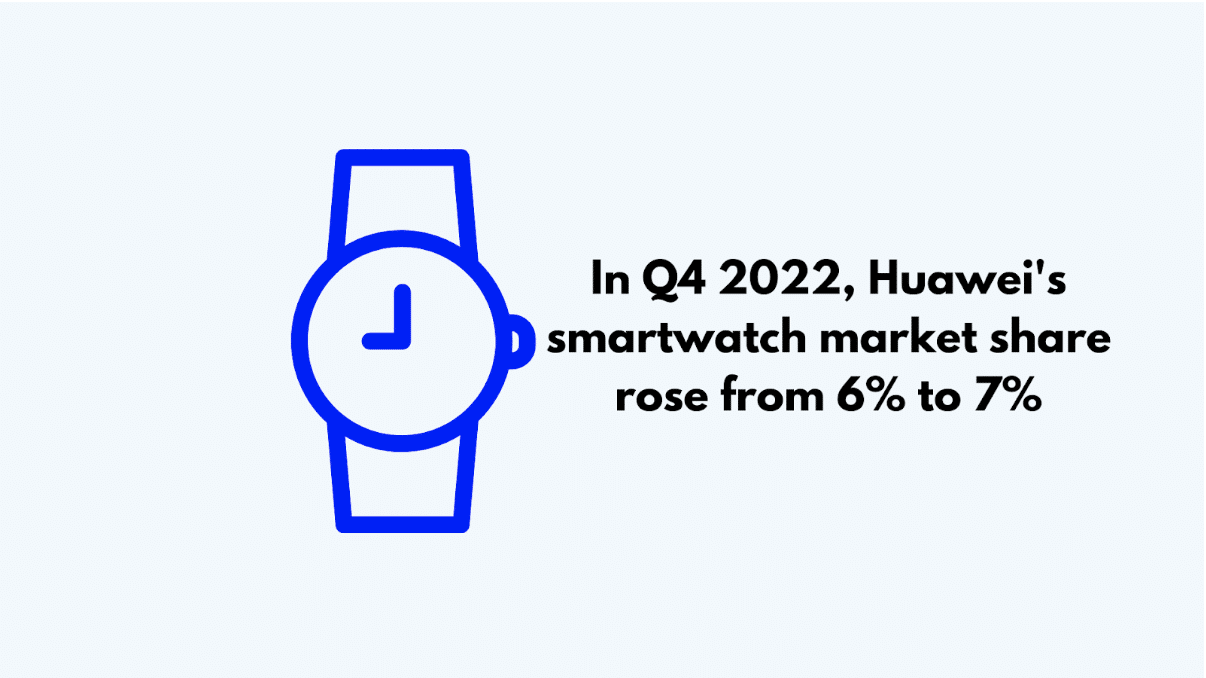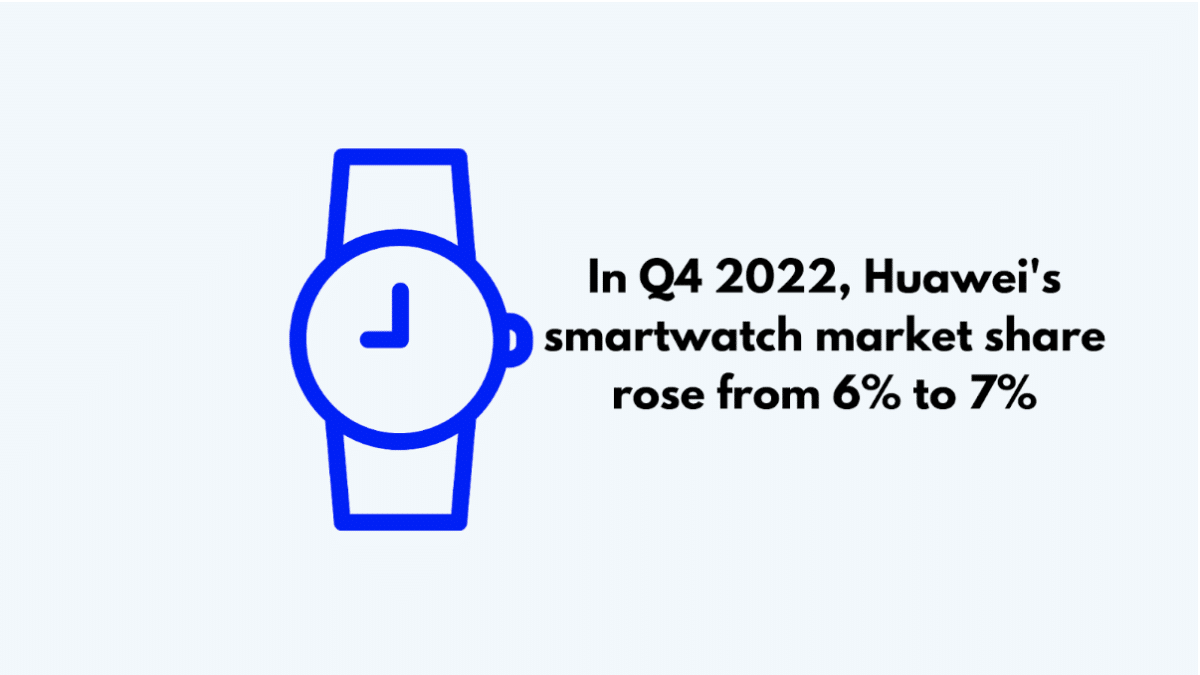 Table Six: Huawei Watch Market Share from 2018-2022
| | |
| --- | --- |
| Years | Market Share (%) |
| 20186 | 5% |
| 20196 | 10% |
| 20206 | 8% |
| 20216 | 8% |
| 20227 | 6.8% |
Graphical Illustration
Over the past five years, the Huawei Watch has experienced rapid growth, then stabilized, and slightly declined in the market. Notably, even with a decrease in the fourth quarter of 2023, the Huawei Watch still holds a significant market share.
imoo Watch
In the fourth quarter of 2022, the imoo smartwatch declined from 4% to 3%.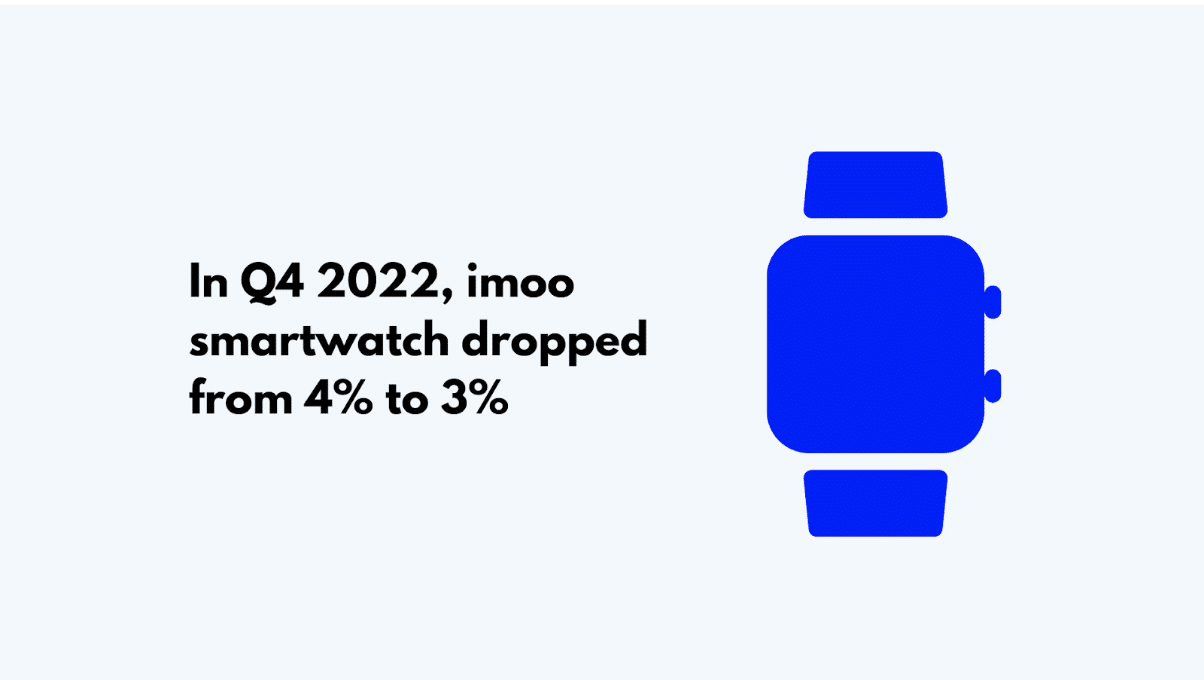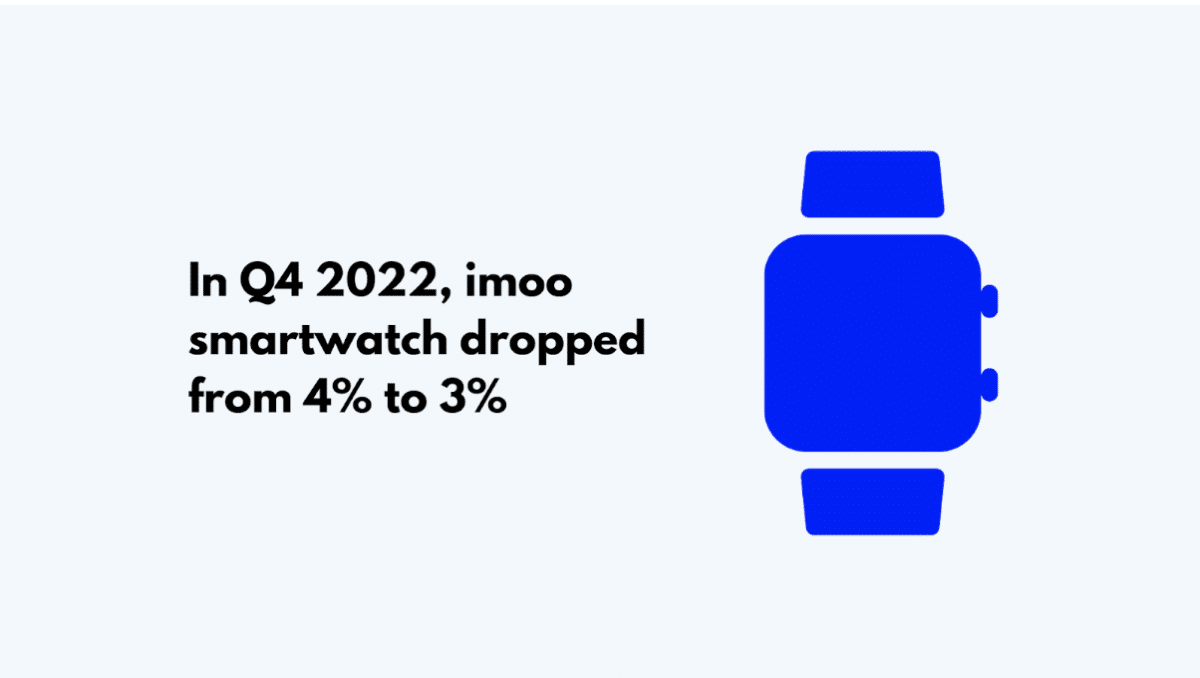 Table Seven: imoo Watch Market Share from 2018-2022
| | |
| --- | --- |
| Years | Market Share (%) |
| 20186 | 6% |
| 20196 | 6% |
| 20206 | 6% |
| 20216 | 4% |
| 20227 | 3.5% |
Graphical Illustration
After maintaining a stable market presence for three years, imoo's smartwatch saw its market share decline in 2021 and 2022. However, the decline slowed in 2022, the brand still faced challenges despite taking measures to stop the decrease.
Fire Boltt
Before 2023, Fire Boltt performed well in India, though it hadn't captured the limelight. However, as Apple, which held the largest market share for smartwatches, saw a decline in the first quarter of 2023, Fire Boltt seized the opportunity.
The brand now shares the second spot with the Samsung Galaxy smartwatch, marking its strong presence among the top brands in the industry. In Q1 of 20238, Fire Boltt secured a 9% market share in the global smartwatch market.
Which is the Fastest Growing Smartwatch Brand
Fitbit, Amazfit, Fossil, and Garmin have been in existence for a while and continue to perform well in the market. Like the Fire Boltt watch, they have the potential to capture a significant market share. Let's explore their historical market performance for comparison.
Table Eight: Garmin and Amazfit Smartwatches Market Share
| | | |
| --- | --- | --- |
| Year | Garmin | Amazfit |
| 2021 | 4.5%9 | 4.9%9 |
| 2022 | 4.0%9 | 4.0%9 |
Graphical Illustration
The graph clearly displays the market share distribution for both brands over two years. While both brands saw a slight decline in 2022, they continue to be two of the fastest growing brands in the smartwatch industry.
Reasons Why Garmin and Amazfit are Growing
Garmin and Amazfit rank among the fastest-growing smartwatch brands. However, their market share remains relatively small compared to industry giants such as Apple and Samsung. Here are some possible reasons Garmin and Amazfit are experiencing growth:
Focus on specific niches
Garmin dominates the premium smartwatch niche, capturing the most significant portion of the market for watches priced over $500. Conversely, Amazfit provides budget-friendly smartwatches, emphasizing fitness tracking. By focusing on these specific niches, both brands effectively distinguish themselves from rivals and cater to consumers with distinct requirements.
Positive movement in market share
Between 2020 and 2021*, only Amazfit, Garmin, and Samsung experienced a positive shift in market share. This upward trend indicates growing consumer preference for these brands.
Innovative features
Garmin's Epix (2nd Gen) smartwatch, for instance, receives acclaim for its superior GPS sports tracking. Meanwhile, Amazfit smartwatches impress with heart rate monitoring, sleep tracking, and extended battery life. Such distinctive and beneficial features enable these brands to shine in a saturated market.
Sources: Neowin1, Headphones Addicts2, Earthweb3, Apple World Today4, Android Authority5, Bankmycell6, Statista7, GizChina8, GSM Arena9, ZDNet*
Regional Smartwatch Sales Analysis
In the first quarter of 2023, India, North America, and China dominated the smartwatch market. Table below shows the analysis for the quarter:
Table Nine: Regional Smartwatch Shipments for Q1 2023
| | |
| --- | --- |
| Region | Quarter (%) |
| India1 | 27% |
| North America1 | 26% |
| China1 | 18% |
Graphical Illustration
The narrow percentage gap between India and North America highlights a fiercely competitive market. To secure a substantial market share, brands must adapt their strategies to regional tastes, pricing sensitivities, and local competitors.
Furthermore, the data points to the Asia-Pacific region, with India and China in particular, emerging as major forces in the smartwatch industry. Brands aiming to broaden their global presence should prioritize investments in these areas.
Share of Smartwatch Shipments for 2022
In 2022, North America, India, and China dominated the smartwatch shipment market. The following data presents their respective market shares.
Table Ten: Region with Highest Market Share of Smartwatch in 2022
| | |
| --- | --- |
| Region | 2022 (%) |
| North America2 | 28% |
| India2 | 21% |
| China2 | 19% |
Graphical Illustration
While North America continues to dominate the smartwatch shipment market, India and China continue to be the markets with significant growth potential. Again, brands aiming to broaden their global presence should prioritize these regions in their strategies.
Sources: Business Insider India1, Statista2 
Factors Driving Smartwatch Sales
Smartwatches sales are driven by several factors. However, some factors have a stronger influence than others. These three factors play a pivotal role in boosting smartwatch sales.
Technological advancements
Smartwatches continually evolve, boasting features like enhanced sensors, extended battery life, and sophisticated health tracking. Such innovations captivate consumers eager for the newest wearable tech. For instance, the smartwatch market's expansion directly links to growing consumer awareness and enthusiasm for wearable gadgets.
Health and fitness trends
The surge in health and fitness trends plays a pivotal role in boosting smartwatch demand. These watches provide heart rate monitoring, sleep analysis, step counting, and workout tracking, catering to health-conscious individuals. A survey revealed that many participants prioritize tracking health aspects, such as sleep and heart rate, over monitoring sports activities.
Integration with smartphones and other devices
Smartwatches effortlessly sync with smartphones and various devices. This allows users to get notifications, place calls, send texts, and manage other connected gadgets right from their wrist. Such integration amplifies convenience and efficiency, positioning smartwatches as a must-have for tech enthusiasts. Early access to fresh launches and rapid tech adoption remain key drivers for market growth.
Sources: Future Market Insights, LinkedIn, GrandViewResearch, CC Insights
Factors Constraining Smartwatch Sales
Challenges and constraints may vary over time and across different markets. We can further elaborate on these challenges and constraints as follows:
Market saturation
Numerous brands and models now flood the smartwatch market, posing a challenge for newcomers to set themselves apart and draw in consumers. This intense marketwatch competition drives manufacturers to slash prices to stay ahead, potentially affecting the smartwatch market value. With such market saturation, smartwatch makers find it tough to distinguish themselves and captivate potential buyers.
Economic factors
Economic conditions directly influence smartwatch sales trends and determine how consumers spend. When the economy faces downturns or uncertainties, consumers often choose essential items over discretionary ones such as smartwatches. The COVID-19 effect on the smartwatch market was profound, leading to significant sales drops for many companies. This economic impact on the tech industry resulted in the layoff of thousands during lockdowns.
Competition with traditional watches and fitness bands
Traditional watches, known for their rich history and aesthetic appeal, rival modern smartwatches. Also, fitness bands, often seen as an affordable alternative, cater specifically to those passionate about health and fitness tracking. This potentially diminishes the allure of smartwatches. With the smartwatch vs. normal watch debate, many still wonder if smartwatches will totally replace traditional watches.
Smartwatch Future Projections
Experts project a significant smartwatch market growth rate, with the global smartwatch market size set to expand from USD 22.02 billion in 20211. By 2028, it's forecasted to soar to USD 58.21 billion, reflecting a CAGR of 14.9% between 2021 and 20281.
The smartwatch market forecast suggests that by 2023, sales could hit 134.12 million units. With an impressive CAGR of 27.78%, the smartwatch market size is poised to escalate to 456.89 million units by 20282.
The Asia-Pacific region, including emerging markets like India, is leading the watch market growth2. This surge is attributed to its booming consumer electronics sector and the swift emergence of smartwatch vendors in its developing economies.
Sources: Fortune Business Insights1, Mordor Intelligence2, 
Conclusion
Smartwatches, especially those with the best battery life and GPS features, have become indispensable in our daily routines. Moreover, leading brands are vying for dominance by introducing cutting-edge technological advancements. As the market grows, consumers can anticipate innovative features and captivating designs, making them a must-have accessory.
FAQs
Which is globally the No 1 wearable watch brand?
Apple stands as the undisputed leader in the wearable watch domain, holding the title of the top global brand. Their dominance is evident, as they recently captured a remarkable 43% of all smartwatch shipments worldwide, further establishing their unparalleled market leadership.
Which is the fastest growing smartwatch brand?
Fire-Boltt stands as the fastest-growing global smartwatch brand. In India, it dominates as the top smartwatch brand. In recent quarters, its shipments and market share have surged significantly.
Which is the most expensive smartwatch brand?
The most expensive smartwatch brand can vary depending on the specific model and features. However, TAG Heuer, Apple Watch Series 8, Samsung Galaxy Watch Active2, and few more are some mentions for expensive smart watches.
Which is the cheapest smartwatch brand?
The term 'cheap' is relative as the prices of smartwatches can vary.  However, Amazfit, Oppo, Apple Watch SE 2,  are a few brands offer options that are more affordable compared to high-end smartwatches.
Which smartwatch is both best and cheap?
Several options are available at best and affordability. You can consider buying Huawei Watch Fit 2, Apple Watch SE 2, Amazfit Bip U, and few others. However, it's t's important to consider your specific needs and preferences when choosing a smartwatch.