Threads was launched by Meta, the parent company of Facebook, Instagram, and WhatsApp, on July 6, 2023. The platform allows users to post threads, reply to others, and follow profiles they're interested in. Threads by Instagram reached a milestone of 100 million users within the first five days of its launch, making it the fastest app to achieve this feat.
Understanding the statistics, trends, and facts surrounding the Instagram Threads app is crucial for businesses, marketers, and users.
Key Statistics for Instagram from Threads App
Threads was officially released on July 6, 2023
The app is available in 100 countries and 30 languages
Threads reached 2 million users just 2 hours after going live, and 30 million users within 24 hours of its launch
Threads reached 100 million users within just five days of its launch, making it the fastest-growing platform ever
Threads has an impressive daily active user rate of 60%, which is significantly higher than the industry average
Over 95 million posts were published on Threads in its first five days
Threads is currently not available in the European Union due to privacy concerns
The app has a 500-character limit for posts, and users can also include links, photos, and videos that may last up to 5 minutes
As of July 16, 2023, Threads has achieved over 150 million downloads
The gender distribution on Threads is 68% male and 32% female
96% of the users on the platform were concurrently active on Instagram, as well as WhatsApp (80%), Facebook (58%), and Twitter (56%)
The largest group of users that signed up on Threads app were using iOS devices
In its first few days on the market, Threads users were spending 15 minutes on average per day on the app across 9.4 app sessions
Understanding Threads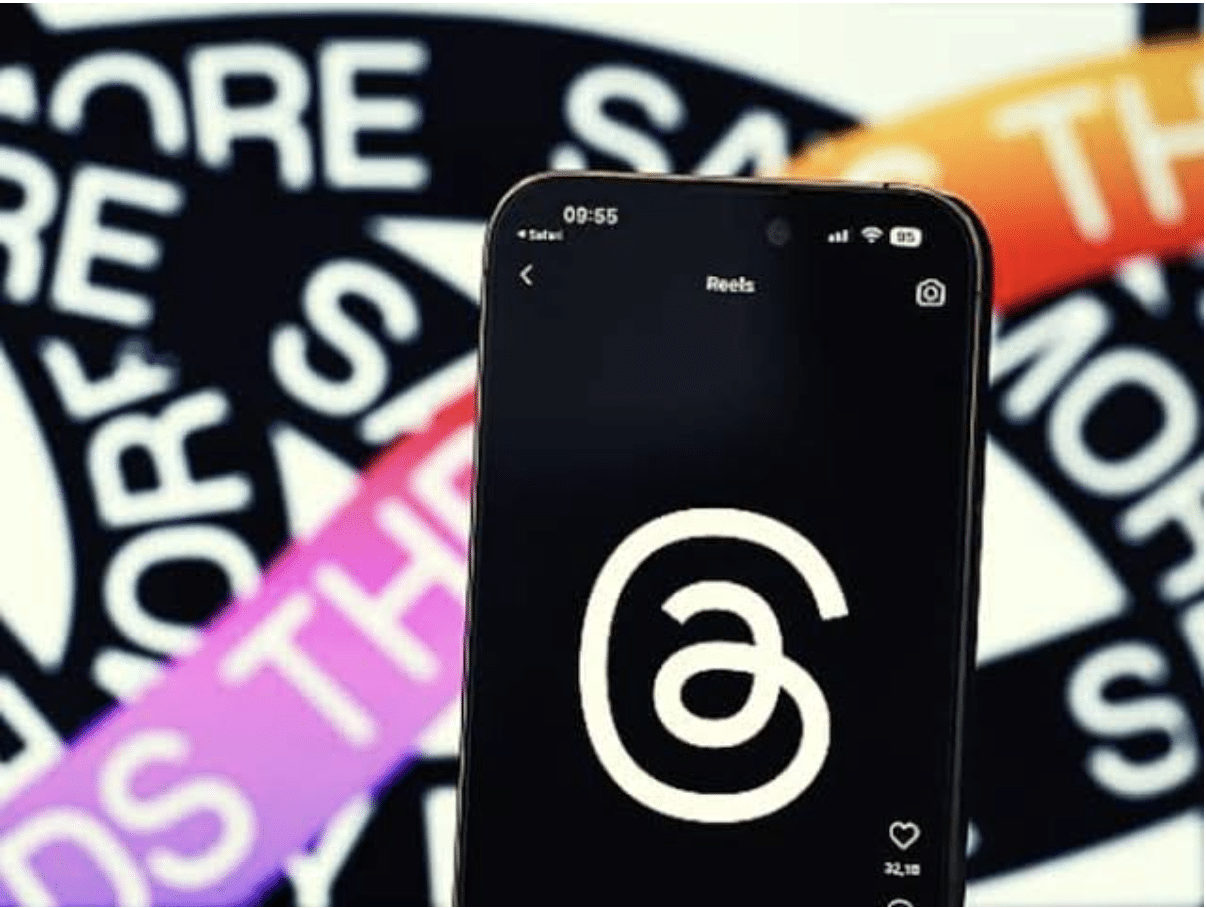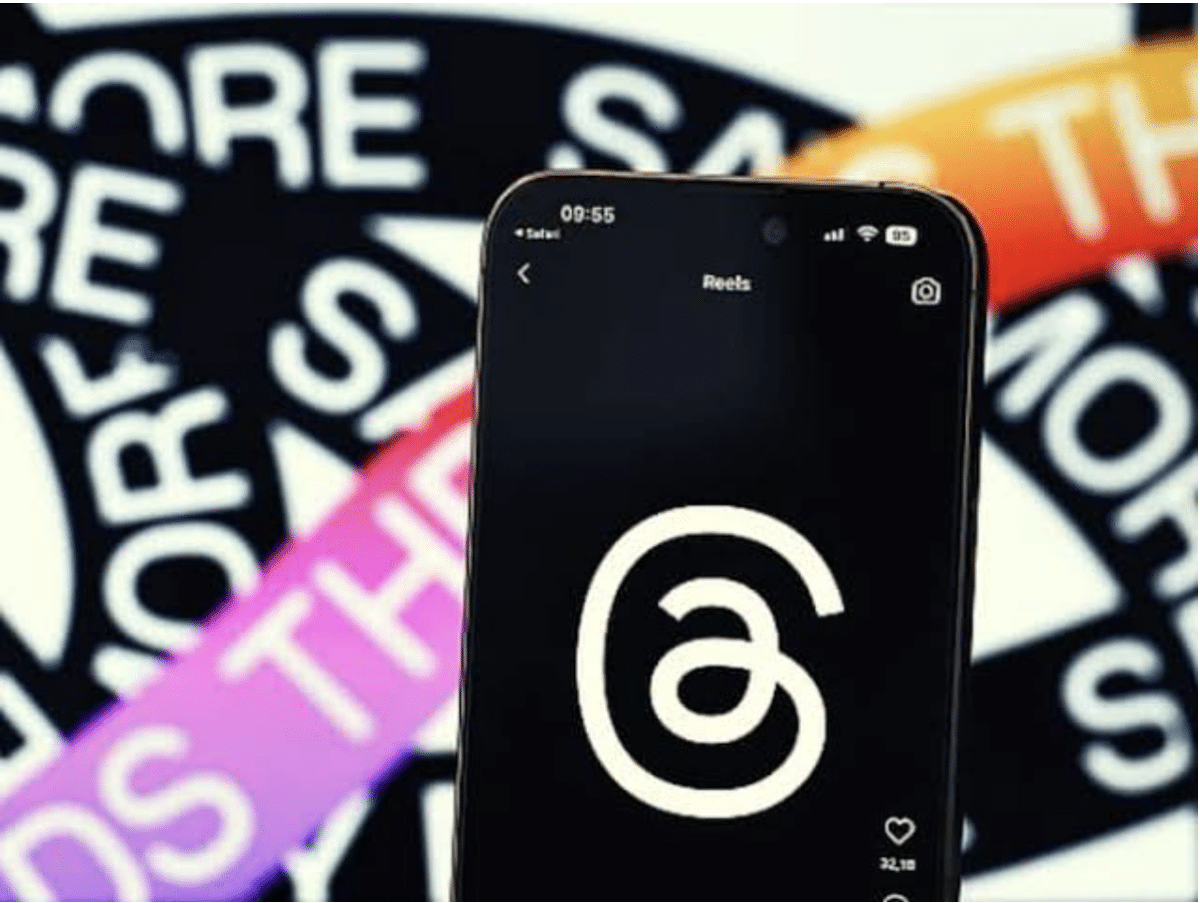 Threads is a new app developed by the Instagram team; that's why it's referred to as Threads from Instagram. The app is designed for sharing text updates and joining public conversations, allowing users to follow what's happening worldwide and start their discussions.
Instagram Threads App Key Features
Here are the key features below:
You can post messages up to 5002 characters in length on Threads.
You can reply to, repost, and quote others' Threads posts.
The app blends Instagram's existing aesthetic and navigation system.
You can share posts from Threads directly to Instagram Stories.
You can list Thread accounts as public or private.
Verified Instagram accounts are automatically verified on Threads.
Threads Definition and Its Relationship with Instagram
Threads is closely related to Instagram, or, let's say, a younger sibling to Instagram. With your Instagram account, you can sign up on Threads without starting from scratch. More importantly, as you'd love to know, Threads is tied to your Instagram account, and your verification mark from Instagram is carried over.
However, if you're not on Instagram and want to start using the Threads app, you need to create an account. How would you do this? Let's start.
How to Create an Account on Threads
Download the Threads app: Threads is available on Android and iPhone devices. To download the app, open the Google Play Store or Apple App Store, search for "Threads," and install the app.
Log in with your Instagram account: Threads is built by the Instagram team and requires an Instagram account to sign up. If you don't have an Instagram account, you'll need to create one first.
Customize your profile: After logging in with your Instagram account, you'll be required to create a profile for Threads. You can customize your profile with a picture, bio, and the option to add links. You can also import your information from Instagram, so your current Instagram profile details automatically migrate to Threads.
Choose your profile visibility: Threads will ask you to choose between a public and private profile. With a public profile, anyone can see your posts and follow you, while a private profile requires your approval for others to follow you and view your posts.
Start using Threads: Once your profile is set up, you can start posting text updates, joining public conversations, and following other users on the platform.
Subscription or Fee Requirements for Joining Threads
Threads by Instagram is a text-based conversation app by Instagram. It is free, but users must have Instagram accounts to join. The service requires you to use your Instagram login credentials as a pass to sign in.
Posting Threads on the Threads App
To post threads on the Threads app:
Open the Threads app and log in using your Instagram account.
Click the 'Draft' icon at the bottom center of the screen and start typing for a new post.
Once you have composed your message, you can share it within the Threads app or Instagram.
To share a Threads post on Instagram, follow these steps:
Tap the share button (arrow icon) underneath the post. This will bring up multiple sharing options.
Tap 'Add to story' to share the post to your Instagram Story, or tap 'Post to feed' to share it as an Instagram post.
The post will open as an Instagram Story or post, depending on the option you chose.
You can also share Threads posts using third-party messaging apps like WhatsApp.
Verification Process on Threads
Getting verified is simply not different from the processes other social media are. However, there are two methods you can verify yourself on Threads. These two are:
Through the in-app Threads app
Through Instagram
The in-app Threads App
The processes to getting verified on the in-app Threads app include the following steps:
Open Threads account
Go to your profile to apply for a verified account
Setup two-factor authentication
Verify all the documents required
Wait for verification, and then enjoy the account after being verified.
Through Instagram
There are two ways to get verified on Instagram, which will reflect on your Threads account.
First Step: Legacy Verification Process
This method is free but requires you to submit evidence proving you are a person of public interest. To apply, follow these steps:
Open the Instagram app and tap on your profile icon.
Tap on the hamburger menu on the top-right.
Go to 'Settings' > 'Account' > 'Request Verification.'
Fill out the required information and submit the form.
Second Step: Meta Verified
This is a subscription-based feature that grants a blue tick to all members. To apply for Meta Verified, do the followings:
Go to your account page on Instagram and click the three dots in the upper right corner.
Select 'Settings' > 'Account.'
Scroll down and choose 'Request Verification.'
Privacy Concerns and How Threads Handles Them
According to Meta, the privacy policies for Threads are similar to their other apps, like Instagram. Some of the data Threads app collects include user location, personal details, financial status, messages, photos, health status, and more.
The app's privacy policy states that information like username, name, profile photo, and bio are visible on Threads to the entire internet. Moreover, since Threads is a platform integrated with other third-party services, they can access user data such as posts, IP addresses, and online activity.
Although users have control over what profile they want their account to display, they can also manage or delete their accounts through the Instagram settings. According to a source, Threads policy states to delete the account fully, users need to welcome the deletion of their Instagram accounts.
Moreover, in the European Union, Threads has yet to launch. This is due to uncertainty about whether its data handling practices will comply with upcoming privacy regulations. Privacy experts have expressed concerns about the amount of information Threads collects, including those with less strict data privacy protections.
Safety of Using Threads
To keep your Threads profile secure, you'll need to ensure your Instagram account is safe too. Here are some safety tips to follow:
Keep your Threads app and any associated devices up to date with the latest security patches and updates.
With a private profile, only followers you approve can see the content you share.
Control who can mention you or reply to you within Threads.
Unfollow, block, restrict, or report a profile on Threads by tapping the three-dot menu.
You can minimize risks by following the above steps.
Comparison of Threads with Twitter
Threads and Twitter are both social media platforms. However, here are some key differences between the two platforms:
| | | |
| --- | --- | --- |
| Features | Threads | Twitter (X) |
| Character limit | 5003 | 2803 |
| Multimedia content | 104 | 44 |
| Video Content | 5 minutes long4 | 2 minutes 2 seconds long4 |
| Messaging features | Non-existent3 | In-app3 |
| Web client | Non-existent3 | Full-fledged3 |
| Liked Engagements | Not visible3 | Visible3 |
| Advertisement | ❌ | ✅ |
| Search Functionality | ❌ | ✅ |
| Integration | With Instagram | Standalone platform |
Process of Deleting a Threads Account
Deleting a Threads account is currently only possible by deleting the associated Instagram account. However, you can deactivate your Threads account without affecting your Instagram account. Follow these steps to deactivate:
Open the Threads app and tap your profile icon in the bottom navigation bar.
To access the settings menu, tap on the hamburger menu (two dashes) in the top-right corner.
Select 'Account.'
Tap on 'Deactivate profile.'
Confirm you want to deactivate your account by tapping 'Deactivate Threads profile.'
Existence of a 'Following' Timeline on Threads
Having been highly requested by the early adopters of the Threads from Instagram, a recent update has added the 'following' feed. This feature allows users to view posts only from people they follow, arranged in a reverse-chronological feed.
To access the 'Following' tab, tap the 'Home' button icon in the bottom toolbar or the Threads logo at the top of the feed. Once you do this, two separate tabs will appear at the top: 'For You' and 'Following'. This feature, however, is presently only available for the iOS users.
Planned Updates for Threads
The Thread from Instagram apk is just a new app, and it's still going through phases of development. Some updates we can expect from Instagram Threads include search functionality, Hashtags, messaging, edit buttons, graph syncing and fediverse support, and web presence.
Monetization Plans for the Threads Platform
Threads can monetize through affiliate marketing, sponsored posts, and direct sales of products and services. These creative methods will help users leverage their Threads account to generate income and transform their social media presence into a profitable venture. Although Meta has no immediate monetization plans for Threads, the platform's initial solid adoption suggests that monetization opportunities may arise.
Sources: Instagram, Hootsuite, Tech Crunch1, Pocket-lint2, Thunderclap, Beebom, Business Insider Africa, Ars Technica, Tom Guide3, Data Conomy4, Make Use Of, 9to5Mac, Seekingalpha5,
Threads by Instagram Statistics
As of July 25, 20231, the estimated number of Threads users is 118 million.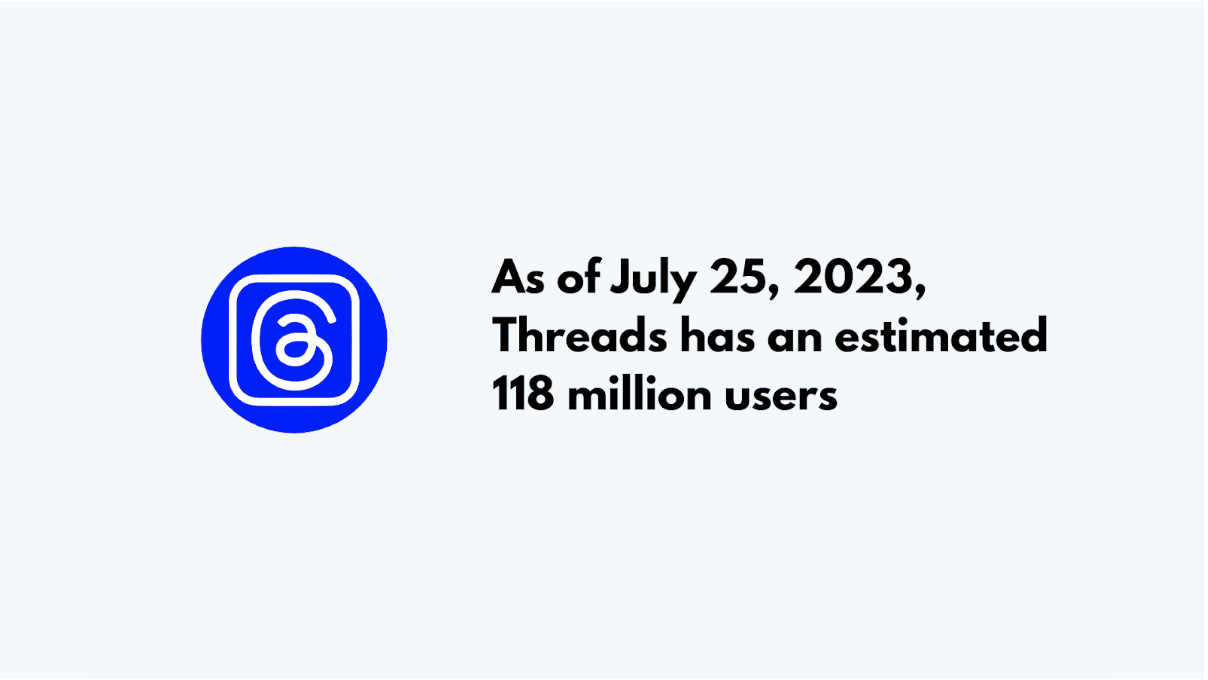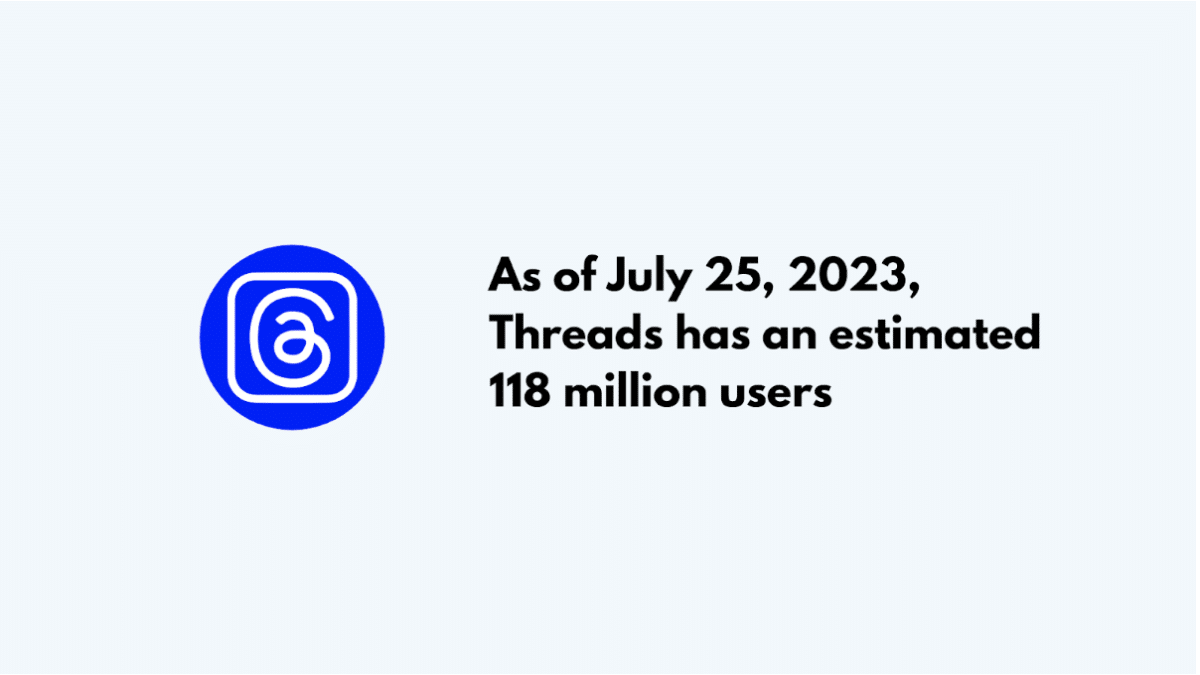 Daily Active Users
Threads from Instagram daily users presently sits at 13 million2.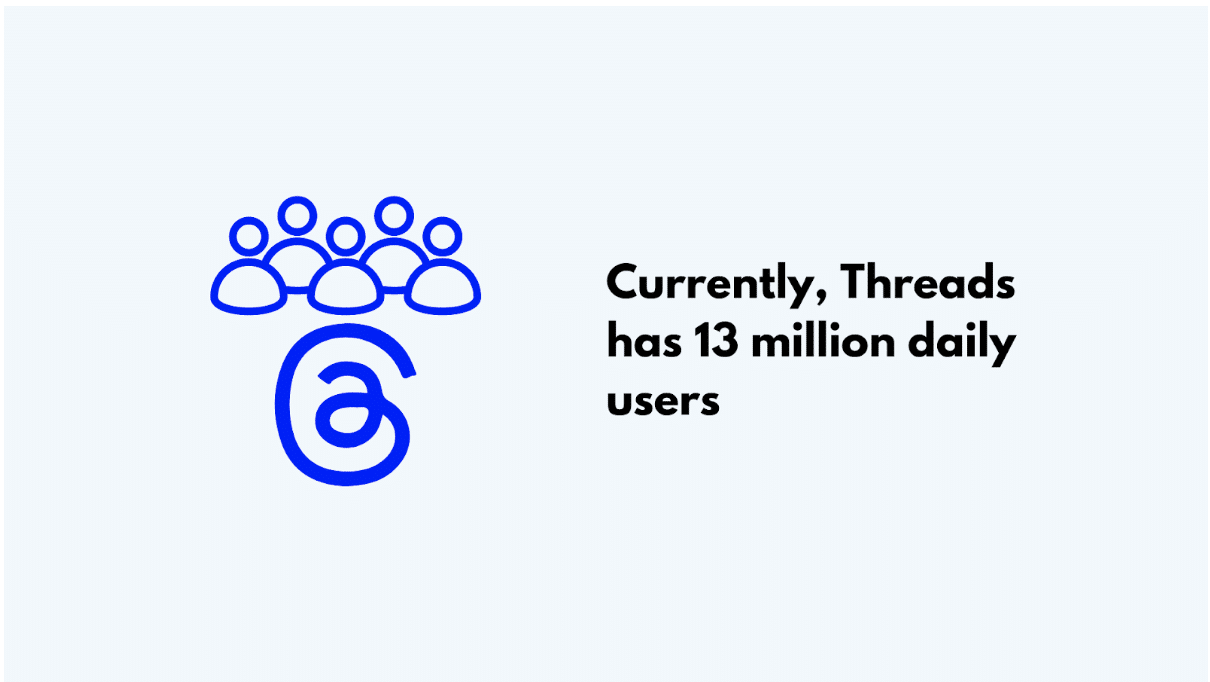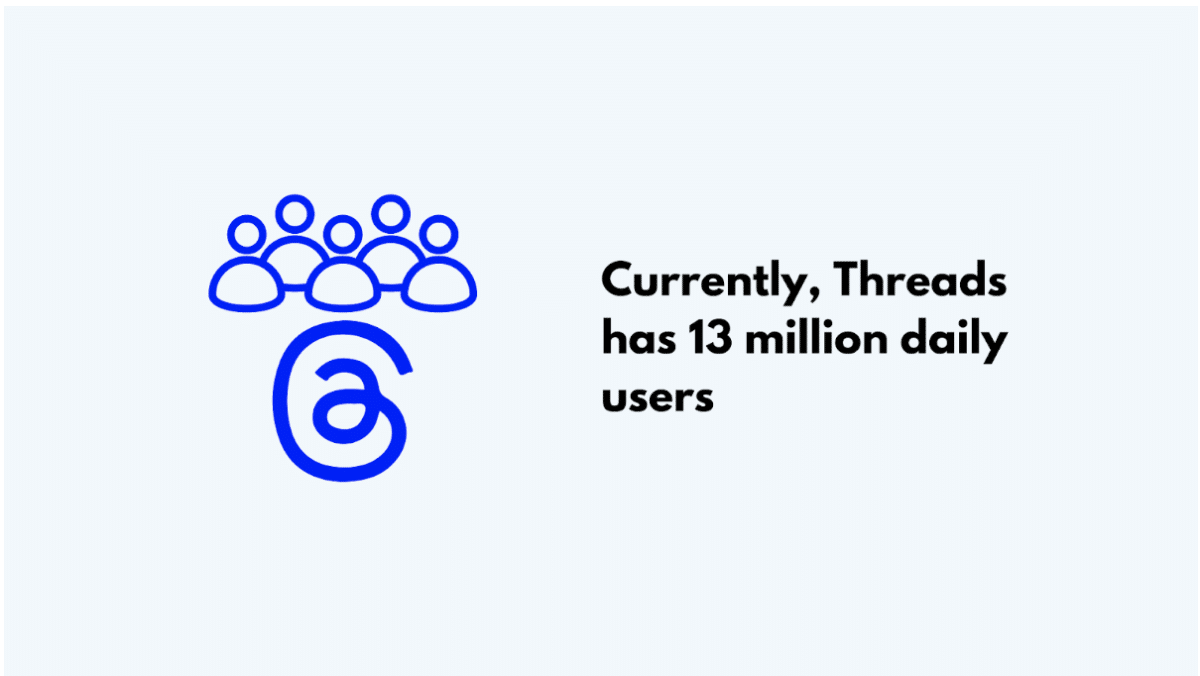 Daily Android Users
As of July 7, 20233, Threads by Instagram has 49 million daily active users on Android.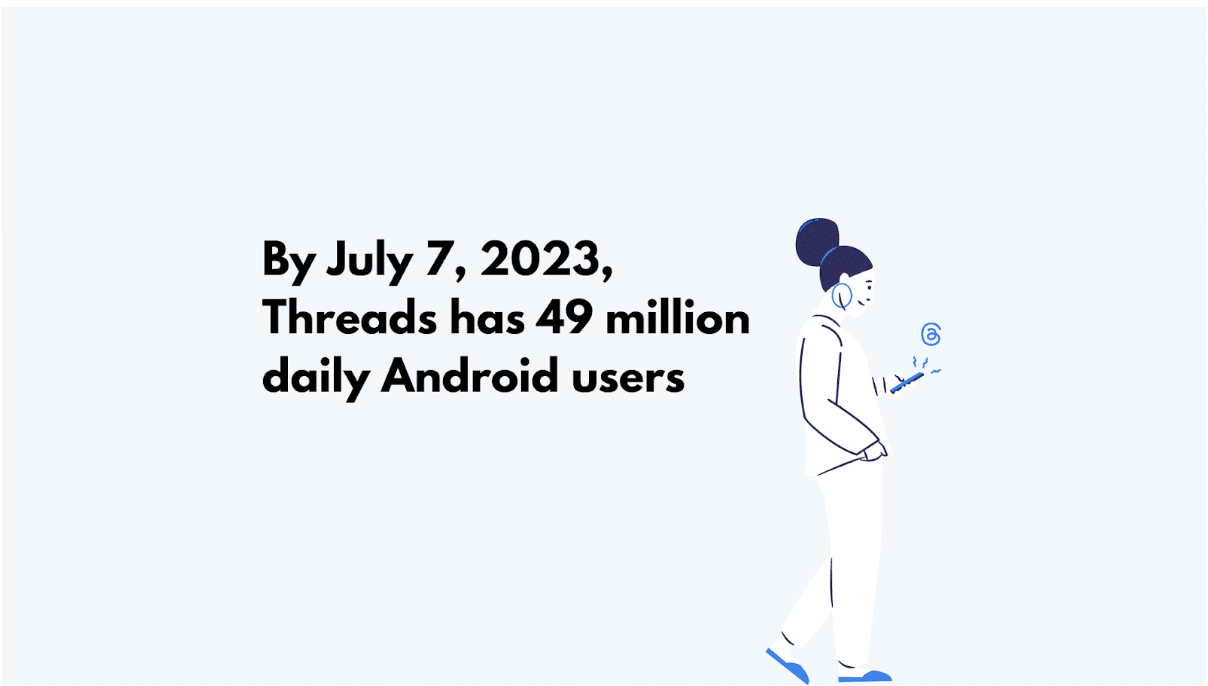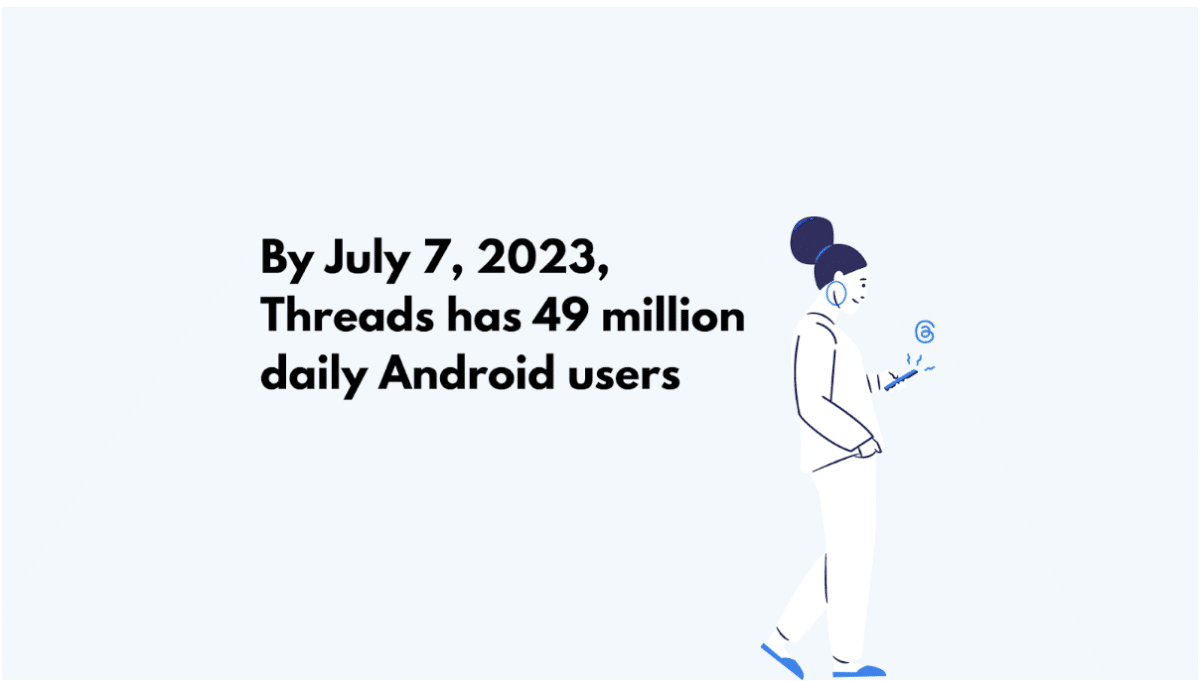 App Engagement
The average time spent on Threads by Instagram fell from 19 minutes to four minutes2.
Rapid Growth
Instagram Threads achieved 100 million4 members in record time within five days of its launch.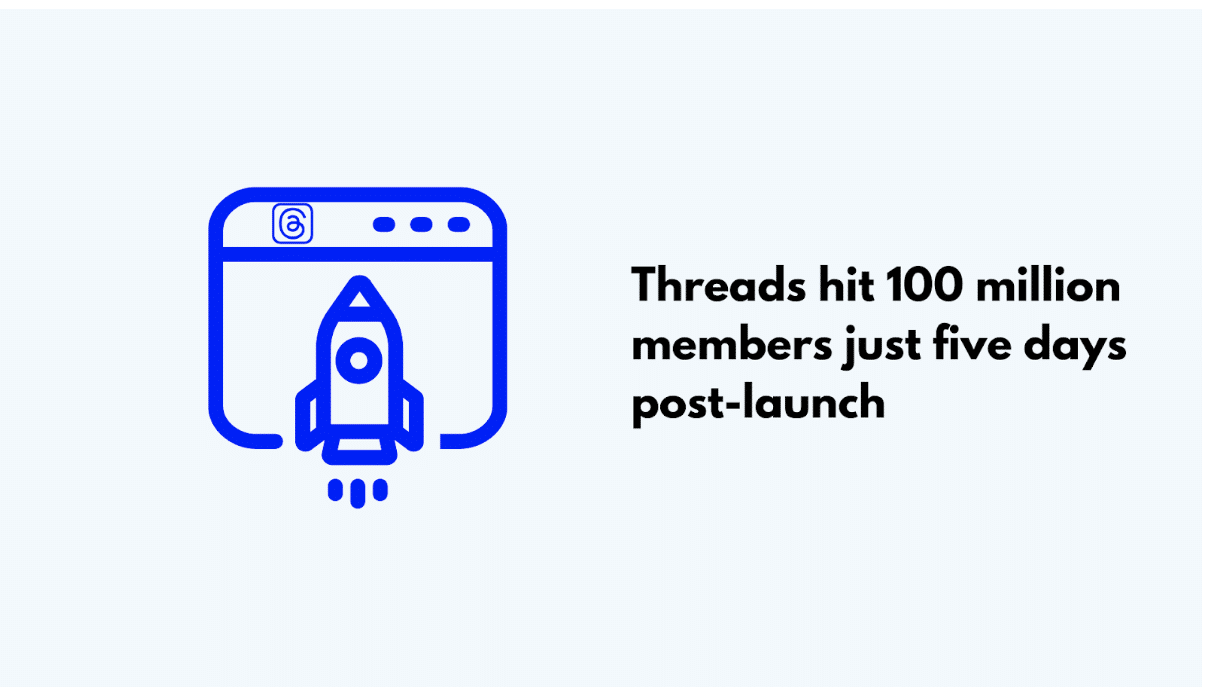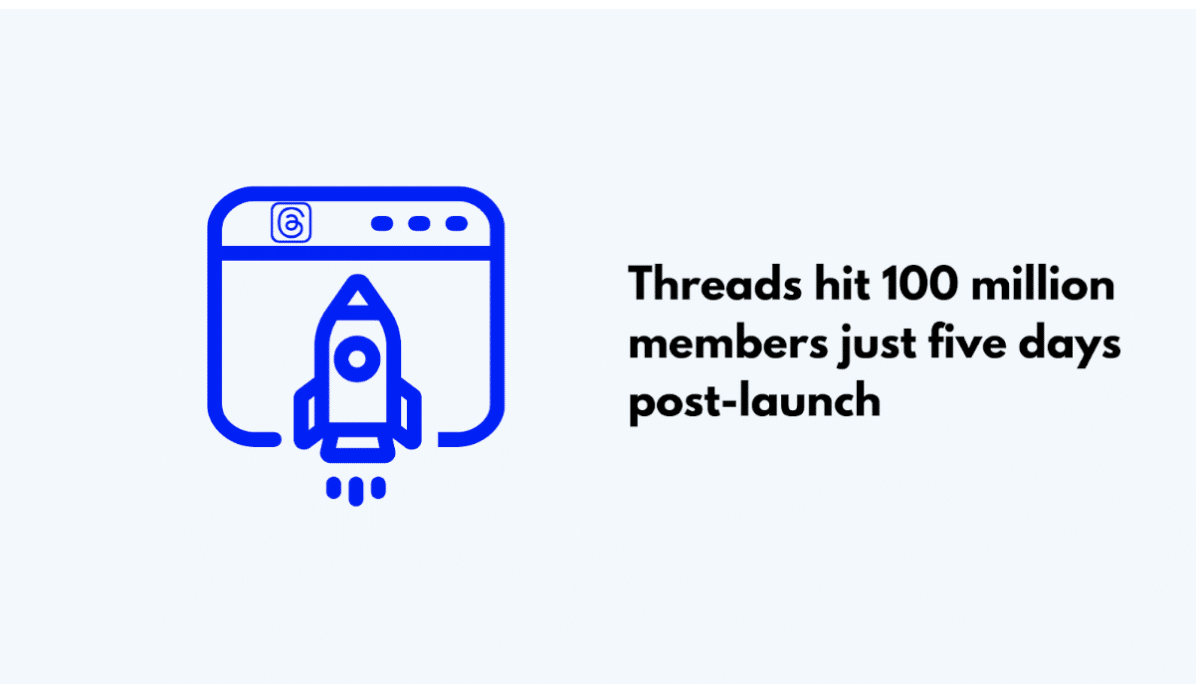 App Downloads
Threads from Instagram became the fastest app to reach 150 million5 downloads.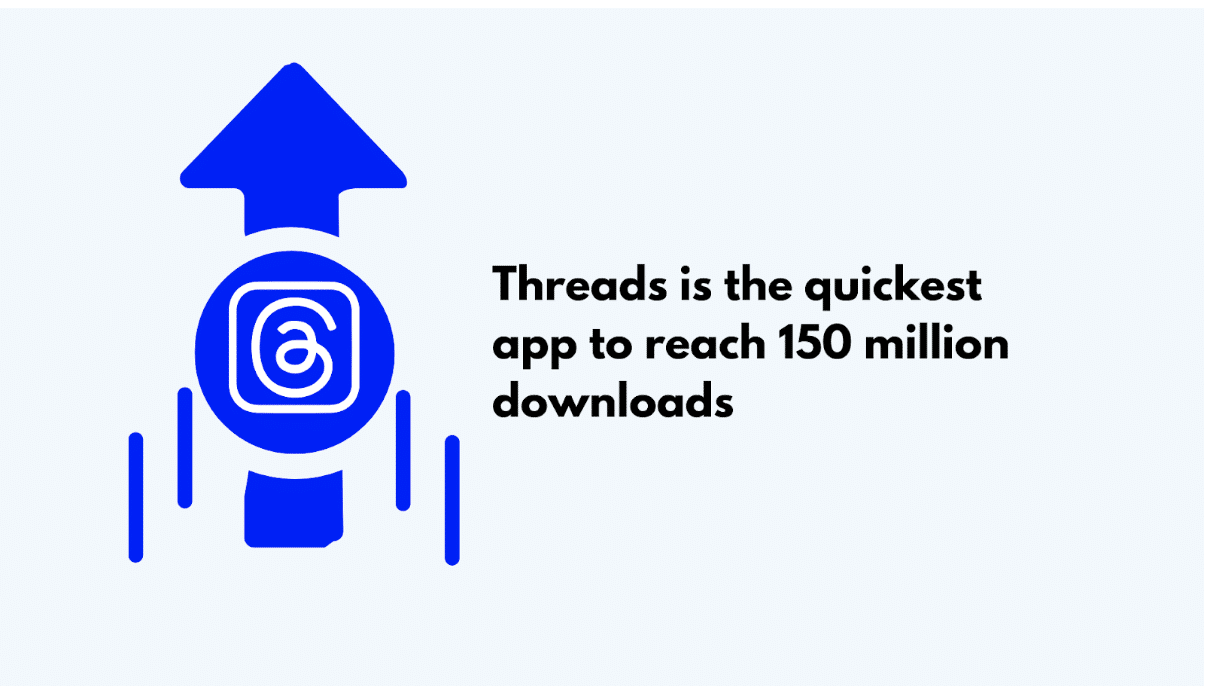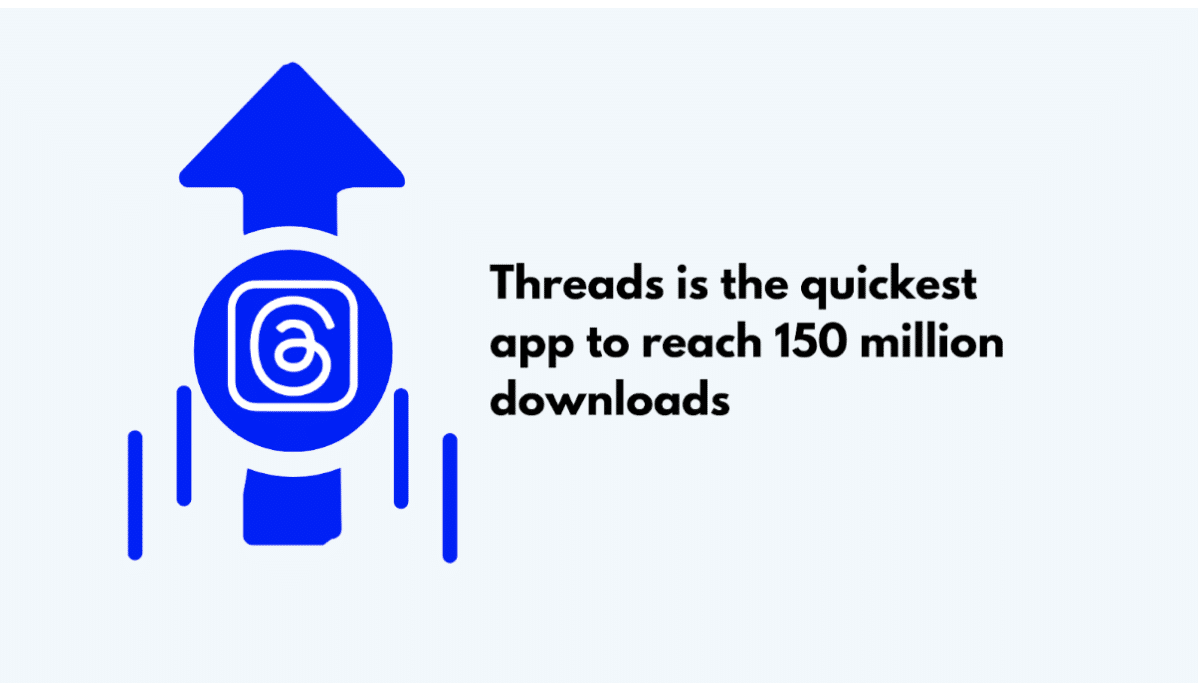 These five countries top where Threads from Instagram downloads received the highest around the globe.
| | |
| --- | --- |
| Countries | Downloads (%) |
| India5 | 33 |
| Brazil5 | 22 |
| United5 States | 16 |
| Mexico5 | 8 |
| Japan5 | 5 |
Declining Usage
Threads App experienced a significant decline of 70%2 in its daily active user count.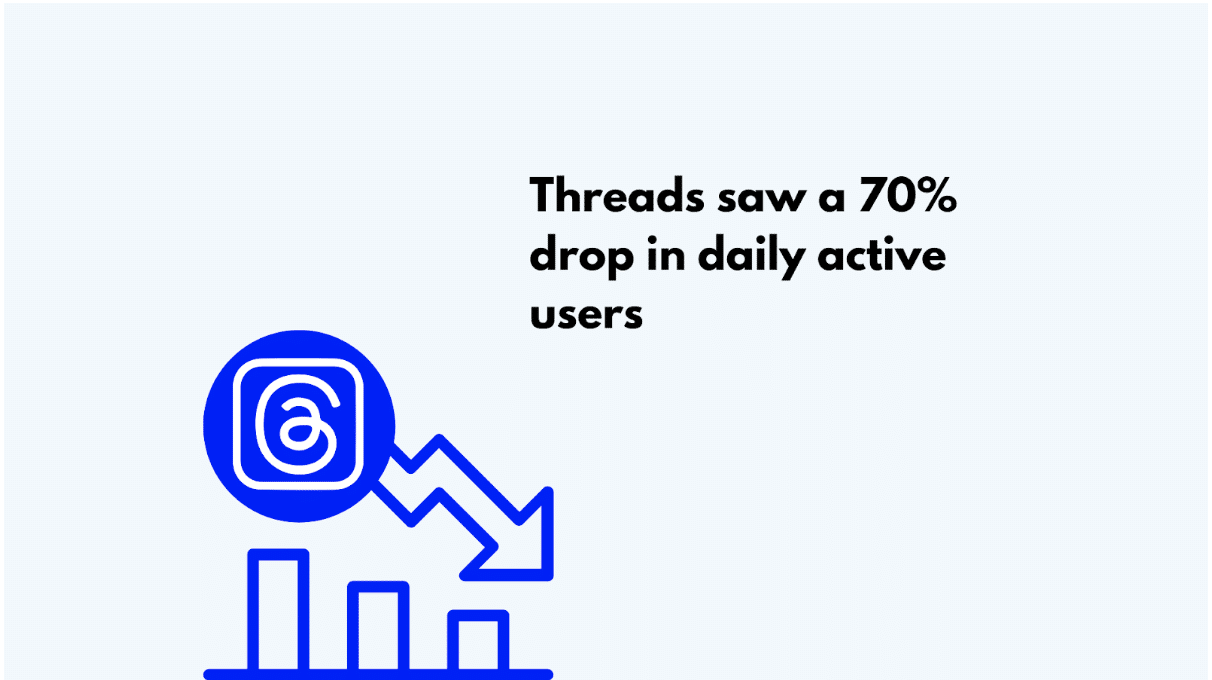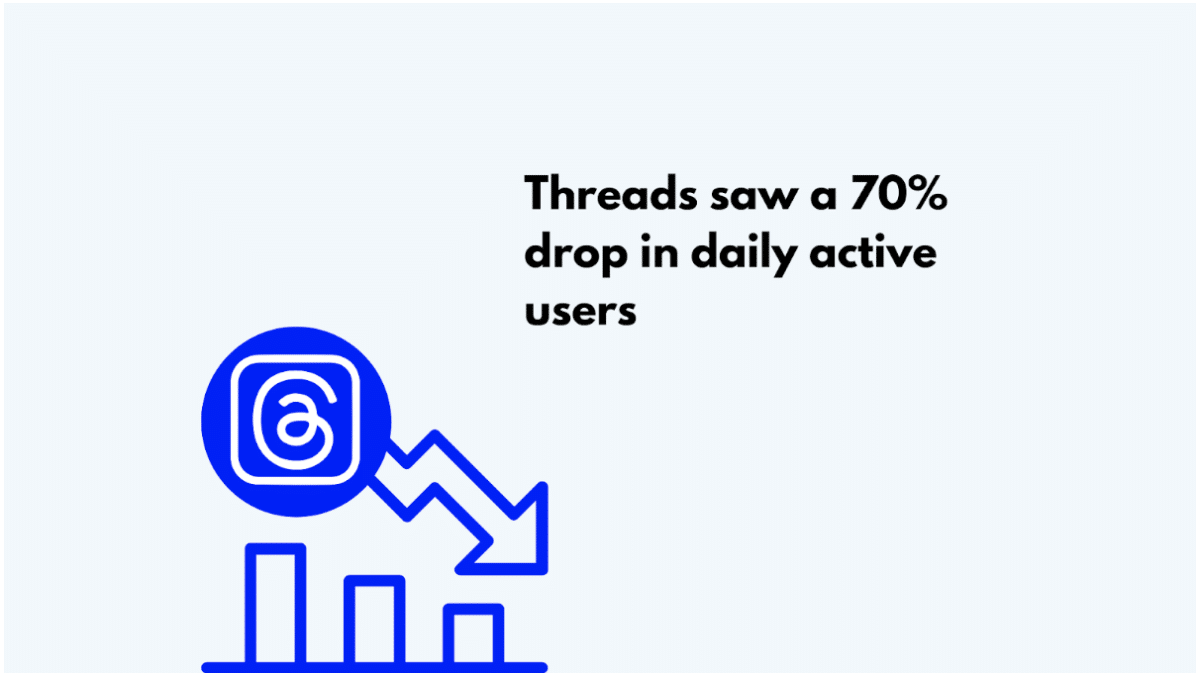 Peak Users
Threads Instagram apk's 49 million active users on July 7, 20236, was its highest peak.
Gender Demographic
68% of Threads Instagram accounts7 are owned by male, while 32% are for females.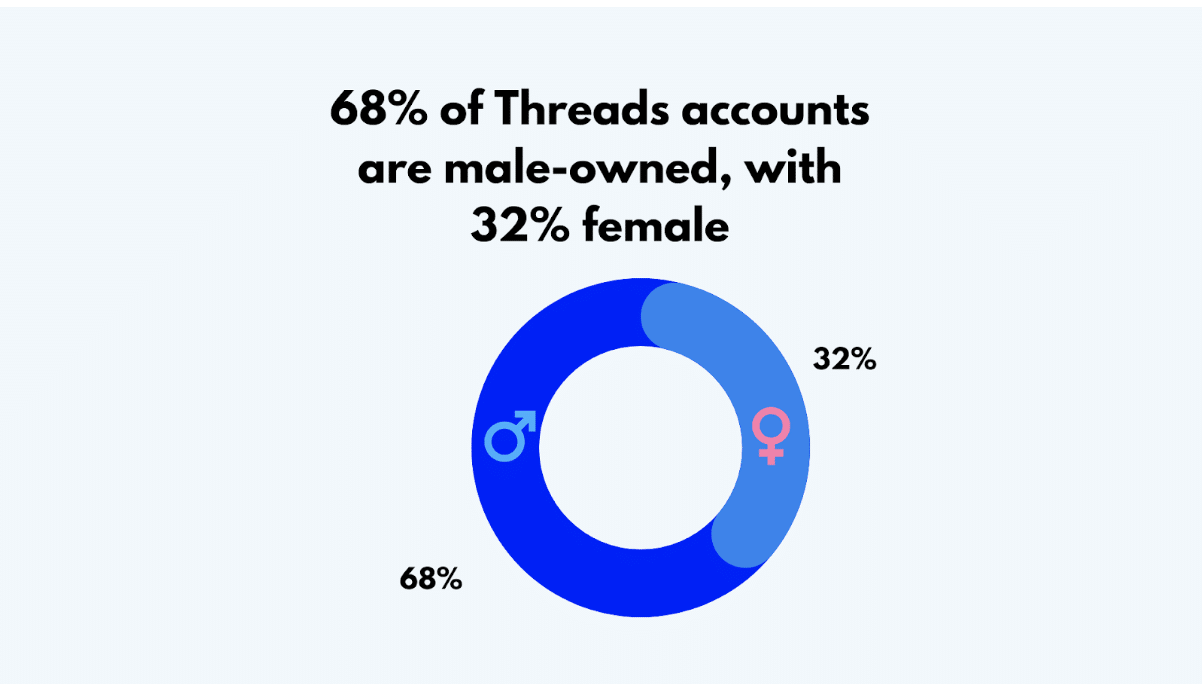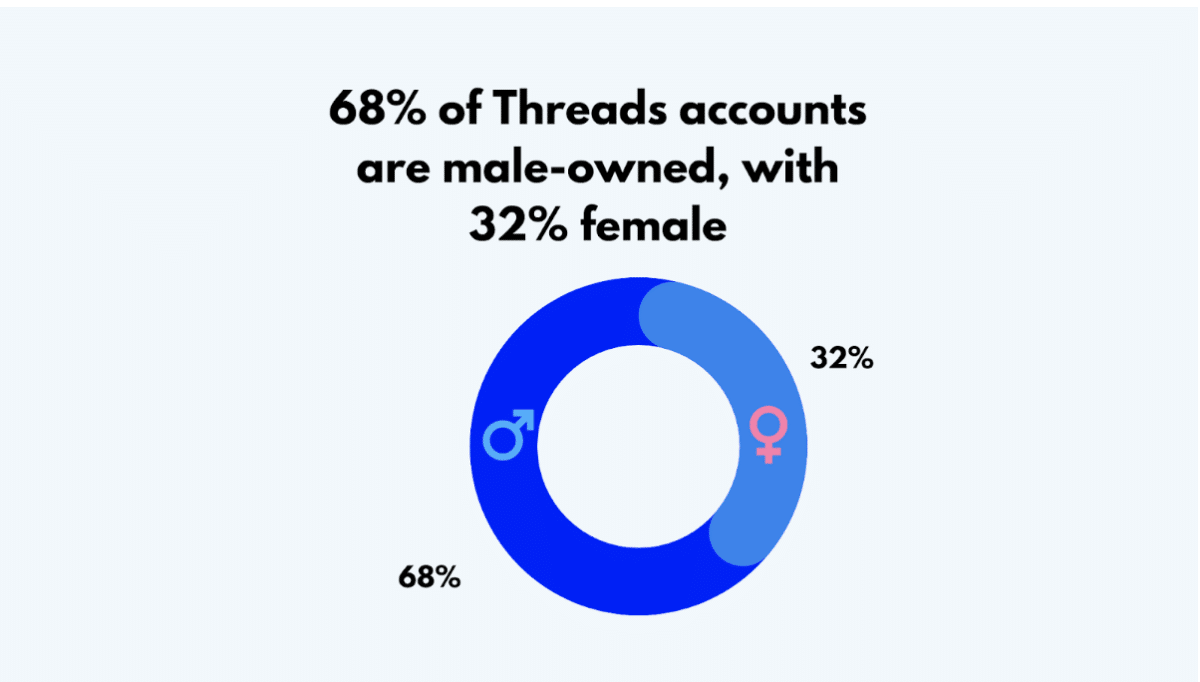 Age Demographic
There's no information for Threads' Instagram age demographic. Since Threads is closely related to Instagram, the age demographics for Threads would likely be similar to those of Instagram.
Instagram demographics show that the 25-348 year old age group is the largest Instagram population.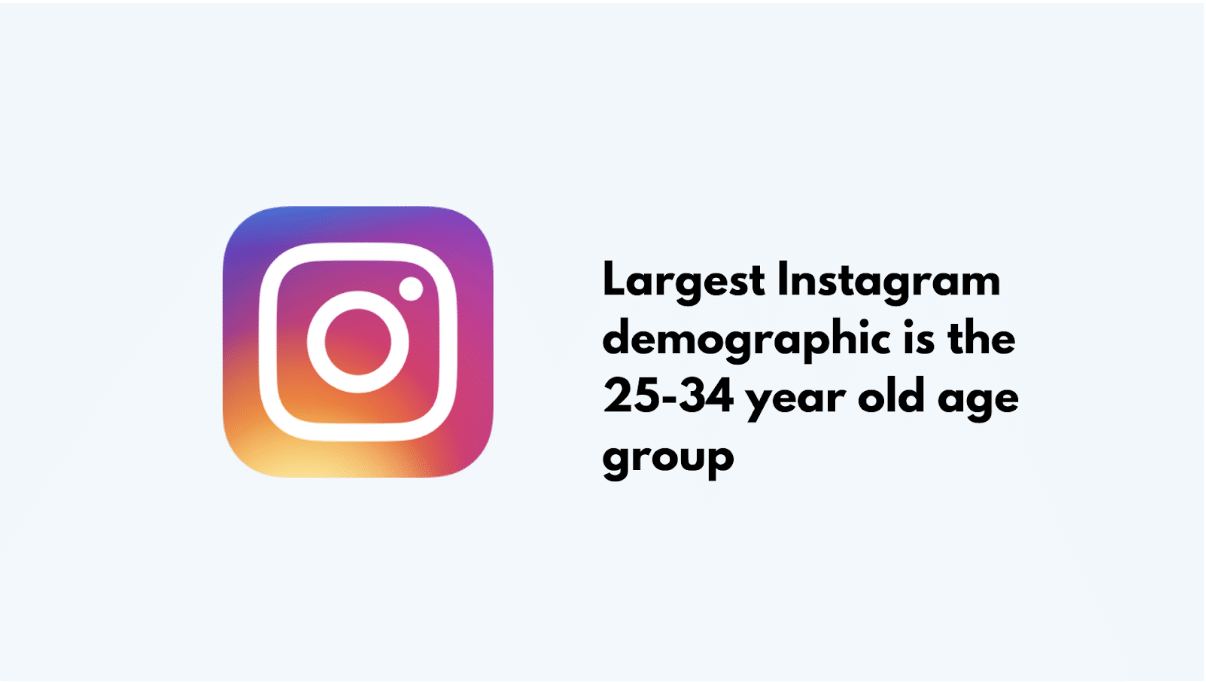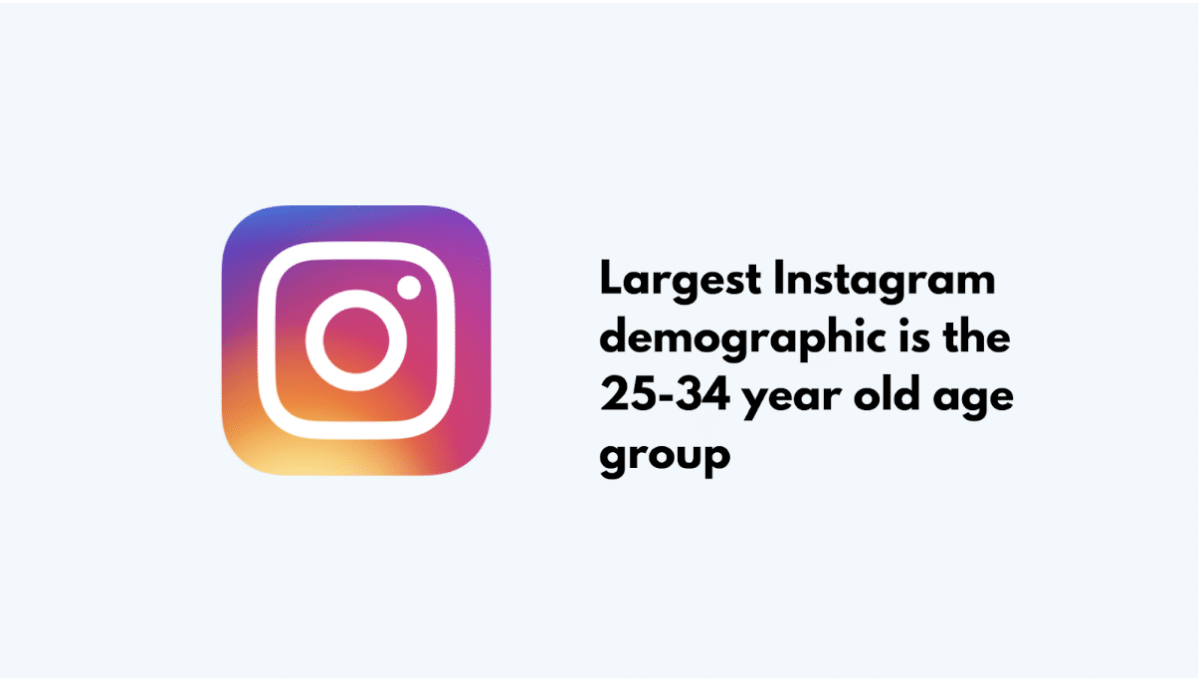 Sources: Quiverquant1, PetaPixel2, Meetanshi Blog3, Instagram4, Tech Crunch5, Similarweb6, Enterprise Apps Today7, SocialPilot8
Instagram Threads Facts
Threads is still in its early stages, and its long-term success and impact on the social media landscape remain to be seen. Some facts about Thread from the Instagram app will be noteworthy.
Most Followed Thread by Instagram Accounts
According to an online source, the top five most followed personalities on Threads are:
| | |
| --- | --- |
| Personalities | Followers |
| Kim Kardashians | 4 million1 |
| Mr Beast | 3.9 million1 |
| Selena Gomez | 3.7 million1 |
| Kylie Jenner | 3.5 million1 |
| Shakira | 3.21 |
Number of Downloads on Play Store
On the Play Store, there are more than 50 million2 downloads.


Instagram Threads Logo – What Does it Mean?
The Instagram Threads logo is inspired by the '@' symbol and is realized in Instagram's sans serif font. The '@' sign is commonly associated with usernames and individual voices on social media platforms, particularly on Twitter. The Threads logo is a stylized version of the '@' symbol, with elongated and uniquely curved lines.
Some people have compared the stamp to an ear, an ampersand, a piece of spaghetti, a Tamil letter, and more. However, the official explanation from Meta is that the logo is inspired by the '@' sign, symbolizing a user's voice.
Sources: Marketing Mind1, Google Play2, Gizchina,
Instagram Threads Forecast Revenue
According to an analyst, the forecast revenue through 2026 for Threads Instagram app is as follows:
| | |
| --- | --- |
| Year | Forecast Revenue ($bn) |
| 2023 | 0.8 |
| 2024 | 4.5 |
| 2025 | 8 |
| 2026 | 11.3 |
Sources: Business of Apps
Top 10 Instagram Threads Statistics
Instagram Threads reached 100 million1 sign-ups within just five days of its launch
The app achieved 1 million2 subscribers in just an hour after its launch
Instagram Threads has over 97 million2 users across 100 countries
On its launch day, over 30 million2 accounts were registered on the Threads app
Threads app is available on both iOS and Android platforms3
Text-based posts on Threads can be up to 5004 characters long, and they can include links, photos, and videos up to 5 minutes in length
Instagram Threads app has a read-only web interface, with no support for post search, direct messages, or hashtags, and no 'Following' feed
Threads app's user engagement dropped significantly after its initial success, with daily active users5 falling from 44 million to 13 million and the average daily time spent on the app decreasing from 19 minutes to 4 minutes
Threads app is not available in the European Union due to privacy concerns
Instagram Threads app is considered a direct competitor to Twitter
Sources: Tech Crunch1, Demand Sage2, Tech Crunch3, Statusphere4, Forbes5, Meetanshi
Conclusion
In a world where visual content dominates social media, Threads by Instagram emerges as a refreshing and engaging platform for sharing text updates and joining public conversations. With its user-friendly interface and seamless integration with Instagram, Threads offers a unique space for real-time updates and meaningful interactions. The Threads community provides an opportunity to express your ideas and connect with others in a positive and creative environment.