Ever since Google finally came out with their Pixel Fold (the phone on the left), a folding device, Samsung (the phone on the right) has finally gotten a real rival within the full-sized foldable market. However, will the Google Pixel Fold actually be able to take the crown from Samsung, or are they just another hopeless contender.
Samsung has been a pioneer within the foldable market and have single-handedly forged a path, however Google is a brand who has seemed to finally come up with a compelling alternative, which is the Pixel Fold.
| | | |
| --- | --- | --- |
| | Galaxy Z Fold 5 | Google Pixel Fold |
| Display | 7.6" OLED6.2" OLED | 7.6" OLED5.8" OLED |
| Resolution | 1812×2176 pixels 904×2316 pixels | 1840×2208 pixels 1080×2092 pixels |
| Refresh Rate | 120Hz | 120Hz |
| Chipset | Snapdragon 8 Gen 2 | Google Tensor G2 |
| Rear Cameras | 50MP wide, 12MP ultra-wide, 10MP telephoto with 3x optical zoom | 48MP wide, 10.8MP ultra-wide, 10.8MP telephoto with 3x optical zoom |
| Front Camera | 10MP and 4MP | 8MP and 9.5MP |
| RAM | 12GB | 12GB |
| Storage | 256GB, 512GB, 1TB | 256GB, 512GB |
| Battery | 4,400mAh | 4,821mAh |
Price
The Google Pixel Fold first started shipping on June 27th, 2023, and the price of them started at $1,799 for the entry level 256GB model and then went up to $1,919 for the 512GB model instead. The Galaxy Z Fold 5 on the other hand was made available from the 11th of August, 2023, and started at $1,799 for the 256GB model and went up to $1,919 for the 512GB model and finally $2,159 for the 1TB model. 
So, all in all, the Samsung Galaxy Z Fold 5 is pretty much at the same price point as what the Google Pixel Fold is. 
Design
Although both of these devices may be fully-sized foldables that have expansive, square-ish 7.6" displays, it is within the finer details of their designs where you will see that they differ from each other quite a lot.
When you look at the Google Pixel Fold a little closer, you'll notice that it almost looks just like a 'normal' phone, equipped with an external display that has a similar aspect ratio to that of a non-foldable phone. Then when you look at Samsung on the other hand you'll see that they tend to make their external display a lot taller and thinner, which is still true with the Fold 5.
The main reason as to why these two phones are so different in this regard is because of their internal displays. Samsung has made their fully extended screen a little bit taller than it is wide, whereas Google have taken the opposite approach to this. Design will almost always be opinion based, so it is truly hard to see a true winner in this category.
The Google Pixel Fold has a thickness of a mere 12.1mm when it is closed, which is definitely extremely thin when compared to other foldable devices. Google is able to achieve this amazing thinness because of a clever hinge design that they utilise, which allows the two halves to lay flat. Furthermore, by expanding the bezels and thus spreading out the internal components, Google is able to make the two halves a lot thinner.
Even though Google is trying to make their folding phone as thin as possible, Samsung is still holding true to their approach of making slightly thicker foldables with thinner bezels. Now even though the Fold 5 did turn out to be a little bit thinner than the Fold 4, it definitely doesn't rival the Pixel Fold when it comes to how thin it is. The Fold 5 is however quite a lot lighter than the Pixel Fold as it only weighs in at 254g, whereas the Pixel Fold weighs in at 283g.
The Samsung phone has adopted a new water drop hinge mechanism that actually enables you to close the Fold 5 completely flat, however the screen crease is still quite prominent. Then lastly, when it comes to water-resistance, the Samsung and the Pixel Fold both have the same IPX8 rating, however neither of them are dust-resistant.
Display
As you notice above, there is a clear difference in the way that both of these foldable manufacturers approach their displays. You have the Fold 5, which has a really tall and skinny 6.2" OLED external screen that has a 2316×904 resolution as well as a 120Hz refresh rate. Then on the other hand you have the Pixel Fold that comes with a 5.8" OLED screen that is a lot more conventional and has a 2092×1080 resolution. The Pixel Fold is both shorter and wider than its Samsung rival, which makes it a lot more like a rectangle when the phone is closed.
On the inside of both of these folding phones you'll notice that they are actually both the same, with a 7.6" 120Hz OLED display, however the Pixel Fold has a 1840×2208 resolution making it more naturally geared towards landscape content, whereas the Fold 5 has a 2176×1812 resolution that makes it stand taller.
Although the internal screen of the Pixel Fold is a little brighter than last year's fold it only has a brightness of 1,450 nits, which is now a lot less than the new Samsung Fold 5 that has a brightness of 1,750 nits.
Although both of the phones do turn out to be pretty head to head in most aspect, the is one feature that gives the Samsung Fold 5 an edge over the Google Pixel Fold and that is the fact that it comes with S Pen support, which means you'll be able to use a special version of Samsung's stylus on the Fold 5, which gives it a pretty major creativity and productivity boost.
Cameras
Foldable phones are definitely not the types of phones that you should be considering purchasing if camera quality is one of your biggest priorities.
The Samsung Z Fold 5's main camera system is made up of a 50MP, f/1.8 main camera, a 12MP f/2.0 ultrawide as well as a 10MP f/2.2 telephoto zoom lens that is capable of up to 3x optical zoom. Then on the other hand you have the Pixel Fold that has a 48MP main camera with f/1.7 aperture, 11MP ultrawide and a 11MP periscope zoom lens that will be able to do 5x zoom. When it comes to the actual sizes of the image sensors in the rear cameras, then Googles are a little smaller compared to those of the Z Fold 5, especially in the main camera.
This essentially means that Samsung's hardware is physically able to take in more light and image information than Googles. However, this isn't all to take into consideration because Google's device does have an ace hidden up their sleeve, which is the Tensor G2 that was built to handle Google's machine learning tasks, including its computational photography. Now with the help from the Tensor G2 in Google's device, there are many people that actually prefer the photos captured by the Pixel Fold. The Pixel fold is also able to handle exposure almost perfectly in every case and rarely blows out lights or underexposes.
This colour science and HDR exposure are all just part of the software smarts, and when it actually comes to raw hardware, the Pixel Fold's small sensors just aren't able to hold up against the Samsung's photos when you zoom in at all.
The Samsung Z Fold 5's cameras perform extremely well in their own way and in some areas even beat the Pixel pretty easily. For example, the cameras on the Google Pixel Fold rely quite a lot on night mode in the low-light situations, whereas the Samsung Fold 5 is able to just snap the shot sometimes. As a result, if you are trying to capture action scenes in low light then the Pixel Fold will fall short. The 3x telephoto lens that the Samsung device has is also really brilliant and is able to keep up well with the 5x zoom on the Pixel Fold device.
Then lastly, when it comes to the selfie camera, they are really similar. Both of these foldable devices come with two selfie cameras and they're able to capture selfies really well.
Performance
Within the Google Pixel Fold you'll find the exact same Tensor G2 chip that you'll find in the Pixel 7 range. This chip is more than capable enough for most users but it just can't hold up against the lightning fast Snapdragon 8 Gen 2 Galaxy processor found in the Samsung Fold 5.
Although it is pretty challenging to notice the difference at first when you are casually using both of the devices, when you start to play demanding games or run demanding apps you'll see that Samsung pulls away in this area and handles a lot better.
Where Google shines instead is in its AI and machine learning application, which is true as we can see it do amazing things such as live transcription and Magic Eraser, which allows you to easily remove photobombers.
So, in the end, when it comes to the raw performance of the two devices, the Galaxy Z Fold 5 comes out on top as the Pixel Fold wasn't even on the same level as the previous generation Galaxy Z Fold 4 that had the older Snapdragon 8 Plus Gen 1 chip inside of it.
Battery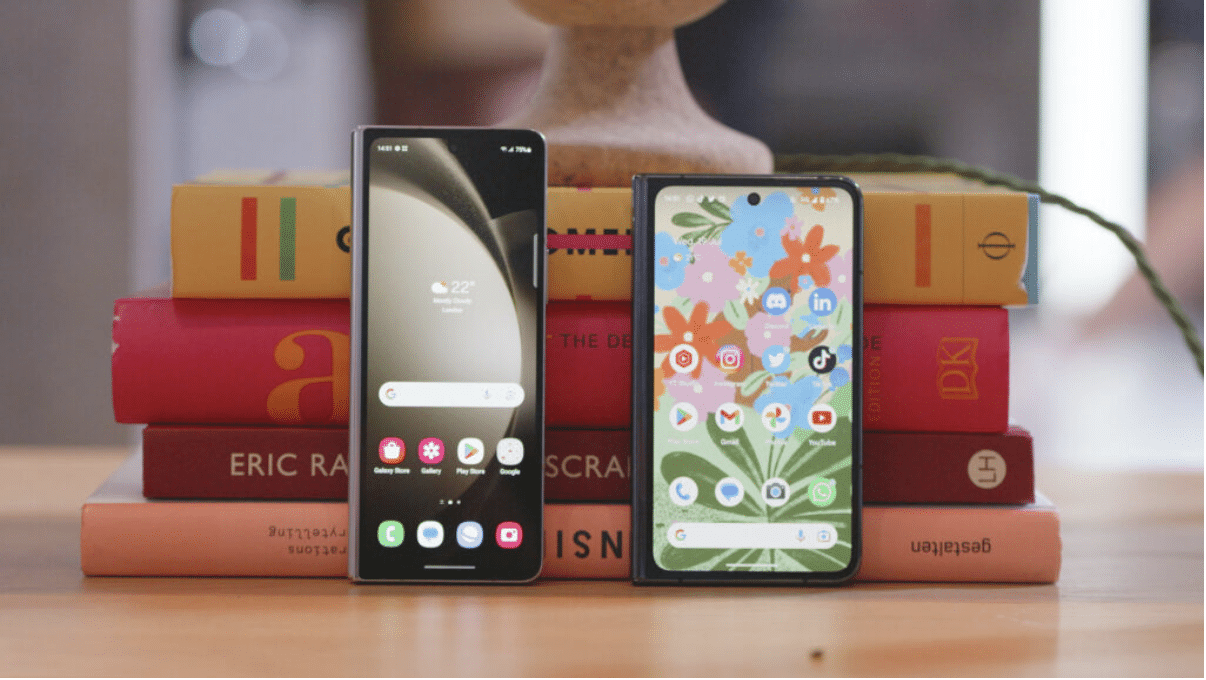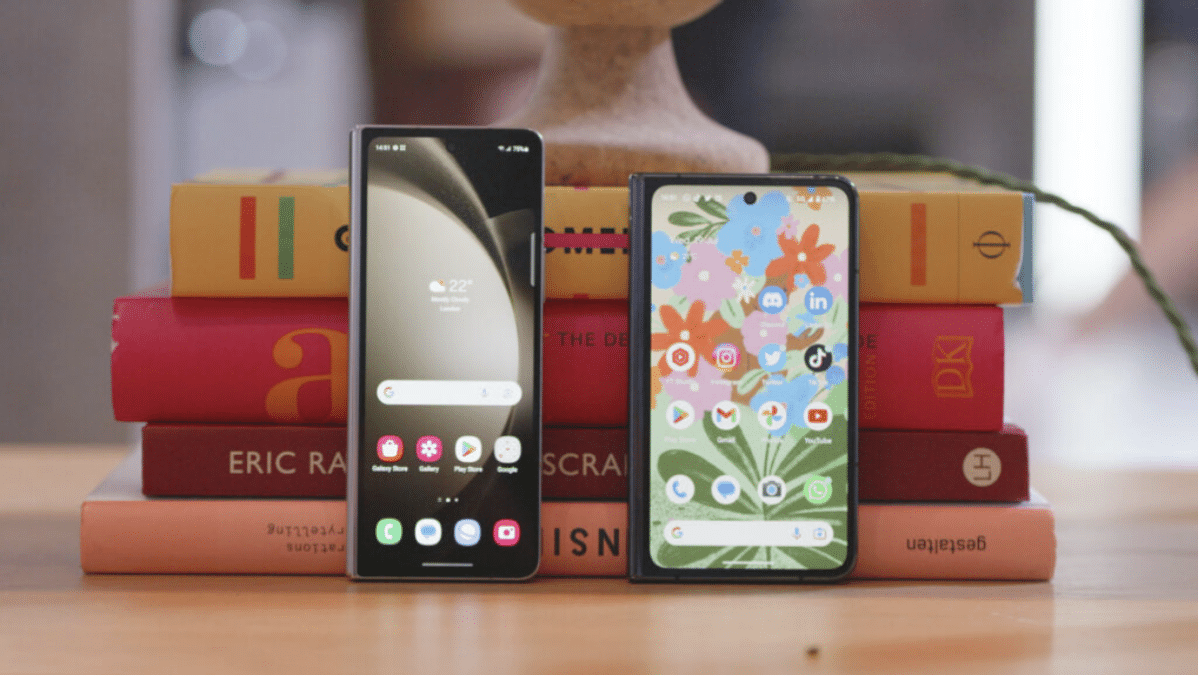 With the Samsung Galaxy Z Fold 5, you get a device packed with a 4,400mAh battery, which is the same as the one found in the Fold 4, which makes it quite a lot smaller than the 4,821mAh cell found in the Google Pixel Fold. The fact that the battery is so much bigger in Google's device, is one of the main reasons as to why it is so much heavier as well. With the larger battery, the Pixel Fold is able to go without a charge for a solid 15 hours, whereas the Galaxy Z Fold 4 only lasted 13 hours.
Conclusion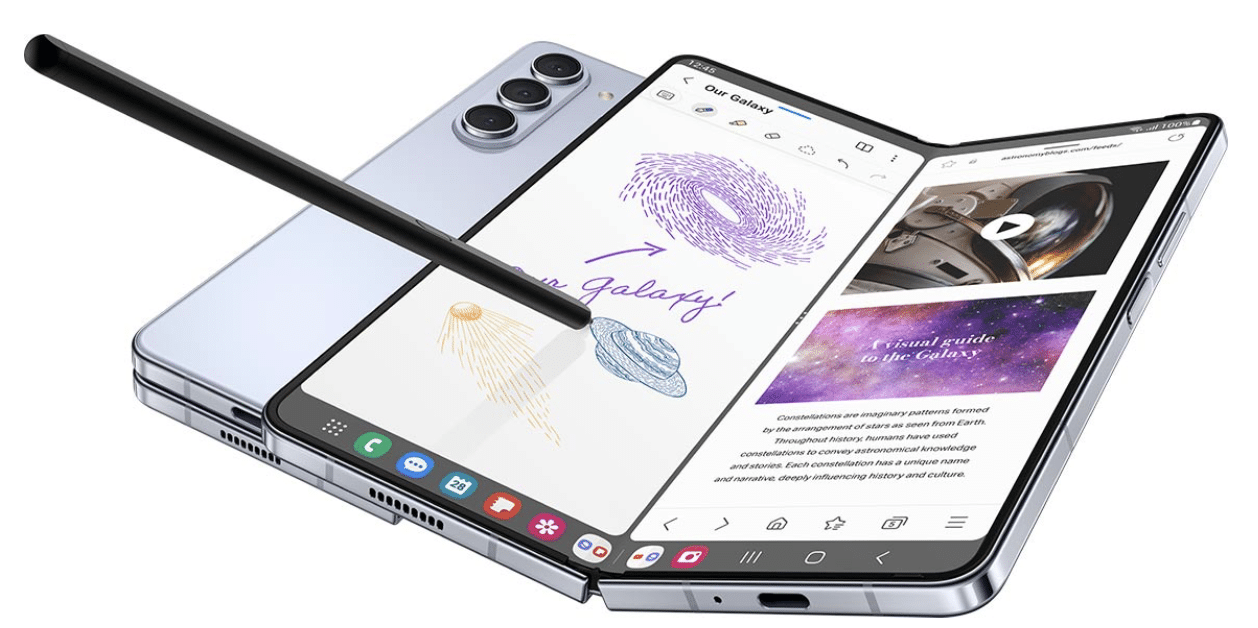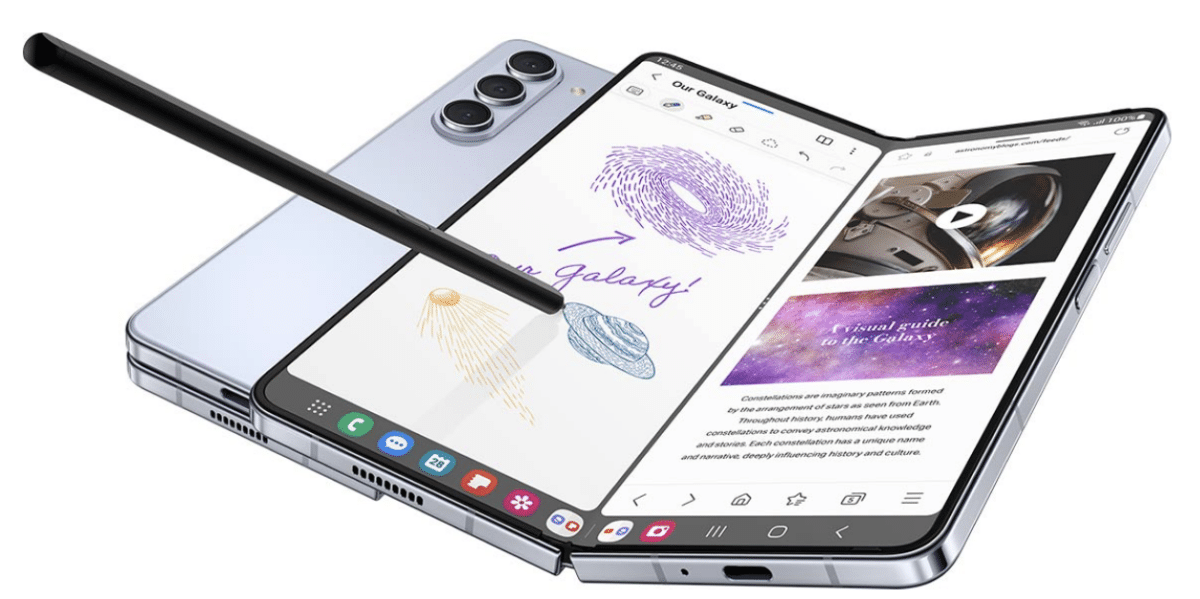 If you compare this year's Pixel Fold with last year's Galaxy Z Fold 4, then the Pixel might have just come out on top thanks to its superior camera as well as its preferably folded-up screen and design. However this year, the Galaxy Z Fold 5 takes the trophy and wins against the Google Pixel Fold. 
This is because of a few reasons, Samsung's device is lighter, has a brighter main display and also offers a faster performance than Google device. So, if you are someone who is into multi-tasking then the Galaxy Z Fold 5 is definitely the right choice for you as it can run three aps at once and the taskbar is always there at the ready. There are also a few reasons as to why you may want to purchase the Google Pixel Fold instead though, which include the fact that it has a wider cover display, making it easier to type on and use apps, and some will also prefer the wider internal display as well as their thinner overall design.