So, you've finally made the big leap of investing in one of these expensive smartwatches and now it is time to decorate and improve it. So, here are some of the best straps, screen protectors, chargers as well as cases that will fit perfectly with your new purchase.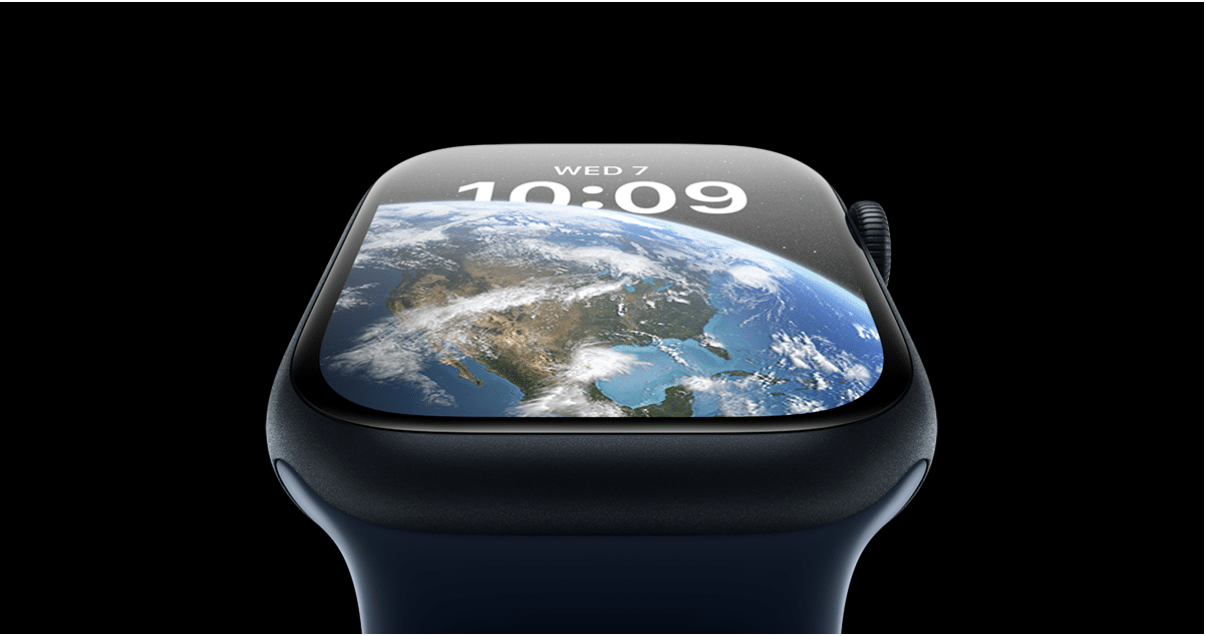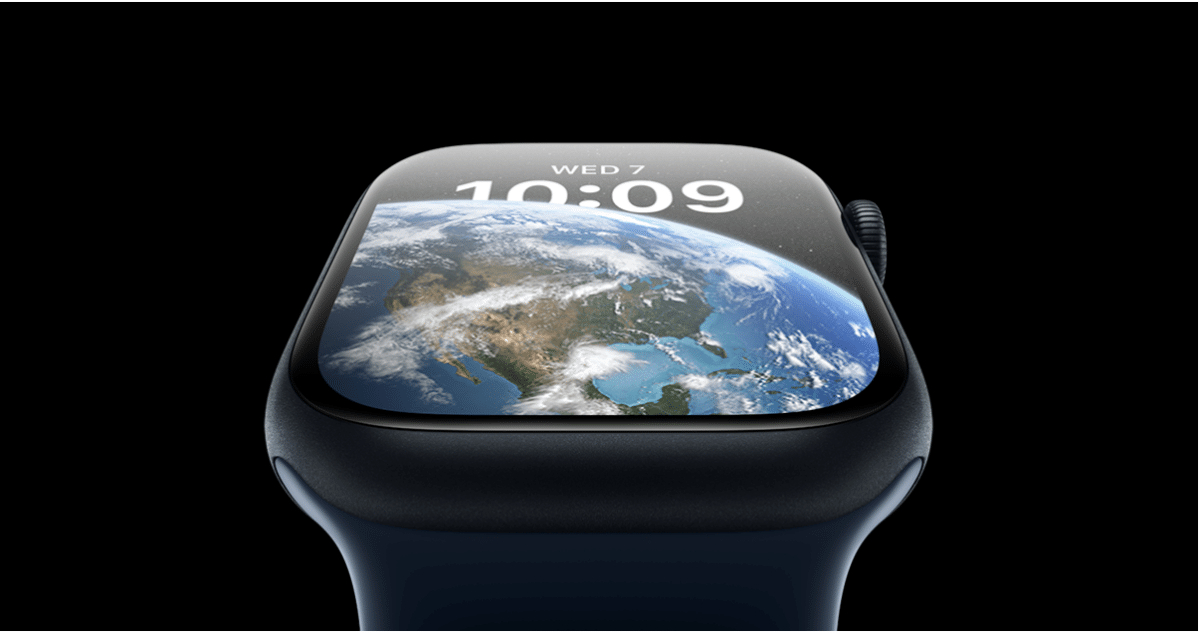 If you are someone who owns an iPhone then you have probably bought an Apple Watch as well. The Apple Watch has been thought of as one of the best smartwatches for fitness trackers that you can buy if you own an iPhone. Not only is this device popular just on its own but it is also one of the easiest Apple products to accessorise, even though a lot of people don't find the need to do so.
Best Band
The Apple Watch Ultra Yellow Ocean Band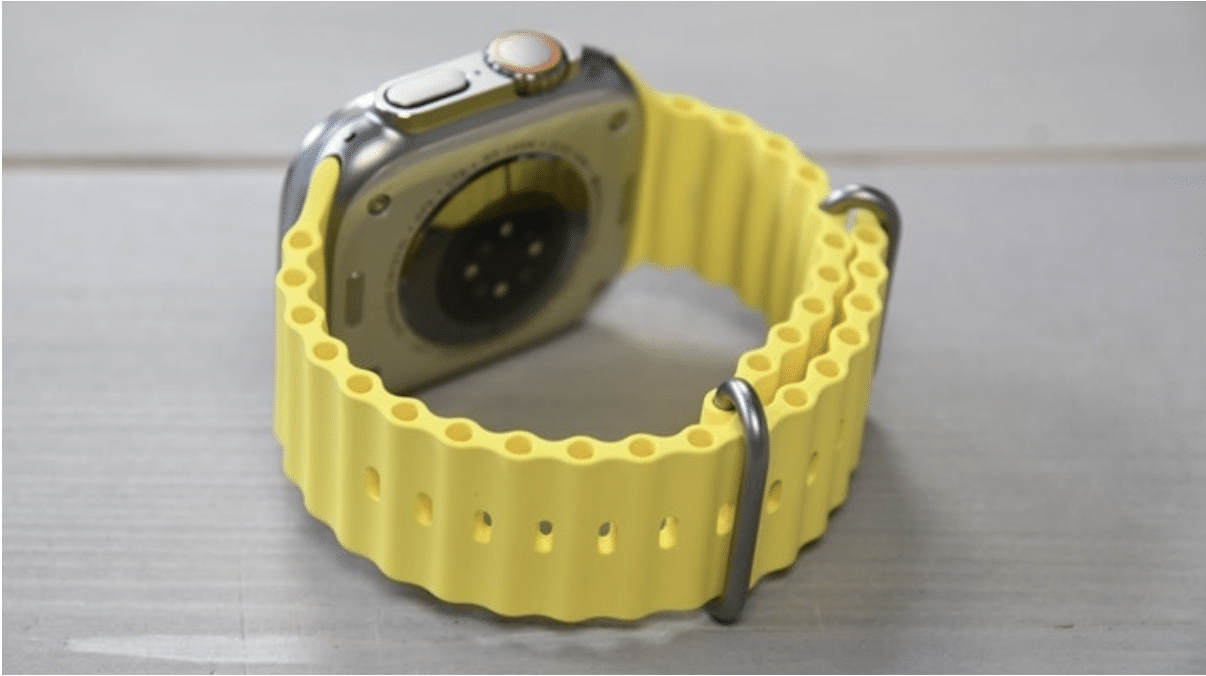 Price: $99
If you purchase the Apple Watch Ultra then you will be offered a choice of three different types of sports bands to choose from: an Alpine band, which comes with two layers of woven textile as well as a clasp with a titanium G-hook, a Trail band, which is made from a light, thin and stretchy woven band and is also the lightest, and then lastly the Ocean band, which is constructed out of an elastomer that has a titanium buckle to fit into the tubes. The Ocean band is definitely a fan favourite as it is a lot easier to wash and shows dirt a lot less than the fabric used on the other bands. What's more is that even if you don't have the Apple Watch Ultra you'll still be able to purchase these bands for your large 45 mm Apple Watch Series 8.
Best Budget Strap
Proatl Jelly Band for Apple Watch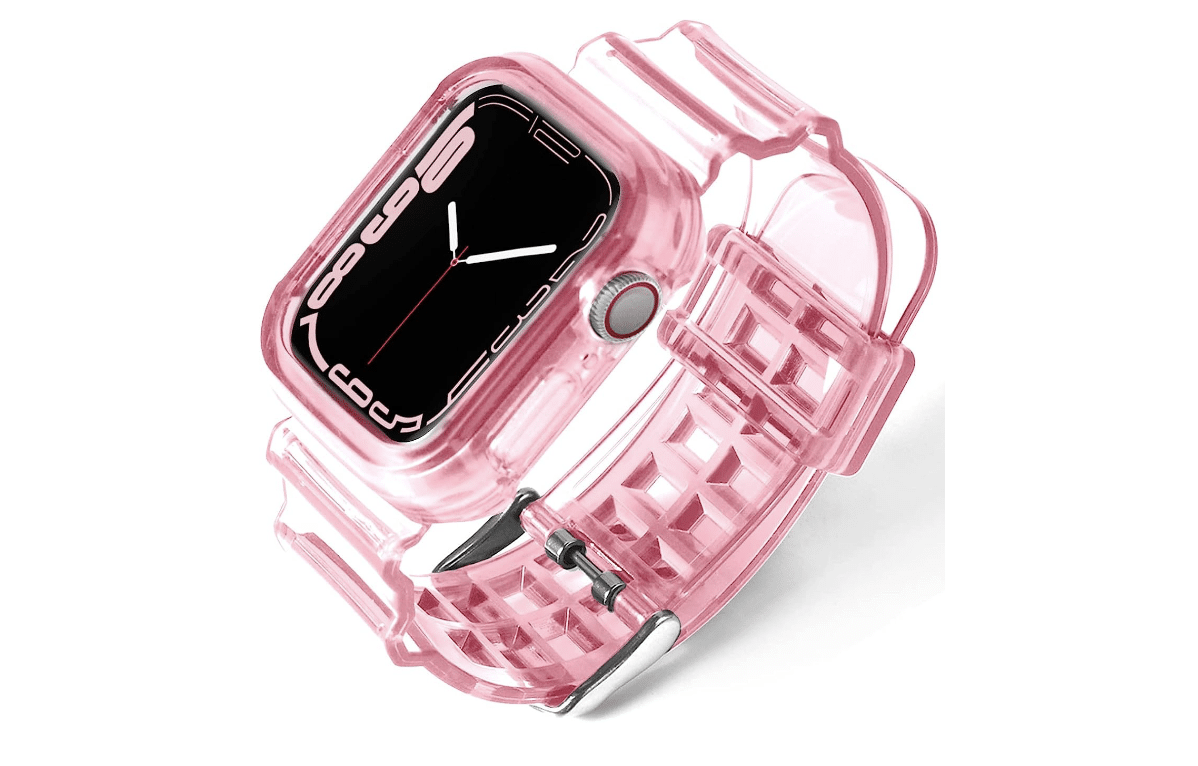 Price: $9
Sometimes when you are looking for an accessory for anything the most expensive one might not always be the best option for you and so try not to just go for the more expensive options out there. An example of this is the awesome Proatl Jelly Band case, which can even fit the 41 mm Series 7 Apple Watch, and also includes not only a strap but a raised protective bumper as well to ensure that your watch receives the maximum protection it can.
The strap also comes equipped with a lot of hole sizes so that it will be able to fit a wide range of wrist sizes. Some other awesome benefits with this product is that it is waterproof, it doesn't irritate your skin and will completely change the overall look of your Apple Watch. The best thing about this watch strap is its price, as it will only set you back $8, which means that you could even buy a few different colours if you're feeling frisky.
The Smallest Case
Hontao Ultra Thin Case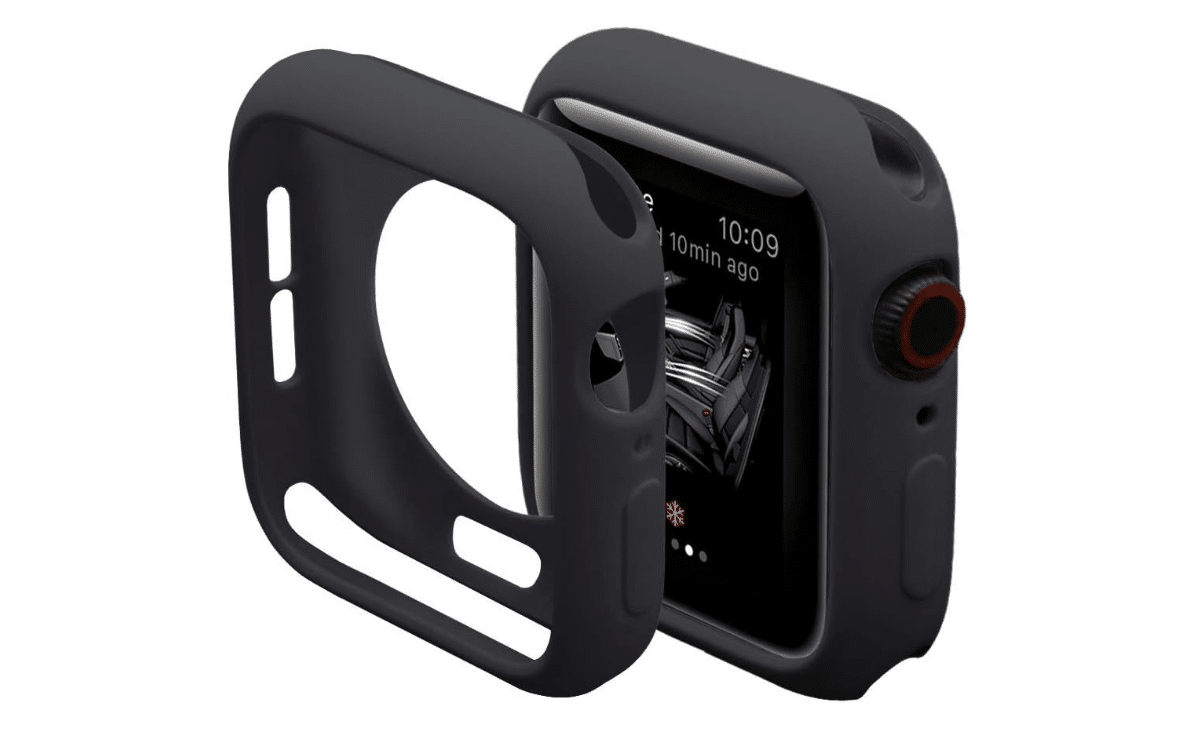 Price: $8
When you're looking for a new case for your Apple watch then you'll probably be wanting a very sleek and slim design, not only for the cool look but also to add as little space onto your wrist as possible since the watch is already big as it is. So, if all you're looking for is a nice thin and affordable case for your watch, that'll be able to protect it against bumps and knocks that may happen any time during your day then this one is definitely worth checking out.
This product is made up of a matte thermoplastic urethane, which is very thin and will fit snugly onto your Apple watch. Although some of the darker colours that that product is available in don't show dirt very easily the more lighter coloured options do, so if you are someone who will find themselves in messy situations pretty often then it would be a good idea to go with one of the darker colours.
Best Screen Protector
LK Apple Watch Screen Protector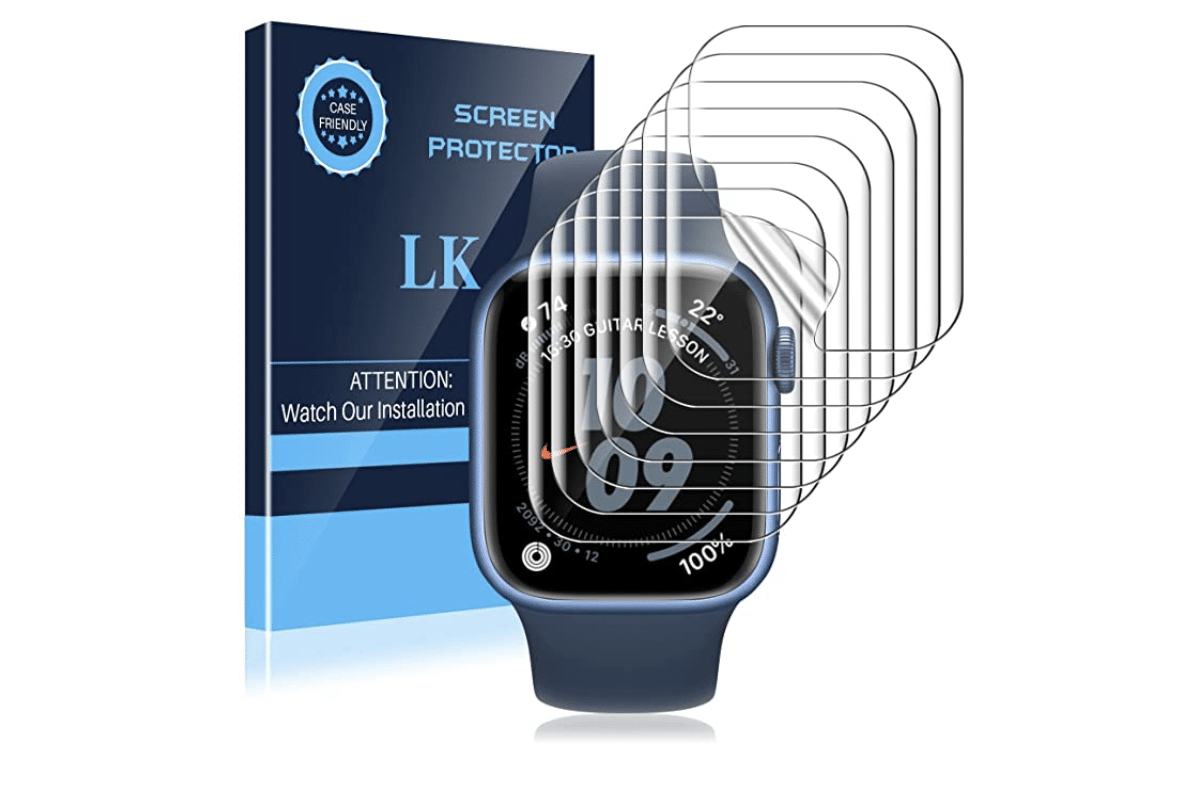 Price: $9
Just like with the straps, the best screen protectors aren't always the most expensive or the one with the most recognised or famous brand name. With some screen protectors out there you are able to easily peel them off or cause them to bubble just by pushing or pulling a case over them. On the other hand the LK Apple Watch Screen Protector is great because it is made out of TPU, is easy to apply and looks invisible when you have applied it onto your watch. One of the best features that this product has is its small rubber installation pad, which you use during the installation process to hold to watch securely in place whilst you're applying the screen protector.
Best Sports Band
Twelve South ActionBand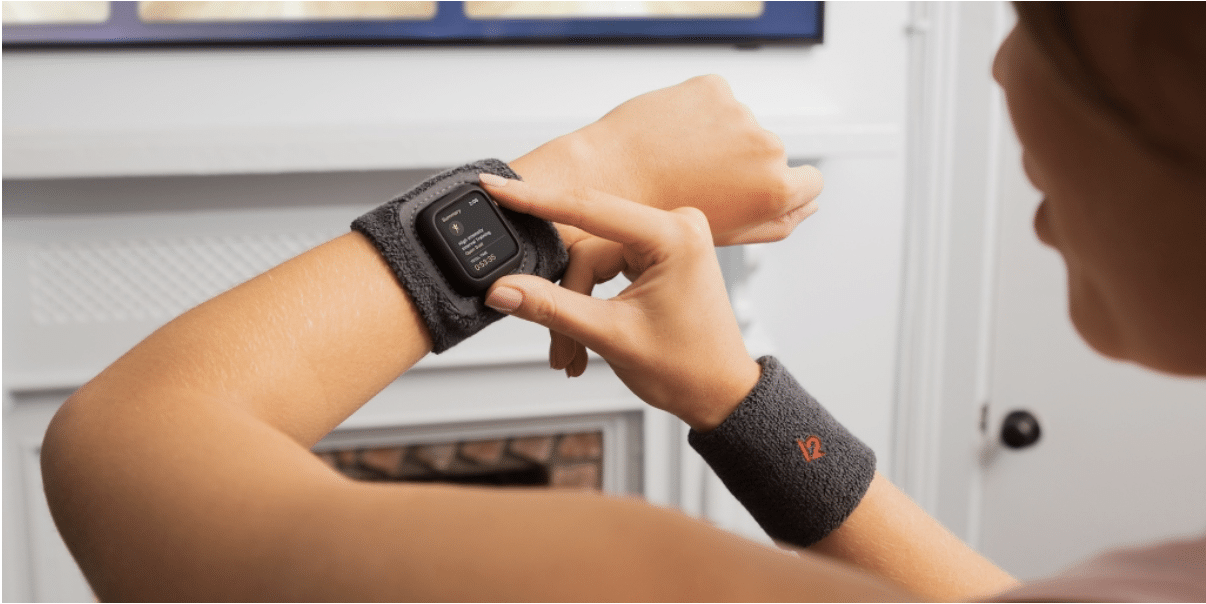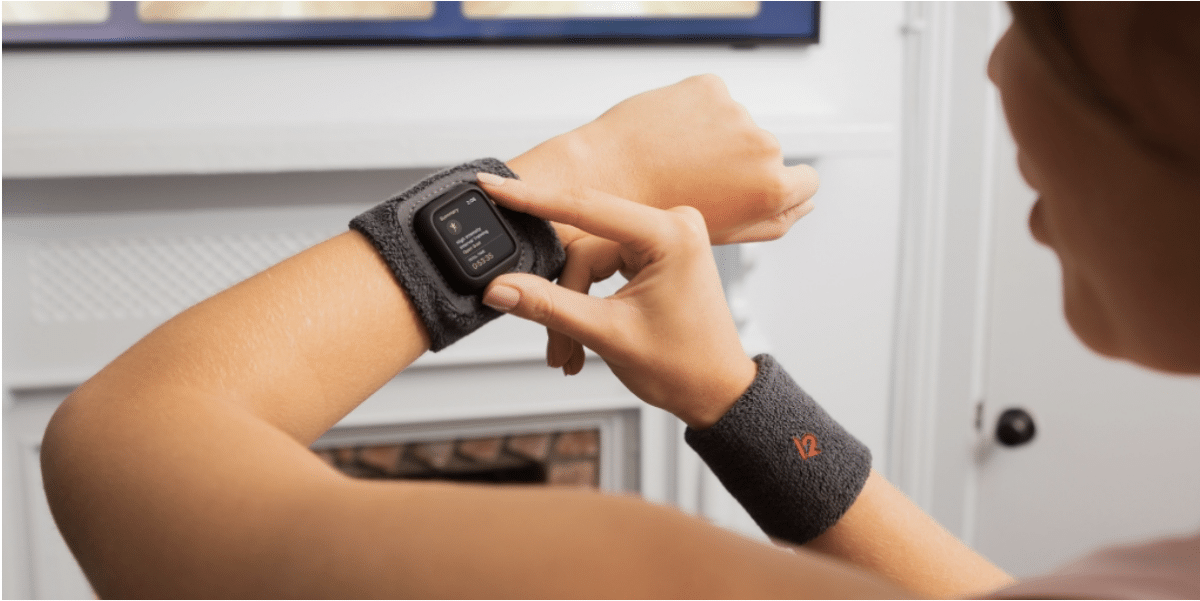 Price: $30
None of the Apple Watch straps that you can purchase with your Apple Watch are going to be bad for sports or hinder any of your capabilities. Even if you just look around at everyone that has an Apple Watch you'll notice that almost every person that runs or does an activity will be doing so with their standard silicone strap, that comes standard with their watch. These straps, that come with your watch, are able to securely hold your watch in place on your wrist, even when you are doing vigorous activities. However, if you are to find yourself maybe on a weeklong outing or just a multi-day activity then it would be a good idea to maybe invest in something a little better, such as an ActionBand.
With this Twelve South ActionBand all you'll have to do is pop your Apple Watch into one of the pair of sweatbands, made from terry-cloth. Not only are these bands very easy to use and are convenient, they also manage to hold your watch very securely, which is definitely a must for those extreme athletes out there. Another cool feature that these bands have is that they are sweatbands, so they are able to help you control all of your sweat that you may have when you are doing a vigorous activity. If you are looking instead for a sleeve, to wear whilst you are cycling, boxing or doing any other activity where you need to have your wrists free then Twelve South has got you for that as well and can offer you an ActionSleeve for just $30.
Best Metal Band
Apple Silver Milanese Loop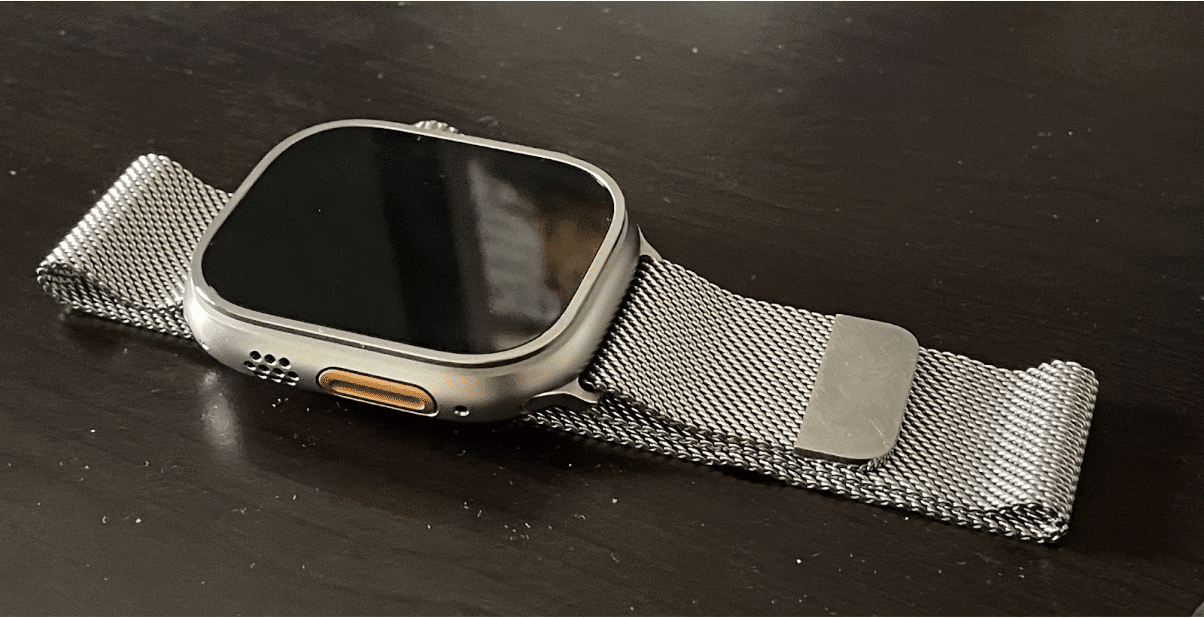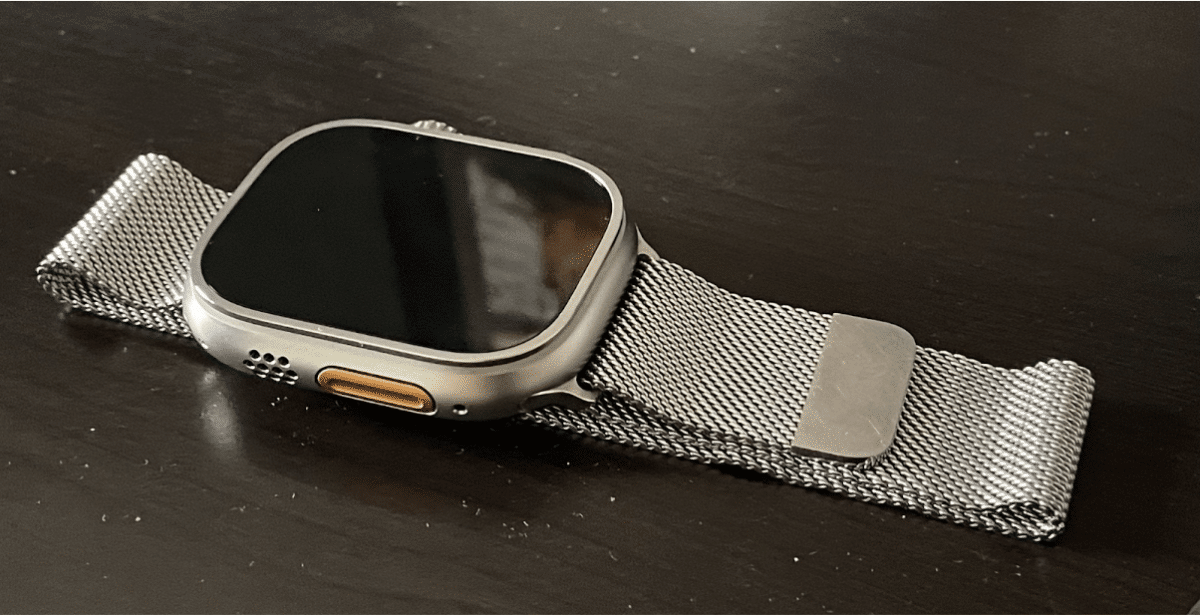 Price: $99
If you are someone that isn't always going to be using their Apple Watch for tracking activities then you'll probably want your watch to look more sleek and sophisticated, which you can achieve by wearing the Apple Silver Milanese Loop metal band. This band is made from some high quality stainless steel, which come in three different colours: silver, gold and graphite. The mesh of this band is extremely flexible to ensure that it sits comfortably on your wrist, the clasp is also magnetic, which means that it is also extremely easy to adjust the sizing on it to make sure that it is sitting securely on your wrist.
Best Case
OtterBox Antimicrobial Case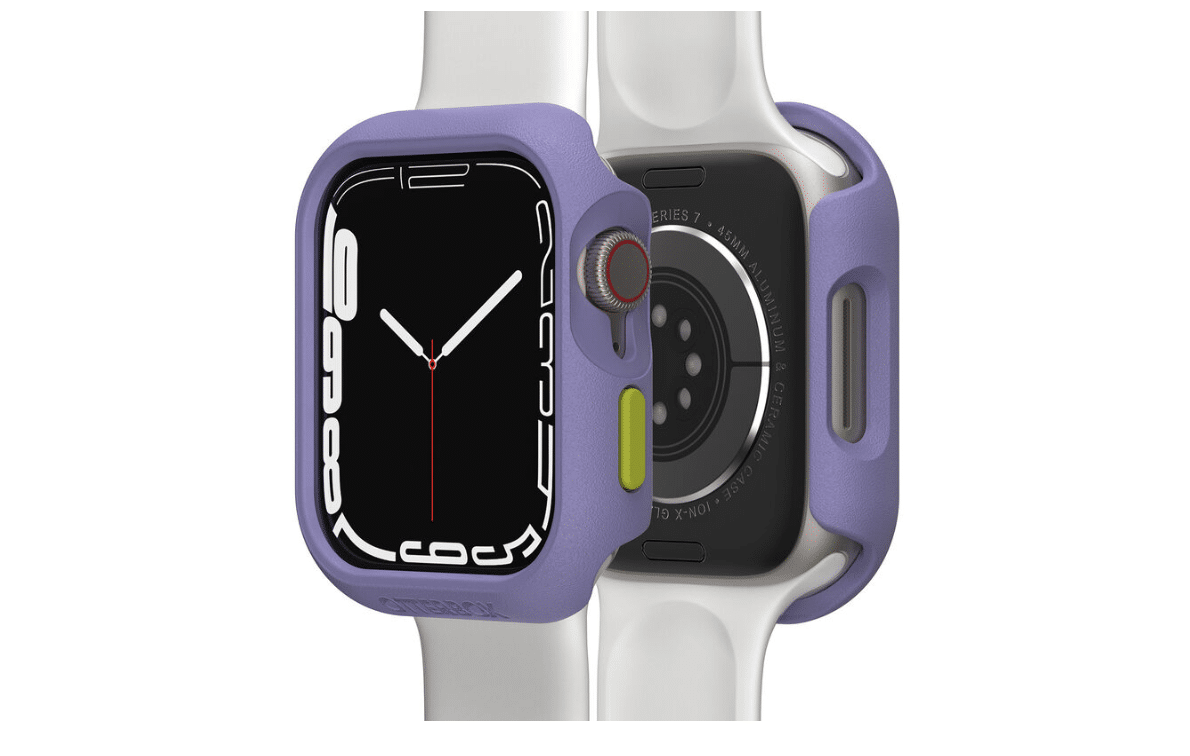 Price: $25
If you are someone that owns any Apple Watch you're probably used to the constant pinging of notifications from anything from text messages to map directions. So then if you don't buy a protective case for your watch that fits well it will vibrate separately from your watch and actually cause a little rattle every time. This is the main reason why you will see a lot of people opt for a softer case, even if they show damage much easier, just because they won't give you this rattling sound. One of the best fitting hard cases that is available on the market right now is the Otterbox antimicrobial case, and what's more is that it is actually 90 percent made up of recycled plastics. A really cool feature about this hard case specifically is that it doesn't have a back, which means that it is a lot easier to align your watch with a magnetic charging stand than some other options out there.
Best Portable Charger
Satechi Quatro Wireless Power Bank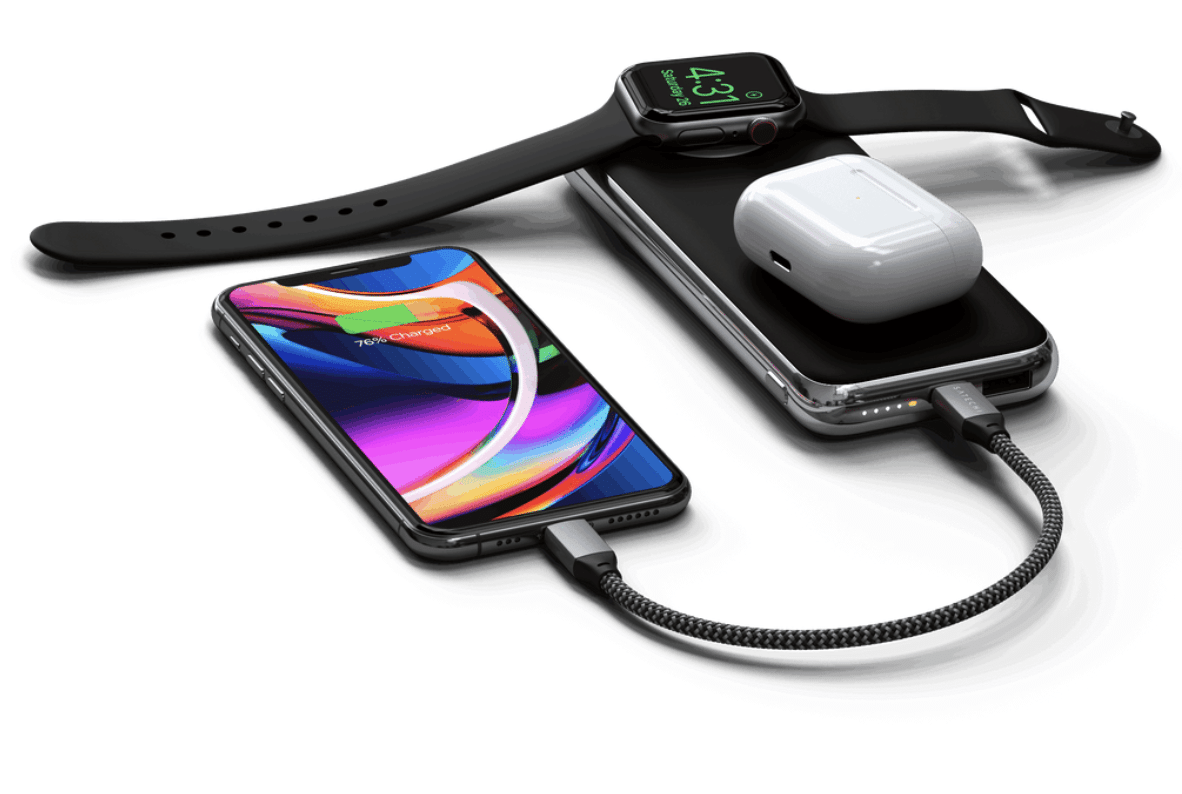 Price: $100
One of the most annoying things about owning an Apple Watch, and something that almost every owner will complain about, is the watch's lack of battery life. The battery life of Apple Watches are normally a little more than a day, which means that you will find yourself having to recharge your watch at very random and weird times. If you are someone that likes to spend a lot of time out and about, using their Apple Watch, then you'll have to find a way to keep a charger with you.
So, in order to counteract this problem you should invest in a pocket-size power bank and the Satechi Quatro Wireless Power Bank specifically happens to have a very convenient spot for the Apple Watch right on the power bank. What's more is that this power bank will even further allow you to actually wirelessly charge your iPhone or Airpods Pro at the same time next to it. Overall this product has a very compact design and offers a convenient solution for your Apple Watches' lack in battery life.
Final Words
So, there you have some of the best accessories that you can purchase for your Apple Watch, to either protect your expensive purchase, make it more stylish or just something that will make your experience with the watch a lot better. Which one of these products will you purchase to enhance your Apple Watch experience?