The iPad Pro (2022) is a great tablet that can do everything and delivers some great performance, an awesome new Apple Pencil Hover feature as well as some exceptional video quality.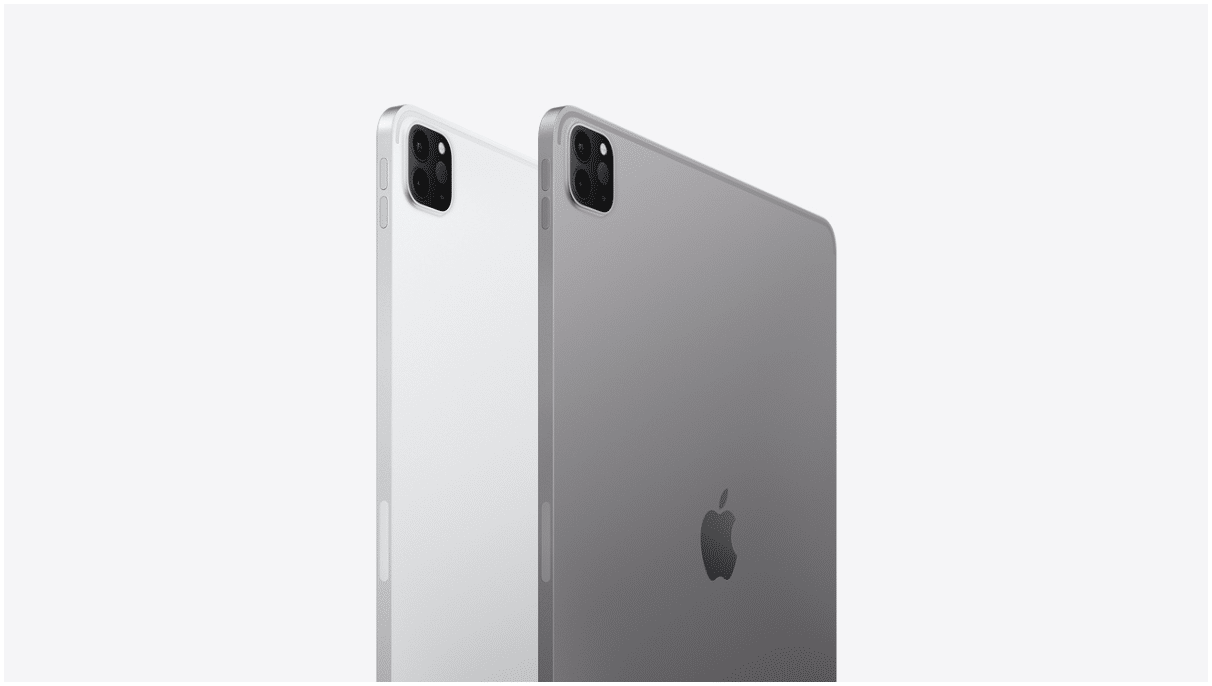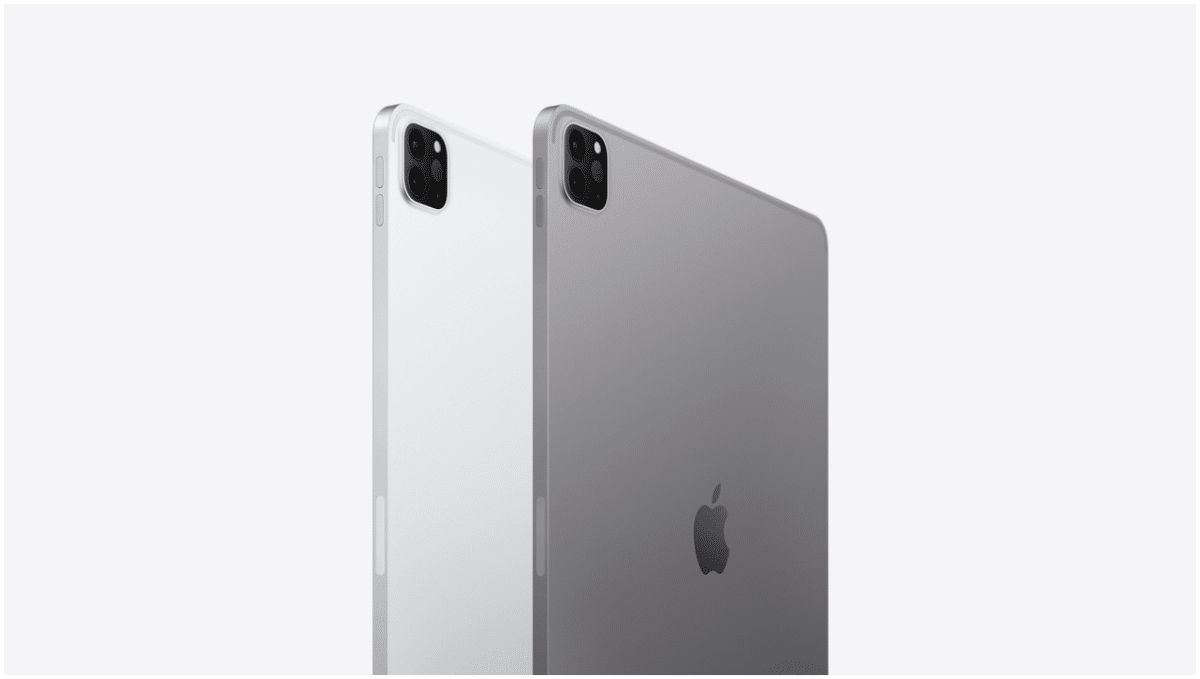 This iPad Pro also houses a faster M2 chip, but is it really that much better than its predecessors?
Pros
Fast M2 processor
Amazing battery life
Apple Pencil hover preview is helpful
Gorgeous 12.9-inch XDR display
Cons
Expensive
Not a huge upgrade from iPad Pro 2021
Accessories are expensive
| | |
| --- | --- |
| iPad Pro 2022 Specs | |
| Price | Starting From $1,099 |
| OS | iPadOS 16 |
| CPU | M2 |
| RAM | 16GB |
| Storage | Available from 128GB – 1TB |
| Display | 12.9-inches |
| Front & Rear Cameras | 12MP wide (f/1.8) |
| Video | 4K at 60fps |
| Battery | 10 Hours |
| Size | 11.04 x 8.46 x 0.25 inches |
| Weight | 1.5 Pounds |
Design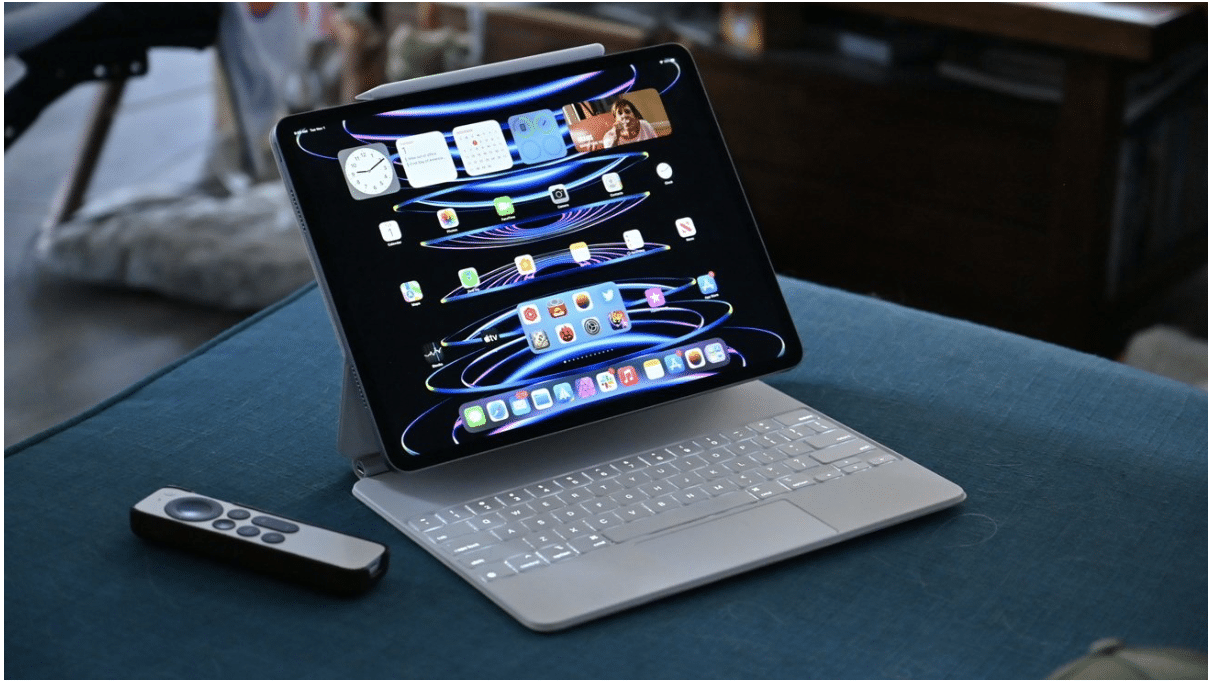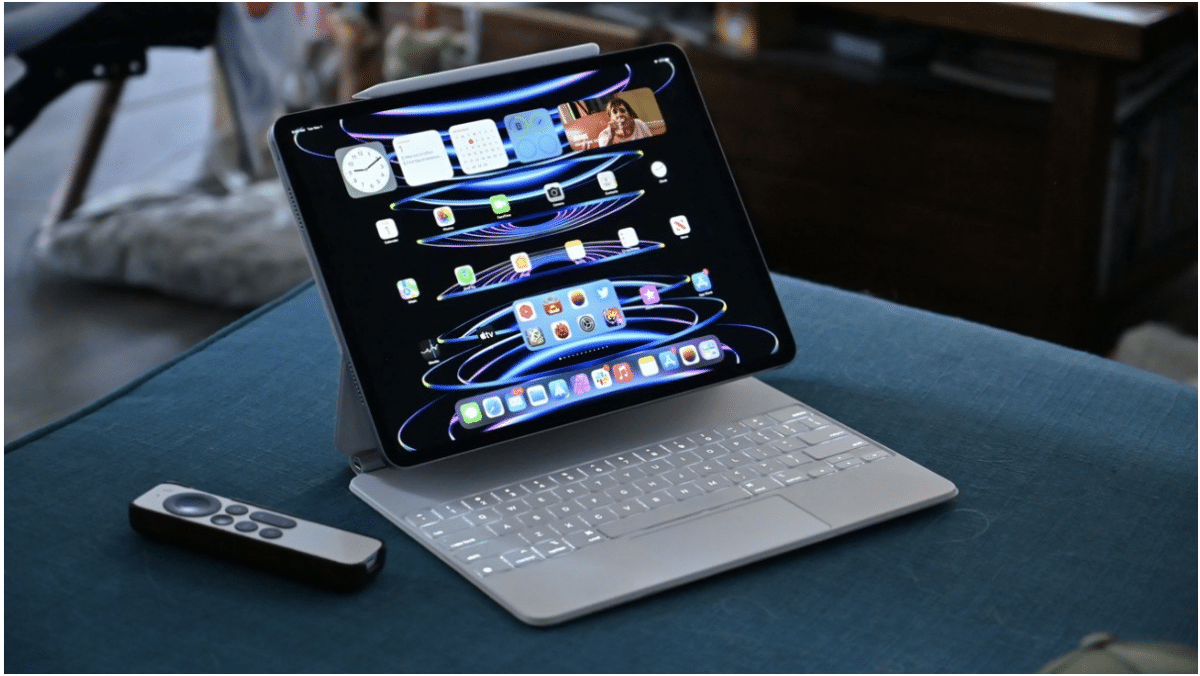 Key Points:
Same design as predecessor
Available in Space Grey or Silver
Easy to use for hours on end
When it comes to the design and look of this new 2022 iPad Pro then it'll be very hard to spot the difference between this and its predecessor. This may sound like something bad but it isn't all that bad if you think about it because the thin bezels and aluminium chassis are just as sleek and striking as they've ever been.
One thing that many people may see as a negative to this iPad Pro is that there are only two available colours for it, Space Grey and Silver. So, for those people who want a few more colour options then you should instead turn to Apple's regular iPad for a wider variety of colours.
The iPad Pro 2022 hasn't changed in weight or size from the previous model and so still weighs in at 1.5 pounds and measures 11.04 x 8.46 x 0.25 inches. The lightweight of this tablet makes it super easy to hold for long periods of time and it also isn't too big, which means that you'll have no trouble travelling with it or holding it in your hands. The Magic Keyboard is an accessory that a lot of buyers purchase at the same time, which will then bump your overall weight up to 3 pounds, which is a little bit heavier than the MacBook Air 2022.
Then in regards to the physical buttons and ports on the outside of this tablet nothing has changed. The button that is placed on the top right edge of the tablet, when you're holding the iPad vertically, is used for locking your screen as well as a Touch ID. then on the side of your iPad you'll have two buttons that are used to lower and raise the volume and then lastly there is a single USB-C port on the bottom of the device.
Display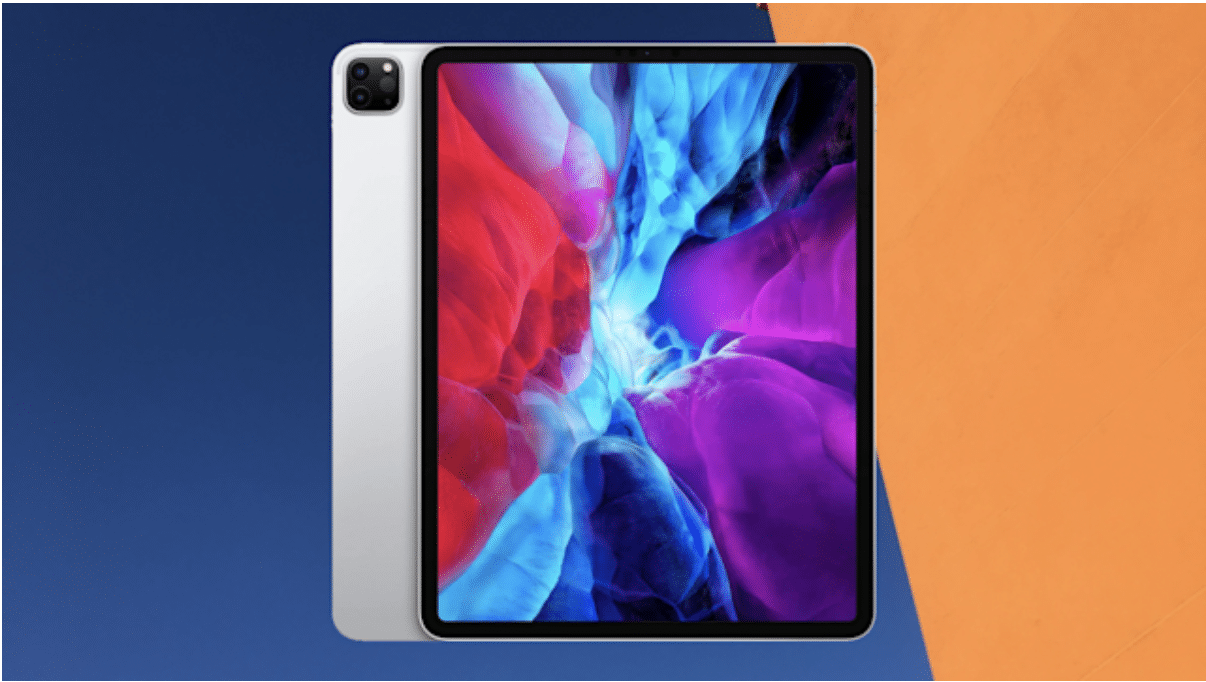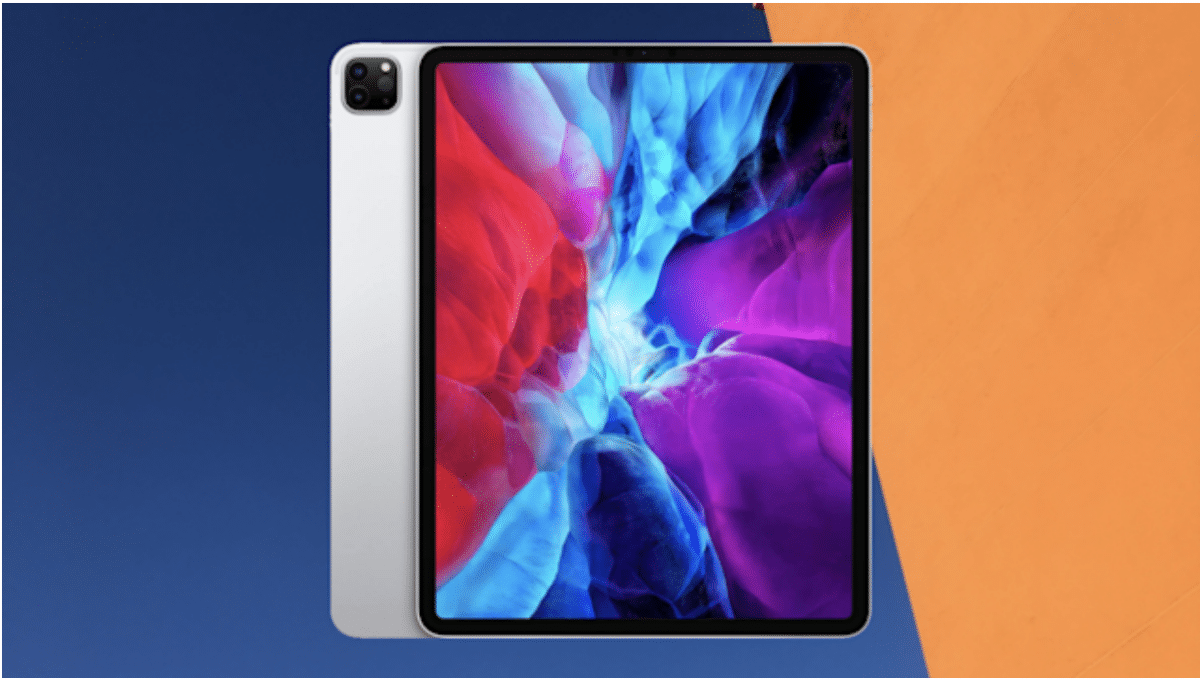 Key Points:
Amazing XDR display
Impressive contrasts and vivid colours
The display you get with the iPad Pro 2022 is absolutely amazing and reading comics on it is otherworldly and arguably as good or even better than if you were to be reading physical books. This is thanks to the high-resolution display that allows you to view every single detail in each panel or splash page. The display is also quite large, specifically the 12.9-inch, which means that you will rarely find yourself having to zoom in or rotate your screen in order to see something more clearly. Overall, this tablet is amazing for viewing anything, not just reading comics.
In regards to brightness, we do see a small upgrade over the iPad Pro 2021, as with adaptive brightness off the iPad Pro 2022 can reach a brightness of 586 nits and the 2021 variant reaches 571. This is still quite far over the Samsung Galaxy Tab S8's brightness though as this only achieved a max brightness of 463 nits.
Then as we move on to the colour based aspects of the iPad Pro's display, it has covered 117.1% of the sRGB colour gamut and 82.4% of the more demanding DCI-P3 colour space, which once again is only a little bit better than the iPad Pro 2021 and the Samsung Galaxy Tab S8.
Audio
Key Points:
The iPad Pro 2021 was known for delivering a punchy, room filling sound, thanks to its four speakers, and the new iPad Pro 2022 is just the same. Playing your favourite songs from this tablet will make it almost sound like it's coming directly from a proper stereo, although the bass isn't as impressive when compared to a stereo. Overall this tablet provides you with great audio quality whether you are viewing or just listening to something.
Performance and 5G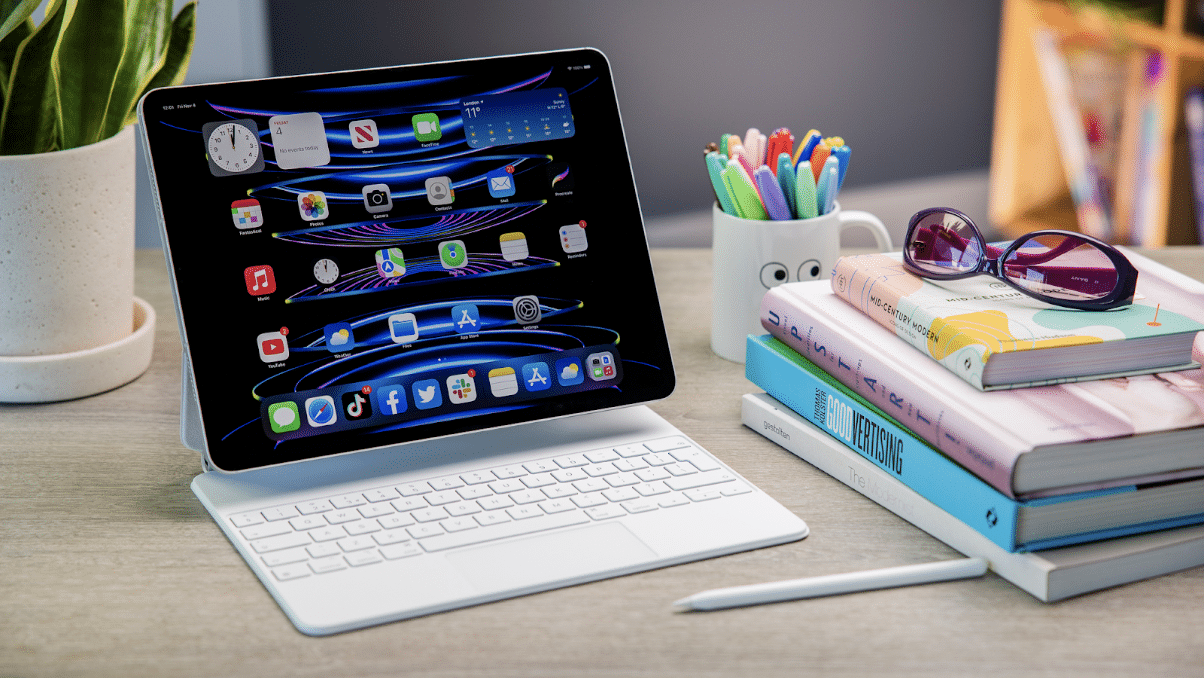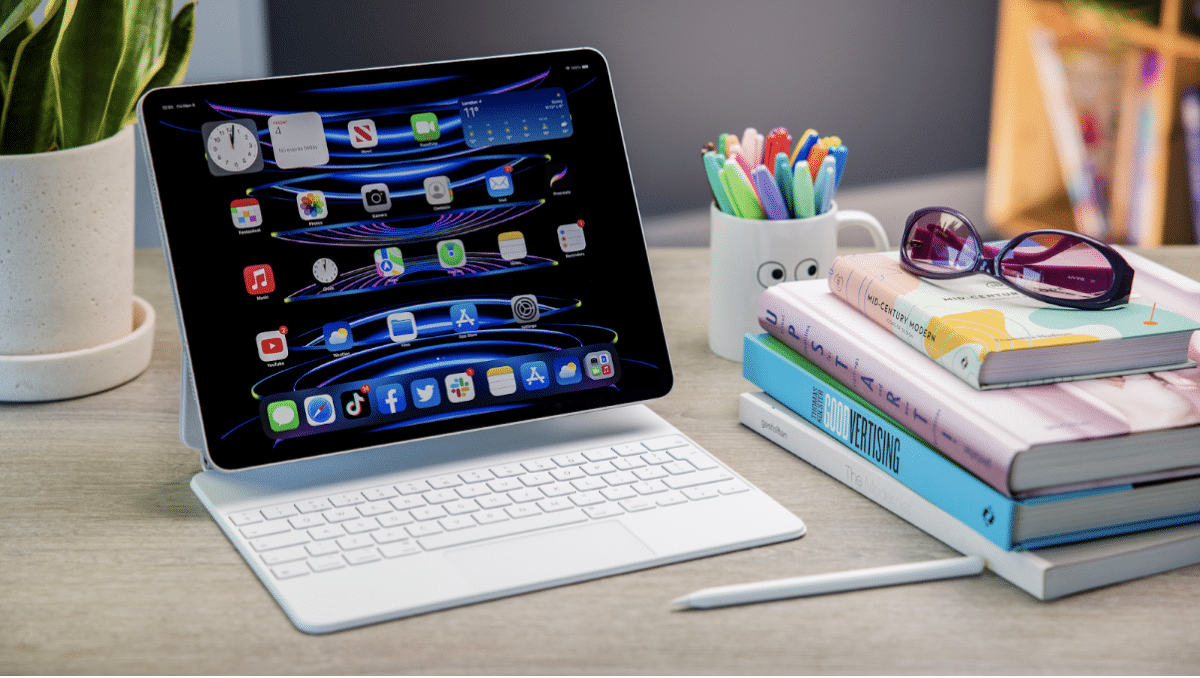 Key Points:
New M2 chip delivers snappy performance
Demanding games run smoothly
Within the iPad Pro 2022 you will find Apple's new M2 chip, so you shouldn't be surprised to learn that this new tablet outperforms the 2021 variant quite easily. The M2 chip is also found in devices such as the 2022 MacBook Air and 13-inch MacBook Pro, which means that this iPad Pro is able to give you that computer-grade power but in a much lighter and slimmer package.
All of this may sound amazing and although the upgrade from the M1 to the M2 chip gives you a 15-percent increase in speed and 35 percent faster graphics performance, you won't be able to notice most of this during your casual day-to-day use. So, if you are someone who is just going to be streaming videos and running basic apps on this tablet then the power is definitely excessive.
The iPad Pro 2022 also features 5G connectivity, which isn't new as we've seen it integrated into the previous model as well.
The Second-Gen Pencil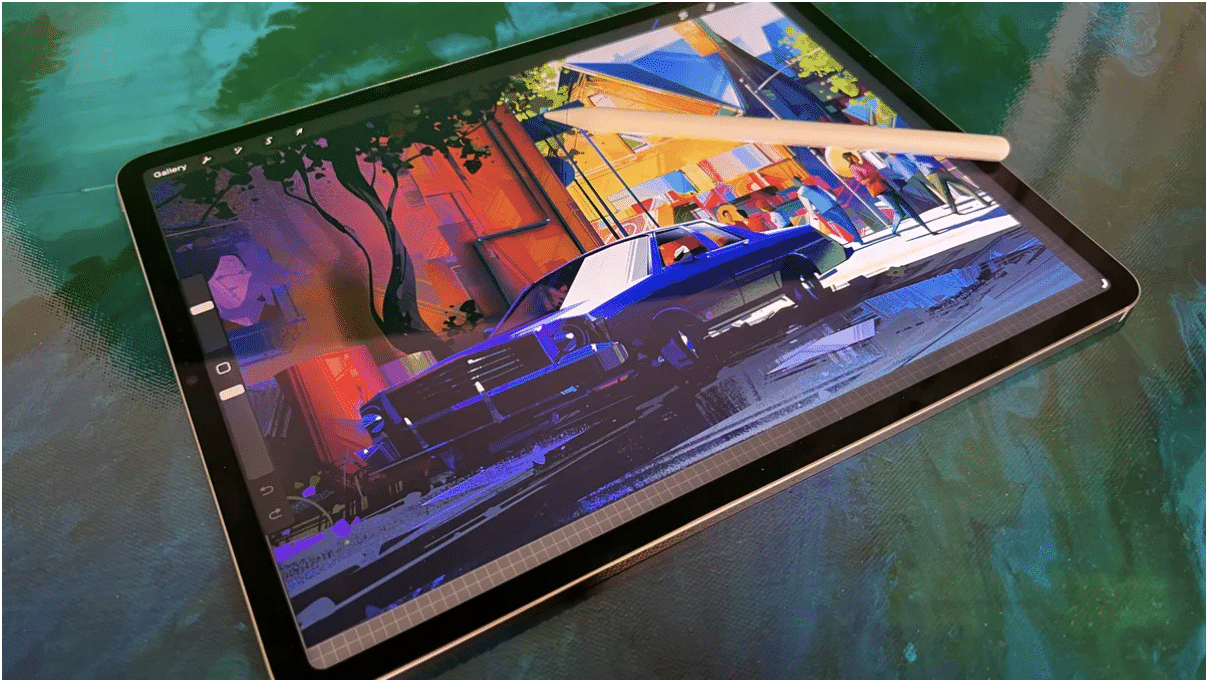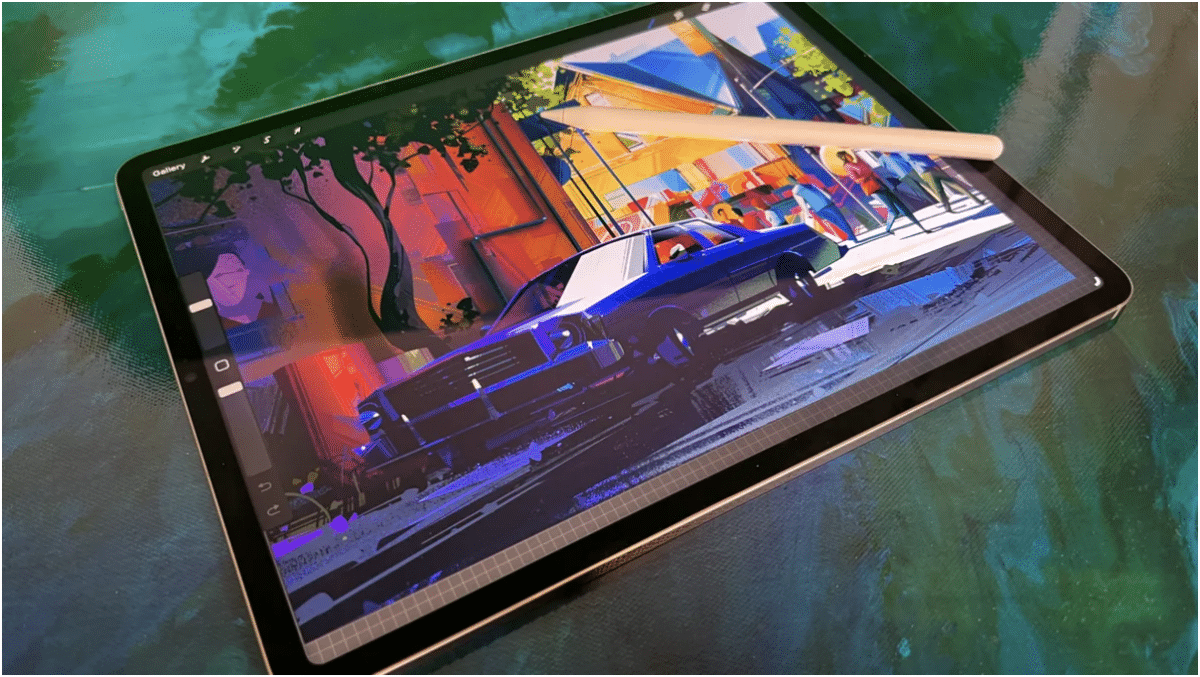 Key Points:
M2 processor allows for a Hover feature
Third-party app integration
Another one of the biggest advantages that the new iPad Pro 2022 brings to the table is the new Hover feature with the second-gen Apple Pencil. With the upgrades made to the Apple Pencil it makes it just the ultimate tool for note-takers, artists or just those looking for precision that their fingers can't give them.
This new Hover feature allows your iPad Pro to detect the Pencil tip before it has even touched your screen, at 12mm above to be exact, which will allow you to see where the tip will land before actually making any mark. So, in preview you'll not only be able to see where the tip will land but you'll also be able to see the size of the marking you want to make and even the blend of different colours.
Hover is extremely helpful and has been integrated into third-party apps as well, such as ProCreate. You are also able to combine finger gestures that you perform on the screen with Hover in order to make adjustments, such as changing the size of your brush you're using.
Cameras
Key Points:
Same cameras as iPad Pro 2021
Center Stage remains a great feature
Here you won't be too happy with the new iPad Pros specs as the cameras that this tablet has are exactly the same as the ones you'd find on the 2021 variant. Although there hasn't been any upgrades done to it, it is still able to take great pictures, both with the rear and front cameras, so for most people this isn't a big problem.
Not only is the rear camera good but the front one is the same, which means that when you are video conferencing with co-workers, friends or family then you'll have a great quality video of yourself to them. Then if you are someone that likes to take selfies then you'll be happy to know that this tablet has an awesome 12MP camera to make sure you look your best.
Another great feature that this iPad Pro has, that is especially useful during video calls where you'll be moving around a lot, is Center Stage. This feature has the ability to pan, crop or zoom in order to keep you in the frame when you are on a video call and have to move around.
One disadvantage about the cameras is that the front facing camera is located on the shorter edge of the tablet's display. It would make a lot more sense to have it positioned in the centre of the longer side because most of the time when people do video calls or have the Magic Keyboard attached then they'll have their screen laying horizontally, so it would be nice to have the camera in the centre of your viewing.
Battery Performance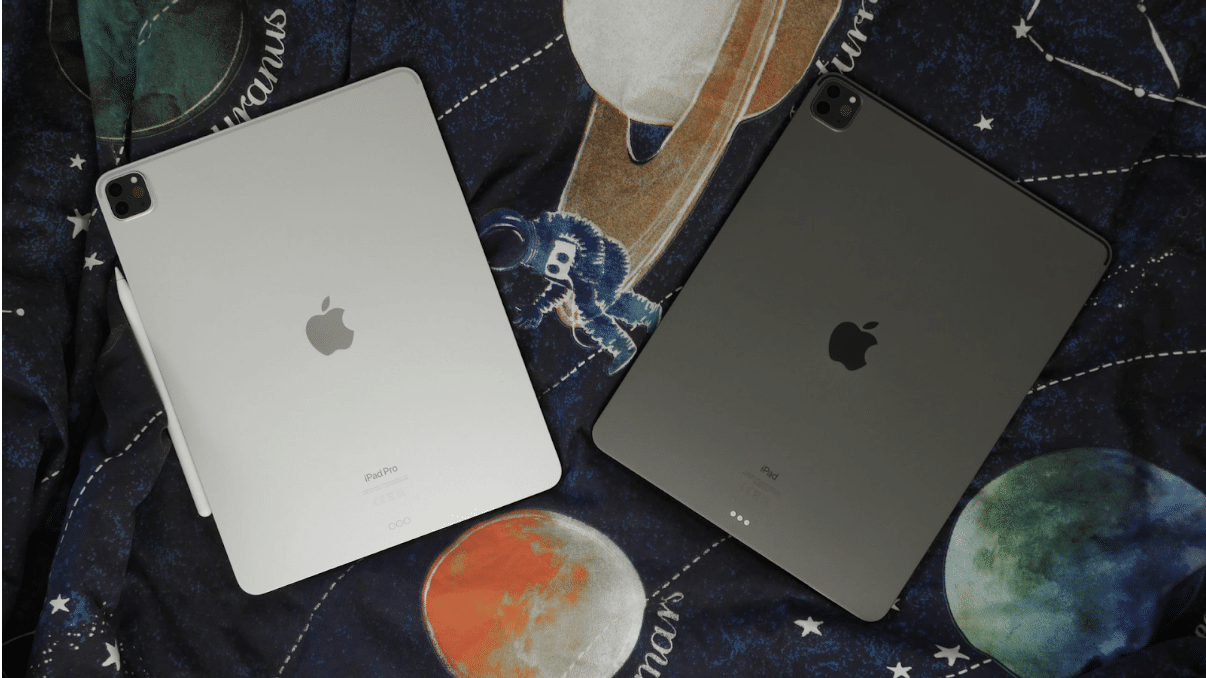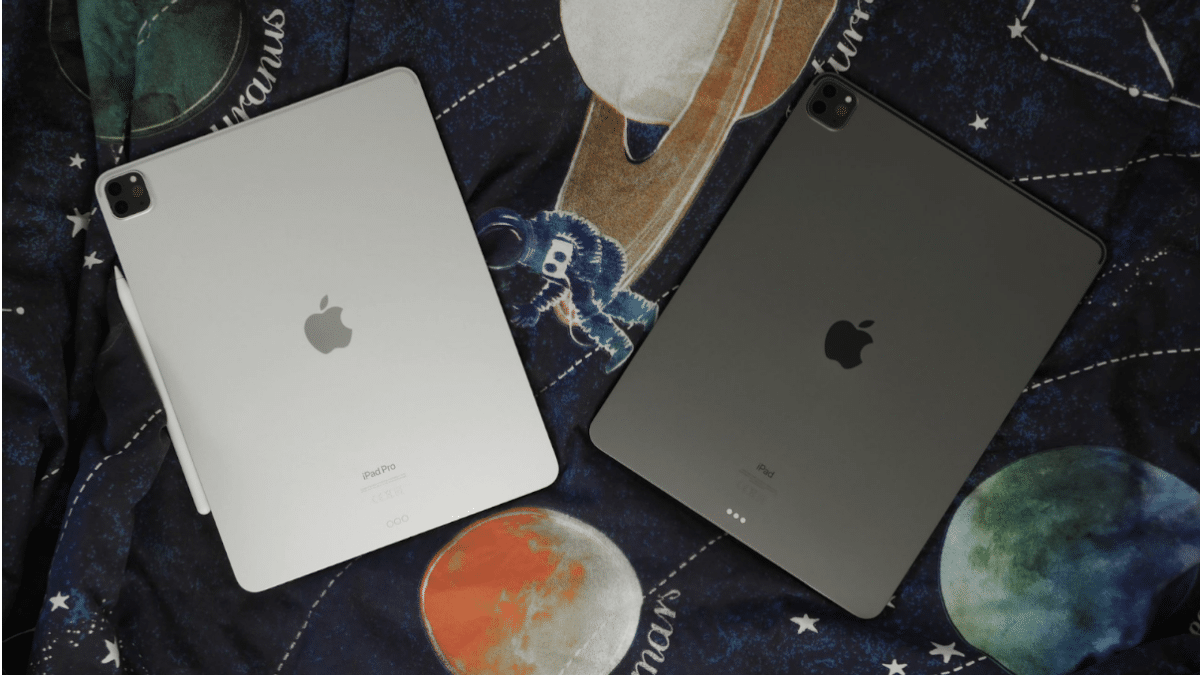 Key Points:
The new iPad Pro 2022 will last you a total of over 10 hours, longer than the iPad Air 2021 however it still lacks in comparison to the Samsung Galaxy Tab S8 that is able to last over 12 hours. The charging times on this iPad hasn't really changed much from the previous year and whilst using a 20W charger you'll be able to charge it up to 10% in 15 minutes and 20% in 30 minutes.
The Magic Keyboard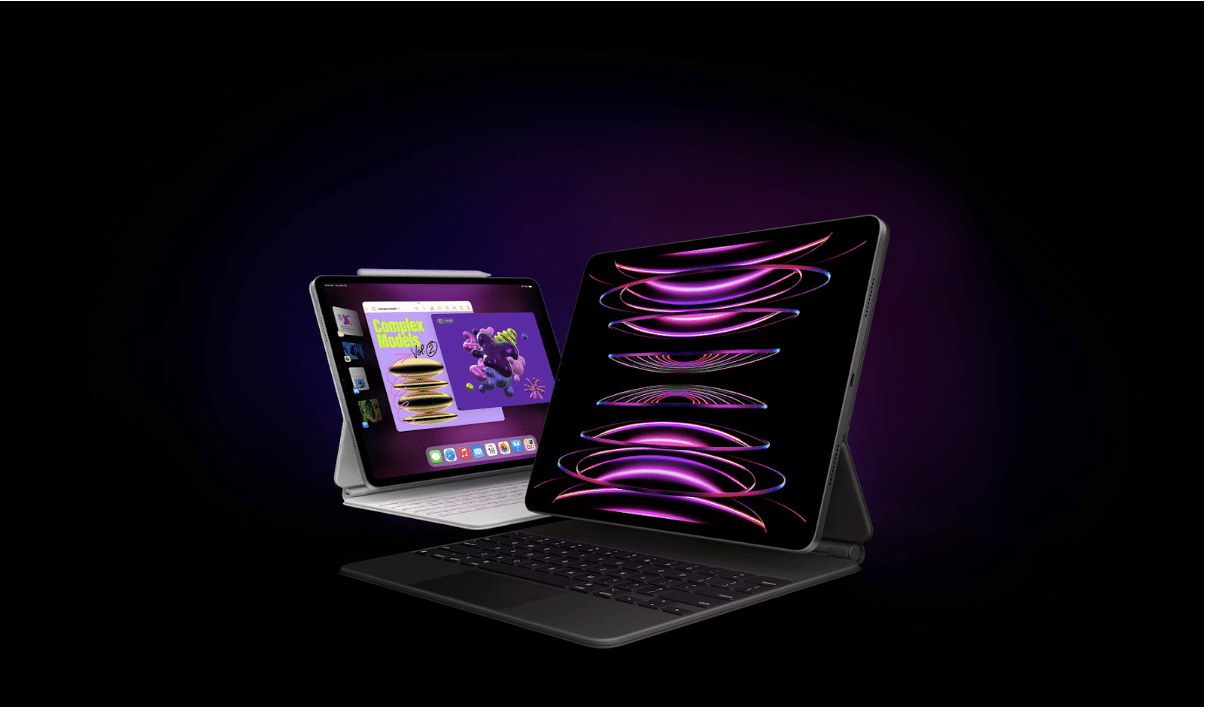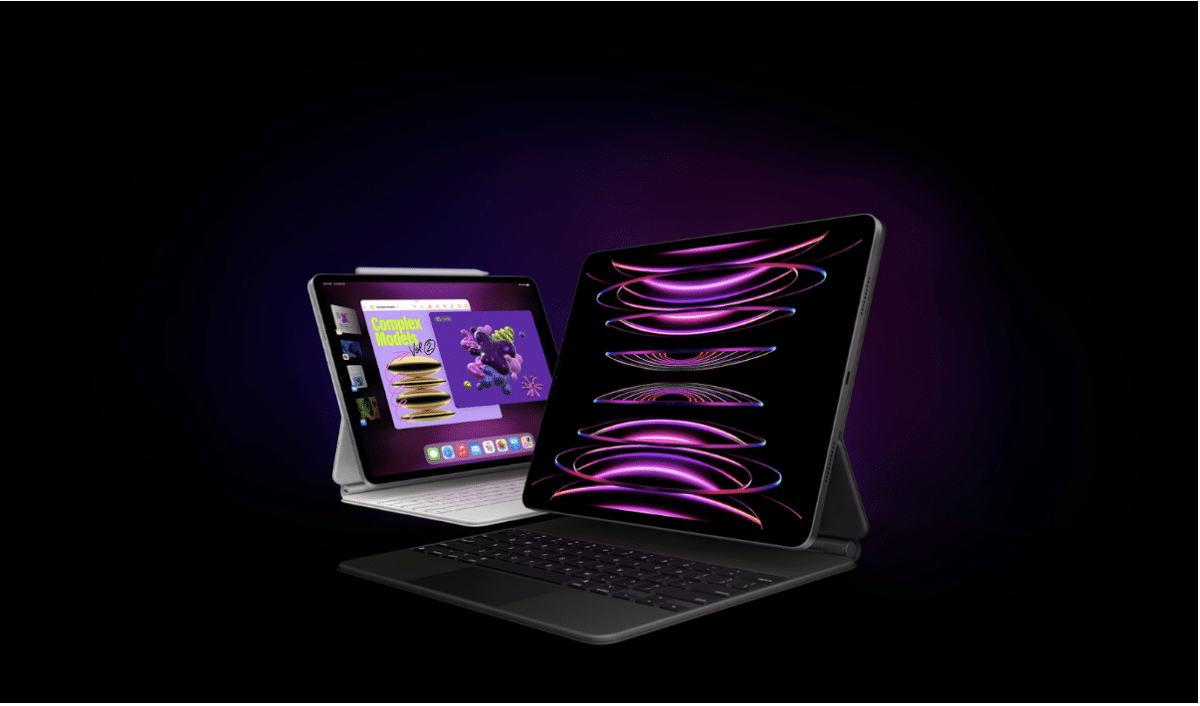 Key Points:
An accessory that a lot of people who purchase the iPad Pro 2022 also purchase is the Magic Keyboard. This awesome keyboard basically gives your tablet a laptop-like feel.
The base of the Magic Keyboard is also extremely sturdy, so no matter how hard you type the keyboard will be able to keep your tablet in place. This keyboard has a cool cantilever design, which will give you the perfect viewing angle when you are using it. This is a feature that not a lot of other keyboard add-ons have, so it does definitely give this keyboard a boost above a lot of other great keyboards out there, such as the optional Book Cover keyboard for the Samsung Galaxy Tab S8.
The design of the keyboard itself is also great and it has enough space for you to type very comfortably for hours on end if you want. The trackpad that is on the keyboard itself is also very smooth and responsive.
Final Words
There have been a lot of mixed feelings in regards to the iPad Pro 2022. Yes it is definitely an amazing and well-designed device that is able to give you everything you'd ever need from a tablet and the new M2 chip makes it relatively future proof as well.
However, if you are someone that already has the previous generation iPad Pro then the upgrade to the 2022 variant is a bit pointless, unless you are going to be doing some heavy-duty design or video editing. If you are in the market for a new iPad and don't want to pay as much as you would need to for the iPad Pro then the iPad Air 2022 is another great option that is more affordable but still has an impressive overall performance.