Massage guns, or Theraguns, have gained a lot of popularity lately as they are able to help you relax and soothe your sore muscles, whether you're a hard working athlete or just someone who has been sitting at their desk the whole day.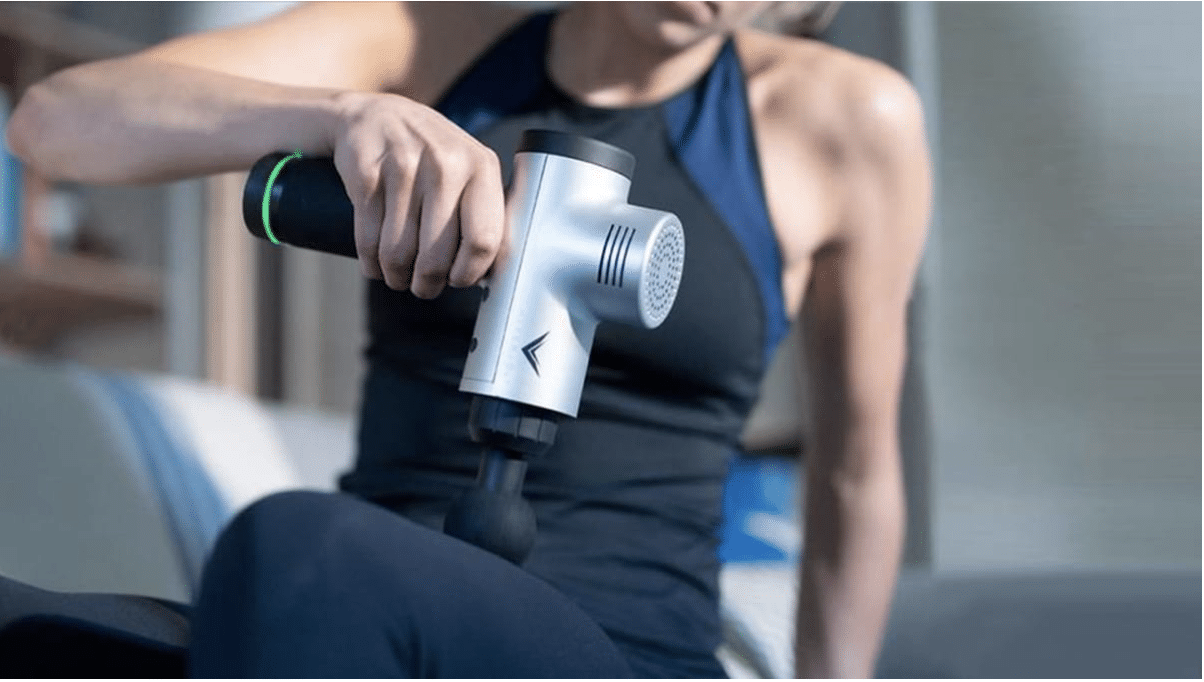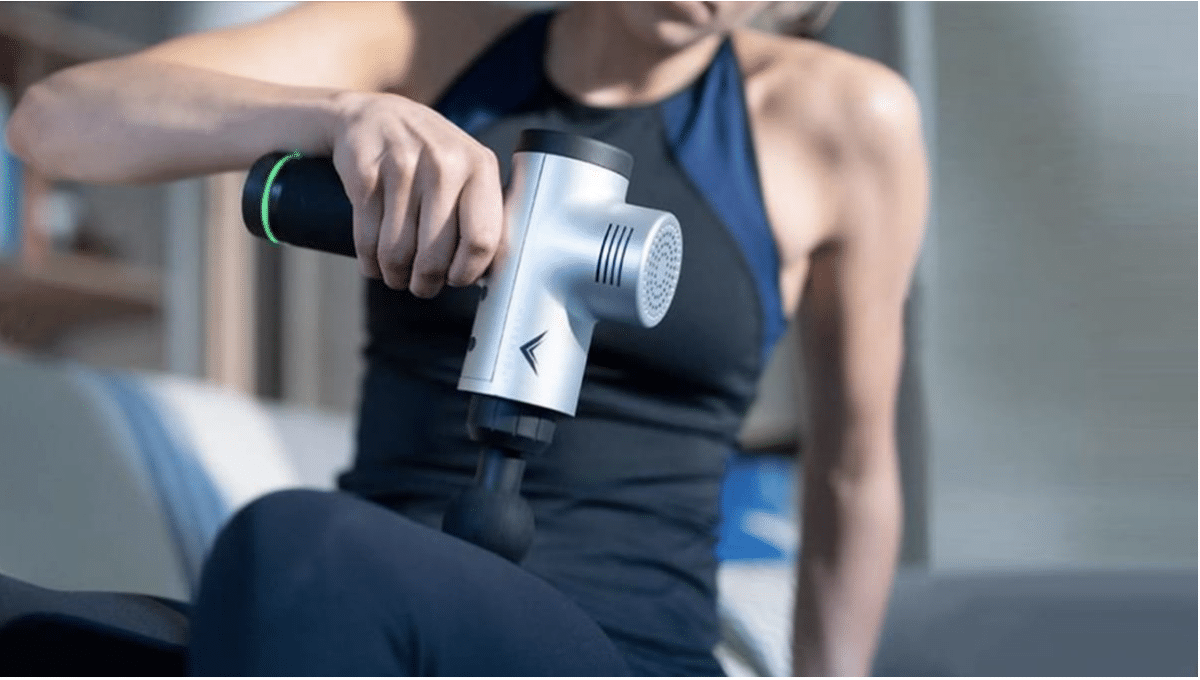 The Theraguns that are made by Therabody, tend to be the most popular amongst massage gun users, however these can be very expensive. Thankfully there are a lot of alternatives out there for hundreds of dollars less that will still provide you with good performance.
This guide to some of the best massage guns out there will be a mixture of all different budgets, so hopefully there will be a great option for everyone.
If you do decide that you are going to spend a little extra money and get the Theragun, then you won't have to worry about buying the most expensive option in order to get the relief you need because you can actually purchase lots of different accessories for it separately, such as foam tips. Currently, for the Theragun, you'll be able to purchase the superset wedge, large ball, thumb, standard ball, dampener and cone attachments for it separately.
Best and Quietest Theragun
Theragun Elite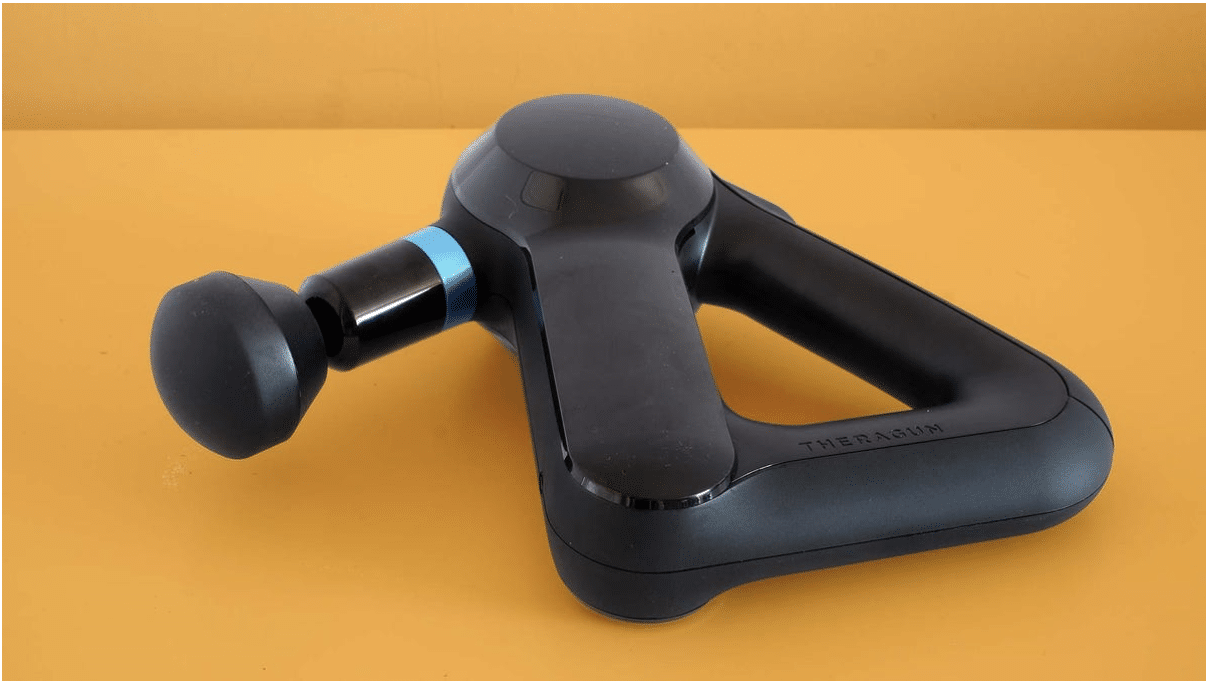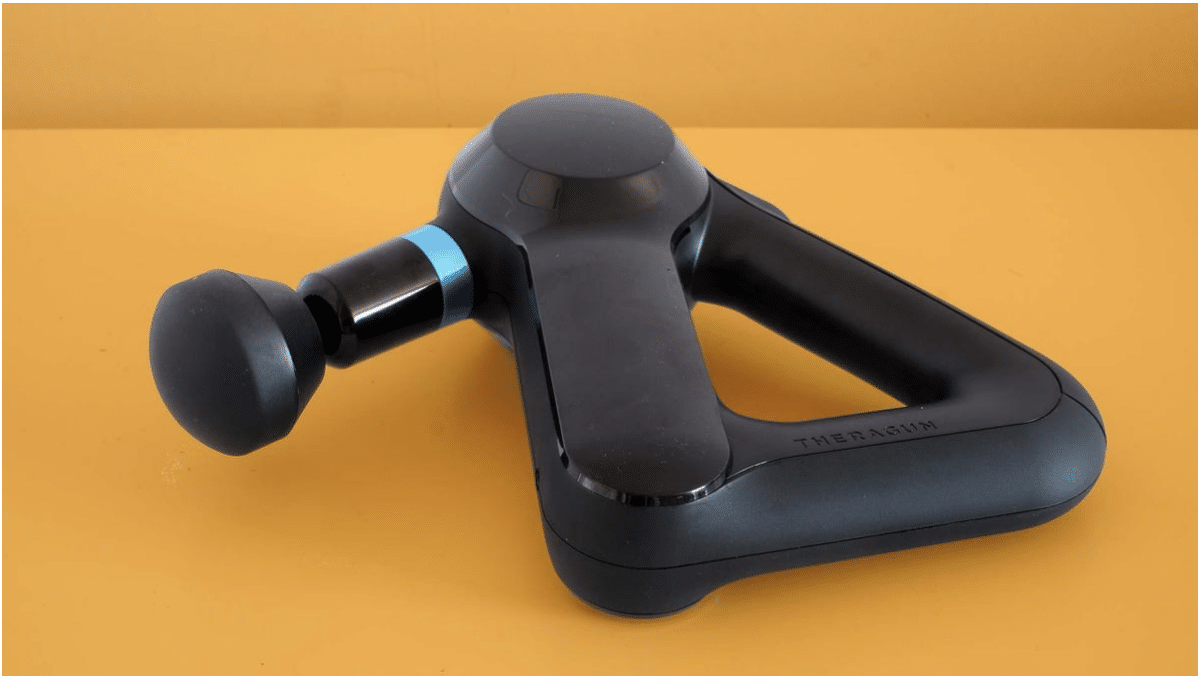 Pros
Great multi-grip design
Motor allows 40 lbs of pressure without stalling or recoiling
Cons
The carrying case is bulky
Price: $400
This Theragun is able to tenderise your muscles unlike any other gun out there, and then when you have the right foam tip equipped, even at its lowest speed setting, will still be able to relieve deep tissue pain and muscle tension in just a matter of mere minutes. This gun also has some great app integration, which makes it super easy to not only create but also store massage routines for any recurring aches you may have. Not only does it have awesome features but it is also surprisingly quiet and is Therabody's quietest device.
Although you may look at it and turn away since it doesn't have a rotating arm, you shouldn't be too quick to judge as it doesn't actually need one. The Theragun Elite has a triangular design so that you are able to reach your back and neck muscles with ease. If you purchase the Theragun Elite, you'll only get one battery, which is one less than what you would get with the Theragun Pro. However, this battery will last you up to two hours with a single use, so it should last long enough for most sessions anyways.
Although you may not need to use the Therabody app to operate this device, it is definitely a helpful app to use if you have never used this type of device before. One the app, you'll be able to pick ailments, specific body parts you'd like to work on or activities such as relaxing your muscles before bed and the app will give you step by step instructions you can follow to use the device to its full potential.
Best Massage Gun for Serious Athletes
Theragun Pro – 5th Gen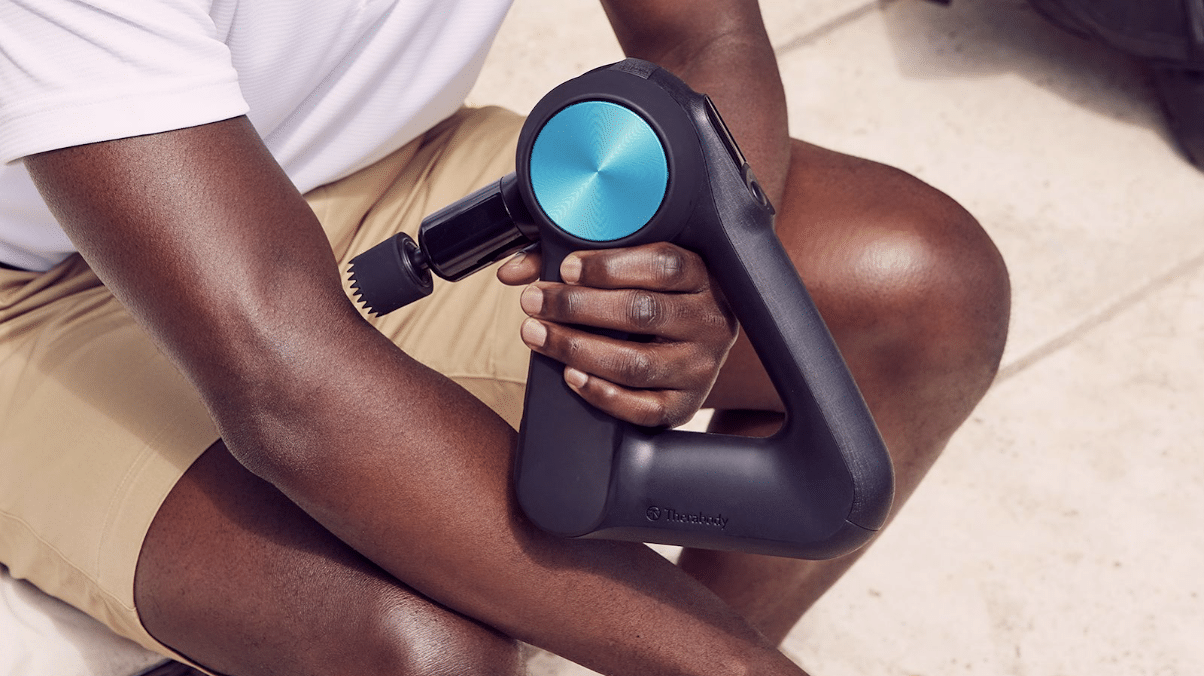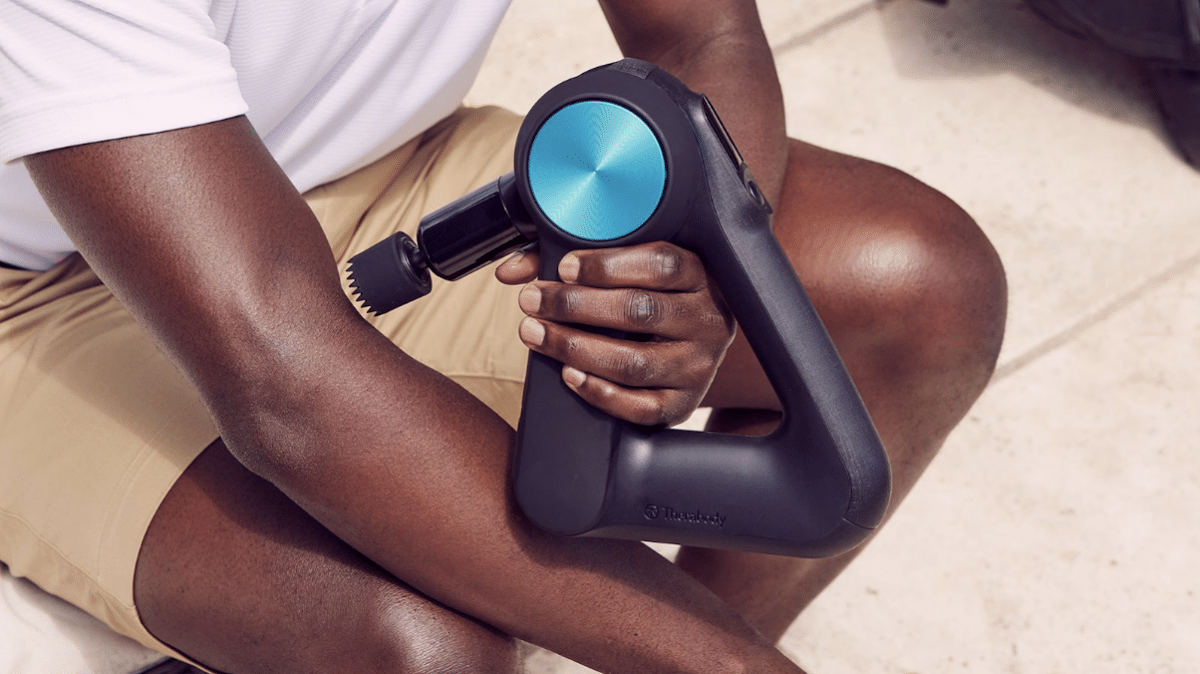 Pros
Quieter than previous generation models
Great stroke length
Price: $600
The Theragun Pro is a premium massage gun and is one of the most expensive Theraguns that you can purchase. This specific Theragun is meant to be used by the college athletic department as well as other professional sports teams. This Theragun is the only one that has a rotating arm, which makes using it on spots that are usually challenging to reach effortless. There is also an attachment that you can purchase for this massage gun, called Supersoft, that is perfect for your more sensitive areas.
One downside to this Theragun is its carrying case, it isn't as nice as the options that you can get from other competitors. With other cases you can usually expect it to have slots specifically for each attachment however, the Theragun Pro case only comes with a separate soft case for your attachments so you'll have to carry two cloth cases, one for the Theragun and one for the attachments. Although this may not be a dealbreaker for most people out there, it is definitely disappointing as you'd expect to get a much better solution when paying this price.
The Best Alternative to Theraguns
Yunmai Slim Elegant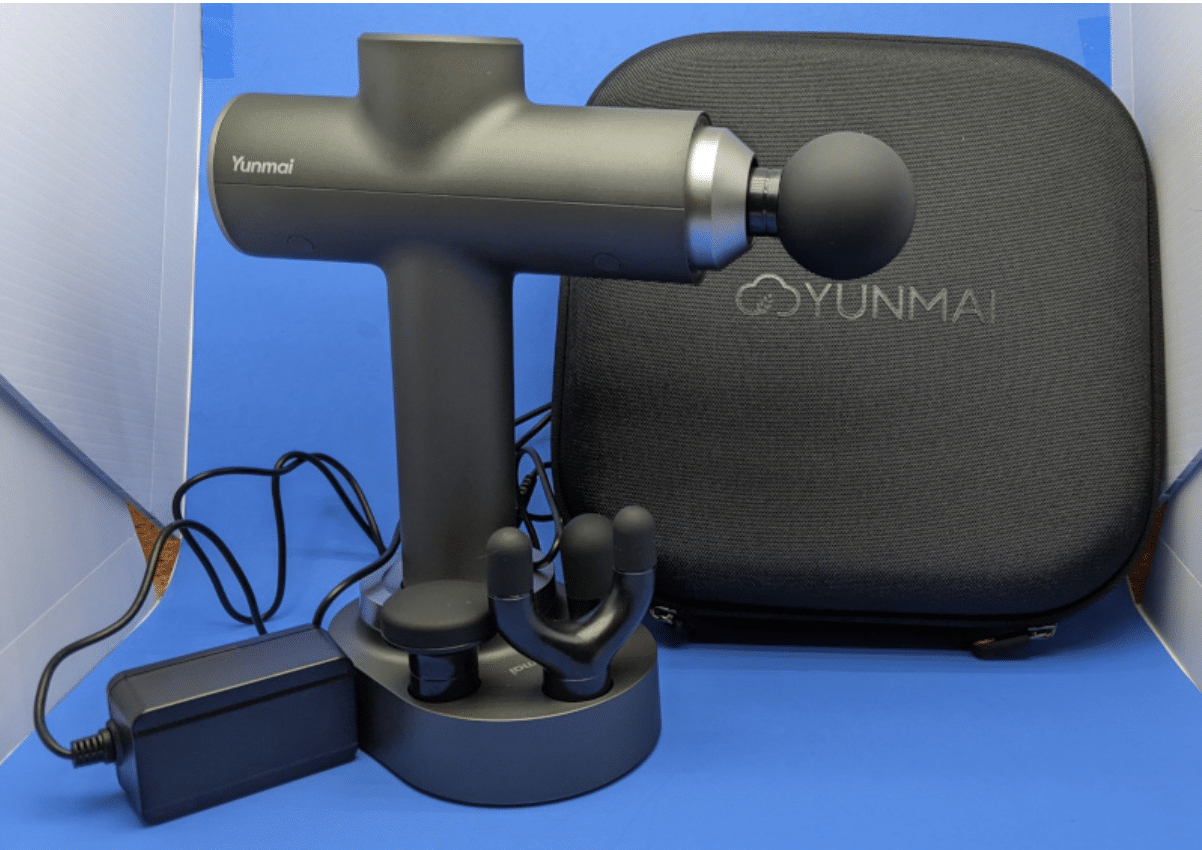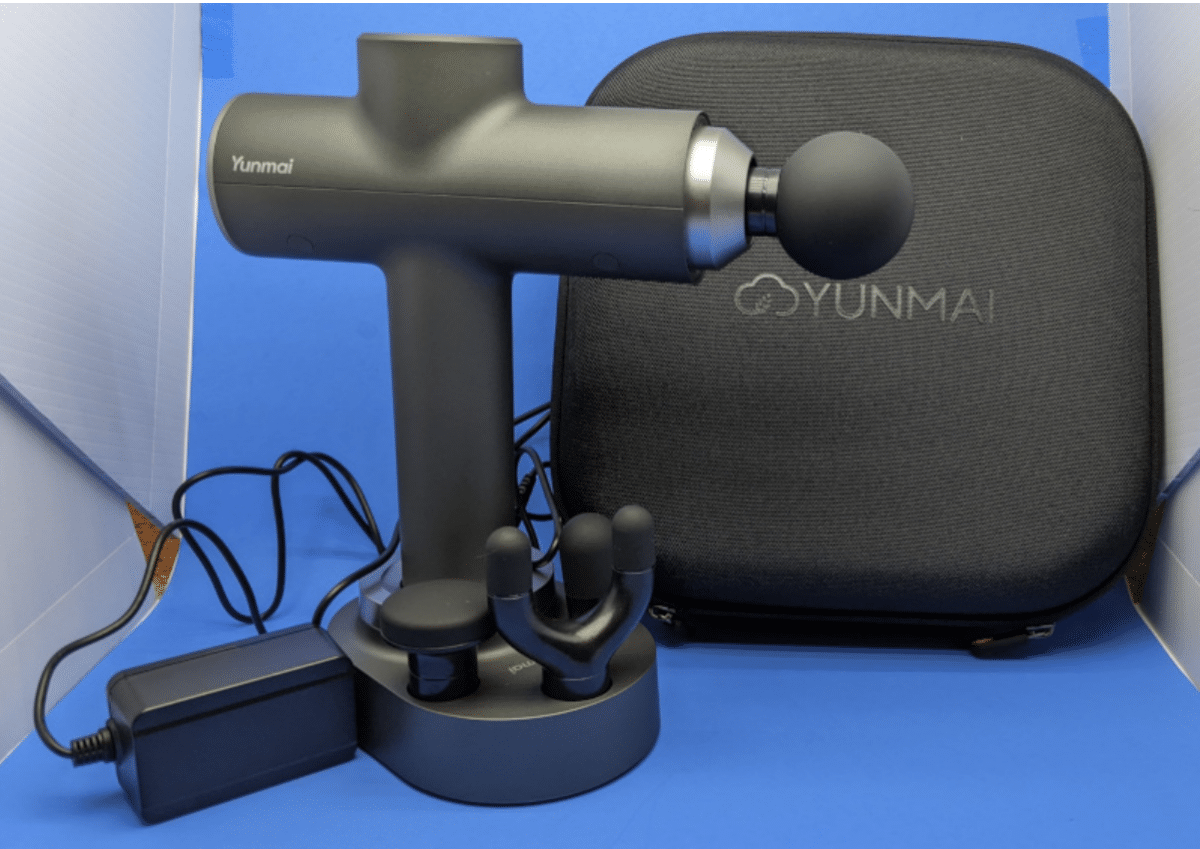 Pros
Very quiet
Comes with charging stand
Cons
Not a lot of variation in speed between speeds
Price: $180
This massage gun from Yunmai is simple but still works very well. A popular reason for going with this massage gun is because of its attachments, which are firm but still feel nice against your skin because they're coated with a soft silicone. Usually the attachments that you'd get on other massage guns would be made of rigid plastic or soft foam, which don't feel bad, but feel a little worse than the silicone used on this massage gun's attachments.
The Yunmai Slim Elegant is equipped with five different speeds, which includes two "massage modes". These five different speeds feel like variations of the first speed and it would've been a little nicer to see a little more variations in the speed as the second and third speed are much more powerful than the first one. This massage gun also comes with a hand charging base, which you are able to stick to a hard surface if you'd like, which makes it super easy to put the massage gun on charge once you are done using it.
Best Portable Heated Massager
Gravity Move Heated Mini Massager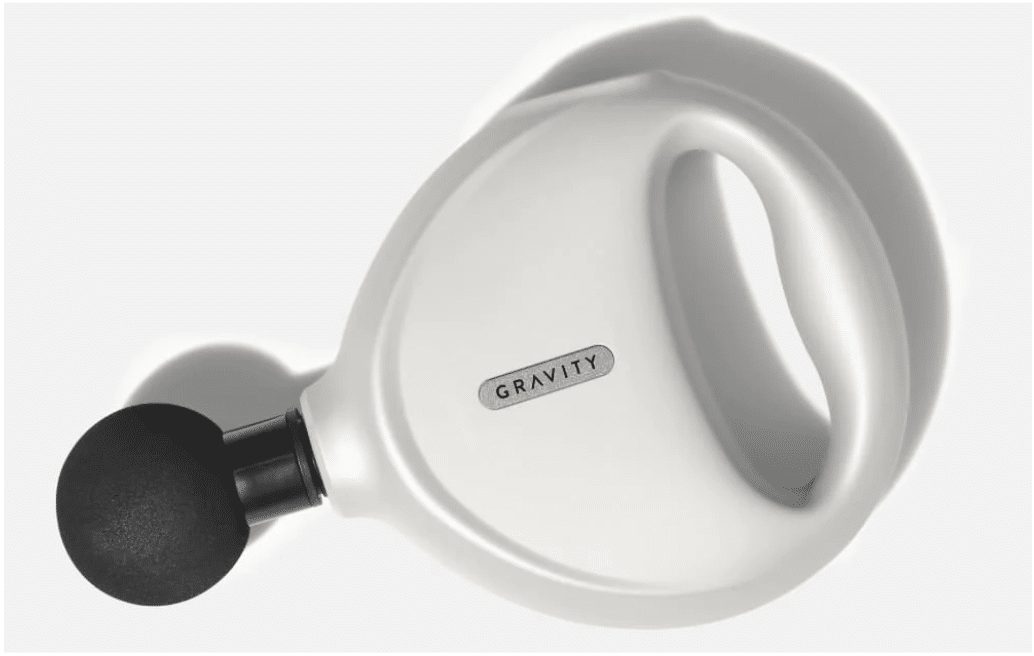 Pros
Great price
Heated massage therapy
Cons
Not as much power as larger devices
Some may not prefer the smaller size
Price: $150
The Gravity brand that made this massager has produced many successful weighted blankets that saw a lot of popularity amongst the public, and we see that they have now moved on to produce great massagers as well. Despite this masserer's small size, it packs a powerful punch and its level one even moves so fast it's hard to see it moving up and down. More and more modern massager devices are adding heat and this one is amongst one of them. The metal attachment that produces this heat is capable of reaching up to 126 degrees Fahrenheit, and it is simply controlled by the click of a button located directly on it, rather than on the massager's handle. By not having this heat button on the handle, you'll be able to use this heating feature without the pulsations if you so wish, and even without it being attached to the massager at all. Since this attachment is able to do this, it'll need to be charged separately. It comes with its own USB-C charging port.
One downside to purchasing the Gravity Move Heated Mini Massager is that the case that it comes with is only able to fit the handle with one attachment on it, many people would've liked to see the case made a little larger.
Best Budget Massage Gun
Sharper Image Powerboost Deep Tissue Massager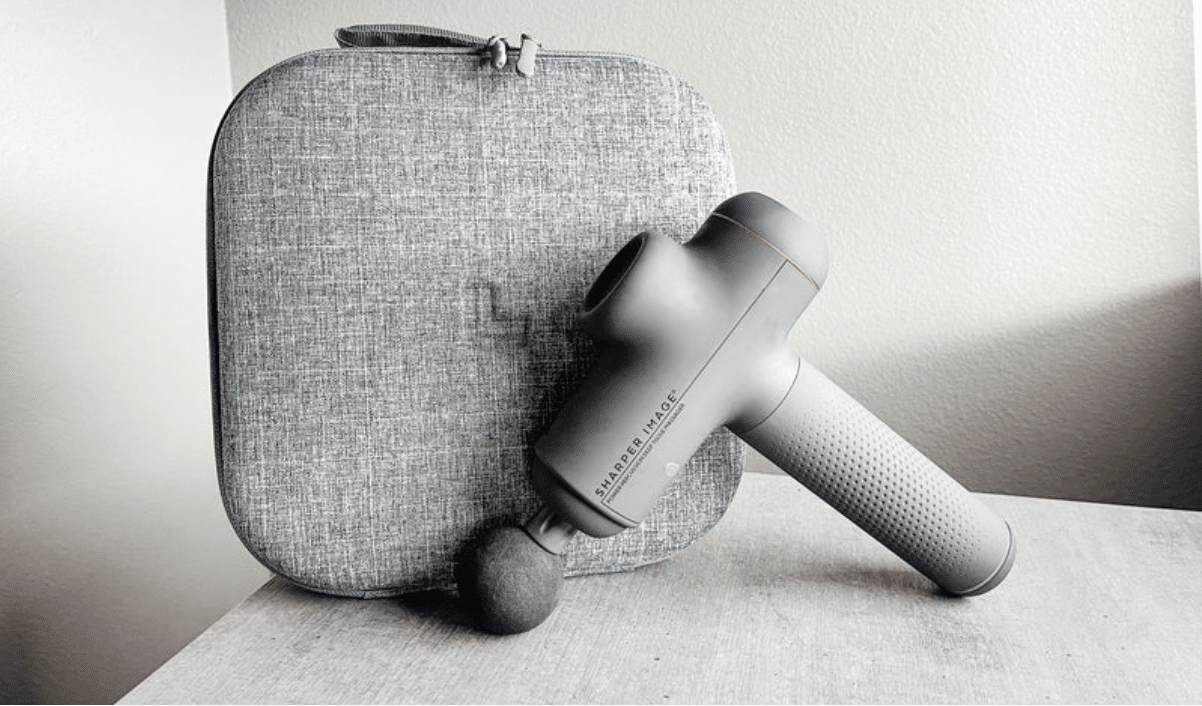 Pros
Affordable price
Very easy to use
Cons
Battery life is worse than more expensive variants
Price: $90
The Sharper Image Powerboost Deep Tissue Massager is a great full-sized budget massage device option for those looking for something under $100. This massage gun is light and comfortable to hold in your hand and although it may not sport a ton of power behind each of its pulses it is still able to gently work out all of the pains and kinks that you may have in your muscles.
Despite this massage gun coming at such a low price it still comes pretty well equipped, with five different attachment heads as well as a carrying case to keep your massage gun and attachments relatively protected.
Best Massage Gun With Cold Therapy
Sharper Image Powerboost Pro+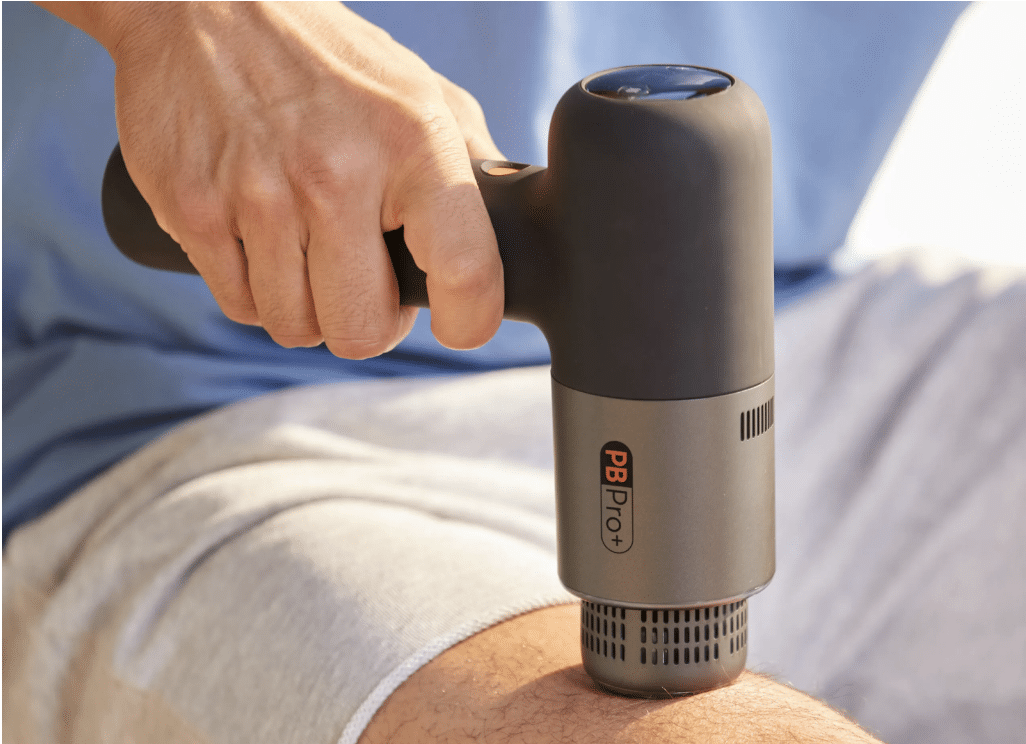 Pros
Cold and heat therapy
Comes with great charging stand
Price: $199
This is a unique massage gun that is a favourite amongst many people and a lot of its popularity is thanks to its temperature attachment, which not only uses heat, like the Gravity massage gun, but also includes cold therapy. This means that, with this attachment, the gun's temperature can range from 38 to 115 degrees Fahrenheit. Also just like the Gravity massage gun, you'll be able to use it just for cold or heat, or with the pulsations. When you purchase this massage gun you'll also receive five additional heads, which have all been constructed out of nice hard silicone. Not only does this massage gun have all of these added features but it is also one of the quitest models as well. Even when you have this massage gun set at its max pulsating speed it still doesn't blare out loud vibration noises like a lot of other options out there tend to do. The Sharper Image Powerboost Pro also comes with a charging stand, which is extremely convenient as after you've finished using it you can just plop it down onto its charging stand.
Final Words
So, there you have a full list of some of the best massage guns that you can buy in a range of different budgets as well as features that they have. A massage gun is definitely something that you should try an invest in in order to massage your muscles if they're ever feeling tense, but as it is with most things the most important thing will be to establish what type of budget you have and then you need figure out which features are important for you and which ones you will want to have in your massage gun.