With a reliable charger, you can keep your devices charged when traveling. This helps you stay in touch with loved ones and use important apps. A power bank is especially useful during long flights, layovers, or outdoor trips when power outlets are hard to find.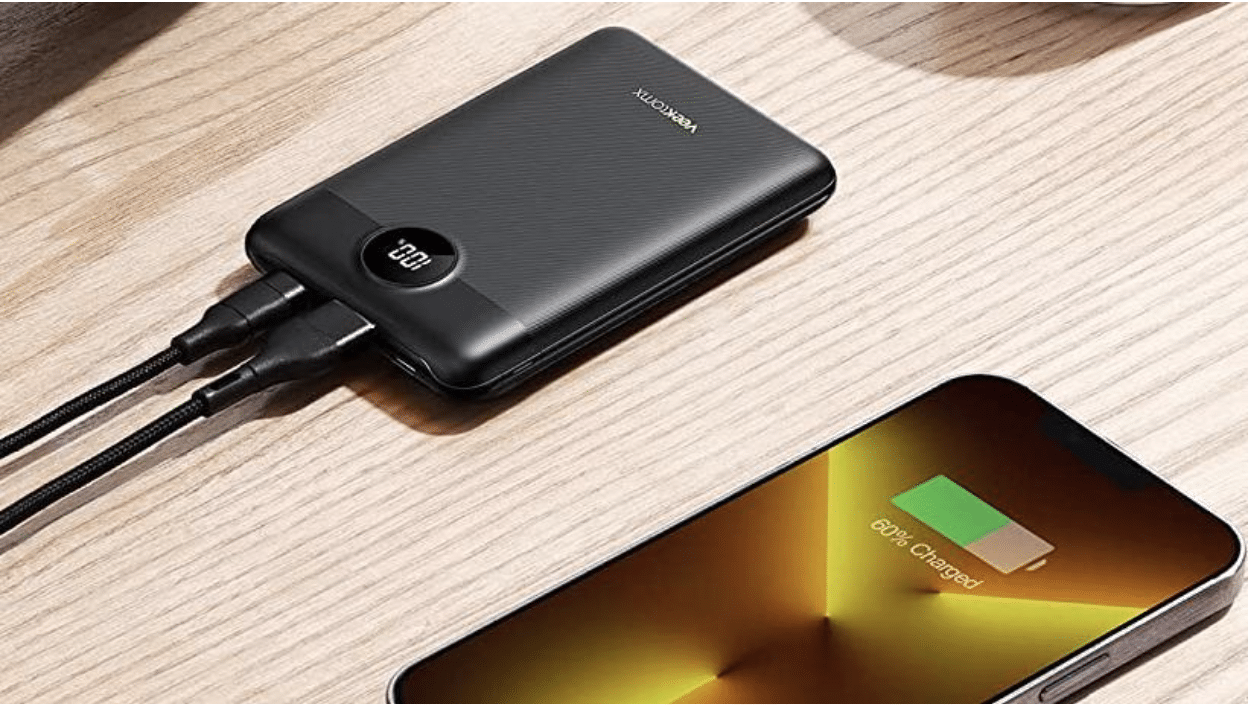 When picking a charger or power bank, there are several factors to consider. First, capacity matters because it affects battery life. Compatibility is important too, as not all chargers work with every device. Charging speed is another factor, as some chargers can charge devices faster than others.
Other things to think about include the charger's size and weight. The number of ports and any extra features are also important. It's crucial to find a charger that meets your needs. This could be a small battery for a quick phone boost, or a larger one for multiple devices over a longer time.
In this piece, we'll share the best portable chargers and power banks for travelers in 2023.
Best Ultra Slim and Ultra Portable Power Bank 2023
Nitecore NB10000 Gen II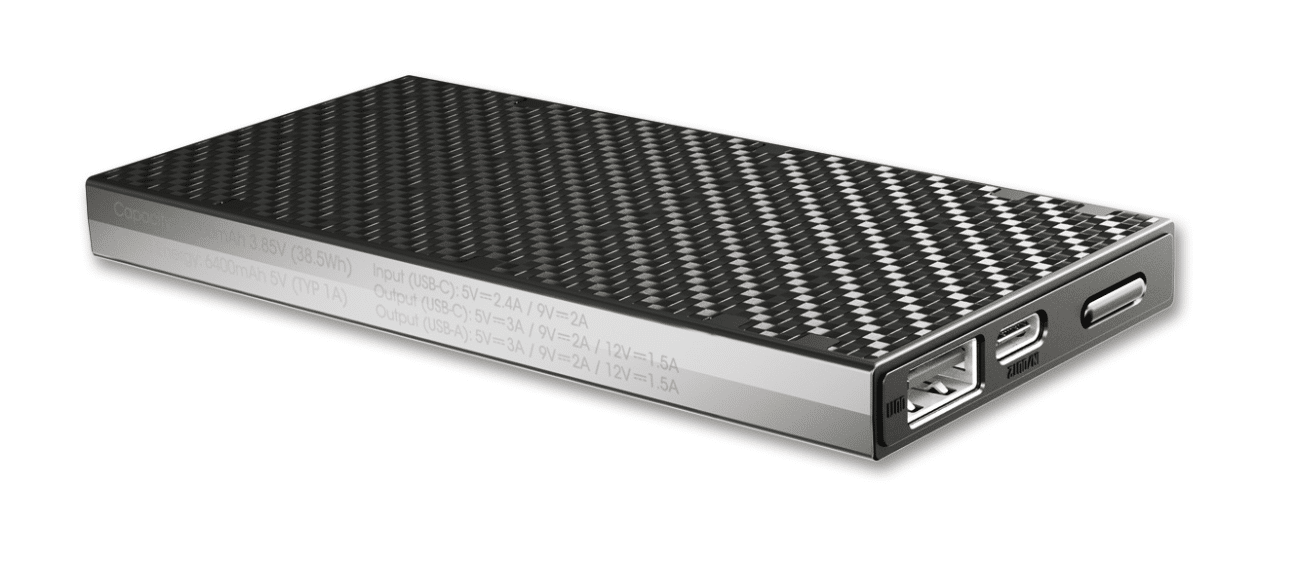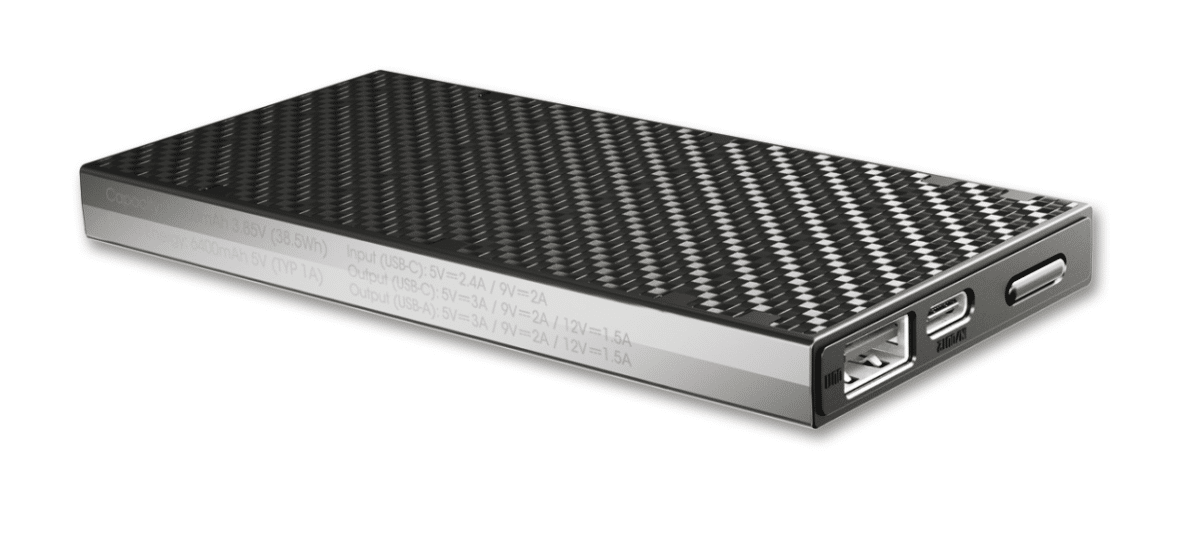 Pros
Lightweight and ultra-slim
Dual USB/USB-C output ports with Quick Charge 3.0
One-touch low current mode
Carbon fiber case
IPX5 rated for water resistance
Cons
Relatively expensive compared to others
Some users feel it takes a long time to charge
Does not come with a USB-C cable
Minimalist travelers will adore the Nitecore NB10000 Gen II power bank. This ultra slim and portable charger may not be as popular as Anker products, but it packs a punch for the same price or less. With a lightweight carbon fiber body, USB-A and USB-C Quick Charge 3.0 ports, and a one-touch low current mode, it's perfect for outdoor enthusiasts and first responders alike.
Not only is it durable and waterproof (IPX5), but users also love its reliability, quick charging, and compact size. Keep in mind, it's pricier than other budget small-sizes power banks and may take longer to charge. Plus, it doesn't include a USB-C cable. Despite this, it's a fantastic investment for travelers.
Best Power Bank for Charging Laptops 2023
EcoFlow River Max Portable Power Station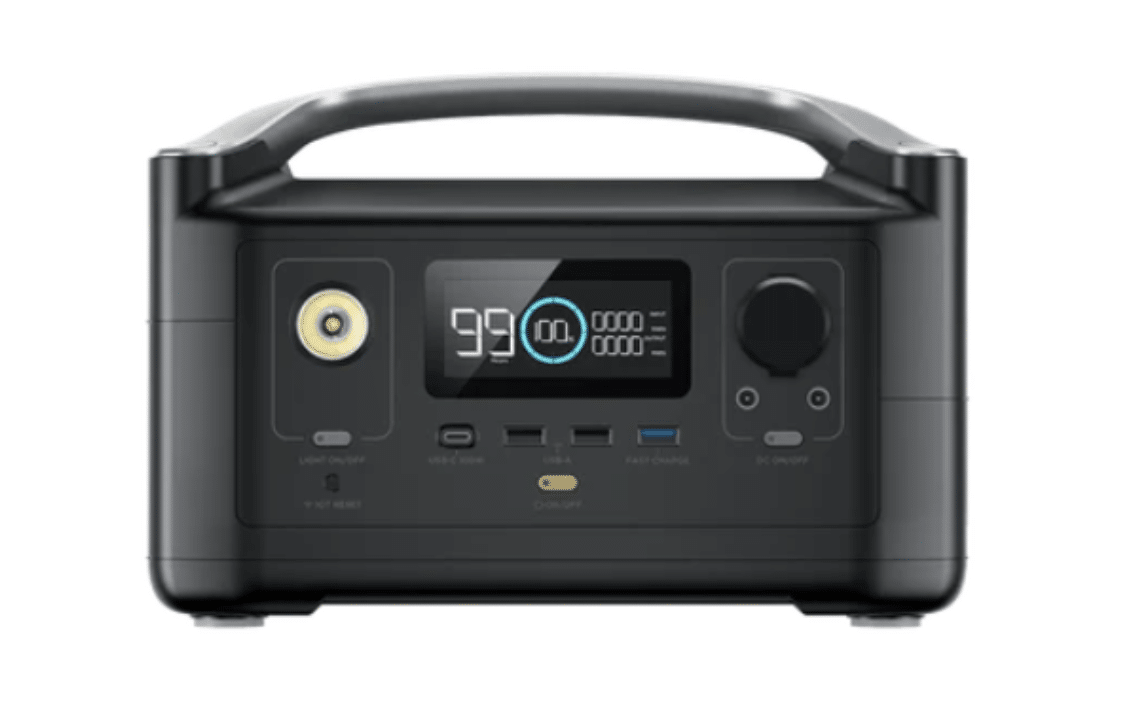 Pros
576Wh capacity
Recharges in 96 minutes
Portable and modular design
X-Stream feature for devices up to 1200W
Cons
Emits beeps and has an unusual LED light
Modular design may be unnecessary
Could be pricier than other power stations
The EcoFlow River Max portable charger offers a 100W USB-C port for laptop charging and a USB-A port for quickly charging phones. With a 576Wh capacity, you can recharge it from the mains in just 96 minutes. Lightweight and portable, it's perfect for camping, hiking, or RV living, and is affordable compared to similar portable power stations.
However, it may not suit those who need more than 576Wh or faster charging options. The EcoFlow River Max features a variety of output ports, including USB-A, USB-C, AC, and DC, to cover most charging needs. Solar recharging is impressively fast, taking under 3 hours with compatible solar panels. It's also great for powering devices like big-screen TVs or pellet stoves.
You'll love its phone app for monitoring charge levels and battery temperature. EcoFlow stands out for its high charging speeds, multiple charging ports, portability, safety features, and versatility. The only downsides are its beeping sound, odd LED light, and possibly unnecessary modular design.
Best Durable PD Power Bank 2023
Otterbox Fast Charger Power Bank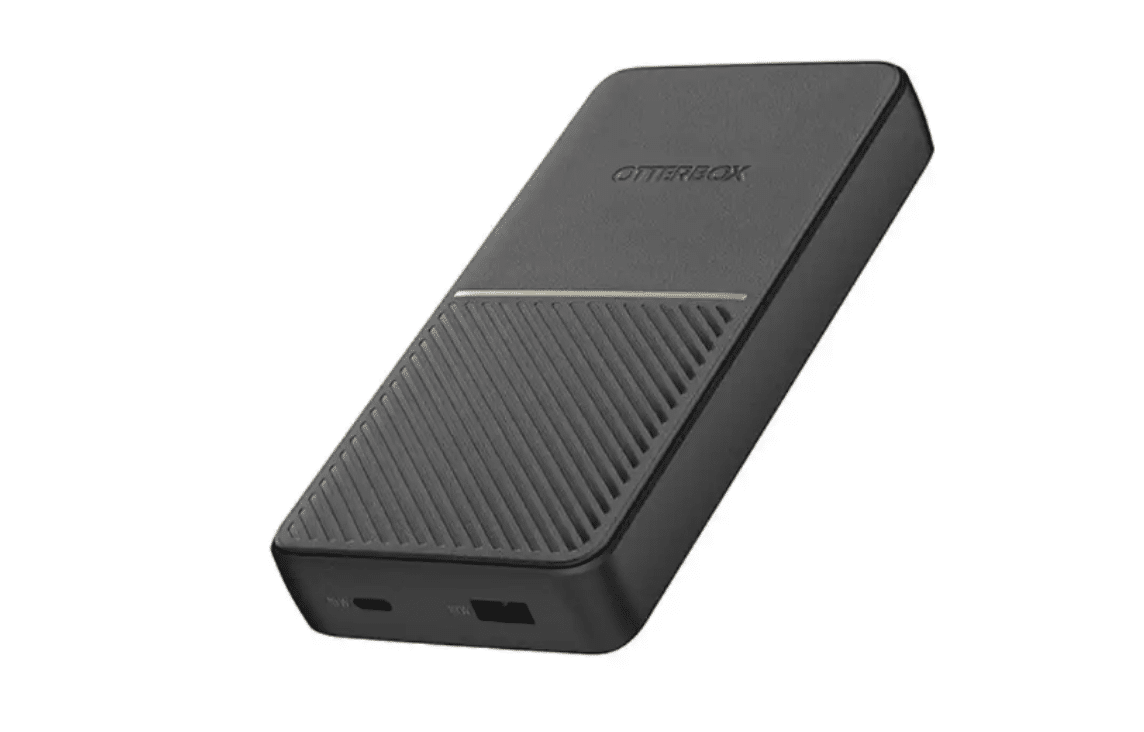 Pros
Fast charging capabilities
Durable design with trusted drop protection
USB-A and Fast Charge USB-C ports for multi-device charging
LED power indicator displays charging status and current battery life
Cons
Slightly bulkier than some competitors
Not wireless and needs a case
The Otterbox Fast Charger Power Bank 10,000 mAh stands out as the most rugged and reliable option in 2023. Boasting a tough design, above-average efficiency, and compatibility with various charging standards, it's a fantastic choice for powering your devices on the go.
Though it may be a bit bulkier and heavier than some alternatives, its performance and durability more than make up for it. This power bank comes with a USB-C to USB-A charging cable and offers both USB-C and USB-A ports, allowing you to charge two devices simultaneously.
There are a few minor drawbacks to the Otterbox Fast Charger Power Bank. It's not wireless and could benefit from a case to keep the cords organized. However, these minor inconveniences are far outweighed by its numerous advantages.
Best Portable Charger for Your Phone and Tablet 2023
INIU 10000mAh Portable Charger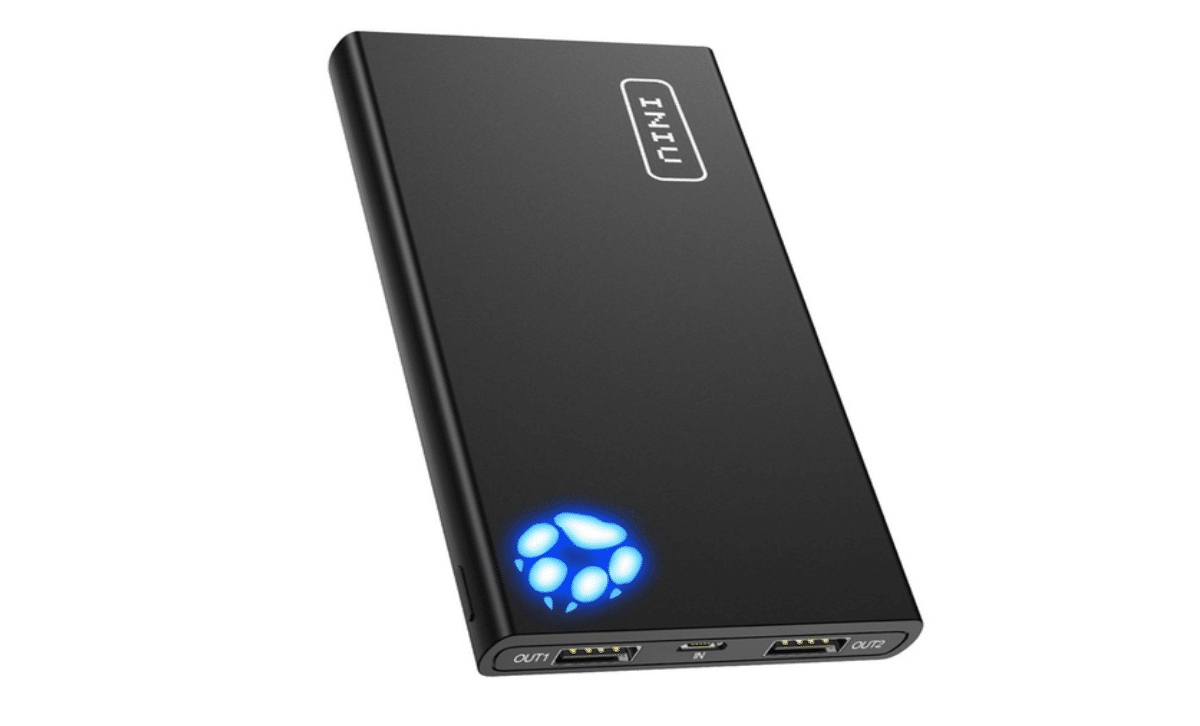 Pros
Small, pocket-friendly design
Budget-friendly at $13.74 on Amazon
LED light and carrying pouch included
10000mAh capacity for multiple phone charges
USB-A and USB-C port availability
Cons
Charging speeds limited to 15W
May not support simultaneous charging of multiple devices
This slim and lightweight power bank is perfect for keeping your phone, tablet, and other gadgets charged while you're on the move. With a 10000mAh capacity, it's ideal for a full day of adventures, fully charging an iPhone 8 three times. Its compatibility with the latest iPhone 14, tablets, e-readers, and laptops make it a versatile choice.
The INIU portable charger boasts a USB-C in&out high-speed charging battery pack, a sought-after feature for those using USB-C devices. It quickly charges an iPhone 12 from zero to 100% in just 2 hours and 21 minutes. Impressive 15-minute and 1-hour window charging scores of 17% and 72% respectively make it even more appealing.
You can use the INIU charger to power your Oculus (Meta) Quest 2 VR headset, significantly extending its battery life. Experts have praised its fast charging capabilities for phones, modified Nintendo 3DS, and vapes.
However, there are a couple of minor drawbacks. The charging speeds max out at 15W, and it may not be suitable for charging multiple devices simultaneously. To fully charge the power bank from empty, it takes a few hours.
Best Cheapest Portable Charger 2023
Poweradd Slim 2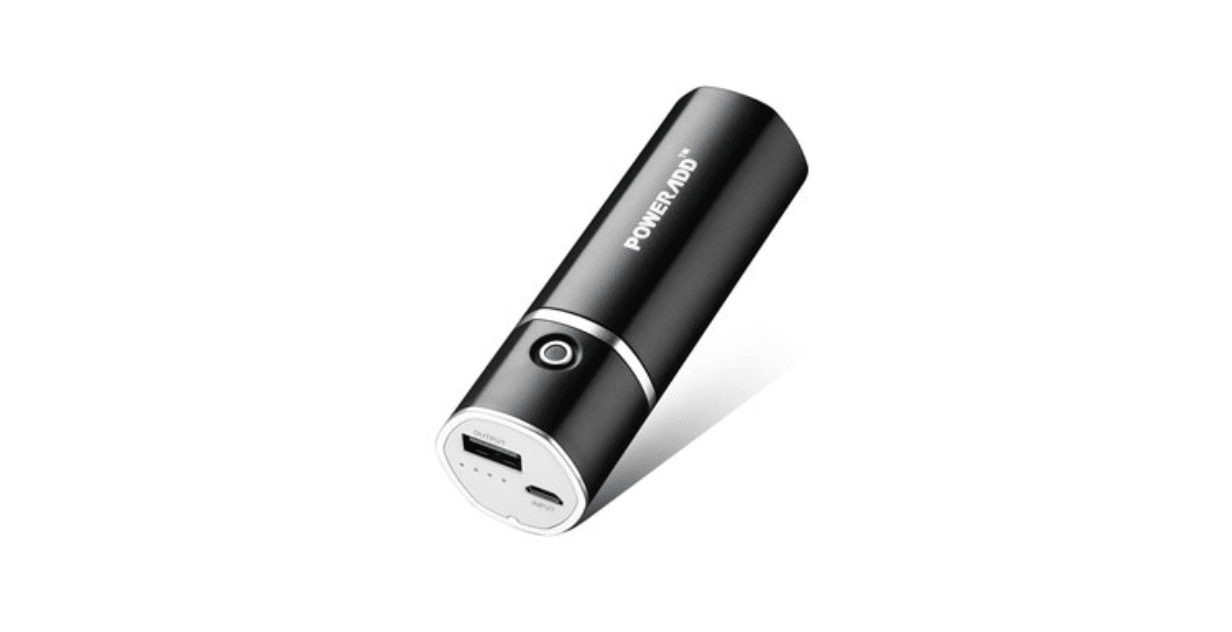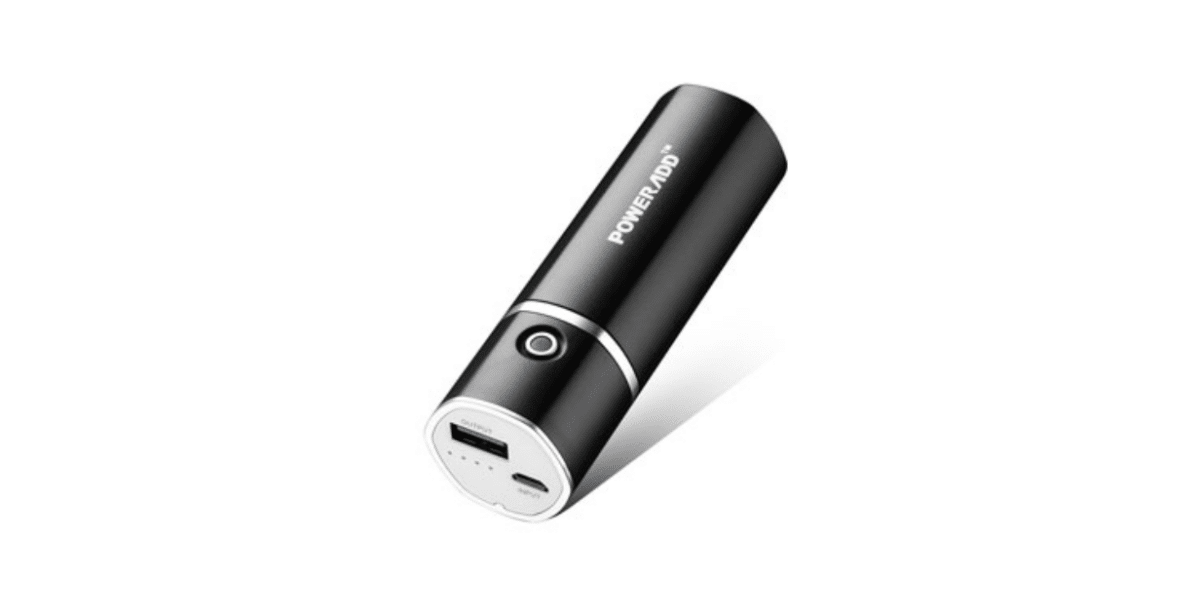 Pros
Affordable price
Compact and lightweight
One USB-A output with a charging speed between 7W and 9W
Auto-detects devices and delivers up to 2.1A charging speed
Matte coating prevents fingerprints
Cons
No support for fast-charging standards
Slower charging speed compared to other power banks
Tube-shaped design may not be comfortable in tight pockets
Potential quality control issues due to inexpensive components
The Poweradd Slim 2 is an excellent choice. This small, lightweight charger boasts a tubular design measuring only 3.9″ x 1.3″ x 1.2″ and weighing less than an ounce. Its 5000mAh capacity and upgraded charging technology auto-detect your device, delivering a charging speed of up to 2.1A.
Although the Poweradd Slim 2 features a micro-USB input and a USB-A output, it doesn't support fast-charging standards. Its USB-A output is specified as 10W, but tests have shown it to deliver between 7W and 9W, depending on the phone. Please note that a lightning cable for iPhone/iPad must be purchased separately.
You can use the Poweradd Slim 2 to charge your iPhone 5S to a full battery in under an hour. However, you'll need to charge the device after every use. Experts have praised the charger's bright LED and its power switch, which requires holding down to turn on and off — helpful in preventing accidental activation.
Best Portable Charger for Fast Charging
Anker PowerCore Slim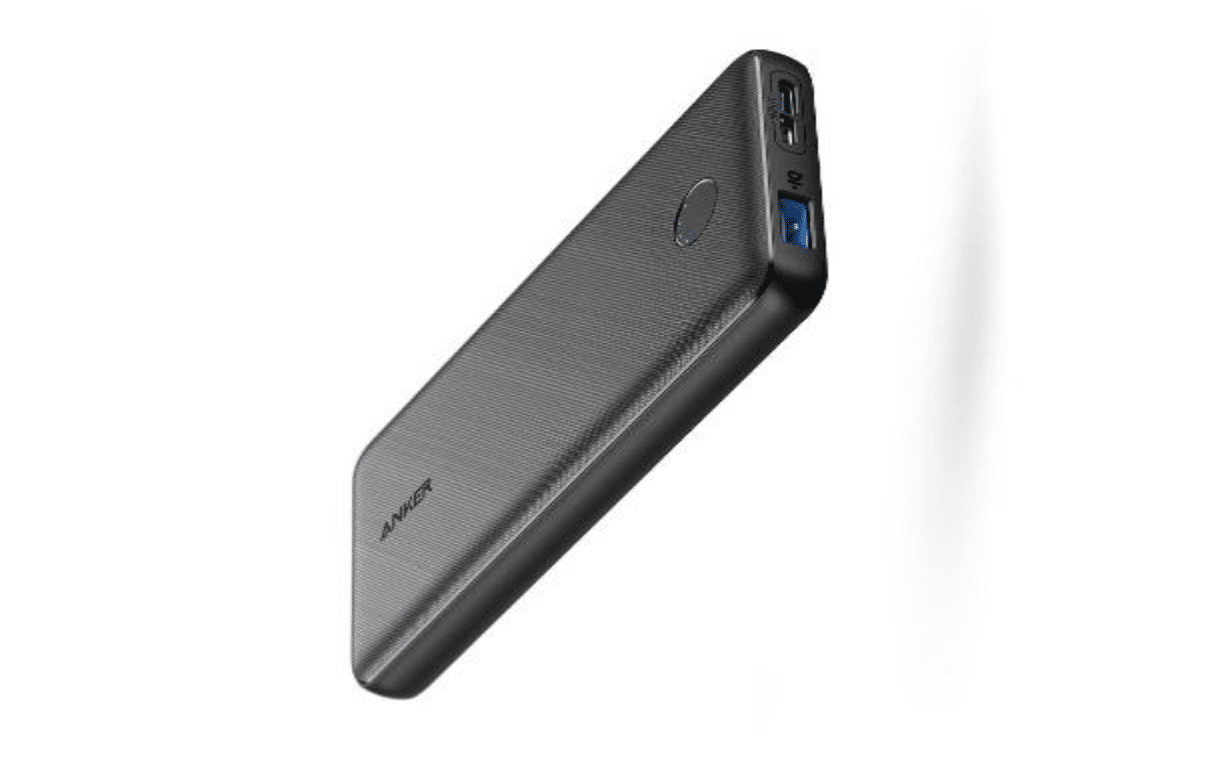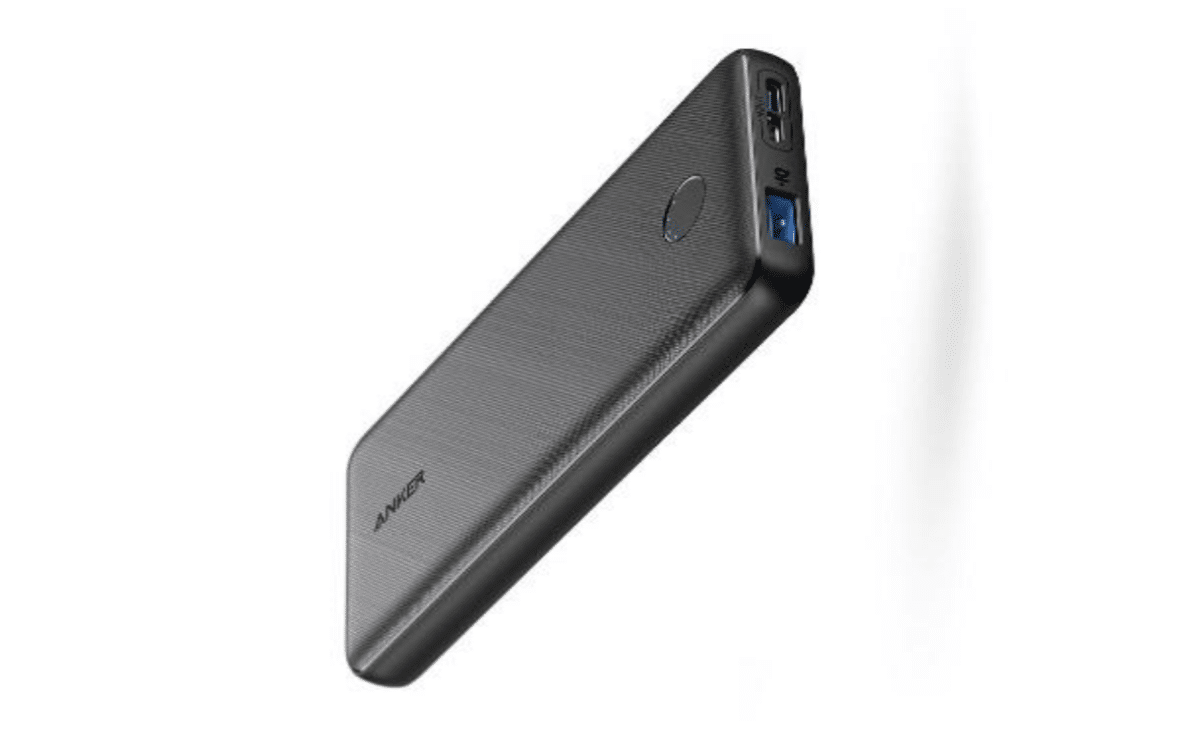 Pros
Slim and attractive design
Adequate charging power
High-speed PowerIQ charging technology
Fireproof casing and temperature controls
Essential safety systems, such as overcharge and short-circuit protection
Cons
Can only charge a single device at a time
Battery shuts off after about 20 minutes of inactivity
This sleek, minimalist charger features a compact 10000mAh external battery and high-speed PowerIQ charging technology to optimize charging speeds.
The PowerCore Slim's unique PowerIQ technology identifies connected devices and adjusts voltage output to maximize charging speed. Another proprietary feature, VoltageBoost, smooths out erratic voltage output caused by cable resistance. Rest assured, this charger is equipped with essential safety systems, including overcharge and short-circuit protection, fireproof casing, and temperature controls.
However, the Anker PowerCore Slim 10000 does have a drawback: it can only charge one device at a time. The charger's battery may shut off after approximately 20 minutes of inactivity. Despite this, the bank is durable, easy to clean, and able to charge multiple devices on a single charge. The top surface button allows for a quick battery status check.
Best Portable Charger with Wall Plug 2023
Brand Q Ultra Slim Portable Charger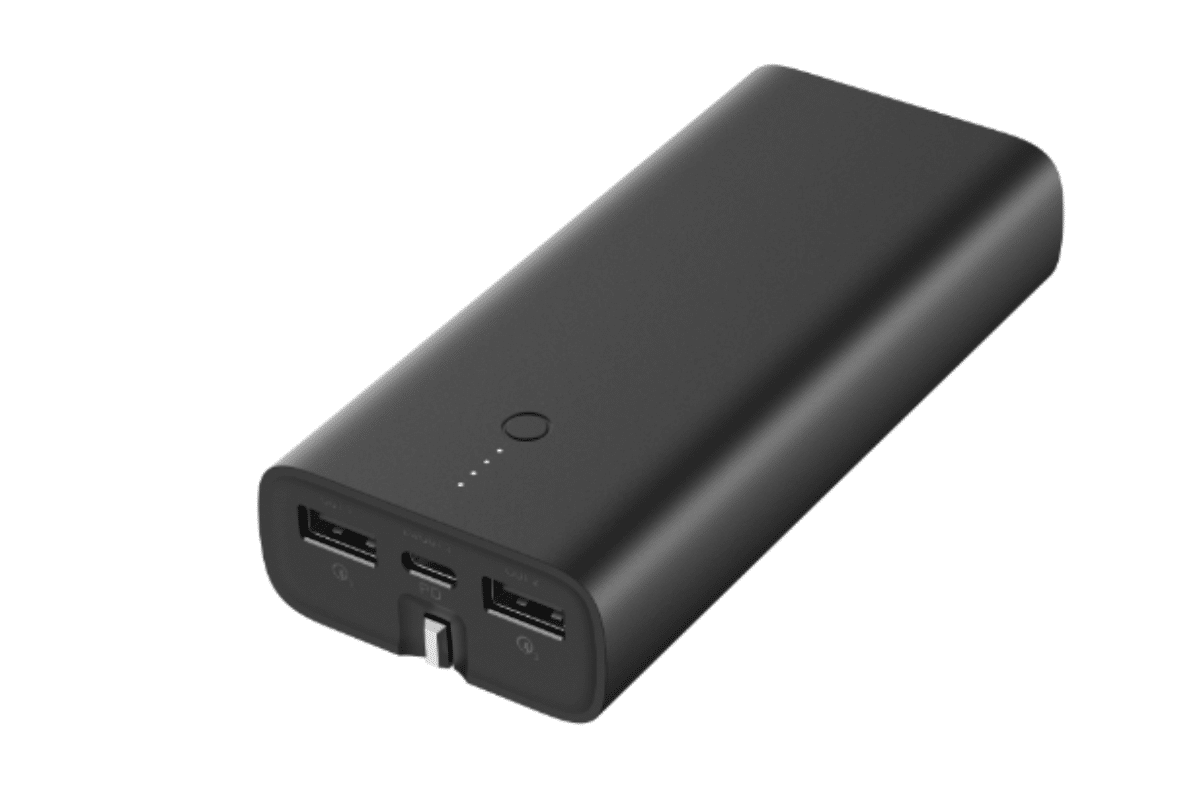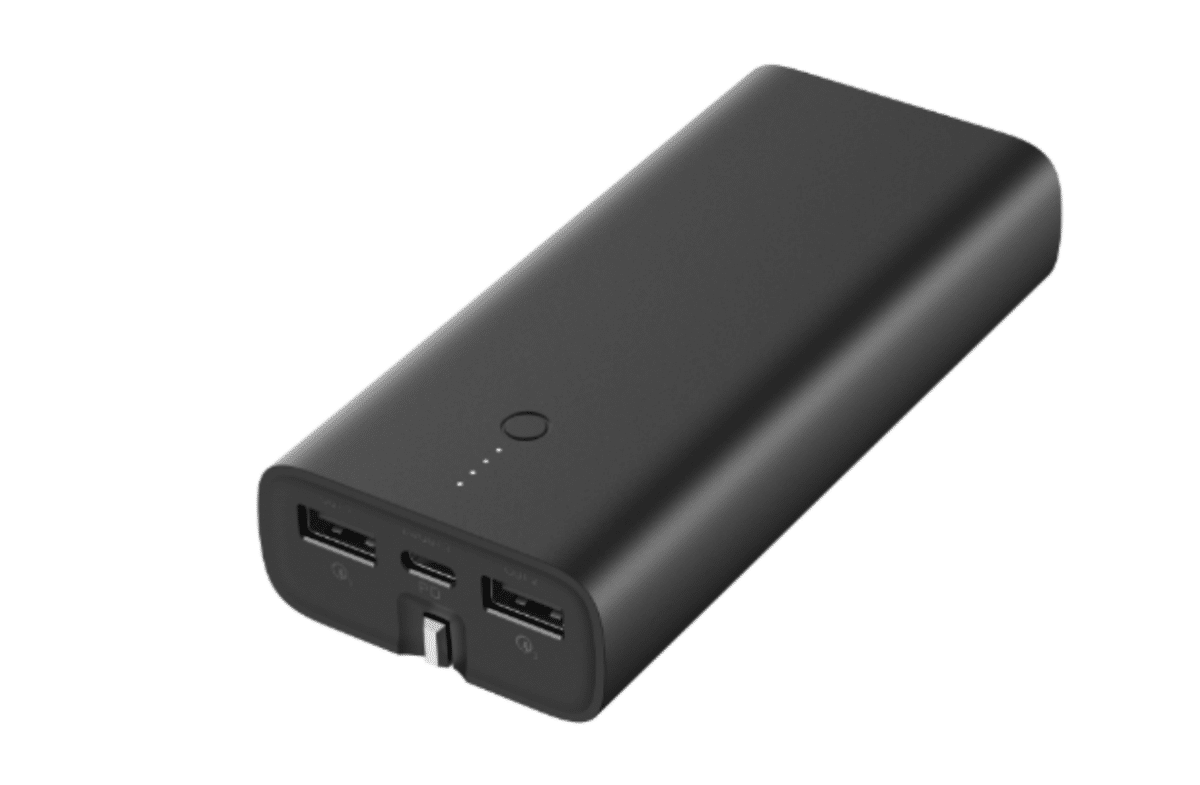 Pros
Durable
Built-in AC wall plug for easy charging
Slim and portable design
4 output and dual input options
Cons
Potential breakage on the plug
Possible issues with cable quality
The Brand Q Ultra Slim Portable Charger is highly recommended for travelers in 2023, as it comes with a built-in AC wall plug for recharging. This feature eliminates the need for extra travel adapters and cables. The charger also includes a USB port for output, ensuring compatibility with various devices.
This portable charger is appreciated for its ability to plug directly into the wall and its multiple cable options, such as Micro USB, USB-C, and Lightning. Although not specifically advertised as a fast-charging device, it has demonstrated fast-charging capabilities with certain phones.
The Brand Q Ultra Slim has proven to be a reliable companion during extended trips, as it can charge multiple phones daily, providing 2-3 full charges before needing to be recharged. However, it is important to note that the charger may get hot when charging several phones consecutively.
Best 10000mAh, 20000mAh, and 20000mAh+ Portable Power Banks 2023
10000mAh: INIU Portable Charger
20000mAh: Anker PowerCore power bank
20000mAh+: MAXOAK 50,000mAh
The INIU 10000mAh Portable Charger stands out for its compact size and compatibility with various devices. Weighing only 198.447g and measuring 5.2 x 2.7 x 0.5 inches, this power bank is perfect for on-the-go use. With its 10000mAh/37Wh capacity and three versatile ports, it can charge most smartphones and USB devices multiple times.
For those who need a bit more power, the Anker PowerCore 20000mAh power bank is an exceptional choice. As the best power bank in 2023, it offers a perfect combination of capacity, performance, and portability. As a trusted brand in the industry, Anker delivers fast and reliable charging with the PowerCore 20000mAh, ensuring your devices stay powered when you need them.
If you require an even higher capacity power bank, look no further than the MAXOAK 50000mAh. Touted as the best power bank globally in terms of capacity, performance, quick charging, and device compatibility, it is ideal for group outings or extended trips. Featuring six ports, the MAXOAK 50000mAh power bank allows multiple users to charge their devices simultaneously, ensuring you and your companions never run out of power when it matters most.
Conclusion
The best portable charger for travelers in 2023 depends on individual needs and preferences. Consider factors such as capacity, compatibility, charging speed, size, and additional features when choosing from options like the Nitecore NB10000 Gen II, EcoFlow River Max Portable Power Station, Otterbox Fast Charger Power Bank, INIU 10000mAh Portable Charger, Poweradd Slim 2, Anker PowerCore Slim, and more. With the right power bank, you can keep your devices charged and stay connected throughout your journey.