The gaming laptop has existed since 2011, yet many people need to know about it. In short, gaming laptops account for more than 80% of the global market for home use. North America, Europe, China, Japan, etc., are significant users. The gaming laptops trend has seen an upward trend therein.
Unlike standard laptops, gaming laptops are high-performance beasts that transport you into a more encompassing virtual reality. They're packed with top-notch GPUs, faster refresh rates, superior processing power, and other features that give you the desired gaming experience.
In a nutshell, it was made to function differently from regular laptops. According to Statista, the global gaming laptop market growth was worth US$18.67 billion in 2022. What else? This same year saw the unit produced of the gaming laptop up to 17.75 million.
In this analysis, we will discuss the following:
Gaming Laptop Sales by Region
Top Gaming Laptop Brands and Models
Gaming Laptop Performance Comparison
Gaming Laptop Revenue and Growth
Let's highlight some critical key focuses of this analysis without going back and forth. Let's dive in properly now.
Gaming Laptops Important Notes:
Year of Invention: The first gaming laptop was introduced in 2011.
Market Valuation: The gaming laptops were valued at US$18.67 billion in 2022.
Unit Sales: The gaming laptop's production was 17.75 million in 2022.
RAM Recommendation: For most users, 16GB RAM is recommended to enjoy seamless games on gaming laptops.
Battery Life: Being a gaming laptop, the battery should last more than a regular laptop. In this case, 4-5 hours of battery life before recharging it is good.
Average Price: Gaming laptops are made differently and of different variants. However, what they cost, the average price is $800.
Source: Gaming laptop
How Gaming Laptops Came into Existence?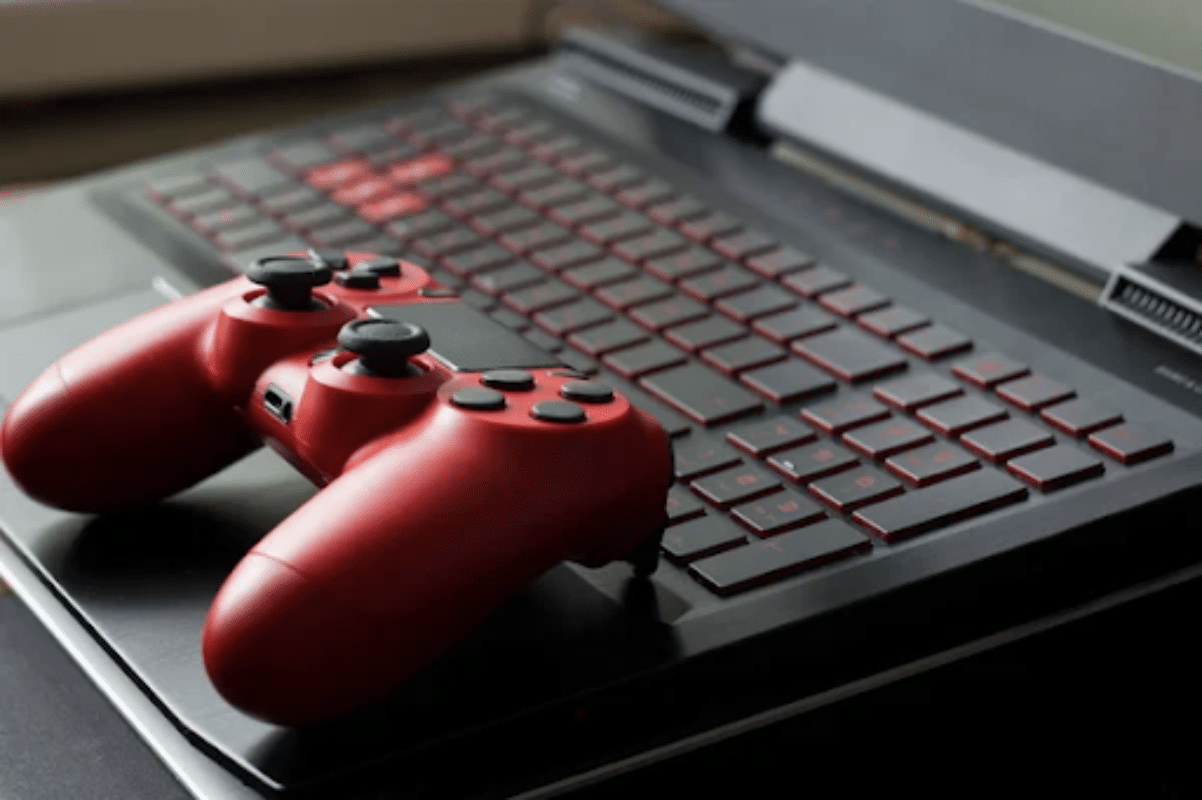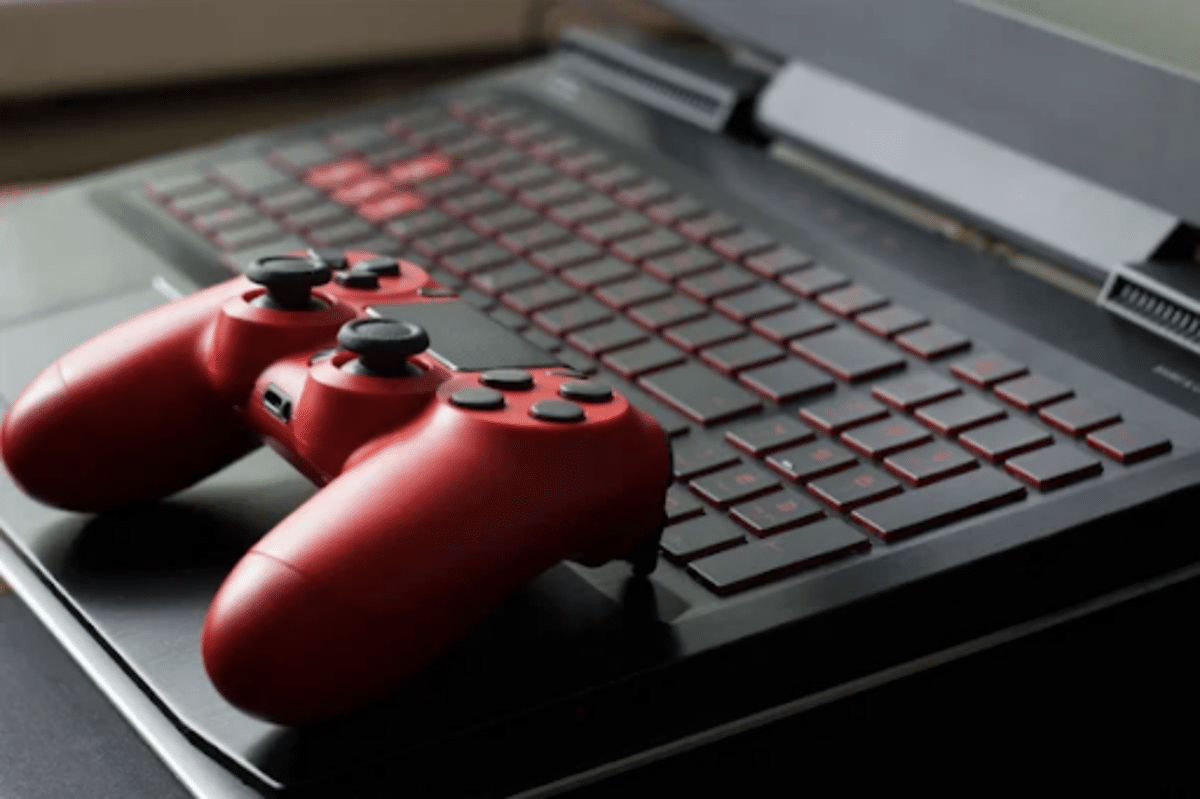 Gaming laptops became a relative alternative to a dedicated gaming PC. Before now, desktop computers were mainly systems with graphical requirements for gaming. Due to its bulky nature, people find moving it from one location to the other challenging. This became a major setback for game lovers.
Fast forward to 2011, the first true gaming laptop came into existence. The company, Razer, was the initiator of the gaming laptop, and named it Razer Blade. However, since that time, many companies have dabbled into this line.
These include the likes of Dell's Alienware, HP's OMEN, Lenovo's Legion, Asus' TUF and ROG, Acer's Predator, and more. Also, gaming laptops offer high-performance speeds, substantial memory capacity, triple-A graphics, and fast processing power.
While in some cases, it may seem expensive – it's a lot worth every dollar spent. The gaming laptop market will soar as more latest features are updated. So, you can expect more from these gaming laptop manufacturers.
Source: Gaming laptops
Gaming Laptop: Sales by Region
Right now in the world, gaming laptops are popular Jingos. This means they're mostly known and used by the people. So, how do they rank by region? Keep reading.
Unfortunately, this section will cover gaming laptop sales not by their regions but in terms of gamers by region, product category, and market size. This is because no specific information on gaming laptop sales by region exists.
However, we'll justify this section with not just proven statistics but with relevant ones. Some of the regions to base these stats include:
North America
Europe
Asia Pacific
South America
Middle East & Africa
So, let's start.
According to Statista, the PC gaming users in Asia was 687 million in 2021. This record was more than one-third of the global PC users at the time. Europe ranked second, then had 468.4 million PC users.
With the above, Asia has the highest number of PC gamers. The rest of the world comes next, with Europe taking the second place after Asia.
Gamers by Region
Take a look at the regional statistics of gamers all around the world.
| Region | Number of Gamers |
| --- | --- |
| Asia | 1.48 billion |
| Europe | 715 million |
| Latin America | 420 million |
| North America | 285 million |
| MENA | 168 million |
| Sub-Sahara African | 144 million |
| Oceania | 32 million |
Source: Exploding Topics 2023
Below is the pie chart representation of how the gamers rank by region.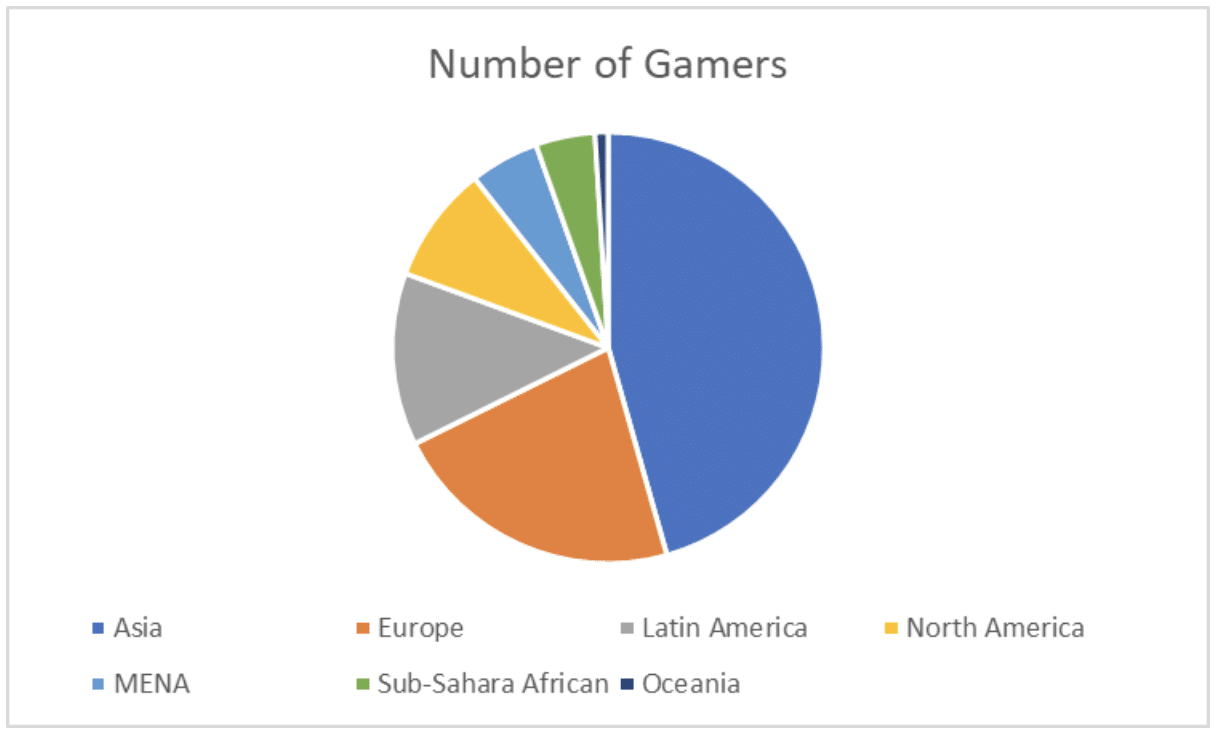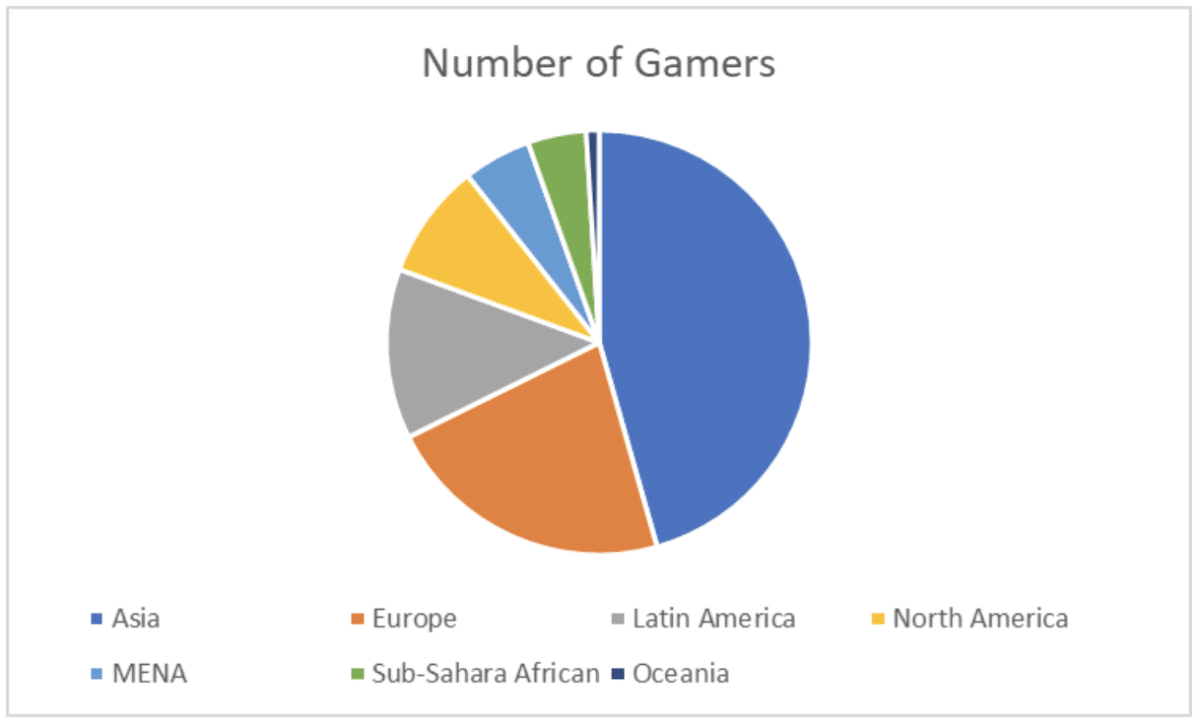 From the pictorial representation, Asia accounts for almost half of the world. So, this naturally depicts the number of PC gamers in Asia is growing at a faster rate than others. This also goes with Statista's stats that the number of PC gamers in Asia is one-third of the global PC gaming users.
Is that actually right? Let's look at what the PC gaming market size says.
Market Size of PC Gaming
With the market size of PC gaming, we can gain insights into how PC gaming is doing regionally. However, data is only available for countries rather than regional market share statistics. So, we'll present five countries that rank in the top five. Let's see if Asian countries rank in the top 5.
| | |
| --- | --- |
| Countries | Market Share (In $ Billion) |
| China | 13.2 |
| USA | 7.8 |
| South Korea | 7.6 |
| Japan | 3.8 |
| Russia | 1.6 |
Source: Global Data 2022
Pie Chart Representation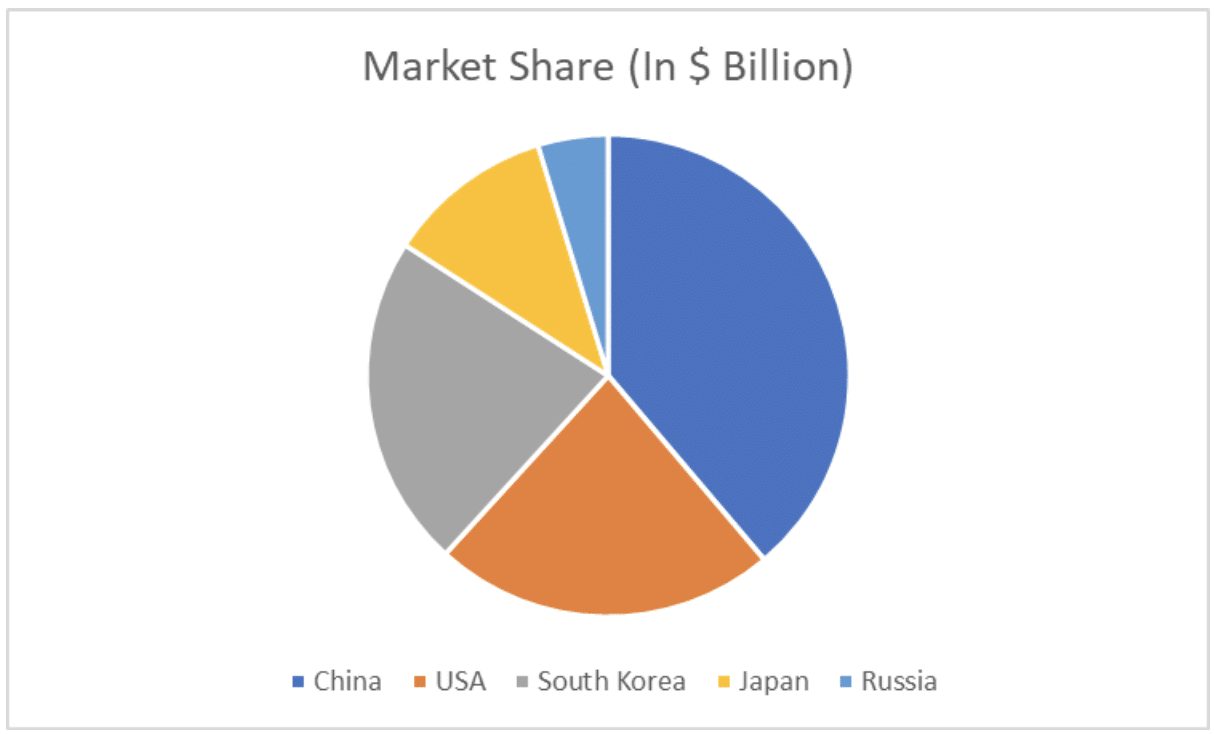 Again, we have the Asian country leading the market share for PC gaming. Moreover, there are three countries representing Asia in the top four. As seen above, they are China, South Korea, and Japan right in the order. Appearing in the top five are the United States, North America, and Russia, Europe.
Product Category
According to Statista, Europe, Middle East, and Africa (EMEA) gaming PC market shipments share was forecast to amount to 10.35 million units in total. Desktops, as extracted from this figure, accounted for 38.4 percent of the market, and notebooks 61.6 percent. Below is a table and Pie Chart representation of the stats.
| | |
| --- | --- |
| Product Category | Gaming PC Shipments (%) |
| Desktops | 38.4 |
| Notebooks | 61.6 |
Source: Statista 2023
Pie Chart Representation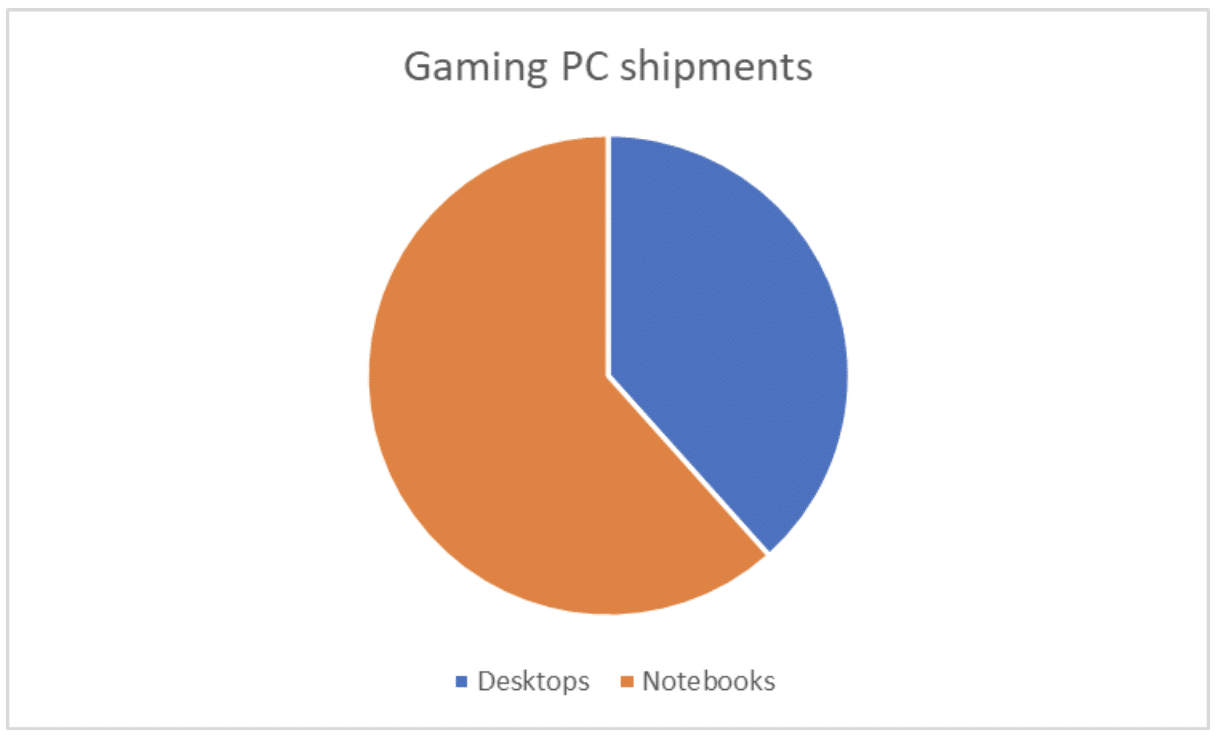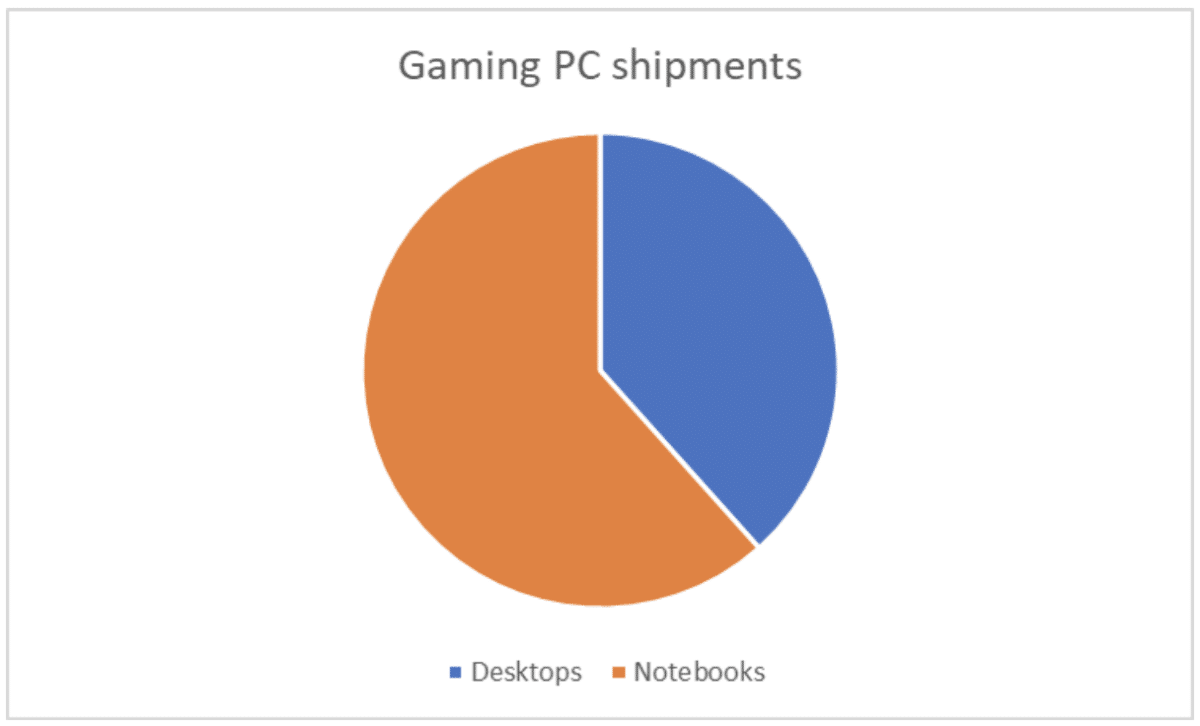 Although the Notebooks gaming product is easier to carry anywhere for gamers, people still order the desktops product. The major setback for the desktop is its bulkiness.
Sources: PC gaming users , Statista 1, Exploding Topics, Global Data, Statista 2 and PC gaming
Gaming Laptop: Top Brands and Models
Gaming laptops have different brands and models. But before we go into details of the brands or models to buy, certain criteria determine what goes into your buy. These factors are as follows.
Performance: CPU, GPU, and RAM determine the laptop's ability to run games smoothly. Higher specs typically mean better performance.
Battery Life: Good battery life is essential for mobile gaming. The reason is that longer battery life means more uninterrupted gaming sessions. A good gaming battery must last 3-4 hours and spend at least five years developing no faults.
Screen Quality: A high-quality screen offers better color reproduction and viewing angles. This enhances the overall visual gaming experience for gamers.
Display Size and Resolution: Bigger displays with higher resolutions provide more immersive gaming. However, it may impact portability and battery life.
Storage: Adequate storage (HDD or SSD) is necessary for installing games. SSDs offer faster load times and smoother gameplay. Gaming laptops take more space than regular laptops; at least 512GB will encourage a smoother gaming experience.
Port Selection: A good range of ports allows for connecting peripherals like gaming mice, keyboards, and external monitors for an enhanced gaming setup.
This said, the following are the top gaming laptop brands and models:
Lenovo Legion 5 Pro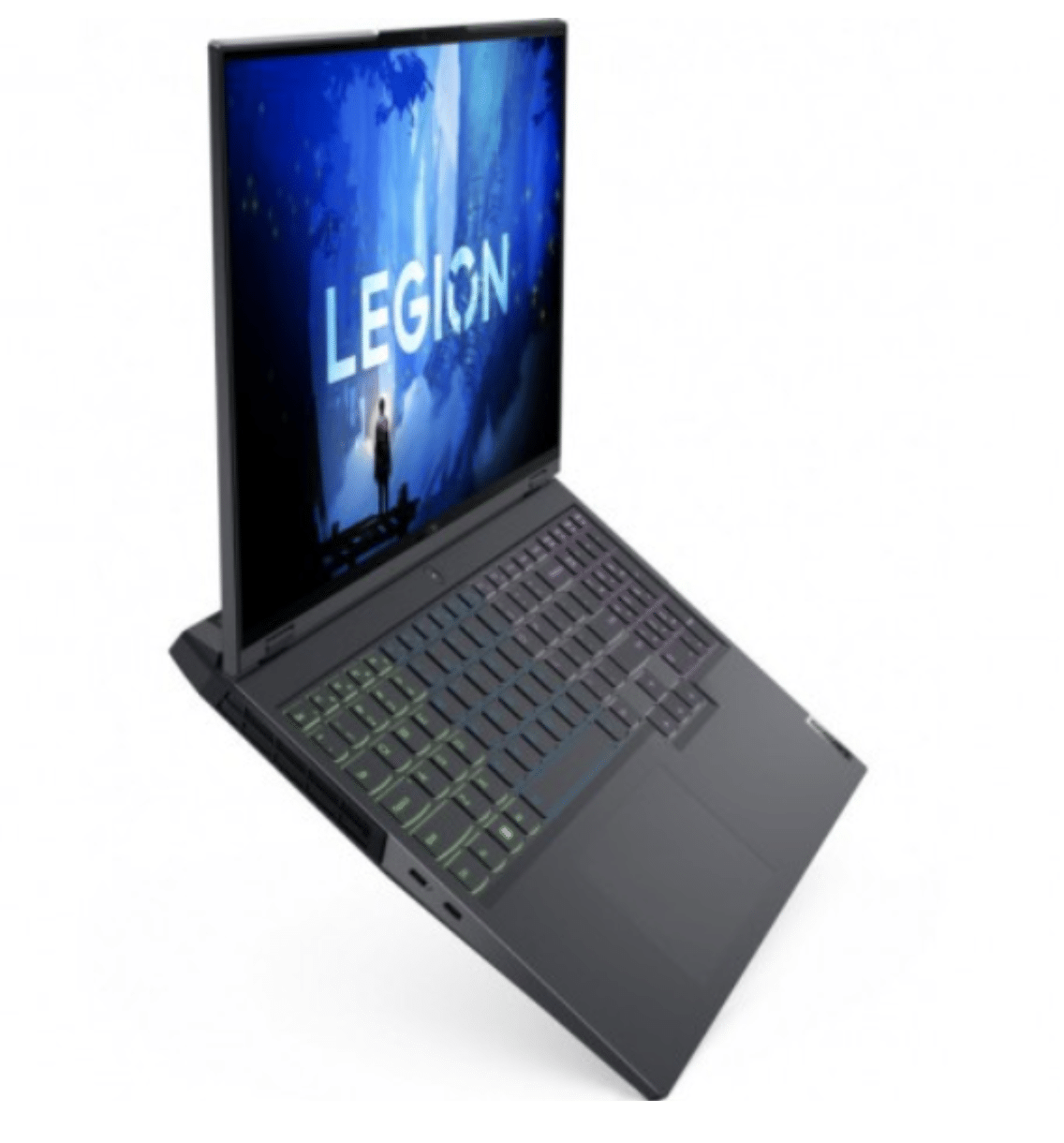 Starting Price: $1,439.99
Processor: AMD Ryzen 7 6800H, 6900HX
As is above, Lenovo Legion 5 Pro Gen 7 has two processor options – AMD Ryzen 7 6800H and 6900HX. These processors indicate high performance and efficiency. Also, the CPU works efficiently to handle overloading games. Moreover, it can multitask.
One of the key highlights of the Legion 5 Pro Gen 7 is its display. The laptop's 16-inch QHD (2560 x 1600) IPS display can be exhilarating. Indeed, this high-resolution display is good for gaming.
The laptop also uses NVIDIA's GeForce RTX graphics card series. It offers high-performance graphics processing capabilities to handle the most graphics-intensive games easily.
Razer Blade 18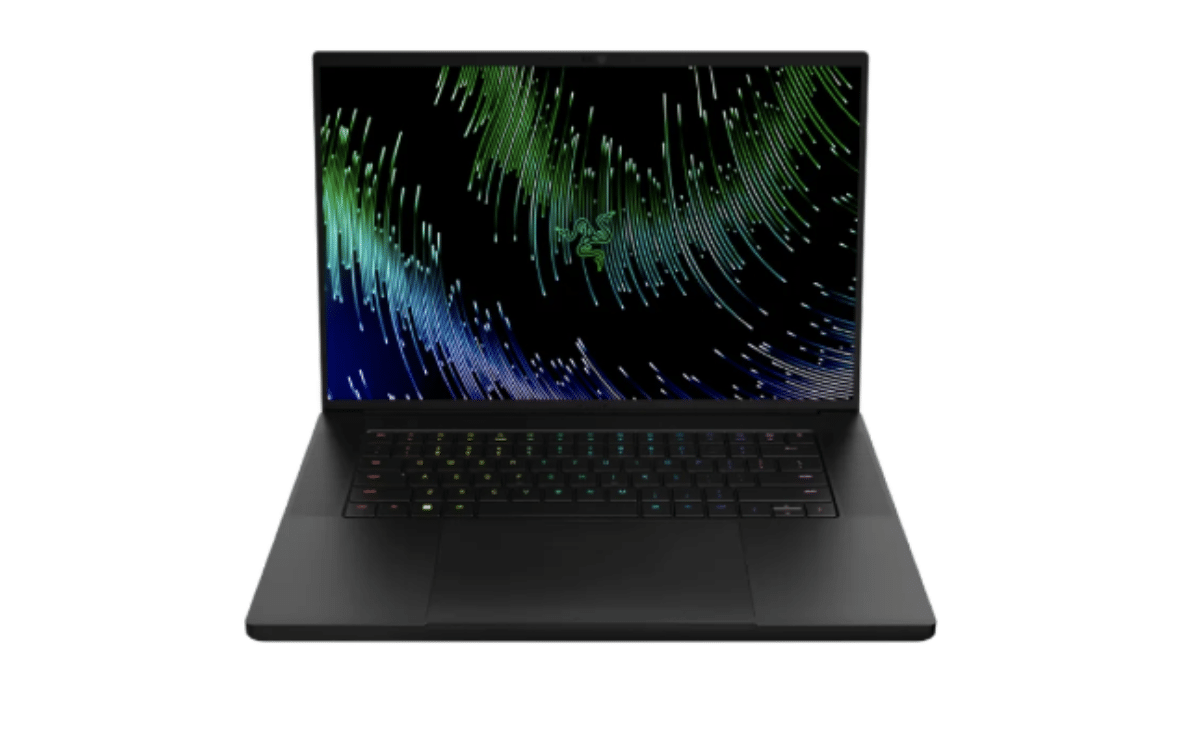 Starting Price: $2,899.99
Processor: Intel Core i9-13950HX
The Intel Core i9-13950HX processor powers the Blade 18. This CPU ranks high among others in the market. The processor delivers exceptional performance, perfect for running demanding games at high settings.
Razer laptops are excellently built with their quality, sleek design. Blade 18 is no exception. Its metal chassis gives it a premium look and feel. Its thin and light design makes it highly portable for a gaming laptop.
Despite its slim form, it still incorporates an effective cooling system to monitor temperatures during intense gaming sessions.
Asus ROG Zephyrus G14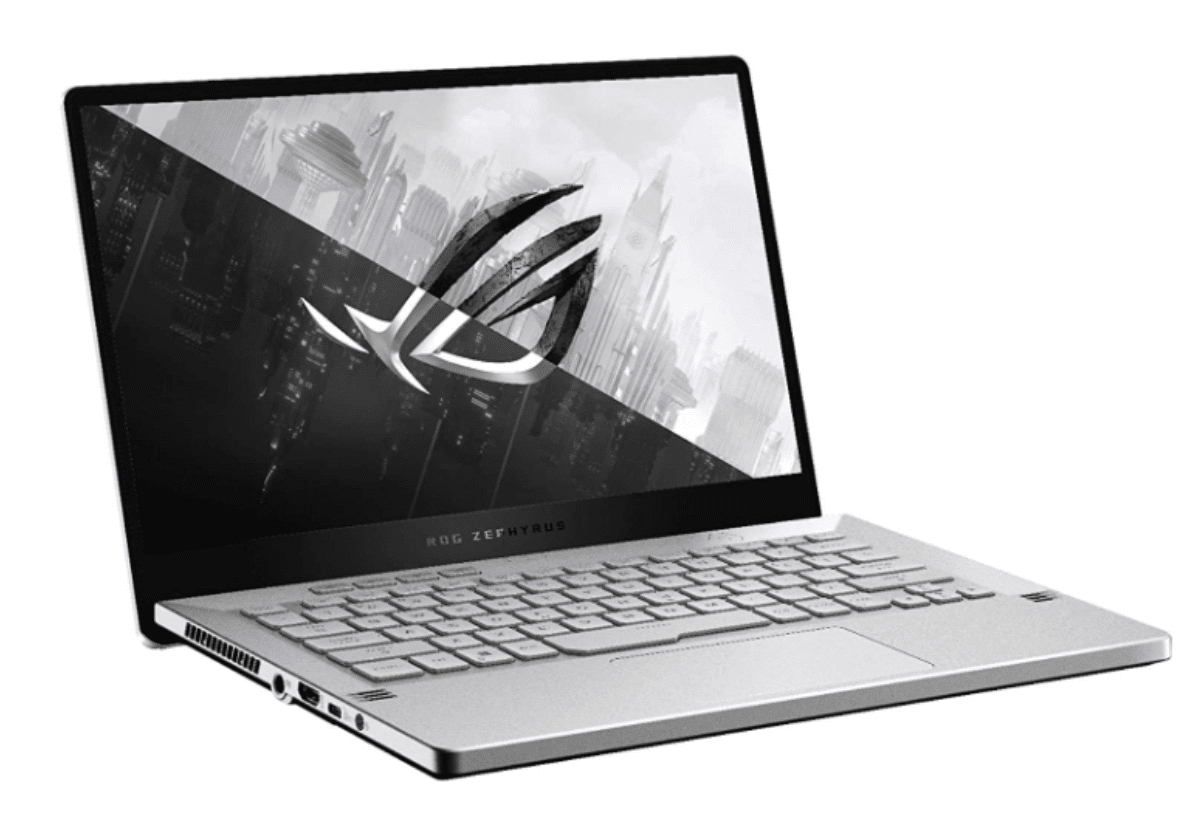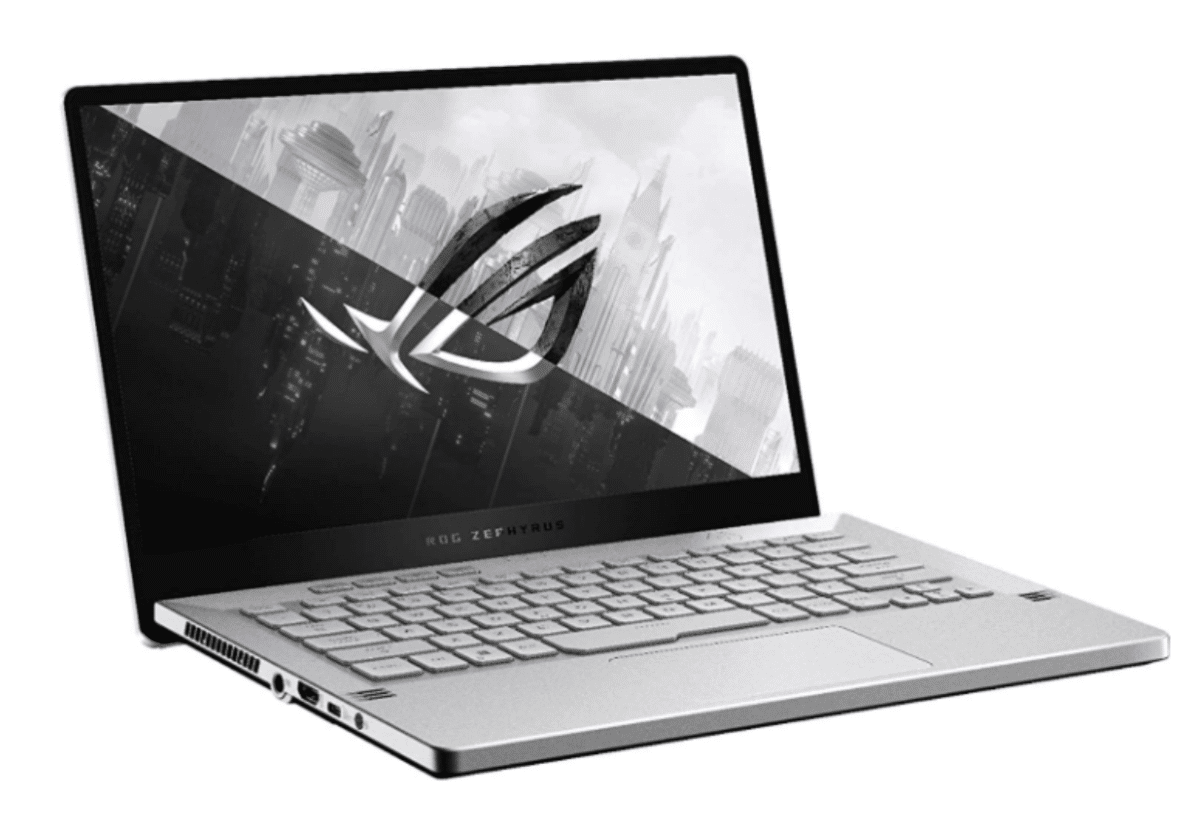 Starting Price: $1,649.99
Processor: AMD Ryzen 9 6900HS
The Zephyrus G14 model is one of Asus ROG's flagship gaming laptops. The Zephyrus G14 is powered by an AMD Ryzen 9 6900HS, one of AMD's latest and most powerful processors. This CPU offers excellent performance and can easily handle demanding tasks and modern games. It's based on the Zen 3 architecture and features 8 cores and 16 threads.
The laptop offers a higher-resolution WQHD (2560 x 1600) panel. The 8GB of DDR4 RAM of the Asus ROG was in-built. Moreover, it allows up to 1TB of NVMe SSD storage. These specs ensure smooth multitasking and quick loading times.
Razer Blade 14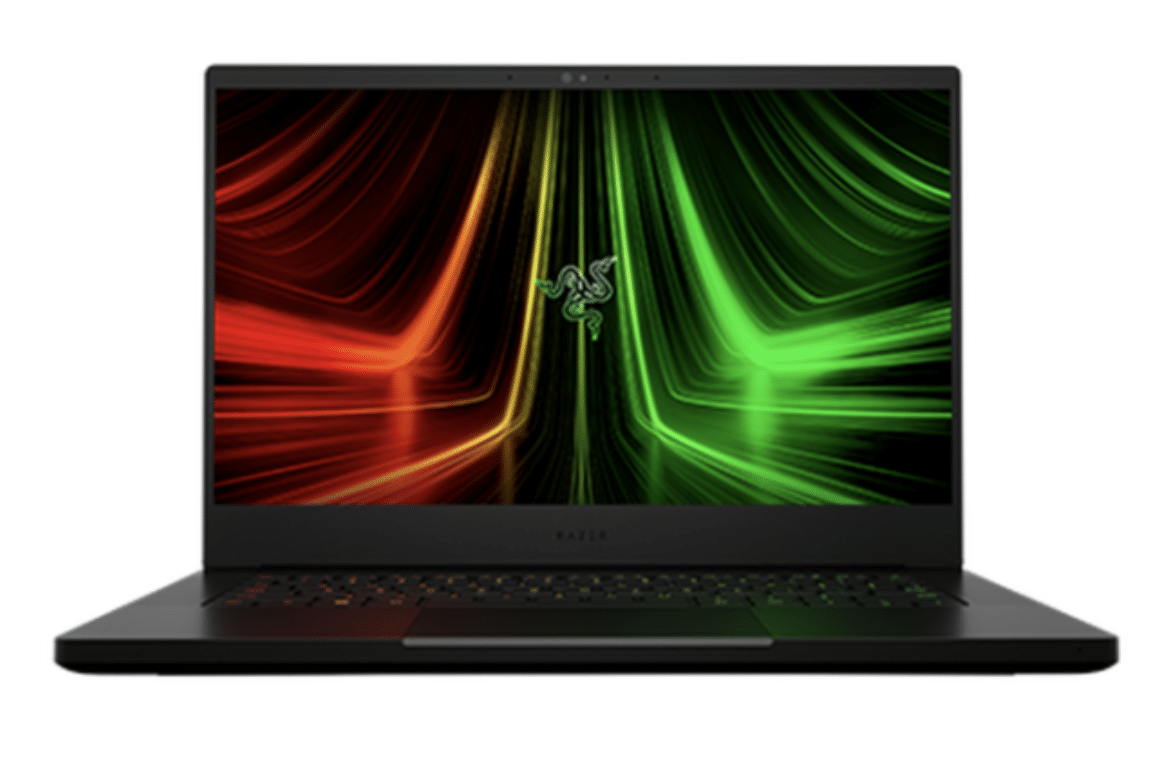 Starting Price: $1,999.99
Processor: AMD Ryzen 9 7940HS
Razer Blade 14 is equipped with an AMD Ryzen 9 5900HX processor. This powerful CPU is explicitly designed for gaming laptops. This ensures speedy and smooth performance, even while running demanding games or software.
The laptop comes with the NVIDIA GeForce RTX series of GPUs, capable of running games at high frame rates. The base model has 16GB of RAM and 1TB SSD storage, providing ample game space. The Razer Blade 14 also has a 1080p 144Hz display and a 1440p 165Hz display, ensuring smooth gameplay.
Sources: The Verge 1, PCMag, The Verge 2, The Verge 3, The Verge 4, The Verge 5
Gaming Laptop: Performance Comparison
Performances are very keen when it comes to buying an electronic gadget. Therefore, we will compare the features of the aforementioned top gaming laptop brands and models in this section.
| Brand/ Features | Lenovo Legion 5 Pro | Razer Blade 18 | Asus ROG Zephyrus G14 | Razer Blade 14 |
| --- | --- | --- | --- | --- |
| Refresh Rate | 165Hz | 240Hz | 120Hz | 144Hz/165Hz |
| RAM | 16GB, 32GB | 16GB, 32GB, 64GB | 8GB | 16GB |
| Storage | 512GB, 2TB | 1TB, 2TB | Up to 1TB | Up to 1TB |
| Display | 16-inch | 18-inch | 14-inch | 14-inch |
| Dimension Inches | 14 x 10.3 x 1.06 | 15.74 x 10.84 x 0.86 | 12.28 x 8.94 x 0.73 | 12.59 x 8.66 x 0.66 |
| Weight | 5.51 pounds | 6.8 pounds | 3.64 pounds | 3.92 pounds |
| Resolution | 2560 x 1600 | 2560 x 1600 | 2560 x 1600 | 1920 x 1080/2560 x 1440 |
| Touch Option | No | Yes | No | No |
Source: The Verge 2023
What do these features indicate?
Refresh Rate: This is the number of times a display updates its image per second.
RAM (Random Access Memory): This is a computer's short-term memory. This loads into RAM whenever you open a program on your computer. This enables quick access.
Storage: This is the amount of data a computer has. Every laptop has HDD and SSD storage. Most modern laptops use SSDs for their central storage.
Display Inch: This is the size of the laptop's screen. You can measure it diagonally from corner to corner.
Dimension Inches: This typically refers to the physical size of the laptop, measured in inches. The measurement is usually given as length x width x height.
Weight: This is how much the laptop weighs.
Resolution: This is the number of pixels displayed on the screen, commonly given as width x height. For example, a 1920 x 1080 resolution means the display has 1920 pixels across its width and 1080 pixels down its height.
Touch Option: This refers to whether or not the laptop's display screen is touch-sensitive.
Sources: The Verge, PCMag and HDD and SSD storage
Gaming Laptop: Revenue and Growth
Technology advances every day by day. With the gaming laptop still in its prime, people will continue to consume video games. According to a Statista finding, there were an estimated 1.75 billion PC gamers worldwide in 2020. This was up from the 1.5 billion PC gaming users the previous year. What an increase that was.
We can conclude that covid-19 hugely impacted the growth of the users. This was supported by another Statista report that goes thus: In 2020, global PC video game sales amounted to 36.28 billion U.S. dollars. This 19 percent growth compared to the previous year is primarily due to COVID-19-related stay-at-home orders, contributing to an overall industry increase.
The same source also showed that the global gaming laptop market was valued at 18.67 billion U.S. dollars in 2022, with 17.75 million units produced that year. Likewise, the market production is predicted to reach 26.93 million by 2028. Alongside is the market size which is expected to grow to U.S$26.85 billion.
If we compare all the above analysis year by year, it's evident that the gaming laptop will keep growing without slowing down. For instance, PC gamers rose between 2019 and 2020. The growth in revenues between that same time tag. Additionally, the increase in unit production in 2022, with the expectation that the market size will grow exponentially by 2028.
Sources: Statista 1, Statista 2, Statista 3, and PC gamers worldwide
Conclusion
There are many gaming laptops in the world today. With no surprise, many companies are in the game of producing these machines. Of course, these brands and models vary in price and specifications, although some are more budget-friendly. Judging by users and the largest market share, Asian countries are leading in the gaming laptop market. China tops the chart, while South Korea and Japan complete the top four countries with the largest market share of this gaming console.