Are you a rider who is wondering what beast to choose to help you shred some rough and demanding trails? There are a lot of choices for downhill bikes nowadays and they all look different. Hopefully this article can give you a better idea of what to look for in a downhill bike or hopefully you find your dream bike here.
There are three things that are super important to take into consideration for when you are going to choose your downhill bike and those are: your budget, the bikes performance and the bikes drivetrain components and brakes.
Here are five of the top picks for downhill bikes that have seen the most popularity and best performances this year.
Scott Gambler 900 Tuned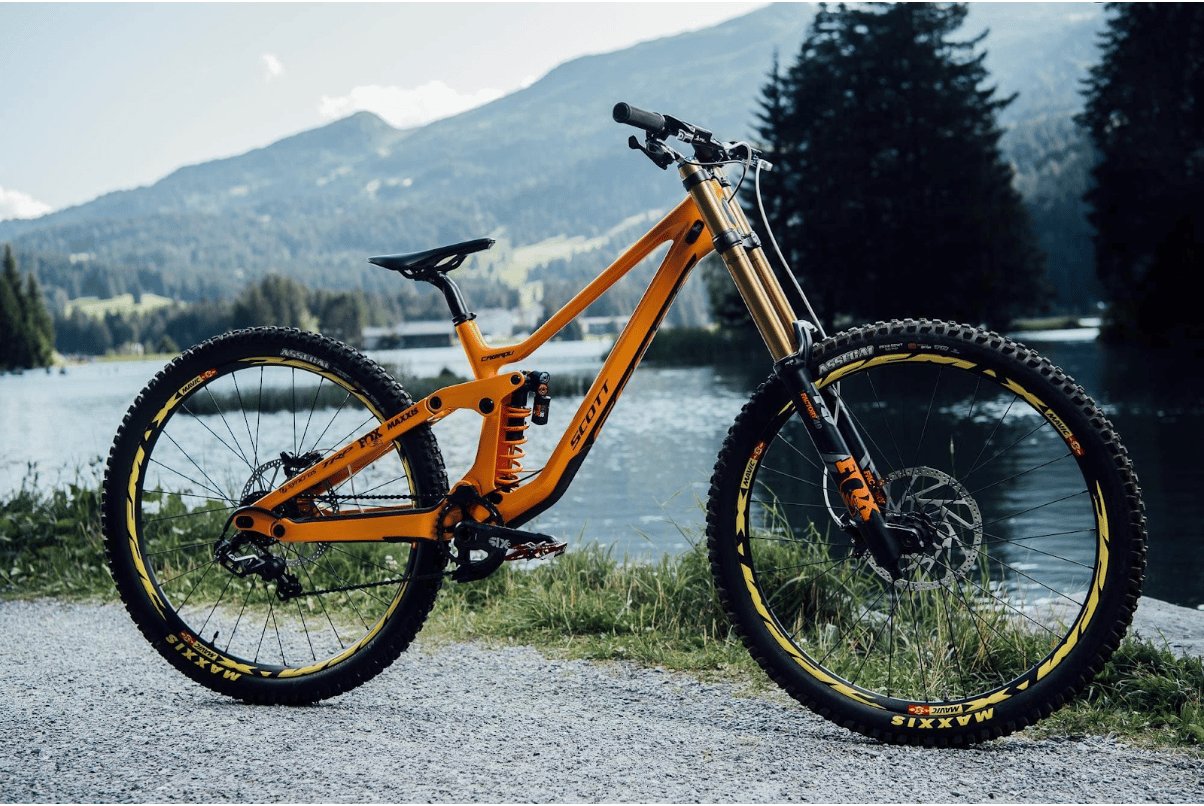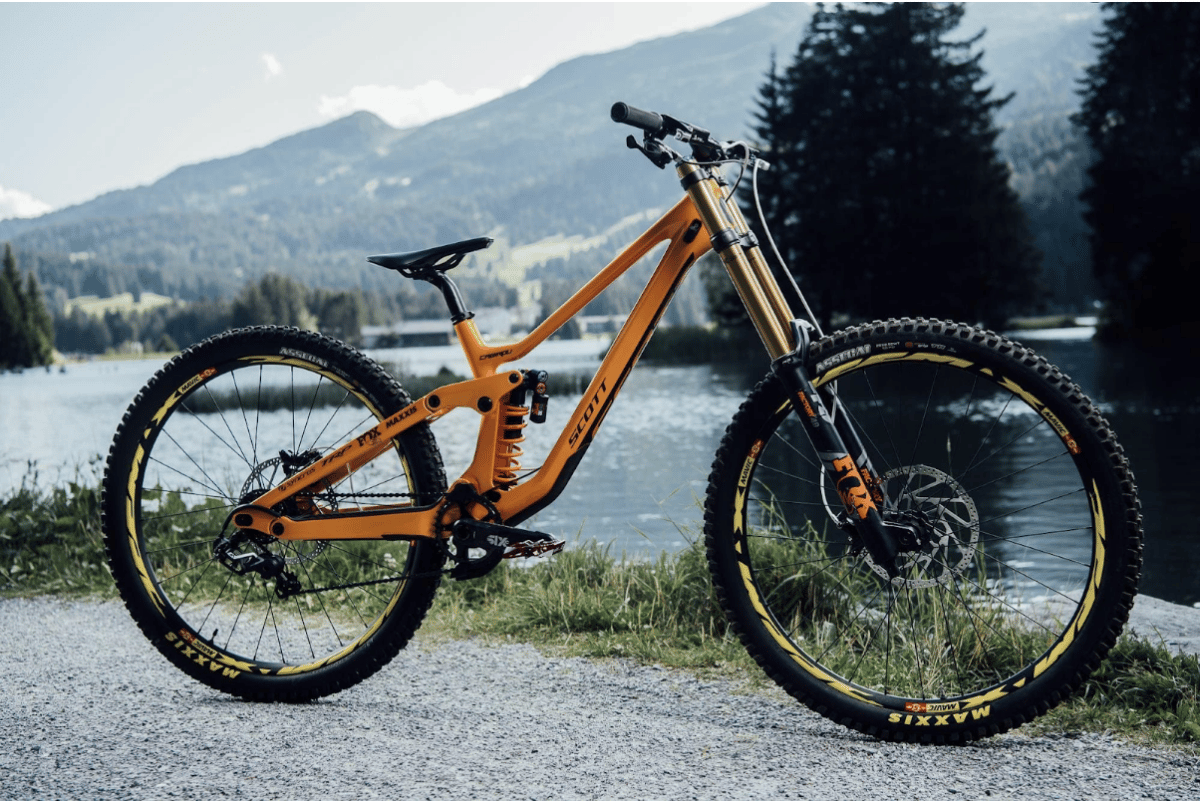 Downhill bikes are some bikes that definitely don't come cheap, especially if you want the best with all the best components and latest technology, and the Scott Gambler is no different. The Scott Gambler 900 Tuned isn't just all talk and no action, it is actually a very popular downhill racing bike within the women's category and big names such as Marine Cabirou ride it.
Marine Cabirou has achieved some really great things through the use of this bike such as winning three races in 2019 and one in 2020, although a lot of it is due to the skill of the rider but the bike definitely plays a big part in her performance as well. So Marine Cabirou has shown that this downhill bike is amazing but what makes this bike so fast? 
The bike comes from the factory with some huge 203mm Fox 40 Factory Float fork, a 200mm FOX Float X2 Factory rear shock and a carbon-fibre Hixon iC bar and stem for its frame. Then in the drivetrain of this beast it houses a DH-specific SRAM XO1 to allow for those crispy and fast shifts while riding in the rough downhill conditions. The bike also comes with 29-inch wheels which gives you an extra boost of confidence with this added stability.
Even if you may be having second thoughts about this bike because of the bigger sized wheels don't, another amazing feature that this bike has is the fact that you can switch between 29 inch and 27.5 inch wheels super easily thanks to the bike's adjustable geometry. While we are on the point of adjustability it is good to mention that this bike has even more things you can adjust, like the head angle, the chainstay length and the suspension kinetics. With all this adjustability and the fact that it is a carbon fibre frame it is definitely suitable for the price that it is.
Scott is a very big mountain bike manufacturer who have, for many years, designed and produced bikes that are ready for all the challenges that any type of trail may throw at them, and the Gambler is no different. 
Canyon Sender 6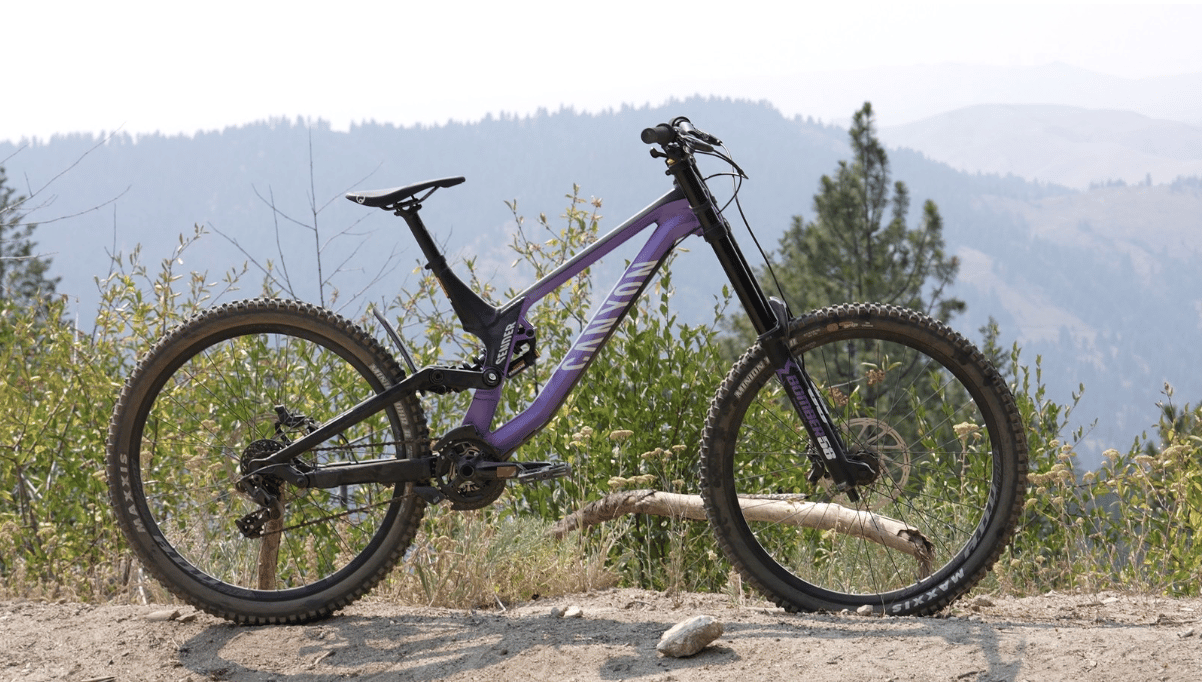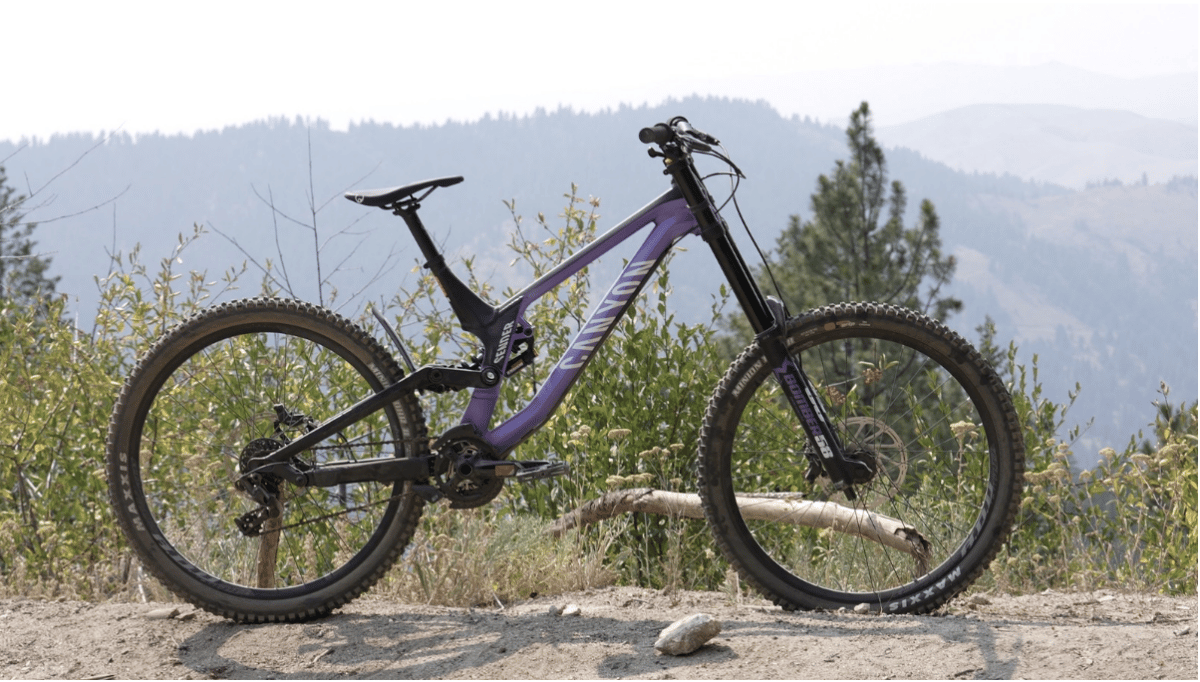 Germany isn't only known for producing sick cars, they produce some sick bikes such as this beast, the Canyon Sender 6. This is definitely one of those downhill bikes where it will easily fly down a hill faster than all other bikes by pushing it to its limits. For this downhill bike you actually get the choice to have the bike's frame in carbon fibre or aluminium, which could be a really good option for someone who doesn't quite have the budget for the carbon model. Both of the frames do offer really amazing downhill experiences.
The Canyon Sender still has the same 27.5 inch wheels, the same as all its predecessors. Hopefully in the future, after seeing the success and variation that 29 inch wheels bring, they'll introduce a 29er version of this downhill mountain bike.
Troy Brosnan is one of the professional riders who absolutely shreds on this bike and after a few stats you'll know why. The bike comes equipped with two huge air shocks, the front fork is a RockShox Boxxer Select and the rear is fitted with a Super Deluxe Select and both of these suspensions come with charger dampers. Another nice component that the bike is fitted with is its SRAM GX DH 7-speed drivetrain which gives you just enough pedal power to come off the line and carry you down a hill.
Although the bike may sound like it's smaller because of its 27.5 inch wheels it actually has a longer wheelbase than other 27.5 inch downhill bikes, this makes the bike super fast on your downhill adventures but still manages to keep the bike calm and still. Canyon hasn't really done anything to improve their bikes geometry and have left it very similar to the old Canyon Sender which is pretty irritating as we see almost all the other new downhill bikes getting a lot of attention by their designers to improve their wide wheelbases.
Although it is an old design it is still more than okay for someone just looking to have fun on some trails and still have good manoeuvrability of the bike so you can throw it around but still be stable down hills. 
Nukeproof Dissent 920 Comp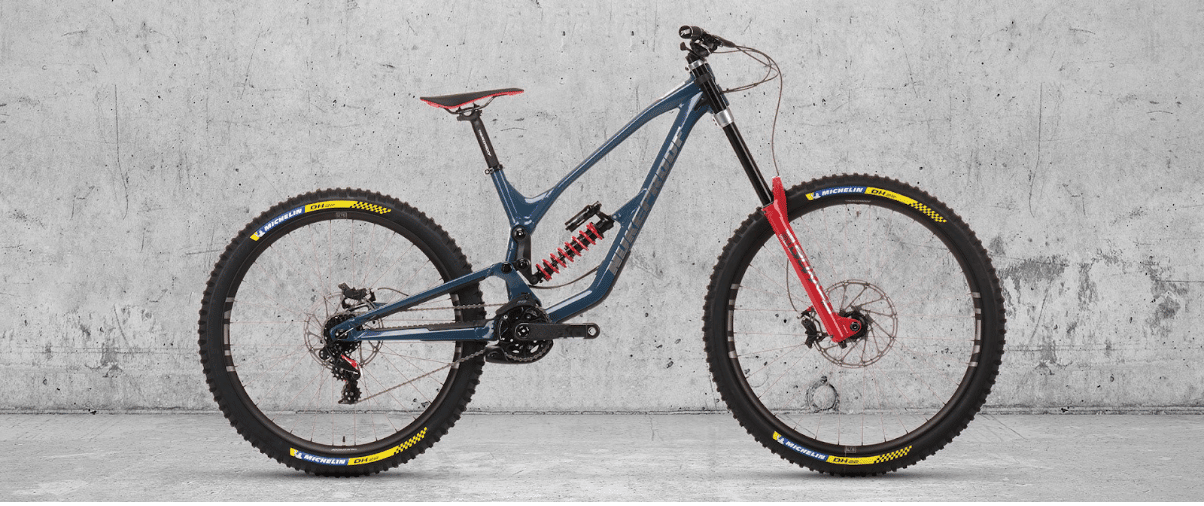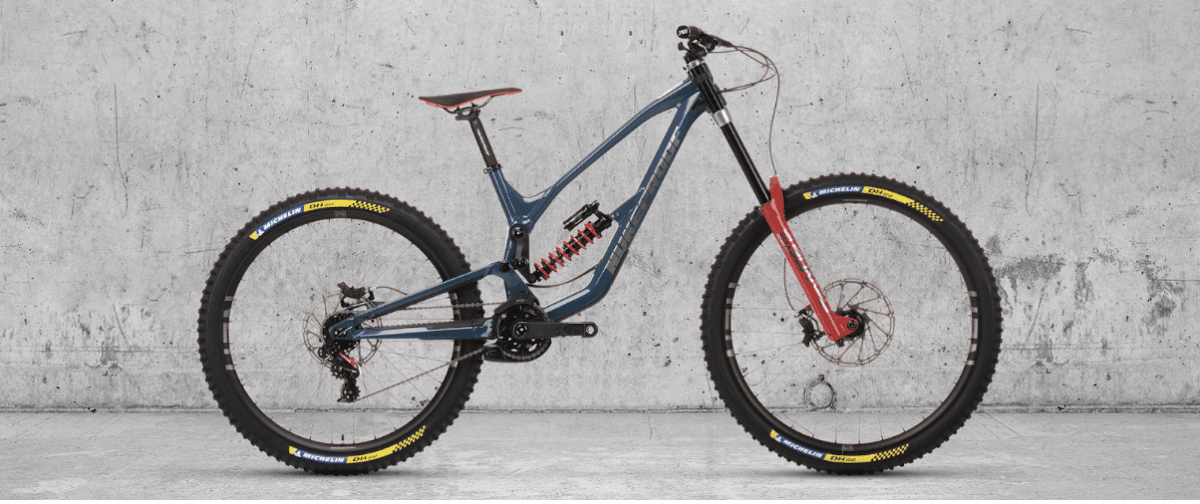 For those riders who are on a bit of a tighter budget but still want an excellent downhill bike, the Nukeproof Dissent 920 Comp is the perfect option for you as it is lower priced because of its aluminium frame. Despite having an aluminium frame, the bike still houses high quality equipment like its 200mm RockShox Boxxer Select front forks and a 190mm Super Deluxe Coil Shock for the rear suspension.
This bike is also a great choice for a beginner because of its adjustability, you're able to adjust the chainstay length by about 10mm, the suspension progressivity and the cable routing, which is good for riders who don't know exactly what specs they're comfortable with riding.
If you're wondering why the bike may seem familiar it is because it has almost the exact same silhouette as the Nukeproof Pulse bike but that is where the similarities stop, these two bikes are very different from each other. The Nukeproof Dissent comes with a SRAM DH drivetrain, made to withstand the aggressive pedalling from downhill biking. The bike also features Guide RE brakes and an updated longer wheelbase, with 29 inch wheels, which gives you a lot more confidence when hurdling down these mountainous trails.
Santa Cruz V10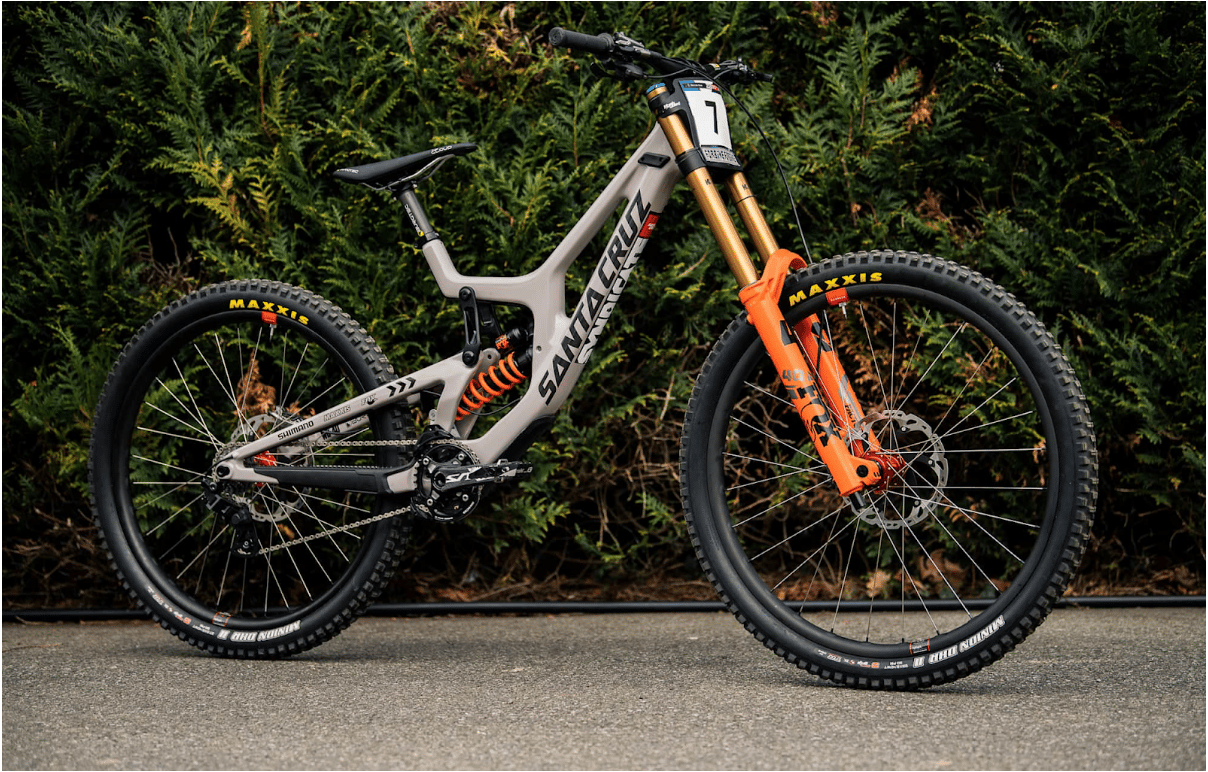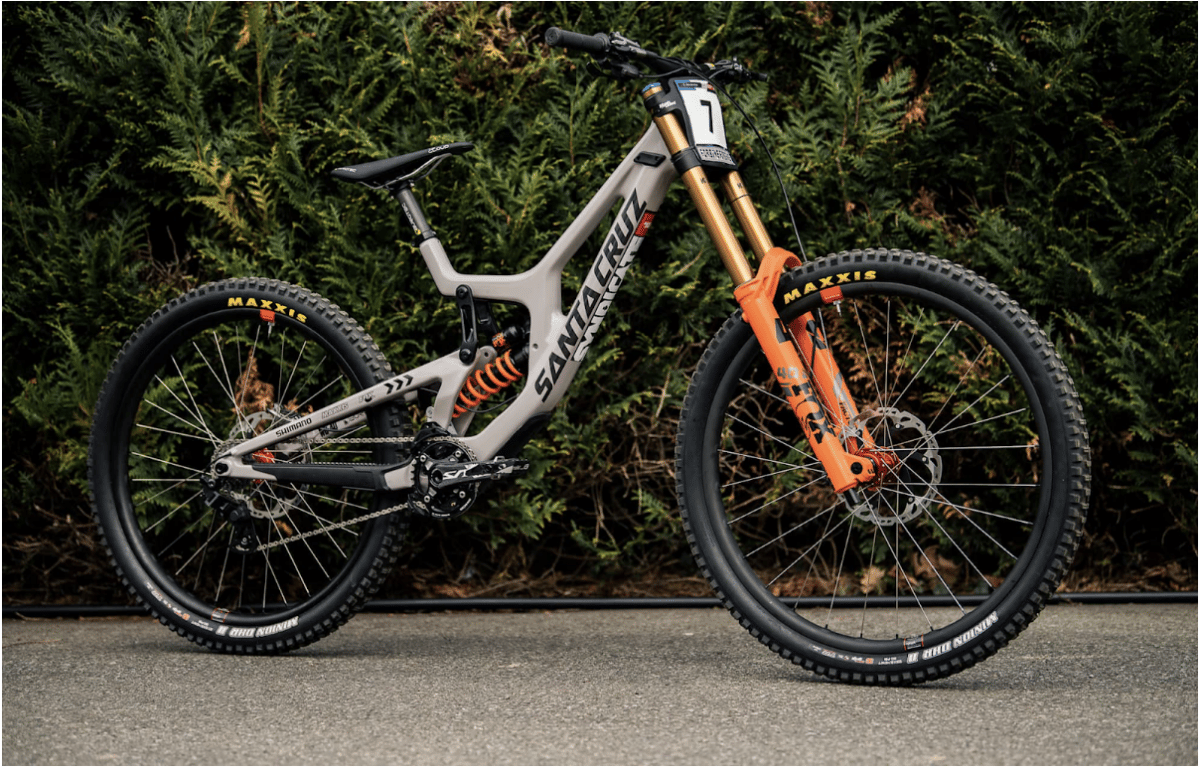 The Santa Cruz is one of those bikes where you'll have to go all in to get. This bike doesn't come with an aluminium option but if you are fortunate enough to be able to add this bike to your collection then you'll come to know that this is an amazing downhill bike.
Santa Cruz is an extremely important manufacturer within the downhill world and has been responsible for a few big trends. The Santa Cruz brand is known for taking lots of risks and the V10 downhill bike is just one of their biggest ones. The Santa Cruz V10 bikes have been around for a while and not just on the market but actually seen in World Cups since 2002 and have, even then, come out amongst the best performers. 
Since this bike has been so competitive already you could guess that it was equipped with some really amazing components like its huge 215mm FOX DHX2 Performance Coil as the rear suspension and 200mm FOX 40 Performance fork in the front. This bike's suspension is amongst the best in the world when it comes to downhill and as you could imagine it makes even the roughest and toughest trails feel like an easy cross-country trail. The V10 also features other top tier components such as the SRAM GX derailleur, a Descendant crankset and an E*Thirteen chain guide to ensure that even your pedalling experience is as smooth as possible when you're shredding on any trails.
This bike is the perfect choice for brave riders who are looking to take on the most challenging trails available to them, this is probably the most capable 29er downhill bike out there at the moment.
Trek Session 29 9.9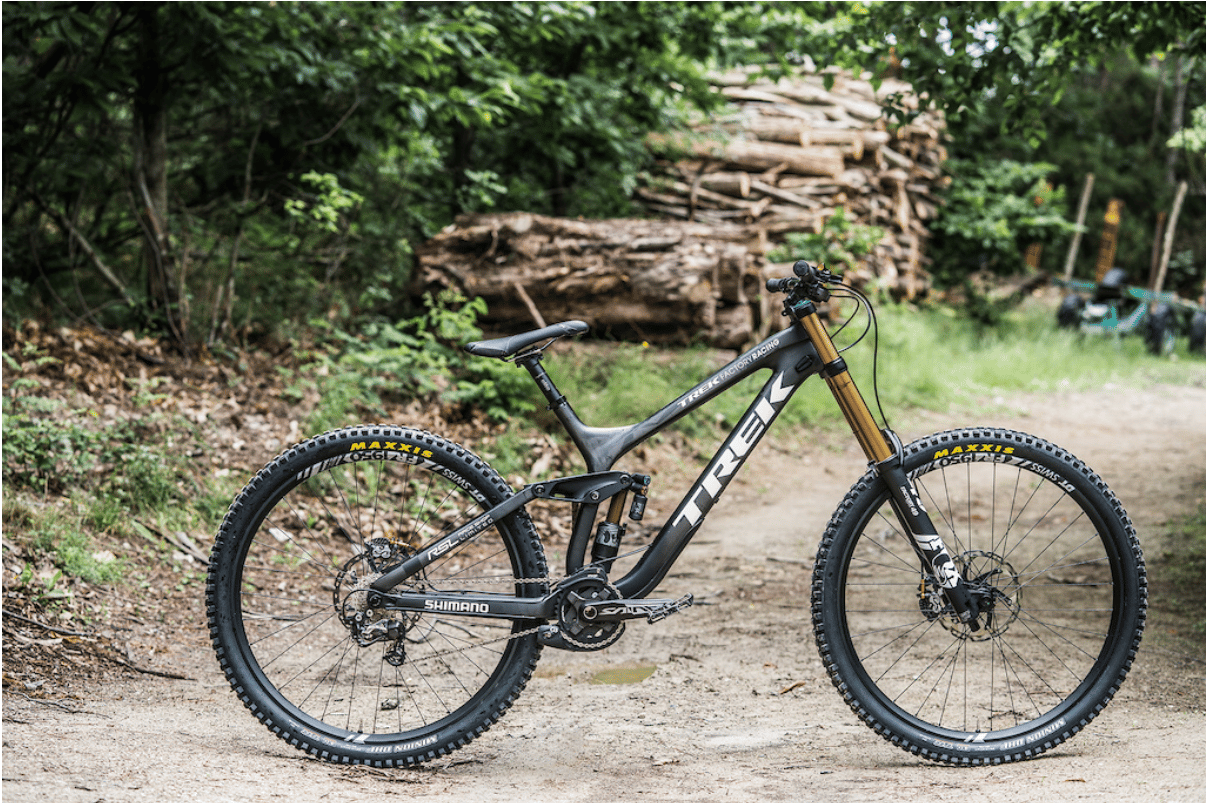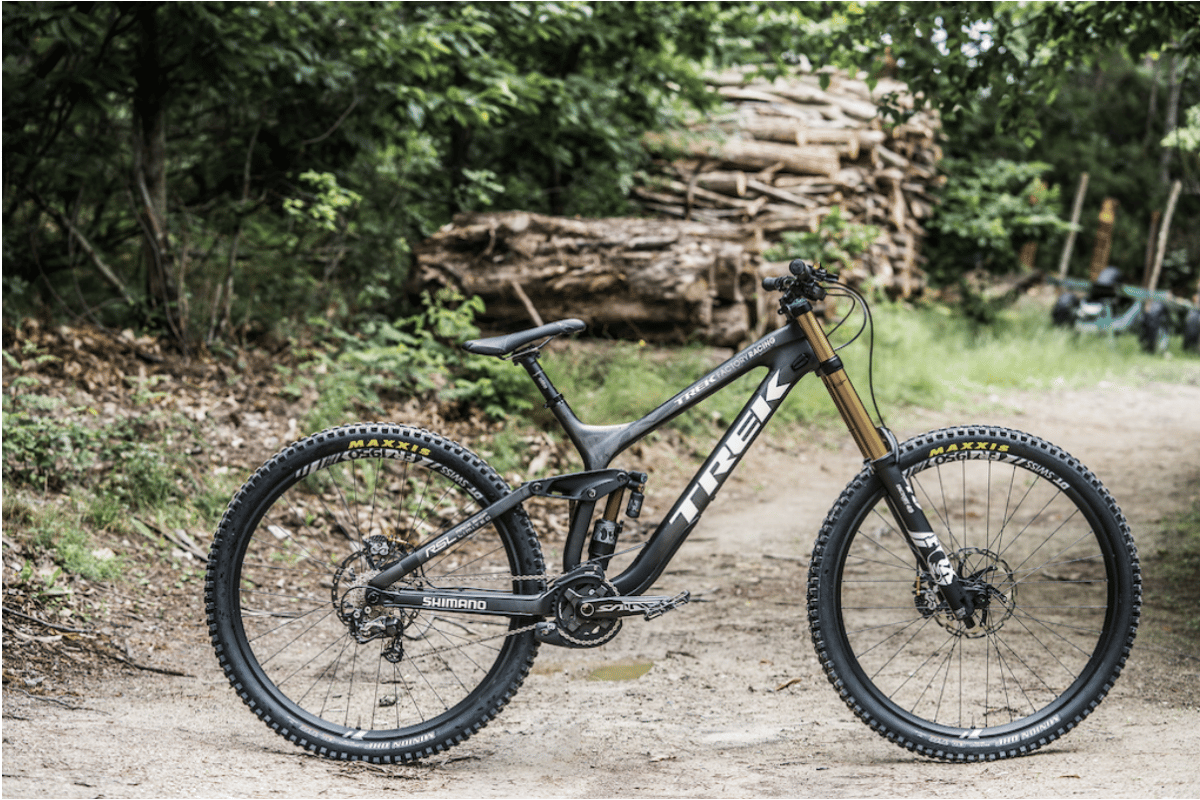 When you say the name Trek Session around other downhill riders then they'll know exactly which bike you are talking about and how legendary it is. One of the reasons that this bike is such a talked about topic is because of its unique silhouette compared to a lot of the other modern downhill bikes. Although it has a quirky design, the carbon fibre frame still manages to weigh among the lightest downhill bikes, weighing in at about 34.5 pounds.
The Trek Session 29 doesn't have that many adjustable features, but you are able to adjust the bottom bracket or the chainstay by 10mm which is a lot better than nothing. Since the new Trek Session has gotten new 29 inch wheels, they have had to work around them and have now lowered the rear travel of the bike to 190mm, which is still more than enough to have a good time on any trails. The fact that they have lessened the travel does not take away anything from the quality of the bike, both the rear and front suspension are high-end Fox factory air suspension products with adjustable damping to give you the most comfort and best performance of your bike.
Trek have decided to go with a more 'slack' design and have designed their bikes to have a 62.1-degree head angle which is designed that way to give you as much confidence as possible when you're going down those scary descents. The bike uses the Shimano Saint drivetrain and brakes to make your bike even more reliable and give you that extra boost of confidence when you're riding. To further protect your frame and its paint from any damage that might happen from flying debris, Trek have decided to feature a downtube protection as standard when you purchase the bike from the factory. Another pretty big feature that makes this bike so sick is the adjustable head angle, where you are able to adjust it to sit between 62.1 and 62.6 degrees.
Final thoughts
Remember that just because you want to ride downhill trails for fun it doesn't mean that you'll need to go out and buy the best downhill bike. You could start with an enduro bike and upgrade it from there because if you are just trying out downhill then the enduro option would be better because it is much more versatile and can be ridden in other disciplines as well whereas, with the downhill bike it is very hard to cycle uphill or far with it.