Enduro mountain biking has been considered one of the most popular forms of mountain biking because it is essentially a combination of the best parts of cross-country mountain biking and downhill mountain biking. To develop a good enduro bike you'll need to make it easy to pedal and have good pedal power while still having good suspension performance in order to be able to push the limits on fast, downhill, technical sections.
Enduro bikes won't be the best bike if you're going to use it just for downhill biking or just cross-country because it won't have the same level of terrain-absorption as a downhill bike since it is designed to be pedalled uphill as well. As we see, the suspension efficiency is one of the most important attributes when it comes to enduro bikes and so, engineers and designers have needed to come up with a whole new discipline of mountain bikes and gear in order to cater to the unique demands that this style has. Enduro bikes are some of the most versatile and capable mountain bikes in the world. So, if you are looking for the best all-round bike then you've come to the right place, here are some of the top picks for best enduro bike.
Santa Cruz Nomad C XT RSV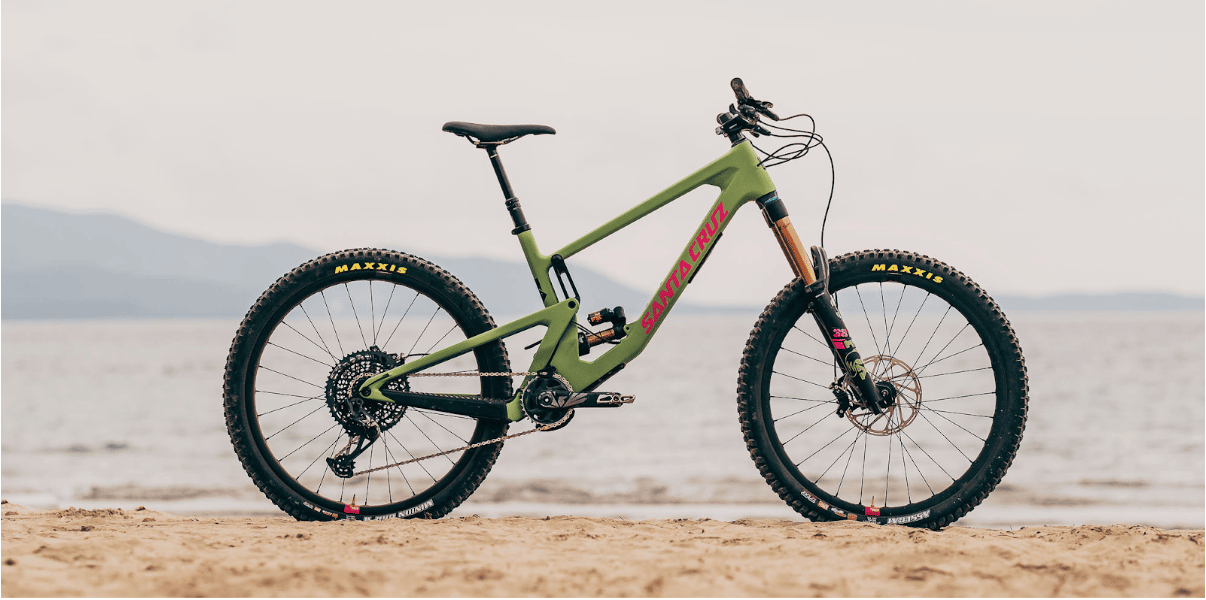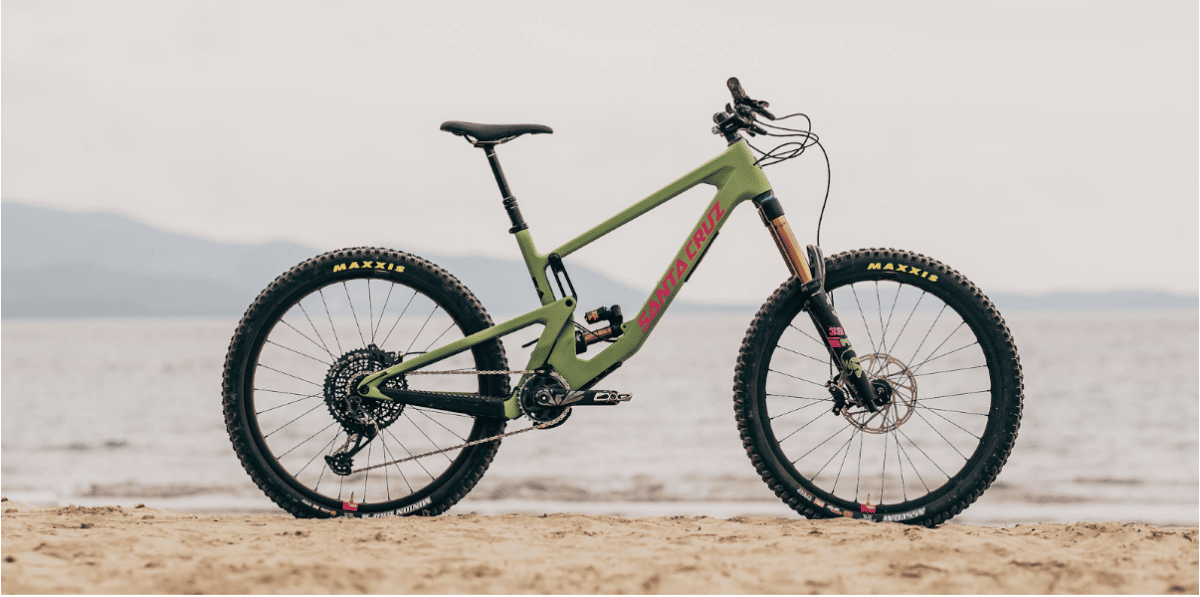 Santa Cruz is a huge name within gravity racing and was one of the first to make long-travel 29er bikes a thing, with their Tallboy LTC all the way back in 2012. This sick suspension system, called VPP, is seen, reconfigured, on their most recent trail bikes like the 170mm Nomad.
Although this 27.5 inch wheel model may not be the best when it comes to race bikes, because the 29 inch wheel model has dominated that space, it is an amazing bike to swing around on enduro trails that are more aggressive like downhill trails as this bike makes rough, steep trails look easy. It's not just impressive that this machine is so good when it comes to downhill sections, it is just as impressive that it is just as good when it comes to pedalling back up the hills as well.
Like every bike this bike cannot be perfect and with all its positives it does also have a few drawbacks. The biggest drawback being the insanely high price that this bike goes at, another pretty big drawback is that it has quite a large kickback while you're riding on long descents.
Pivot Switchblade XTR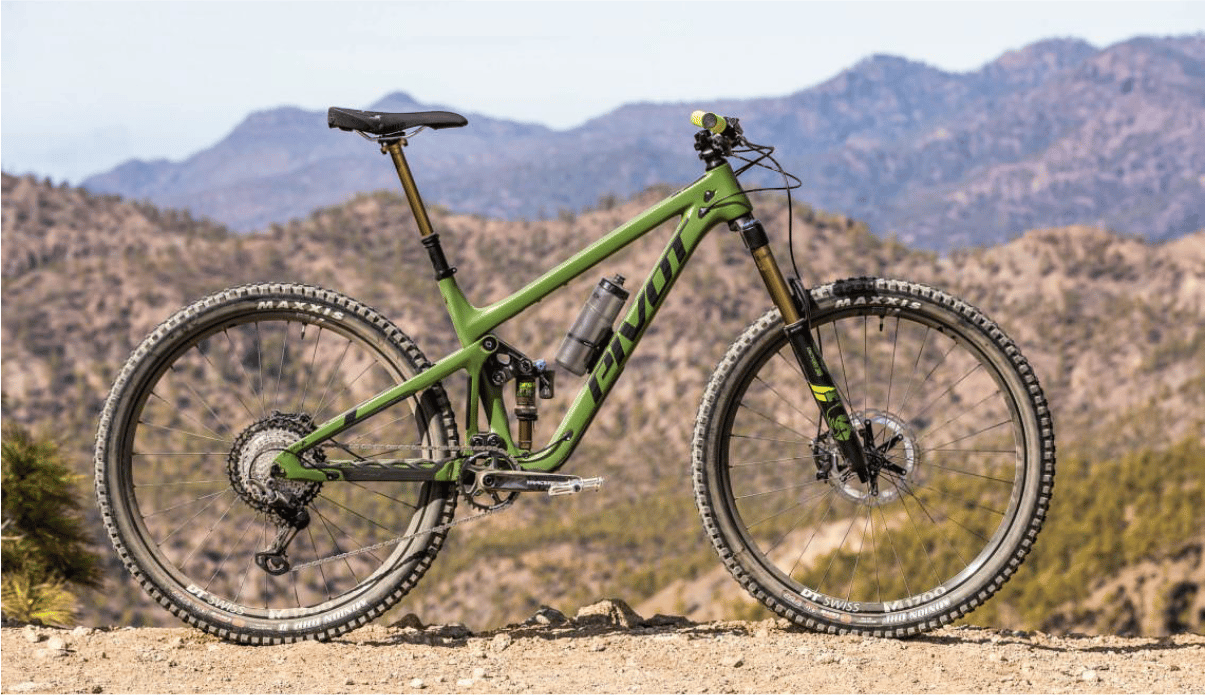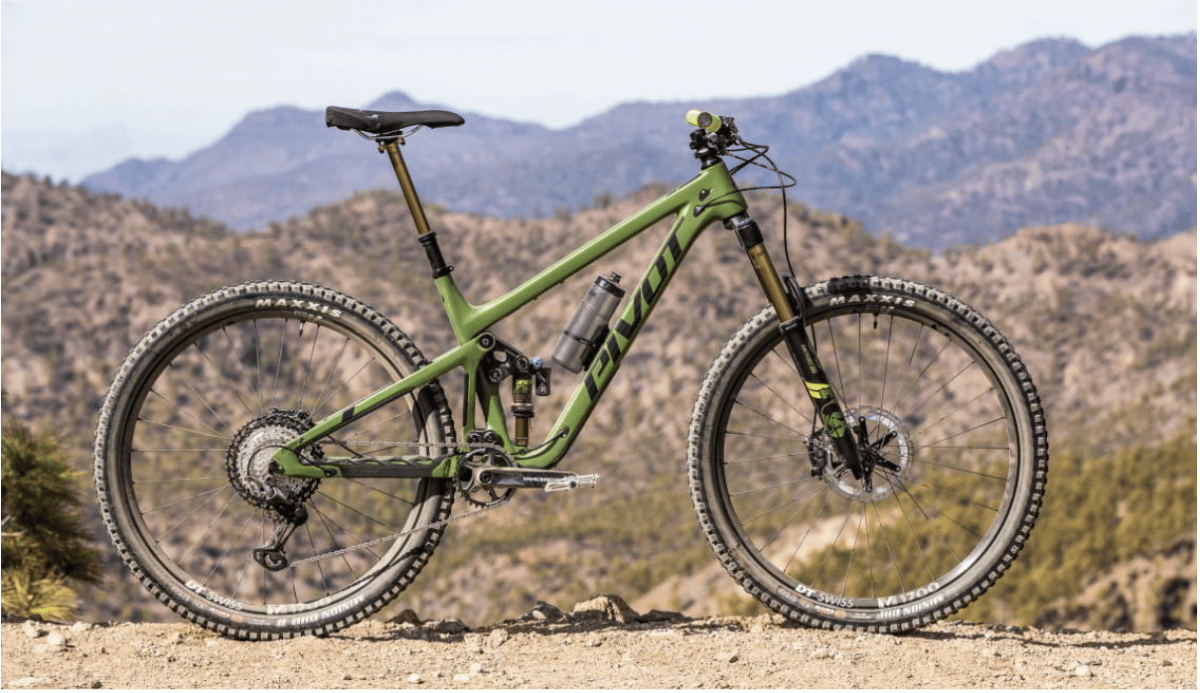 This enduro mountain bike is very infamously known for its incredibly high price but as soon as you start riding this bike you quickly realise exactly why it is priced so heavily. This bike has the incredible ability to make any section of any trail feel like a playground to ride on.
When you look at the component specs like the rear and front suspension setup you may be confused as to why they went with 160mm in the front and 142mm in the rear but these two travel measurements work with each other perfectly and even though these may not be impressive numbers they are perfect for most of the trails that this world has to offer. This suspension setup also gives you the option to upgrade your wheel sizes however, it wouldn't be the smartest because the bike already offers the perfect blend of dynamic speed and versatility.
Trek Slash 9.9 X01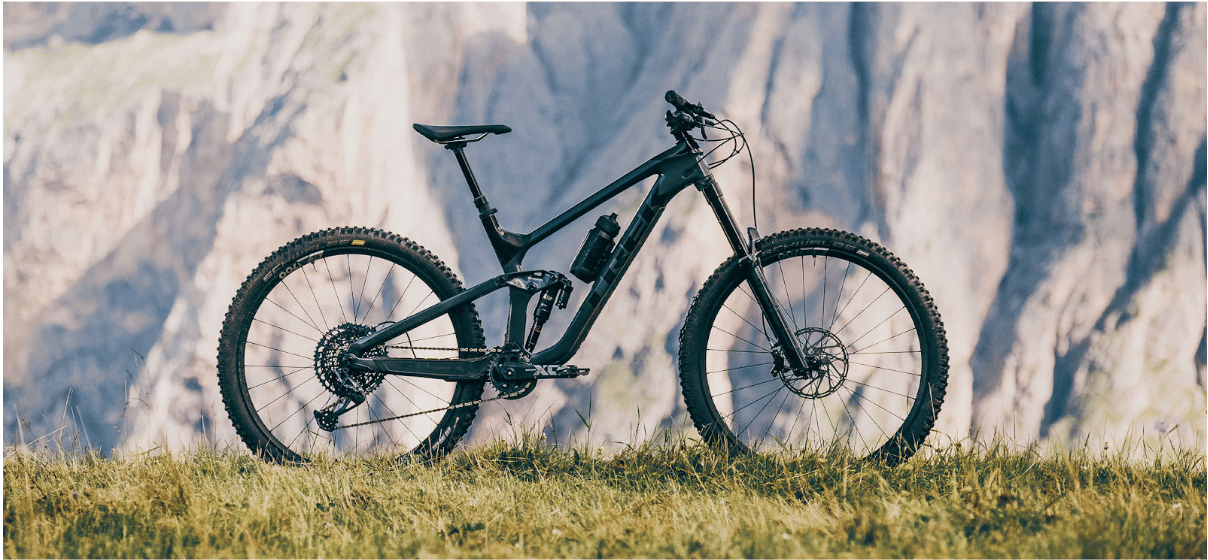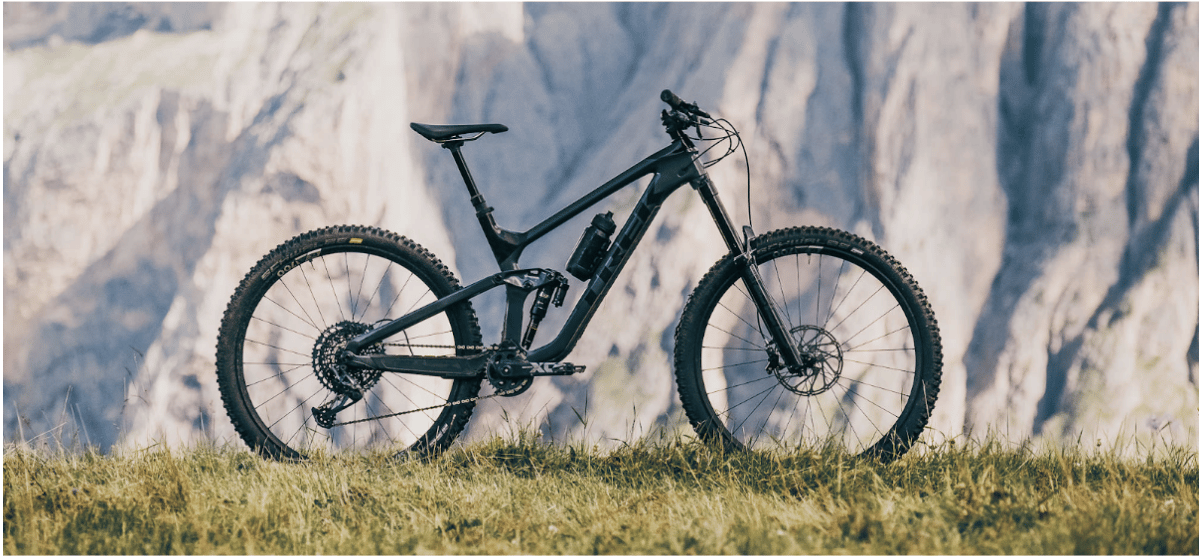 With most Trek mountain bikes they're all designed with racing in mind, to be the fastest one on the course that it is meant for. The Trek Slash is a mountain bike that uses Thru Shaft technology for better suspension control and still has its well-balanced ride characteristics to give you every advantage you can get on the trail.
The new Trek Slash bike has seen a few changes in its geometry as we see that the reach on this bike, on all the sizes, has been extended and even the large size has extended from 486mm to 491mm with a 450mm seat tube. We've also seen an increase of 10mm in the size of travel in both rear and front suspension, the front going up to 170mm and the rear up to 160mm. The head angle and seat angle of the new slash bike can be personalised a little bit as you have the choice to set it at 64.1 degrees or 64.6 degrees, for the head angle, and 75.6 degrees or 76.1 degrees for the seat angle.
The Trek Slash has a pretty cool safety feature as well, for when you crash. This technology is called Knock Block which basically stops your handlebars from spinning a full 360 when you crash so that no extra damage is made. This enduro bike is less playful than most of the other bikes on here and is actually more grounded. It is very popular, with this bike, to switch out the wheels and tyres to give you a little more confidence out on the trails because the setup it has when you buy it is not as amazing as the bike.
Specialized S-Works Enduro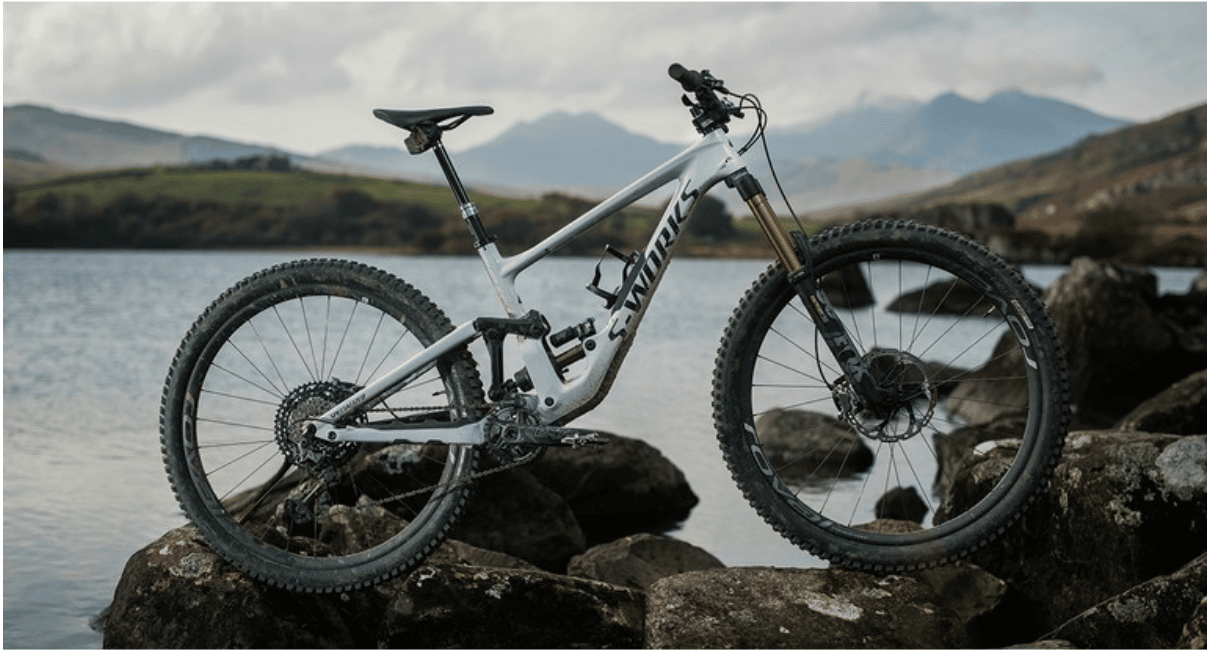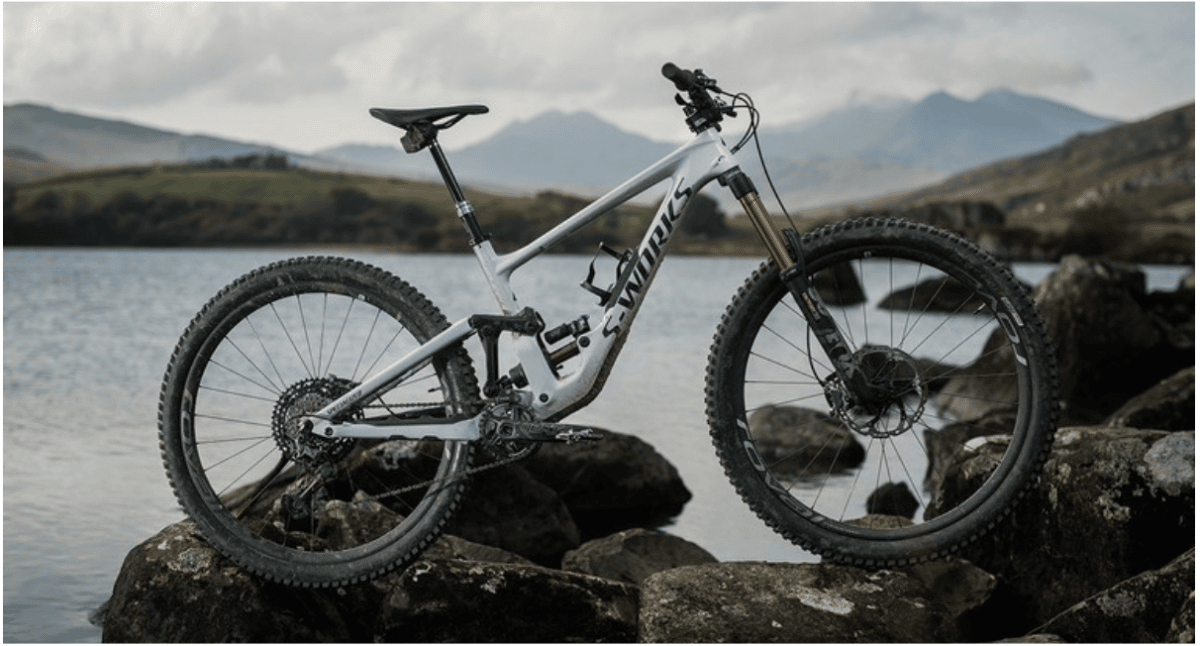 This is definitely one of those bikes that actually blur the lines between downhill and enduro bikes, this bike is a beast. A downside with having a bike which does this is that when you ride on a little calmer enduro trails it could feel like you're bringing a gun to a knife fight and might make you bored of the trail because nothing challenges you.
One big reason that this bike could also be used on more downhill-like trails is because it was modelled from Specializeds famous downhill bike, the Specialized Demo downhill series. So many of the lessons that Specialized learned, especially in suspension performance, get introduced in the shaping and design of their Enduro bike. This enduro bike has 170mm of monster travel which allows for you to absorb some of the biggest drops and just be able to handle the roughest trails. It has been seen already that this enduro bike has made a few appearances in downhill tracks just because it is so comfortable to ride while still being able to hit those tough obstacles. An example of some cool suspension technology they used with this bike is the flip-chip which allows you to change the characteristics of the suspension from a little more soft enduro setup to a gravity-hungry setup if you'd want to ride trails that are a bit more extreme.
When you hear all these amazing features that the bike has to help it go downhill so amazingly you may question its ability to go uphill as well because it would sound too good to be true. Although this may be relatively true compared to other more passive enduro bikes, it most definitely is not a poor climber. You are able to control the suspension of this pretty well to keep the rear wheel on the ground for as much traction as possible while eliminating that tiring bob you get from pedalling.
To make sure the whole bike is completely true to the track and you're able to make use of all your 170mm of travel the bike's geometry is designed in quite an extreme way when it comes to how long and low the bike is. Specialized have introduced a new way of sizing their bike compared to the traditional small, medium and large, they have decided to size their bike according to the riders' reach instead. This is actually a pretty sick new way of giving riders more personalised sizing so that they can choose a size based on their riding style and not be confined to just one size. So if someone could normally ride a medium, now you'd get the choice to choose a size S3 if you want a little shorter reach so you can be more playful and agile with your bike or you could opt for a size S4 instead for more stability in your ride, with the longer reach.
The S-Works model comes with only the top-end components which is good because it comes at a very high price. The bike is fitted with SRAM AXS shifting and its braking system has been combined with the Fox suspension. S-Works really offers an elite build.
Nukeproof Mega 290 RS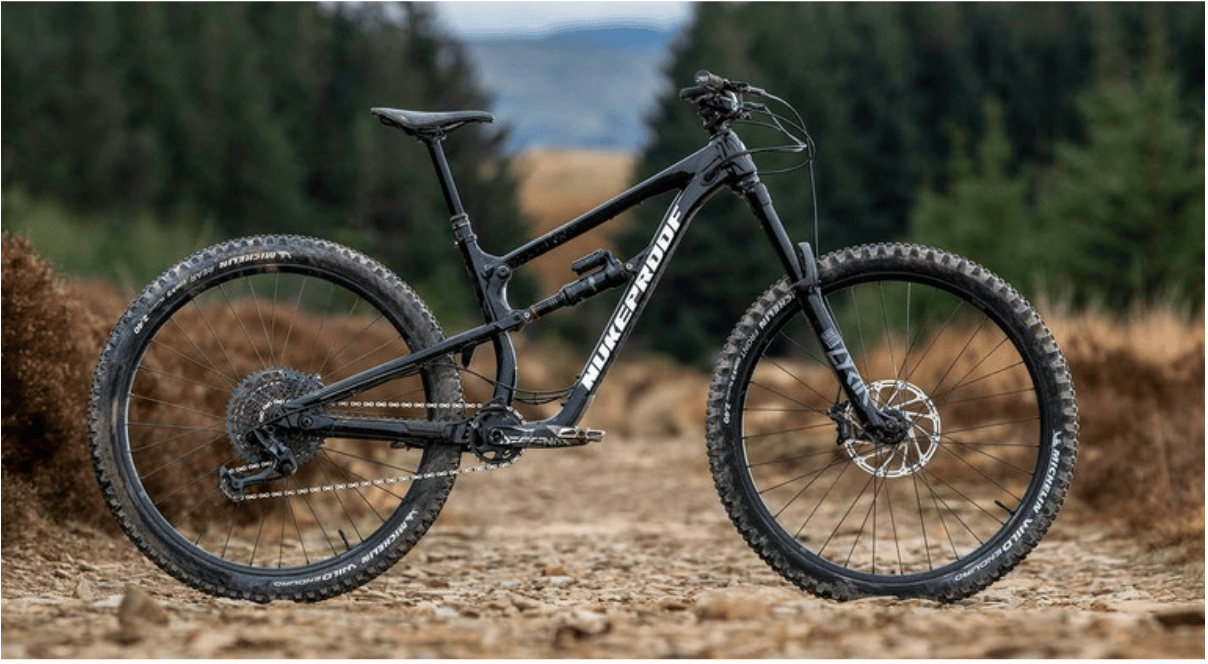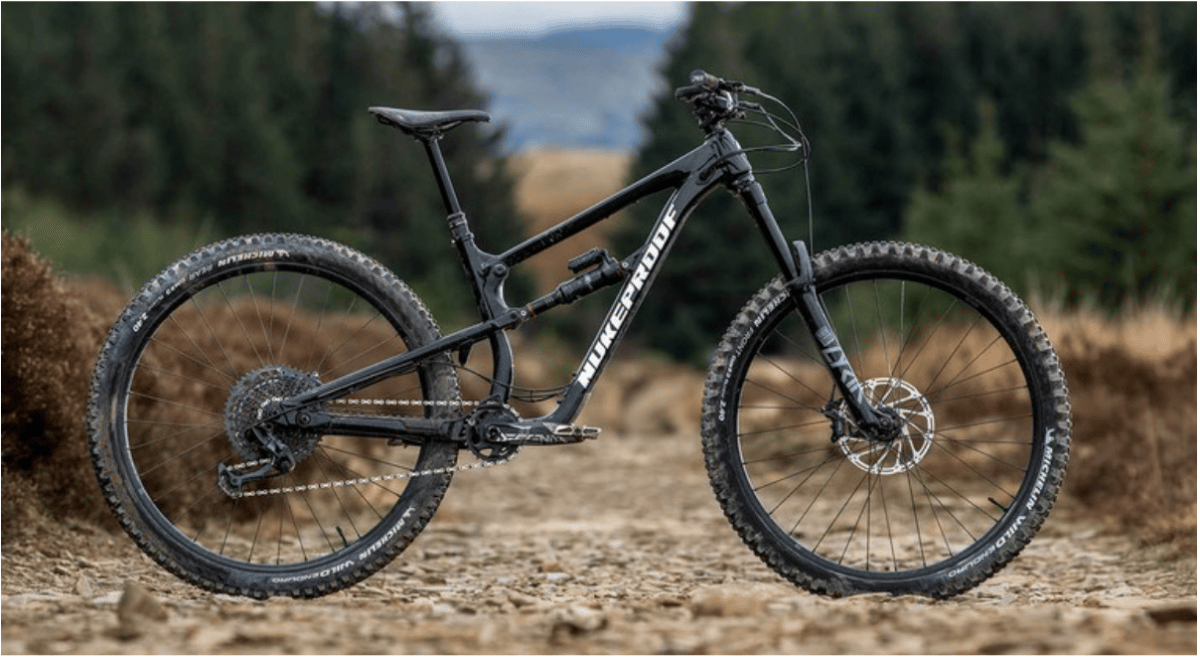 If the racing history of a mountain bike is the most important factor that you'll take into consideration when looking at these enduro bikes then this one is definitely the best one as it was ridden by the former enduro world champion and downhill phenom Sam Hill.
Since the first Nukeproof enduro series were introduced, they have been making some changes to the geometry of the bike in order to keep up with the latest enduro design philosophies. Changes such as slackening the head angle, making the seat tube a little steeper and adding a short offset fork in order to improve handling out there on the trails. The bike has found a sweet spot for the geometry at the moment and lies at a 64 degree head angle with a 78 degree seat angle and a 475mm reach for those on their large frame. The rear suspension on the Nukeproof Mega 290 RS has also been updated and is now 160mm so that it can absorb smaller bumps better and give it the nukeproof reliability that they boast about. The bike has had a few problems in the past in regard to the pedal input because they prioritised the ability to absorb big hits but with the new models they've addressed this problem and have a new kinematic.
A few more big changes seen on this bike is the fact that they've added a new carbon fibre triangle, better cable routing, shorter seat tubes and even the ability to fit a 750ml bottle on your bike. The bike has had some criticism in the past in regards to its heavy weight but they have bettered it with this model but it still is pretty heavily compared to other enduro bikes.
Canyon Strive CF 7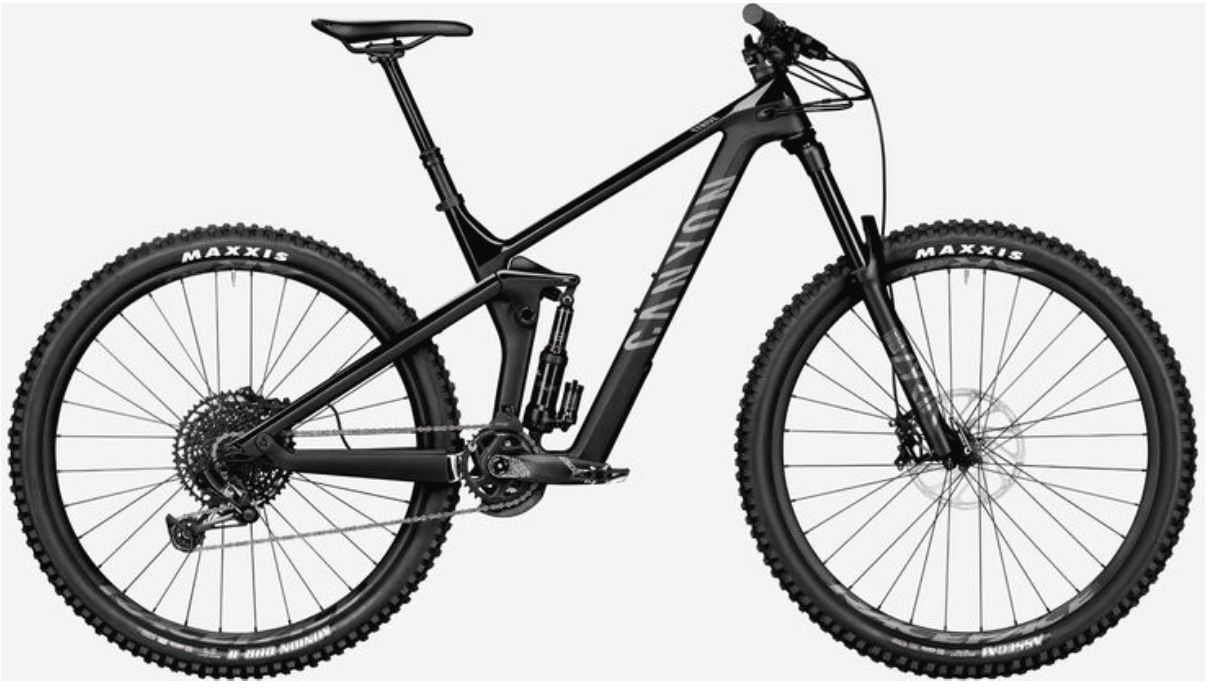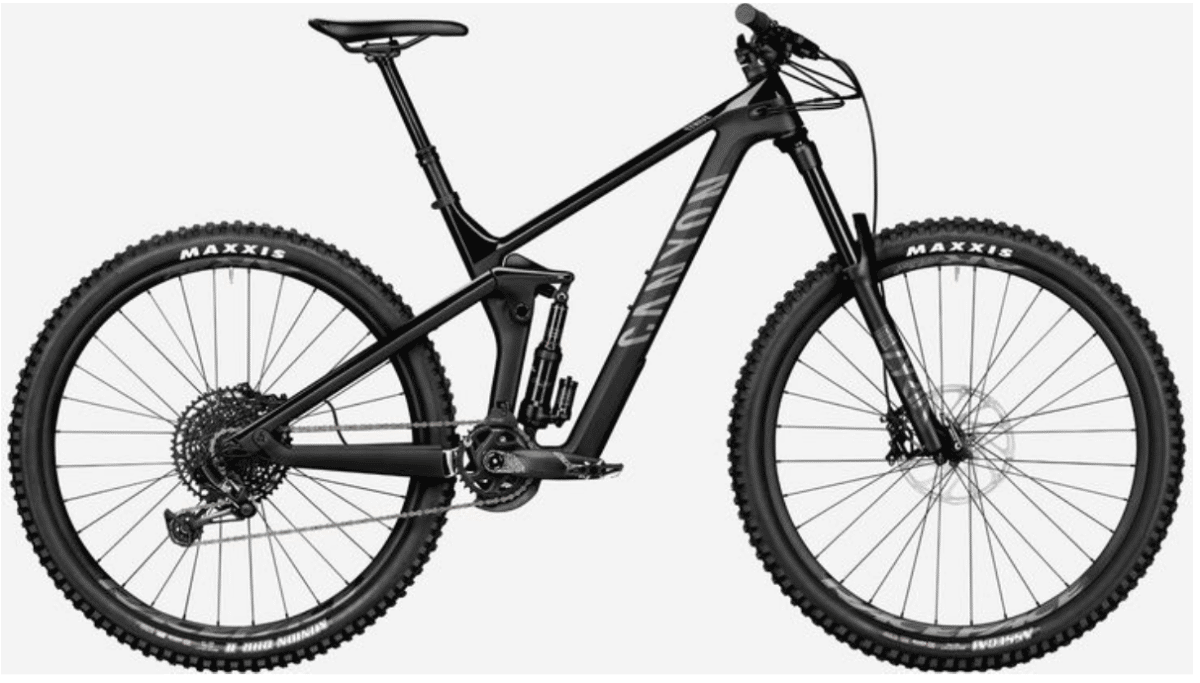 If you are quite an experienced rider or know what you're talking about when it comes to enduro bike geometry then you may already have hopped over this bike as a suitable enduro race bike because of its conservative geometry. This bike looks very dated when you compare it to some of the other enduro bikes on this list when it comes to its 65.2 degree head angle, 74.4 degree seat angle and relatively short reach of 434mm on a medium frame. However, just because the geometry may be a little off compared to other bikes doesn't mean that this is a slow bike, this has been proved by the 2021 EWS, Enduro World Series, champion Jack Moir as he won on this bike.
You'll really get a boost of confidence with this bike when you ride on technical, tight trails because it has quite a low bottom bracket which allows the bike to be slammed through corners and gives you some added agility. When you get to any sort of sections which require a bit of pedal power then this bike will also shine with its super responsive acceleration and also its Shapeshifter tech, mounted onto the handlebars, which actually gives you control of your suspension while still riding so you can really get the best pedalling performance.
With all that being said this bike is actually an amazing all-out racing bike and is super efficient for a full day of racing, so riders may even prefer the shorter, more progressive, travel over a suspension beast capable of downhill racing. If you are the right rider for this bike and know how to ride it then it can dominate over a lot of other enduro bikes in enduro races.
Commencal Clash Race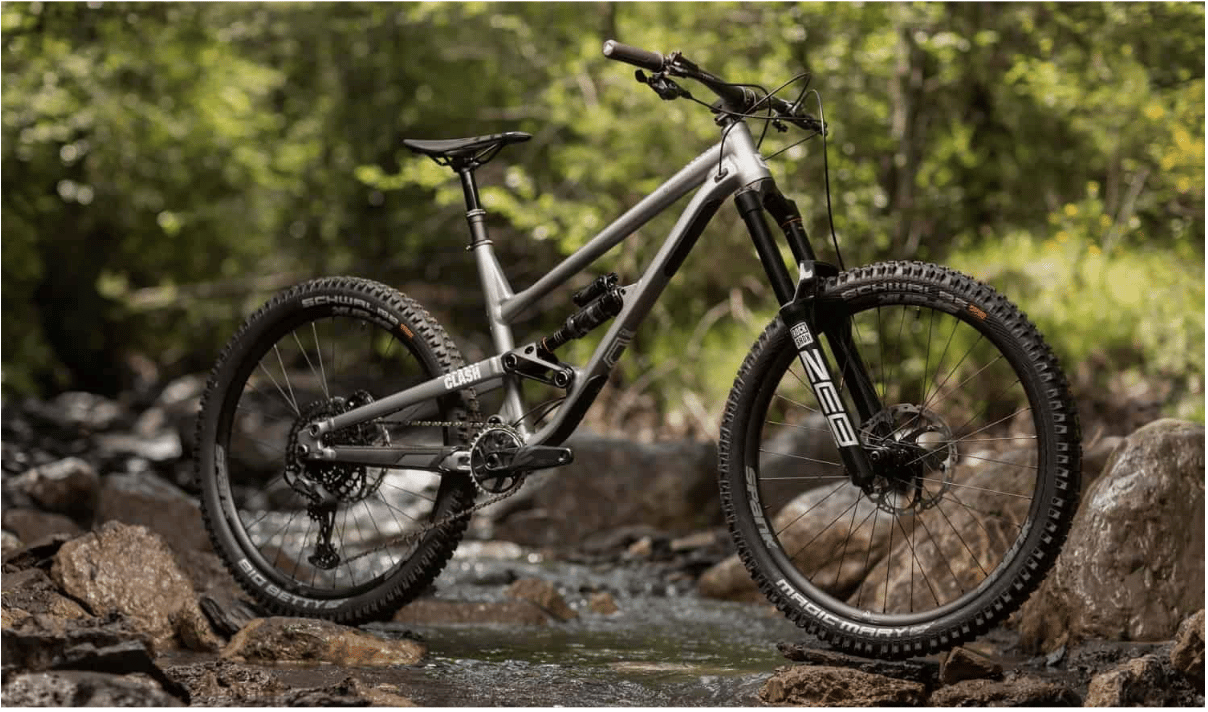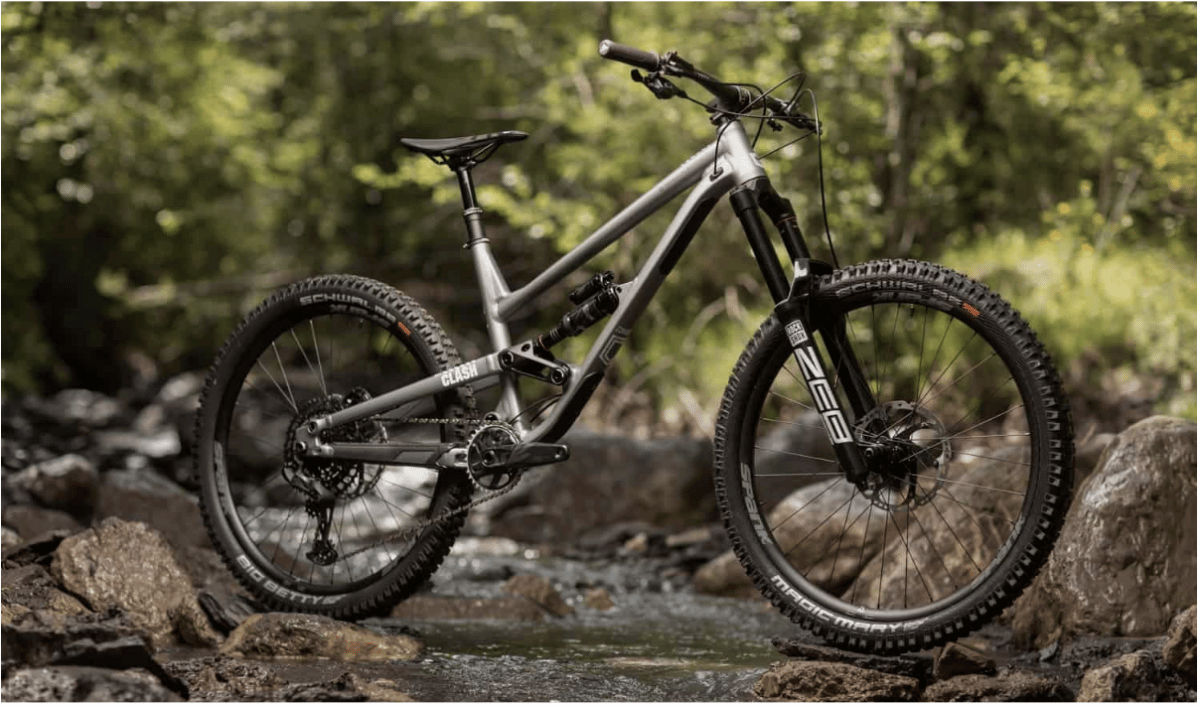 Commencal is a bike manufacturer who have been designing and manufacturing race-winning gravity bikes for a good while now but with their new Clash bike they've taken in 'funness' as a big factor. For the purpose of having this bike fit into a category they've slotted it into the enduro bike section but the design of the whole bike is very different to the other typical enduro bikes out there. Commencals whole idea with this bike was to create a bike that would be very fun to ride and be super playful on more gravity orientated tracks.
The front end of this bike is situated at 64 degrees which is perfect for riders looking for that balanced handling, then when you pair it with the 27.5 inch wheels which it has it makes cornering feel much more snappy and even gives you an extra feeling of 'pop' when you jump the bike. Although these factors may not seem that important to riders looking for a race bike it is extremely fun for riders who'll spend most of their time out in mountain bike parks.
Conclusion
So there you have some of the top picks for enduro mountain bikes this year. The best one for you will all depend on how you'll want to ride the bike and what trails you'll want to ride on, if you're racing or just having fun will be important to know. Good luck.