It is important to find a good mountain bike fork for your style of riding because if you find the perfect one, it'll add both speed and control to your riding. Here are some of the best ones for each discipline of mountain biking.
Why do I need a good fork setup?


The mountain bike forks are probably amongst the most important components that you have on your bike nowadays because they are able to smooth out whatever surface you're riding on and by absorbing these bumps it improves your traction, speed and gives you more control over the terrain in general.
Riders of older generations may still not comprehend how important it can be because back in the old days it wasn't always like this. In the old days it was unheard of and the bikes that existed then were often not comfortable at all and were just rigid machines. In the beginning of the introduction of suspension, around early 1990s, they came out with forks that had around 30-50 mm of travel and were introduced for downhill and cross-country racing specifically.
The forks that we have to choose from now are lighter than they have ever been and can be tuned and customised to give the exact feel that you want it to give. When you're looking for the perfect fork for you it'll be important to establish what type of riding discipline you'll be doing the most. Below the forks have been broken up into which forks are best for each discipline.
Best forks for cross-country
RockShox SID Ultimate SL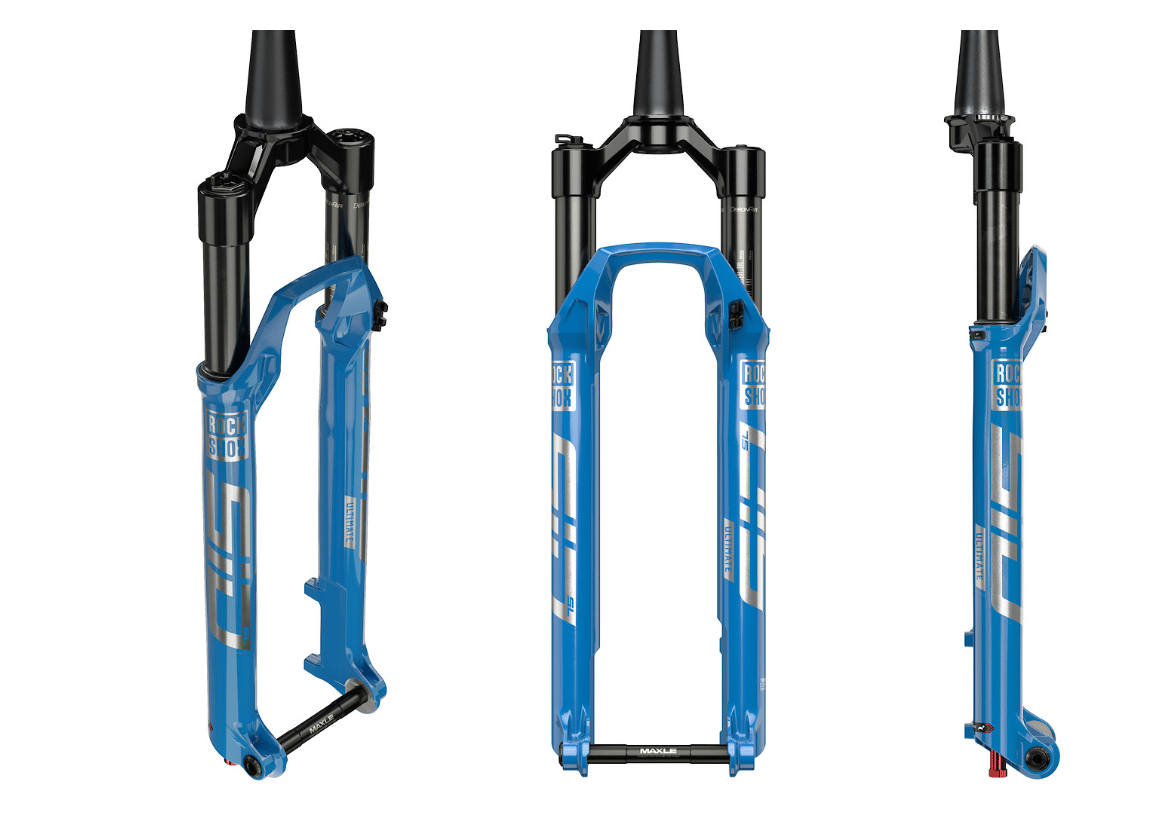 These RockShox forks are considered to be at the very top of all high-end forks within the cross-country biking discipline. Of all the SID RockShox forks series this is the lightest of them all which means that it is mostly designed for going long distances and climbing up steep inclines with as much ease as possible.
RockShox have stunned the mountain bike world as they've somehow managed to drop the weight of the fork while improving its feel and keeping it accurate so that it can still be used in the competitive scenes in cross-country and other events too. It may take a bit of time for you to get used to it and tune the forks to your riding style but once you've done it then you'll be able to push your bike to the limit while having amazing traction and reducing fatigue on even the roughest cross-country terrain.
The RockShox frocks don't just have amazing performance during rides, they look great and even have enough space between them for higher-volume tyres for those who prefer that style over the normal cross-country tyres.
Fox Float 32 Factory Step-Cast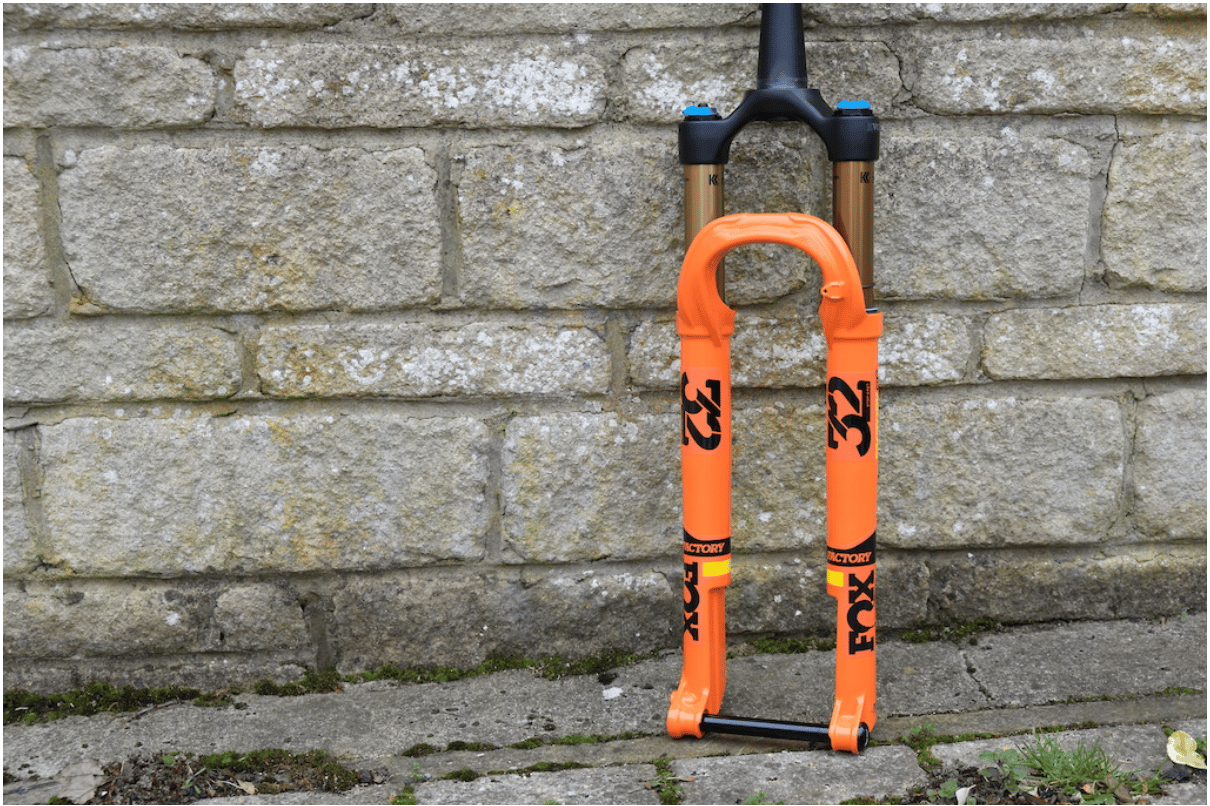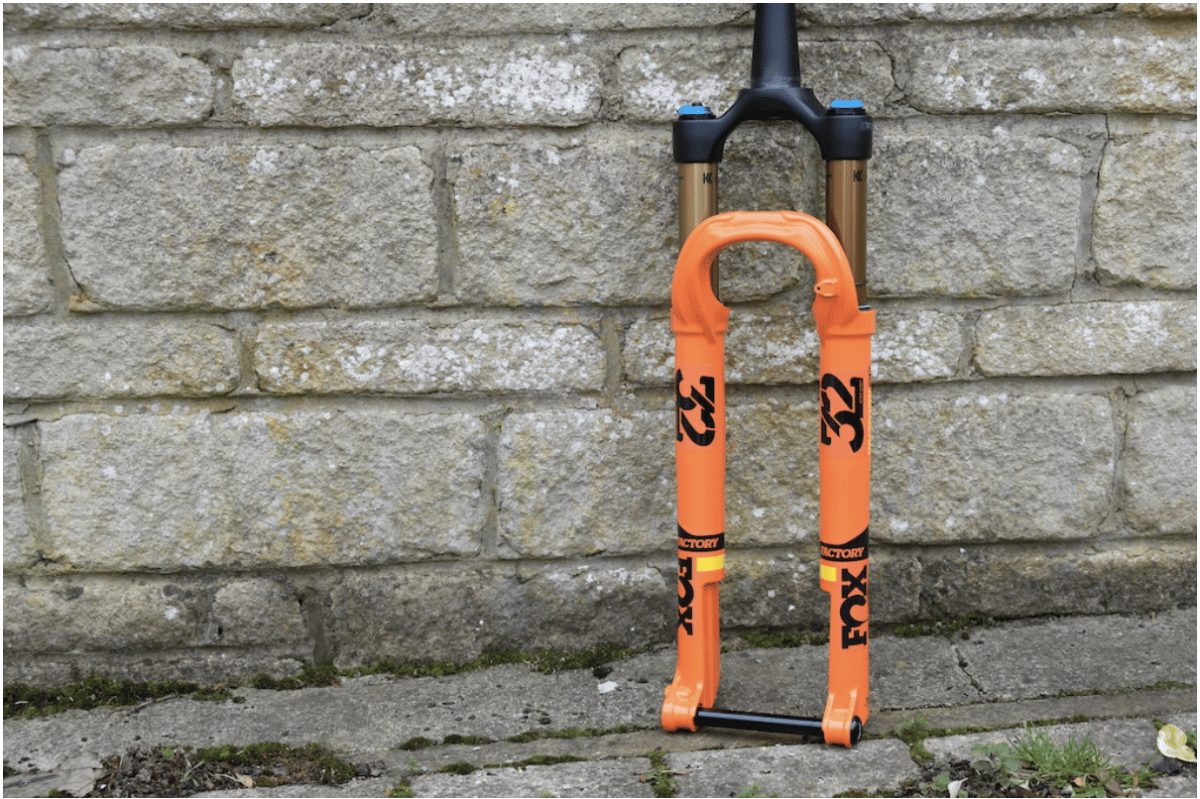 This Fox Float fork is an amazing combination of just the right amount of plusness and performance for those who are looking to try to get the lightest suspension setup possible. This lightweight cross-country suspension is an ultra lightweight fork that not many other options are able to match in performance or weight.
One way that Fox have managed to drop so much weight compared to their rivals is the fact that they have designed a more narrow fork when you measure it from leg to leg and that's because of a stepped cut-out at the drop-outs. By doing this it is not only the weight that they have saved on but also the lateral stiffness which means you'll be able to get more accuracy as well.
Not only have they improved the stiffness from the stepped cut-out, they've also improved on it by a whole 20 percent by giving the crown a whole new redesign. This increase in stiffness means it is on the same level, in regards to stiffness, as the 34 fork, which is much bigger and heavier, the trail-focused version of this fork.
Best forks for trail riding
Cane Creek Helm Air MK2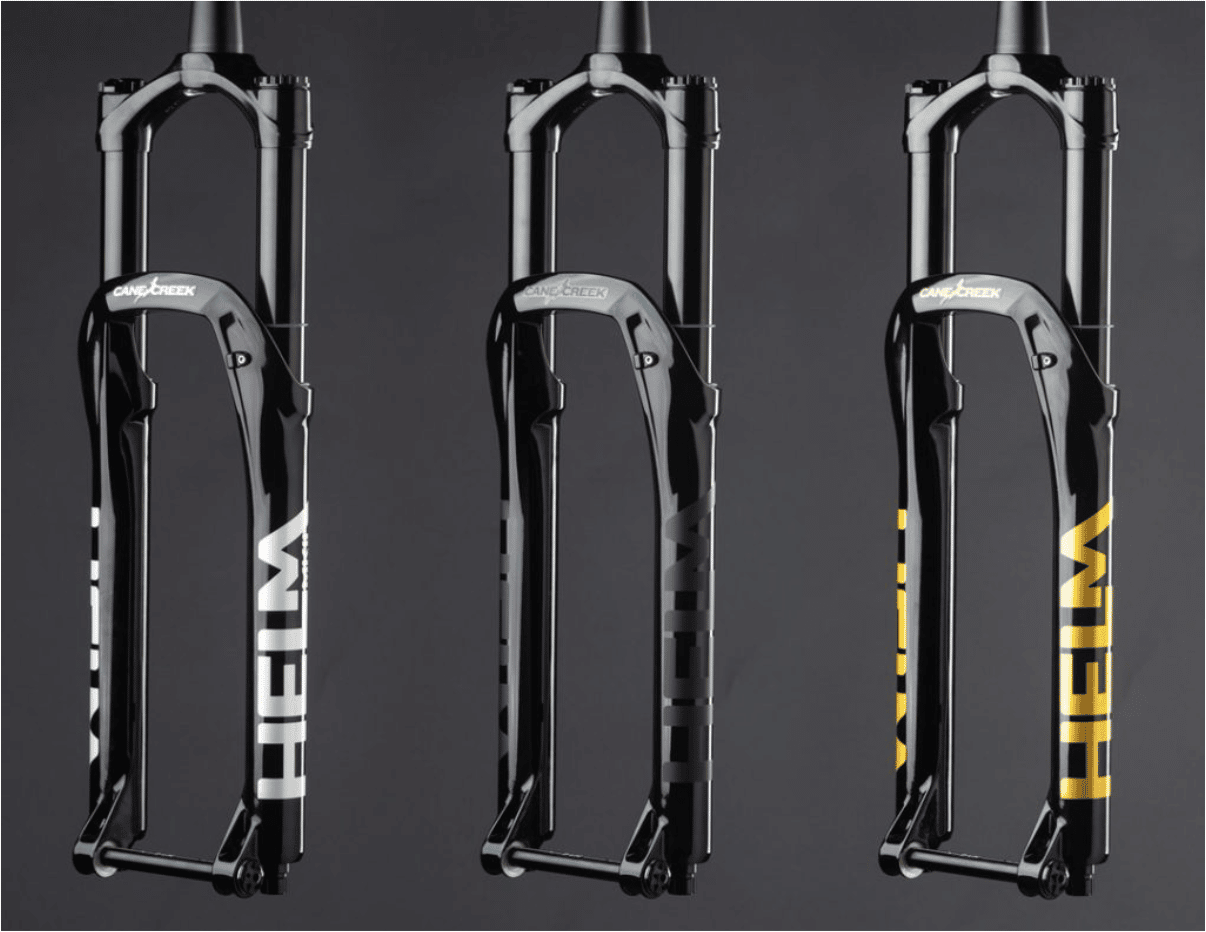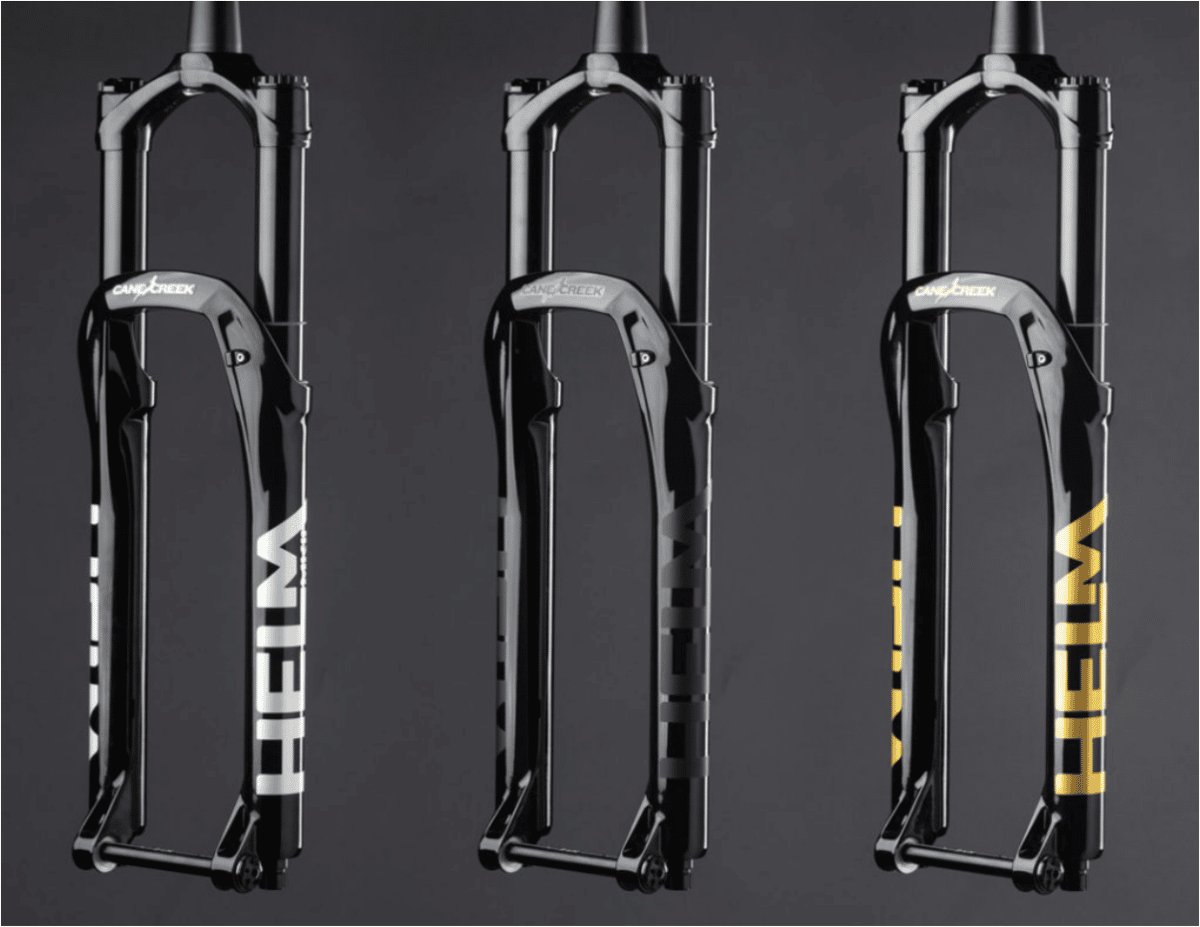 The previous generation of the Helm Air Fork was already a fantastic fork in the eyes of many riders and the new design and changes done to MK2 fork has just made the fork even better. Just like the original Helm Air, the MK2 still has the 35mm stanchions, tapered steerer and the amazing adjustable travel ranging from 100-160mm
One of the changes that riders are able to see directly is the new tokenless air volume adjust which basically means that you are able to change exactly how progressive you want your fork to be, all by the turn of a small knob. Cane have also decided to give the air-spring and dampers a whole new redesign in order to reduce friction and instead increase the air volume within the piston to improve the traction and suppleness.
The changes don't just stop there, the damper in the old fork has seen a complete upgrade with new compression as well as a new mid valve circuit in order to increase the support and control when it comes the the high or the low speed compression and rebound adjustments that you make the fork. The brand has also managed to reduce the overall friction happening in the fork by adding new low friction SKF seals and 2.5 weight oil.
With all these different upgrades you may be wondering if you are still able to configure the air springs, in order to add or remove air from the two air chambers in the Helm fork independently, just like you could on the old model and you definitely still can.
And to put a cherry on the top of all the cool new features this fork has, it also has a pretty unique axle system compared to many other forks and it's called D-LOC. D-LOC technology doesn't only keep your wheel in place but it actually prevents a lot of tension and torsional loads which are exerted onto the upper bushings whilst you're corning at high speeds.
RockShox Pike Ultimate RC2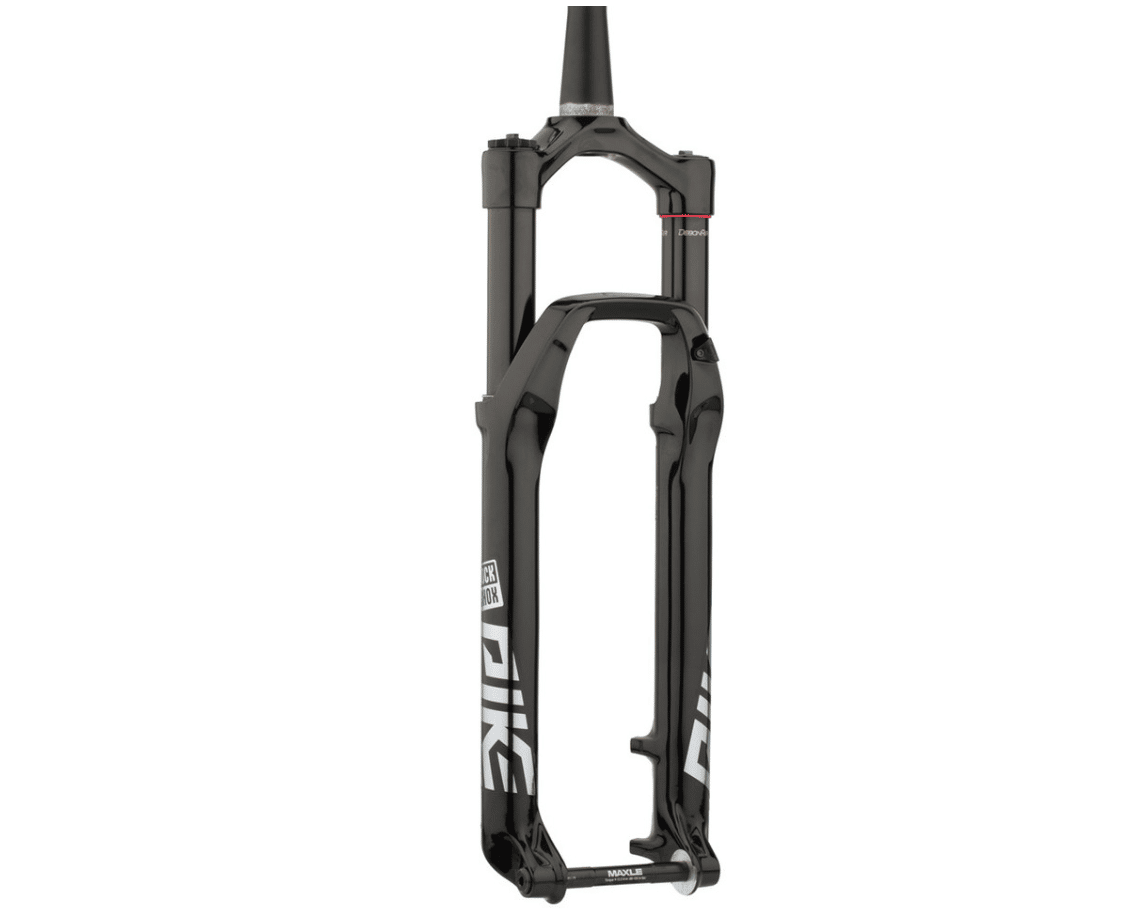 This is one of those forks that have definitely set a benchmark for all forks in the trail riding world. When the first Pike model was released by RockShox all the way back in 2013 it was an instant favourite to all trail riders and ever since then they've just been improving and getting better and better.
So make sure there is almost no friction at all when the pistons are sliding up and down the fork comes with RockShox's RC2 damper which is even further enhanced by their SKF seals and Maxima Plush suspension fluid. This added smoothness to the forks allows you to gain quite a bit of traction in cornering to give you a little boost in performance.
As with most of the frocks that are available today you will be able to adjust the compression of the forks and the volume spacers to get the perfect fork feel. If you are nervous that you won't know what psi to set your forks up at because you are inexperienced then its okay because there is a recommended psi default set-up that comes with the forks so you can begin just by pumping them up to those levels and you should get really good results just from that.
So we've figured out that the RockShox Pike is smooth but it is still providing you with great stiffness? Yes, this fork has a 35mm chassis which offers more than enough stiffness, giving you even more steering precision and accuracy even on the more aggressive, enduro-like trails. The cool thing about all of this performance that you get from the fork you don't lose any of the weight advantages, it is still relatively light.
Fox Float 34 Factory GRIP2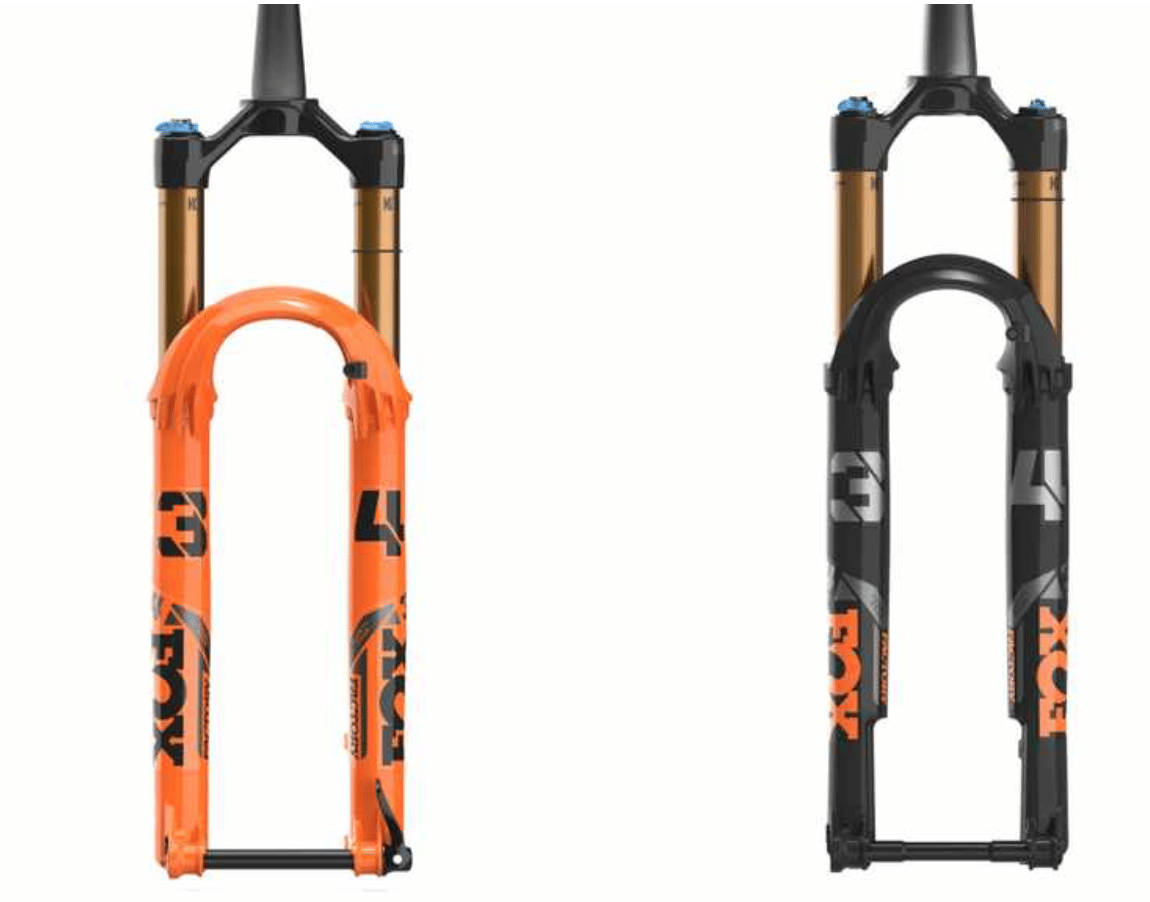 The Fox Float 34 has finally gotten the Fox GRIP2 damper and EVOL air-spring packaged into a super light setup for all trail riders specifically. The whole setup weighs around 1769 grams which is super light compared to other trail fork setups.
As you've probably established from the name of the fork, it has 34mm stanchions which have further gotten envy-inducing gold Kashima coating which increase the shocks smoothness as well as its sensitivity.
Although the forks come at a quite low weight you don't sacrifice any of the stiffness that comes with it, the Fox 34 will still be providing the suppleness and plush damping as they have always done and always will continue doing. Ever since their 38mm series had come out they have been able to spread all the available travel across all their different series of forks, which means that each fork that comes out now will have less options as you'll be able to buy the perfect fork for you instead. For this Fox Float fork specifically you'll be getting 130mm or 140mm of travel except for the 29er fork where you'll only have the 140mm option.
Best forks for enduro riding
RockShox Lyrik Ultimate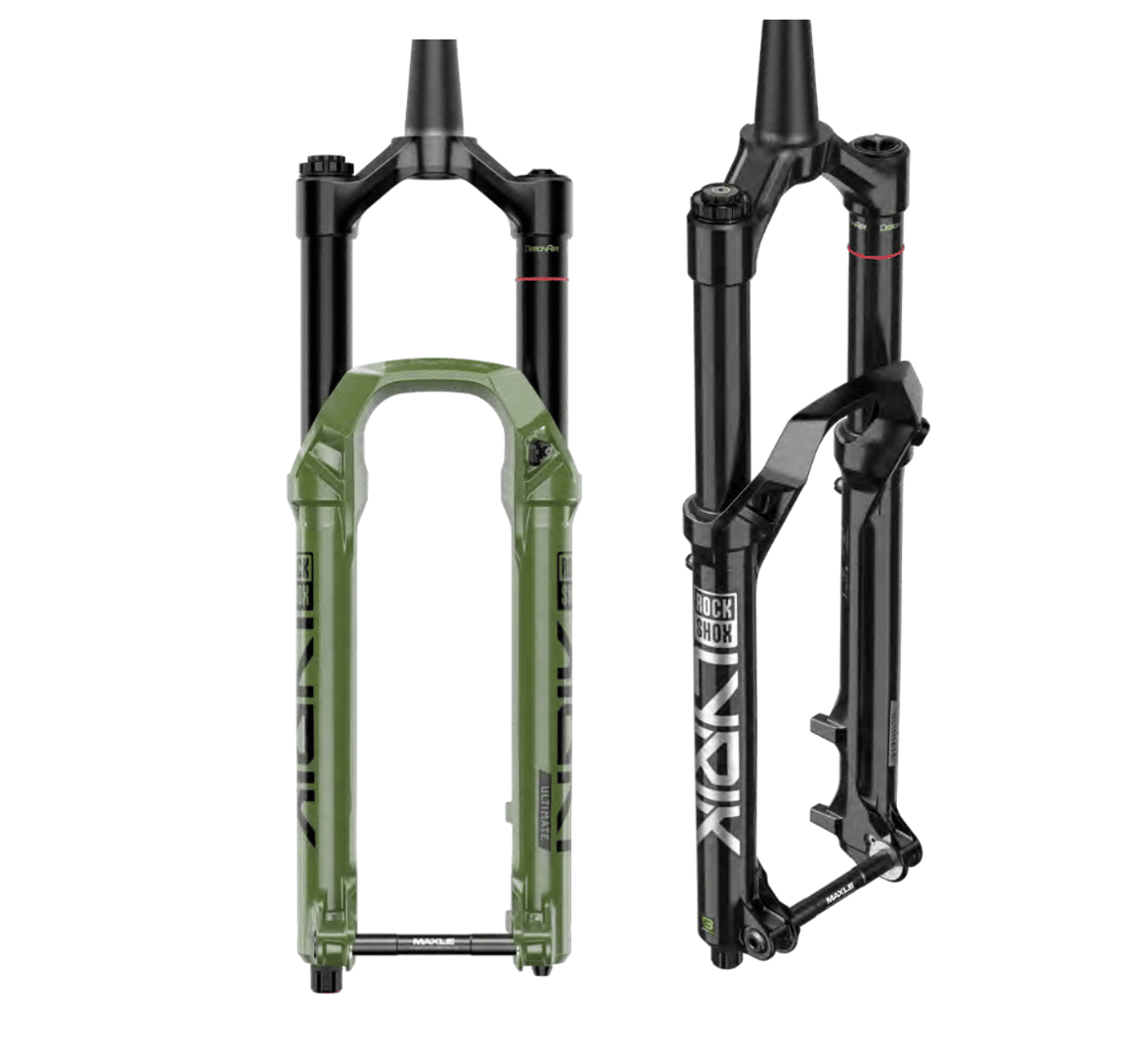 The new RockShox Lyrik has received a lot of improvements visually as well as internally in order to be a better overall fork for enduro riders and the rough trails they have to ride. Visually, we've seen the biggest change in its paint colours. The fork is now red which directly contrasts the two black pistons and looks very cool however it may not match everyone's bike and so may come as a disadvantage.
Underneath all the new flashy looks of this fork is where the real improvements have been implemented. The air shaft has now been hollowed out, which not only saves some weight but actually provides 42 percent more negative spring volume which is absolutely insane. So now the small bump sensitivity and coil spring linearity of the fork will be improved drastically.
The Charger 2 RC2 damper, equipped on the RockShox Lyrik, has seen some interesting changes as it has now strayed away from the three-position lever which means you won't be able to lockout your suspension anymore which can be a big disadvantage to many riders out there. They have instead replaced it with a high speed five click adjuster which, although won't have that lockout feature, will be more tuneable and more responsive out and about on the trails.
Fox 38 Factory GRIP2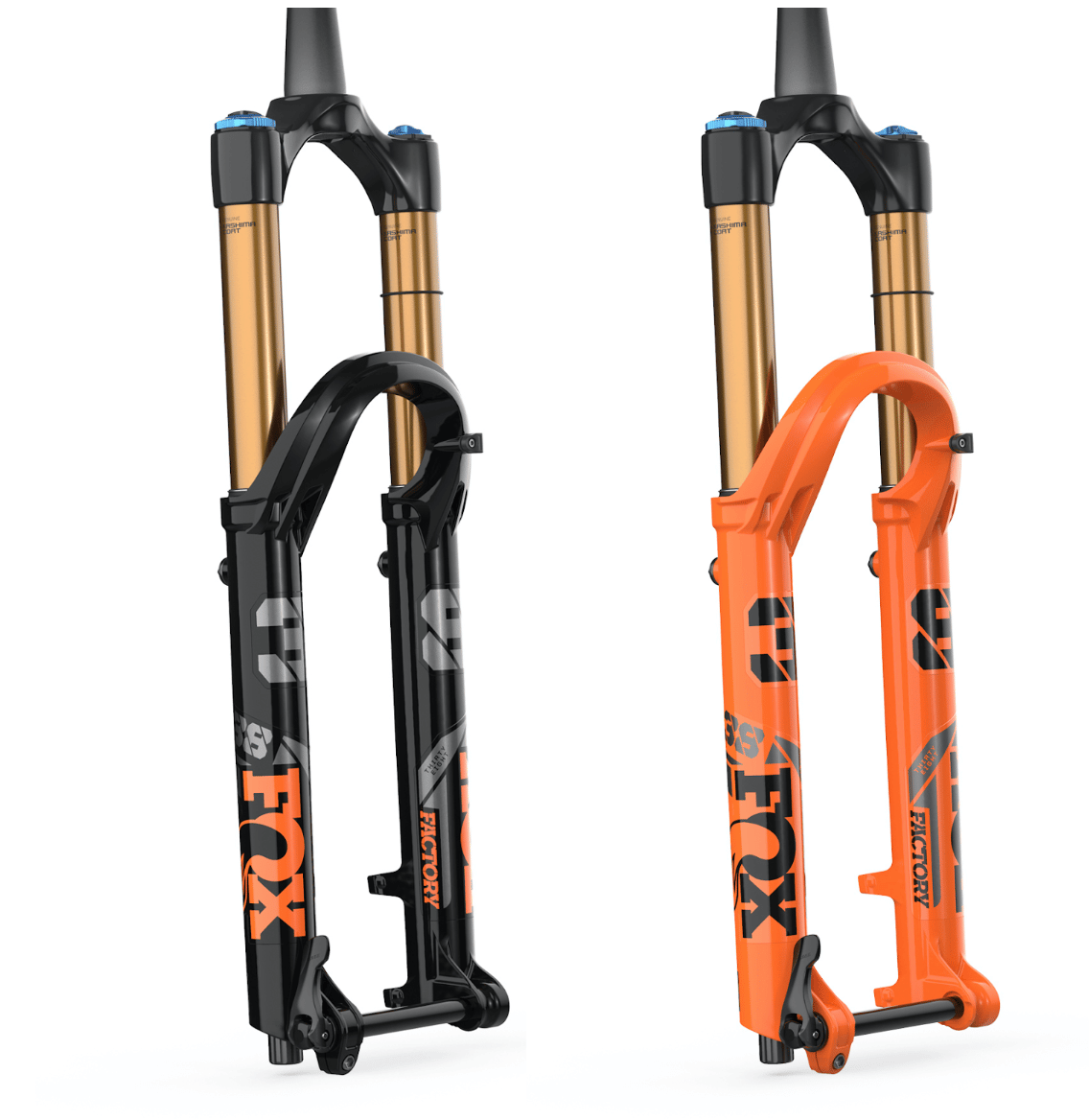 This suspension fork is very much intended for those riders who take enduro riding to the next level and ride the roughest trails and send it on massive jumps at bike parks, so if that really isn't your style this fork would probably be very overkill for your bike. If you are looking for the enduro fork that'll be able to handle everything you throw at it then sure the 38 Factory fork is definitely one of your best options.
Depending on what type of riding you're going to do or what trails you're going to ride you can opt for different size travel options, which are 160mm, 170mm and the largest 180mm. This fork manages to produce an amazing riding experience even on the toughest trails all thanks to the stiffer structure and excellent internals.
The size of this fork is not the only thing that we've seen change for the better, the internals of the fork have also seen some major improvements. All of the new changes made to the inside means that this fork has significantly better control, consistency, sensitivity and response while still being able to keep the stability which we know and love from the 38.
Marzocchi Bomber Z1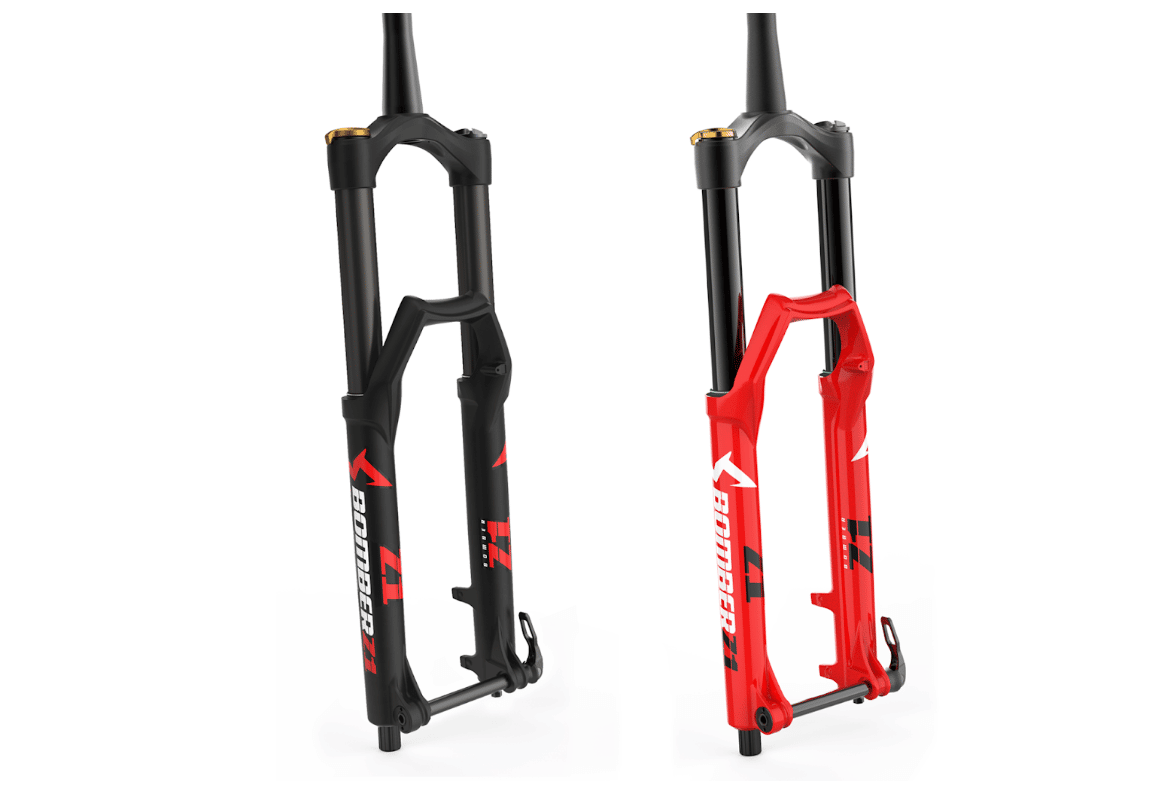 The Marzocchi Bomber Z1 has made an unexpected return to the scene and is better than ever thanks to Fox Racing who had actually bought the Marzocchi company. The new Marzocchi is now air-sprung and was designed for riders who are intending on riding far and long while still needing a fork which'll be able to get you over those tricky and demanding sections with ease. This fork is definitely one of the most durable options out there.
Since the fork company has now been bought by Fox you could probably work out that the new Bomber fork has seen some of the technology used in the Fox forks be transferred over to these now. A big spot we notice the Fox technology is the new EVOL air spring, FIT GRIP damper and even the Fox Rythm crown and steerer which has been seen added to the Bomber.
Exterior wise, the new fork is constructed of 6000 Series aluminium and has a 36mm chassis available for both 29ers and 650b options with travel options ranging from 150mm all the way up to 180mm. You also have the option to tune your air spring curve through the use of its volume spacers.
Best forks for downhill riding
Fox Float 40 Factory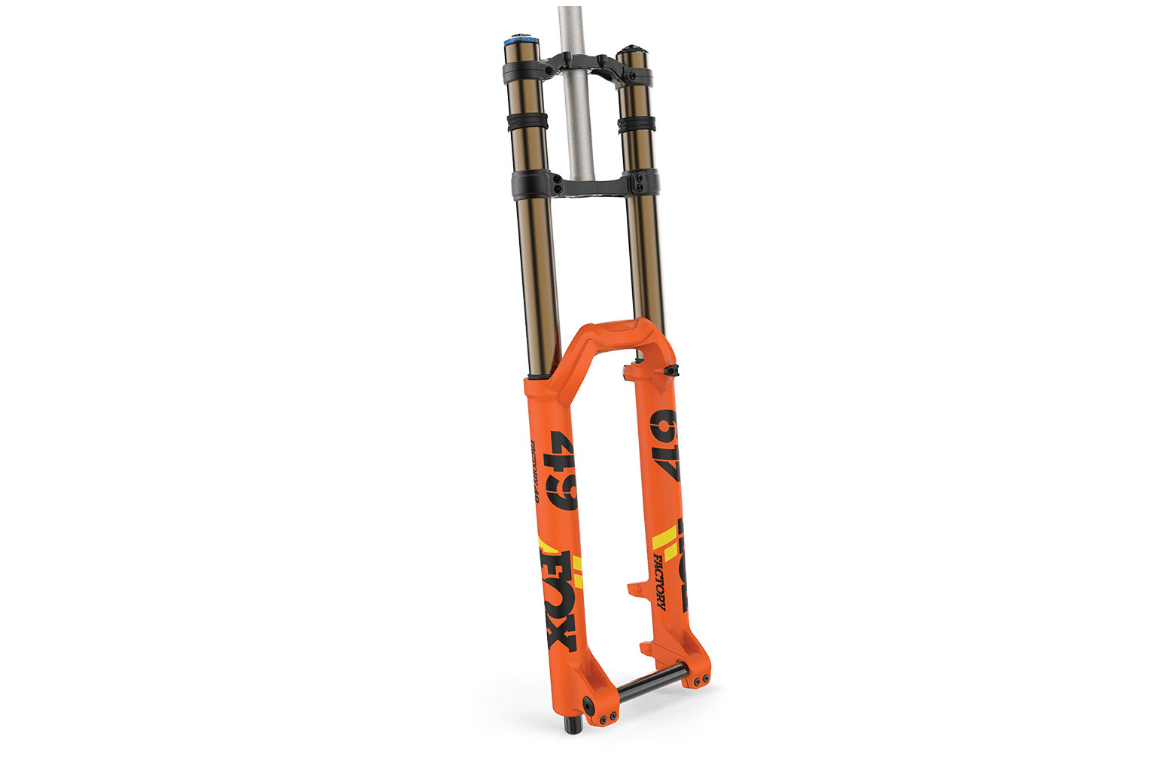 The Fox Float 40 has never been in question for being amongst the best downhill options out there for the most rugged trails, this fork has proved time and time again that it is an excellent fork by being equipped on many downhill world cup racers' bikes in the past.
As Fox often does with naming their forks, the Fox Float 40 is equipped with big 40mm stanchions with a huge 203mm of travel at your disposal. As you could guess by the travel length this fork is very stiff and extremely responsive however it is a bit on the heavier side within the downhill fork category even despite Fox's efforts to implement weight-saving technology around the crown and lowers.
The Fox Float 40 provides you with a long linear stroke thanks to its huge volume of its air chamber. Fox's Factory Kashima-coated forks are pretty well known for being plush and this fork is no different, despite its size, you'll be able to tune the fork using the volume tokens in order to get the compression stroke feeling as plush as you'd want it.
Moving on from the compression adjustability, you'll also be able to adjust high and low speed compression and rebound thanks to the four way GRIP2 damper on the fork. All this adjustability means that you're bound to find the perfect setup for you and ultimately give you a much more pleasant experience on less pleasant trails.
RockShox Boxxer Ultimate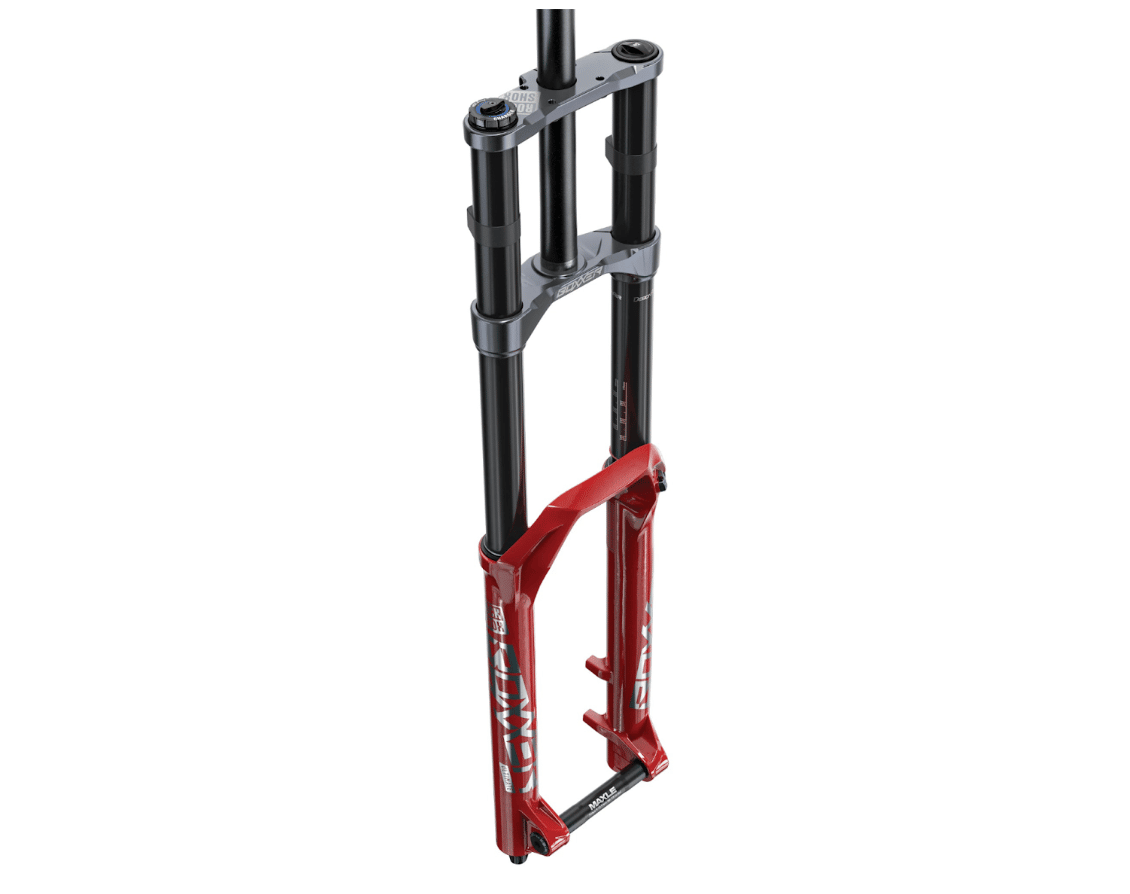 Just like the Fox Float 40, the RockShox Boxxer has been around for a long time within the pro races of downhill. Even though the Boxxer has been one of the best fork options out there it has still been receiving updates with each model and this one is no different. The new Boxxer has gotten a few big upgrades done to it such as updated seals and oils, a Charger 2.1 damper system which is even smoother than it ever has been before.
The new Damper system doesn't only allow for a much smoother ride it actually helps the fork to stay high in the 200mm of travel it has, compress even more linearly (just like a coil spring setup would) and have more control when it rebounds so that you'll feel more confident with your landing capabilities.
One of the biggest differences that sets the Boxxer apart from the other huge downhill forks is the fact that this fork has 35mm stanchion tubing which is much smaller when compared to other brands which are 40mm instead. The fact that it is a bit smaller means that there is a bit more torsional twist in the fork, however the Boxxer has never given off an unsettling feeling, it just keeps delivering confidence to the riders.
Final things to remember before buying a fork
Although those might be the best fork options for the most of riders, you may be someone who won't enjoy that specific one so if you are someone who will look for something else outside of this list then here are a few things to remember.
How do I choose a fork?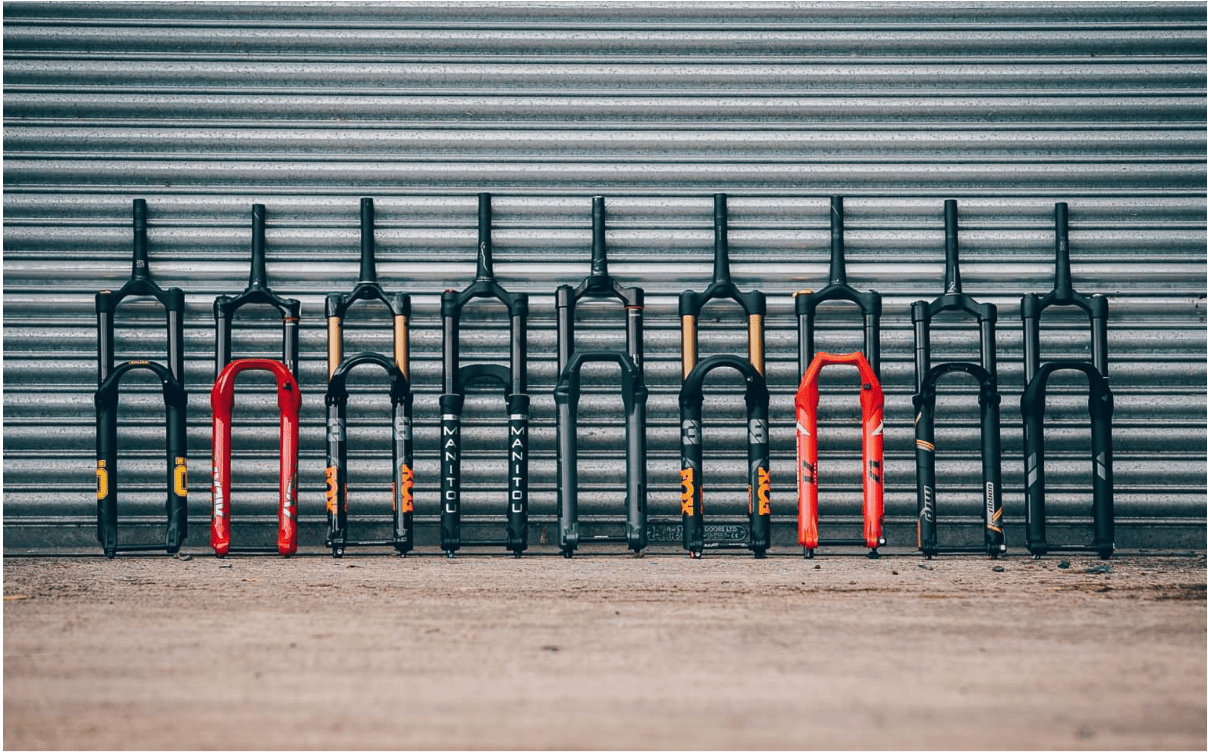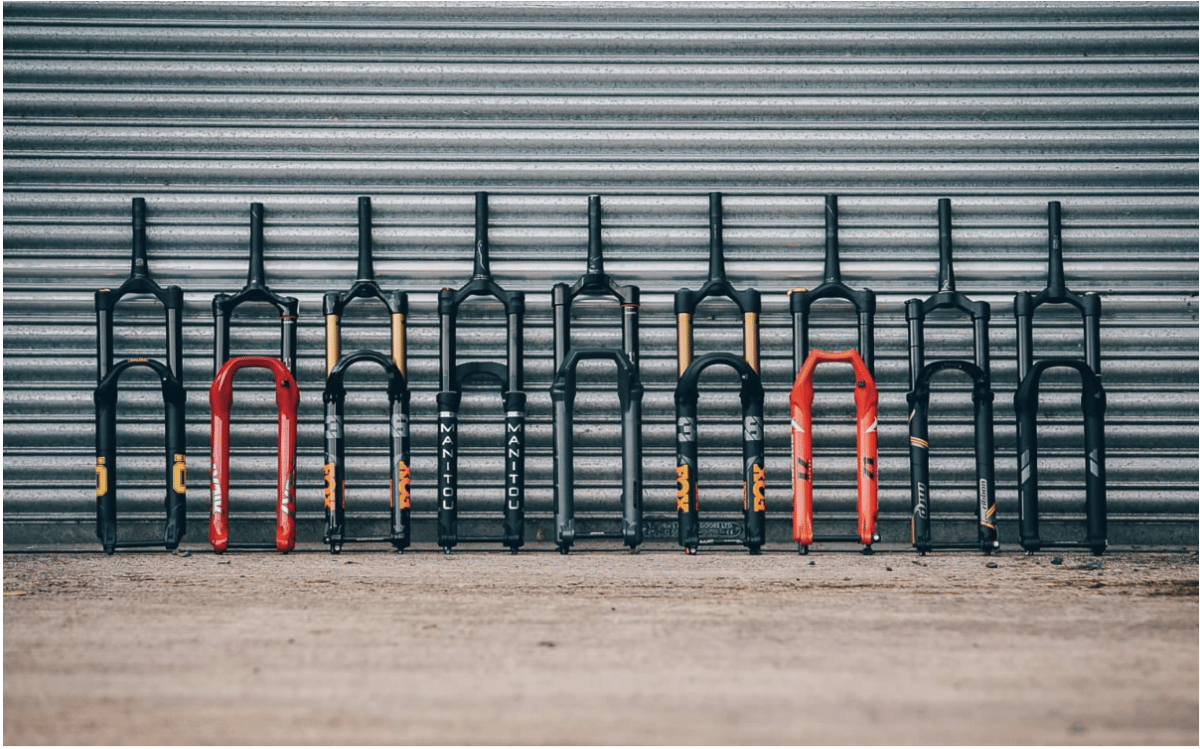 Since there are so many different disciplines within the mountain biking world: cross-country, trail, enduro and downhill, the mountain biking forks have been specially made to perform the best within a specific type of discipline. Each of the different types of mountain biking disciplines come with different sets of challenges that the forks need to overcome so it is very important that you first figure out which discipline you'll be participating in in order to get the best type of fork for you and your riding. Even just by looking at the different types of forks like cross country and downhill you'll be able to tell right away that they are extremely different from one another.
If you already have a mountain bike then you'll have to figure out how much travel your bike is designed to be equipped with so that you don't buy a new fork and then can't put it onto your bike. Then once you know the size you can put onto your bike you'll need to know the discipline because if you look at the 160mm forks you'll see that quite a few forks from enduro and trail cross over into this size. If you ride trail and decide to buy a stronger and heavier enduro fork because you thought it was the same because of the size you'll be in for a surprise because it will definitely make a big difference on your riding experience.
It's also a good idea to be pretty familiar with all the different parts that make up the forks and just know a bit about forks in general because nowadays the suspension forks are so very complicated. It will definitely help you feel more confident in making a decision if you know the basics.
How much travel do I need?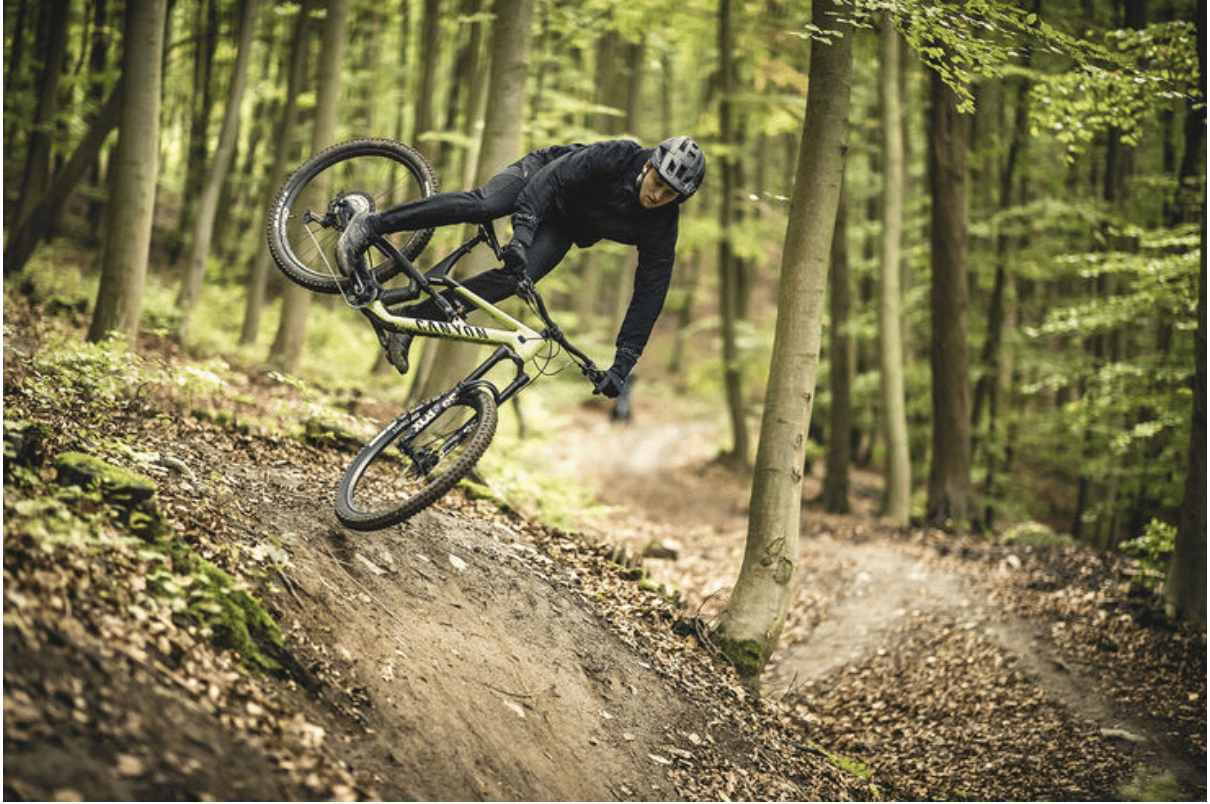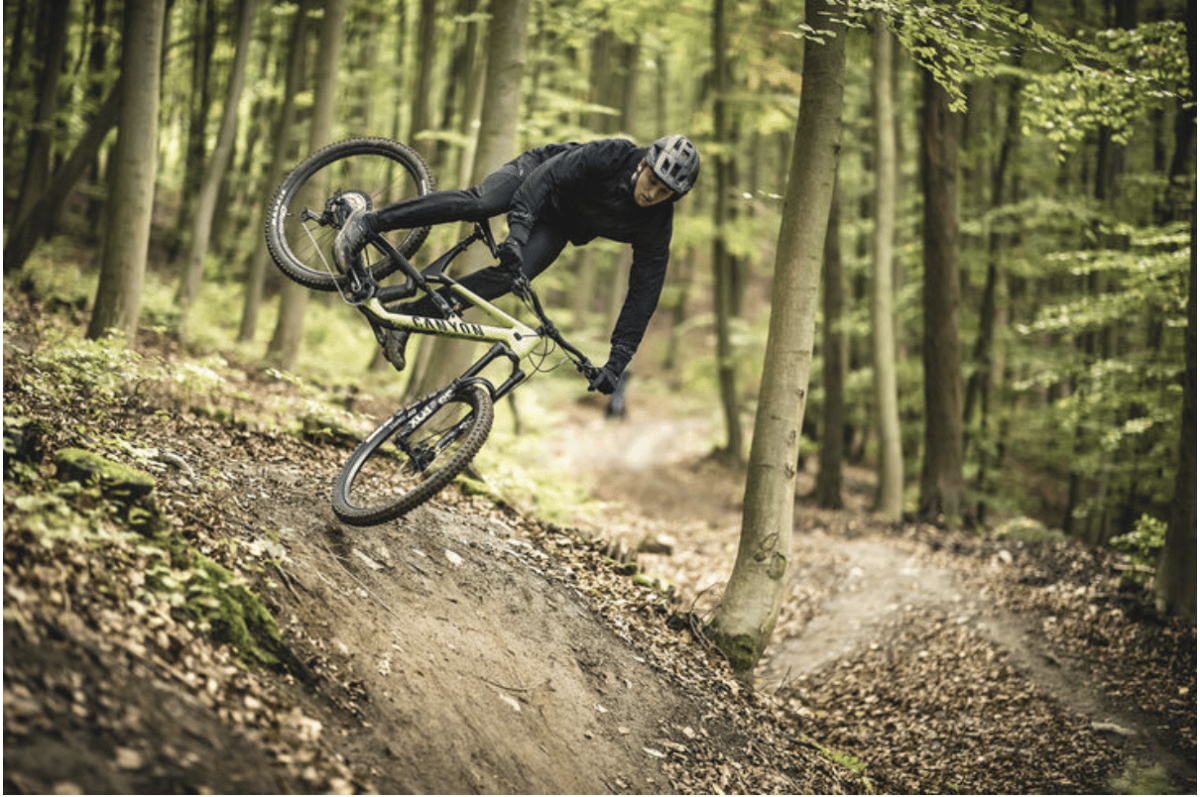 The new mountain bikes geometry are so spot on and are perfectly built to do what the designers want it to be able to do. The suspension travel size plays a very big role within the bikes geometry stats and can affect the whole build and balance if you get the wrong size. Cross country forks have much shorter travel compared to downhill forks because the trails that the cross country forks have to protect against are a lot smoother and also the fact that in cross country you'll need to have the forks relatively light because you need to be able to cycle up hills and far whereas downhill just have to be able to get you down a hill as fast as possible. As you move from discipline to discipline you'll see all the characteristics like weight, stanchion thickness and travel size change to meet the demands that the trails of the discipline demands. The average travel size for each discipline looks like this:
Cross-country: 100-120mm travel and 30-32mm stanchions
Trail: 120-150mm travel and 34mm stanchions
Enduro: 150-180mm travel and 35-38mm stanchions
Downhill: 180-200mm travel and 40mm stanchions
If you are wondering what the size of the stanchion tubes affects it is basically directly connected to the fork's lateral stiffness. The things that'll you'll have to try and do is find the perfect balance between weight and performance. The wider the stanchion is the stiffer and heavier they are compared to the more narrow stanchion options which are instead stronger and better for rough terrain or big jumps.
Coil or air suspension?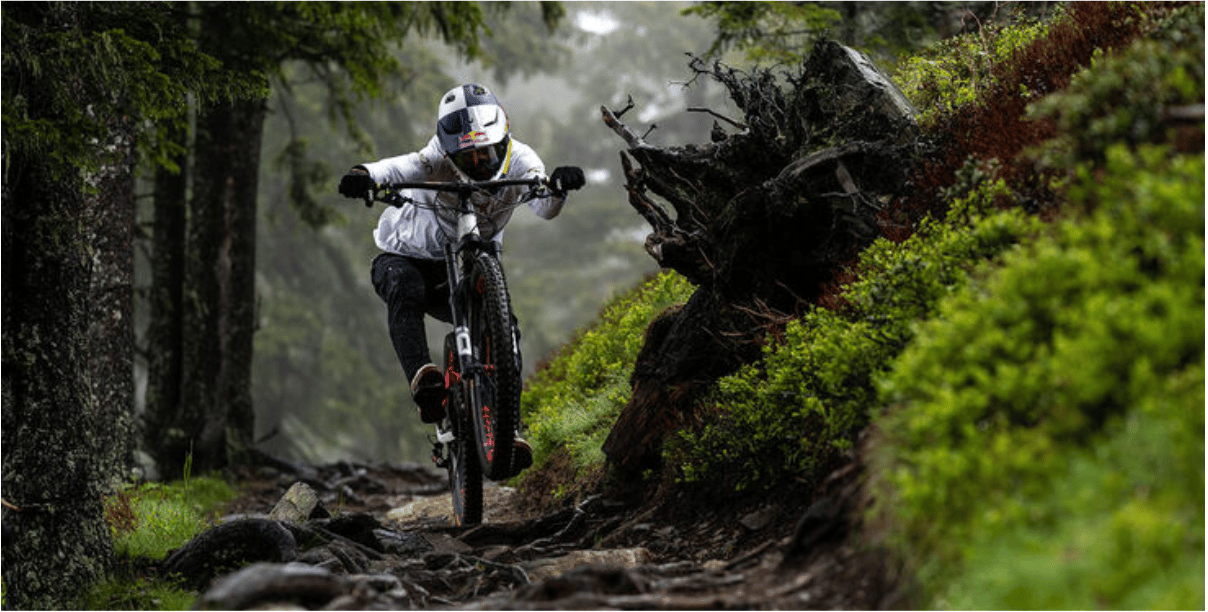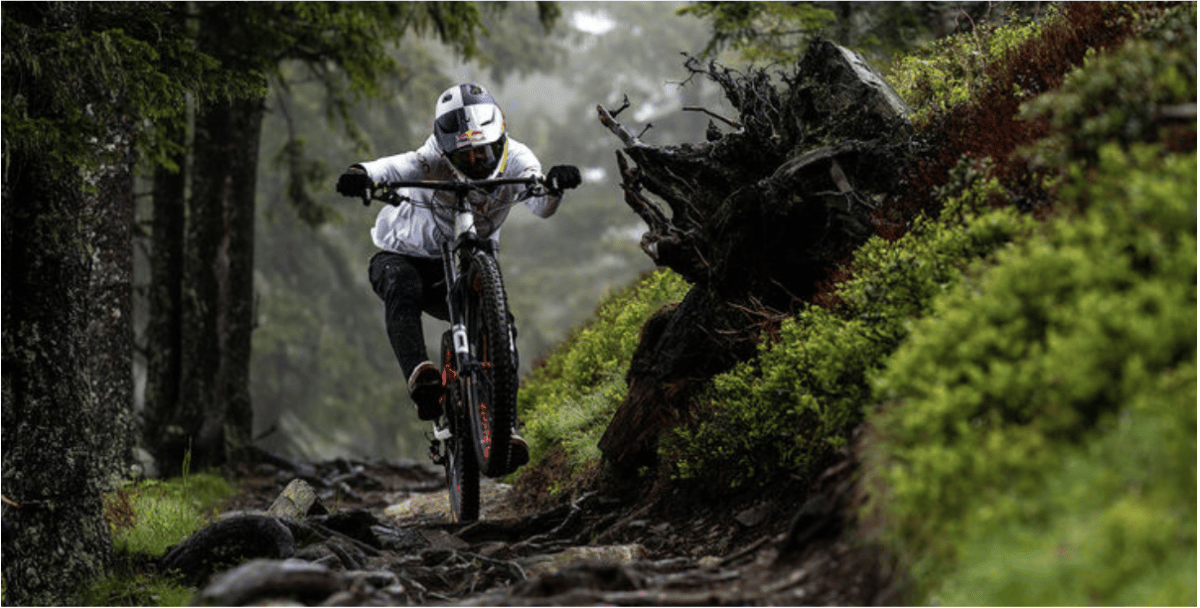 Within the mountain biking fork world there are two different types of spring systems that are available to you and they are air and coil springs. The Air setup has become much more popular in modern bikes because they have more tuning potential and also offer a progressive compression rate, which basically means you can change how soft or stiff the suspension is in the first part and last part when compression is applied to the forks.
Coil springs are instead mainly found a lot in downhill bikes because they are able to give you a consistent impact absorption over the full range of the spring travel that air forks just can't do the same. Coil setups also have less seal friction to them which means that they are able to give you a much smoother compression over air setups.
Final words
So there you have it, all the information you need to choose the perfect mountain bike fork for you, now go out and ride.
Related articles:
How to choose a mountain bike
Choosing the right tyres for your mountain bike
How to choose the right wheel size for you
How to choose the best bicycle fenders