For a bike to stand out as a good option for pump tracks, dirt jumps and slopestyle riding it'll need to be able to handle aggressive riding like being thrusted through huge turns and taking on huge jumps as well. For a bike to be able to do this it'll need to be built robustly while being compact and low to the ground.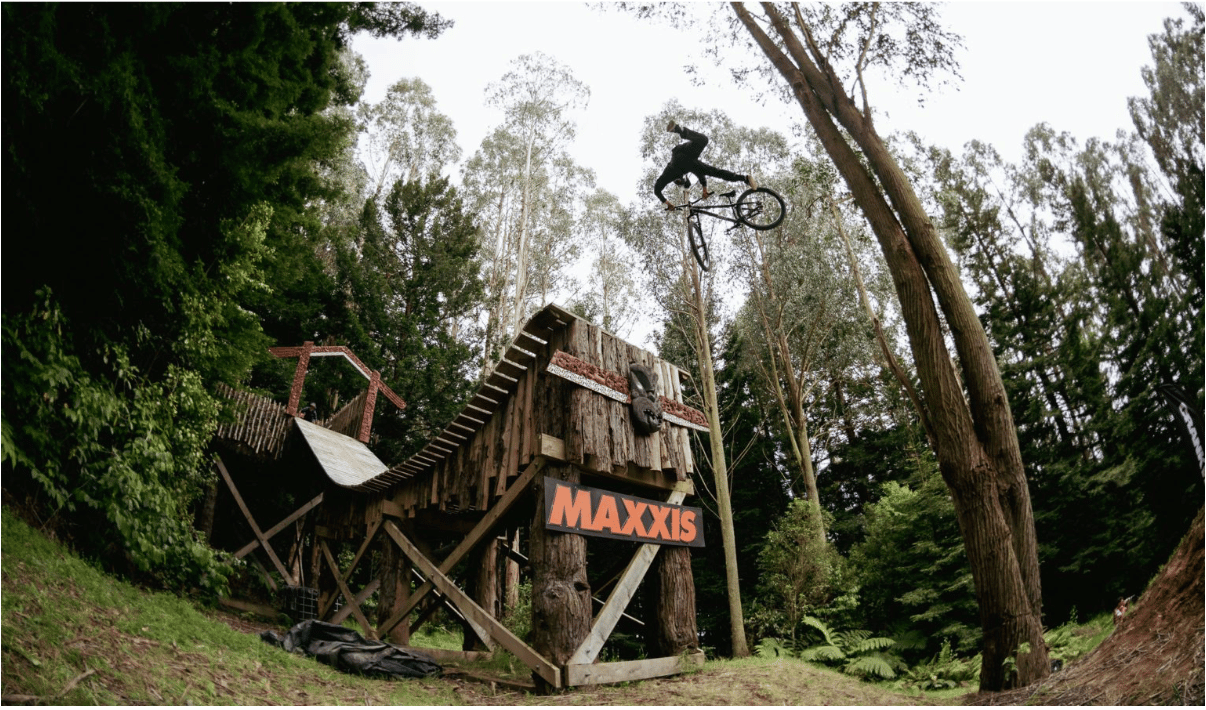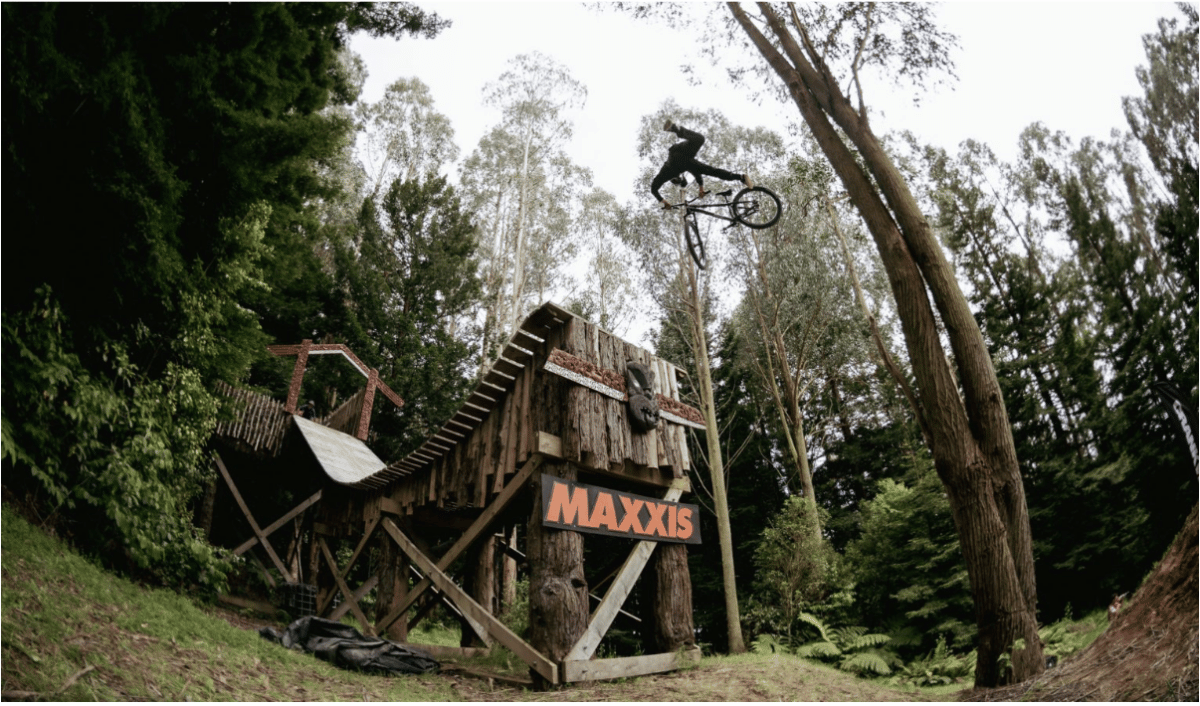 Many people think that all of the bikes within this biking discipline are all the same, simple hardtails with little to one gear and one brake but that is very far from the truth. If we take a closer look at the complexity behind the design you will see that it may actually be hard to choose the right bike for you.
Your bike can be made of aluminium or steel, aluminium being lighter but steel being more forgiving. Will it have MTB or BMX cranks? BMX cranks are basically indestructible and MTB cranks are also pretty strong but are often lighter than the BMX cranks. You need to also make a decision on what big brand dirt specific fork you'll use because a standard or cheap MTB fork won't cut it when it comes to the bigger jumps that you may fail. Then lastly, you'll need to find a frame that will be able to fit you. There are some brands which offer a one size fits all frame but if you look properly you'll be able to find the best frame for you even if you are tall.
9 top dirt jump/slopestyle bikes
Although the above things that i mentioned you should look for in a bike are very important you'll still need to evaluate the full bike spec too just to be 100 percent certain about your purchase. Luckily, dirt jump and slopestyle bikes are pretty indestructible and the spare parts you can buy for them are also reasonably cheap so don't worry about your build too much in the beginning anyways.
Airdrop Fade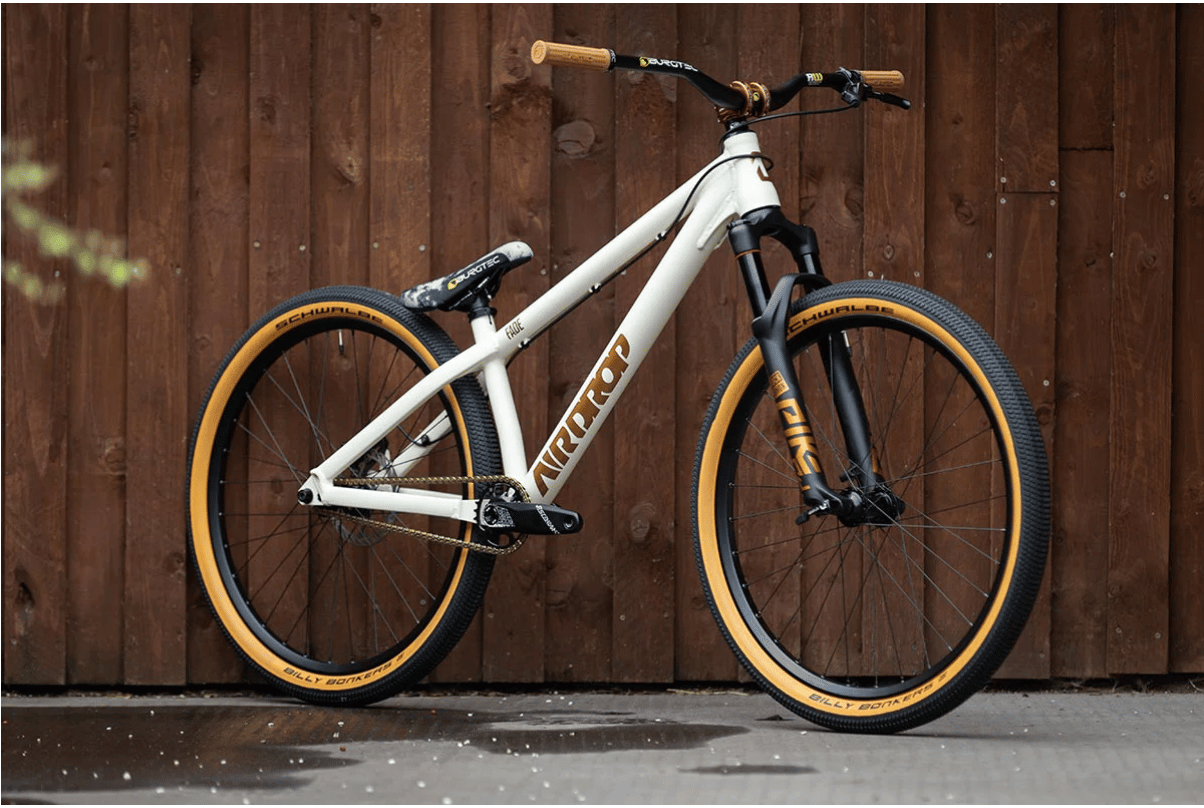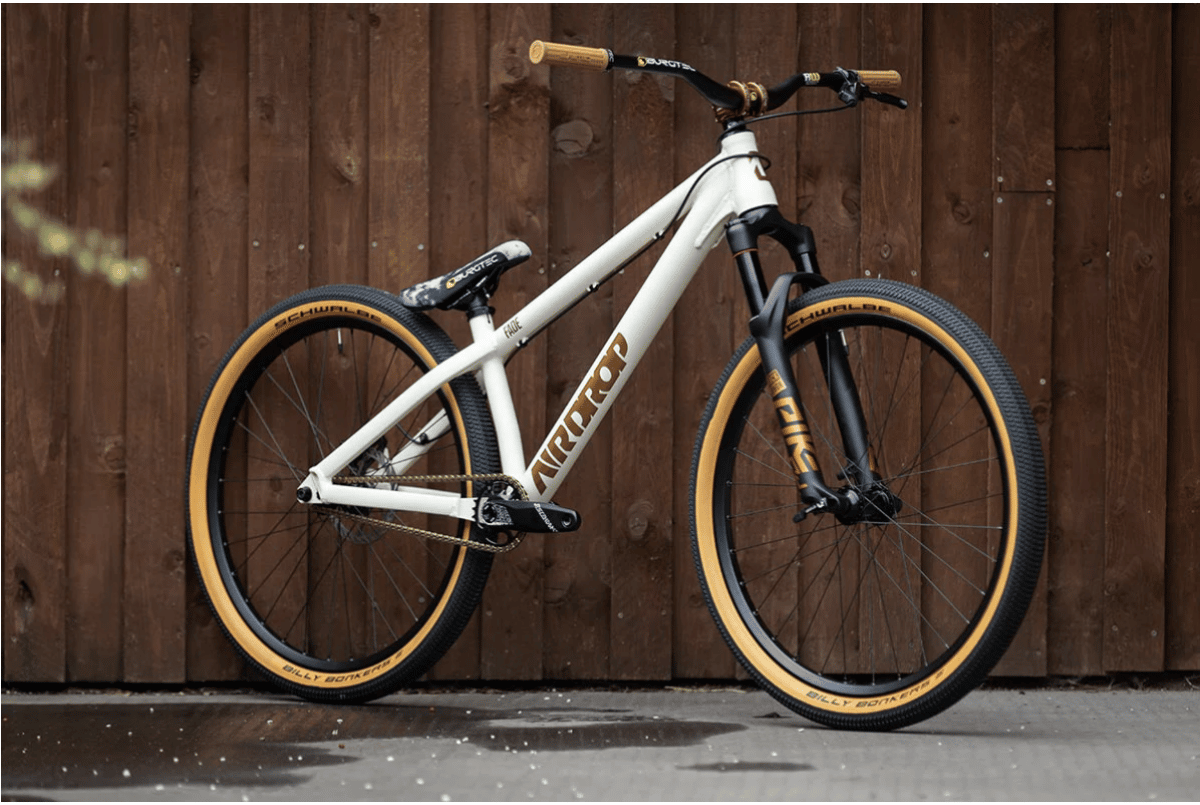 This dirt jump bike comes only in one size so if you are lucky enough that it will fit you you should definitely consider bagging this beauty. The frame is made of aluminium meaning it is on the lighter side of bikes which may be a benefit for some riders and their style. This bike supports a 26 inch wheel setup and the suspension can vary from bike to bike because it'll be up to you to install because these are normally just sold as a frame.
The company, Airdrop, is quite a small one up in Britain and they're actually run by a group of riders from Sheffield. The company has come out with a lot of popular mountain bikes before but the downside to the company being pretty small is that they manufacture their bikes in batches, which means that when they hit the shelves and are available to the public they are very quick to sell out because there just isn't enough supply. 
They have good reason to take their time with these bikes that they produce because like the Fade hardtail, which is made for absolutely shredding on a pump track or taking on huge jumps, they manufacture their products beautifully and have spot-on geometry. The best way for you to have a chance at getting your hands on one of these bad boys is by keeping an eye on their instagram page and just waiting for information about when they'll be restocking their supply.
Saracen Amplitude CR2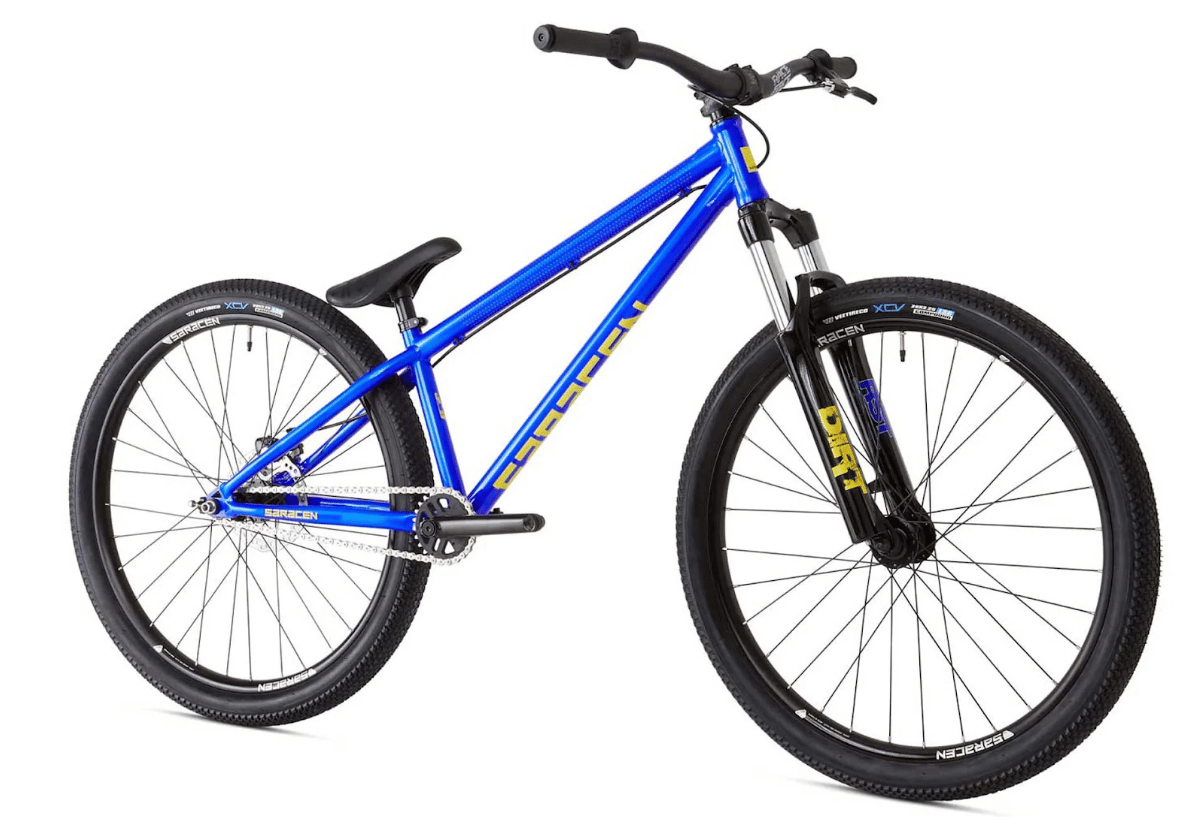 This bike is considered the best entry-level dirt jump bike in regard to value for money. This bike only comes in a medium sized frame made of 4130 chromoly, which is a very good material because it is flexible and so is able to flex to protect the bikes frame from fatigue and shocks which can be really helpful when you take on bigger jumps that may cause more strain on your bikes frame. The frame supports a 26 inch wheel setup and comes standard with 100 mm of travel in the front fork of the bike.
The Saracen Amplitude CR2 is really one of the most fantastic budget bikes that you'll be able to purchase at one of the lowest prices for a complete dirt jump bike setup out there in this modern time. The 4130 chromoly frame, which I've already mentioned is amazing quality, paired with the chromoly three piece crankset practically makes this bike indestructible and should even be able to handle the hard, flat landings that you may experience now and again.
Some of the components fitted on this bike are quite basic, which is understandable from the price of the whole setup, but this is an excellent base to begin with and these parts can be easily replaced at a later stage if you feel the need to. If you don't want to go through all the work of replacing components you can opt to buy a more expensive model like the CR3 or the AL Team, which come with higher-level components already fitted to them, both of these models still being amazing value for the money you'll be paying for them.
Santa Cruz Jackal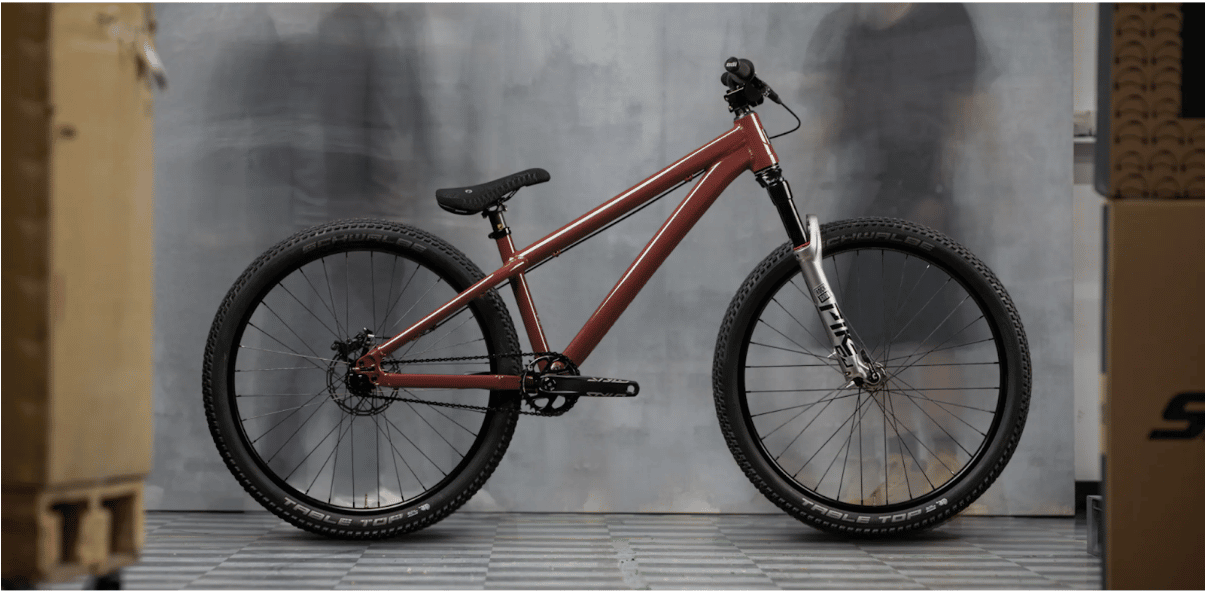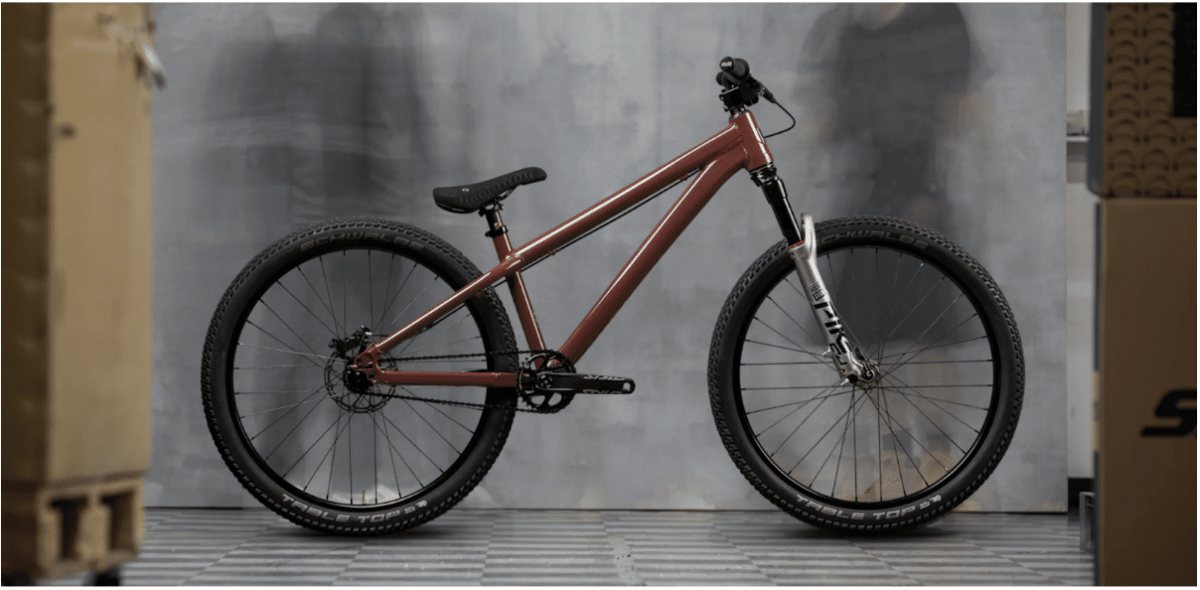 This dirt jump bike frame could be considered the perfect base from the American company to start building your dream bike upon. The frame comes in both a size medium and a large so it might be a little easier to find a bike for you if you are a little taller, compared to the first two options at least. The frame is made from Aluminium so it is quite a relatively light bike, which will come in handy when you start to throw your bike around and do some tricks. The bike supports 26 inch wheels and although it does not come with a fork it supports 100 to 160 mm of travel in the front.
If you're looking for a bike where you might need to race against others and come out the fastest then the Santa Cruz Jackal will be your best friend, especially when it comes to the pump tracks.
Santa Cruz is a really well known Californian bike manufacturer and they've been around for a long time as well, so it's safe to say that they know what they're doing when it comes to bikes. This Santa Cruz dirt jump bike has been a part of the brand's line-up for a very long time and it's easy to understand why when we look at how luxurious and fast it is. The bike also gives you an extra snappy riding feeling when you're riding it thanks to its solid frame which houses a very short chainstay.
NS Bikes Metropolis 3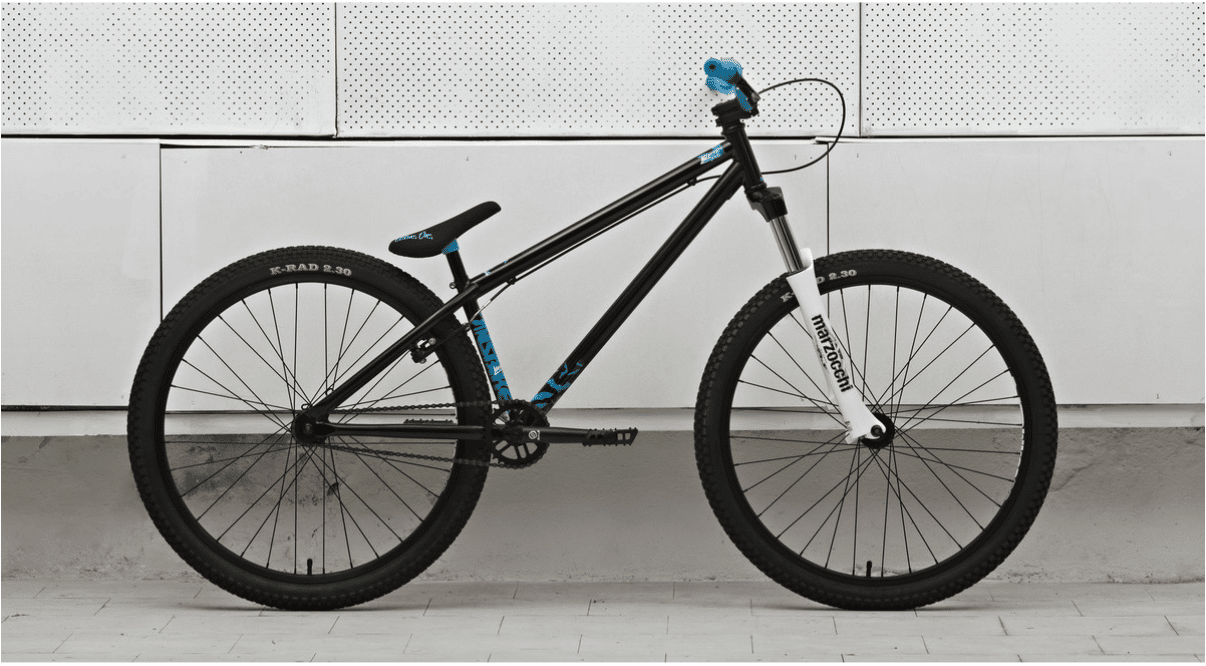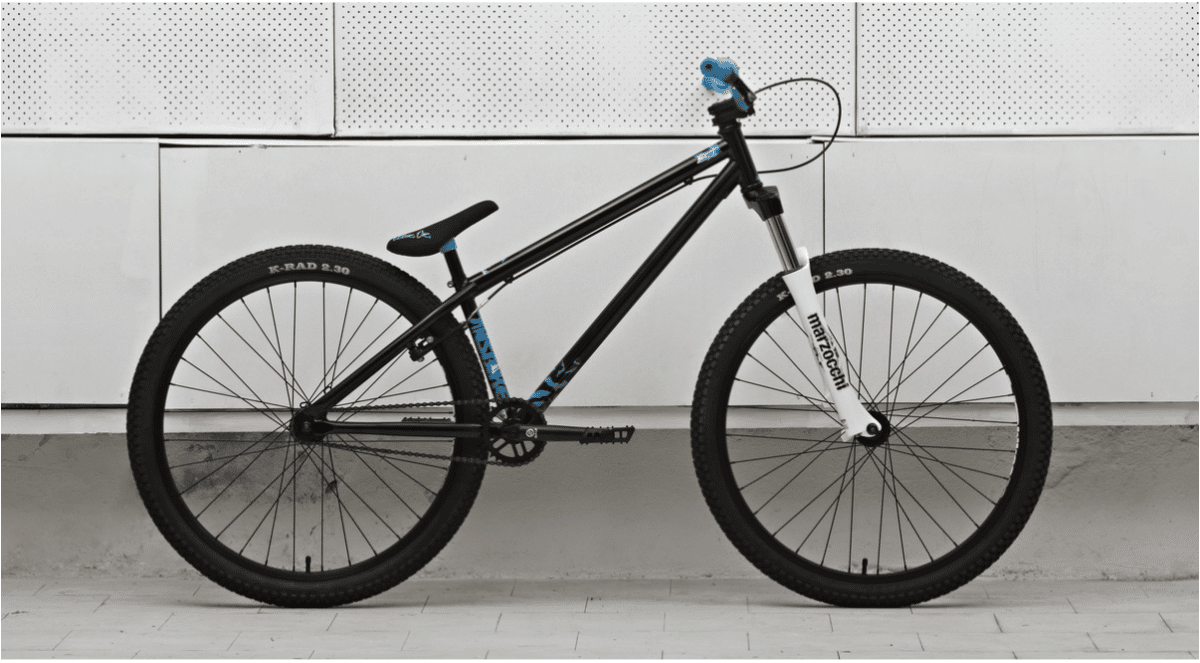 This bike has been working on perfecting its geometry for a while now and does so by taking in input from pro riders. The bike only come in a one size fits all frame and is made out of 4130 chromoly, just like the Saracen Amplitude CR2 it is a very flexible material which allows your bikes frame to flex everytime you take a big hit so it protects the frame from fatigue and these big shocks. The bike comes standard with a pair of 26 inch wheels and also 100 mm of travel in the front fork.
NS Bikes has been known to manufacture quite an array of well-priced mountain bikes over the years, as well as this and other hardtail and full suspension dirt jump and slopestyle frames and even completes as well. With the solid geometry that this bike has, from all the pro riders who've given input on this bike, this dirt jump bike is a really solid bike for beginners.
The bike offers a really robust frame as well as a BMX crank setup and some other pretty good components list making it a really good option for those who like to ride on pump tracks and take on some dirt jumps as well. For this price, you probably won't find anything cheaper and better.
DMR Sect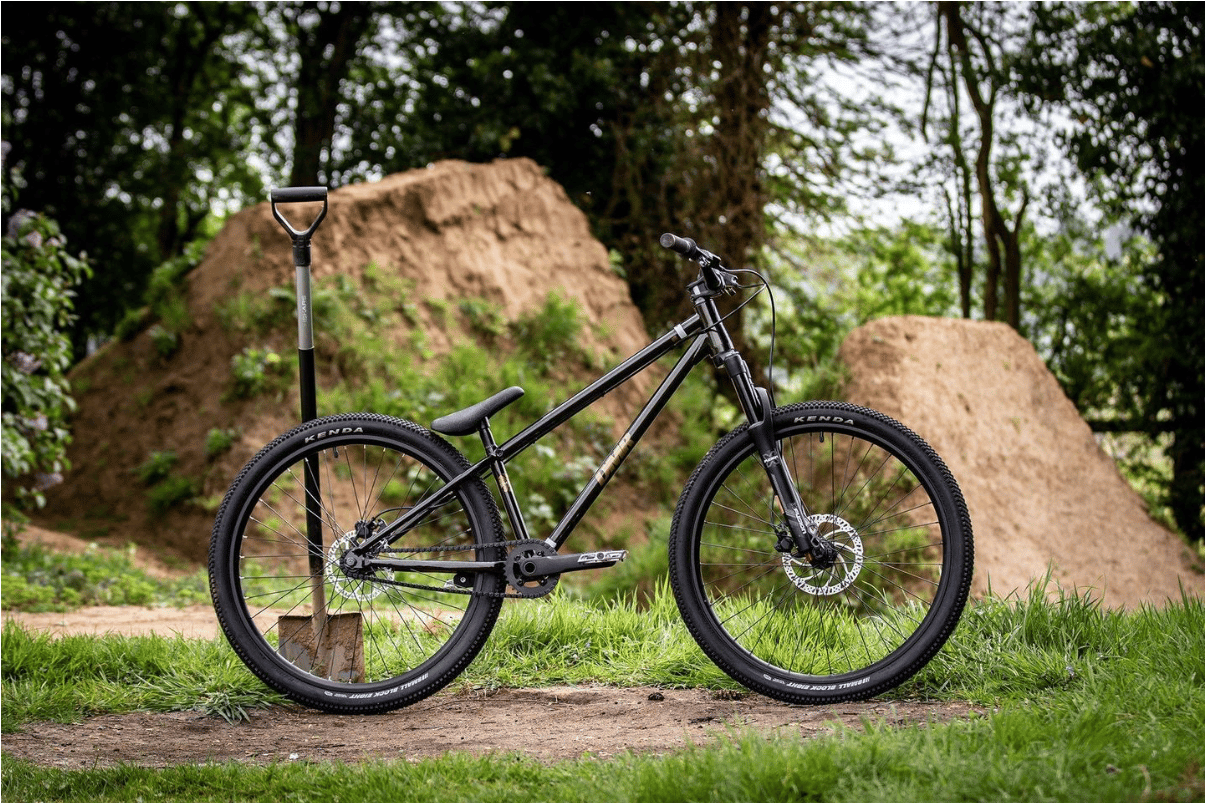 The DMR Sect has been one of the most popular bike frames for first jump riders for a while now and it is understandably so. The bike is made of chromoly steel which means that it will be on the heavier side of the frames but being a little more forgiving that the aluminium frames. The bike comes in one size and it supports 26 inch wheels and you get 100 mm of travel with the bike.
DMR is another company that is based in Britain and they are thought to have even invented mountain bike dirt jumping since they've been around ever since the discipline came to be. The brand is still going strong ever since the beginning, especially thanks to the DMR Sect, one of the most popular dirt jumping bike frames.
Some of the features that stick out about this bike and what makes it so popular is the short rear end which makes it easier to spin and do flips in the air while they also have a hydroformed chainstay in order to maximise the clearance so that you'll be able to fit a pretty tuck tyre setup on your bike, depending on what your preference may be. For tricks where the bike needs to be as out of your way as possible, like the tailwhip, this bike really shines thanks to its super low top tube, which makes the bike as small and compact as possible. The bike also houses a wide variety of their own components which is thought of as an advantage since DMR are specifically a dirt jump company they know what they're doing. This bike is basically an overall masterpiece with an amazing price tag on it as well which will definitely be hard for other manufacturers to beat while holding the same quality of bike.
Commencal Absolut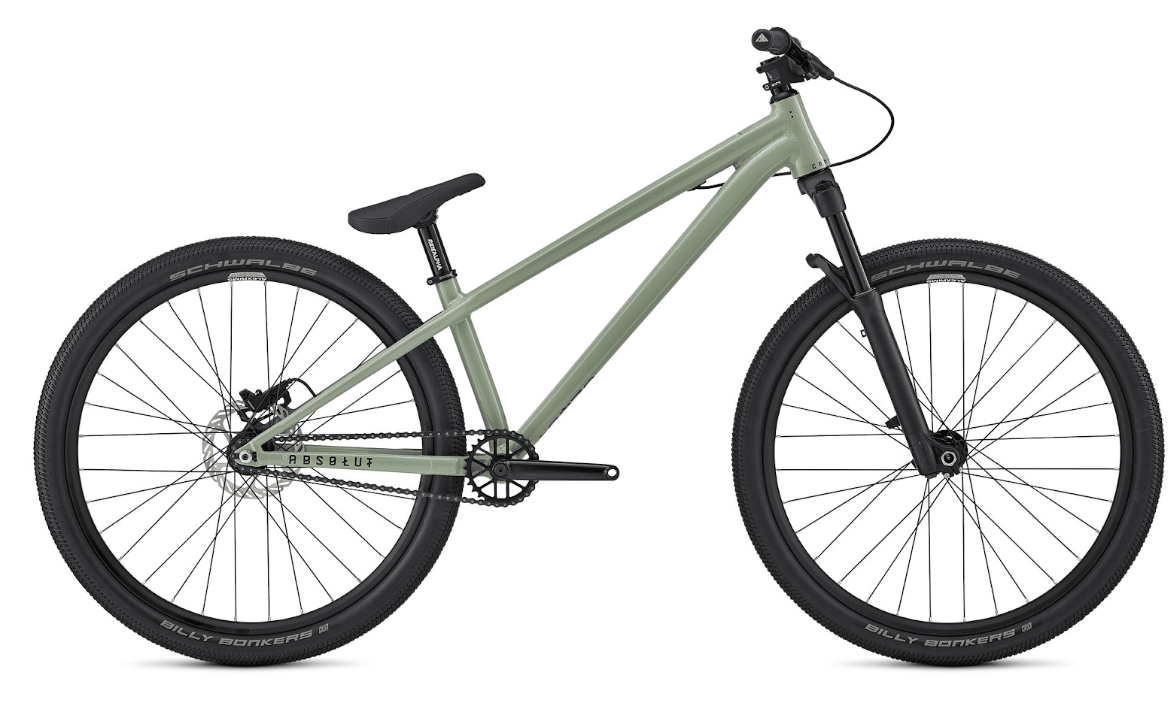 The Commencal Absolut is a sick bike and is known for the variety of sizes that they offer. The frame, Aluminium, comes in sizes small, medium and even large but what's even cooler is that although it comes standard with a pair of 26 inch wheels you can also opt to get a smaller, 24 inch wheel version. The bike is a hardtail dirt jump bike with 100 mm of travel in the front fork.
The Commencal Absolut is one of the most popular complete dirt jump bikes that people are starting to buy right now and not just for any reason but because they offer really good components that come with the bike as well as an amazing price for them as well, which makes it really hard to consider other dirt bike jump options, especially complete builds.
The Absolute has a 6061 alloy frame which is just made even more attractive by all the amazing components that it houses such as the Manitou Expert Circus fork, a three-piece BMW crankset, a SRAM Level brake, Novatec hubs on its Alex rims, a pair of Maxxis tyres and then a few of Commencals own components to top it all off.
Scott Voltage YZ 0.1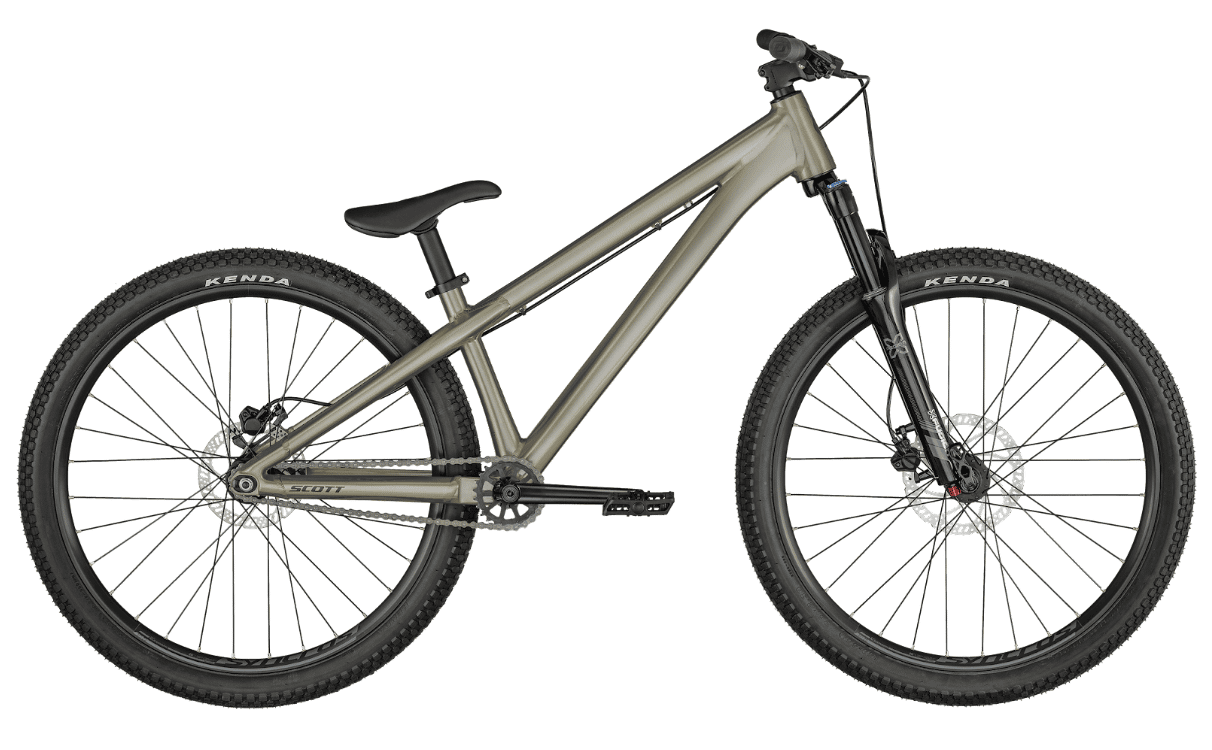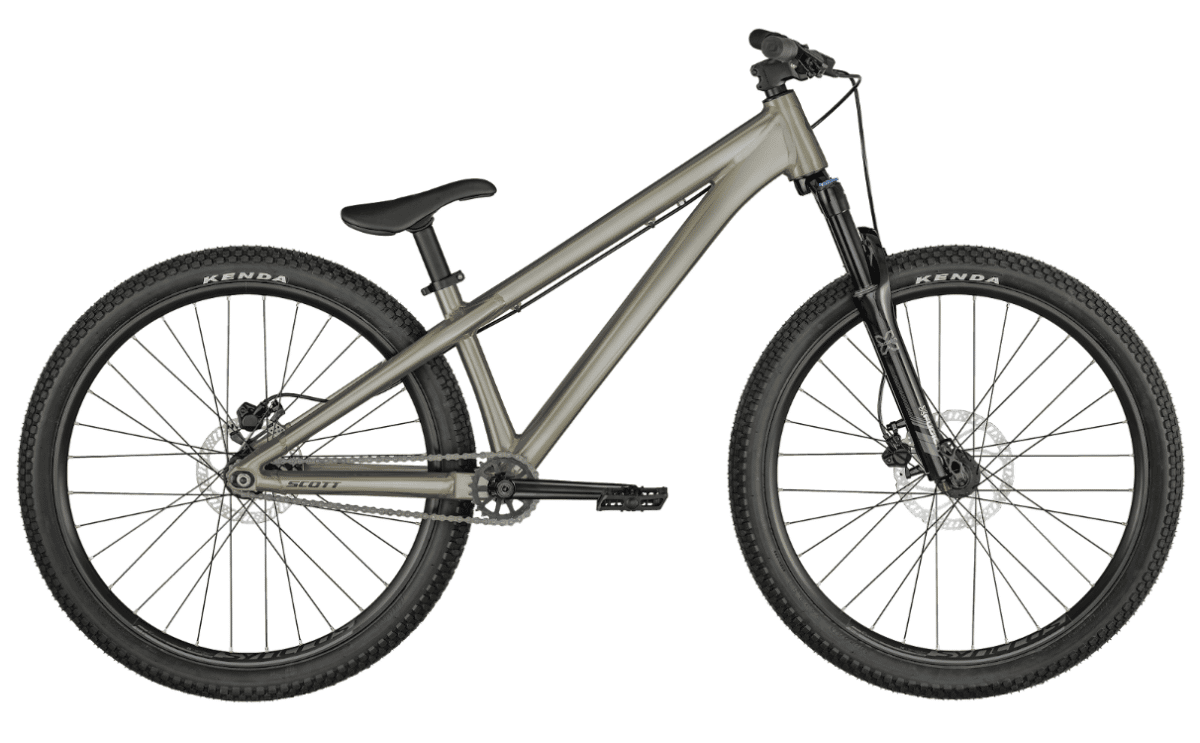 The Scott Voltage YZ 0.1 is available in one size and is made of Aluminium for a more comfortable and forgiving ride. The bike comes equipped with a pair of 26 inch wheels on it as well as 100 mm of travel in the front fork. The Scott Voltage doesn't only have a bomb-proof frame that can handle all the dirt jump parks biggest jumps but it also looke phenomenal and allows for a fun nippy ride on any pumptrack and dirt jump track.
The Scott Voltage comes as a single speed dirt jump bike with two brakes instead of the traditional one brake nowadays. It also houses a three-piece crank with Kenda dirt specific tyres which make you ready to hit some jumps as soon as the bike is delivered.
The Scott bike does come a little higher priced than many other dirt jump bikes with similar components and in the same performance bracket but when you buy a scott bike you'll essentially be buying the excellent customer service that scott offer as well as the high Scott brand quality that they offer.
Marin Alcatraz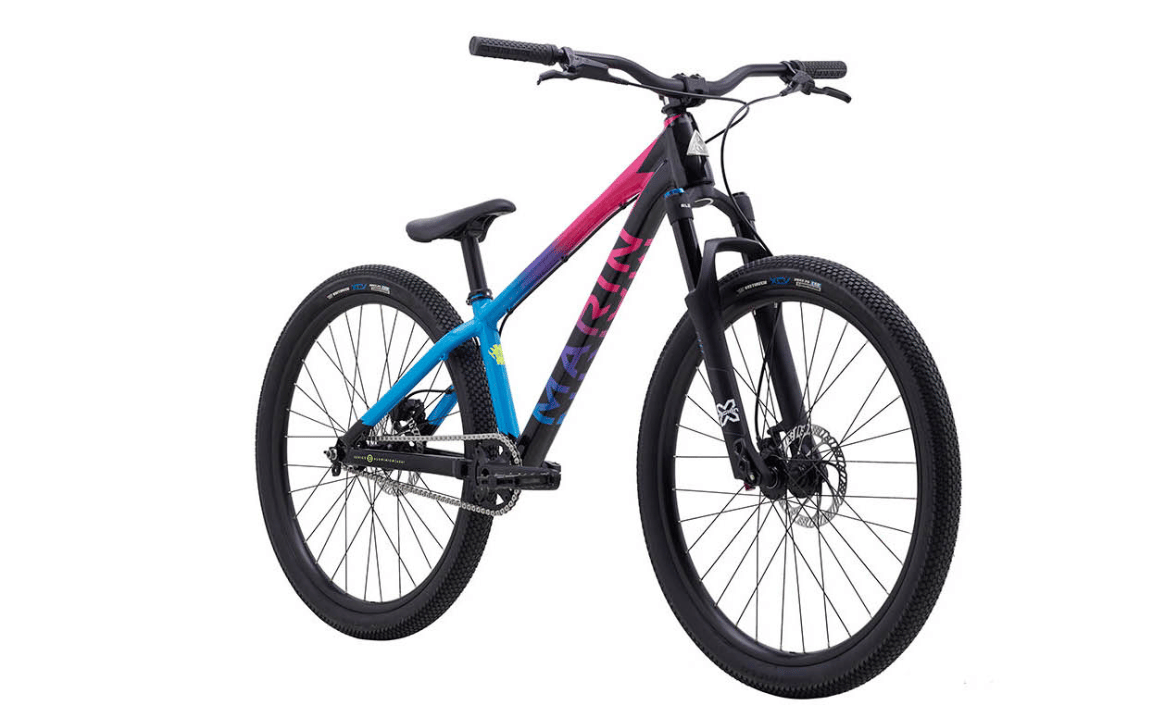 The Marin Alcatraz is famously known for being Red Bull athlete Matt Jones' bike of choice when it comes to anything slopestyle. The dirt jump bike is available to purchase in one size frame made of Aluminium. The bike comes with a 26 inch wheel setup and also houses a 100 mm front fork. 
The Marin Alcatraz is quite a beautiful looking hardtail bike ready for you to send it on the biggest jumps. The performance of the bike has already been proven by Matt Jones who has already showcased the bike in many slopestyle events.
Matt Jones has also created a series called Design and Conquer where he takes this bike and tries to replicate various world first tricks that he has done in the past. Even if you aren't quite ready to be riding the bike on the level that Jones is doing it is still an amazing bike for just casual riding on a pump track or just finding your flow on a few big dirt jumps.
Canyon Stitched 720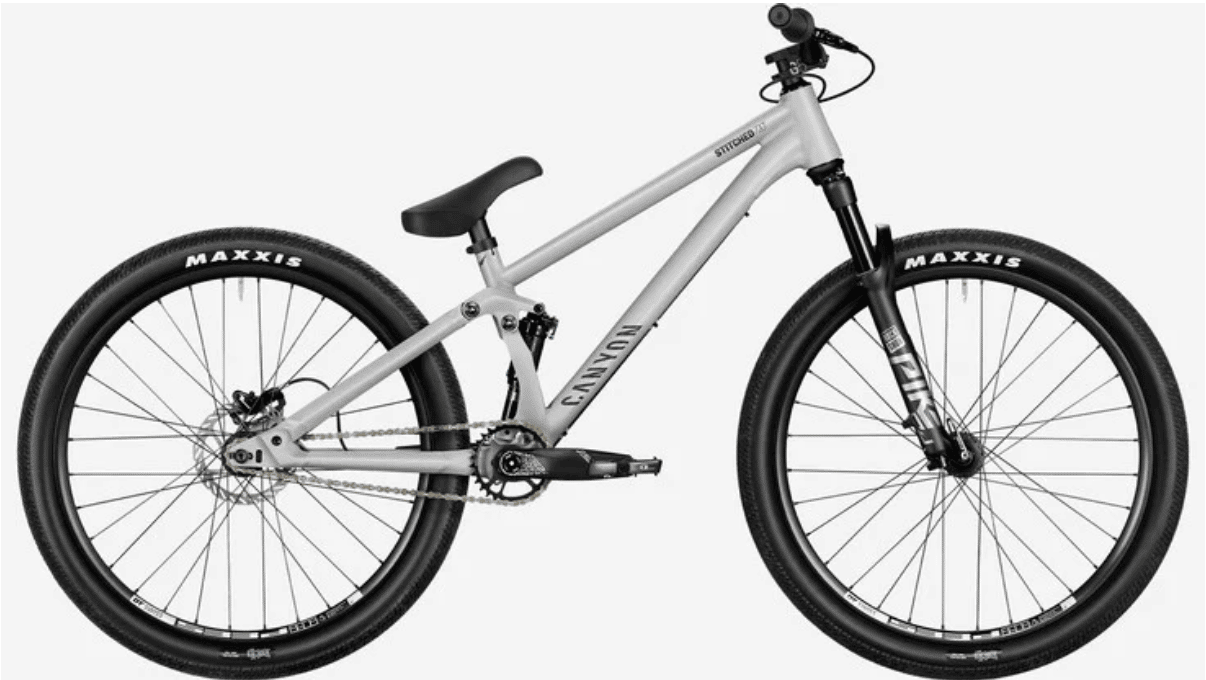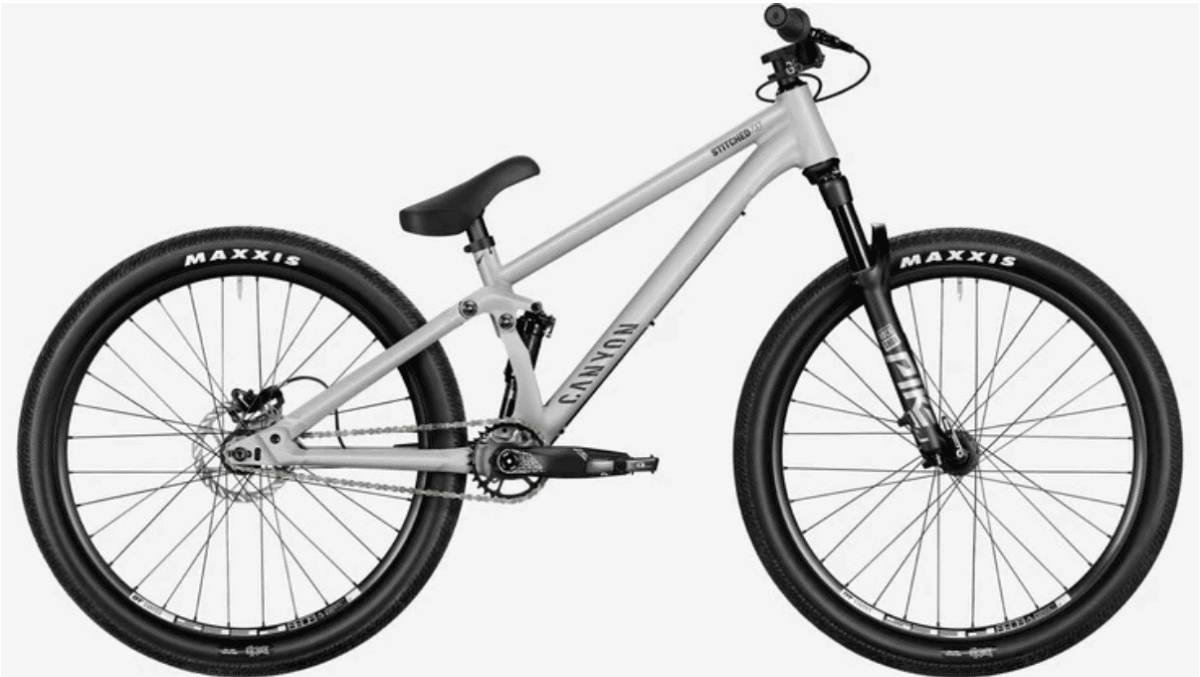 You may be surprised to see a bike like this on the list but the Canyon Stitched 720 is one of very few full suspension dirt jump bikes that actually perform very well. This bike's frame is made from Aluminium and can only be bought in a medium size. The bike comes fitted with a pair of 26 inch wheels and probably the coolest thing about the bike is the rear suspension, a Monarch RT shock, with a RockShox Pike DJ fork.
For those riders who are tired of the hard knocks from riding a hardtail and are looking for a dirt jump bike that will be able to provide a bit more comfort for you on the trails or dirt jumps then this full suspension dirt jump bike by Canyon is an amazing and reasonably priced option for you to consider. This bike is proven to be an amazing alternative to hardtails as it has been ridden by pro riders like Thomas Genon, Tomas Lemoine and Fabio Wibmer and gotten wins underneath them as well. 
There aren't many full suspension slopestyle bikes at all and even though the Stitched 720 hasn't had much competition since it came out it has still managed to set the bar for itself and Canyon has designed a great package. The front tyre is a bit thicker than most of the other tyres on this list and that is to show what this bike is built for, big jumps at high speeds!
Final words
So there you have nine of the best and most popular slopestyle bikes available, which one will you choose to whip a few 360's out on the tracks?
Related articles: