Many people may be looking at getting into mountain biking but immediately lose all interest when they see the cost of just one bike. Although it may be intimidating at first you don't need to invest so much money into this sport at the beginning. There are still many many many cheaper options out there for you to choose from that will do its job perfectly fine so that you can test out this new hobby of yours before spending a fortune.
To help you get on with your journey I've compiled some of the best entry-level mountain bikes that might interest you and your riding style.
9 good entry-level mountain bikes
GT Aggressor Expert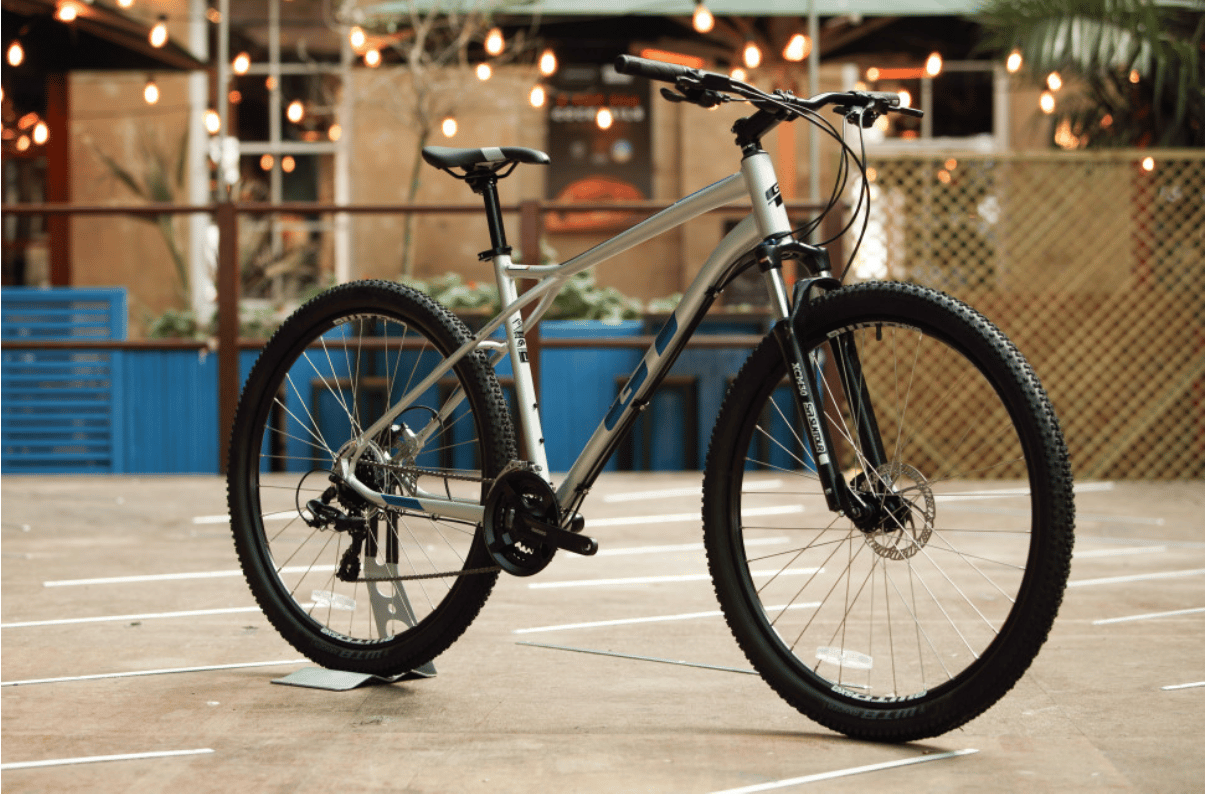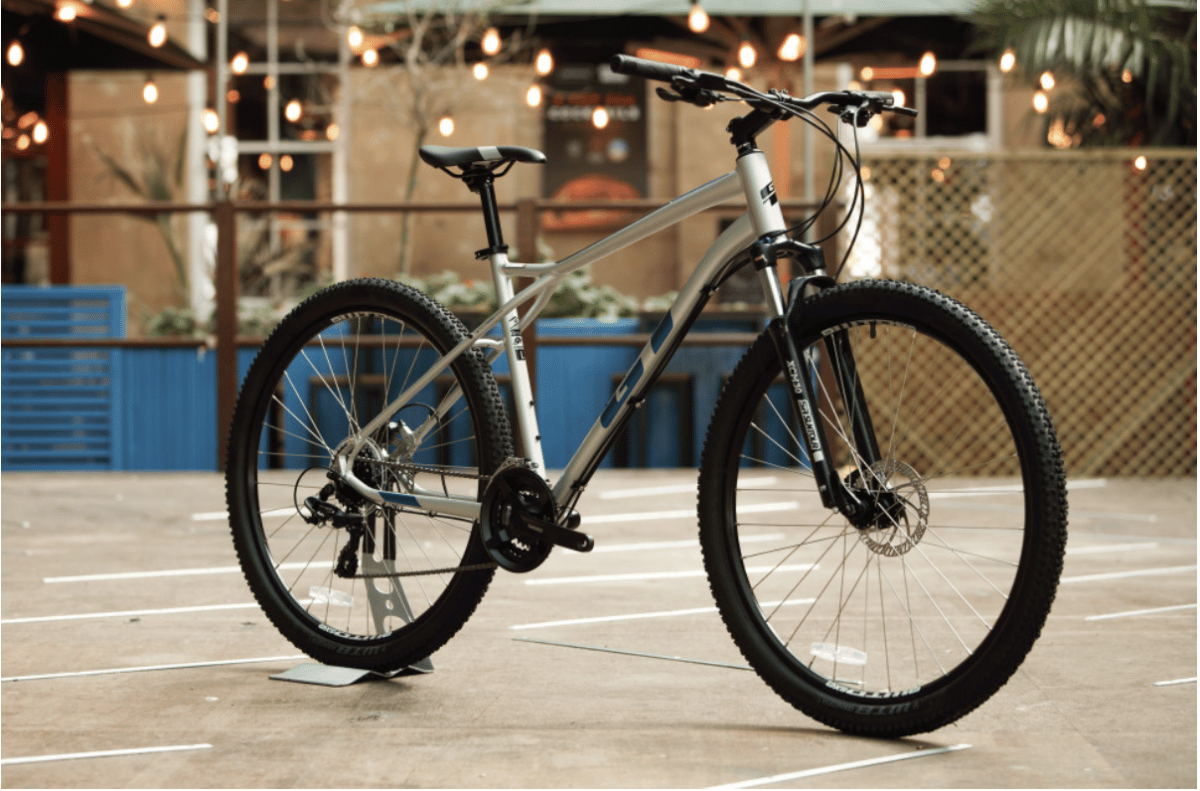 This is quite a good mountain bike for someone looking to dip their toes into the world of mountain biking and where better to start than with the legendary mountain bike and BMW brand GT. Although the brand is not in its prime anymore it is still pretty well known for all of their affordable options now as well.
If you are familiar with the GT brand then you may see that this bike has the brand's signature Triple Triangle frame design, where the tube and seat tube overlap for a stiffer, more compact support. Thanks to the 3×8 gearing system on this bike you will have a wide spread of gear options to choose from while you're cycling but the fact that you have more than one chainring means that it won't be able to shift as smoothly as the more modern mountain bikes with just a single chainring setup.
This is a hardtail mountain bike setup, with only an 80mm front coil-sprung fork setup.The front forks that the bike is equipped with are surprisingly more comfortable than the air-sprung fork setup that some of the other mountain bikes on this list offer. Don't let the name of this mountain bike fool you, although it may be called the Aggressor Expert it is definitely not meant for any type of aggressive offroad action and is rather very comfortable in less challenging off-road trails. You won't have any problem finding a size that fits you as the bike comes in both 27.5 and 29 inch wheel sizes.
Giant Talon 4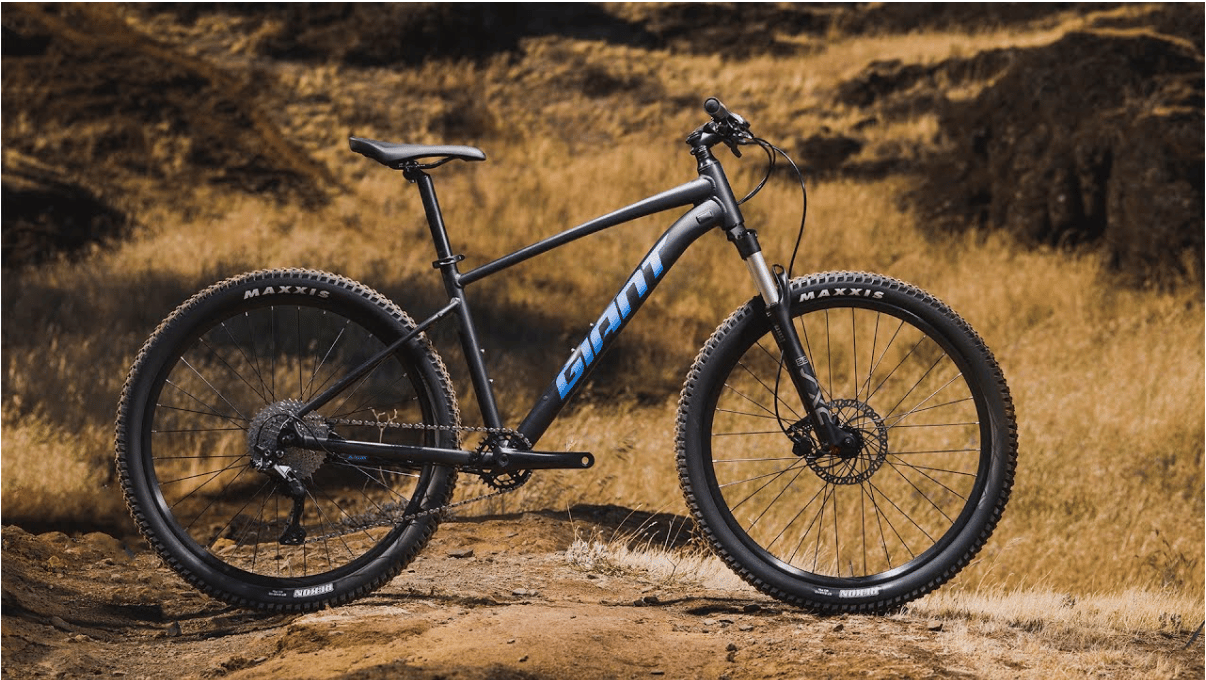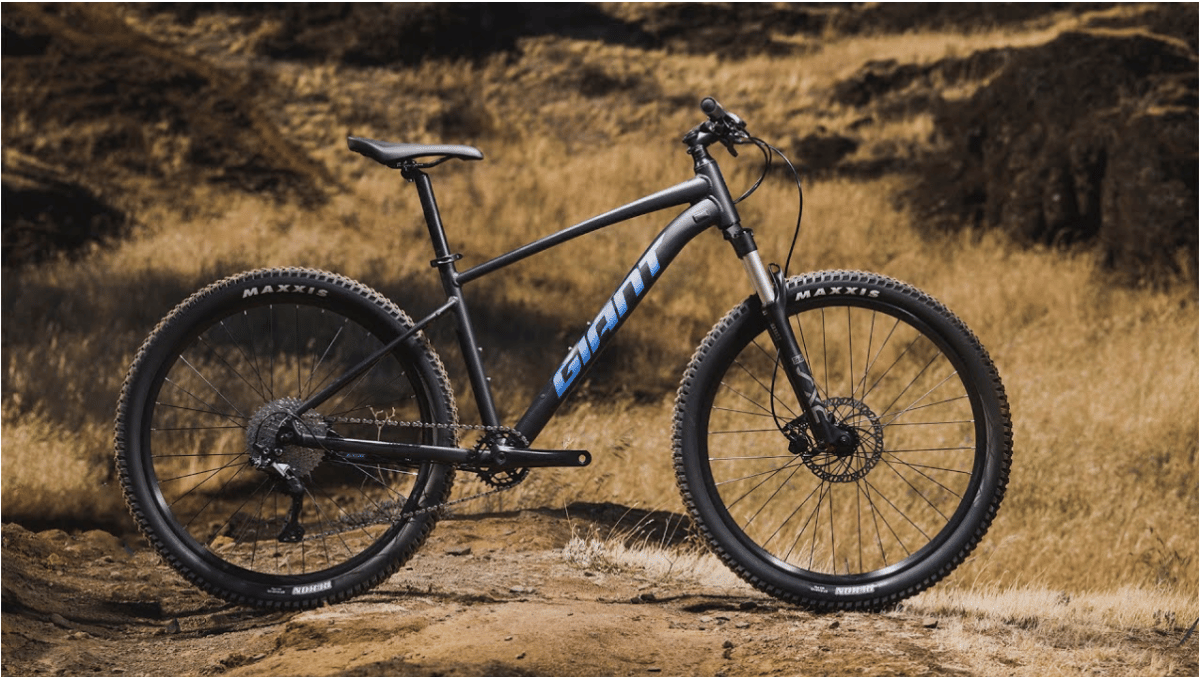 When it comes to the collection of all budget mountain bikes you quickly realise that performance and price go hand in hand and where the price is low so is the performance. However that isn't exactly true for all budget mountain bikes. Giant, for example, is one of the largest mountain bike manufacturers in the world and so are able to control the production of a bike from the raw materials used to make the bike itself all the way to the finished product. The ability to do so gives larger companies, such as this one, the ability to create really good quality builds at every price level.
A perfect example of just this is the Giant Talon 4 which comes at a cheaper price point but you still get the high quality ALUXX Sl aluminium frameset which, if you compare to other bikes in the same price range, is a much better quality build and offers a much smoother riding experience.
The Giant Talon comes in both 27.5 and 29 inch wheel sizes and have frame sizes from small all the way to extra large in each so whether you're short or tall you'll find a bike that fits you nicely. The one disadvantage worth mentioning with this bike would be that it still uses a very dated 2×7 drivetrain so not the best but still not the worst.
Cube Aim 29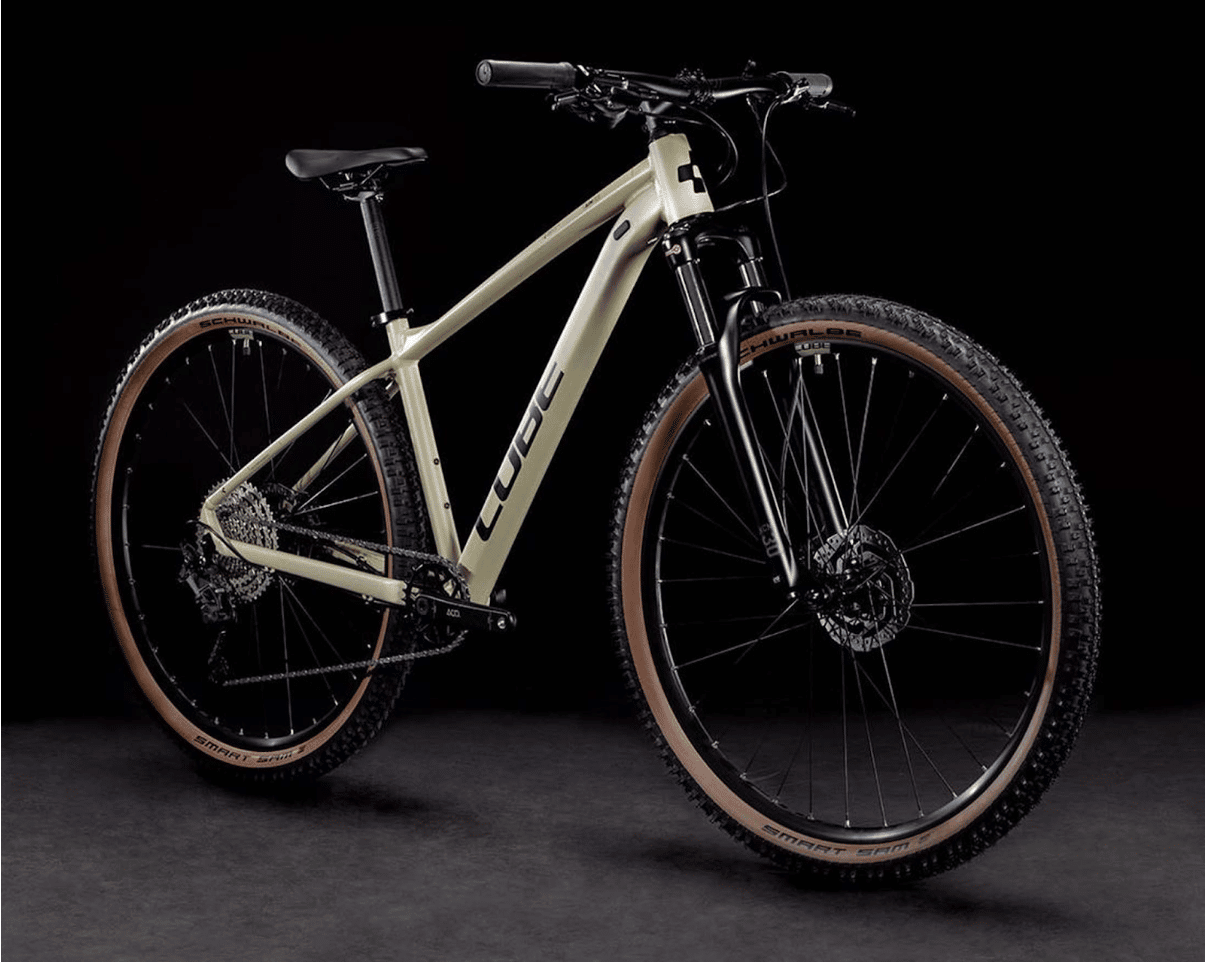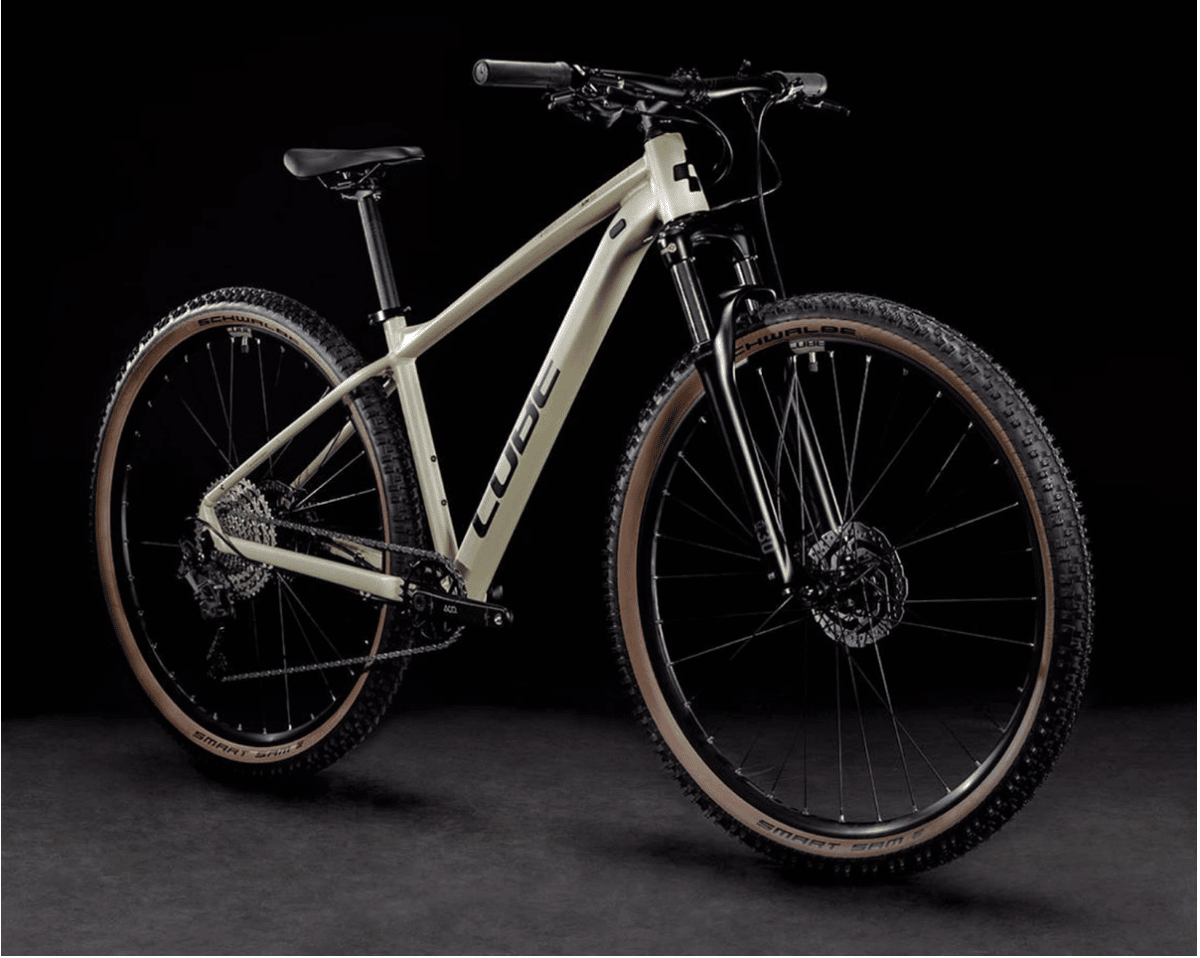 If you're a cross-country rider or just a rider who's interested in getting into more long distance cross-country riding then the Aim bike by Cube is definitely one of the best budget options on the market right now. The all new 2022 Cube Aim 29 model has actually seen quite a change, taking out the old school steep geometry design and bringing in a more sleek 68.5 degrees instead. The handlebars which were known for being pretty narrow haven't seen any change and that was so that the bike could keep the handling sharp and nimble even with big 29 inch wheels. Speaking of wheels, this bike is equipped with a pair of 29 inch wheels which means you'll be flying across trails at high speeds.
Just like giant, Cube is a very large bike brand and so are also able to get their components at the best price which means that we, the customers, are able to get a great price on good quality builds. One spot where we see this amazing quality is the reliable Shimano drivetrain and the Schwalbe Smart Sam tyres which are some of the fastest rolling on the market.
One of the less powerful components are the brakes which are mechanical, these brakes are much more simpler to fix if you ever get stuck on a trail but are less powerful than hydraulic brakes. Although the bike may have a reliable drivetrain it still offers a 2×8 setup which won't give you as much smoothness or performance as the single drivetrains on newer, more expensive bikes.
Kona Mahuna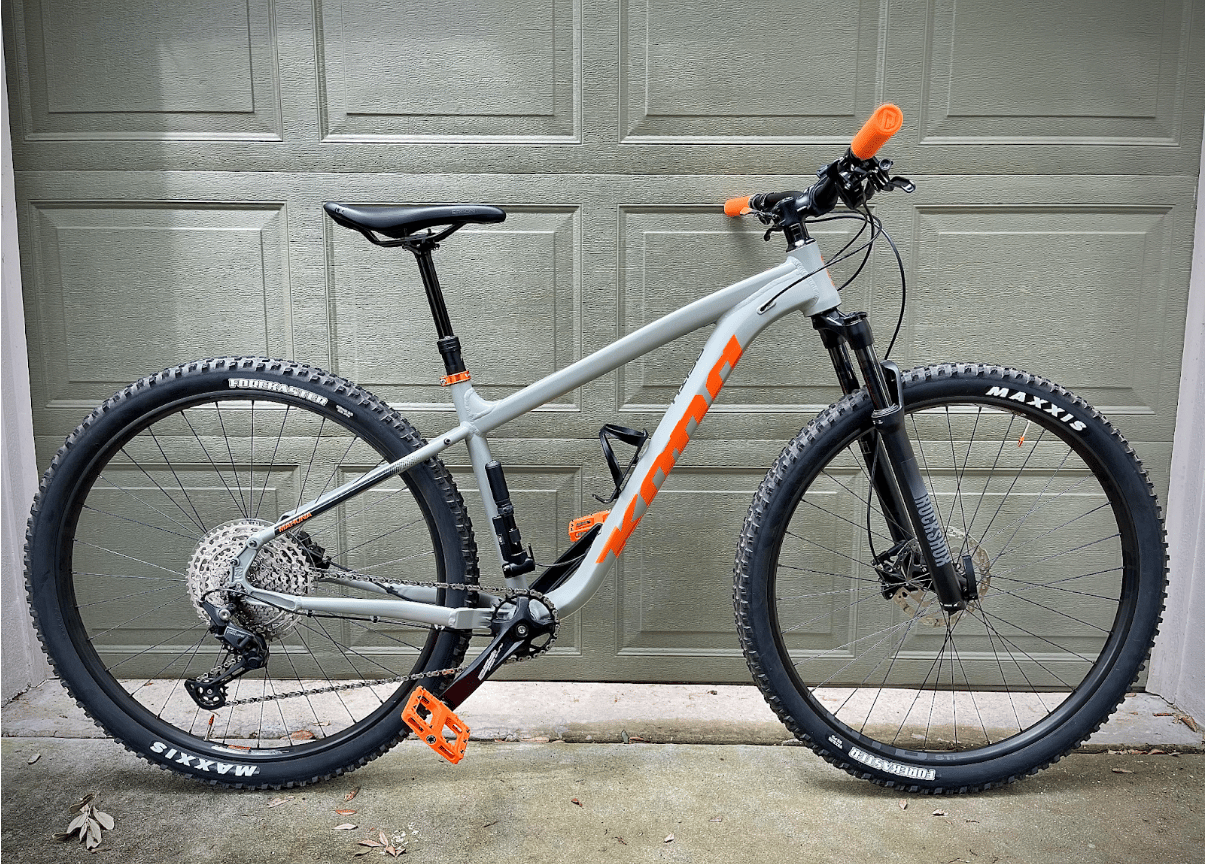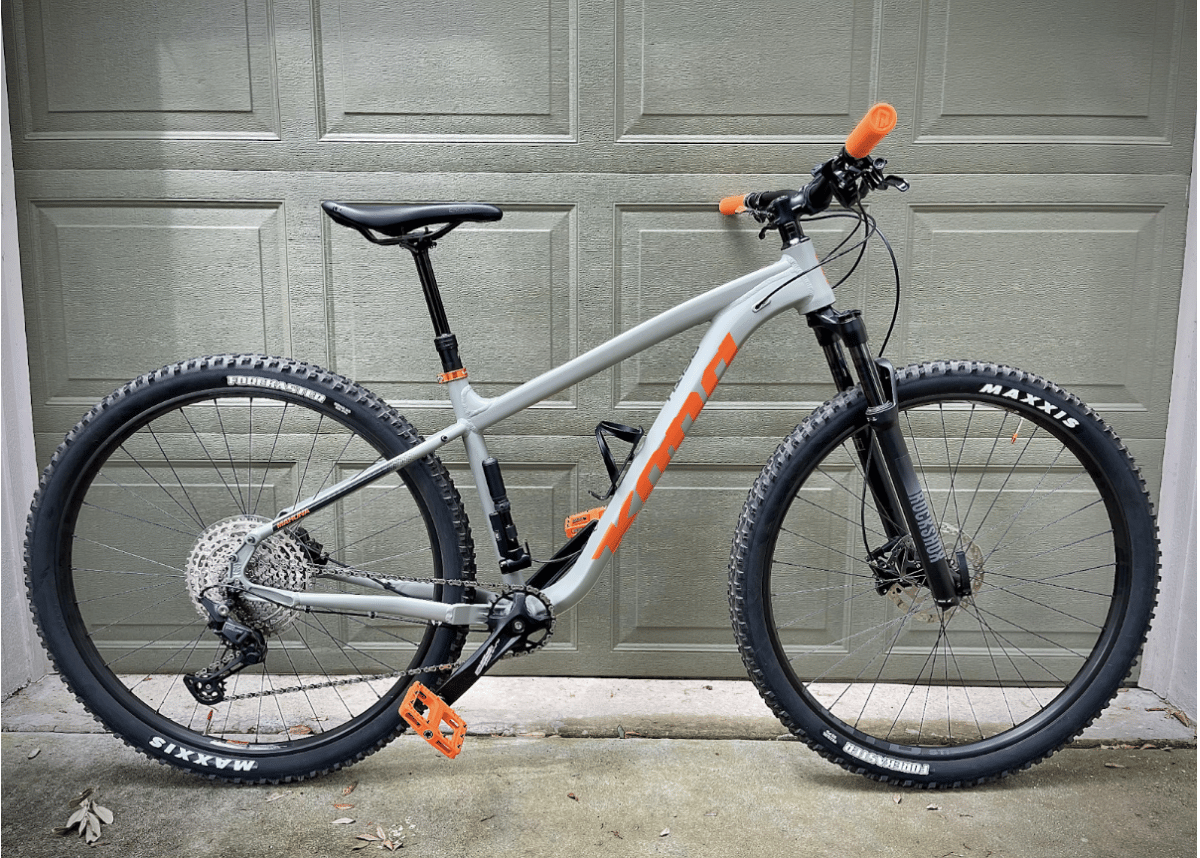 Although the Kona brand isn't as mainstream as some of the other big names on this list this is definitely a manufacturer with a lot of experience and are people who know what they are doing because they have been in the game since mountain biking's first days. The Mahuna model is the brands latest take on what they think the perfect entry level hardtail would be.
Although the Kona Mahuna is a little bit heavier than the average bike within this category it still offers an amazingly smooth riding experience and really thrives in faster paced cross country trails but is a bike that you will feel confident on on any type of trails. When you're riding this bike you'll notice that it has a very responsive steering feel when you're on a descent or while you're climbing, they've achieved this feeling by making the head angle 68 degrees.
Some of the options that they went for on this bike actually makes it feel a bit out of its depth when you're on a bit more technical trail. For people looking to ride aggressively on technical trails this isn't the choice for you but if you're a bit more calm and are into more cross country or long distance riding then this is definitely an upgrade over other budget mountain bikes.
A huge plus that you get with this bike's components is its Shimano Derore 11-speed which gives you an amazing slick gear shifting experience while you're out riding. One thing that you should watch out for with the sizing of this bike is the size difference between large and extra large, it's big, so if you're someone who is in between a size large and extra large then you may have a problem finding a good size.
Specialized Rockhopper Elite 29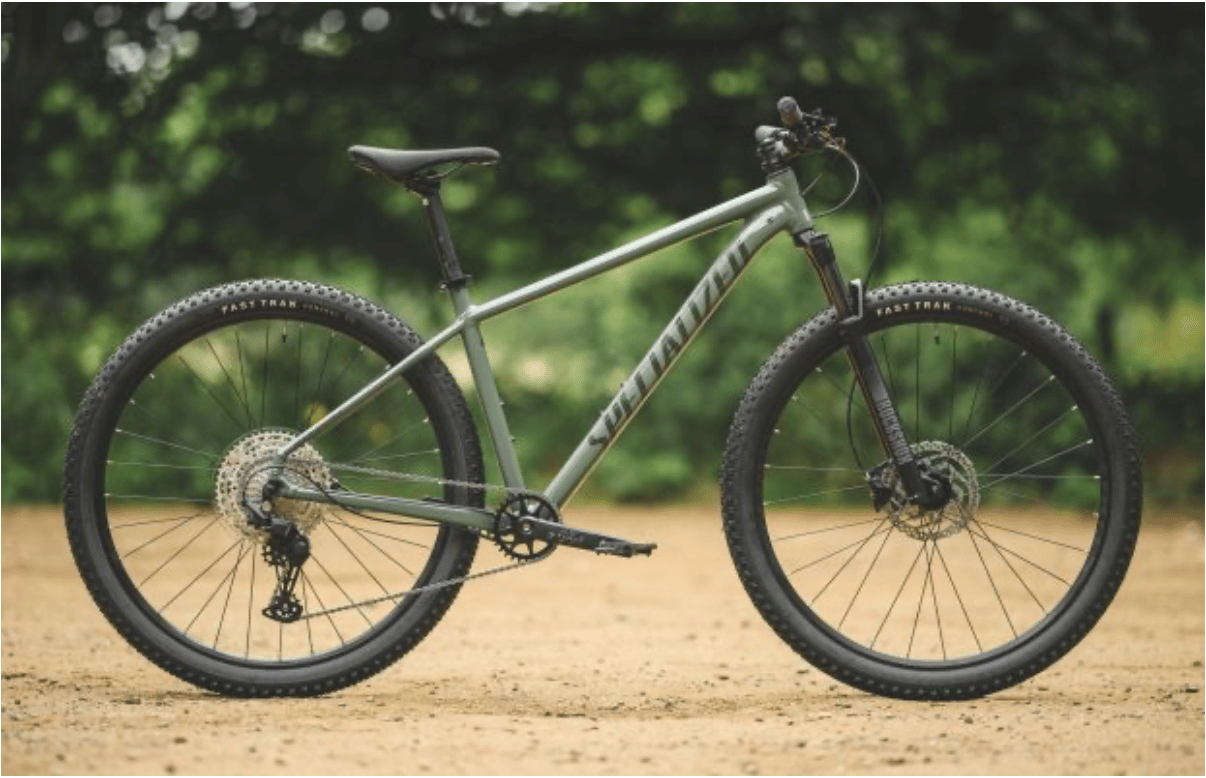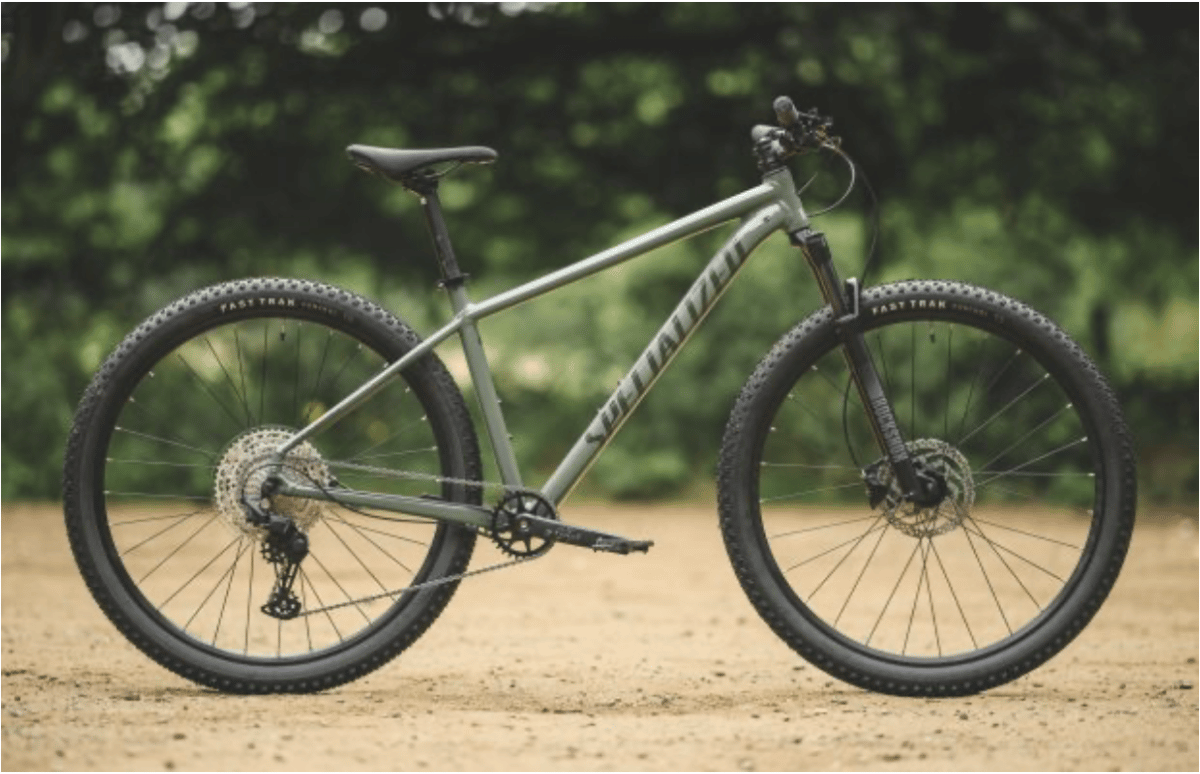 When it comes to the Specialized Rockhopper Elite 29 it's really a love or hate reaction with riders. The bike offers an amazing riding experience but has a lot of upgrade limitations so you won't be able to have this bike forever and just upgrade it as you gain more experience. So for some this riding feel may be enough but for others it can be a deal breaker that it doesn't have that much upgrade potential.
When it comes to actually riding trails with this bike you'll feel amazing and feel almost encouraged to pedal hard while on this bike because of its amazing low weight. The Rockhopper really gives you a whole new level of confidence out on the trails, especially when paired with its RockShox Judy air sprung forks and Shimano MT200 brakes which give you a very smooth comfortable ride on even rougher terrain.
All these feelings that you get while out riding from the bike's design are great until you notice that it has a major flaw in its design. The bike is constructed with a straight non-tapered head tube which means that you won't be able to upgrade your front end forks in the future. If you are someone who wants to be able to upgrade their bike over time then this may not be the option for you but if you are someone who just wants to enjoy their bike as is then this is one of the best options on the list for you.
Vitus Nucleus 27 VR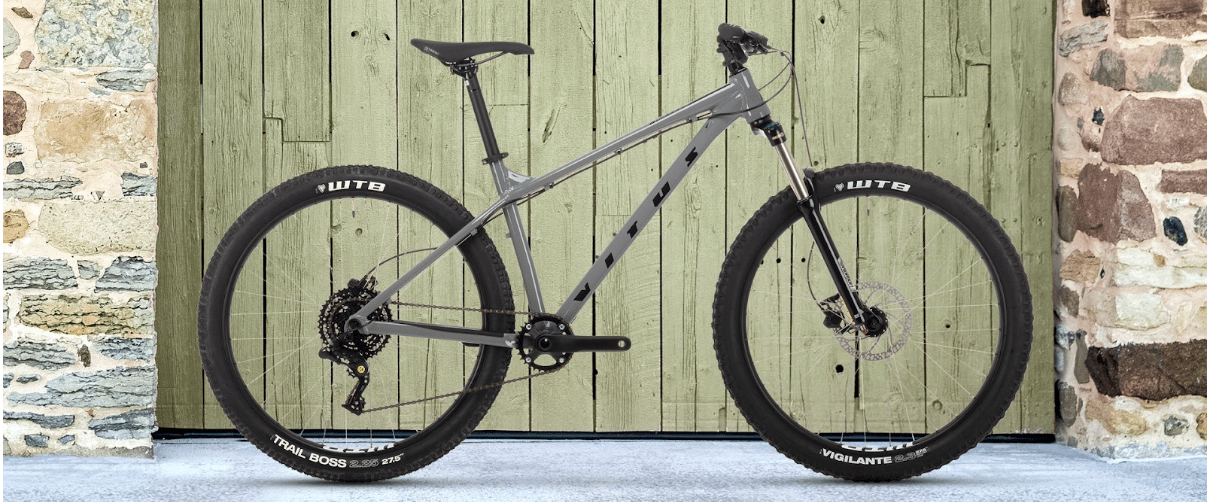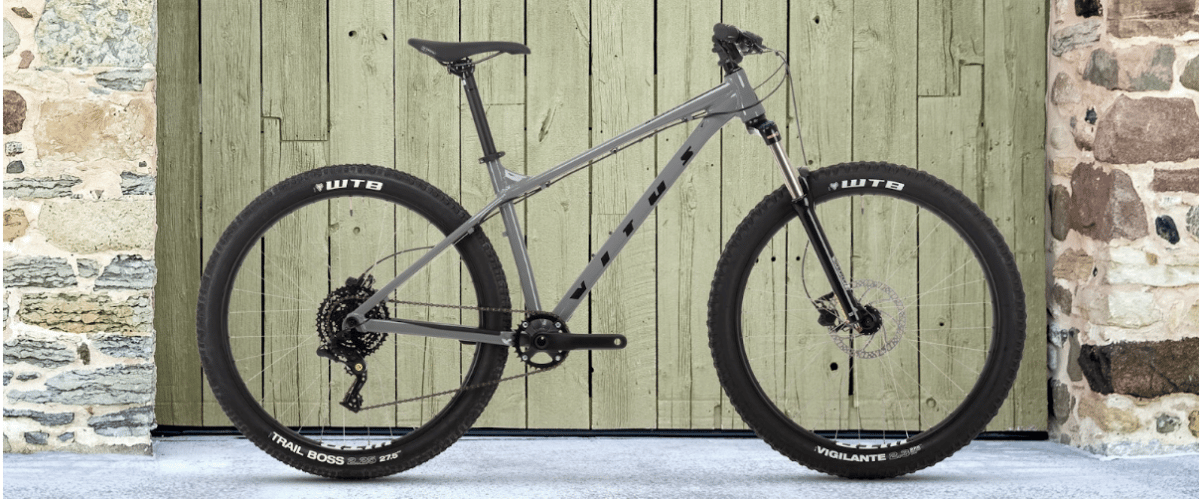 Yes, the bigger bike brands have the advantage over smaller brands when it comes to being able to bulk buy and produce amazing quality products however, the smaller brands also have an advantage over big brands as they are able to respond to mountain bike trends a lot faster. Vitus is an online brand with a very good, focused design team who take advantage of being a brand that is a little smaller and so have designed the Nucleus bike which is very up to date with the latest mountain biking trends. This bike specifically has a 1x drivetrain which is very popular with the modern bikes, it also features a 120mm Suntour fork and a frame with a very carefully thought out design. With all this new technology it really makes the bike a great value for the money and still gives you an amazing riding experience out on the trails.
The Nucleus is thought of as a bit more fun to be biking around with because it comes with 27.5 inch wheels which are more responsive than 29 inch wheels and so give you a little more ease when jumping or flicking off fun sections of trails. The fact that it does have 27.5 inch wheels also means that it won't be as fast as if it had 29 inch wheels, so this specific bike isn't really for cross country or racing. If you are someone that would much rather prefer a bike with 29 inch wheels then there is the option to get the Vitus Nucleus 29 VR which is the same spec of bike but bigger wheels and even for the same price.
Merida Big Trail 400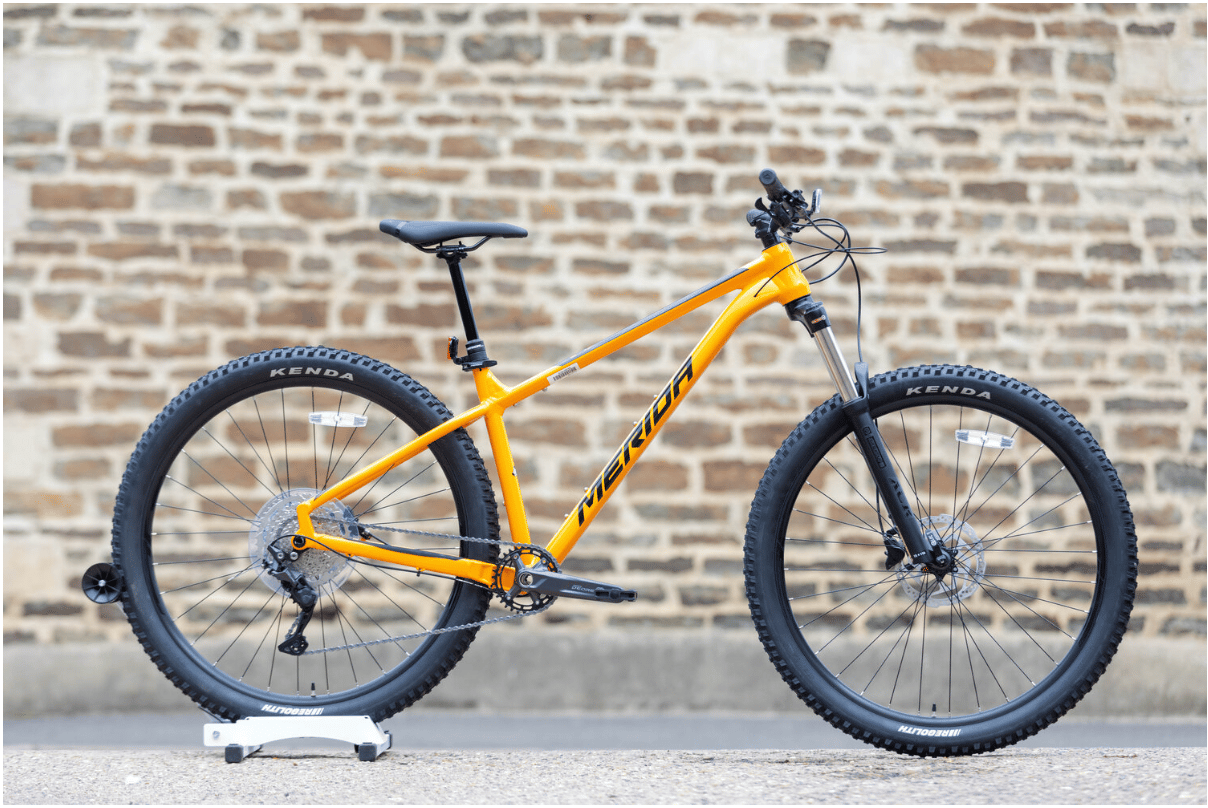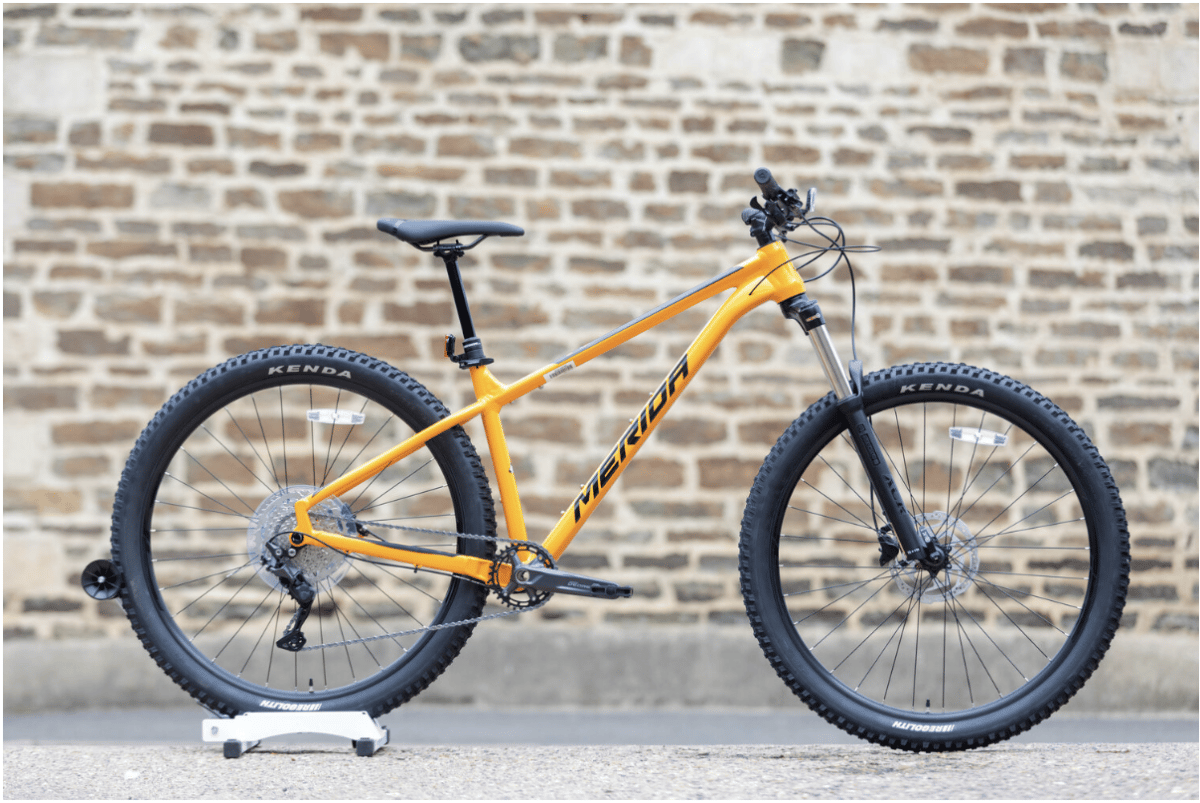 Merida is a huge Taiwanese manufacturer who actually makes a lot of frames for other mountain bike manufacturers but of course their best ones will be the frames under their own name. To guarantee a sick ride on big mountain bike trails, Merida has teamed up with both pro shops and riders in order to really get the geometry of this bike right and make you feel confident even on the big 29 inch wheels.
The biggest highlights of this mountain bike are the amazing, high quality components that it has such as the 140mm fork, 1x Shimano Deore groupset, hydraulic brakes and even a dropper post. Those are all highlights which we can see at the surface of the bike but it actually has some amazing details that we can't really see but add another advantage to the bike.
The first 'hidden' detail is that it has a shirt seat tube which means you'll be able to size up or down depending on what reach you want when you're riding. Another thing is the twin bottle mounts which allow you to mount two water bottles which is really nice for a ride that's a little longer. This is a really sick bike worth investing in especially for its low price, the only complaint that many have given from riding it is that the Kenda tyres don't grip like other proper tyres but if you're paying under $1,500 then you could have money left over to invest in better tyres.
Trek Marlin 7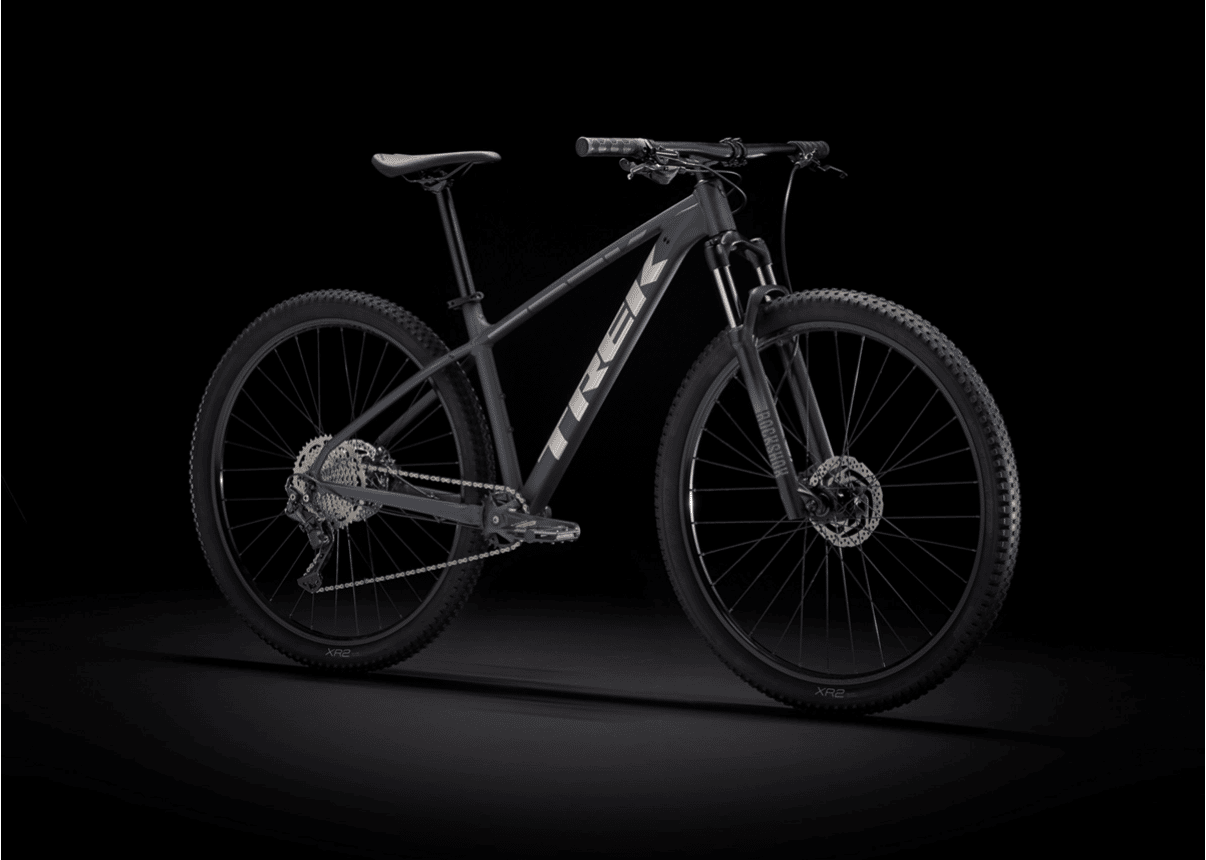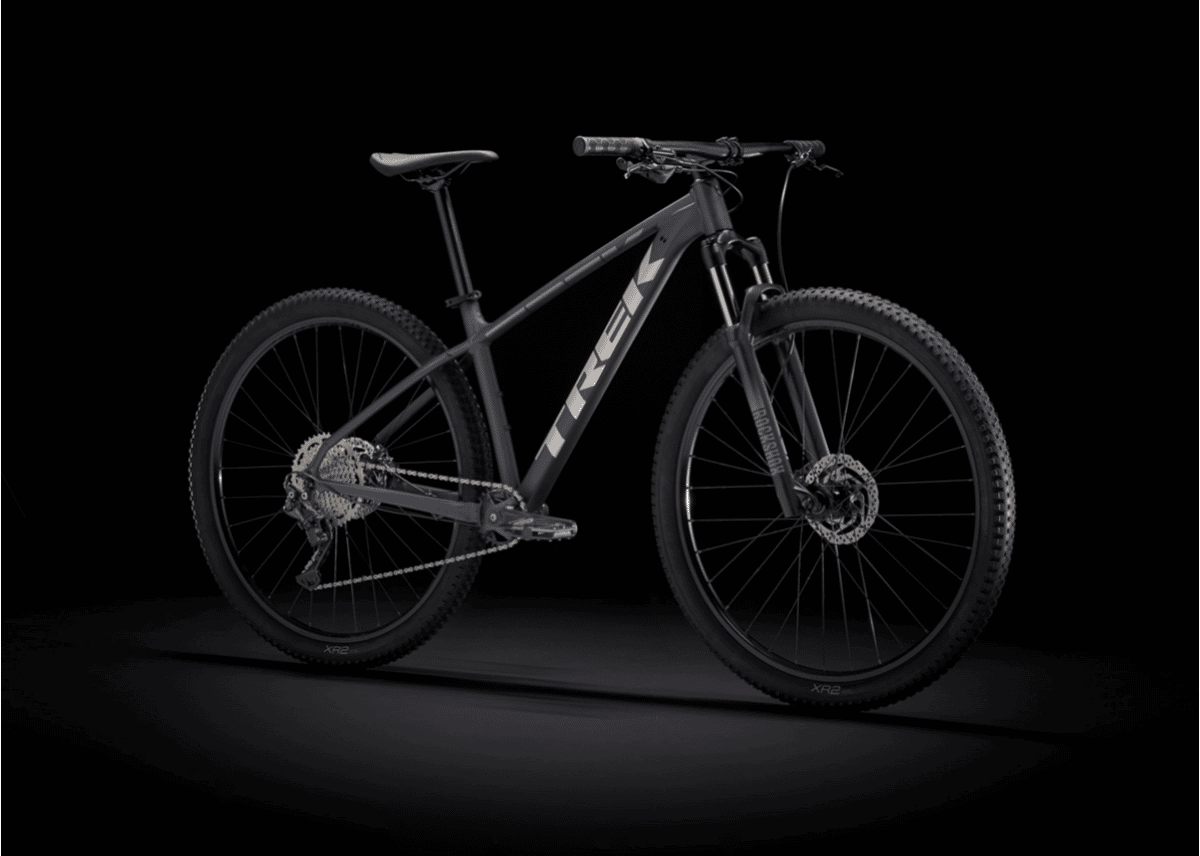 Trek is another one of the biggest mountain bike manufacturers out there at the moment and their most popular hardtail models are part of the Marlin family. The main reasons that this bike is as popular as it is is because of its incredibly light weight, weighing in at under 30lbs, and the insanely fast 29er wheels, making it the fastest XC hardtail on this list.
The attributes that this bike has that makes it such an amazing racer is the pretty steep 69.5 degree head angle with narrow, low-rise handlebars and slim 29er rubber. If you are a rider looking for a racing bike that will still be able to give you maximum speed over long distances, and still be comfortable to ride, then this is definitely a mountain bike that should be high up on your list.
Although the frame is a bit dated regarding the geometry and design of the frame it is still extremely high quality. This bike's design will thrive on more calm, mellow trails but really struggle if you're going to take it out to an aggressive trail and try to whip it around. Other than the dated geometry it comes with amazing components like the Shimano Deore 1×10 which will offer smooth, reliable shifting. The bike even comes with the RockShox Judy, the same forks as the Specialized Rockhopper Elite 29, so you are guaranteed a very smooth ride.
Specialized Fuse 27.5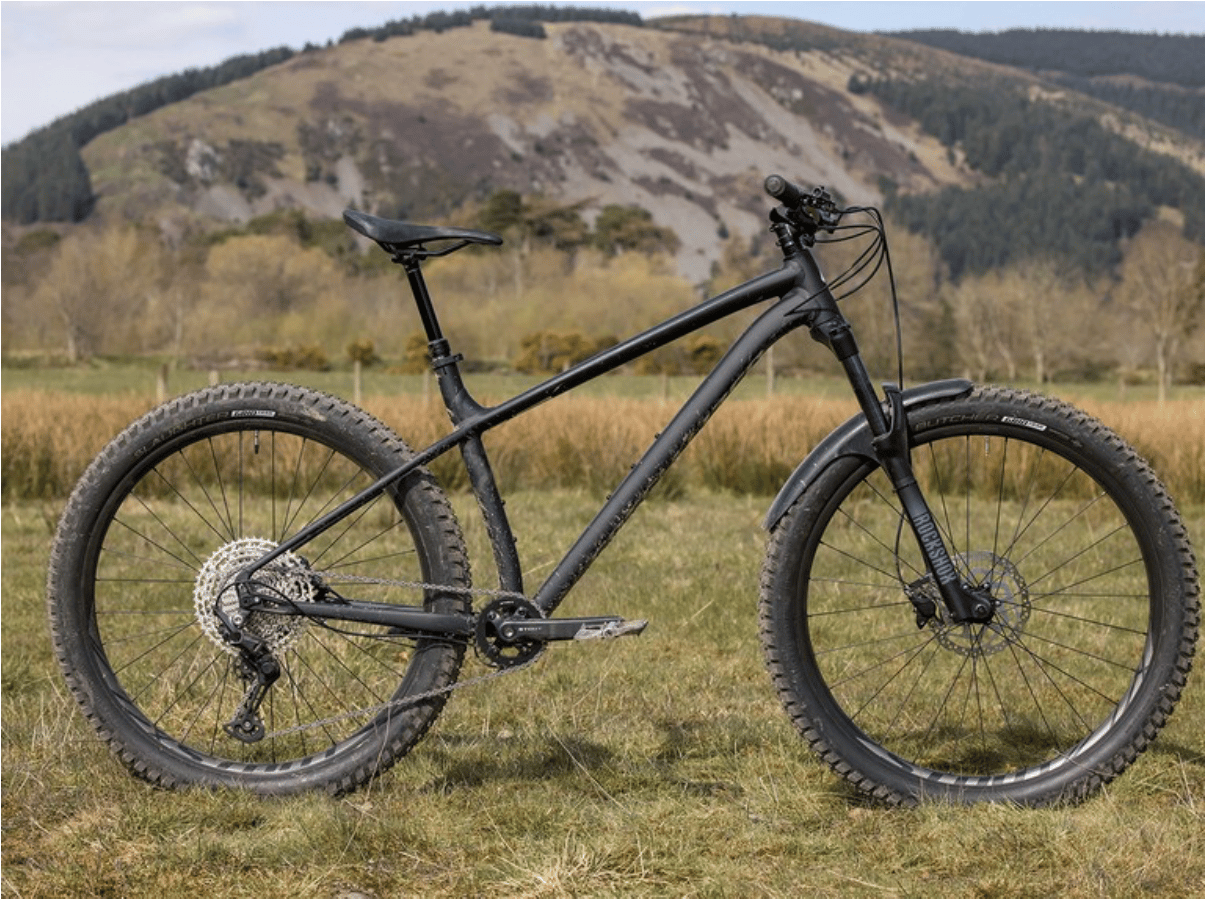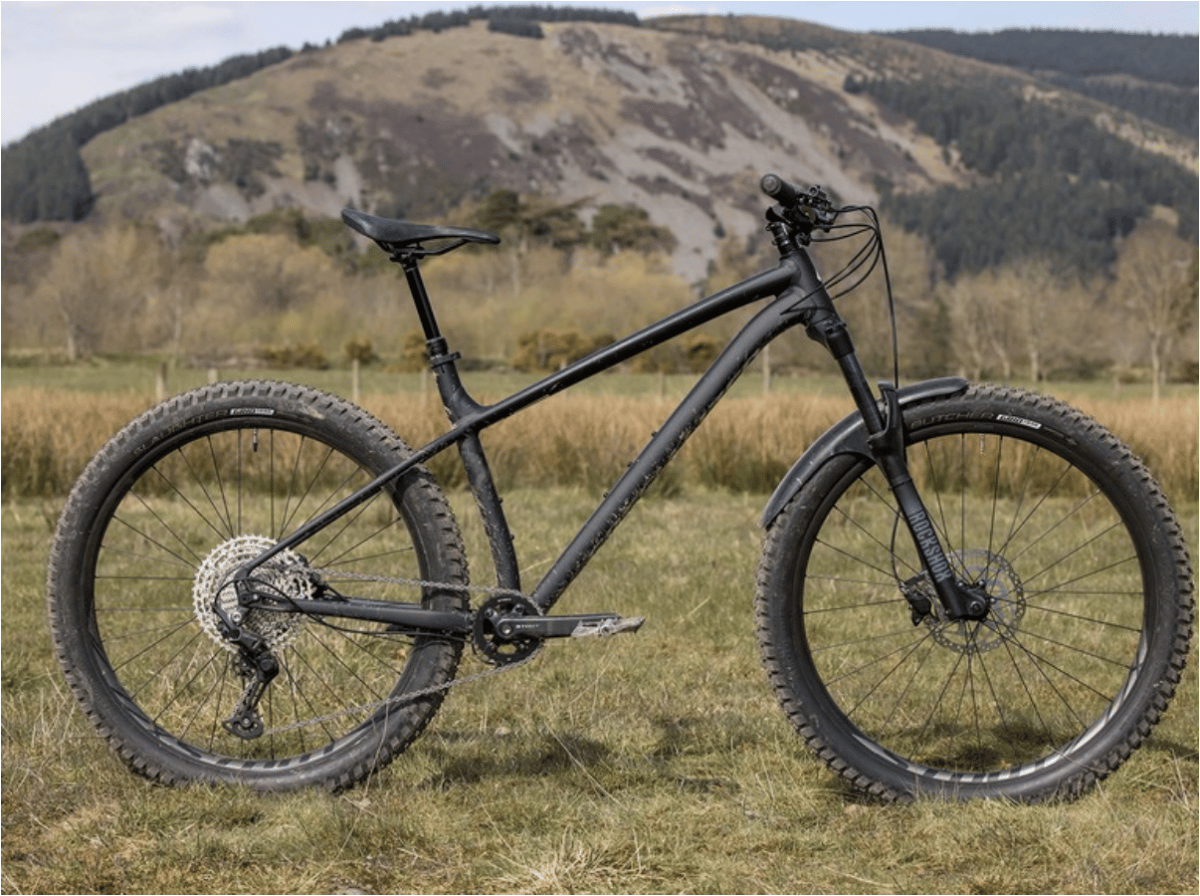 This bike sticks out a lot from all the other bikes on this list because it uses a different type of tyre setup. This one is very well known for having a much fatter tyre setup to provide a more comfortable biking experience. When the plus sized tyre bikes first became a thing they saw a lot of popularity fast but since that initial surge they've lost a lot of it. Although they've lost most of their popularity it doesn't mean that they aren't good bikes anymore. These mountain bikes are still relevant to some riders nowadays for riders who are beginners all the way to professional riders who love that extra grip and comfort that the tyres provide.
The fatter tyres can be a bit tough to set up for the best performance as a beginner but once you've got it down then you'll be able to tack singletracks comfortably with this bike. The comfortability that this bike boasts about isn't just because of the fatter tyres, it has a 66-degree head angle which gives you a lot more confidence when going into more technical sections. This bike also has a very good component list with a 130mm RockShox fork, Shimano Deore groupset and a TranzX dropper post. You'll definitely notice the quality of this mountain bike while you're out riding.
Conclusion
You'll probably notice that there wasn't a single full-suspension bike included in this list and that's because it costs more for manufacturers to manufacture full-suspension mountain bikes. You'll often see that manufacturers make compromises when it comes to the components they put on a budget full-suspension bike in order to make up for the extra cost to manufacture them. So if you want to get a full-suspension bike with the same quality components as a hard tail then you'll need to look at spending a bit more.
Related articles: