Sony has launched a new hi-res music-playing, portable Walkman dubbed the NW-A306. Unlike its predecessors, this Walkman is surprisingly affordable. It contains Sony's trademark smart features at an incredible price. It's even more unique considering it's Android-powered, mainly operating on Android 12.
Aside from its cost, I admire the new Walkman's battery, design, and performance. So, what is it about this gadget that makes it a stunner? Is it worth the laurels or another overhyped cost-effective Sony Walkman? Let's find out in this review.
About the NW-A306 Sony Walkman
The Sony Walkman has, over the years, come to mean portable music. With multiple iterations and a prototype history dating back to 1979, these gadgets defined the music industry and personalized how we listened to songs. Before their invention, we had to tune into the radio or buy vinyl records to listen to songs, which weren't flexible. With the Walkman, there was much freedom.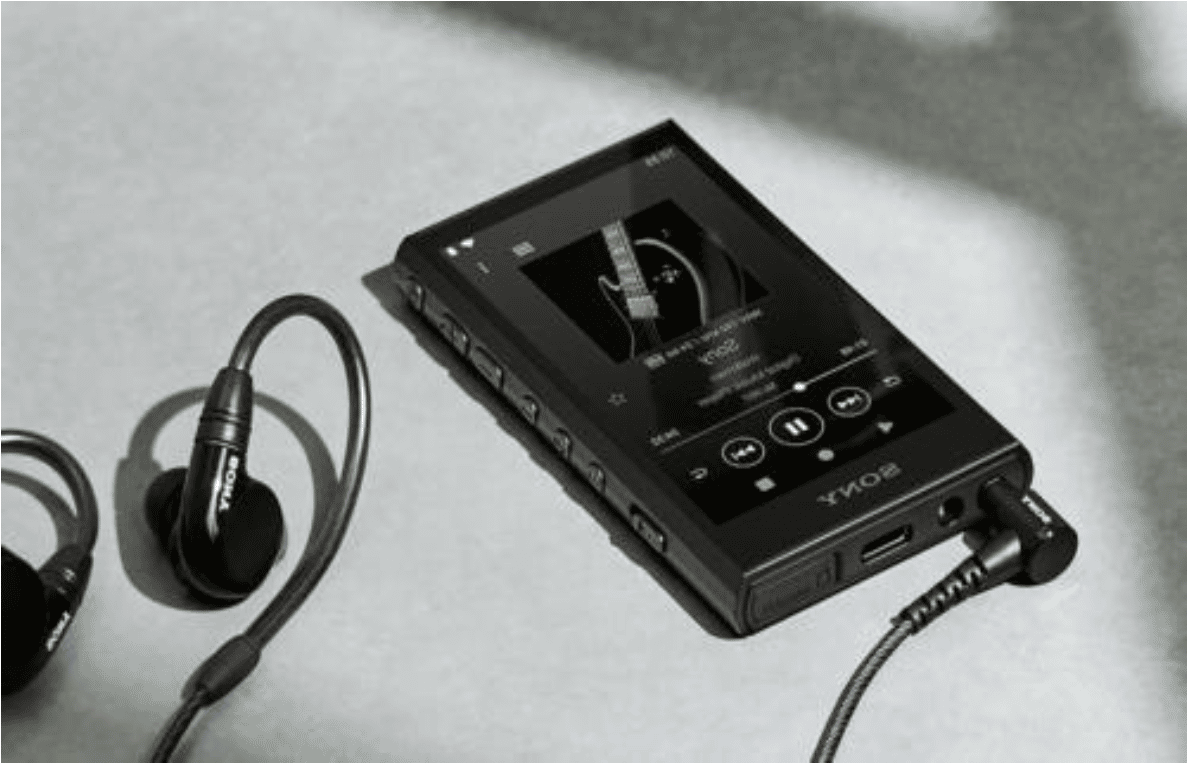 The newest addition to the list of Walkman gadgets is the NW-A306. According to Sony, it is designed to give users the best possible listening experience. In a launch post, Sony described the gadget's development as a labor of love between engineers and designers. Both professionals worked tirelessly to create an ideal Walkman that allows music enthusiasts and audiophiles to listen to songs as intended by the artist.
Features of the NW-A306 Walkman
Every Walkman in history boasts unique features, and the NW-A306 is no exception. Sony incorporated several advanced features into the gadget for an immersive experience. Some of these smart features include:
| | |
| --- | --- |
| Operating System | Android 12, supports WiFi |
| Size and Weight | (2.23 x 3.88 x 0.47) inches116 grams |
| Display Type and Resolution | 3.6" TouchscreenHD (1280 x 720 Pixels)TFT color display with white LED-backlight |
| Internet Speed | 2.4/5 GHz |
| Excellent Sound Playback | Hi-Res Audio (24-bit/96kHz)Supports many audio files (like FLAC, AAD, DSD, etc.)Supports LDAC DSEE Ultimate upscaling for compressed files (16-bit 44.1/48kHz) |
| Storage | 32GB internal memory with MicroSD card slotAlso supports MicroSDHC and MicroSDXC |
Portability
Unlike the first Walkman model, which weighed almost a pound, the NW-A306 weighs just 116 grams. You don't have to worry about heaving around a bulky stereo. The gadget is that mobile and flexible.
With its 2.23 x 3.88 x 0.47 length, the NW-A306 is only a few inches longer than your credit card. According to Device Tests, the average weight of a smartphone is 160 grams. So the new Walkman is way lighter and smaller than your iPhone or Android, ensuring it can fit into your pocket.
Battery Life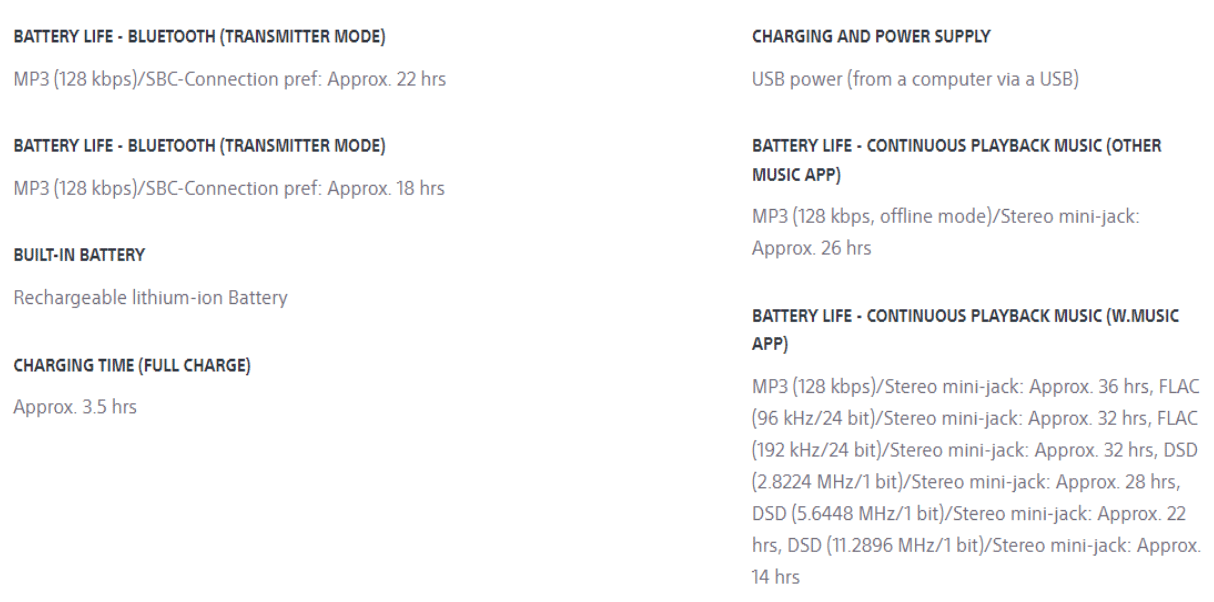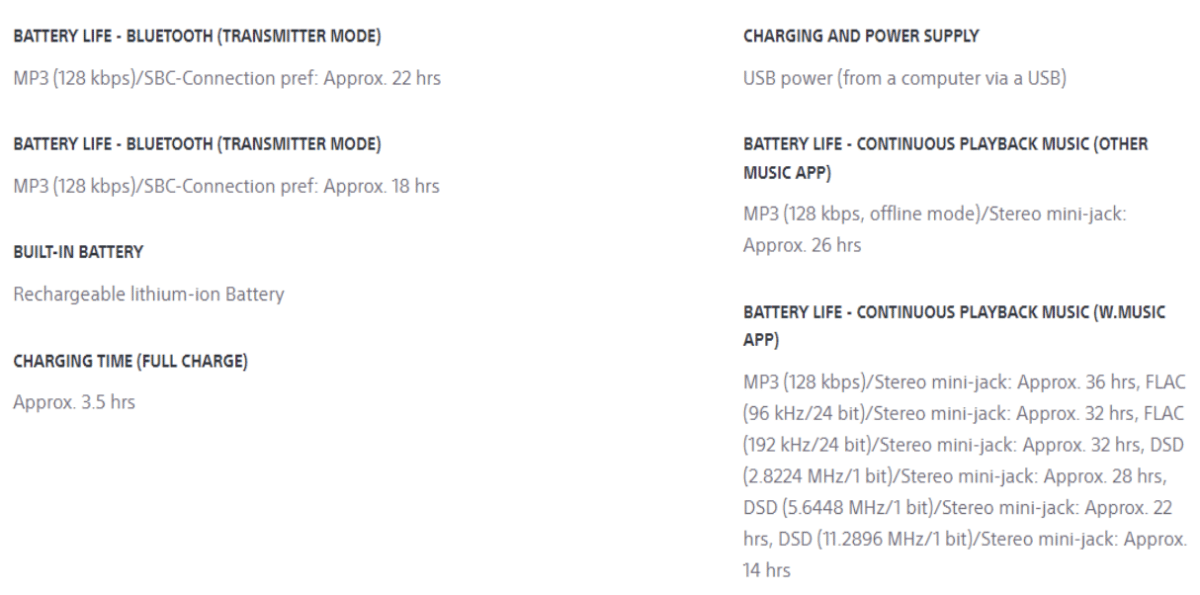 Powered by a built-in lithium-ion battery, the Sony NW-A306 can give you 36 hours of non-stop music on a single charge of 3 to 4 hours. But that is if you're listening to downloaded songs, as the battery drains faster when streaming. On streams, it would only last for 26 hours, which is still pretty cool compared to older versions.
The NW-A306 consumes more battery when you push the bitrate up. You can reduce your battery consumption by going wireless in 'Transmitter Mode" or adjusting your screen off timer. You can likewise reduce the brightness level or set the noise-cancelation to off. When low, charge the player with a USB-C charger.
Storage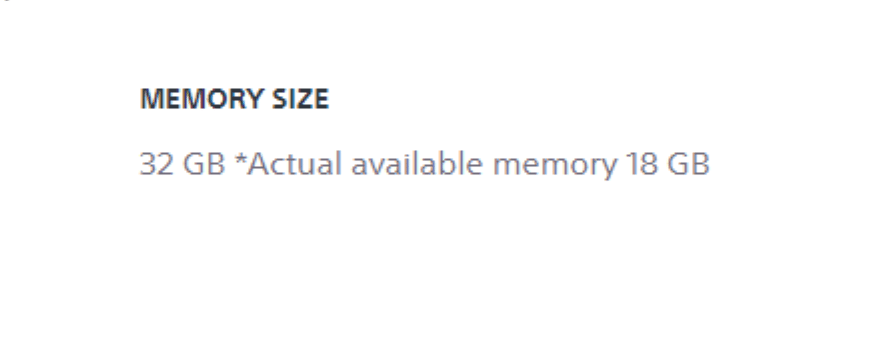 The Walkman comes with 32GB of storage (only 18GB will be available after downloading apps. It also supports MicroSD, MicroSDHC, and MicroSDXC cards. This is enough to store 8,000 songs on the player, even after downloading the streaming apps.
This means you can store your ever-growing music collection on the Walkman NW-A306 and listen to them as you do your daily activities.
Audio Support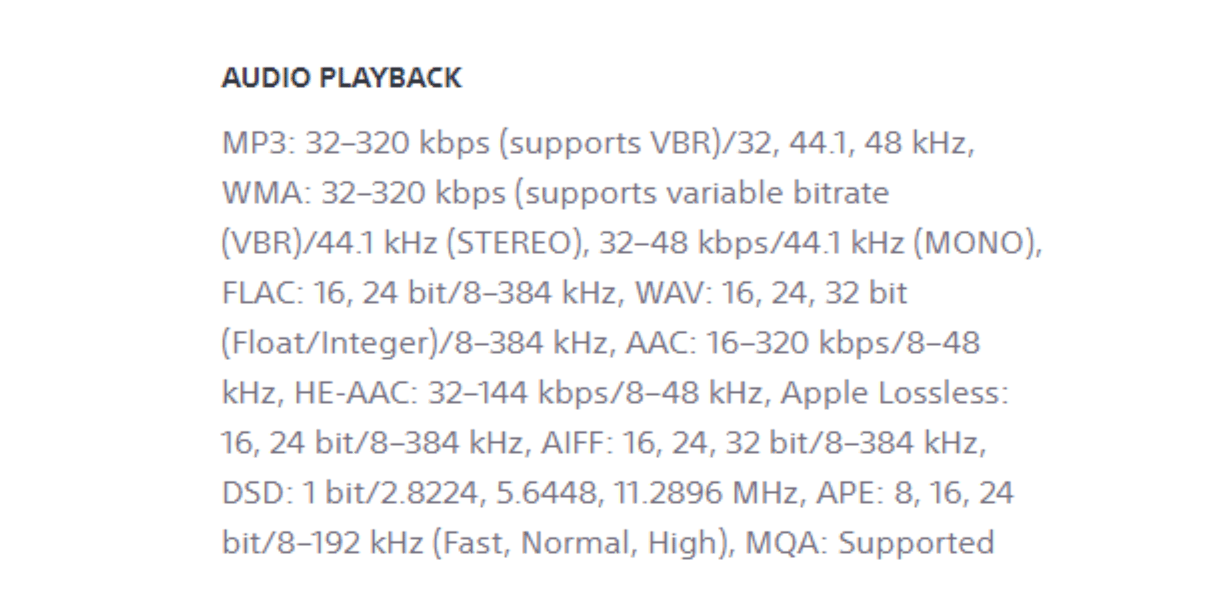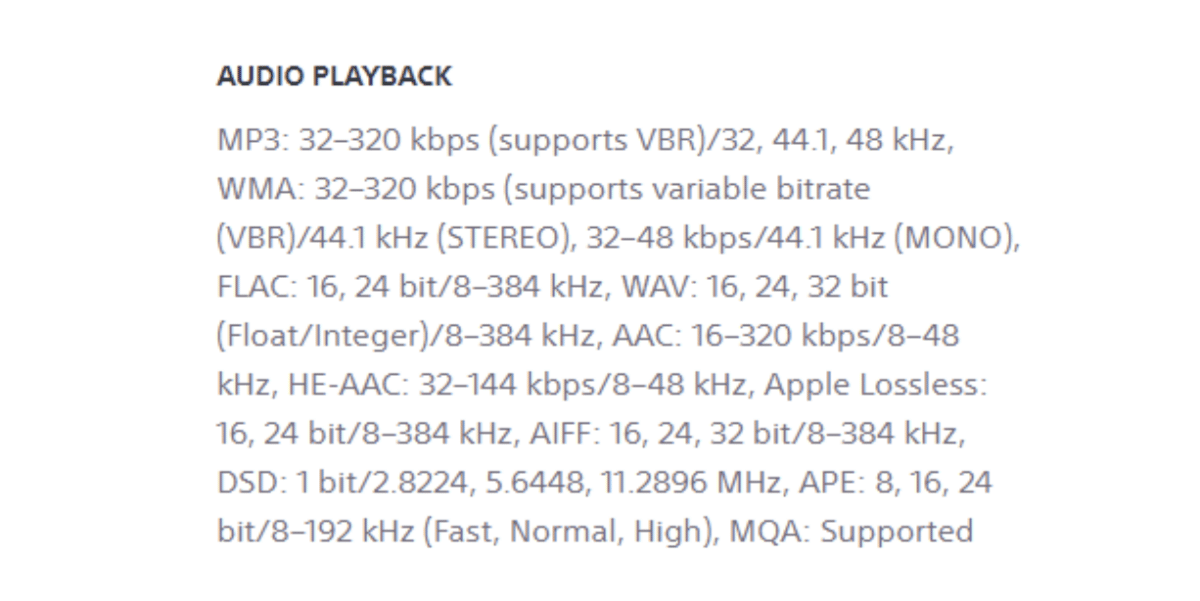 With its improved technology, NW-A306 gives you a fuller experience listening to music compared to what's available on your phone. You can listen to songs the way the artist recorded them in the studio without distortion.
The Hi-res Audio feature on the Walkman lets you listen to various audio formats like FLAC, Apple Lossless, AAC, DSD, MP3, and so on. You can also enjoy quality sound on wireless earphones with the help of LDAC, Sony's unique wireless code, which triples Bluetooth's standard bitrate. There's also the DSEE Edge Ultimate which upgrades compressed files you download or stream.
Compatibility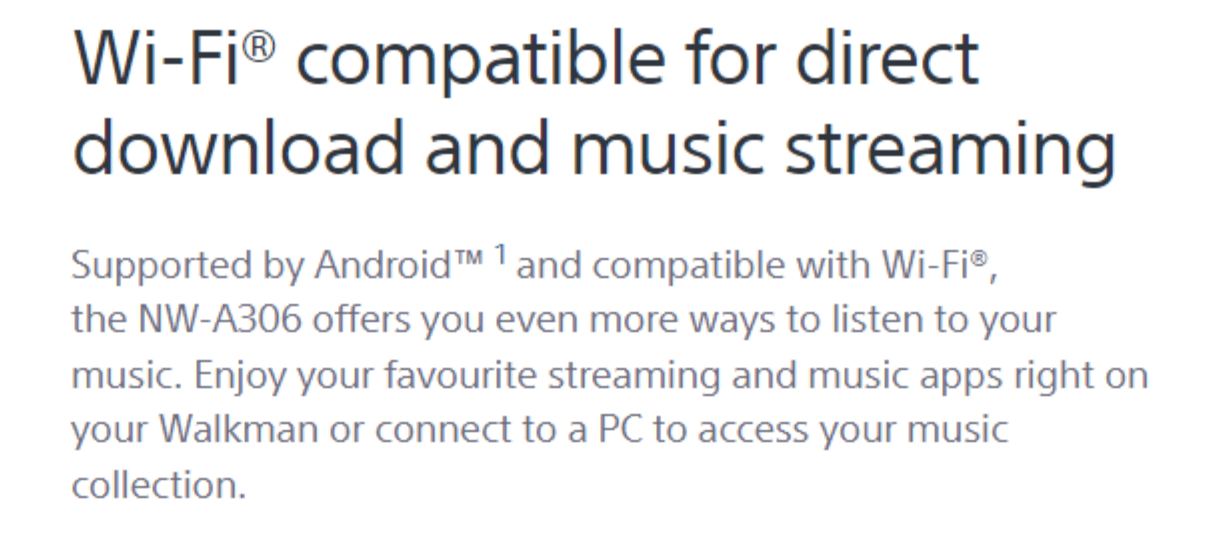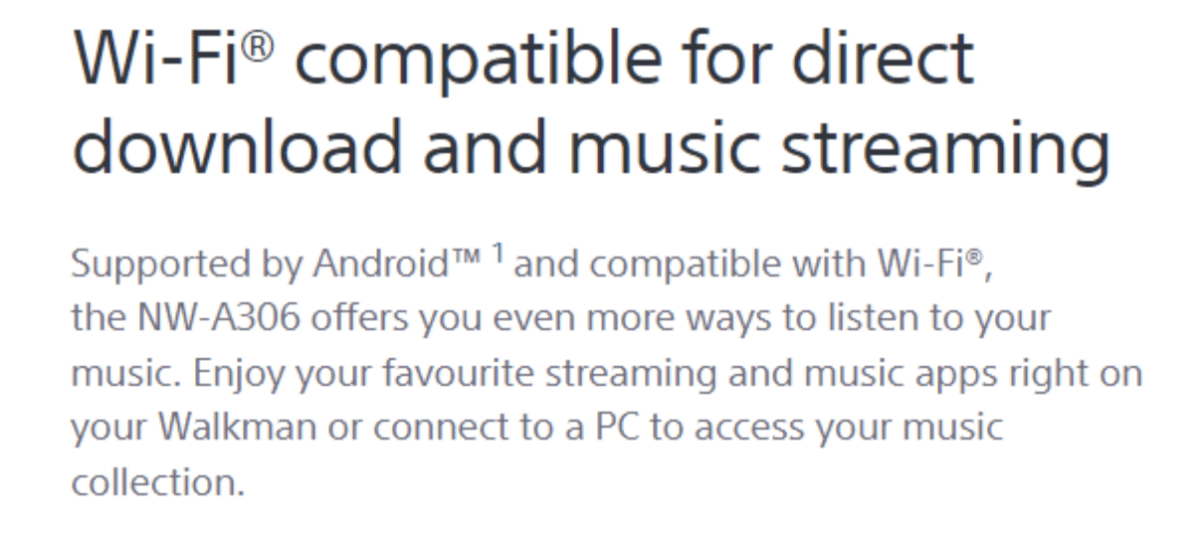 This new model of Walkman comes fitted with an Android 12 operating system and WiFi. The enabled WiFi has an internet speed of 2.4 to 5GHz so that you can download your preferred streaming apps with ease. You can also integrate the Walkman with your PC, but it's unable to connect with other devices like iPhone and Android phones.
Bluetooth 5.0 is also available on this device. This means it can connect to wireless earphones within 800 feet. And with the help of features like aptX and aptX HD, you won't experience any audio delay.
Display

Sony offers cutting-edge display details, and the Walkman NW-A306 is another testament. The gadget offers a stunning 3.6 full color touchscreen experience. The HD touchscreen, with a resolution of 1280 x 720 pixels, ensures a vibrant, crisp display for watching movies, music videos, or previewing pictures.
The TFT color display with technology ensures a bright and clear image, letting the user make out key details with ease. The touch-sensitive display also makes navigation around the menus a breeze. In addition, the display comes with an adjustable brightness setting, and can be customized to accommodate personal preference.
Other Features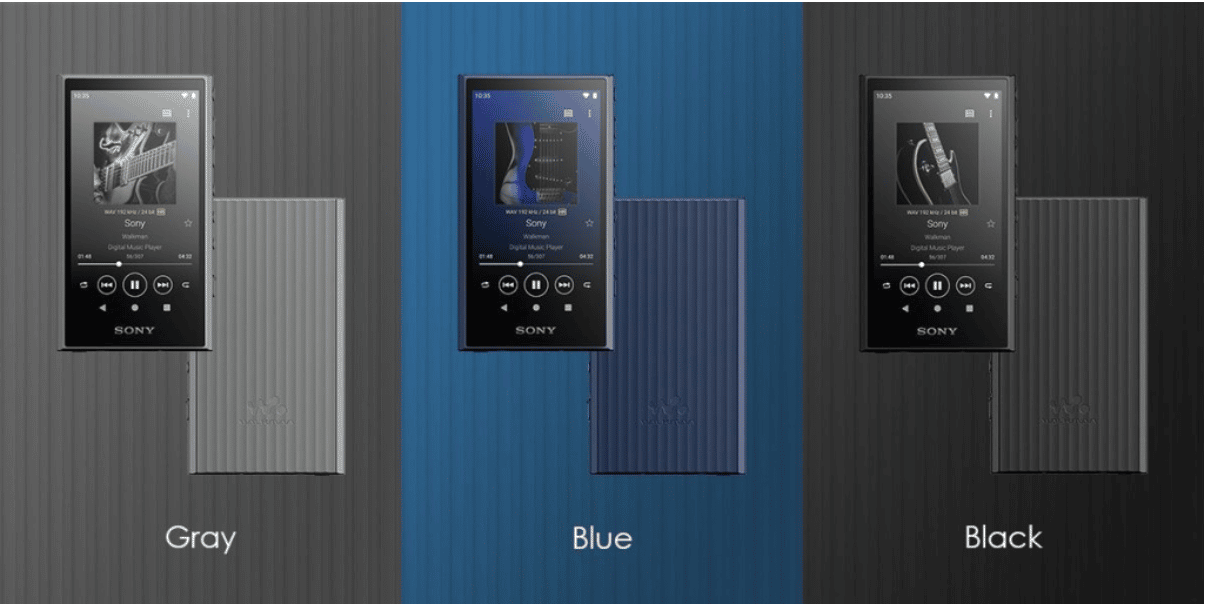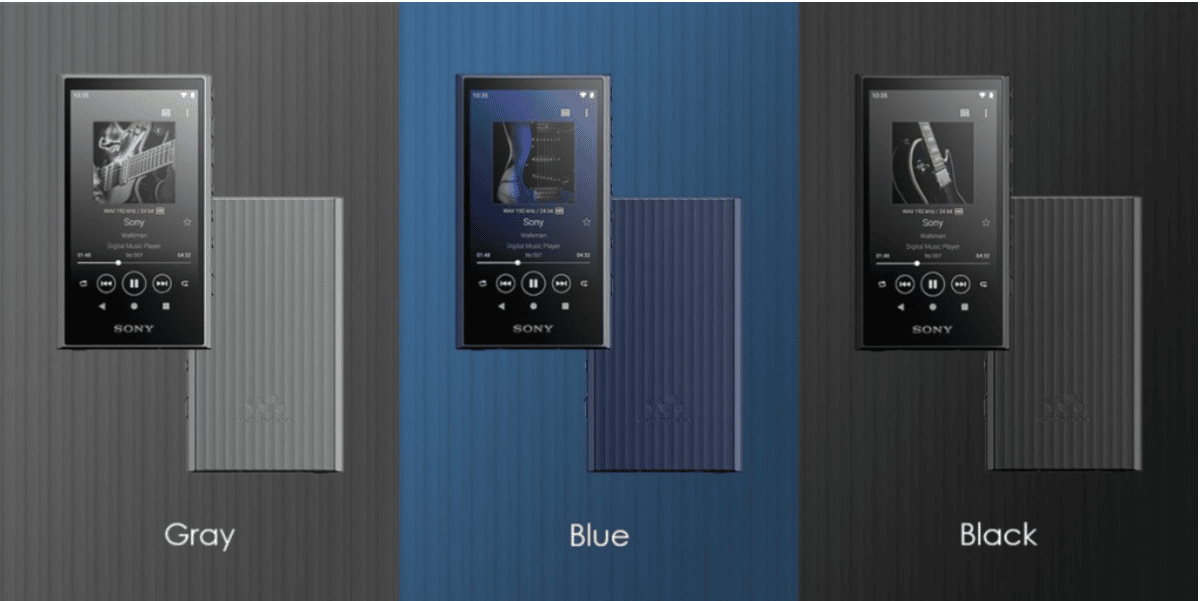 The Walkman NW-A306 costs £350/$499 and is available in black, blue, and gray. Though there is hardly any variety in color choice, the new Walkman is cheaper than its competitors, Astell & Kern A&ultima SP200T (costs $2399). The player's price is even lower than its predecessors NW-WM1ZM2 and NW-WM1AM2, which costs $3,700 and $1400, respectively
Besides, the player is made with only metal components. The casing itself is aluminum. According to Sony, no plastic was used to make the Walkman NW-A306. This reflects the company's commitment to preserving the environment.
Why Buy the New Sony Walkman NW-A306?
Left to me, I'm tempted to get this new Sony Walkman because of its price and hi-res features. Aside from these, I don't think it convinces me enough. But to its merit, the gadget has some worthy advantages that seriously need to be considered. Some of these benefits include:
Reduces Phone Overdependence
Smartphones are multipurpose devices. You can call, text, watch movies, play music, surf the net, and do a host of other stuff. That's why we all love them. However, this multifunctionality makes us depend on them too much. Overdepending on phones can affect your physical and psychological health. Having a separate device, such as the Walkman NW-A306, for music is a great way to escape from "doomscrolling" and unhealthy attachment to your phone.
You Get High Audio Quality
If you are an audiophile like me, you get very concerned about the audio quality of the songs you listen to. Average phones don't have space to contain fancy audio hardware, so their audio quality is low, especially when you plug earphones into them. Now compare that to a Walkman, a device invented solely for listening to music. There's going to be a difference.
Strong and Environmentally Friendly
The Walkman NW-A306 is made with only metal components. No plastic was used, which aligns with Sony's commitment to protecting the environment. So you can enjoy your music with the rest of mind that you are not destroying the environment. The aluminum case on the player makes it sturdy. But be careful how you throw it on the couch; it has a touchscreen that could break.
It's Relatively Cheap
The new Walkman costs £350/$499. This is cheaper than its competitors like Astell & Kern A&ultima SP200T ($2399). The player's price is even lower than its predecessors NW-WM1ZM2 and NW-WM1AM2, which costs $3,700 and $1400, respectively. The first Walkman was sold for $150. If you adjust for inflation, that's roughly $498. With all the improvements this new model has, the price is a steal.
Sony's NW-A306 Walkman: Is It Worth the Hype?
Sony's NW-A306 Walkman allows you to listen to music the way the artist wanted, with high-quality sound and a sleek design. If you're going to enjoy music with exceptional audio quality, free from the temptations of multitasking on your phone, then you need to get the Walkman NW-A306.
You can work out or meditate without notifications disturbing your focus. The player also has side buttons that allow you to play/pause and control the volume. What's more relaxing about this player is that you will still be able to curate playlists and queue songs as you did with your smartphones.
Also, you can save your phone's battery by using the player to listen to music. With all its benefits, the new Walkman is worth the price. You can buy your Walkman NW-A306 right now on the Sony website or follow their social media pages to know when it hits your store.
Related articles:
Argon Audio Quiet Storm Headphones Highlights
Audio-Technica Sound Burger Comeback
Sennheiser IE 200 – audiophile in-ear headphones at a budget price