You've probably heard of ChatGPT, the most advanced chatbot powered by generative AI. But do you know how big the generative AI industry is? And what are the latest trends and opportunities in this fast-growing sector?
In this report, we'll reveal the most comprehensive and up-to-date statistics, trends, market size, and growth analysis of the generative AI industry.
Whether you're a business owner, a marketer, a developer, or a curious learner, this report will give you the insights you need to understand and benefit from the generative AI revolution.
Generative AI Key Statistics 2023:
Generative AI market is projected to reach USD 51.8 billion by 2028, growing at a CAGR of 35.6% from 2023 to 2030.
The global generative AI market size stands at USD 13.71 billion in 2023.
North America leads the generative AI market with a 40.2% share in 2022, with a projected CAGR of 35.6%.
Generative AI adoption rates stand at 37% in marketing, 35% in technology, and 30% in consulting industries for the US in 2023.
Around 59% of marketers use generative AI tools like ChatGPT for content optimization.
Total investment in generative AI was $4.5 billion in 2022.
Generative AI sector funding saw OpenAI raising $10 billion and Anthropic $450 million in 2023.
In 2023, 15.22% of ChatGPT users are from the United States, followed by India with 6.32%.
ChatGPT reports approximately 13 million daily active users and 1 billion monthly users in 2023.
Generative AI tools such as Google Bard attract 140.6 million total visits since its launch in February 2023.
Microsoft Bing Chat reports 100 million daily active users since its launch in February 2023.
Generative AI startup MidJourney records 14 million total users and approximately 90,000 daily new users on its Discord server.
Current Market Size and Growth Projections for Generative AI
The global generative AI industry has seen significant strides, reflected by its robust market size and predicted growth. Here are key figures.
Current Market Size of Generative AI
The global generative AI is currently valued at 13.71 billion in 2023¹, thanks to the explosion and adoption rate of ChatGPT and Midjourney.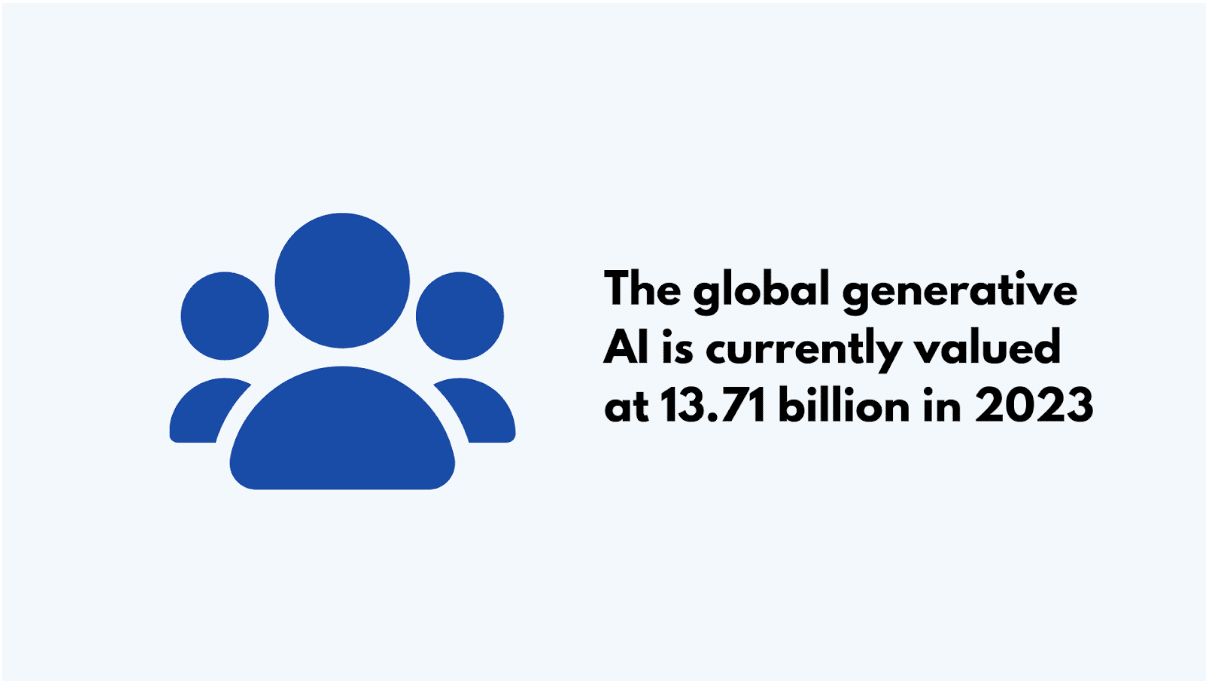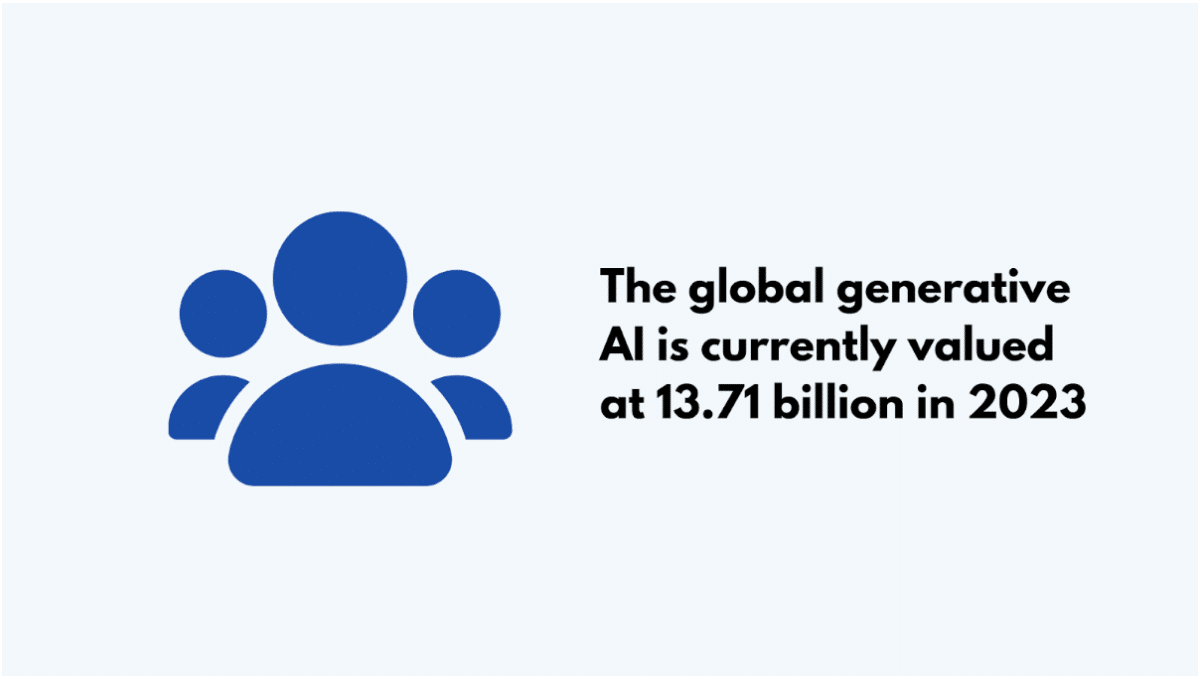 The generative AI market size stood at approximately USD 10.14 billion in 2022². The figure was driven primarily by the IT sector growth and extensive use of AI-integrated systems across diverse sectors.
Market Size by Region 2023
Generative AI market sizes vary by region in 2023. North America leads with a 40.2% share in 2022, and expects to grow at a CAGR of 35.6%². Meanwhile, Asia Pacific, predicted to grow the fastest, has a projected CAGR of 36.5%².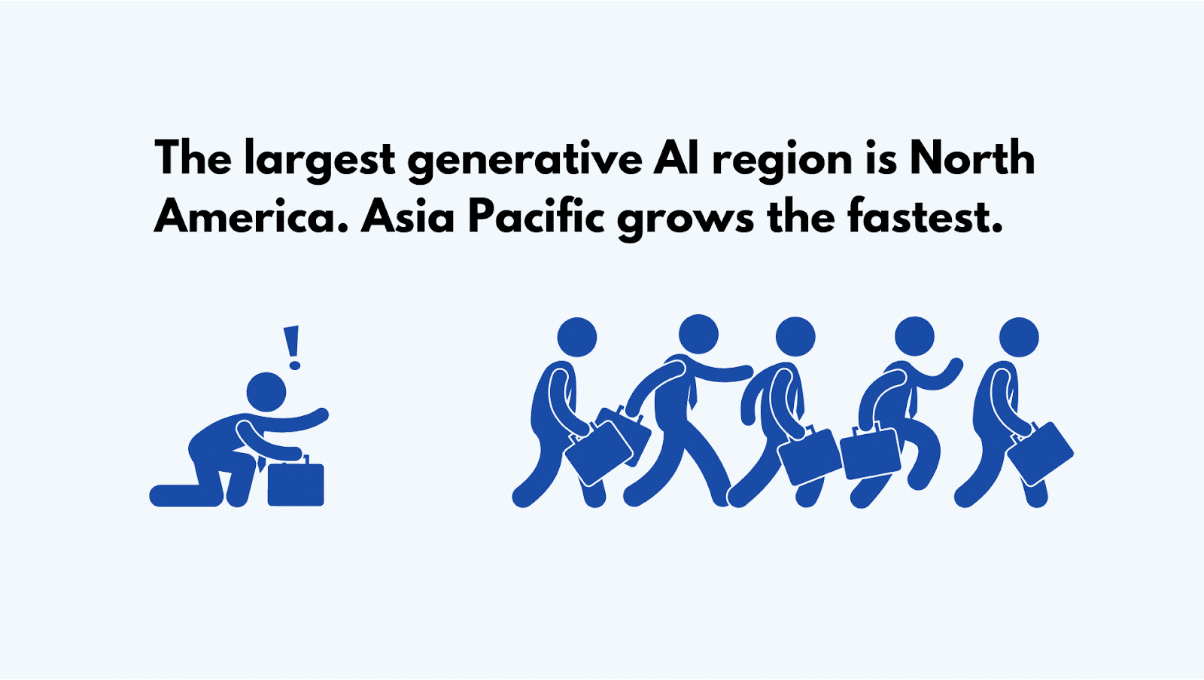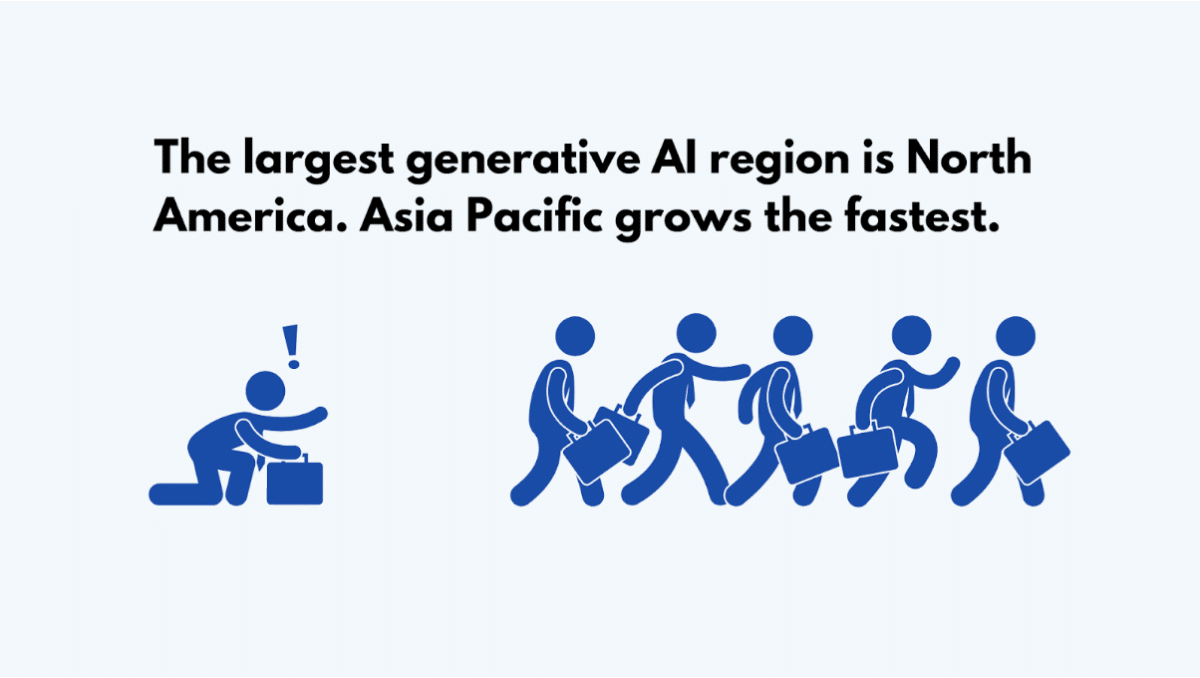 Expected Compound Annual Growth Rate (CAGR)
Anticipated to grow at a compound annual growth rate (CAGR) of 35.6% from 2023 to 2030, The generative AI market is projected to surge from USD 11.3 billion in 2023 to USD 51.8 billion by 2028³.
Different sources provide varying projections for the generative AI market size by 2030 or 2031:
USD 109.37 billion by 2030⁴
USD 126.5 billion by 2031⁵
USD 103.74 billion by 2030⁶
USD 200.73 billion by 2032⁷
Regardless of the variation, these figures underscore a rapidly growing market in the forthcoming years.
Key Players in the Generative AI Market 2023
We identified 2023's top generative AI companies and startups by considering their AI solution expertise, client feedback, and solution quality. Data from industry reports, articles, and databases like Ranking Digital Rights, CBInsights, Builtin, and LeewayHertz informed the following selection:
| | | |
| --- | --- | --- |
| Rank | Major Companies | Emerging Startups |
| 1 | OpenAI | Adept AI |
| 2 | Hugging Face | LightOn |
| 3 | Alphabet (Google) | NNAISENSE |
| 4 | Microsoft | Chatfuel |
| 5 | IBM Watson | LivePerson |
Sources: GlobeNewsWire¹, Grand View Research², Markets and Markets³, Grand View Research⁴, Valuates Reports⁵, Next Move Strategy Consulting⁶, and Polaris Market Research⁷.
---
Generative AI Market Segmentation
Generative AI market is segmented by technology, deployment, application, end-user, and component.
Technology
Generative Adversarial Networks (GANs)
Transformers
Variational Auto-encoders (VAEs)
Diffusion Networks
NeRFs (Neural Radiance Fields)
Deployment
Application
Computer Vision
Synthetic Data Generation
Content Creation
Marketing Campaign Content Generation
AI-powered Gaming
End-User
Media and Entertainment
BFSI (Banking, Financial Services, and Insurance)
IT and Telecommunication
Healthcare
Automotive and Transportation
Manufacturing
Component
Software (Transformer Models like GPT-1 to GPT-4, LaMDA)
Services
These segments reveal different growth aspects of the generative AI market across varied industries and applications.
Generative AI by Type (Software and Services)
The generative AI market is split into two segments: software and services. In 2022, software led with a 64.8% revenue share, leaving services at 35.2%¹.
Due to advantages like improved image resolution, quicker conversion times, superior performance, and immediate output availability, the software segment is projected to maintain its market dominance.
Sources: Grand View Research¹
---
Adoption Rate of Generative AI Across Industries
Industries have varying generative AI adoption rates. Here's a snapshot of the adoption percentages in the US for 2023¹:
| | |
| --- | --- |
| Industry | Adoption Rate |
| Marketing | 37% |
| Technology | 35% |
| Consulting | 30% |
| Teaching | 19% |
| Accounting | 16% |
| Healthcare | 15% |
A 2023 industry survey suggests that generative AI sees more adoption in midsized companies (501-5,000 employees), with 62% uptake².
Factors Influencing Heavy Use of AI, Particularly in the U.S.
AI adoption depends on several factors. Here are the factors influencing readiness to adopt AI³:
Relative Advantage: How much better AI is compared to current processes.
Compatibility and Complexity: The ease of AI integration and its complexity.
Management Support: Commitment from leaders to invest in AI.
Staff Capacity: Availability of AI-skilled employees.
Regulatory Environment: The legal framework for AI use.
Cooperation: Partnerships with AI providers
AI Ethics and Data Access: Ethical aspects and data access for AI use.
These aspects significantly influence the adoption pace of generative AI technologies in organizations.
Application of Generative AI Tools
Generative AI, with its broad-spectrum potential, finds use across multiple industries. Let's delve into some key generative AI use cases statistics along with their application fields:
| | |
| --- | --- |
| Use Case | Statistics |
| Content Optimization | About 59% of marketers optimize existing content using AI tools like ChatGPT, Anyword, Jasper, and Copy.ai⁴. |
| Natural Language Interfaces and 2D-Media Generation | These sectors drew 29.3% and 18.8% of VC-backed deals respectively, and 23.6% and 11.4% of total investment in generative AI from 2018-2022⁵. |
| Risk and Governance | 35% of marketers cite 'risk' and 'governance' as challenges when dealing with AI-generated content⁶. |
| Bias and Inaccuracies | 56% of US adults perceive potential bias or inaccuracies in AI-generated content⁷. |
| Marketing and Advertising | Generative AI has been adopted by 37% of businesses in this industry⁸. |
| Content Creation | 55.4% of marketers use generative AI tools for creating short-form content, while 57% use it for long-form content like blogs, white papers, and e-books⁹. |
| Software Development | Generative AI aids in writing, fixing, and checking software code, as well as generating tests and documentation |
| Personalized Medicine | Generative AI holds promise in devising personalized treatment plans considering patients' medical history and symptoms, although no real-life case studies have been reported yet |
Sources: Statista, Upwork Survey2, KTH Royal Institute of Technology, Aira Survey⁴, Aira Study⁵,Pitchbook⁶, Capterra⁷, Market.US⁸, Statista⁹
---
Investment in Generative AI Statistics
Generative AI can add a lot of economic value. It could contribute from $2.6 trillion to $4.4 trillion annually across 63 explored use cases, potentially increasing the impact of all AI by 15 to 40 percent¹.
Total Money Invested in Generative AI
In 2022, investors poured $4.5 billion into generative AI startups².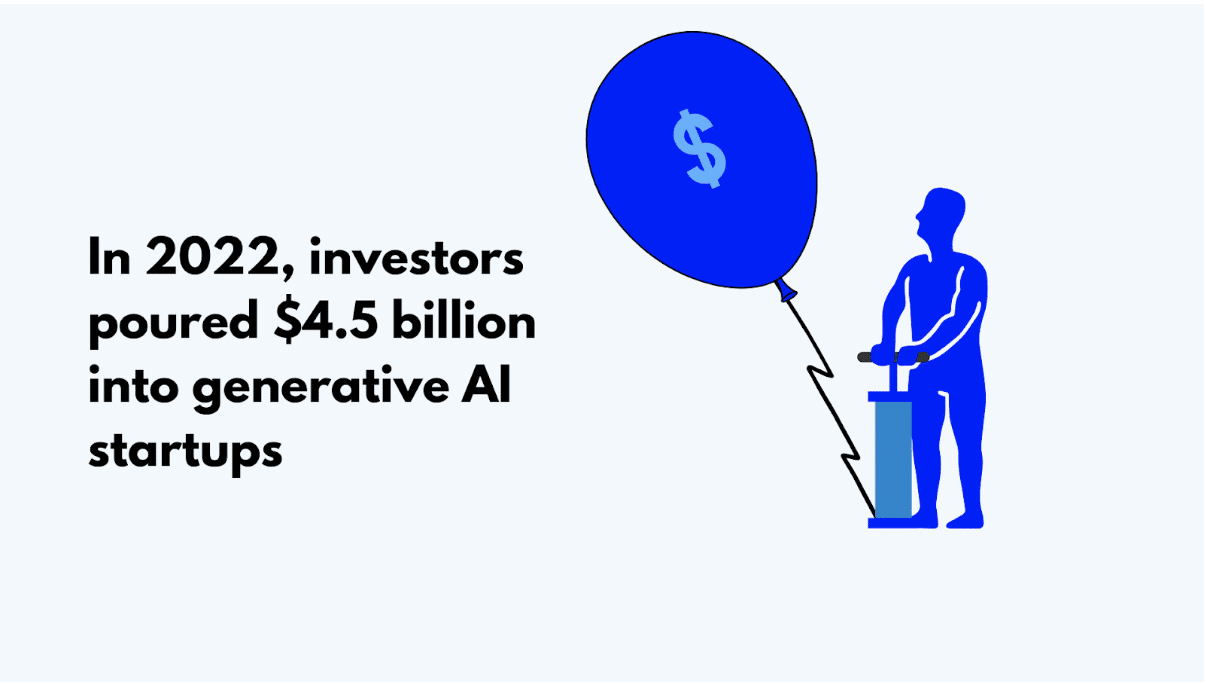 The trend carried on into 2023, with roughly $1.7 billion spread over 46 deals in Q1 2023³. Another $10.68 billion worth of deals were declared in the same quarter, pending completion³.
Number of Generative AI Startups
Experts spotted over 250 generative AI firms⁴. Of these, 33% haven't received any external equity funding, while 51% are at the Seed, Angel, or Series A stage⁴.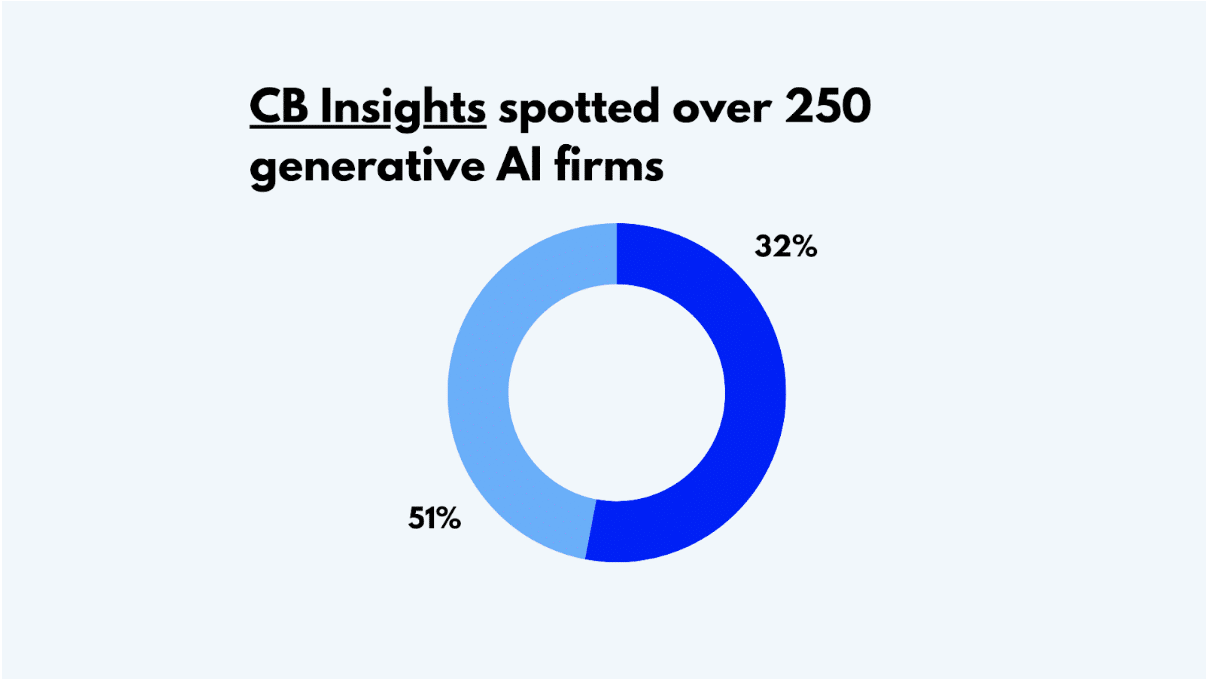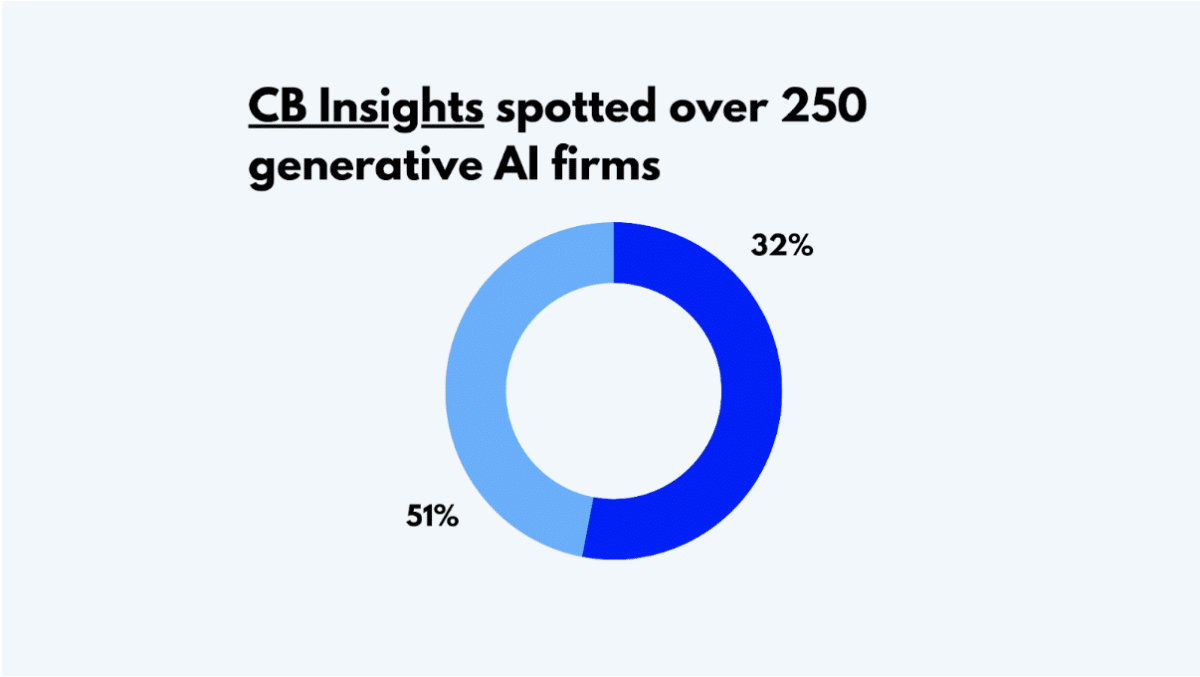 Generative AI Funding 2023
Notable funding rounds in the generative AI sector include the following⁵:
| | | |
| --- | --- | --- |
| Company | Amount Raised | Date |
| OpenAI | $10 billion, $300 million | Jan. 23 |
| Anthropic | $450 million | May 23 |
| Monogram Health | $375 million | Jan. 9 |
| Adept | $350 million | Feb. 23 |
| Sigma | $340 million | May 15 |
| AlphaSense | $325 million | Feb 21 |
Top Generative AI Venture Capital Firms
The venture capital firms most actively investing in generative AI since 2017 are⁵:
| | | |
| --- | --- | --- |
| Firm | VC Investments | Median Round Size |
| Sequoia | 32 | $18.5M |
| Andreessen Horowitz | 28 | $20.9M |
| Soma Capital | 22 | $3.1M |
| Khosla Ventures | 22 | $9.5M |
| Tiger Global Management | 21 | $30M |
These firms significantly shape the generative AI landscape by supporting innovative startups, propelling research, and encouraging partnerships.
Generative AI Systems Popularity and Examples
Generative AI systems fall into four primary categories: Reactive, Limited Memory, Theory of Mind, and Self-Aware.
| | | |
| --- | --- | --- |
| AI Type | Characteristics | Real-world Examples |
| Reactive | Predefined rules, specific tasks | IBM's Deep Blue |
| Limited Memory | Learns from history | Self-driving cars |
| Theory of Mind | Self-aware, representational | None (active research) |
| Self-Aware | Conscious, understands own behavior | None (active research) |
Sources: McKinsey, Pitchbook, Pitchbook³, CB Insights⁴,  Pitchbook⁵
---
Popular Generative AI Tools and Examples
Generative AI tools are revolutionizing various sectors by generating text, video, image, speech, audio, and code. Here are some leading examples in each category:
| | |
| --- | --- |
| Text | GitHub Copilot, Cohere Generate, Bard, ChatGPT, GPT-4, AlphaCode, Claude |
| Content Type | Generative AI Tools |
| Video | Pictory, Synthesys, Synthesia, DeepBrain AI, InVideo, HeyGen, Veed.io |
| Image | OpenAI's DALL-E 2, Stability AI's Stable Diffusion |
| Speech | Lovo.ai, Speechify, Murf, Lovo, Listnr, DeepBrain AI |
| Audio/Music | Ecrett Music, Boomy, Loudly, Soundraw, AIVA, Soundful, Amper Music |
| Code | GitHub Copilot |
These tools highlight the breadth and versatility of generative AI applications across a variety of content types.
ChatGPT User Statistics by Country
In 2023, the majority of ChatGPT users are in the United States (15.22%), with India (6.32%), Japan (4.01%), Colombia (3.3%), and Canada (2.75%) trailing¹.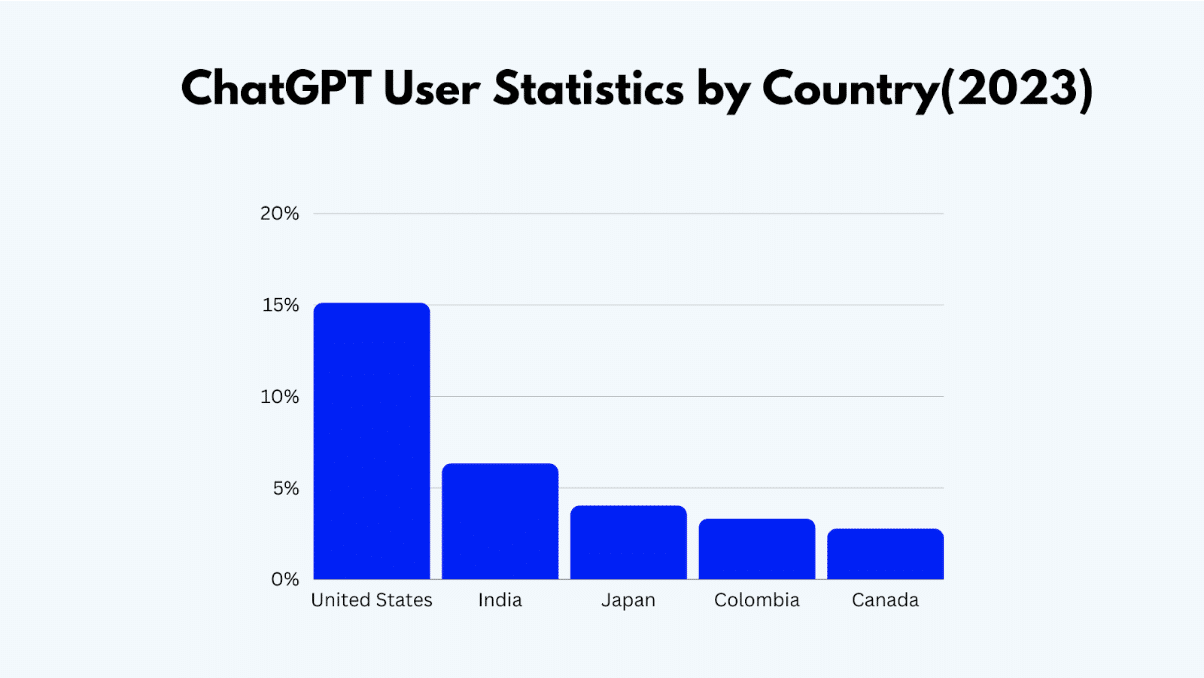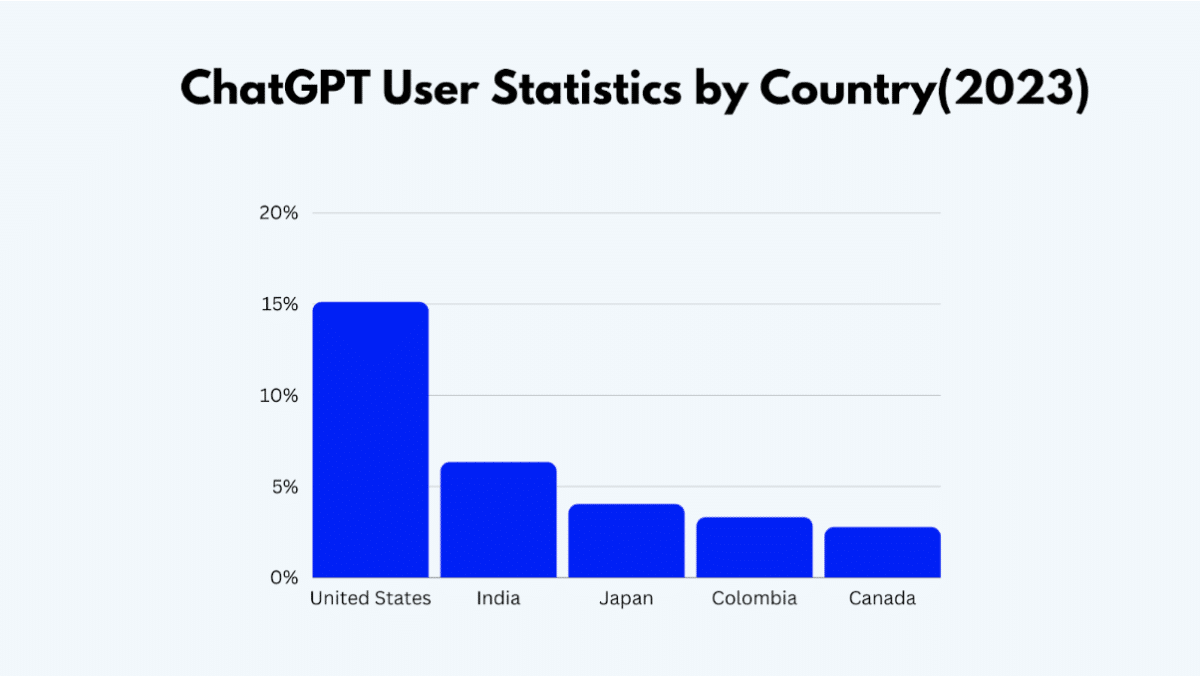 Seven countries, including Russia and China, have no access to ChatGPT.
Daily and Monthly Active Users
ChatGPT reports about 13 million daily active users, equal to Rwanda's population². The monthly user count is 1 billion².
ChatGPT User Growth
ChatGPT achieved 1 million users within its first 5 days post-launch and hit 100 million active users by January 2023, surpassing TikTok and Instagram's growth rates³. This resulted in an explosive 9,900% user base growth in only 60 days.
ChatGPT Revenue Projections
ChatGPT's revenue is projected to be $200 million in 2023, climbing to roughly $1 billion by 2024's end⁴.
ChatGPT Web Traffic Statistics
ChatGPT saw a 9.7% drop in global website traffic in June 2023, and a 10.3% decline in the U.S⁵ .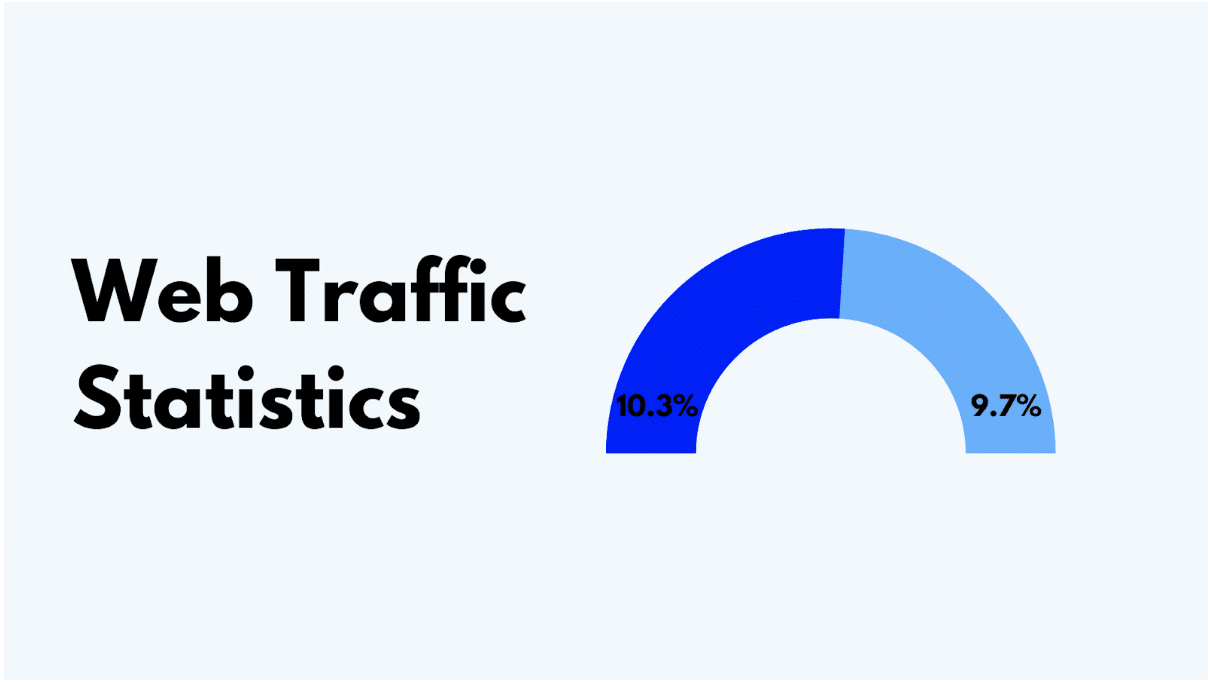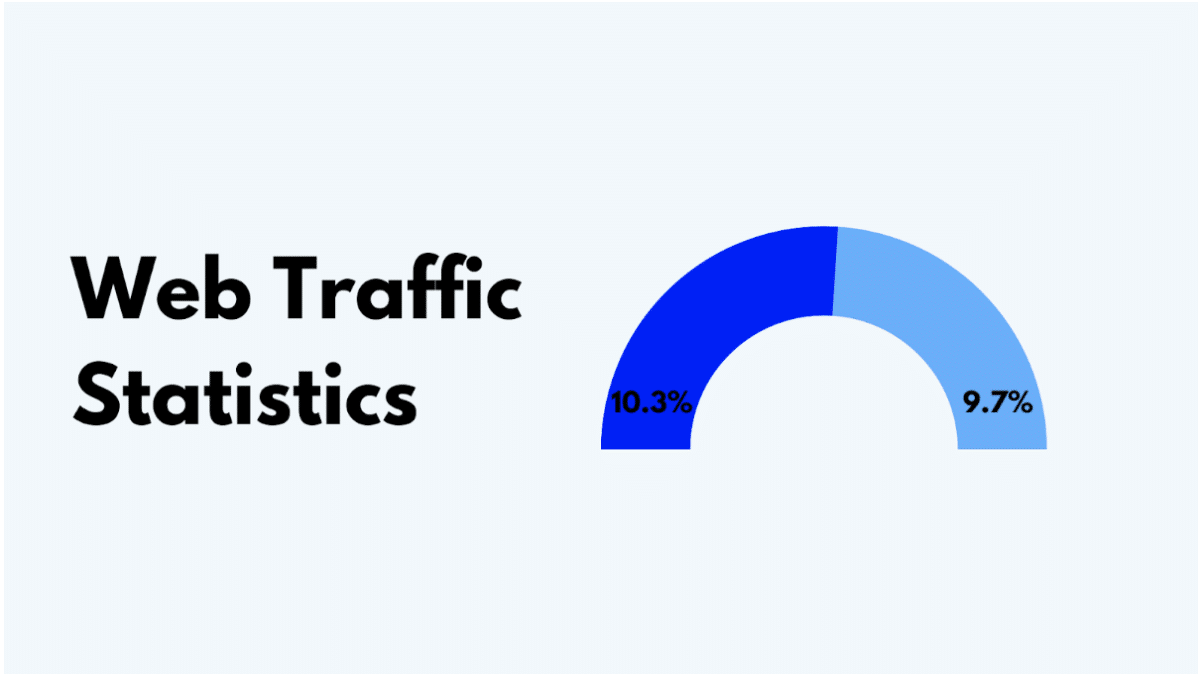 Nonetheless, monthly users grew from 1.5 billion in March 2023 to 1.85 billion in May⁴. Despite the drop in June, there were still 1.63 billion total monthly users⁶.
ChatGPT Training Statistics
ChatGPT, leveraging OpenAI's GPT-3 model, was among the most advanced language models at its 2020 launch. The current version, GPT-4, is estimated to have between 1 and 170 trillion parameters.
ChatGPT Plugins
In March 2023, OpenAI integrated ChatGPT Plugins and GPT-4 technology into ChatGPT Plus⁷.
Statistics of Other Generative AI Tools
Generative AI tools are experiencing substantial growth and usage across the globe. Here's a breakdown of some key statistics for various generative AI tools:
Google Bard Key Statistics:
Launch Date: February 8, 2023
Availability: 180+ countries and territories
Total Visits: 140.6 million⁸
Technology: Based on LaMDA (Language Models for Dialog Applications) and Transformer neural network architecture
MidJourney Key Statistics:
Total Users: 14 million on Discord server
Daily New Users: Approximately 90,000 on Discord server
Monthly Website Visitors: 3-4 million
Microsoft Bing Chat Key Statistics:
Launch Date: February 2023
Daily Active Users: 100 million
Waitlist Users: Over 1 million within 48 hours of the announcement
OpenAI GPT-4 Key Statistics:
Launch Date: March 14, 2023
Features: Large multimodal model accepting image and text inputs, emitting text outputs
Accomplishment: Successfully passes a simulated bar examination, scoring within the uppermost 10% of participants.
DALL-E Key Statistics:
Active Users: Over 1.5 million
Daily Generated Images: 2 million
RunwayML Key Statistics:
Audience Gender Distribution: 66.99% male, 33.01% female
Largest Age Group: 25-34 year-olds
AIVA Key Statistics:
Websites Using AIVA: 13,963
Live Websites Using AIVA: 2,754
DeepArt.io Key Statistics:
Launch Date: October 1, 2015
Audience Gender Distribution: 58.96% male, 41.04% female
Largest Age Group: 25-34 year-olds
These statistics underline the wide-reaching influence and adoption of generative AI tools across a variety of sectors and audiences.
Sources: Similar Web¹, Similar Web², Reuters³, Reuters⁴, Similar Web⁵, AI Business⁶, OpenAI⁷, and Similar Web⁸
---
Generative AI's Impact on Businesses and Performance
Generative AI promises to reshape industries and professions, potentially adding $2.6 to $4.4 trillion annually across 63 use cases¹.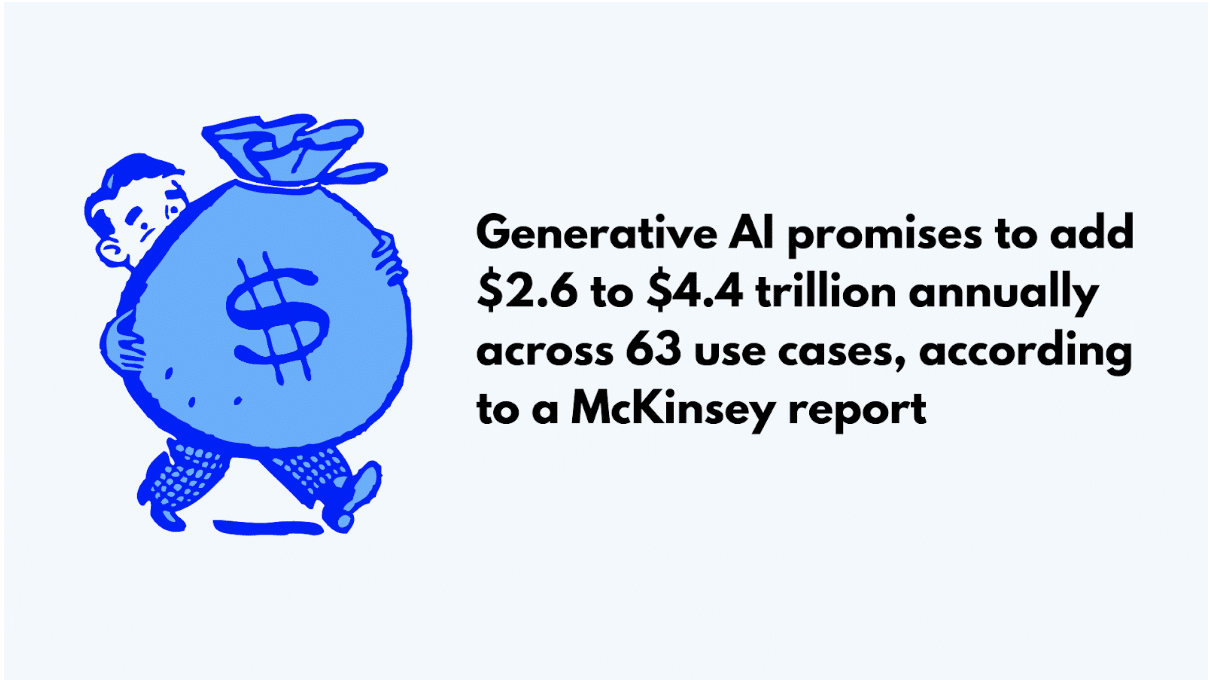 Yet, this revolution brings job displacement concerns, with Goldman Sachs predicting that Generative AI will affect two-thirds of all US jobs, automating 25% – 50% of their tasks.
Gender Considerations
While some fear that generative AI might disproportionately impact women's jobs, the Goldman Sachs report indicates equal gender distribution among the top 15 automation-prone occupations.
Performance Boost with Generative AI
Generative AI has delivered performance enhancement in various roles. Workers utilizing generative AI models saw a 13.8% increase in resolved customer chats per hour².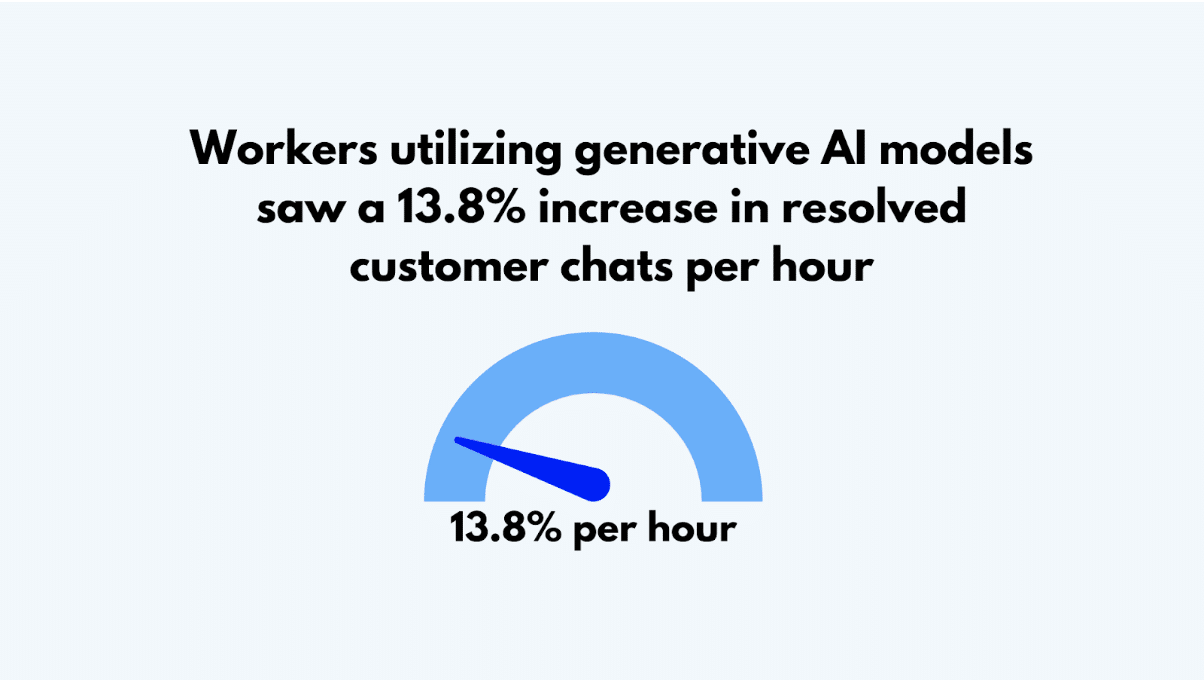 It can particularly benefit novice workers by elevating productivity and reducing workforce inequality.
The Balance of Job Creation and Disruption
Despite potentially automating tasks and disrupting jobs, generative AI is also projected to generate new roles. The World Economic Forum forecasts that while machines could replace around 85 million jobs by 2025, they could also create 97 million new positions³.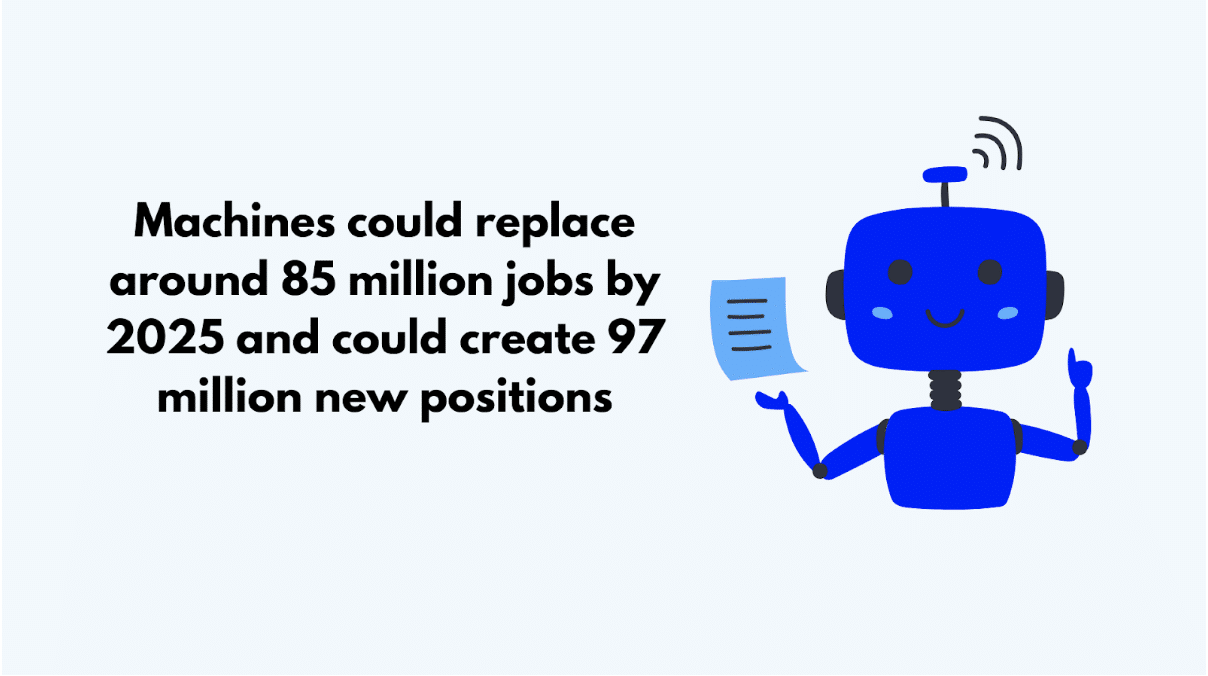 Top Generative AI Trends in 2023
Refined NLP: Improved virtual assistants, sentiment analysis, and conversational AI due to evolved Natural Language Processing (NLP).
Enhanced Generative Models: Better quality and realism in AI-generated content with advancements in generative adversarial networks (GANs) and variational autoencoders (VAEs).
Broadened Applications: New uses of generative AI in material science, drug design, parts design, and synthetic data.
Evolved 3D Model Generation: Increased use of generative AI for lifelike 3D models.
AI-Boosted Creativity: More usage of generative AI in creative tasks like content creation, design, and art.
Enhanced Hyper-Personalization: More tailored experiences across industries thanks to generative AI.
Expanded Intelligent Process Automation: More automation and optimization across sectors with generative AI.
These trends emphasize the ongoing evolution and broad impact of generative AI in 2023 across various sectors and applications.
Ethical Concerns in Generative AI
Biased training data can cause AI models to disrespect certain groups, spread propaganda, and produce offensive content⁴.
The World Health Organization (WHO) warns that biased training data may yield misleading information and facilitate disinformation⁵.
Legal and Competitive Issues in AI
AI has the potential to leverage its market dominance, which could lead to discriminatory practices and the elimination of competition.
Among the top 15 occupations at risk of automation due to generative AI, gender distribution is roughly equal, indicating widespread impact⁶.
Misinformation, Privacy, and Bias in AI
Generative AI models like ChatGPT provide accurate information only 25% of the time⁷.
AI bias, which leads to unfair or discriminatory results towards certain groups, is a persistent issue⁸.
Generative AI tools, which process extensive personal data, pose privacy concerns and potential security risks⁹.
These statistics underscore key challenges in the AI industry, including ethical dilemmas, legal hurdles, competitive issues, and potential for misinformation and privacy infringements.
Sources: McKinsey¹, MIT², World Economic Forum³, eWeek⁴, Reuters⁵, Federal Trade Commission⁶, Santa Clara University⁷, Dentons⁸, Brandeis University⁹
Conclusion
The Generative AI Industry Report 2023 showcases a rapidly evolving landscape with significant economic potential, wide-ranging applications, and emerging trends. However, the industry also faces substantial challenges such as ethical concerns, legal hurdles, and potential bias. As the generative AI market grows, it will continue to profoundly reshape businesses and job roles, enhance performance, and introduce new complexities.