New smartphones are released yearly, but only a few make the headlines because of their superior features. If you plan to upgrade your device, you certainly want to get the best available. However, you might need help choosing between an Android or Apple device.
The iPhone 14 Pro Max is Apple's best and most sophisticated product, and Google Pixel 7 Pro arguably reserves the same title for Android devices. This article compares the camera features of the iPhone 14 Pro with the Google Pixel 7 Pro in a battle for the best of the best.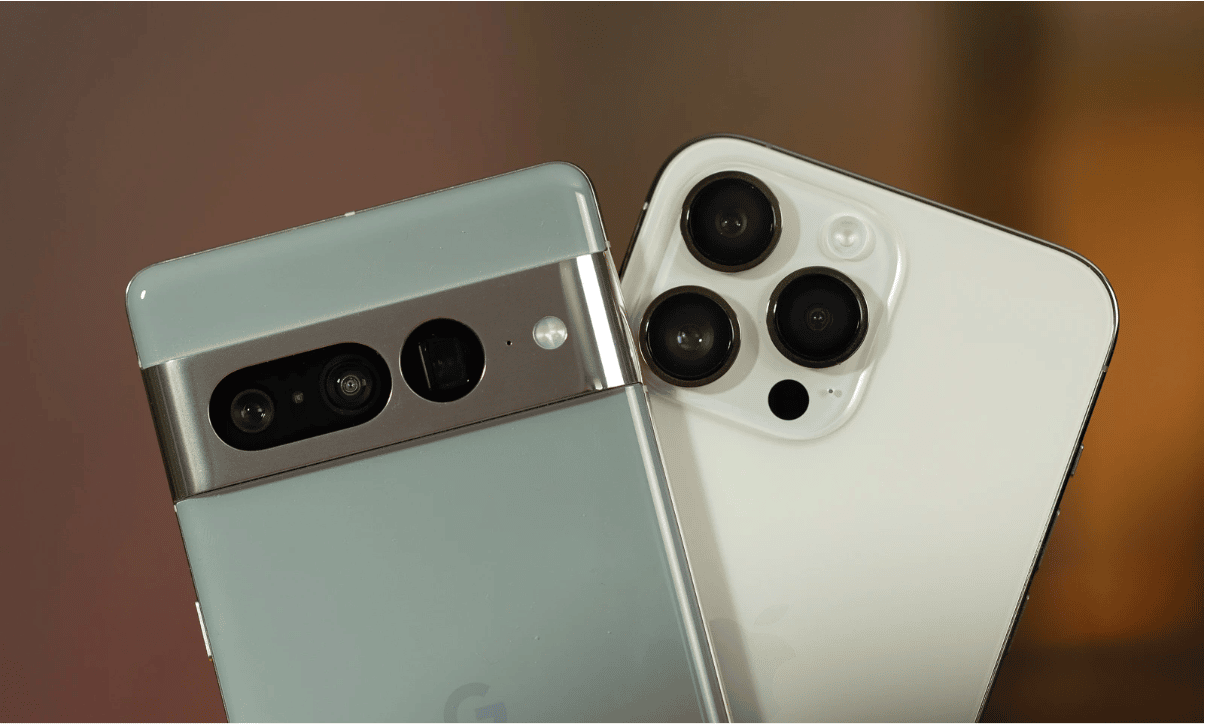 A Brief Overview Of Apple iPhone 14 Pro Max and Google Pixel 7
iPhone 14 Pro Max
Ideally, the term "Pro" hints that a person or thing possesses superior qualities. So when "Pro" and "Max" are used side-by-side, you should expect grandeur.
An announcement for the release of the iPhone 14 series was made on the 7th of September, 2022, at an Apple event. Preorders for the phone began two days after, and it was eventually released to the market on the 16th of the same month.
iPhone 14 Pro Max uses an LTPO Super Retina XDR OLED display and 1290 x 2796 pixel resolution at 460 PPI. The phone is one of Apple's first devices to use the iOS 16 operating system and is accompanied by Apple's A16 Bionic chipset and Hexa-core CPU for high performance.
According to Apple, the iPhone Pro Max's battery can last up to 95 hours with audio playback, 29 hours for video playback, and 25 hours for streaming videos. The battery charges up to 50% in 30 minutes for a 20W wired charger. It also supports wireless charging up to 15W and 7.5W for Qi charging. All iPhone 14 Pro Max come with 6GB RAM and a variety of 128GB, 256GB, 512GB, and 1TB for storage space.
The main and selfie camera of the iPhone 14 Pro Max can capture up to 48 and 12 megapixels, both of which can conveniently shoot 4K videos. We will cover more about these cameras and their functions later in the article.
powered by PriceRunner
Pixel 7 Pro
Google Pixel 7 Pro was unveiled on the 6th of October 2022 alongside the Pixel 7 and a new Pixel Watch before it was released exactly a week later on the 13th of October 2022. It is a mid-range phone with many features that offer more value for your money.
One striking feature of this device is the 6.7 inches LTPO AMOLED display embodying 1440 x 3120 pixels resolution and ~88.7% screen-to-body ratio. With these screen specifications and the new Google Tensor G2 chipset, Android 13 OS, and Octa-core CPU, streaming high-definition videos, playing video games, and running high graphics applications are now smoother and faster.
Google Pixel 7 Pro comes with an in-built Li-Ion 5,000mAh battery that charges 50% in 30 minutes with Google's 30W Charger and lasts up to 72 hours with Extreme Battery Saver. It supports wireless charging up to 23W and can use reverse wireless charging to charge QI-enabled devices. For the storage capacity, Google allows you to choose between 8 and 12GB LPDDR5 RAM and 128, 256, and 512 GB UFS 3.1 ROM.
The camera is one of the most notable features of the Google Pixel 7 Pro. It has 10.8 MP and 50 MP front and back cameras, with enhanced camera and video features, and we will provide more details about the phone's camera in this article. However, the security, authentication, audio, connectivity, and other miscellaneous features of the Google Pixel 7 Pro prove that the phone is nothing short of excellence.
The Showdown: Camera Supremacy
The Google Pixel 7 Pro and Apple iPhone 14 Pro Max might not come from the same manufacturer, but they have a few things in common other than the "Pro" in their names. Both devices have three rear cameras and are phenomenal for their supreme picture quality. The rest of this section will compare both cameras and their output in different locations and under different light conditions.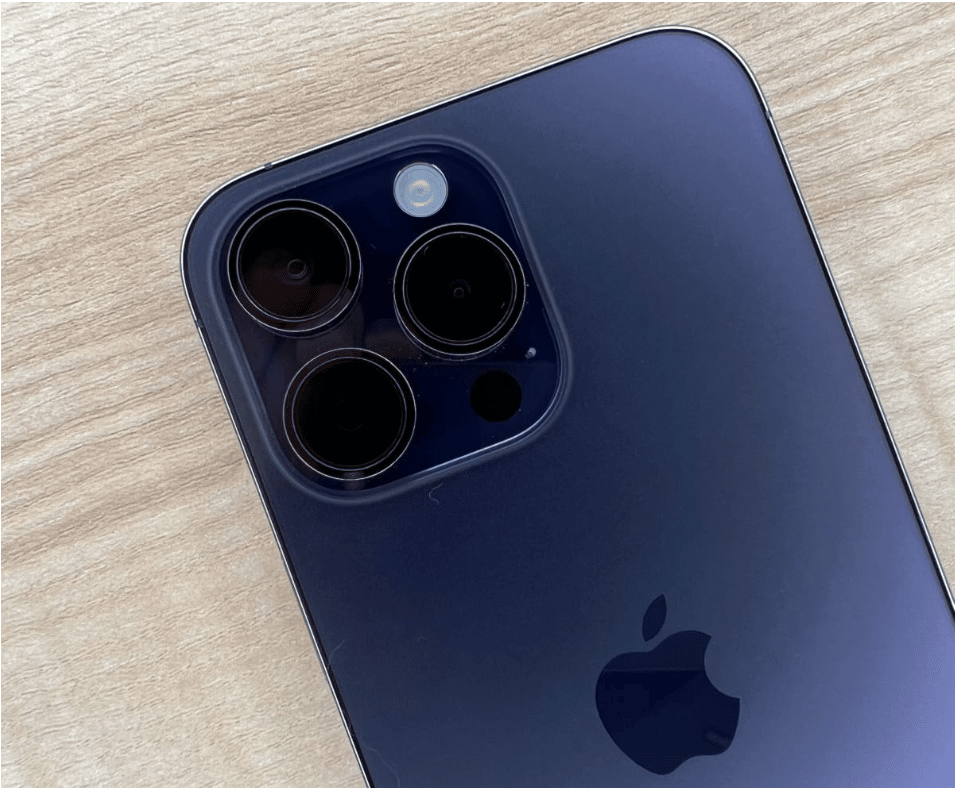 The Apple iPhone 14 main camera is a 48MP second-generation sensor with a perfect focus for capturing the tiniest details. The other two cameras are 12MP sensors for ultra-wide capturing up to 120° and telephotography of up to 3x optical zoom range. The front camera is also a 12MP sensor that allows users to take pictures in portrait, at night, and in other conditions. The main and selfie cameras can record 4K videos of up to 1080p in HDR, slo-mo, and other video modes.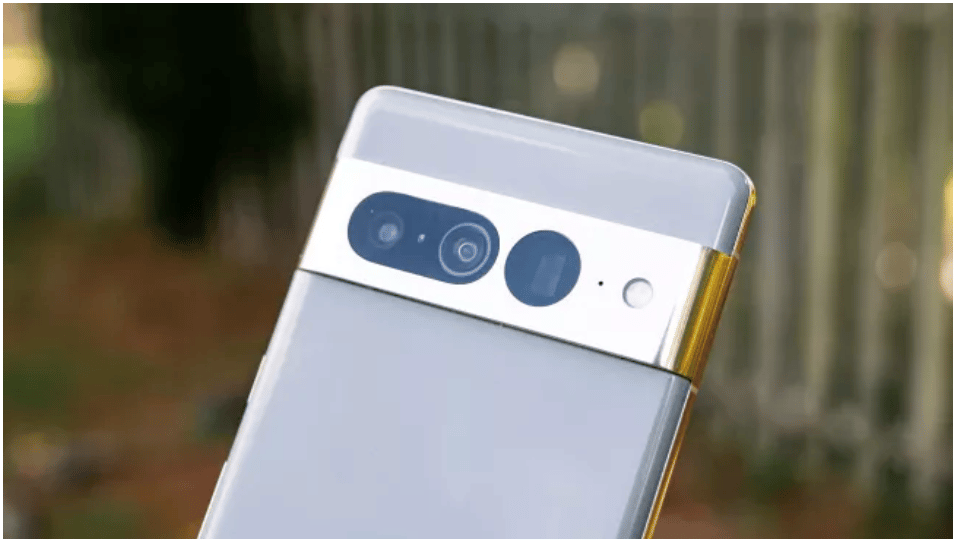 The Google Pixel 7 Pro's primary camera has a 50MP sensor that does most of the work in picture and video capturing. There is also a 12MP sensor that allows the phone to capture images and videos from an ultrawide angle. Then the third and final camera is a 48MP telephoto sensor that allows the phone to capture accurate details on a 5x zoom level. The front camera has a 10.8 MP sensor with outstanding performance in several conditions.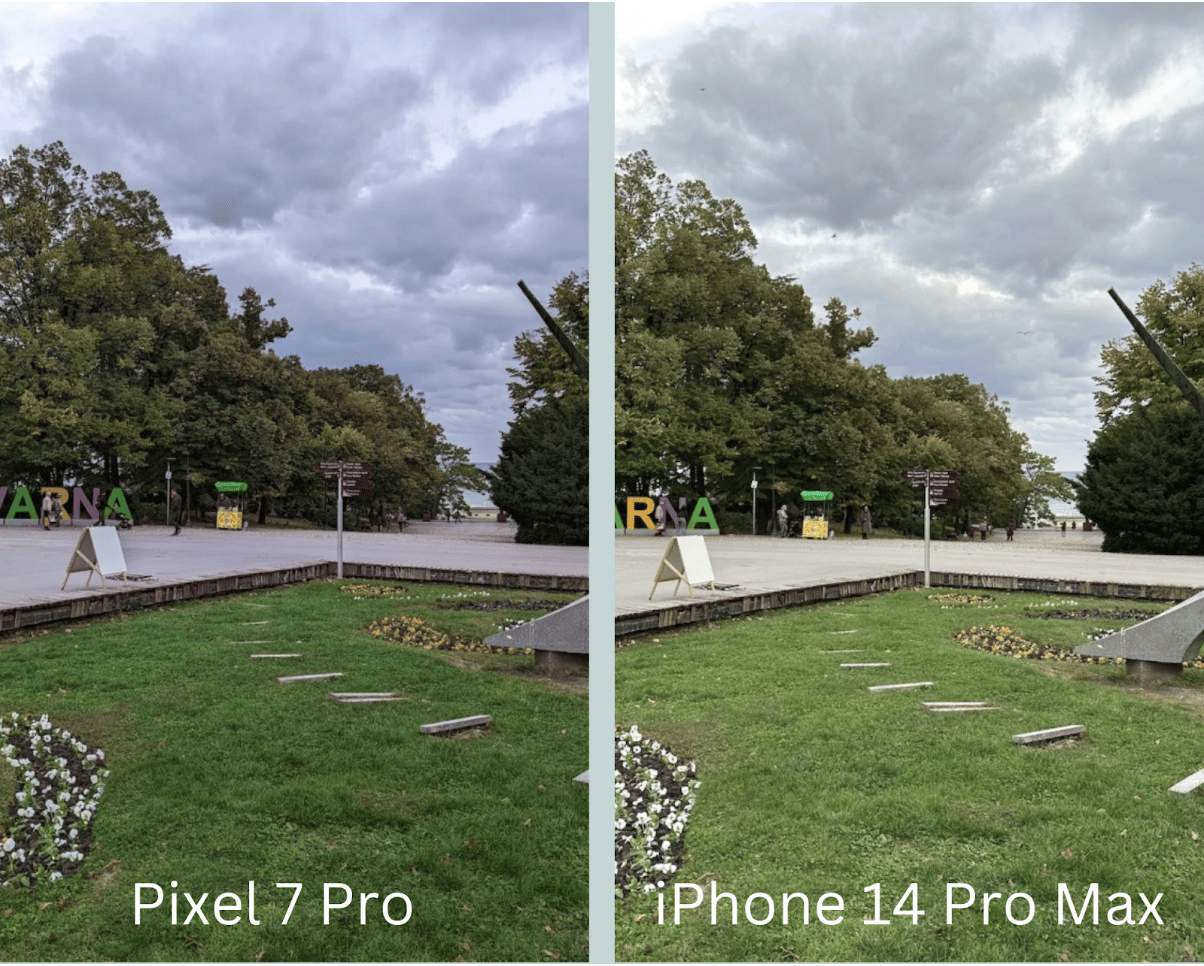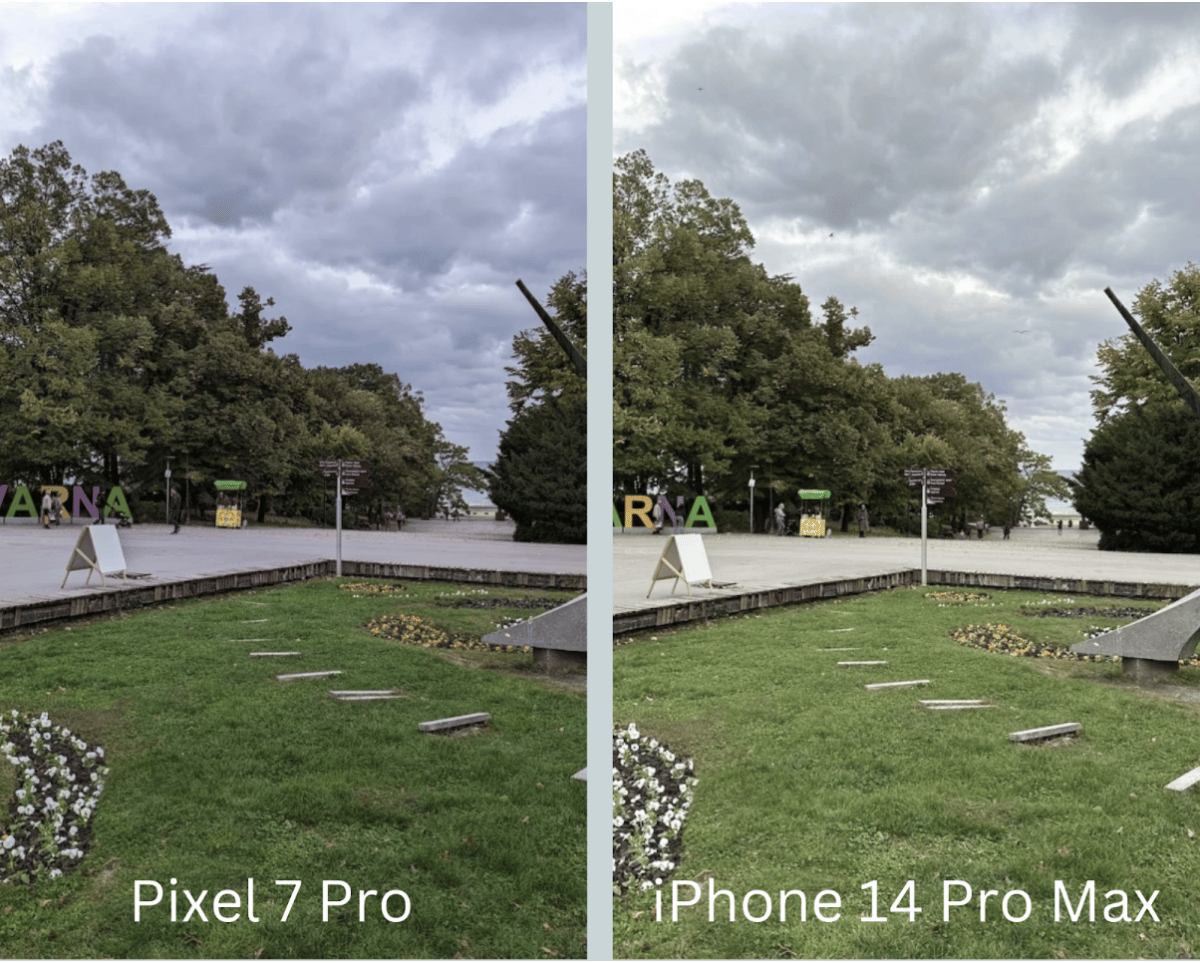 The images above show the main camera images of both phones taken at a park. The pictures show how well both devices capture every detail of the surroundings. On the one hand, the iPhone 14 Pro Max produced a brighter image, making dark areas like under the trees and the deep clouds appear light. On the other hand, the Pixel 7 Pro provided a better shade of dark and highlighted natural colors better than its counterpart.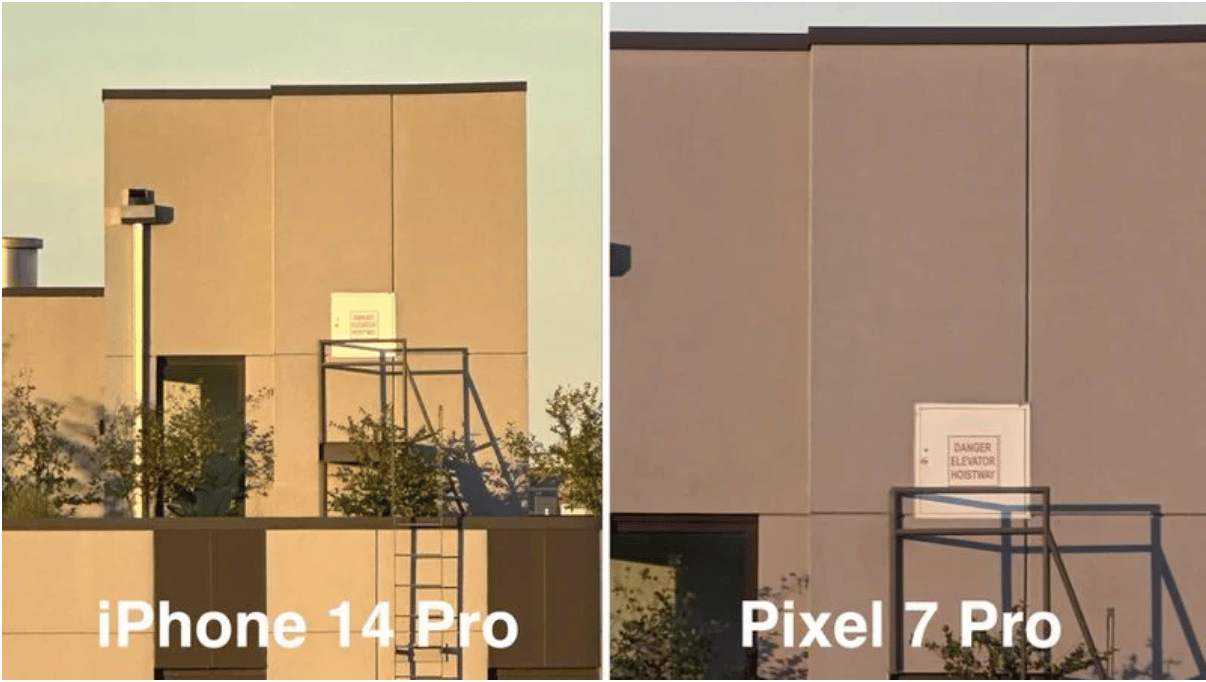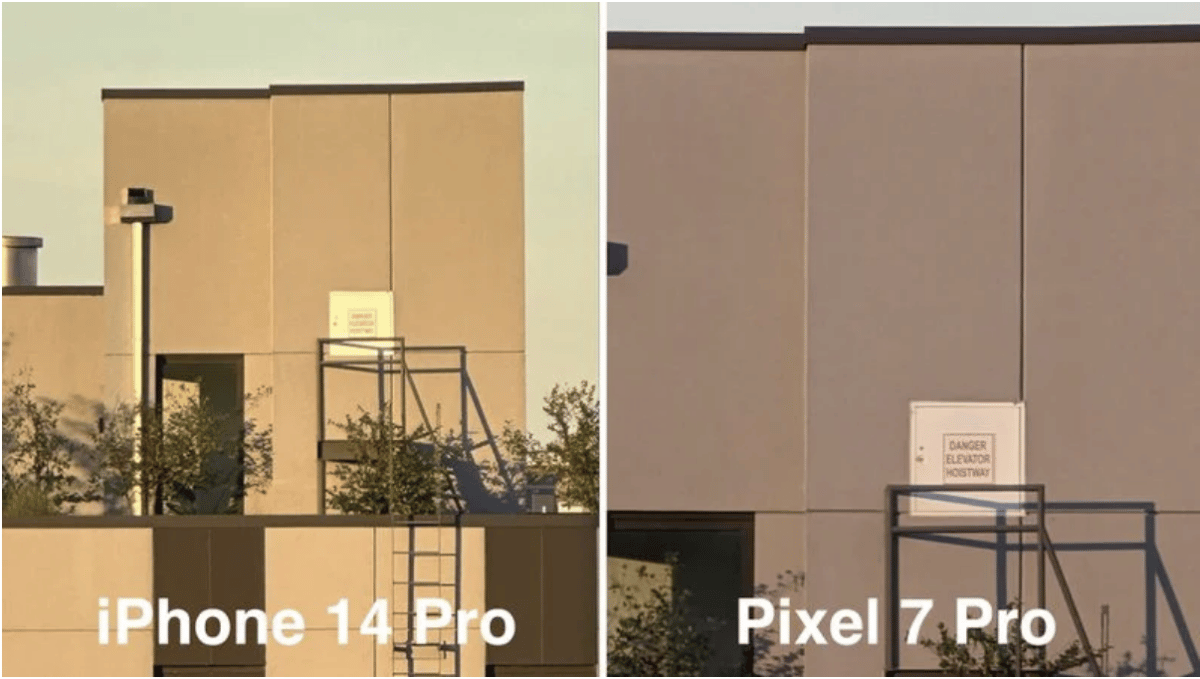 The iPhone 14 Pro Max and Pixel 7 Pro were used to capture this outdoor image to test the telephoto camera from the same position. From this image, the 5x zoom camera of the Pixel 7 Pro could zoom in farther than the 3x zoom camera of the iPhone 14 Pro Max. The Pixel 7 Pro image still looks darker than what was captured on the iPhone 14 Pro Max.
It is also worth noting that the Pixel 7 Pro has an extra 30x Super Res digital zoom feature that enhances the resolution for pictures taken at a distance.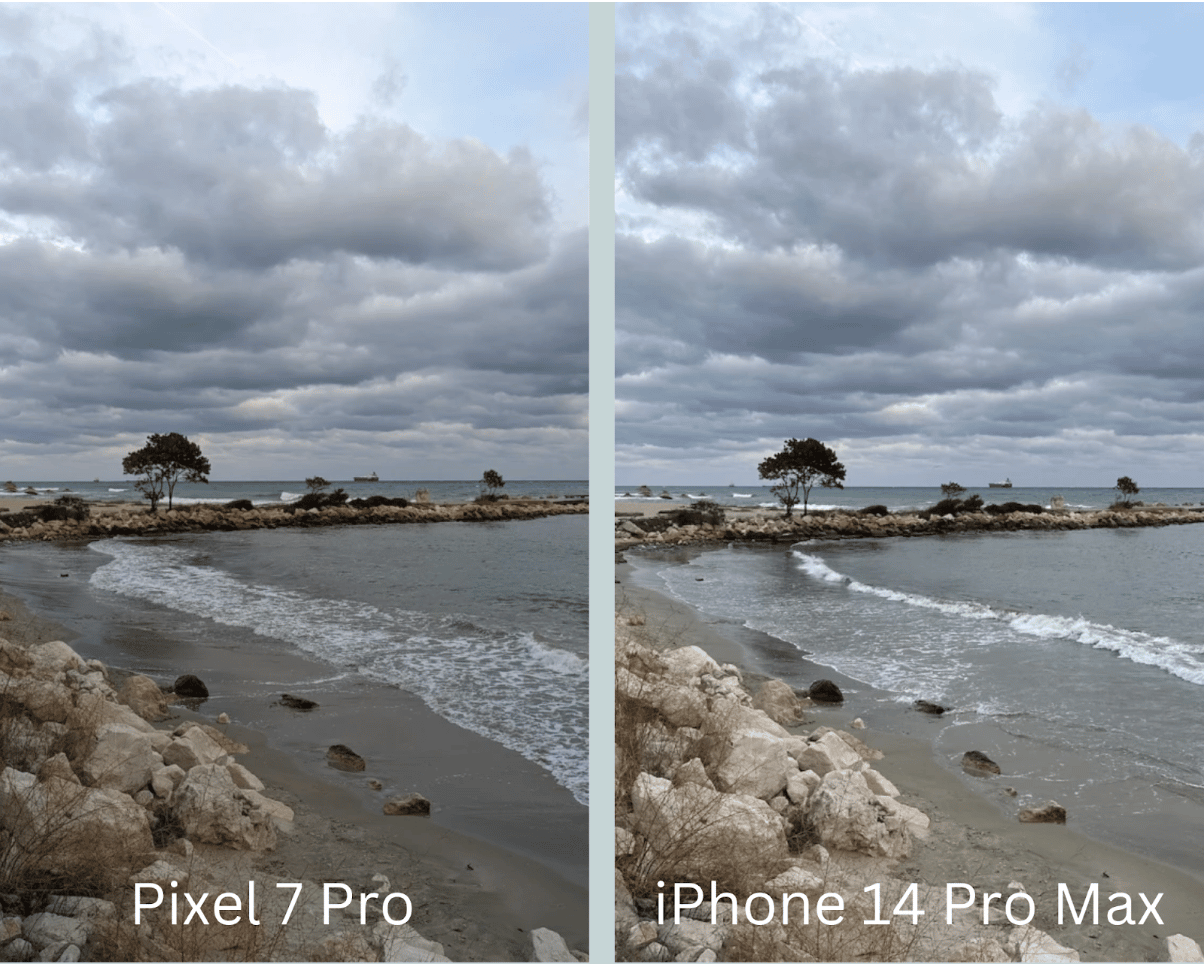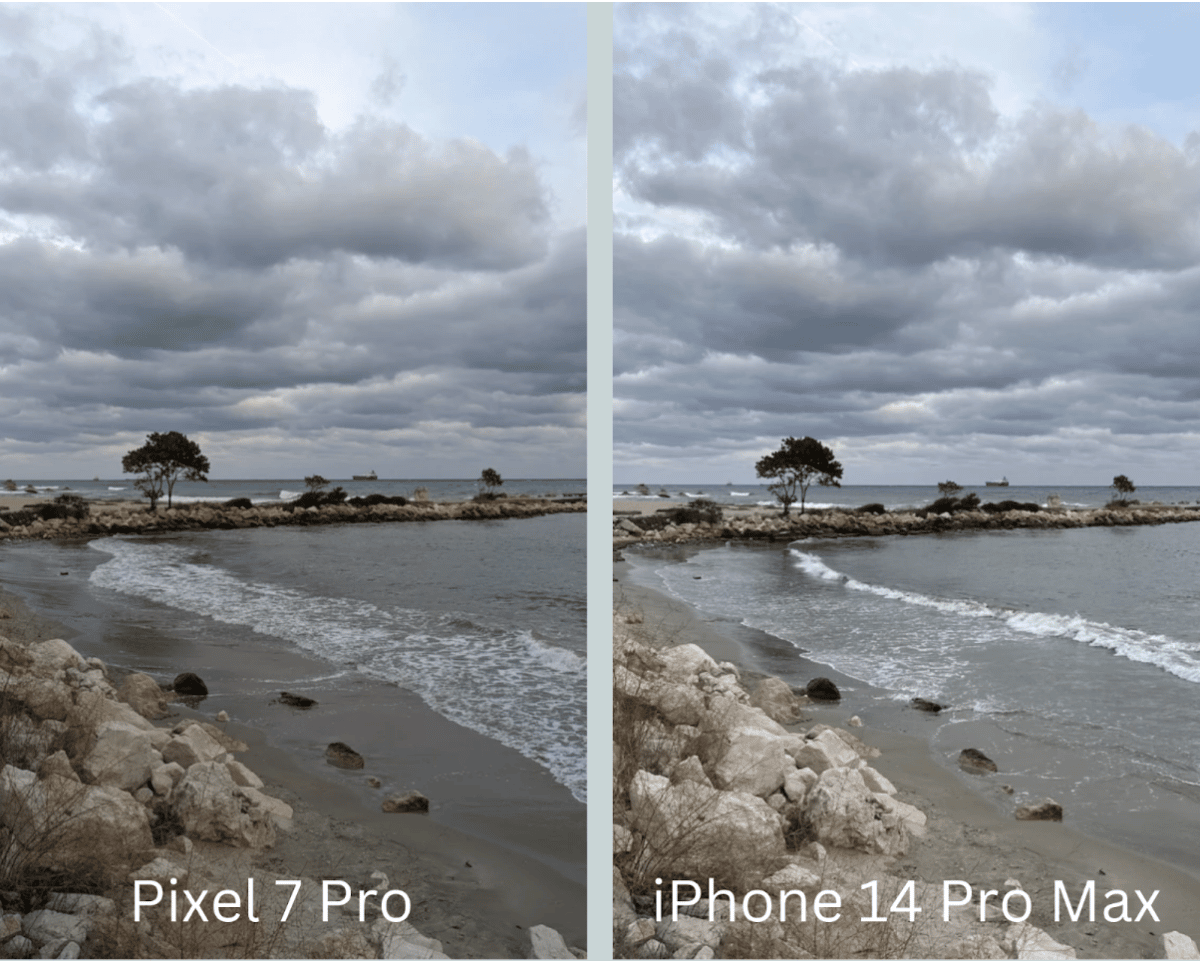 There is little to say about the ultra-wide sensor of both cameras other than the previously stated fact that the iPhone's image is relatively warmer, and the Pixel produces more natural images. However, it is undeniable that both cameras have excellently captured the images' high contrast.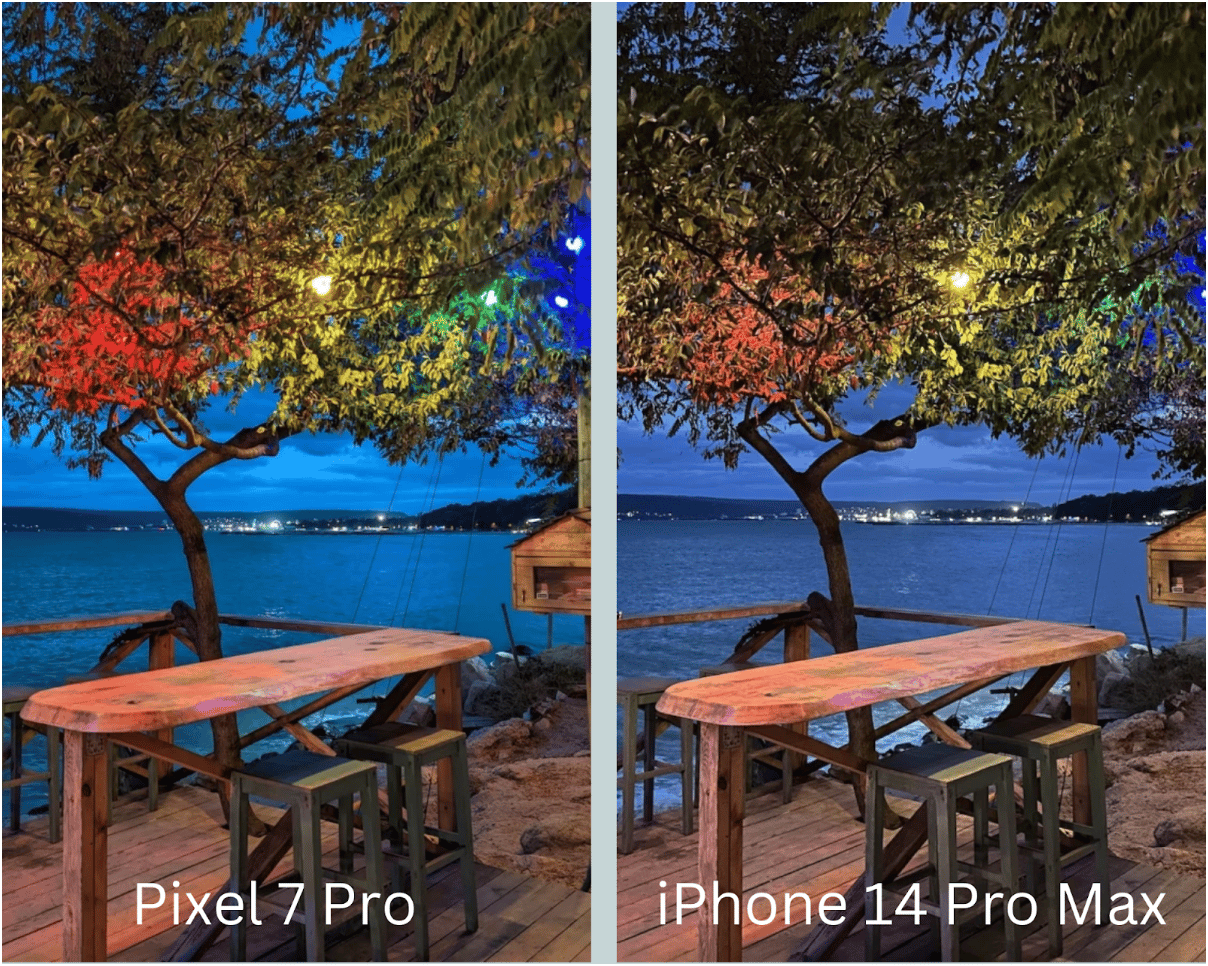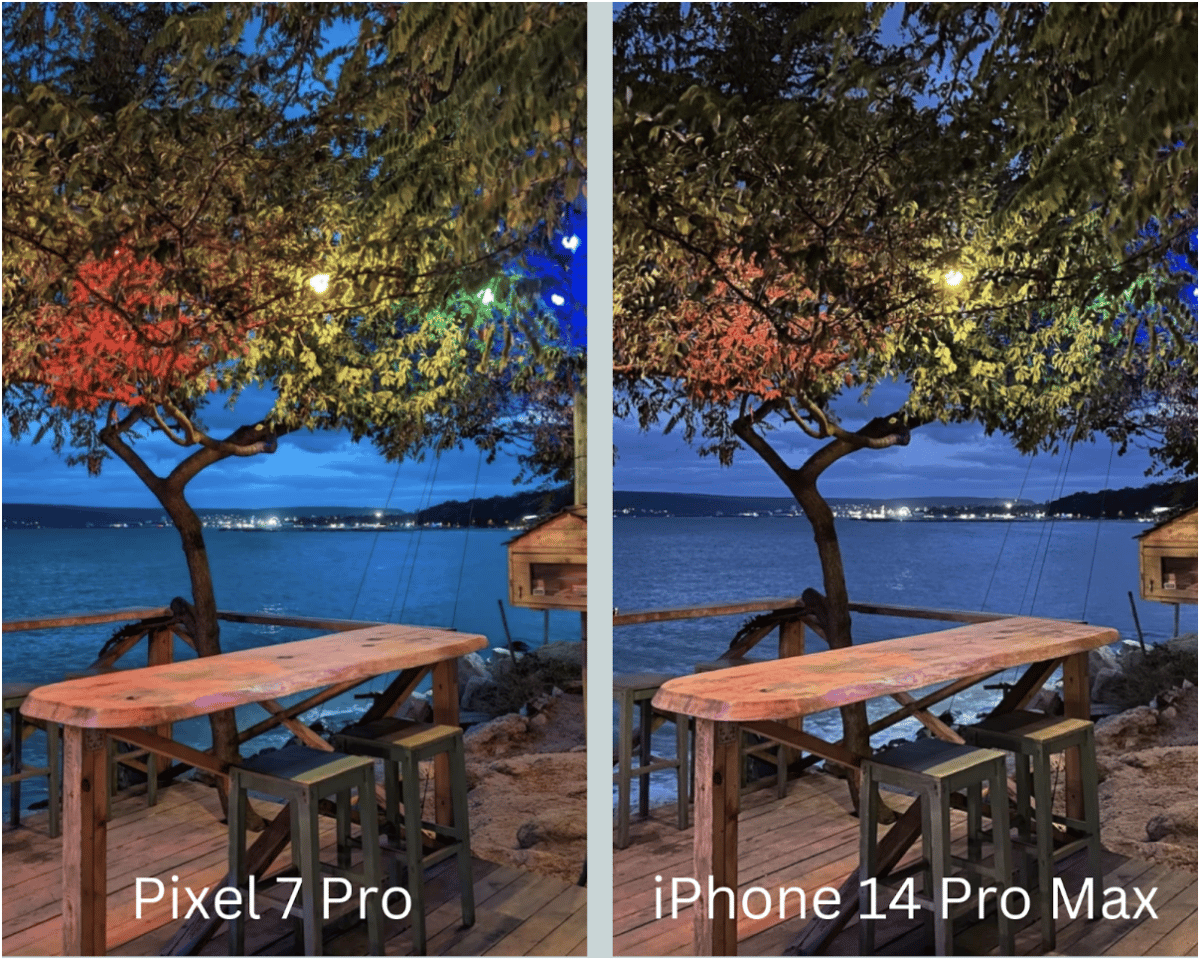 Here, we have two pictures taken at night to check the night light quality of the two cameras. Here, the awareness we noticed in iPhone 14 Pro Max's pictures earlier sharpens the image and adds more light. However, the Pixel image remains darker and more natural. The Pixel image also has more color balance than the iPhone, but light bulbs show too much reflection, whereas the iPhone could control the bulbs' reflections.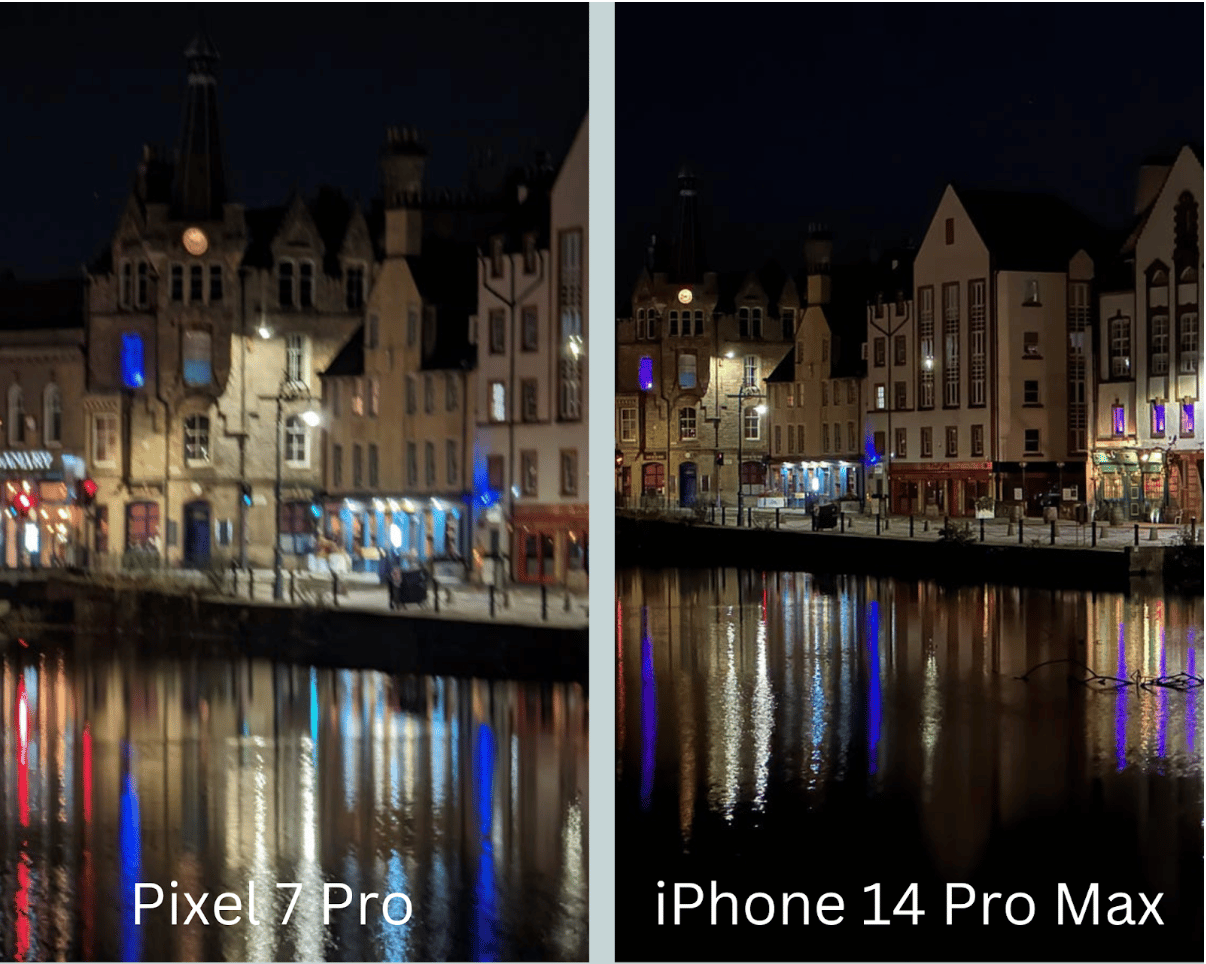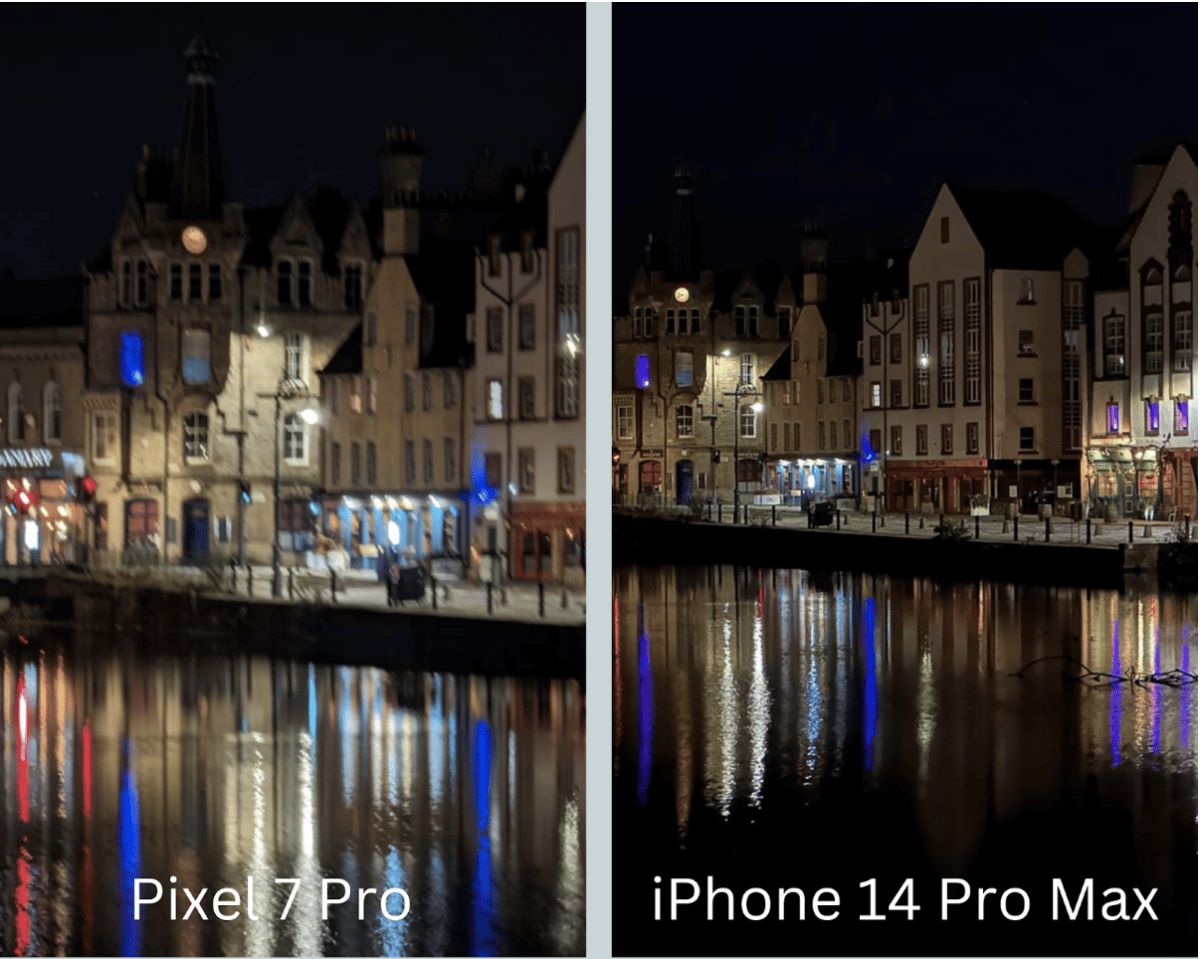 These pictures were taken at night with the Pixel 7 Pro's 5x and iPhone 14 Pro Max's 3x zoom camera. In these pictures, the Pixel 7 Pro's picture appears blurred despite proper positioning before the picture was taken. However, the iPhone 14 Pro Max's picture is more stable with sharp details.
So, which Camera Is Better?
The Pixel phone took more natural images and zoomed better in well-lit areas. However, the iPhone showcased superior performance when used at night. It would be difficult to decide which phone came out on top in this camera showdown because both of them lived up to expectations, and if any decision were to be made, it would come down to personal preference. If you are trying to choose which phone to buy, consider what operating system you are more comfortable with and the prices of both devices.