Forza Horizon 5 is the new successor in the Horizon series and has taken the place of the previous, Forza Horizon 4, which was released in 2018 and quickly became one of the most beloved racing games out there. Forza Horizon 5 has somehow managed to exceed all expectations and hype that gamers expected of this new Horizon game with its upgrades to graphics, more engaging campaign and an amazing roster of cars.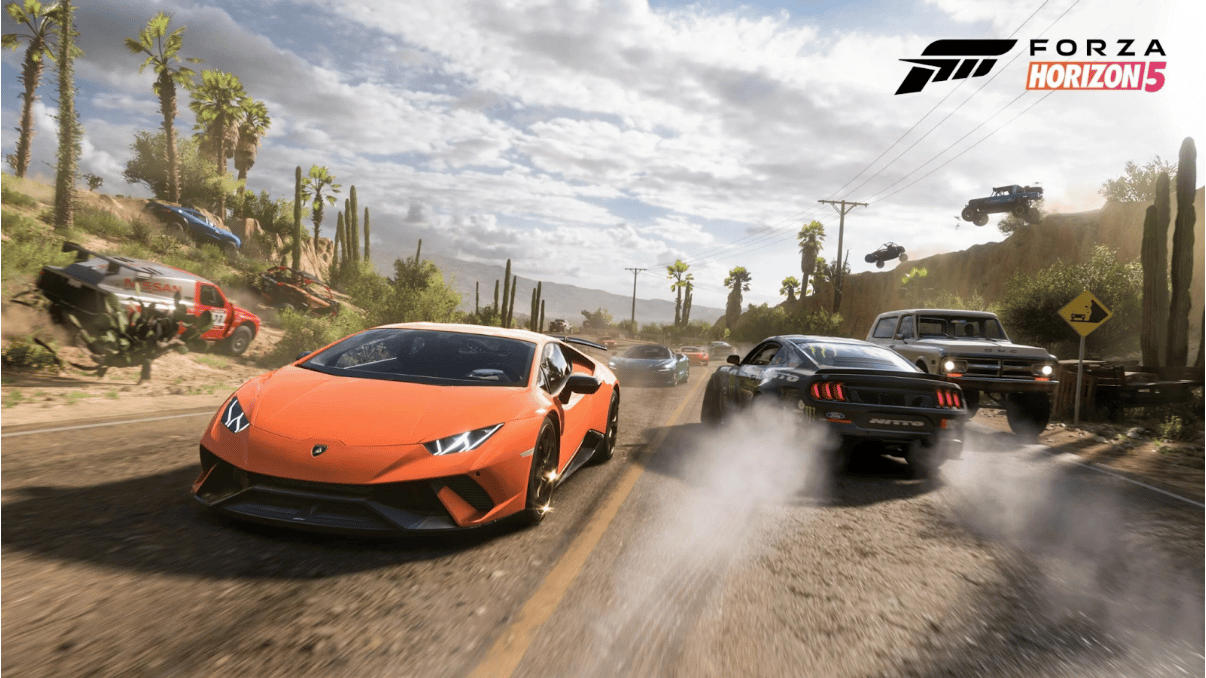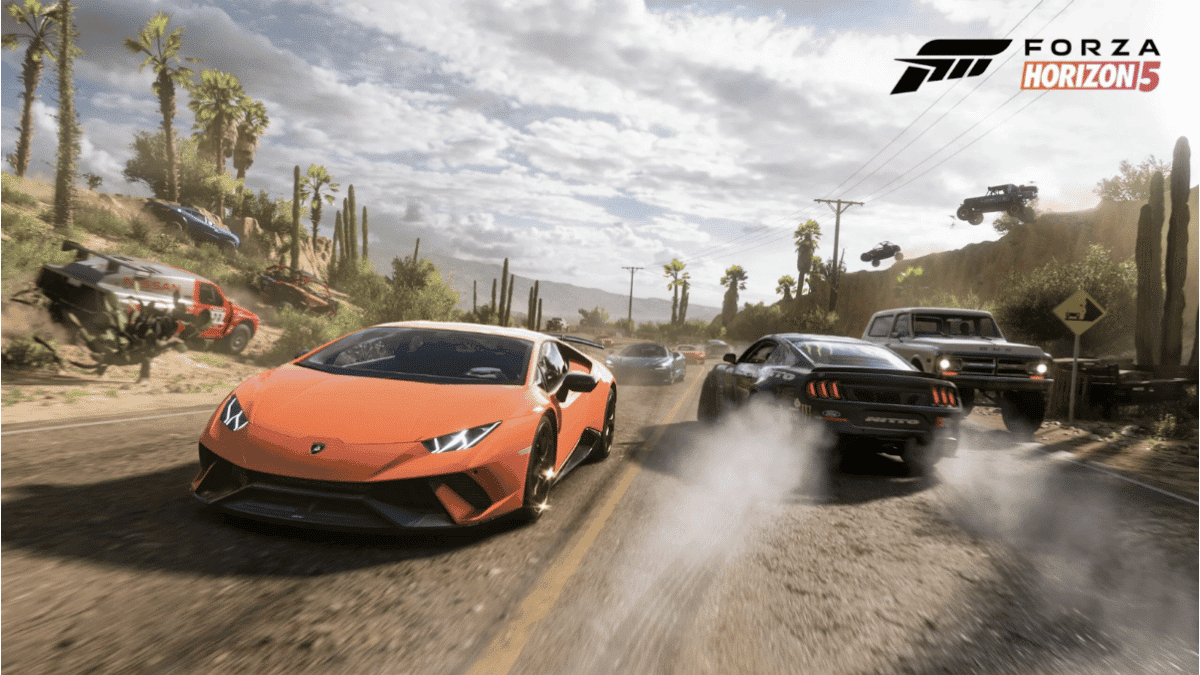 Forza Horizon 5 is an open world sim racing game which was released in 2021 by Playground Games for the platforms; Xbox One, Xbox Series S/X and Microsoft Windows as well.
This Horizon game was set in Mexico which offers a very diverse and verified landscape for gamers to explore, while all this detail was added, not a drop of size was taken away and we are all happy to know the map is as big as ever. The developers were able to include this level of detail by using photogrammetry data in order to have it look as realistic and similar to the real world as possible.
This served them very well as we saw that the game had attracted over 20 million players just seven month after it was released and went on to win The Game Awards for; Best Audio Design, Innovation in Accessibility and Best Sports/Racing Game in 2021.
The Map
Forza Horizon series have always tried to emphasise their gorgeous, big open world maps by making them as engaging as they can for players to want to race through them without getting bored. The location of the game is the first thing that the producers figure out because virtually every step or thing they add like cars, music, story etc, will be affected by where the game takes place. The Forza Horizon Franchise aims to make their games as real-feeling for their racers as possible.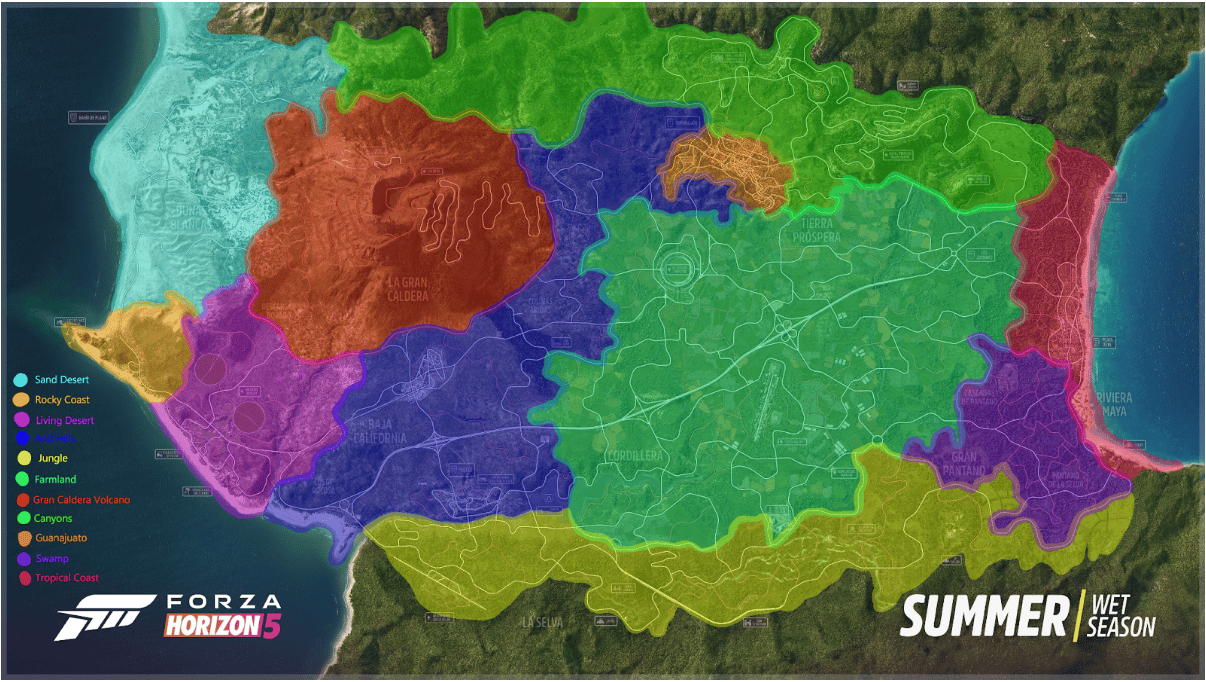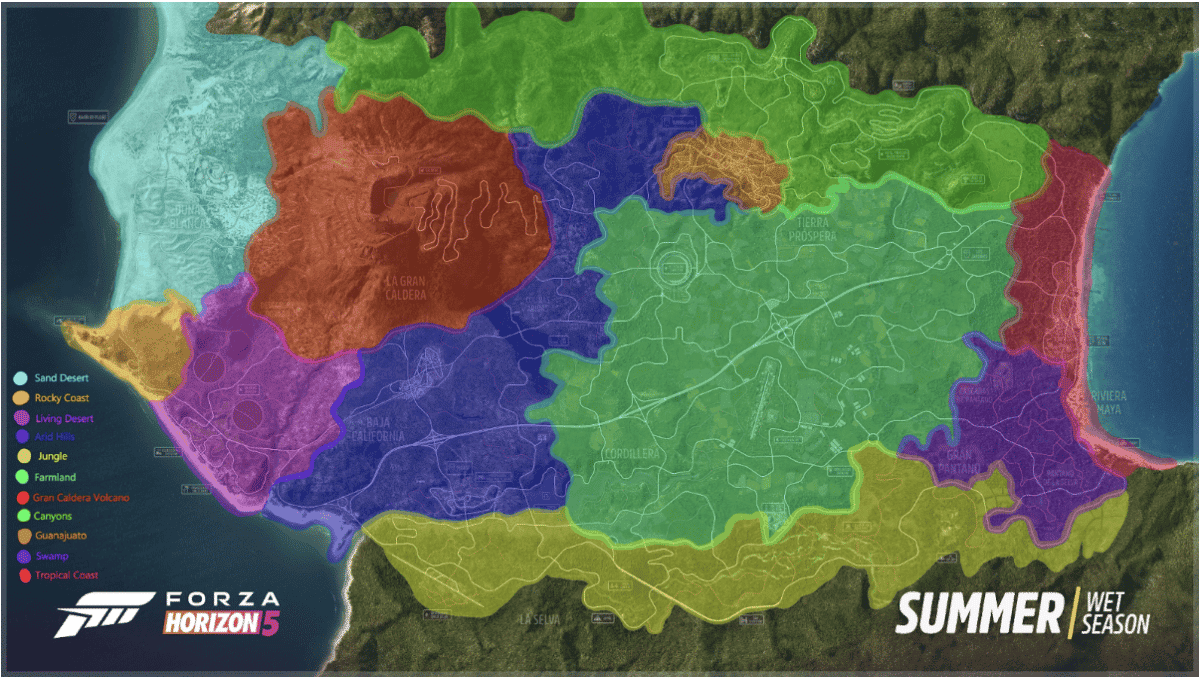 This new Mexico map that they've designed is the biggest and most detailed map which Forza Horizon has ever come out with. Many people were speculating about how well the game would do when they found out that it would be based in Mexico and not Japan, which was a big rumour. People thought that Mexico would be boring to race around in because expectations from Mexico were that it would just have been dessert and sand everywhere. These critics could not have been more wrong with the release of this game. Players were quick to realise that this is the most diverse Horizon game yet, with all the 11 different biomes you are able to travel to.
This was a huge jump from the Forza Horizon 4 game because although it was amazing in its own way, the fact that it was set in the United Kingdom did bring some backlash to the developers as players were complaining that the game was too uniform. Horizon 4 simply just lacked the variety and diversity of biomes which Horizon 5 has brought to the table in 2021.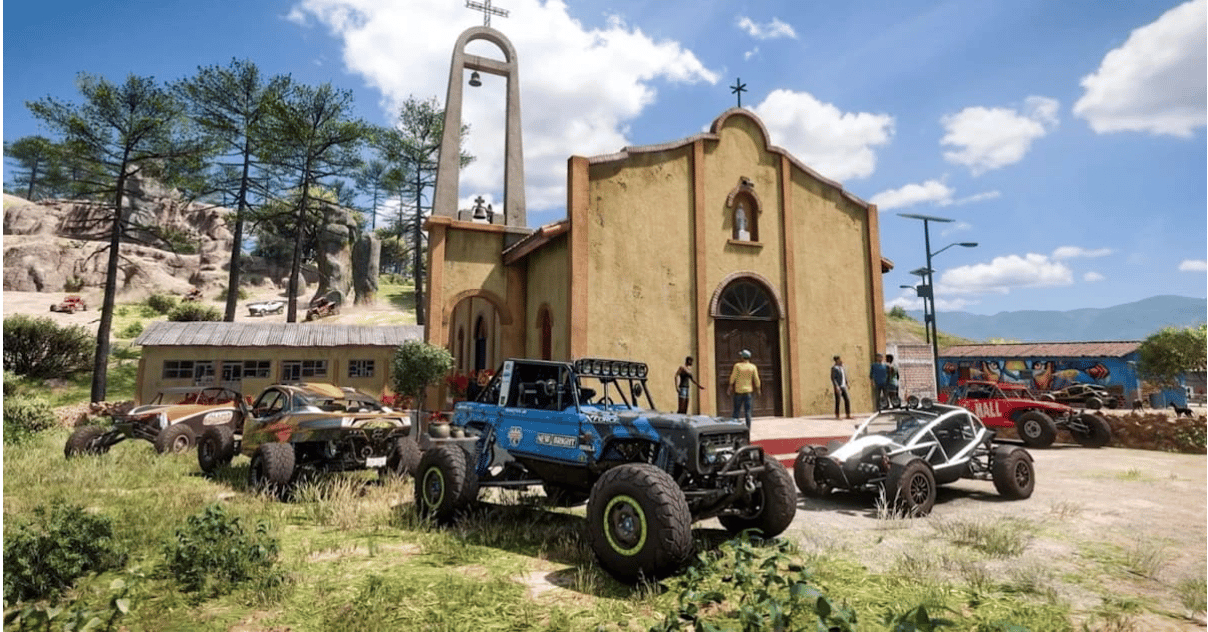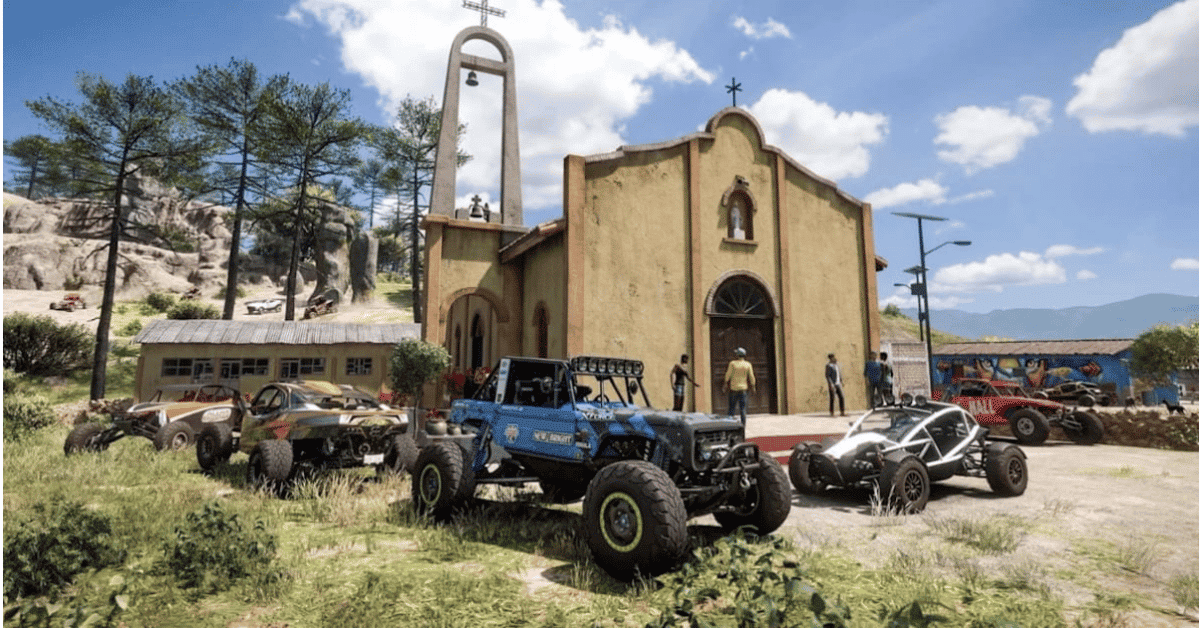 Previous Horizon game maps, before Horizon 4, didn't change at all and looked the same the whole year round but when Horizon 4 came they introduced a new feature called Seasons, which would change the world you play in over time. However after some time of playing Horizon 4 this also became boring fast because the seasons were so predictable but in Forza Horizon 5 they aimed to try and change the world even more though the game design and content updates. They've achieved this by doing three important things; diversifying seasons, adding dynamic weather events and the Festival Playlist now evolves the world as well.
Diversified Seasons
In Forza Horizon 4 the game would just change the surface and look of things from season to season but in Forza Horizon 5 they aim to dig deeper and even vary degrees depending on where you are on the map. With the 11 different biomes this game offers it leaves the game with a lot of potential and the developers certainly didn't waste it by having each of the different biomes react differently to the seasons it will really take a while to become tired of it.
Dynamic weather events
The introduction of sandstorms and tropical storms, that come and go randomly as they please, offers for more interesting races which the game definitely makes use of by adding this new feature called dynamic weather events.
The Festival Playlist is evolving the world
This could probably be thought of as the new feature which has the most power to change the world is the Forza Horizon 5 Festival Playlist. As new updates come to the game it can add everything from decorations, PR stunts, Race Events, new locations and even more things.
Landmarks worth a visit
So as you can tell this Horizon game has worked hard to keep their racers engaged at all times. But let's look at some landmarks that I really thought stood out in the game and really gives it some character.
The Marsh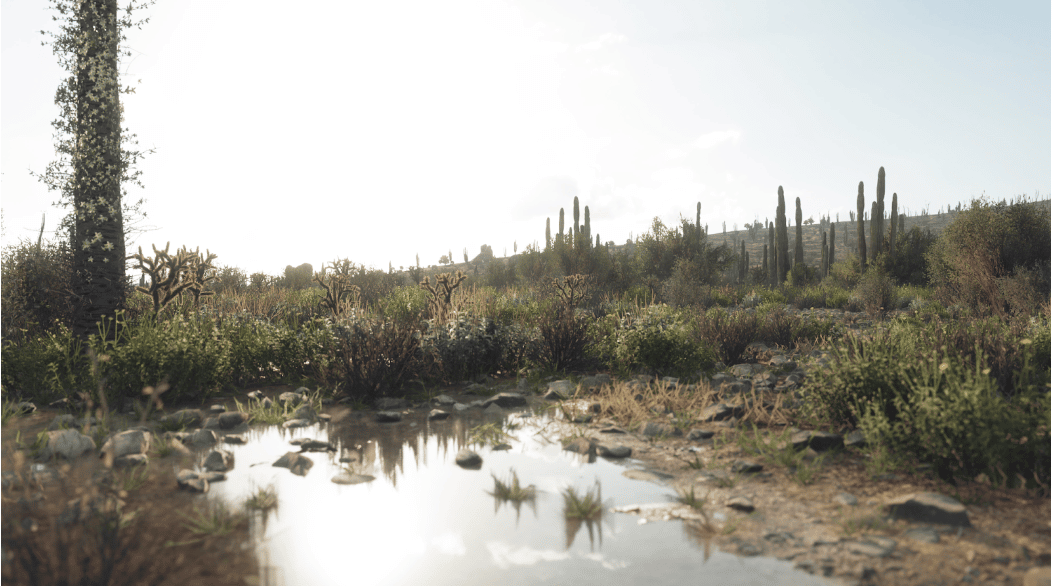 This area is quite underrated and often passed by by a lot of racers since it is not listed as a location on the map. The marsh lies in the northeast direction from the volcano location and if you are ever in the area it may be worth it to have a look at and have some fun sliding around in the muddy marsh with friends or in your brand new ferrari.
The detail which Horizon 5 has is really highlighted with this location as you can see that this low-lying marsh has a salit-lined surface which is from the combination of the dryland from the mountains and the volcanic activity nearby.
Jungle Farmland
As I've mentioned above, this game offers a large variety of diverse biomes to drive through and explore which makes it feel like there are just many maps stuffed together to form one big horizon map. An area that perfectly projects this is the jungle farmland, unnamed on the map, which is a calm and thick jungle with a few open fields within it.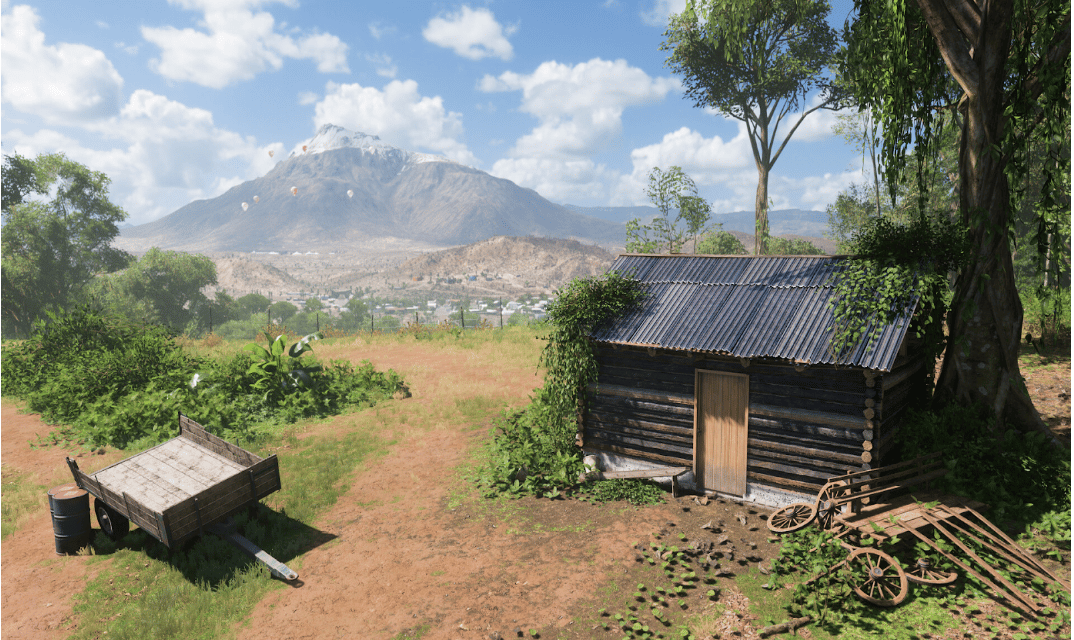 If you look for it on the map you'll be able to see all the river paths running in and out from this area and breaking out from the jungle. If you have time it would definitely be worth it to swing by and explore the thick jungle with an offroad car to help you across this terrain.
Playa Tranquilo Beach
If you have a bit of time to look for it then there is a gorgeous hidden beach on the north-eastern part of the map. There is a beaten path, barely visible on the map, seen twisting through a small forest, which will take you all the way down to this beach.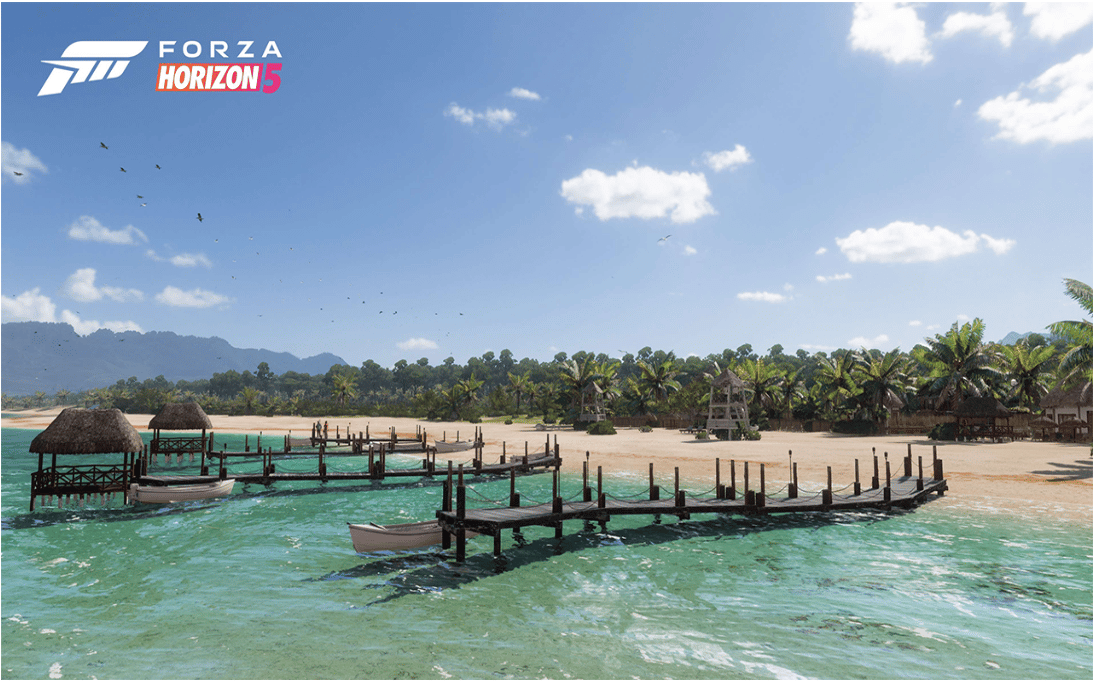 There are a few beaches which you can find scattered across the whole map, which are very pretty, but the Playa Tranquilo Beach definitely comes up on top of the others in terms of beauty. The location which this beach is situated is just perfect with the Mountainside right next to it and then the ocean there as well just brings everything together. Just park your car on the shore and enjoy the solitude.
City of Guanajuato
Although there isn't a very big main focus on the cities in the Forza Horizon 5 game there are still a number of cities on the map, some are smaller than others with even just one road going through it. Then you get the cities like Guanajuato which are much bigger and have gorgeous architecture and offer a deep cultural experience. This city in particular is super colourful and even has its own town square with a cute little market. Let's not even begin to mention the brilliant underground tunnels you can drive through and listen to your engine roaring at max volume.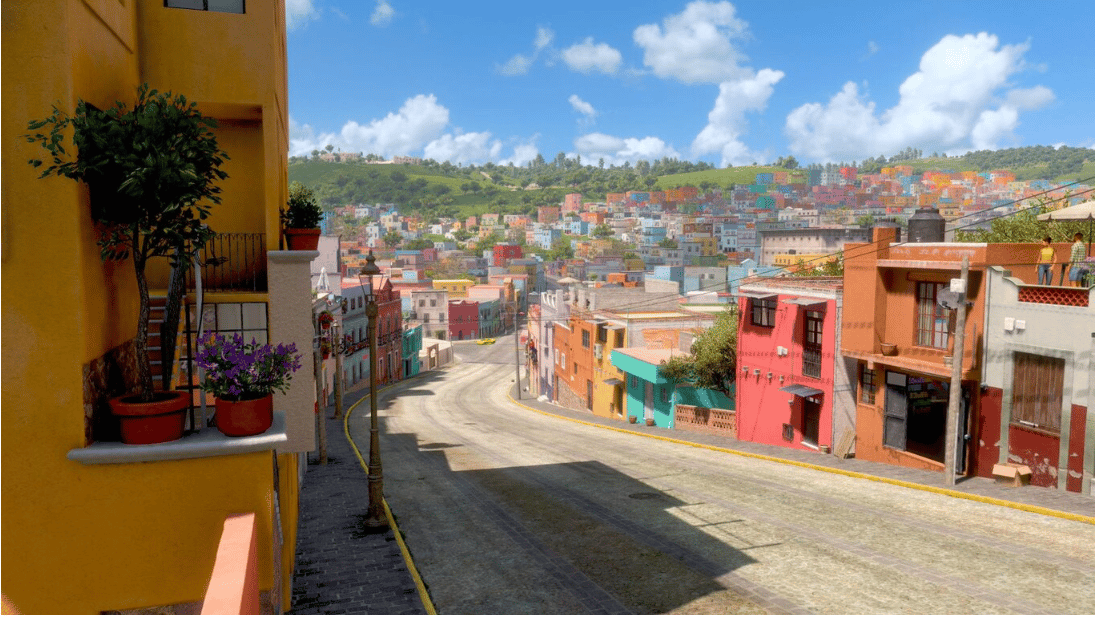 Guanajuato is a bit easier to find than the other places mentioned so far since it's marked a little more clearly on the map due to its large size, so no excuses to not add Guanajuato to your lists of places to visit.
Volcanic Desert
So far all the locations listed have been gorgeous lively areas but here is one that is beautiful in its own way, the Volcanic desert. There are quite a few deserts in this Mexico map as you'd expect but this one desert sticks out from all the rest as it has a huge volcano in it. All the colours which fill this desert just make it look like you're driving on a different planet entirely.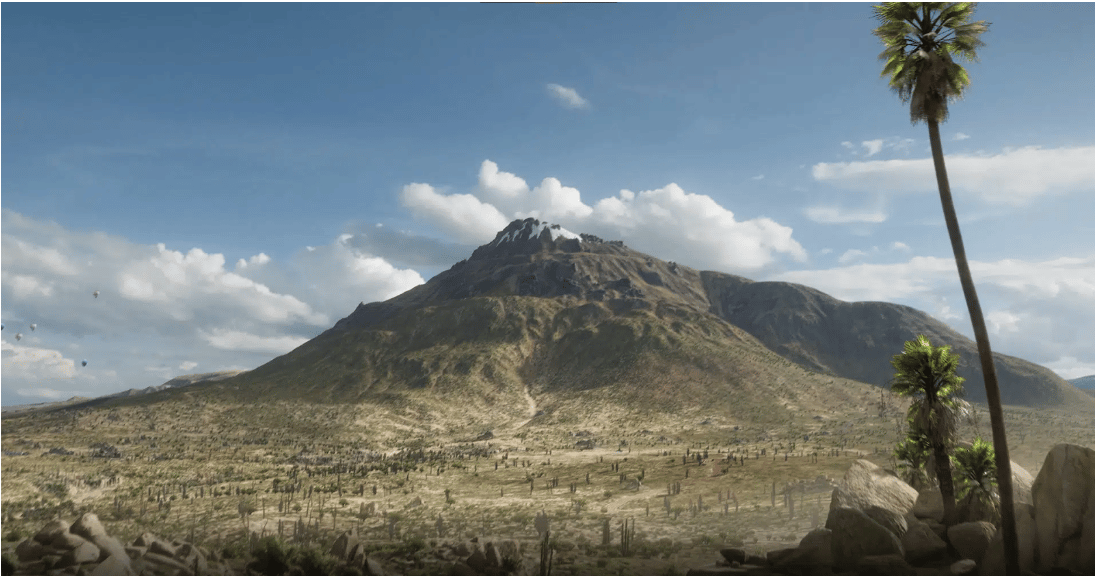 If you've somehow become bored of the stunning and divers views you get from looking at in each direction you drive you can choose to drive or even drift up the volcano on its winding roads leading to the top.
Uxmal Ruins
The developers of Forza Horizon 5 have even added ruins throughout the map for you to explore, to give the map even more characteristic than it already has. When you're driving through these ruins you feel like you've teleported to another time in the past. Out of all the ruins situated in the map the best one, by far, has to be the Uxmal Ruins which is filled with many architectural wonders for you to awe at.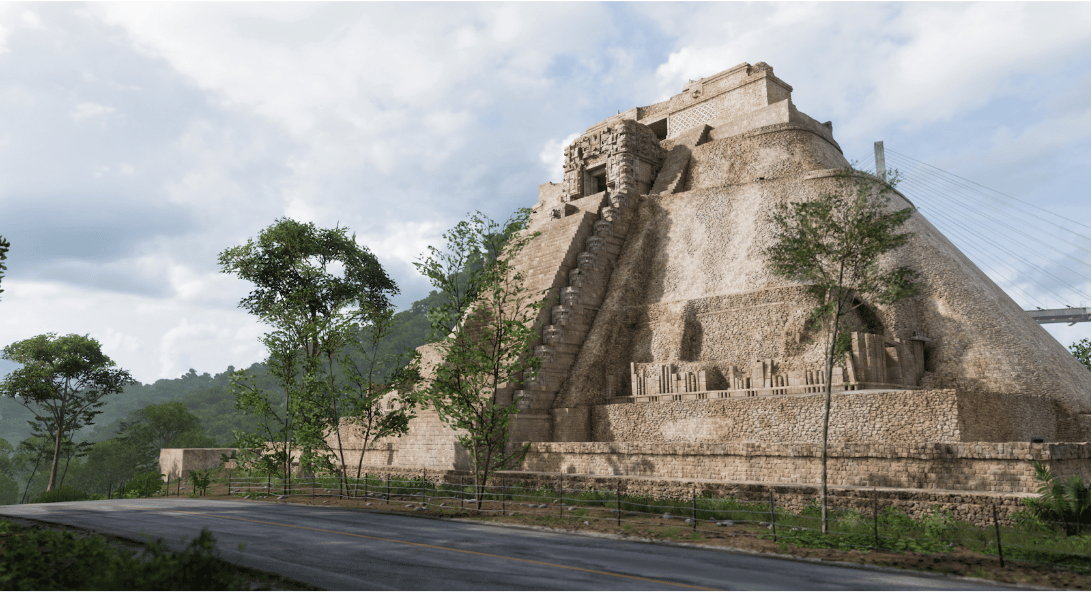 The game manages to still give this area life by adding a lot of greenery like vines and whatnot, climbing up these decaying structures which also helps the area feel overgrown and old. This location might just be the best one if you are interested in history or architecture.
Gran Puente Bridge
In Forza Horizon 5 it is quite hard to find large bridges to drive over and admire the views from all sides because there aren't many. They do however have many smaller bridges which run over small rivers or streams and help to break up different biomes.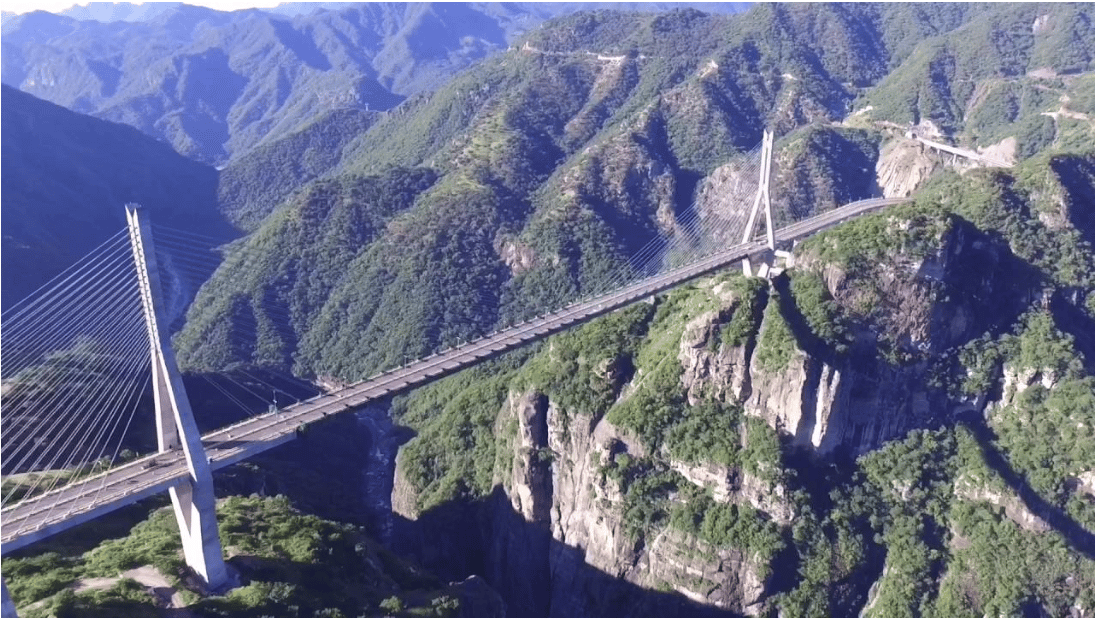 Located near the Uxmal Ruins there is an amazing bridge which really is an architectural marvel if you're into that stuff. Otherwise it has amazing views of the thick jungle on either side, the big river below and even the gorgeous ruins all while you're driving across it. So it might be in your best interest to drive a little slower and really take everything in because there is a lot.
The Cars
Now time for the thing that everyone really came here for..the cars. Forza Horizon 5 is the perfect game to take your dream car on a road trip in the virtual road across the whole of Mexico.
Forza Horizon has never slacked in the department of cars and they haven't this time either. The car list for Forza Horizon 5 was around 500 cars when they released the game and now they have over 630 unique vehicles because of all the updates we've had so far during these two years. That number is expected to just continue going up and even pass the Forza Horizon 4 car roster of 700.
But before we get into every single car to exist in the game you may only be interested in what the best car is to use for certain events so here is a list of cars best for: speed, drifting, Offroad, retro sports cars and rally cars. We have a separate article for all the barn find cars in Forza Horizon 5 here.
Fastest Cars
As more and more cars are added to the game this list may change but for now this is what the fastest cars are especially when they're tuned. Although it can be quite expensive to download someone else's tune for your car it is definitely worth it if you want to be the fastest you can be.
Koenigsegg Jesko (300mph+)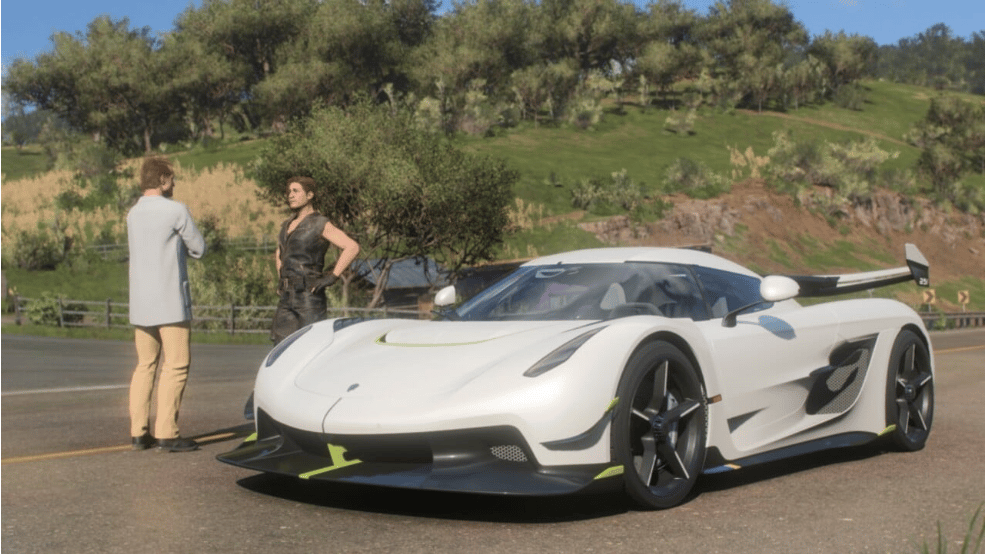 The fastest car currently in Forza Horizon 5 is the Koenigsegg Jesko and, with the proper tune, the Jesko can achieve a top speed of more than 300mph. So if you bring this car to any sort of highway race (and dot crash that is) you are guaranteed to win.
Rimac Nevera (294mph)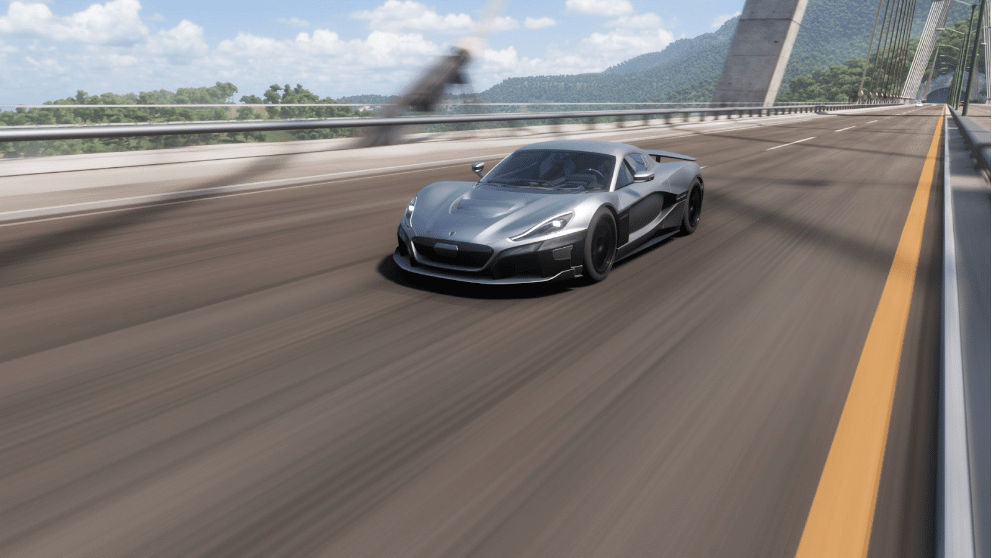 Although some of us might not be huge fans of the electric cars slowly starting to take over the car industry we must still give them congratulations where congratulations are due. Here is the perfect example, the Rimac Nevera is a fully electric hyper car which is still quite new but is done by a Croatian automaker and comes in at the second fastest car with 294 mph as the top speed.
Koenigsegg Agera RS (280mph)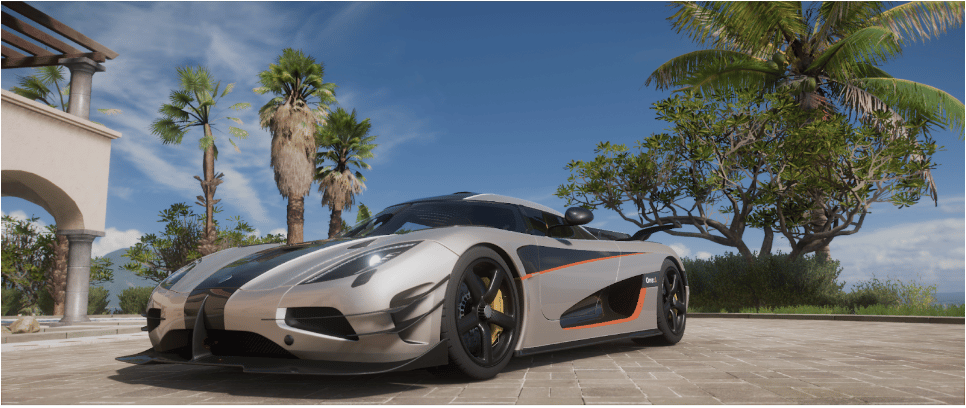 The Agera RS has the same drivetrain and performance stats as the One:1 but since the Agera RS has less of an aggressive build than that of the One:1 it means that this car produces less downforce and thus is able to reach a higher top speed of 280mph making it the thirds fastest on this list.
Best Drift Cars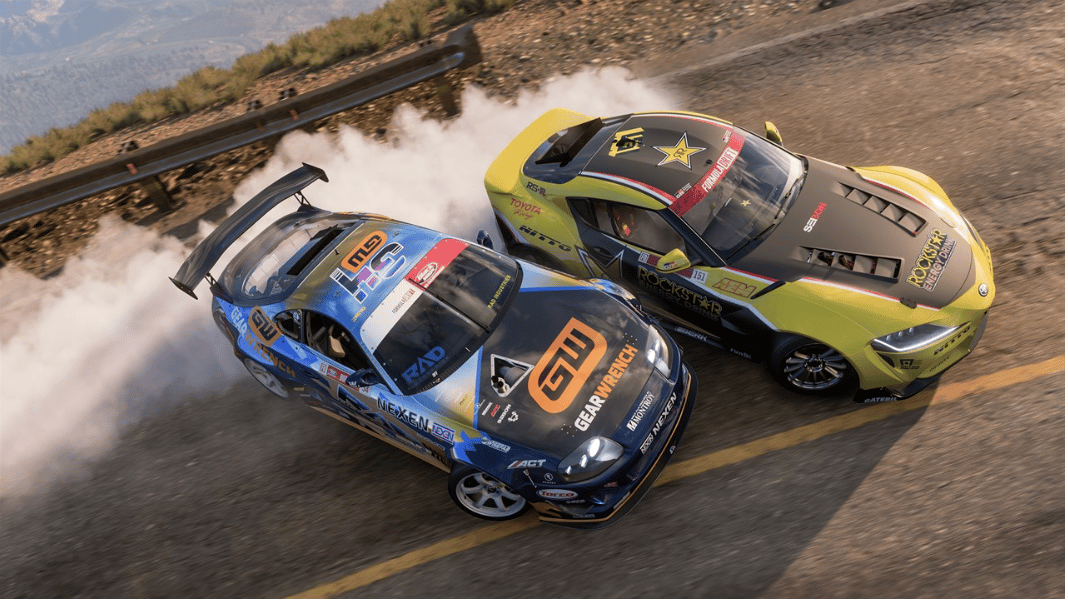 It's a bit easier to find the best drifting car because you're able to choose the filter "drift cars" in the Autoshow and 14 different cars will show up. And any of those cars will do the job perfectly fine and very similar to each other, these cars include:
2018 Deberti Chevrolet Silverado 1500 Drift Truck
2019 Deberti Toyota Tacoma TRD "The Performance Truck"
2018 Ford #88 Mustang RTR
2018 #25 Ford Mustang RTR
2007 Formula Drift #117 599 GTB Fiorano
2009 Formula Drift #99 Mazda RX-8
2013 Formula Drift #777 Chevrolet Corvette
2006 Formula Drift #43 Dodge Viper SRT10
1989 Formula Drift #987 BMW 325i
1995 Formula Drift #34 Toyota Supra MKIV
1997 Formula Drift #777 Nissan 240SX
2019 Formula Drift #411 Toyota Corolla Hatchback
2020 Formula Drift #91 BMW M2
2020 Formula Drift #151 Toyota GR Supra
2018 Formula Drift #64 Nissan 370Z
2015 Formula Drift #13 Ford Mustang
2016 Formula Drift #530 HSV Maloo Gen-F
2017 Formula Drift #257 Chevrolet Corvette Z06
1965 Hoonigan Ford "Hoonicorn" Mustang
1977 Hoonigan Gymkhana 10 Ford F-150 "Hoonitruck"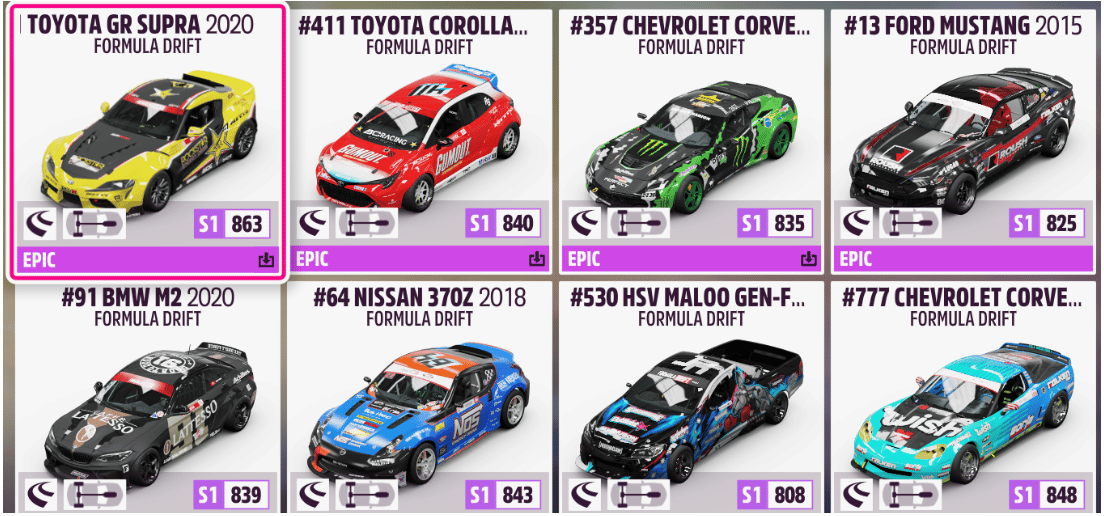 Most of the cars listed above come with a tune and drift tyres already installed so all you have to do is buy the car and enjoy it. However, if you're looking for some good options as 'normal' cars then you should be ready to spend a little more on a tune and tyres to make the car drift ready. There are four cars which I can recommend, which feel nicer to drift than others and they are the Nissan Silvia, Ferrari 488, Mazda Miata and the Subaru BRZ.
Best Offroad Cars
If you aren't racing on the road or drifting then you'll probably find that you are racing in a type of event called off road or cross country which means it will take place in more rough terrain so it might be a good idea to have a few cars that you can use for these types of races and feel comfortable with. Here are some cars that can handle those rough conditions pretty well.
2020 Ford Bronco R 'Welcome Pack"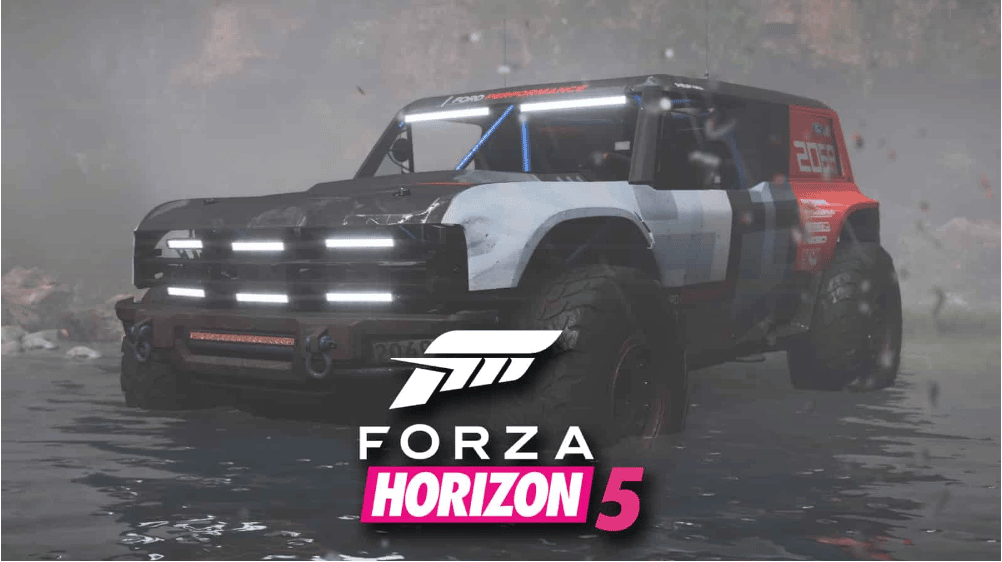 This car is definitely the best car out of this list when it comes to accelerating from a stand still and could be considered one of the best cars to use for any cross country event. Some other cars will however be able to beat this car if they're tuned correctly but a really good thing about this car is if you have the Welcome Pack then you get this car for free.
2016 Jeep Trailcat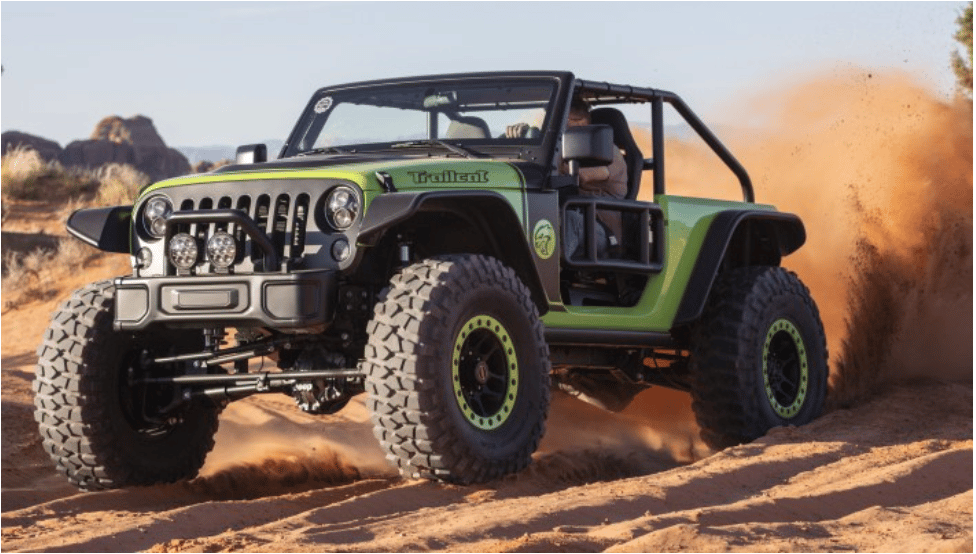 This car, with a tune, is better than the Bronco R and will only cost you 75,000 credits to purchase which isn't that much at all when compared to the other cars one can buy.
2014 Local Motors Rally Fighter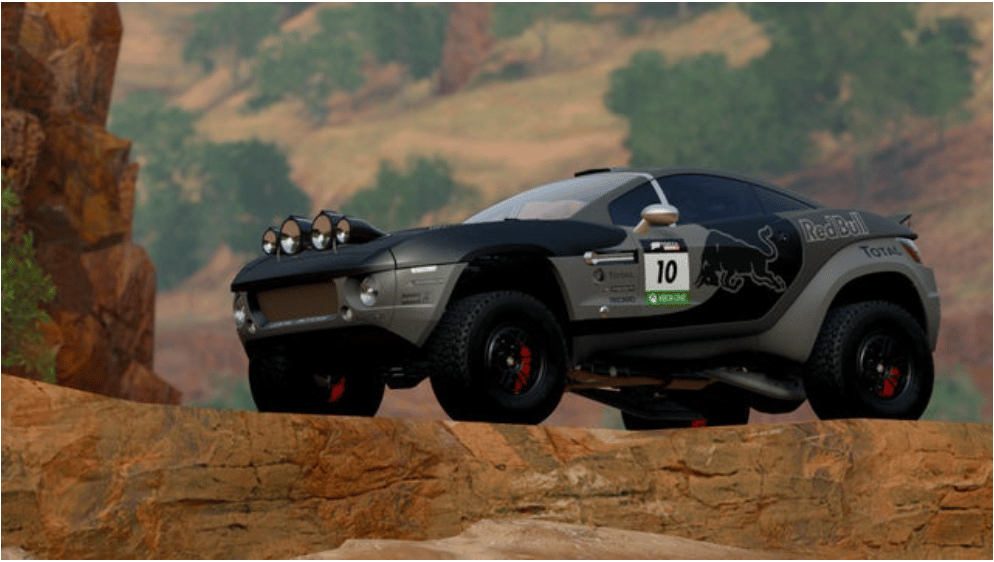 Although the car costs more from the showroom than the Trailcat it has very similar acceleration stats to the Trailcat. The trailcat may be a better option over all but this car follows close behind so might be worth it if you're looking to switch things up for a change.
2017 Ford "Brocky" Ultra4Bronco RTR
The Brocky is a good option to have in the bank as it is quicker than the Trailcat and the Rally Fighter however still doesn't quite match the Bronco Rs level when it comes to acceleration from a stand still. Another plus that this car has is that it is a very nice car to look at which takes you far in my books.
Best Retro Sports Cars
You're probably thinking, why do I need to know what the best Retro Sports carts are, if you haven't played the game that is? Well it's because in a lot of challenges that you get in Forza Horizon 5 you have special restrictions and a popular one is that you have to race with a retro sports car. So below are some excellent choices for your next race.
1993 Jaguar XJ220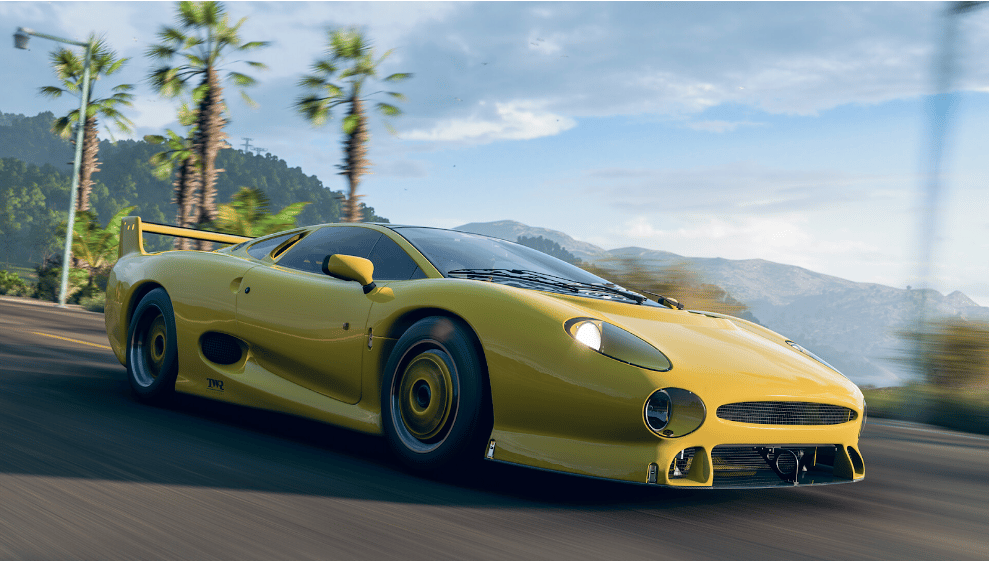 If you're looking for a car that you won't have to go through the trouble of tuning then the 1993 Jaguar is a brilliant option for you, with a 7.7 speed rating and a very good handling rating as well it is a lot faster than any of the other cars that will be listed below.
2002 Mazda RX-7 Spirit R Type A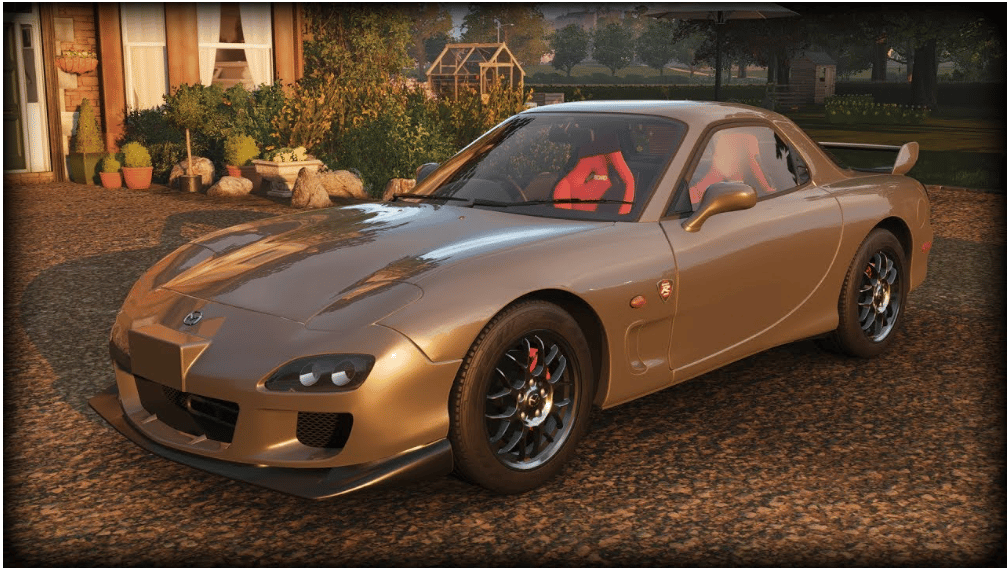 This car was very popular in the previous Horizon 4 game but in Horizon 5 it has seen a bit of a downgrade. However, with the price tag of just 30,000 credits it is the perfect budget option for someone that just wants to buy a car to do challenges and probably won't use it for anything else. Its performance can be brought up a bit through tuning so there is still hope for this car.
2005 Honda NSX R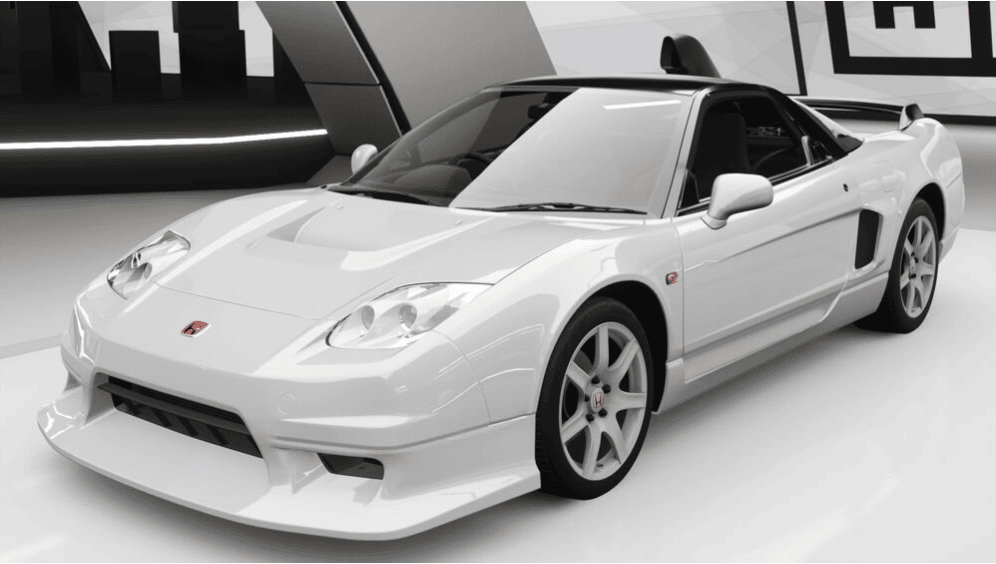 The 2005 Honda NSX R may not have as high stats as that of the Jaguar XJ220 but with the help from a good tune this car can definitely get onto that level. This car has always been a fan favourite because of its iconic look while still housing some good base stats.
1993 Porsche 968 Turbo S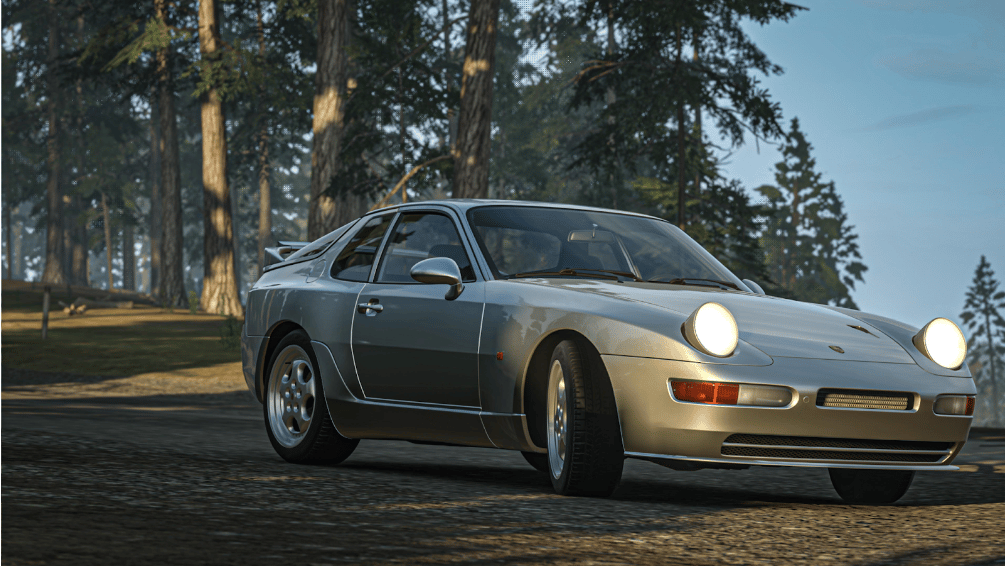 This Porsche may seem very average when you just take a glance at its stats but still has a lot of potential to improve with the help of a tune like many of these other cars as well. This car isn't as good as the previously mentioned options however if you love the iconic look of a porsche then you won't mind that it's a bit slower than the others.
Best Rally Cars
Most people may get confused that this is a separate category compared to offroad and cross country and that is because it is something completely different. In this mode you need a car that is able to thrive in all types of conditions, not just offroad.
You can't just choose an off road car and hope for the best. Although you might do better than others in the off road sections when it comes to areas that are a little more flat or even back to the road then you'll see the opponents pass you, so you'll need a good all round car which is exactly what a rally car is. So here are a few options you can choose from as good base cars to be tuned to your liking
1965 Hoonigan Ford "Hoonicorn" Mustang
This Hoonicorn is with ease the fastest Rally car available, with a speed of 9.2 and an acceleration of 10. With these stats you'll be flying through every course and past every opponent.
1986 Hoonigan Ford RS200 Evolution
This is more of an all rounder, more tame version of the Hoonigans but it does still have some very good stats throughout the whole board. So although it won't be able to beat the Hoonicorn in terms of its speed, this is still a good car to keep as an option in your garage.
1969 Lola Penske Sunoco T70 MKIIIB
This car may not be as fast as the Hoonicorn but still has great speed and acceleration stats that it brings to the table. If you are able to afford losing 850,000 credits then this could be a good option for you on most Rally courses.
Forza Horizon 5 Car List
However if you aren't playing the game to just be the best or fastest and rather want to buy all your dream cars and just enjoy driving them for fun then you can definitely do that as well. Forza Horizon 5 is one of those games which will, most probably, have your dream car in it to purchase so here's a list of all the cars from A-Z so you can see just how many cars are available for you to purchase.
Acura
2001 Acura Integra Type-R2002
Acura RSX Type-S
Alpine
1973 Alpine A110 1600s
2017 Alpine A110
Alumi Craft
2015 Alumi Craft Class 10
AMC
1973 AMC Gremlin X
AMG Transport Dynamics
2554 AMG Transport Dynamics M12S Warthog CST
Apollo
2018 Apollo Intensa Emozione
Ariel
2013 Ariel Atom 500 V8
2016 Ariel Nomad
Ascari
2012 Ascari KZ1R
Aston Martin
1964 Aston Martin DB5
2010 Aston Martin One-77
2013 Aston Martin V12 Vantage S
2016 Aston Martin Vantage GT 12
2017 Aston Martin DB11
2017 Aston Martin Vulcan AMR Pro
2019 Aston Martin DBS Superleggera
2019 Aston Martin Valhalla Concept Car
2019 Aston Martin Vantage
2021 Aston Martin DBX
ATS
2018 ATS GT
Audi
1983 Audi Sport Quattro
1995 Audi RS 2 Avant
2001 Audi RS 4 Avant
2003 Audi RS 6
2006 Audi RS 4
2009 Audi RS 6
2010 Audi TT RS Coupé
2011 Audi RS 5 Coupé
2011 Audi RS 3 Sportback
2013 Audi R8 Coupé V10 plus 5.2 FSI Quattro
2013 Audi RS 4 Avant
2013 Audi RS 7 Sportback
2015 Audi RS 6 Avant
2015 Audi S1
2015 Audi TTS Coupé
2016 Audi R8 V10 plus
2018 Audi RS 4 Avant
2018 Audi RS 5 Coupé
2018 Audi TT RS
2020 Audi RS 3 Sedan
2021 Audi RS 7 Sportback
2021 Audi RS e-tron GT
Austin Healey
1958 Austin Healey Sprite MKI
Auto Union
1939 Auto Union Type D
BAC
2014 BAC Mono
Bentley
1930 Bentley 1-1/2 Litre Supercharged
1930 Bentley 8 Litre
1991 Bentley Turbo R
2016 Bentley Bentayga
2017 Bentley Continental Supersports
BMW
1957 BMW Isetta 300 Export
1973 BMW 2002 Turbo
1981 BMW M1
1988 BMW M5
1991 BMW M3
1995 BMW M5
1997 BMW M3
2002 BMW M3-GTR
2002 BMW Z3 M Coupé
2003 BMW M5
2005 BMW M3
2008 BMW M3
2008 BMW Z4 M Coupé
2009 BMW M5
2010 BMW M3 GTS (E92)
2011 BMW 1 Series M Coupé
2011 BMW X5 M
2012 BMW M5
2013 BMW M6 Coupé
2014 BMW M4 Coupé
2015 BMW I8
2015 BMW X6 M
2016 BMW M4 GTS
2016 BMW M2 Coupé
2018 BMW M5
2019 BMW Z4
2020 BMW M8 Competition Coupé
2021 BMW M4 Competition Coupé
Brabham
2019 Brabham BT62
Bugatti
1926 Bugatti Type 35 C
1992 Bugatti EB110 Super Sport
2011 Bugatti Veyron Super Sport
2018 Bugatti Chiron
2019 Bugatti Divo
Buick
1970 Buick GSX
1987 Buick Regal GNX
Cadillac
2016 Cadillac ATS-V
2016 Cadillac CTS-V Sedan
Can-Am
2018 Can-Am Maverick X RS Turbo R
Caterham
2013 Caterham Superlight R500
Chevrolet
1953 Chevrolet Corvette
1955 Chevrolet 150 Utility Sedan
1957 Chevrolet Bel Air
1960 Chevrolet Corvette
1964 Chevrolet Impala Super Sport 409
1967 Chevrolet Corvette Stingray 427
1969 Chevrolet Camaro Super Sport Coupé
1969 Chevrolet Nova Super Sport 396
1970 Chevrolet Camaro Z28
1970 Chevrolet Chevelle Super Sport 454
1970 Chevrolet Corvette ZR-1
1970 Chevrolet El Camino Super Sport 454
1979 Chevrolet Camaro Z28
1988 Chevrolet Monte Carlo Super Sport
1995 Chevrolet Corvette ZR-1
1996 Chevrolet Impala Super Sport
2002 Chevrolet Corvette Z06
2009 Chevrolet Corvette ZR1
2015 Chevrolet Camaro Z/28
2015 Chevrolet Corvette Z06
2017 Chevrolet Camaro ZL1
2017 Chevrolet Colorado ZR2
2018 Chevrolet Camaro ZL1 1LE
2019 Chevrolet Corvette ZR1
2020 Chevrolet Corvette C8 Stingray Coupé
Datsun
1970 Datsun 510
DeBerti Design
2013 DeBerti Design Jeep Wrangler Unlimited
2018 DeBerti Design Chevrolet Silverado 1500 Drift Truck
2018 DeBerti Design Ford F-150 Prerunner
2019 DeBerti Design Toyota Tacoma TRD "The Performance Truck"
DMC
1982 DMC DeLorean "DMC-12"
Dodge
1968 Dodge Dart Hemi Super Stock
1969 Dodge Charger Daytona HEMI
1969 Dodge Charger R/T
1970 Dodge Challenger R/T
1970 Dodge Coronet Super Bee
1999 Dodge Viper GTS ACR
2008 Dodge Magnum SRT-8
2008 Dodge Viper SRT10 ACR
2013 Dodge Viper SRT GTS
2015 Dodge Challenger SRT Hellcat
2015 Dodge Charger SRT Hellcat
2016 Dodge Viper ACR
2017 Dodge Ram 2500 Power Wagon
2018 Dodge Challenger SRT Demon
2018 Dodge Durango SRT
Donkervoort
2013 Donkervoort D8 GTO
Eagle
2012 Eagle Speedster
Exomotive
2018 Exomotive Exocet Off-Road
Extreme E
2022 Extreme E ODYSSEY 21 Veloce Racing
2022 Extreme E ODYSSEY 21 Rosberg X Racing
2022 Extreme E ODYSSEY 21 JBXE
2022 Extreme E ODYSSEY 21 Genesys Andretti United
2022 Extreme E ODYSSEY 21 XITE Racing Team
2022 Extreme E ODYSSEY 21 X44
2022 Extreme E ODYSSEY 21 ACCIONA | Sainz XE Team
2022 Extreme E ODYSSEY 21 McLaren Racing
2022 Extreme E ODYSSEY 21 Chip Ganassi Racing GMC Hummer EV
2022 Extreme E ODYSSEY 21 ABT Cupra XE
Ferrari
1957 Ferrari 250 California
1957 Ferrari 250 Testa Rossa
1962 Ferrari 250 GT Berlinetta Lusso
1962 Ferrari 250 GTO
1967 Ferrari Spa 330 P4 #24
1968 Ferrari 365 GTB/4
1969 Ferrari Dino 246 GT
1984 Ferrari 288 GTO
1987 Ferrari F40
1989 Ferrari F40 Competizione
1992 Ferrari 512 Testa Rossa
1994 Ferrari F335 Berlinetta
1995 Ferrari F50
1996 Ferrari F50 GT
2002 Ferrari 575M Maranello
2002 Ferrari Enzo Ferrari
2003 Ferrari 360 Challenge Stradale
2005 Ferrari FXX
2007 Ferrari 430 Scuderia
2009 Ferrari 458 Italia
2010 Ferrari 599XX
2011 Ferrari 599 GTO
2012 Ferrari 599XX Evolution
2013 Ferrari 458 Speciale
2013 Ferrari LaFerrari
2014 Ferrari California T
2014 Ferrari FXX K
2015 Ferrari 488 GTB
2015 Ferrari F12tdf
2017 Ferrari 488 Challenge Corse Clienti
2017 Ferrari 812 Superfast
2017 Ferrari GTC4Lusso
2017 Ferrari J50
2018 Ferrari FXX-K Evo
2018 Ferrari Portofino
2019 Ferrari 488 Pista
2019 Ferrari Monza SP2
2020 Ferrari F8 Tributo
2020 Ferrari SF90 Stradale
Ford
1932 Ford De Luxe Five-Window Coupé
1940 Ford De Luxe Coupé
1956 Ford F-100
1959 Ford Anglia 105E
1964 Ford GT40 MKI
1965 Ford Mustang GT Coupé
1965 Ford Transit
1966 Ford GT40 MK II Le Mans
1966 Ford Lotus Cortina
1967 Ford Racing Escort RS1600 MK1
1968 Ford Mustang GT 2+2 Fastback
1969 Ford Mustang Boss 302
1970 Ford GT70
1971 Ford Mustang Mach 1
1972 Ford Falcon XA GT-HO
1973 Ford Capri RS3100
1973 Ford Escort RS1600
1975 Ford Bronco
1977 Ford Escort RS1800
1977 Ford Escort RS1800 MKII #5
1981 Ford Fiesta XR2
1985 Ford RS200 Evolution
1986 Ford Escort RS Turbo
1986 Ford Mustang SVO
1987 Ford Sierra Cosworth RS500
1992 Ford Escort RS Cosworth
1993 Ford Mustang SVT Cobra R
1994 Ford Supervan 3
1999 Ford Racing Puma
2000 Ford Mustang SVT Cobra R
2003 Ford F-150 SVT Lightning
2003 Ford Focus RS
2005 Ford GT
2009 Ford Focus RS
2010 Ford Crown Victoria Police Interceptor
2011 Ford F-150 SVT Raptor
2011 Ford Transit Supersportvan
2013 Ford Mustang Shelby GT500
2014 Ford F-150 #11 Rockstar Trophy Truck
2014 Ford Fiesta ST
2014 Ford FPV Limited Edition Pursuit UTE
2014 Ford Ranger T6 Rally Raid
2015 Ford Falcon GT F 351
2016 Ford Mustang Shelby GT350R
2017 Ford Bronco Ultra4 Racing "Brocky"
2017 Ford F-150 Raptor
2017 Ford Fiesta Rahal Letterman Lanigan Racing GRC
2017 Ford Fiesta RS M-Sport
2017 Ford Focus RS
2017 Ford GT
2018 Ford Mustang GT
2018 Ford Mustang RTR
2018 Ford Mustang RTR
2018 Ford Mustang RTR Spec 5
2019 Ford Ranger Raptor
2020 Ford Mustang Shelby GT500
2020 Ford Performance Bronco R
2020 Ford Super Duty F-450 DRW Platinum
2021 Ford Bronco Badlands
2021 Ford Mustang Mach-E 1400
Formula Drift
1989 Formula Drift BMW 325i
1995 Formula Drift Toyota Supra MKIV
1997 Formula Drift Nissan 240SX
2006 Formula Drift Dodge Viper SRT10
2007 Formula Drift Ferrari 599 GTB Fiorano
2009 Formula Drift Mazda RX-8
2013 Formula Drift Chevrolet Corvette
2015 Formula Drift Ford Mustang
2016 Formula Drift HSV GEN-F Maloo
2017 Formula Drift Chevrolet Corvette Z06
2018 Formula Drift Nissan 370Z
2019 Formula Drift Toyota Corolla Hatchback
2020 Formula Drift BMW M2
2020 Formula Drift Toyota Supra GR
Forsberg Racing
1975 Forsberg Racing Nissan Datsun 280Z "Gold Leader"
2010 Forsberg Racing Toyota Camry Gumout 2JZ Stock Car
2014 Forsberg Racing Nissan 370Z "SafariZ" Safari Rally Tribute
Funco Motorsports
2018 Funco Motorsports F9
GMC
1970 GMC Jimmy
1983 GMC Vandura G-1500
HDT
1985 HDT VK Commodore Group A
Hennessey
2012 Hennessey Venom GT
2019 Hennessey VelociRaptor 6×6
2021 Hennessey Venom F5
Holden
1973 Holden HQ Monaro GTS 350
1974 Holden Sandman HQ Panel Van
1977 Holden Torana A9X
Honda
1974 Honda Civic RS
1984 Honda Civic CRX Mugen
1991 Honda CR-X SiR
1992 Honda NSX-R
1994 Honda Prelude Si
1997 Honda Civic Type R
2003 Honda S2000
2004 Honda Civic Type R
2005 Honda NSX-R
2005 Honda NSX-R GT
2007 Honda Civic Type R
2009 Honda S2000 CR
2016 Honda Civic Coupé GRC
2016 Honda Civic Type R
2018 Honda Civic Type R
Hoonigan
1955 Hoonigan Chevrolet Bel Air
1965 Hoonigan Ford Mustang "Hoonicorn"
1965 Hoonigan Ford Mustang Gymkhana 10 "Hoonicorn"
1972 Hoonigan Chevrolet Napalm Nova
1977 Hoonigan Ford F-150 Gymkhana 10 "Hoonitruck"
1978 Hoonigan Ford Escort RS1800
1986 Hoonigan Ford RS200 Evolution
1991 Hoonigan Ford Escort Cosworth Gymkhana 10 Group A
1991 Hoonigan Porsche 911 Turbo Rauh-Welt Begriff
1992 Hoonigan Mazda RX-7 "Twerkstallion"
1994 Hoonigan Ford Escort RS Cosworth WRC "Cossie V2"
2016 Hoonigan Ford Focus RS Gymkhana 10 RX
Hot Wheels
1949 Hot Wheels Ford F-5 Dually Custom Hot Rod
1957 Hot Wheels Nash Metropolitan Custom
1969 Hot Wheels Twin Mill
2000 Hot Wheels Deora II
2005 Hot Wheels Ford Mustang
2011 Hot Wheels Bone Shaker
2012 Hot Wheels Bad to the Blade
2012 Hot Wheels Rip Rod
2013 Hot Wheels Baja Bone Shaker
2018 Hot Wheels 2JetZ
2018 Hot Wheels Chevrolet Camaro COPO
2020 Hot Wheels Monster Trucks Bone Shaker
HSV
2014 HSV GEN-F GTS
2014 HSV GEN-F GTS Maloo Limited Edition
Hummer
2006 Hummer H1 Alpha
Hyundai
2019 Hyundai Veloster N
Infiniti
2015 Infiniti Q60 Concept
International
1970 International Scout 800A
Italdesign
2018 Italdesign Zerouno
Jaguar
1956 Jaguar D-Type
1959 Jaguar MK II 3.8
1961 Jaguar E-Type
1964 Jaguar Lightweight E-Type
1966 Jaguar XJ13
1991 Jaguar XJR-15 Sport
1993 Jaguar XJ220
1993 Jaguar XJ220S TWR
2010 Jaguar C-X75
2012 Jaguar XKR-S
2015 Jaguar F-TYPE R Coupé
2015 Jaguar XE-S
2015 Jaguar XFR-S
2015 Jaguar XKR-S
2016 Jaguar F-TYPE Project 7
2017 Jaguar F-Pace S
2018 Jaguar I-Pace
Jeep
1976 Jeep CJ5 Renegade
2012 Jeep Wrangler Rubicon
2014 Jeep Grand Cherokee SRT
2016 Jeep Trailcat
2018 Jeep Grand Cherokee Trackhawk
2020 Jeep Gladiator Rubicon
Koenigsegg
2002 Koenigsegg CC8S
2008 Koenigsegg CCGT
2011 Koenigsegg Agera
2015 Koenigsegg One:1
2016 Koenigsegg Regera
2017 Koenigsegg Agera RS
2020 Koenigsegg Jesko
KTM
2013 KTM X-Bow R
2018 KTM X-Bow GTR
Lamborghini
1967 Lamborghini Miura P400
1973 Lamborghini Espada 400 GT
1986 Lamborghini LM 002
1988 Lamborghini Countach LP5000 QV
1997 Lamborghini Diablo SV
1999 Lamborghini Diablo GTR
2008 Lamborghini Reventón
2010 Lamborghini Murciélago LP 670-4 SV
2011 Lamborghini Gallardo LP 570-4 Superleggera
2011 Lamborghini Sesto Elemento
2012 Lamborghini Aventador J
2012 Lamborghini Aventador LP700-4
2012 Lamborghini Gallardo Spyder Performante LP570-4
2013 Lamborghini Veneno
2014 Lamborghini Huracán LP610-4
2016 Lamborghini Aventador Superveloce
2016 Lamborghini Centenario LP 770-4
2018 Lamborghini Huracán Performante
2019 Lamborghini Aventador SVJ
2019 Lamborghini Urus
2020 Lamborghini Huracán Evo
Land Rover
1972 Land Rover Series III
1973 Land Rover Range Rover
1997 Land Rover Defender 90
2015 Land Rover Range Rover Sport SVR
2018 Land Rover Range Rover Velar First Edition
2020 Land Rover Defender 110 X
Lexus
1997 Lexus SC300
2010 Lexus LFA
2015 Lexus RC F
2020 Lexus RC F Track Edition
Local Motors
2014 Local Motors Rally Fighter
Lola
1969 Lola T70 MKIIIB #6 Penske Sunoco
Lotus
1971 Lotus Elan Sprint
1989 Lotus Vauxhall Carlton
1997 Lotus Elise GT1
1999 Lotus Elise Series 1 Sport 190
2012 Lotus Exige S
2016 Lotus 3-Eleven
2020 Lotus Evija
Lynk & Co
2021 Lynk & Co 03+
Maserati
1939 Maserati 8CTF
2008 Maserati MC12 Versione Corsa
2010 Maserati GranTurismo S
2017 Maserati Levante S
Mazda
1990 Mazda Savanna RX-7
1992 Mazda 323 GT-R
1994 Mazda MX-5 Miata
1997 Mazda RX-7
2002 Mazda RX-7 Spirit R Type-A
2005 Mazda Mazdaspeed MX-5
2011 Mazda RX-8 R3
2013 Mazda MX-5
2016 Mazda MX-5
McLaren
1993 McLaren F1
1997 McLaren F1 GT
2013 McLaren P1
2014 McLaren 650S Spider
2015 McLaren 570S Coupé
2015 McLaren 650S Coupé
2018 McLaren 600LT Coupé
2018 McLaren 720S
2018 McLaren Senna
2019 McLaren 720S Spider
2019 McLaren Speedtail
2020 McLaren GT
2021 McLaren 620R
2021 McLaren 765LT
Mercedes-AMG
2015 Mercedes-AMG GT S
2016 Mercedes-AMG C 63 S Coupé
2017 Mercedes-AMG GT R
2018 Mercedes-AMG E 63 S
2018 Mercedes-AMG GT 4-Door Coupé
2021 Mercedes-AMG ONE
Mercedes-Benz
1929 Mercedes-Benz SSK
1939 Mercedes-Benz W154
1954 Mercedes-Benz 300 SL Coupé
1955 Mercedes-Benz 300 SLR
1987 Mercedes-Benz AMG Hammer Coupé
1990 Mercedes-Benz 190E 2.5-16 Evolution II
1998 Mercedes-Benz AMG CLK GTR
2011 Mercedes-Benz SLS AMG
2012 Mercedes-Benz C 63 AMG Coupé Black Series
2012 Mercedes-Benz SLK 55 AMG
2013 Mercedes-Benz A 45 AMG
2013 Mercedes-Benz E 63 AMG
2013 Mercedes-Benz G 65 AMG
2014 Mercedes-Benz G 63 AMG 6×6
2014 Mercedes-Benz Unimog U5023
2015 Mercedes-Benz Tankpool24 Racing Truck
2018 Mercedes-Benz X-Class
Mercury
1970 Mercury Cyclone Spoiler
Meyers
1971 Meyers Manx
MG
1986 MG Metro 6R4
2005 MG XPower SV-R
2015 MG MG3
Mini
1965 Mini Cooper S
2009 Mini John Cooper Works
2012 Mini John Cooper Works GP
2013 Mini X-Raid All4 Racing Countryman
2018 Mini X-Raid John Cooper Works Buggy
2018 Mini John Cooper Works Countryman All4
2021 Mini John Cooper Works GP
Mitsubishi
1988 Mitsubishi Starion ESI-R
1995 Mitsubishi Eclipse GSX
1997 Mitsubishi GTO
1999 Mitsubishi Lancer Evolution VI GSR
2004 Mitsubishi Lancer Evolution VIII MR
2006 Mitsubishi Lancer Evolution IX MR
2008 Mitsubishi Lancer Evolution X GSR
Morgan
2014 Morgan 3 Wheeler
Morris
1953 Morris Minor 1000
Mosler
2006 Mosler MT900 GT3
2010 Mosler MT900S
Napier
1933 Napier Napier-Railton
NIO
2016 NIO EP9
Nissan
1969 Nissan Fairlady Z 432
1971 Nissan Skyline 2000GT-R
1973 Nissan Skyline H/T 2000GT-R
1987 Nissan Skyline GTS-R (HR31)
1990 Nissan Pulsar GTI-R
1992 Nissan Silvia CLUB K's
1993 Nissan 240SX SE
1993 Nissan Skyline GT-R V-Spec
1994 Nissan Fairlady Z Version S Twin Turbo
1994 Nissan Silvia K's
1995 Nissan NISMO GT-R LM
1997 Nissan Skyline GT-R V-Spec
1998 Nissan R390 (GT1)
1998 Nissan Silvia K's Aero
2000 Nissan Silvia Spec-R
2002 Nissan Skyline GT-R V-Spec II
2003 Nissan Fairlady Z
2004 Nissan Pickup #23 Rally Raid
2010 Nissan 370Z
2012 Nissan GT-R Black Edition
2016 Nissan Titan Warrior Concept
2017 Nissan GT-R (R35)
2018 Nissan Sentra NISMO
2019 Nissan 370Z NISMO
2020 Nissan GT-R NISMO (R35)
Noble
2004 Noble M400
2010 Noble M600
Oldsmobile
1966 Oldsmobile Toronado
Opel
1984 Opel Manta 400
Pagani
2009 Pagani Zonda Cinque Roadster
2010 Pagani Zonda R
2016 Pagani Huayra BC
Peel
1962 Peel P50
1965 Peel Trident
Penhall
2011 Penhall "The Cholla"
Peugeot
1984 Peugeot 205 Turbo 16
1991 Peugeot 205 Rallye
2007 Peugeot 207 Super 2000
Plymouth
1968 Plymouth Barracuda Formula-S
1971 Plymouth Cuda 426 HEMI
Polaris
2015 Polaris RZR XP 1000 EPS
Pontiac
1965 Pontiac GTO
1977 Pontiac Firebird Trans Am
1987 Pontiac Firebird Trans Am GTA
Porsche
1955 Porsche 550A Spyder
1959 Porsche 356 A 1600 Super
1964 Porsche 356 C Cabriolet Emory Special
1970 Porsche 914/6
1970 Porsche 917 LH
1971 Porsche 917/20
1973 Porsche Carrera 2.7 RS
1982 Porsche 911 Turbo 3.3
1985 Porsche 959 #185 Prodrive Rally Raid
1987 Porsche 959
1989 Porsche 911 Rothsport Racing "Desert Flyer"
1989 Porsche 944 Turbo
1990 Porsche 911 Singer DLS
1993 Porsche 968 Turbo S
1995 Porsche 911 Carrera 2 Gunther Werks
1995 Porsche 911 GT2
1998 Porsche 911 GT1 Strassenversion
2003 Porsche Carrera GT
2004 Porsche 911 GT3
2010 Porsche 911 Sport Classic
2012 Porsche 911 GT2 RS
2012 Porsche 911 GT3 RS 4.0
2014 Porsche 911 Turbo S
2014 Porsche 918 Spyder
2015 Porsche Cayman GTS
2016 Porsche 911 GT3 RS
2016 Porsche Cayman GT4
2017 Porsche Panamera Turbo
2018 Porsche 718 Cayman GTS
2018 Porsche 911 GT2 RS
2018 Porsche Cayenne Turbo
2018 Porsche Macan LP Racing T1 Rally Raid
2019 Porsche 911 Carrera S (992)
2019 Porsche 911 GT3 RS
2019 Porsche 911 Speedster
2019 Porsche Macan Turbo
2020 Porsche Taycan Turbo S
2021 Porsche 911 GT3
Radical
2015 Radical RXC Turbo
Raesr
2019 Raesr Tachyon Speed
Reliant
1972 Reliant Supervan III
Renault
1967 Renault 8 Gordini
1968 Renault 4L Export
1980 Renault 5 Turbo
1993 Renault Clio Williams
2008 Renault Mégane R26.R
2013 Renault Clio R.S. 200 EDC
2018 Renault MEGANE R.S.
Rimac
2019 Rimac Concept Two
RJ Anderson
2016 RJ Anderson Polaris RZR-Rockstar Energy Pro 2 Truck
Saleen
2004 Saleen S7
2018 Saleen S1
Schuppan
1993 Schuppan 962CR
Shelby
1965 Shelby Cobra 427 S/C
1965 Shelby Cobra Daytona Coupé
SIERRA Cars
2020 SIERRA Cars ALPHA Yokohama
2021 SIERRA Cars RX3
Subaru
1990 Subaru Legacy RS
1998 Subaru Impreza 22B STI
2004 Subaru Impreza WRX STI
2005 Subaru Impreza WRX STI
2008 Subaru Impreza WRX STI
2011 Subaru WRX STI
2013 Subaru BRZ
2015 Subaru WRX STI
2018 Subaru WRX STI ARX Supercar
2019 Subaru STI S209
Toyota
1969 Toyota 2000GT
1974 Toyota Celica GT
1979 Toyota FJ40
1985 Toyota Sprinter Trueno GT Apex
1989 Toyota MR2 SC
1992 Toyota Celica GT-Four RC ST185
1992 Toyota Supra 2.0 GT
1993 Toyota T100 Baja Truck
1994 Toyota Celica GT-Four ST205
1998 Toyota Supra RZ
2003 Toyota Celica SS-I
2013 Toyota 86
2014 Toyota Hilux Arctic Trucks AT38
2016 Toyota Land Cruiser Arctic Trucks AT37
2019 Toyota 4Runner TRD Pro
2019 Toyota Tacoma TRD Pro
2020 Toyota Supra GR
2020 Toyota Tundra TRD Pro
TVR
1998 TVR Cerbera Speed 12
2005 TVR Sagaris
2018 TVR Griffith
Ultima
2015 Ultima Evolution Coupé 1020
Vauxhall
2005 Vauxhall Monaro VXR
2016 Vauxhall Corsa VXR
Volkswagen
1963 Volkswagen Beetle
1963 Volkswagen Type 2 De Luxe
1969 Volkswagen Class 5/1600 Baja Bug
1970 Volkswagen Stock Bug Desert Dingo Racing
1981 Volkswagen Scirocco S
1982 Volkswagen Pickup LX
1983 Volkswagen Golf GTI
1992 Volkswagen Golf Gti 16v MK2
1995 Volkswagen Corrado VR6
1998 Volkswagen GTI VR6 MK3
2003 Volkswagen Golf R32
2010 Volkswagen Golf R
2011 Volkswagen Scirocco R
2014 Volkswagen Golf R
2017 Volkswagen Beetle #34 Andretti Rallycross
2021 Volkswagen Golf R
Volvo
1983 Volvo 242 Turbo Evolution
1997 Volvo 850 R
2015 Volvo V60 Polestar
VUHL
2017 VUHL 05RR
Willys
1945 Willys MB Jeep
Wuling
2013 Wuling Sunshine S
Xpeng
2020 Xpeng P7
Zenvo
2016 Zenvo ST1
2019 Zenvo TSR-S