Every move you take on your computer adds to its workload. Downloading, uninstalling, browsing, moving, deleting. All these activities leave a trail of worthless data getting in the way of computing processes. Optimization applications can help erase the trails while keeping your machine clean, lean and mean.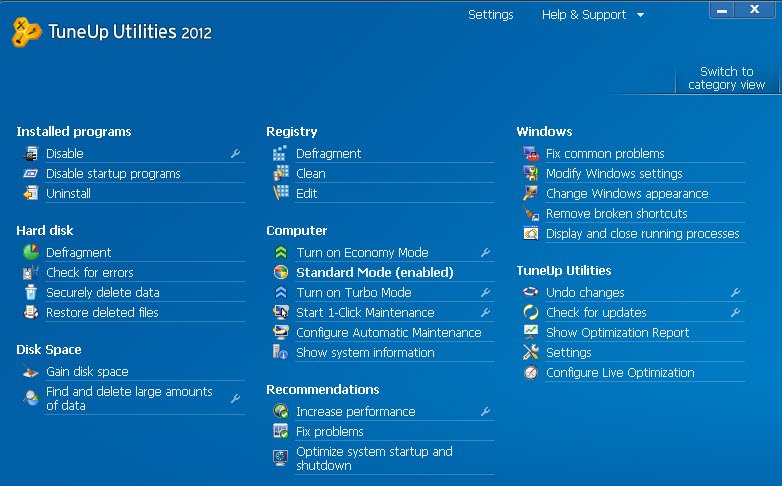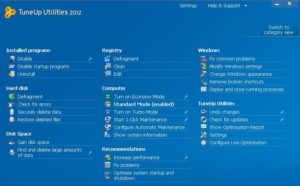 However, optimization apps can be dangerous for the everyday computer user. Some require careful decision-making before cleaning up because deleted files can mess up the registry or be something you need. Although you can do many of the cleaning activities yourself, they're time consuming because you have to locate them in different places on your computer.
TuneUp Utilities 2012 brings everything together in one user-friendly interface. It also includes Economy and Turbo modes. Economy is for optimizing battery life and power consumption on laptops, so you can compute longer. Turbo speeds performance. Standard mode is how your computer performs without any adjustments.
The well-organized and clean TuneUp Utilities interface has five components:
Status & recommendations: Optimize performance for hardware, software, Internet and visual effects, fix problems and change settings for undoing TuneUp Utilities changes.
Optimize system: Disable programs not in use, remove unnecessary programs from startup, uninstall apps, managing Economy and Turbo modes and running individual maintenance tasks.
Gain disk space: Delete unneeded files, remove old backups, turn off unwanted Windows features, find the largest data files and delete data so it can't be restored.
Fix problems: Are icons showing up weird or is the taskbar invisible? Get help with fixing common programs, check hard disk for errors and restore deleted files. TuneUp Utilities has a detailed version of Windows Task Manager, the window that opens when you press Ctrl+Alt+Delete.
Customize Windows: Microsoft adds fancier features to Windows' interface with every release. The older window interface was blocky, bland and hard on the eyes. The new looks cooler, but sacrifices performance and system resources. With TuneUp Utilities, you can find a happy medium between Windows performance and good looks.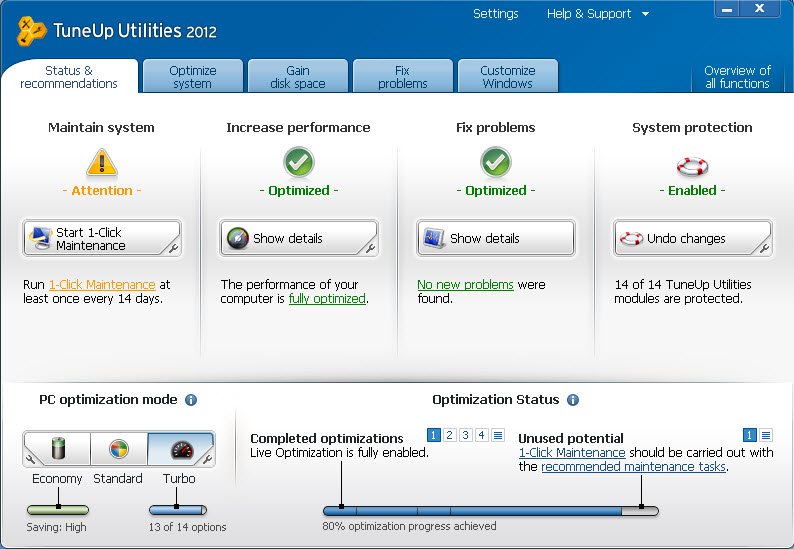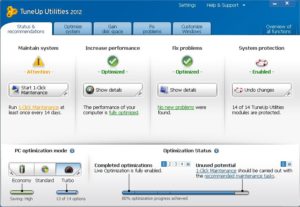 Some apps like Adobe Reader quick launch, iTunesHelper and QuickBooks default to start up so they load faster or automatically check for updates. The apps may load faster, but they affect performance even if you rarely use them. It's easy to find where to disable startup programs in TuneUp Utilities and it also provides more information than System Configuration Utility's Startup options tab does. Besides, we always forget how to open it. (Click Start, Run and enter "msconfig.")
You can also disable programs that you want to keep, but only enable them when you run the program. For example, QuickBooks Pro runs a process whenever Windows boots. Disabling the app turns off the process until you actually run QuickBooks. After closing QuickBooks, TuneUp Utilities 2012 turns it off.
To see how TuneUp Utilities 2012 affects performance, we use PC Mark, AppTimer and good old-fashioned manual tracking of program load times. The answer to the big question is no. The app doesn't improve PC performance. The results are minimal despite our best efforts to replicate all tests before and after running TuneUp Utilities 2012. This isn't a surprise because this is often the case with most optimization apps.
While we notice little performance improvements from running TuneUp Utilities 2012, its simplicity in providing access to all optimization features saves time and cuts clutter. It also makes solid recommendations for cleanup, an area of weakness with some optimization apps. Always take care when using any optimization software in checking recommendations before accepting them.
Have you used TuneUp Utilities or other computer optimization software? How did it work out for your computer? What do you like and don't like about it?