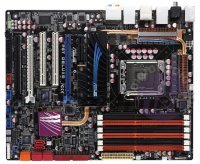 ASUS offers another option for enthusiasts with an eye on the new Core i7 processors, the ASUS P6T Deluxe OC Palm Edition motherboard. It is marketed as a fully loaded 1366 motherboard that offers unique features not found on other competing boards. Features include a small 2.5″ LCD display that provides overclocking options, three PCI express slots, and support for NVIDIA SLI multi-GPU technology. The high-end motherboard has a lot of competition, though, including the Intel DX58SO, MSI Eclipse, Foxconn Renaissance, and EVGA's X58 SLI motherboard, as well as ASUS' own Rampage II Extreme X58 motherboard. Enthusiasts will be interested to know how the fares when compared in terms of features, performance, and price.
The first distinct difference is the 2.5 inch LCD monitor. This is an exclusive device that can be plugged into the motherboard through any available USB port. It displays overclocking options and vital system information such as CPU temperature, fan speeds, etc. The user can easily monitor system performance, and take action should a problem arise (e.g. temperature rising to unstable/unacceptable levels). A Yahoo! Widget can also be used to access the data.
The ASUS P6T has three PCI Express 2.0 slots. The first two slots will run at x16 speed. If the second slot is set to x8 speed, the third slot can also run at x8 speed. This gives the user more flexibility for the hardware that can be used. Obviously, if you only need to use two slots (e.g. installing two graphics cards), both will run at x16 speed. In addition, a x4 speed PCI slot and two regular PCI slots are provided.

Another key feature of the ASUS P6T motherboard is the inclusion of SLI support. This is a strategic business move on the part of ASUS, since NVIDIA charges a royalty fee per motherboard sold to manufacturers that offer support for SLI. It is not supported by all manufacturers for this reason.
Memory wise, the board offers six physical slots, separated into two different colors. To achieve maximum efficiency, only three or six memory modules should be installed. If only 3 modules are installed, the same color slots should be used. In total, you can install up to 12GB of memory on the ASUS board.
Overall, the ASUS P6T compares very favorably to other options in many ways. While it doesn't offer the four PCI Express 2.0 x16 slots or fourteen USB 2.0 ports of the Foxconn Renaissance motherboard, the ASUS P6T is an excellent option due to the extras assuming it includes all the functionality you require.