Switching from your old pair of skating shoes or trainers to a proper pair of mountain biking shoes can be a daunting task but is definitely one that will take your riding to the next level if you pick the right pair. To help you figure out what type of mountain biking shoes are the right ones for you this article has broken up some important things for you to think about before you even start to look for your perfect pair.
Mountain biking shoe categories
Cross-Country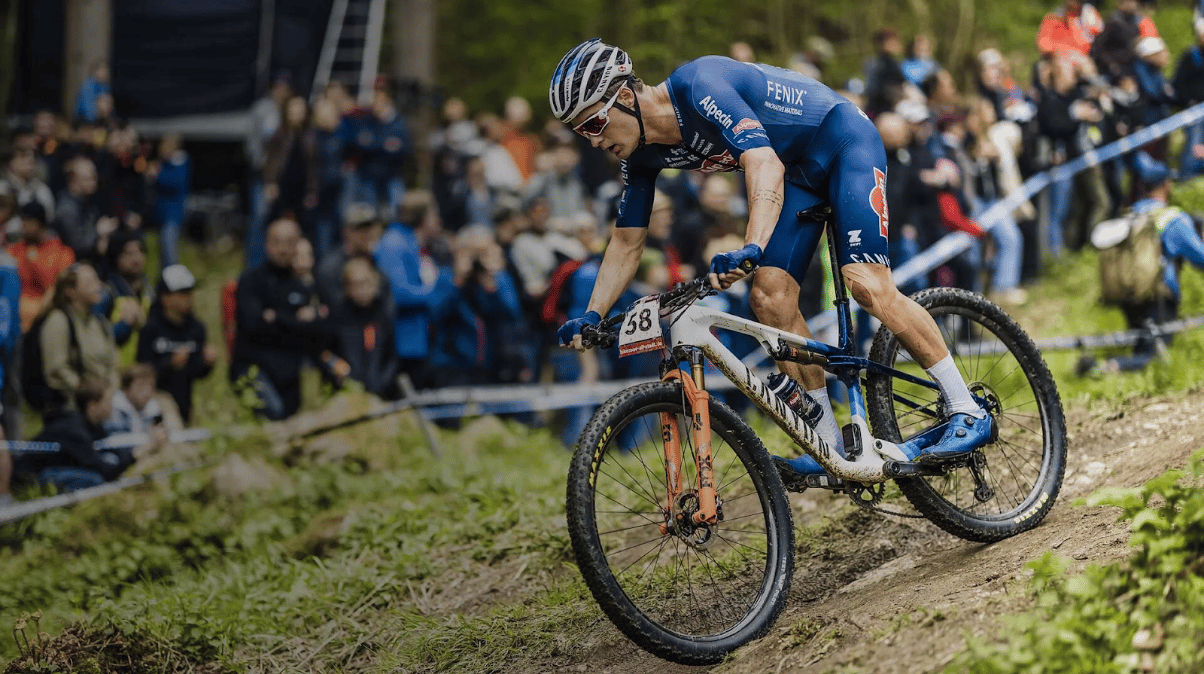 Mountain biking shoes that have been made for cross-country have been designed to be able to cover as much ground as possible and as easily as possible. In order to achieve these two things the shoes have to be lightweight, have a stiff underfoot and have a snug fit on your feet in order to give you the maximum connection you can get to the pedal of your bike. The top cross-country shoes will mostly be made with a clipless design, which means you'll need to clip into your pedal which'll additionally give you even more pedalling power.
Some of the things that you will be compromising when you decide to pick these riding shoes over other pairs are that you'll have less foot protection and the fact that it is a lot stiffer than other options means that they will also be less comfortable when walking in. However, if you are a cross-country rider who is looking to pedal out as many miles as possible and as efficiently as possible then the XC shoes really are the best ones that you should be considering. Some of the best options within this category include: the Sidi Dominator, Giro Empire VR90 and Specialized's race-ready S-Works recon.
Trail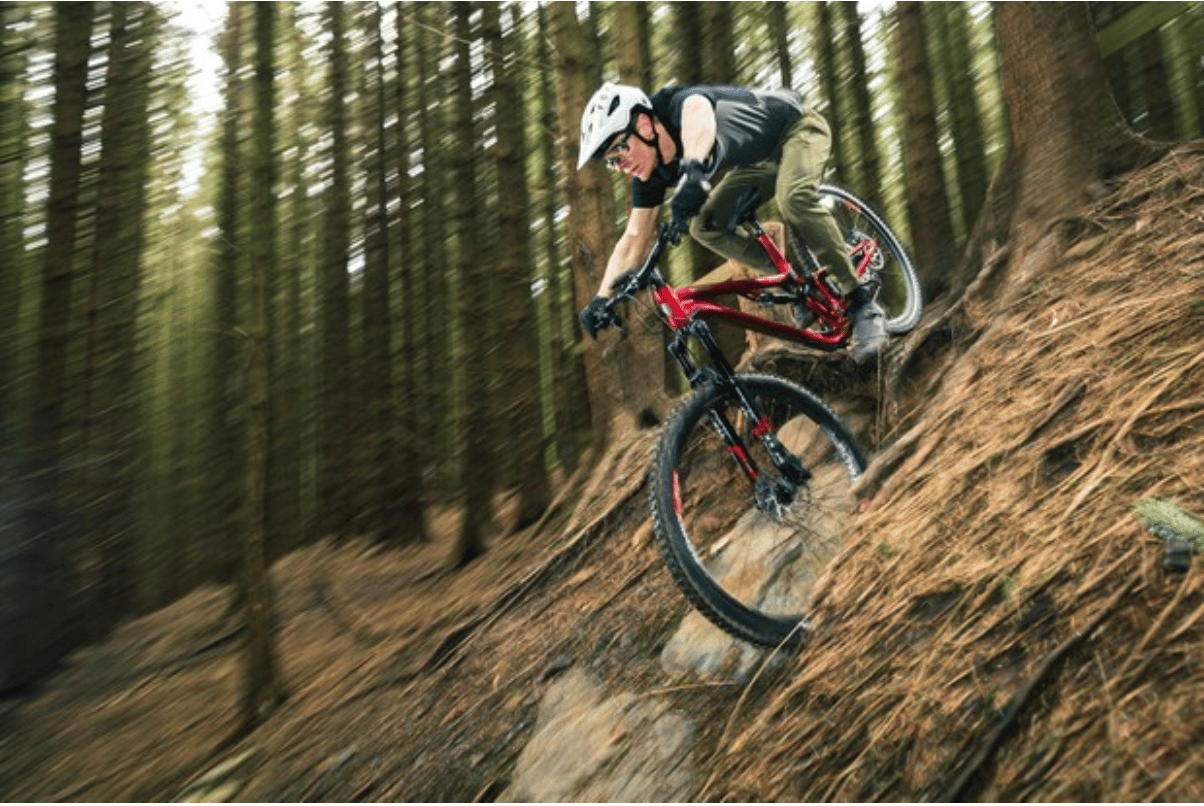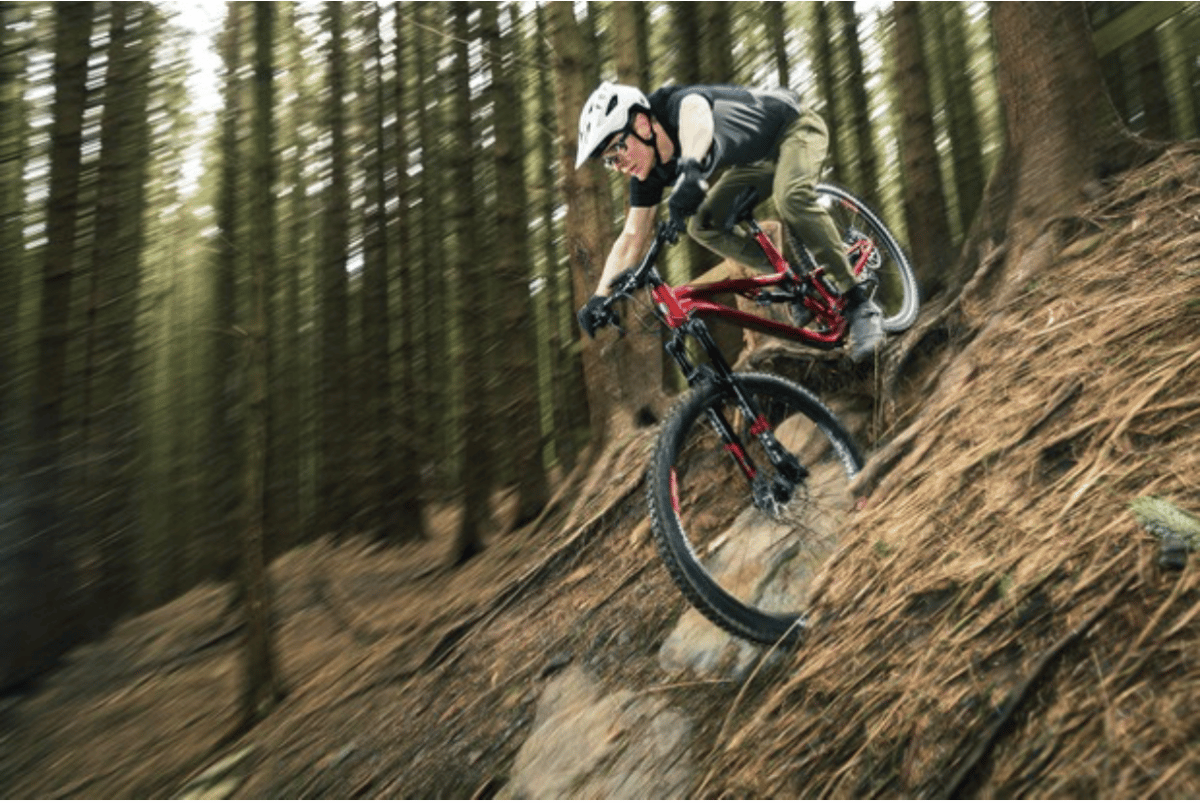 The trail mountain biking shoes are often the most versatile shoes available on the market as they are able to give you great comfort on climbs but still offer good protection on downhills. The options in this category of mountain biking shoes are very flexible and popular as they are able to give you the grip that you won't get from the XC shoes but still offer a good amount of pedal power as it is reasonably stiff. You'll also get more protection for your feet than what you'd have from the XC options as well as a little better shock absorption, which'll definitely help a bit when you take bigger drops.
When it comes to what type of pedals you can run with this category of mountain biking shoe it often varies between clipless as well as flat pedals. The most popular trail shoe for flat pedals would be the Five Ten Freerider line and then the two most popular for clipless pedals are the Shimano SH-ME5 and the Pearl Izumi X-Alp Summit shoes.
Downhill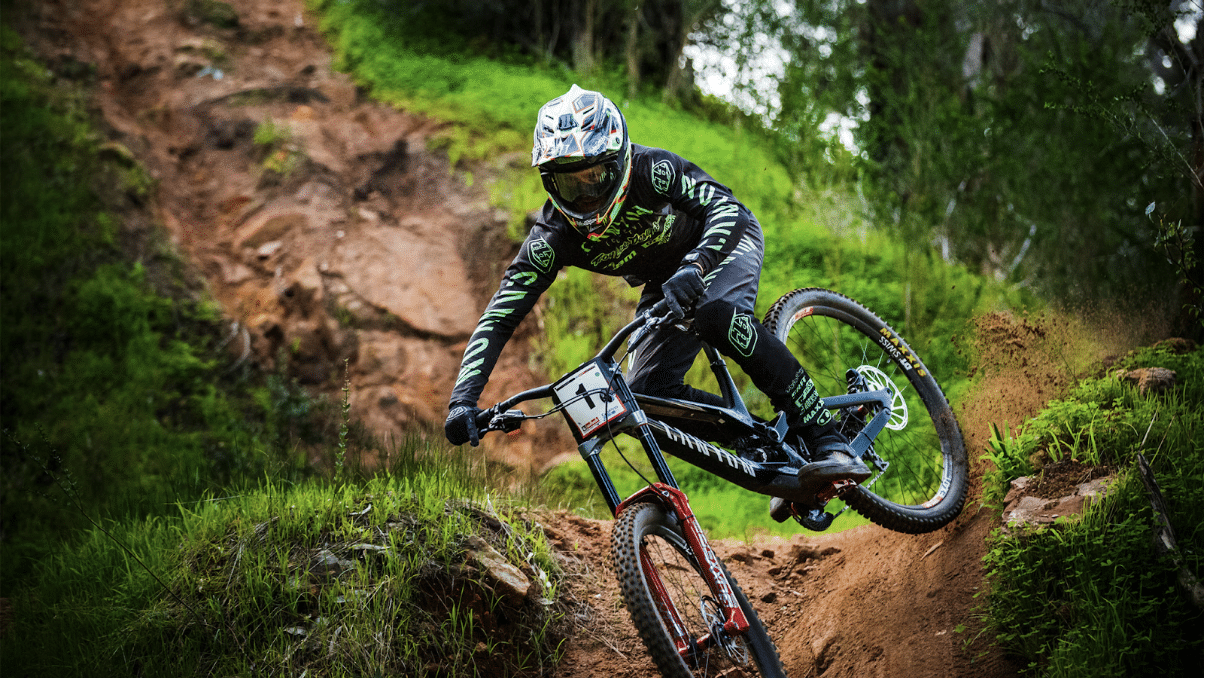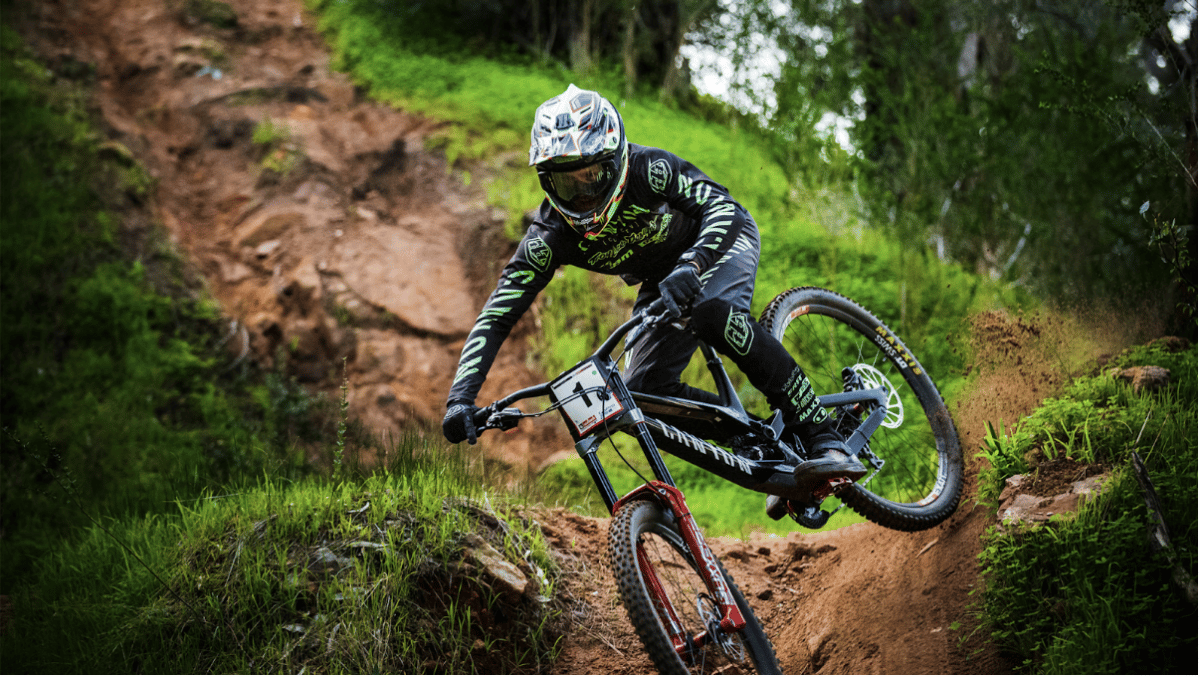 The last category of mountain biking shoes is downhill and this category is easily the most demanding out of all of them. This category can include anything from riding at bike parks to very rough and steep descents, the shoes in this category have to be burly and well cushioned in order to cater to this style of riding.
To give you the protection needed to protect your feet from any falls or rocks on these trails you'll notice that the shoes have extra layers of protection around the toe box and collar. Then to absorb the drops that you'll be tackling these shoes will also be equipped with a thick midsole and outsole, in some of these shoes you'll even have an over-the-ankle design to give you maximum protection.
You'll find that flat pedals are a lot more popular than clipless pedals in this category of riding as it is very important to be able to quickly bail off of your bike, especially because of the high degree of difficulty that these types of trails have. However, if you are dedicated to the clipless pedal life then there are two popular options for you to try out and those are the Five Ten clipless Hellcat Pros and the Giro Chamber ll's.
One of the biggest downsides to the shoes in this category is the added weight that comes with all this extra protection, you'll also notice that you'll lose a lot of pedalling efficiency with these shoes.
Pedal Compatibility
Once you've figured out what type of riding you're going to be doing with your shoes then the next step to narrow down your search even more will be to figure out pedal compatibility.
Clipless shoes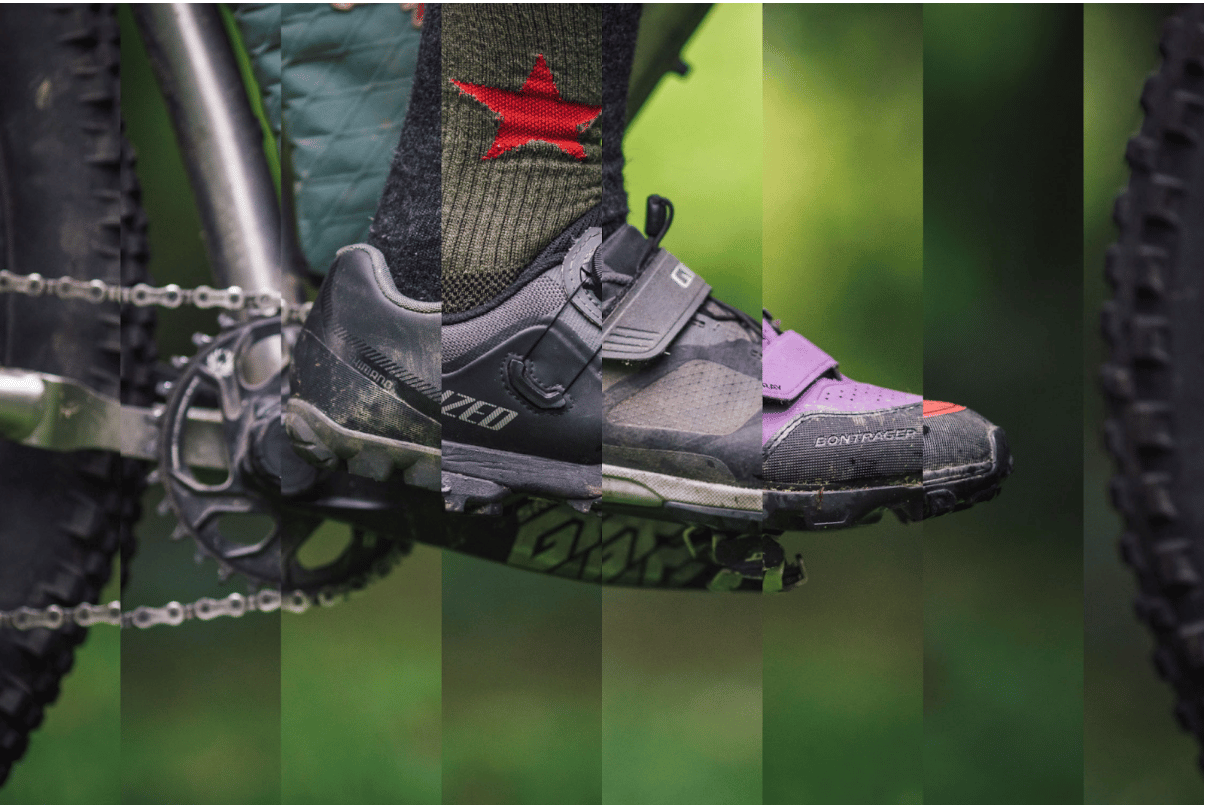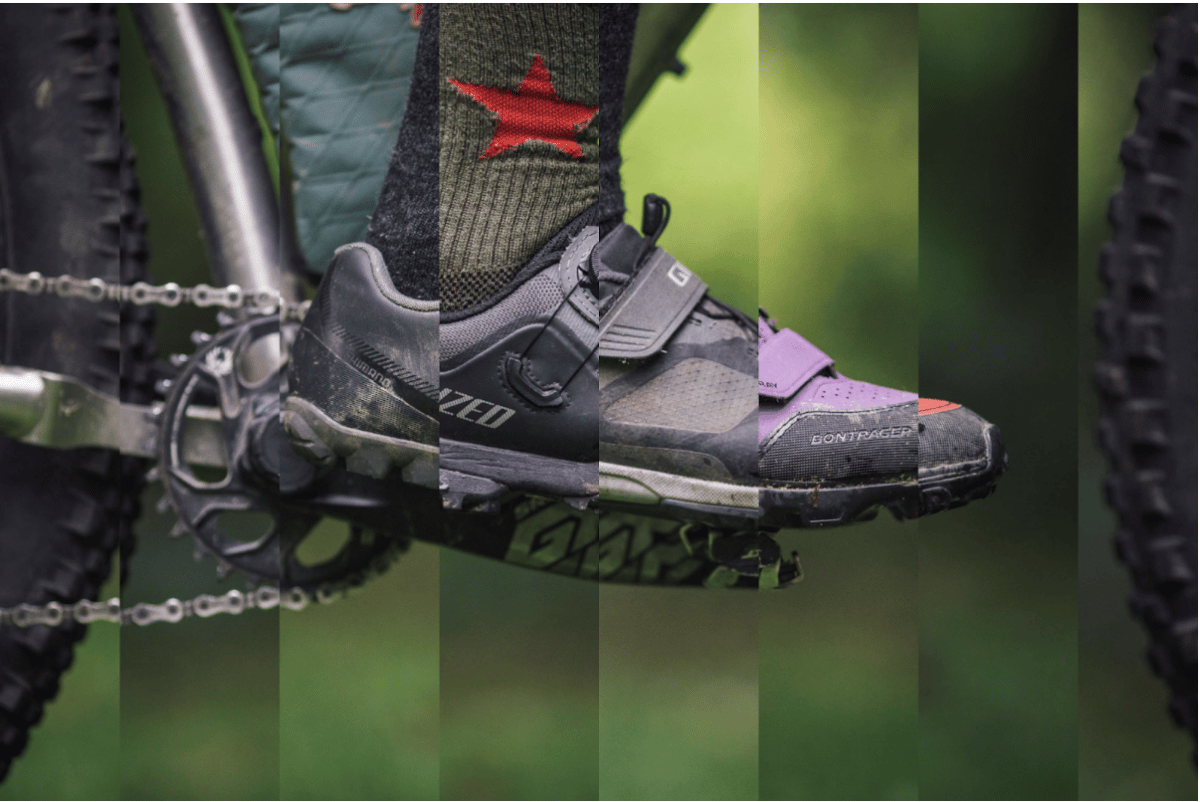 Clipless shoes have technology in the pedals and shoes that allow you to connect or clip in directly to the pedals themselves. The biggest benefit that you get from having the clipless setup is the simple fact that you'll be able to put more pedal power down and pedal efficiently because you're connected to the pedals. This extra pedal power you get makes it very popular when you're going to be out on longer rides or are going to use them for cross-country. Another big advantage to having clipless pedals is that you won't have to worry about any type of foot slippage when you're hitting jumps or just riding through a section of trail that is a little rougher than usual.
You'll have to take into consideration that you will have to learn how to ride in these as it isn't easy to get the hang of straight away if you are a beginner. It is very important to build up muscle memory to be able to quickly kick your heel out in order to disconnect from the pedal in case of an emergency. Even though you may have this skill mastered it will still never be as fast as if you had flats. So unless you're a cyclist that has a history in road cycling and have used clipless pedals before most newbies will go with the flats.
Flat shoes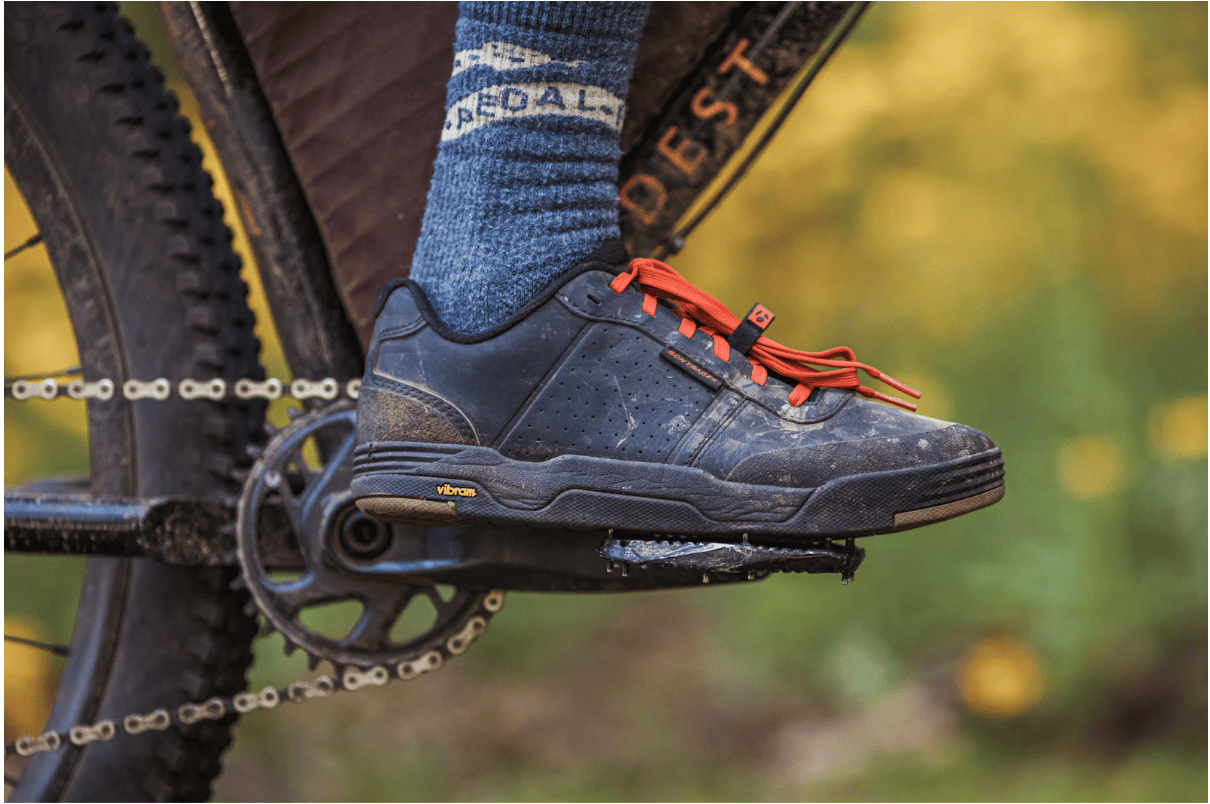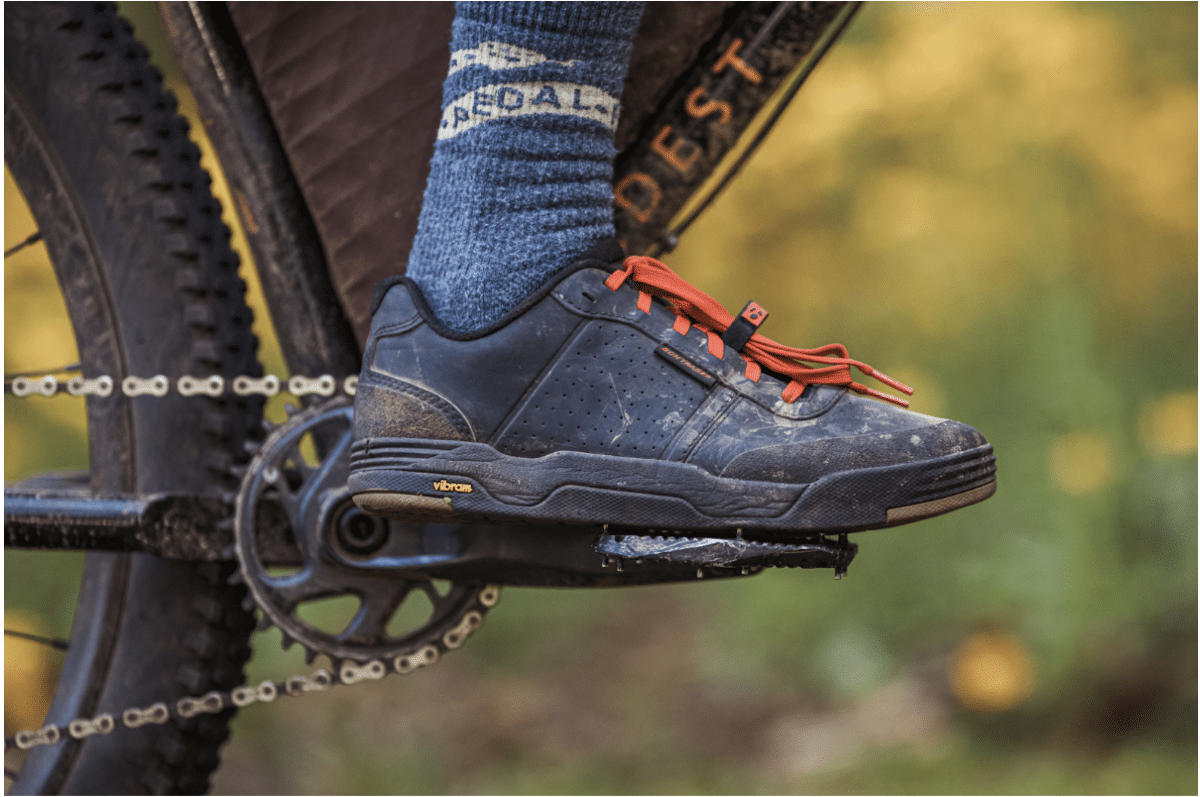 As you could've guessed from the name of these shoes they don't have cleats on the bottom of them and are instead smooth and work a lot better with your normal platform or flat pedals. The biggest advantage that you get from having these shoes, that every rider benefits from from a beginner to even professionals, is that you can easily disengage from these pedals and bail whenever you need to. A great thing about the top quality flat shoes is that they are still able to offer a lot of grip so there won't be as big a difference between clipless and flat pedal shoes although the clipless shoes will always have the upper hand.
Even though you may have the best outsoles possible on your flat shoes they'll never be as efficient, when it comes to pedalling, as the clipless shoes would be able to do. You'll also find that the flat shoes are less forgiving because you can't just pull up on your bike using your feet and expect the bike to follow, so you'll actually have to learn the proper technique. You'll also have to be ready to take a lot of pain when you are learning on flat pedals as it is very common to slip on your pedals and have them hit your shins, which for those of you who don't know is extremely painful and this definitely helps speed up the learning process.
Then you'll also notice that there are a lot less options when it comes to flat pedal shoes, which can be both a blessing as well as a curse, the brand that dominates this category of shoe is easily Five Ten. Then when it comes to the fit of these shoes, you'll also notice that they don't have the same technology, such as a ratchet system found in the clipless shoes, this means that you won't be able to get a snug fit with the flat pedal shoes.
Pedal Designs
If you aren't switching between clipless and flat pedals then the good news is that your new pair of riding shoes will be compatible with your pedals that you already have on your bike. You're able to choose clipless pedals from a wide range and variety from Shimano's most popular, SPD, collection to Crankbrothers' minimalist Eggbeaters. If you look past these premium options, you'll notice that most of the common mountain bike clipless pedals come with a two-bolt cleat design.
Then when it comes to flat pedal shoes and their compatibility to flat pedals, you won't have to worry about that at all as all flat sole shoes are compatible with flat pedals. Then if you are a rider who is going to be swapping between flats and clipless pedals, or even the other way around, then you'll need to replace the pedals yourself, but this is a very easy process that you can do all by yourself.
Stiffness and Power Transfer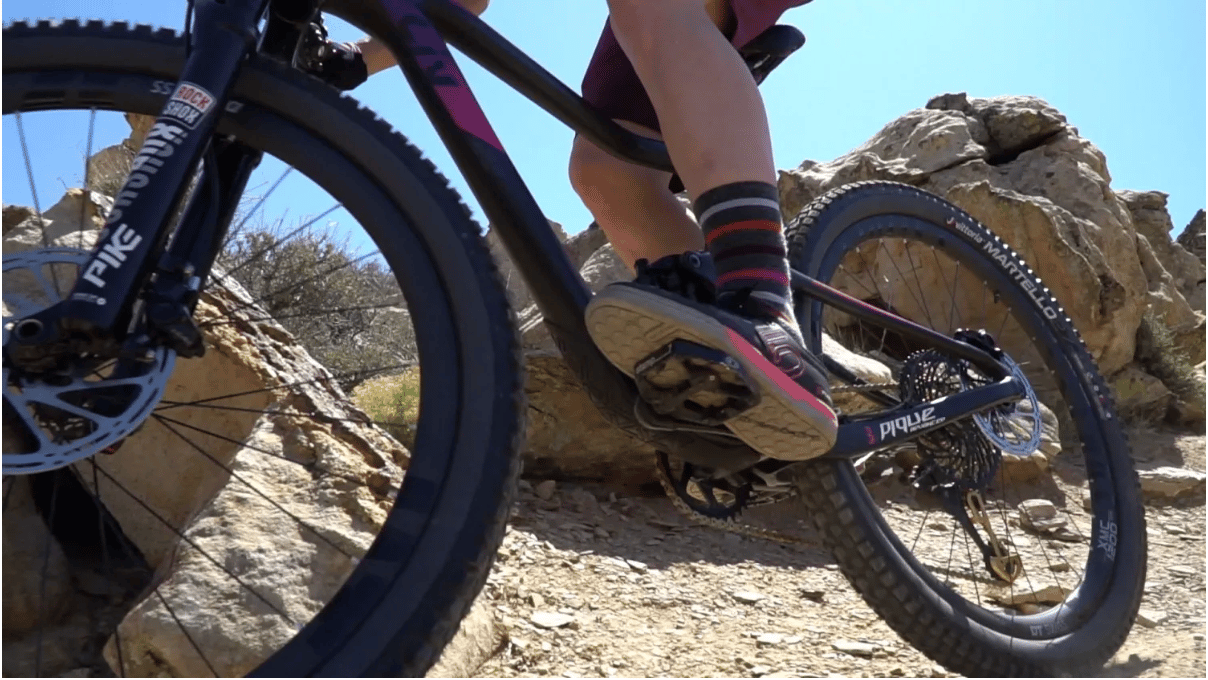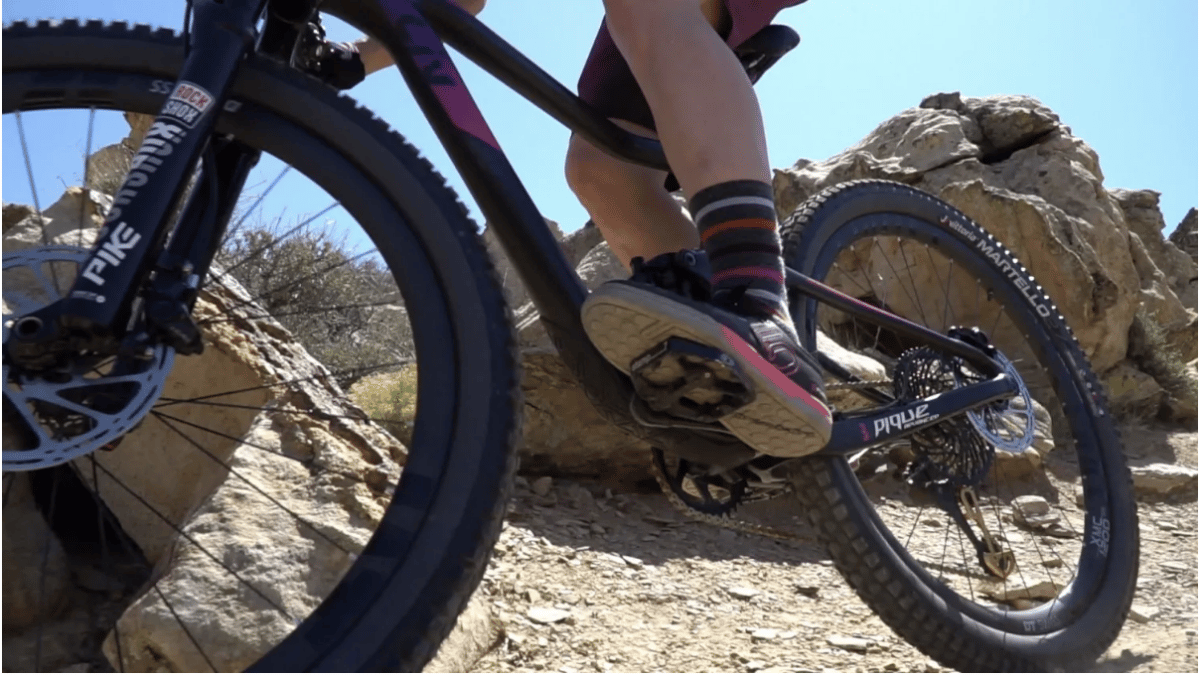 One of the most important features that any riding shoe has is its stiff underfoot build, the stiffness of the underfoot will define how much power you are able to put down straight to your pedals. Each model of shoe will have a different stiffness, so it is important to pick the best one for your riding style. An extreme example of this is the Specialized S-Works Recon, which is a purely cross-country racing shoe, this shoe will give you maximum pedal power but is incredibly rigid and thus makes it hard to walk in when you are off of your bike. On the other side of this spectrum, we have a budget-friendly riding shoe, the Five Ten Sleuth, which is so flexible that you'll even be able to wear them as an everyday shoe.
It is pretty hard to try and compare the stiffness of different shoes as there isn't really an established measurement for stiffness but generally the stiffness increases with price as well as how serious the shoes are. If you are a rider who races a lot or rides on trails that require a lot of pedal power, then you'll definitely want to invest in the stiffest shoes around. If you aren't that much of a serious rider but still want a good pair of shoes, then some all-round designs include the Shimano SH-ME5 or the Five Ten Freerider.
However, if you look even deeper into the construction of these shoes, you'll actually notice that different manufacturers and brands incorporate stiffness in more ways than just the stiffness of the underfoot. If you take a look at the Pearl Izumi X-Alp Summit, a pretty standard shoe option that is moderately rigid, actually has a ¾ length shank that has been put into the inside of its midsole. Not only does this give your pedal strokes more power but it actually makes it even more comfortable to stand on the ground as well when you are off of your bike.
The more expensive, race-ready options out there are known to use strong materials, such as carbon-fibre, in the length of their sole. Although these types of shoes may give you maximum pedal power because of its stiffness they are uncomfortable to walk around in. The more budget riding shoes are more often the most flexible designs and all their stability and stiffness come from their thick midsole and rubber outsole, which also absorbs shocks from drops and jumps.
Outsole and grip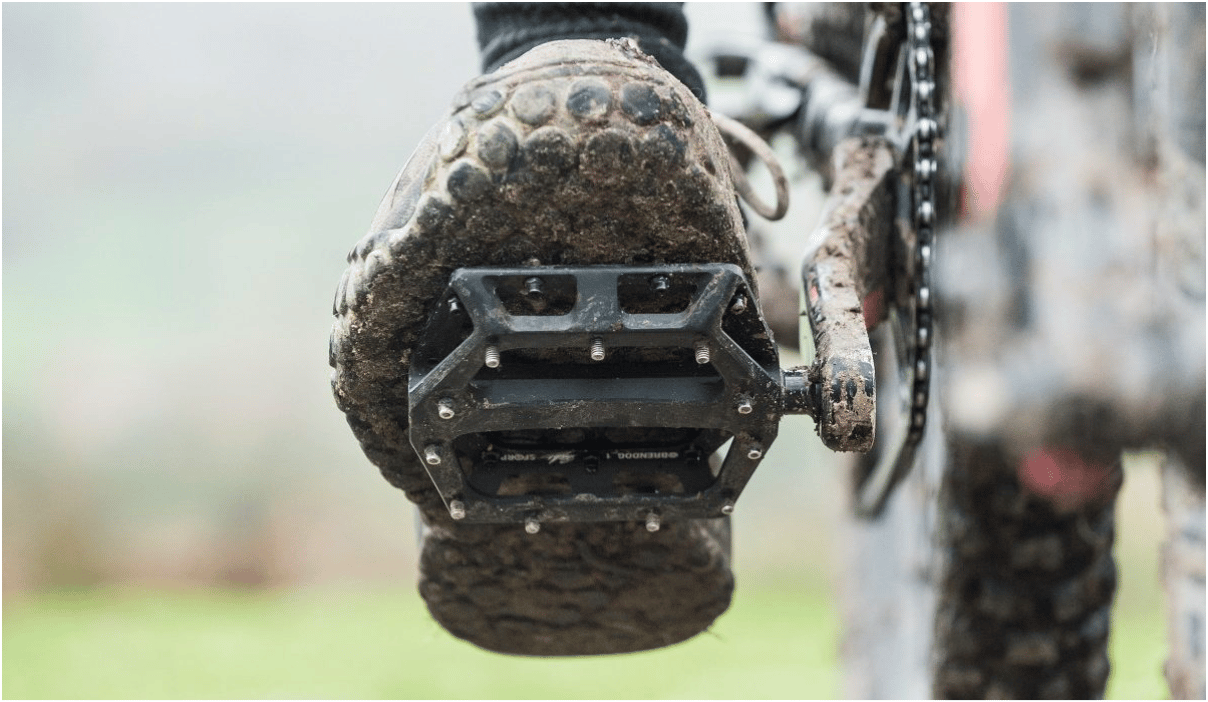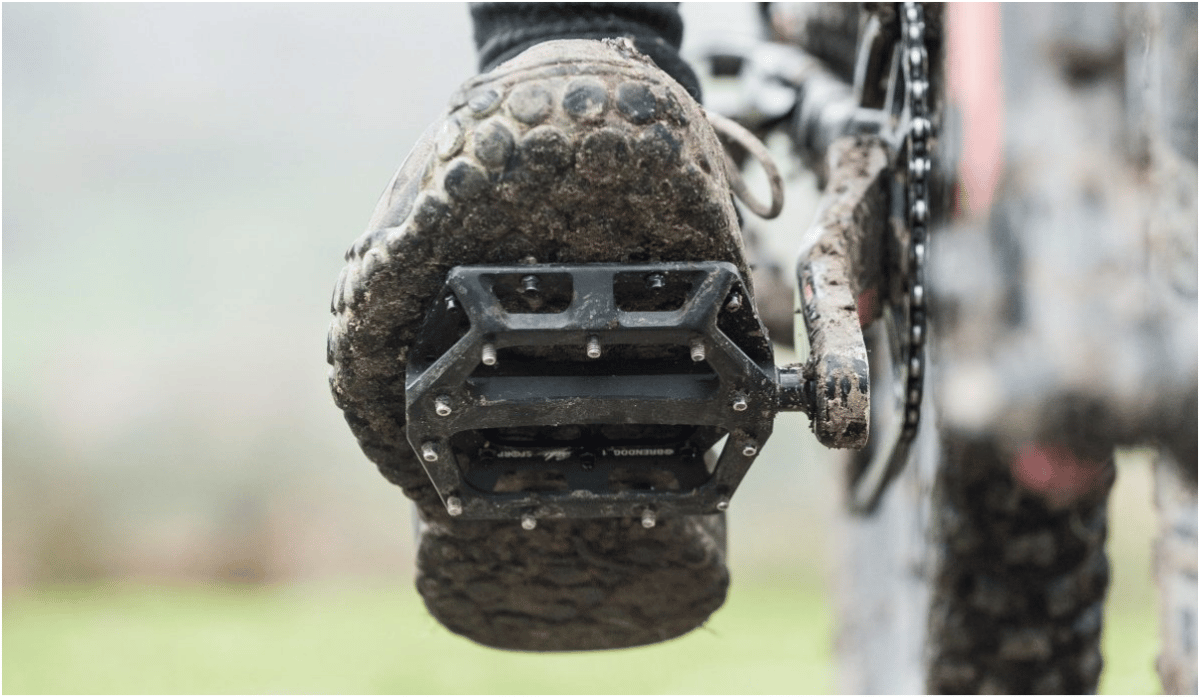 For those riders who have decided to rock the flat pedal shoes you should be careful to choose the ones with good outsole grip as this is one of the most important features, since it is how you stay connected to your bike. One of the main reasons that Five Ten has been such a dominant name in the flat pedal shoes industry is for the simple fact that their shoes provide the most grip. Two of the most legendary shoes in this industry, when it comes to grip, is the Stealth S1 Compound and the Freerider line.
Another brand that has tried to battle against these two shoes is Specialized, as they came out with their SlipNot compound, in their 2FO DH Flat shoe, but otherwise no other shoe has really come too close to the level of grip that these shoes produce. Some other shoes that have good grip, but not as great as the Five Ten Freerider and Stealth S1 compound, are the Giro Vibram and Shimano Michelin.
If you are a rider who has chosen to run clipless pedals on their bikes, then you'll be happy to know that you won't have to focus on grip nearly as much as you would if you were running a pair of flats. When it comes to clipless shoes it is the quality of the outsole that increases your grip or connectedness to your pedals. One thing that people with clipless shoes will have to consider is how much grip they want on the ground, when you are off of your bike. You'll see that the clipless shoes that have a better design still have an outsole that has a lot of grip but then has a recessed slot for its cleat so that you'll be able to walk naturally when you are off of your bike. The grip of your outsole isn't only important for you to be able to walk normally but it is actually also important so that you have grip when you have to walk on rocks or rough terrain so that you won't be falling left and right unnecessarily. It'll be important for you to figure out how much time you'll be spending off of your bike because depending on what your answer is it will dictate how important this grip is for you.
Closure Systems: Laces, Velcro, Ratchet and Boa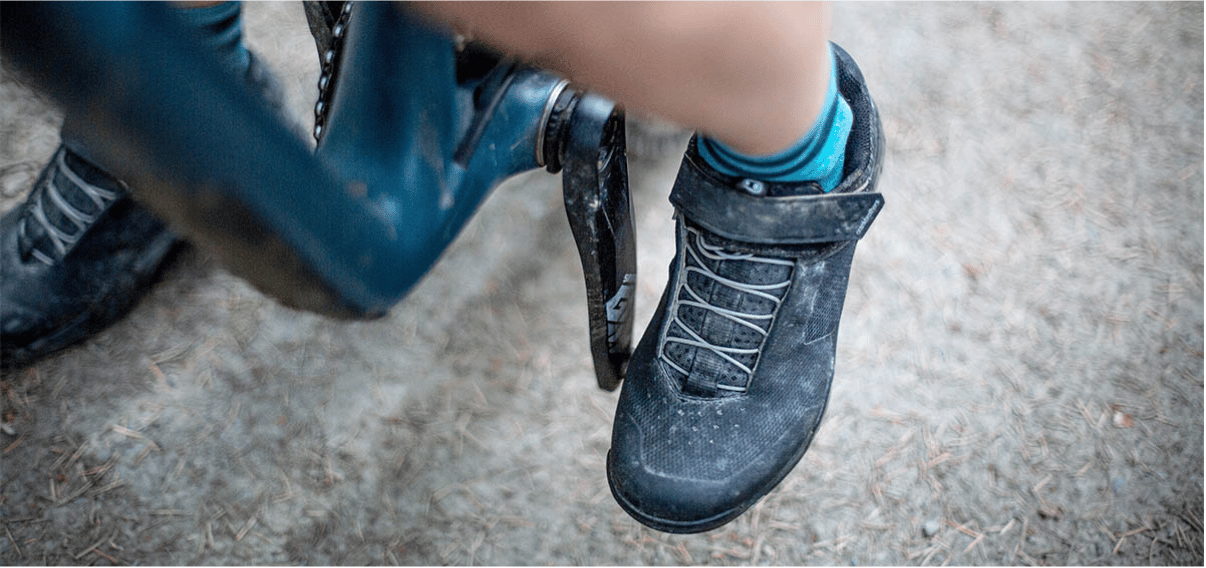 Mountain biking shoes have a wider variety of closure systems than almost every other footwear category out there. Just like your pedal preference, it is hard to come up with what closure system is the best one, it will instead just come down to which closure type you like the best personally. When it comes to laces, they are very simple to use, and you've probably used them your whole life, but you have to be careful that they are always out of the way of your pedals or chain so that it doesn't catch on any of these moving parts.
The Boa and Ratchet systems are a great option for those who are looking to be able to make micro adjustments, even when wearing gloves. These two systems are extremely lightweight and are most common on cross-country bikes as well as Enduro bikes, where riders try to shave off as much weight as they can in order to make their rides less strenuous.
Then the last closure type for pedals is Velcro and this is normally seen on shoes as a secondary closure system where there is a dial and ratchet system as the main closure system. These Velcro systems normally don't fit around your foot as tight, but they are a lot faster to fasten when compared to if you had laces instead and these would definitely do the trick if you were more of a casual rider.
Weight
It may seem like quite a simple thing to know but the more lightweight your mountain biking shoes are the more beneficial they are to your riding. The more weight you are able to shave off of your shoes the less effort it takes to pedal and will not only increase how much power you are able to put down but also increase the distance you are able to ride without getting fatigued.
Weight definitely isn't something that is as important in the mountain biking world as it is in the running shoes world or hiking shoes world. One of the main reasons that it is like this is because a lot of mountain bike riders don't ride on such long journeys and thus don't get to the point where they get fatigued from their shoes being too heavy. The average weight of a men's mountain biking shoe model is about 1 pound and 11 ounces, but then we see some outliers such as the Specialized S-Works Recon, which is a streamlined cross-country racing shoe made for maximum efficiency and weighing in at a crazy 1 pound and 3 ounces.
Then on the opposite side of the charts we have the Five Ten Hellcat Pro, which weighs in at a heavy 2 pounds and 6 ounces because of all of its protection, since it is a downhill specific shoe. Other than these exceptions most of the shoes are around the same weight so people don't even really consider the weight that much when picking a shoe.
Foot Protection
Mountain biking is a sport that really gets your adrenaline rushing and if you aren't careful enough then you can really hurt yourself as you do travel at quite high speeds. When you are riding in rough terrain and go through technical sections it'll demand a lot from your footwear that you are wearing. To protect against unexpected rock strikes almost every shoe has a toe cap inside of it, but you'll definitely be able to notice a few differences between the different riding disciplines (Cross-country, Trail, and Downhill riding).
Cross-country shoes are often the ones that are thinnest and thus offer the least amount of protection because they are more focused on weight and power transfer. Then next you have trail shoes, which have a little more protection and cushioning than cross-country shoes but not nearly as much as the burly designs that the downhill and freeriding designs have.
Protection isn't just found around your foot, another spot on the shoe where protection is definitely important is the underfoot. Shoes that are the worst at absorbing any shocks are those that have thin midsoles and outsoles, which means that it'll be more painful for these riders to go over longer and bigger rocky or rooty sections. Here you'll see that once again it is the downhill shoes that provide the highest level of comfort for these more uncomfortable rides. The one shoe that sticks out the most when it comes to keeping your feet as isolated and safe as possible is definitely the Five Ten Hellcat Pro.
Weather Protection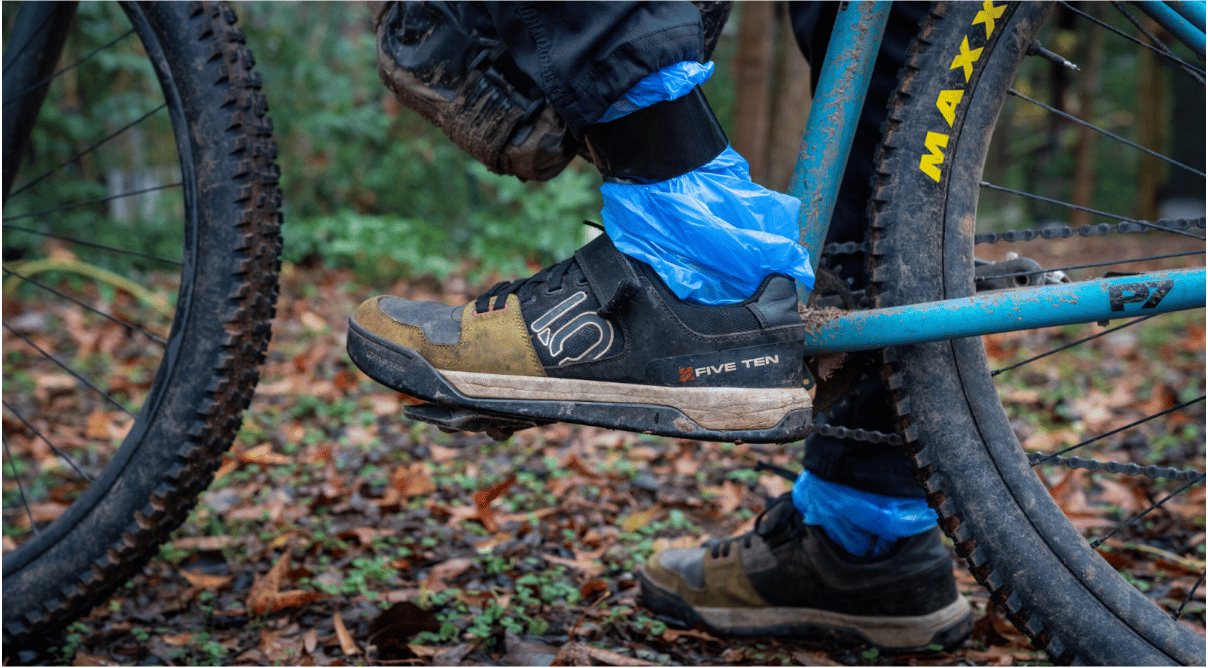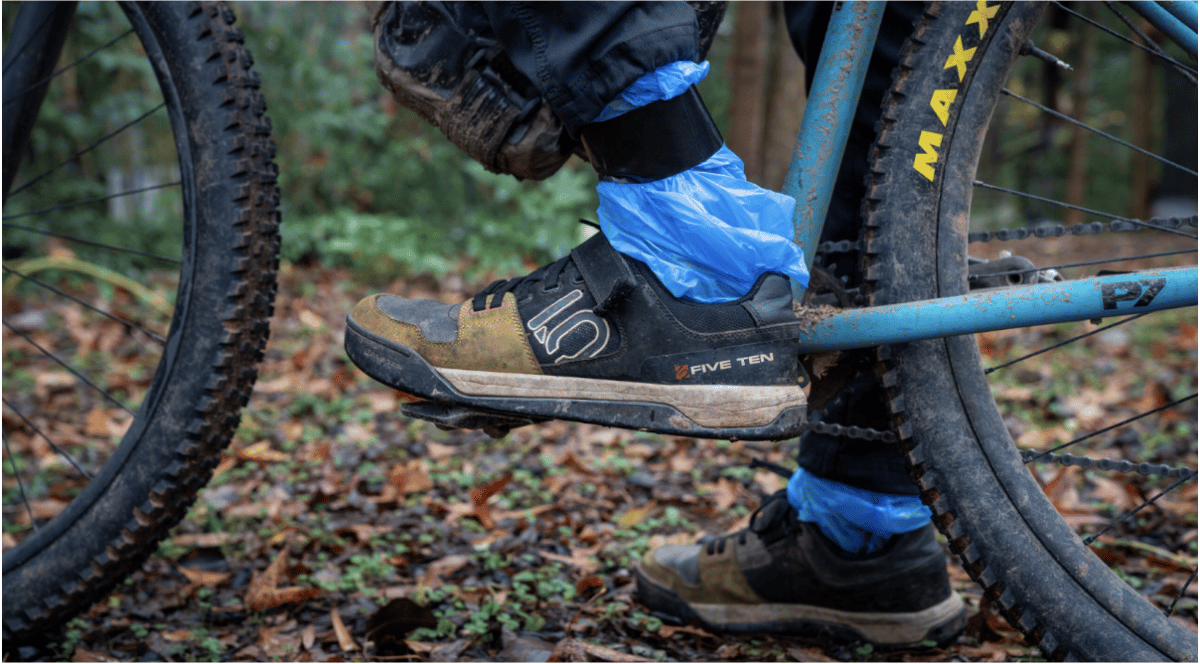 Depending on what area you live or ride in it may be quite common to have to ride in wet and muddy trails. It isn't so often that you'll have to check if shoes provide proper protection against the weather as most cross-country, trail and downhill shoes already do a good job at this because they are designed with a solid synthetic or leather upper as well as a DWR coating. The two shoes that are known for their protection the most are the Giro Terraduro Mids and the Five Ten Impact Highs, which both have a taller ankle height or an extended cuff in order to just give that extra sense of protection to be certain that no moisture or dirt makes its way into your shoes.
Another thing to check when it comes to weather protection of your riding shoes are if they are easy to clean or not, to know if they are you just have to look at the design of the shoe. A good example of this is the Shimano SH-ME7 because this shoe is designed with a minimal seam, a sleek fabric and has covered laces.
Then you may be wondering if it is possible to opt for a pair of shoes that are fully waterproof, so you won't ever have to worry about any type of moisture getting in. You'll be happy to know that there are actually a few options out there for you to choose from, some of these options include Five Ten's flat pedal shoe, the Trailcross GTX, and Shimano's clipless-compatible shoe, the MW701.
For the people that live in areas that have quite a cold and harsh winter, these waterproof shoes can be extremely important to them as it will be able to keep their feet from freezing. If you aren't a rider who will be riding in these extreme conditions then these shoes will definitely be overkill for you and will actually be bad for you because they may cause your feet to overheat from all the extra material, for protection, and lack of breathability. If you are worried about spending so much money on these shoes to only be worn and used a few months of the year then you could invest in a neoprene cover or bootie overtop of your normal riding shoes instead, in order to keep your feet warm and keep moisture away. The one downside if you decide to go the route of covering your shoes is that they are known to tear when they are exposed to trail abuse.
Breathability
If you're someone that goes on long rides, does a lot of pedalling or just lives in an area that is very warm then getting shoes with a good amount of breathability is very important in order to keep your feet cool and avoid any sort of overheating. A good way to notice, immediately, if a shoe has good breathability is if they have a good amount of mesh or a thin upper material in the design of their shoe.
If you look within the downhill category then you'll notice that a lot of the shoes are designed with a solid upper and a lot of cushioning, to cater to the abuse of the downhill trails, which leads to a lot of these shoes running very hot compared to other shoes in other disciplines. If you do opt for a shoe with a lot of breathability then you should be ready to compromise a lot of durability and weather resistance that you'd get in a thick shoe, as thin materials and mesh tend to tear a lot quicker than the other materials.
However, there are a few all-round options out there such as the Shimano SH-ME5, which somehow manages to balance both breathability as well as durability. Shimano has managed to do this by adding perforations in the shoe's upper material, which actually manages to keep your feet pretty cool during warmer weathers. In order to battle the weather and moisture Shimano have used a water-resistant synthetic upper.
Durability
Mountain biking shoes are definitely amongst the type of shoes that last the longest but there are still a few examples of mountain biking shoes that just don't last nearly as long as others and they are normally flat pedal shoes. It actually is quite a common thing for those who ride often to have to replace their shoes after a season or two of using them.
One thing that you will notice as soon as a shoe starts to wear out is that the upper material of the shoe starts to break down or even get holes in it or the sole will start to delaminate, which use to be a huge problem in some of the older Five Ten models. If you hike often in your flat pedal shoes, then you will also start to notice that the tread of the super sticky compound may start to wear down as well.
It is hard to find a brand that is flawless, and most brands do have some flaws when it comes to the durability of their shoes. One brand that has stuck out when it comes to the durability of their shoes is Sidi, but sadly they are also amongst some of the most expensive shoes that are out on the market right now as well.
Walking comfort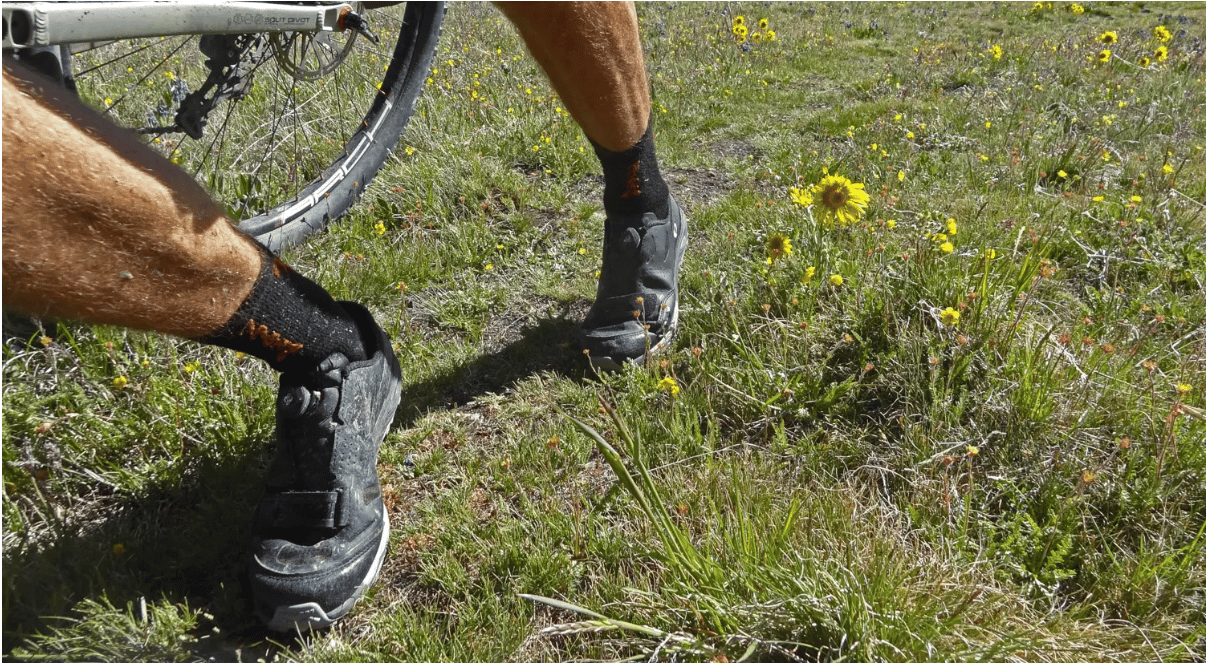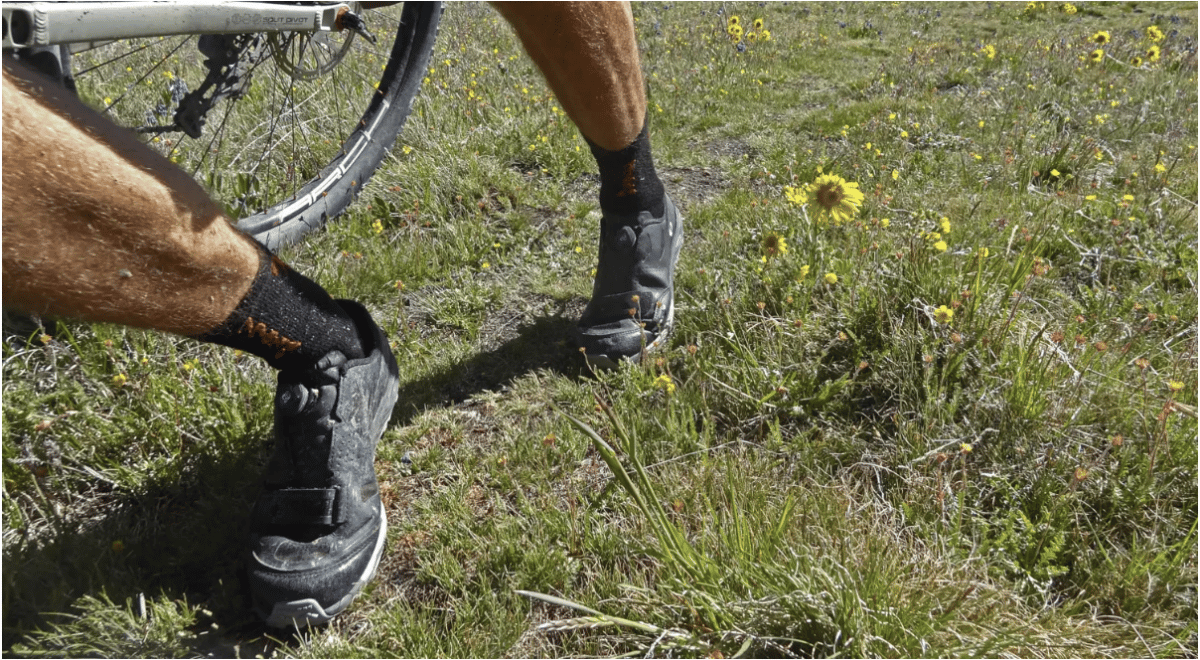 As mentioned, earlier in this article, the stiffness of the shoe as well as the outsole section play a very big role in deciding whether or not the shoe will be comfortable to walk in or not. It is up to you, the rider, to decide whether or not it is important for you to be able to walk comfortably in your shoes when you are off of your bike.
If you are amongst the type of riders who enjoy backcountry trips, where there will be a lot of off-your-bike hiking involved, then comfort while walking or hiking will be one of the most important features of your shoes you should look for. For bikepackers it is important to find a pair of riding shoes that are able to give you as much efficient pedal power as possible on your long journeys but still be grippy when you are off of your bike. For these types of shoes, you'll need to look for hybrid designs that have a moderately flexible design as well as a good power transfer.
A great example of a shoe that is extremely comfortable off of your bike is the Five Ten Freerider, but sadly although it has quite a dotty tread it does lack a little grip in mud. Then on the clipless shoe side we have the Shimano SH-ME5, SH-ME7 and the Pearl Izumi X-Alp Summit, which are great options worth checking out.
Conclusion
So, there you have it, a simple guide to picking your first or next pair of riding shoes to take your riding to the next level in regard to performance as well as comfort. The most important thing to remember is that you are choosing shoes that are made for you so you should be focused on where and how you'll be riding.