For those riders who aren't looking to ride for a few days in a park and rather want to take their time and enjoy or explore a beautiful trail then this list will help you find some of the most beautiful single trails in the world that every rider should experience in their lifetime.
Although it is quite difficult to get the perfect top ten list of bike trails, since it can be very subjective, all of this trails are still spectacular and you may need to do your own research on them to figure out if you'd personally enjoy it or not but more often than not these trails will definitely having smiling the whole bike ride.
The Old Ghost Road, New Zealand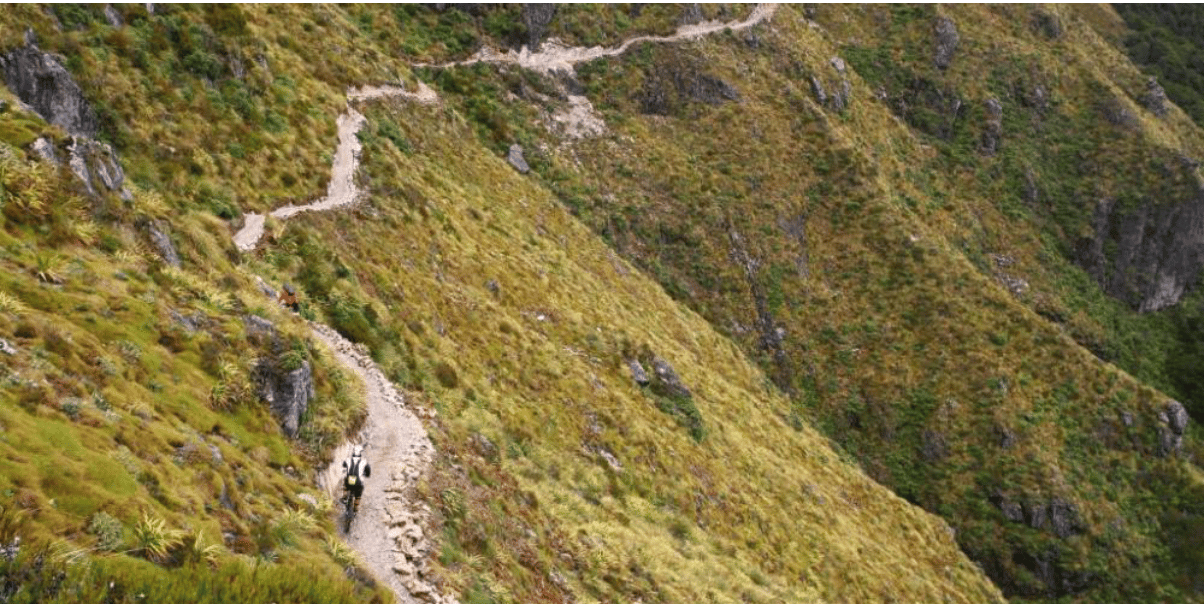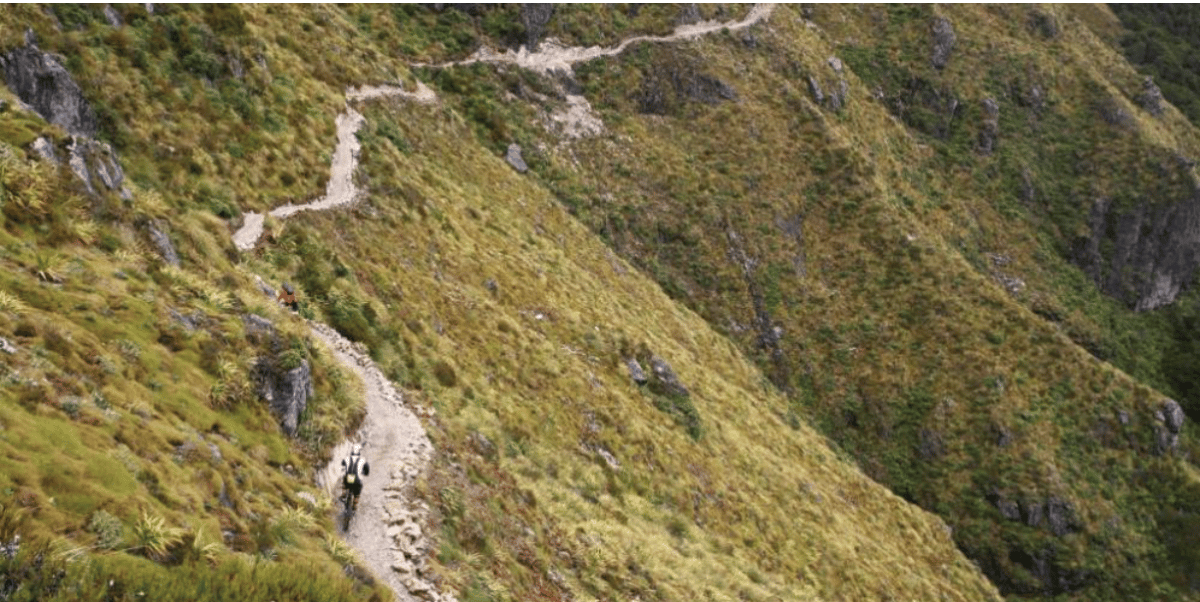 The Old Ghost Road is definitely not any sort of ordinary trail, it will feel like a whole adventure you'll embark on. This amazing journey will take you a whole day to complete as you'll be travelling through 85 km of the green temperate rainforest until you reach the top, above the treeline, where you'll have stunning views of all the hills around you. When you get to the Ghost Lake Hut after your exhausting journey people normally stop there and spend the night under the starry sky. Then the next morning, after you've watched the spectacular sunrise over these hills, you start on your first descent of this trail, which will take you back through the rainforest. Once you've managed to take yourself across this 85 km of track you'll find yourself on the finishing stretch of a long and exciting downhill which goes all the way to a small quirky village pub where you can enjoy a nice cold drink.
Mefjellet, Norway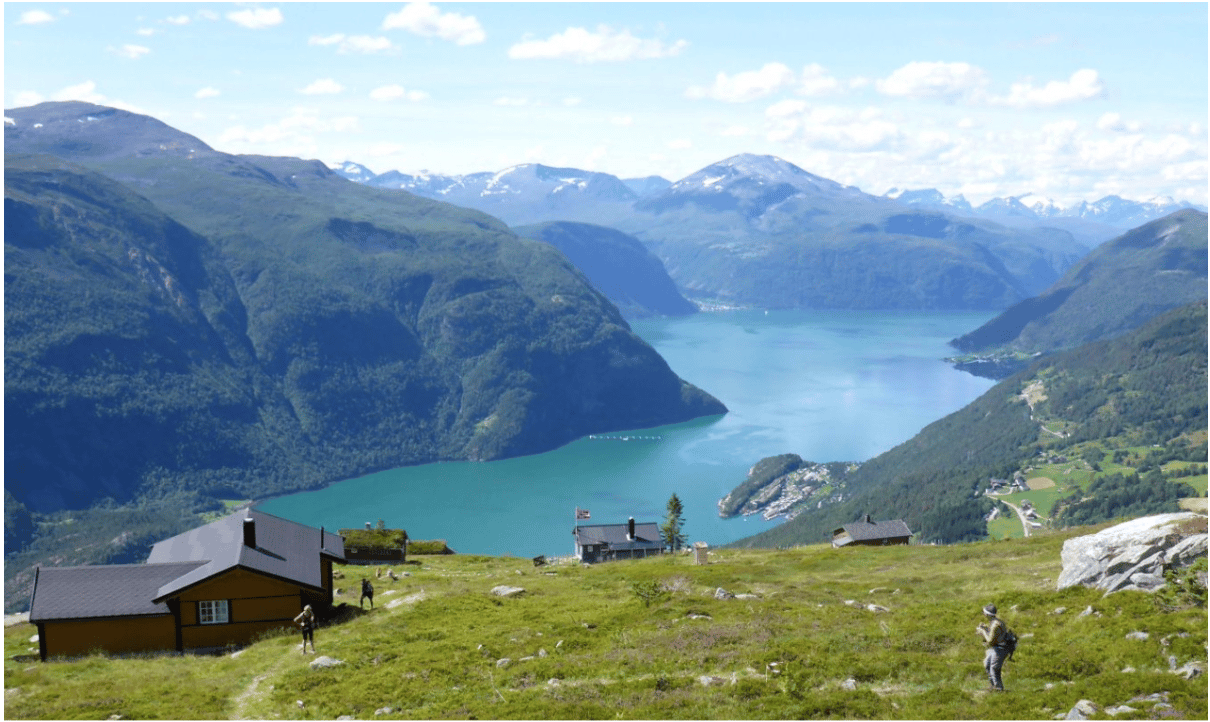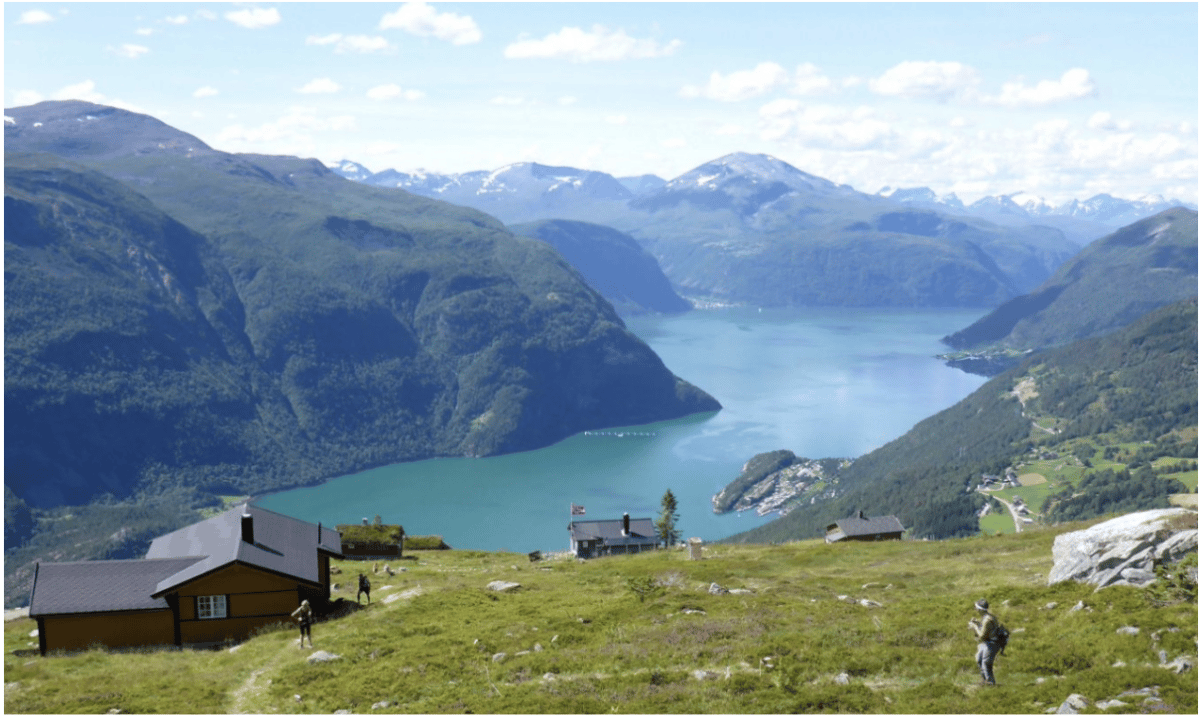 At the bottom of this trail lies a floating hotel, Gåssten, which if you haven't gotten is actually a large boat and from this hotel you can look up to the peak of Mefjellet, which will definitely seem very daunting at first and make you doubt whether or not you'd be able to make the journey up. This journey will be about 1100 metres from the place you start to the top of the glacier carved ridge, which you'll not only have to bike up but sometimes even hike. Surrounding you the whole way ip will be snow capped peaks and it will for sure be a stunning view the whole way up. Then once you've reached the top and decide it is time to head down, then you'll be happy to know that this descent almost doesn't require any pedal power at all as gravity will be working with you the whole way down. After you get past the section of open mountainside riding and rock slabs you'll find yourself riding through the woods on a single track filled with flow and features for you to have fun on. Then once you're at the bottom by the waters edge, waiting for your hotel to arrive, you can sit back and relax whilst you think about the amazing adventure on which you had just embarked on.
Lupra Pass, Nepal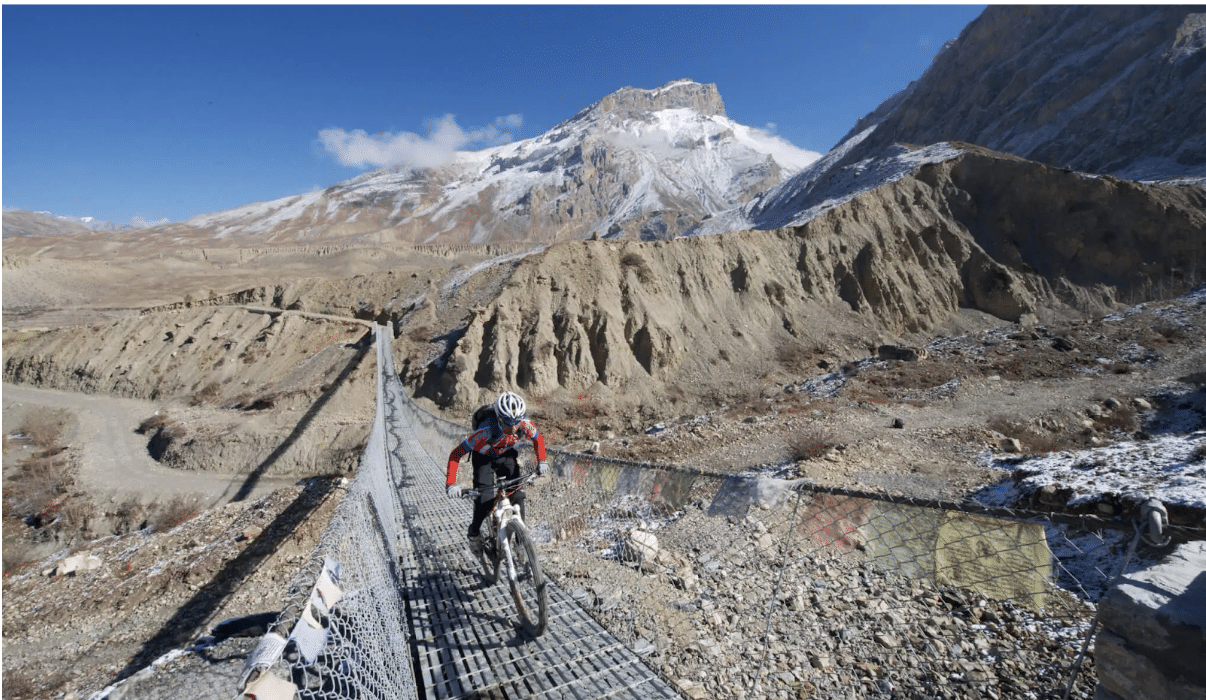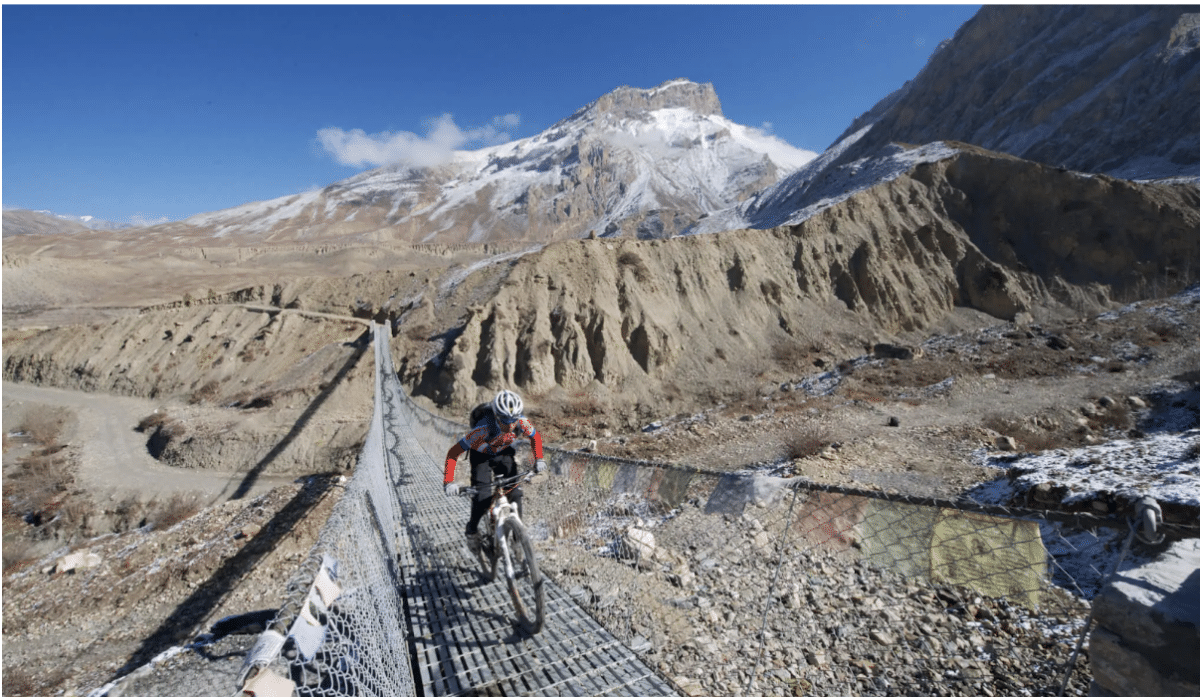 This trail is located in one of the most famous places to hike, the Himalayas, so you already know that the scenes you'll get to see will be spectacular especially since you'll be surrounded by the largest mountains in the whole world. This is definitely a trail that isn't for the faint hearted because as you get closer and closer to the peak of this trail you'll find yourself gasping for air as the air gets thinner. However, if you are able to get through this tough section and reach the top you will be eternally grateful that you made it through as you'll get the reward of cycling all the way down from what's called the "Roof of the World". After you've managed to cycle all 300 metres through the Lupra Pass and reach a height of 4100 metres you'll get to experience your first real downhill of a whole kilometre of just a vertical descent through a dusty single track, with the most insane views around you.
Once you're able to traverse through a few different steep switchbacks you'll finally reach an insane, long suspension bridge, which you'll have to build up the courage to cross. Once you've done this you'll always be at your lunch spot in Jomsom but first you'll have to make your way through a dried up river bed where the riding will get tough because of the rubbly ground. Then once you've had your quick break and taken time to take in the scenery you'll need to head through a few Nepalese trails, which will take you through alleyways and farmlands until you finally reach your overnight spot in Marpha.
401 Trail, Colorado USA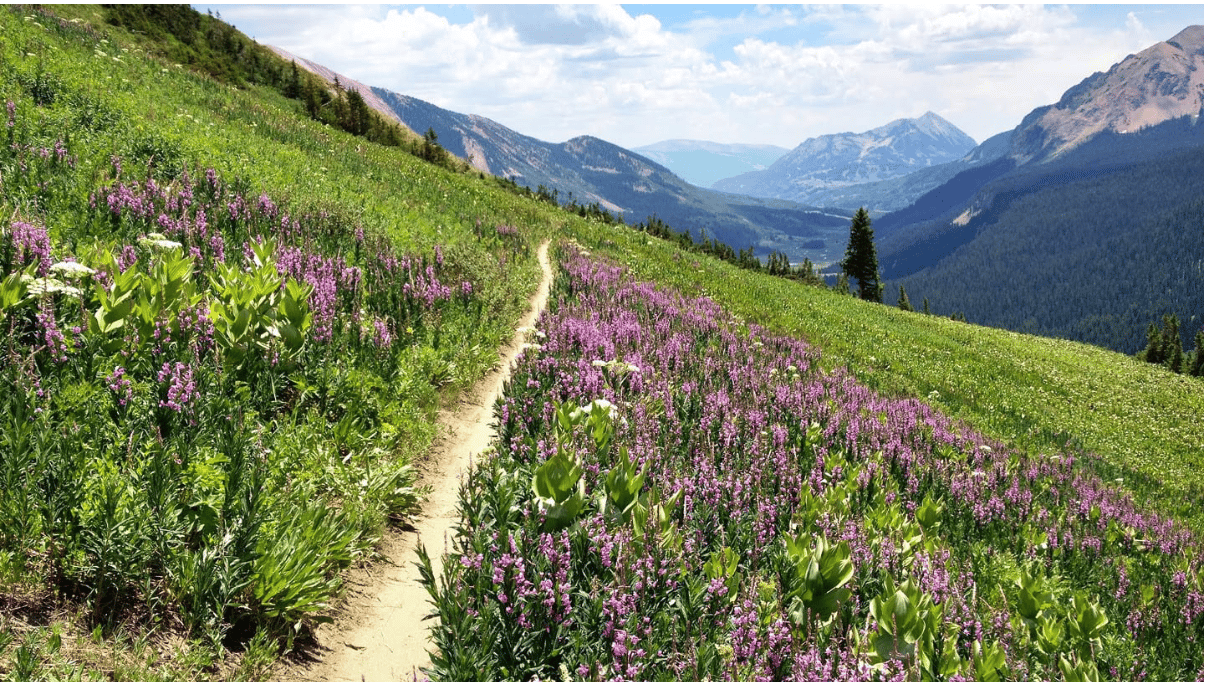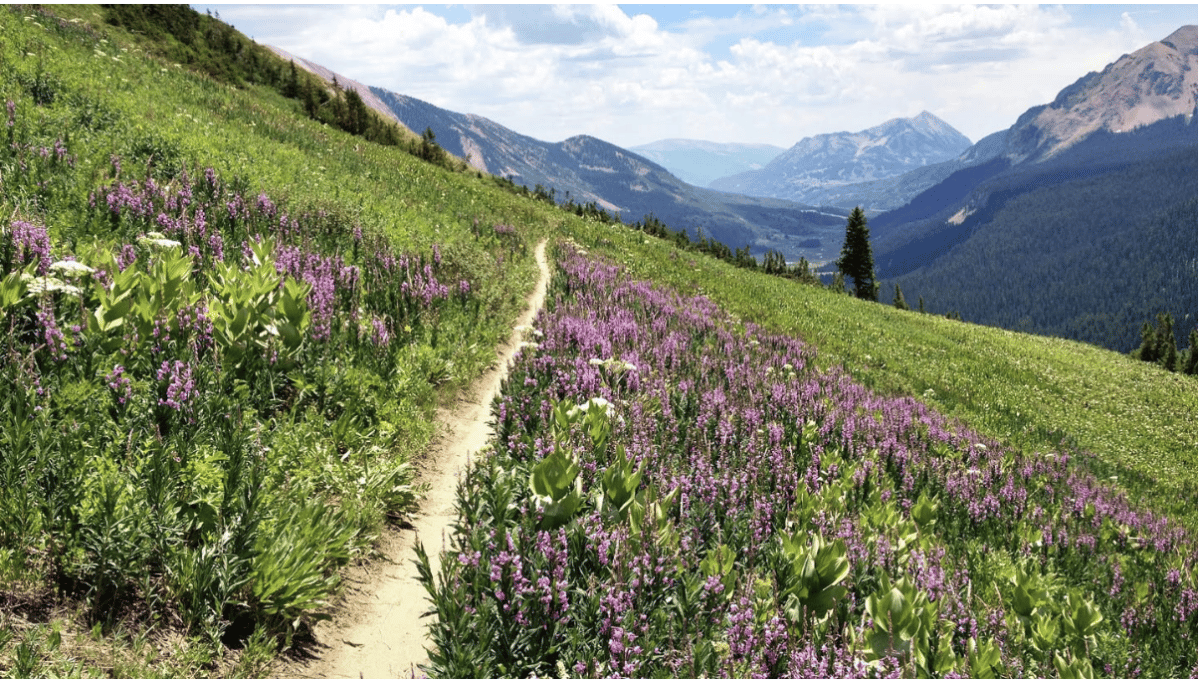 The old mountain of Crested Butte is known for its calm and relaxing atmosphere and is a great spot for people to come to get away from the noise of city life but what you may not know is that there is an amazing trail there which will get your adrenaline rushing and veins pulsing. Just the fact that the Crested Butte has hosted the EWS, which is the Enduro World Series where the best enduro riders come to compete against each other on the best trails in the world, speaks enough volume of the trail here on its own.
To get to this trail you will have to head into the high backcountry where you'll be astonished by how quiet and remote this area is, where a true trail masterpiece lies. When you begin your cycle you'll find yourself deep into the valley where you'll make your way into a forest of trees and then come out to a crazy scene of colour everywhere as you burst out into an open area of flower meadows. Although this part may be extremely beautiful you'll find yourself fighting to get through some of the taller flowers, which can grow and reach up to your handle bars. Once through this part you'll find yourself traversing through rises and falls of hills, with view upon views, until you reach the end of your journey.
Achnashellach, Scotland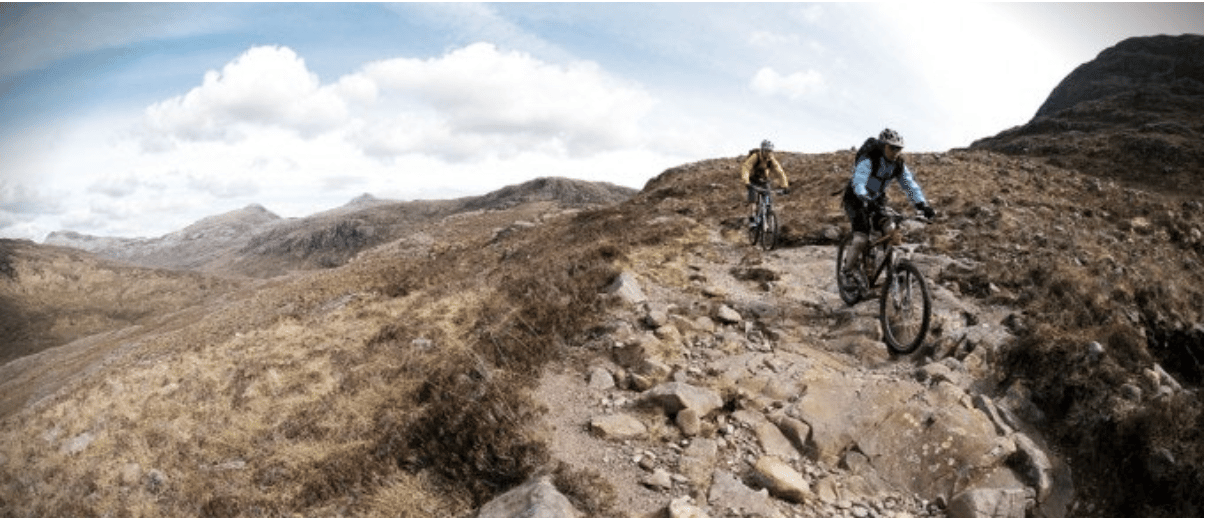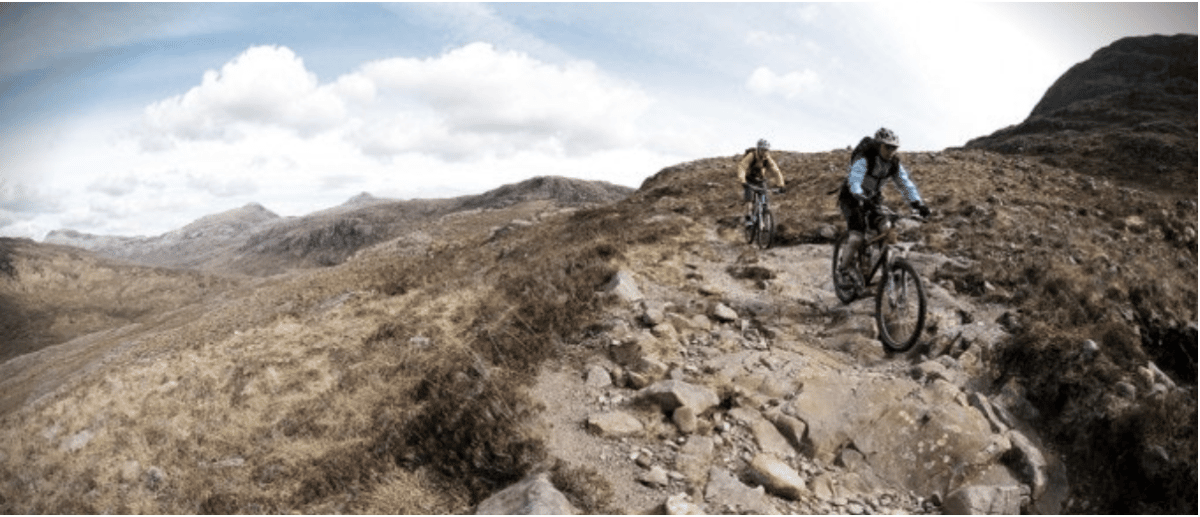 Many people think of the US when anyone mentions the wild west but you'd be surprised to know that Scotland's dry west coast is certainly a wild place. The thing that really makes this trail special and gives it that wild west feel is the dramatic scenery and weather. Another reason that this trail gives off a very wild west look is because of the rocks everywhere and thanks to this it makes the trail more fun and technical than it would be to ride if it was just smooth. Achnashellach is situated in the centre of these Torridon mountains and really acts as a true test both for a rider but also for your bike. The first real challenge that you'll have to face is a really tough climb deep in a glen, which will really get you into the zone immediately, no dilly dallying. Once you're able to push through this challenge and make it over this climb you'll move on to the next challenge that this trail has to offer and that is traversing over smooth glacier-shaved slabs, covered in sharp and scary rocks everywhere. If you thought that making your way up these dangerous rocks would be tough the descent will definitely keep you 100 percent focused the whole way down so that you don't fall and hurt yourself and that is just the first descent of your ride, there are still more just like it to come. This trail is truly a challenging one, not for the faint hearted.
Tizi Mezzik Pass, Morocco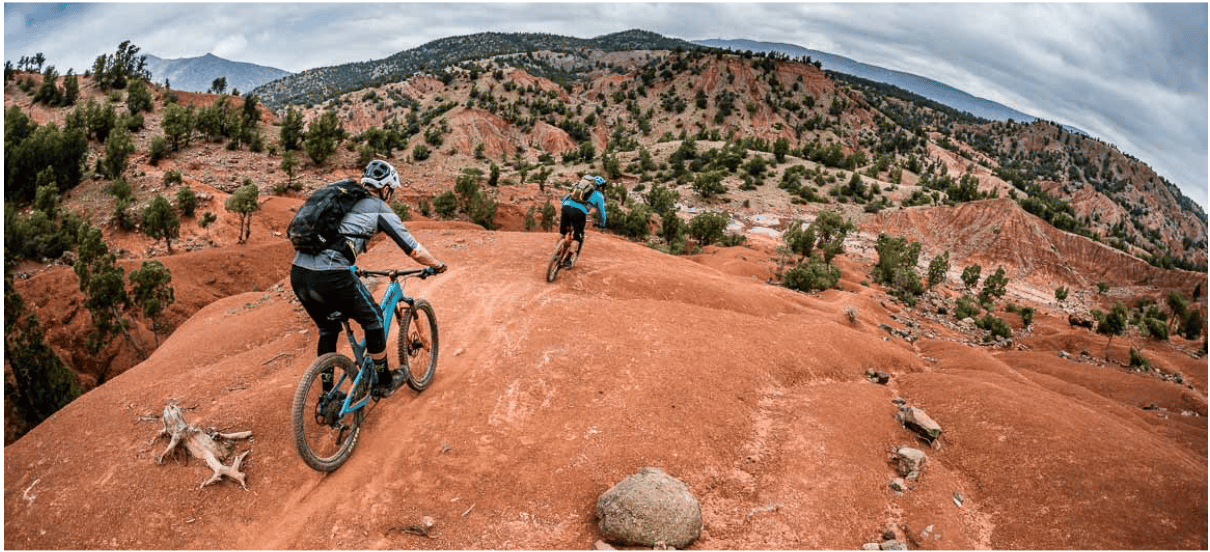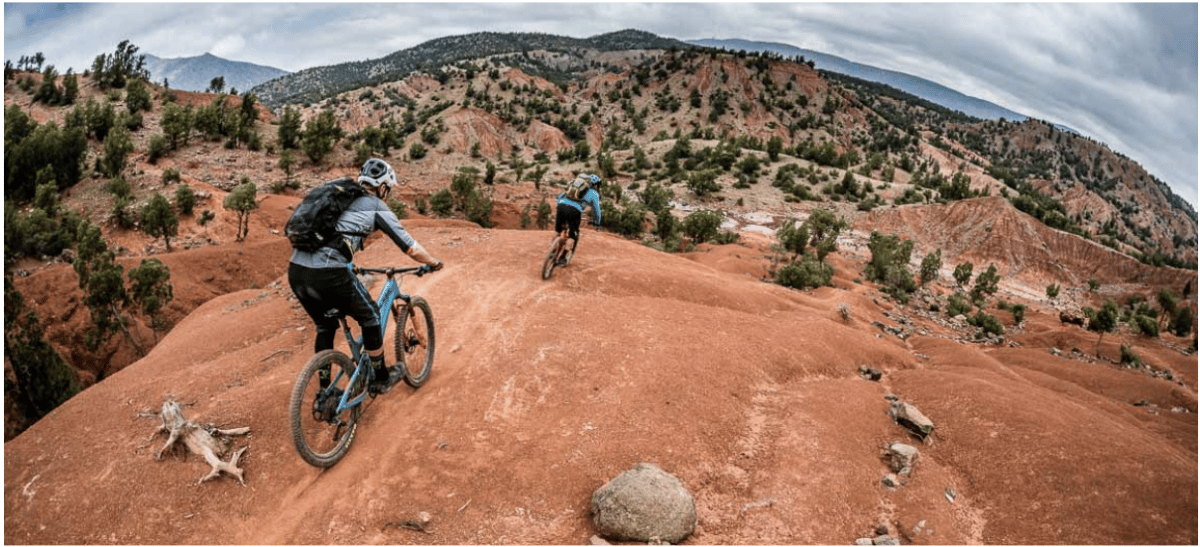 The trail Tizi Mezzik Pass is about 2,280 metres long and will take you from Imlil to Ouirgane. If you aren't already awake by the beginning of this trail the steep, loose and rocky beginning section of this trail will definitely shock you awake, especially because of the fact that it may be easier to actually climb this part on foot because of the altitude.
Once you manage to climb this steep beginning section and reach the top of this pass, that is where the real beauty of this trail gets exposed as you will get to soak in all the amazing views, before you once again begin your cycle down the descent of this pass. Although you may think that descents are normally easy you will have to beware because this downhill part of this trail is extremely thin, so you'll need to be extra careful as you make your way across the side of this hill. Once you get the hang of this descent and feel more comfortable you will begin to notice the villages that you will pass that appear to be stuck to the sides of the mountains.
Once this descent is completed you'll find yourself at the beginning of a road that you will sadly have to climb for a while until you find yourself back in the beauty of nature in a jungle type trail that will run along a river. This trail will take you right to the High Atlas where riders can spend the night and relax.
Cotopaxi, Ecuador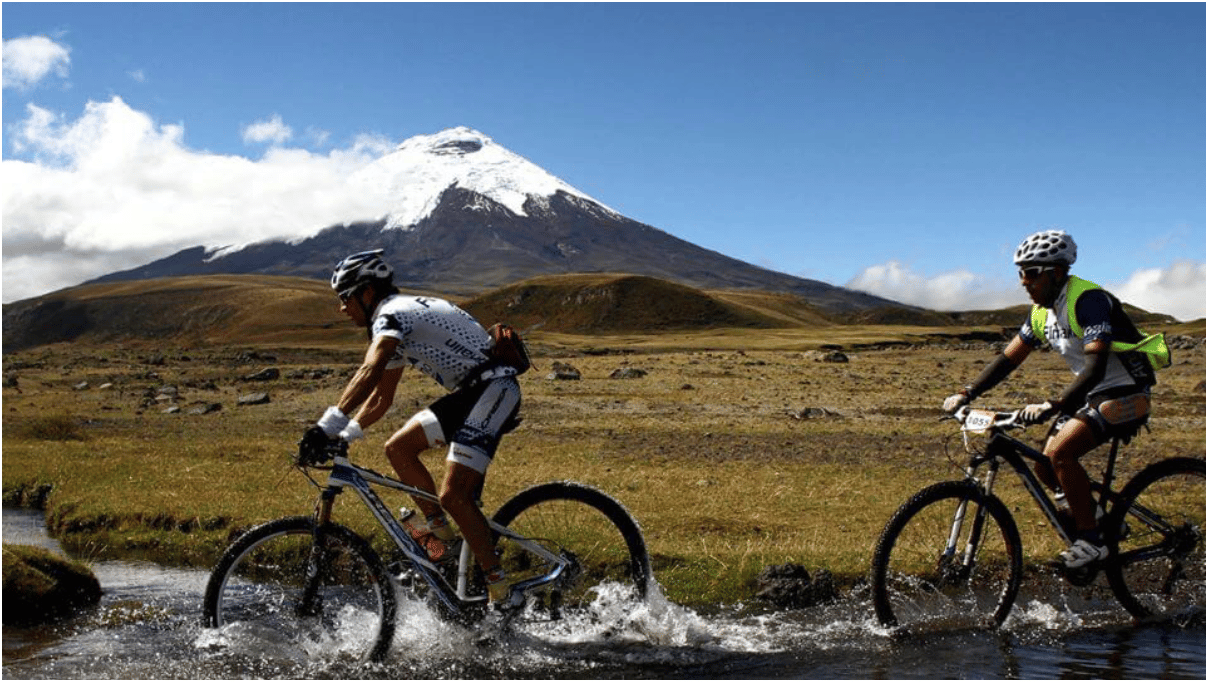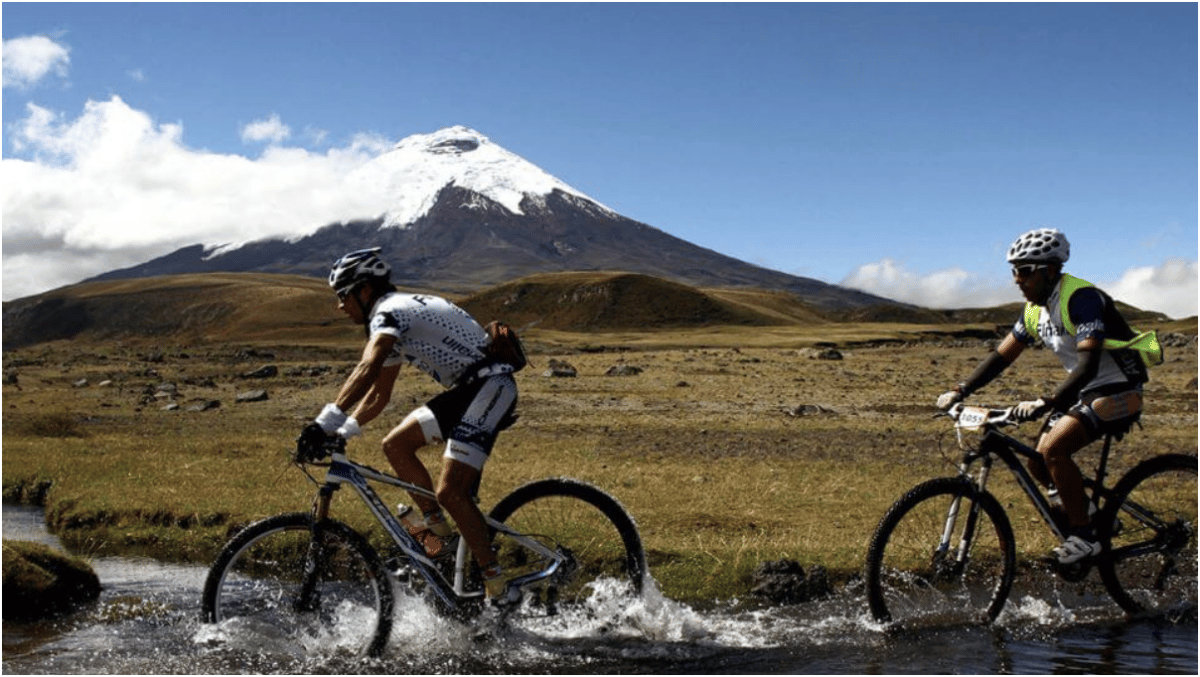 Many people may be confused as to why any trail in Ecuador is on this list because Ecuador is definitely not a place that comes to mind when riders are thinking about where they want to mountain bike, but it actually should be. One of the main reasons that Ecuador is actually an amazing place to go mountain biking is because they have such diverse environments where you can find anything from tropical jungles all the way to active volcanos. A trail that specifically stands out from all the rest in Ecuador is definitely the one in the volcanic slopes of Cotopaxi. This trail will definitely give you a unique riding surface that you will probably never experience as it is a mixture of ash, boulders, sand and even purified lava. As if riding on purified lava wasn't enough to keep you interested, you'll also get three different 700 metre descents.
At the start of this trail you'll find yourself in a wide-open lava field, the trail from here isn't so defined and you may have to cut your own trail through the deep ash and sand. After some time you will finally start to see the mountain biking trail begin to become more and more narrow, which you'll have to continue down until you finally come out onto a flat valley plain where you'll find the end of this tiring but exciting trail.
Flowtastic, Spain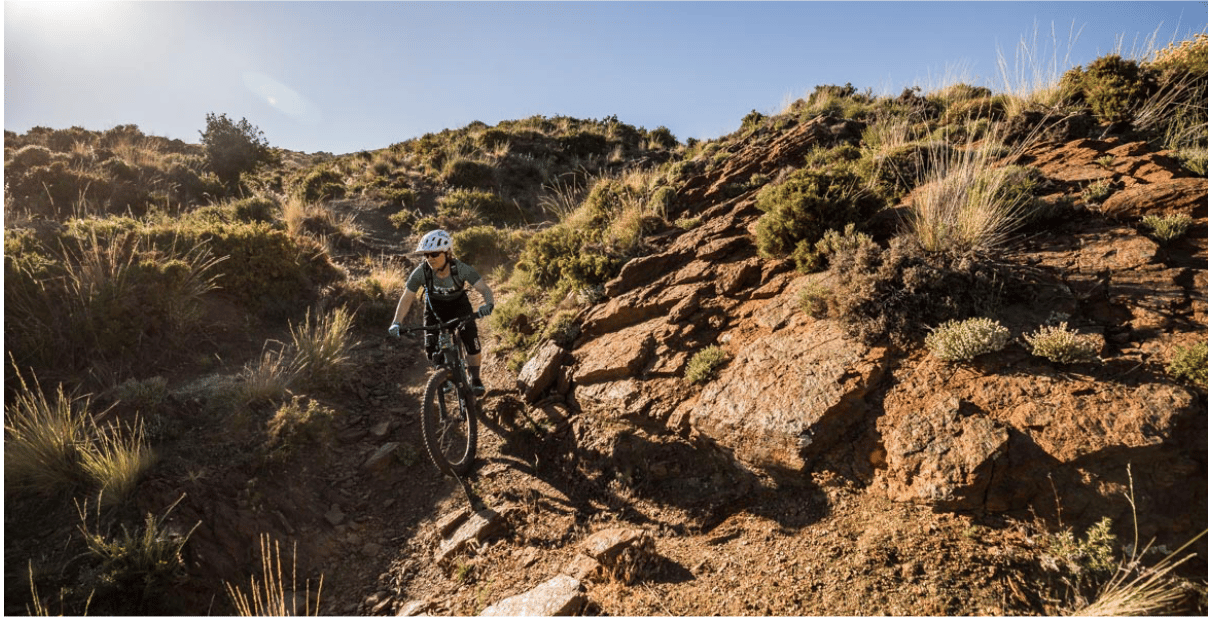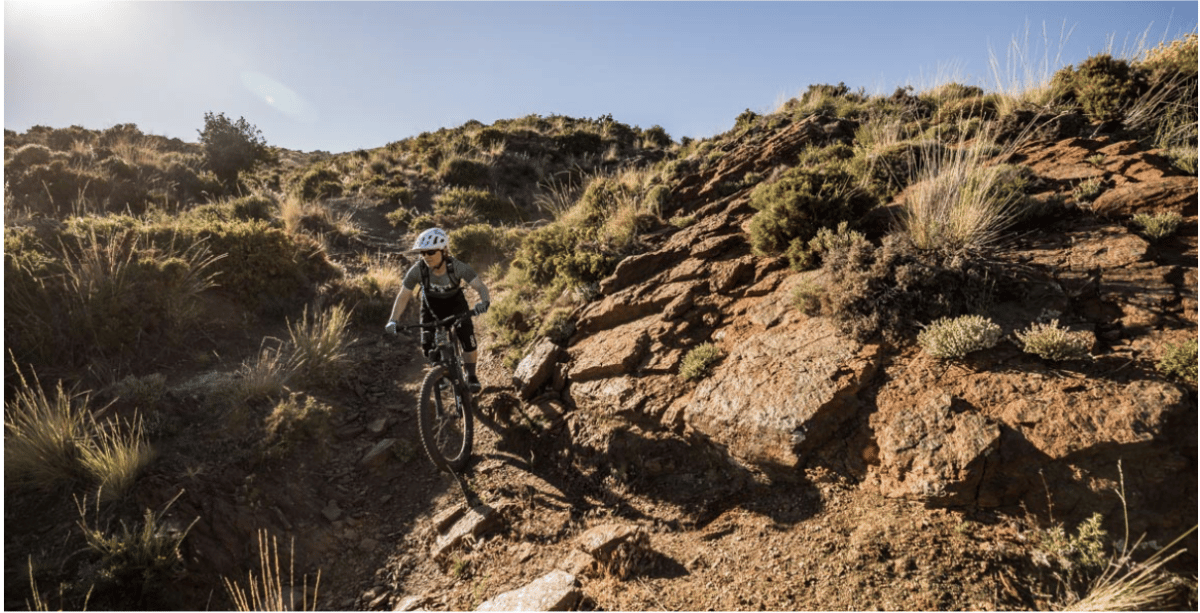 Most people travel to this spot for the Andalucian food but it is not only the food that is amazing here but the trails as well. The Flowtastic trail can be found deep in the Sierra Nevada but from here it actually branches out all the way to the highest village of the mainland in Spain, Trevelez. You'll need to ride on the popular GR-7 walking route out of Trevelez but this is good in the long run because it later gives you about 11 km of pure, uninterrupted fun.
This route can get extremely scenic, especially on a clear day because then you are actually able to see the coast of Morocco on the horizon from where you are riding. This trail you'll embark on now will be pretty relaxing as it'll just be a smooth and dusty surface that will take you through the southern Spanish countryside. Riding through this country side will give you a feeling of pure joy as you enjoy the beautiful environment. Then after some time of riding on this trail you can make your way to your accommodation, where you can rest up for the night, situated on a farm where olives, grapes, almonds and other plants grow in abundance.
Mountain Hero Mine Trail, Yukon Canada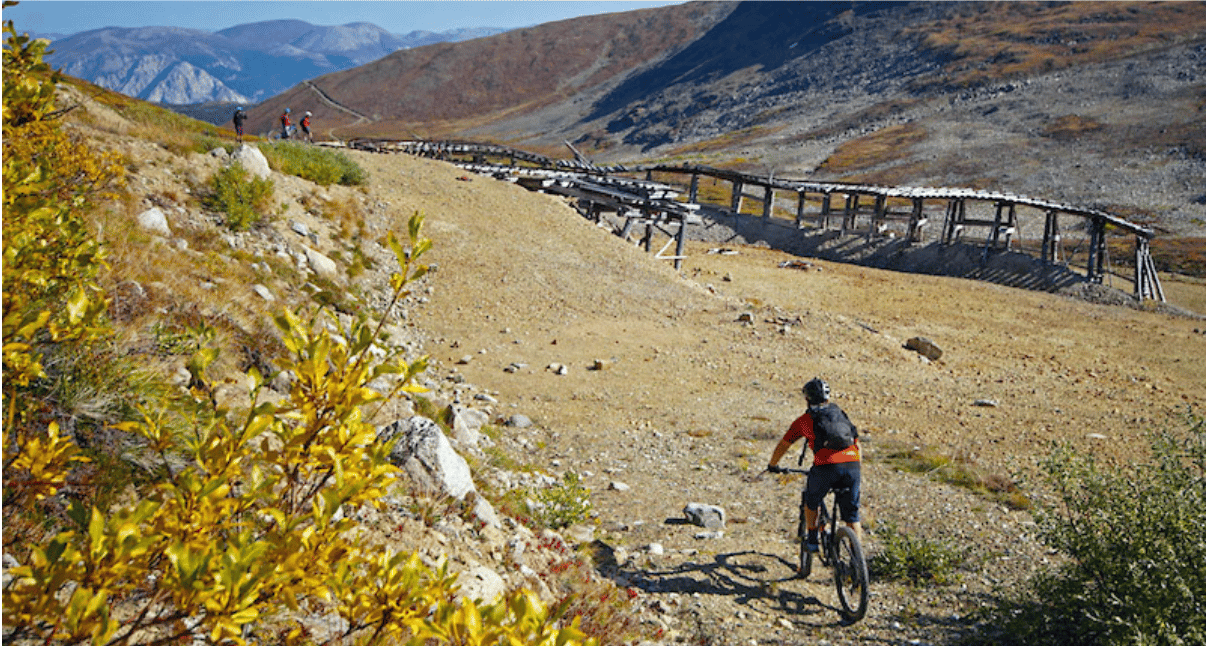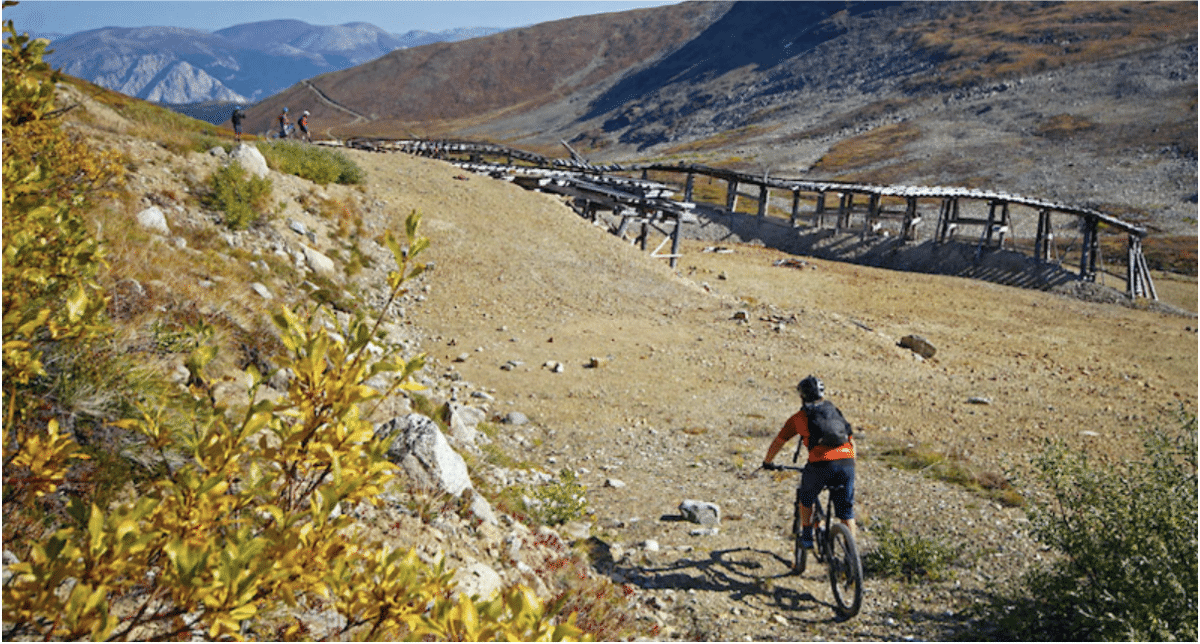 This is a trail where the top of it will take your breath away because as you stand on top of this Yukon trail, with a 360 degree view of all the mountains around you, you'll quickly feel a huge surge of respect and gratitude to Mother Nature and all of her power. This trail begins in the spectacular First Nation Village of Carcross, where you'll already get the luxury of having 360 degree views of the mountains around you. You'll be able to actually shuttle up this access road but don't think that you'll be getting out of all the climbing because the shuttle will only take you so far and from there you'll still have a bit of climbing to do, until you'll be able to experience the awesome descent.
Next to the trail you'll be riding on is actually situated next to a very historic mine, which was made a long time ago in order to get supplies up and down from this mountain. The long descent on this single track will have your braking fingers aching from having to pull the brakes so often but it will all be worth it for the views and fun.
Where to then?
So there you have some of the, if not the, best mountain biking trails in the world that every mountain biker should have the pleasure of experiencing in their lifetime. Which one do you think you'd start with?
Related articles: