Do you think analog music is the very best? Then you should buy a turntable that you can play your vinyl records on. Many modern turntables are equipped with both USB and Bluetooth. Some of us wants a turntable to just play our records and some wants modern features such as USB and Bluetooth. If you have no need for modern features, you might want to check out a refurbished vintage turntable. Or you can check out these new, award-winning turntables and see which one suits your needs.
Pro-Ject Debut Carbon EVO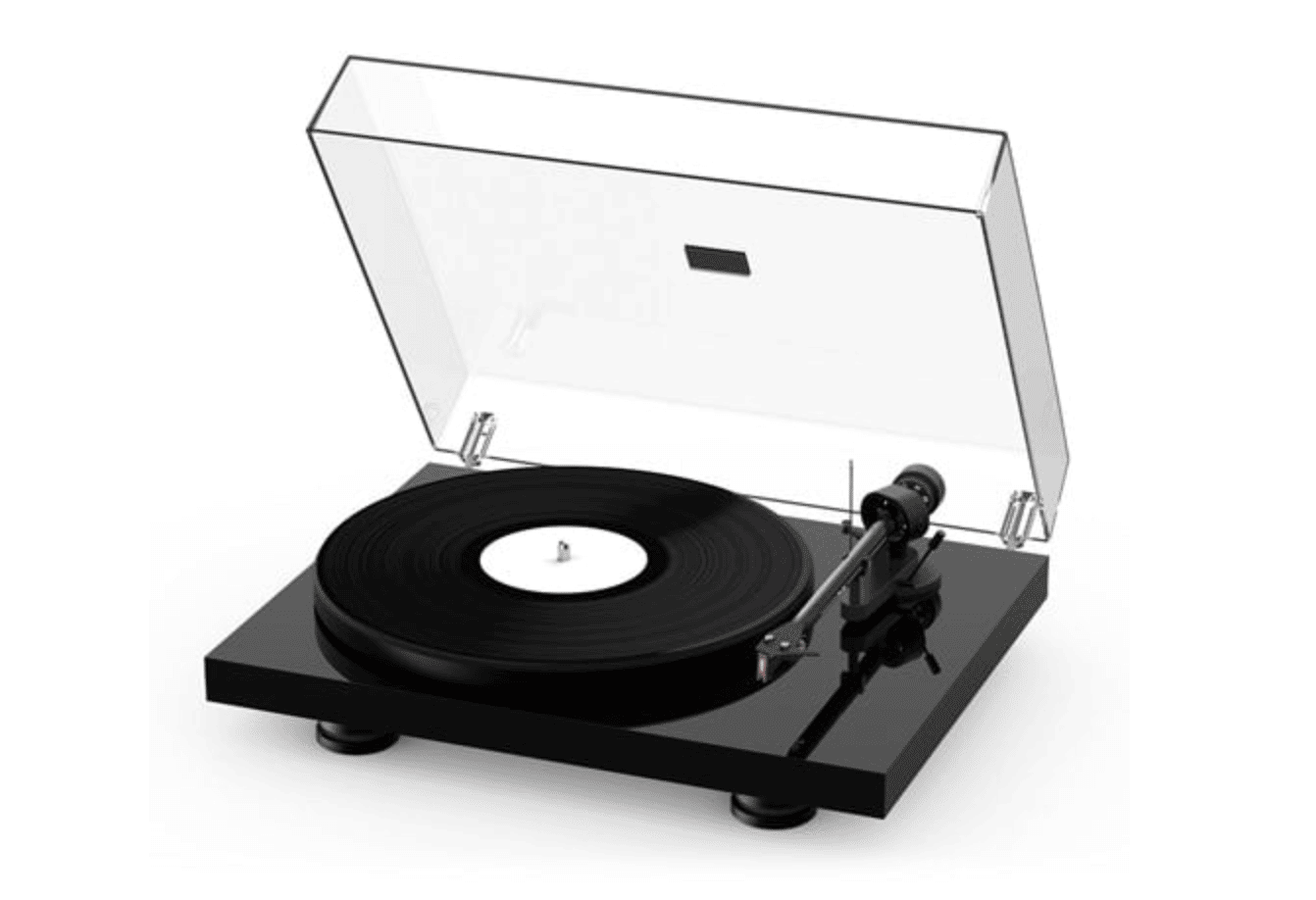 Advanced technology and exclusive carbon fibre tonearm at a very reasonable price.
Features:
Type of turntable: Manual.
Drive: Belt-driven.
Platter: Steel.
Speeds: 33, 45, and 78 rpm.
Stylus: Ortofon 2M Red.
Dimensions: 415 x 118 x 320 mm.
Detailed and rich sound.
Hi-fi sound.
Carbon fiber tonearm.
Ready to play with Ortofon 2M Red pickup.
Dust cover included.
Handmade in Europe.
Techradar 2022 test-winner
Pro-Jects most popular model
Price: $500-600
Pro-Ject is an Austrian company founded by Heintz Lichtnegger in the late 1980s. They specialize in making well-built turntables with various high-quality accessories. They produce more turntables than any other manufacturer in the hi-fi industry.
This is a solid hi-fi turntable that does justice to your vinyl collection and elevates your listening experience compared to its predecessors. It has several nice technical solutions, the platter is heavier and made of TPE-damped steel with a more dampened motor suspension, the feet are metal, and it has electronic speed change. All components of the turntable are of high quality. It has serious hi-fi solutions and a one-piece 8.6-inch carbon fiber tonearm – which is rare for this price range. The turntable has a speed of 33, 45, and 78 RPM.
Here, the main focus has been on high-quality sound as it lacks features such as USB and Bluetooth. The turntable is ready to play with Ortofon 2M Red pickup. It comes in several stylish colors, all with eight layers of paint and handmade.
This is our top choice for that price tag.
Audio Technica AT-LP120XUSB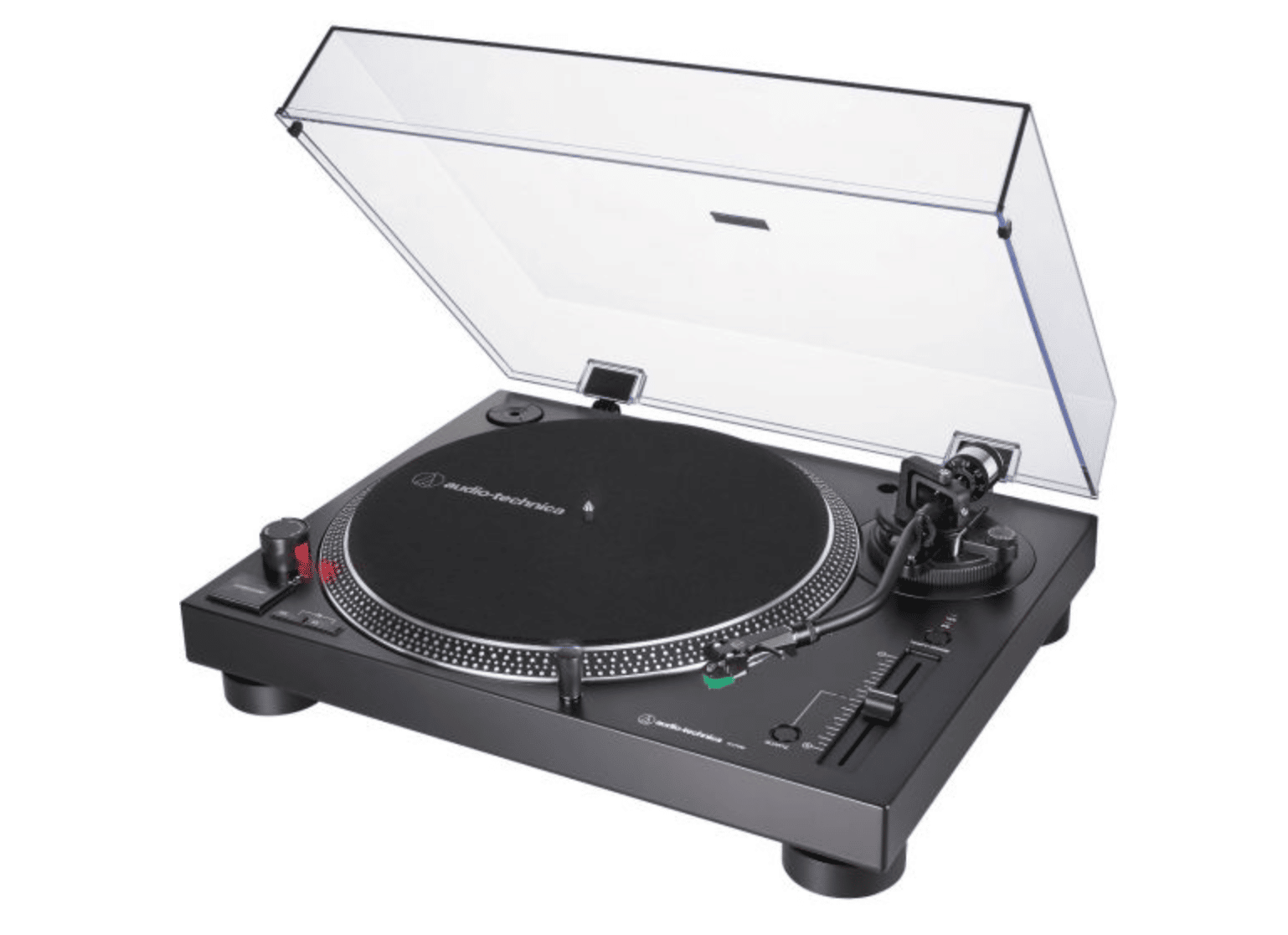 Manual turntable with USB connection equipped with USB output for direct connection to your computer so you can digitize your records.
Features:
Type of turntable: Manual.
Drive: Direct-drive.
Platter: Die-cast aluminium.
Speeds: 33 ⅓, 45, and 78 RPM
Stylus: AT95E
Dimensions: 450 x 352 x 157 mm.
USB Connection
Powerful motor
Built-in RIAA amplifier
Suitable for both beginners and professionals
Techradar 2022 test second place
Techgearlab 2020 test second place
Price: $350
It is a manual, direct-drive turntable with a cast aluminum platter, speeds of 33 ⅓, 45, and 78 RPM, and comes with an AT95E stylus. It also has a USB connection, a powerful motor, and an built-in pre-amplifier, making it suitable for both beginners and professionals. The company Audio-Technica is a Japanese company founded in 1962 that is well-known for their turntables and also produces cartridges for other turntable brands.
The Audio-Technica AT-LP120X USB is a turntable with all the features you could need. It came in second place in a test by Techradar where they highlighted its fantastic sound quality for its price. It's simple enough for beginners but still suitable for professionals who want to use more advanced features like adjusting the vertical tracking angle, tracking force, and the interchangeable headshell. Additionally, it's a perfect DJ turntable.
The turntable has a powerful motor and adjustable dynamic anti-skate control and selectable phono preamplifier. It's easy to use with manual operation and has a solid aluminum platter. It's of high quality due to its electronic brake and clear buttons. The speed adjustment is also easily accessible and you can choose between speeds of 33, 45, and 78- which means you can play all types of records. On the bottom of the plinth, there is a removable stylus light which is convenient if you want to change records in poor lighting.
The AT-VM95E cartridge of the turntable is factory-mounted and has an all-purpose elliptical stylus. If you want to change the stylus, it is easy to do so. The tonearm is S-shaped and has a hydraulic dampened tonearm lift that keeps the cartridge in place on the record's track. The turntable has a USB connection so that you can transfer your vinyl records to your computer to preserve the music digitally. The turntable is stable due to its weight of eight kilograms.
Best choice with USB.
Sony PS-LX310BT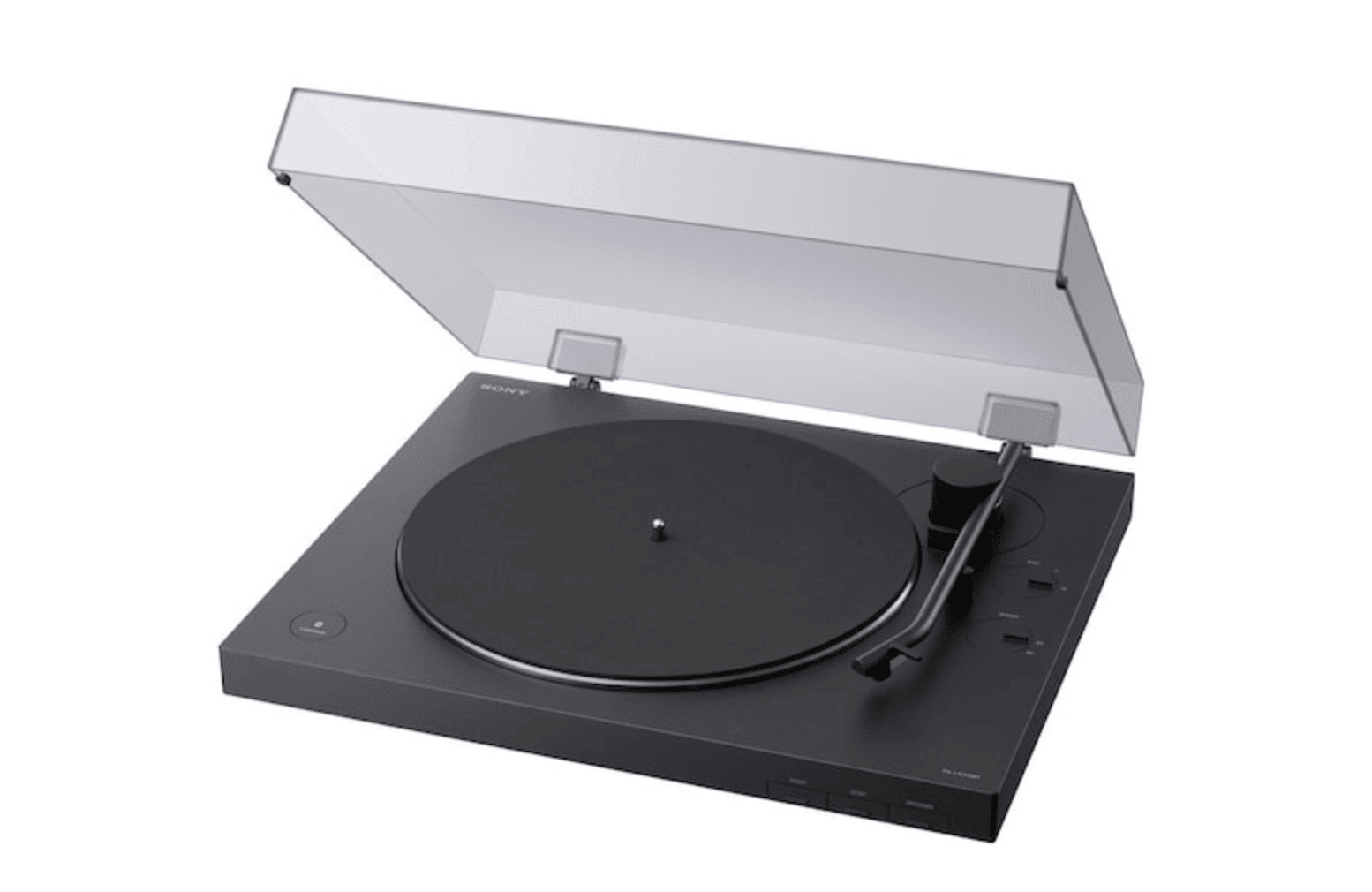 A fully automatic turntable with bluetooth that is easy to use.
Features:
Type of turntable: Fully Automatic.
Drive: Belt-driven.
Platter: Aluminum.
Speeds: 33⅓ and 45 rpm.
Dimensions: 430 x 367 x 108 mm.
Aluminum tonearm.
Thick dust cover.
Equipped with Bluetooth.
Easy to use.
Top rating at Whathifi.com 2020
Price: around $250.
Japanese Sony hardly needs a presentation but here we go. Sony is a multinational technology company that was founded in 1947. Their range includes top-class products such as TVs, cameras, video cameras, mobile phones, headphones, PlayStation – but also a high-class turntable.
The turntable has a well-built construction with carefully crafted parts that allow you to enjoy all kinds of music. It has built-in Bluetooth, allowing you to connect it wirelessly to speakers, soundbars, or headphones – perfect for those who want to live as simply as possible and avoid getting tangled up in cords.
The turntable is easy to use with automatic playback functions that lower the tonearm automatically. When the record is finished, the tonearm returns to the idle position, making it very easy to use. The J-shaped tonearm is made of robust aluminum, providing a stable playback with powerful bass and full sound. The record platter is also made of aluminum and together with a thick dust cover, you get a stable turntable and music with reduced distortion.
The best automatic turntable.
Audio Technica AT-LP60XBT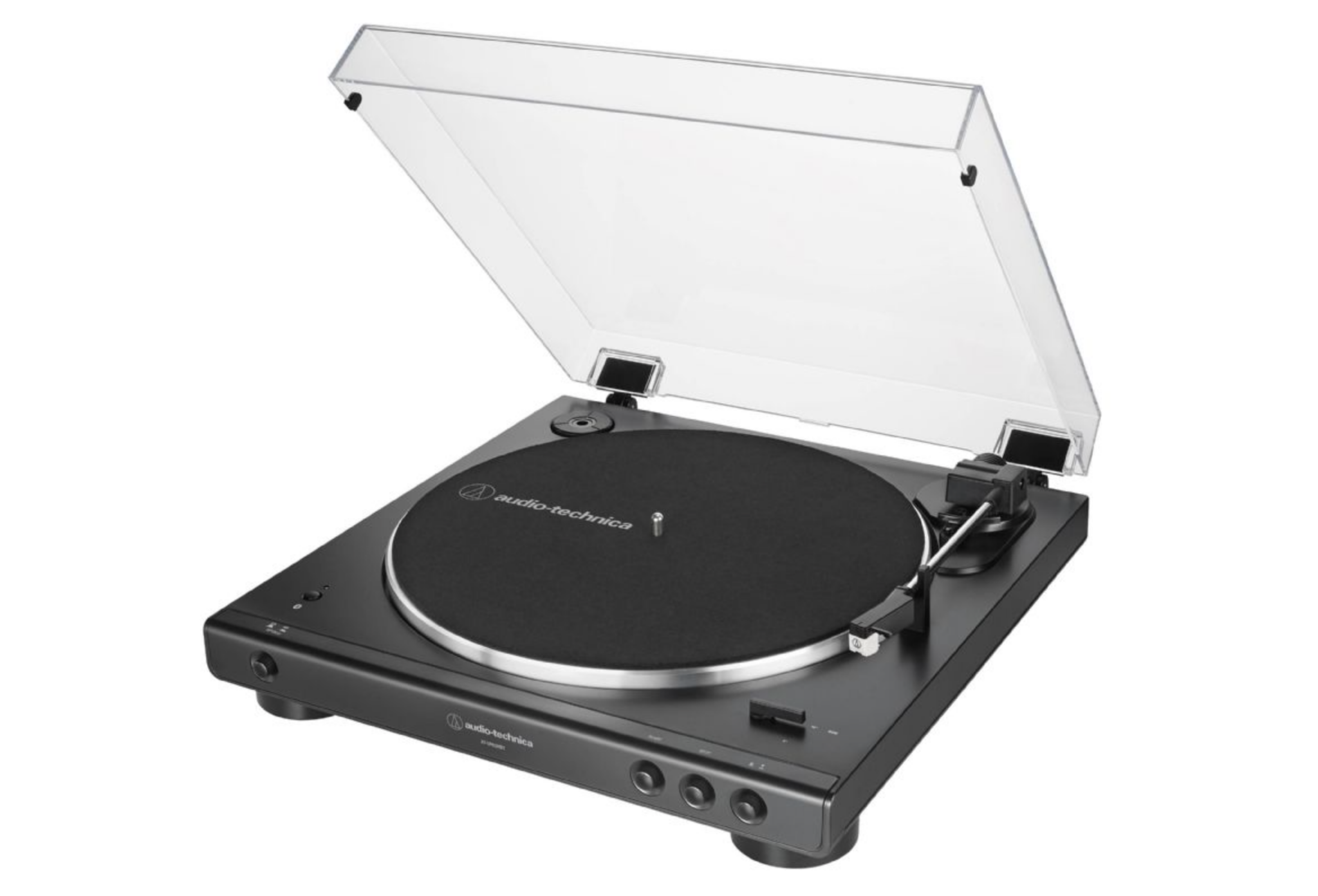 An affordable turntable for the beginner that is easy to install.
Features:
Type of turntable: Fully Automatic.
Drive: Belt-driven.
Platter: Aluminum.
Speeds: 33 ⅓, 45 rpm.
Stylus: Conical.
Dimensions: 14.15″ x 14.7″ x 3.84″.
Equipped with Bluetooth.
Easy to use.
Affordable.
Built-in RIAA preamp.
Protective cover.
High grade in Techradar test 2022
Price: around $200.
The Audio-Technica AT-LP60XBT is a fully automatic belt-driven turntable that is a great choice for beginners. It has been ranked among the top turntables by Techradar, praising its affordability and ease of setup as reasons to buy it. The turntable is both modern and user-friendly and is suitable for those looking for an easy-to-use player. Although some may not find the sound to be sufficiently detailed, you get a lot of value for your money.
Because the turntable has automatic playback, it is easy to listen to your vinyl collection. When you press the start button, the platter starts spinning and the tonearm moves on its own to the first track of the record. Once the record is finished playing, the player stops automatically and the arm moves back to the starting position. The turntable is equipped with Bluetooth, allowing you to wirelessly connect it to your headphones or speakers. The Qualcomm aptX codec enhances the sound even further.
The turntable comes with factory-mounted MM cartridge and built-in RIAA preamp for easy setup. If you prefer USB connection over Bluetooth, we recommend the USB model, which is called the Audio Technica AT-LP60XUSB.
Denon DP-450USB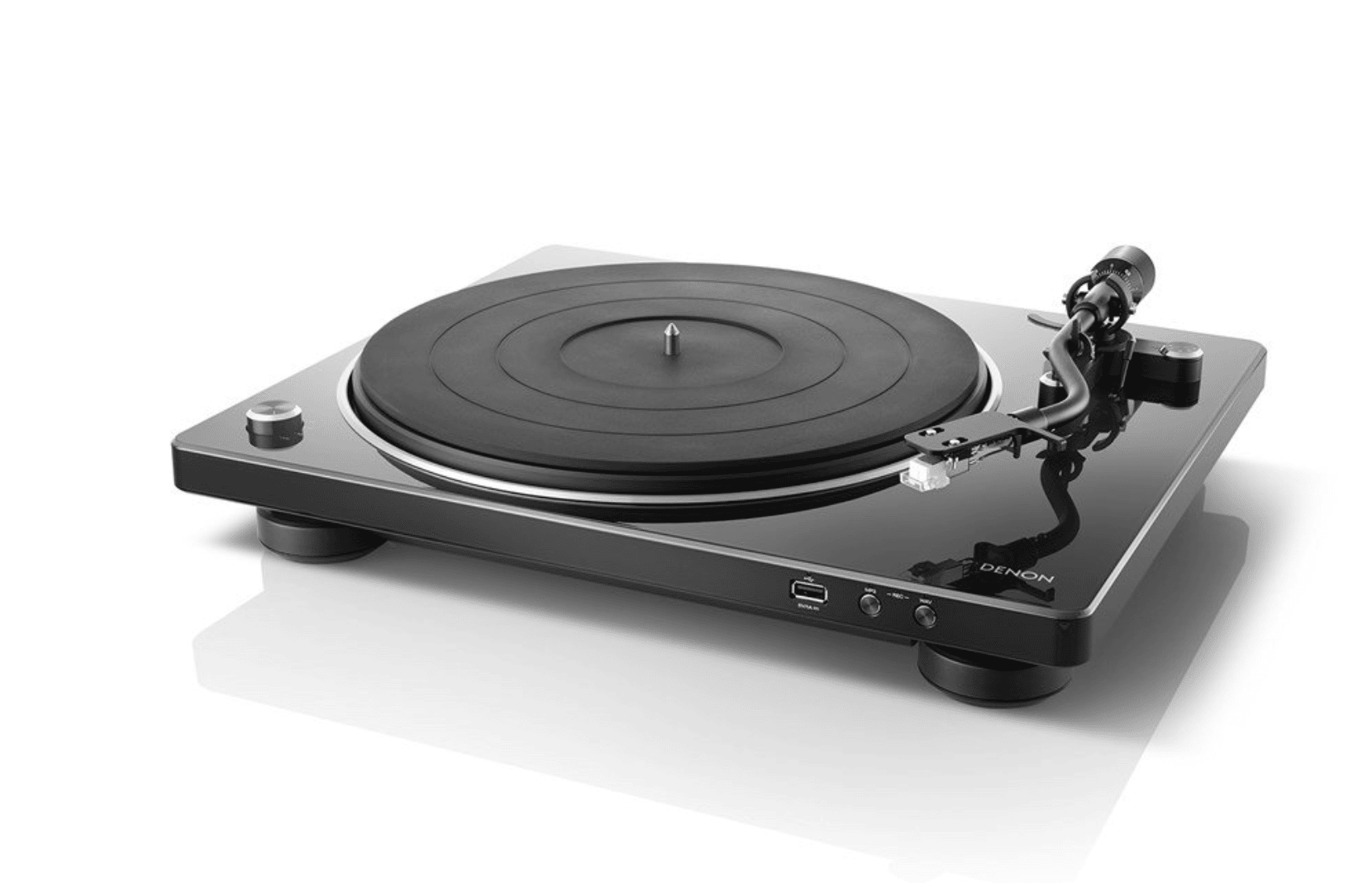 An elegant belt-driven turntable with USB. Good value for price.
Features:
Type of turntable: Manual.
Drive: Belt-driven.
Platter: Aluminum.
Speeds: 33 ⅓, 45, 78 rpm.
Stylus: DSN-85.
Dimensions: 41,4 x 34,2 x 13,2 mm.
Equipped with USB.
Easy to use.
Affordable.
Built-in preamp with equalizer.
Protective cover.
Price: $699
Overall good sound quality Allows you to quickly convert vinyl to .wav or .mp3 via USB Good value for the price Comes with a dust cover Stylish design Includes built-in equalizer.
Denon has been a legend in high-quality audio equipment for a long time. Their latest turntable, the Denon DP-450USB, combines the company's impressive history with the latest technology to create a reliable, top-of-the-line turntable.
This elegant and stylish turntable is the perfect choice for listening to your vinyl records, as it is easy to set up and start using right away. Denon has integrated technology so you can enjoy your favorite records without any worries. For example, the aluminum platter has a sensor to ensure that the records always spin at the correct speed. You can choose between speeds of 33, 45, or 78 to play records from all eras.
Another nice technical feature is the built-in USB interface, which allows you to record your music directly to .mp3 or .wav format, and then use Denon's software to edit the songs. It makes it incredibly easy to record your music.
The turntable also has a built-in preamp with equalizer, so you don't need any expensive audio equipment to listen to your albums. You can connect this to a regular stereo system or powered speakers and you're ready to go!
The player does not have automatic return, so you have to lift the needle and flip the record to continue listening. It also has a short power cord with a 12-volt adapter that is quite bulky.
A first-class choice for listening to your classic vinyl collection, this Denon DP-450USB turntable is an excellent option that will give you listening pleasure for many years.