With the advent of social media and blogging being used as a promotional tool, many e-commerce merchants want to integrate their online store with their blog sites and/or utilize the WordPress software they're most familiar with to design and run their online store.
The following are five plugins and five themes that allow merchants to use WordPress to set up and manage a WordPress e-commerce store.
5 WordPress E-commerce Plugins
Here are five plugins that allow a merchant to add e-commerce store functionality to their existing themes. These offer a convenient way to convert a site without a complete redesign.
1. WP E-commerce
WP E-commerce is an e-commerce store plugin that works with many standard WordPress themes. It supports popular payment methods such as PayPal and Google Checkout along with more traditional forms such as recording checks and money orders. Features such as multi-tier pricing, cross-sells, and quantity discounts are also included along with many other features necessary for selling products online.
Price: Free
2. WooCommerce
The WooCommerce plugin can integrate with standard WordPress themes, or easily go with one of Woothemes' themes. It features a robust set of reporting tools, flexible tax calculations, integrations with popular payment methods such as PayPal and Google, and many order management and inventory management features.
Price: Free (with premium extensions available)
3. Jigoshop
Jigoshop features many basic e-commerce features, such as order and inventory management and goes further by offering even more integrations and features through additional, purchasable extensions.
Price: Free (with premium extensions available)
4. Cart66
Cart66 has both free and premium versions. The free version has basic order management features, with the premium versions adding essential functions such as inventory tracking, live shipping rates, and sales reports.
Price: Free – $299
5. Shopp
Shopp is a full-featured shopping cart that includes many order and inventory management features along with SEO features, a WordPress integration, and integrations with popular payment gateways.
Price: $55 – $299
5 WordPress E-commerce Themes
The following are five themes designed specifically for e-commerce sites to make it easier to have an online store and blog on the same site. Some of these themes require one of the plugins listed above for full functionality.
1. Lorem & Ipsum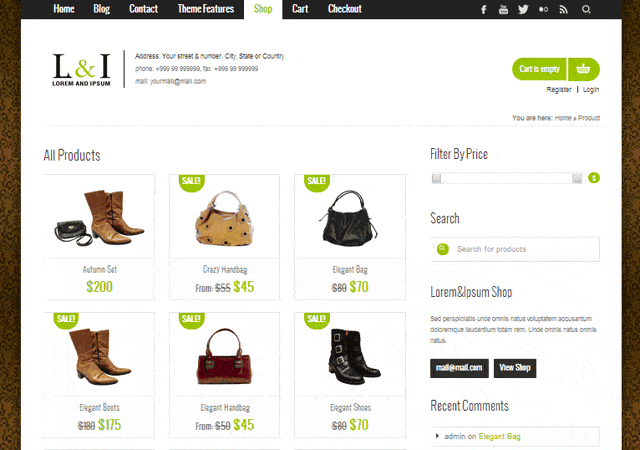 Lorem & Ipsum is one of the newest e-commerce themes available through the ThemeForest.net marketplace. It offers unlimited color customization to make the theme fit with your existing brand, and you can choose from multiple slider options depending on how you want to feature your products. This is a WooCommerce theme, so you'll need that plugin to take full advantage of the e-commerce features.
Price: $55
2. BLANCO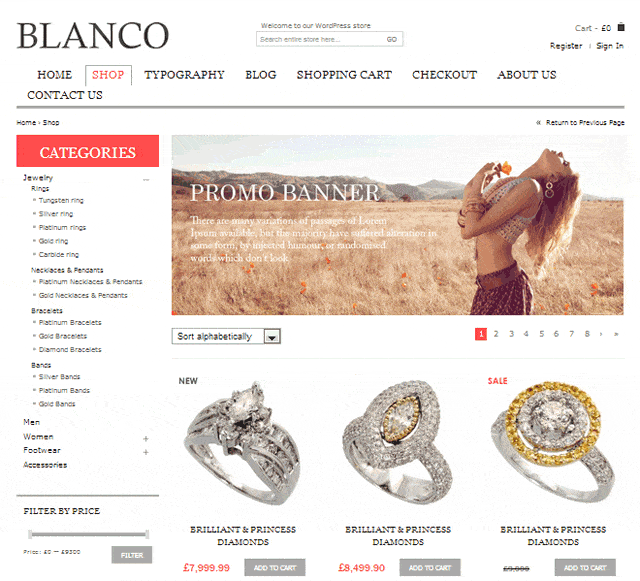 BLANCO is a clean and elegant WordPress e-commerce theme. It offers compatibility with two different e-commerce plugins including the WooCommerce plugin and the WP E-commerce plugin from GetShopped.org. The great thing about a simple, clean ecommerce theme like this is that all of your visual emphasis goes toward your products.
Price: $55
3. Opulence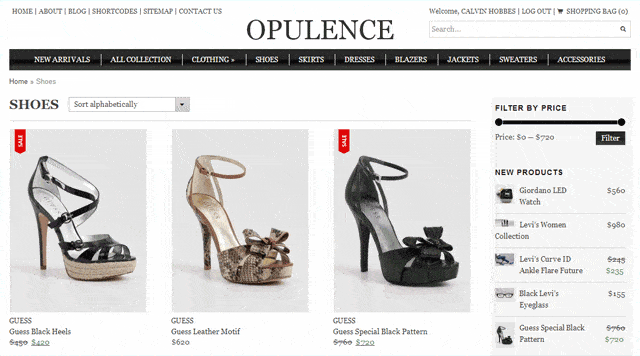 This WordPress e-commerce theme is another pretty clean option. It's promoted as a theme for fashion retailers, but the simple design means you could use it for just about anything. The design is responsive, and it is currently compatible with three different e-commerce plugins — WP e-commerce, Jigoshop, and WooCommerce.
Price: $59
4. Organic Shop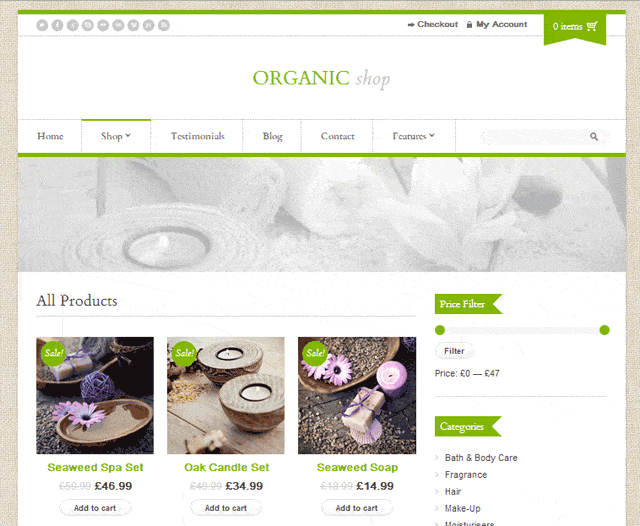 Organic Shop is another WooCommerce theme. While the default version is designed with organic, beauty, and spa products in mind, it offers greater flexibility than that. The design is still on the simple side, and it gives you the opportunity to choose from unlimited color schemes. That means you can tailor the look of this e-commerce theme to any product type you can imagine.
Price: $55 | Learn more.
5. Handmade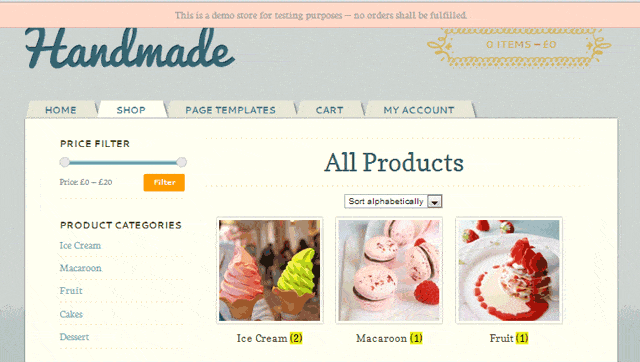 Handmade is different than the other designs we've featured here because it doesn't use a minimalist design scheme. It's more for crafty or feminine e-commerce shops. But that's why it stands out. You'll need the WooCommerce plugin for this theme. The included OCMX framework makes it easy to incorporate ads into your shop if you need an additional income stream.
Price: $55 | Learn more.
More WordPress E-commerce Themes
The e-commerce themes above were some of my favorite designs. There are quite a few more options though. Here are some "runners-up" that you might want to consider:
Boutique
Boutique Shop
Clip Cart
DownloadShop
eStore
Eureka
FreshShop
Icarus Business
Kassyopea
Phomedia
Sally Store
Simplicity
Sliding
Vintage Style
Viroshop
Share your thoughts.  What WordPress ecommerce carts do you use? Do you have a favorite WordPress ecommerce theme that we haven't mentioned here? Tell us about it in the comments.