WhatsApp is a global phenomenon, boasting over 2 billion users. It is the most widely used social media network in the world, with India having the largest user base. More than 180 countries use the platform due to its convenience and accessibility.
In 2014, Facebook acquired WhatsApp and has since proven its commitment to the platform by driving 8.7 billion dollars in revenue by 2021. Today, an astounding 100 billion messages are exchanged daily on WhatsApp. With new features coming in, the platform isn't slacking, hitting millions in downloads every year.
Is your WhatsApp still stuck in 2022? Here are exciting features to enjoy on the platform after updating your app.
1. Avatars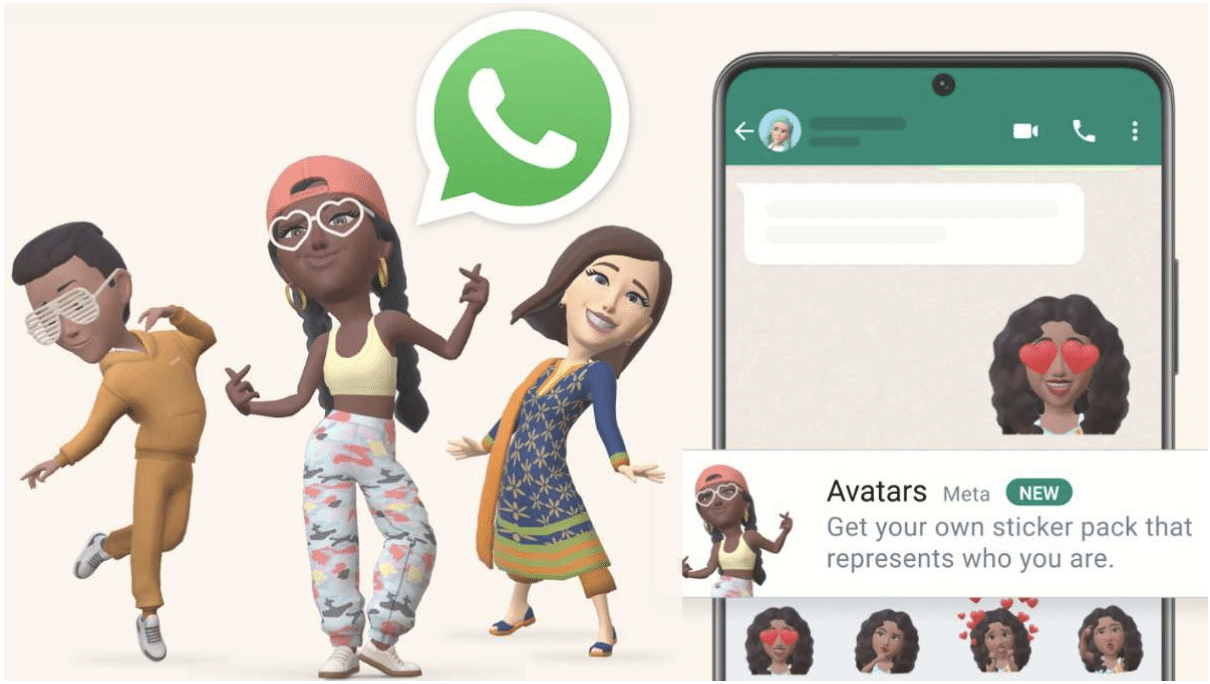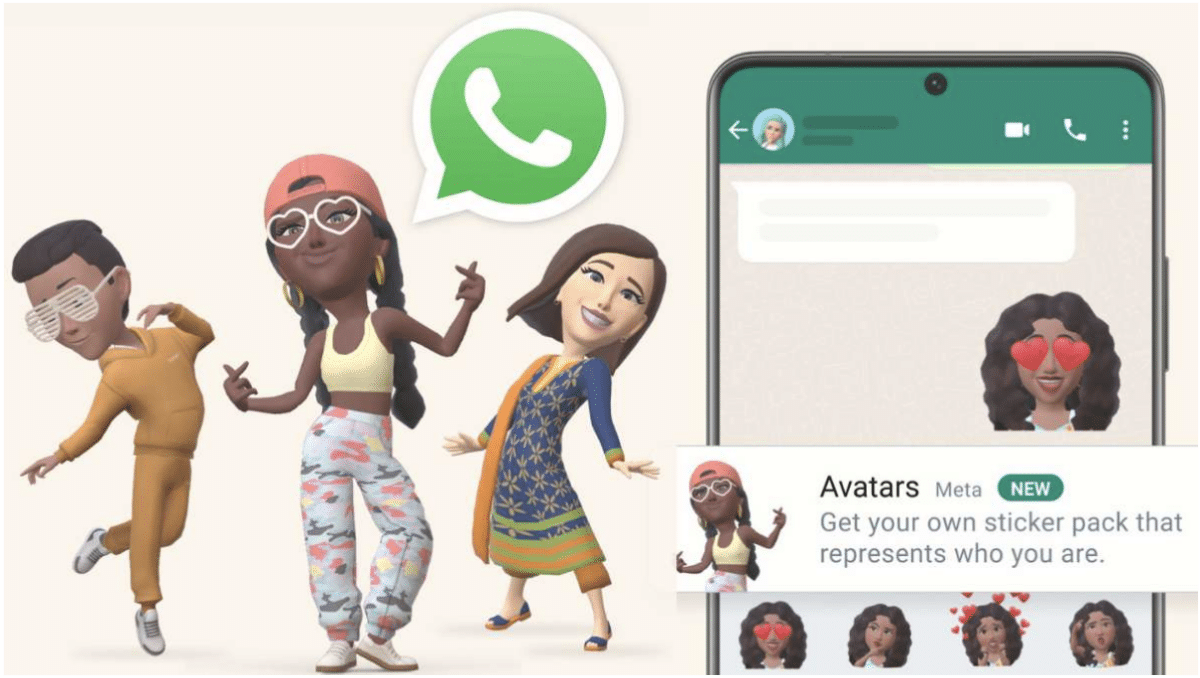 The introduction of 3D Avatars on WhatsApp has transformed how users communicate globally. In December, WhatsApp introduced customizable and expressive Avatars similar to Snapchat Bitmojis.
These Avatars allow users to create a digital representation of themselves, adding elements such as hairstyles, accessories, clothing, and emotions to make their Avatars genuinely unique and exciting to use. WhatsApp Avatars have become a fun and engaging way to interact with friends and are now widely popular across other platforms.
2. Disappearing Messages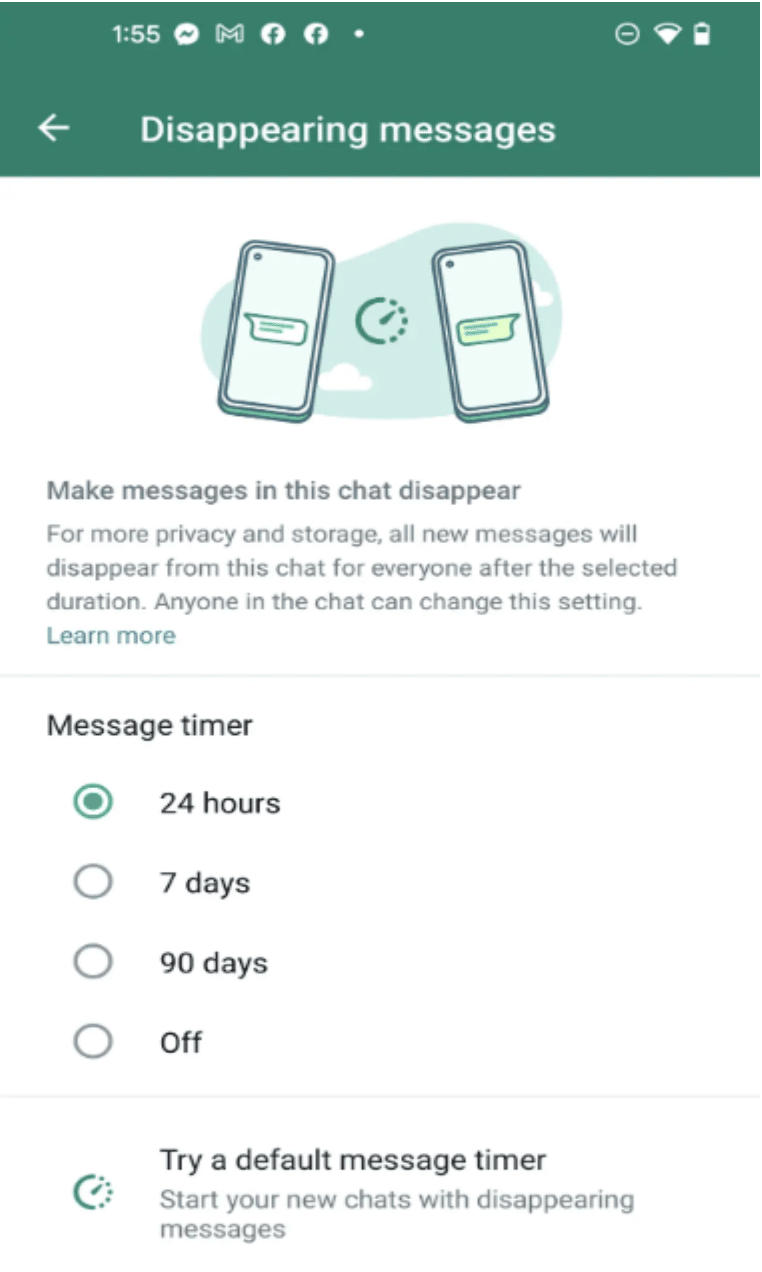 Say goodbye to lingering messages and hello to ultimate privacy with WhatsApp's disappearing message feature. This feature affords you a sense of security, knowing your private conversations are under your control. It also allows for a more seamless and worry-free messaging experience.
Whether you prefer to enable this feature for all your chats or just specific ones, you can set a timeframe for your messages to disappear, including 24 hours, seven days, or 90 days. With disappearing messages, users no longer have to constantly monitor and delete their conversations, as the messages will automatically disappear at the set time, making messaging effortless and secure.
3. Message Yourself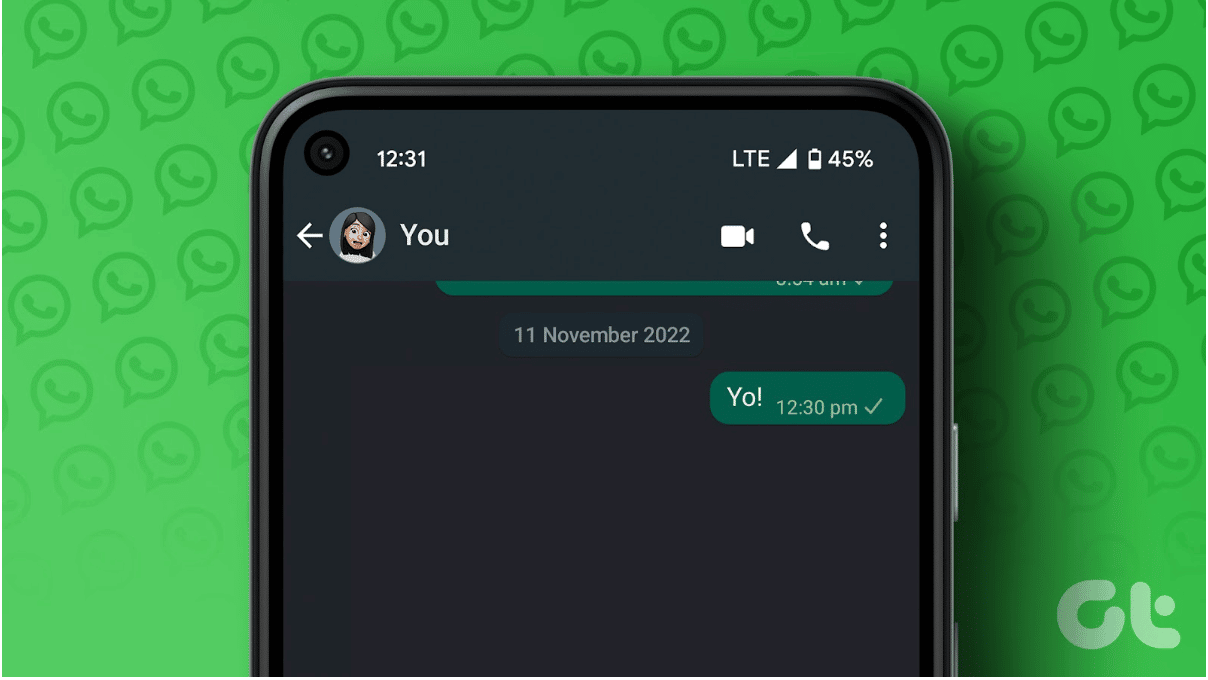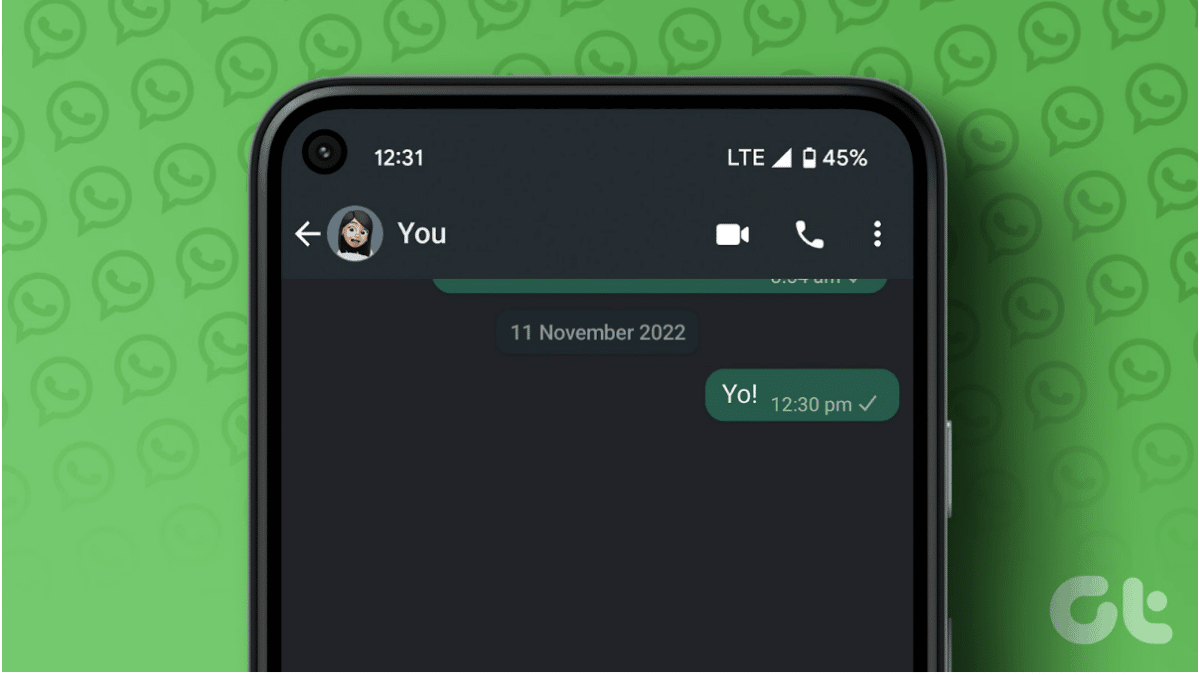 Are you tired of having to rely on others to send yourself reminders and important messages? Look no further! WhatsApp's latest "Message Yourself" feature allows you to chat with yourself and send messages and reminders directly to yourself.
This feature, released on November 29th, enables you to easily select your contact from the WhatsApp contact list and send messages, voice notes, and images to yourself. Not only is this feature a great way to keep your reminders and memories private, but it can also be used as a personal online diary, allowing you to access your moments and conversations at any time! So why wait? Start messaging yourself today and take control of your reminders and memories.
4. Communities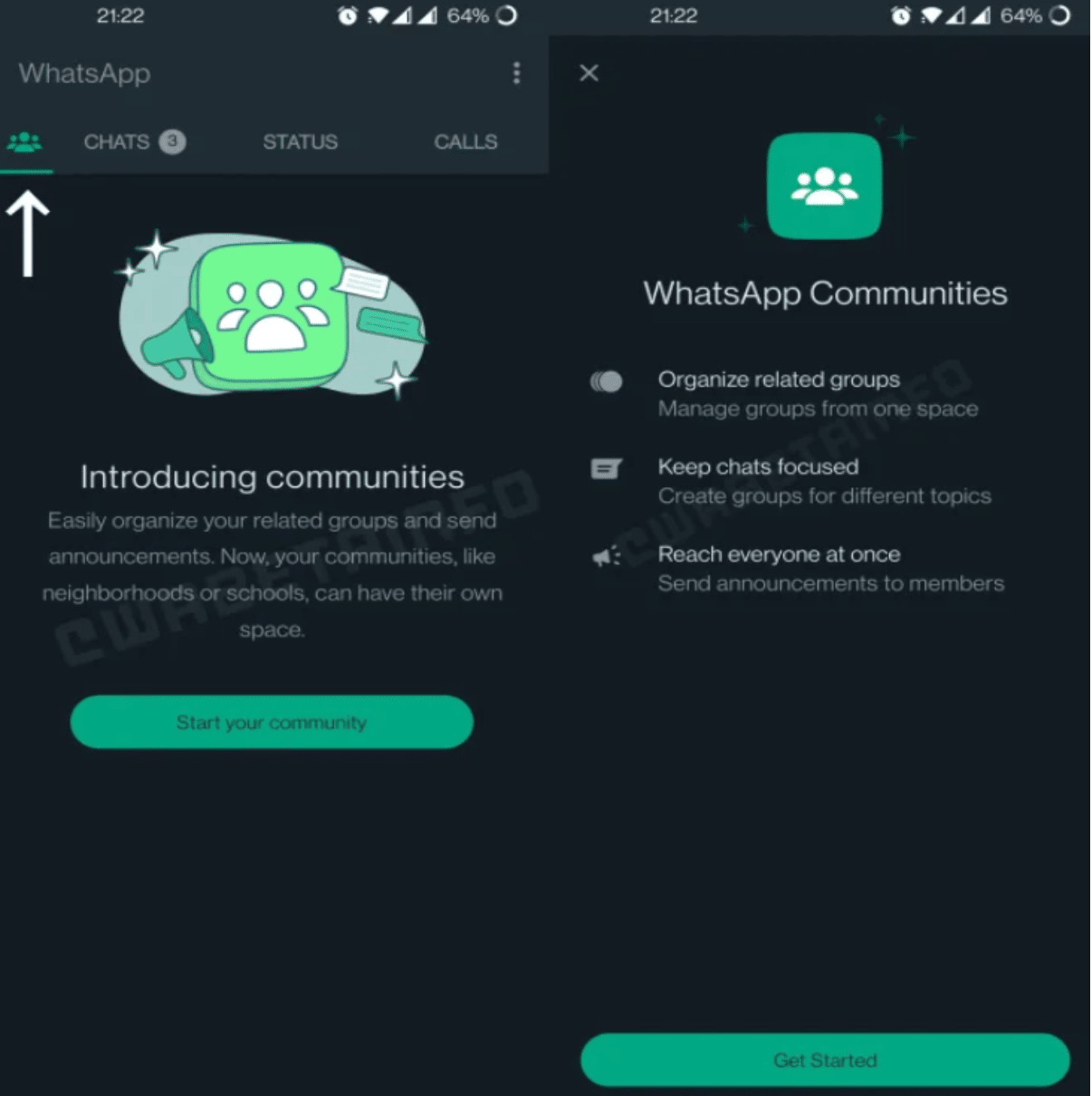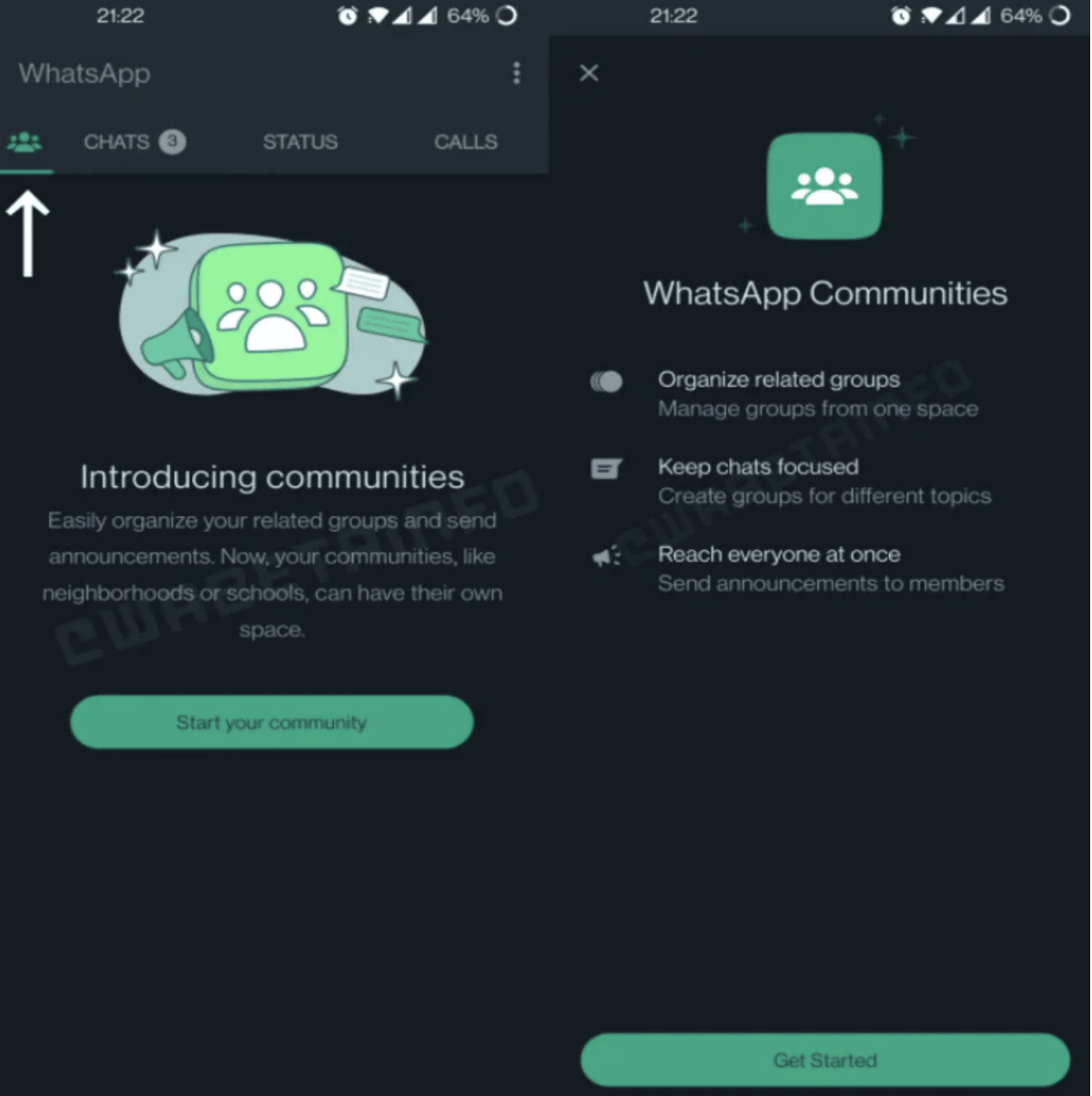 When WhatsApp announced a significant update, no one expected the introduction of Communities. Launched on November 3rd, Communities completely transformed how we use WhatsApp groups. With this new feature, you can connect and organize multiple groups of organizations, neighborhoods, and associations all in one place.
This not only makes it easier to share information across multiple groups, but it also increases privacy and security for organizations. Messages retain their original authenticity, and effective communication is greatly enhanced. You can easily access the Communities tab on Android by going to the top of the chats and on iOS devices by going to the bottom.
Sending important updates and announcements has never been more seamless and convenient with WhatsApp Communities!
5. 32-Person Video Calling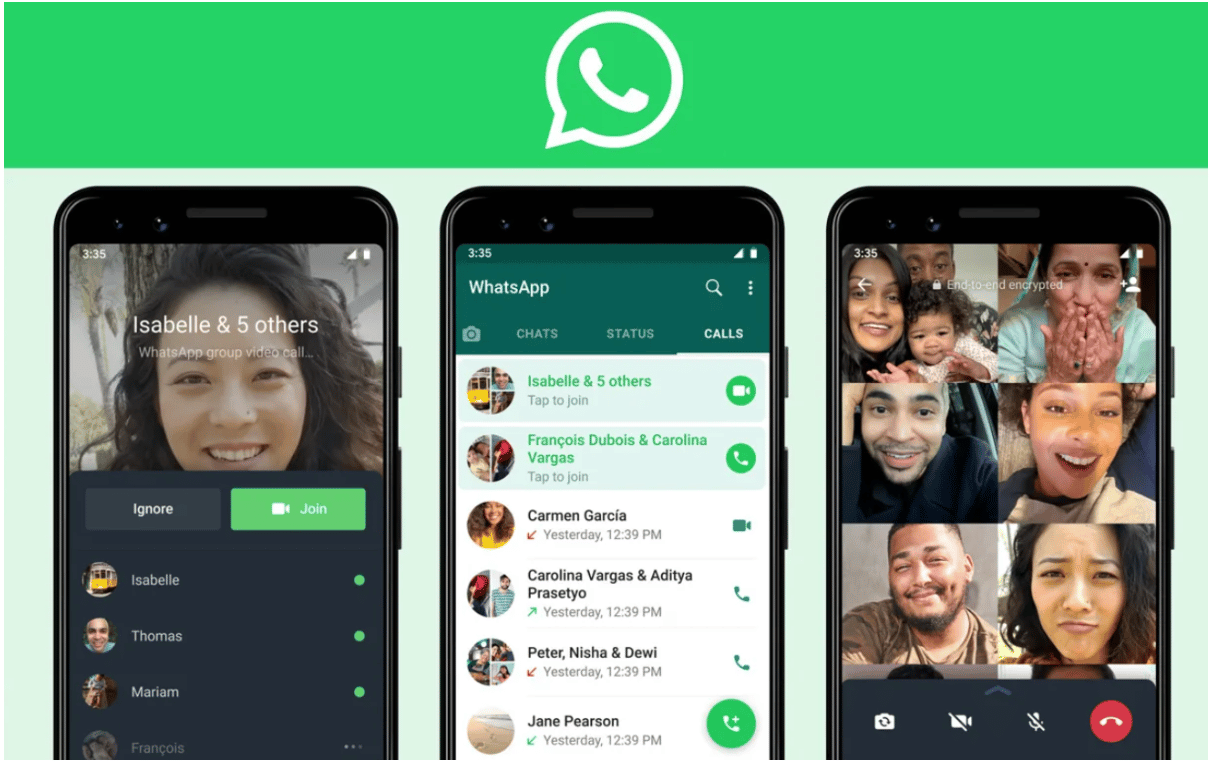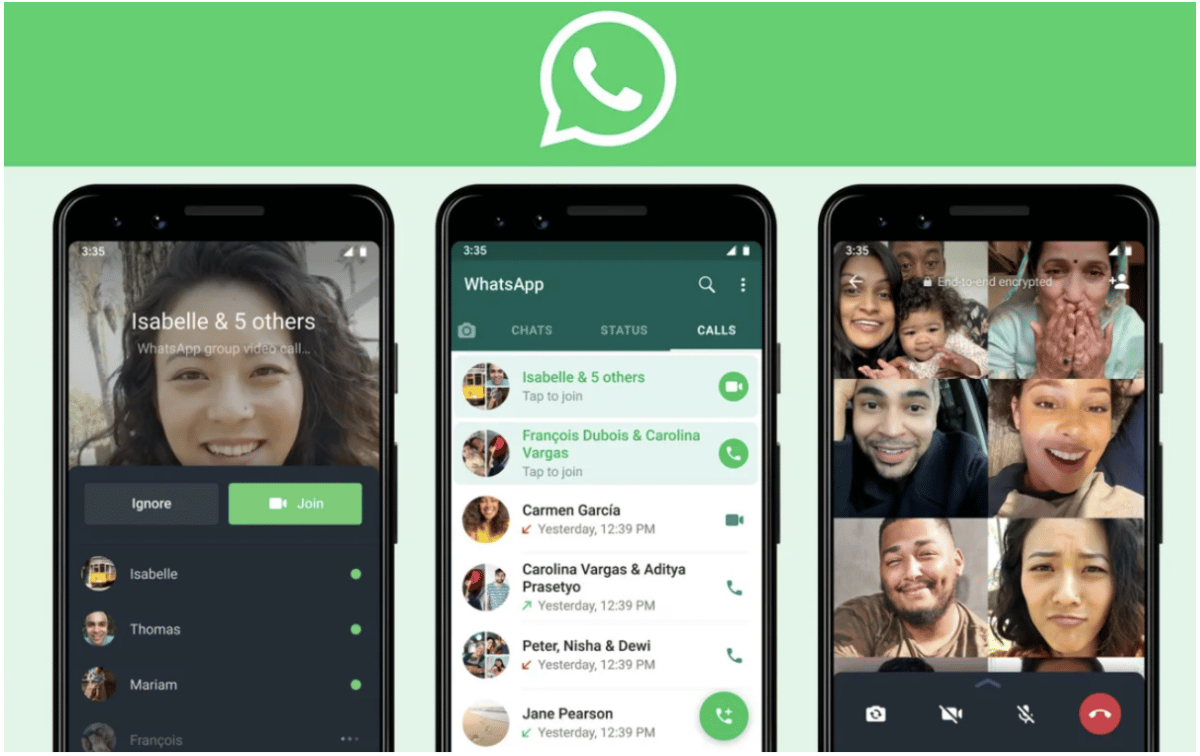 WhatsApp's initial release of its group video-calling feature left users wanting more. The group video calls were not as seamless as other platforms, and the number of participants was limited.
However, with the release of the Communities feature, WhatsApp has increased the number of video call participants to a whopping 32 users. This enhancement has made WhatsApp's Group Video Calling a more convenient option for workplace meetings and organizational calls, making it a more delicious experience for all.
6. Larger Groups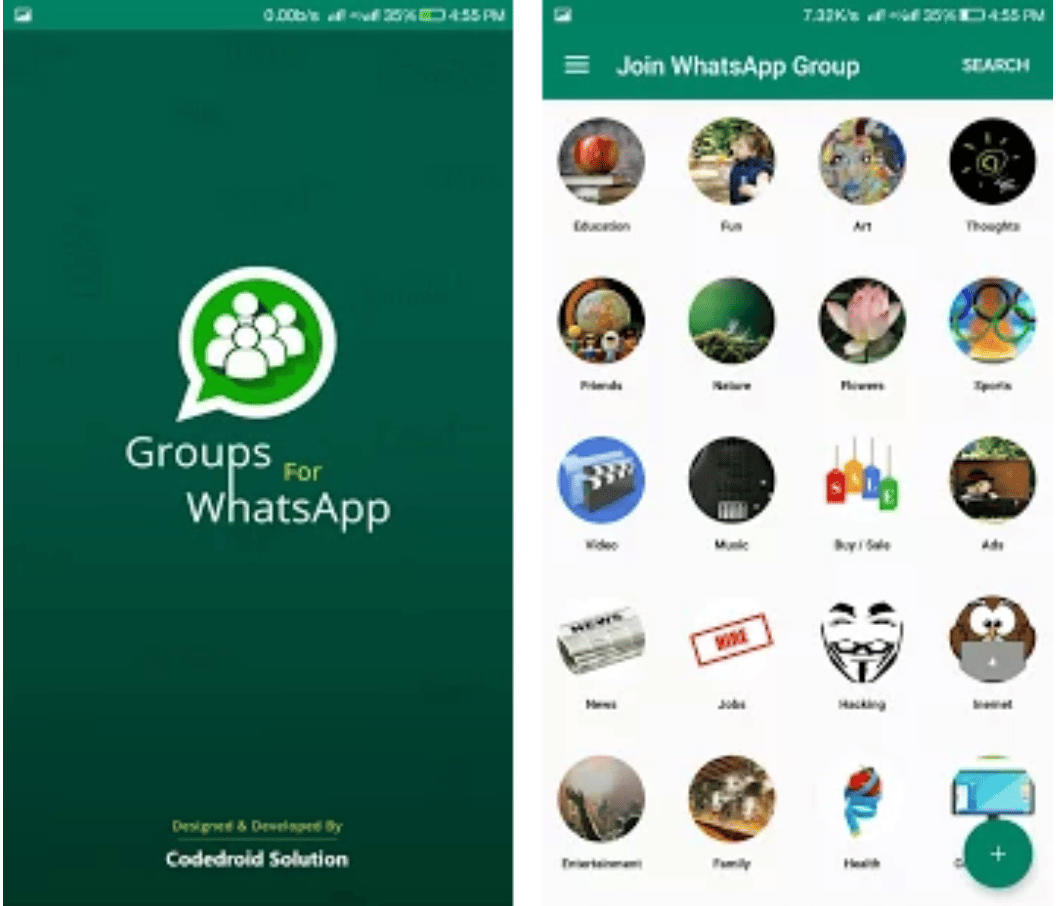 WhatsApp has finally delivered one of its most requested features: increasing the size of groups. Users can now have larger and more engaging conversations with up to 1024 participants, a significant increase from the previous limit of 256. This update eliminates the inconvenience of creating multiple groups for large gatherings and makes it effortless for users to connect and communicate with larger communities on the platform.
With this update, users can now host large events, webinars, and even conferences on WhatsApp, making it a more versatile and convenient platform for group communication. It also allows for more efficient coordination and collaboration within teams, companies, and organizations. With the ability to have larger groups, users can now easily keep all members of a project or department informed and on the same page without constantly switching between different groups.
7. Group Chat Polls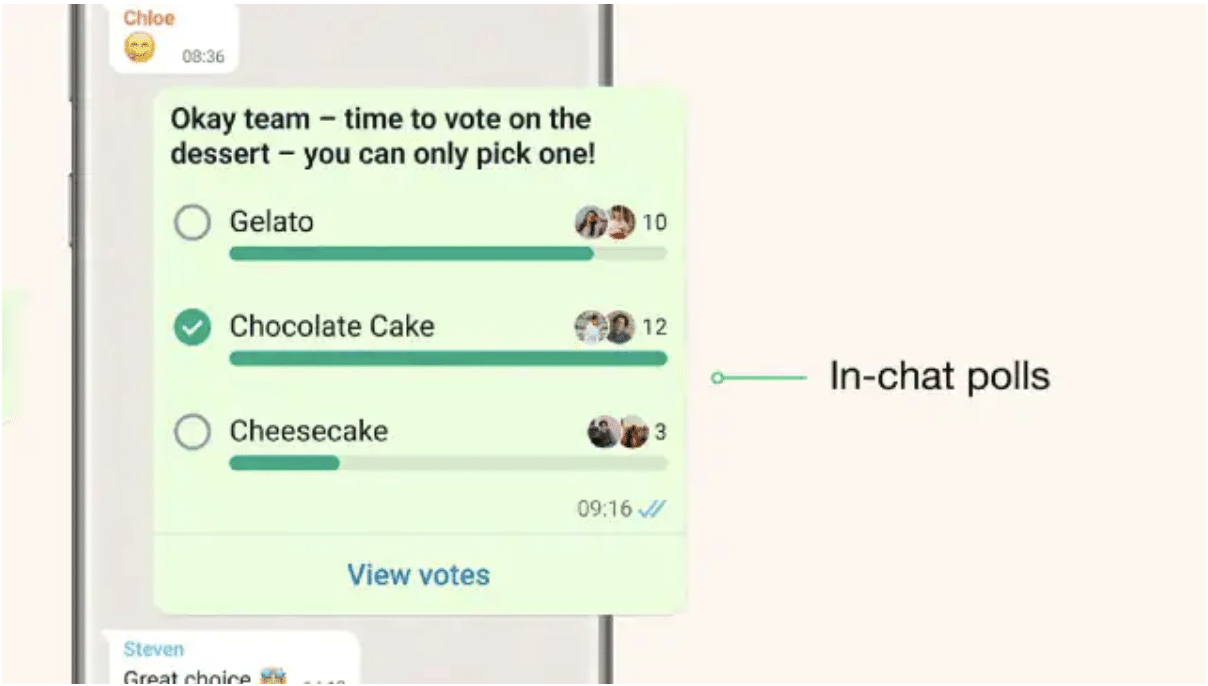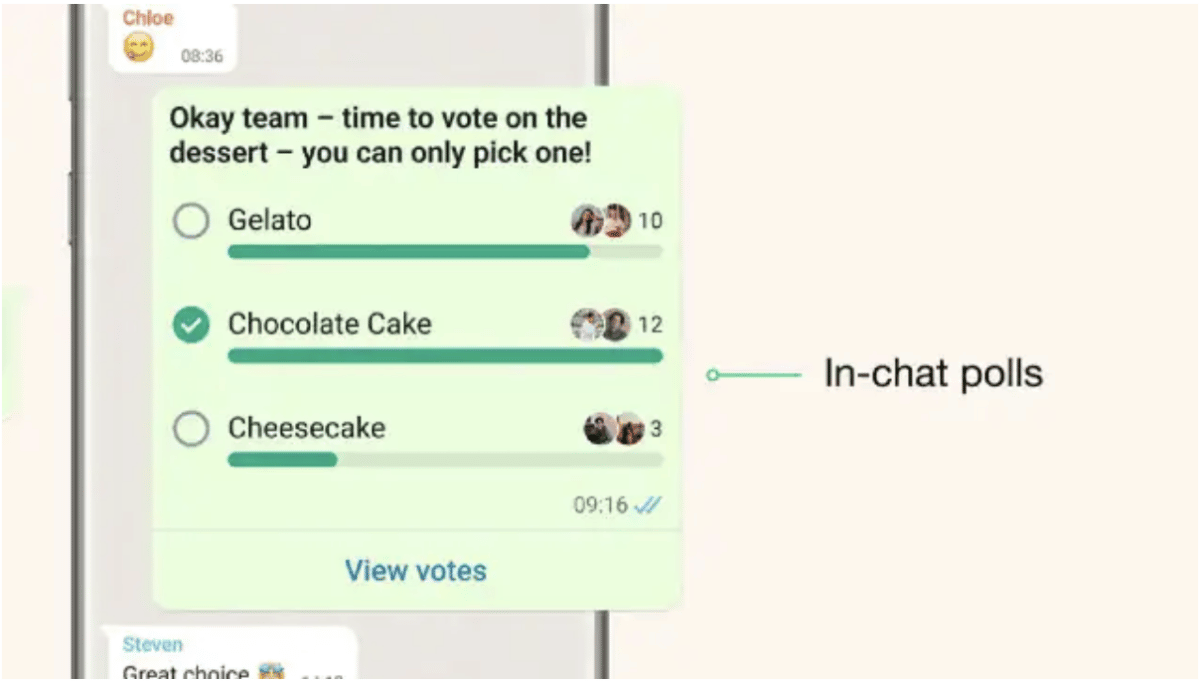 The in-chat polls feature on WhatsApp is an excellent addition for users. It allows you to create and organize polls within the app, making it easy to reach conclusions and make decisions, especially for organizations. It also adds an element of fun to private conversations.
To create a poll, simply tap on the poll icon in the attachment bar. This feature can be used for professional and personal purposes, making it more versatile and convenient. It is a game changer in terms of decision-making and can streamline group conversations.
8. Enhanced Privacy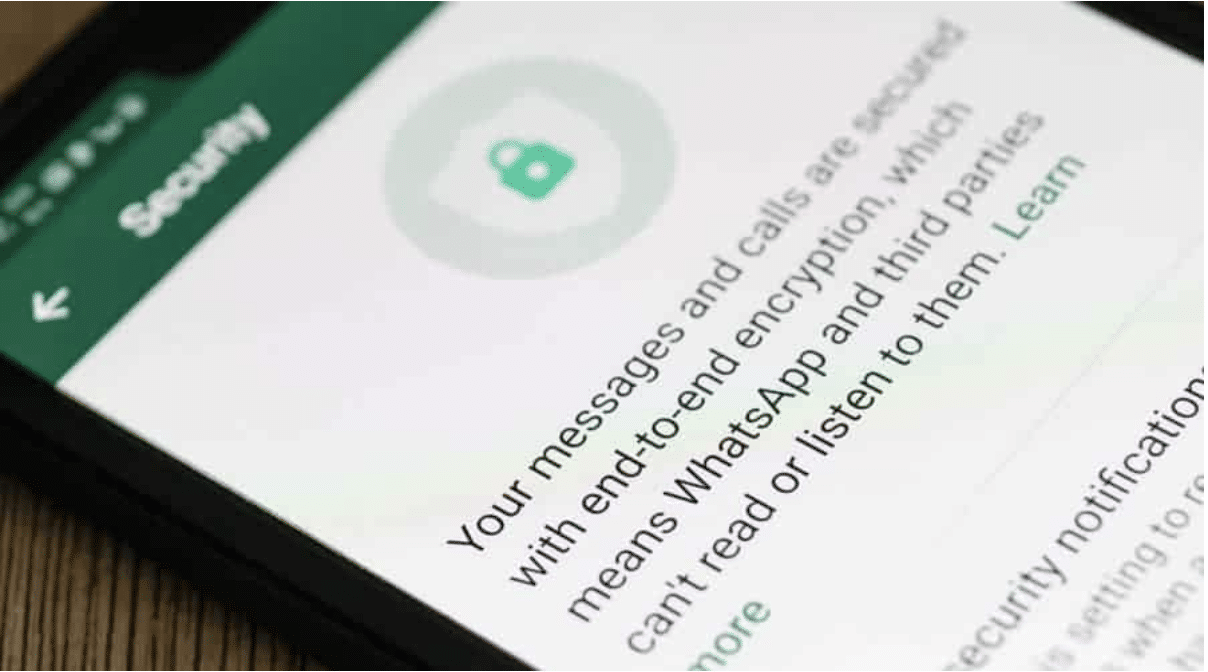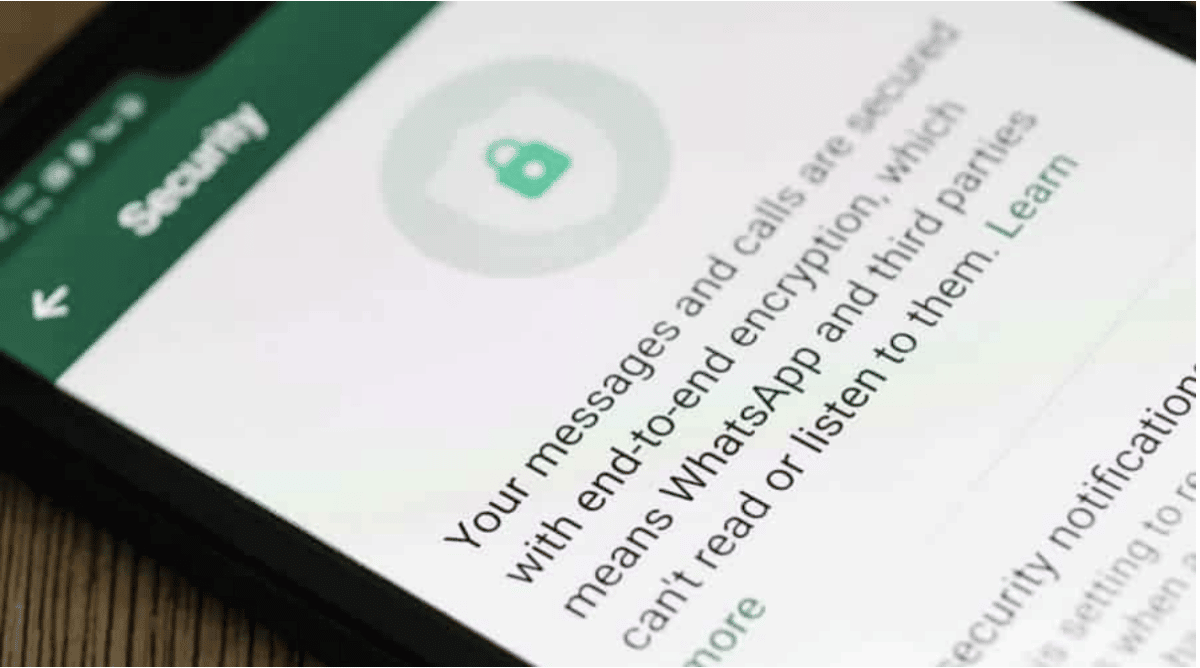 Enhancing privacy on WhatsApp has never been easier. With the latest update, group participants can leave a group discreetly without notifying other members. Admins are the only ones who will be aware of your departure.
Users can also choose who sees their online status, allowing them to go incognito for selected contacts. WhatsApp has also improved the view-once message feature, ensuring recipients can no longer screenshot or save the messages on their devices. This not only protects the sender's privacy but also improves overall security.
9. Enhanced Voice Messages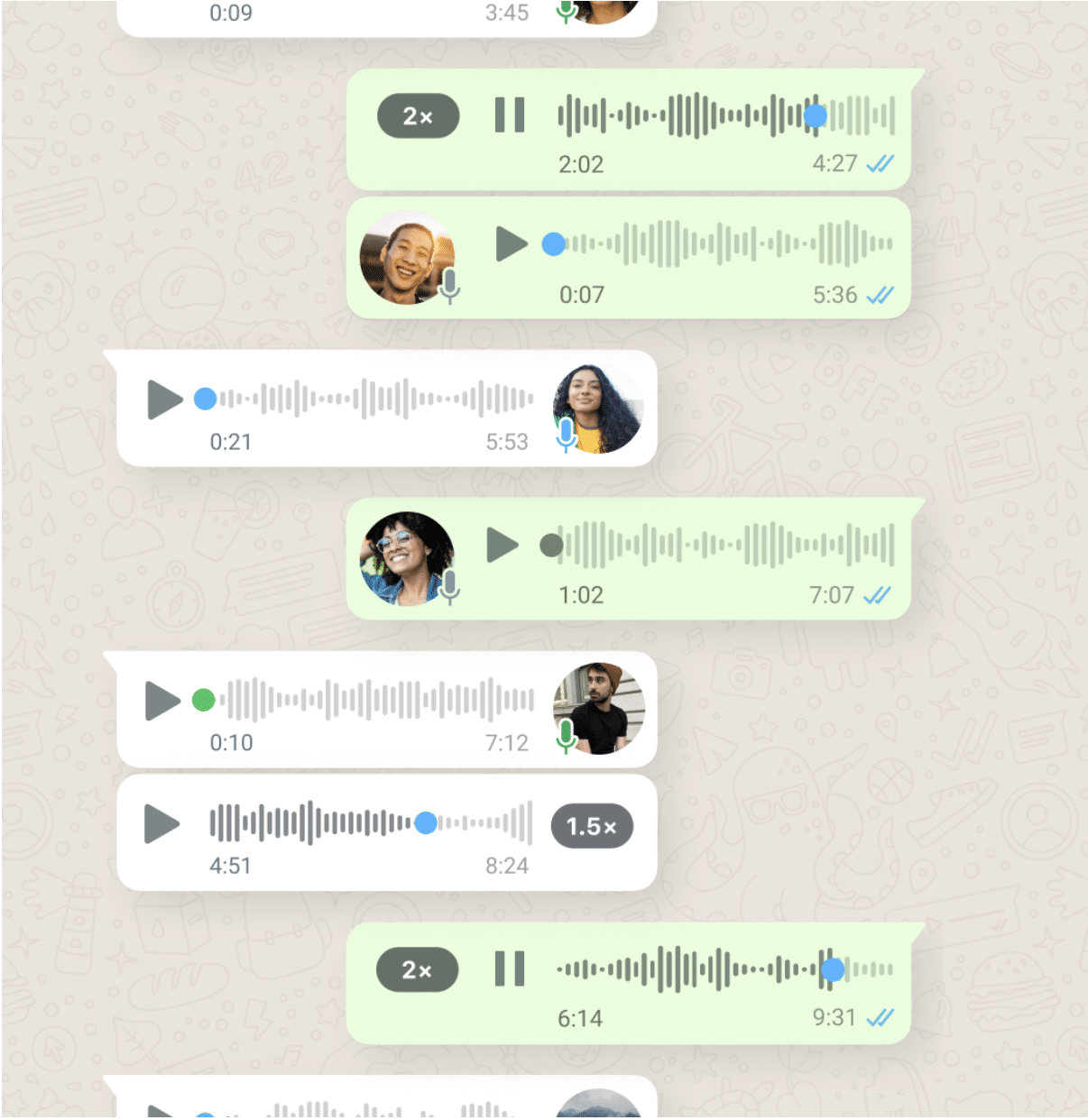 WhatsApp messenger revolutionized communication in 2013 with the launch of its voice message feature. Quick and easy to use, voice notes offer a personal and intimate way to connect with loved ones. In fact, an astounding 7 billion voice messages are shared daily on WhatsApp, all protected by the platform's end-to-end encryption for added security.
Meta is revolutionizing the way we share voice messages on WhatsApp messenger. They have taken the initiative to enhance the user experience by incorporating additional features that will make sending and receiving voice messages more delightful than ever before.
Out of Chat Playback allows users to listen to voice notes outside of chats, making it easy to multitask and respond to other messages. Since its release in March 2022, this feature has been a hit among WhatsApp users, making listening to voice notes more convenient and enjoyable.
Fast Playback of Messages, Remember Playback, Review Drafts, and Waveform Visualisation are other features that enhance the listening experience on WhatsApp. Users can now choose from three-speed options – regular, 1.5x, and 2x – to listen at their desired pace.
10. Reactions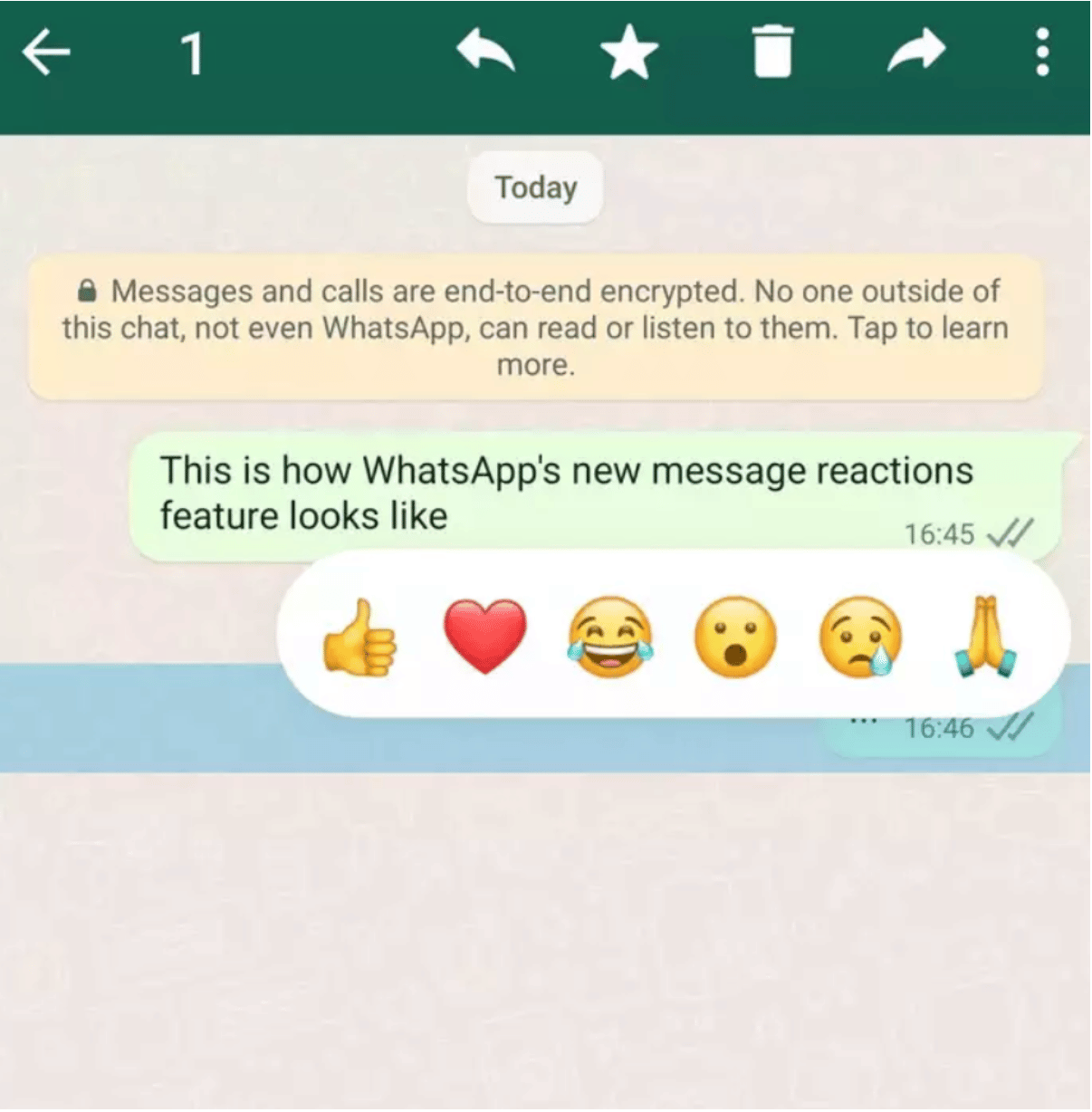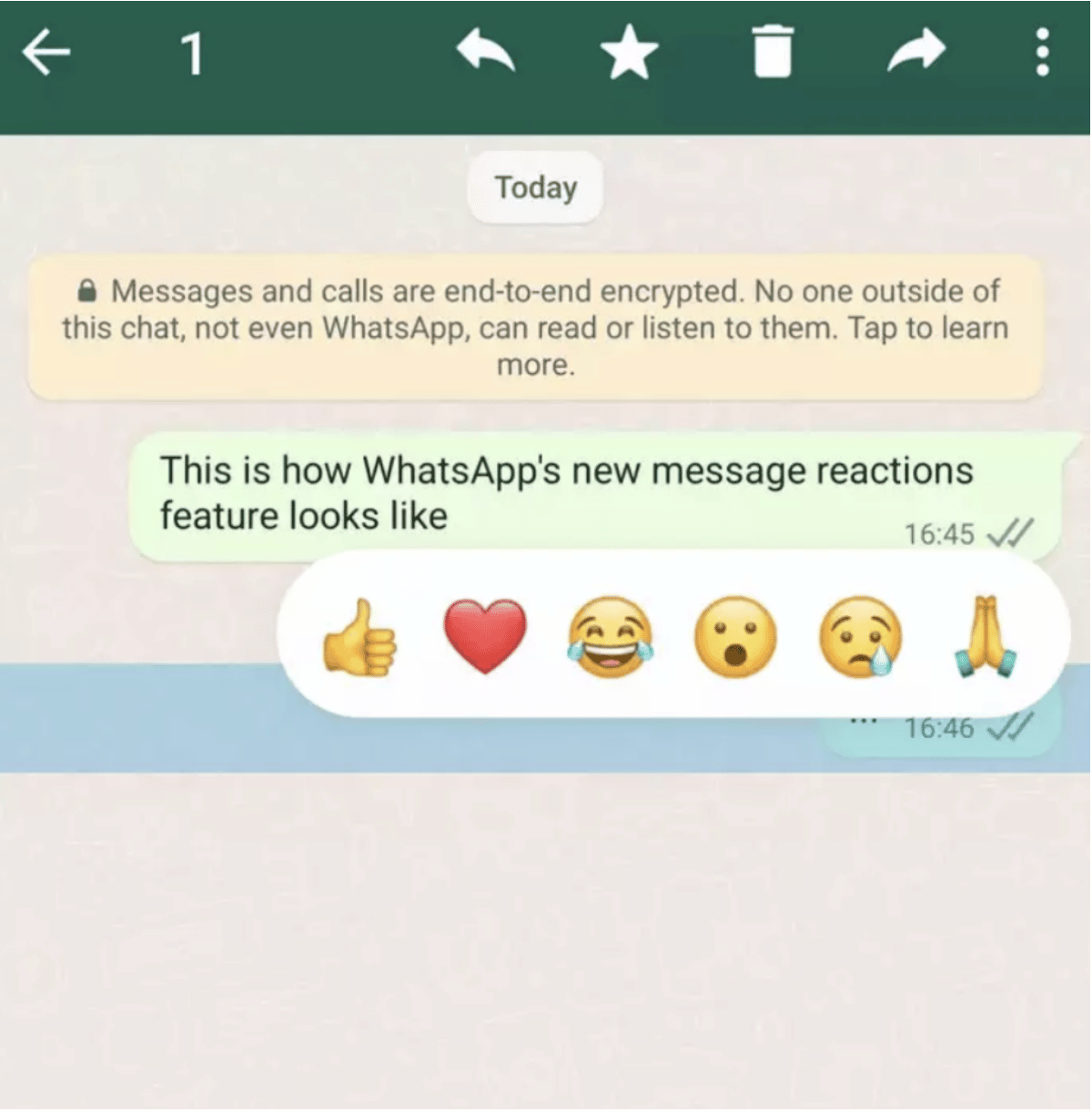 Last year, WhatsApp introduced a revolutionary new feature called Reactions. Initially, users were wary of this addition, but its incredible functionality quickly won them over. With Reactions, you can express your thoughts and emotions through emojis instead of typing out messages.
One of the best things about this feature is that only the sender of the message will receive a notification of the reaction, ensuring that your conversations stay private and secure. To use this feature, simply long press on a message and select an emoji from the displayed options or your keyboard.
WhatsApp Reactions have seamlessly become a platforming staple and will surely be a hit with users for years.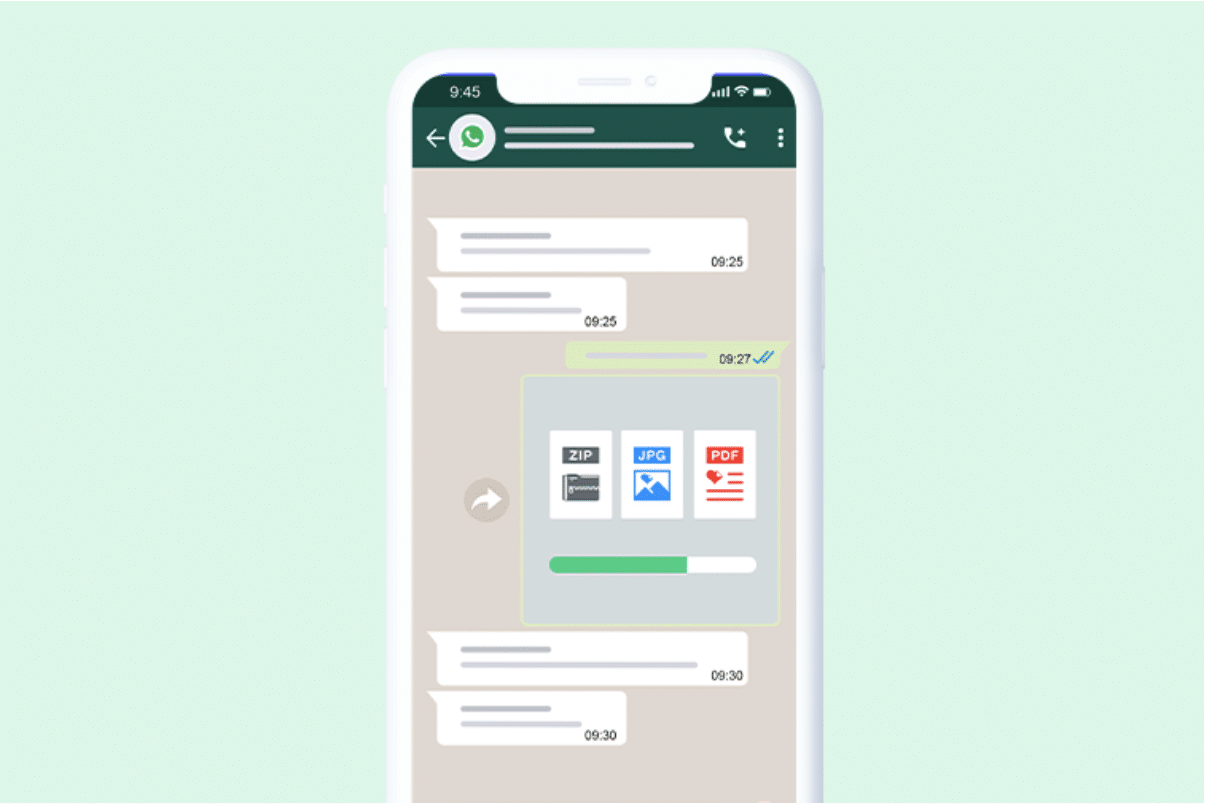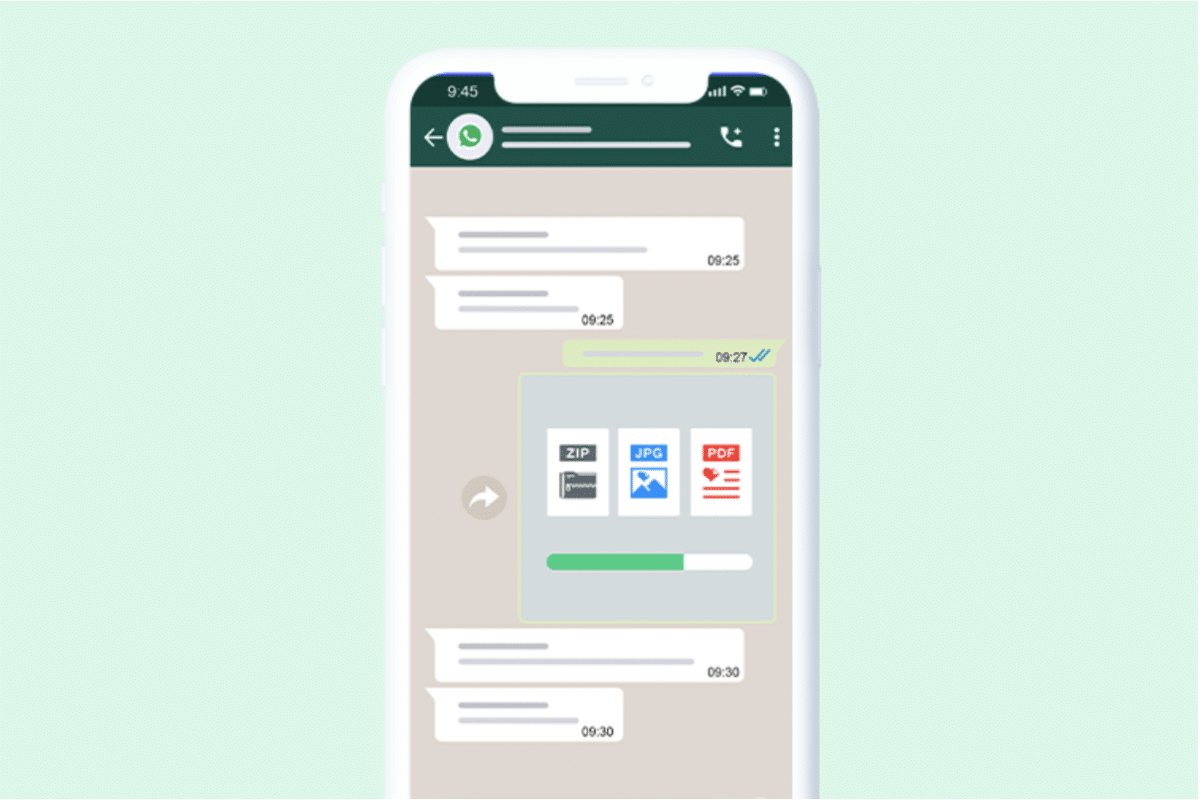 WhatsApp made waves in the messaging world by not only introducing the much-loved Reactions feature but also significantly increasing the file size limit for shared files.
Previously, users were limited to a measly 100 MB, which made it difficult for businesses and organizations to transfer large files. But with the new update, WhatsApp users can now share files up to an impressive 2GB, a massive increase that the community has warmly welcomed.
Not only that, but this feature is also protected by end-to-end encryption, and a counter is displayed on the notification screen that shows an estimate of the transfer time. This update has made it much more convenient and efficient for users to share and receive large files, making WhatsApp an even more powerful tool for communication.
12. Privacy control for Profile Picture and Last Seen
Imagine concealing your profile picture, last seen selectively, and status updates from specific contacts on WhatsApp. Well, now you can!
WhatsApp released a highly-anticipated feature that allows users to restrict selected contacts from viewing their profile photo, last seen, and status updates. With the introduction of the "My Contacts Except" option, users now have greater control over who can see their personal information, providing an additional layer of privacy and security.
So, whether you want to keep your information private from specific contacts or want more control over who can see it, WhatsApp's new feature has covered you.
13. Retrieve Accidental Deletes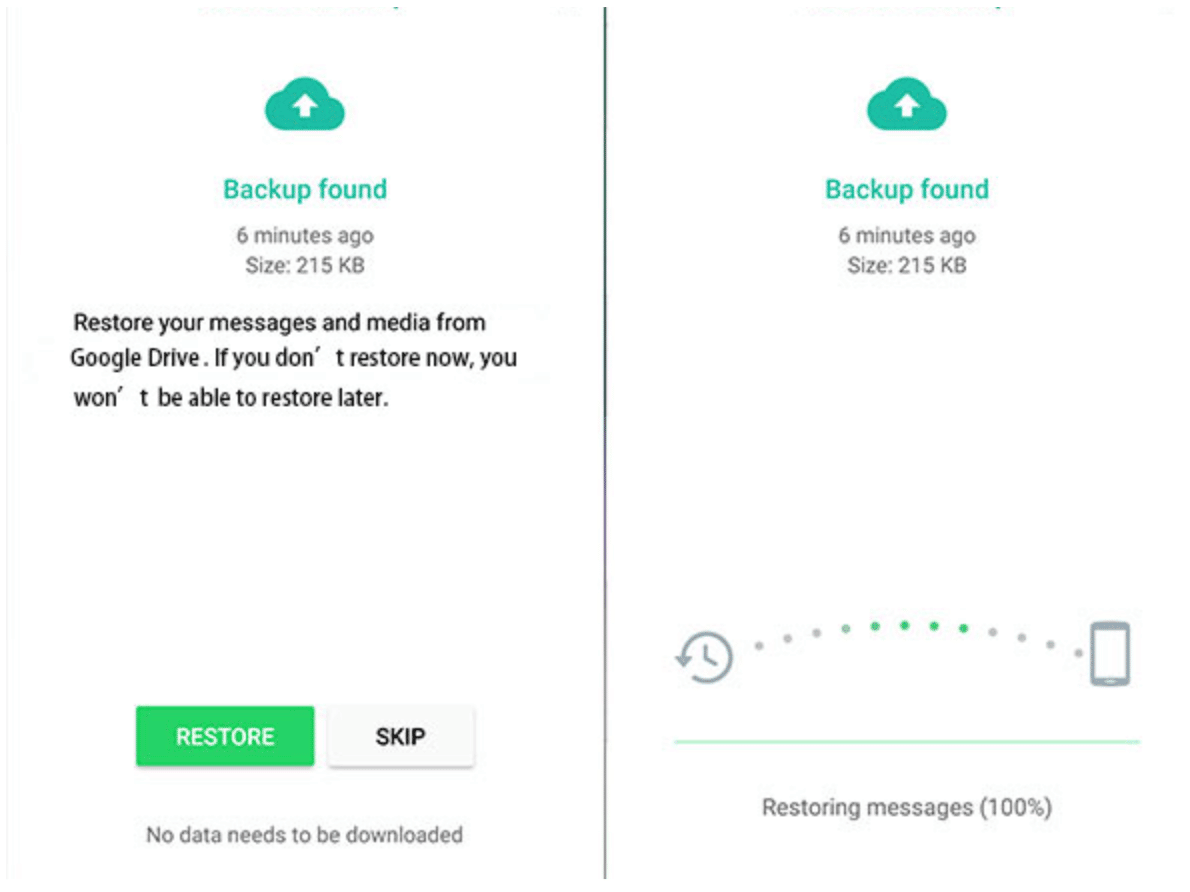 Accidental deletions can be a frustrating experience for anyone using chat platforms. Whether it's an important message or a shared link, it can be disheartening to realize that it's gone forever. However, WhatsApp users now have a solution to this problem by introducing the "Accidental Delete" feature.
This feature allows users to retrieve their accidentally deleted chats, which is perfect for those moments when you've shared something with the wrong group and, in your haste to delete it, hit the "delete for me" button by mistake. It can be a lifesaver in situations where important information or links have been accidentally deleted and need to be retrieved. In short, it's a great way to prevent accidentally losing essential data within a few seconds.
14. Join Group Calls with Call Links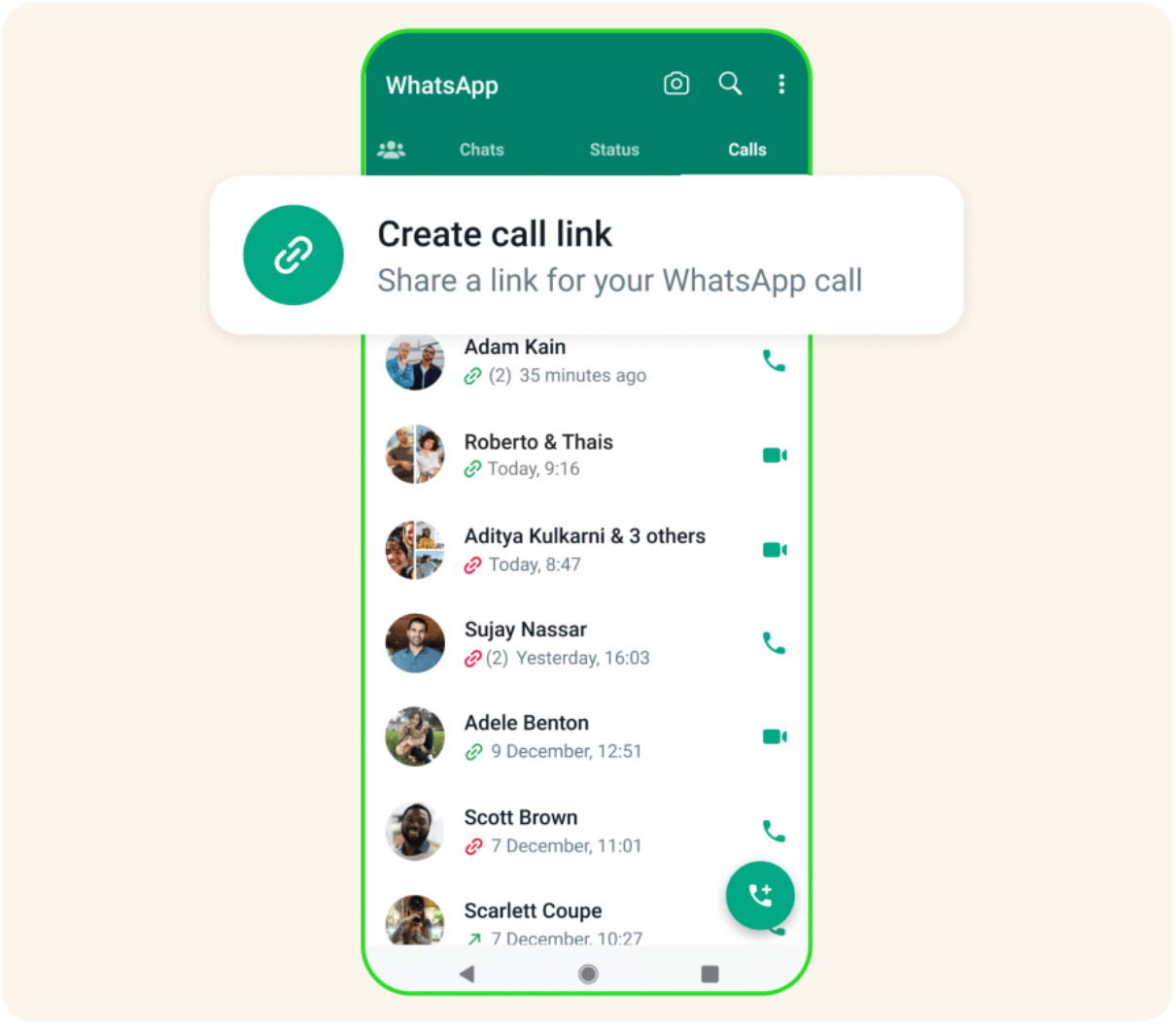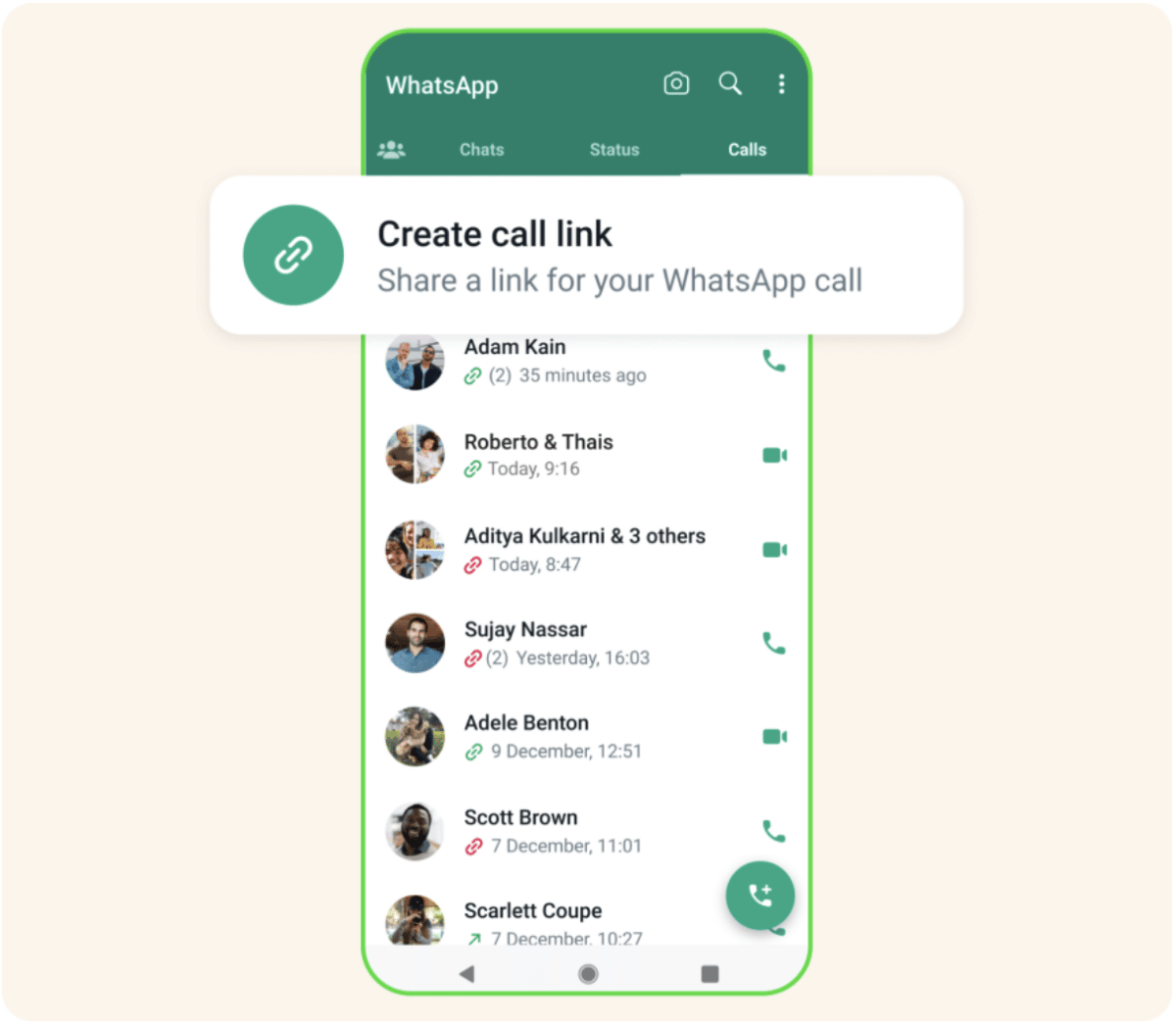 The "Call Links" feature on WhatsApp streamlines the sharing and joining of calls, making it more user-friendly and efficient. With this feature, users can now create a unique link, similar to video conferencing apps, that they can share with others. The link recipients can then simply click on it and join the call, eliminating the need for complicated call-in numbers or meeting codes.
This feature is handy for group calls or for scheduling calls with people who may not have your contact information saved. By creating a call link, you can easily share it with the participants via message or email, and they can simply click on the link to join the call. Additionally, the Call Links feature also allows you to schedule calls in advance, making it a great tool for organizing team meetings or appointments.
15. Migrate Chats from Android to iOS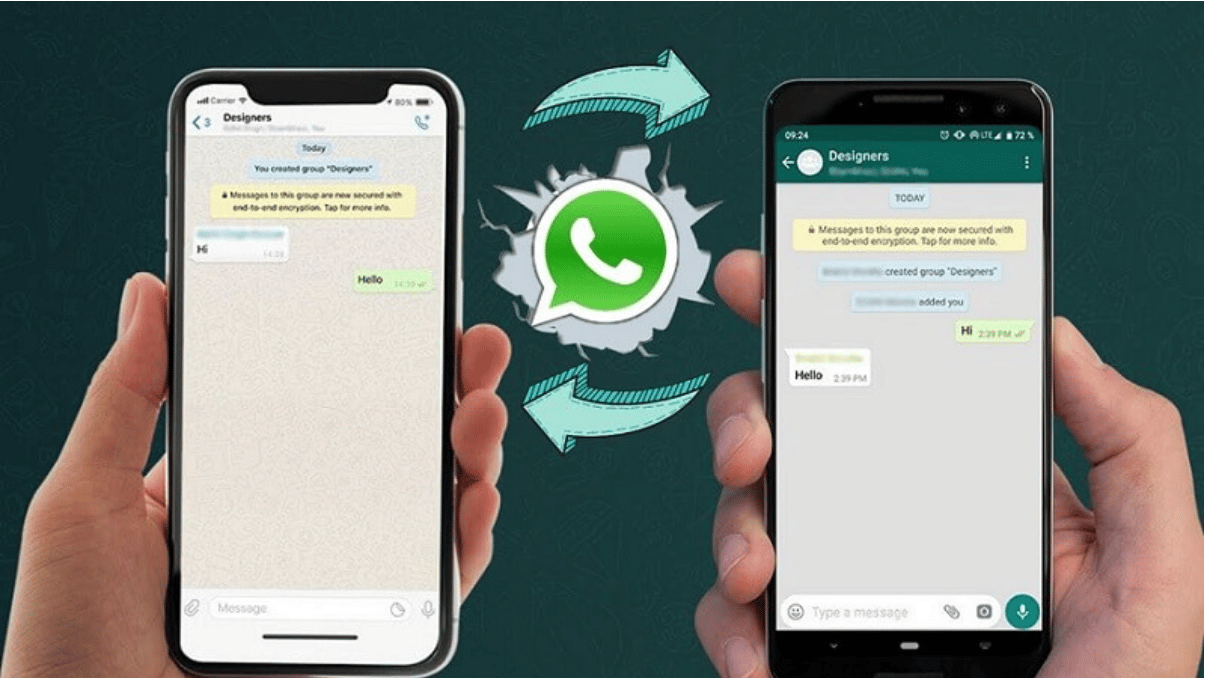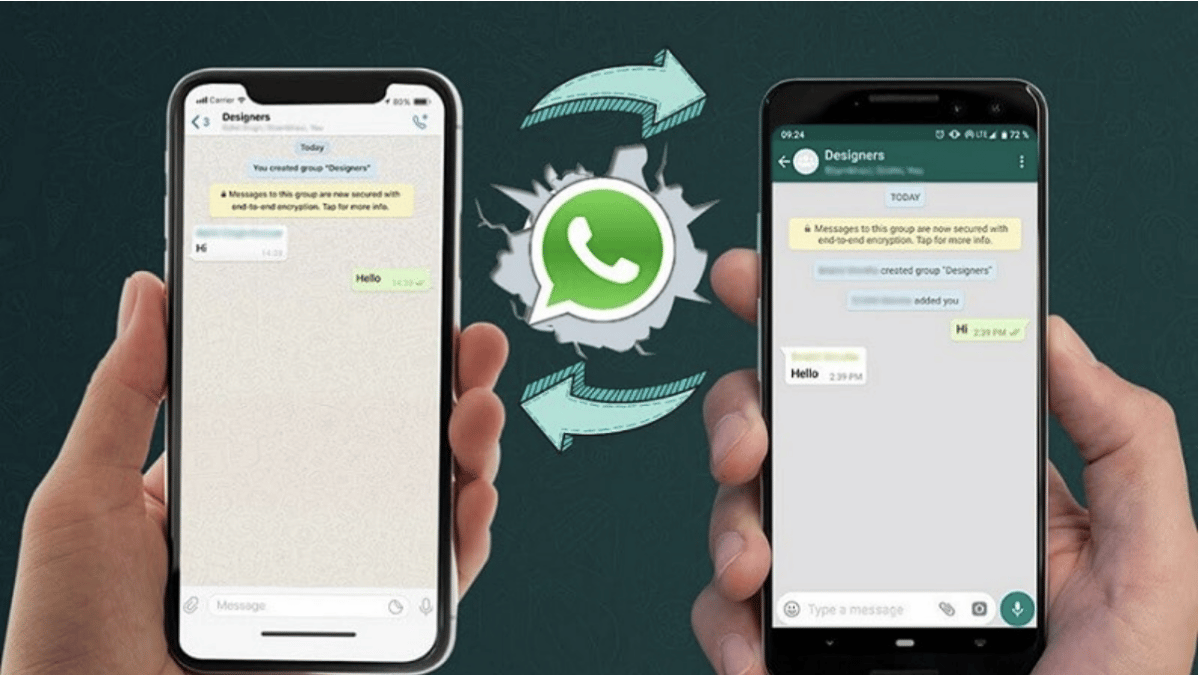 With the latest update, WhatsApp users can seamlessly migrate their chats from Android to iOS or vice versa. This feature allows for a smooth transition when switching to a new device or operating system. Not only can users transfer their account information and settings, but they can also bring their profile photo and entire chat history along with them.
This means that users will no longer worry about losing essential conversations or starting from scratch on a new device. With this convenient feature, the process of switching to a new device or operating system just got a whole lot easier on WhatsApp.
Why Should I Always Update My WhatsApp?
WhatsApp is constantly updating with new features. It has added disappearing messages, improved voice, and video calls, communities, and enhanced privacy. These updates improve the user experience and increase functionality and productivity for users. As the year goes by, WhatsApp will add more features, including the ability to transfer chats, undo deleted messages, keep messages, and support proxy access. Keep an eye on these updates by constantly updating your app.