Are you an avid gamer and love playing racing simulators? Well you may have been tempted to buy a racing wheel setup to try and take the experience to a whole new level. There are quite a few options out there, some expensive and some cheap. In this list we'll go through the most popular options and hopefully find one that will suit your needs.
How to choose the right wheel
The right wheel for you should make you feel like a true racer and basically channel your inner Lewis Hamilton, so it isn't most important to go out and buy the most expensive wheel setup out there. The second you hop back into your racing game with your new setup it'll feel so different and really immerse you into whatever racing game you are playing, whether it be Forza Horizon or even F1 22. Whether or not you're someone who is looking to get the best performance in regards to the steering wheels force feedback or the responsiveness of the shift paddles there is going to be a steering wheel out there just for you. There is so much to a steering wheel that a regular controller will just never be able to emulate.
A racing wheel is pretty expensive though so it is important that you make sure you know exactly what you want so that you don't throw away your hard earned cash away on something that you aren't even pleased with. You should also make sure that you are ready to spend quite a lot on a wheel because the options do cost, the cheap options aren't worth it and could even lessen your racing experience.
Nowadays there are a lot of different wheel options out on the market but this list will narrow it down to a few of the best in regards to the most realistic pedal interactions, satisfying gear shifts and force feedback. Don't fear there aren't only the best of the best, on this list I've included a few more affordable options that still perform well and are worth their prices.
What type of force feedback is best for me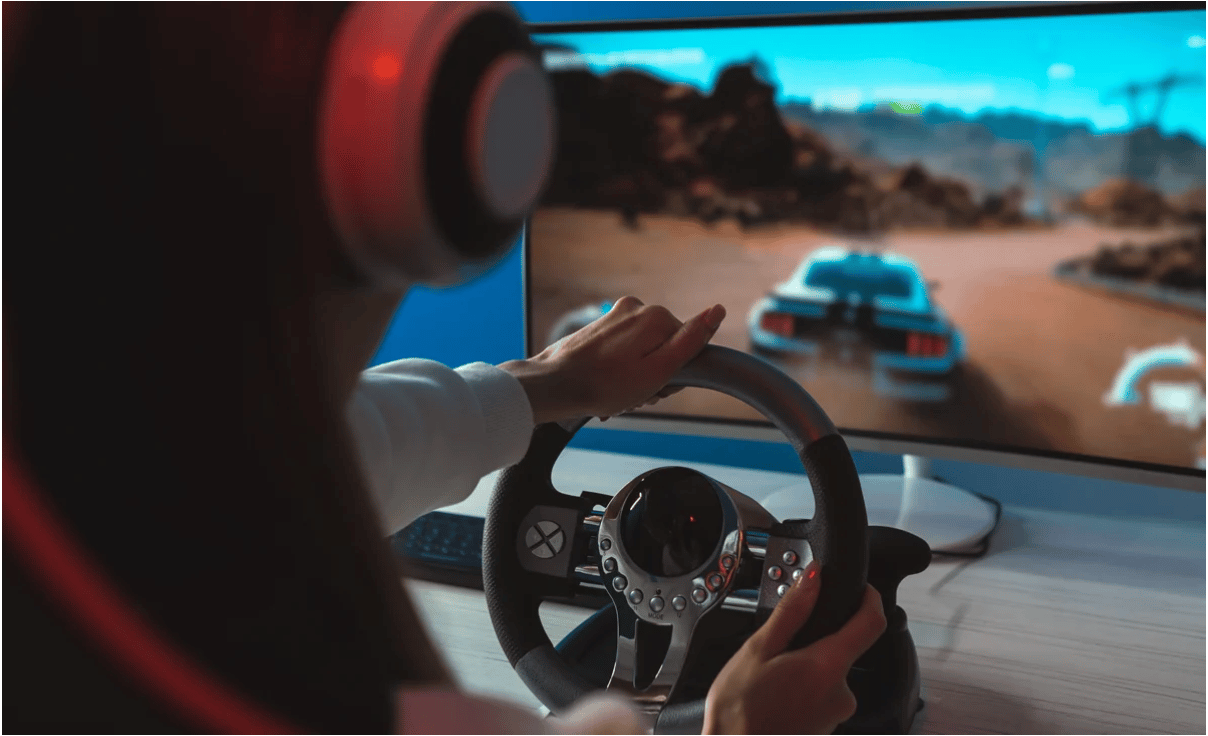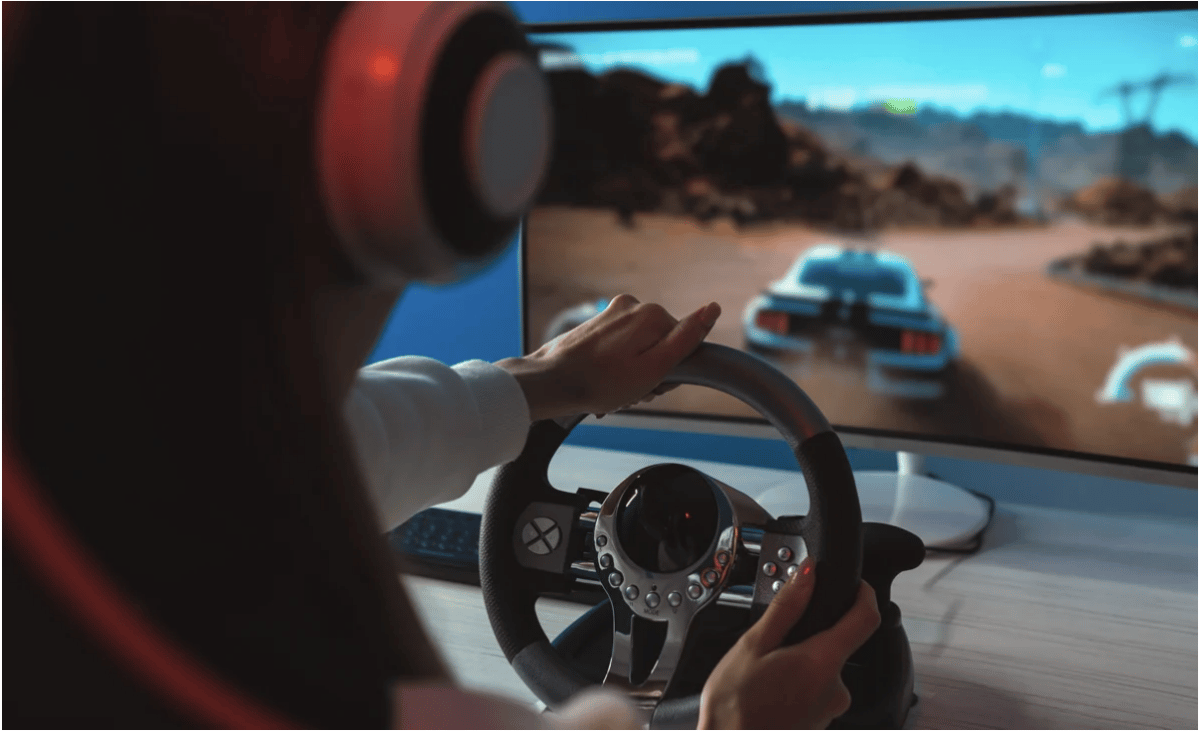 There are three main types of force feedback that can be found in racing wheels and those are: gear-driven, belt-driven and then direct drive. The option that will give you the most amount of accuracy as well as power is the direct drive system but it definitely comes with some sacrifices as well.
Direct drive
Direct drive is the most accurate jsut because it is relatively simple, when compared to all the other force feedback types. The force feedback that you feel when you are driving is produced by a motor that generates resistance and feedback in the wheel, so in the direct drive system you actually have the wheel directly mounted to the motor which in turn gives you a maximum response time since there are no other things disrupting this force.
Belt-driven
Belt-driven force feedback uses a belt to connect the motor and the wheel, so they aren't directly connected to each other. The setup offers an excellent overall response that actually comes with very few compromises.
Gear-driven
Then lastly, we have the gear-driven racing wheels which are very popular setups for the cheaper options out there. This type of force feedbacks performance can vary quite a lot between the different designs that they have. A great example of an impressive gear-driven system that actually gives quite a good amount of power is the G923, which uses a dual-motor gear-driven system. Then on the other hand you can also buy the cheapest steering wheels that don't offer nearly as much power as you need which will definitely be disappointing for you.
Top 5 racing wheels for your setup
Fanatec GT DD Pro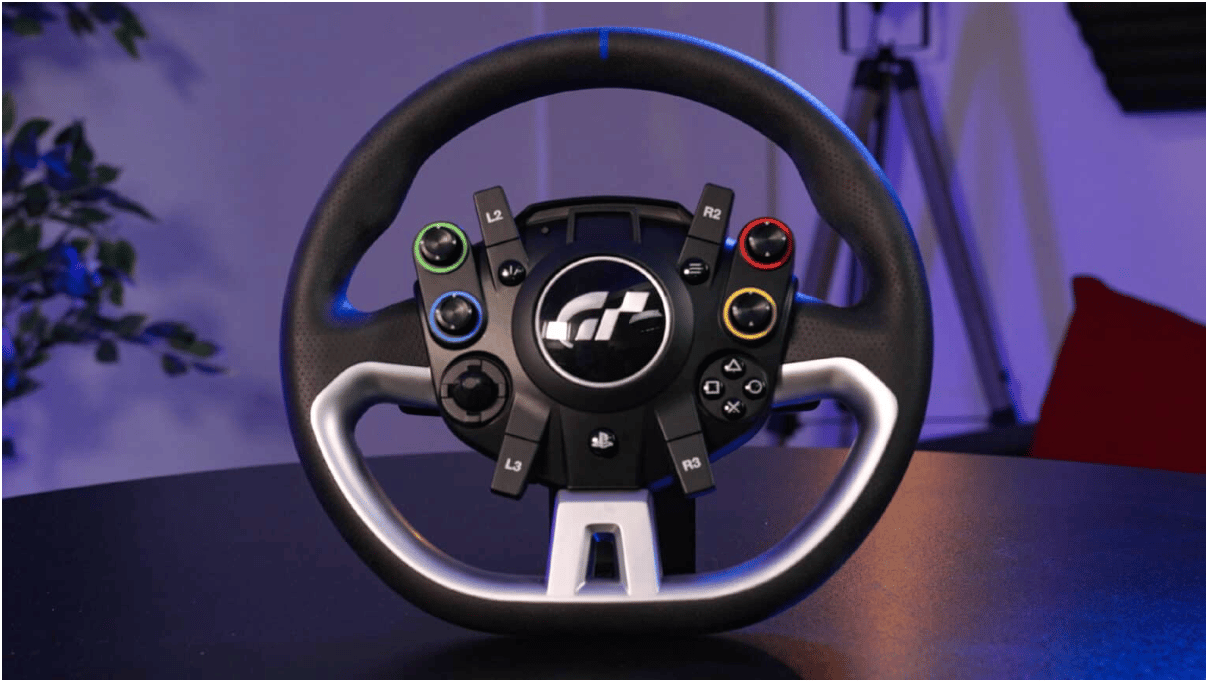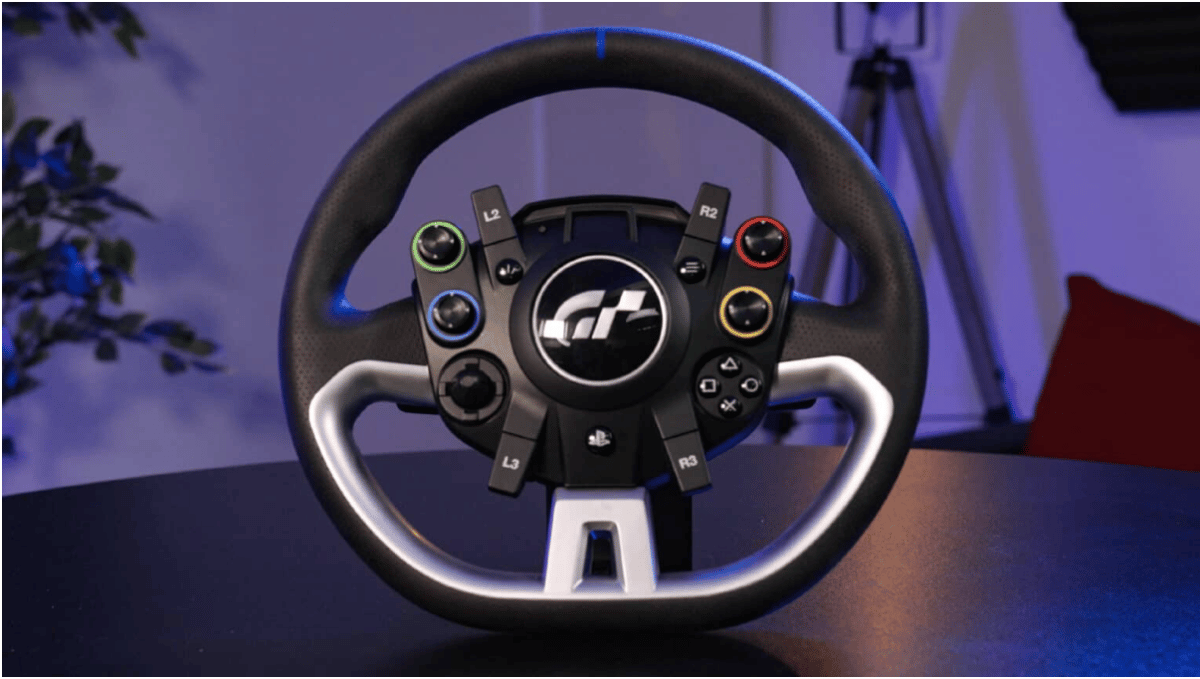 This is thought of as the best racing wheel that one can buy for their racing games and really sets the standard for all of the other racing wheel setups available. The Fanatec GT DD Pro has an amazing direct-drive motor which means that it is able to give you as much force to the wheel as you'd get if you were driving in real life. This motor is very precise and emulats all the bumps and loss of traction as you'd feel if you were driving in real life, this gives the racing experience a raw and real feel which is definitely very important to look at when you're choosing your wheel. This realistic feel forces you to improve your overall driving as you can feel exactly what you're doing wrong and right.
The Fanatec GT DD Pro has a very premium feel to it, which is thanks to its precise and high quality construction. The wheelbase is solid metal, so you can be sure that it feels nice and heavy in your hands, then there is a solid and straightforward clamp that slots into that, giving you a very sturdy feeling setup. If you opt to buy the cheapest model, the base model, you won't receive a clutch or load-cell, all you'll get are the CSL Pedals. If you are someone that wants all the pedals then you will have to upgrade to the load-cell kit, which is also sold by Fanatec, which will basically replace the brake and where the brake was will then become a clutch pedal.
This is an extremely versatile wheel which is amazing for gamers who love following around on an open world sim racer like Forza Horizon but still want the ability to jump into a more serious racing game like the F1 22 game. So if you have a little more money to spend then this wheel will definitely give you an amazing performance in all types of racing games.
Thrustmaster T248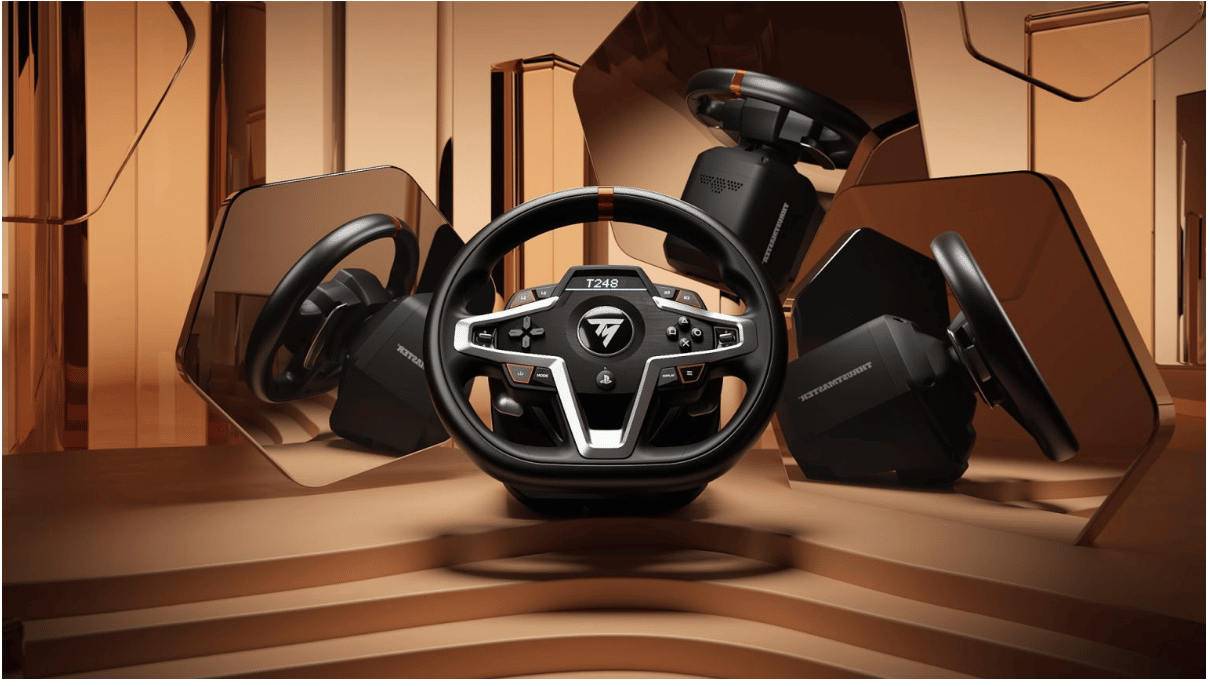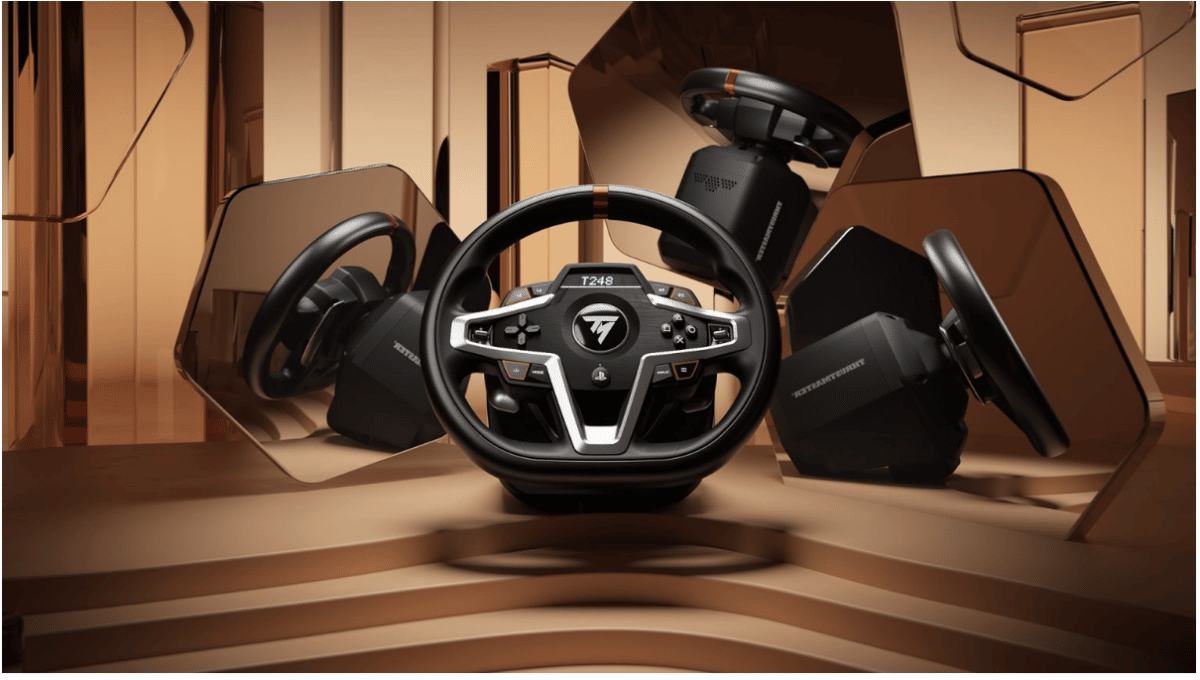 Compared to the above Fanatec GT DD Pro, this is a much more budget friendly option for those not looking to spend so much money to begin with. Despite it having a lower price it definitely doesn't disappoint in the areas that matter most when it comes to the gaming wheels. When you see the lower price you may think that it might not be able to produce the levels of force feedback that you'd want from your wheel but this wheel will definitely surprise you because even though it may be the most affordable option on this list it is still definitely a good option to consider. What makes the force feedback in the steering wheel so good is the hybrid force feedback system that it has built in, this system basically utilises a gear alongside a belt. Although the gears have all the benefits that you'd get from a belt system it may still feel a bit clunky at times which may throw you off of your roll.
The wheel has sadly had to make a few sacrifices in order to keep its hybrid system and the price still low, so you'll definitely feel like you've lost out on the finer touches that you'd normally get in the more expensive wheel options. With Thrustmaster trying to keep this steering wheel as cheap as possible they have produced this wheel as cheaply as possible, so it is known that this wheel feels very cheap when it is in your hands and the paddle shifter makes a loud sound when you are clicking them. Although the build may feel and sound cheap it definitely still performs at a pretty high level and the shifters are very responsive, so it'll be up to you to decide if you want to sacrifice build quality for a better price.
With this specific Thrustmaster model, the T248, Thrustmaster has made its main attraction the fact that it houses the Thrustmaster Hybrid Drive. So instead of having a steering wheel that is just gear or belt driven it actually uses a combination of both. This is definitely an amazing move done by Thrustmaster to show how much more power and response you feel is delivered through the wheel while you're driving, compared to the other gaming steering wheels out there on the market.
Another big feature that you have to take into consideration when you're thinking of purchasing this wheel is that it is a very heavy-feeling wheel, which can both be a blessing or a curse, depending on what you intend to use the wheel for and how you will set it up. Some games, like some cars in Assetto Corsa only offer a maximum rotation of 1080 degrees so it will definitely be a struggle to turn the T248 if you don't know exactly how to set it up properly.
So the force feedback on this wheel may be pretty good but the response time of the T248 steering wheel is a lot slower than that of the more expensive models like the Fanatec GT DD Pro. It'll be very hard to find a steering wheel in the same price bracket that'll give a better performance than this steering wheel so it may have to be the tradeoff that you'll have to deal with if you want to pay less. So overall, the T248 gets a lot of technical features right but just lacks in the aesthetics and feel department.
Thrustmaster T300 RS GT Edition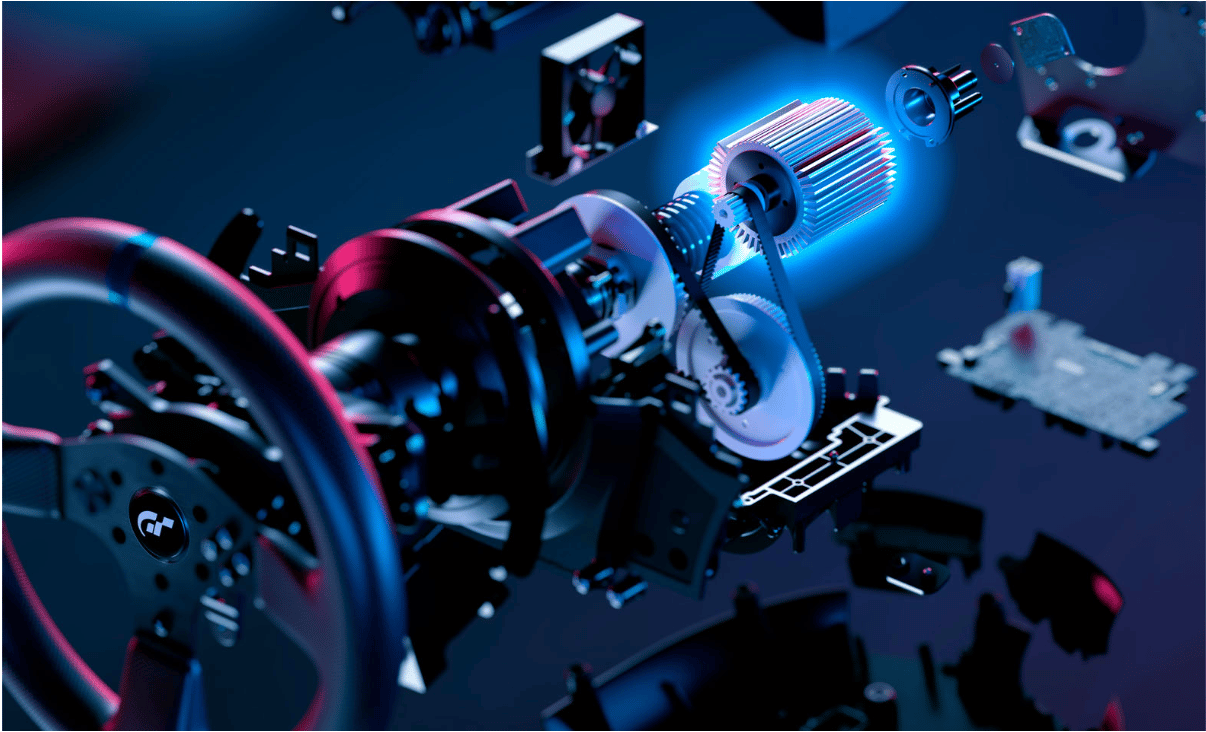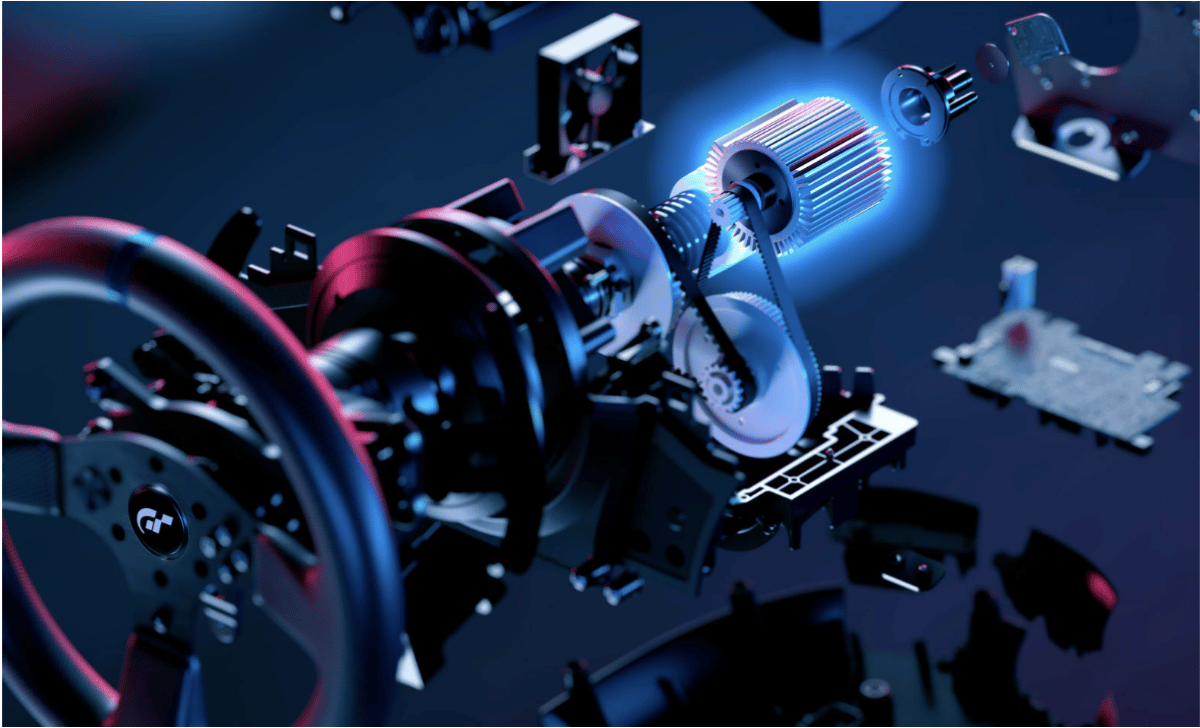 The thrustmaster T300 is one of the older steering wheels on this list, coming out in 2014, and has been the most popular in the past but now as time has caught up to it it has been passed by other newer models but it is still a very good pick even in today's age. Don't think that the wheel has stayed the same after all of these years, it has received a good few mods thanks to the ever growing technology surrounding the racing game community so it has had some support to keep it relevant.
The T300 was then overtaken in popularity for a bit when the T248 came out just because the price tag was more appealing to other gamers than the standard T300 was at the time. The standard T300 comes actually with a set of pedals that are a bit worse than the T248 and that's why, in the title, I've recommended the RS GT Edition because then you get all the best bits with it, including an improved 3-pedal set which is just amazing.
Even though you will have to dig deeper into your wallet to be able to afford the RS GT Edition it is definitely worth it considering the massive upgrade you get to the pedals. Although the pedals on the RS GT Edition Thrustmaster T300 are still a bit worse than the T3PM set that you would get on the T248. It is also important to remember that the T300 RS models don't come with a clutch pedal so if you want to drive in full manual mode you will need to opt for a different steering wheel.
The technology used to manufacture this steering wheel, although old, is still very impressive to this day and is very responsive thanks to its dual belt-driven design. Thanks to this technology you are able to get an immediate and smooth response from the track while still keeping the advantages like the extra power that you get from the belt-driven system. One nice advantage that the T300 series has over the T248 is that you are able to remove and replace the steering wheel, which can definitely be nice for someone who has a preferred steering wheel or doesn't want their setup to take up too much space when you aren't playing.
So, between the Thrustmaster T248 and the T300 RS GT Edition it is actually a very close call because very good cases can be made for either one of these wheels. The T300RS GT Edition may be better for someone who wants the best of both worlds from the two Thrustmaster wheels.
Logitech G923 TrueForce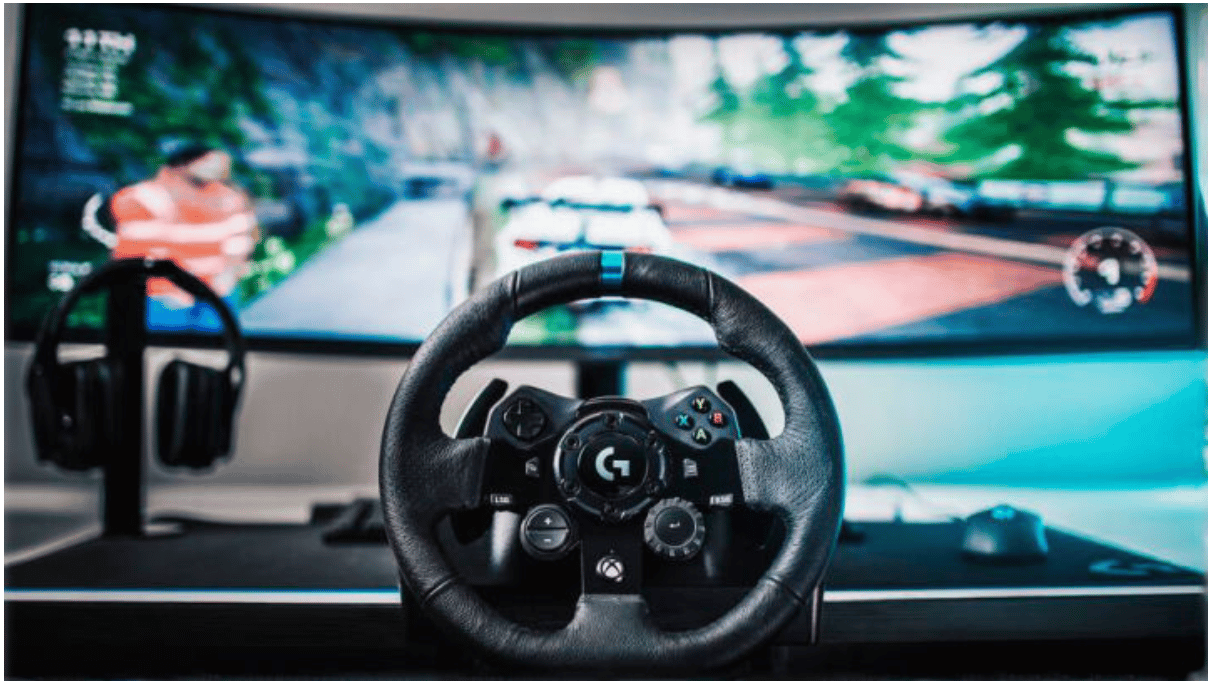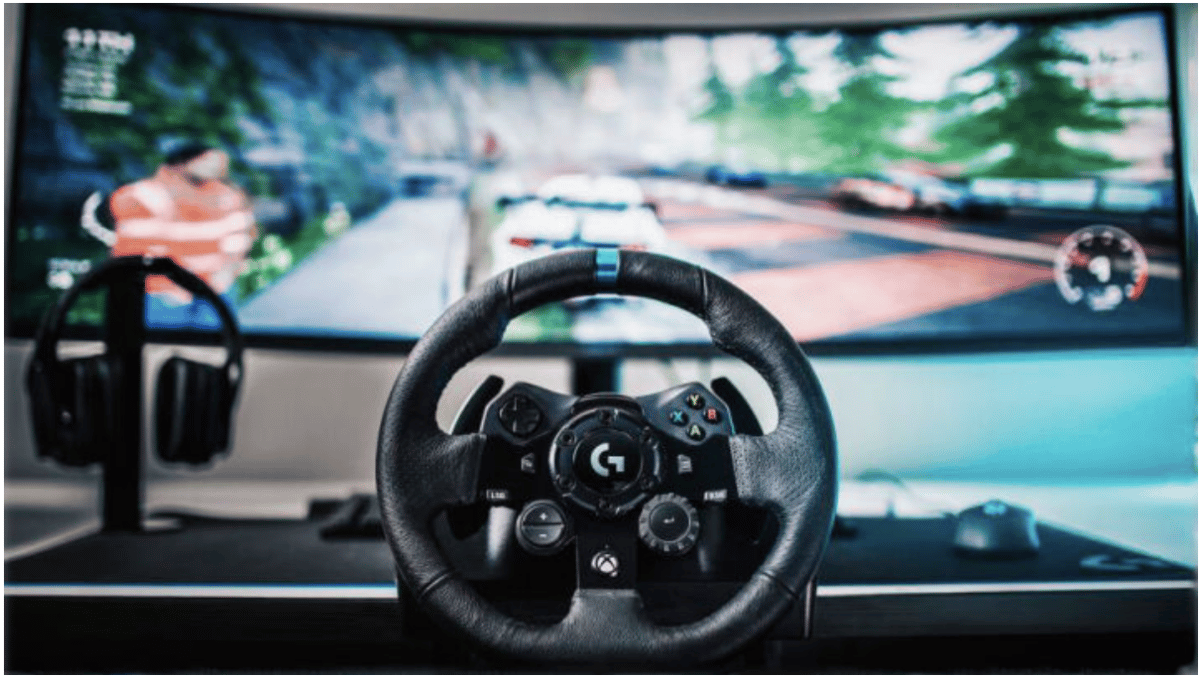 The Logitech G923 TrueForce is considered to be one of the best all-round racing wheels for your gaming setup and provides a perfect mixture of control, force feedback as well as response. With this steering wheel being such a great all rounder it is found to be able to suit basically all racing games no matter what type, whether it be serious racing or open world sim racing. If you are someone that is still a rookie and looking to try out lots of different racing games then this wheel should definitely be on top of your list thanks to its versatility. Nowadays most games let you customise your steering wheel very easily from your game so you can tweak it to fit the game style that you're playing very easily.
The G923 uses a gear-driven motor to give you the force feedback when you're playing which means that you won't be able to get as much power or accuracy as you would from the belt-driven motors, so if you're looking to play a game where you'll need to be as precise in your racing as possible then this may not be the best option for you.
The G923 is all about fun and actually doesn't focus purely on the racing wheel and wheelbase, instead they have made it a huge point that they have three high quality pedals which will definitely be a huge positive for those looking to play around and race. One thing that makes the pedals so great is that the accelerator delivers quite a nice linear press with a quick return as well which helps to keep it glued to your foot at all times while you're racing.
The brake is definitely the best pedal out of the three and actually requires a lot of stomping power in order to reach its full potential, this does however mean that you'll need to make sure that you have a good carpet grip system in order to hold the brake down. If you have more money to spend in your budget on your steering wheel setup then it may even be a smart idea to get a chair that has lockable castors to keep you firmly in place.
The Logitech G923 is made by a well known brand within the tech market and so it may be expected that they have the high-quality construction, which they have. The wide support that this wheel receives as well as the construction quality really makes it a much better option over the Thrustmaster kits, regarding how premium it is. If you are someone that is interested in the Logitech brand but don't have the funds to purchase the G293 then there is a much cheaper option called the G920, which is definitely worth a bit of research.
Thrustmaster TMX Force Feedback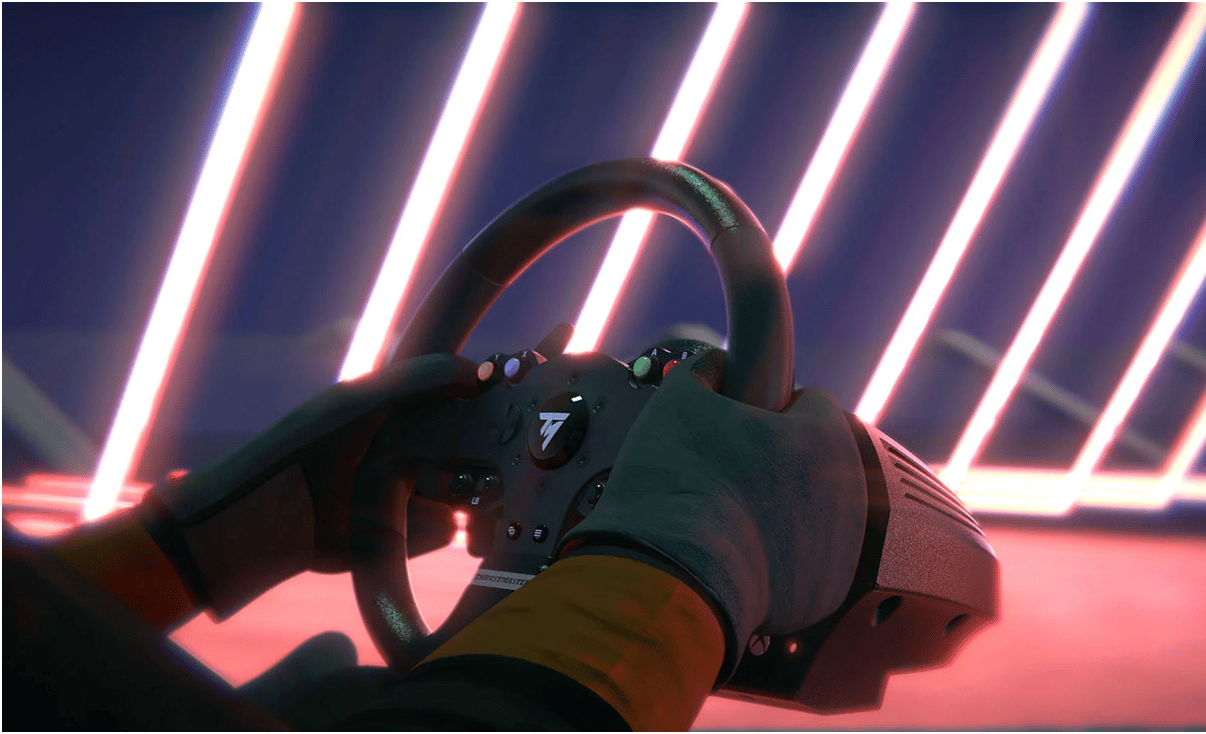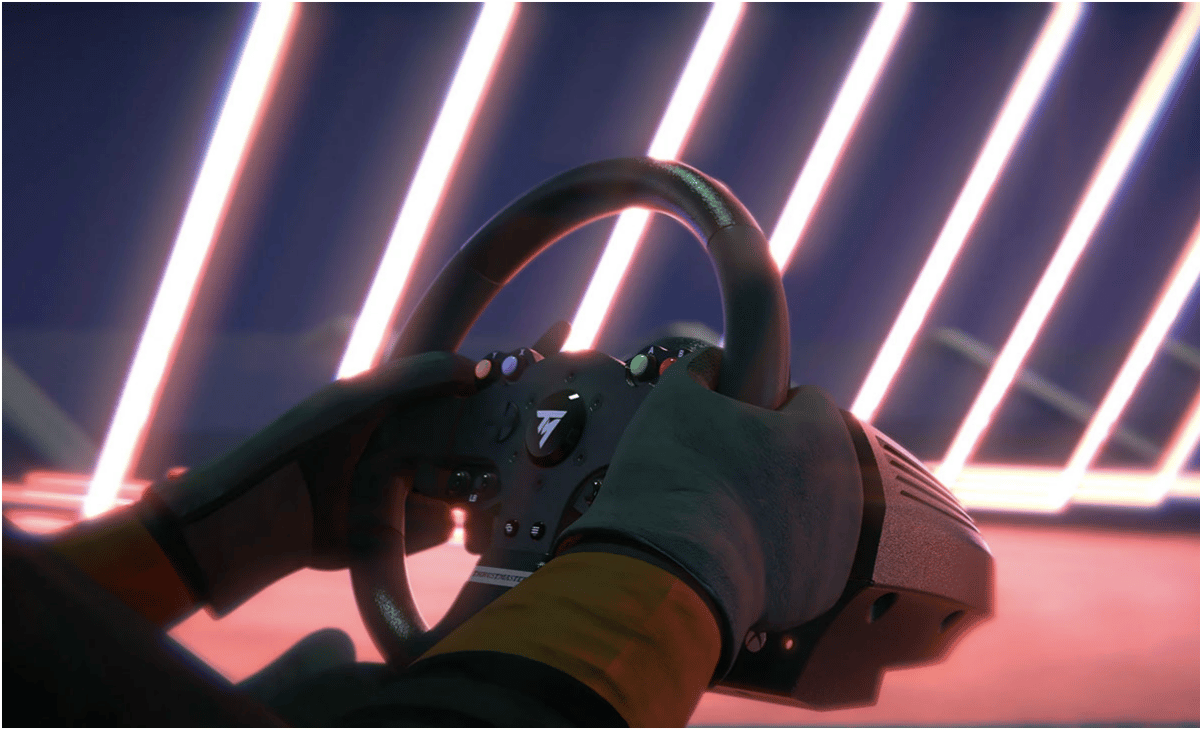 There are a lot of cheap gaming steering wheels out there, the hard thing is trying to find one that you think is worth the money you spend on it. Thrustmaster is a trusted brand within this industry and have produced a few top tier wheels in the past, so they've built up quite a name for themselves already. The TMX is much less flashy and doesn't have as many cool bits on it as the more expensive options out there but it has the necessities. This wheel setup is really just stripped of everything except for the bare essentials but it doesn't matter because the main selling point of this wheel is the price.
Another huge feature that this wheel has is the force feedback inside it. If you are familiar with the brand's popular T150 model then you'll understand how amazing it is that the TMX has the same belt-pulley system powering its force feedback. Although the system is well known it isn't as strong as the other more expensive wheels out there but for the price that you will be paying for this wheel it is definitely a surprise that it even has force feedback.
The TMX could be a very good option for someone who wants to test out the world of sim racing but also doesn't want to spend too much just in case they aren't into it and won't ever use the wheel again.
Final thoughts
So there you have the top five gaming steering wheels. As you probably see, the price is directly correlated with the performance and quality of the wheels so the most important thing for you, looking for a wheel, would be to decide what your budget is and then pick one based on that and also what type of racing games you'll play, to know if you need to have a lot of focus on accuracy or not.