Want to level up your game station? Finding the right gaming chair for you is a must.
Gaming chairs boost your comfort levels (and postural health) while delivering major style points. Perfect for PC and console players across every age range, they are an essential part of the action. Think about it. There's a reason all your favorite streamers rock gaming chairs.
But how do you find the perfect fit? This short guide takes you through the motions to help you make the right choice for your playstyle. Let's get right into it.
Purpose of Gaming Chairs
A gaming chair is a seat designed for use while playing video games. Plain and simple.
While they often take the shape of those iconic racing-style seats that recline way back, gaming chairs actually come in all different styles. And the best gaming chair for you largely depends on what type of player you are.
Are you a PC gamer or content creator seeking a seat that'll keep you comfortable for hours? Or are you content with a more affordable, multi-purpose model that's suitable for medium-length gaming jams?
Or maybe PC gaming isn't you at all. Perhaps you're a PlayStation or Xbox kinda guy (or gal). In that case, you'll probably want something a little more laid back. Something like, say, a recliner?
Think about the purpose of your gaming chair. It'll help you narrow down your choices as we check out all the different types available.
Types of Gaming Chairs
What are the most common types of gaming chairs? Take a look at the infographic below: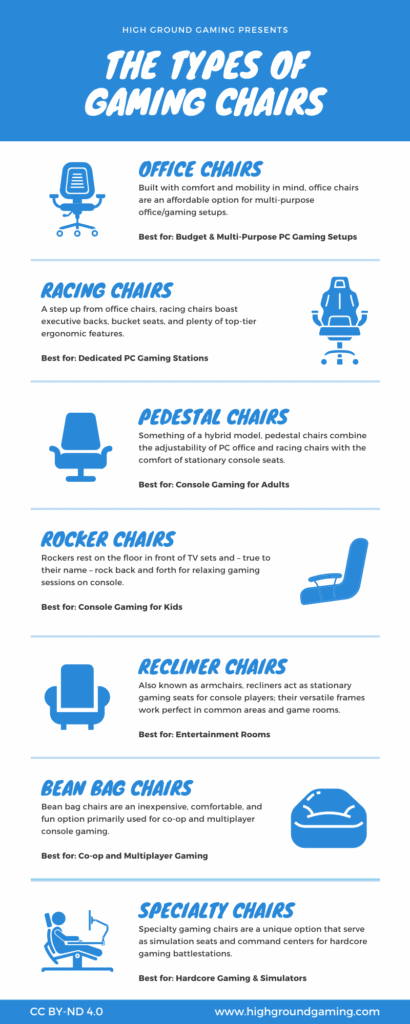 Who knew there were so many options?!
Unfortunately, more options also mean more to think about. Like when should you use each type of gaming chair, and what should you look for when making that decision? To make this process easy, we've broken the following section up into two distinct categories: PC gaming chairs and console gaming chairs.
PC Gaming Chairs
The most common PC gaming chairs include:
Racing Chairs
Office Chairs
Specialty Chairs
For PC gaming, our favorite style is the racing chair. These ergonomic seats are used by virtually all the top streamers and pro players, ranging from Ninja to Shroud.
Racing chairs are incredibly comfortable and all kinds of adaptable. Lean back, tilt forward, and find the ideal height with ease. Your entire experience can be customized to fit your body, and there's a racing-style gaming chair suitable for everyone. Plus, they look cool as all get-out.
That said, they're on the expensive side. A more affordable option is 'ole reliable, the office chair. These come in all shapes and sizes and can be found on a dime. Plus, they boast the same basic frame and adjustability mechanics as their racing-style bigger brothers.
You've also got the specialty chair. These are the creme de la creme, the best of the best. They're typically used for simulation gaming, and when money is no object. If you can swing it, you won't find a better, more immersive option.
Console Gaming Chairs
For console gaming, you've got even more options:
Rocker Chairs
Pedestals Chairs
Recliner Chairs
Bean Bag Chairs
Our favorite? We dig rockers with built-in speakers, like those from X Rocker. Drop it on the floor, sync up with your favorite console, and play all day to your heart's content in full immersive glory. You can't beat it.
You've also got pedestal chairs, a cross between racing-style seats and traditional recliners. Speaking of which, recliners are another fantastic choice, especially in full-blown entertainment rooms.
There's also the tried-and-true bean bag chair, which should not be overlooked. These babies are super affordable and as comfy as you remember.
Finding the Perfect Fit
You've considered the reasons behind your need for a seat. And you've seen the different options available. Now it's time to find the perfect fit.
When shopping around for actual seats, you'll come across a variety of models from different brands and manufacturers. Some are better than others, and looking at reviews from trusted resources is always an excellent place to start.
Of course, we have our favorites:
Secretlab
Maxnomic
DXRacer
These are all trusted names in the world of gaming chairs, and you can't go wrong with models from any of them. Just take careful note of the measurements. You don't want to buy a chair and set it up, only to find it doesn't work the way you expected.
Final Considerations
We're at the finish line!
Time to make your color selections, choose your material (PU leather is snug and durable), and bring it home!
Congratulations — you now have a kickass gaming chair that's guaranteed to keep you comfy and ready for action all night long.
We hope you were able to learn more about gaming chairs and find the ideal model for your situation. If not, now's the time. You won't be disappointed with a dedicated gaming chair, and your body will thank you in the long run.
In the meantime, happy gaming!