In recent times, we have been consistently hearing about the onslaught of mobile devices. All those smartphones and tablets are threatening to overpower the archaic desktops and laptops out of the business and become primary mode of accessing the internet as well as of accomplishing many other vital tasks. With every instalment of the major flagship products, they come a bit closer to this prediction. The latest gizmo to enter the fray is the iPad Pro.
One of the hottest gadgets this year, the iPad Pro, releases late November. It is a product that has already generated a lot of intense speculations and rumors. Most of the rumors were focused on two points, its excessive size and the "pencil", the stylus in Apple parlance, which was expected to ship with it. Now that we have finally had a look at the device, let us see.  So, let us see if this one fulfils the predictions.
A Changing Perspective
When rival companies launched "laptop killer" products such as Microsoft Surface Pro series, it remained adamant. In fact even Steve Jobs was more or less unenthusiastic about such a product as one can imagine from his 2010 comment on Styluses. However, in an increasingly "mobile" world, consumers are really looking for devices that are light and slim but are capable of the heavy lifting generally reserved for laptops and desktops and so even Apple has finally seen the writing on the wall and built something Jobs himself would not have approved of a few years ago.
The Package
First things first, the rumors were mostly true! It is a giant in the world of tablets with a 12.9 inch screen and yes it does ship with the aforementioned pencil (stylus) and a click-in keyboard. The other noteworthy aspect is the split screens enabled by iOS 9. At around 700 grams, it is not that light either. The message is clear. It is not merely for entertainment on your road trip, it can do serious work.  Here is a complete list of specifications that does seem impressive.
The Performance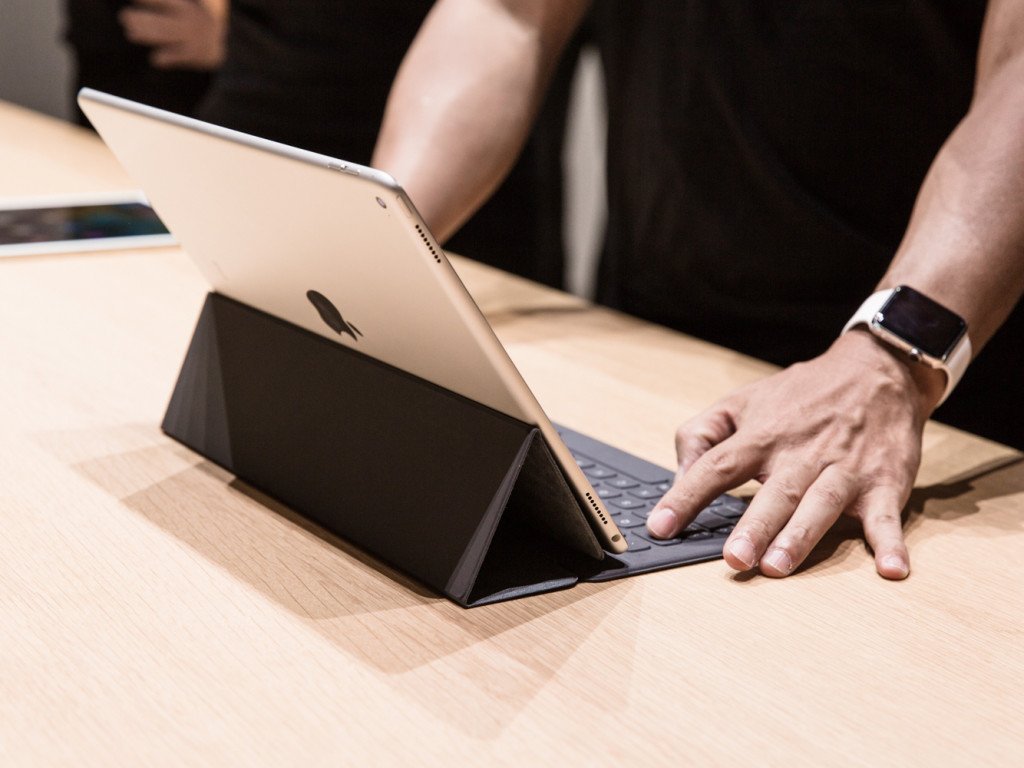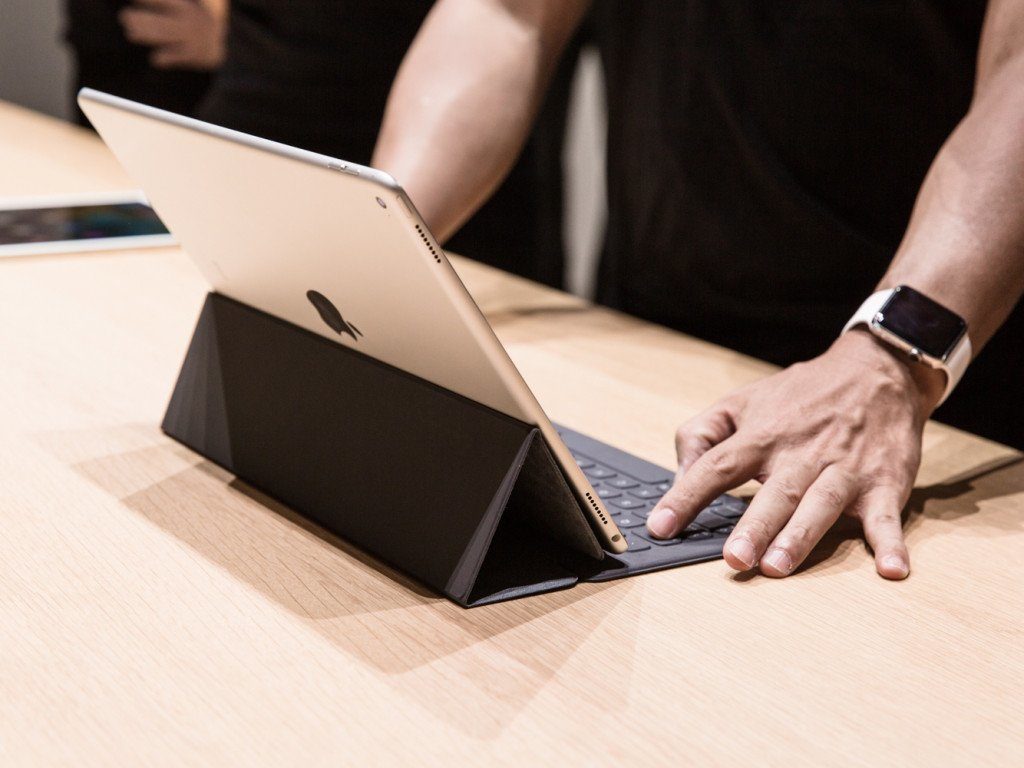 The heart that beats inside is the A9X processor, its latest 64 bit beast that Apple claims to be of "desktop class" along with 4GB RAM. It did feel fast, crisp and smooth as we ran a few videos and games while keeping some other apps open too. The split screen worked fine to but we are still not exactly sure about its utility. These are some seriously powerful specs generally not seen in a mobile device although the full extent of its performance or the lack of it can be gauged only after a few weeks of sustained usage. As of now, we can just say that it is generally faster than any other portable device we have ever used.
What's Hot?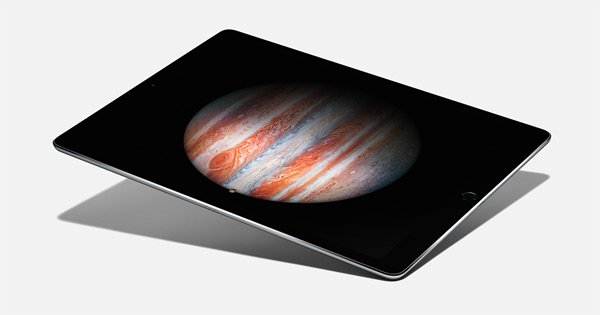 The most striking part of the iPad Pro, not unexpectedly, is the screen. The larger than ever screen still renders your visuals in 16M colors at 265 ppi. Raw specifications apart, this according our eyes, is the best display in the market as of now for any device of its category. We have already talked about the powerful processor and the battery is also bigger to accommodate the size and power. One smaller detail, that is otherwise ignored but will be vital for the enterprise users it is targeting, is the USB Type C port which we found to be much faster than its predecessors.
The new iOS 9 offers a completely new user experience with its split screens as well as predictive touch technology which makes the operations much faster. More importantly, the smart keyword as well as the pencil delightfully well made and capable devices and the screen responds to the perfectly. Why spent an hour doodling and writing with the pencil and not for once did it have any hiccups.
What's Not?
What can possibly go wrong with a device like this? Well, not much but yes personally we did feel some issues. The first thing, as expected from an Apple device, is the price. Since it is supposed to be a laptop replacement, the $799 tag looks reasonable at the start. However, the devil is in the details. It will become a laptop killer only when you get the keyword and the pencil and those goodies cost extra. Also, the basic version comes with only 32GB of space which is frankly not enough. You can bump it up to 128GM but again you will have to pay more and combining all these options will make the price cross the four digit mark very easily.
The other problem is also related to the memory. It is does not have any card slots, which we feel is not exactly a good idea because it robs you of a cheaper option to expand the memory. Another issue is with the iOS 9 itself. In an effort to include all the cool, new capabilities, it has ended up with some glitches. We are sure the next updates will take care of it but as of now you will have to live with some annoying problems.
Verdict
iPad Pro is a path breaking product, not necessarily in terms of technology but in terms of Apple's own market orientation. For most of its existence Apple has been a luxury brand. Especially its newer offerings in the last decade or so have been expensive objects of desire rather than sturdy workhorses. We are by no means saying that those Macs and iPhones are not performers but they were always seen as a status symbol to be flaunted in social gatherings rather than devices bought to complete your day to day tasks, which could be equally accomplished with far less expensive gadgets.
So, iPad Pro is a new market proposition that is not accidental has been purposefully built. However, as a fast foray into the enterprise niche is not exactly perfect. The diehard Apple fans may still go for it because it has enough attractions but we will have to wait for iPad Pro 2 or iPad Pro 3 for the perfect laptop-tablet hybrid.