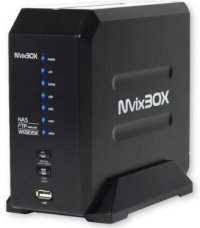 The MvixBox 2-bay high performance NAS / media server is a 3-in-1 solution for storing media files, operating as a media server, and facilitating file transfer. These features are already available in other options, such as the DViCo TViX M-6500A, but the MvixBox is a more affordable solution that also offers the bonus of dual drive bays.  The functionality could also be achieved by buying a home PC, installing a server OS onto it, and connecting it to the network. However, chances are that even if you manage to get this working without problems, it would cost quite a bit more than even the DViCo TViX M-6500A.
Understanding the needs of small businesses and home users, MvixUSA has come up with a very attractive solution. The MvixBox offers many of the features consumers have been asking for in a network media player. Here are some of the features that the new system offers:
Media server
The MvixBox provides gigabit network speed and large storage capacity, which makes it an ideal system for storing, serving, and transferring media files from one location to another. You can store media files, such as AVI, MPEG, and DIVX movies or MP3 files. From a different room in your home or a meeting room, you can access the content any time needed.
Web Disk Capability
The MvixBox is a Linux-based system, and it comes with what everyone expects Linux servers to include – Apache, MySQL, SQLite, and PHP. To make the server user friendly, a web-disk capability is also provided. This means the user can drag and drop files between the PC and NAS server. User can launch applications like Windows Explorer, WebDisk Explorer, blog software, RSS reader, Torrent client, and more. The setup ensures that anyone who knows how to operate a PC in the Windows environment will know how to handle a MvixBox.
Web Server
The web server is perhaps the most interesting feature of all. Since the MvixBox comes with support for Apache, MYSQL, and PHP, you can host web sites directly from the server. There are many different types of sites that you can setup – blogs, wikis, personal home pages, etc. If you don't want to host web sites, you can even develop scalable intranet solutions using the database support. This capability makes it one of the most affordable web server solution that the market has to offer for small businesses and home users.
DDNS Server
In order for a web server to recognize Internet domain names, there needs to be a DNS server (or in this case DDNS so that dynamic IPs can be supported). The domain name is mapped to the server IP address, and the DDNS service enables the server to recognize the domain name. Traditional servers supported mostly static IPs. For this reason, you can't usually operate a web server from home, as most home Internet connections operate on dynamic IPs. Dynamic IPs change all the time, as they are assigned by the ISP. Fortunately, the MvixBox offers free support for dynamic IPs. There is no extra charge for the use of this service.
NAS, Torrent Sharing, and FTP Management
MvixBox offers a simple file sharing feature that provides file encryption when transferring files using HTTP or FTP protocols. You can use the built-in Explorer to transfer files, without having to install additional software.
The system boasts simple and secure administration.
As this is an NAS server, one would expect it to come with simple backup features. The MvixBox does come with easy-to-use data storage scheduling and synchronization. The software is included with the system.
For all the above features, an enthusiast would expect the price tag to be hefty. However, this is not true. The MvixBox retails for around $249.00. Each unit includes two built-in hard drive bays that are capable of holding up a 1.5 terabyte (TB) hard drive. The hard drives are not included. Therefore, you can buy any size that best meets your needs. Even with the most expensive hard drive bundled, the entire system still costs just about $600.