We have reviewed numerous options in network media players, ranging back to the now defunct GoVideo D2730 Network DVD Player. While every option has a shortcoming here and there, the DViCo TViX M-6500A Network Media Player is overall the best option we have thus far reviewed. In addition to the network playback support from a PC or NAS, it also offers internal hard drive support for playback without any external source being powered on. The new M-6500A features a black aluminum enclosure, Sigma's latest SMP8635 processor, HDMI output, increased main memory, and more.
Formats supported for playback include WMV9, WMV-HD, DIVX, XVid, HDV, MKV, H.264, VOB (DVD layouts), ISO, MP3, WMA, FLAC, WavPack, PCM, DTS, and more. Unfortunately, the player does not support WMV8.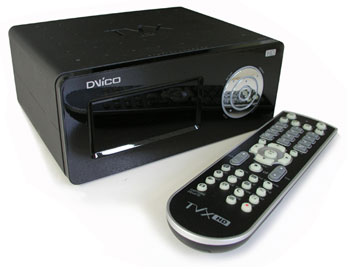 Another beneficial feature of the TViX player is the bi-directional USB support. That is, the unit can be connected to the PC to transfer files to and from the internal drive and external drives (USB slave) and USB flash drives can be connected as an additional source for video playback. The latter is particularly useful for single-use content since users can simply copy a desired file onto a USB flash drive, connect it, and immediately play the video. Both NTFS and FAT32 are supported for media file systems.
In addition to video, the player also offers music playback and image display. All multimedia formats can be streamed via a LAN connection, played from the internal HDD, or accessed from an external USB device.
As for shortcomings, while the DViCo TViX M-6500A Network Media Player provides excellent overall format support, we have experienced playback trouble with some AVI videos. The fact that high-definition formats and video content as fully supported (HD 1080i/720p/1080p Video output) is indeed a plus. However, due to the player's UI being specifically designed for hi-def display, if you have an older TV that does not support HD or does not support it well, the UI will be difficult to read. Remember that having a LCD TV does not automatically mean that it is HD-ready. In fact, we had to replace one of the test LCD TVs for this very reason.
The TViX M-6500A sells for about $399. Note: The TViX M-7000A model also exists. However, it is not readily available in the US. Also, feature-wise, it is almost identical to the M-6500A, while costing more and possessing a shape that does not fit well with most home theater systems.