Going on a business trip means bringing your tech along for ease of access to your files and projects. Chances are high that you'll make a presentation of some kind. It might be to a large group or a handful of people. Either way, you'll need tech that's easy to manage, is simple to set up, and performs as well as the full-size version. The following are some gadgets and a few tips to help you get the job done.
Use a Portable Projector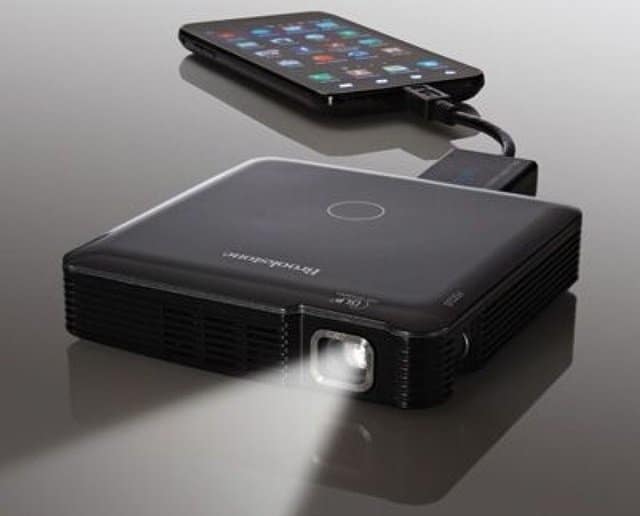 Computer-controlled projectors have shrunk over the last decade. What was once a bulky device that took lots of time to set up has turned into a portable box with a lens that's capable of displaying clear images at the same dots per inch as its larger counterparts. You can connect the portable box to a laptop if you carry one with you, but there are also models that connect to a smartphone. The smartphone option makes sense for short trips where you can get away without using a laptop. This enables you to fit all of your business tech into a simple carry-on bag for streamlined travel.
Make Presentations Easy With a Handheld Mouse
When you're giving presentations, you frequently have to stop and change the image on the screen, which disrupts your flow. A handheld mouse with a laser pointer changes the game by giving you the freedom to move around, talk, and change the image without pausing anything. Simply use the trackball on the mouse to make sure you're in the right spot to advance the page, and use the trigger button to complete the command.
The built-in laser pointer focuses your audience's attention on what you're talking about without having to switch devices. With enough practice, you can make it look as if you're a weather forecaster going from one forecast model to the next without ever looking away from your audience.
Carry Bluetooth Speakers
Bluetooth speaker technology has improved to the point where it's almost impossible to distinguish its sound from that of a full-size speaker. These devices are small but mighty and do a fine job of enhancing a presentation or simply acting as a speaker for a conference call. If you're not sure where to look for a speaker, check out the JBL speakers from T-Mobile. This brand is well-known for quality sound and solid build. 
The primary advantage of a Bluetooth speaker is its ability to go just about anywhere without taking up much room. Slip it into your jacket pocket or laptop bag and feel confident in knowing you can deliver your information without extensive effort. But perhaps the best part of having the speaker is being able to relax in your hotel room and watch a movie without using the low-quality speakers on the phone.
Get It All Organized Before You Leave
Your goal is to travel with your technology laid out for simple management, but it's easy to leave something behind. Make a checklist prior to going on your trip and make sure you have everything you'll need. That includes your primary tech, enough cables to keep them powered up, and protection to prevent them from breaking. Your next challenge is to put them all into a bag to take with you on the plane.
While you may not have much luck finding an organizer that fits all of your tech, you can organize your gear into a bag even though it's not designed specifically for your stuff. Look for a bag in the right size, that has plenty of pockets and zippers, and that's easy to carry. Put all of your gear into the bag and move everything around until you get the organization you need. Remember to label the pockets for each item to save yourself some time and frustration.
These are some of the ways you can manage your tech on a trip and get the most out of what you bring. Test everything for efficiency and function before packing so you know what works and what doesn't.