2014 has been a great year for us gadget lovers. A bunch of powerful smartphones that truly blurred the line between computers and phones released this year, like the Samsung Note 4, the iPhone 6 and the HTC One M8. We also got to see what gaming is going to be like in the years to come with the release of the next-gen gaming consoles, namely the Xbox One and PS4.
However, 2014 will probably go down in history for being the year when Wearables – wearable technology- went mainstream. First Google Glass and now dashing wearable smart watches have people lining up in front of retail stores for their fix of the latest technology.
A lot of wearable watches were released this year, but we're most interested in three that are making the most waves: the Motorola 360, the Apple Watch and Microsoft Band. It essentially boils down to a war between the mega corporations that back them – Google, Apple and Microsoft- each looking to take over and dominate the wearable market for years to come.
In this article, we're going to compare these three powerhouse wearables and see if one of them is clearly better than the other two:
Design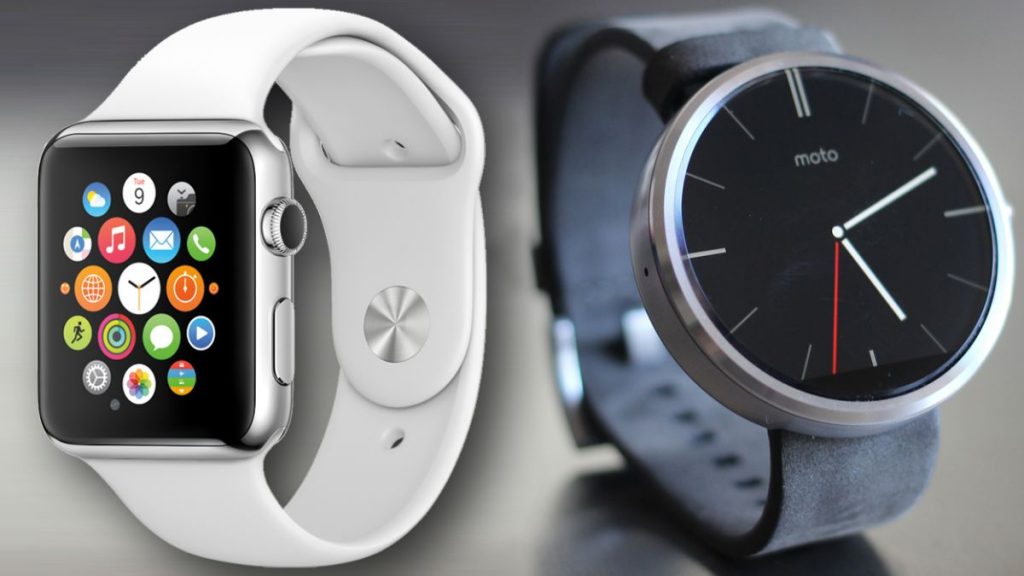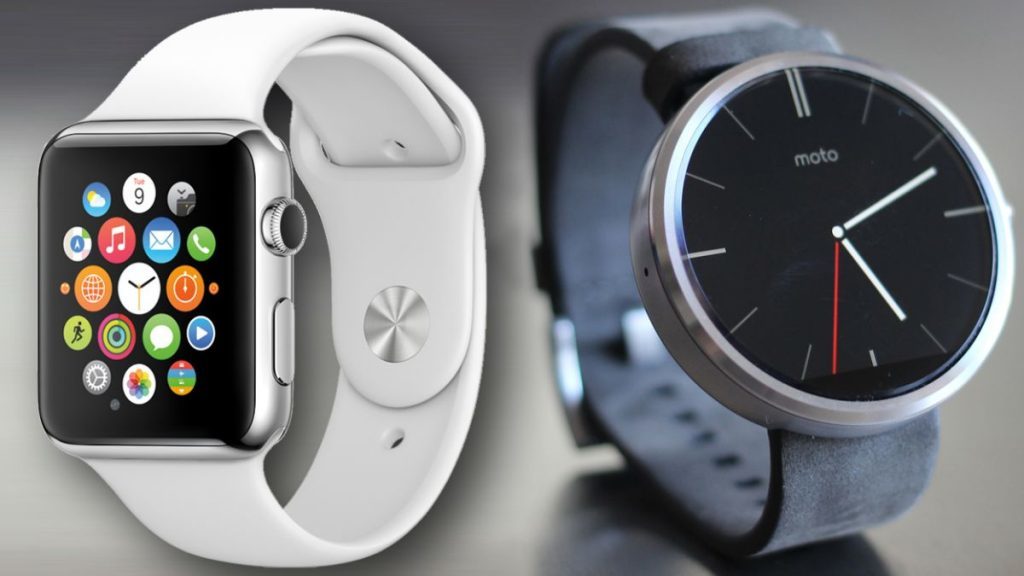 The MS Band, as a fitness watch, has a utilitarian design. It comes in a single color, black, and has a body made of thermal plastic elastomer. The MS Band weighs 60 grams and has straps adjustable to three sizes: small, medium, and large.
The Apple Watch is fashion statement as well as an accessory. It comes in three collections: Watch Sport, Watch and Watch Edition. These collections contain 6 stylish models in total: Stainless Steel, 18-Karat Gold, Space Grey Aluminum, Silver Aluminum, 18-Karat Rose Gold and Space Black Stainless Steel. You can buy the Apple watch in two sizes 42mm and 38mm.
The Moto 360 is also a very stylish watch. It is available in two colors: grey leather and black leather. It's encased in high-quality stainless steel and weighs just 49g.
In the looks department, Apple Watch and Moto 360 win over the MS Band.
Display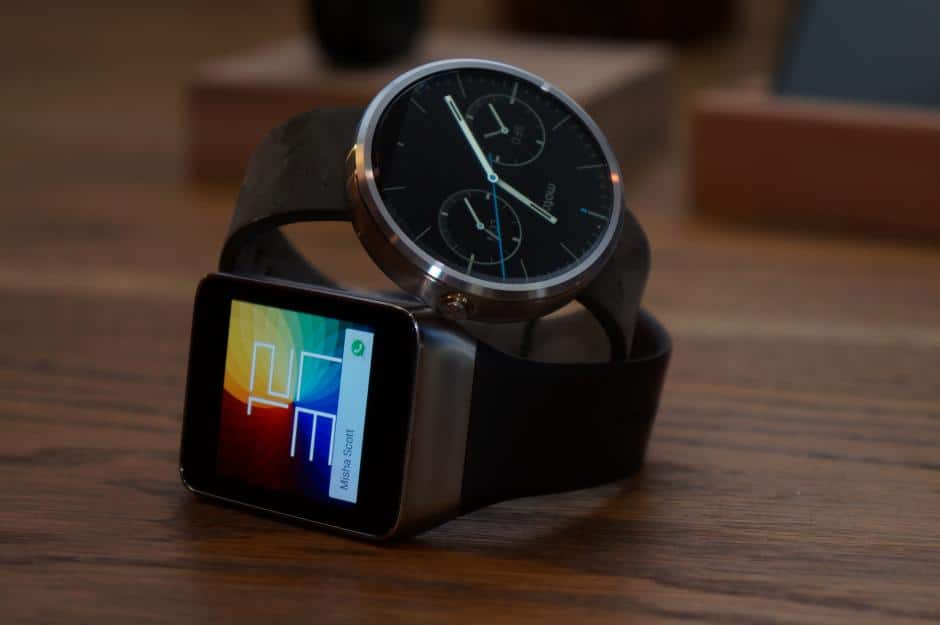 The MS Band has a 1.4 inch tiny, rectangular TFT display screen, which comes out to 0.43 inches x 0.30 inches. It supports a resolution of 320 x 106.
The Apple Watch has an almost-square display screen at 1.5 in x 1.65 inches. The screen features Apple's Retina HD display and a scratch-resistant sapphire layer. You can get a toughened display if you get the sports version.
The Moto 360 is round where the other two are square-ish. It features a LCD screen that is 1.5inches in diameter. The watch supports a resolution of 320 x 290 at 205 ppi.
All three watches offer good display screens at great resolutions. Again, the MS Band has a smaller, more utilitarian display screen, while the other two devices have bigger ones. This one comes down to personal preference – round vs. square.
Processing Power and Memory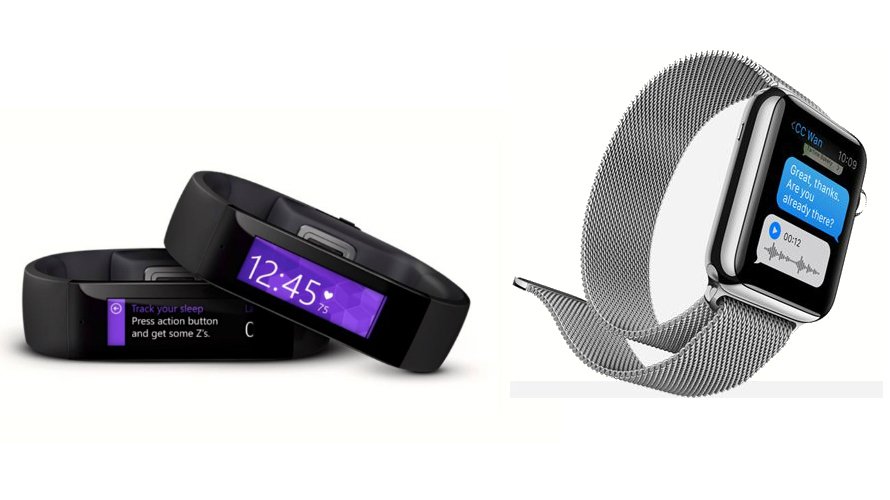 The MS Band runs on the ARM Cortex M4 MCU processor with 64MB internal storage. That's all the specs we can bring you at the moment.
The Apple Watch has a custom-made powerful S1 processor inside it, with a rumored 512MB RAM and 4GB of internal storage. There may be two different storage sizes offered by the company.
The Moto 360 runs on an OMAP 3 processor with 512MB Ram and 4GB internal storage, very comparable to the Apple Watch.
Again, here, the MS Band falls behind the other two if you go by memory. 64MB won't let you store any of your songs on it.
Operating System and Compatibility
The MS Band runs the Windows 8 operating system. It is compatible with Windows, Android, as well as iOS operating systems. Windows phone owners will get access to Cortana through MS Band. You don't need a smartphone to use MS Band, though you won't get access to all its features.
The Apple Watch will only be compatible with iPhones, and only the newer ones. If you own an iPhone 5 or a newer model, you can use the Apple Watch.
The Moto 360 works only with Android smartphones running Android 4.3 KitKat or above.
The MS Band wins the compatibility battle hands down. It also scores extra points for not needing you to carry a smartphone for it to work – though it works better with one.
Battery Life
The MS Band has a 100mAh battery that will last up to 48 hours between charges. It can be fully charged in just about 90 minutes.
Apple hasn't released details about the battery life on the Apple Watch, though the company has admitted users will probably have to recharge it daily.
The Moto 360 has a 320mAh battery that will last a single day, at the most, between charges.
The MS Band wins the battery life battle, though it does not have an especially powerful battery.
Features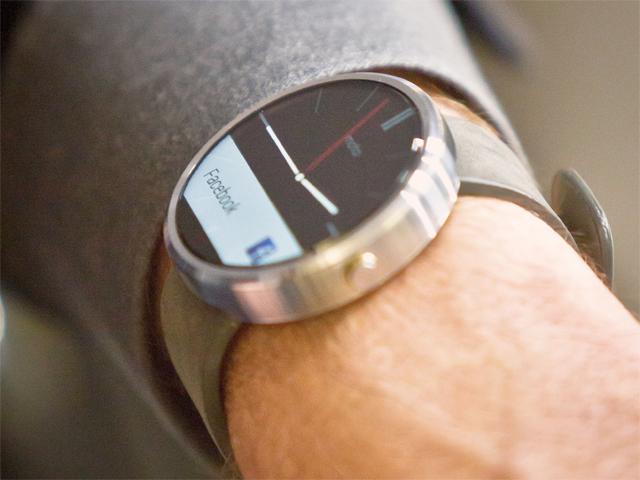 The MS Band is primarily meant to be a fitness watch, with features geared towards fitness. The Apple Watch and the Moto 360 are meant to be extensions for your smartphone, though they do have fitness related apps like Apple Health and Google's Fit. All three watches have a slew of sensors that can track your heartbeat, fitness levels in general and movement. They also have features to notify you when you get messages, emails, or calls.
Which watch has the most features? All 3 have similar features and we think it comes down personal preference here.
Price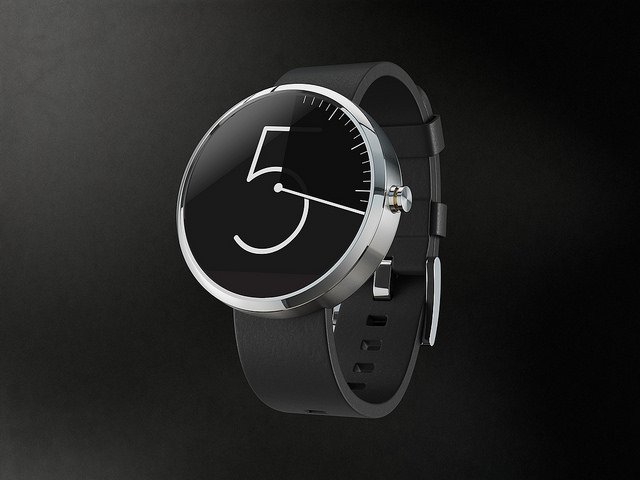 The MS Band will set you back by $199.99. The price includes a bunch of in-box accessories, like a USB charging cable.
The Moto 360 will cost you $250 if you buy it with leather straps. With metal straps, it will cost you about $300. Metal straps can be bought separately for $79.99 and leather straps $39.99.
The Apple Watch starts at $349, but Apple hasn't divulged the final pricing details just yet. We will have to pay extra for straps.
The MS Band and the Moto 360 are significantly cheaper than the Apple Watch.
In Conclusion
If you're looking for a watch that can help you track your fitness and is light on your wallet, go for the MS Band.
If you're looking for a watch that makes a style statement and can add functionality to your smartphone, both the Moto 360 and the Apple Watch would have you covered.
We hear the Apple Watch will have a delayed release, so you'll probably have to choose between the MS Band and the Moto 360 for now.