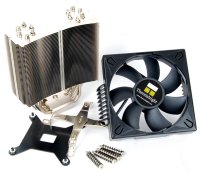 The ThermalRight Ultra 120 Extreme Cooler is a large kit that expands on the quality of ThermalRight Ultra 120.  When you open the box, you'll find the quite large Ultra 120 eXtreme unit, along with mounting hardware. As with most of Thermalright's products, the Ultra 120 eXtreme is developed to be used in combinations with just about all of Intel and AMD's recent models, including Intel's new LGA 1366 socket to support Intel Core i7 965XE/940/920 processors. If you own an AMD AM2 board, you will have to make an extra purchase of the AM2 back metal plate. Remember that it's best to check the motherboard compatibility list before making a purchase.  From the bottom to the tip of the heat pipe, the Ultra 120 Extreme stands 16.3cm. Being a huge cooler, it is best to also measure from the socket to where you will attach the case side panel, to ensure there's enough free space before purchasing.
A great function of the Ultra 120 eXtreme is its ability to mount in many different positions, such as facing up, down, to the right or left of the motherboard. This gives you the flexibility to mount it in a way that you can direct the warm air out of the case. ThermalRight's Ultra 120 and Ultra 120 Extreme do not come with a fan included. This can be a good thing because some users like to purchase a specific fan for their particular needs. Your results can depend on the fan you choose, though, therefore consider selecting a high-end model to match the high-end cooling system. One excellent option that was tested with this cooler is the Scythe S-Flex 800 RPM. The fan, in combination with ThermalRight's Ultra 120 eXtreme, performed well enough to get within 1 degree Celsius of Thermaltake's best cooler that was running at 1250 RPM.
The ThermalRight Ultra Extreme 120 is a very impressive cooling system when the right fan is selected. The cooler may be considered pricy since it sells for $60 before buying the fan, but it will be well worth it for many users due to its low-noise and solid performance.