If you're out, in terrible winter weather, with a flat tyre or a puncture and are in a hurry to get out of there, CO2 inflators become your best friend. A CO2 inflator is a pressurised canister of carbon dioxide gas, and when it is pierced into your tyre, the gas expands to fill up your tyre at record speeds.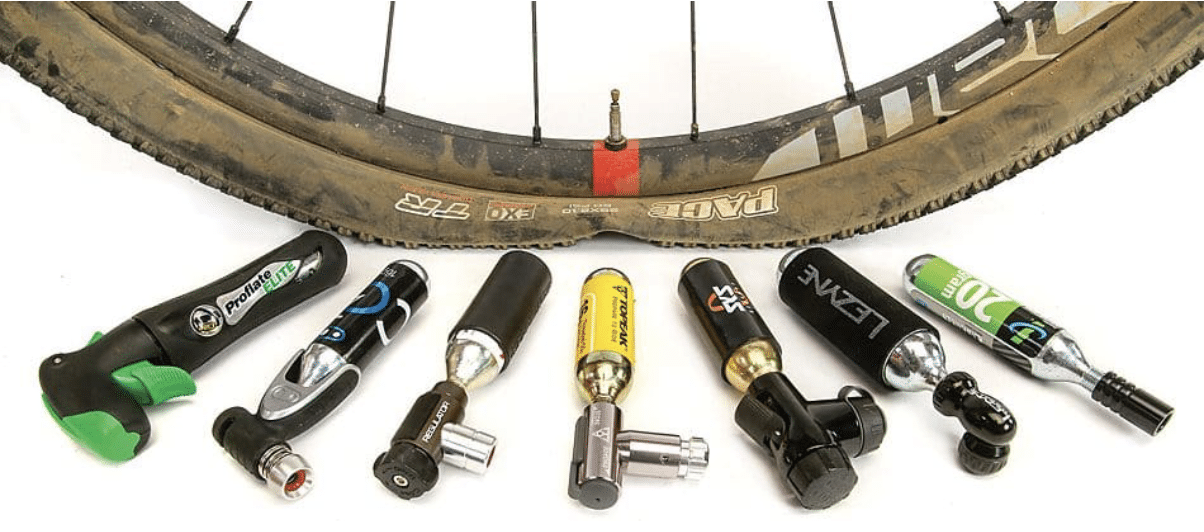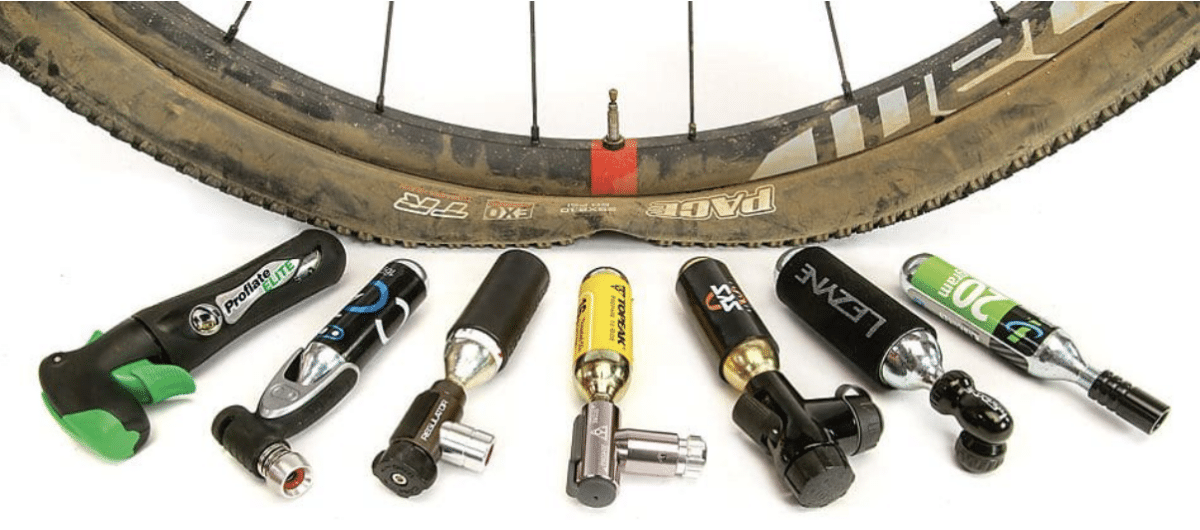 These canisters can end up costing you over £3 for just one, which definitely makes this solution to fixing a flat quite expensive. So, if you do have a few in your arsenal, you'll want to make sure that you save them for roadside emergencies and instead invest in a great bike pump to use to inflate your tyres instead. 
Although these CO2 canisters are quite reliable, you should always be 100% safe and make sure that you have either a manual frame pump or mini pump with you as well, especially if you are thinking of embarking on any multi-day journeys. 
Vel CO2 Flow Regulator Head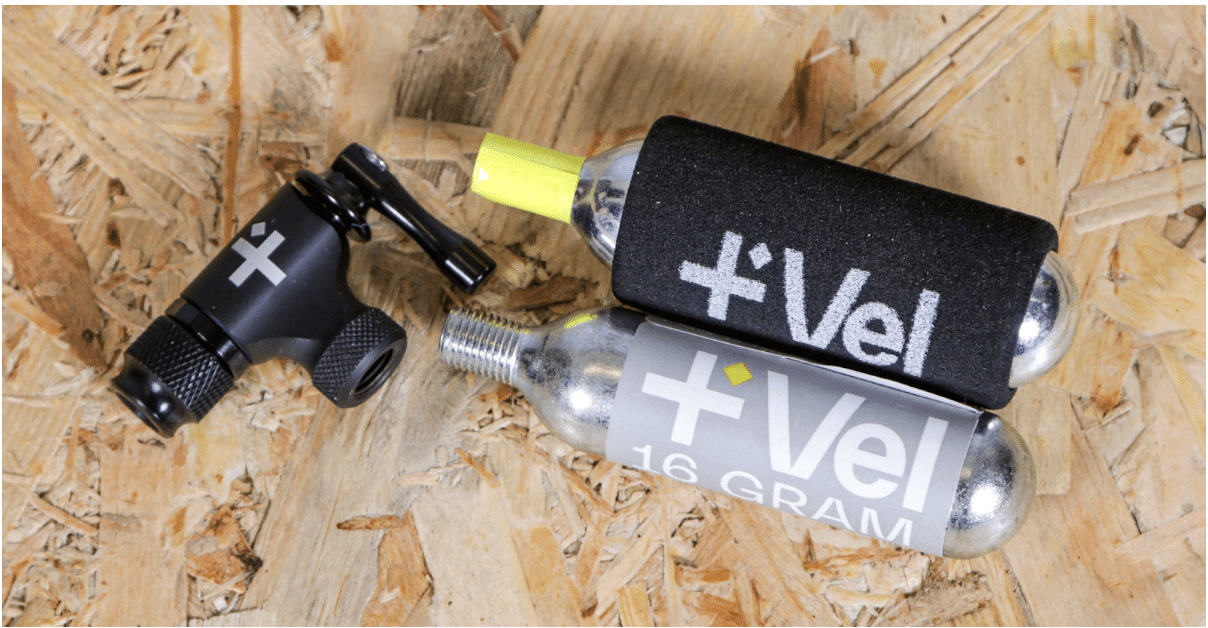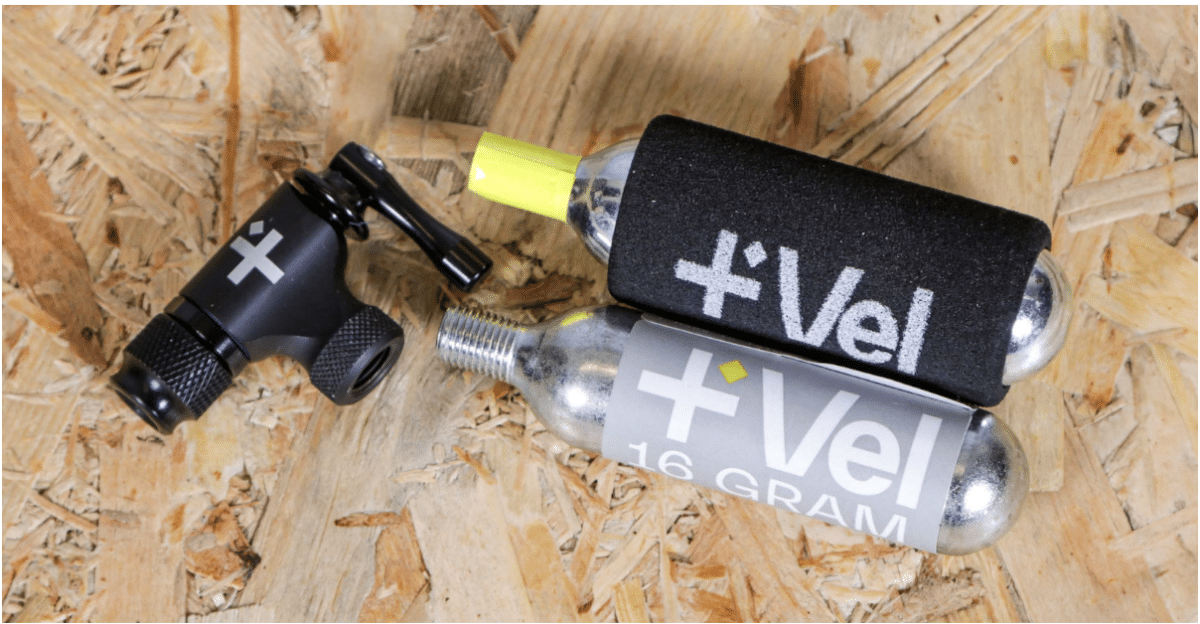 Price: £20
When you purchase Vel's simple CO2 solution, you'll see that it comes with two cartridges included as well. This inflator kit is a pretty great one that is able to offer you a nice degree of control when it actually comes to blowing up your tyres.
Just as you could've deduced from the name of this product, these CO2 inflators from Vel allow you to regulate the inflation with a valve that you can open and close, which comes in quite handy when you want to get your tyre to the exact pressure you want it at. In order to use this all you'll have to do is make sure that the inflator valve is closed, screw in the cartridge, with its sleeve still on, screw the head onto the tube valve and then finally open the valve on the head to inflate the tyre as much as you want.
Overall, this is a great CO2 inflator kit that is not only straightforward and simple to use but is also well priced and even comes with a sleeve to protect your hands from the cold temperature of the CO2.
Peaty's Holeshot CO2 Inflator Kit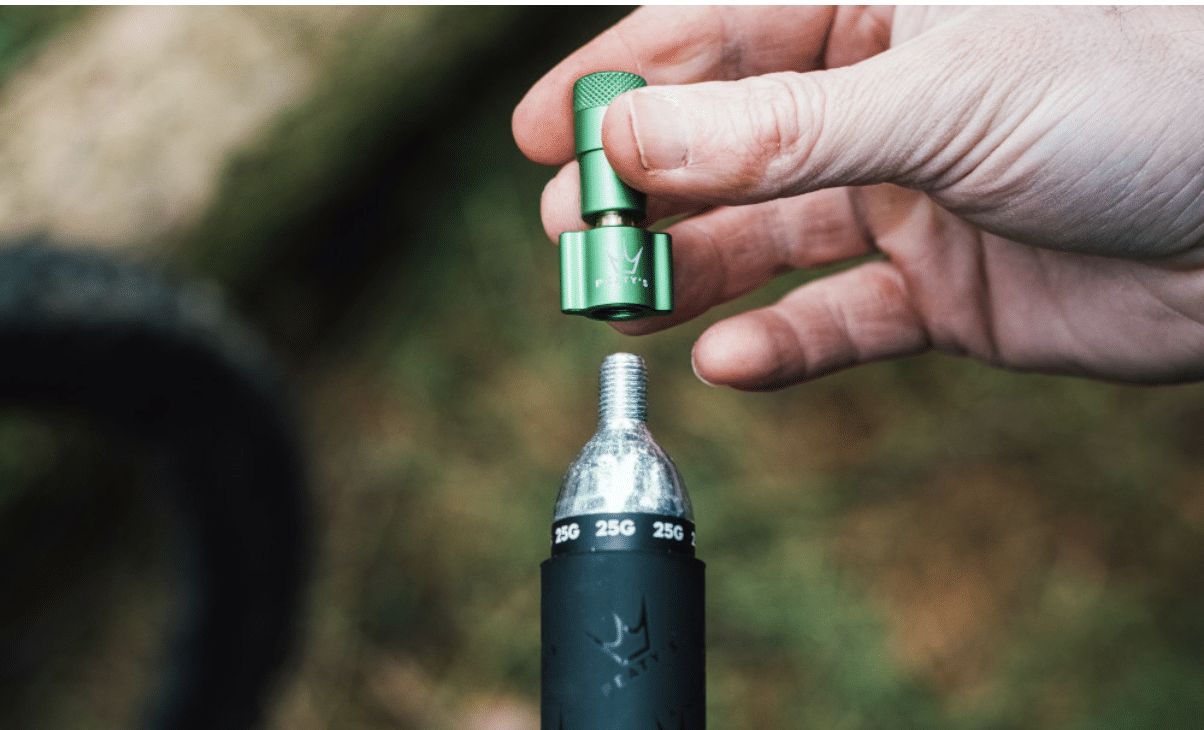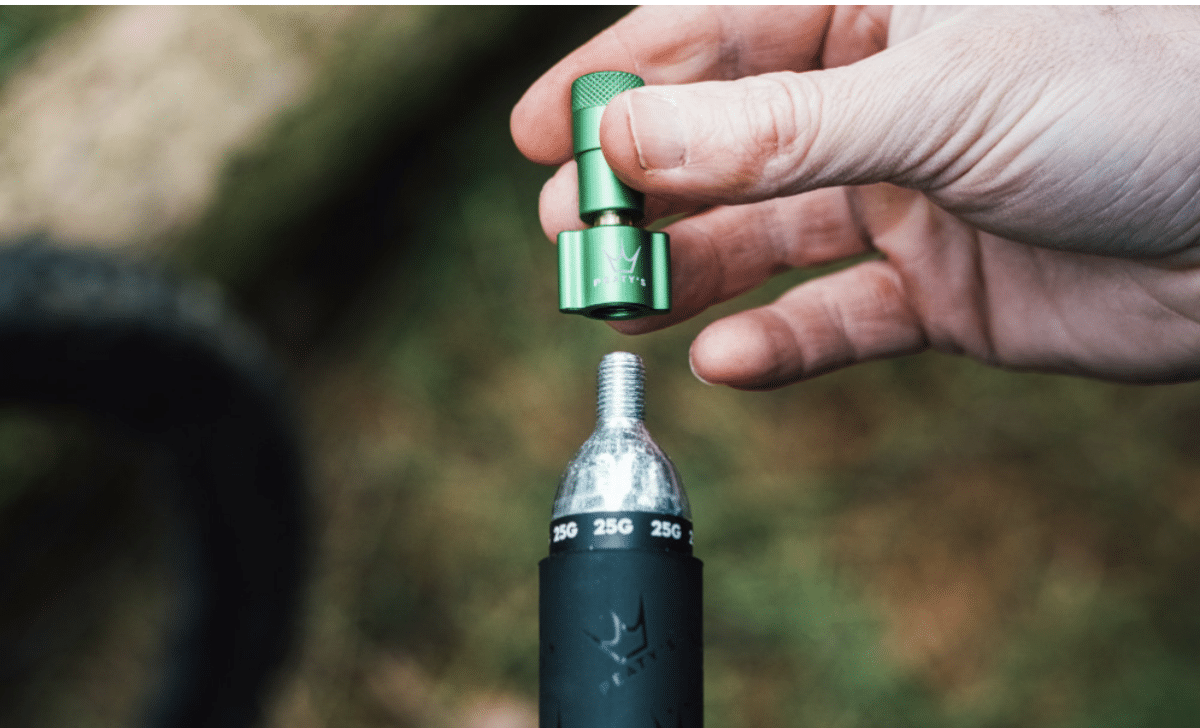 Price: £26,99
This inflator kit that you can get from the Peaty company comes in a range of awesome Chris King themed colours, however it is a lot more than just a cool looking piece of kit.
These CO2 inflator kits from Peaty are constructed from 6061 aluminium, measure in at 45mm long and weigh 14 grams, making them very robust and a lot easier to use than most other CO2 inflator kits out there. Compared to the usual right-angled inflator heads that you usually get, Peaty's design for their product means that you are able to insert it into your Presta valve in a straight line instead.
This inflator is actually spring loaded as well, which means that all you have to do to stop it is simply release it, making it very controllable if you are just in need of a quick top-up before your biking adventure. What's more is that this inflator kit doesn't require any sort of screwing or twisting, all you have to do is push it directly onto your valve stem. This is definitely one of the best inflator kits for when you need to save valuable time in scenarios like a race where you've gotten a puncture and need to get back onto your bike asap.
This inflator kit definitely isn't a cheap one, however it should be able to last you a few years and is super easy to use and work extremely fast, overall a great option.
Pro Bike Tool CO2 Inflator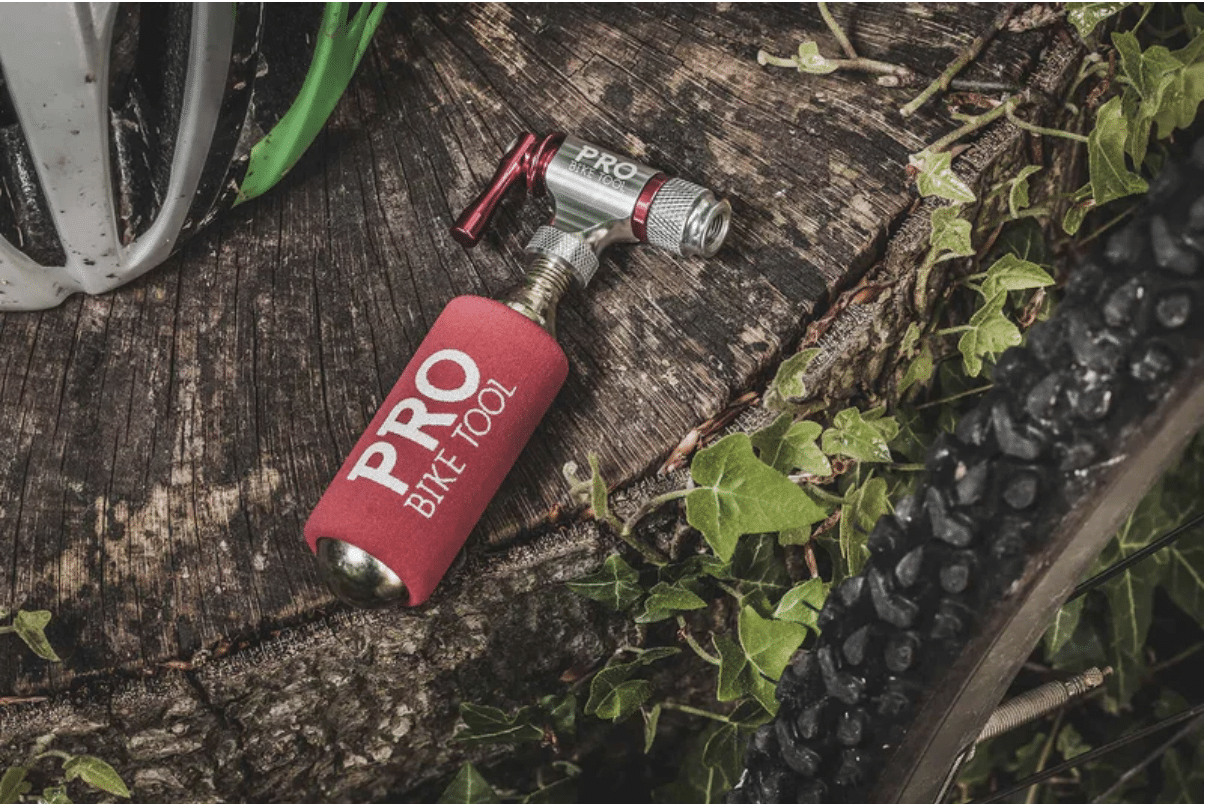 Price: £17,99
Moving on, we now have the Pro Bike Tool CO2 Inflator, which is quite a neat machine, that offers riders a 100% controllable way to blast your tyres with CO2. If you do end up going for this option then just remember to check that the tight valve union doesn't remove your valve core afterwards.
This inflator has been designed with knurled sections at the head, which as a result provides users with some excellent grip. This kit also comes with a sleeve made out of foam that fits tightly enough the CO2 cartridge so that you are able to screw the cartridge in with the sleeve still on. This inflator kit works on both Presta as well as Schrader valves, without the need for users to do any sort of modifications to it.
Thanks to the valve of this inflator kit, you'll get easy and progressive control over gas flow, which helps a lot.
Lezyne Twin Kit CO2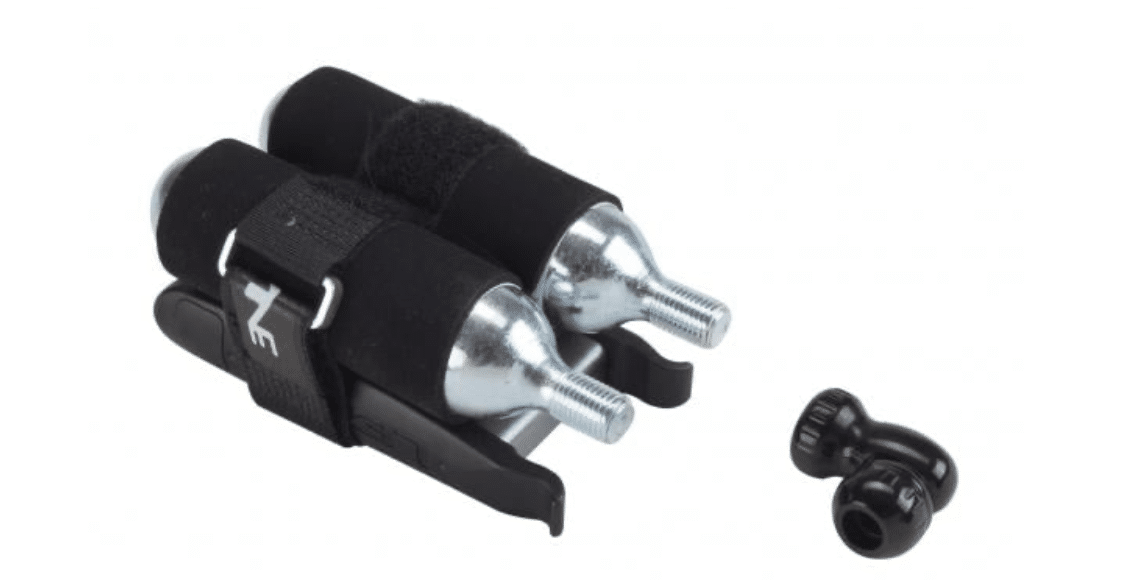 Price: £23,86
The Lezyne Twin Kit is a compact CO2 kit that you'll be able to easily fit into your jersey pocket or even just strap it onto your bike's seatpost. This CO2 inflator kit consists of two CO2 canisters (a 16g or 25g, but remember that teh 25g option will add about 100 grams in weight), the Twin Speed inflator head, a patch kit and finally two tyre levers. All of these components to the kit are held together with a Velcro strap, which helps make it a lot easier to attach around your bike's seatpost. The 16g CO2 canister option is definitely suited more towards road tyres, whereas the larger 25g CO2 canisters are designed to be used on larger volume gravel and mountain bike tyres.
The tyre levers that come equipped with this kit are a little too small for those more stubborn tyres, however when it comes to the actual CO2 kit itself, it works like a charm and the patches that come with it are very effective and do a great job as an alternative to changing out your tubes.
Topeak Tubi Master X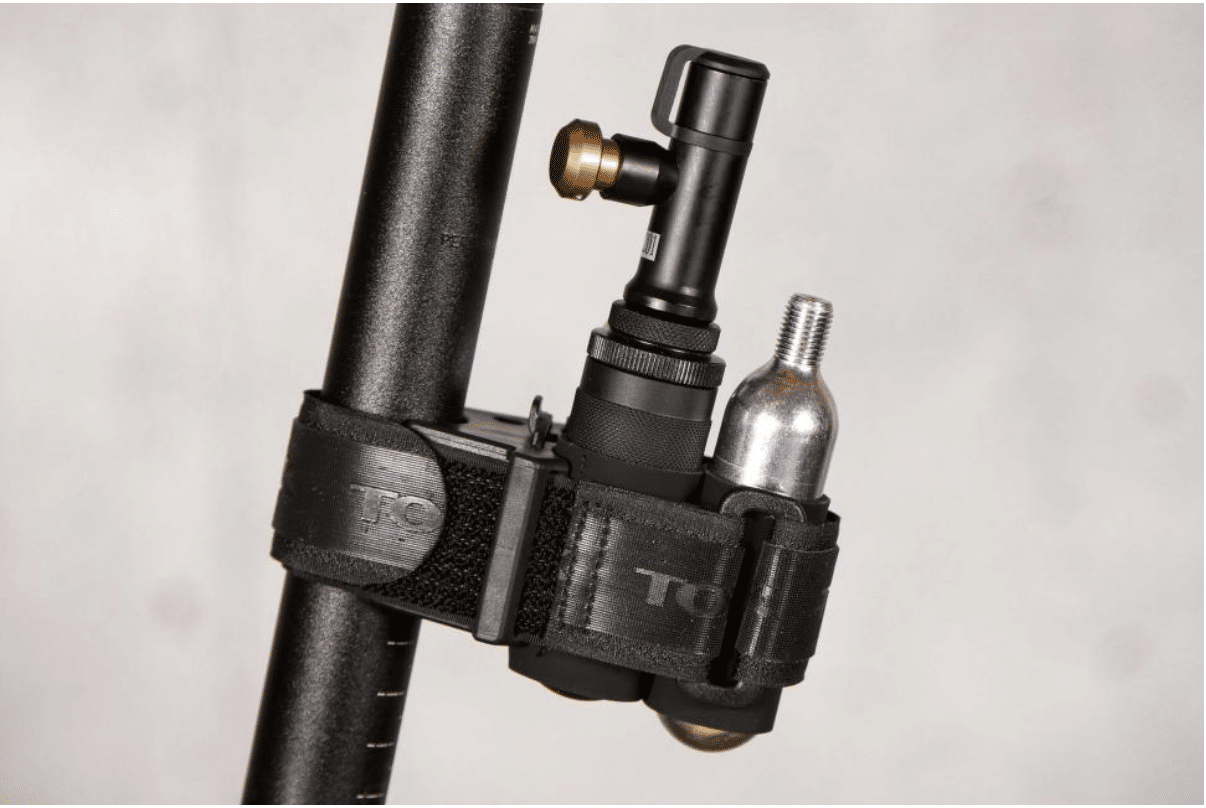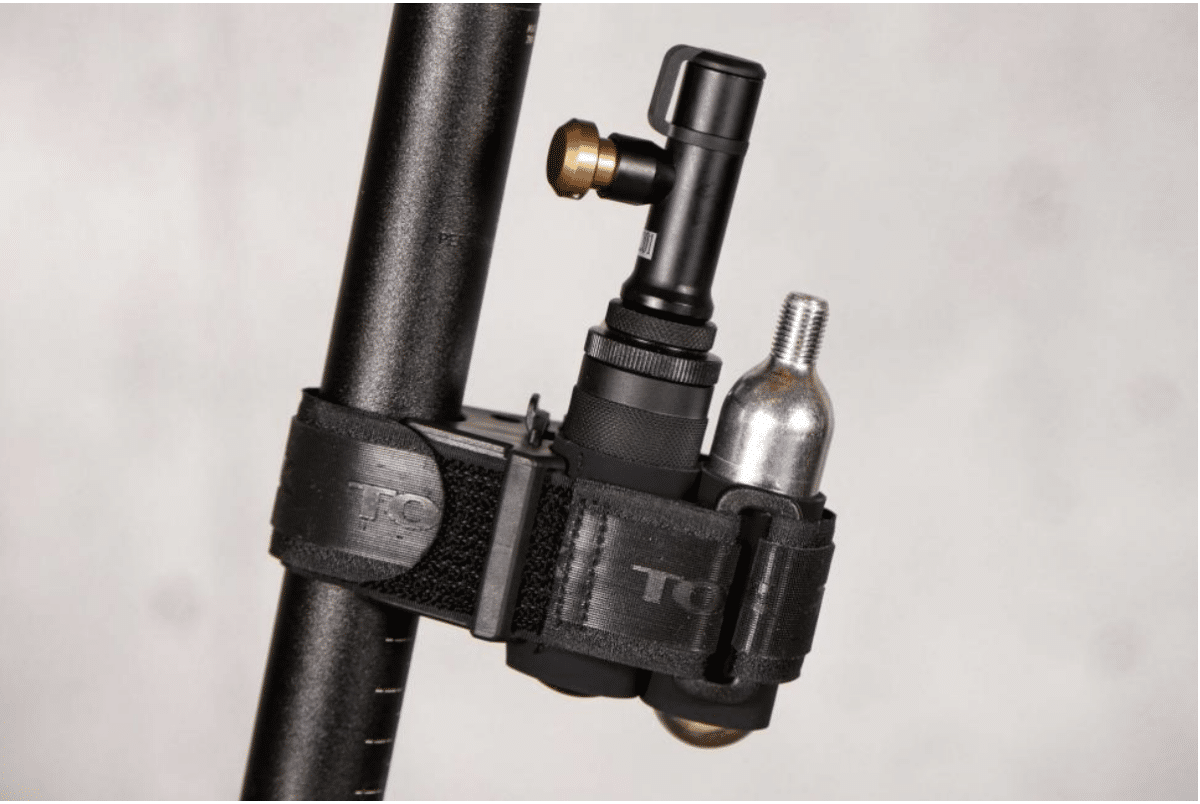 Price: £37,20
The Tubi Master X by Topeak is a tool that has been specifically designed to plug a puncture as well as inflate it, all in just one package. This product is the priciest accessory that this brand has out of their portable puncture repair tools, however it won't just save you more time, it'll also take up less space, either in your bag or on your bike.
Sadly, this kit doesn't come with a neoprene sleeve or cover, so it would be recommended that you wear gloves in order to protect your hands when you're deploying the CO2 cartridge. However when it actually comes to the inflation process, it is super simple and you'll be able to plug small punctures and get air back into your tryes quickly and effectively.
Overall, this is definitely on the more expensive side of inflation kits, but because of its easy use and premium design, with a CNC machined aluminium head and tool carrier, it should be able to last you a very long time.
Final Words
So, there you have some of the best CO2 inflator kits that you can purchase on the market right now. At least one of these kits would be essential for all riders to carry with them on their biking journeys if anything were to go wrong and you need to have a fast effective way to fix your puncture and fill it with air again to get back onto the roads or the trails.