By far the best way to transport your bikes to and from trails or parks would be to buy a hitch-mounted bike rack. They are able to attach to your vehicle's receiver hitch, very securely, and just offer a level of versatility as well as ease of use that no other style of racks can.
Although there is a huge variety of hitch-mounted bike racks that you are able to choose from, most of them will fall under one of two categories, platform models or hanging rack models. Platform models are generally more expensive than hanging models but offer great stability as well as convenience
The hanging racks have a design that is focused more on maximising the carrying capacity that it has in a more compact package than the platform designs. To help you have an easier time with choosing which bike rack would fit your needs best, this list below has included some of the best hitch-mounted bike racks on the market right now, all the way from expensive premium models to more budget friendly options as well.
Best Hitch-Mounted Bike Rack Overall
Thule T2 Pro XTR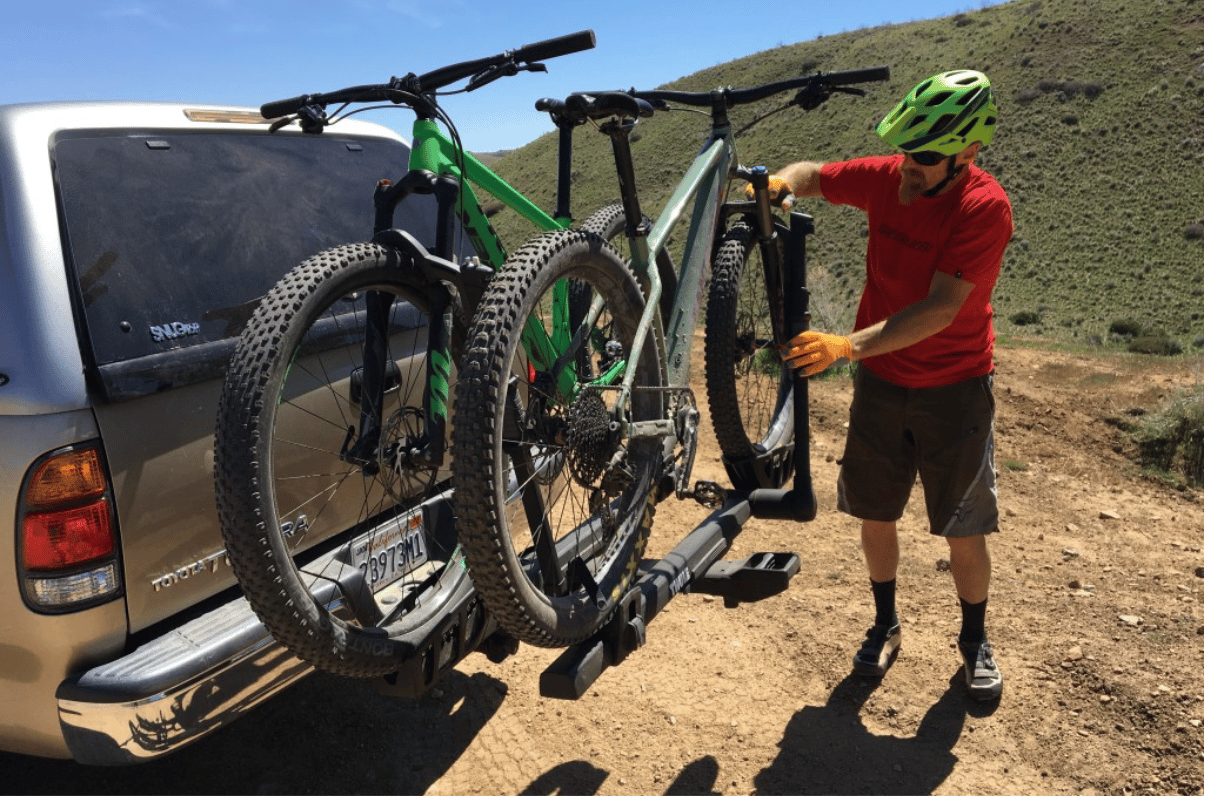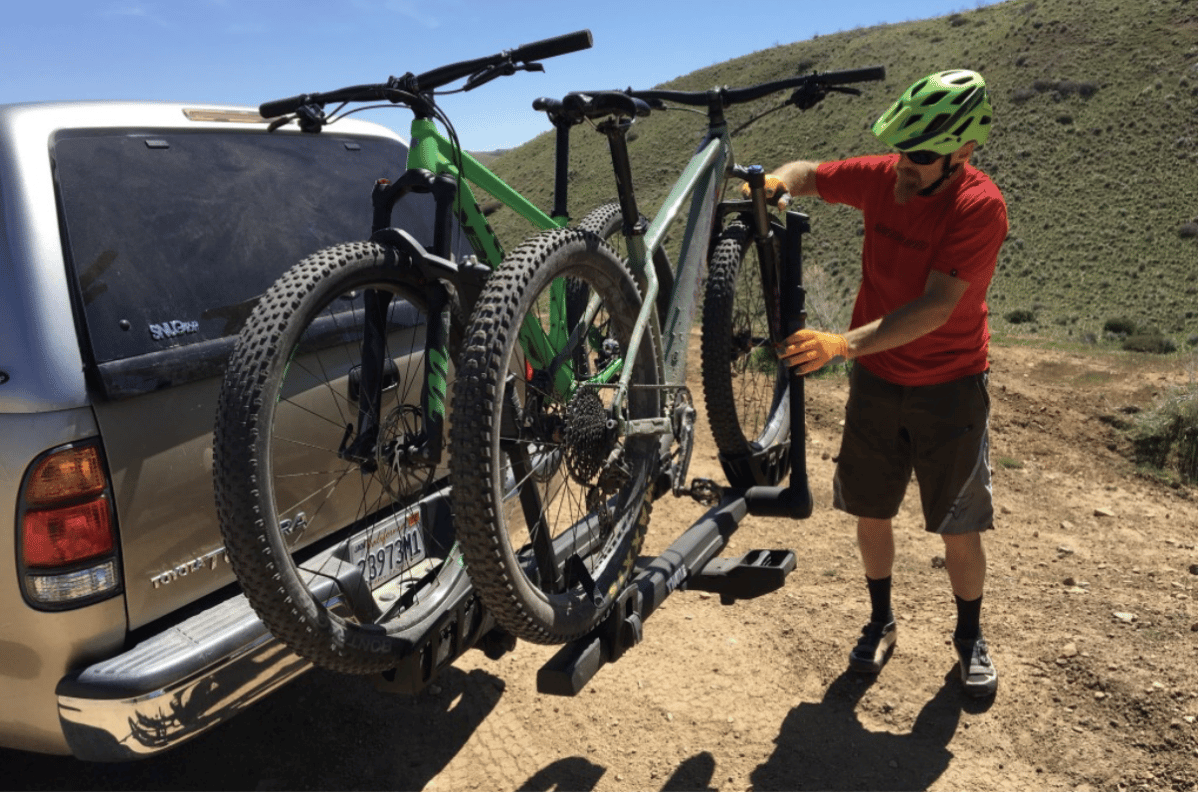 Price: $800
Style: Platform
Weight: 52 pounds
No. of Bikes: 2 but 4, with add-ons
Weight p/bike: 60 pounds
Pros
Great features
Good build quality
Ease of use
This bike rack model is a new and improved update to Thules T2 Pro, which was already one of the most popular bike racks out there, and with the improvements made on top of it it has become one of, if not the best hitch-mounted bike rack in 2023 so far. The Thule T2 Pro XTR takes this title because of the amazing features that it has as well as the great build quality of the entire rack.
Compared to the XT model the XTR version has a set of wheels that have been added to the base of the rack so that it can easily be moved around on any surface, but other than that these two models have a very similar design.
The first feature, that sticks out the most on this bike rack, is the tilt feature, which is thought of to be one of the best when compared to other racks in its class. The tilt feature basically allows you to still have that quick access that you want to the rear of your vehicle by just tilting your rack away from the car, even with your bikes mounted on it.
With some platform style racks you can run into compatibility problems but with this you probably won't as it is compatible with all bikes from thick fat bikes all the way down to 20 inch kids models.
The biggest downside that shy most people away from this rack is its price, sitting at $800 this is definitely not a cheap rack to buy. This rack does have an extremely sturdy and durable design that is definitely a very attractive characteristic that a lot of regular riders want in their rack, but this leads to the second disadvantage which is with all this sturdiness comes a lot of weight as this rack weighs over 50 pounds.
All the racks within the hitch-mounted category are very good. This makes for a highly competitive market, but the thing that sets the Thule T2 Pro XTR rack apart from all the rest is the quality of the material used in the build as well as all the awesome features that this rack offers. So as a result, except for the price and weight, this is really the rack that does it all.
Some of the amazing features that this rack boasts is its expanding edge attachment system that makes a wobble-free connection to your hitch, its 60 pound weight limit for each bike so you are able to carry almost every bike, even e-bikes, and lastly you have a lot of clearance room from your vehicle to your bikes to ensure that your bike and vehicle are both safe from any contact with each other.
Then for a further $550, which definitely isn't cheap, you are able to double the capacity with a 2-Bike Add-On. Although this rack may seem like a lot of money right now, in the long run it'll be quite a good investment since the materials that were used are sure to last a lot longer than if you were to save some money and get a cheaper model.
For those that don't want or need all the features that this new T2 Pro XTR has, there is another option, the T2 Pro X, which is only $650 and has a very similar construction to the XTR but has a maximum bike capacity of 50 pounds, doesn't have the built in wheels and requires you to buy an adapter in order for it to be compatible with fat bikes.
A Great Second Choice All Around Bike Rack
Kuat Transfer v2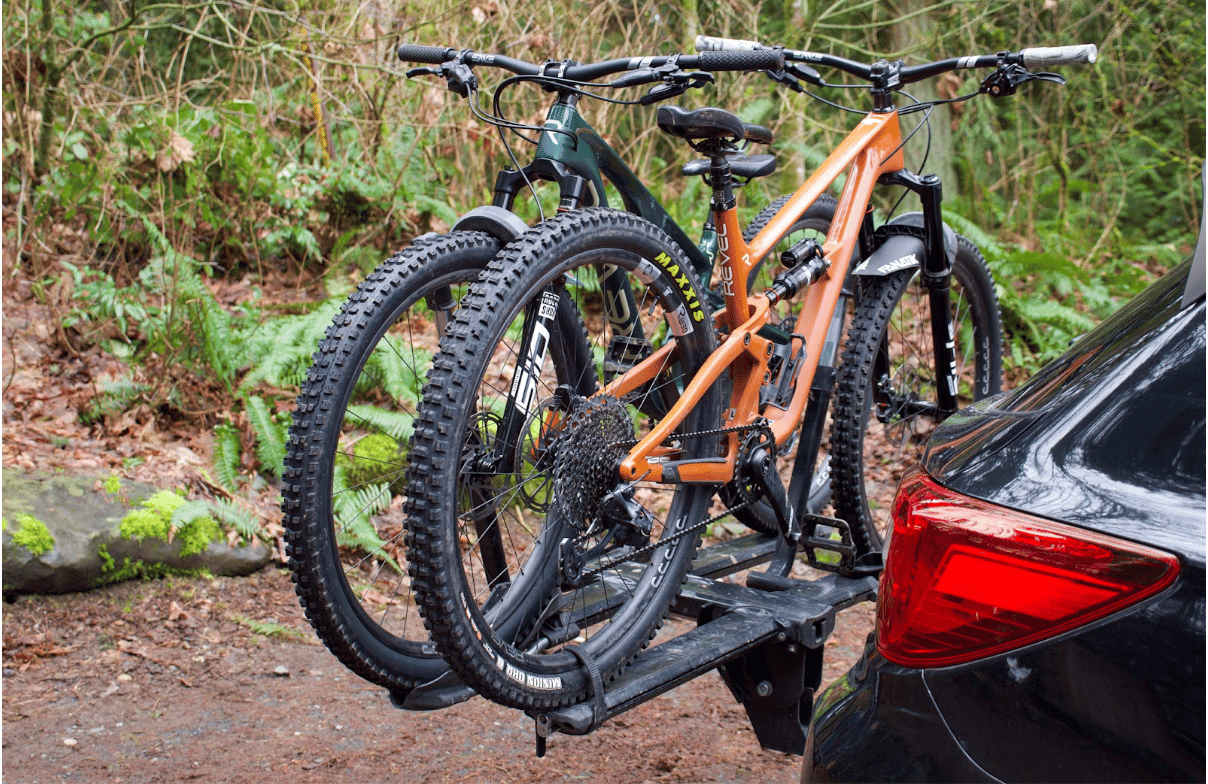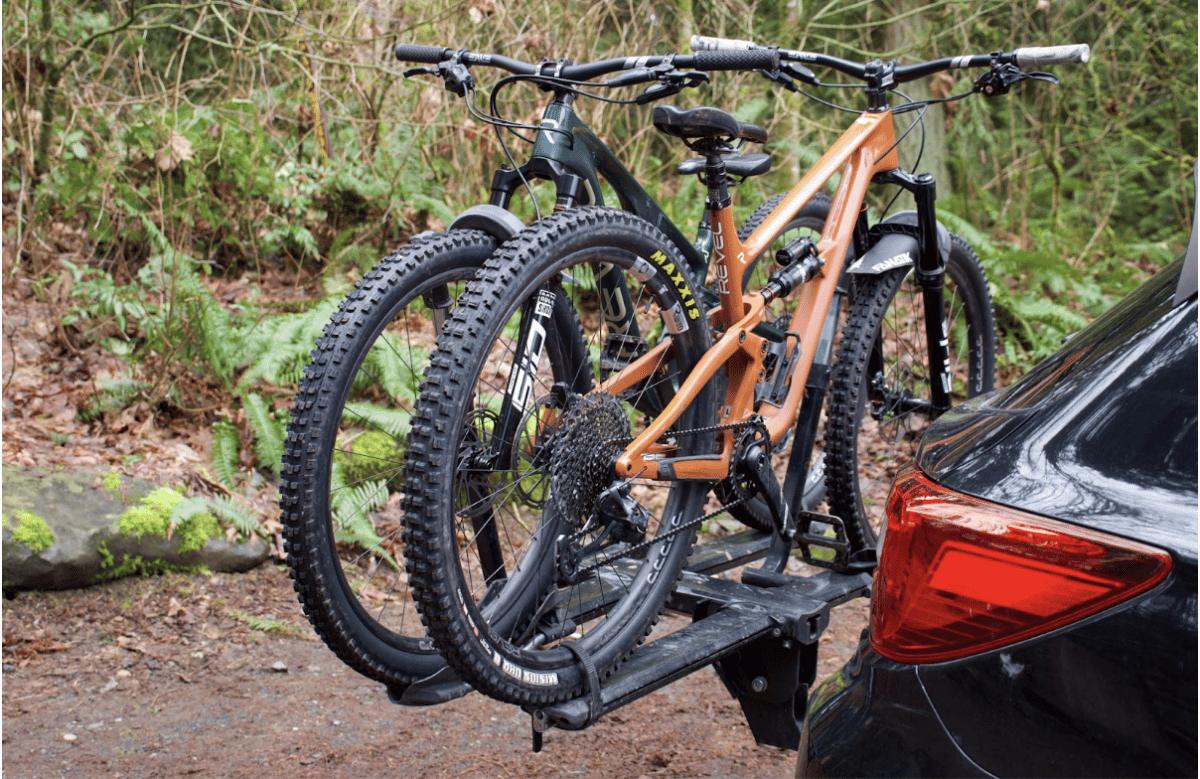 Price: $449
Style: Platform
Weight: 37 pounds
No. of Bikes: 2 or 3, with add-on
Weight p/bike: 60 pounds
Pros
Price
Versatile platform-style rack
Cons
Design
Not as many features as premium options
There is no getting around the high price that you will have to pay for a good quality platform style bike rack but for those riders who are looking for more of a budget option then the Kuat Transfer v2 bike rack is a great alternative that you should check out.
Although this bike rack may not have as many features as the more expensive options out there, it does have a few basic features that the Thule T2 model also has such as an attachment system that stops your bikes frames from making contact with each other as well as the tilting feature that lets you still easily access your rear cargo space in your vehicle.
Although you do need an adapter in order for this rack to be compatible with fat bikes, the Transfer v2 is still able to accommodate a large variety of bike types and wheel sizes ranging from 18 inches all the way up to 29 inches. You can also purchase an add-on to accommodate one more bike on your rack for only $150, which is a very reasonable price compared to many other add-ons. With all of these few but good qualities that this rack has to offer, and only weighing 37 pounds, the Kuat Transfer v2 is a very likeable bike rack.
Many riders would want to know what the catch is with this bike rack and what you will have to give up in order to pay this attractive price. Well when you compare this bike rack to the Thule T2 bike rack you see that the materials and level of refinement used throughout the build is a step down.
A lot of riders have found that overtime the arm, which locks over the front tire, does start to stick and the rack does start to squeak as well. Some of the smaller, premium features that you will miss out on include the padded straps that prevent scratches on your rear wheel and the simple design that this bike rack has isn't able to minimise the potential contact that the bikes can have with each other since there isn't as much side-to-side adjustability.
However, for the price that this bike rack comes at it does have a lot of really good features as well as a really attractive weight capacity of 60 pounds per bike (with the 2 inch receiver model) as well as cable locks for some added security. At the end of the day it is up to you to decide which bike rack is the best one for you but if you are an avid rider then investing in a higher-end bike rack like Thule will be a better option for you, but if you're a rider who doesn't mind living with a few compromises then the Kuat is definitely a very valuable option as well.
Best Budget hitch-mounted Bike Rack
Swagman XC2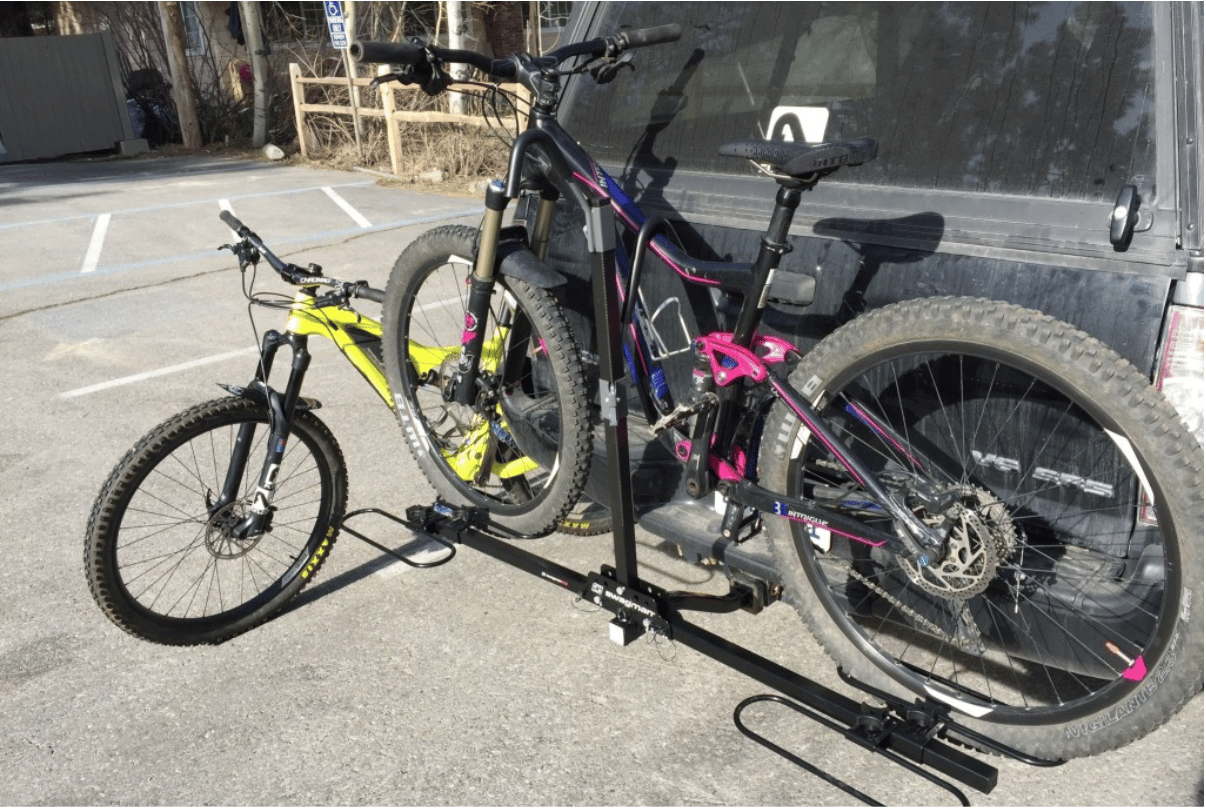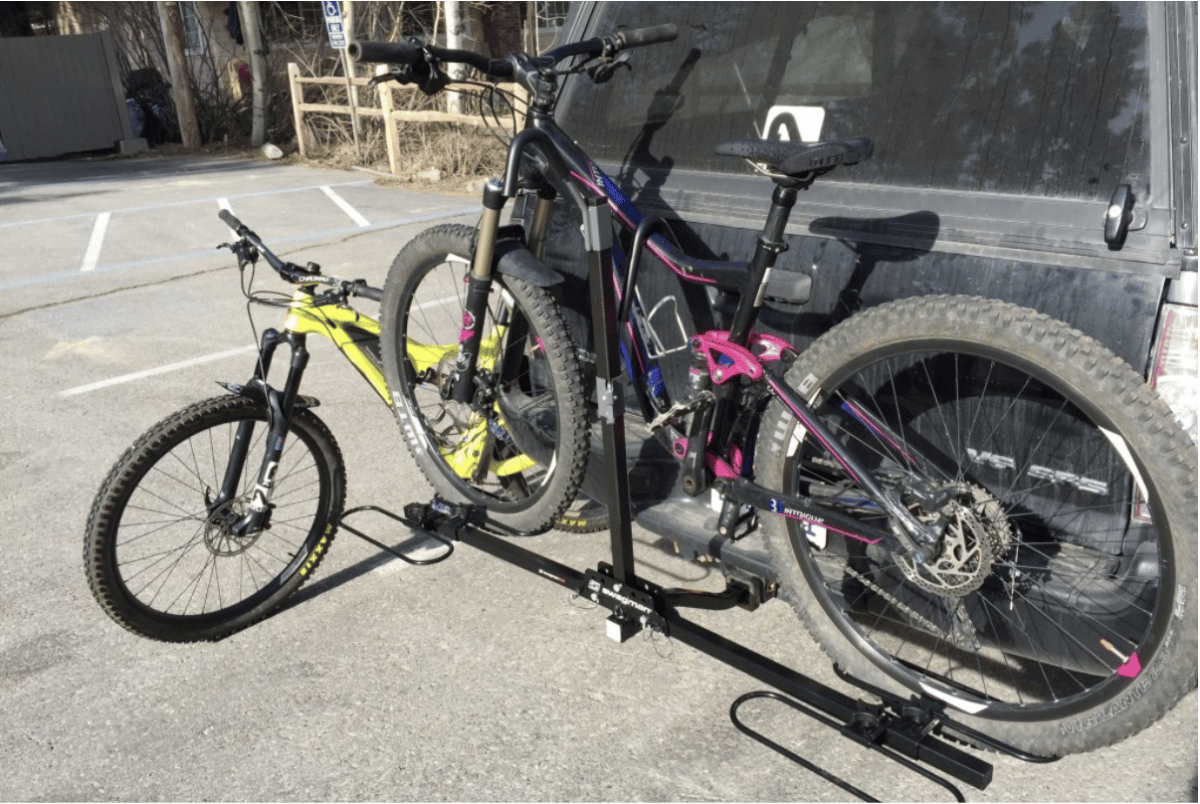 Price: $145
Style: Platform
Weight: 32 pounds
No. of Bikes: 2
Weight p/bike: 35 pounds
Pros
Price
Surprisingly reliable
Cons
Not user-friendly
Ratchet arms tend to scuff your bike's frame
Most riders probably haven't heard of this brand as it definitely doesn't have the same level of recognition as a brand like Thule or Yakima would have. But Swagman brand does actually offer a very good budget rack option for riders who ride recreationally.
The Swagman XC2 actually offers a lot of features for just $145 such as a highly adjustable tray system, quite sturdy ratcheting arms and a threaded hitch pin that keeps the racks movement to a minimum. The best thing about this rack is its weight, weighing in at only 32 pounds, it is one of the lowest weighing racks on this list and makes it very easy to remove and install all by yourself.
This bike rack definitely doesn't have all the cool features that you'd get in a more expensive, premium model but for this price you can't really ask for much more than what is being given to you already. So for the recreational riders that are just looking for something to get their bikes form place A to B reliably, this is a really great option for you to consider.
As you'd probably have guessed by the price of this bike rack, there are quite a number of shortcomings that the Swagman XC2 bike rack has. One of the biggest and most annoying things that some riders have realised with this bike rack is that the bike that is closest to the vehicle is often pretty challenging to mount as the release mechanism on the ratchet arm is difficult to engage.
You should also be aware that if you plan on leaving your bikes anywhere unattended you will have to purchase your own bike locks to keep your bikes safe as nothing comes with the purchase of the Swagman XC2. Another problem that this rack has, that you won't get with some of the more expensive options, is that the padded frame cradles actually start to rub the paint off of your mounted bikes, which is definitely something that you don't want happening.
So, if you are able to then it is recommended to purchase a rack like the Kuat Transfer v2, above, instead because it takes care of a lot of the issues that are seen in this bike rack.
Best Hanging-Style Bike Rack Supporting 4-Bikes
Yakima RidgeBack 4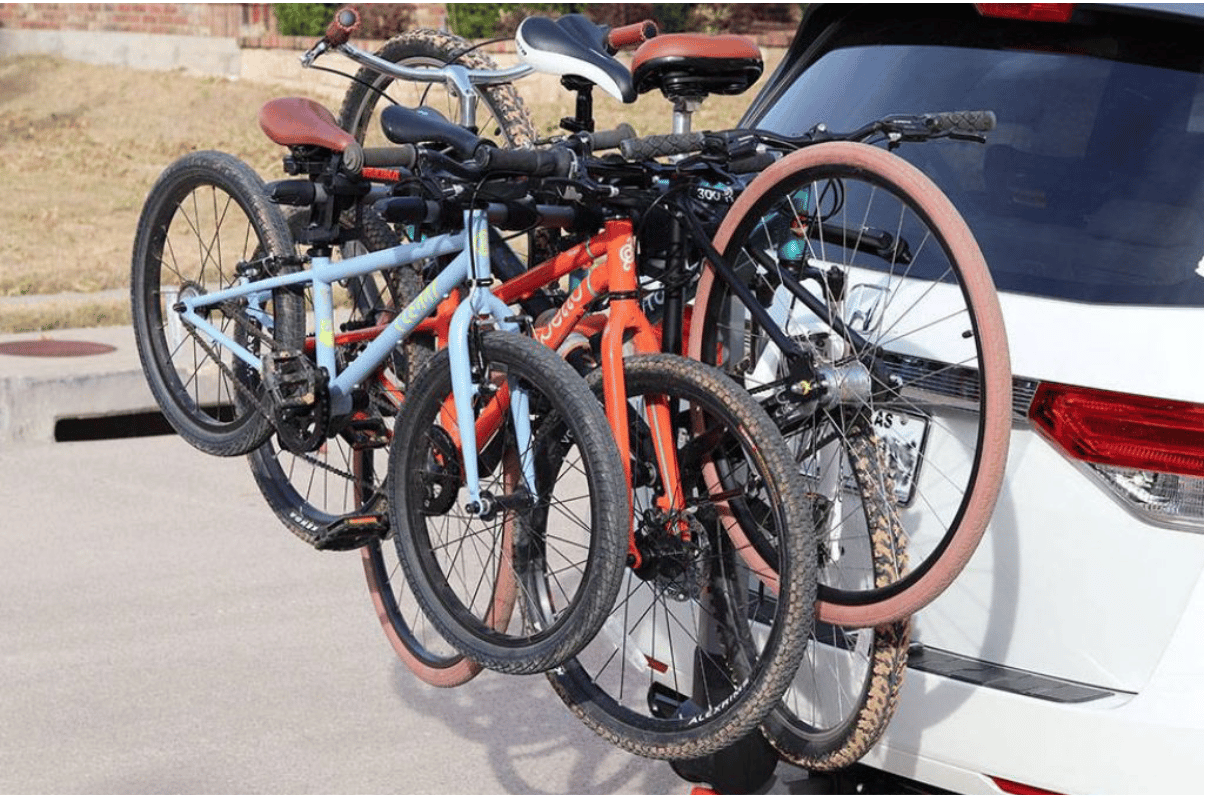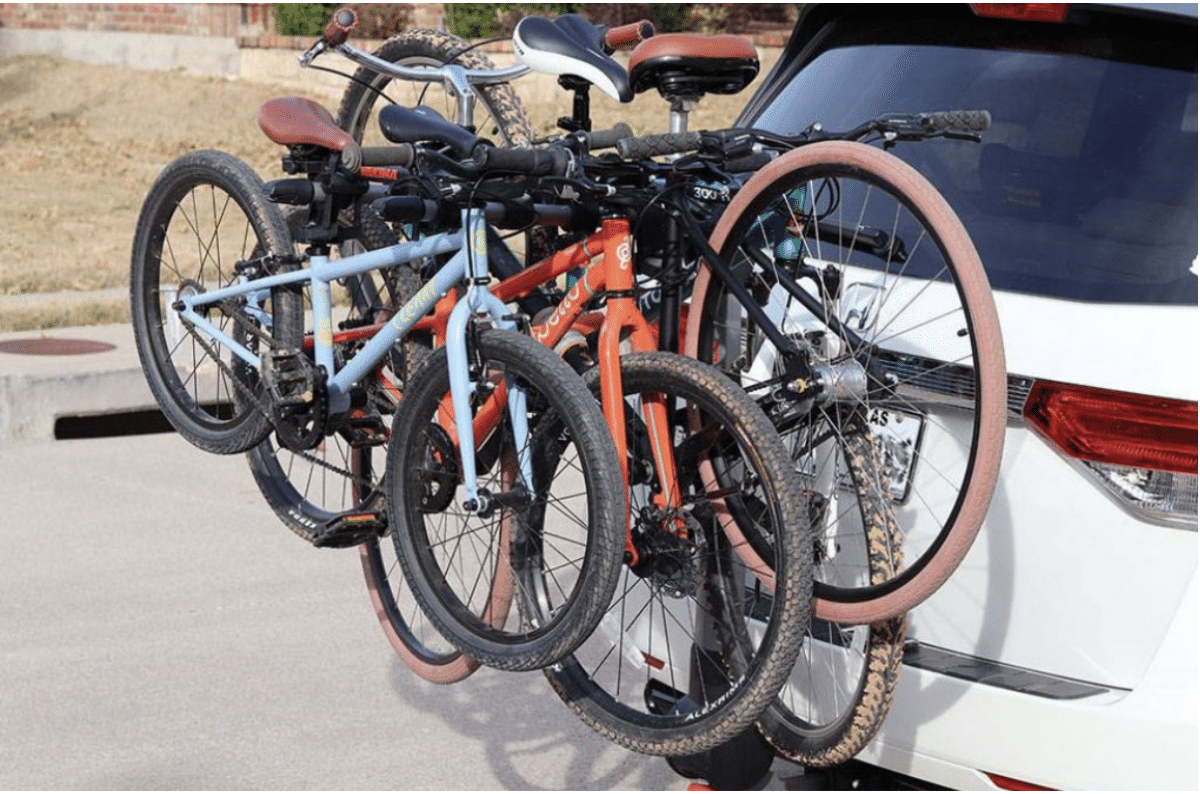 Price: $469
Style: Hanging
Weight: 35 pounds
No. of Bikes: 4, but 2 and 5 bike versions are available.
Weight p/bike: 40 pounds
Pros
Affordable rack for 4 bikes
Cons
Bikes mount very close to one another
You'll need an adapter for step-through bikes
The platform style bike racks are definitely the better option of bike racks when it comes to their all-round stability, however, if you are looking for a high-capacity bike rack then the hanging style racks are definitely a lot better in terms of their value. Compared to other high-capacity hanging bike racks out there the Yakima RidgeBack 4 is definitely one of the best options on the market in 2023 so far.
This is mainly because it has a very durable build, good price, and anti-sway design that helps keep your bikes in place when they are mounted and you're driving. The Yakima RidgeBack 4 also has one of the best cradle systems on the market, this is because their system includes ratchet-style straps that hold your bike's top tube securely to the rack. For just $469 you can get a high quality bike rack capable of holding 4 bikes, which offers double the capacity that the Thule T2 Pro offers you but for hundreds of dollars less.
As with all bike racks there are always some downsides to their design and this hanging style bike rack is no exception. The first, and a real dealbreaker for most riders, is that you will have to buy an adapter in order to be able to mount full-suspension mountain bikes, step-through bikes and kids bikes as well. Each of these adapters cost $50, so if you need 4 of them it racks up to quite a lot of money in total for your bike rack build.
Then another pretty big con that comes with owning this bike rack is that the mounted bikes will sit very close to each other, which means that they can very easily come in contact with one another and could damage the paint on the bikes. However, if you are a rider that can look past these compromises then the RidgeBack is a really reliable hanging bike rack that also has some very good performance.
Best Hitch-Mounted Bike Rack For The Best Rear Cargo Access
RockyMounts BackStage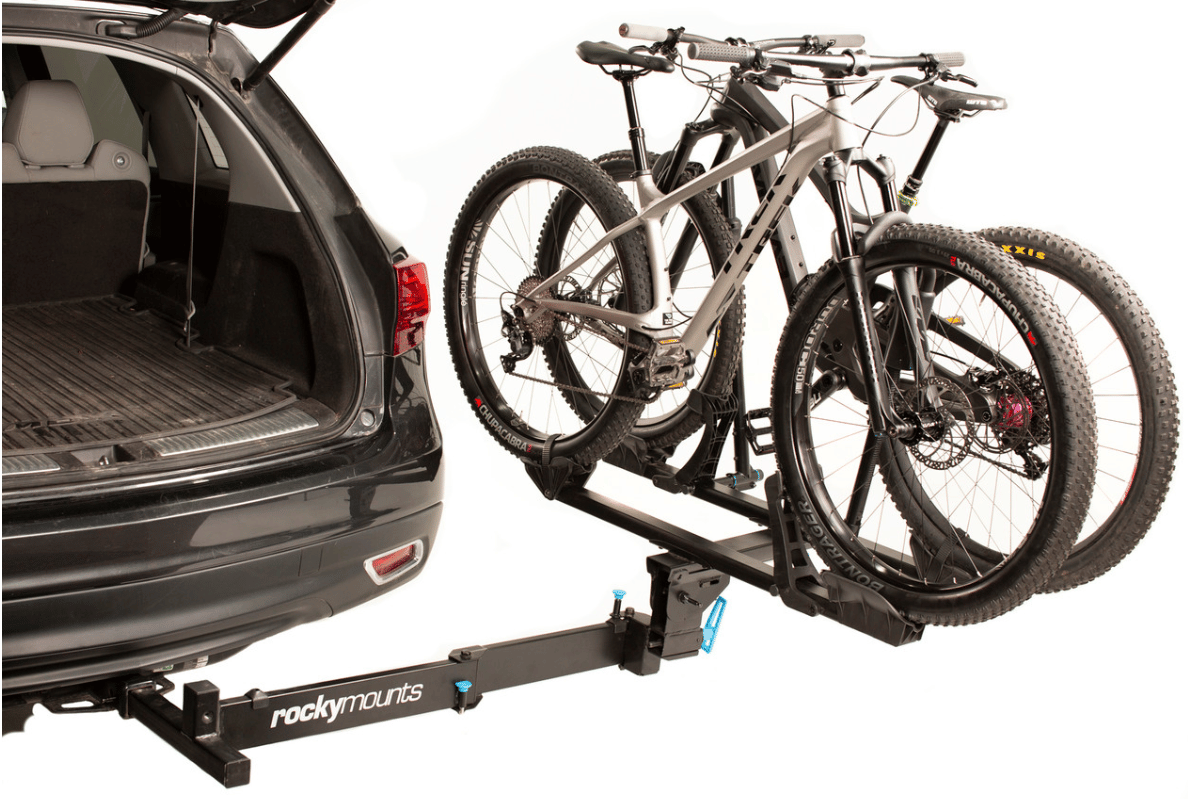 Price: $770
Style: Platform
Weight: 63 pounds
No. of Bikes: 2
Weight p/bike: 60 pounds
Pros
Built-in swing-away feature
When RockyMounts first came out with the BackStage bike rack it made quite an impact in the bike rack industry. Because it was one of the first platform style bike racks to ever come with a built-in swing-away mechanism. You are able to swing the rack to the side, away from your vehicle, so that you have complete access to your rear cargo. What's even more crazy is that this feature is still not even seen in big brands like Thule or Yakima, so RockyMounts is one of the few options that even offer this built in feature.
It is also important to realise that this isn't the only great feature that this bike rack has, there are actually a lot of features that this rack has that many of the premium options out there also have. These features include a cable lock, compatibility with a huge variety of bikes and wheel sizes, solid ratcheting arms, and great quality materials used in the construction of this bike rack.
Sadly, when you add a swing-away system to a hitch-mounted bike rack it does come with some compromises you'll have to endure, such as the RockyMounts BackStage being around 15 pounds heavier than most of the other platform bike racks on the market. With it being so much bigger and heavier it makes it a lot harder for just one person to install and remove this bike rack off and onto your vehicle.
One more con that this bike rack has is that the lock that comes with it isn't integrated into the rack, so you'll have to find somewhere to store it while you aren't using it and take it out everytime you need to lock up your bikes. For the riders that are looking for a bike rack that still allows for some great and uninterrupted rear cargo access, then the RockyMounts BackStage is definitely the bike rack for you.
Best Hitch-Mounted Bike Rack For E-Bikes
Thule EasyFold XT 2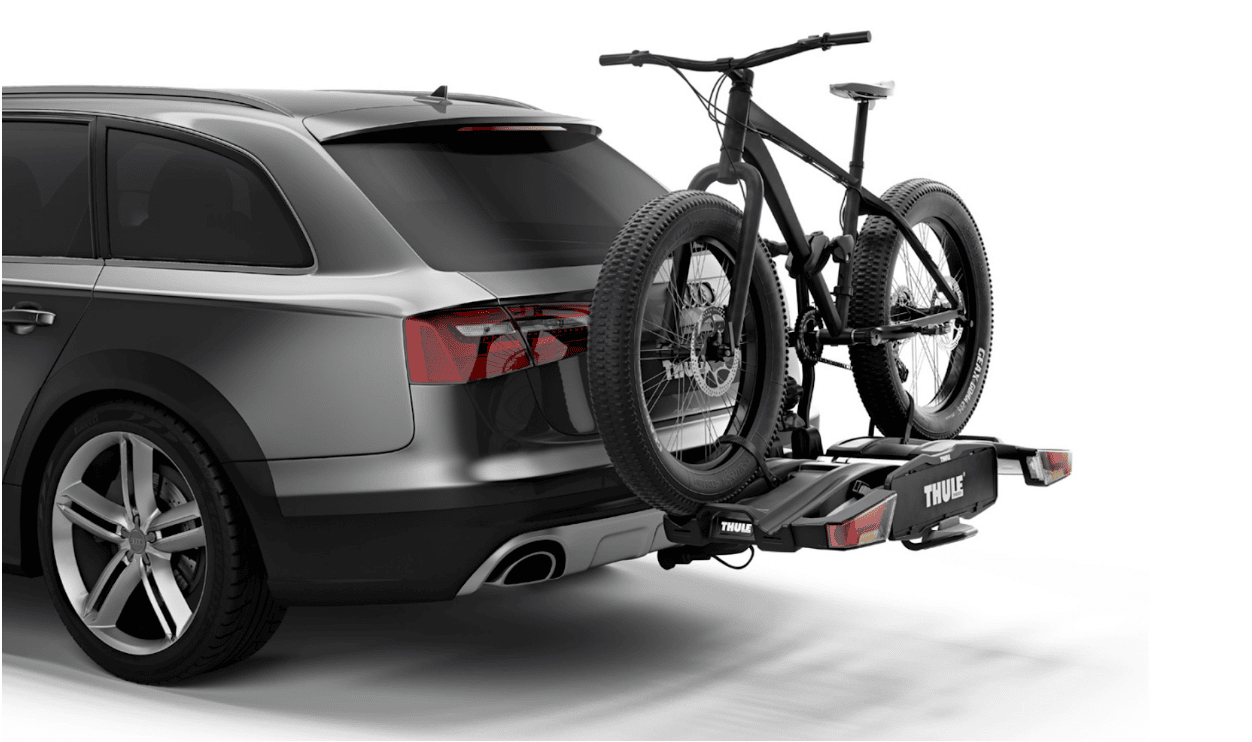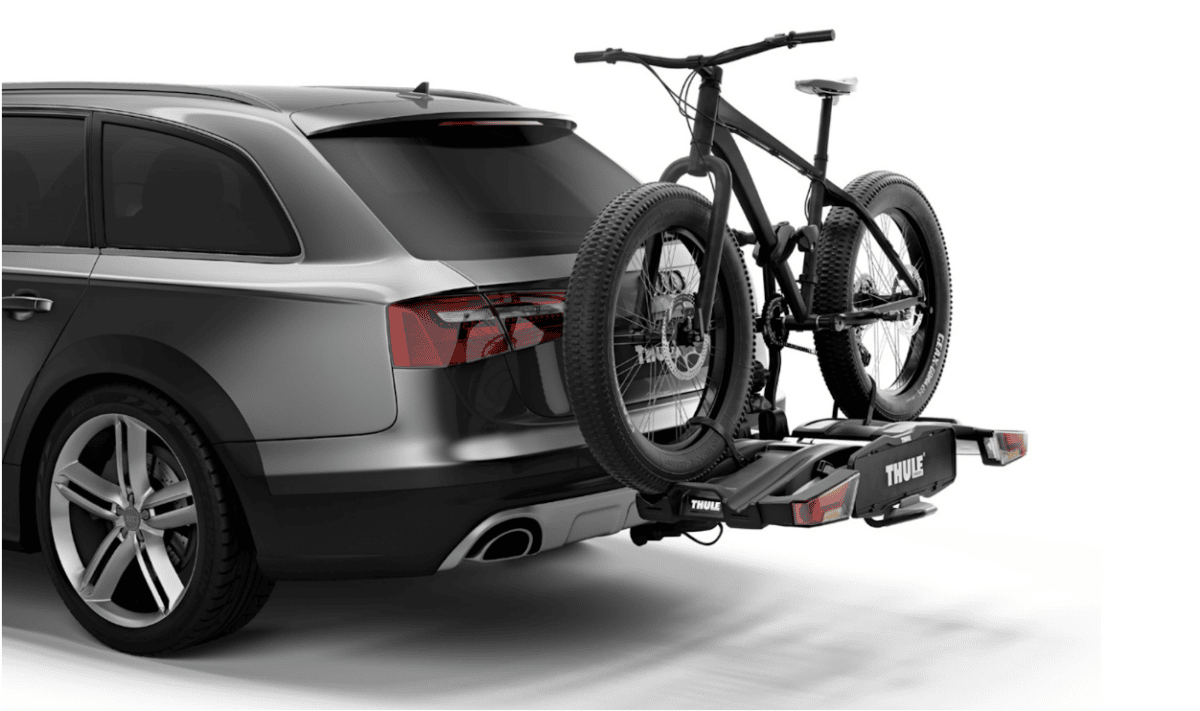 Price: $1,000
Style: Platform
Weight: 45 pounds
No. of Bikes: 2
Weight p/bike: 65 pounds
Pros
Integrated ramps for easier loading and unloading
The popularity of e-bikes and fat bikes have grown tremendously over the recent years, but sadly there aren't that many bike racks out there that cater to the heavy weight of an e-bike and the larger wheels on a fat bike. So Thule had the genius idea to release their EasyFold XT 2.
The main thing that Thule boasts about with this design is that it comes with integrated ramps so you are able to push your heavy or large bikes up onto the rack from the ground, instead of having to pick them up. The integrated ramps work very well and are very easy to deploy and use, and can even be stored very easily on the rack whilst you are driving your vehicle.
Out of all the platform bike racks out there the Thule EasyFold XT 2 is one of the easiest ones to store because the sides fold upwards, in half, and then you'll be able to carry it short distances by holding onto its integrated handle. The Thule EasyFold XT 2 is able to support a load of 65 pounds per bike, which makes it ultimately one of the best bike racks for a heavy hauler.
By far the biggest compromise with the Thule EasyFold XT 2 is that it is extremely expensive for a platform bike rack that is only able to carry two bikes The value of this rack isn't really justified unless you are a rider or person that really wants the integrated ramps that this bike rack offers.
Then the next downside to this bike rack is that even if you were willing to pay extra for an add-on, in order to try to increase the bike capacity, you wouldn't be able to because there aren't any extensions available for this rack design. So for many riders this will be a deal breaker if you want to be able to transport more than 2 bikes.
If you are an e-bike rider or someone that will definitely value and make the most of the integrated ramps that come with this bike rack then this is one of the best and only options out there for you. If you are still uncertain about spending so much money on this bike rack then you can also check out the Yakim OnRamp bike rack which is $729 and a less refined e-bike compatible alternative.
Best Hitch-Mounted Hanging Bike Rack
1UP Recon Rack 6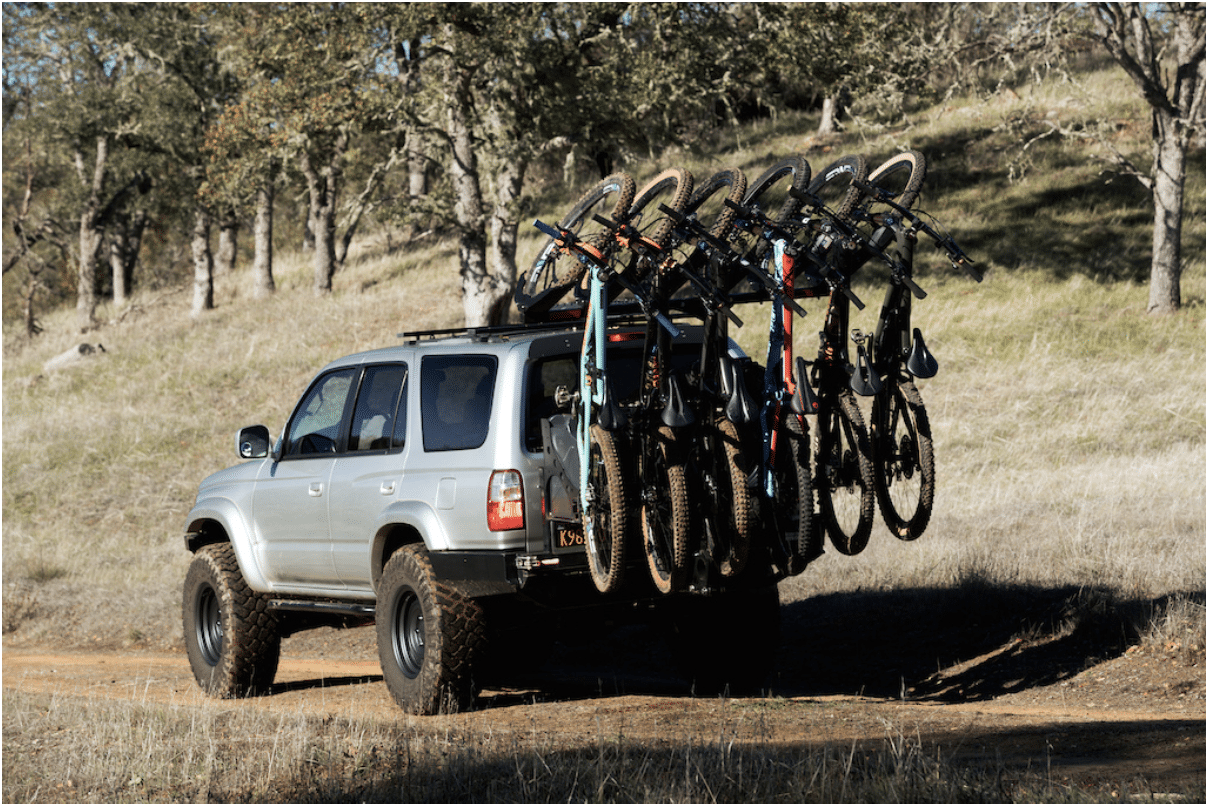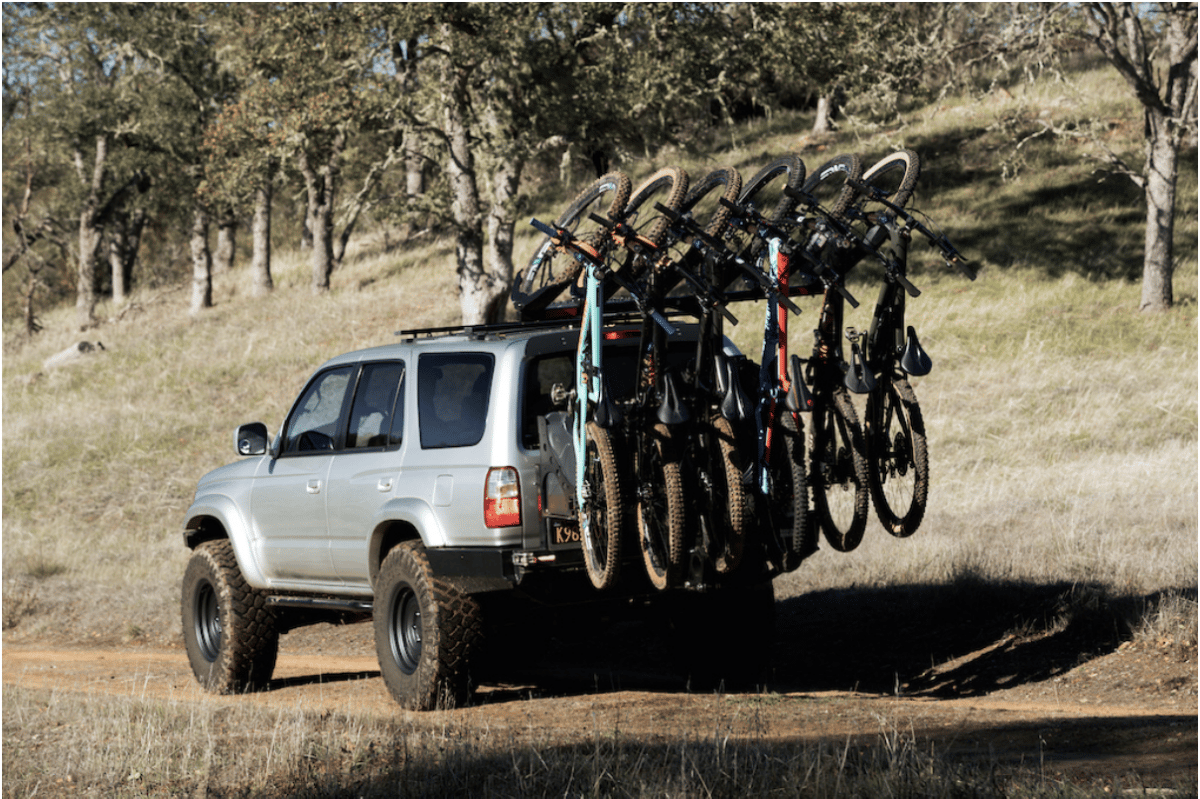 Price: $1,400
Style: Hanging
Weight: 104 pounds
No. of Bikes: 6 but also has a 5 bike version
Weight p/bike: 45 pounds
Pros
Easiest and most secure way to transport six bikes
Cons
Extremely heavy and expensive
The 1Up Recon Rack 6 is the perfect bike rack for group rides, shuttling, tour companies or if you are just a rider who is looking to carry as many bikes as possible on their vehicle. To be able to transport this many bikes, this bike rack takes on a different approach to how to carry bikes.
This bike rack basically has a 'basket', which is able to just hold your bike's front wheel up whilst the rest of your bike hangs. This unique method of bike transportation is able to support mountain bikes, gravel bikes and even road bikes ranging from 24 to 29 inch wheel sizes, but if you are looking to be able to transport 20 inch kids bikes or fat bikes then you will have to invest in a special attachment in order to do so.
The biggest advantage to owning this bike rack, and the main reason as to why people consider buying it, is because it is able to transport 6 bikes, all at once, while keeping them all pretty secure and stable.
Now the biggest downside to this bike rack, as you probably would've noticed amongst this bike's stats, is its insanely high price tag of $1,400. This price tag will immediately limit the amount of people that are able to or want to buy this bike rack. Since this is such a large bike rack it means that it is extremely heavy and will be almost impossible to install or remove by yourself.
A downside to the design of this rack is that since the bikes are all placed vertically it makes it challenging to mount the bikes as well since the rack is so tall. Although there are a few other competitors out there such as the Yakima HangTight, Lolo Racks and North Shore Racks NSR, the amazing, high-quality build of the 1Up Recon Rack 6 is just unmatched and makes it by far one of the most favourite vertical hanging bike racks out on bike rack market.
Honourable Mentions
1Up USA Heavy Duty Double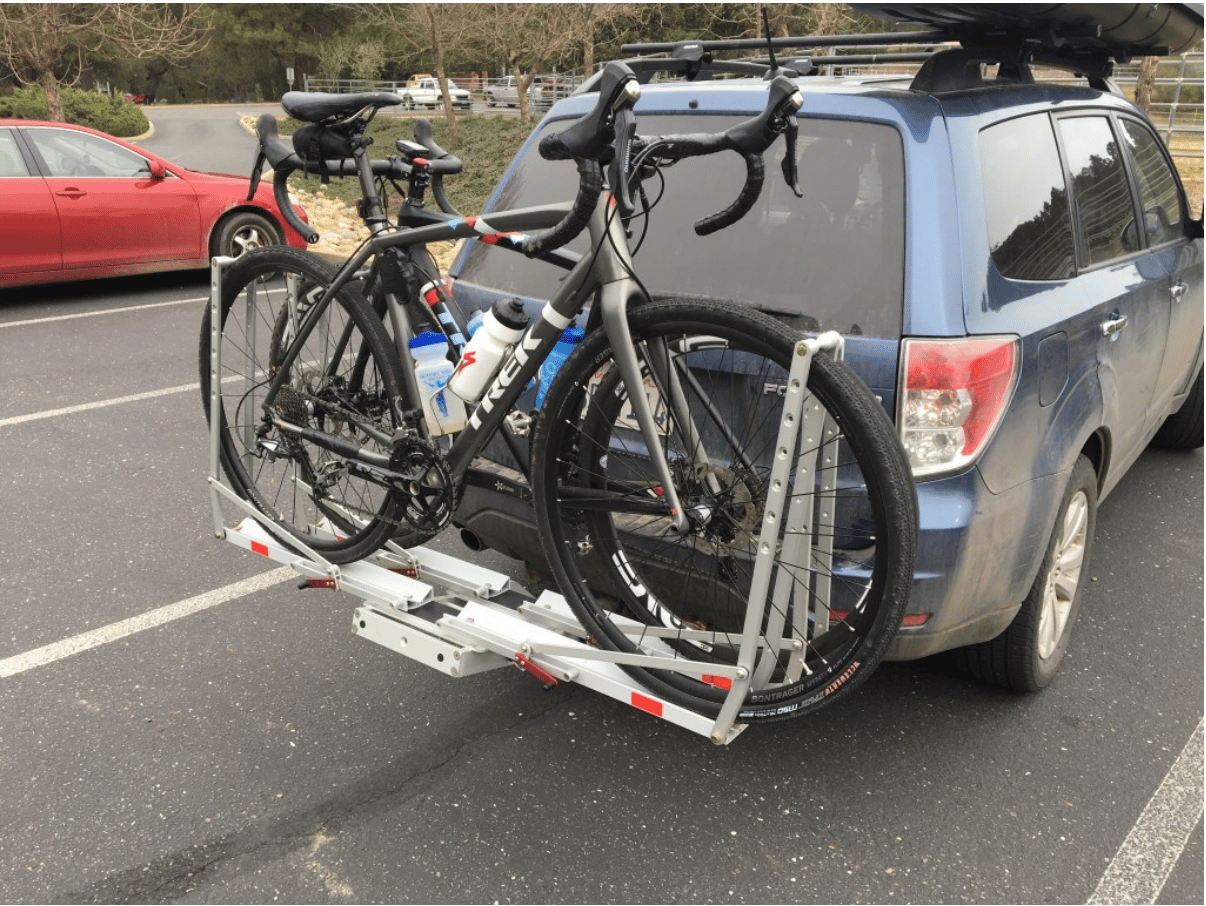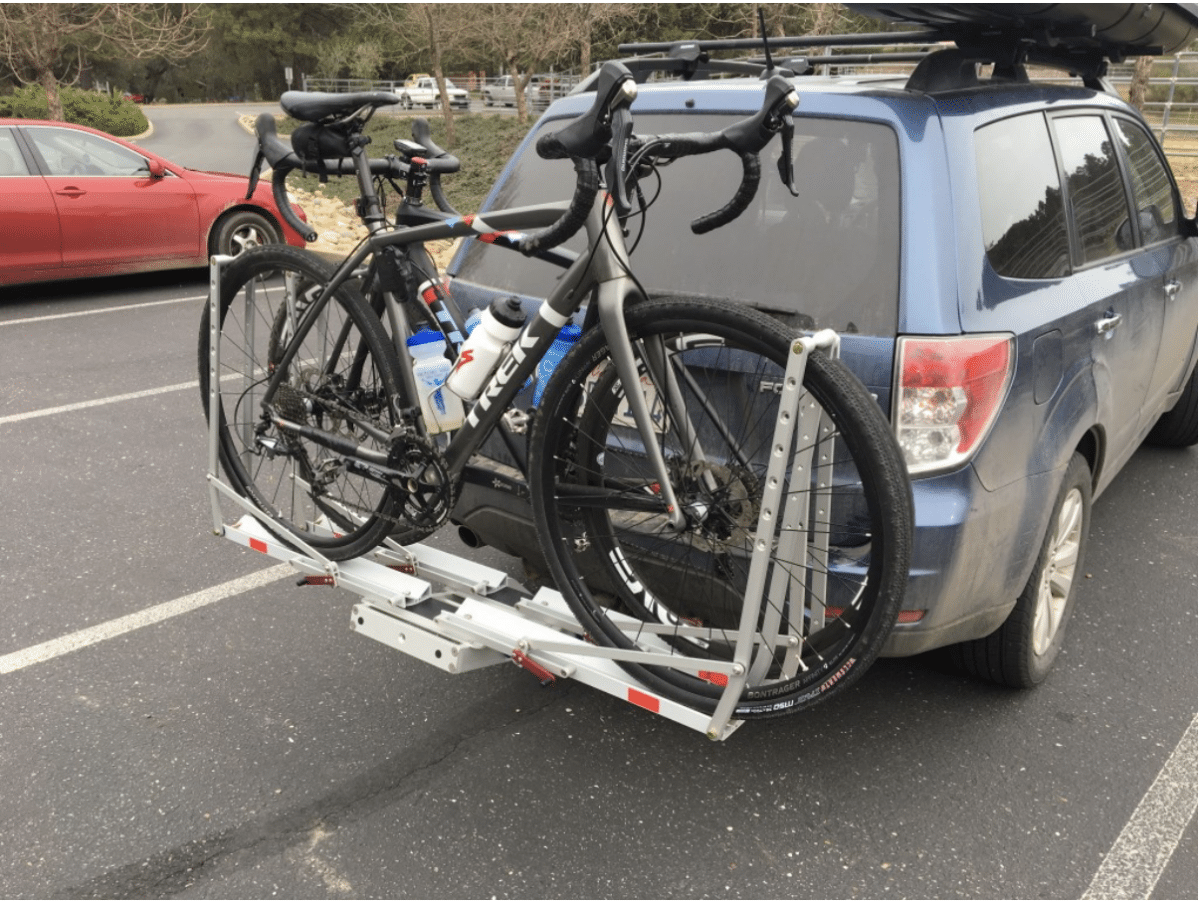 Price: $650-$700
Style: Platform
Weight: 46 pounds
No. of Bikes: 2 or 4 with add-on
Weight p/bike: 50 pounds
Pros
Great quality metal build
Ratcheting arms are only in contact with your bike's tires
Cons
No bike locks included
Tilt lever is hard to reach
The brand name 1Up is definitely not as spoken of or as popular as names like Thule and Yakima, but this Wisconsin-based brand works hard to deliver good products to dedicated riders out there. When you take a closer look at 1Up's Heavy Duty Double bike rack you'll notice that it is quite a level above most other bike racks out there as it has a great sleek aluminium build and the attention to detail throughout the design is unmatched.
Just like you can find some mountain bikes that are like works of art in their construction you can with bike racks as well, and the 1Up USA Heavy Duty Double platform bike rack is one of these racks. The design of the rack is quite nice when it comes to the protection of your bike's frame as it doesn't come in contact with any of it, there are just two independent folding arms that attach to the tires of your bike. So, if you are a rider who rides a traditional road or mountain bike then this is definitely a great bike rack to check out that has a premium design and study support.
The reason that this bike rack isn't ranked up higher amongst the best bike racks is because it lacks a lot of the useful features that you see on models like the Thule T2 Pro bike rack. One of the downsides that you'll have to live with if you decide to purchase this bike rack, and mount fat bikes, is buying adapters in order to make your bike rack compatible with the size of the tires on fat bikes.
The next downside that a lot of riders complain about with this bike rack is the fact that the lever, that you need to pull in order to activate the tilting feature, is basically unreachable when you have bikes mounted on your rack, because this lever is placed underneath the bike rack. 1Up have realised that this was a big problem and now offer a tilt lever extender that has to be bought separately for $70. Which they definitely should've included with the Heavy Duty Double bike rack in the first place.
However, if you look past these compromises the 1Up USA Heavy Duty Double bike rack really has an unmatched level of craftsmanship and beauty that manage to attract a lot of buyers. Since the release of the Heavy Duty Double bike rack, 1Up have actually come out with another bike rack within their Equip-D rack line, which actually solves a lot of the issues that most people had with the Heavy Duty Double.
Some of the upgrades include easier access to the tilt bar as well as better compatibility with the size of the tires on fat bikes. Sadly this new model is more expensive and sits up at $805.
Kuat NV 2.0 Rack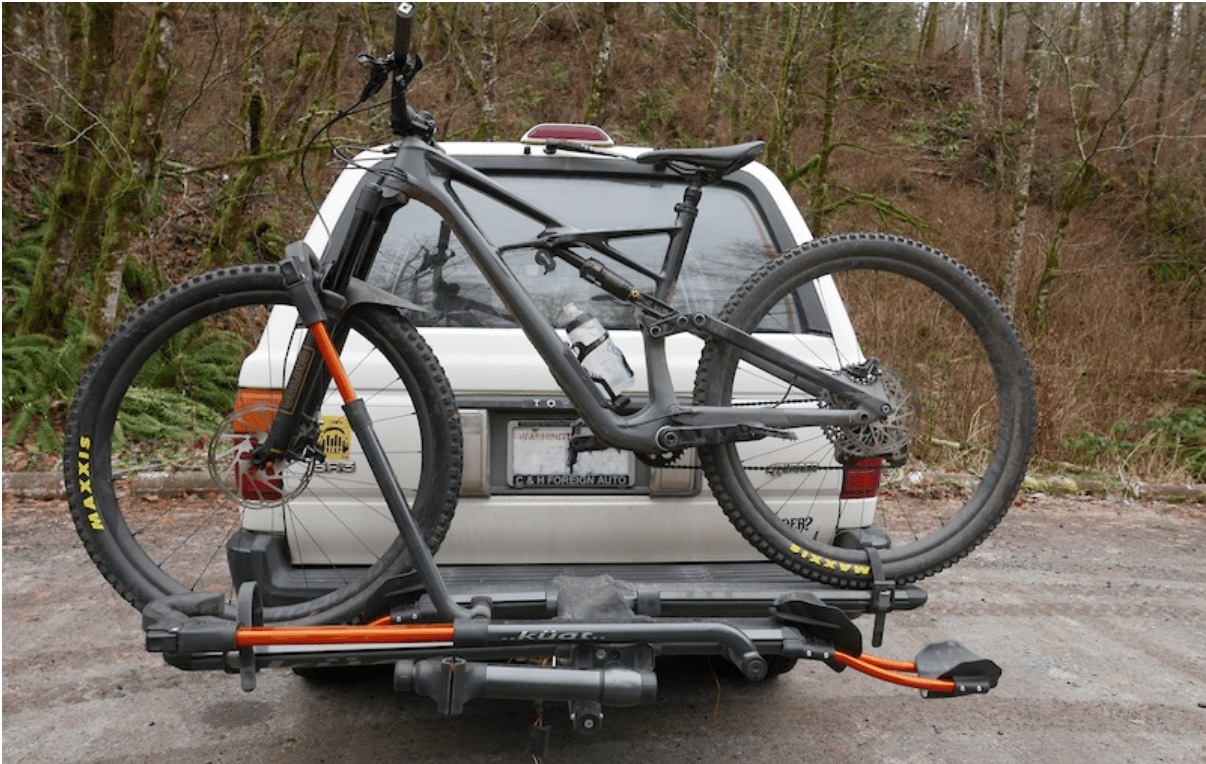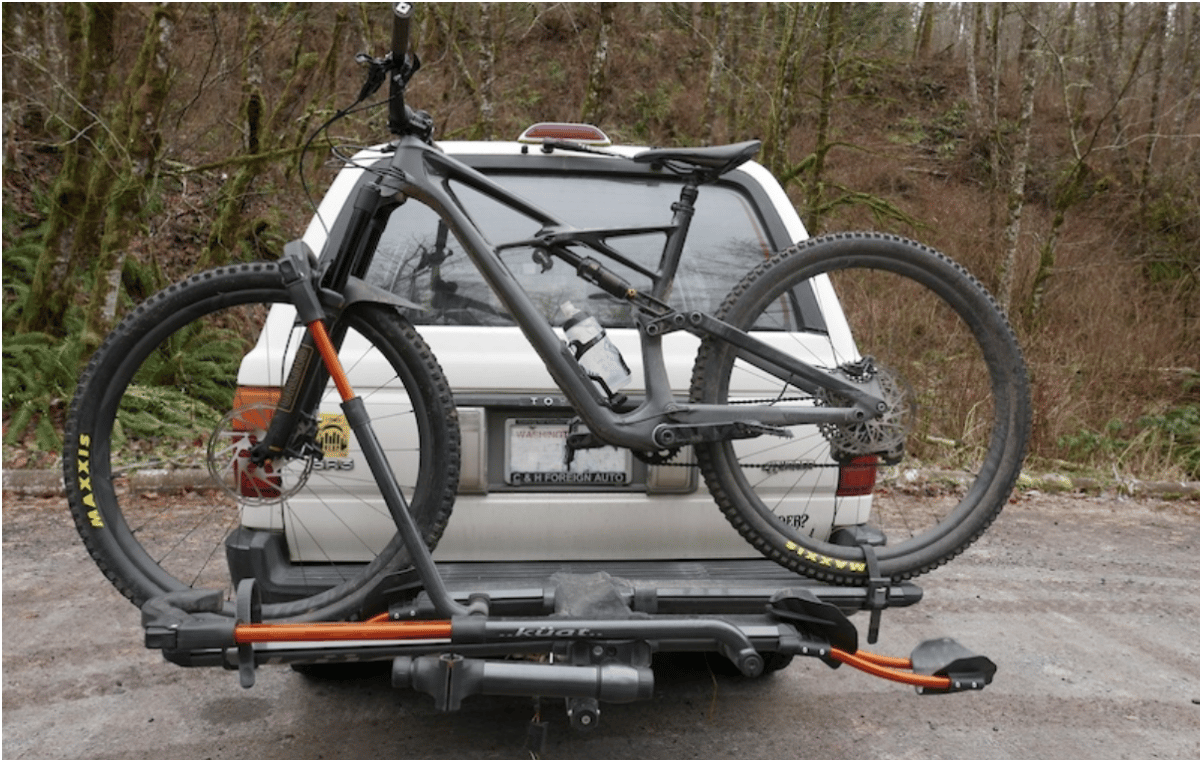 Price: $849
Style: Platform
Weight: 52 pounds
No. of Bikes: 2 or 4 with an add-on
Weight p/bike: 60 pounds
Pros
Sleek design
Solid ratcheting arms
Kuat is one of the most well known and respected names in the platform bike rack industry, and this is mainly owed to their best product, the NV 2.0. The overall build and design of this bike rack is amazing and give off a premium feel thanks to the high-quality materials used. The fact that the rack is able to stay comfortably in place even when you are driving on a rough road. And lastly its adjustable wheel cradles which makes it possible to eliminate all bike-to-bike contact.
Apart from the build of this rack, it actually has a lot of great features like an integrated cable and receiver lock, as well as a bike stand, specially made for Kuat, so that you are able to do some quick repairs at the trailhead. Another thing that a lot of people mention after seeing or using the Kuat NV 2.0 bike rack is that it is definitely one of if not the best looking bike racks that are out on the market right now, especially in the grey colourway.
The Kuat NV 2.0 easily fits into the same high-tier category as the 1Up Heavy Duty bike rack and even the Thule T2 Pro XTR. The thing that pleases a lot of Thule T2 Pro XTR and Kuat NV 2.0 users is that they are so user-friendly and the build quality is great so you know that it will last a long time, even with heavy use year-round.
However, the Thule T2 Pro does come out on top of the Kuat NV 2.0 just because it is a bit more versatile. One of the downsides to this bike rack is that you will have to purchase an adapter in order to make this rack compatible with stowing 20 to 24 inch wheels, which is something that the Thule model is able to do straight off of the shelf, without an adapter. The tilt feature is also a bit easier to reach for on the T2 Pro.
So, even though the Kuat NV 2.0 has a really cool design with loads of great extras, such as the repair stand, it is still just one step behind the great Thule T2 Pro XTR bike rack.
RockyMounts WestSlope 3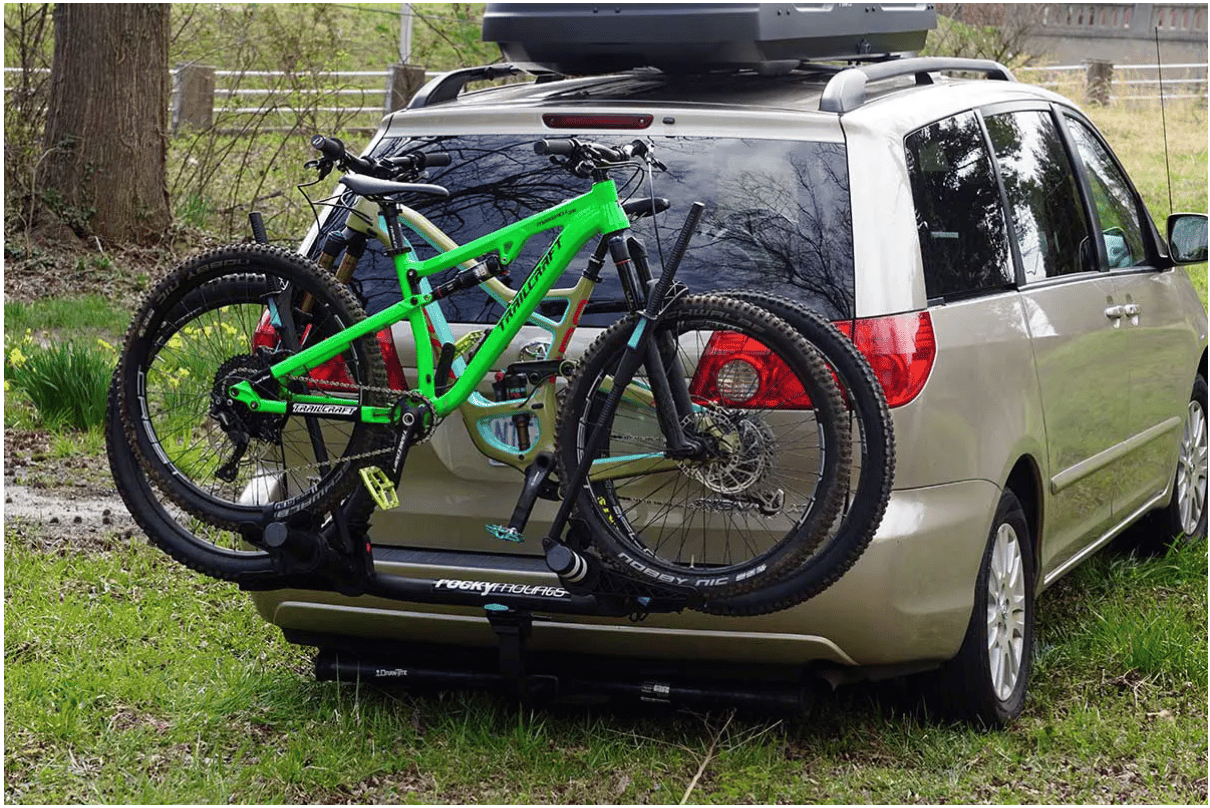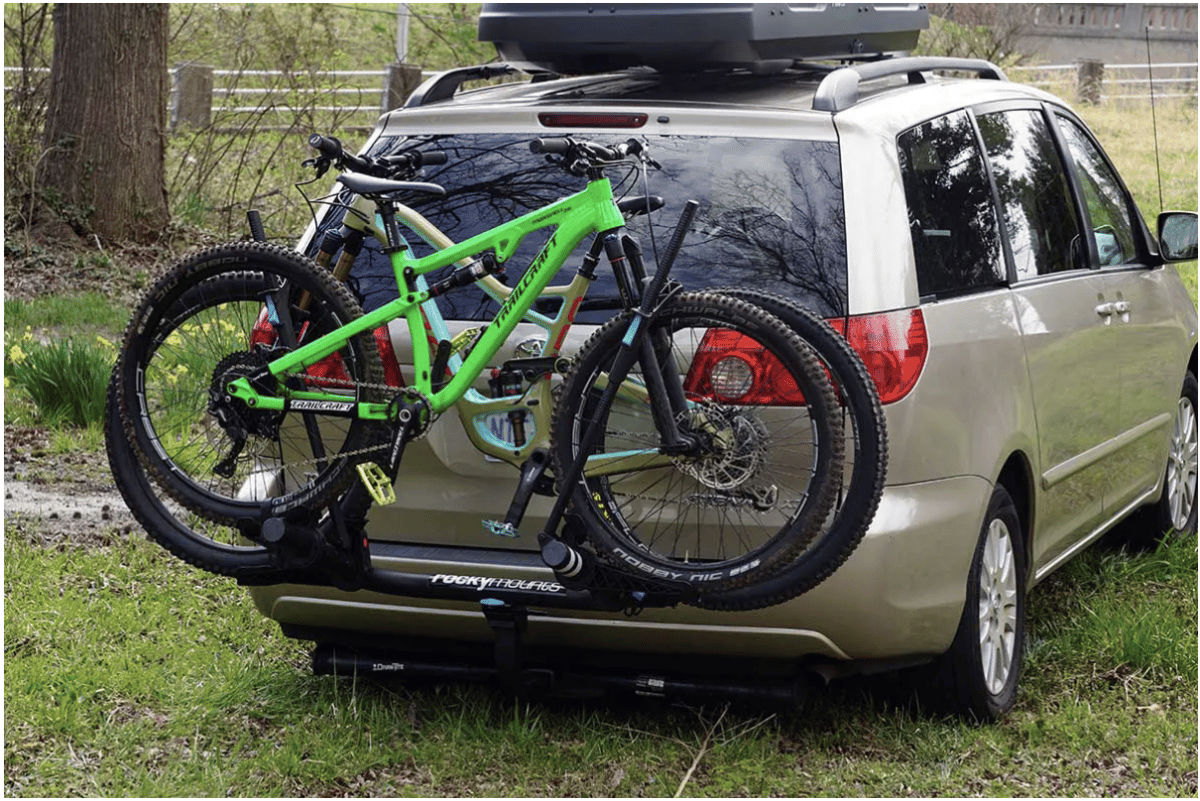 Price: $440
Style: Platform
Weight: 43 pounds
No. of Bikes: 3, but also available in 2
Weight p/bike: 40 pounds
Pros
Great value for price
Good three-bike design
The RockyMounts WestSlope 3 is a bike rack that manages to mix both an easy to use design as well as a large, 3 bike capacity perfectly. All at a pretty reasonable price compared to many other options out there, especially with the same bike capacity.
The RockMounts WestSlope 3 is quite light and makes loading bikes quickly very easy thanks to the ratcheting arms, which attach over the front tire. This bike rack also has a tilting feature on it which allows a lot of uninterrupted access to the rear of your cargo space or your rear hatch.
A big thing that lots of riders look out for when they are purchasing a bike rack is how much bike-to-bike contact their mounted bikes will or will not make. On the RockyMounts WestSlope 3 the bike rack uses something called a tiered design, which means that the bikes that are mounted on the rack will sit at different heights.
Making the bikes different heights helps minimise the bike-to-bike interference and as a result will keep your bikes protected. This bike rack is built using some really sturdy materials and even comes with a great instruction manual, which isn't seen too often in the bike rack industry, making this an amazing mid-range mountain bike rack option for you.
Although this bike rack is able to mix performance with value for money really well, there is no denying that the build of the RockyMounts WestSlope 3 is very basic. One of the biggest things that a lot of customers were disappointed about, with this bike rack, is that it doesn't come with any locks. Not even a hitch lock to secure the rack to your vehicle's receiver.
Although the tilt lever may work well it is almost unreachable when you have your bikes mounted on the rack, meaning that you will have to remove your bikes before being able to access your rear cargo space, which can definitely get very irritating.
Then the last of the biggest downsides with this bike is the fact that it has very limited compatibility with special bikes, this rack will not be compatible with any bikes heavier than 40 pounds or bikes that have tires wider than 3 inches. These downsides to this bike rack are definitely not dealbreakers and some riders won't even mind them, so for those people this is still a really great option for a group of riders.
Final words
So there you have some of the best hitch-mounted bike racks on the market, going into the year 2023. Although this is our top ten list, it will definitely vary from rider to rider, depending on what you need and what is important to you. So, don't make a decision based purely off of this list, instead look at the pros and cons of each bike rack and decide which bike will be best for you and your riding desires.