For those riders who live far away from any mountain biking trails or don't want to paddle to and from their local bike parks or even if you are just going on a long trip and there isn't enough space to put your bike in the car, then a bike rack is an excellent idea for you.
Bike racks are a great way for you to safely transport your bike, or even multiple bikes, anywhere you want with ease. This is a lot better than putting your bike inside of your car as this could tear or damage the inside of your car as it moves around but it could also even damage the bike as well as it will be taking knocks that don't feel natural to it.
Different Types Of Trailer Hitch MTB Racks
The first thing that is always good to know before buying anything are what are the different types that you can buy and what each one is good for and what they are also bad for.
Platform Racks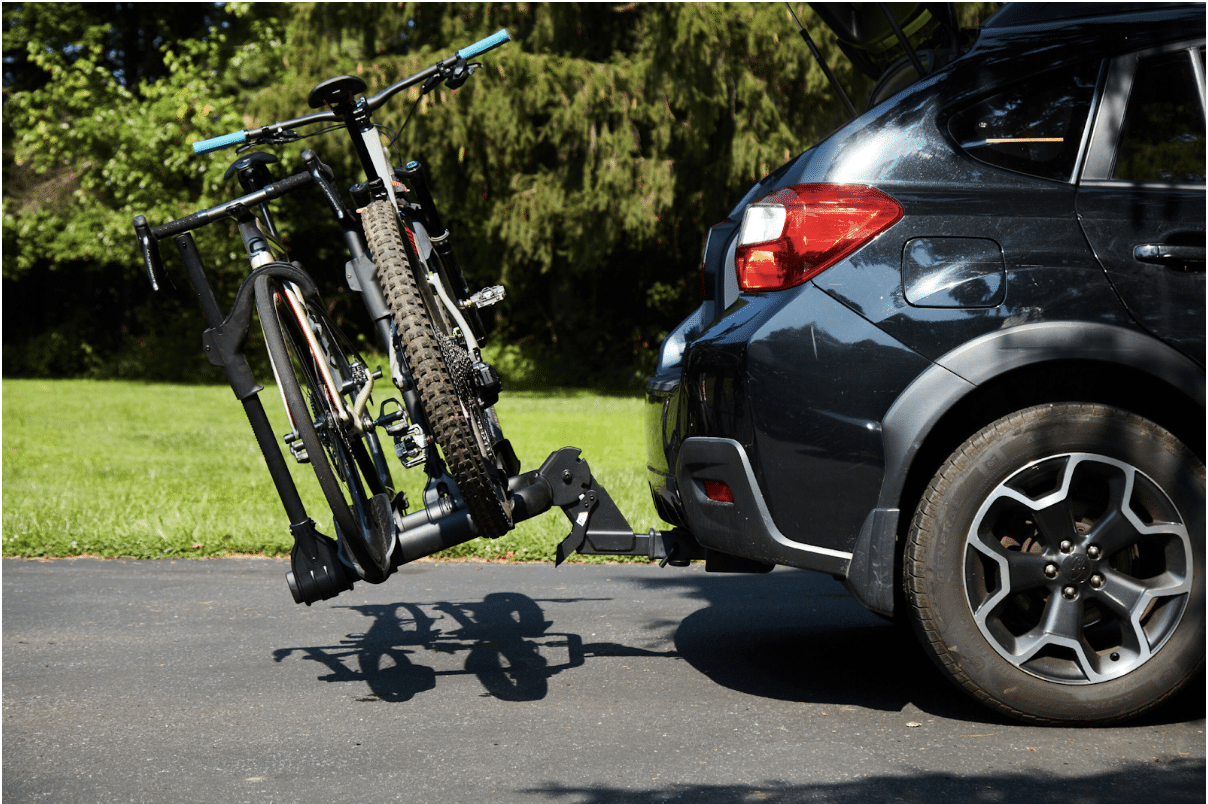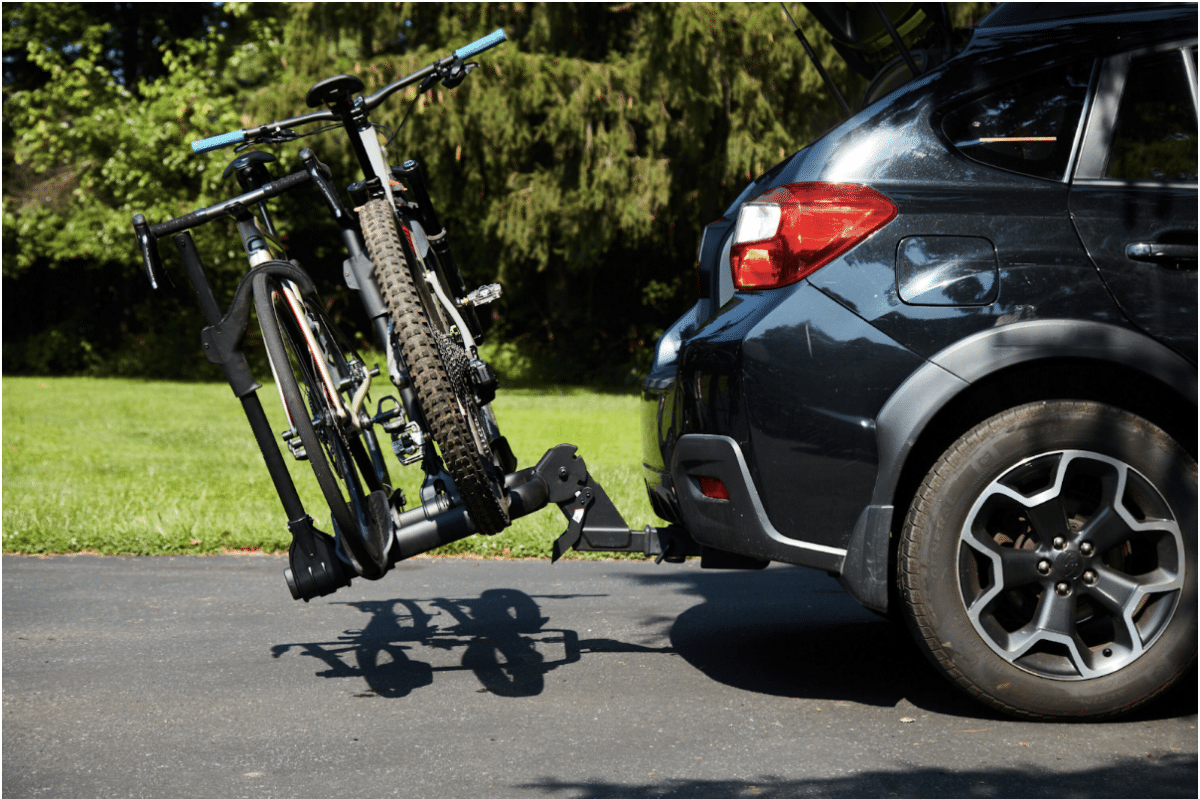 Pros
Compact and sturdy design
Accommodating to a lot of bike designs
Doesn't touch the frame of your bike
When it comes to hitch mountain bike racks then the platform styled racks are the most popular in the biking world, and arguably the best option out there as well. Some of the biggest advantages that you get with this style of bike rack, over hanging bike racks, is that they are easier to access since they are closer to the ground The platform designs are often compatible with a lot more bike designs overall and they are also really great when it comes to the stability of the rack, with bikes mounted onto it.
The two most common attachment points that you get on the platform racks is a ratchet arm that holds the front wheel tightly in place, and then a strap at the back, in order to keep the rear wheel of your bike in place. Since there are only two attachment points, which are also relatively easy to fasten, it makes loading and unloading your bike a breeze and you'll be able to get it done very quickly.
One thing that a lot of riders are scared of when transporting any of their bikes is that it will affect or scratch the bikes paint or frame, with this design the racks are only in contact with the tire or the wheel of your bike so it is a much gentler way of transporting it.
Sadly, there are compromises that come with this bike rack as well, as do with all types of racks. The platform racks are usually bulkier than others and can turn out to be quite a heavy piece of gear. If you are a rider who will be removing your bike rack quite often from the car then weight is definitely a thing that you will have to keep in mind when choosing a model or design.
The Platform style racks are also amongst the more expensive racks and have models like the Thule T2 Pro XTR and 1Up Heavy Duty Double rack which are easily a lot more than $600. However, for some riders that extra security and ease of use that you get from these designs are definitely worth the extra cash.
Hanging Racks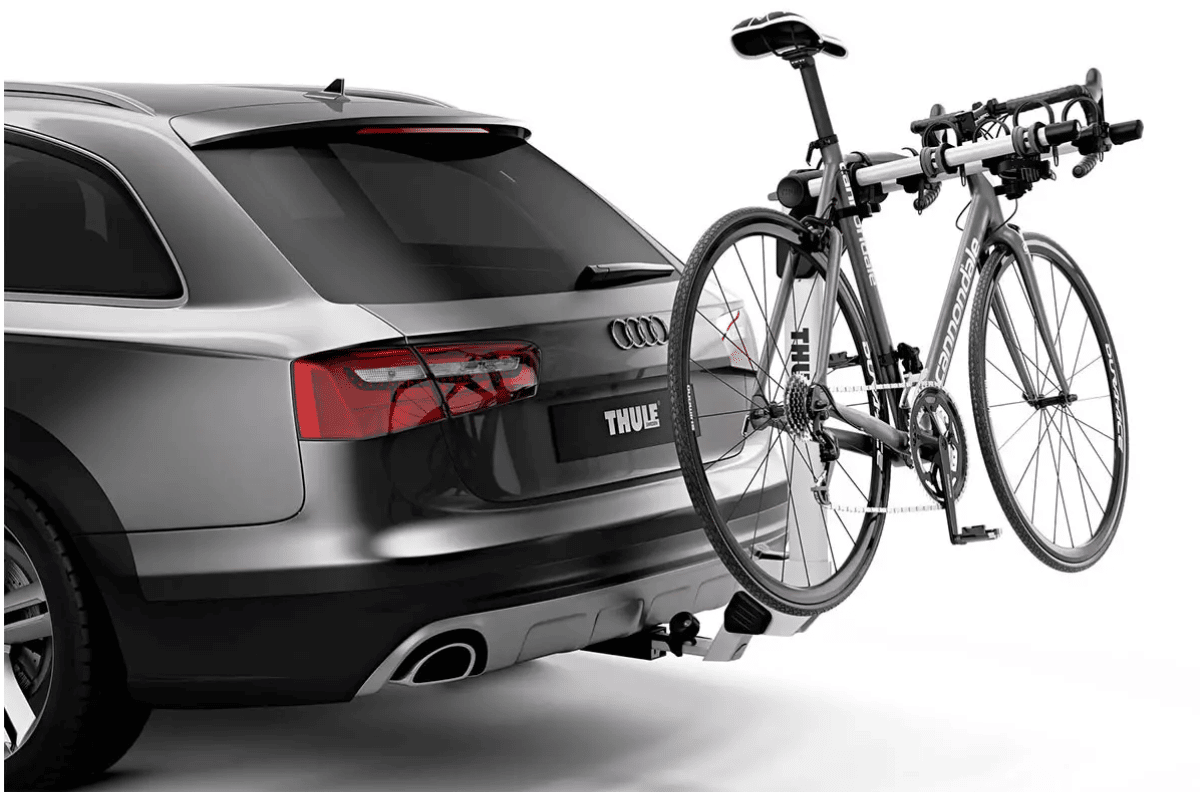 Pros
Great for lightweight bikes
Racks are light
Compact design
Cons
Not accommodating to irregular shaped bikes
Bikes sway and can hit one another
Frame is held with rubber or plastic that can scrape it overtime
These types of racks are a lot more popular and seen a lot more in the world of road cycling or anywhere you'll have to transport lightweight bikes. A lot of the time you'll see these types of bikes being stored on top of the roof of your car since you can easily get them up there but another way where you won't have to do this is by using hanging racks instead.
Although these racks are definitely cheaper than the platform racks they still come at quite a high price. Take a good quality rack like the Yakima RidgeBack 2 for example, which is half the price of some platform model racks with the same capacity.
Riders who will be removing their rack often from their car will be happy to hear that these types of racks are a lot lighter and more compact than the platform racks, which makes it a lot easier to remove and store away when you aren't going to be using them. A great example of a hanging rack that has been designed to easily be removed and put onto a car is the Kuat Beta, which only weighs in at about 14 pounds and has a compact design so you are able to easily store it away in the corner of your garage, when you take it off of your car.
Hanging racks are definitely a great option for some, and could sometimes even be the best one. However, since they aren't able to support bikes with irregular shapes, like a lot of dual-suspension bikes, kids bikes and step-through bikes, it doesn't really rank better than platform racks overall.
If you are set on getting a hanging rack but your bike shape isn't compatible then you could buy a top tube adapter in order to fix this problem and hopefully be able to transport your bikes still.
Another pretty large disadvantage to having hanging racks is that they tend to sway a lot more while you are driving. And since they are often a bit closer together than on other racks, they may even come in contact with each other and could scratch the paint or even crack or damage another bike's frame.
Then the final disadvantage that you get from these types of racks is that the bike's frame is held by a rubber or plastic strap, which often leads to your paint or frame scrapping over time, which is definitely a deal breaker for a lot of riders out there.
Vertical Hanging Racks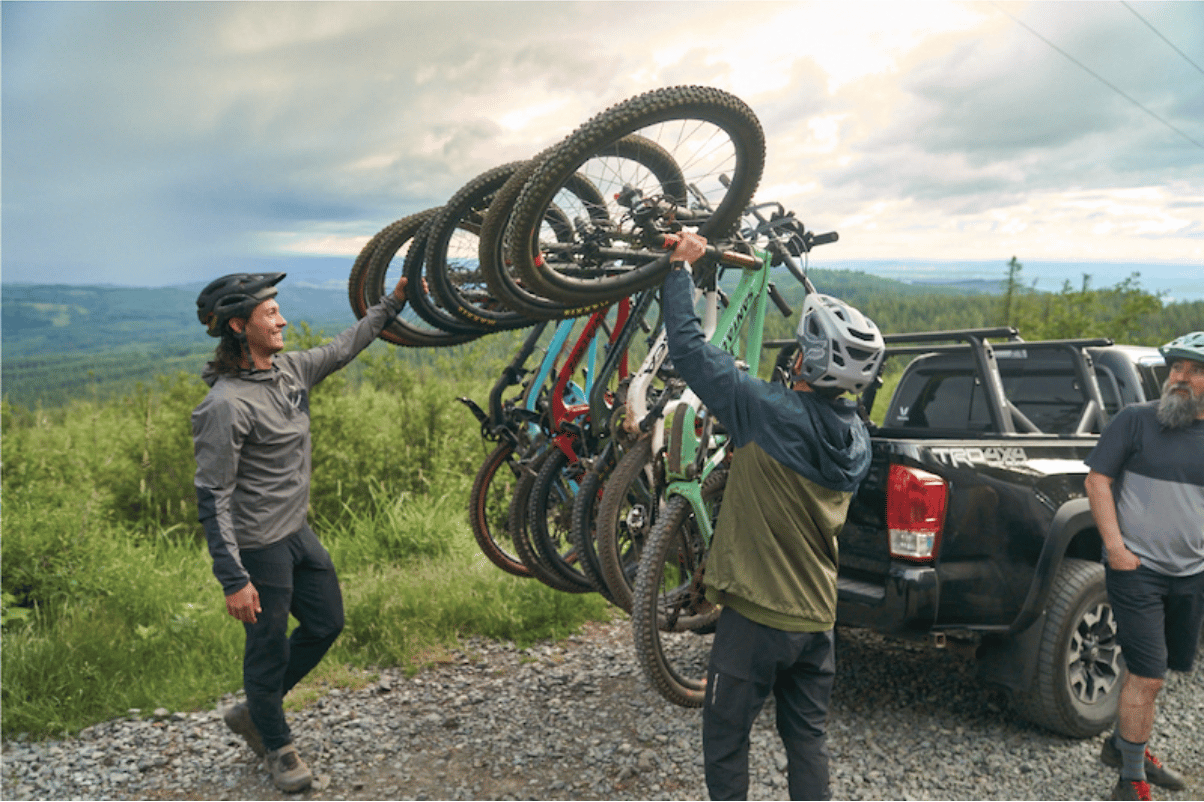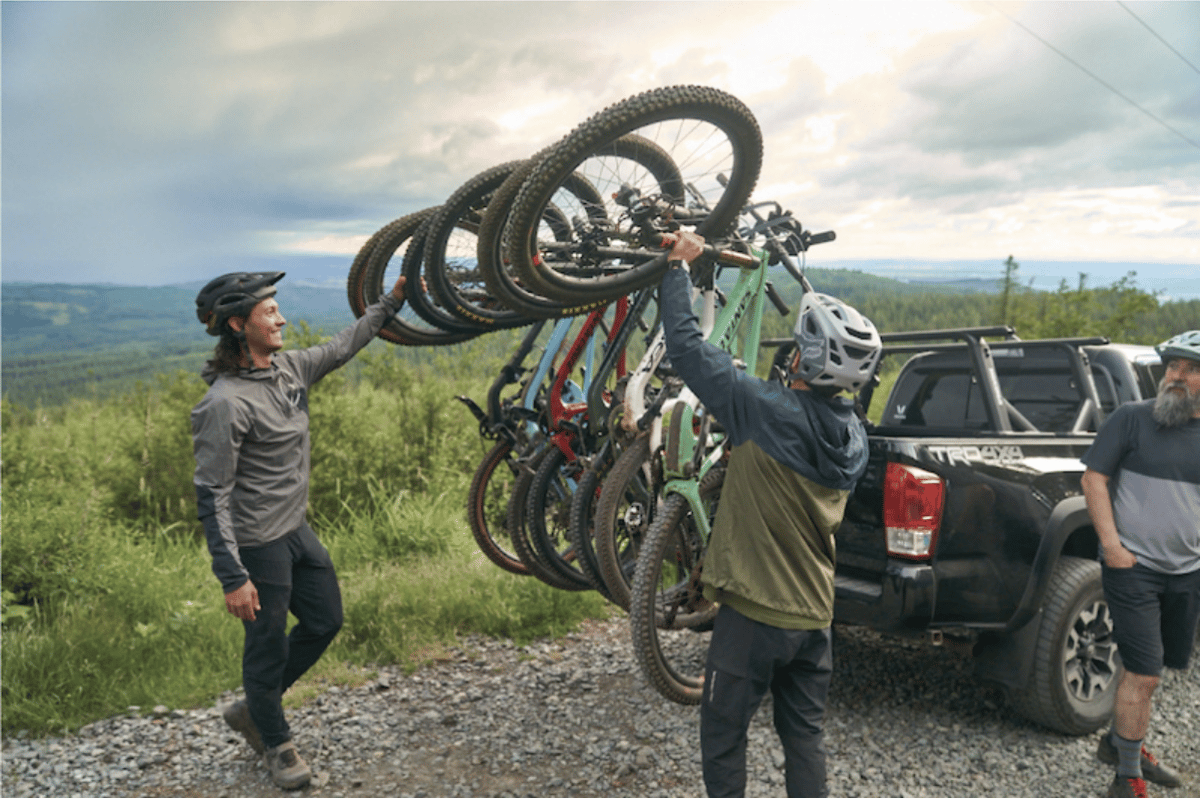 Pros
High capacity
Don't have to worry about your bike's top tube
Cons
Very expensive
Heavy
Very tall design
This last category of bike racks hasn't really been a popular option in recent years and in the past they were mostly found on service vehicles or shuttle rigs, but really weren't a popular option to have equipped on your private vehicle.
As of lately they have begun to find quite a large consumer base and have actually built up a demand for these high-capacity setups. The idea behind the design of these types of bike racks is very simple, you'll hang the bike vertically by its handlebars and secure them at the rear wheel. By transporting and storing your bikes in this orientation, you'll be able to carry even more bikes.
As any other mountain bike rack design, this style comes with downsides to it as well. The first downside being the price, if you are looking for a cheap option it won't get any better than the NSR options, which will still set you back a whopping $650. Then if you want more premium designs you'll be looking at spending up to $1,200 for models like the Recon Racks or $899 for the Yakima HangTight 4.
Loading these bikes can be a bit of a struggle as the design of this setup style is so tall so you'll have to be reaching very high and not only will it make loading hard it will also take up a lot of space on the rear of your vehicle.
Then lastly, and maybe the worst thing for some people, is that this setup is very heavy and it is recommended that you are two that remove and put on this bike rack. Although this may sound like a mission, a lot of the time people who buy this rack over the other buy it for the capacity that they offer, so you will more than often be more than one rider around to help you remove it and put it on.
So unless you are a rider who needs this much capacity and doesn't mind spending so much this bike rack probably won't be the best option for you and you should consider one of the other, more low key options.
MTB Carrying Capacity
When it comes to the carrying capacity of the platform bike racks you can expect to carry any amount of bikes from one bike up to even four bikes, that is if you invest in an extension. Then with the hanging styled mountain bike racks you can expect to be carrying any amount of bikes from two to five.
Then, as always, there are normally outliers such as the 1UP Recon Rack 6, which is a hanging style bike rack but this one is able to store up to six bikes instead. Most people are fine with the two bike carrying capacity bike racks, which is nice for you because they are normally a lot cheaper than the options that are able to carry more.
There are riders out there however that do need to invest in a higher-capacity hanging model or a platform, with add-on extensions, in order to be able to store all the bikes of your family or friends onto.
The Platform Rack Add-Ons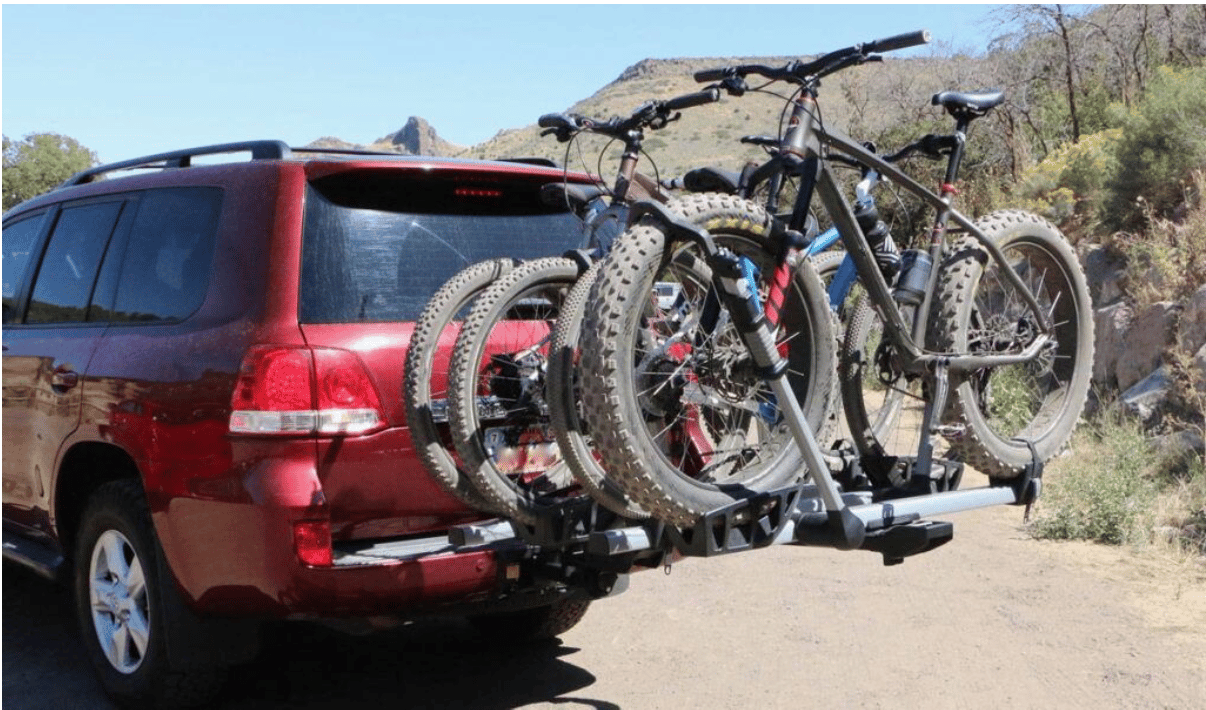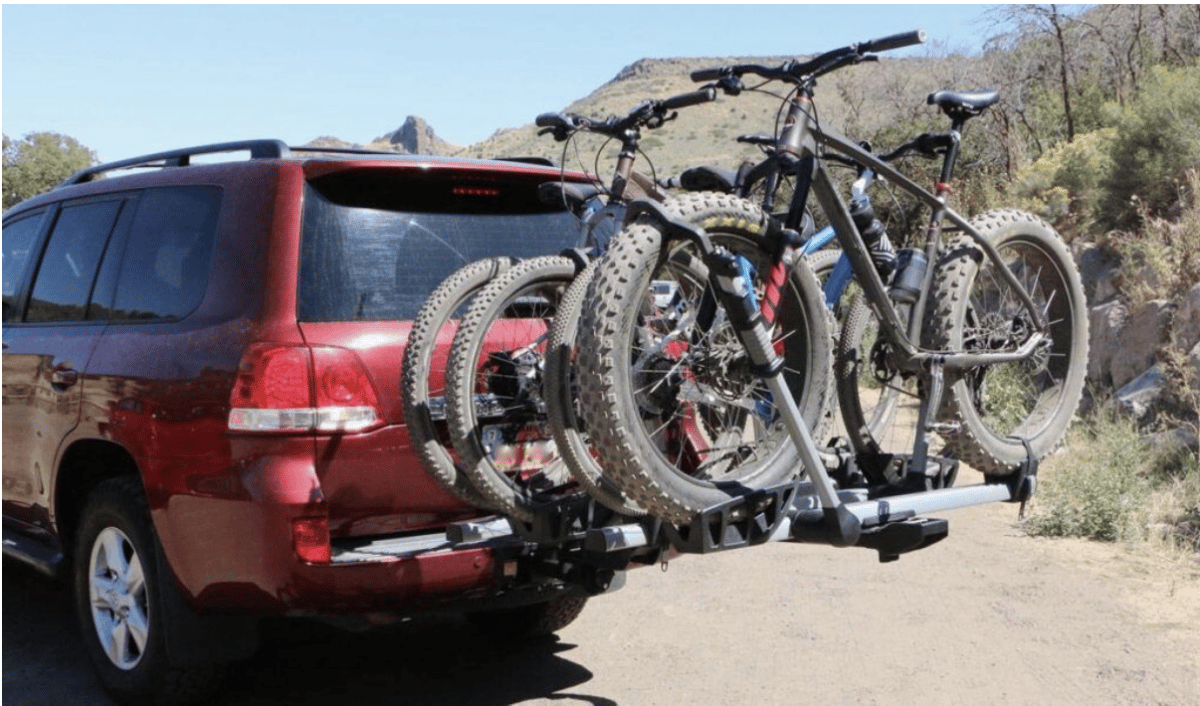 There is a great way that riders are able to increase their carrying capacity for their platform style bike racks and that is to add add-ons, which are also commonly known as extensions. The most popular and common rack add-ons normally double the carry capacity of your rack from just two bikes to four.
An example of two great designs that do this is the Thule T2 Pro XT Add-On, which costs $550, and the Kuat NV 2.0 Add-On, costing $598. These add-ons are very expensive and cost nearly as much as the racks themselves, so these are clearly a very big investment that you'll have to think carefully about buying. Although these extensions to your racks are very expensive pieces, they are very convenient pieces of equipment to have at your use and they are super easy to install and remove.
One thing that you have to double check before making the big decision of purchasing any type of extension is to make sure that you have the 2-inch receiver version of your rack because the 1.25-inch receivers have a very low maximum tongue weight and won't be able to support these add-ons.
Weight Capacity
One very important thing to check on the different racks you are interested in, if you are planning on transporting downhill bikes, e-bikes, fat bikes or cruiser models, is what the bike weight capacity is. Each bike rack will have a maximum carrying capability per bike shown on their listing, so that you can ensure that you are able to transport your bikes or not. Its important to check this number for each option because each model varies in carrying capability by quite a lot.
The platform racks that are a bit burlier than others normally have the highest tolerance, such as the Thule EasyFold XT 2 that is capable of supporting 65-pound bikes on top of it. Then on the other side of the chart we have the more light and affordable options, such as the Yakima RidgeBack 4, which is only capable of supporting 35 pounds per bike.
This is definitely doable for people that have standard mountain or road bikes as they rarely exceed 35 pounds however, if you own an e-bike you should be careful because these can easily be heavier than even 50 pounds. If you are thinking about having a bike on your rack that is close to or just over the maximum weight limit then you should definitely try and get a sturdier model instead so that you don't risk destroying your rack and even your bikes.
Tilting Feature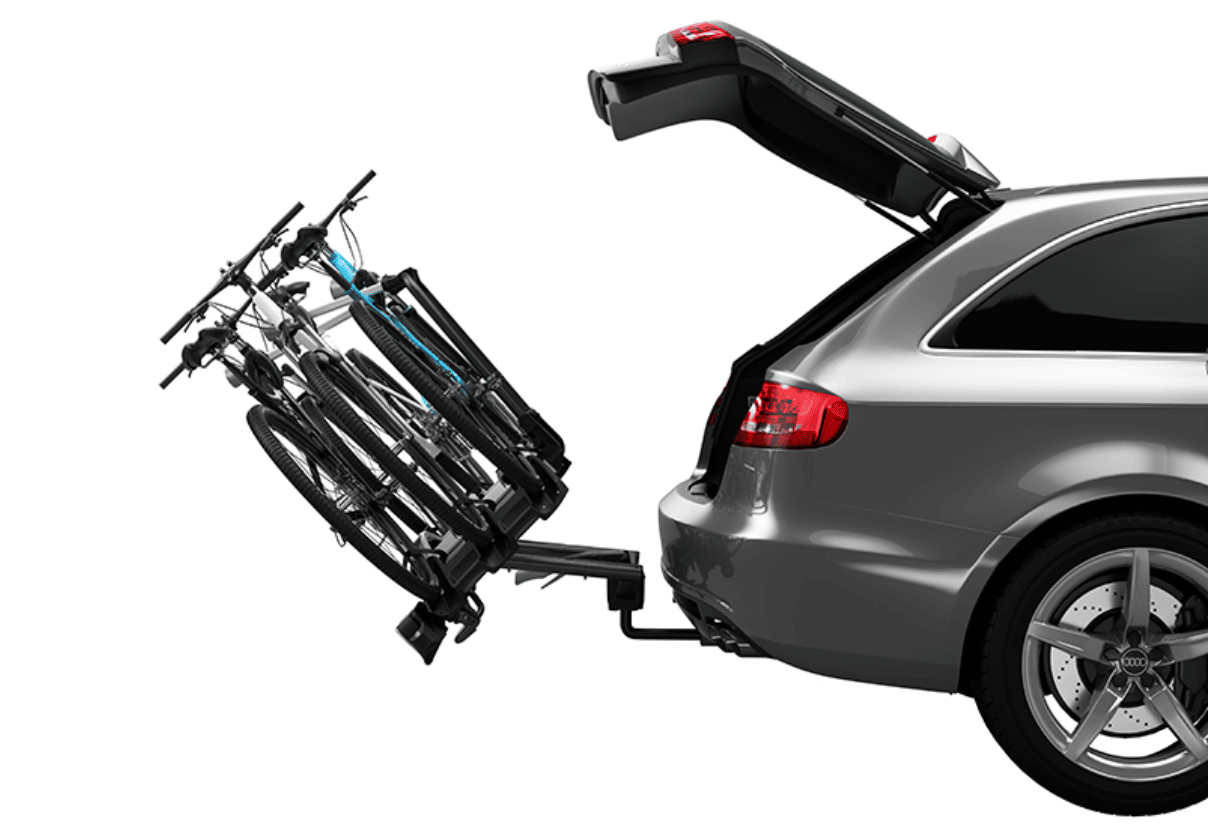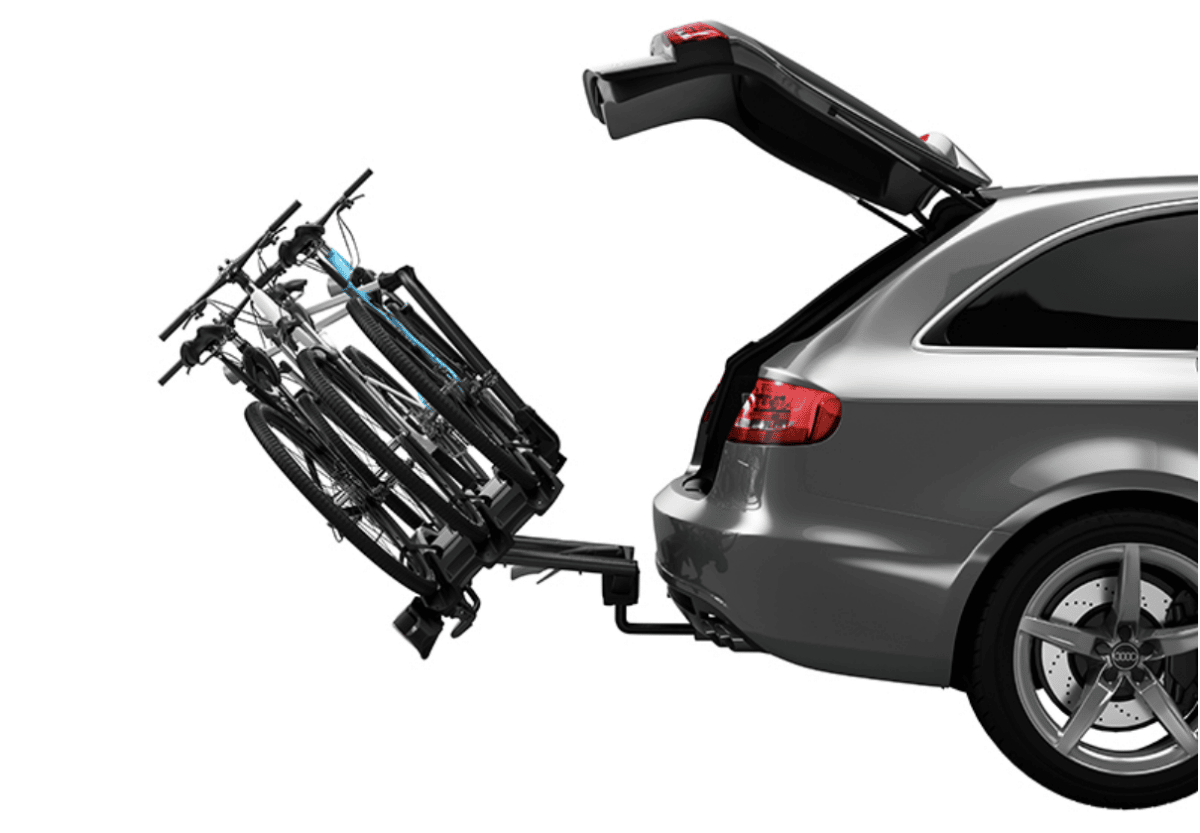 Most riders, cyclists especially, like to have their rack on their vehicles for extended periods of time as they like to ride often and don't want to be installing and removing it over and over again. This can definitely be pretty hard considering it will be hard to gain access to your cargo area in the rear of your car, so to still be able to do this you'll want a bike rack that has a tilt feature.
If you invest in a good quality hitched mountain bike rack then your rack should probably have this tilt feature, but it isn't as common in the cheaper rack options. How the tilt feature works is by pulling a lever, found on your rack, that will then allow you to tilt the rack down, enough so that you are able to open the rear boot of your car or vehicle. You'll be happy to hear that regardless of whether you choose a hanging or platform style bike rack you will be able to get the tilt feature on both of them.
The biggest difference between the tilt feature of these two rack styles is that you are able to tilt the platform style rack with the bikes still on the rack whereas on the hanging style rack you'll have to remove them before you are able to tilt the rack. So, for most riders the platform style rack will be a lot more popular as you'll have much faster access to your rear cargo space than if you had the hanging style bike rack.
Racks That Are Able To Swing-Away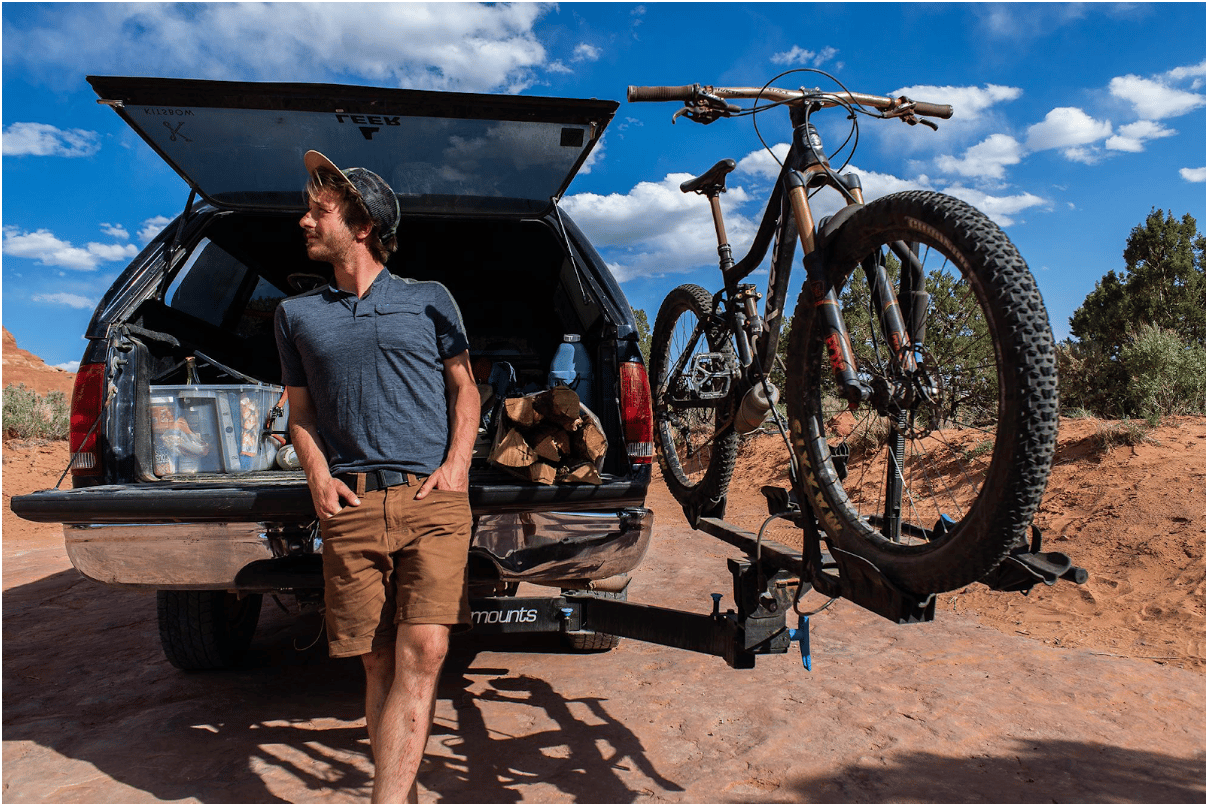 Although the tilting feature is a great way to gain access to boots or cargo doors on most SUV's hatchbacks and trucks, a swing-away feature takes accessing these to a whole new level. All you'll have to do to be able to pivot the whole bike rack to the side of your vehicle is release a pin to open the rack like an arm. By having the bike rack swung all the way to the side of your vehicle it makes it extremely easy to access your rear cargo space without having to remove any of your bikes from the rack.
All this may seem amazing and all but it is the price that is the biggest deal-breaker for most, the complexity of the design and materials of these types of racks add both a lot of weight and a lot to the price. The RockyMounts Backstage is an example of a rack that comes both as a normal rack as well as a swing-away rack, and the swing-away rack is 10 to 20 pounds heavier than the non-swing-away option.
Most of these swing-away racks are found within the hanging style bike rack category, like the Yakima FullSwing 4 but there are still exceptions such as the RockyMounts BackStage, which is a platform style bike rack.
Compatibility
Since bike racks can come in different shapes and sizes, and bikes too, it is important to verify that your bike is able to fit onto the rack you are thinking of purchasing. Here are the most important sizes that you should check are compatible with the bike rack that you want to buy.
Different Wheel Sizes And Tire Widths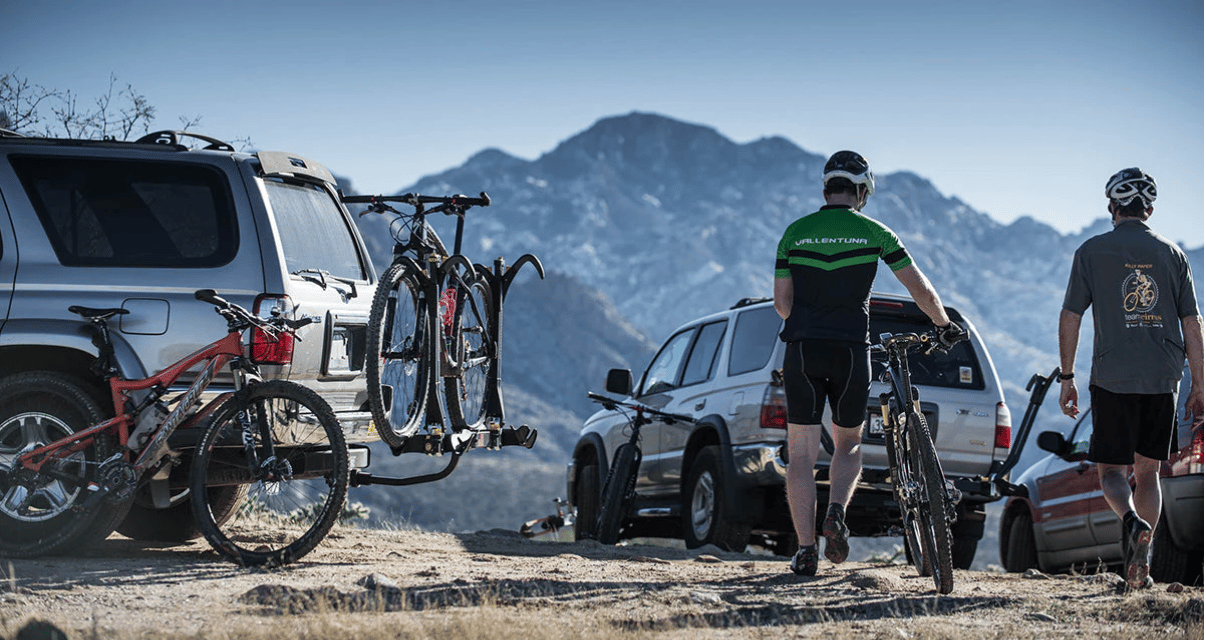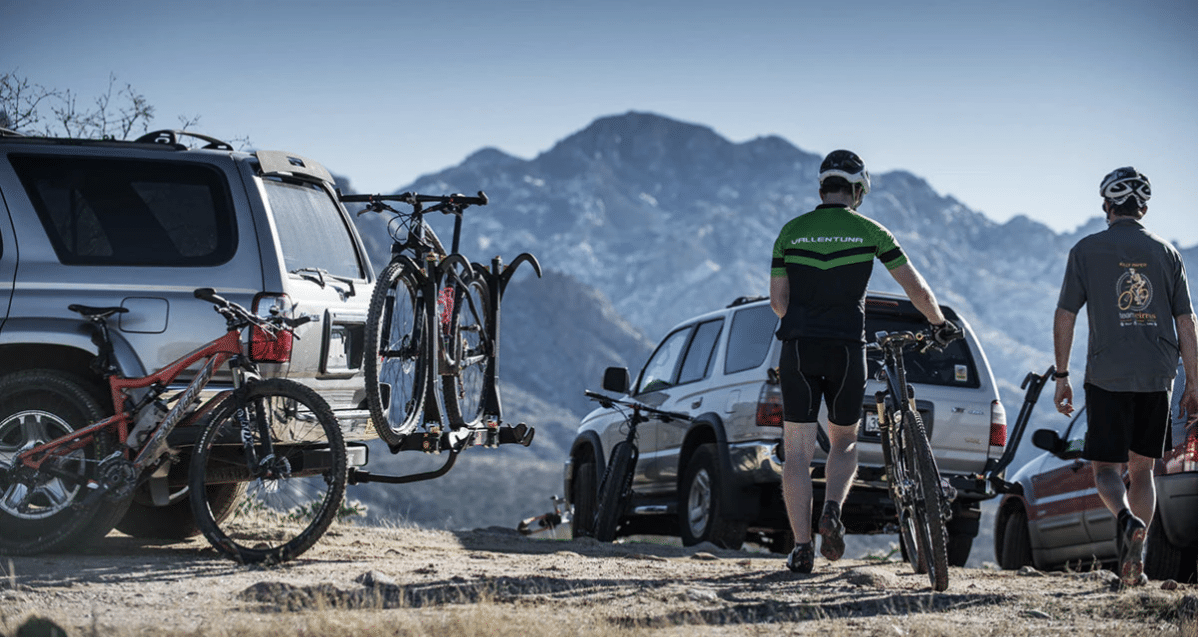 The wheel size and tire width compatibility on your racks aren't really major considerations that you'll have to do when you are looking for a hanging rack, as the rack will fasten to your bike's frame. However, if you are the rider who has opted for the platform style bike rack then it will be important for you to just double check that your bike will be able to fit into the trays that the rack comes with.
For most mountain bikers this really won't be a problem as almost every single platform rack will be able to fit 26-29 inch wheels and up to a 3 inch wide tyre as well. The compatibility problem only normally comes up when you are thinking of putting bikes such as kids bikes that have 12 to 24 inch wheels or fat bikes that have 4 or 5 inch tires.
One of the most popular bike racks out there is the Thule T2 Pro XTR because it is able to fit so many different bike sizes and styles onto it without having to add anything to the bike rack. This bike rack is able to stow bikes with wheel sizes ranging from 20 inches all the way to 29 inches and tires ranging all the way up to 5 inches wide, making it one of the only bike racks out there that is accommodating to almost every single bike.
Then you have other, more common options, like the Kuat NV 2.0, which need a different adapter in order to be compatible with bikes that have wheel sizes between 20 and 24 inches and tires that are wider than 2.75 inches. Although these additional pieces aren't costly at all, they are still two separate pieces from the rack that you'll have to add to the rack every time you need them and you'll also need even more space in order to further store these two pieces when you aren't using them.
Then lastly you have some bike racks out there that simply cannot support a tyre size since there aren't any add-ons available for it. An example of this problem is the Yakima Dr.Tray, which is able to stow away bikes with tires up to 5 inches thick no problem but cannot accommodate bikes with wheels smaller than 26 inches, simply because there are no adapters available for this bike rack.
Although this is a good thing to keep in the back of your mind when searching for a bike rack, if you have a regular mountain bike, it really shouldn't be a deal breaker for you because in the odd event that you do have to somehow transport a child bike, more often than not you'll easily be able to store it inside of your vehicle with ease. But then for riders that are riding the more unusual sized bikes it may be a good idea to try to make sure that your rack at least has adapters in order to accommodate your bike if it can't already.
Different Bike Wheelbases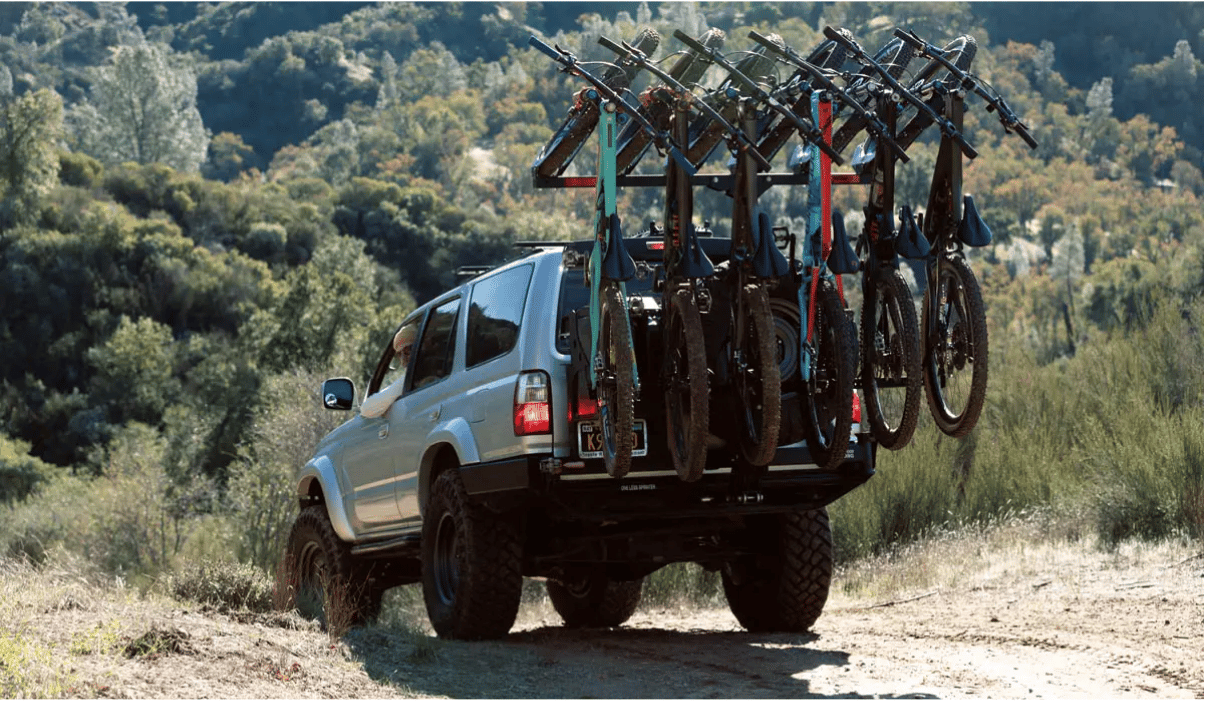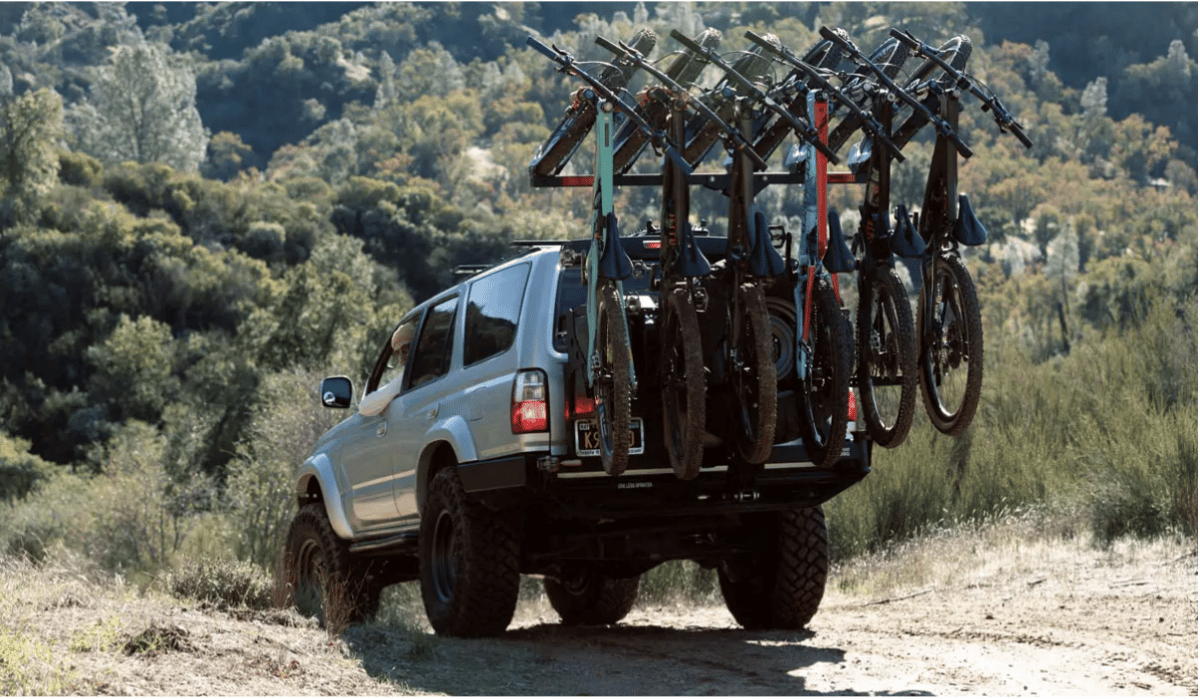 Over the last few years, riders have noticed a trend in the designs of new bikes and that is that manufacturers are going for longer designs now, which as a result will impact the length of the wheelbase of your bike. This means that as bikes can vary in wheel base length there may be a few bikes out there that won't be compatible with a certain type of platform rack, so you should make sure that there is no wheelbase compatibility issue when you are purchasing a new rack.
Although this will probably not be a problem for most mountain bikers, if you are on a more modern downhill bike, or just any bike that is bigger than your usual mountain bikes, then it may be a good idea to just double check that there won't be any issues fitting your bike onto your rack. The best and easiest way to check what length the wheelbase of your bike is is to just search it up online as most bike manufacturers display this on some sort of geometry chart.
If you don't have access to the internet then you are also manually able to check your wheelbase yourself by measuring the distance from the centre of your front axle to the centre of the rear axle. Once you have gotten this measurement you can go and search up what the max wheelbase spec is for the rack you are interested in buying and compare them to one another.
When it comes to what the maximum wheelbase spec is for the different racks you'll be surprised as by how much they can vary with one another, take the Kuat Sherpa 2.0 for example, which has a max wheelbase of 47 inches, and compare it to the 1Up Heavy Duty Double rack, which has a max wheelbase of 54 inches instead, quite a hefty difference.
Your Bikes Frame Design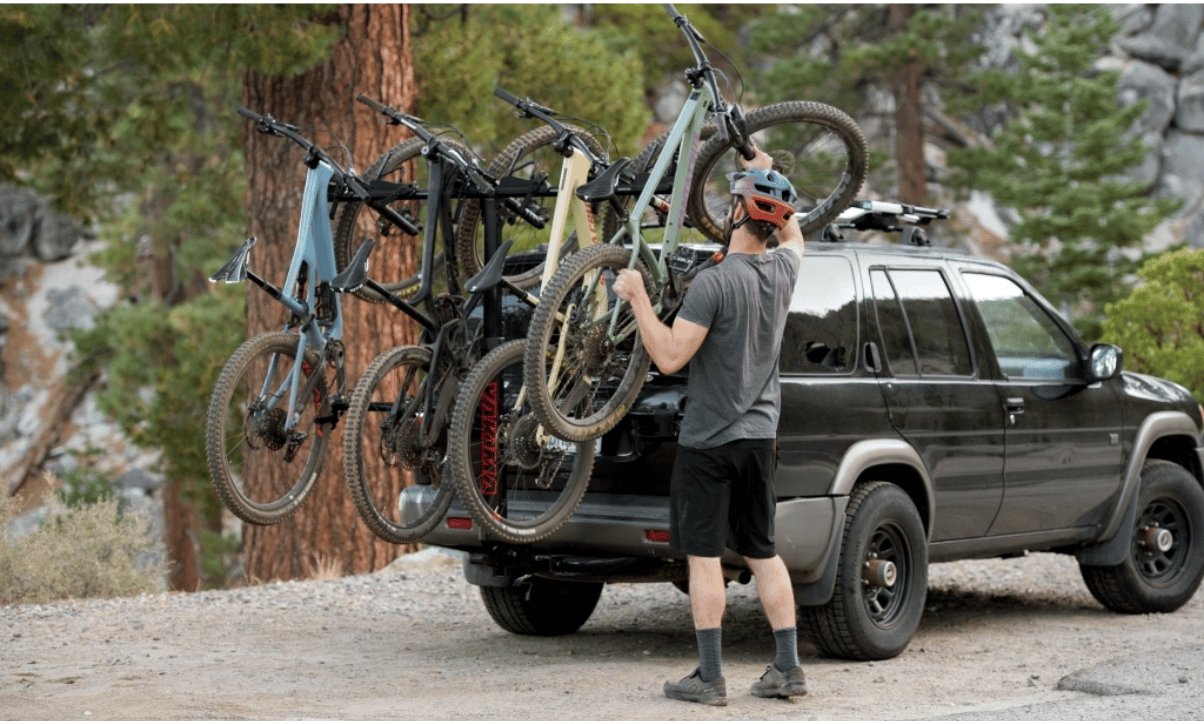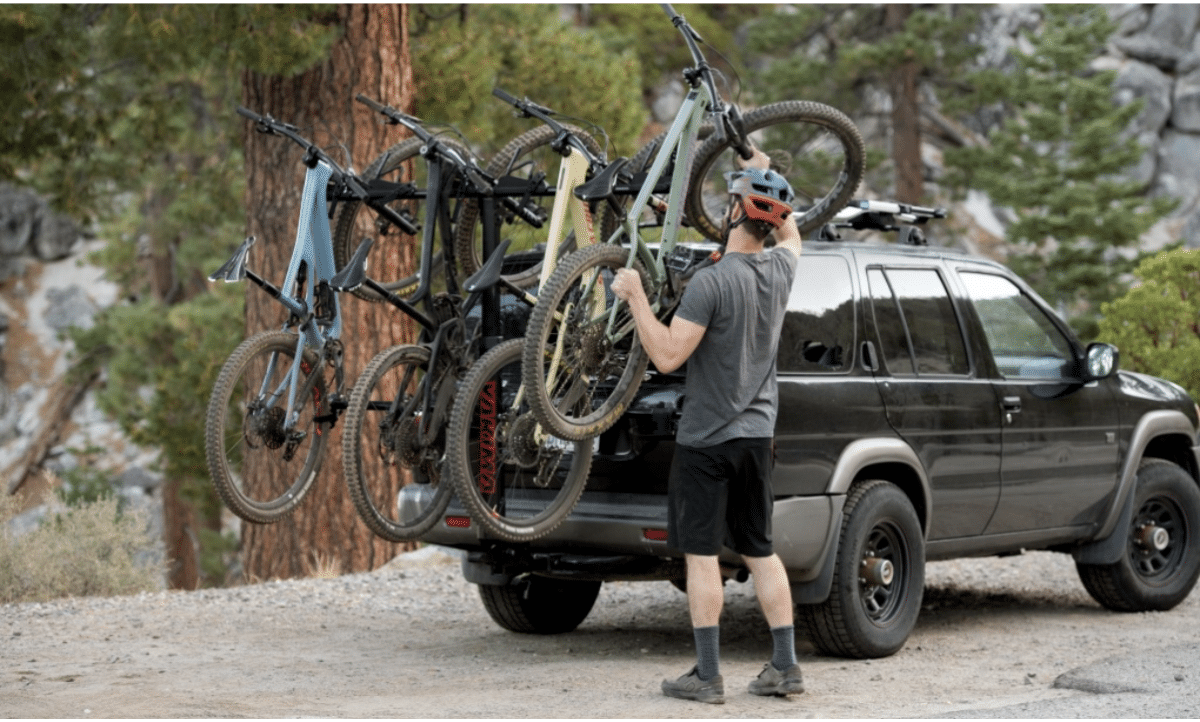 Then the last bike compatibility issue that you should check before buying a bike rack is in regards to the bike's shape as well as its style of the frame. If you are thinking of purchasing a platform bike rack like the Kuat NV 2.0, the Thule T2, the Yakima Dr.Tray or the 1UP racks then you will not have to worry about the compatibility of your frame with the rack because the rack only comes in contact with your bikes tires and wheels.
Then if you are looking to get one of the hanging style bike racks then you will have to just double check to be certain that your rack is compatible with the shape of the top tube of your bike's frame. If you have a road bike or a traditional hardtail bike then compatibility shouldn't be an issue for you as the triangular frame with a pretty flat top tube will fit perfectly onto a hanging bike rack.
However, when it comes to the more specially shaped bikes like the step-through frames, full suspension bikes and kids bikes it would be a good idea to check if they fit onto these hanging racks as these are the designs that tend to cause the most problems.
If you find that your bike's frame is actually incompatible with a hanging bike rack because it is either heavily handled or it has a swooping top tube then what you can do is purchase a top tube adapter. The design of these top tube adapters are pretty straightforward as there are just two clamps that attach to the seat post and bike stem of your bike and then there is a rounded piece that is placed in the middle and then put on top of the rack's cradles.
You can get some pretty good quality adapters from brands like Yakim and Thule for around $50, which is definitely not cheap so you should probably take this into account when you are busy deciding which style bike rack you want to buy. Even though these adapters are really easy to remove and install, it will definitely become annoying to have to do it every single time that you have to load your bikes onto the rack.
Transporting Carbon Fibre Bikes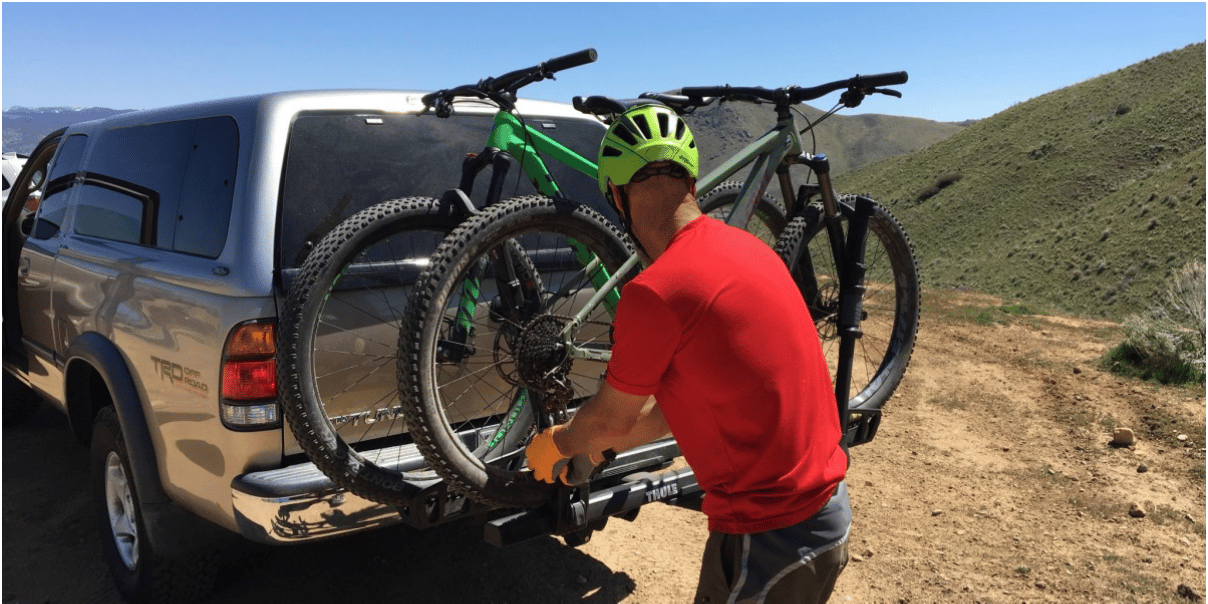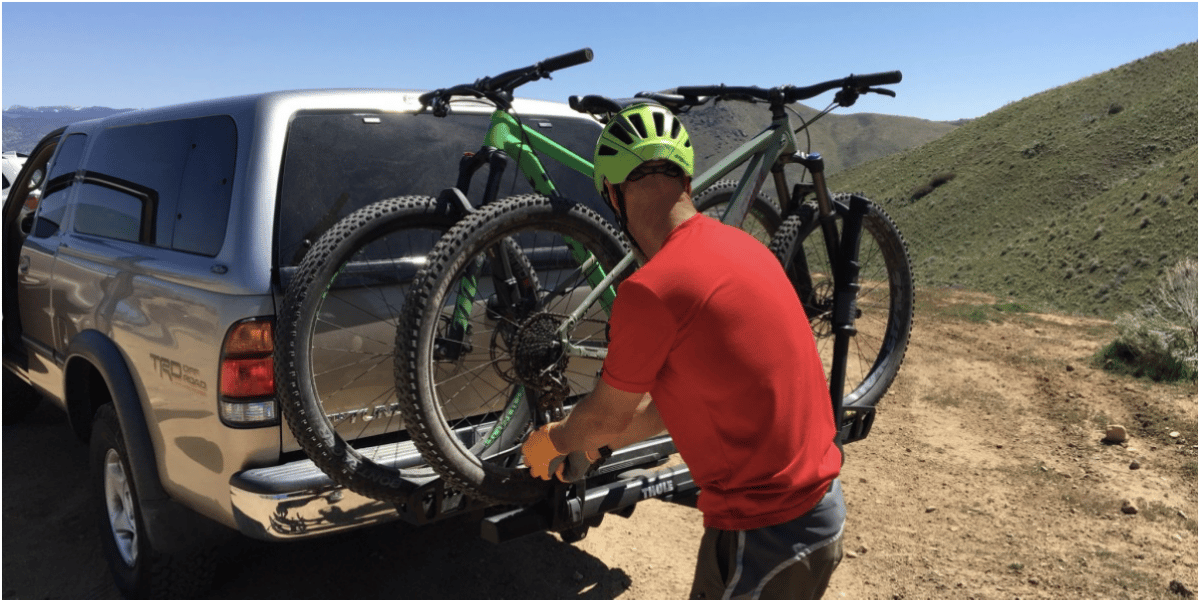 Carbon fibre mountain bikes, for most riders, are the ultimate dream bikes and with them being so amazing they come with the ultimate price tags as well. Spending this much money on your bike will definitely bring up the question of how to transport them the safest way possible, in order to keep your bike's material protected.
The best way to do this would be to somehow find a transportation solution where you can select a bike rack style that doesn't come into contact with any part of your bike's frame. This immediately eliminates the use of a hanging bike rack as these hold your bike by attaching directly to your top tube.
Then when it comes to which platform style bike rack you want to choose you should try and choose between two different designs. The first one being a ratchet arm that attaches over the front wheel and a strap that attaches through your bike's rear wheel, which can be found in models like the Thule T2 Pro XTR, Kuat Transfer V2 and the Kuat NV 2.0.
The second platform style rack design that you could go for is a dual-arm one like the 1UP Heavy Duty bike rack, which attaches to your bikes front and rear tires. Sadly the thing that all of these options have in common is that they are pricey, but if you are willing to spend a little bit extra in order to have your expensive carbon fibre bike transported the safest way then this is definitely an investment worth looking into.
Clearance From Your Vehicle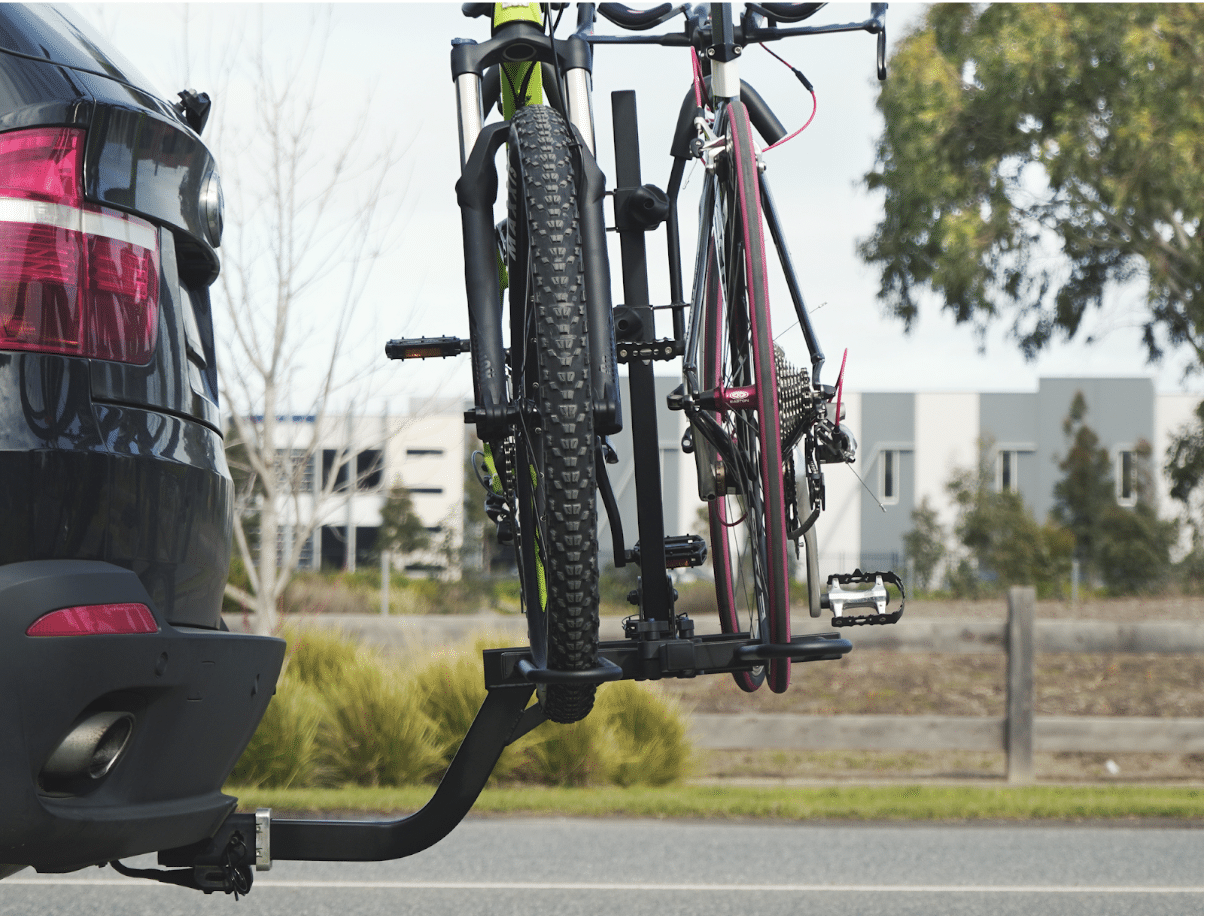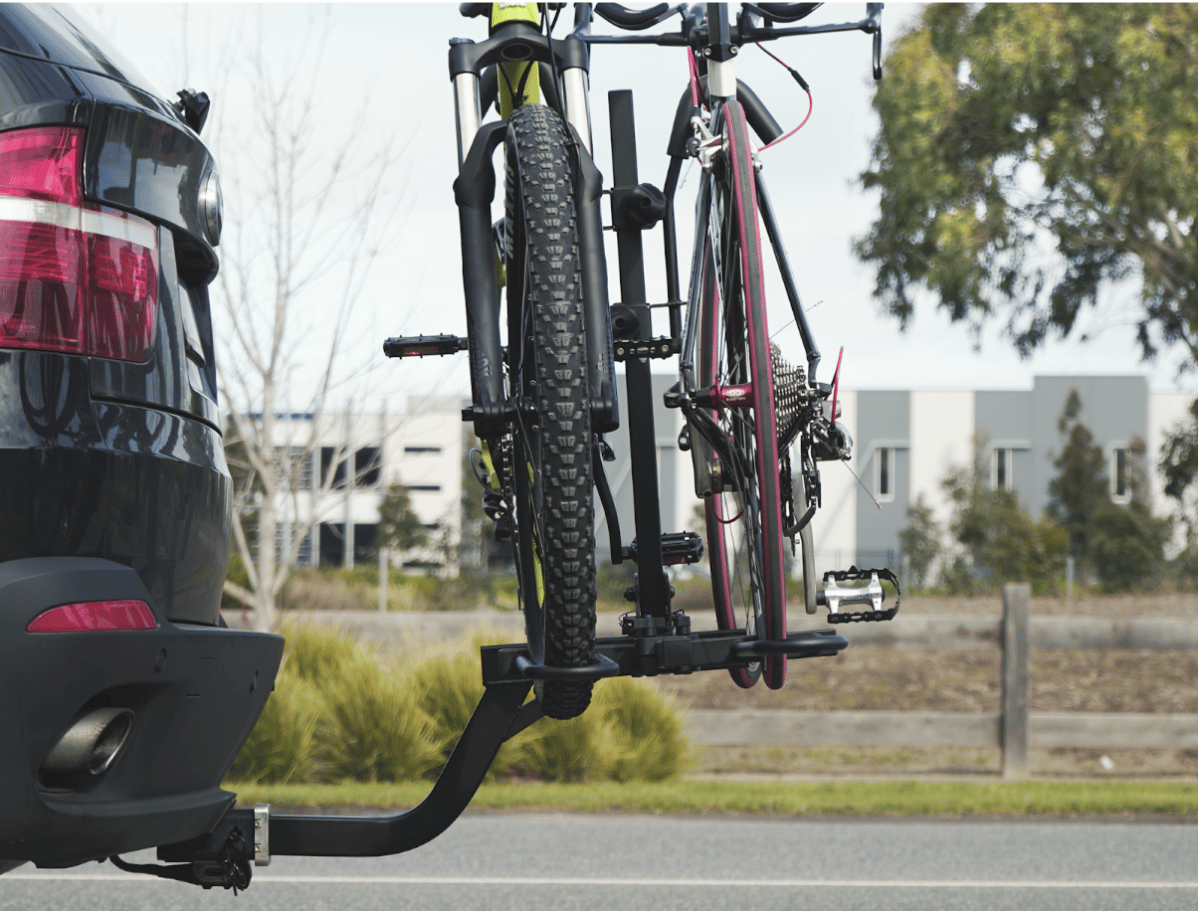 One thing that many riders forget to check when looking to purchase a bike rack is the clearance between the rack, your bikes on the rack and your vehicle. If you don't check this and you get the wrong bike rack it can lead to a lot of different problems that could be expensive for you to have to fix. Some of these problems include: your rear doors not being able to open, since the rack is sitting too close to them, your mounted bikes handlebars could bump and scratch your vehicle's paint on the rear door or your tailgate won't be able to be lowered.
All of these things will definitely become quite a big annoyance for you to have to deal with every time you have your rack installed onto your vehicle, so it is worth just checking that the rack you are purchasing has the proper clearance.
The best, as well as the easiest, way to check whether or not a bike rack has the correct clearance for your bike and vehicle would be to do an actual physical fit test of the rack with the bikes mounted on top of it. However, if you aren't able to do this then another thing that you can try to do instead would be to directly contact the manufacturer and get their recommendation on if the racks that you are interested in purchasing will be a good fit for your vehicle or not.
Then if neither of these two options work then you can resort to checking if the manufacturers of the racks you're interested in, have a technical drawing available for you to look at. Once you've been able to dig this up from the internet you can use the measurement shown on it to decide whether or not you'll be able to install this rack and mount your bikes on it with no fitment or clearance problems. The specific measurement that you'll want to look for is the one that shows the distance from the middle of the hitch pin, where you'll attach it to the car, to the first tray, and this will be able to give you an idea as to how far away the rack will be from your car.
Quality Of Different Bike Racks
Within the hitch-mounted bike racks market you get what you pay for, so if you are interested in purchasing a rack that will last you a very long time and one that you'll use a lot year-round then you'll have to be ready to spend some big bucks in order to get the quality needed.
Two of the best, and most expensive, designs out there are the 1Up Heavy Duty Double bike rack and the Recon Rack 6 bike rack. Both of these racks come with the highest quality of materials and have been built exceptionally well, which means that they will also be able to last you a very long time, even when being used a lot.
Then on the other side of the spectrum you have a cheaper option such as the Swagman XC2, which will only set you back $145. The first thing that you will notice with this bike rack is the downgrade in the materials used, you'll see lots of plastics and cheap, thin metals, which are prone to rusting, used throughout the build of this rack. You shouldn't get confused by this though as it isn't the plastic materials that you should be avoiding, for example we have an amazing bike rack called the Thule T2 Pro XTR bike rack, which is able to strategically use both metals and strong plastics in order to create a durable and great overall bike rack build. Once again for this amazing quality you'll have to be ready to spend quite a bit as this option will set you back $800.
Weight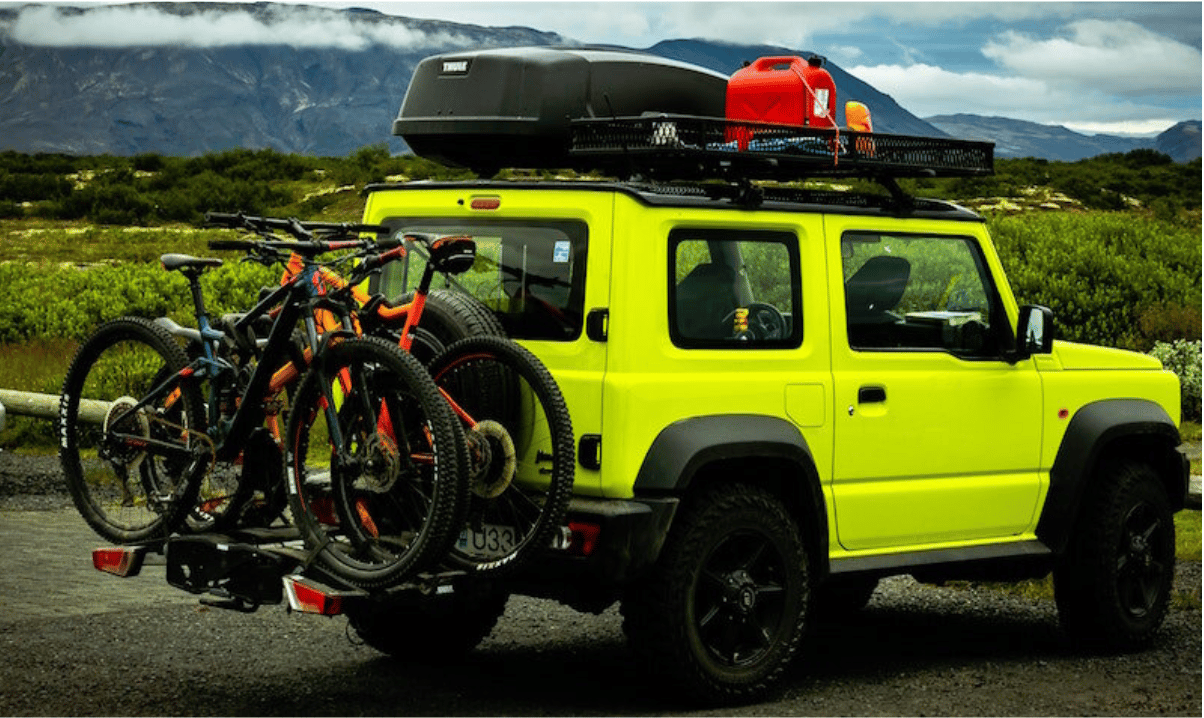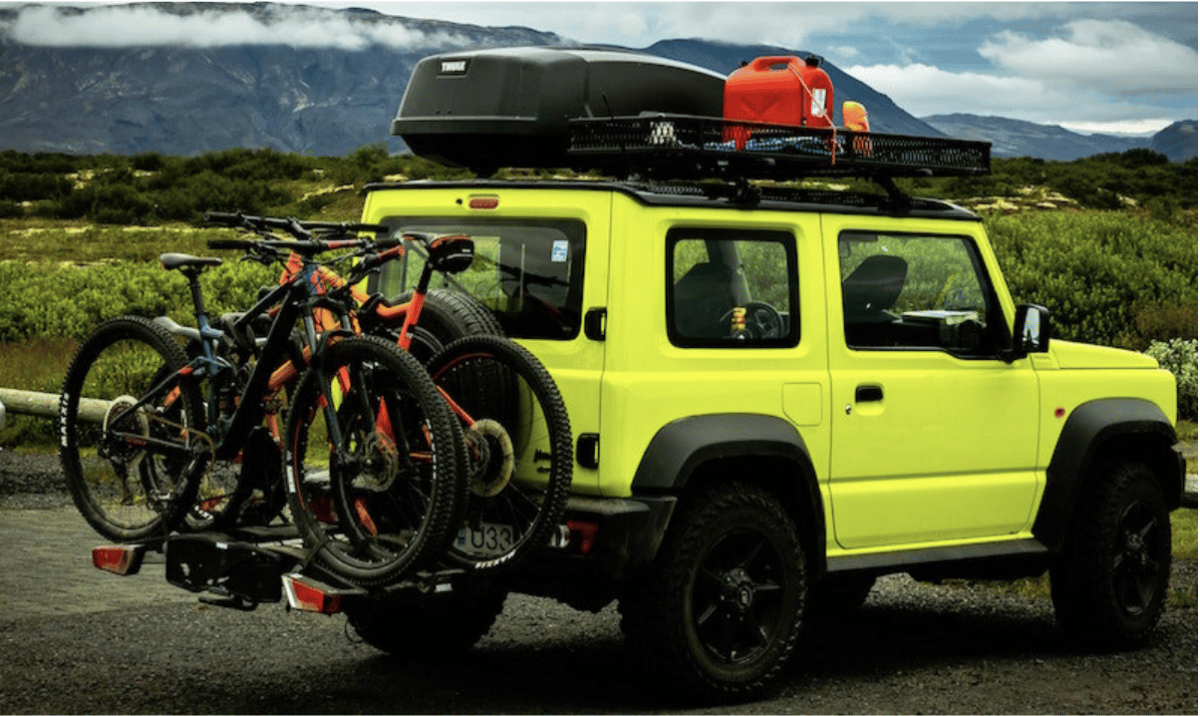 The weights of the hitch-mounted bike racks themselves can vary from as little as the Kuat Beta, which weighs 14 pounds, to the huge RockyMounts BackStage, which weighs in at 63 pounds instead. The most popular platform style bike racks vary from around 45 to 52 pounds, this is around the weight you should expect when a rack is made of some very high quality materials, so for this nice advantage you'll have to deal with the installing and removing of them being a little tough. For most this will be a no brainer as with this added weight you get a much studier all-round build that will be able to carry your bikes a lot safer and will also last a lot longer if you are planning to use it all year round.
There have been a few models on the market that have tried to make some weight-saving models such as the Yakima Dr.Tray and the Kuat Sherpa 2.0, but despite their efforts you'll still have compromises when it comes to the bike racks carrying ability and durability. However, if you are a rider who will be installing and removing your bike rack quite often then a lightweight option, such as the Beta, may be a better design for you.
Receiver Hitch Size
The two main sizes for a receiver hitch are 1.25 inches and 2 inches, which is another thing that you have to check on your car before you purchase a bike rack. As you could probably be able to figure out, the 2 inch receivers are going to be able to handle and support a lot more weight than the 1.25 inch receiver, so if you are thinking of transporting heavier bikes like e-bikes then you may want to get a 2 inch receiver instead.
Then as was mentioned in the section on add-ons and extensions, you'll only be able to equip those if you have the 2 inch receiver since the 1.25 inch won't be able to handle that much weight. If you're a road cyclist or will be transporting bikes that aren't too heavy then the 1.25 inch receiver works just fine as well.
Security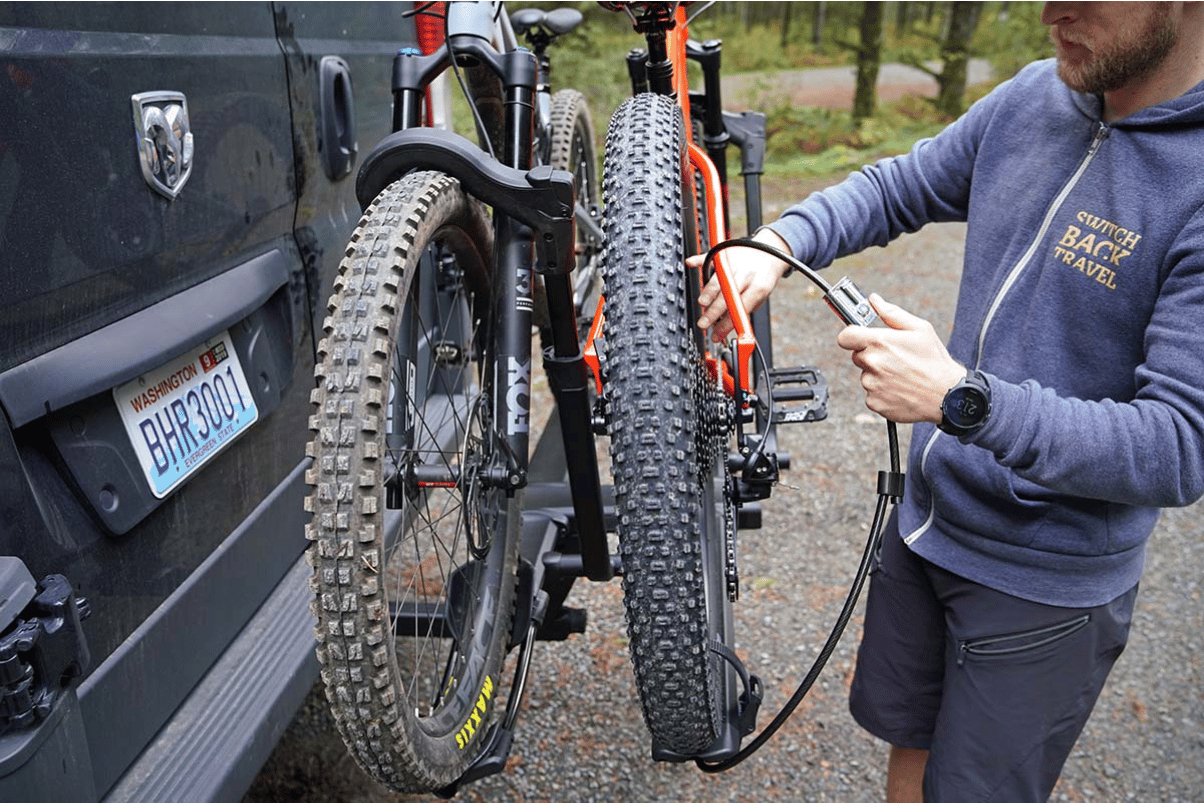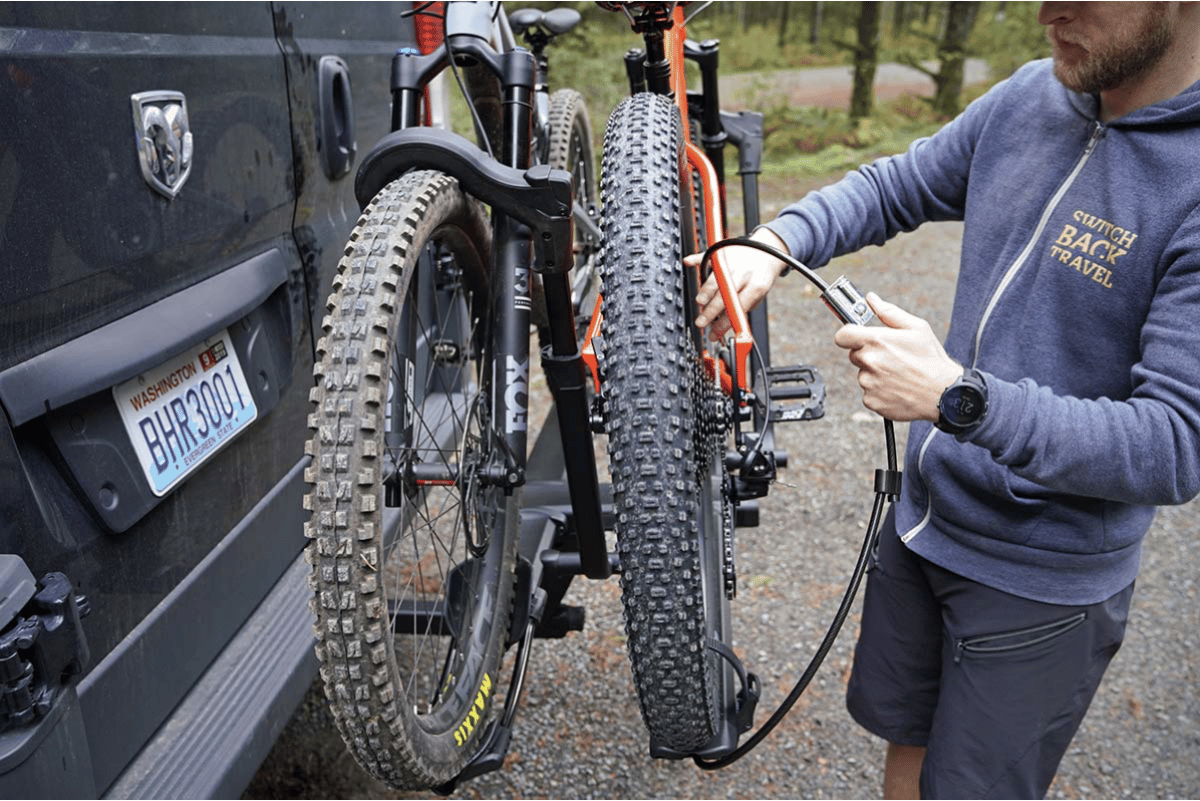 One of the common added features that you get when you purchase one of the more expensive or higher quality bike racks is that they come with locks. When you are away from your vehicle and the bikes are still mounted on top of your rack you will want to make sure that they are safe so the best way to ensure they are is to have a flexible cable that allows you to lock your bikes to the rack. Although these do work very well, if you have parked in a deserted area then thieves could bring a pair of bolt cutters and cut through your lock pretty easily.
So the best way to make sure your bikes are safe on your rack would be to get a rack that already comes with a lock that is integrated into your bike rack, which not only is safer but also makes it easier to unlock or deploy. Some racks come with a separate cable lock that you'll need to find a place to store in your car, which makes it a lot more unappealing as you'll have to get it out and put it back everytime you leave your bikes anywhere.
Another lock that you should think of investing in is a lock for the receiver hitch itself. These locks are normally found on the hitch pin or have been integrated out of sight into the underside of your bike rack. This type of lock is to not only stop thieves from stealing your bikes on the rack but the whole bike rack itself. These types of locks do tend to be pretty expensive however and the budget options can even set you back $200. Although the integrated design of these locks do tend to be a bit easier to use there aren't really any major differences between the different types of locks so you don't have to spend too much time trying to decide between the two.
Conclusion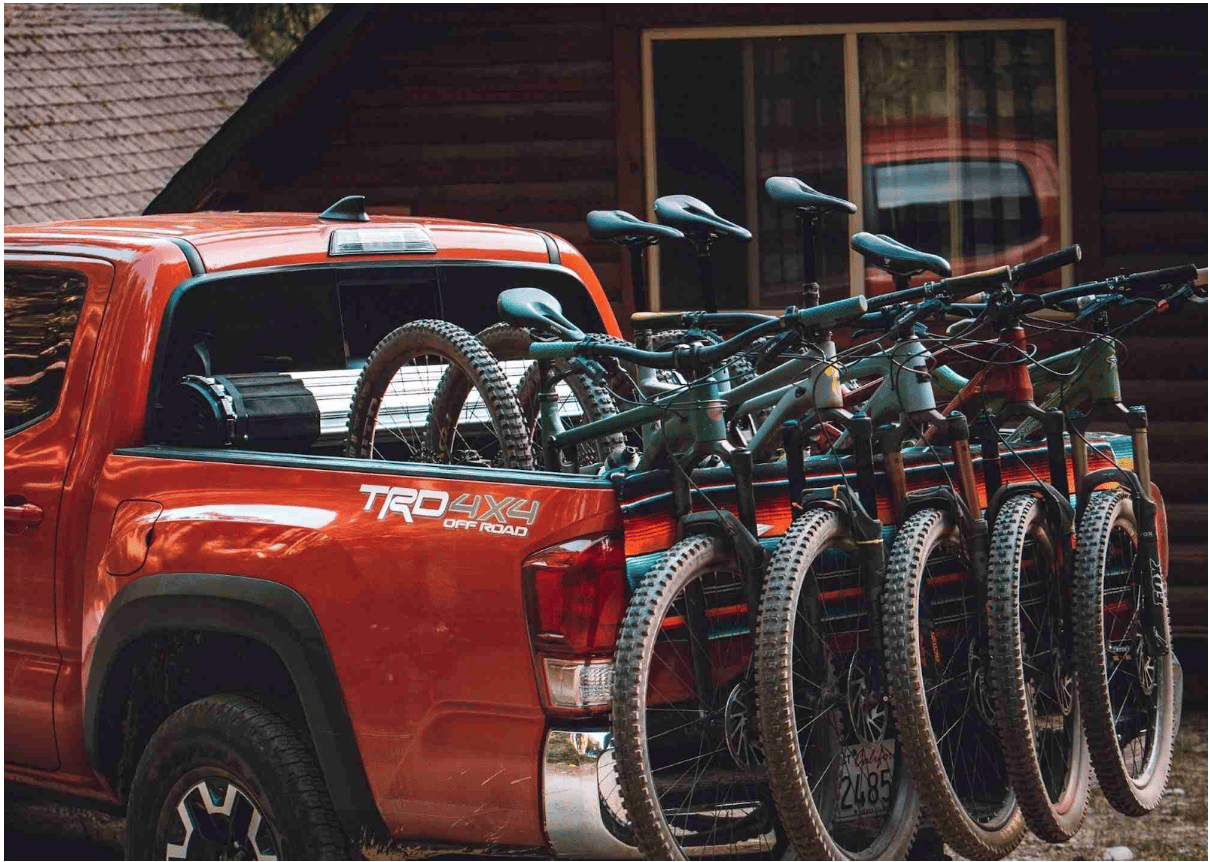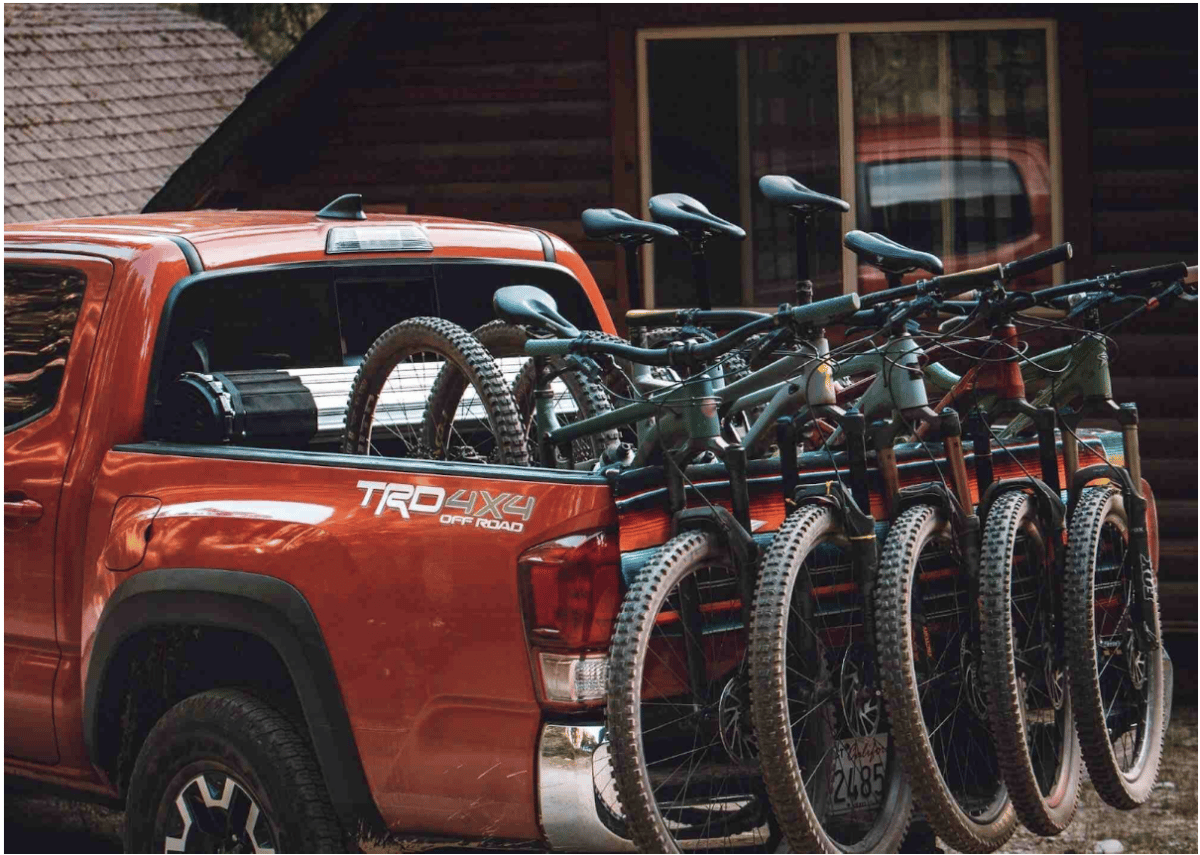 Hitch-mounted racks, platform styled ones particularly, are definitely the most favourite type of bike racks amongst riders but why? If you were to try to find some of the best options from the other styles of bike racks then you'd find that there just aren't any options out there that are able to offer the same level of convenience, capacity and compatibility that hitched-racks can offer you.
The rooftop options out there are normally only able to offer you a maximum carrying capacity of two bikes and it is much more of a struggle to load and unload your bikes as you will have to be able to pick up your bikes and put them on the roof of your car, since they're on top of your car they can actually affect your gas mileage negatively as they will create more air resistance.
Then another bike rack style that has been pretty popular amongst truck owners are the truck-mounted racks, since they are so cheap. The disadvantage to running this setup is that you lose the security that comes with having a lockable hitch and it'll be pretty hard for you to limit the contact that the bikes make with each other.
There are definitely a lot of bike rack styles out there that have their very own advantages but in the end there just aren't any other bike rack types that are able to match the versatility of the hitch-mounted racks.