Most people that have heard of indoor cycling in the past and have never really tried it lately would believe that it is extremely boring and the idea of having to just ride on a turbo trainer and stare at the wall, listening to some music, just to keep some of your fitness gains would seem ludacris.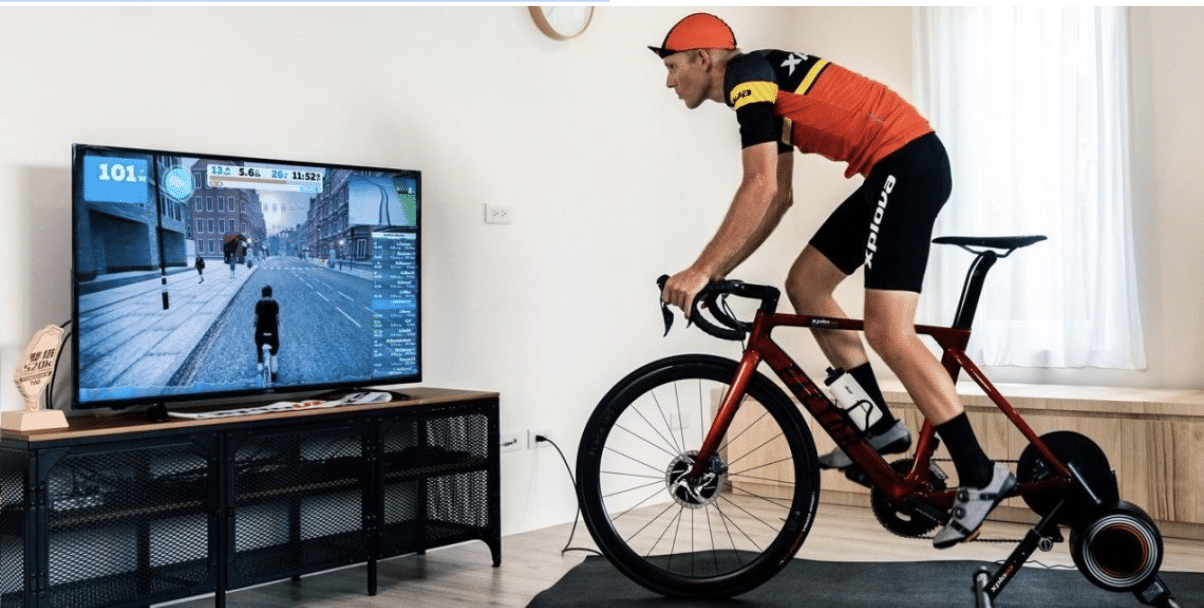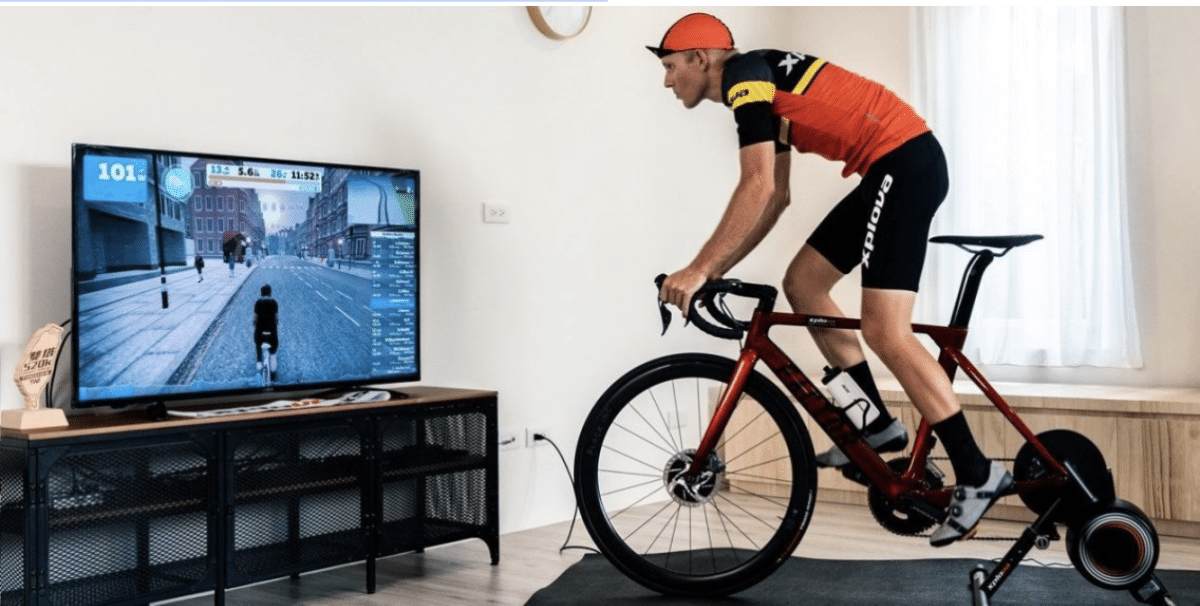 Thankfully, in this modern day and age we are in, thanks to the arrival of smart turbo trainers as well as third-party interactive apps, the benefits of this indoor cycling has never not only been easier but also more fun.
This article will help you if you are in the market for an indoor training setup, but don't quite know how to begin. Here are some of the latest and best smart trainers that you should consider spending your money on.
Top 4 Smart Trainers in 2023
Elite Suito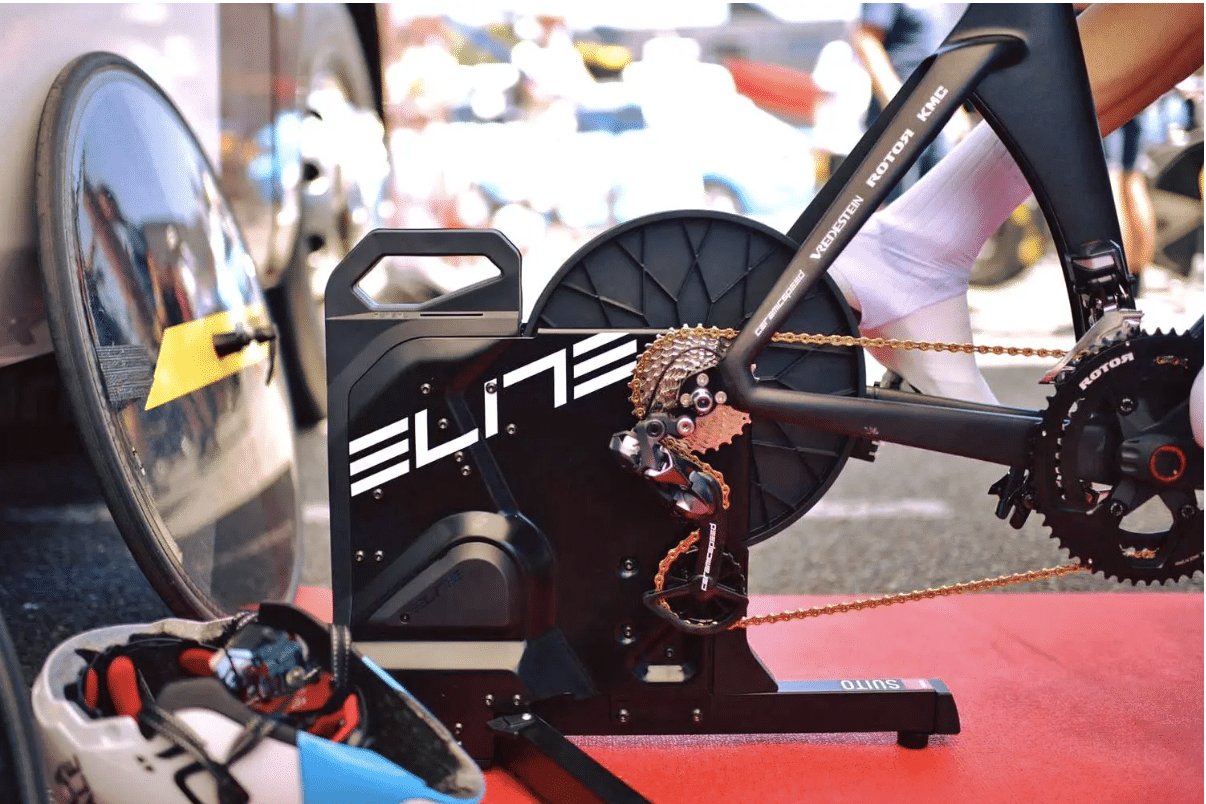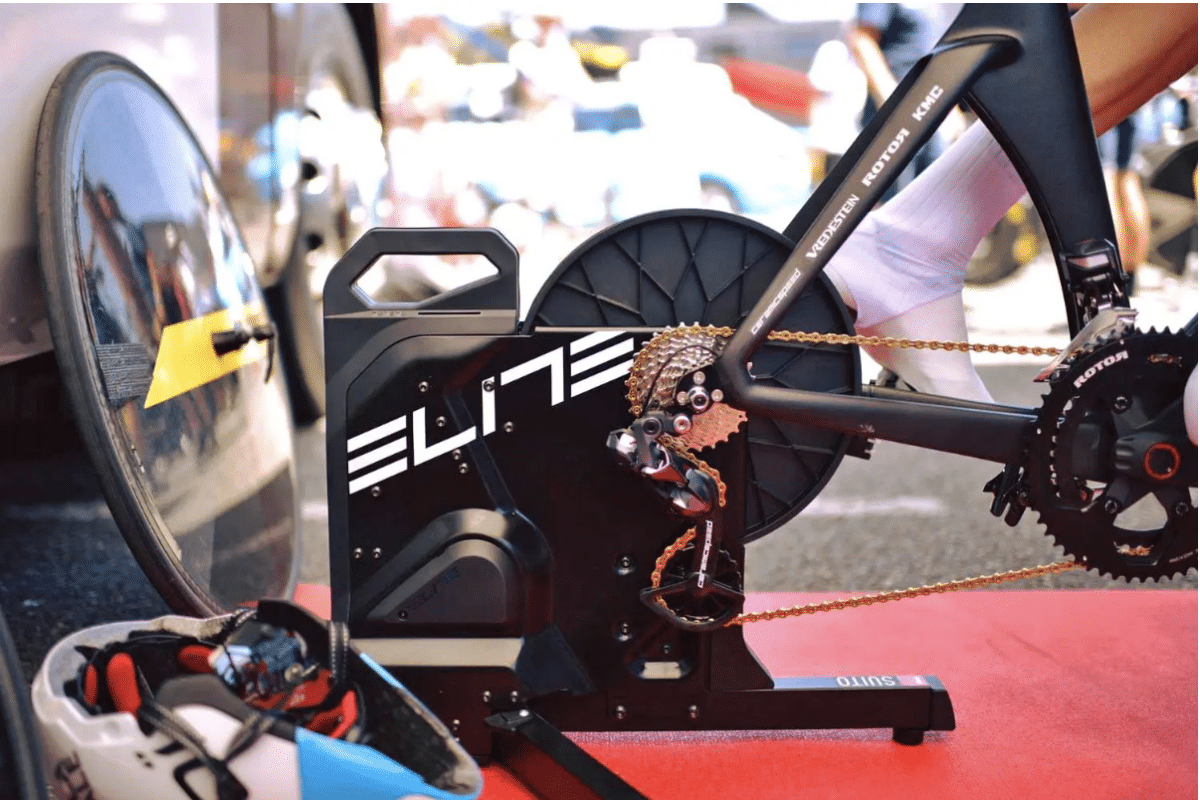 | | |
| --- | --- |
| Specs | |
| Price | $799 |
| Types | Direct Drive |
| Max Power | 1,900 watts |
| Max Simulated Gradient | 15% |
| Weight | 14.5kg |
| Flywheel Weight | 3.5kg |
| Cassette Included | Yes |
| Noise | 73dB |
Cons
Not as quiet as other options
When it comes to the Elite Suito smart trainer, it is a great mid-range smart trainer that sits just between the premium Direto XR and the entry level Zumo, within Elite's range of direct drive smart trainers.
In order to give you minimal fuss with regards to setting this smart trainer up and getting to riding it, it comes ready to use straight out of the box. So, this really is one of the best plug-and-play solutions out there at the moment.
The Elite Suito smart trainer is equipped with an 11-speed Shimano 105 cassette installed, with adaptors for 142mm thru-axles as well as a front wheel riser block, which all comes in the same box.
The overall ride quality of this smart trainer is also really great, which may come as quite a shock to some considering that it doesn't have the largest flywheel out there. The smart trainer also manages to keep you very stable, even when cranking it up and reaching some high speeds, which is definitely a plus is it makes you feel a lot more secure on thai device.
The Elite Suito is able to simulate a gradient of up to 15% and has a maximum power of 1,900 watts, which is definitely enough for your average ride, but if you are a much stronger rider then you may find that this smart trainer does come a little bit underspecced.
Saris H3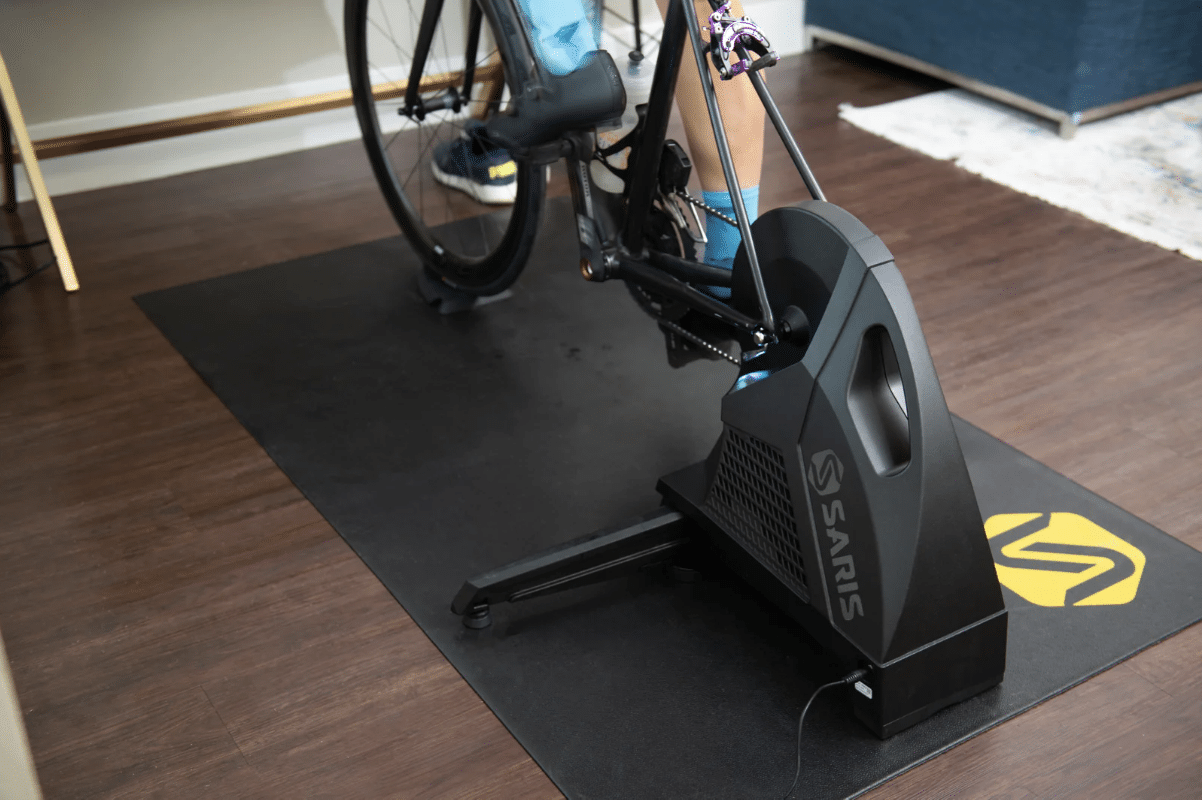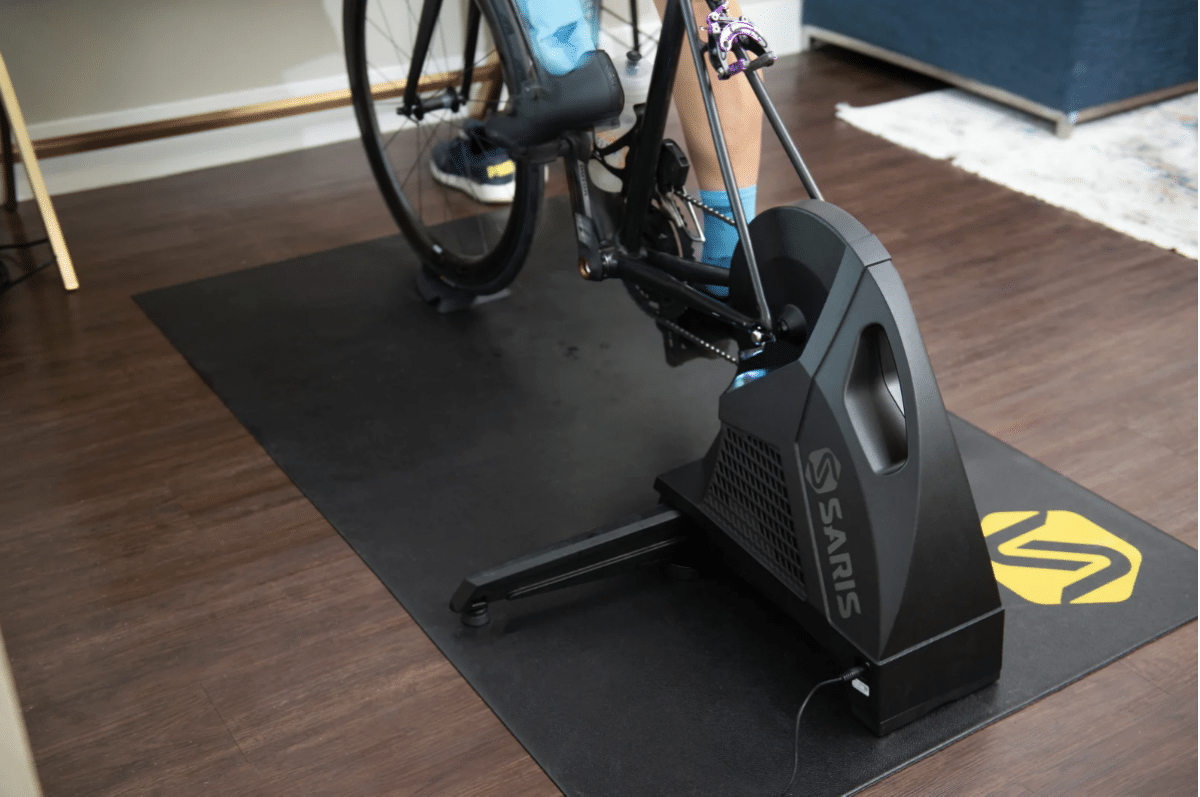 | | |
| --- | --- |
| Specs | |
| Price | $1,099 |
| Types | Direct Drive |
| Max Power | 2,000 watts |
| Max Simulated Gradient | 20% |
| Weight | 21.3kg |
| Flywheel Weight | 9kg |
| Cassette Included | No |
| Noise | 61dB |
Pros
Great ride feel
Relatively quiet
The Saris H3 is a premium smart trainer and is at the top when it comes to Saris's smart trainer range, and is basically an overall improvement on the popular H2 smart trainer. One of the biggest improvements, as well as Saris's top priority when it came to developing the H3, was to make it quieter and that it definitely did achieve.
The Saris H3 also has quite a realistic ride feel, thanks to its 9 kilogram flywheel that it has in order to enhance this realistic experience as much as possible. The Saris H3 is quite heavy and weighs in at 21.3 kilos, which although makes it a very solid and secure feeling platform to ride on, makes it also pretty hard to move around. In order to battle this challenge, Saris have integrated a handle into their design, in order to make moving it around a little bit easier.
The Saris H3 is pretty powerful and is able to produce 2,000 watts of power and also a 20% gradient. This amount of power and gradient is definitely more than enough for most riders, although if you are a professional rider you may want something that can offer a little more. However, at $1,099, this smart trainer is very competitively priced, with a lot to like about it.
Tacx Neo 2T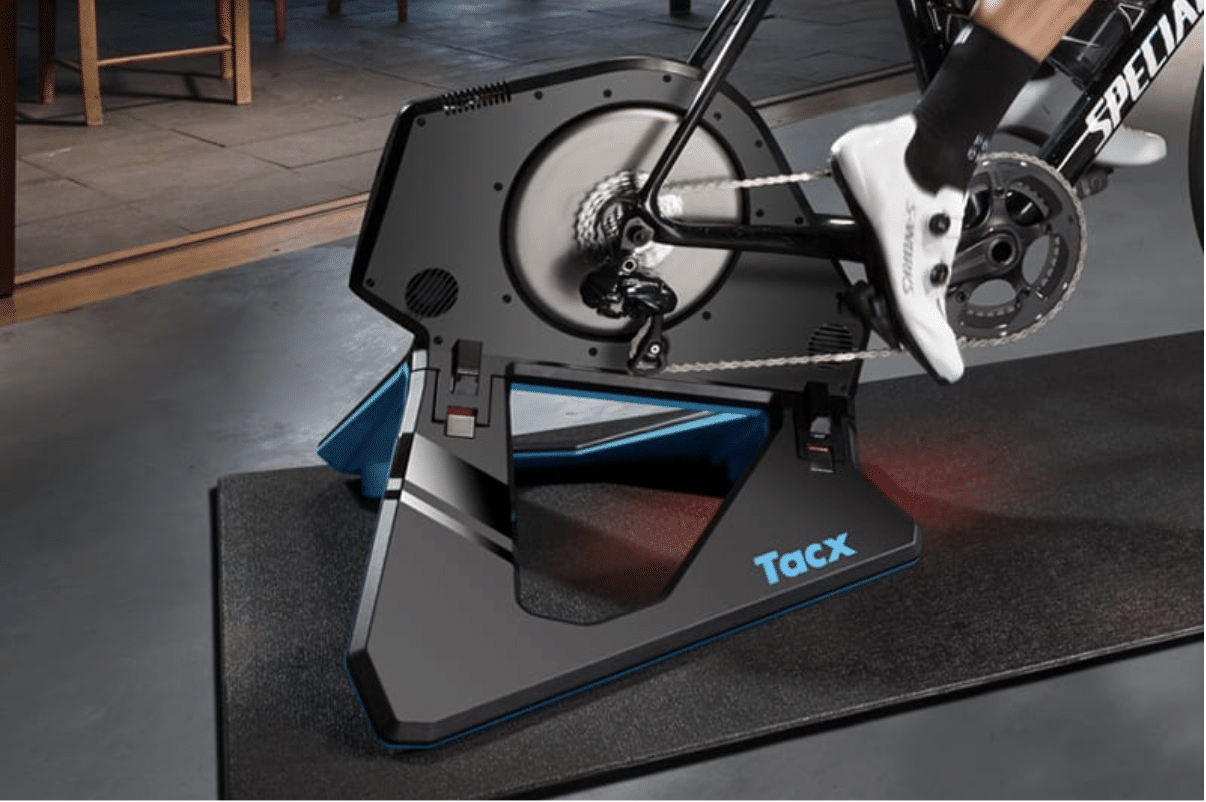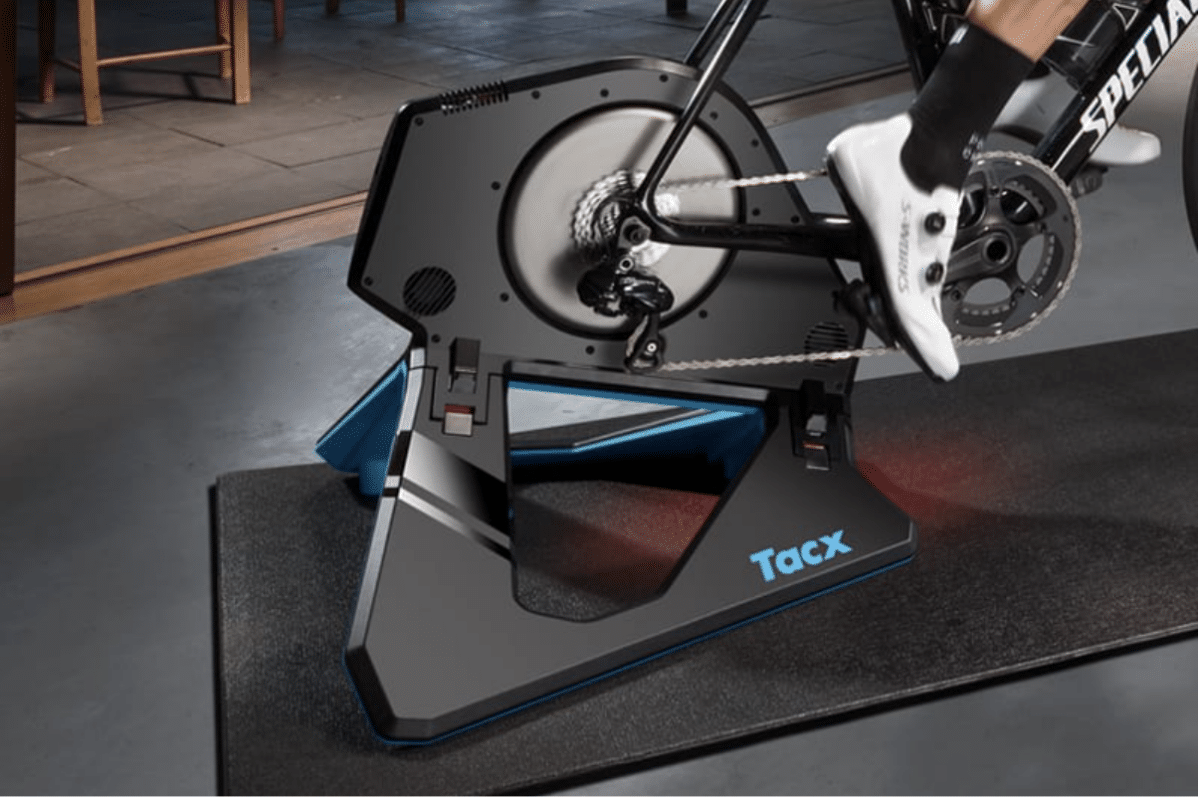 | | |
| --- | --- |
| Specs | |
| Price | $1,399 |
| Types | Direct Drive |
| Max Power | 2,200 watts |
| Max Simulated Gradient | 25% |
| Weight | 21.5kg |
| Flywheel | Virtual |
| Cassette Included | No |
| Noise | 61dB |
Pros
Amazing ride feel
Accurate
Cons
Cassette isn't included
No integrated handle
The Tacx Neo 2T is one of the best smart trainers that you can get from the Tacx brand, and has definitely been priced accordingly as well. Not only does this smart trainer look like it's out of this world, its performance stats are also just that, out of this world.
Instead of using a physical flywheel, the Neo 2T actually uses an arrangement of magnets to instead create a virtual flywheel, which despite what you may think, actually offers an amazing ride feel as well as the ability to change the level of inertia depending on the virtual terrain that you will be riding on.
Since the Tacx Neo 2T comes at such a high price it is pretty disappointing that it doesn't come with the cassette. Another thing that most people don't really appreciate about this smart trainer is that it weighs in at quite a heavy weight, 21.5 kilos, and doesn't come with a carrying handle, which makes it quite challenging to move around. However, when it comes to the performance of this product then it is as good as it gets.
Not only is this one of the quietest trainers out on the market right now but it can actually be used without a power source, which makes it perfect for pre-race warm-ups or just in areas where you won't have access to a direct power source. The only real problem with this smart trainer will be whether or not it will be in your budget or not.
Wahoo Kickr V6 (2022)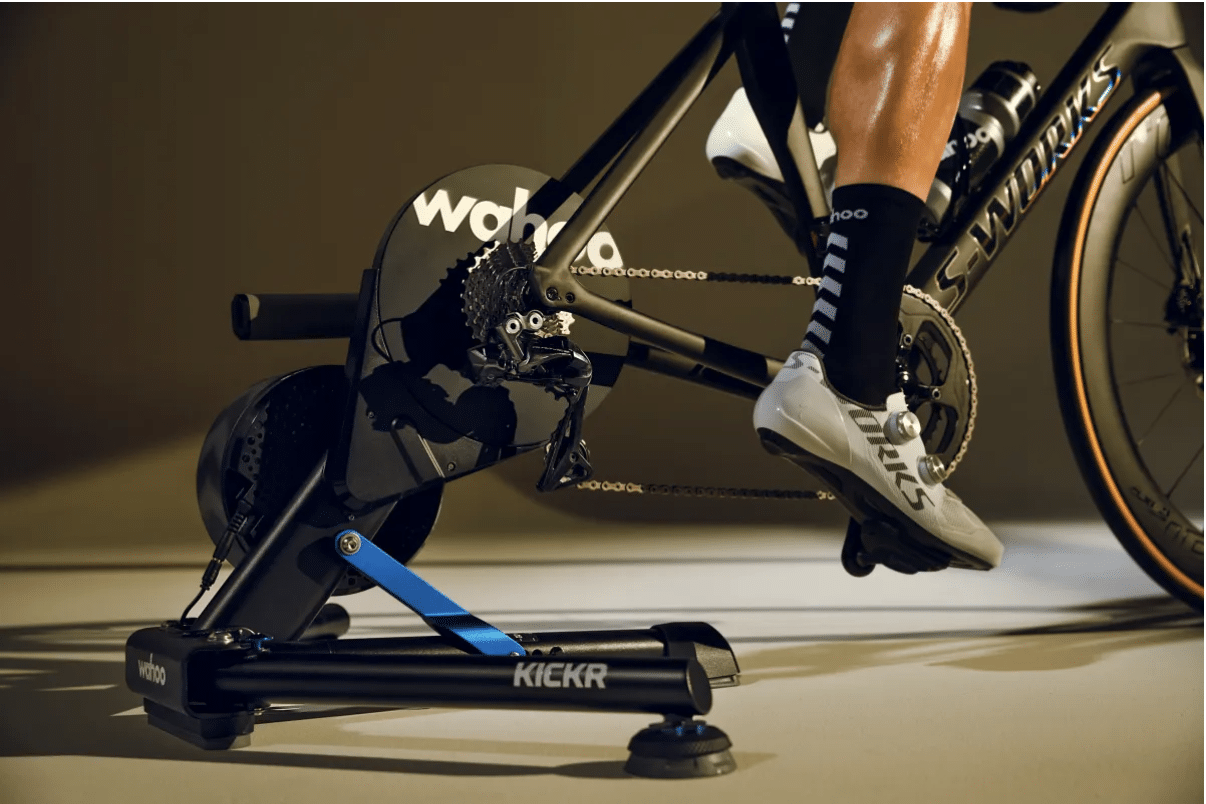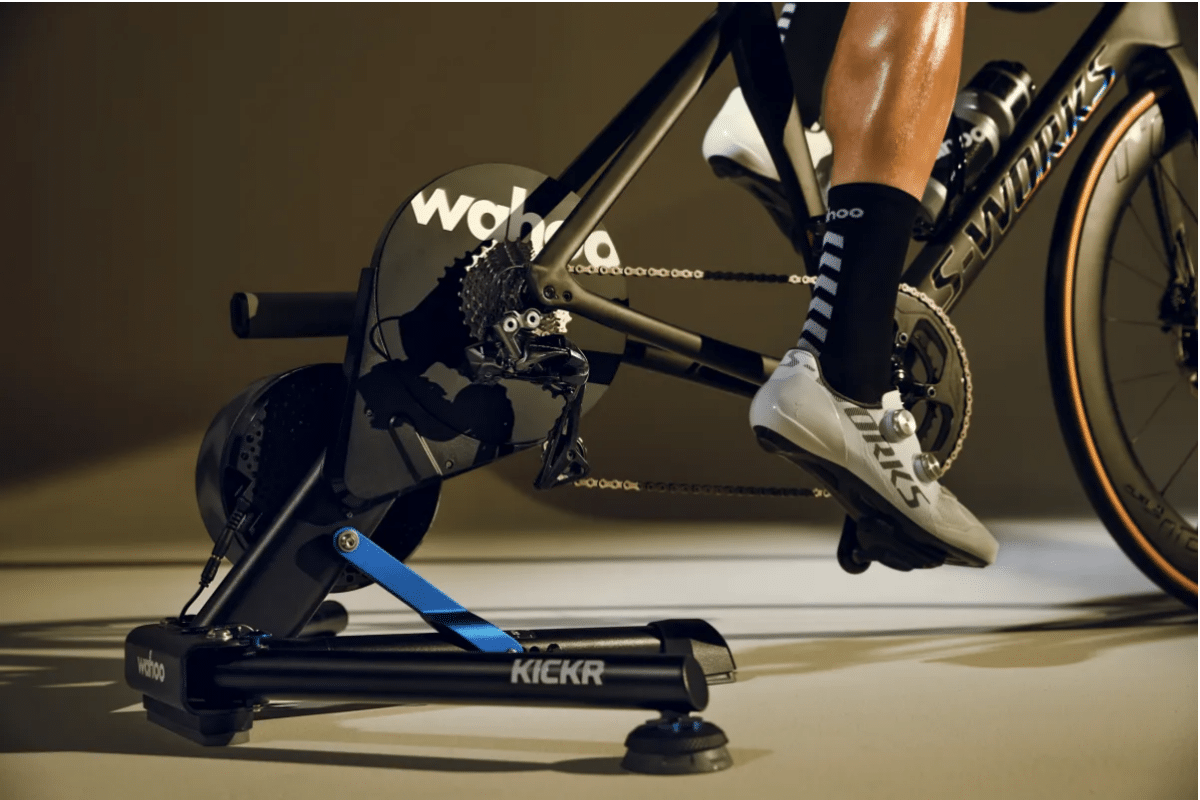 | | |
| --- | --- |
| Specs | |
| Price | $1,299 |
| Types | Direct Drive |
| Max Power | 2,200 watts |
| Max Simulated Gradient | 20% |
| Weight | 21.9kg |
| Flywheel | 7.25kg |
| Cassette Included | Yes |
| Noise | 61dB |
Pros
Excellent ride feel
WiFi connectivity
Just like the Tacx Neo 2T, the Wahoo Kickr V6 is the brand's top-of-the-range model, which replaces the Wahoo Kickr V5 that was released back in 2020.
With the new addition of WiFi connectivity, setting up the Wahoo Kickr V6 is super easy. Although Bluetooth connections are known for being quite reliable, the WiFi connection takes it to a new level and will let you connect to this smart trainer anywhere in the house that has a reliable 2.4Ghz connection. The firmware updates, which you'll get over-the-air, will also be greatly simplified thanks to the WiFi connectivity.
A great thing that Wahoo does with these smart trainers is actually include a cassette as well as a pretty long power cable so that you shouldn't have to use an extension lead.
The Kickr V6 is pretty much identical to the V5 when it comes to the mechanics of it. When you have your smart trainer installed it'll be able to produce 2,200 watts as well as gradients of up to 20%, which although may be lower than other premium high-end smart trainers out there, will be perfect for the majority of riders.
The Kickr V6 also has quite a large flywheel, which weighs in at 7.25 kilos, which gives you an amazing riding feel. Not only does it feel great but riding on it will also be very quiet, which will definitely be pleasing for most riders.
Although the Wahoo Kickr V6 is definitely not a cheap smart trainer and you'll have to be ready to pay a pretty penny for it, it will be able to do everything that you may want and do so without any fuss. However, if you put the pricing issue aside, the Wahoo Kickr V6 is definitely one of the best smart trainers that are available on the market right now.
Final Words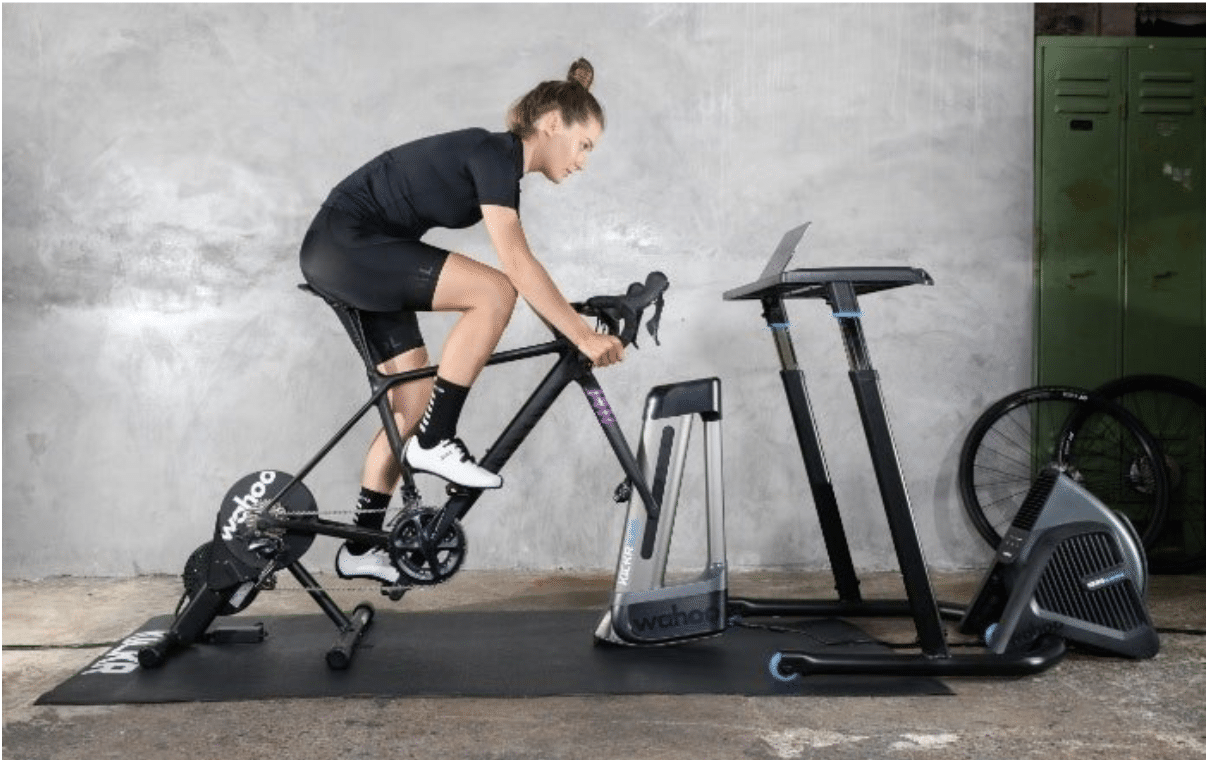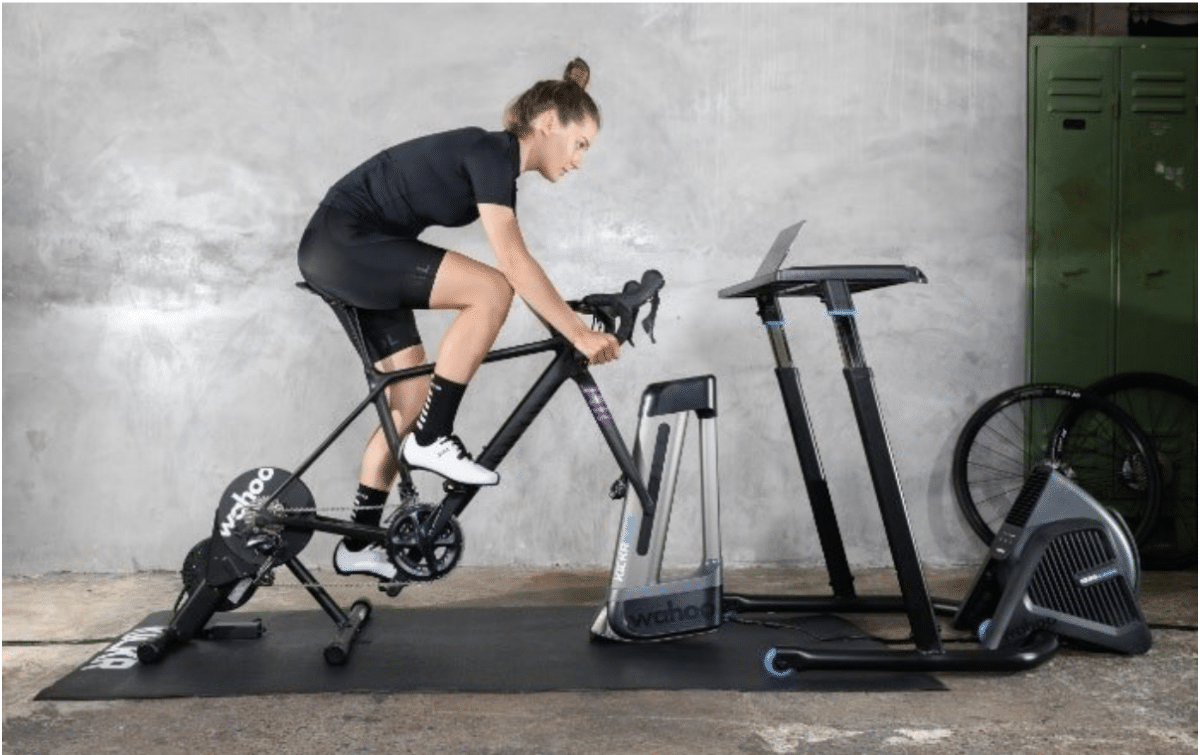 So, there you have some of the best smart trainers that you can purchase if you want to keep fit during your off season or take your indoor training to the next level. Although there are a lot of great options out there it is most important to pick one that will suit your needs the best and the most important thing that you will need to decide on first will be your budget.